Road trip in Corsica : Itinerary in North Corsica
I am delighted to share with you my 1 week itinerary in North Corsica. One thing's for sure, you're going to catch your eyes! During this trip, I was able to discover an authentic and wild island, with very varied landscapes.
To find our itinerary for a road trip in South Corsica, go here
---
My Itinerary in North Corsica: Road Trip in Haute-Corse
A week of travel in North Corsica is not enough as there is so much to see! But we will discover together some must-do things to do in Haute-Corse. If you are planning a week-long trip to Corsica, focus on either the North or the South. Try not to scatter too much, at the risk of spending 3/4 of your time riding!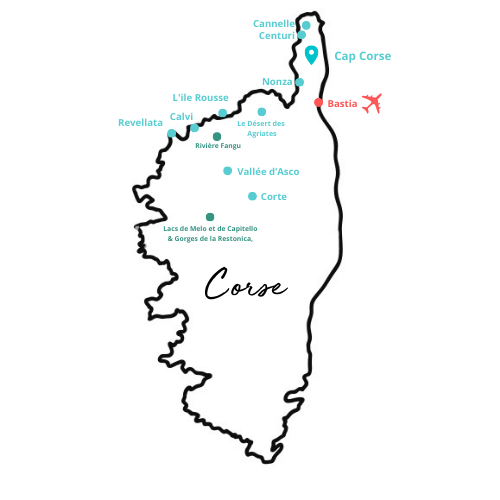 ---
Practical information for your road trip in Northern Corsica
How to go to Corsica?
Since Corsica is an island, there are two options to get there:
✈️ The plane: the fastest means of transport. There are three main airports in Corsica: Bastia, Ajaccio and Figari. To visit Northern Corsica, I advise you to land in Bastia. Get 10€ discount on your flights on Skyscanner by clicking here. 
? The ferry: Corsica Ferries are offered from Nice and Toulon. By booking in advance, it is possible that you will find cheap tickets. Depending on the fare, the ferry may be more economical than the plane as it does not require to rent a car in Corsica if you cross with your own vehicle. Info and booking.
Rent a boat: touring the Isle of Beauty in a van can be great too 😁. Find out more right here.
How do I rent a car for your trip to Northern Corsica? 
I went through the BSP Auto comparator to book my car for this route in North Corsica. It allows you to find the best offer according to your dates of stay. It is useless to rent a car too big, because the roads can be narrow in this area.
⚠️ Following the deconfinement and the resumption of trips, the prices of car rentals soar quickly in high season! I urge you to make your reservation as soon as possible to pay less and especially not to find yourself without a rental car, facing the demand may be higher than the supply.
COVID: What are the conditions to come to Corsica?
As of 9 June 2021, the health pass is mandatory to travel to Corsica. What does this mean? All persons 11 years of age and older must carry:
Either a negative PCR test of less than 72 hours or an antigenic test of less than 48 hours (it is the date of collection that counts)
Either a complete vaccine justification (14 days after the 2nd injection or 28 days after the injection for Johnson & Johnson/Janssen vaccines)
You must also submit this completed and signed Statement of Honour.
To return home, you do not need to submit a PCR test or attestation.
Budget for a week-long road trip in Northern Corsica?
On average, prices are higher on the continent. Here are the details of my expenses for my trip to Haute Corse:
Flights Lyon – Bastia: 65€ per person
Car rental: 250€ for the week (Peugeot 2008)
Fuel costs: 50€ for a little more than 400 km covered
Hotels: 100€ per night on average for a comfortable hotel (high season)
Restaurants: 45€ per day per person for 2 meals (1 lunch snack and 1 restaurant in the evening)
Total for a trip of 7 nights = €1,760, or €880 per person, excluding activities.
This budget may vary depending on the price of car/plane rentals and the standing of the accommodation you choose.
When to go to Northern Corsica? 
As always, if possible, avoid the summer school holidays to pay for your trip less and to have less people. The months of May/June and September/October are the best time to travel to Corsica!
---
Itinerary in North Corsica: my road trip of a week
Days 1 and 2: Cap Corse
Days 3 to 5: Calvi and Île-Rousse
Days 6 and 7: Corte
Days 1 and 2: Cap Corse 
Sometimes unfairly neglected by visitors, Cap Corse is nevertheless a must for a trip to Haute-Corse. I would have liked to have stayed longer.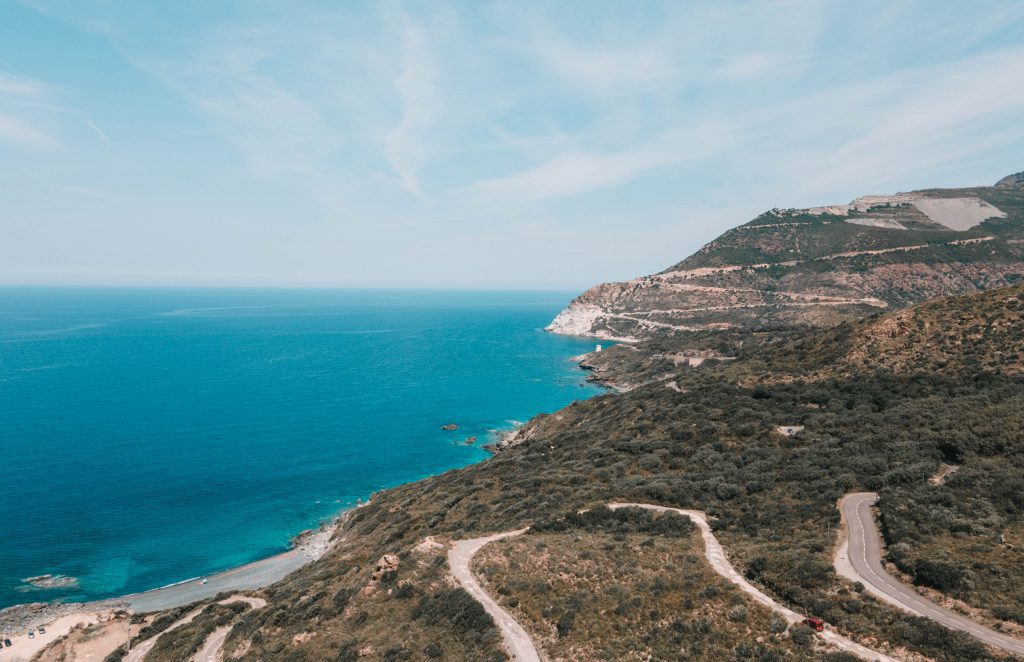 Where to stay to visit Cap Corse? 
I had the chance to stay at the Relais du Cap, the guest house run by Gaëlle and Rob. It is located on a beach and therefore benefits from an incredible setting, for a price more than correct! I had a real crush on this place, the atmosphere is special and the warm welcome ++++ Perfect to start your itinerary in Northern Corsica! To book, contact Gaëlle on Instagram or via their website.
As the Relais du Cap is a small and popular establishment, it may be full. I advise you to book at the U Sant'Agnellu hotel or the Hotel Osteria a Stalla Sischese which both offer a great value for money with sea view!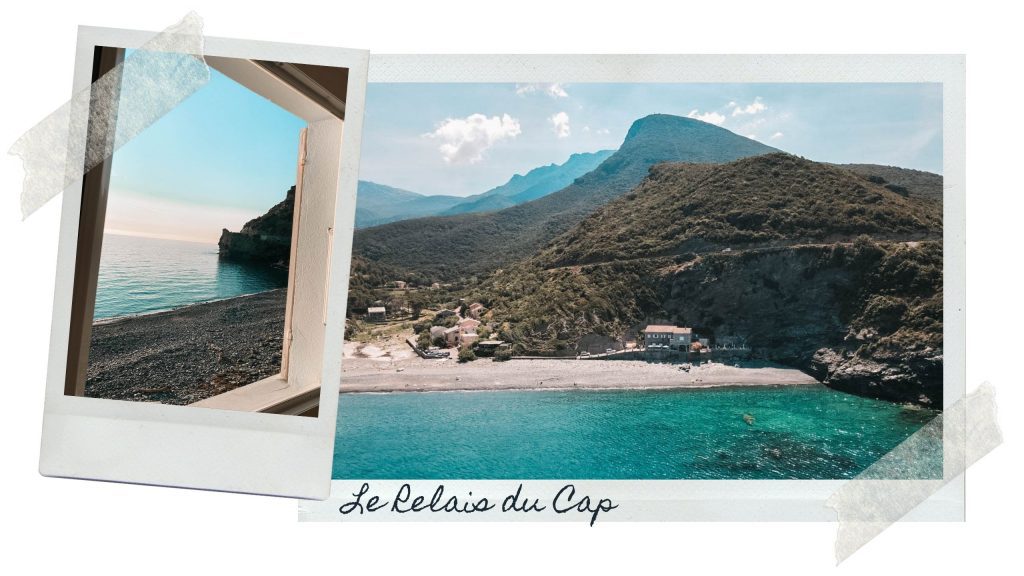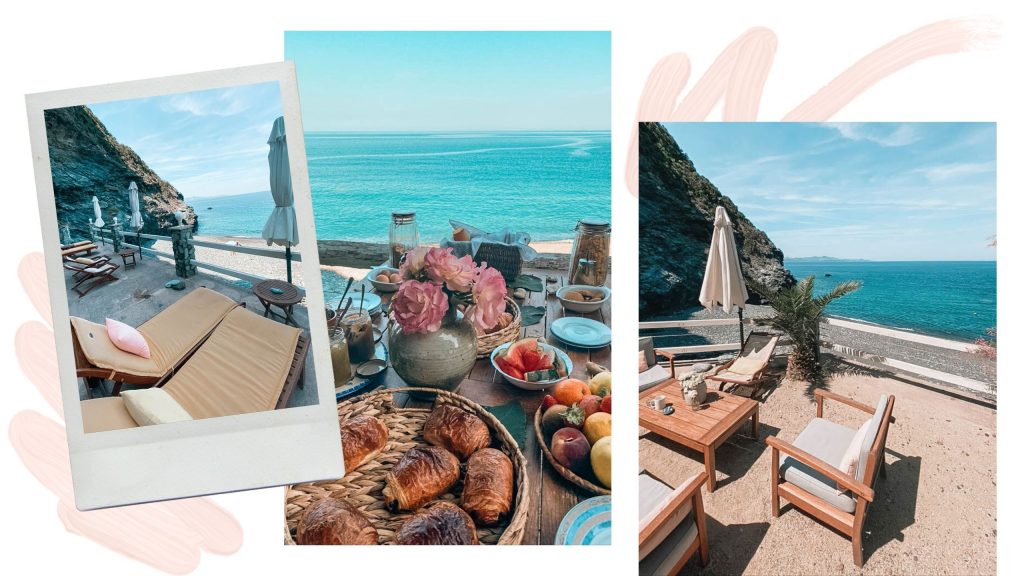 How to visit Cap Corse? 
I recommend driving around Cap Corse. It will take you about 3 hours, without the breaks, for the itinerary I prepared for you (to be found here on Google Maps).
We left the Relais du Cap because we were staying there, but you can make this route from any point, and in any direction, at your convenience. Do not hesitate to stop by the roadside as soon as the landscape pleases you! The Cap Corse is visited like this, according to your desires.
You can also decide to take a 4X4 excursion to discover the beauty of this island. You will be guided all along your escapade of what to put you full in the eyes.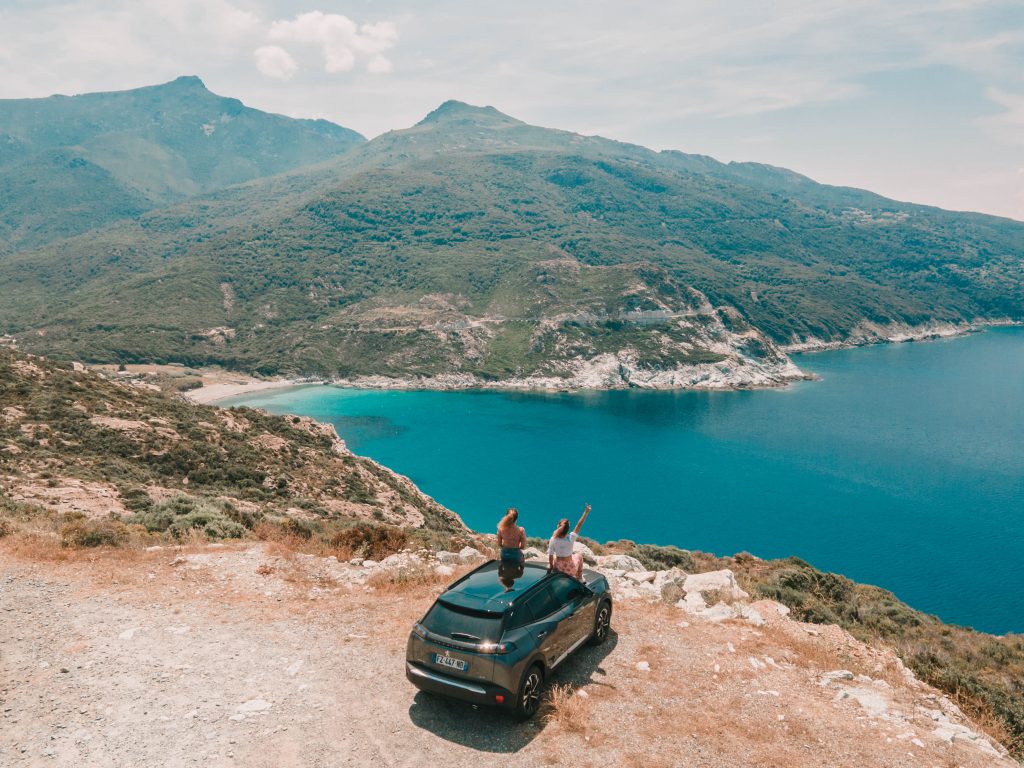 What to do in Cap Corse? Must-sees
Here are the stops I recommend for a day at Cap Corse:s
The village of Nonza: It is full of charm! Here you will find cute little terraces, a black sand beach and the famous Nonza tower. Up there, you will come across the restaurant La Sassa which has an incredible setting and view. Book in advance if you want to eat there, or stop for a drink.
Centuri: fishing port and beautiful village
The small village of Cannelle
The beaches of Cap Corse: Tamarone beach, Barcaggio beach, Anse d'Aliso, Macinaggio beach…
There are many other things to see and do in Cap Corse, but the timing being quite tight, I didn't want to spend the day by car and preferred to enjoy each of the spots. It makes me a good excuse to come back one day.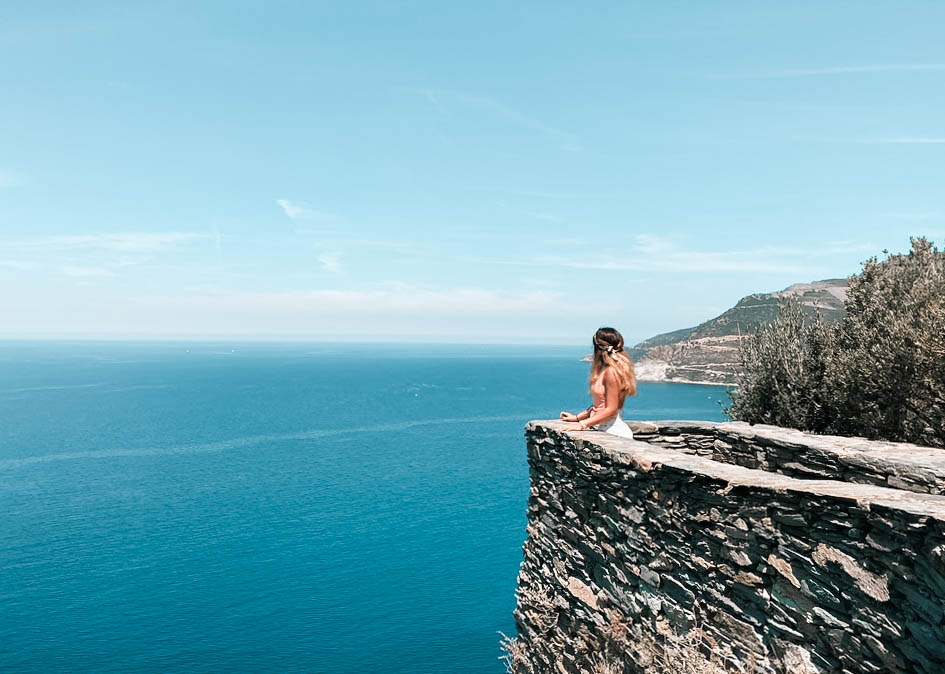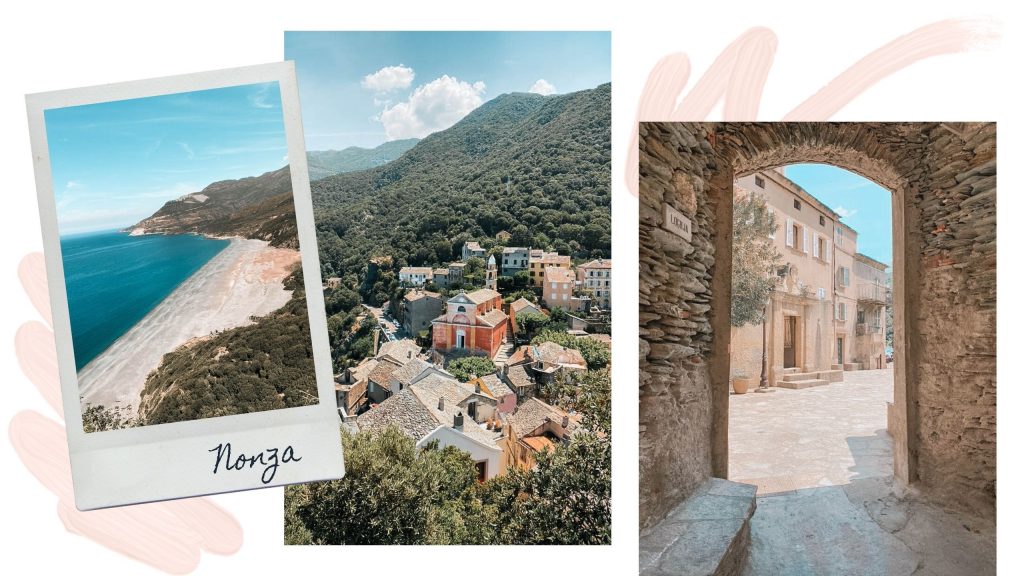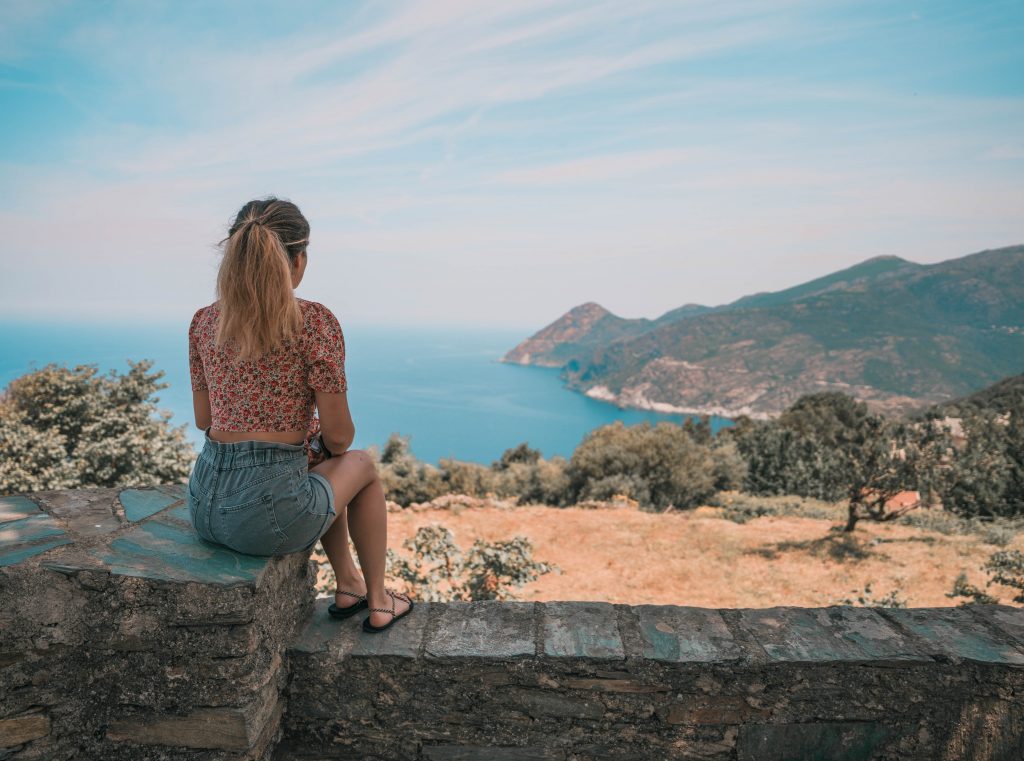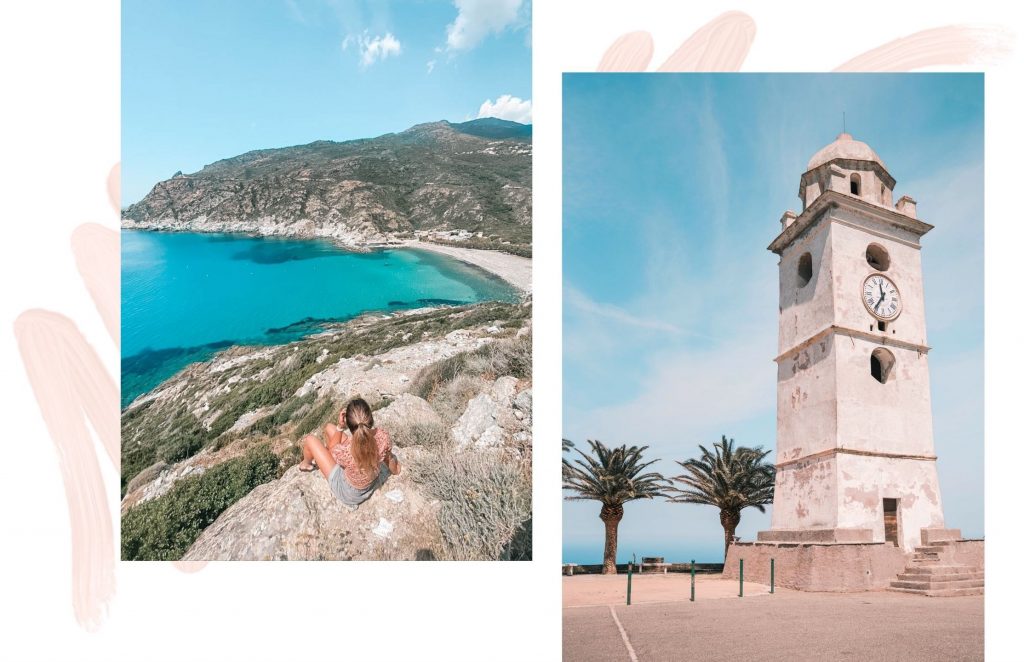 Good addresses in Cap Corse
If you are looking for a bit of entertainment, you will find many restaurants in the small town of Saint-Florent. To eat on the beach, I recommend BO'S Beach: delicious with a great setting!
---
Days 3 to 5: Calvi and Île-Rousse
Located on the coast of Haute-Corse, the pretty towns of Calvi and Île-Rousse are a must-see during your road trip. You can stay in one of the two if you don't want to move around too much, or stay in both. Both cities are within a 30-minute drive of each other.
Where to stay in Calvi?
I stayed at the Hotel Méditerranée, located in the center with an excellent value for money! The room had a small balcony with sea view and there is a swimming pool in the hotel with a great view of the citadel. Booking here 
Where to stay in Île-Rousse?
I was lucky enough to stay at the Minera Hotel. The establishment is magnificent, with a restaurant that enjoys a clear view of the Île-Rousse and the sea. They serve excellent food, especially with the homemade breakfast with plenty of choice.Everything was perfect: the garden and its swimming pool, the decoration chosen with taste…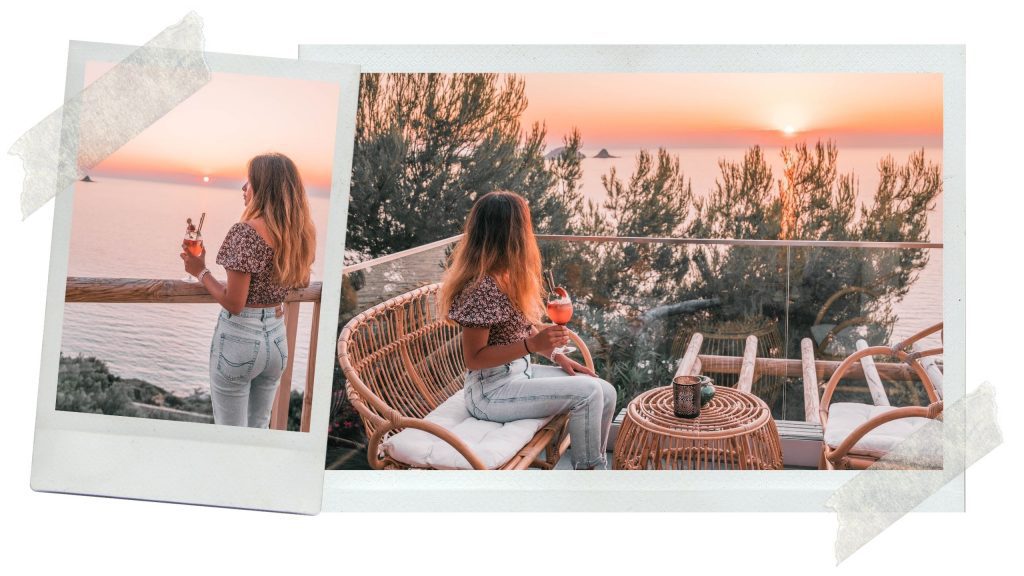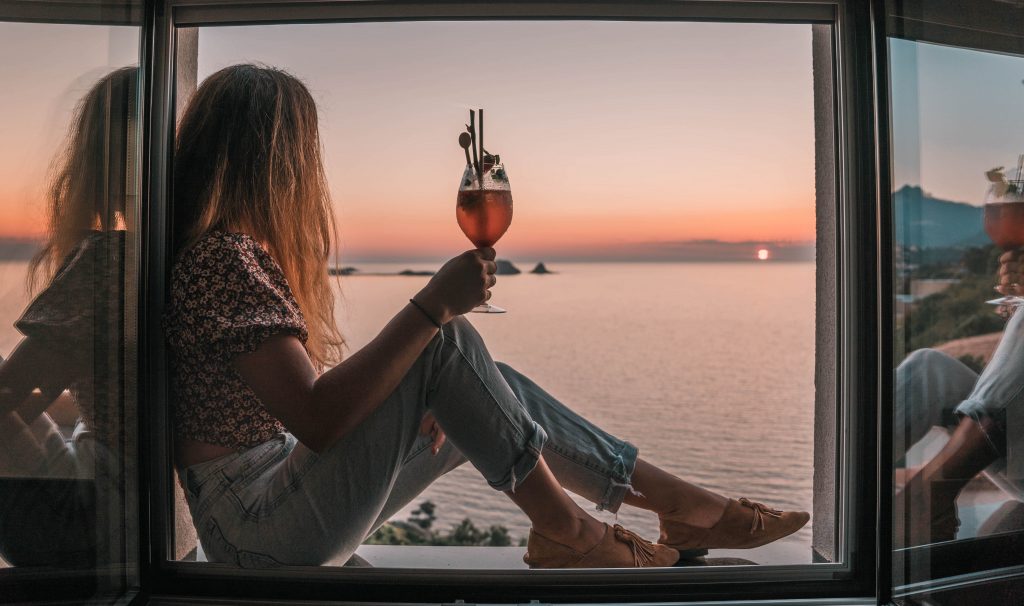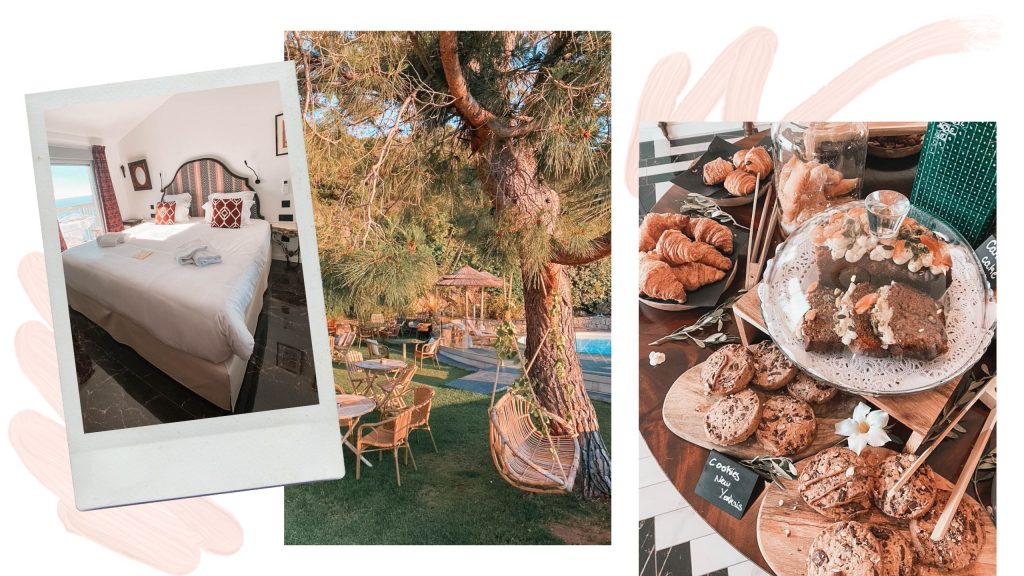 What to do in Calvi?
The city center of Calvi is full of charm! Although Île-Rousse also has its assets, I preferred the atmosphere of Calvi. That said, the atmosphere of Île-Rousse is quieter and more family-friendly.
I highly recommend you to walk in the center of Calvi and climb up to the Citadel (at sunset, it's great!). You will have a magical view of the city, the sea, and the surrounding peaks… In the evening, go to the restaurant A Piazzetta to eat and on the port to have a drink!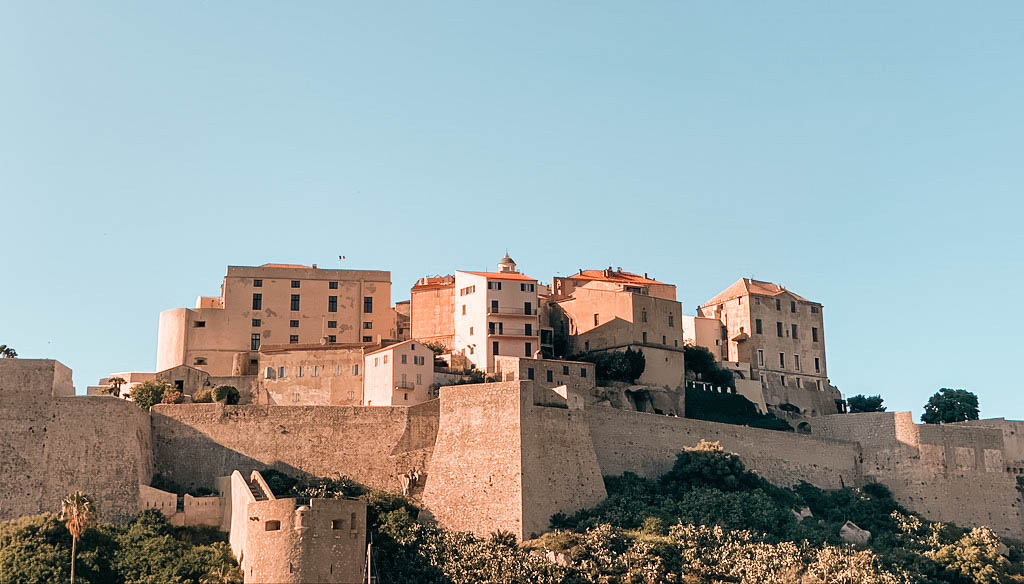 ? Revellata Lighthouse
La Revellata is home to wild coves, hiking trails and a pretty lighthouse. You can visit it on foot, the walk to the lighthouse will take you 3h round trip/return.
You can also book this cruise at sunset to admire the landscapes of Revellata and Calvi from the sea I made it and I really had a good time with small happy hour, stop swimming with mask and snorkel and a little music! Great value for money.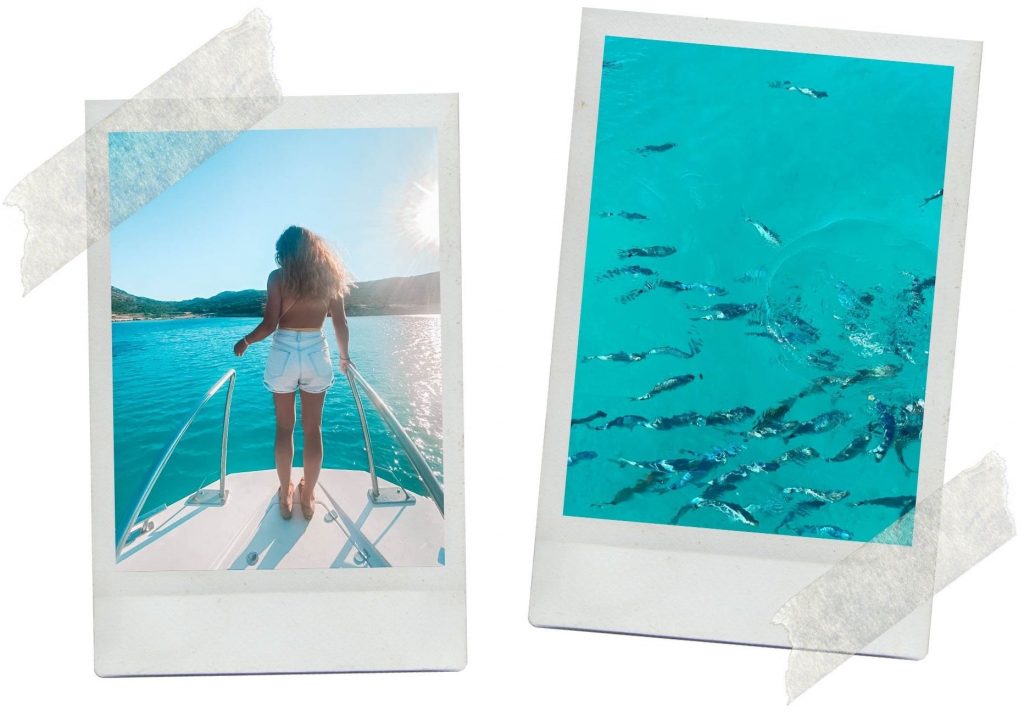 ? The Desert of Agriates
Are you ready to discover the most beautiful beaches of the North of Corsica (according to a study in which the only participant is myself )? I named the beaches of Lodu and Saleccia! They are located in the Desert of Agriates. To get there, you have 3 choices:
By boat, but you'll see that the coastal landscapes and it's a shame
On foot, for the most daring
In 4×4, the road is chaotic so a 4-wheel drive vehicle is mandatory to face it.
I booked a great excursion via Manawa and I recommend it 100%. The guide explained the history of the Agriates desert and the flora and fauna that can be found there. It was interesting! Last thing: the road shocks made us laugh. Click here to book the Fascinating Agriate tour 
Here, in order, the beach of Lodu and that of Salecica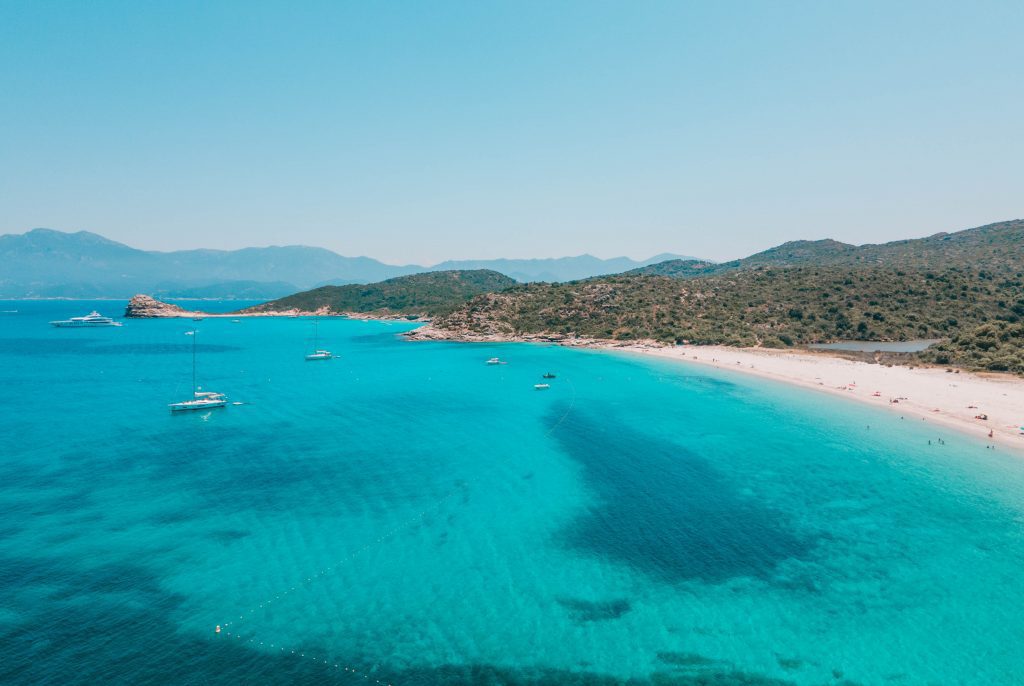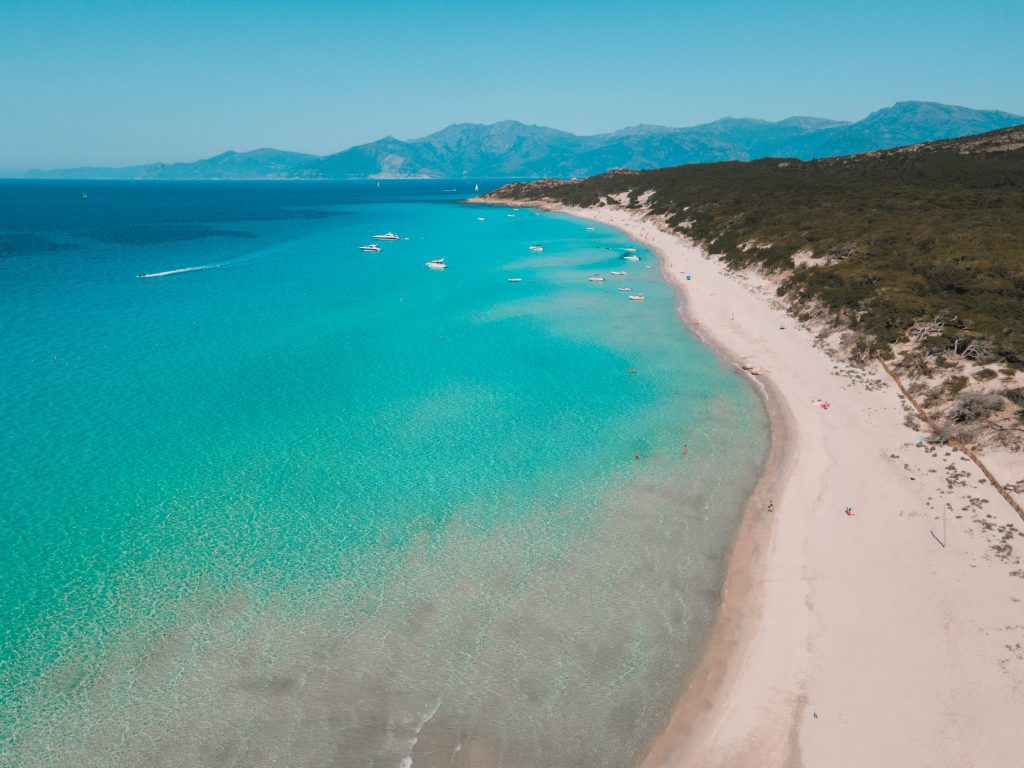 Here is the itinerary of the excursion to the Desert of Agriates: 
Rendez vous at 9 am at Île-Rousse and drive to the Agriates desert
Arrival at the beach of Lodu (my favorite)
Free time
You can choose between a one-hour hike on the Les Douaniers trail to Saleccia beach, where the guide can take you by 4×4 if you don't want to walk
Swimming at the beach in Saleccia
Back to Île-Rousse.
For lunch, either you plan a picnic, or you will eat like me at the Lodu hut. The setting is beautiful, the view is crazy and the food is excellent! Booking strongly advised.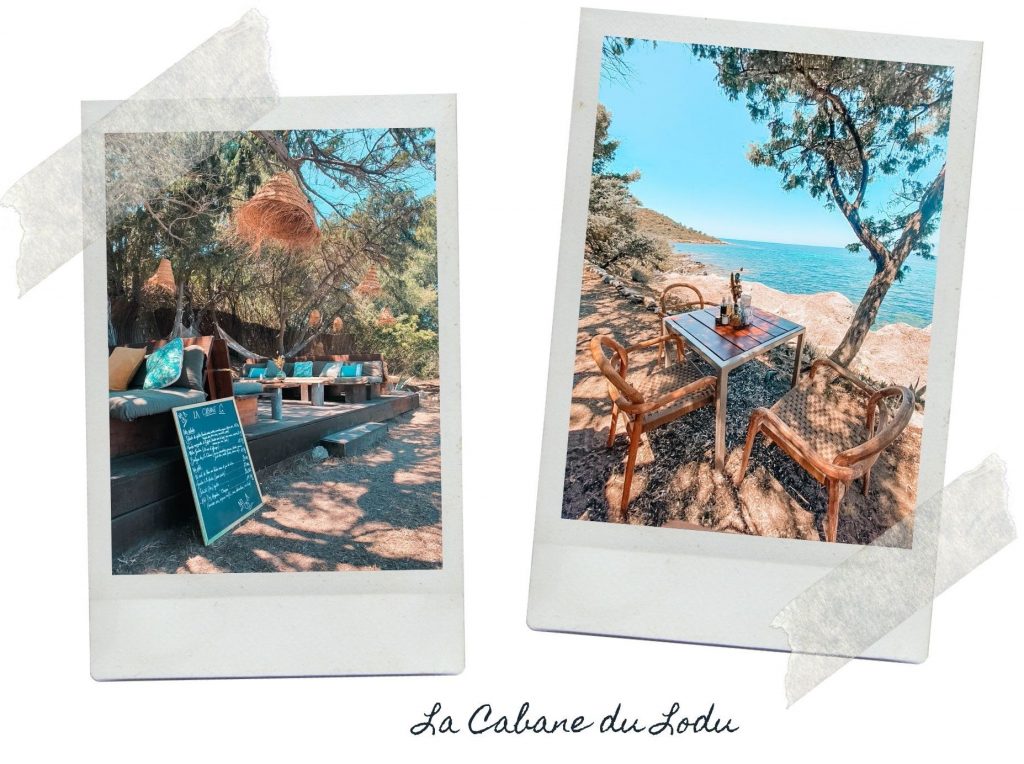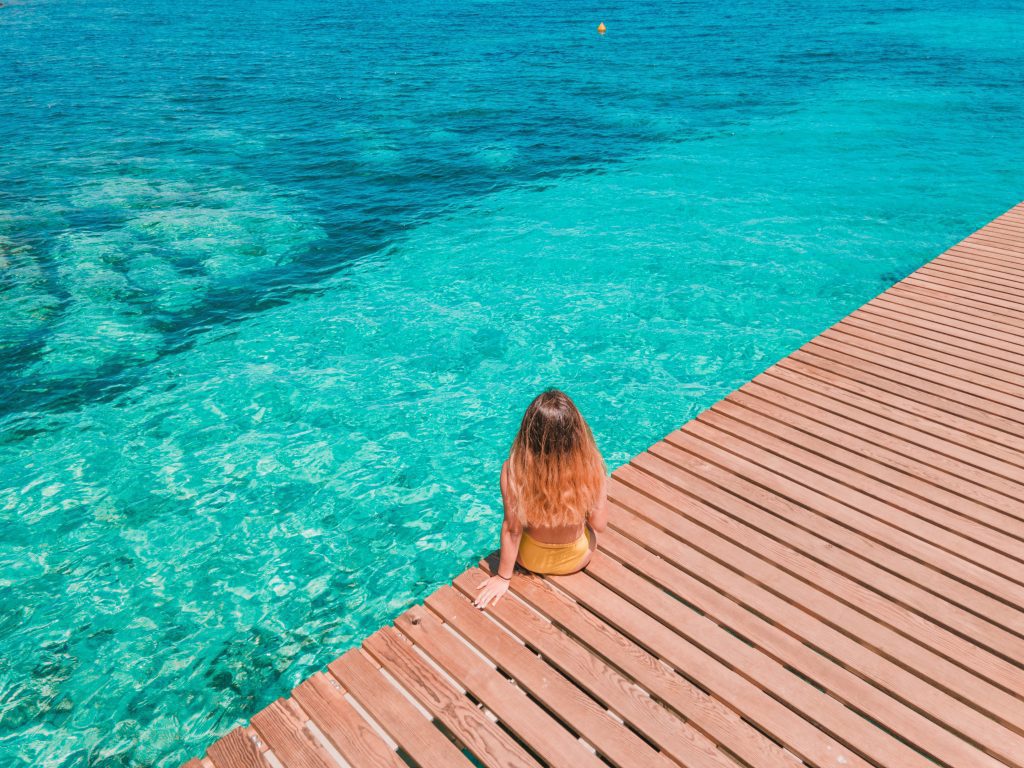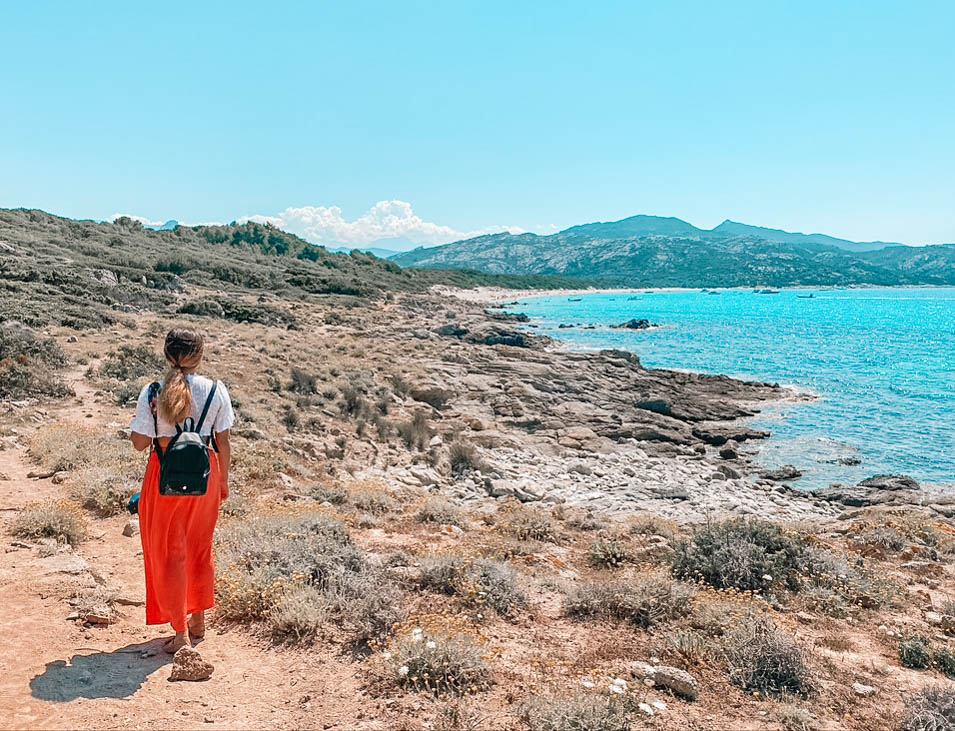 Nice meeting on the road ?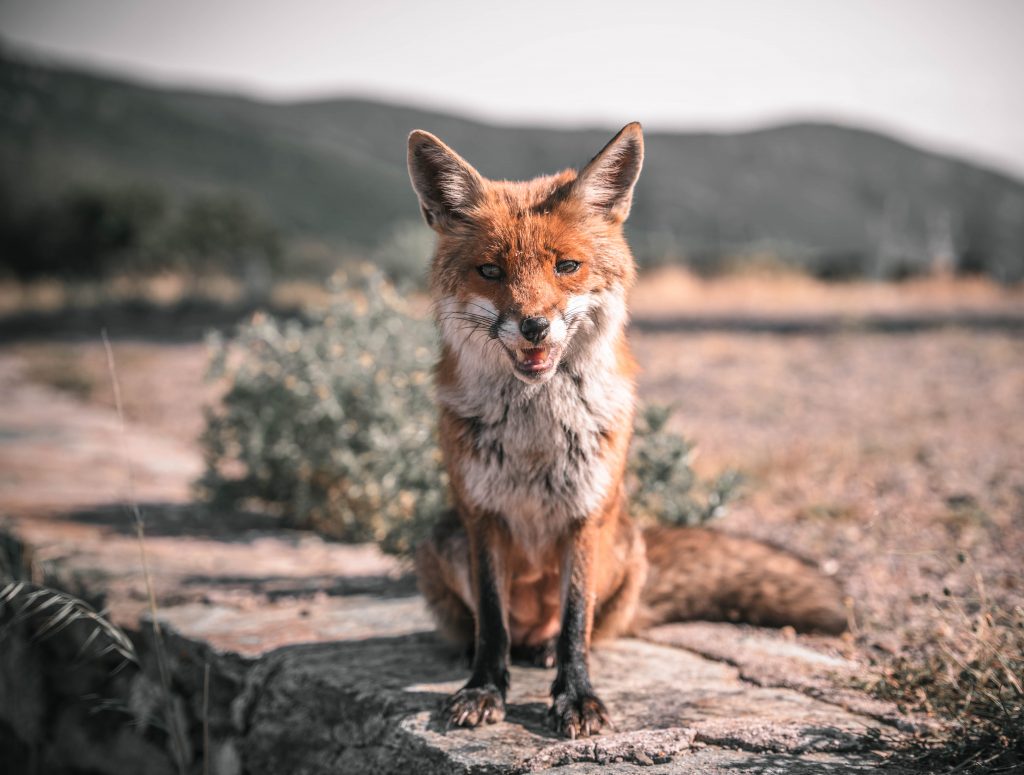 Beaches around Calvi and Ile Rousse
Beautiful beaches are located on the north coast of Corsica. Here are my favorites:
Bodri and Ghjunchitu beach: parking costs 2.5€ for the day, there are two (one for each beach). That said, they are 1 km from each other so you can leave your car in a parking lot and reach the two beaches on foot, if you want to pay for the parking once.
Aregno Beach
Rock Beach: for snorkelling and its special rocks
Ostriconi Beach
Beach of the Acciolu.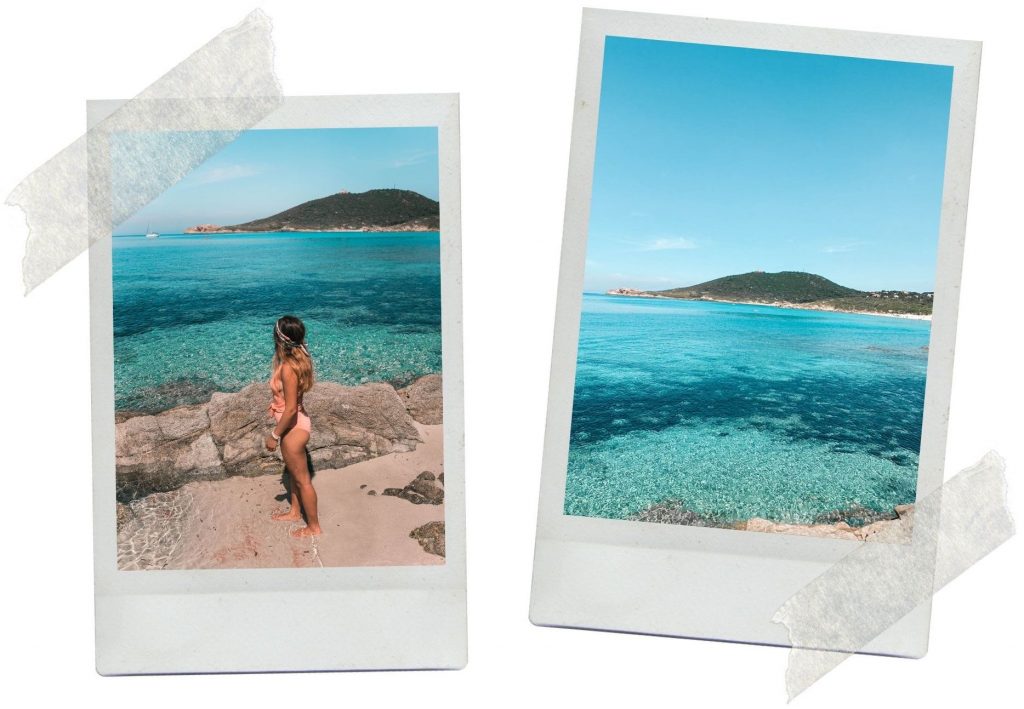 Swimming at the Fangu River
Looking for a cool break? Head to the Fangu Valley to swim in the river. The water is clear, the Ponte Vecchiu (small stone bridge) is sublime and the view of the summits behind… breathtaking. And the little extra: no need to walk to access the river.
Access: See on Google Maps. Parking is free.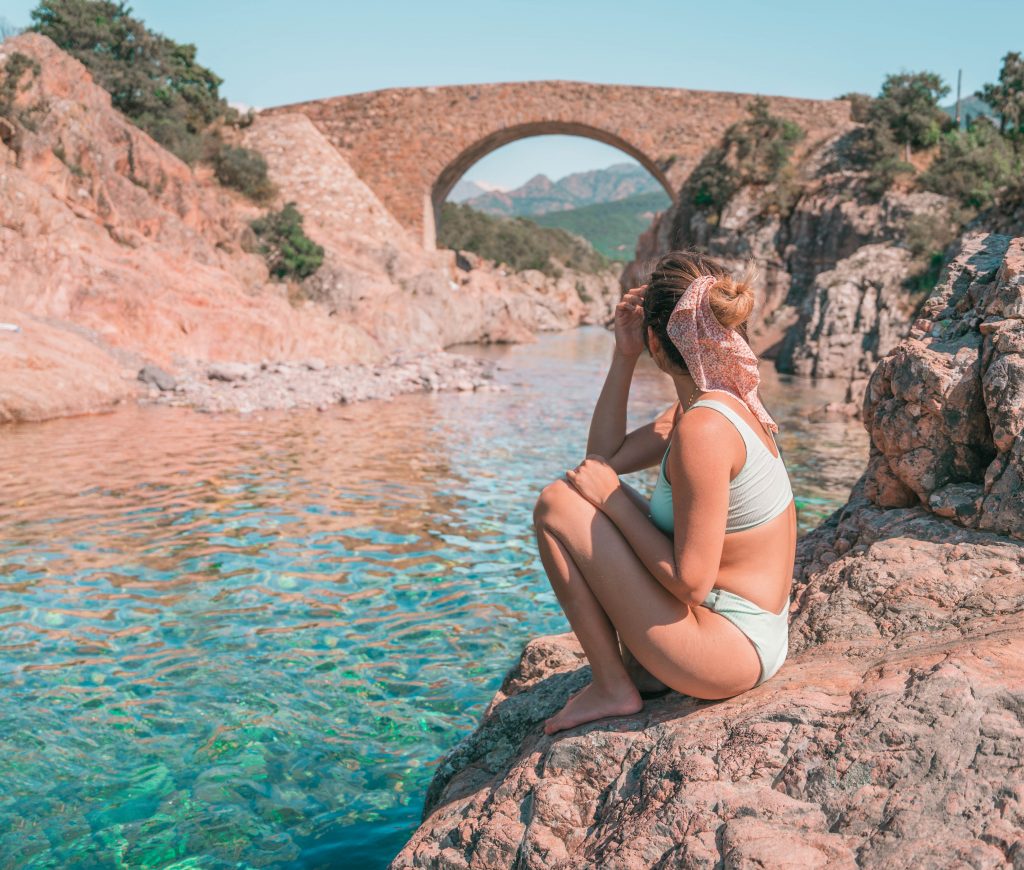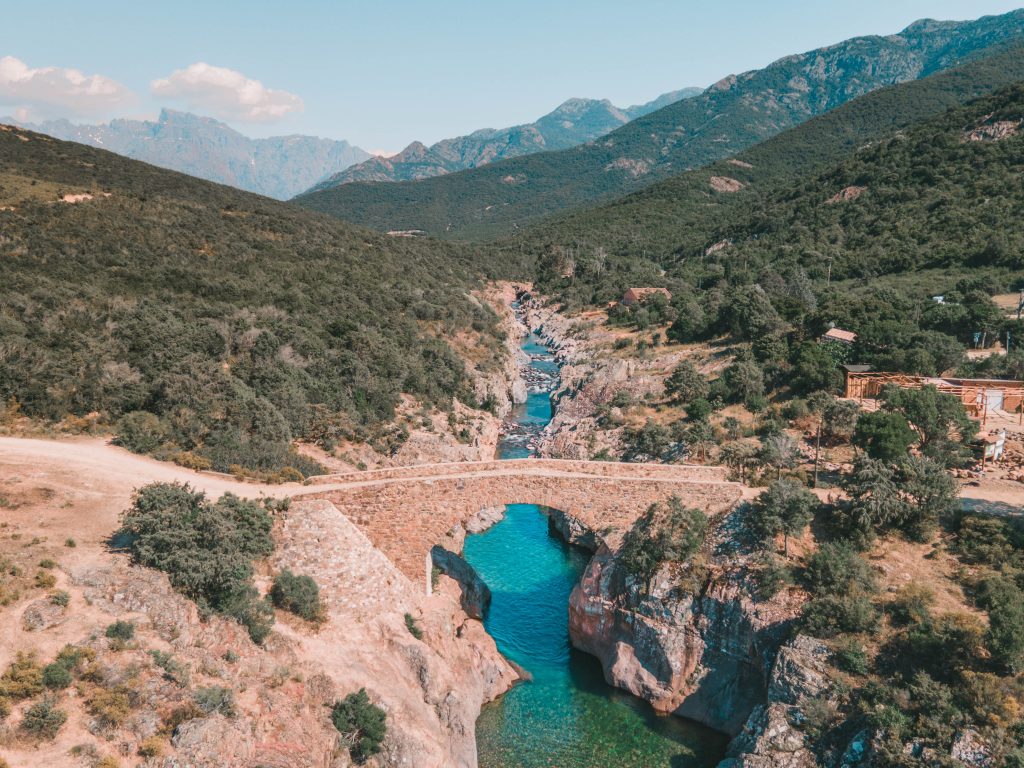 Other must-sees around Calvi and Île-Rousse
If you have time, here are some more places to see:
The chapel of Notre Dame de La Serra for a superb view of Calvi
The abandoned village of icci
The village of Sant'Antonino.
Days 6 to 7: Corte, journey to Upper Corsica 
In hindsight, I would like to tell you that a road trip in the North of Corsica deserves more time: two or even three weeks. But sometimes you don't have a choice and you have to compromise! In short, let's head to Corte, in the heart of the mountains, through winding roads…
Where to stay in Corte?
I stayed in this duplex apartment so I could make some food quietly. It is well equipped and there is parking. Good value for money: Residence e Scaravaglie. 
If you prefer to stay in a hotel of good standing, I recommend the beautiful establishment Dominique Colonnaor the guest room Maison San Giovanni. 
What to do in Corte? 
The island of Beauty does not only shine through its heavenly beaches, it also offers its visitors and its inhabitants breathtaking mountain landscapes. Corte is a city to visit, especially for its surroundings.
The lakes of Melo and Capitello
To do rather in the morning, the hike that leads to Lake Melo and Capitello is magnificent! Just the road to get there is crazy about beauty. That said, be careful when driving on this road, it's tight. That's why I don't necessarily advocate renting a large vehicle.
I advise you to be there under the blows of 8:30/9 o'clock so as not to get too hot during the walk. In addition, we are here in the mountains so sometimes the sky covers in the afternoon. The climb to Lake Melo will take you about 1h30. This does not present any major difficulty, there is just a steep slope and 2 small ladders towards the end.
The start of the hike is from this parking lot. The entrance fee is 6€ per day per vehicle.
---
Voir cette publication sur Instagram
? The natural swimming pools of Restonica
Imagine, alone in the world, refreshing yourself in the clear waters of the Restonica gorge… It's a dream come true, isn't it? Well, the water is cold but it doesn't matter, it will still look like heaven.
To find your private natural pool, you just have to walk along the D623 that starts from Corte until the end of the valley road. I stopped right here, but if there are people you can just go ahead or turn around and find your own pool!
Little advice: don't go too early in the morning, or too late in the afternoon because it's better if the sun is straight. Not only for not being in the shade and being cold, but also for the photogenic side.
?

Via Ferrata in the heart of the Asco valley
We end this itinerary in Haute Corse with my favorite activity of the trip: the Via Ferrata. As you know, I am not a great athlete but I loved it! I did the «Evasion» route which is fun and sensational at the same time, with its 7 zip lines. Well, pass your way if you really have vertigo and prefer this activity canyoning… but otherwise, go for it!
The landscapes are magnificent, between mountain and river. Safety is perfectly ensured with good equipment and a briefing at the beginning of the course.  Do not hesitate to make a small splash in the river after the effort !
You can also opt for a 4×4 ride through the valley!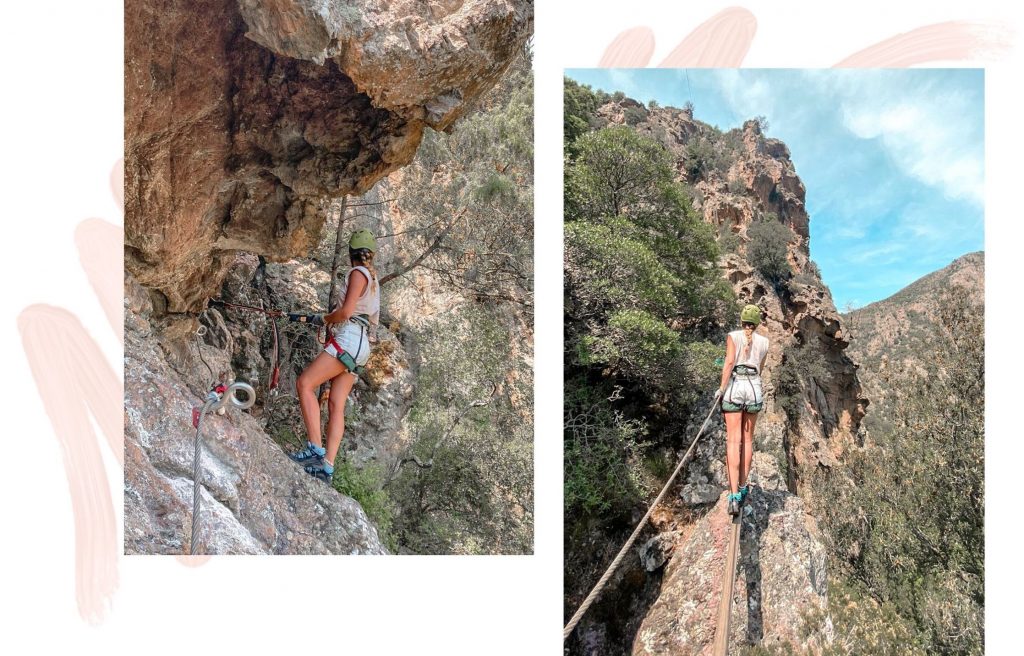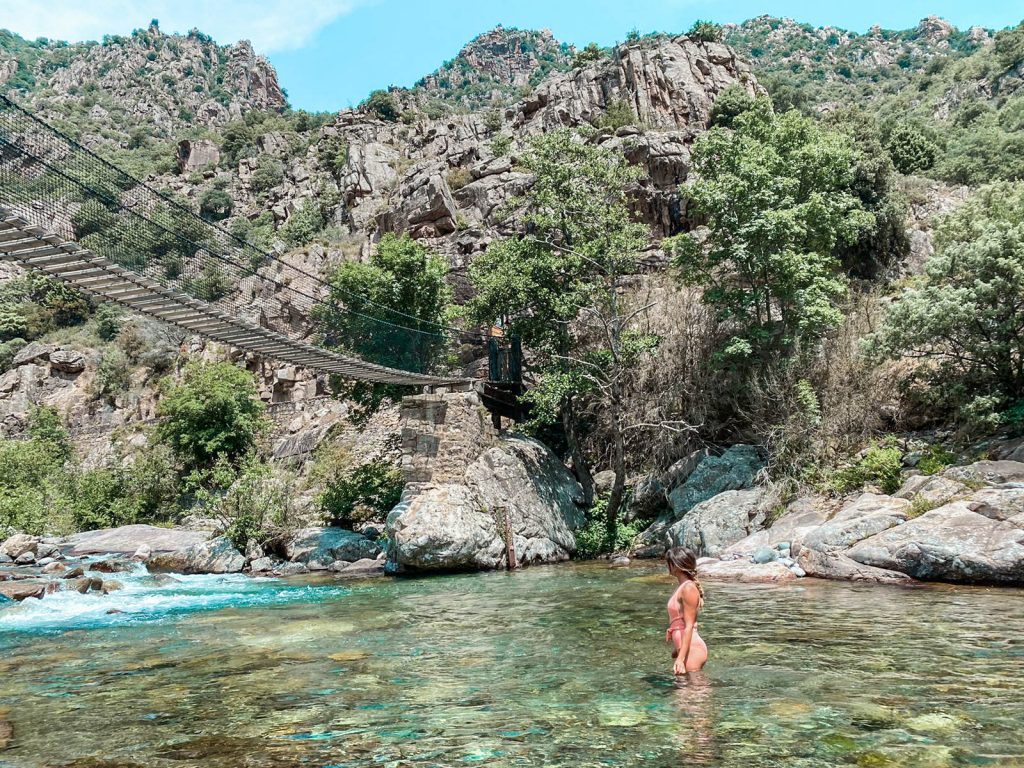 ---
This is the end of my week-long itinerary in Northern Corsica! I hope you enjoyed it and that you found the necessary information to organize your trip to Haute Corse.
To go further, discover a week-long itinerary in the north of Sardinia !