Road trip in Sardinia : 1-week itinerary in the North
Are you planning a road trip in Sardinia? We offer you an itinerary to discover the North of Sardinia by car! It's a trip we took in July 2017 and loved it. Beach lovers, you will be amazed in Sardinia.
Travel to Sardinia: practical information
When to go to Sardinia?
☀️ The best time to travel to Sardinia is in May, June or October. In July and August, the weather is also beautiful, but the beaches are crowded with tourists.
Plane tickets to Sardinia
We had, as usual, book our plane tickets through Skyscanner. We find that the comparator finds the best prices and the possibility of setting flexible dates is very practical! To visit the north of Sardinia, the best is to land at Olbia airport, less than 2 hours from France. Plane tickets are generally very affordable – obviously more expensive in July / August.
Accommodation in Sardinia
We only booked accommodation on Booking.com, looking at reviews and prices around €50 per night.
Getting around North Sardinia
To follow our itinerary, it is essential to rent a car for a road trip in Sardinia! We still advise you to compare prices with Skyscanner.
Budget for 1 week road trip in Sardinia
Plane tickets:

€

100 p.p.

Car rental: € 160 

for an economic model

Gasoline costs: 

€

50

Hotels: € 60

per night

Food: € 35

per person per day
     Total: 1 320 € for two people
* indicative budget according to our mode of travel – prices July 2017
---
Northern Sardinia Itinerary – Road Trip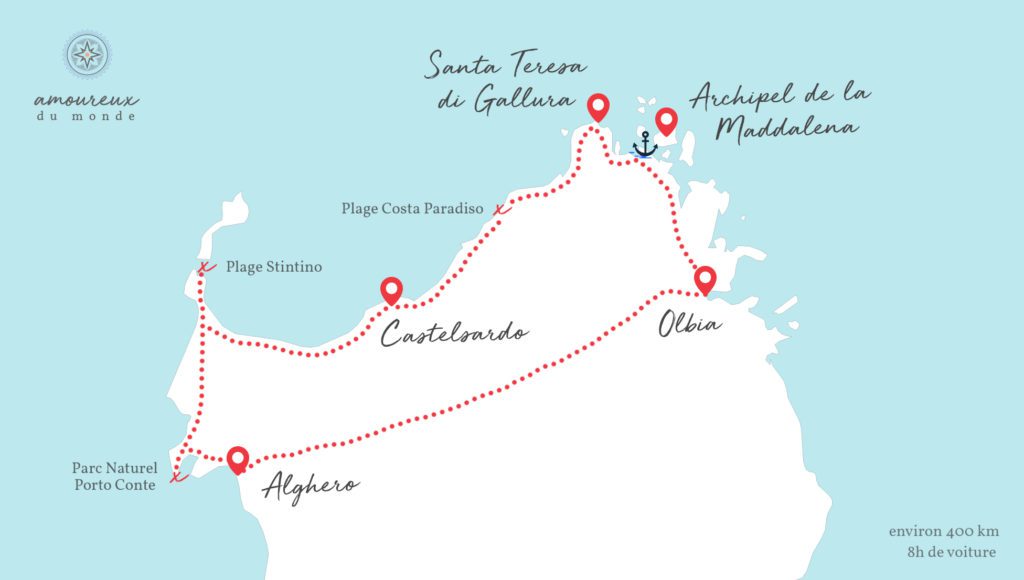 Olbia – Alghero (? 1h40)
At the airport, we crossed the island from east to west in one go. Nothing really interesting on the road, the landscapes are very arid and there is not much to see. Before tackling the Sardinian beaches, which are among the most beautiful in Europe, we wanted to discover an authentic city.
Alghero is a bustling ancient Catalan town. The center is very colorful and there is a port. It is pleasant to walk along the ramparts. Also discover the small alleys and its shops, its restaurants with terrace. Finally, the sunset over the sea is magnificent since Alghero is located in the far west of Sardinia.
Other activities to do in Olbia:
Dive into the depths of the Gulf of Orosei.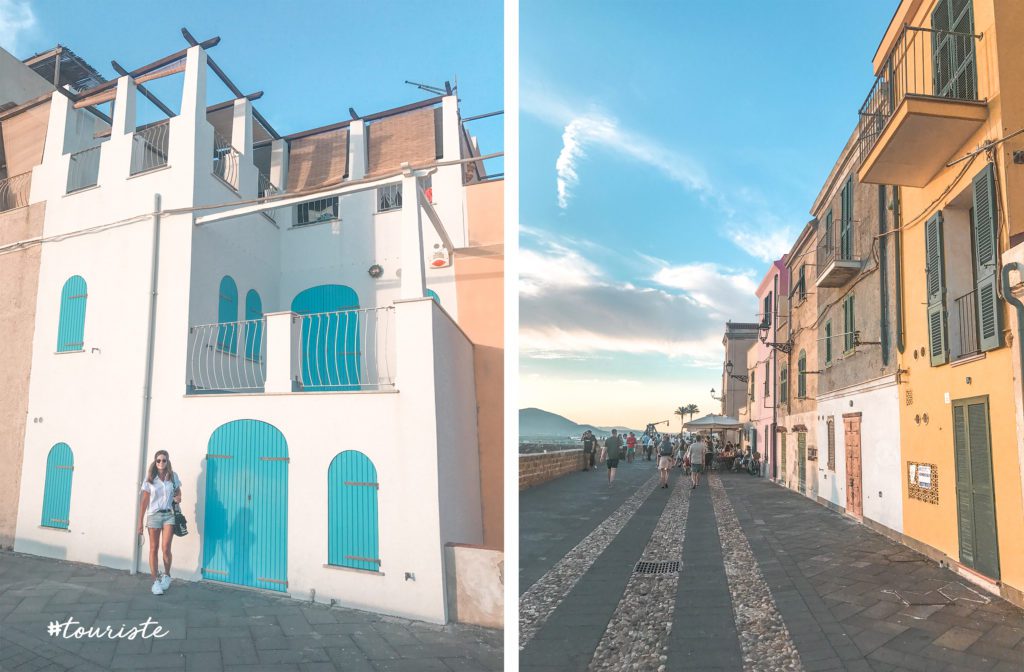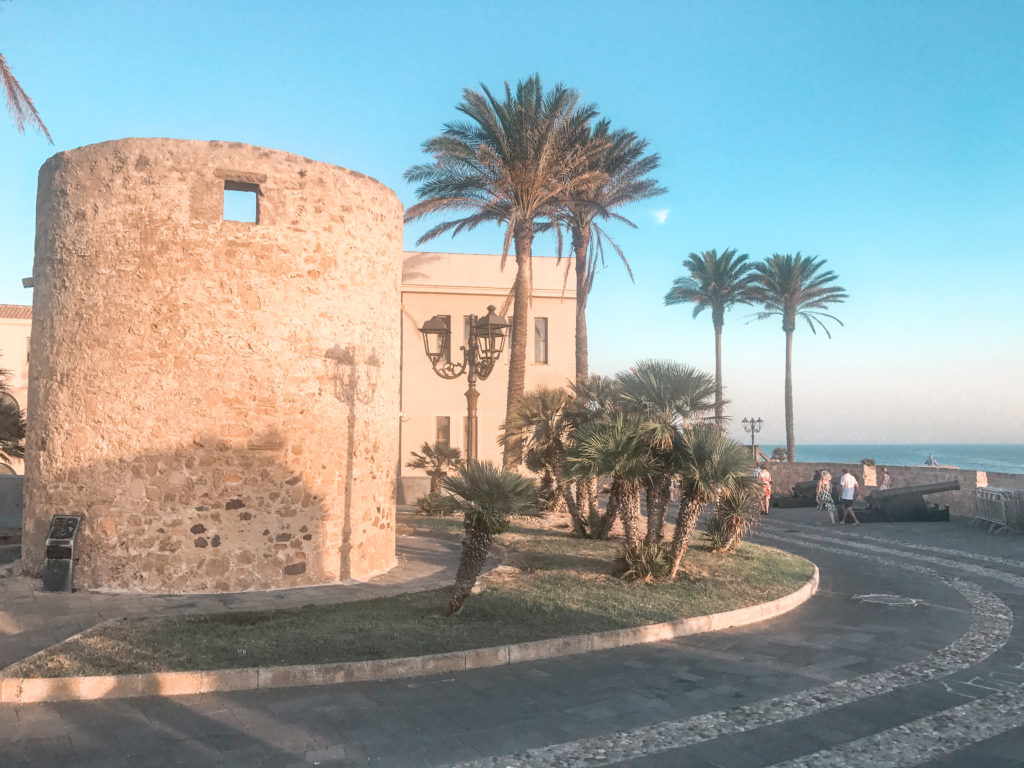 Voir cette publication sur Instagram
---
Alghero – Porto Conte Regional Natural Park (

? 

30 minutes)
For our 1 week itinerary / road trip in Sardinia, we decided to go north along the west coast to make a loop to Olbia. First stop to have a magnificent point of view: the regional natural park of Porto Conte. It is an unspoiled almost-island, which stretches about 2 km wide – 12 km long. There are beautiful walks to do, with countless plant species. The views over the Mediterranean Sea are superb. For the more athletic there is a cycle path from Alghero, count 20 km. A few minutes north of this natural park you will find the beautiful Porto Ferro beach.
Access to this regional park is free, no entrance fees.



---
Porto Conte Regional Natural Park – Stintino (

? 

1h)
Warning the eyes ! Just above Stintino you will find one of the most beautiful beaches in the Mediterranean: La Pelosa. The water is really translucent there … Then you have foot for tens of meters! This place is unfortunately a victim of its success, so crowded with people. We recommend that you get there early enough. Too bad, at that time, we didn't have our Drone to take great aerial shots of all that turquoise blue.
But hey, the photos still make you want to take a dip! ☀️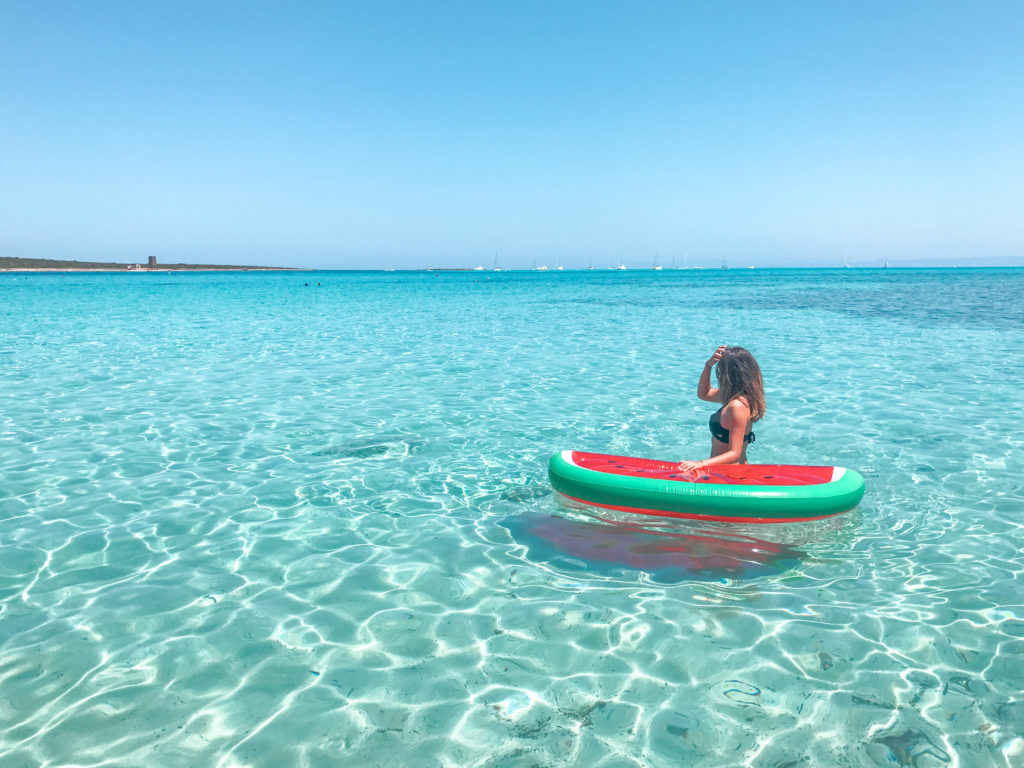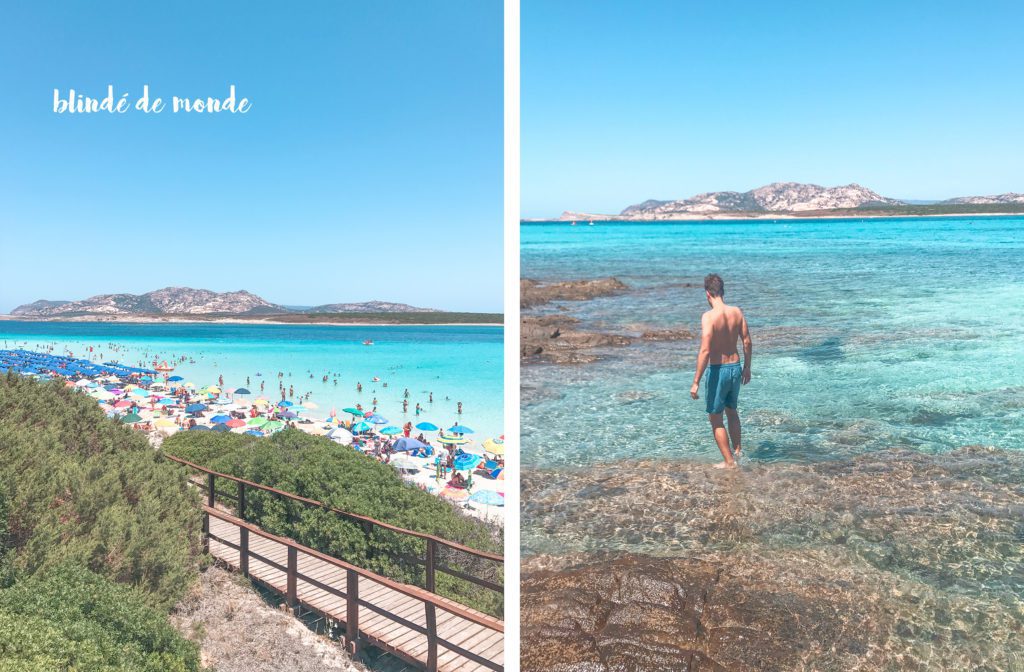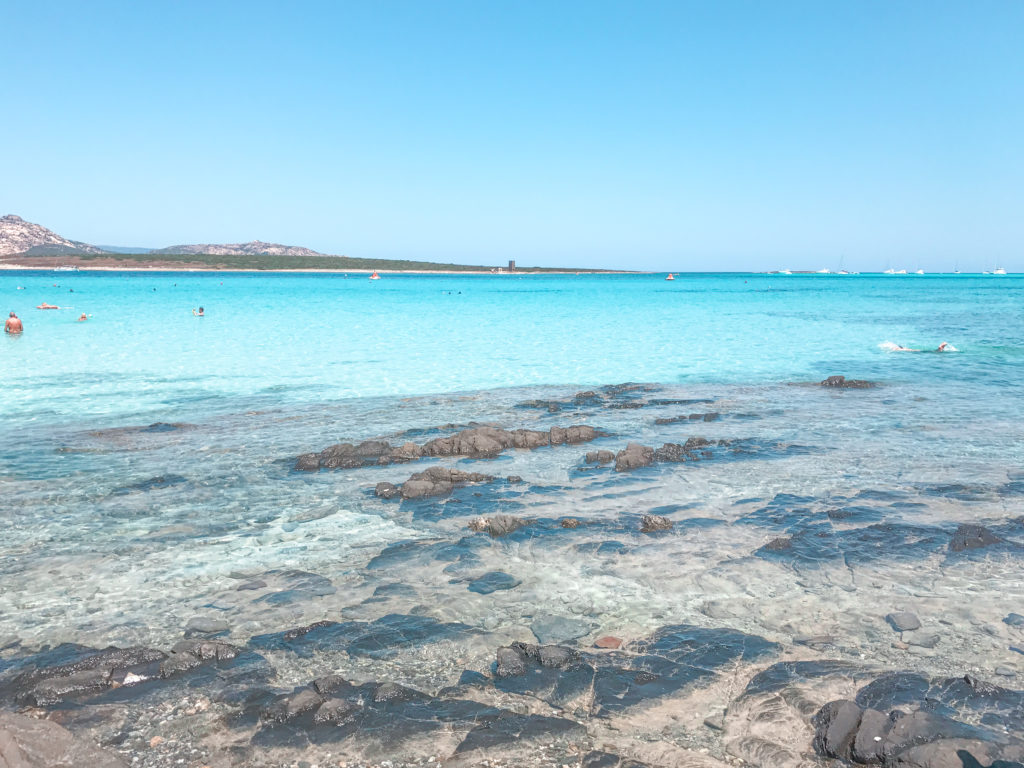 ---
Stintino – Castelsardo (? 1h)
Change of scenery. Here you will find a charming town with facades painted in different colors, clinging to the rocks that border the water. A decor that is somewhat reminiscent of the Cinque Terre!
The orange hue of the city at sunset is sumptuous. There is even a small beach below to enjoy the spectacle with your feet in the water. We had eaten on the terrace just opposite to contemplate the beauty of the moment and obviously have an aperitif!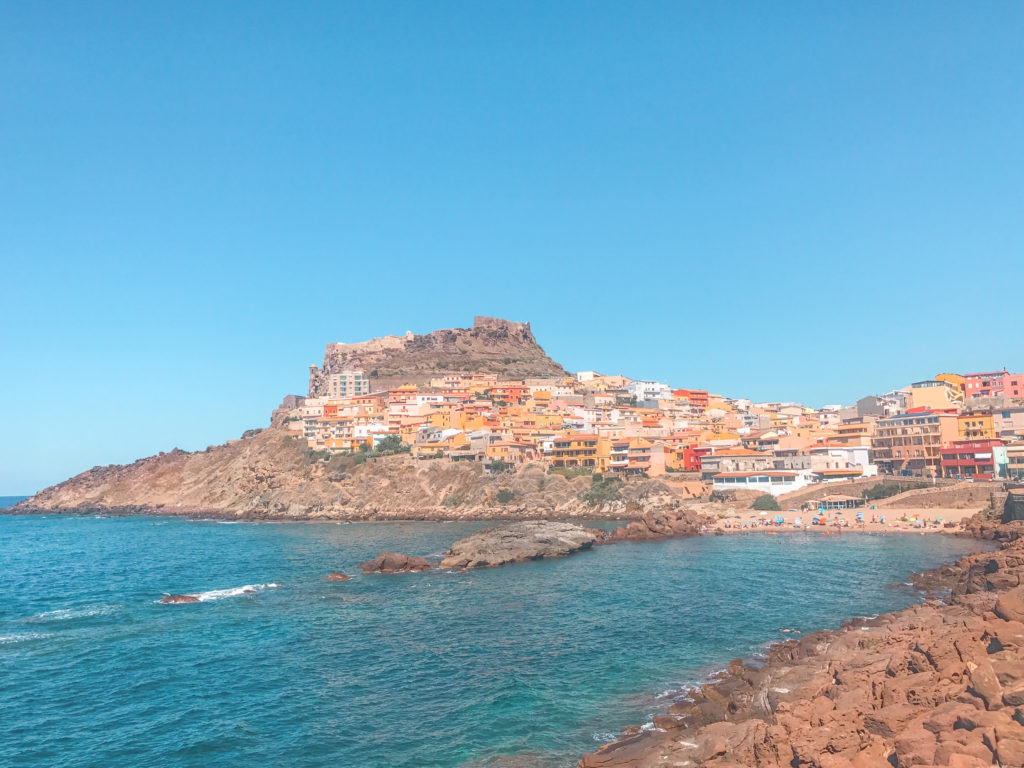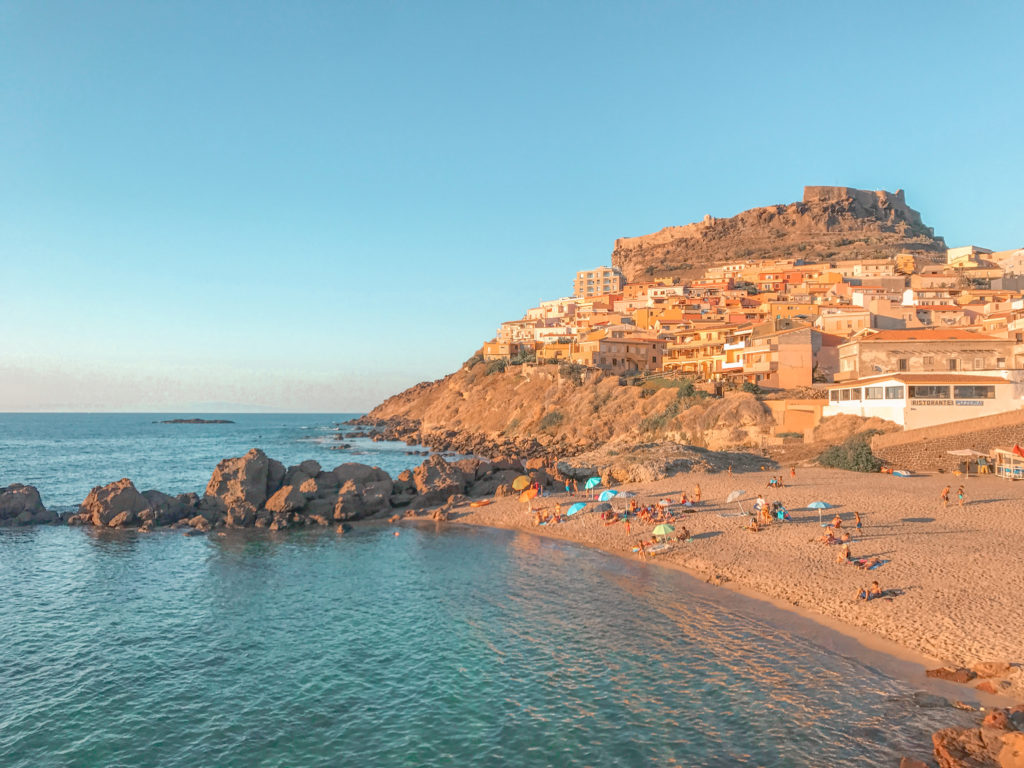 ---
Castelsardo – Costa Paradiso (? 50 minutes)
The name alone is evocative!
Costa Paradiso is a small town that has a pretty sandy beach between the rocks. You can enjoy crystal clear water as you like it. There is a very nice walk to do along the coast.
Spend the afternoon there after enjoying Castelsardo in the morning.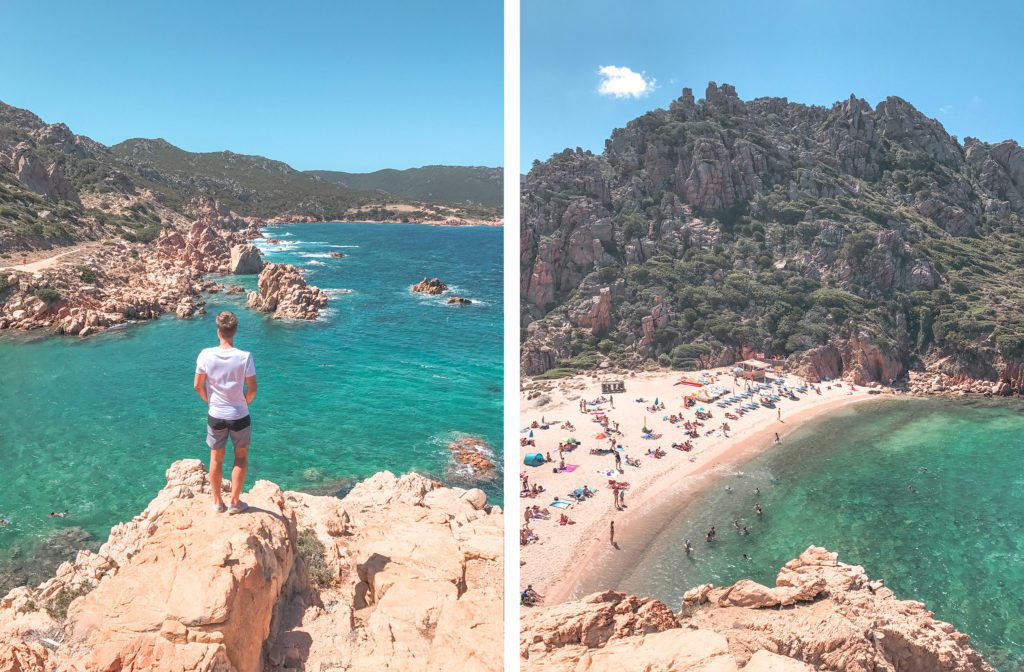 ---
Costa Paradiso – Santa Teresa di Gallura (? 40 minutes)
It is one of the largest cities in northern Sardinia. Santa Teresa Gallura is very flowery, with many traders. This was not really planned at the base, but we stopped here to take a ferry to Corsica. We stayed 48 hours in the south of Corsica to see family. If you have time to make a stopover in Corsica, don't hesitate, the prices are affordable and the crossing to Bonifacio only takes an hour. We will not tell you more about Corsica because we will devote a full article to it during our next stay on the island of beauty.
Back to the Sardinians, direction Palau to take the ferry to the islands of La Maddalena.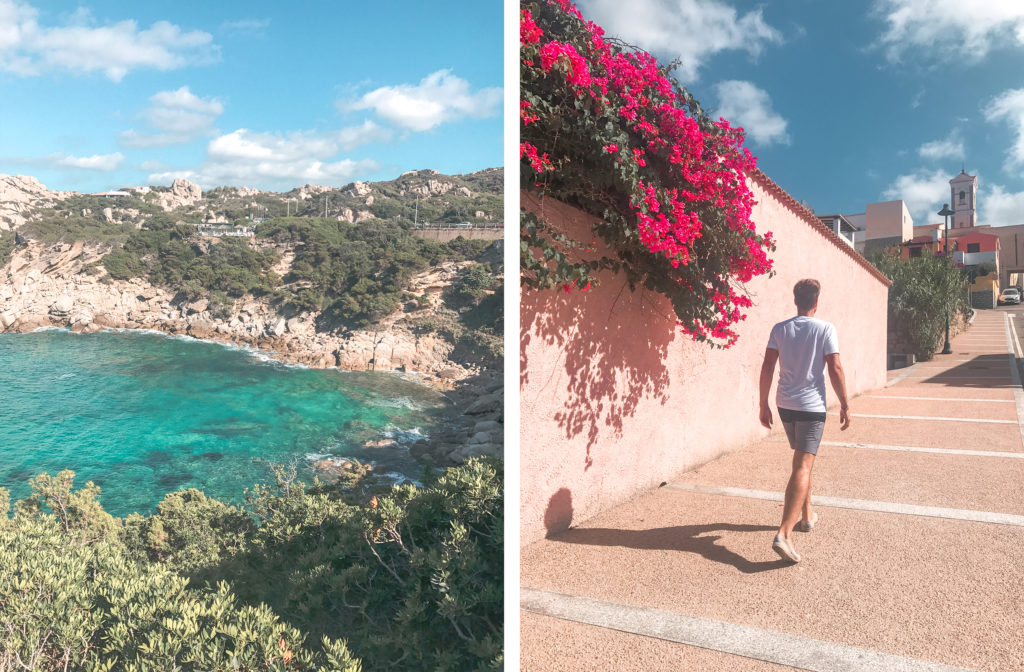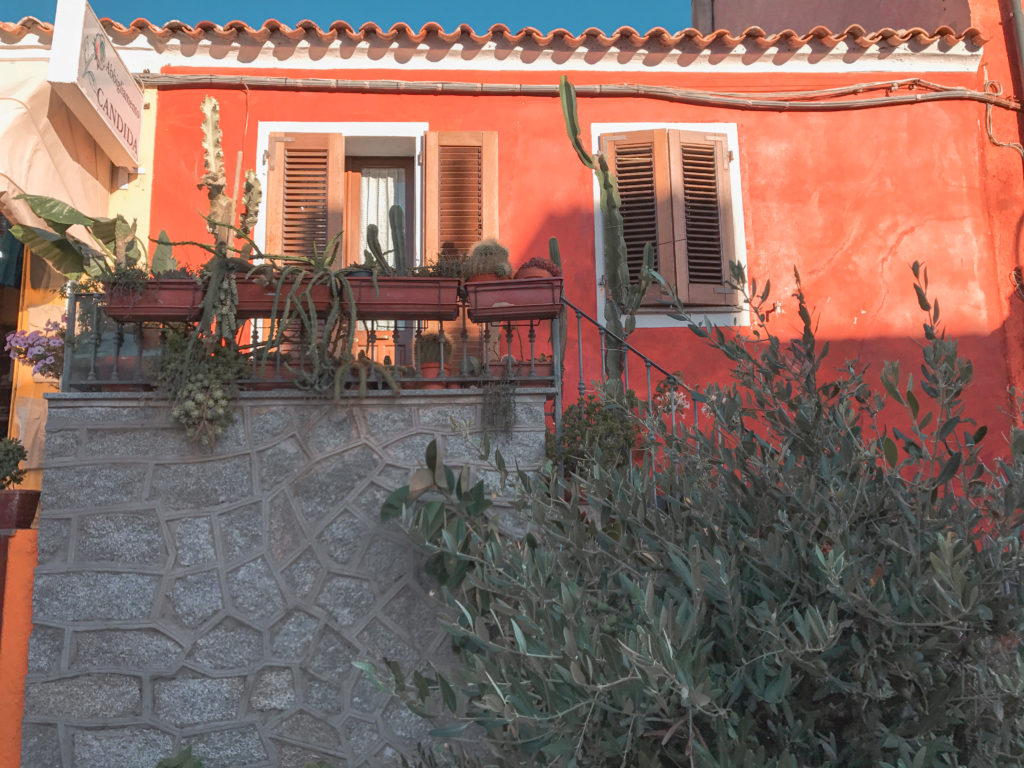 ---
The islands of Maddalena, the jewel of northern Sardinia
❤️ We recommend that you spend at least one night on the Maddalena Islands to fully enjoy it. However, if you don't have time, you can book this full-day boat trip to visit them. It's a must-see during your road trip in Sardinia!
It is quite easy to get to the Maddalena archipelago. There are ferries every 30 minutes and the service is very good. Again, we're repeating ourselves, but plan to go early (first boat at 8:15 am) to avoid the crowds and have to wait for the next boat … especially if you have a car and want to cross with it! Besides, having a car is really essential to get around.
Ferry price: € 48 for two people with 1 car, round trip.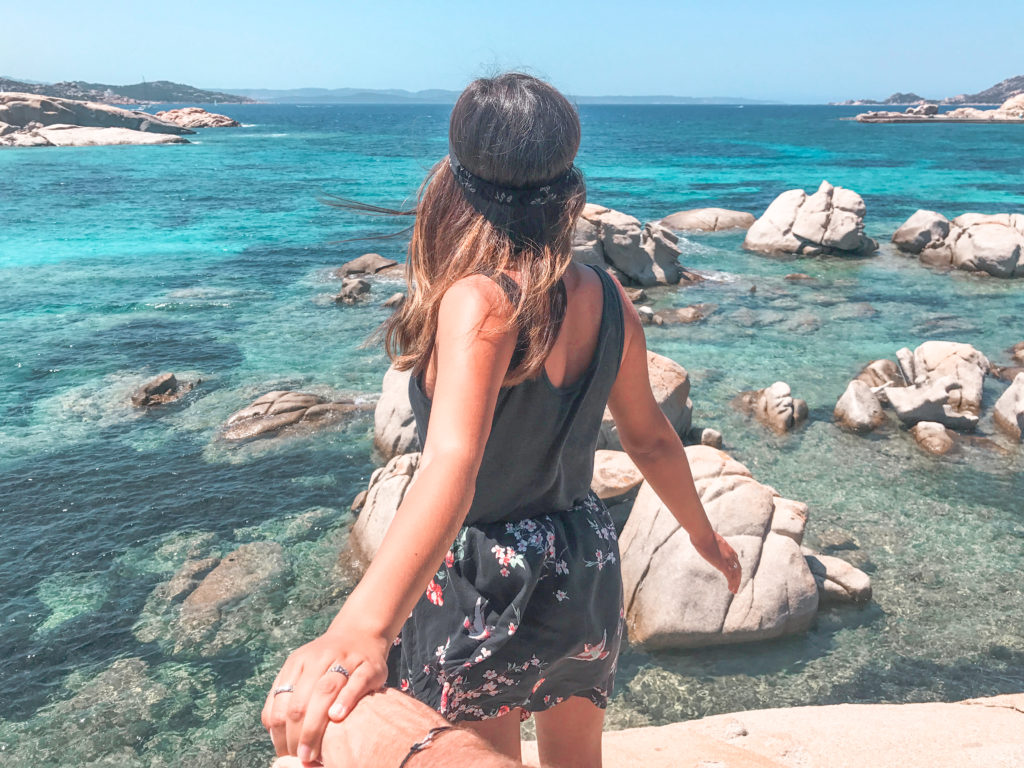 Visit the Maddalena Islands
Once on the main island, La Maddalena, you will be surrounded by turquoise blue water, it is truly beautiful. We recognize in his city the Italian charm, with its pretty colors and flowers. We had done the tour quite quickly, as we had come for 2 days here to enjoy nature and the beaches! In order to find the best spots, we always use the Google Maps app with satellite view to find the clearest waters. Here you will have a lot of choice.
We started off at Del Polpo beach on the Giardinelli peninsula. It is accessible by car just a 15-minute drive from the port of arrival. It was beautiful and it wasn't too crowded.
One of the best beaches during our road trip in Sardinia
The next day, head to Caprera Island (east of the archipelago) for a ride, to descend into a cove. This island is much more unspoiled, with greenery and little habitation. It took us 20 minutes to get to the "Fosso di Stefano" trailhead. Then, it takes 30 minutes of walking to discover Cala Coticcio beach. It is arguably one of the most beautiful places we have seen in Europe. The water is peaceful and translucent.
The beach is tiny, we recommend that you try to find a small flat area on the rocks to be quieter (then you will have a much better view). Getting there early enough will allow you to park closer to the start of the trail. Plan to take good shoes, do not go in flip flops because there are small rocks to climb and 120 meters of vertical drop! If you make the most of a morning on this spot, stop by Barone Rosso on the way back for a delicious, inexpensive lunch. This snack doesn't look like much but the dishes are delicious and plentiful.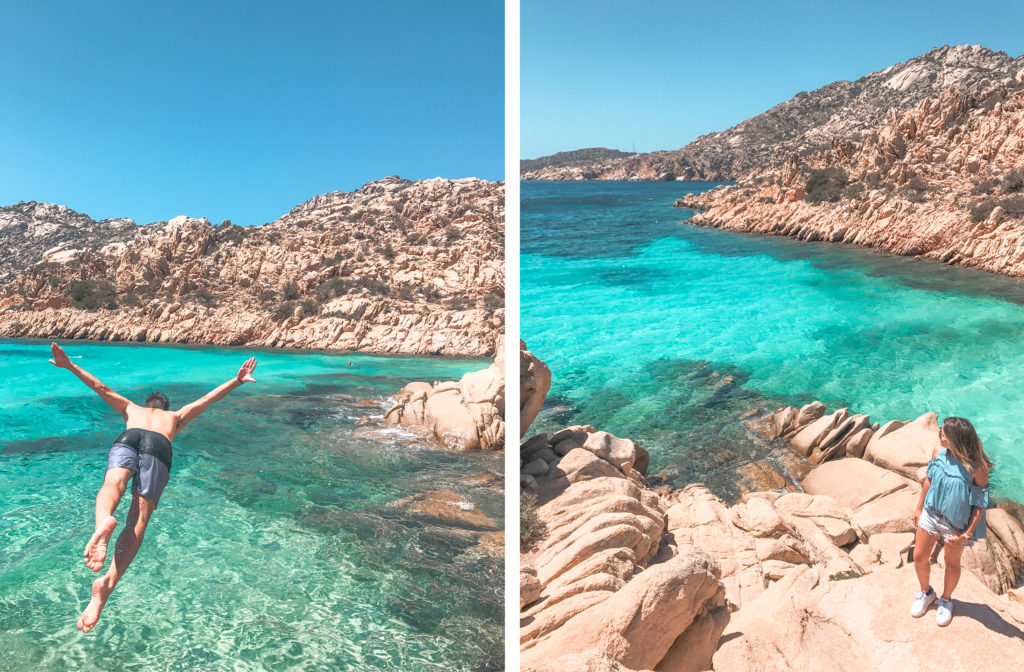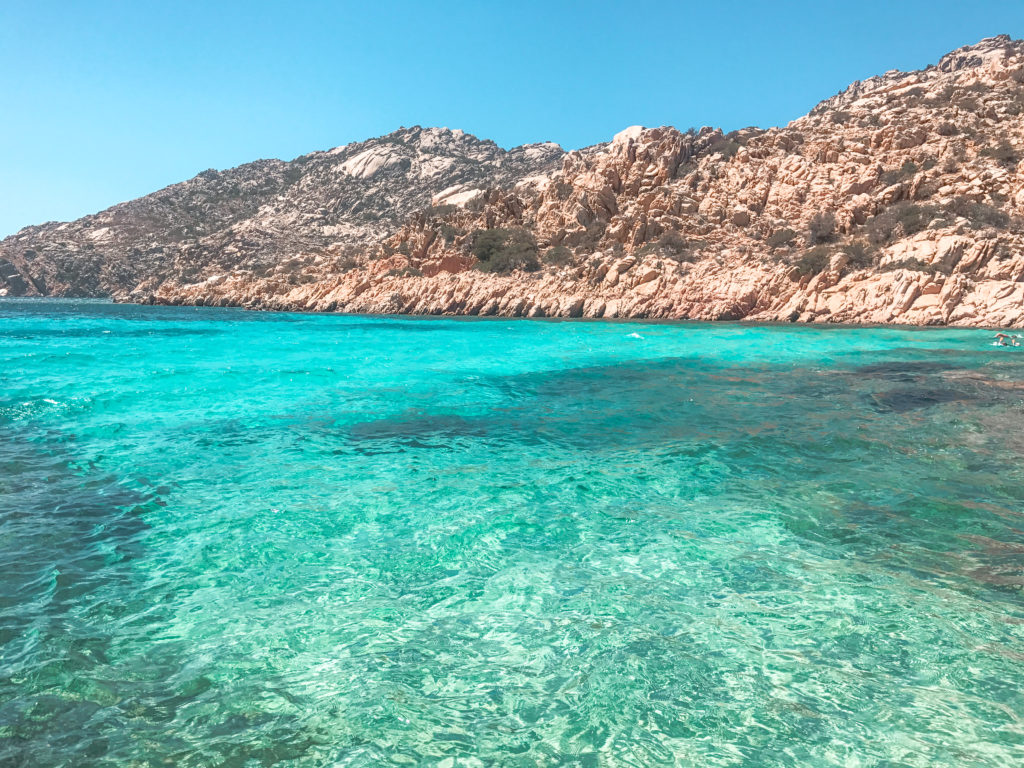 We spent the rest of the time crisscrossing the island and looking for beautiful views, you will have plenty to do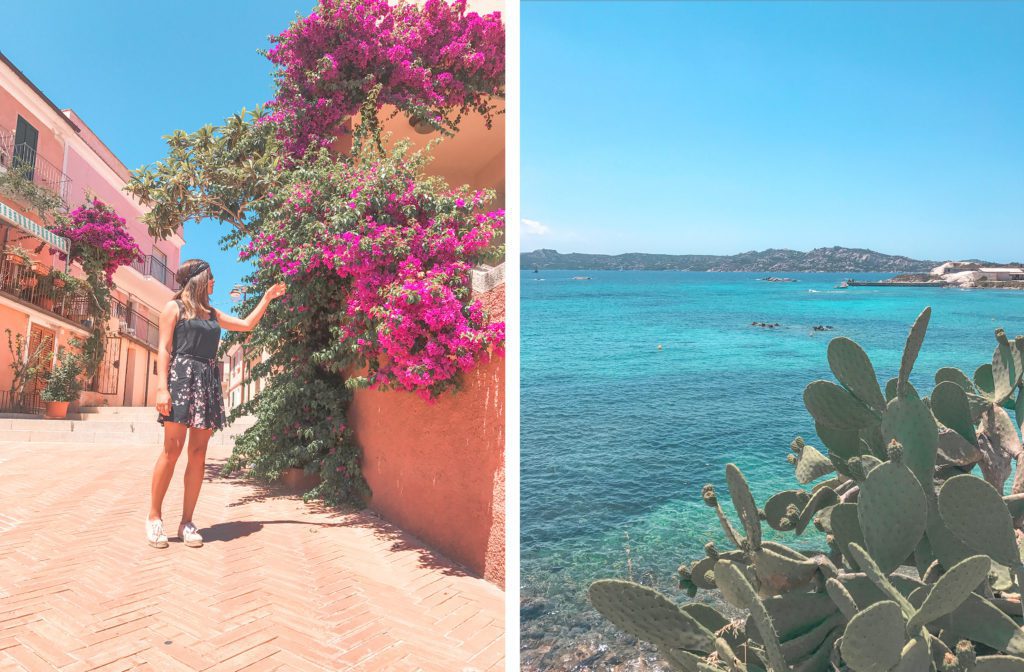 ---
Taken by the weather – yes a week goes by very quickly – we were unable to hitchhike between Maddalena and Olbia airport. Out of curiosity, we just went to see Porto Cervo. This resort is very popular and has a pretty harbor with many small boats and yachts. It's a bit like Sardinian Saint-Tropez, where the jet set comes to the fore! We didn't see much interest in it.
We hope to have made you want to come to Sardinia for this summer. If you are looking for other inspirations for your holidays, find all our Italian Travel Guides 

LIEN

. We await your questions and comments in comments. Kisses to all