Visit Gran Canaria: One week road trip on the island of Gran Canaria
Ah the Canaries! This marvellous Spanish archipelago where life is good, whether it's the year-round temperatures or the beauty of the landscapes. I decided to visit Gran Canaria, an island not far from the more famous Tenerife. By the way, you can read our Tenerife travel guide here.
I didn't have any particular expectations when putting together an itinerary for my one week road trip to Gran Canaria. I was simply looking for a destination that was not too expensive, not too far away, where I could get some sun in the middle of January. After visiting the island, I can tell you that my enthusiasm is at its highest. The landscapes are splendid and so varied! Let's discover together the must-do's in Gran Canaria, with my one-week itinerary.
---
What to do in Gran Canaria?
One week to visit Gran Canaria is the ideal amount of time! There is so much to see and do on the island of Gran Canaria. All profiles will be satisfied: whether it is for relaxation or adventure, everything is possible.
? In advance, I apologise if there are places where I don't have my own photos. This is due to the plane hassle on the way out, which shifted my whole programme by one day (so I had to sacrifice stops for the week in Gran Canaria).
Practical information for your road trip to Gran Canaria
How to get to Gran Canaria?
Being an island, the most convenient way to get there is by plane:
✈️ To book my flight tickets, I always use the French flight comparator Ulysse. The customer service is very responsive in case of problems. Get a 10€ discount by signing up via this link.
? The ferry: if you want to visit several islands in the Canaries, there is no need to fly. Ferries run between each island. Book your tickets online at DirectFerries.
How to rent a car for your trip to Gran Canaria?
Essential for a road trip, I went through the BSP Auto comparator to book my car to visit Gran Canaria. This allows you to compare offers and book your rental online!
⚠️ Make your reservation right after you buy your plane tickets, prices on car rentals go through the roof at the last minute.
COVID: What are the requirements for travelling to the Canary Islands in Spain?
To date, Spain requires either vaccination or a negative test. All information about Covid is updated on the government website.
Please note that if you are not able to show proof of vaccination, I would not advise you to go to the Canary Islands as you will be asked for it when staying in hotels. Otherwise, it is possible to access the hotels by showing a negative test result, but it seems complicated to me to be tested several times during your stay. Otherwise, I have never been asked for a health/vaccine pass anywhere other than hotels.
? Wearing a mask was mandatory in shops (January 2022).
Budget for a one week road trip to Gran Canaria?
Here are the details of my expenses for my trip to Gran Canaria :
✈️ Flights Lyon – Gran Canaria: 120€ per person
? Car rental: 200€ for the week
⛽️ Petrol costs: 50€, representing 1 full tank for the whole itinerary travelled
? Hotels: 90€ per night on average for a comfortable hotel or flat
? Restaurants: 30€ per day per person for 2 restaurant meals.
Total for a 7 night trip = €1,540, or €770 per person, excluding activities.
This budget may vary depending on the price of car/plane rentals and the standard of accommodation you choose. You can also save a lot of money on food by cooking in an apartment-hotel (many on the island) or by eating a snack at lunchtime.
When to go to Gran Canaria?
☀️ All the time! Temperatures are good all year round in Gran Canaria. Thanks to their geographical location right across from southern Morocco, it's between 20 and 28 degrees, 12 months of the year. If you want to go swimming and you're a bit chilly, you should avoid winter when the water is colder. It was around 20°C during my stay in January. But otherwise, I think the Canaries are an ideal destination during the winter months here.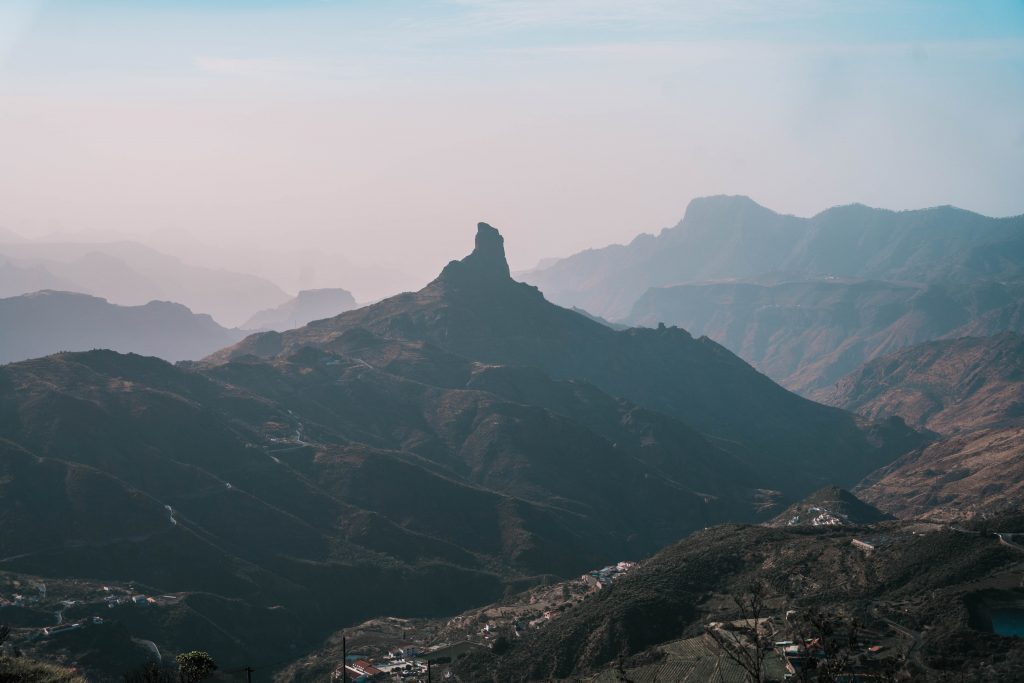 ---
Visiting Gran Canaria: one week itinerary
Maspalomas (Day 1)
Inland Gran Canaria (Day 2)
Southwest Gran Canaria (Day 3)
Los Azulejos and the West Coast (Day 4)
North Gran Canaria (Day 5)
Las Palmas de Gran Canaria and its surroundings (Days 6-7)
Day 1: The dunes of Maspalomas
As soon as you arrive, you will be amazed by one of the most beautiful landscapes of Gran Canaria… I named the Dunes of Maspalomas. Don't be surprised to see huge resorts on the coast, as Maspalomas is one of the most popular resorts on the island. Incidentally, this is the black spot of Gran Canaria. As in many places in Spain, the coastal landscape is very concrete at times, but mostly spoiled by very large hotel complexes.
Let's go back to the dunes which are classified as a natural area. 400 hectares of desert are in front of us, with the ocean in the background to complete the whole. ? The Dunes of Maspalomas are very exotic, you feel as if you are transported walking barefoot on the warm sand. Depending on the light, the landscape is completely transformed, that's why I advise you to spend the afternoon there and wait for the sunset.
? How to get to the dunes of Maspalomas?
Park in the vicinity of the Riu Palace hotel. Then access the Mirador de Las Dunas de Maspalomas, then you can start your walk from here.
Where to sleep in Maspalomas?
I chose to sleep one night in the Maspalomas Lago Canary Sunset residence. Good value for money, for a flat with terrace. The parking is free and the hotel has a nice pool. Moreover, it is very well located, 5 minutes drive from the dunes!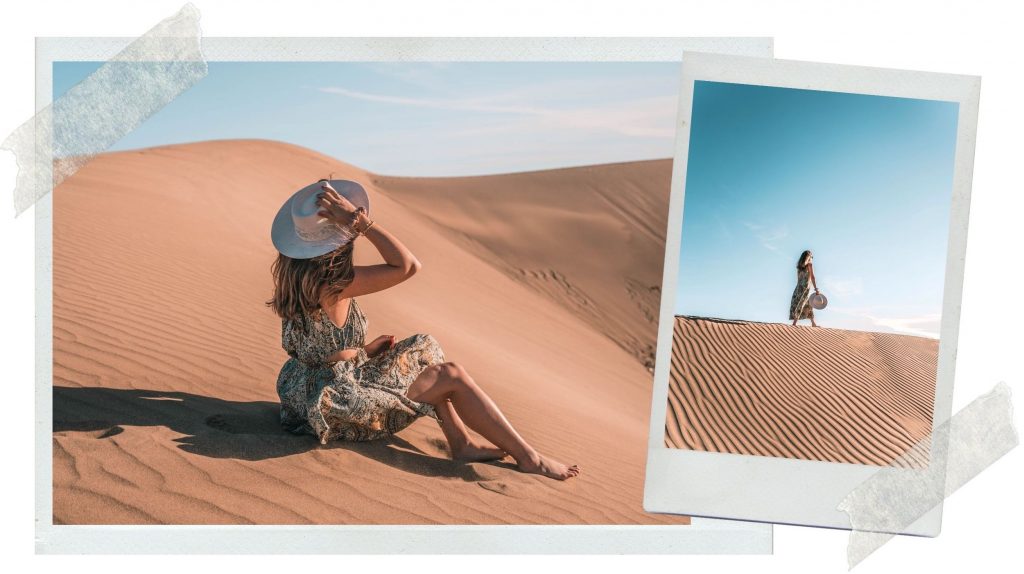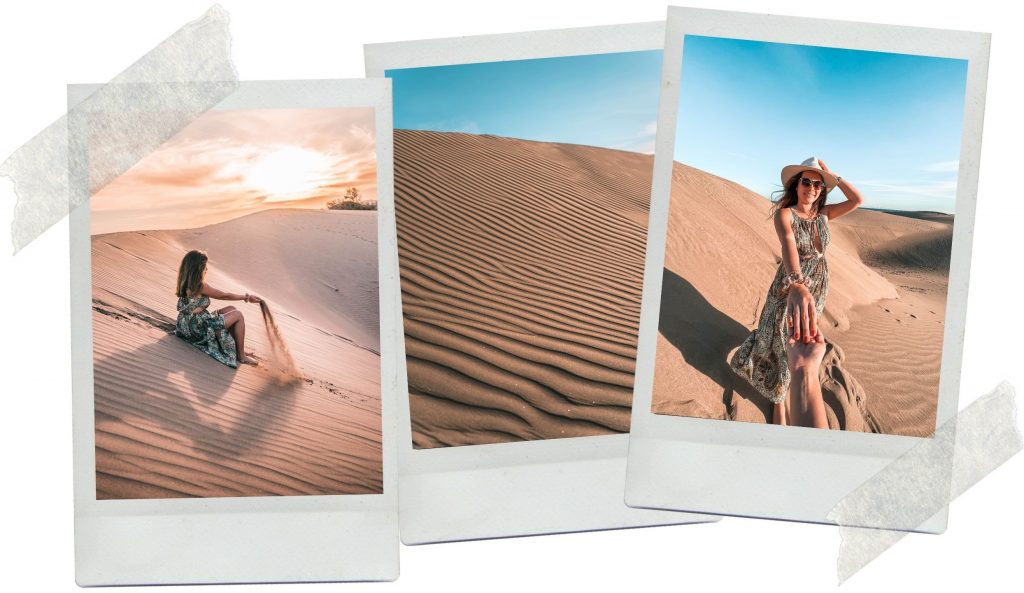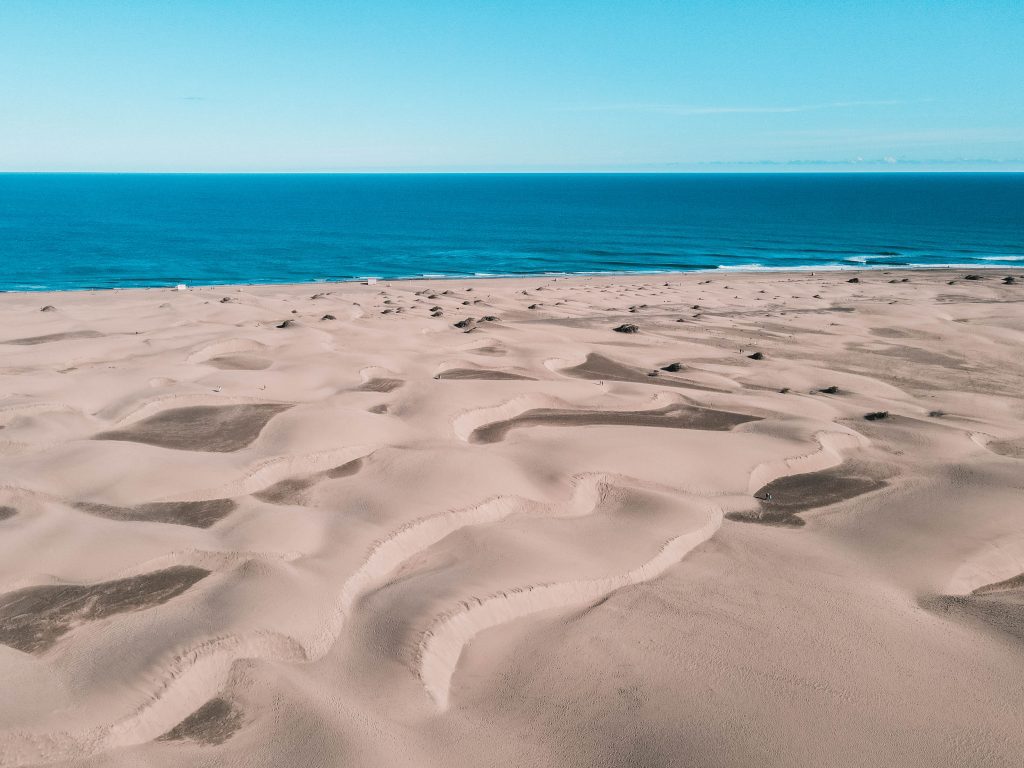 Day 2: The centre of Gran Canaria, inland
? Itinerary for day 2 on Google Maps
The most motivated will get up to admire the dunes of Maspalomas one last time for the sunrise before taking the road to the mountains. The others will sleep peacefully ?.
Today, head to the centre of Gran Canaria for a 100% nature getaway. You'll find that in just 10 minutes by car, you'll think you've teleported to another country.
Roque Nublo hike
A visit to Gran Canaria must include Roque Nublo, one of the symbols of the island of Gran Canaria. It is one of the largest natural rocks in the world! At over 1,800 metres above sea level, I advise you to take a windbreaker or a jumper for this short hike so as not to get cold.
The walk to the foot of Roque Nublo is splendid. The volcanic landscapes around are beautiful, I really felt like I was in a western movie.
? Access: 3 km round trip. Accessible to all! Free parking.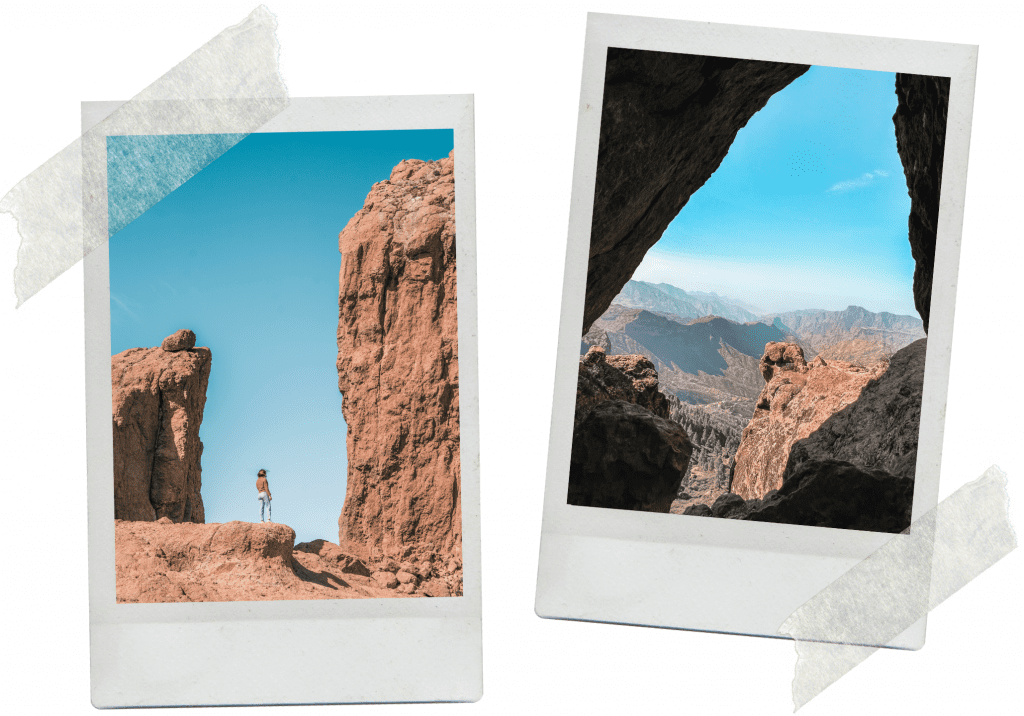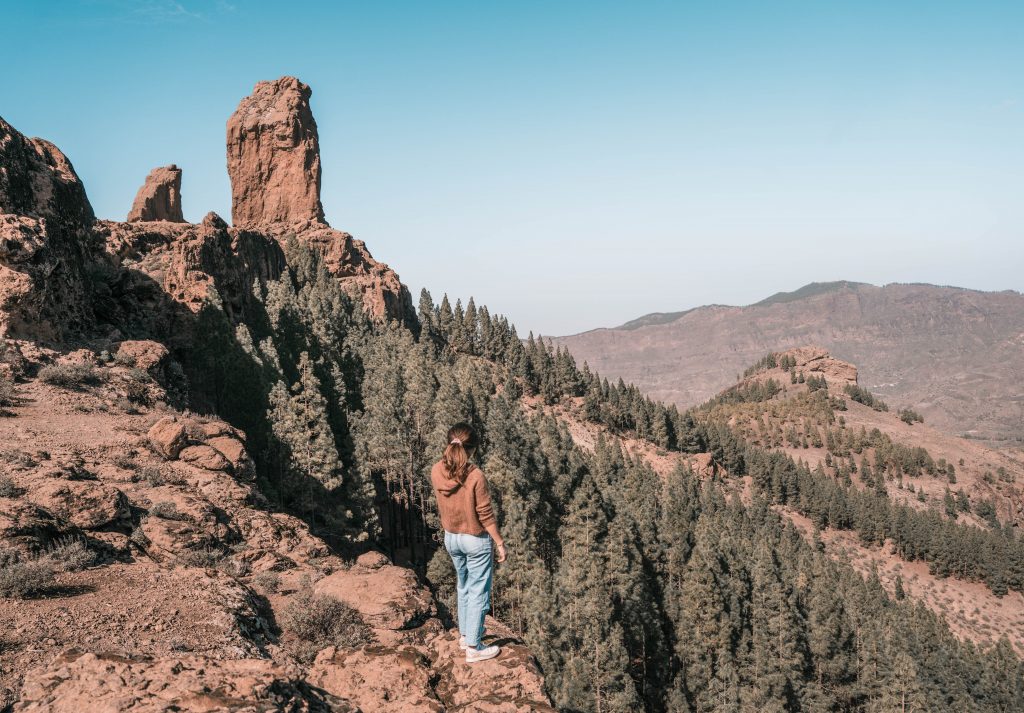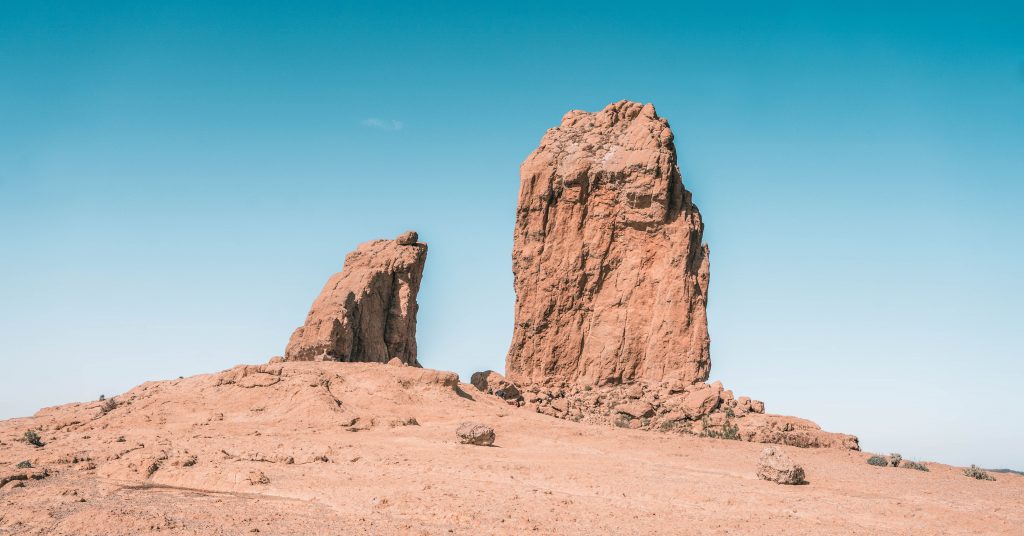 Picnic at Llanos de la Pez
Imagine having a barbecue, or a picnic for the disorganised like me ?, in the heart of a pine forest. That's what I propose to you at Llanos de la Pez. This landscaped area has plenty of barbecues, tables and even toilets.
So, if you are good with fire, come equipped to cook what you want (food, coal, etc.). So remember to stock up in Maspalomas before you set off, as there will be no supermarkets in the mountains. Personally, I didn't anticipate this shortage of shops in the mountain villages so I treated myself to a sandwich bought at the little stand at the start of the Roque Nublo hike. ?
Feel free to walk through the forest to digest.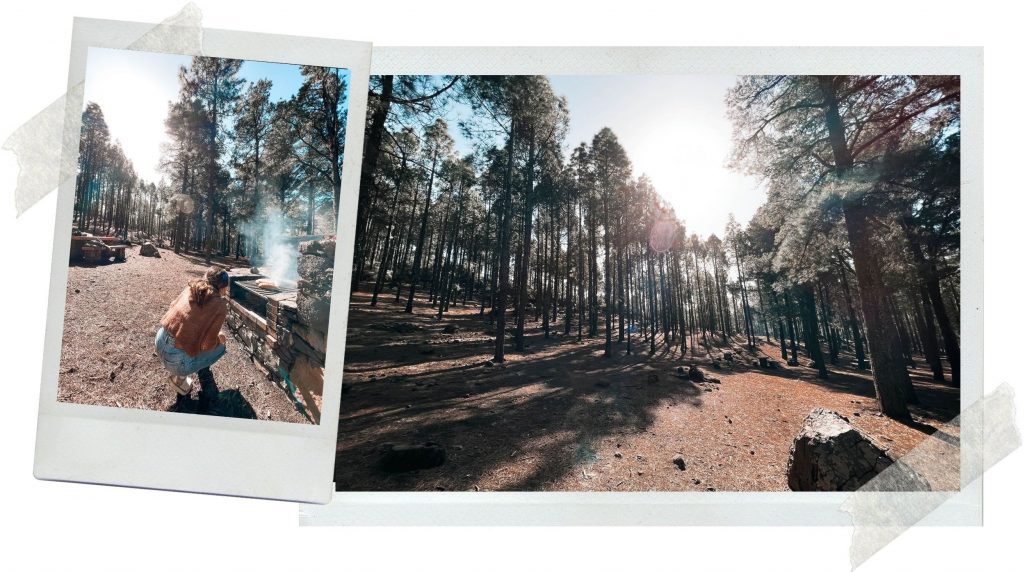 Viewpoint of Pico de Las Nieves
There are many viewpoints in Gran Canaria. There are several on the day 2 routes where you can stop if you wish. I recommend not to miss the mirador of Pico de Las Nieves, which offers a panoramic view of Roque Nublo and the surrounding peaks. ?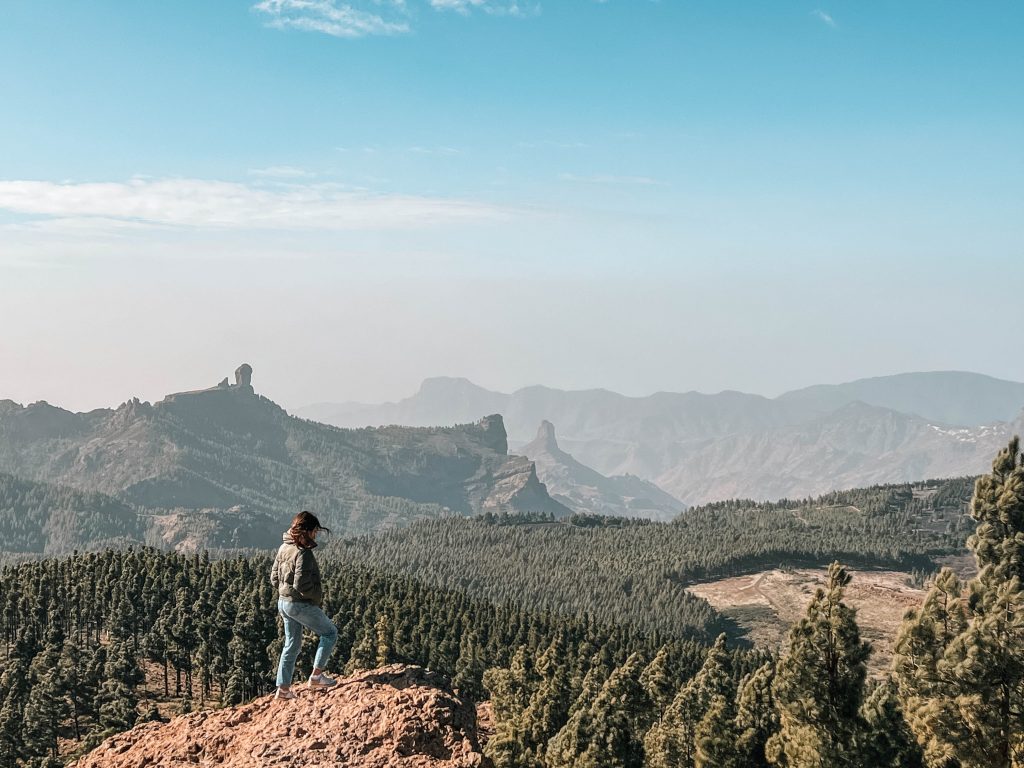 Overnight at the Parador de Cruz de Tejeda
I absolutely recommend a night at the Parador de Cruz de Tejeda. It was a real coup de coeur! This establishment is far from the image of the hotel complexes that are located on the coast. More intimate, it is nested in height and thus profits from a beautiful sight on the valley.
The decoration is not the most modern, but it is a detail that we quickly forget when we discover the SPA of the hotel. The SPA is available for the moment (because of the covid) only for the hotel guests, on reservation. You can enjoy an indoor and outdoor pool heated to 32°C, an outdoor jacuzzi and treatments.
If you are visiting Gran Canaria, this is a unique experience!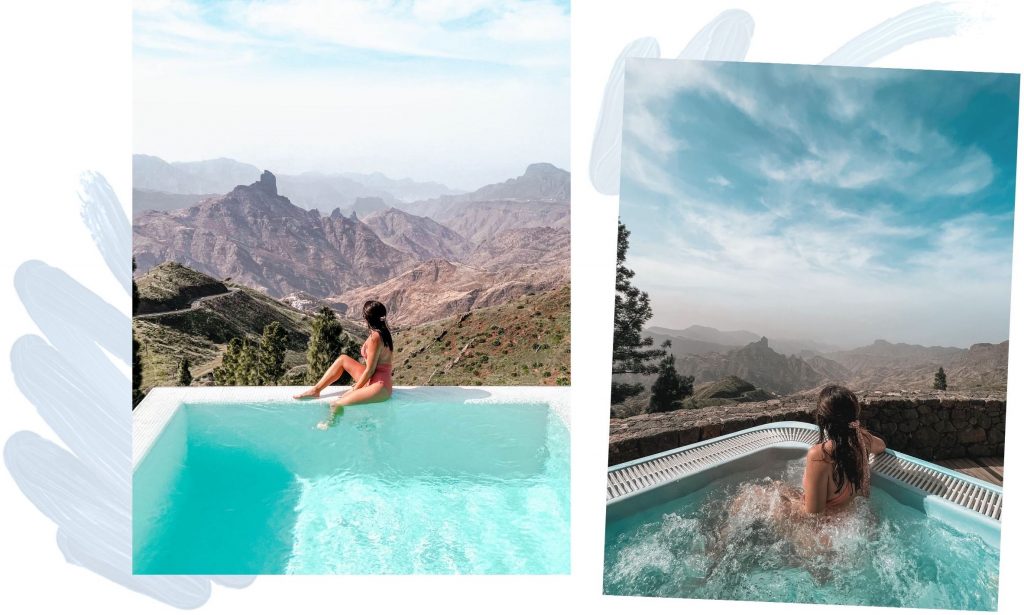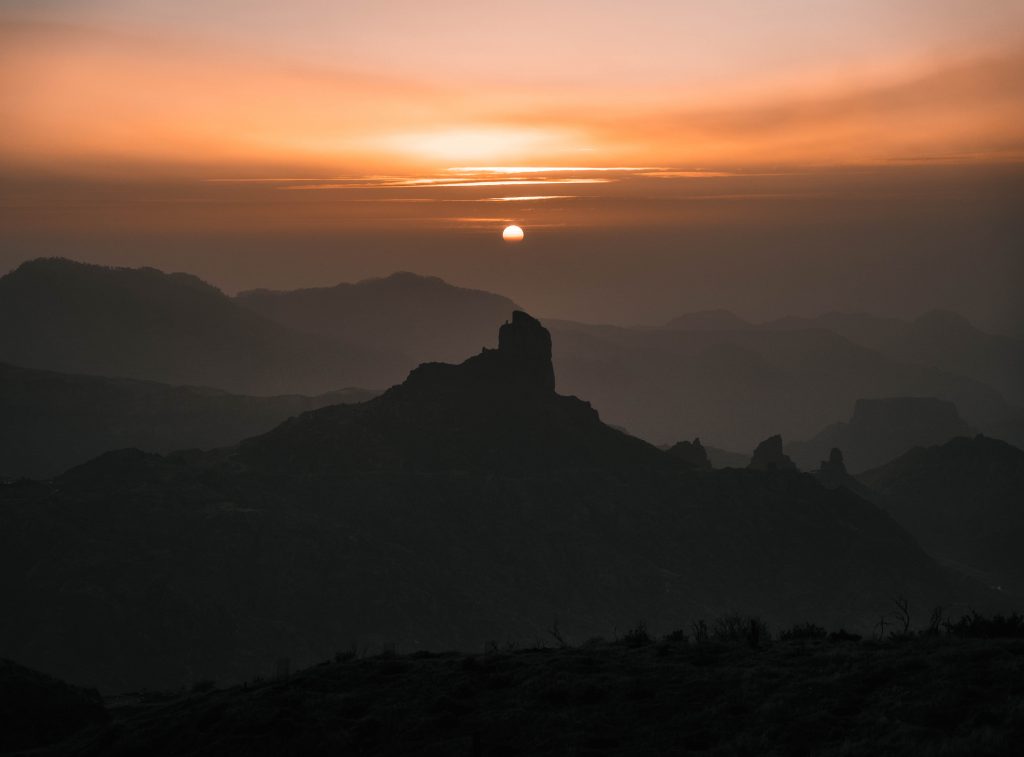 ---
Day 3: Visiting Gran Canaria: the South West
?Itinerary Google Maps of day 3
Tejeda, the mountain village
Before heading back to the coast, I recommend visiting the beautiful village of Tejeda. Nestled in the heart of the mountains, its white buildings give it a special charm. ?
For lunch, stop by the terrace of the Casa Del Caminero restaurant. The food is decent, with really affordable prices.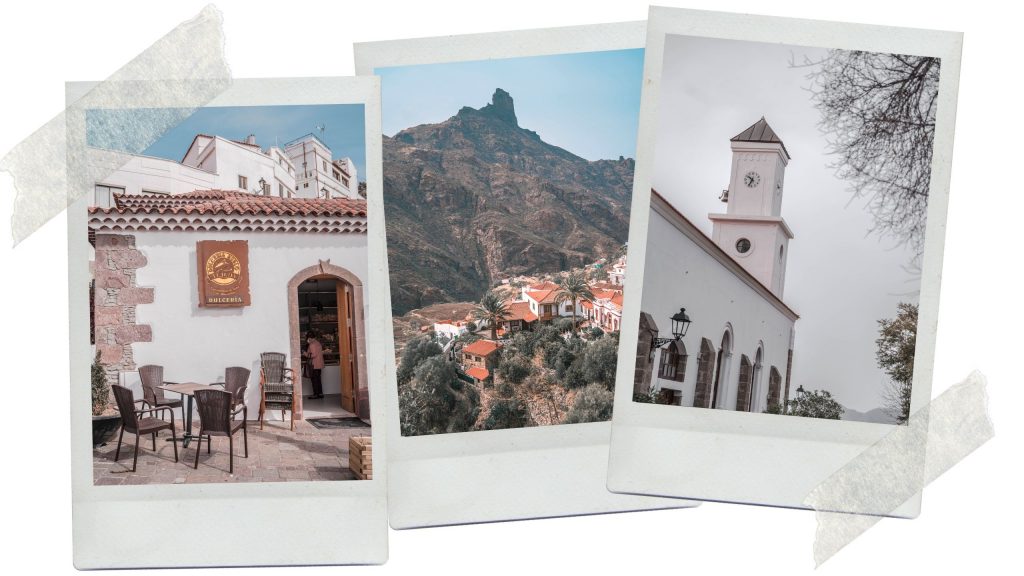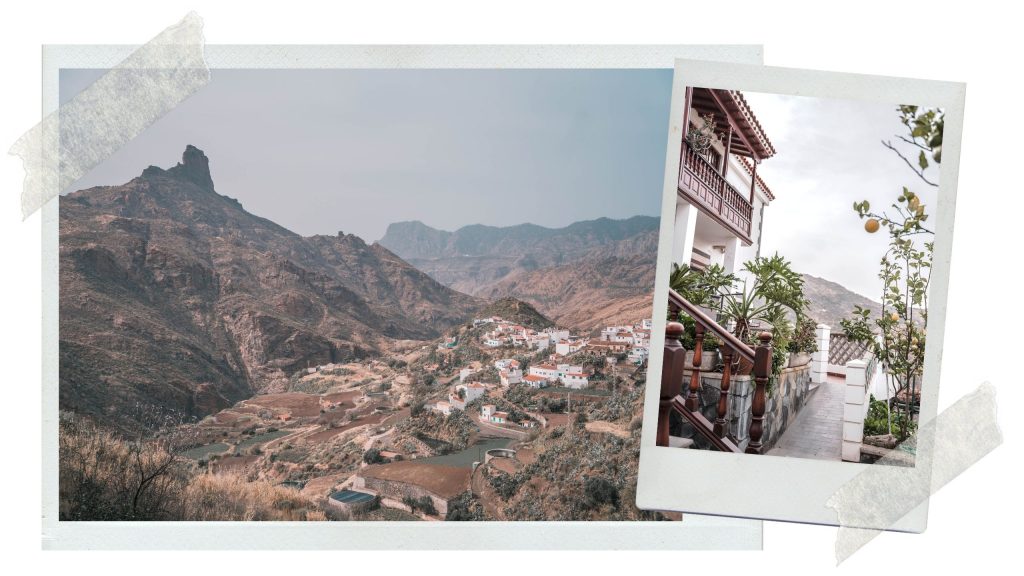 Playa de Amadores and Cueva Bufadero de Tauro
Although the resorts encroach a little on the beauty of the landscape, Playa de Amadores is very pretty – you just have to look out to sea and not behind you ?. On a more serious note, the water around it is turquoise, which makes it the perfect place to swim.
There is a small cave right next to it that you can swim in, it's called the Cueva Bufadero de Tauro. I have put the GPS point on the itinerary for day 3.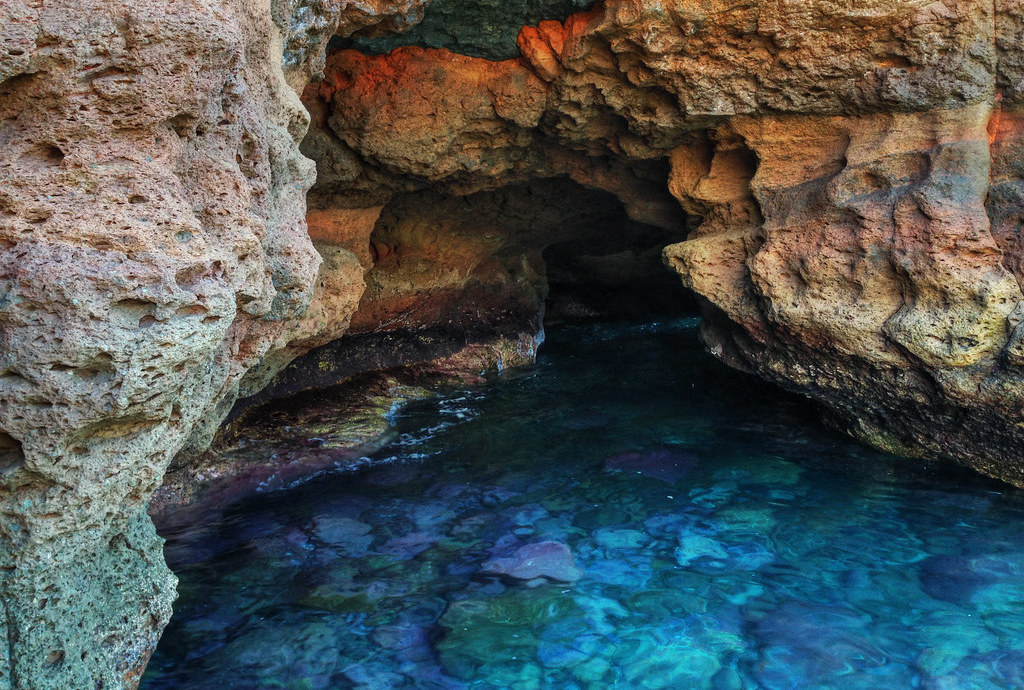 Sunset at Playa Taurito
Playa Taurito is not interesting in itself. However, the cave that is located there makes it an ideal place to watch the sunset. To get there, just walk along the beach. Looking out over the ocean, the cave is at the very end, on the left.
I didn't have the chance to enjoy it because it was all grey and it was high tide (double fail ?). So please note that you have to access it on an ebb tide to get the same consideration as in the photo below. Tide times can be found on the internet at this address.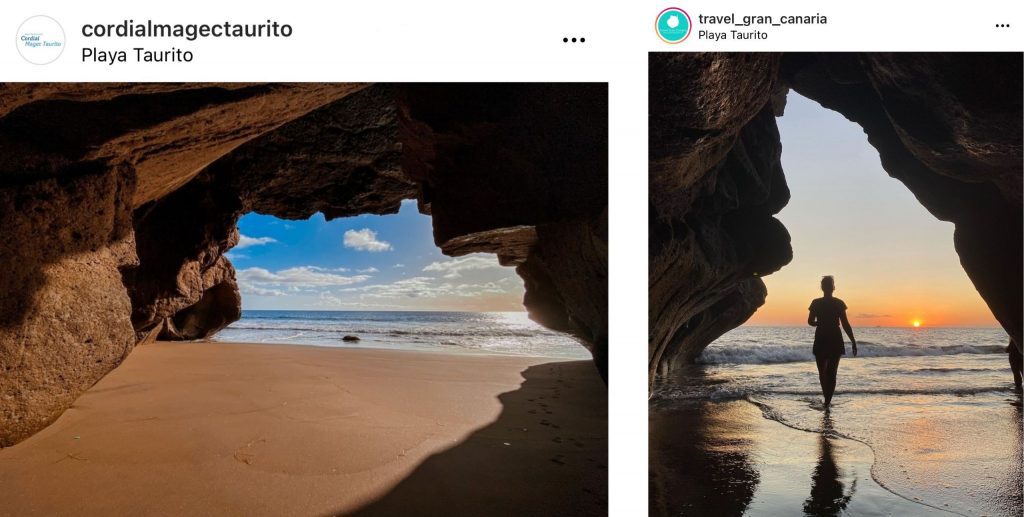 Dinner in Puerto de Mogán
Puerto de Mogán is a little haven of peace! There you will find many restaurants in the heart of the flowery alleys or directly on the harbour. I ate at the Italian restaurant La Cucina. I advise you to book by phone as there are only a few tables.
If there is no more room or if you prefer to eat Mediterranean food, go to the restaurant Mi Vida on the port. The vegetal decoration is very pretty and the cuisine more refined.
Where to sleep on the South West coast?
Again I chose an apartment-hotel in the Apartments at Cala Blanca by Diamond Resorts. It was the best value for money. Apart from the sea view from the accommodation and the pool, I didn't find any particular charm here but that's common to all the establishments that are in the area.
? Small clarification, for those who wish to party. I didn't test the night establishments (closed for covid) but know there is a crazy atmosphere in normal time in Puerto Rico and Maspalomas.
Day 4: The colourful mountains and the west coast.
?Itinerary Google Maps for Day 4
Stroll to Puerto de Mogán
If you haven't already done so, I recommend a walk around Puerto de Mogán by day, which has charm at night, but even more so by day! All its colours come out much better in the sun ?.
⏰ A quick note: get up early as the itinerary for day 4 is busy.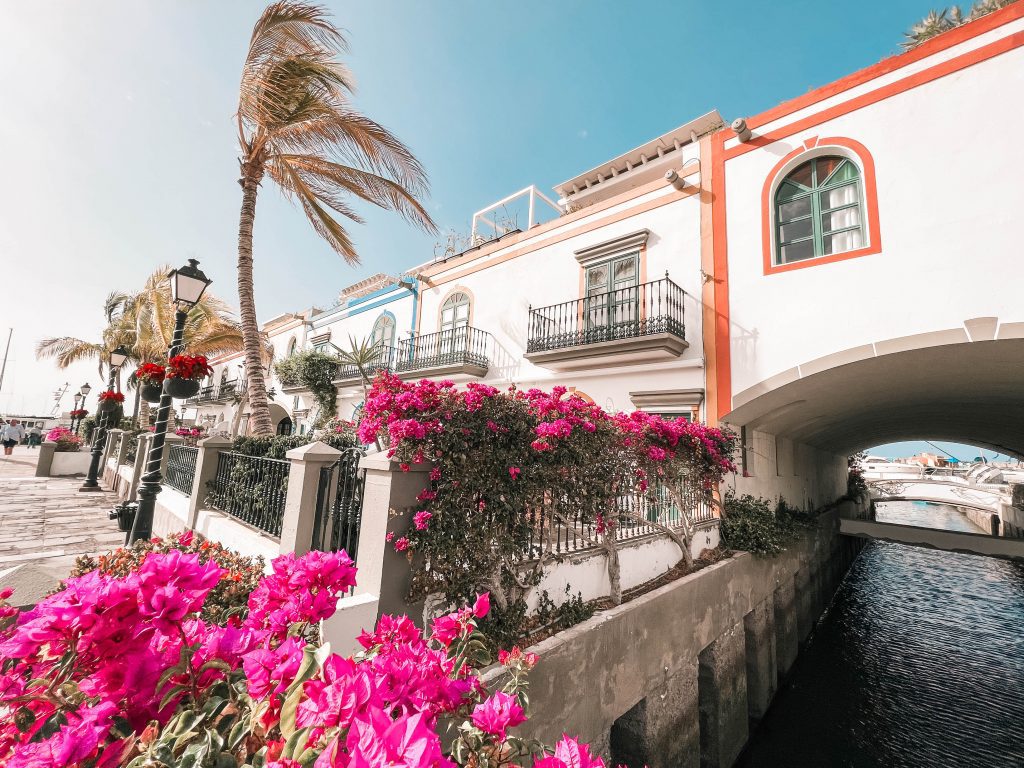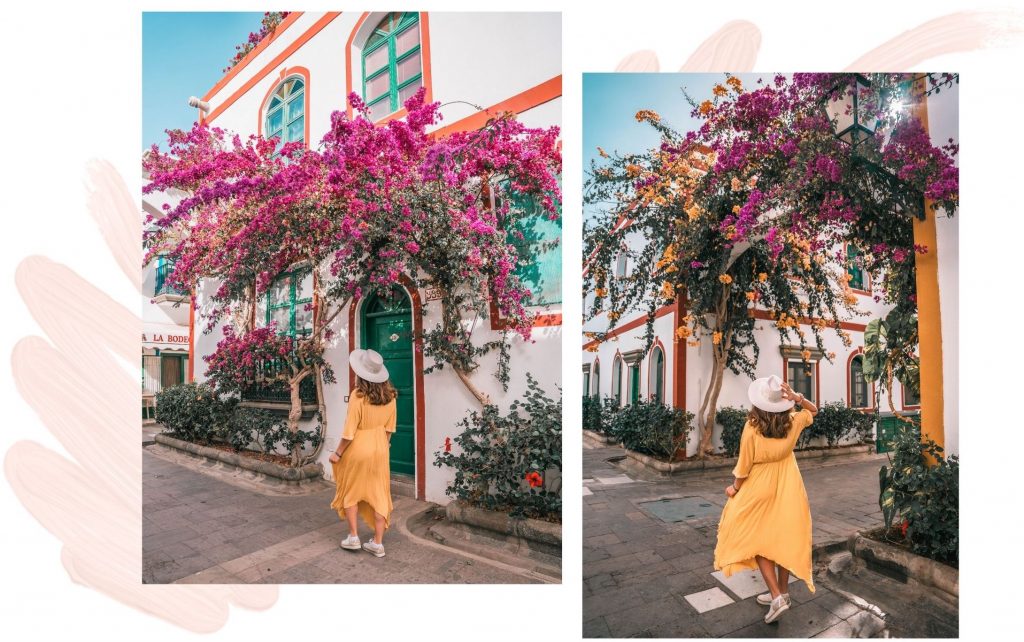 Visit Gran Canaria: Los Azulejos de Veneguera
During your week in Gran Canaria, it is essential to visit the "Rainbow Rocks", better known as Los Azulejos de Veneguera. The amazing colours of these mountains are due to volcanic activity. They are in fact the rim of the caldera of the Tejeda volcano, after years of erosion. Yet another reason to agree that nature is good!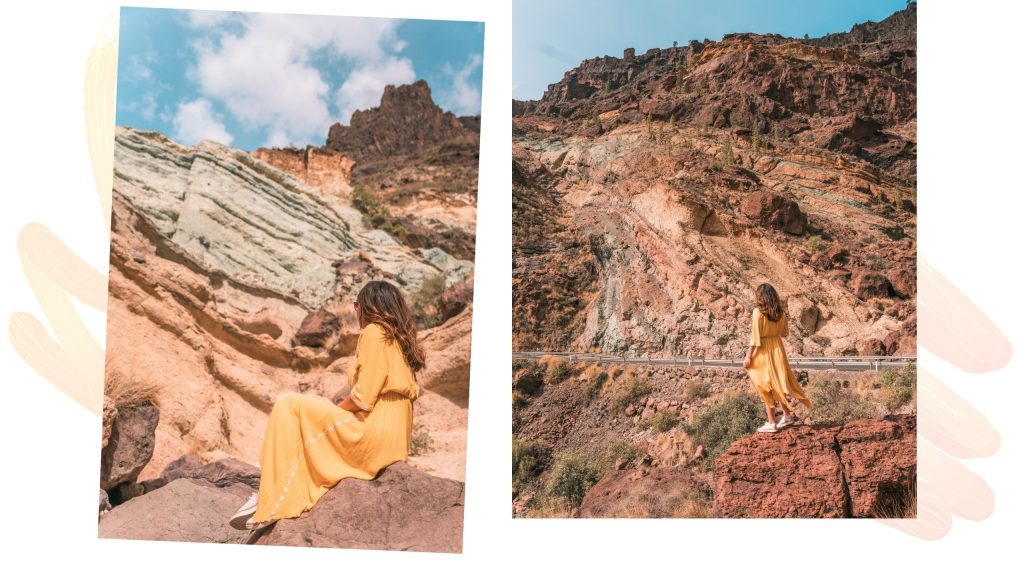 ? The hidden natural swimming pool, in the heart of the colourful mountains
A natural pool is hidden in Los Azulejos de Veneguera. Access is on foot, about 20/30 minutes uphill depending on your pace. Here are the GPS coordinates of the start of the small path: you will see a small sign at this level. You will come across it while walking! ATTENTION, I don't have a picture because when I went there, the pool was not filled. Indeed, you need one or more days of rain ? before your visit there for there to be water like on the picture below. Otherwise, it is just a small puddle so the "wow" effect is not the same at all. So don't bother climbing if it's been dry the last few days. If you don't know the weather of the previous days, just look up to see if there is water flowing (like a small waterfall). I hope that luck will smile on you!
For the rest of the day, I leave you the choice between a rather sportive hike or quiet visits by car. I let you guess which one I chose… ?
Option n°1 : Nice hike to Playa de Güigüi
Well, this is not the option I chose because of timing, but I still wanted to tell you about Playa de Güigüi in this one week itinerary in Gran Canaria.
It is a black sand beach, very well preserved as its access is difficult. Count on a 4-5 hour round trip to have the chance to see it! Some people sleep on the spot with tents in order to cut the trip in two and enjoy the quietness of the place. So, if you like to hike with some elevation gain and enjoy places without tourists: go for it!
? Access to Playa de Güigüi on VisoRando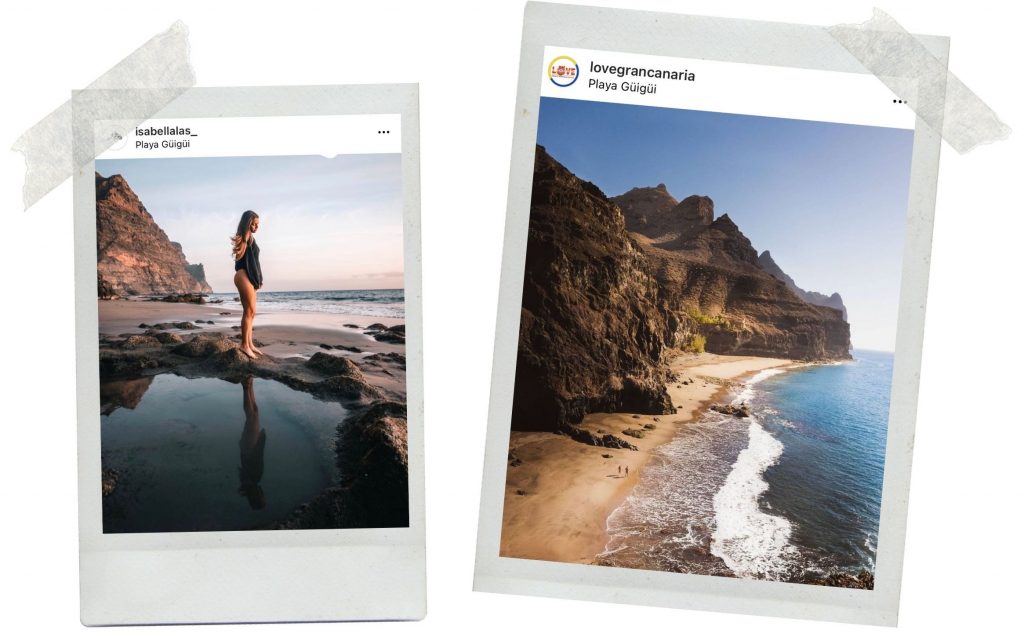 Option 2: Visit Gran Canaria and its west coast
Lunch in a cactus garden ?
Restaurante La Gañanía was my favourite address of the stay! I stumbled upon it by chance and I really wasn't disappointed. The terrace is splendid, stuck to a cactus garden. This address is a little paradise out of time, with goats, cats, a dog… For those who are not gaga about animals like me, there is also a delicious menu of traditional dishes. I had the tapas plate which was huge for only 16€!
La Aldea de San Nicolas
To sunbathe and take some pretty pictures, I then headed to La Aldea de San Nicolas. Two particularities at this place: the tunnel that juxtaposes the pebble beach and the mountain view that adds magic ?.
Voir cette publication sur Instagram
Mirador Del Balcón
The Mirador Del Balcón offers a spectacular view! The ideal time to go there is during the golden hour to have a beautiful light. The place is absolutely quiet. ? You can stay there until sunset and have a little aperitif there (without leaving any rubbish behind of course).
After that, we'll then head back up to the north of Gran Canaria!
Where to sleep in Gáldar?
I wanted to stay in Gáldar because, apart from its pretty little streets and its Cycladic village-like layout, it is the place where most of the natural swimming pools in the north of Gran Canaria are located.
The Hotel Emblemático Agáldar is a real favourite! Not only is its rooftop pool with a view of the cathedral unusual, but the decoration of the rooms is very nice and warm. Do I also need to mention that the breakfast was delicious to finish convincing you?
? For dinner, head to Barrica y Grosella, a wine & tapas bar that's right in front of the hotel!
---
Day 5: Visit Gran Canaria and its natural pools
? The natural pools in the north of Gran Canaria
Most of this day will be devoted to discovering natural pools. Some are equipped, others are not. You don't have to see them all, the idea today is to relax, swim and enjoy the sun ☀️. You may even decide to stay an extra night in Gáldar to avoid changing hotels again tonight!
Punta del Faro
Around the pretty lighthouse of Punta del Faro are several natural pools. The first are at the bottom of the stairs on this GPS point. Be aware that it is best to go and enjoy them on the ebb tide so that the water is calm!
Once you have finished your dip, walk back up to the lighthouse to enjoy the scenery. A little later, there will be a passage to the right of a small abandoned house to go down to the Charco de los Espejos. ?
The other natural pools
Access to the natural pools below is nothing complicated so I'm just listing the names to type into Google Maps:
Playa Caletón de los Cangrejos
Playa Punta de Gáldar
Piscinas de Punta de Gáldar
Piscina Natural – Norte de Galdar
Piscina La Furnia or El Clavo
This list is not exhaustive. There are plenty more, some of which are not listed on the apps, so if you're feeling adventurous: look it up. ??♀️ Last thing, don't forget what I said: low tide is always better for natural pools!
The village of Teror
If you choose to sleep in Gáldar again on day 5, you can move the visit to Teror to day 6 without any problem, when you will head to Las Palmas de Gran Canaria.
Teror is a small village in the heart of the mountains, where you can see the typical Canarian architecture. It is therefore pleasant to walk around and have a coffee on the terrace.
Near the village, a short walk of 1h30 is possible to the Barranco Del Àlamo. You will be in the middle of nature with a lot of vegetation and will climb a wooden ladder, surrounded by greenery, which gives the path a jungle feel.
Evening and night in Las Palmas de Gran Canaria
Las Palmas de Gran Canaria is the capital of the island of Gran Canaria. There are many restaurants, bars and two interesting historical areas to visit. It is also a great place to do some shopping if you wish.
Where to stay in Las Palmas de Gran Canaria?
I stayed at the BedandChic boutique hotel, in a lovely room in a great location. The value for money is great!
Where to eat in Las Palmas de Gran Canaria?
? For authentic tapas and a quality Spanish atmosphere, head to the Mercado Del Puerto. There are plenty of stalls where you can have a drink and eat, at decent prices. I love this kind of concept! I was also highly recommended the Tasca El Galileo restaurant for good tapas, but I didn't try it.
? For a drink, a rooftop terrace is located stuck to the hotel I mentioned above. The bar is called El Tendedero de Catalina. Normally, there must be a good atmosphere but there, it was a bit quiet, covid obliges…
Days 6 and 7: Visit Las Palmas de Gran Canaria and its surroundings
Please note: I have condensed this programme into 2 days so that you can organise yourself as you wish according to the time of your return flight.
The historic districts of Triana and Vegueta
These two historic districts are a must to visit Gran Canaria. I went there in the morning, so I could appreciate the gentle pace of life there. You can either walk around on your own or I suggest you book a free tour (yes yes!) with a guide. The 2 hour guided tour will allow you to learn more about the history of the city.
In either case, go and visit the Casa de Colón which is a building full of history. Among other things, it hosted Christopher Columbus when he went to discover America, as he stopped over in the Canary Islands. ? Finally, beyond the cultural side, it is a very beautiful place!
What to do in Las Palmas de Gran Canaria
For the rest of the day, I recommend one of the following activities:
Transparent kayak trip to Playa de Las Canteras
Tandem paragliding over Las Palmas
Canyoning trip (note that this activity takes half a day)
Bungee jumping from La Calzada Bridge (28 m, over the ocean ?).
El Bufadero de Garita
On the road between Las Palmas de Gran Canaria and the airport, check out El Bufadero. It is a hole where you can watch the ocean run wild. It is best to go there a little before high tide. I remind you that you can find the tide times on the link I already gave you in the article. So pay attention to the timing to be able to enjoy the show. ?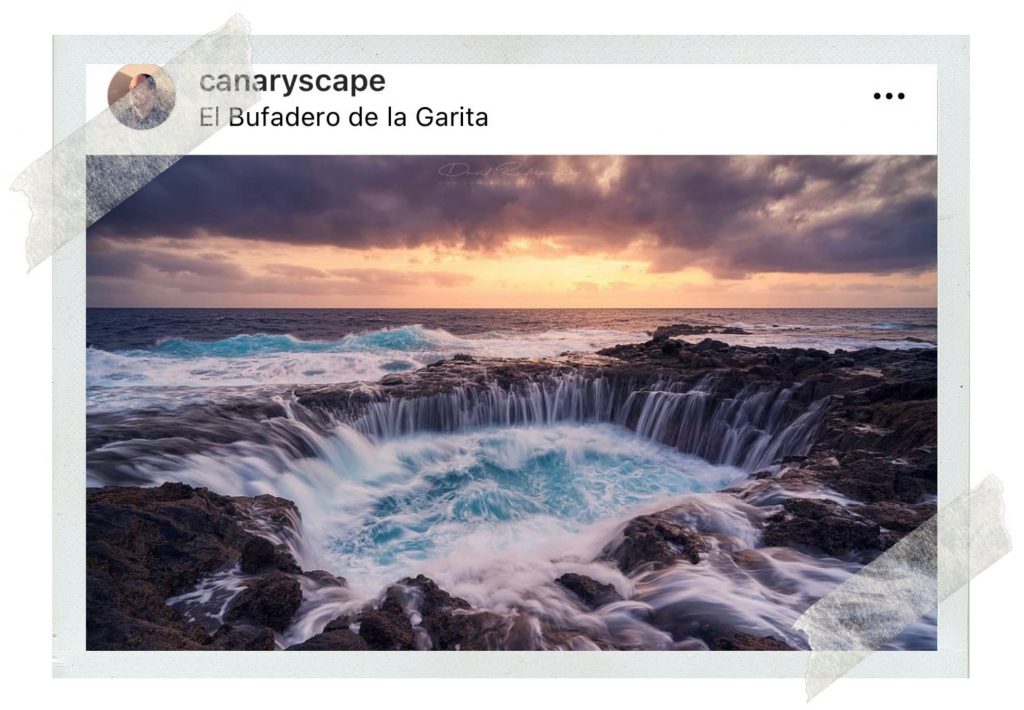 Cueva de Cuatro Puertas
À Gran Canaria, il existe un certain nombre de grottes. Les plus emblématiques sont la Cueva de Cuatro Puertas. Ces grottes représentent un complexe archéologique historique et ont été aménagées par l'homme. D'après ce que j'ai compris, on ne sait pas aujourd'hui à quoi elles servaient exactement. Certains disent qu'elles ont été utiles dans le passé pour effectuer des rituels sacrés. L'accès est gratuit.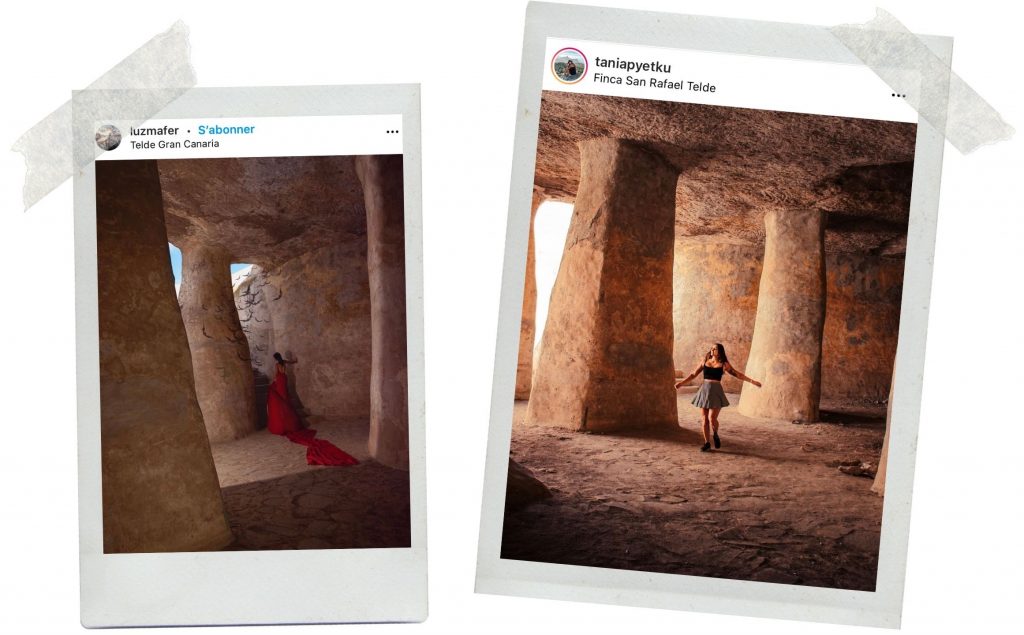 Barranco de las Vacas
What brings this week-long itinerary in Gran Canaria to a close is one of my favourite places on the island. The Barranco de Las Vacas transports us straight to the United States. ? It looks like the famous Antelope Canyon in Arizona… although it is still smaller.
The Barranco de Las Vacas is a canyon that has been carved out of the ochre-coloured rock by a torrent for thousands of years. It is about 50 metres long. The walk to get there is about 10 minutes, accessible to children and frail people.
? Access: park by the roadside in this area, where you can. The most convenient and shortest pedestrian access is a little further on: right here. Go down the slope, through the tunnel under the bridge and you'll come across it. Try to get there early or late to avoid the daytime crowds.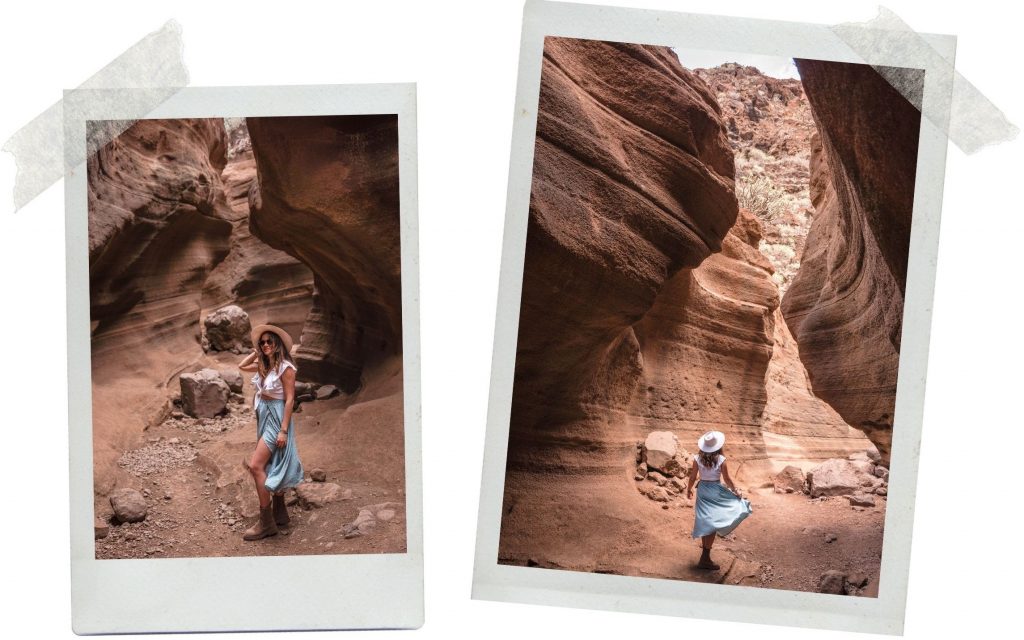 Where to sleep for your last night in Gran Canaria?
I recommend two options:
Either to sleep again in Maspalomas (only 20 minutes from the airport)
Or to sleep inland, at the Villa Nestor which is a very charming hotel!
I hope this one week road trip will allow you to enjoy and visit Gran Canaria in the best conditions. Feel free to tag me on your stories / posts @amoureuxdumonde or share your photos with me in private message. ?
Looking for more travel ideas? Find Yann's itinerary who spent a week in Lanzarote or a guide for a road trip in Puglia.