One week itinerary for a road trip in Andalusia
"Andalusia, I remember, the meadows lined with cactus…" ?? Ah the south of Spain! In about 2 hours by plane, you feel transported into a culture and architecture that is unique to it. Here I present you the itinerary of my week-long road trip in Andalusia! ?
Road Trip in Andalusia: Practical Information
When to go to Andalusia?
Actually, all year round! Even winter is mild in Andalusia. Temperatures are much milder there than in France. ?
Ideally, I would advise you to enjoy the months of March to June, then September to November. July / August can be very hot ?.
Rent a car for your road trip in Andalusia
? I recommend you to compare offers on BSP Auto to find the best price for your car rental! You don't need to rent a 4×4 or a special car, the roads are in good condition.
What is the budget for a one week trip to Andalusia?
I am listing my expenses as an indication. This budget may vary depending on the tourist season, the price of petrol and your mode of travel. You must add to this budget the price of the visits and activities you will do.
Plane tickets Lyon / Seville: 140€ per person
Car rental: 200€ per person
Petrol: 100€ per person
Hotels: 55€ per night on average (7 nights)
Food: 30€ per person per day.
Budget for a one week road trip in Andalusia: 690€ per person, flight included, excluding activities.
Road Trip Itinerary: what to do in Andalusia during a week?
I went on a one-week road trip to Andalusia in March. I was really unlucky about the weather, but you should know that normally the Andalusian climate is one of the most pleasant in Europe ? Even in winter, rain is rare and temperatures are mild.
Well, for me it rained almost non-stop for a week so I'll be using a lot of Instagram user photos to illustrate my point, to show you the real potential of the destination. I apologise in advance.
Day 1: Arrival in Seville
I chose to land in Seville for this road trip in Andalusia, simply because it was the only direct line to Lyon. From Paris, it is also possible to land in Granada.
➡️ Visiting Seville
I had already been to Seville for a weekend so I didn't include it in this trip. If you've never been, find our guide to visiting Seville in 3 days.
If you want to follow the whole itinerary of my road trip in Andalusia AND visit Seville, count on 10 days there!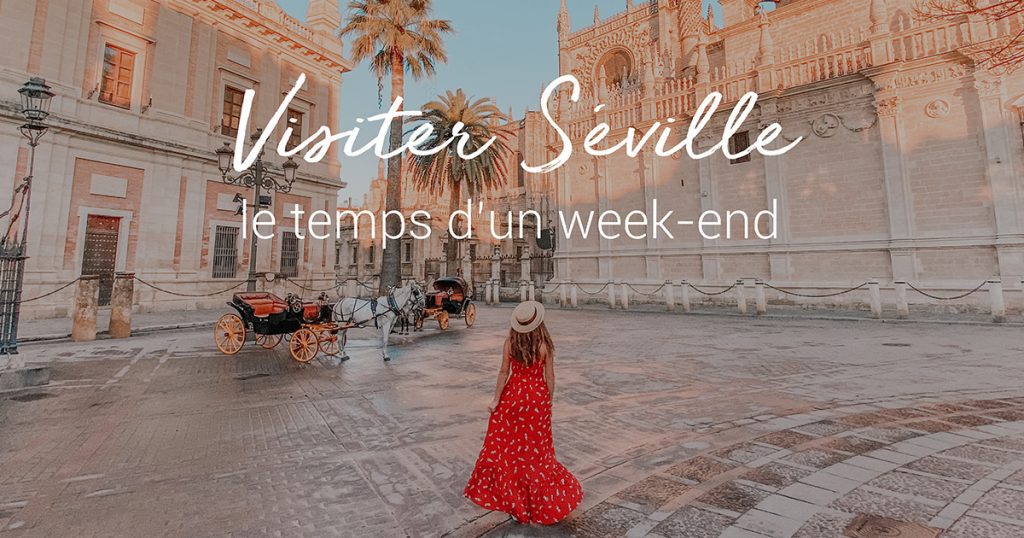 ✧ Start of the road trip in Andalusia: Cordoba (Day 1)
For this first stage, we will head to Cordoba (Córdoba in Spanish). Like all Andalusian cities, Cordoba benefits from a heritage in terms of culture and architecture.
What to do in Cordoba?
↠ The mosque/cathedral of Our Lady of the Assumption
This is the main tourist attraction in Cordoba. A visit not to be missed! The architecture of this cathedral mosque is incredible. I am not necessarily a fan of religious buildings, but I was seduced by the architectural diversity of the place. The mix of genres is unprecedented and you feel a very peaceful atmosphere.
? Access: a ticket office is available on site and online. Access costs 11€ for an adult, reduced rates for children, students and seniors.
Nevertheless, I advise you to book a guided tour on this site to understand and know the rich history of this religious building.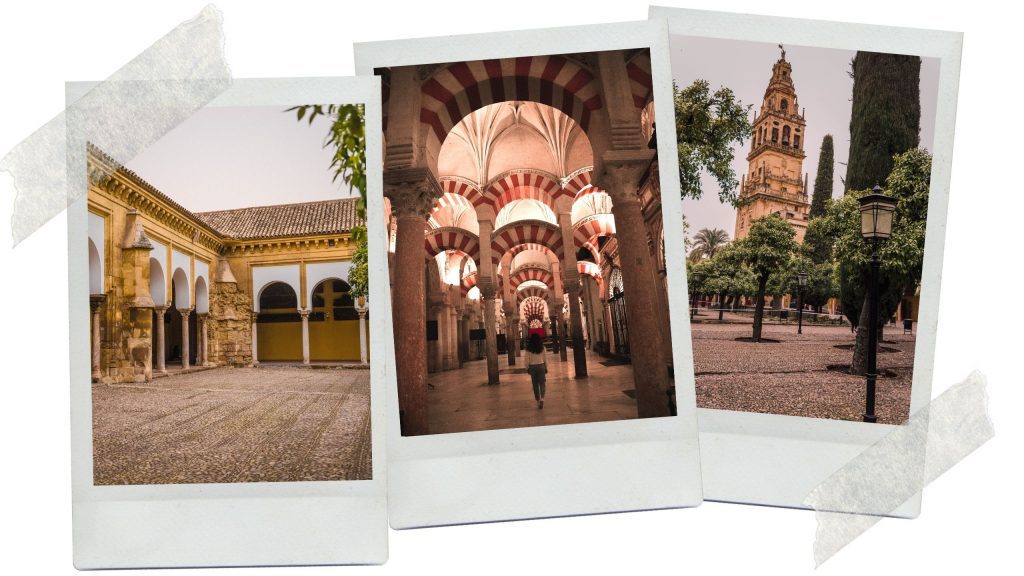 ↠ La Torre Campanario
Located right next to the Cathedral Mosque of Cordoba, you can climb to the very top of the tower for just €3. Please note that you need to book a time slot as access is limited. You can buy your tickets and book directly on site. Note that there are a few floors to climb by stairs, but nothing too complicated.
The view over the city and the cathedral mosque is magnificent!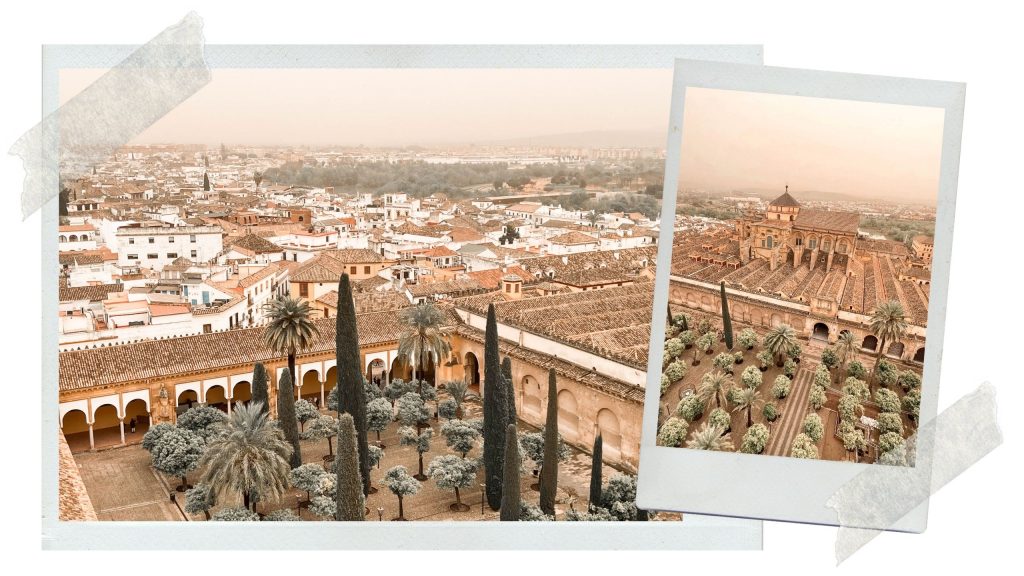 ↠ The Alcázar of the Christian kings
Like Granada or Seville, the city of Cordoba has its alcázar. It is a fortified palace often with gardens and exceptional architecture.
? Access costs €5 per person but again, I recommend booking your guided tour to learn about the varied history of the Alcázar of Cordoba!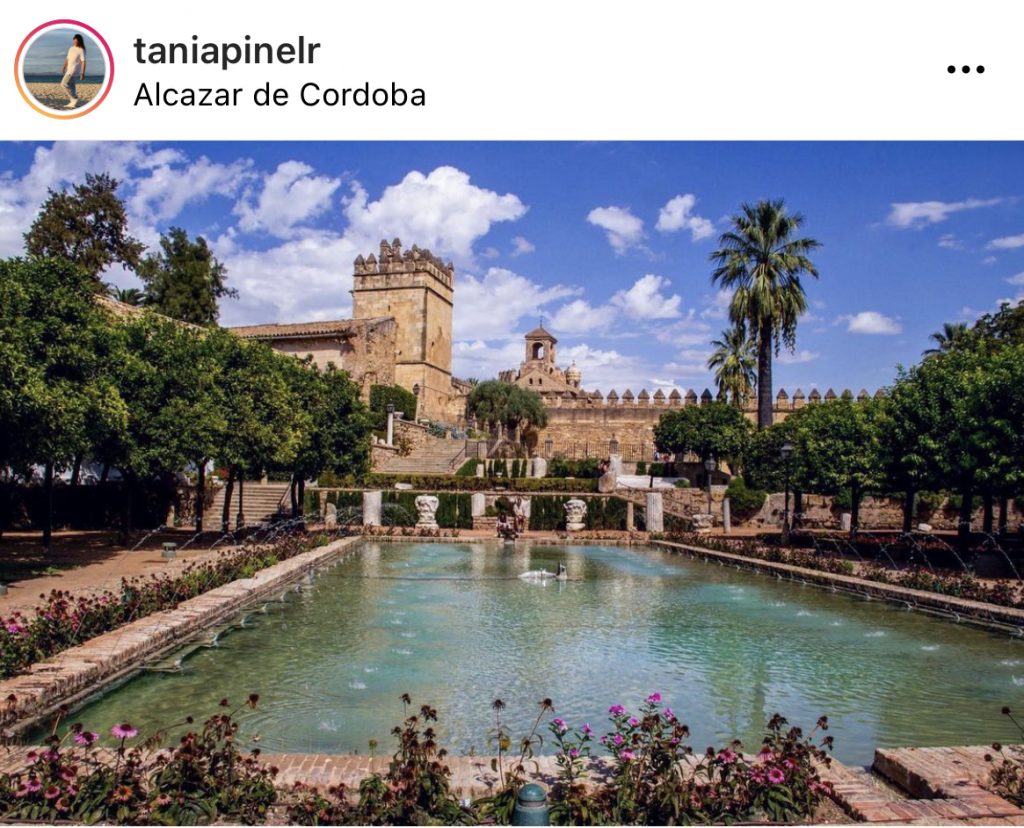 Other must-sees in Cordoba
The Jewish quarter and the synagogue
The Viana Palace
? Where to stay in Cordoba?
I stayed one night at Los Patios de San Agustín in a fully equipped flat. It is located 15 minutes walk from the mosque and the environment is very quiet. Very good value for money!
If you have a slightly higher budget, I would recommend the H10 Palacio Colomera hotel which is super well located and has a beautiful pool. ☀️
✧ Day 2: Granada
Granada is a diverse city with a wealth of treasures! I found that you could particularly notice the Arabic influences in Granada in the architecture and small craft shops.
What to do in Granada?
It takes 1 night / 2 days to visit Granada. The order of my recommendations is not exhaustive. I leave it to you to organise your programme as you wish according to the time of your reservations.
↠ The alhambra of Granada
This is the must-see when visiting Granada. Built in 889 AD, the Alhambra was a fortress, the residence of kings and a citadel. Allow a good half day to visit this exceptional site which is made up of several parts.
? Access: book your ticket online by clicking here to access the Alcazaba, the Nasrid Palaces and the Generalife.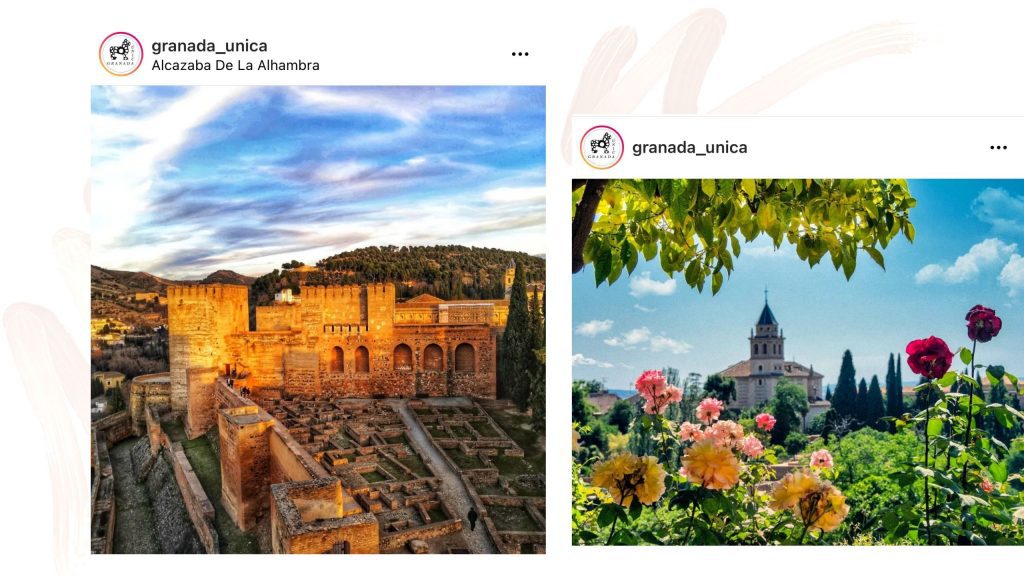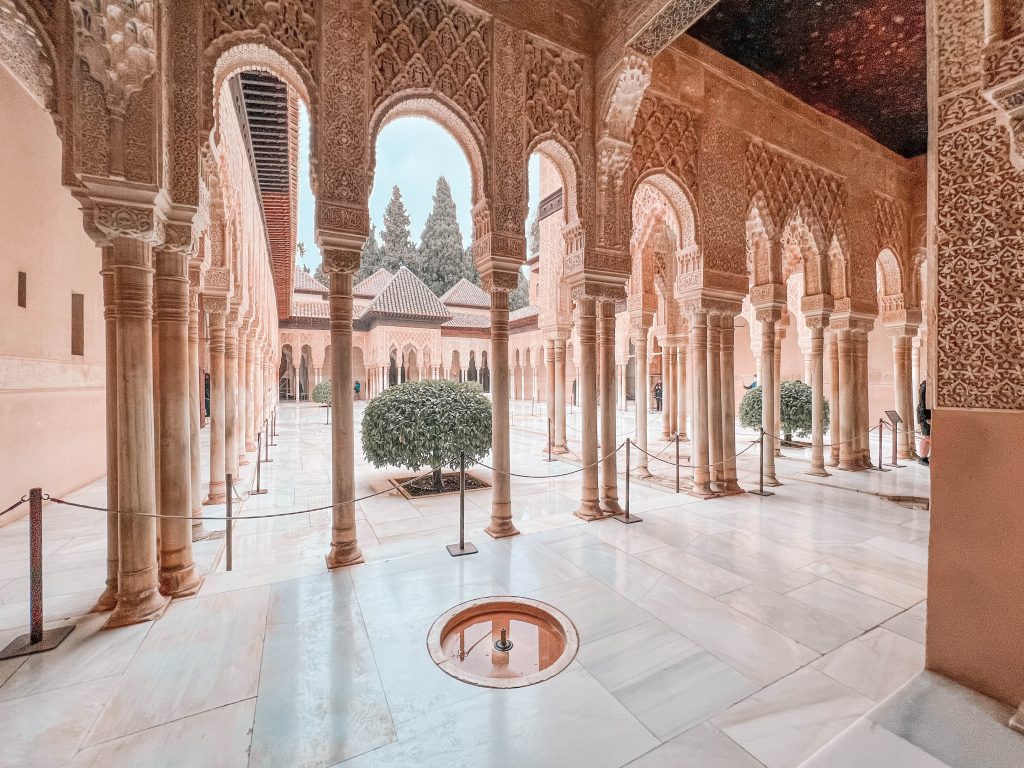 ↠ Mirador de San Nicolas
To enjoy a panoramic view of Granada and its Alhambra, head to the Mirador de San Nicolas! Very nice at sunset if you have the opportunity.
Another viewpoint to see: Mirador de San Cristobal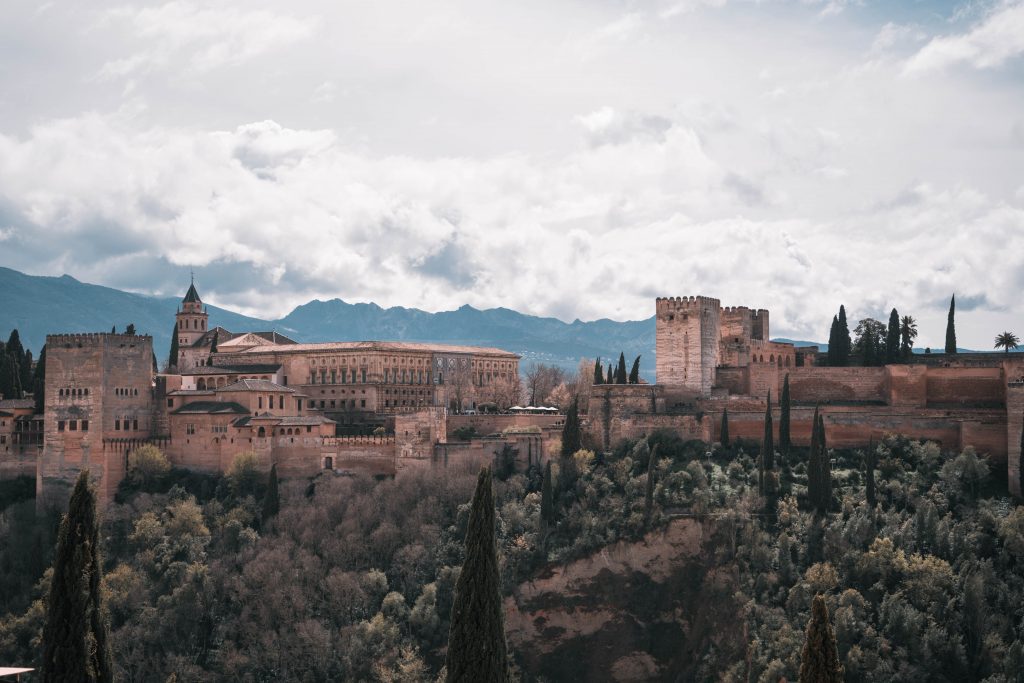 ↠ Hammam Al Ándalus
If you're wondering what to do during your road trip in Andalusia, I'd say a relaxing interlude is a must. This was one of my most beautiful discoveries of the trip!
There are several Hammam Al Ándalus in Spain, but the one in Granada is particularly beautiful. As soon as you enter, you feel transported to another country. ? Inside, you can relax in splendid baths with several temperatures and, of course, in the hammam.
? I chose to complete this magical moment with a massage. I recommend this experience 100%. Book online on this website.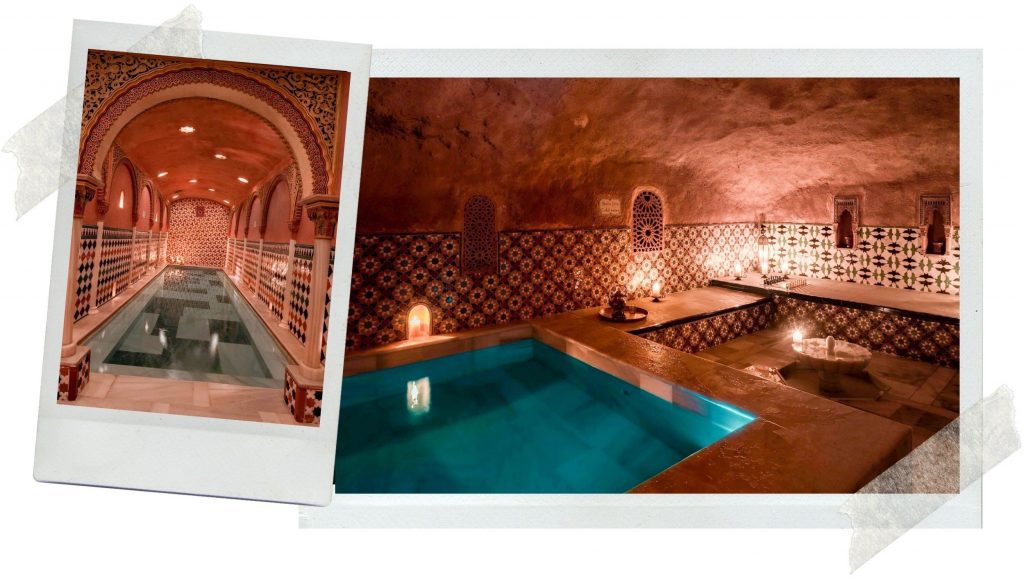 ↠ Flamenco show
Another first time in Granada: attending a flamenco show. Although this is a tourist activity, I still recommend it. The special thing about Granada is that some of the shows take place in a "cueva" (a cave).
The atmosphere is very typical, it's great! ? Book your flamenco show here.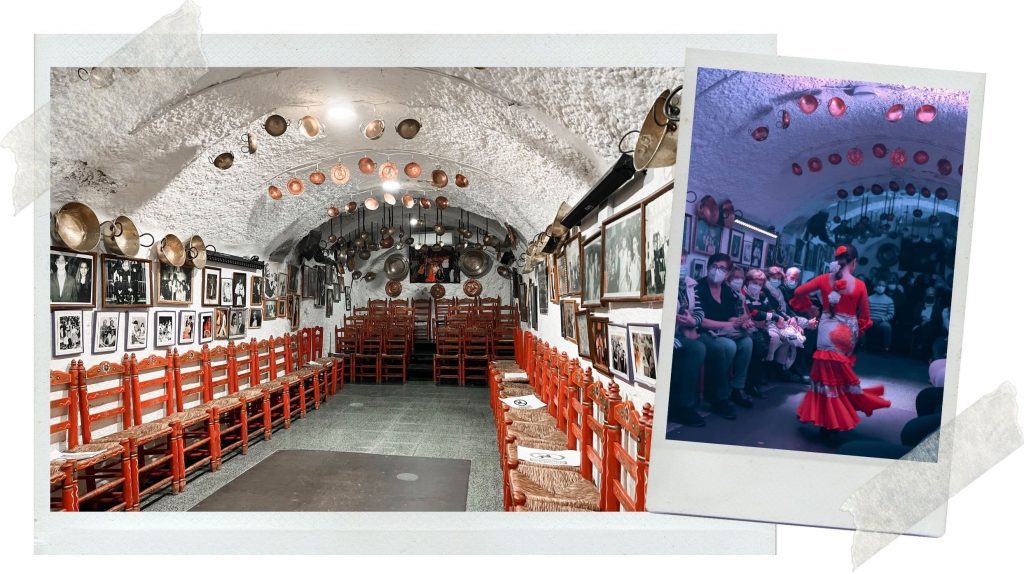 ↠ Eating tapas
You absolutely must go and eat tapas at Bodegas Castañeda. They are the best I've eaten in Andalusia, and maybe even in my entire life! The prices are reasonable, the quality is good and the service is friendly. Beware, the address can be a victim of its success.
? For a drink afterwards, head to the Bohemia Jazz Bar, which I've been highly recommended. I'm sure you'll hear about it.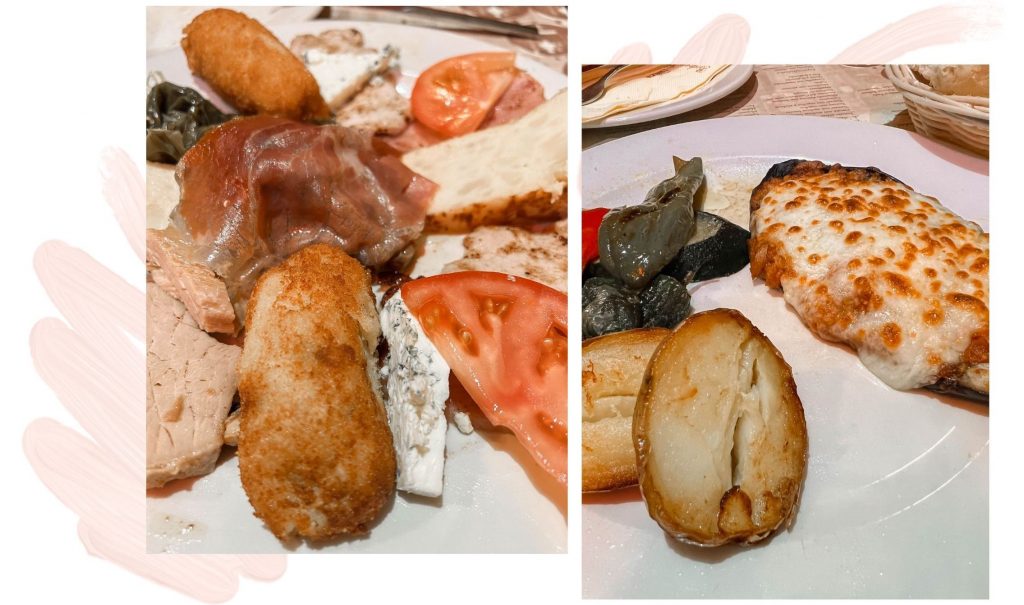 ↠ Visit the artisanal quarter
To bring back handcrafted souvenirs, head to the Alcaiceria district in Granada's city centre. You'll find it has an Andalusian souk feel to it!
? Where to stay in Granada?
At Smart Suites Albacin, you can sleep in a comfortable flat well located to visit Granada on foot. The value for money is top. Little plus: the mirador of the restaurant of the establishment which offers a nice view of the city. Reservation
✧ Day 3: The province of Almeria
↠ The Tabernas desert ?
I really regret not visiting this place because of the weather because I really recommend it! The Tabernas desert looks strangely like the deserts of the American West.
Indeed, many films have been shot there, like Indiana Jones, and also westerns.
Hiking in the Tabernas Desert
The Tabernas Desert Natural Park covers 280 km2. There are plenty of hiking trails to choose from! Visit the tourist office for more information.
Horse riding
? For those who are not fans of hiking, I recommend a horseback ride to discover the landscapes of the Tabernas desert and also to feel like a cowboy. Book now by clicking here. I'm really sad I missed out on this activity! ?
More comfortable, this 4×4 tour is also top for visiting the park.
The European far-west
Ready to be transported to another era? Check out Fort Bravo, the only remaining western scenery village for film shoots in the Tabernas Desert.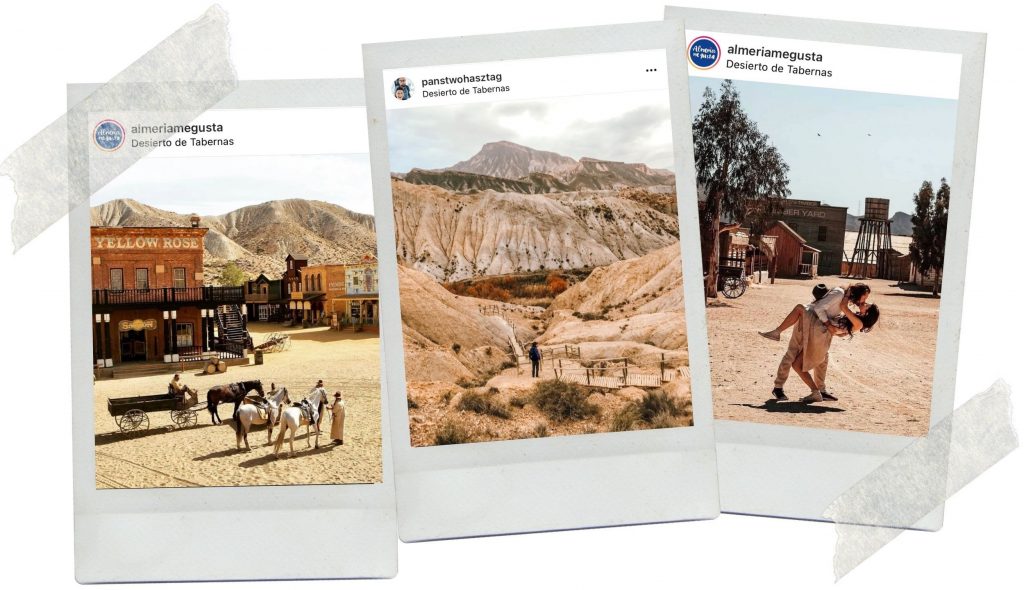 ↠ Sunset in Cabo de Gata
Of volcanic origin, Cabo de Gata Natural Park is one of the natural wonders of Andalusia.
?Drive to the Mirador de Las Sirenas to watch the sunset with a picnic. ?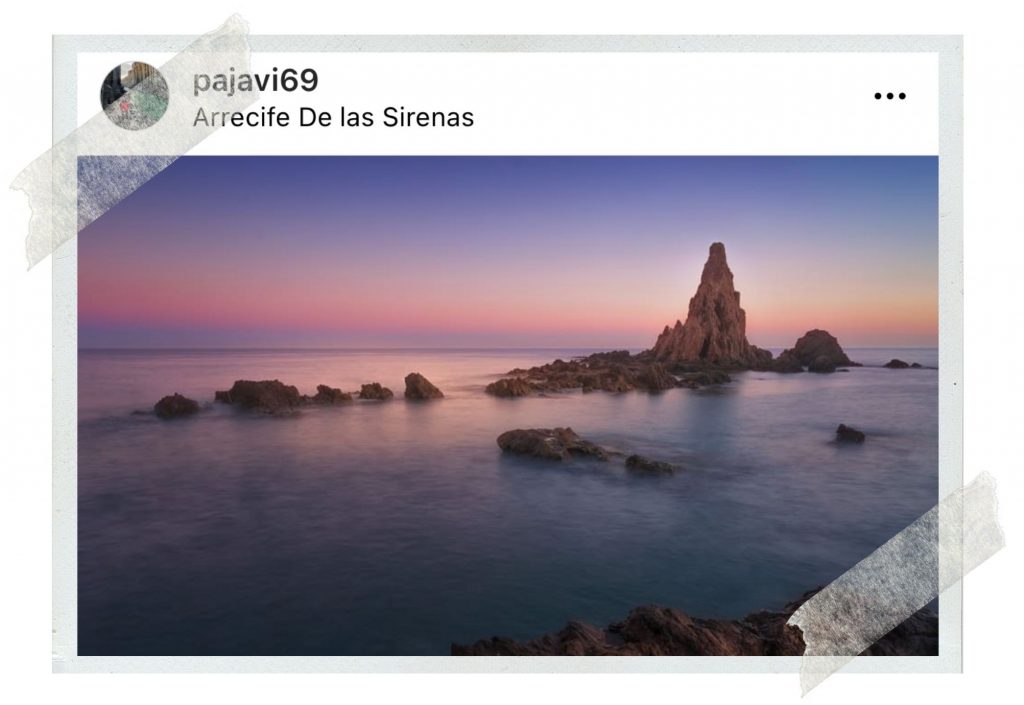 ? Where to sleep in Cabo de Gata?
Here are two recommendations for well-located accommodation with good value for money:
Hotel Blanca Brisa Cabo de Gata
If you prefer a flat to cook for yourself, this is a very nice one with 2 bedrooms: accommodation Cabo Beach 
✧ Day 4: The Andalusian Coast
↠ Excursion to the natural park of Cabo de Gata
You can enjoy the many coves that are at the heart of the natural park with this kayaking and snorkelling excursion.
If you prefer, it is also possible to take a boat trip to swim and admire the coastal scenery.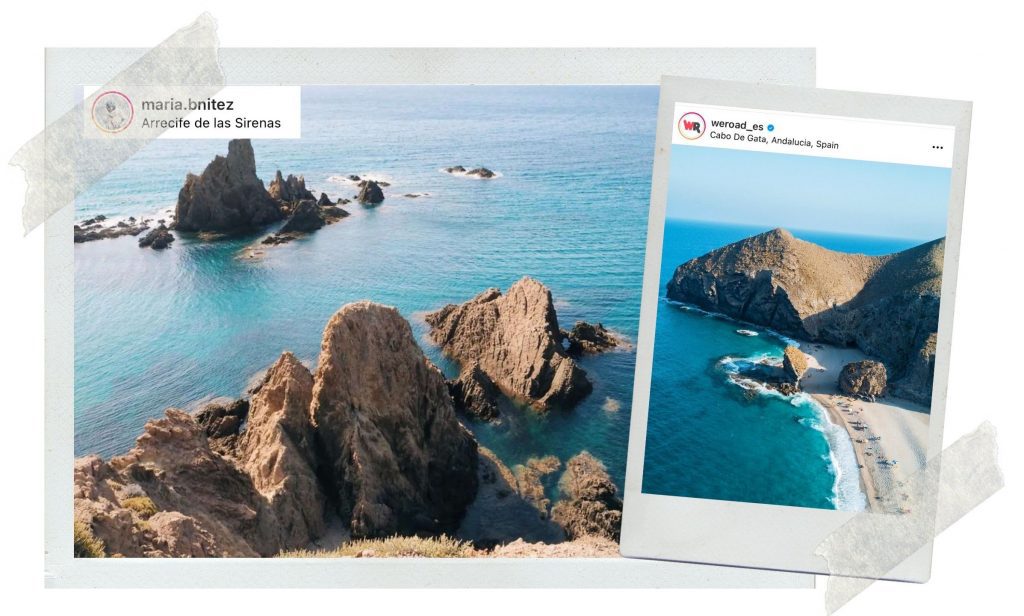 ↠ Nerja
The pretty town of Nerja was one of my favourites of this road trip in Andalusia. Not only are the small streets in the centre very charming, but the surrounding beaches are also beautiful!
At the end of the day, go for a walk and eat tapas in one of the many restaurants. Don't forget to go to the Balcony of Europe to admire the view. We'll see what to do in Nerja tomorrow.
? Where to stay in Nerja?
I stayed in a refurbished flat well located in relation to the lively city centre. Great value for money! Click here to book
For more comfortable budgets, Apartamentos La Botica de Nerja also has beautiful flats with a pool to boot. Info & booking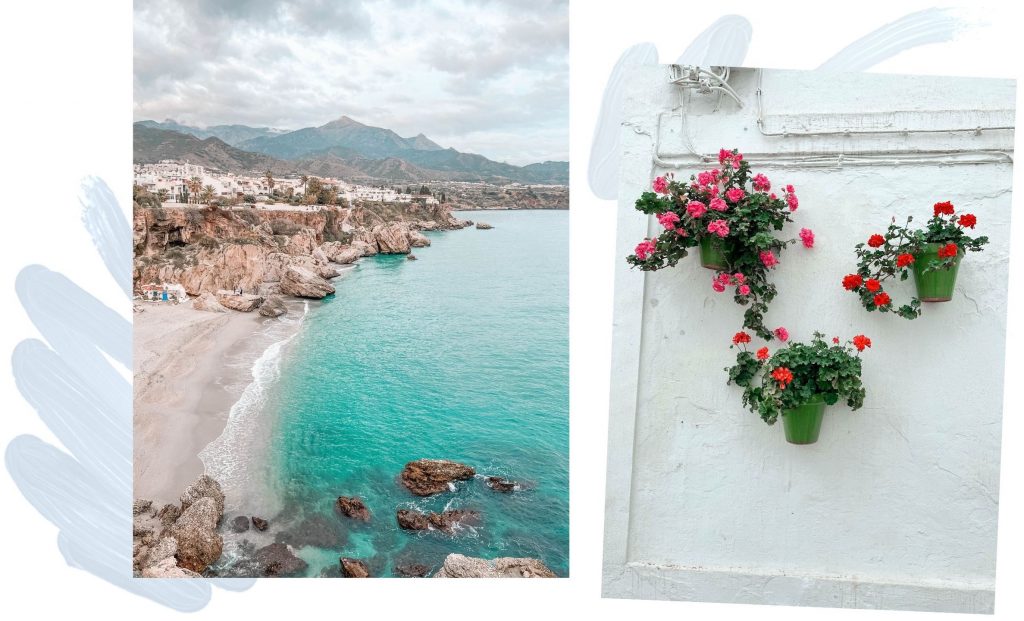 ---
✧ Day 5: Nerja
↠ Rio Verde canyoning excursion
For half a day, go on an adventure with this excursion to the heart of the Rio Verde canyon. The colour of the river water is splendid ? Book online on this website.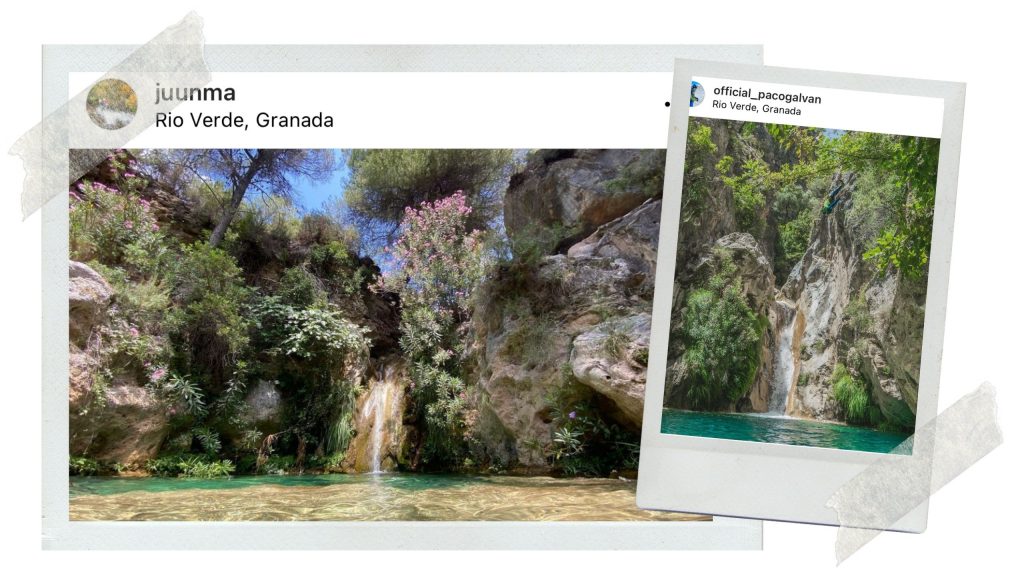 ↠ Beaches around Nerja
Nerja is surrounded by beautiful beaches, and you can see a splendid waterfall that flows into the sea. For this, you have to go by paddle or kayak! It is not to be missed. ?
Click here to book your kayak to discover the cliffs and caves of Nerja
Click here to book to book your paddle if you prefer.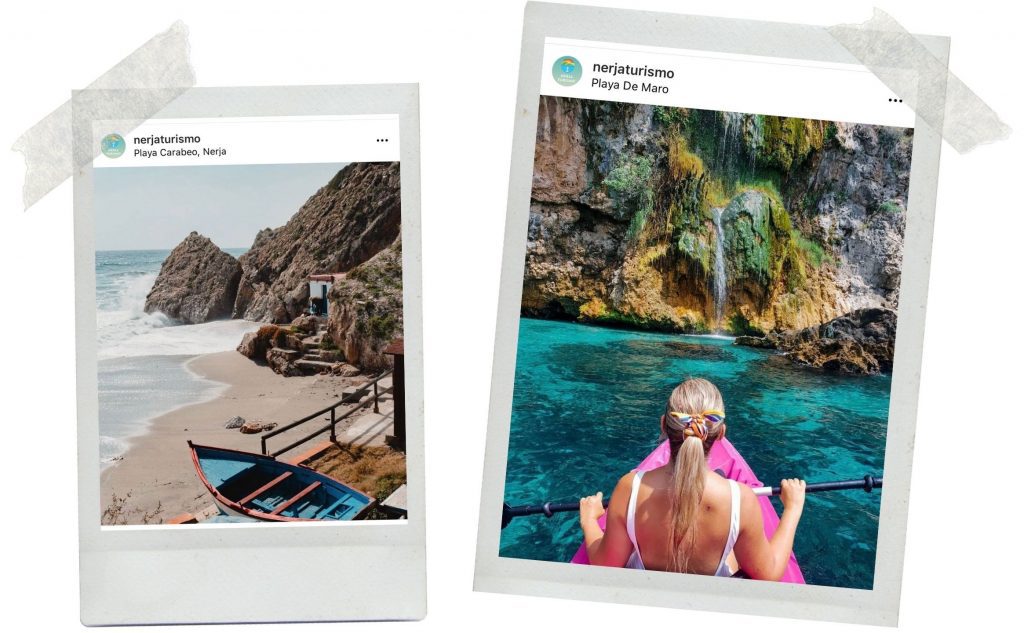 ↠ Cave of Nerja
The ultimate activity to visit Nerja: its caves! At 35 km wide and 4 km long, the Nerja caves are impressive. They are home to the widest column in the world!
I recommend you download the free audio guide on your phone to understand the history of this place. Online ticketing here.
When you have finished your day, you can either drive to the places on day 6, or spend a second night in Nerja if you are tired.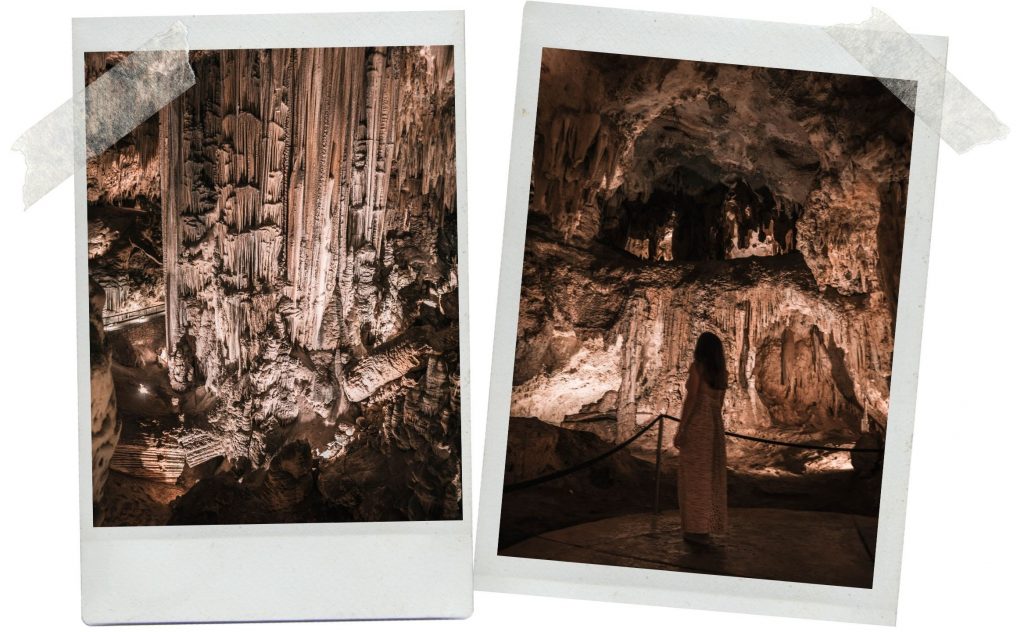 ---
✧ Day 6: Villages of Andalusia
⏰ Get up early if you want to do all the visits I recommend in one day.
↠ Castillo de Colomares
The visit to the Colomares Castle won't take you more than an hour, but it is definitely worth it! I loved this place which is beautiful and original. For the record, it was built by Dr. Esteban Martin, to pay tribute to Christopher Columbus and his discovery of America.
? Access: €2.50 per person, ticket office on site.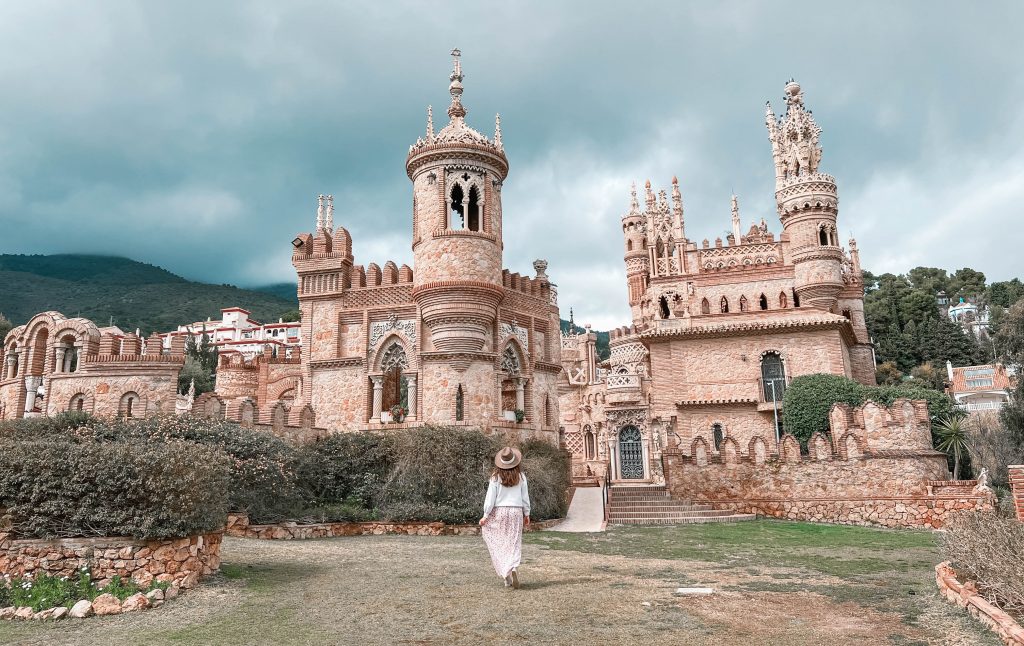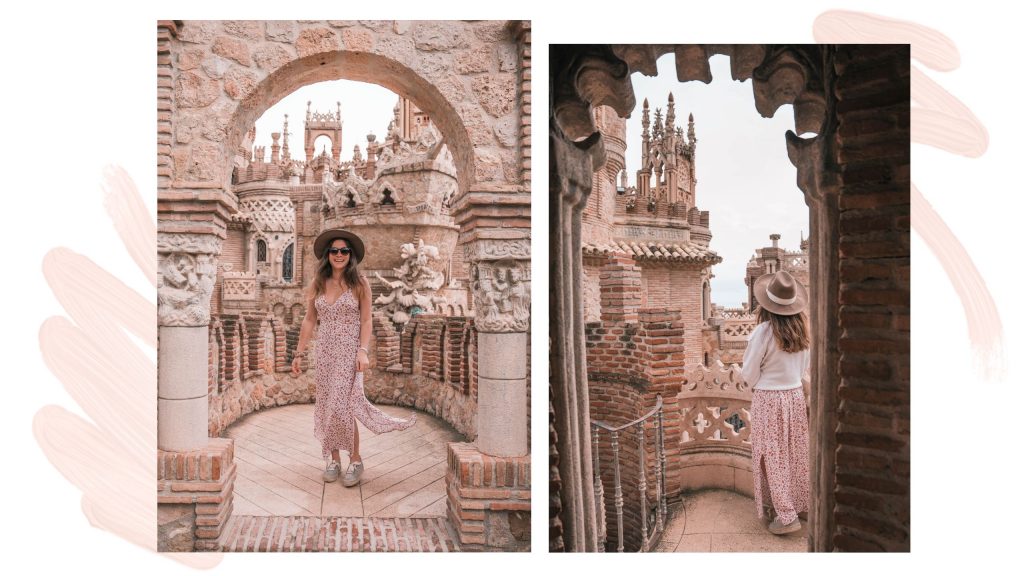 ↠ Mijas
Mijas is one of the many white villages in Andalusia. I decided to visit only one of them because, despite their undeniable charm, I find it quite repetitive.
I was not disappointed when I visited Mijas. The artisanal shops have a lot of charm. The only thing I regret is the exploitation of donkeys for carriage rides.
? Good address to eat: Bodeguita El Tejo.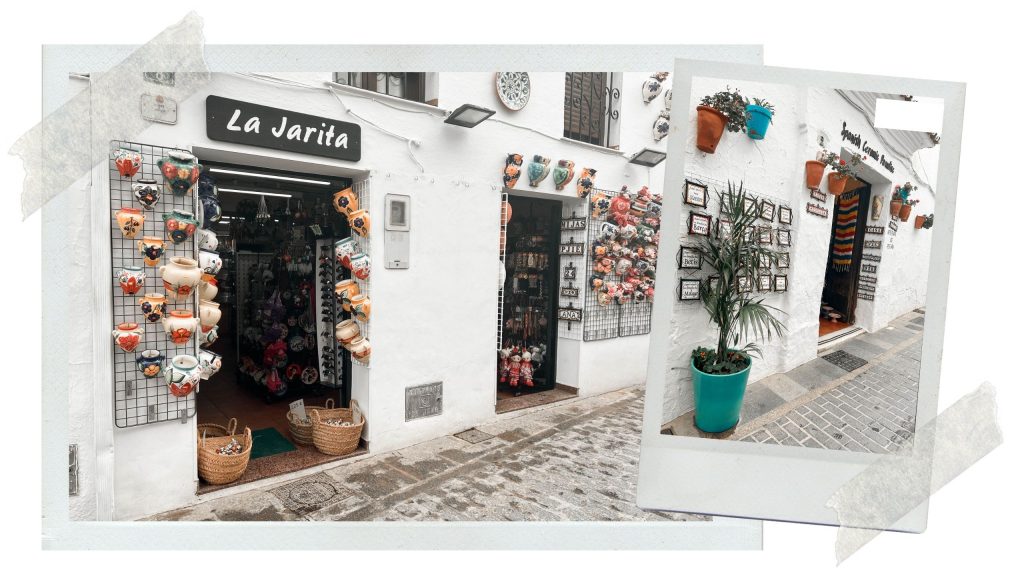 ↠ Júzcar
I propose you to discover an unusual village: Júzcar, better known as the Smurfs' village thanks to the blue colour of its facades!
Before 2018, the Smurfs game was played to the hilt in the village with murals representing the characters of the comic strip. Unfortunately, the author's heirs did not see the work being exploited in this way as a good thing and therefore asked for royalties, which were never paid. The frescoes had to be erased except for one drawing Papa Smurf.
Smurf or not, the visit of Júzcar is worth the diversions with the particularity of its blue walls. It reminds me of Chefchaouen in Morocco (find out more about a Moroccan road trip here).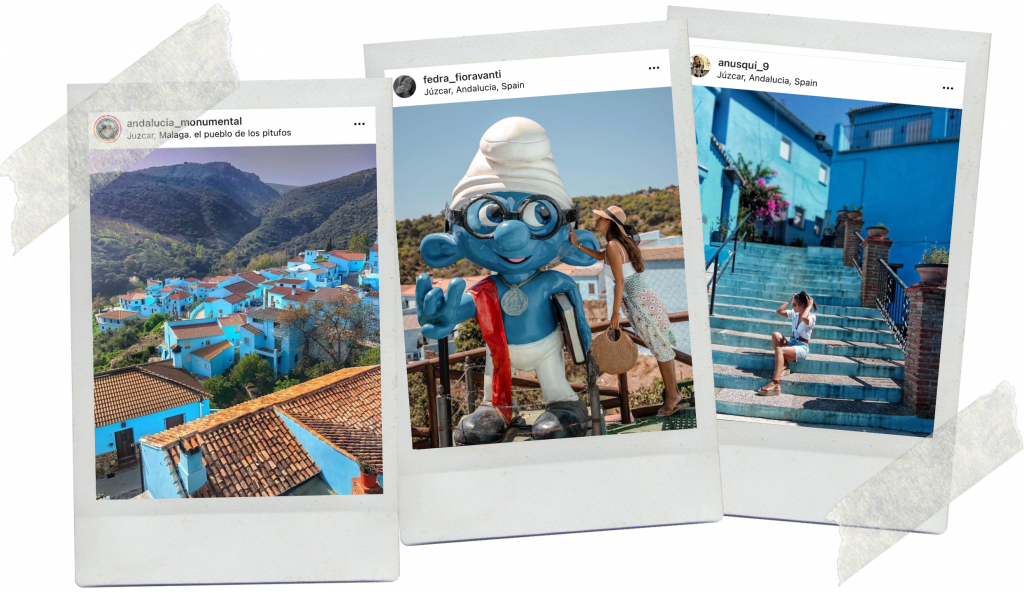 ↠ Ronda
Ronda is the last village on this Andalusia road trip itinerary – and not the least! Hyper-rich in history, Ronda has fascinated many.
What to do in Ronda?
? There is a lot to do and see in Ronda, here is a suggested walking route to visit the main points of interest. Park at the El Castillo car park.
The Puerta de Almocabar, the main entrance to Ronda
The Arab Baths (€3.50 for the entrance ticket)
The famous Puente Viejo, emblem of the village
The gardens of Cuenca
A magnificent view of the Puente Viejo and its waterfall, just go to the GPS point indicated in the pedestrian itinerary to go down the small path
Optional: the Camino de los Molinos for a short walk with views of the Puente Viejo and the village
The Arab baths (€3.50 for the entrance ticket)
The mirador of Ronda for the view
Plaza del Socorro for a drink on the terrace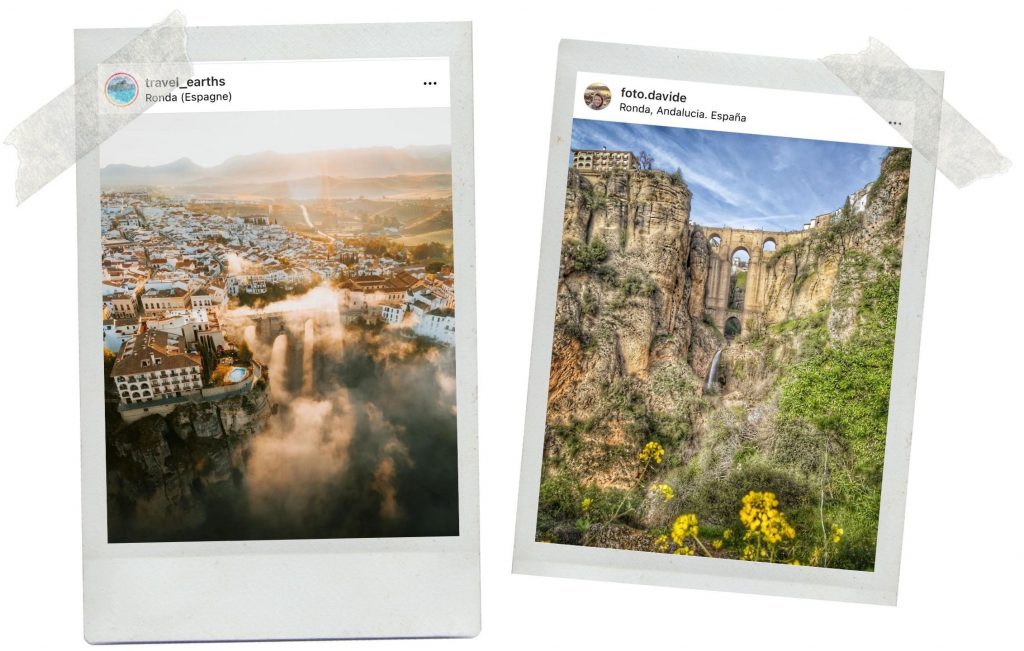 ↠ Cueva Del Gato
Fancy a refreshing dip after exploring Ronda? Head to the Cueva del Gato share, a beautiful natural pool with turquoise water ?. It is located just 12 minutes drive from Ronda. Everything I love!
At the end of this rewarding day, you will head north to get closer to Seville for the last day of this Andalusia road trip.

↠ Unusual accommodation in the heart of the Andalusian mountains
Sleeping in a safari tent is an authentic experience that you should not miss! I absolutely invite you to book your night on day 6 in Cortijo Dos Santos to enjoy a 100% natural setting.
The tent is very well equipped and you can even enjoy a swimming pool. When I went there in March, it was quite cool at night and it was so nice to heat with wood ??.
✧ Day 7: El Caminito del Rey
Built in the early 1900s, the Caminito del Rey was used to transport materials and workers for the construction of the hydroelectric plants, supplying the region with electricity.
As a result, many people ventured up it, despite the ban, in search of thrills. Indeed, the Caminito del Rey had been severely degraded over the years. For a long time it was considered the most dangerous hiking trail in the world, causing the death of several people who fell.
Hiking the Caminito del Rey
? 5 km, about 2 hours. Best done in the morning to avoid too much heat.
Obviously, I wouldn't tell you about it if the trail hadn't been redeveloped in 2016 and if it wasn't 100% safe. Today, the Caminito del Rey is open to everyone and is more of a stroll than a thrill ride. I really recommend you to do it! You will enjoy breathtaking scenery all along the El Chorro Gorge and the valley.
⚠️ For those who are afraid of heights, only one passage seems sensitive to me, the bridge at the end of the route.
How to get to the Caminito del Rey
There are two ways to do the hike.
Option n°1: you book your access on the official website. This costs 10€ per adult. However, in high season, it may be full.
Option n°2 (the one I chose): if it's full and you don't want to manage the transport organisation as there will be a private bus (explanations below), you can book a tour with a guide here.
Practical explanations for the hike
The trail does not make a loop. Most people park at the car park at the start and have to take a bus back to their car. I don't recommend doing it that way, as the queue for the bus at the finish can be extremely long (in the middle of summer, 2 or 3 hours!). Moreover, you won't feel like waiting and taking a bus after walking.
I therefore recommend that you park at the end of the trail (GPS point). This way, you can take the bus at the beginning and, at the end of the hike, you can leave with your car. This is what you will do with option n°2 with a guide, but with a private bus.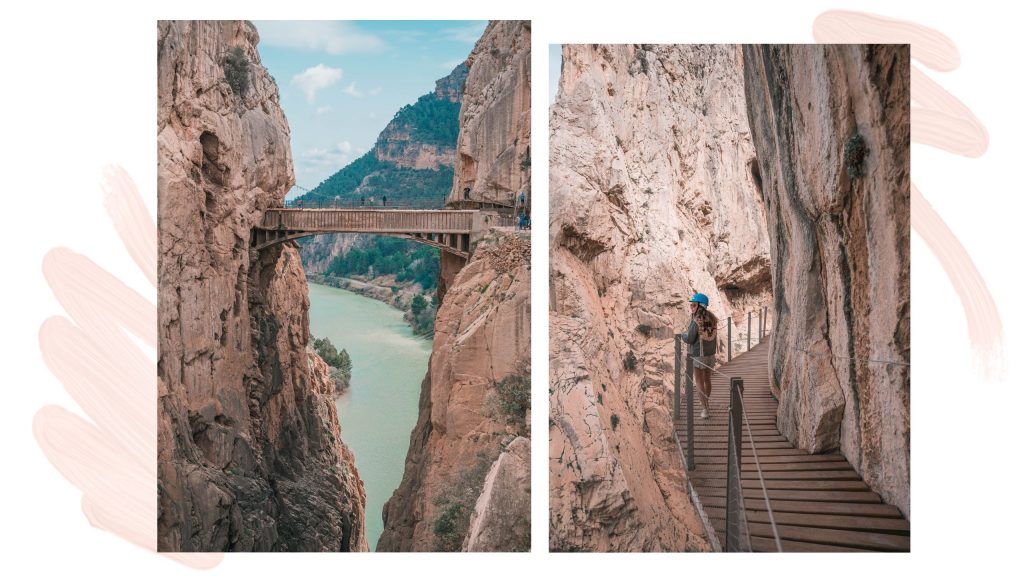 Ardales Natural Park
If the weather permits, you can then enjoy the surrounding lakes. There are watchtowers and walking trails. This one offers a magnificent view of the lakes.
? Water activities and swimming are also possible.
This is the end of this road trip itinerary in Andalusia! I hope you enjoy this trip and enjoy the Spanish sun (not like me ?).
To go further, check out all our Spain travel guides.