What to do in El Nido? The controversial island
In this article, we are going to propose you several ideas of things to do in El Nido. Honestly, we did not include El Nido in our trip planner. Why not? Because we had seen that it was one of the most touristic islands of the Philippines and we wanted to avoid the traffic at all costs. Moreover, the main interest being the boat excursions, we thought that the landscapes would be close to those of Coron Island (which is indeed the case).
But fate had other plans. As some people know, we often plan our itineraries and hotels at the last minute. This is always a risk with price increases or lack of availability. But what we love most about traveling is the freedom! We want to have the privilege to stay in a place when we like it and leave when we have done the tour of the interesting things we like.
So we decided to go to El Nido for our last 5 days because it was more convenient and less expensive than Romblon Island, our initial project.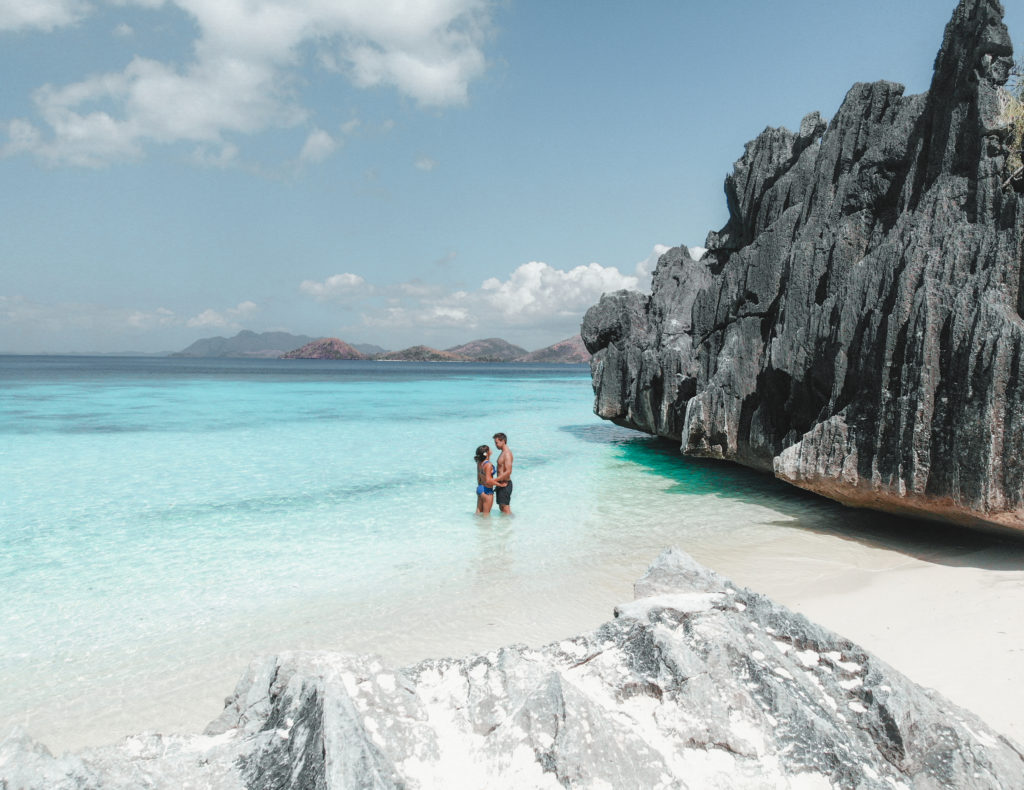 ---
How to get to El Nido
This is a question that comes up a lot. You have three main options with three levels of danger:
En avion, directement à l'aéroport d'El Nido :

By plane, directly to El Nido airport:
◦ This is the option we chose from the island of Bohol. Much simpler, 1H40 flight and for the blow: cheaper! The flights do not appear in the search engines (April 2019), you have to go directly through the website of the company AirSwift. It is very recent and should be easier to find in the coming months. The planes are new, the service is good and the schedules are respected. We paid 150€ each for a one-way ticket.

By boat from Coron:

If you plan to visit Coron, this is the easiest way to get to El Nido. The advertised trip is about 4 hours, but it depends on the sea conditions. The price is PHP 1,800 (€30) per person for a one-way trip with a departure at 12:00 pm every day. You can book your tickets here.
By plane to Puerto Princesa and then by Van:

From Manila, or other islands, this is often the cheapest option. Flights to Puerto Princesa are more frequent, so the prices are advantageous. On the other hand, you have to add the price of the van and especially take risks on the road during 5 hours… We had a lot of testimonies about El Nido and the drivers are very enthusiastic about driving, not hesitating to cross villages at 80 km/h and to overtake in curves. For the plane, the price depends of course on your island of origin and the season.Compare the best offers here. The van to El Nido is 600 PHP (10€) per person.
---
What to do in El Nido
The main attraction of El Nido is of course the island hopping, that is to say the discovery of the surrounding islands and beaches by boat. There are 4 major tours: A, B, C or D. We are going to detail the tours, you will just have to make your choice according to your desires.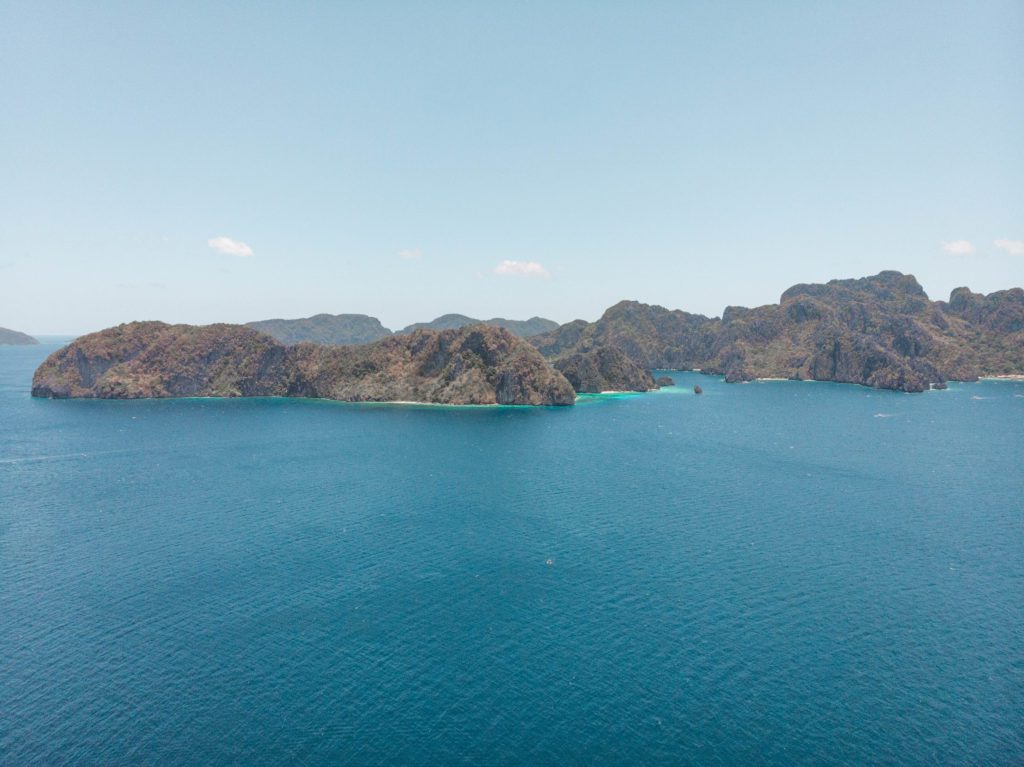 What to do in El Nido
The main attraction of El Nido is of course the island hopping, that is to say the discovery of the surrounding islands and beaches by boat. There are 4 major tours: A, B, C or D. We are going to detail the tours, you will just have to make your choice according to your desires.
Island Hopping El Nido: the different tours
Tour A «Lagoon Adventures »
Big Lagoon
Secret Lagoon
7 Commando Beach
Shimizu Island
Small Lagoon
Tour B «Cave Explorations »
Snake Island
Entalula Island
Pinagbuyutan Island
Cudugnon Cave
Cathedral Cave
Tour C « White Beach Tours »
Helicopter Island
Star Beach
Secret Beach
Matinloc Shrine
Hidden Beach
Tour D « EL Nido Islet Tour »
Natnat Beach
Cadlao Lagoon
Paradise Beach
Bukal Beach
Pasandigan Beach
Click here to book your boat trip to El Nido online!
---
As we mentioned in the article about Coron, it is better to take a private tour to enjoy the spots without too many people. We opted for the B tour with two French couples we met there. We hesitated with the C tour, but our accommodation offered us the possibility to sleep a few meters from Hidden Beach and to go there by kayak quickly and for free.
When we arrived in El Nido, we canvassed several agencies in order to find the cheapest and most reliable tour possible. Our final choice was Tarawis El Nido which, in addition to having a very interesting price, gave us the possibility to swap a spot of tour B with a spot of tour D. Indeed, a cave was enough for us and we wanted to discover the lagoon of Cadlao.
In short, we did the tour B in private banka with the Cadlao Lagoon instead of the Cudugnon Cave. Everything went very well, the crew was not the warmest, but they were punctual and flexible on the time spent at each place.
Here are some pictures of our island hopping in El Nido: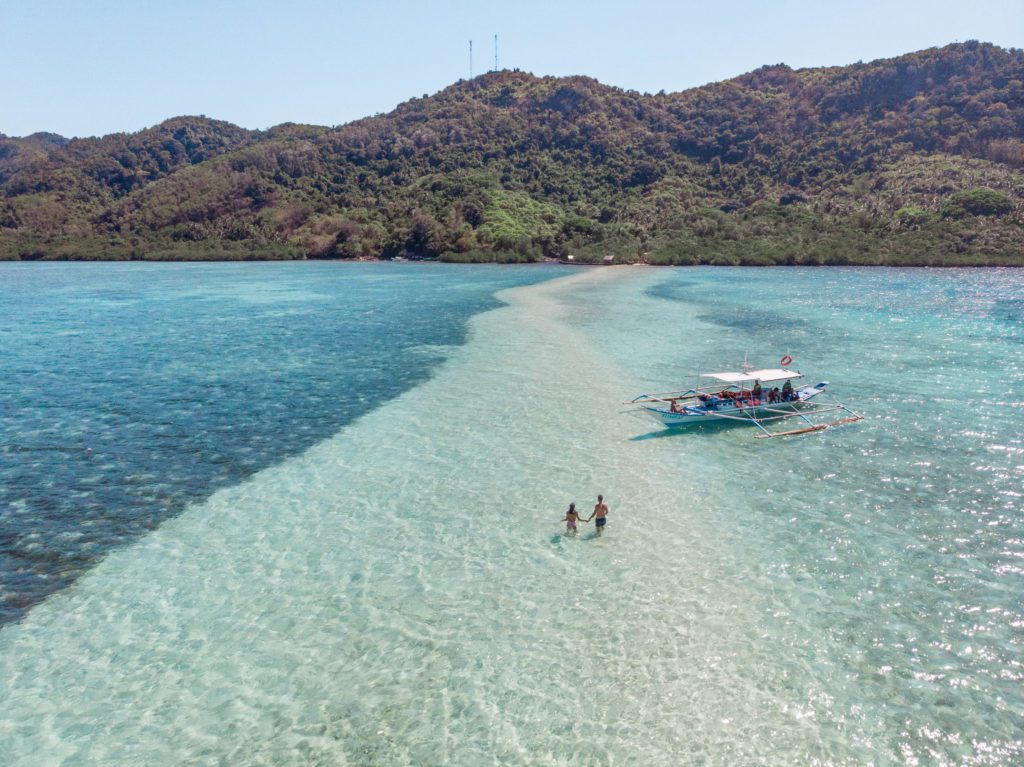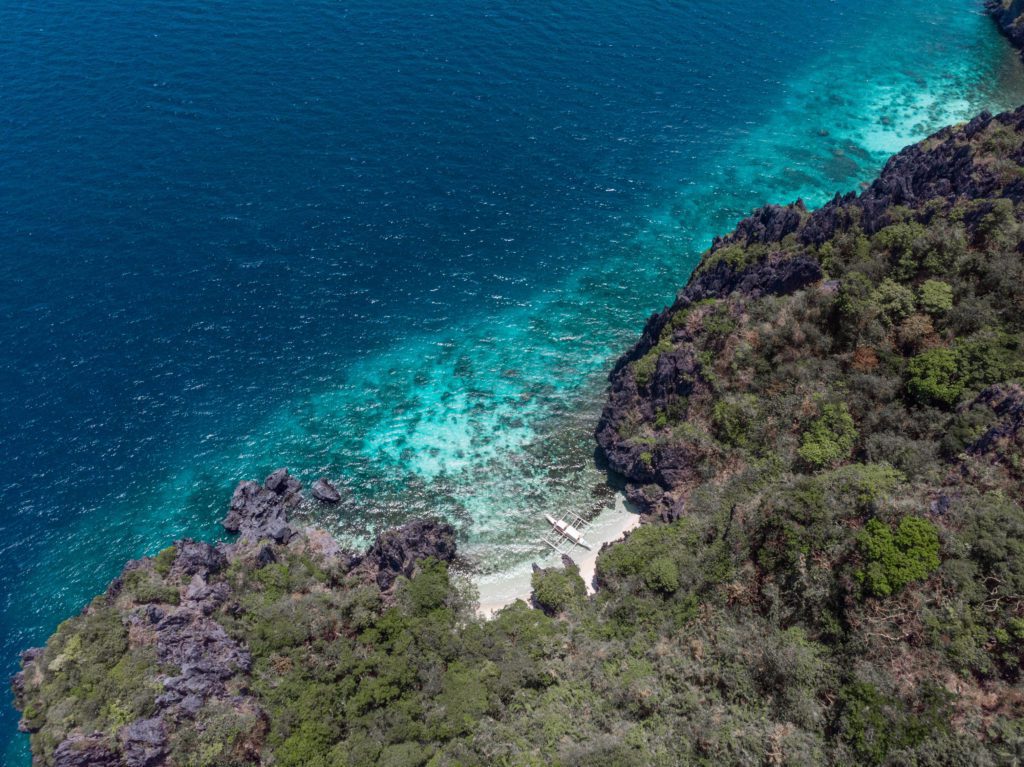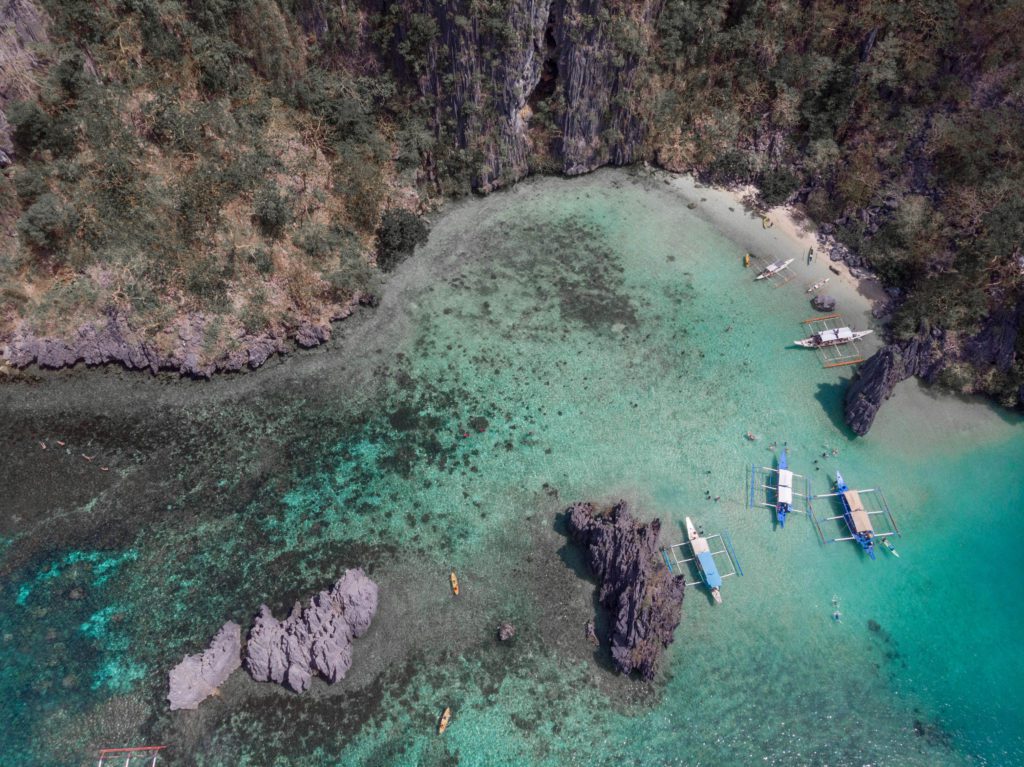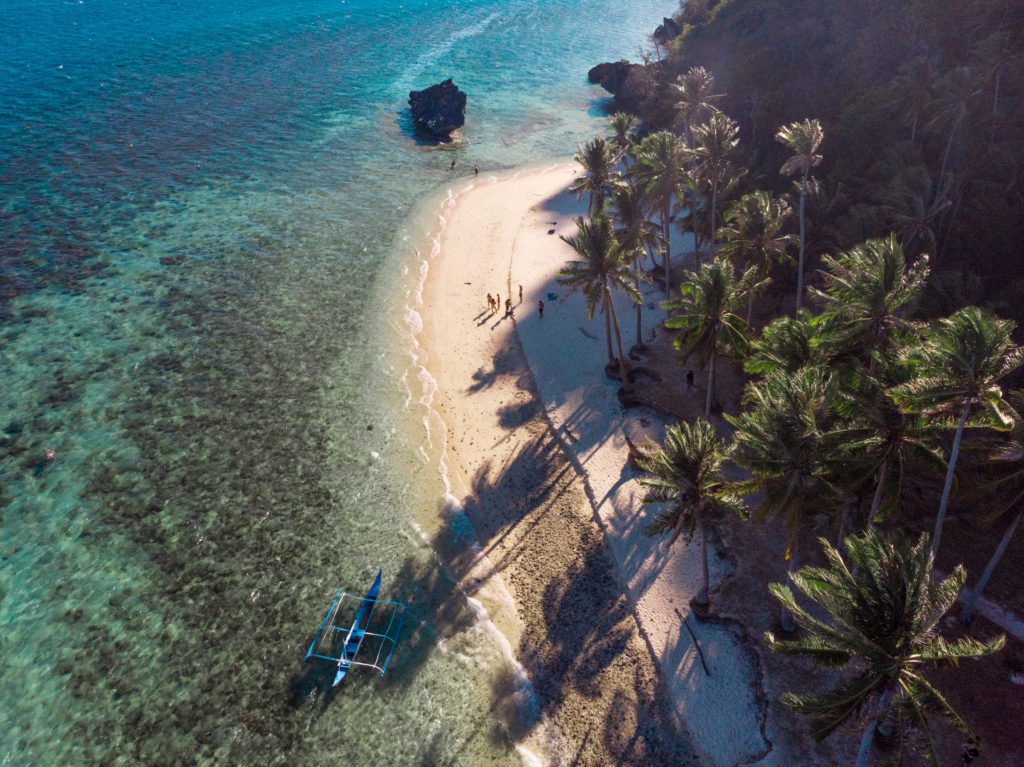 ---
Catamaran Day Trip to El Nido:
This excursion is perfect to discover the wonderful islands around El Nido. Moreover, the comfort of a catamaran is top to spend a beautiful day at sea! We would have liked to do it if we had known. Infos & booking
What to do in El Nido : sleep on a deserted island
Shante Island, an unusual experience in a quiet place
Our most beautiful experience of our stay in El Nido was, without any doubt, our nights at the Shante Island Resort. This hotel, nestled on an island 45 minutes away by boat with its own private beach, is a true haven of peace. Sleeping on a deserted island paradise, in a hut high on the beach, is truly a dream. If you are not afraid of heights, we highly recommend you to ask for the highest one to overlook the whole bay and have a magnificent view.
The staff on Shante Island is very helpful and the food is excellent! A campfire is lit on the beach every night during dinner. During the day, take advantage of the kayaks provided to visit the surrounding beaches, such as the famous Hidden Beach at 10 minutes. If you get there before 9am, you can have Hidden Beach all to yourself. This is exceptional, as it is one of the most popular spots for daytime boat trips. It is a real pleasure to be able to enjoy such a place without any tourist. In short, we could talk about this extraordinary experience for hours…
We highly recommend you to treat yourself once in your life.  The price does NOT include the boat transfer: you have to add 120€ for the round trip transfer for two people. This is the price per boat, so if there are other clients, the 120€ price will be divided by the number of clients. Small precision: there is no hot water or air conditioning. The price of the night varies between 150€ and 200€ approximately. When you consider that this includes 3 meals a day for 2 people, it is not exorbitant for the exceptional experience it is! Reservation here.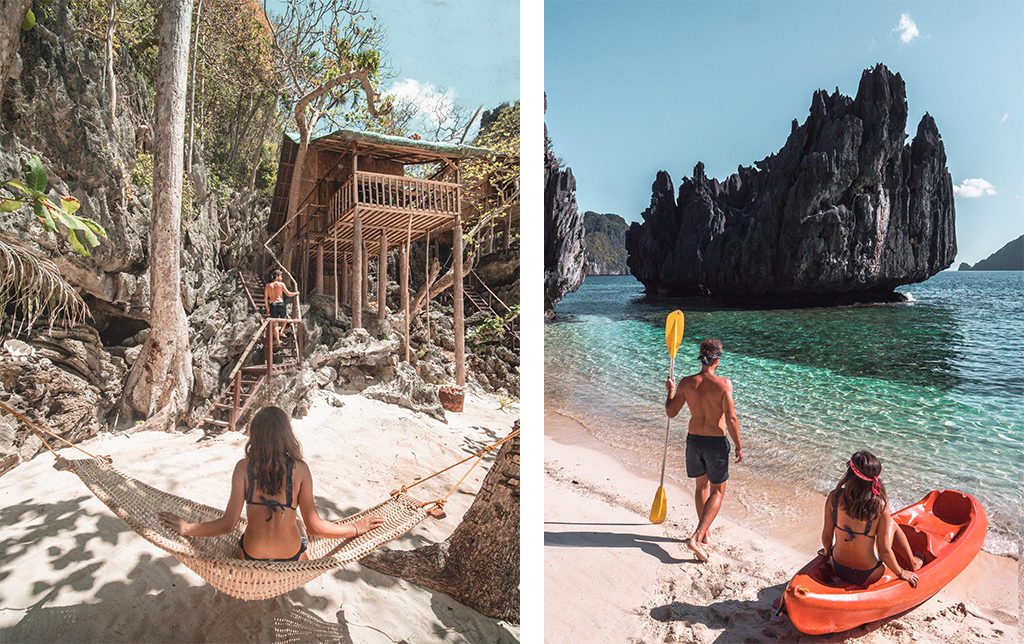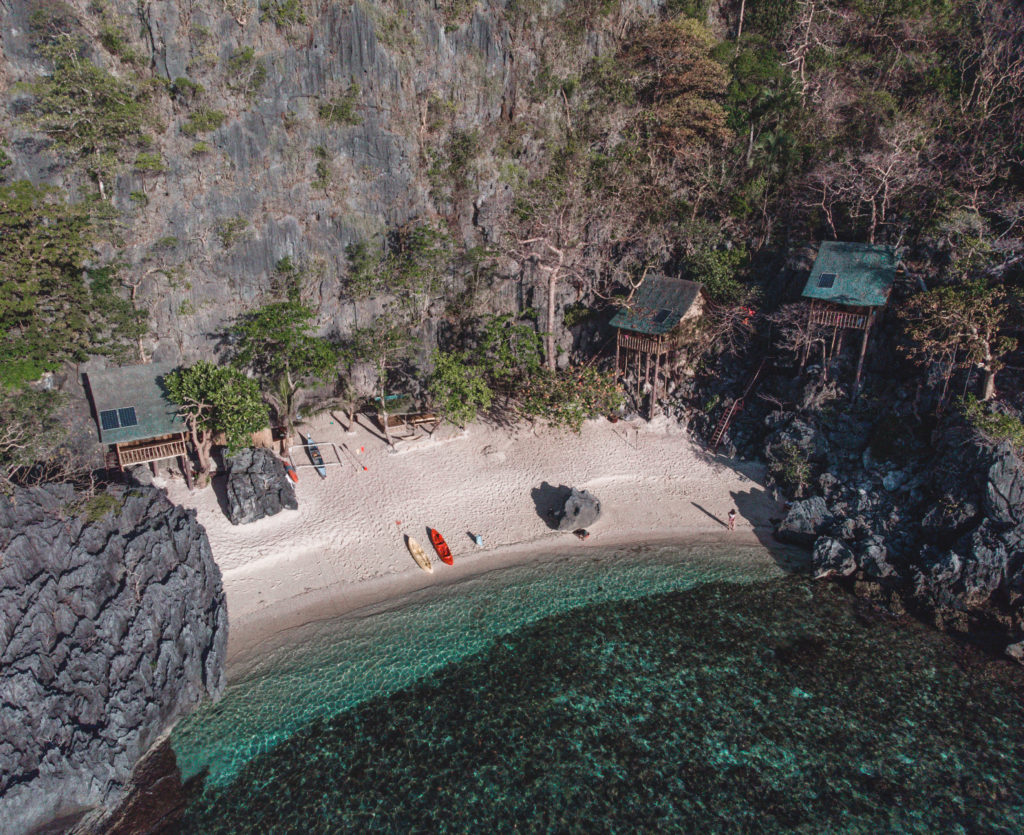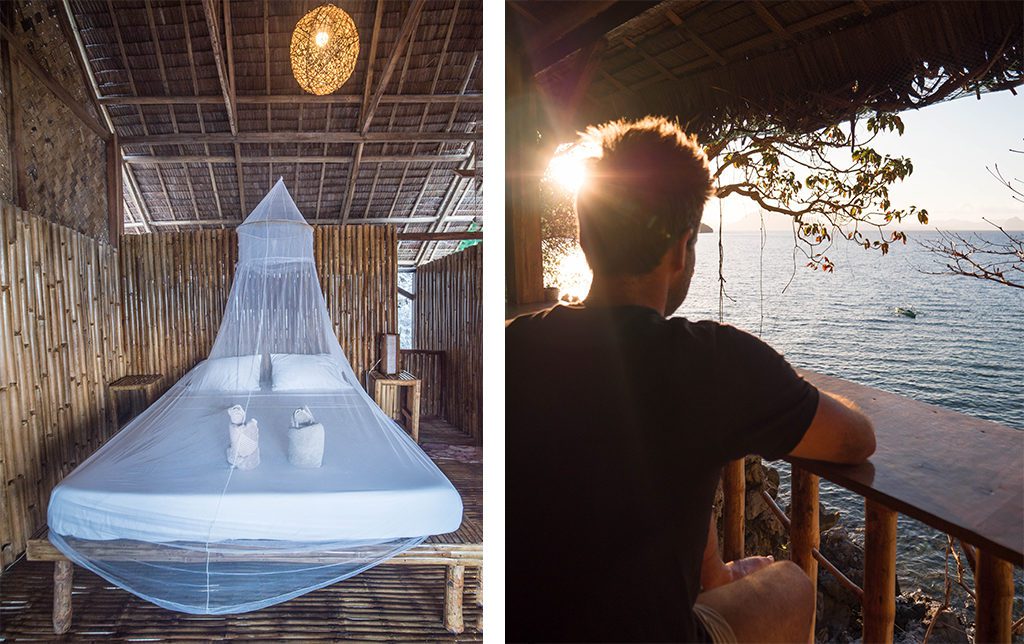 Some pictures of Hidden Beach, one of the most beautiful we have seen in the Philippines: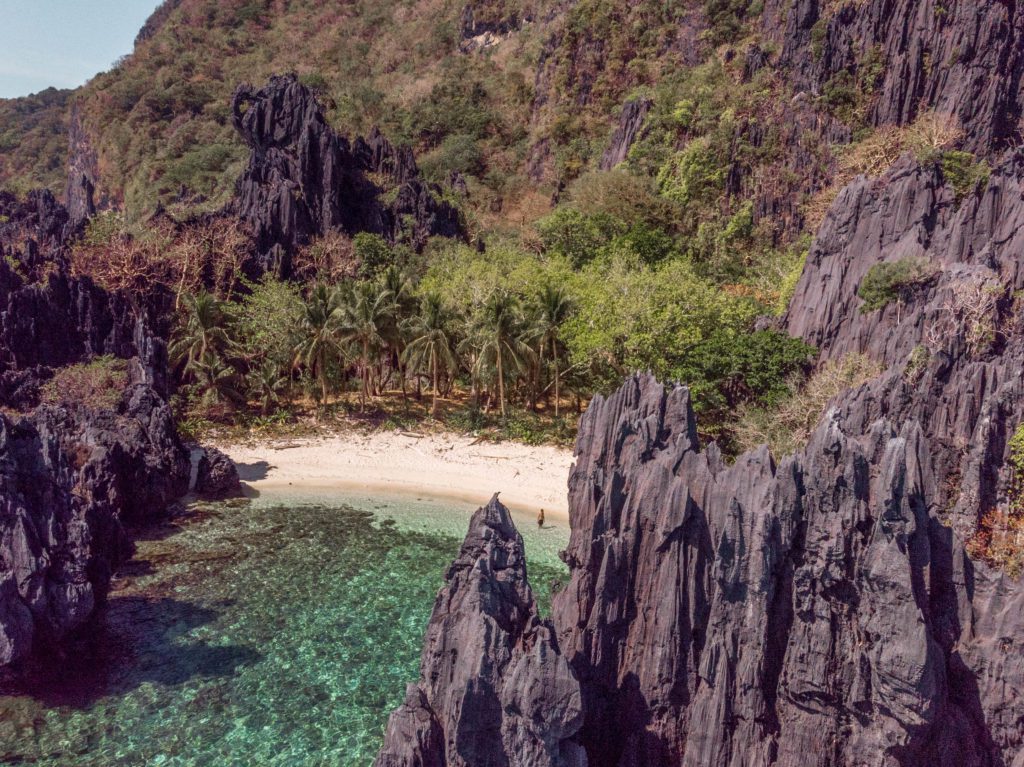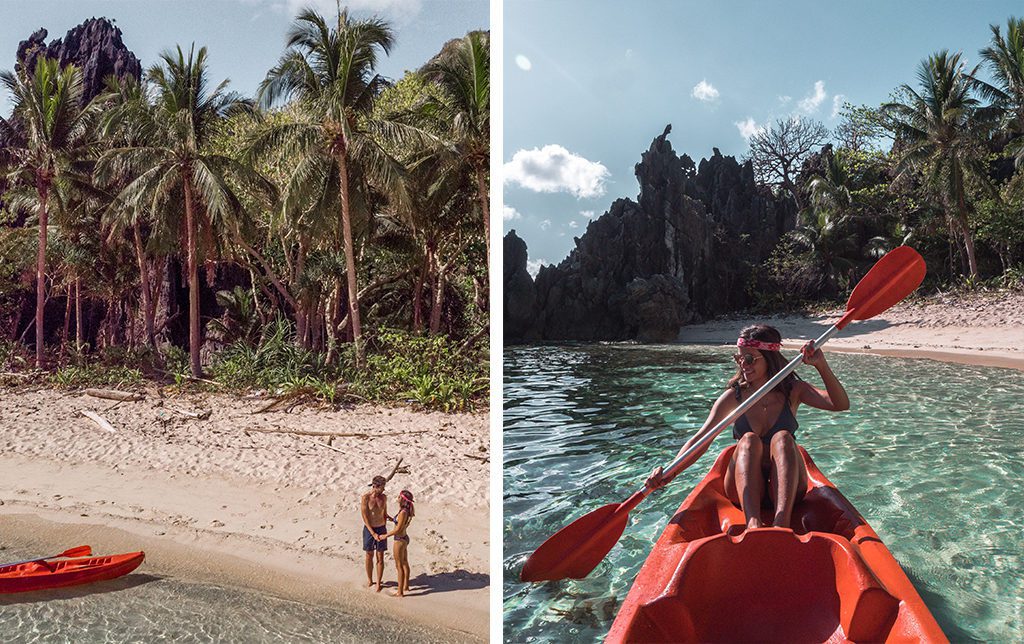 ---
What to do in El Nido: explore the island
You can also visit the surroundings of El Nido by scooter or tricycle. If you have more time than us on the island and you are looking for freshness: head to Nagkalit-Kalit Falls. It is located only 20 minutes from the center. See photos from travelers on Instagram
Access to the waterfall: also count 40 minutes to 1 hour round trip walk to get to the foot of the waterfall. The place has two waterfalls, including a natural pool where you can swim. Beware, as is often the case, of false guides who will want to accompany you even though the path is obvious. The parking costs 100 PHP (1,70€).
Often ranked among the most beautiful beaches, Napcan Beach is preserved from mass tourism. This small paradise of 4km long is located 45 minutes away from El Nido. The ideal is to rent a scooter to enjoy the time you want there. Be careful though, the last part of the trip is quite bumpy.
Las Cabanas Beach and its zip line
Amateur of strong sensations? Direction Las Cabanas to try the famous Zipline (zip line) of 750m. You will fly over the beach to the islet opposite. The price is 1000 pesos (about 14€), which is reasonable for this kind of activity, especially in this paradisiacal setting!
Las Cabanas Beach is also an ideal place to relax. Indeed, several small and cute straw huts offer poufs to enjoy a drink. We did not meet many people but a shopping mall is being built a few meters away and things could evolve… Please let us know if you go there!
---
Where to eat and go out in El Nido
El Nido is a very popular destination in the Philippine archipelago and this is reflected in the prices. We have tested several addresses:
It is THE place to admire the sunset in El Nido, in a beautiful setting with a nice atmosphere. The price is obviously above the average, but nothing prevents you from having a drink before going to dinner elsewhere. For your information, if you want a mattress in the front row, you'll have to pay a minimum of 1000 pesos (17€ per reserved table).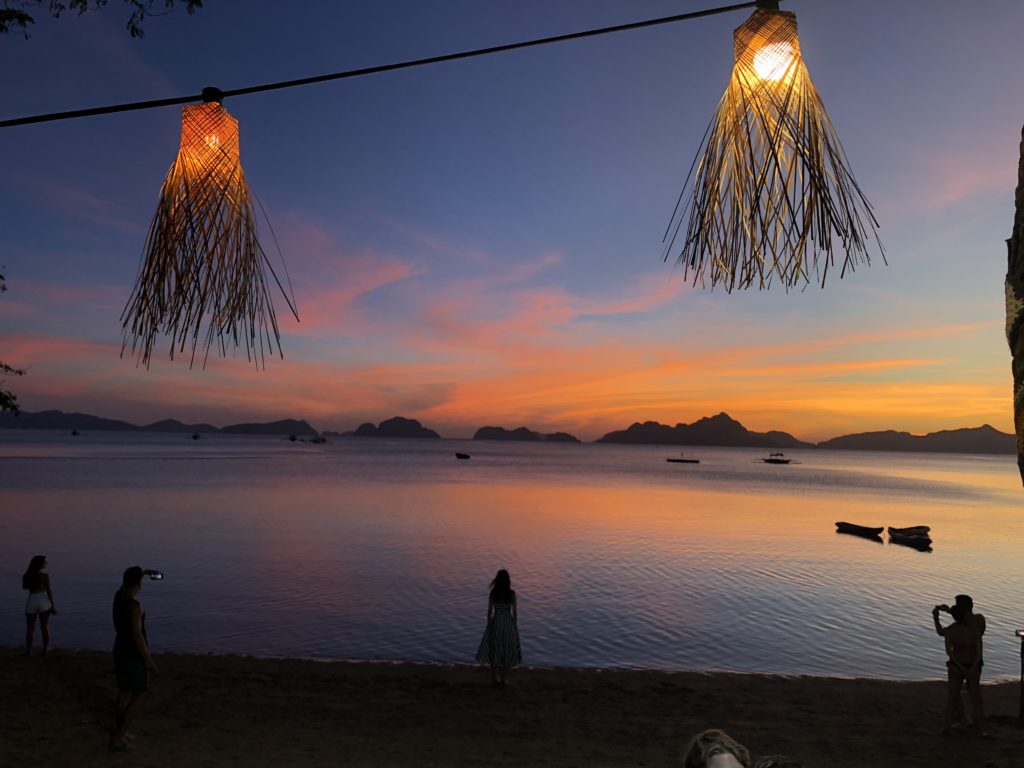 BoodleFight Restaurant & Bar
This is a very good place to eat local at a reasonable price. The food is good and the service pleasant. However, as is often the case in the Philippines, do not be in a hurry.
The place is perfect to have a drink for the sunset and enjoy a good Italian dinner. The setting is really beautiful with a very good service. The prices are quite high for the Philippines, but correct for El Nido. Make sure to make a reservation as it can be a victim of its success.
---
Where to sleep in El Nido
Many of you have been interested in our nights on El Nido. We met the French owner of two quality hotels in El Nido.
Focus El Nido, in the center
The first one, Focus El Nido, is a very recent and comfortable hotel. It is ideally located, very well equipped, perfectly decorated. The welcome is friendly and the breakfast served on the terrace of the room is great. To book : click here.

The second hotel we stayed in was the Shante Island Resort, in a hut on a deserted beach. We tell you more about this experience at the beginning of the article. Booking & price LIEN
---
We do not regret visiting El Nido at all. At the end of a 2 month trip, we needed a little comfort and we found it in El Nido. We also enjoyed the many restaurants and the atmosphere. The landscapes are very similar to Coron. We preferred the island hopping in Coron to the one in El Nido. So, we recommend you to do only one of these two islands if you do not have enough time.
3 weeks itinerary in the Philippines & Practical info (budget) LIEN