What to do in Abu Dhabi ? One week itinerary
Located just a few kilometres from Dubai, Abu Dhabi is often overshadowed by its neighbouring city. But the capital of the Emirates has a lot to offer. Let's find out in this one week itinerary to visit Abu Dhabi!
What to do in Abu Dhabi ? : Planning your trip to Abu Dhabi
 When to go to Abu Dhabi ?
The answer is quite simple : favour winter ☀️. Indeed, from April to October the average temperature is over 35 degrees and it's quickly stifling if you want to do anything other than laze around. For my part, between Christmas and New Year's Day I had 26 degrees every day! Don't worry about rain, it's very rare in the Emirates and it doesn't last long.
Do I need a visa to go to Abu Dhabi ?
No, for less than 90 days, French nationals do not need a visa.
Where can I buy a plane ticket ?
We recommend that you compare the best deals and book your flights on Ulysse. You can benefit from -10€ on your first flight booking on Ulysse by registering via our link and using this code : PVWYP4ESA.
 What is the budget for a week in Abu Dhabi ?
Flights France – Abu Dhabi : 500€ per person on average.
Hotels : it depends on where and the category but expect to pay 80€ on average (60€-100€ per night for a 3 star or even 4 star hotel depending on the location).
Car rental : 30€ per day.
Restaurants : I didn't see any difference with France. So I spent an average of 10-15€ at lunch and 15-20€ at night. Count on average 60€ for 2 people. Beware alcohol is very expensive.
Total = 2190€ for a 7 day stay in Abu Dhabi or 1195€ per person, excluding activities / visits.
 How to get around Abu Dhabi ?
Be aware that the city of Abu Dhabi is really big. The cheapest way to get around is by public transport, but it is relatively time-consuming and time-consuming to adjust to. Given the long distances between places of interest, I don't recommend taking a taxi even though it is cheaper than in France.
The best thing is to rent a car. Personally I found a car for 30€ a day at Thrifty and it went well.
 What is the local currency ?
In the United Arab Emirates, the currency is the Dirham. 1€ gives 4.20AED.
Do I have to buy tickets online to visit the tourist places ?
Yes, for price, language and ease of use we advise you to pre-book your activities on these sites:
---
What to do and see in Abu Dhabi in a week ? Itinerary
I've put together a detailed one week itinerary to discover what to do in Abu Dhabi. Note that you can compress it into 5 days.
Travel to Abu Dhabi : what to do ?
🛌 Where to stay in Abu Dhabi ?
Here is a selection of 3 hotels for your stay :
Andaz Capital Gate: One of the most beautiful 5* hotels in the city with a swimming pool and a panoramic restaurant on the 18th floor. The view from the rooms is incredible and the staff are very helpful.
City Seasons Al Hamra Hotel: Located in the centre of the city, this 4* hotel offers exceptional value for money.
Emirates Palace: For an occasion or to treat yourself, this is the perfect address! I had never seen such an impressive hotel. It is also self-proclaimed as a 7* hotel ! Its beach is 1.3km long (yes, I'm not mistaken) and the complex extends over 85 hectares. The main building has a 42 meter diameter dome and more than 1000 chandeliers! The restaurants are also very good.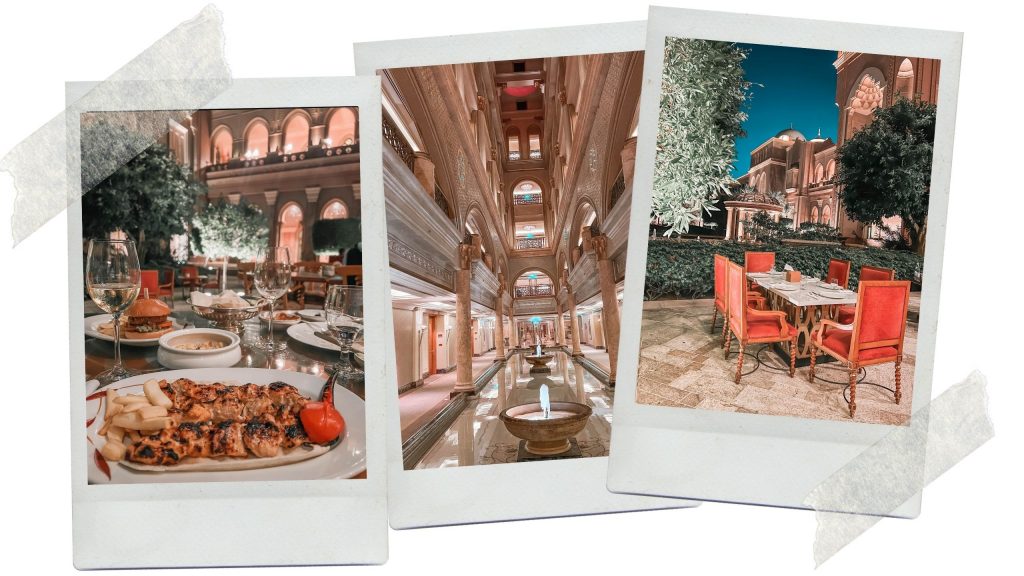 Day 1: Al Wathba Long Salt Lake and desert
Al Wathba Long Salt Lake
Let's start directly with the nugget of this trip! I've seen a lot of beautiful, out of this world things in the last few years, but I've very rarely felt that "wow this is unreal" feeling. It feels like you're arriving in a set created from scratch 🤩. And yet this place is very real and relatively easy to access.
Be careful, there are 2 Al Wathba and you have to go to the "Long Salt Lake". This spot is located at 1h and 55 km of road from Abu Dhabi. There is a long dirt road (well, it's not really marked) to get you there and you can park a few meters away. Once you have parked you have to go over the sand dune. Swimming is strictly forbidden ⚠️.
Small tip for photos : try to go in the middle of the day so the sun is straight 😂.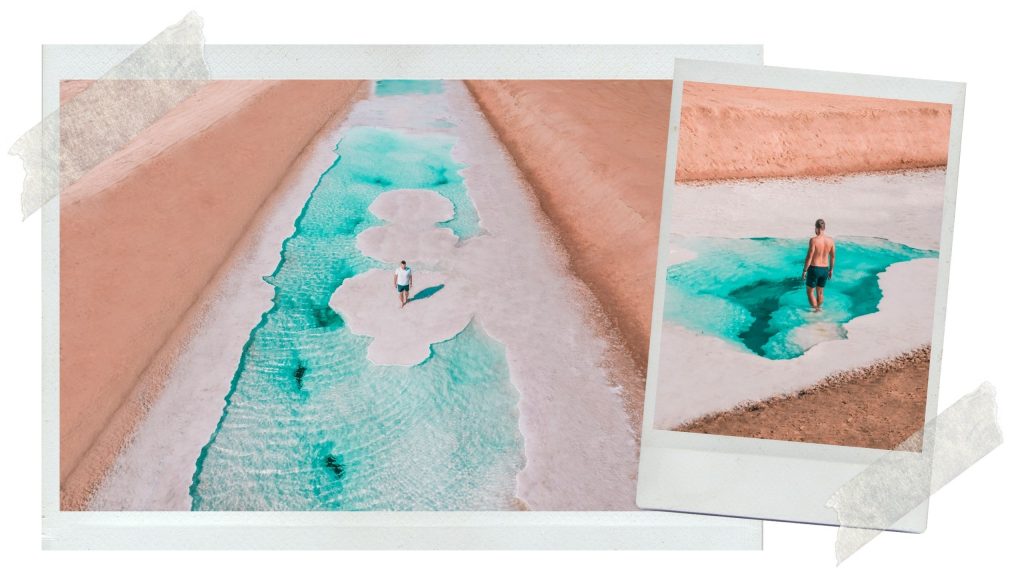 Visiting the desert near Abu Dhabi
Once you're an hour's drive from Abu Dhabi, I recommend you take the opportunity to explore the surrounding desert. In the east of the country, the dunes are not huge but it was still a treat for the eyes to see the sand as far as the eye can see ☀️. If you want dunes as high as mountains, you have to go to the far south to Liwa.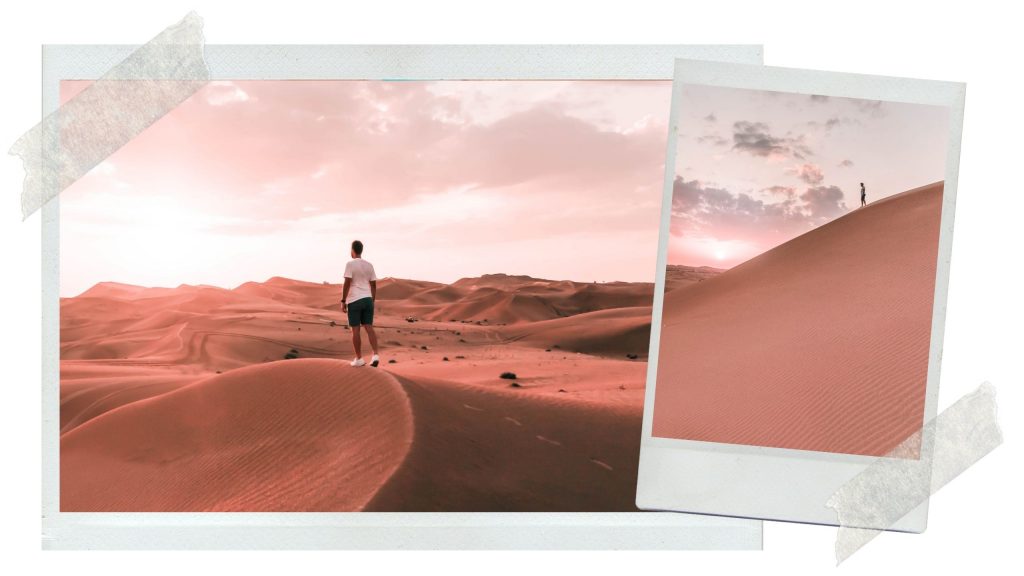 ---
Day 2: Louvre Abu Dhabi and Ferrari World
Louvre Abu Dhabi
This museum is one of the attractions not to be missed, especially as a French person. Indeed, the Louvre Abu Dhabi was born from a collaboration between France and the capital of the United Arab Emirates. The place is incredible and even if I have to admit that not everything inside interested me, I don't regret this visit at all. The entrance fee is very reasonable : 15€ per person. Half price for under 22yo and free for under 13yo.
→ Book your tickets here to avoid waiting in line 🎫.
If you want a unique view of this unusual building, head opposite the main entrance to hire a kayak.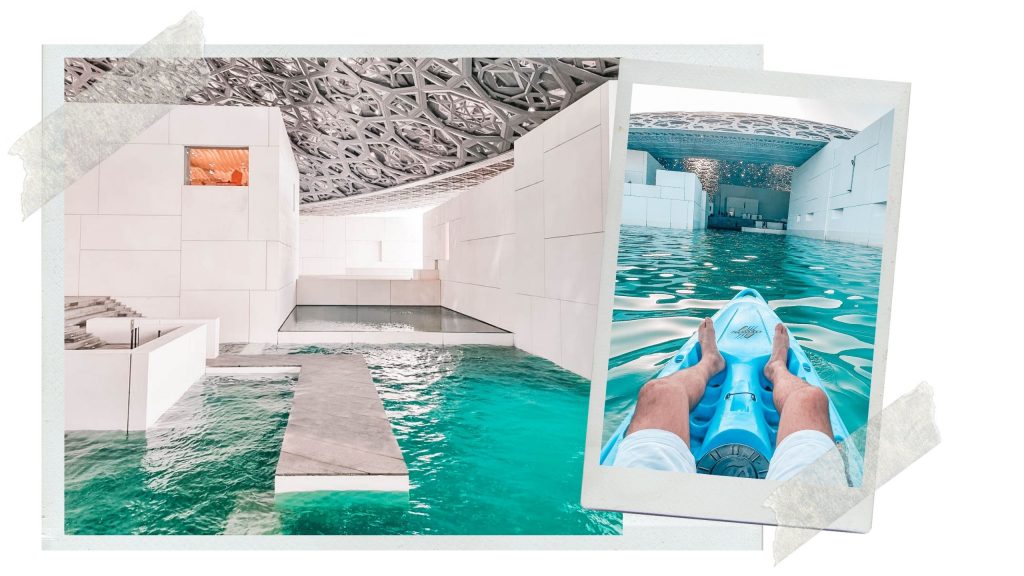 Where to have lunch ?
I tested a really top address : Montauk. Here everything is perfect 👌🏼! The setting is beautiful, the staff is on top of things and the hearty plates are beautiful, as well as being succulent 😋.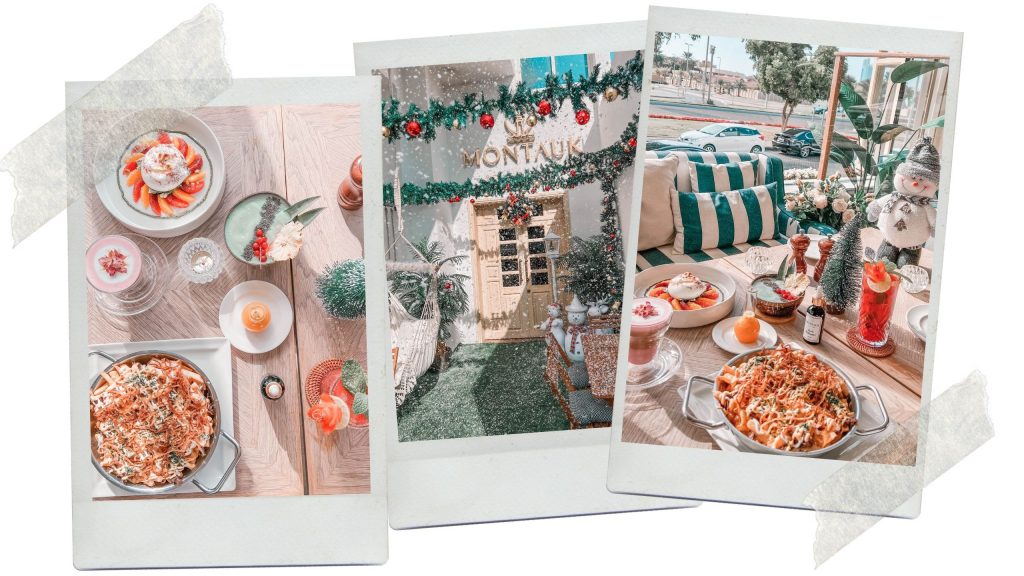 Ferrari World
For thrill-seekers or car lovers, Ferrari World will appeal to children and older people alike. Unfortunately I didn't have much time on site, but I did get to do a few attractions including one of the coolest I've ever done: Formula Rossa. It's the fastest rollercoaster in the world with a 0-240km/h in 4.9 seconds.
→ I would advise you to book your tickets in advance here so you don't waste time.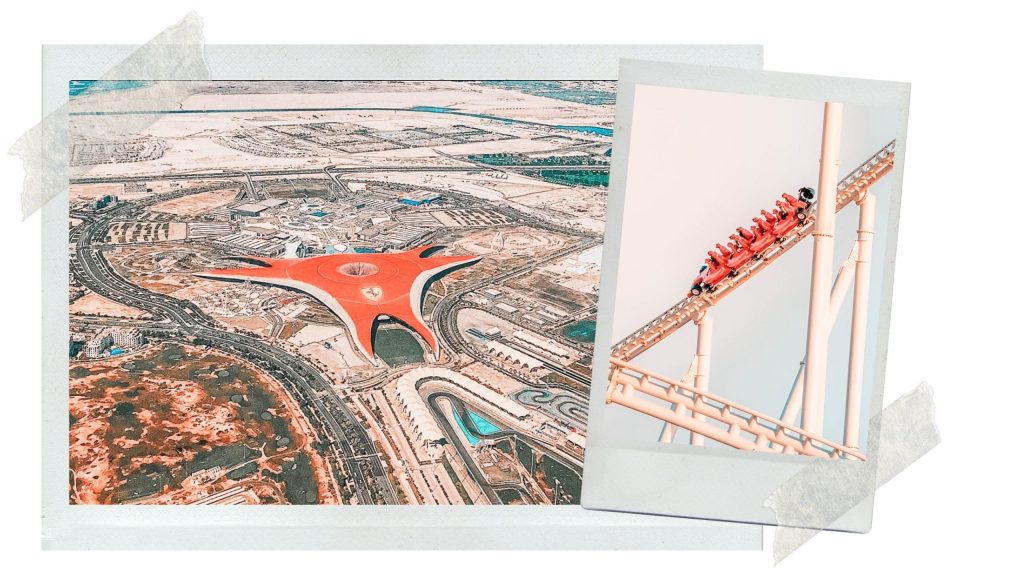 ---
Day 3: Chill in Abu Dhabi
My one week itinerary in Abu Dhabi can be completed in 5 days, leaving you 2 days to enjoy the beaches or the hotel pool.
You can also take the opportunity to go shopping in one of the many malls:
Yas Mall Abu Dhabi

: the largest in the city and the second largest in the country after Dubai. It is located on Yas Island.
Marina Mall: probably the best known in the city, it is located on the Corniche, close to the sea. Ideal to find clothes or souvenirs.
---
Day 4: Sheikh Zayed Mosque and Qasr Al Watan Palace
Sheikh Zayed Mosque
This Mosque of over 22,000 m2 is the largest in the country and the 9th largest in the world. Sheikh Zayed can accommodate up to 40,000 visitors. Even if you will see the biggest chandelier (12 tons) and the biggest handmade carpet in the world (more than 5000 m2), for me the main asset of this Mosque is its beauty from outside.
Be careful, to visit the Mosque you must cover your whole body and women must also hide their hair. I had bought a traditional outfit in advance, but you can also equip yourself on the spot.
To book a guided tour with pick-up from your hotel, click here.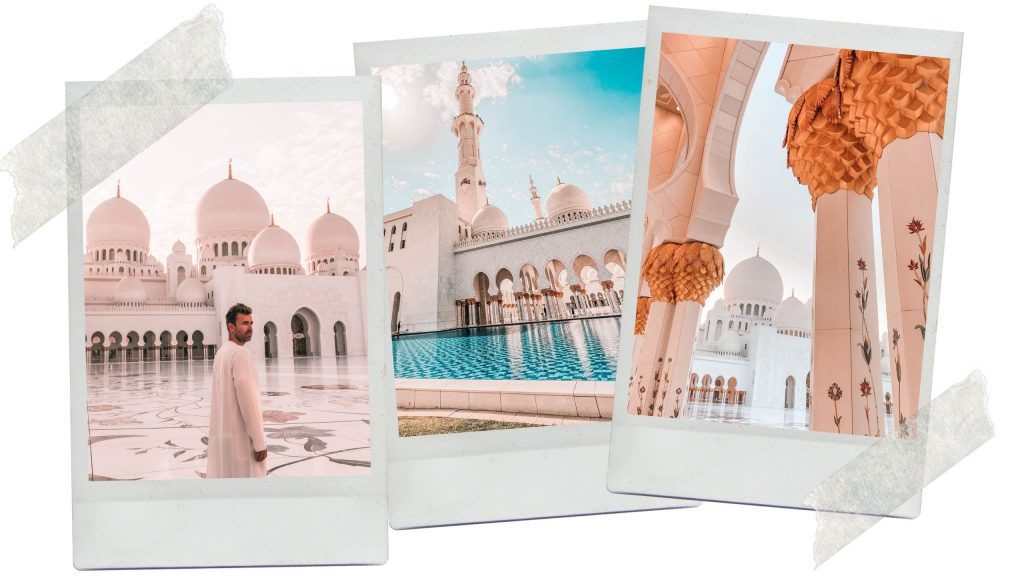 Qasr Al Watan
Completed in 2017, the Qasr Al Watan Presidential Palace has been open to the public since 2019. Outside, the white granite façade is sublime. Inside, everything is in excess, it is impressive. The central room has a 37m diameter chandelier and 350,000 pieces of crystal. The building also has a library with 50,000 books on cultural history.
To book your tickets, you can find combinations with other tours here.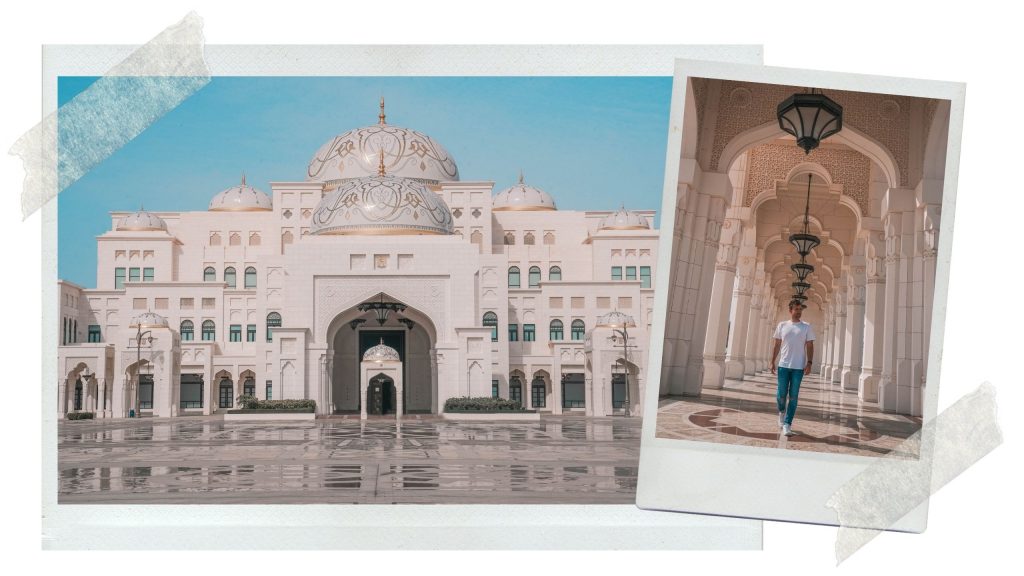 ---
Day 5: Mangrove National Park
Abu Dhabi Mangrove National Park
Very close to the city centre, this national park is the lifeblood of the UAE capital. To fully enjoy this special place, I recommend renting a kayak. The tour with a guide lasts 2 hours and it's best to book in advance here. This is a must-do in Abu Dhabi !
You can also explore the place on foot on the wooden platforms.
🕗 The park is open daily from 8am to 6:30pm.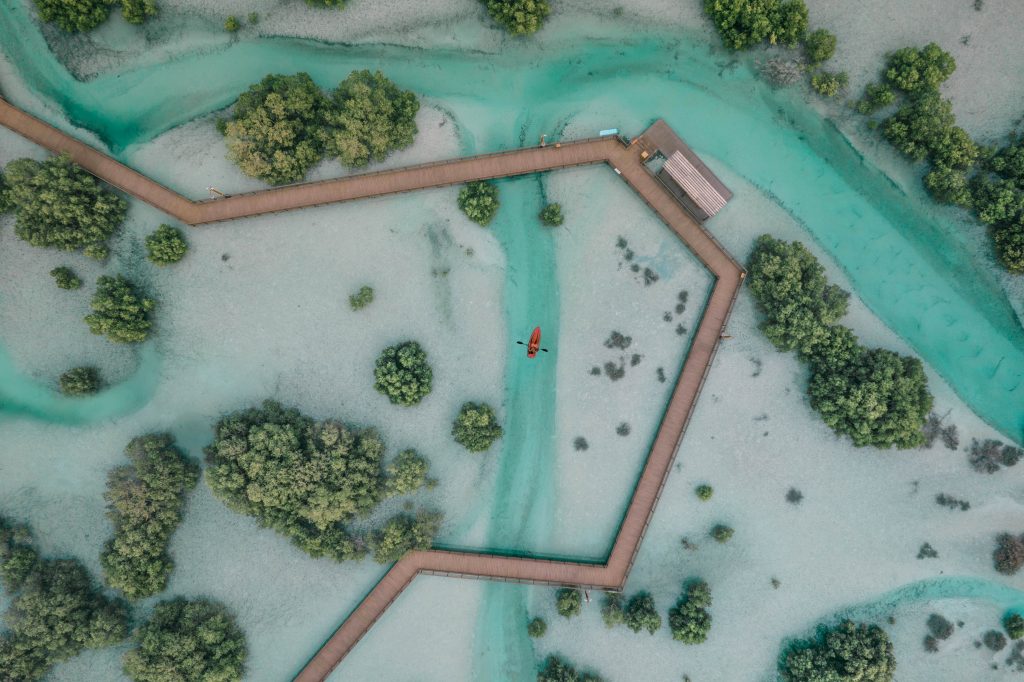 Looking for a little adrenaline ?
In a week in Abu Dhabi, it's impossible to get bored. One of the highlights is a speedboat tour of the coastline 🚤. From the fishing village to the buildings to the Sheikh Zayed Mosque, this 1-hour thrill ride can be a great option!
→ To book it's this way.
---
Day 6 : Safari
Last day in the Emirates and probably one of the most interesting. If you're wondering what to do in Abu Dhabi, the safari is a must ! I recommend booking this activity in advance via this link. You won't be surprised, with a rating of 4.9/5 out of almost 2500 reviews !
The organization will pick you up at your hotel with an all-terrain vehicle. You will then go into the desert to slalom between the dunes in complete safety.
Before enjoying the sunset in the middle of the desert, an introduction to sandboarding will be offered. At nightfall a barbecue and specialties (hookahs, local food, shisha, henna tattooing) will be waiting for you in the beautiful camp.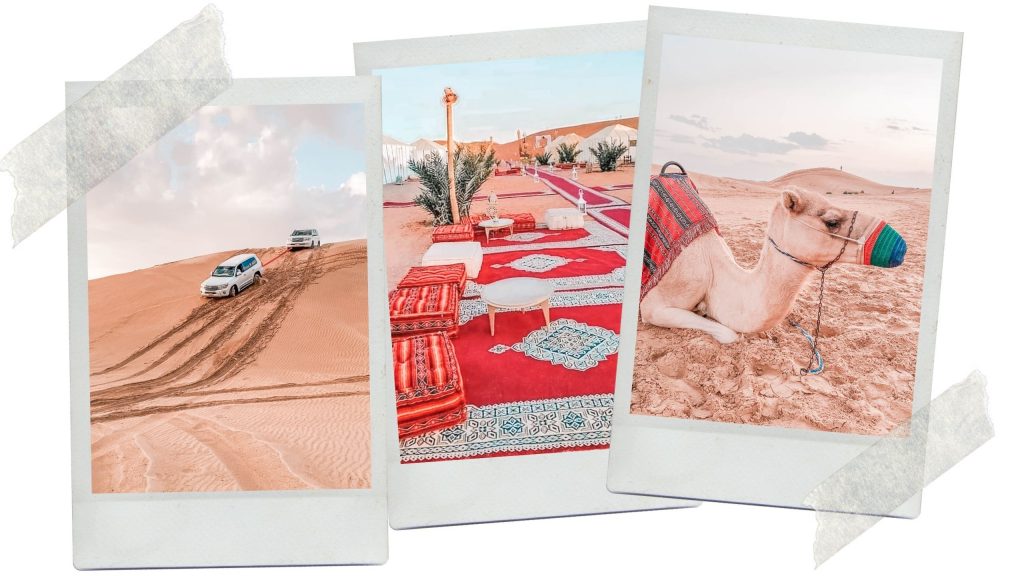 Day 7: Beach and back
As the flights are usually in the morning, you won't have time to do much. But if time permits, it's a good opportunity to discover the beautiful beaches of the city. I went to Mamsha Al Saadiyat beach and it is a very nice place with many well decorated restaurants/cafes and fine sand for hundreds of meters.
---
I hope this one week stay will allow you to enjoy and visit Abu Dhabi in the best conditions. Please feel free to tag me on your stories / posts @amoureuxdumonde or share your photos with me in private message 👋🏻.
Looking for more travel ideas ? Check out my one week itinerary in Lanzarote or a guide for a road trip in Morocco.
This article contains affiliate links. If we've helped you organise your trip or you'd just like to support us, please consider booking your activities and hotels in Abu Dhabi by clicking on our links. We'll earn a small commission and the price stays the same for you of course. 🤍