Road trip to Morocco
Road trip itinerary to Morocco. Planning a holiday in Morocco ? We suggest a 10 days itinerary for a road trip to Morocco.
Itinerary for a 10 days road trip to Morocco
Day 1 : Rabat
Day 2/3 : Chefchaouen
Day 4 : Asilah
Day 5/6 : Casablanca
Day 7 : Oualida
Day 8 : Essaouira
Day 9/10 : Agafay Desert / South Marrakech
Where can I hire a car ?
This road trip was realized at the end of January. We rented a car in Marrakech with our partner Europcar to move from city to city. In all, we drove 1 600 km, that is to say 20 hours of road spread over one week. The rental went very well! To book it is here : www.europcar.ma 
Important information to know : there are tolls on all our route, between 1 and 5€. Gasoline costs 1€ per liter. Find our mixed feelings at the end of this trip in Morocco at the end of the article!
Before starting this road trip, we stayed 3 days in Marrakech and we found it enough. To discover our must-sees in the red city, check out our article City Guide of Marrakech. After picking up the car at the Europcar agency in Marrakech, we took the road to Rabat !
Marrakech to Rabat: 3h30, 330 km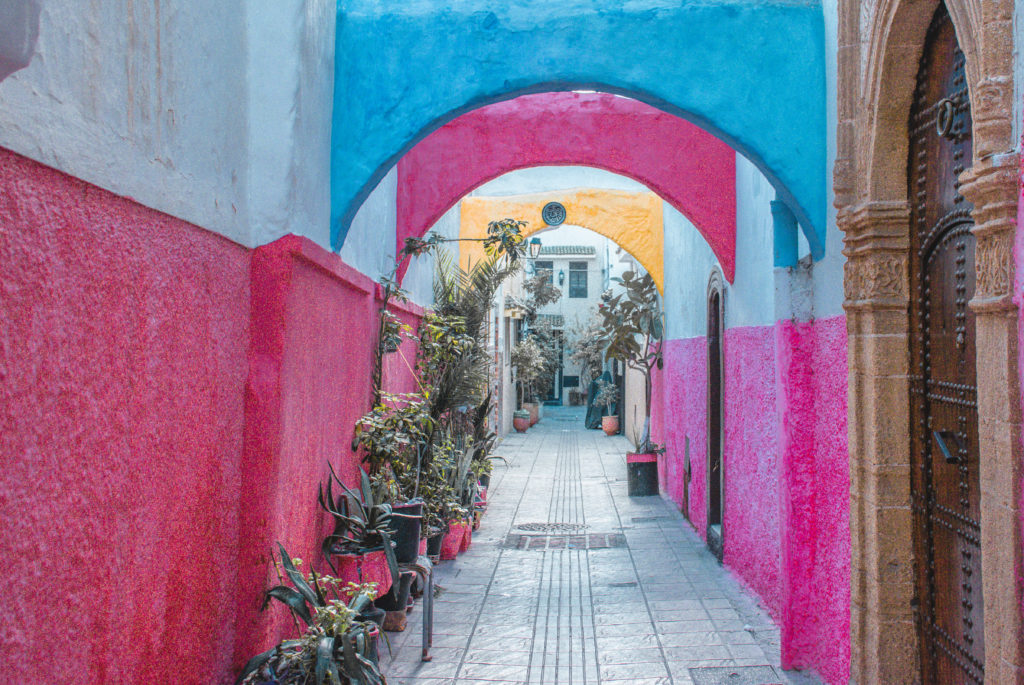 Rabat is a city in which you should stop during your trip to Morocco. The old medina is pretty and very clean, it is pleasant to walk around. The district of the Kasbah des Ou-dayas is amazing, it made us think of the Cyclades. Historically, this district was a fortress intended to defend the city of Sala. Now it is the most relaxing place in Rabat. The houses are painted in blue and white. The only difference with the Greek islands is that there are no windows overlooking the street.
It is an Arab tradition that all the windows of a house should face an inner courtyard to keep privacy and calm. See for yourself on the pictures: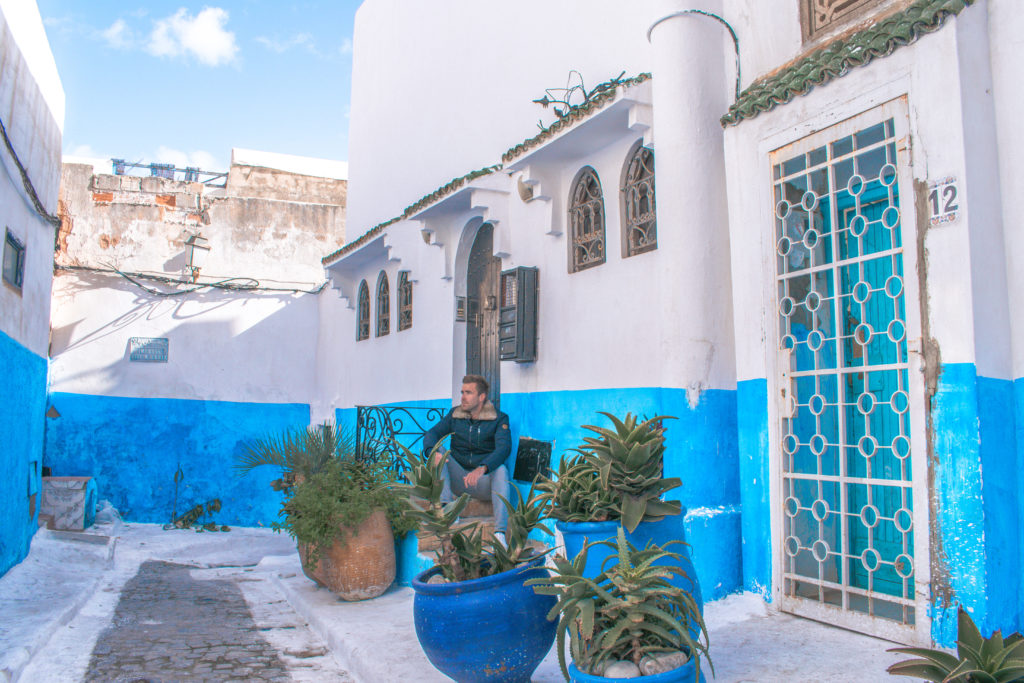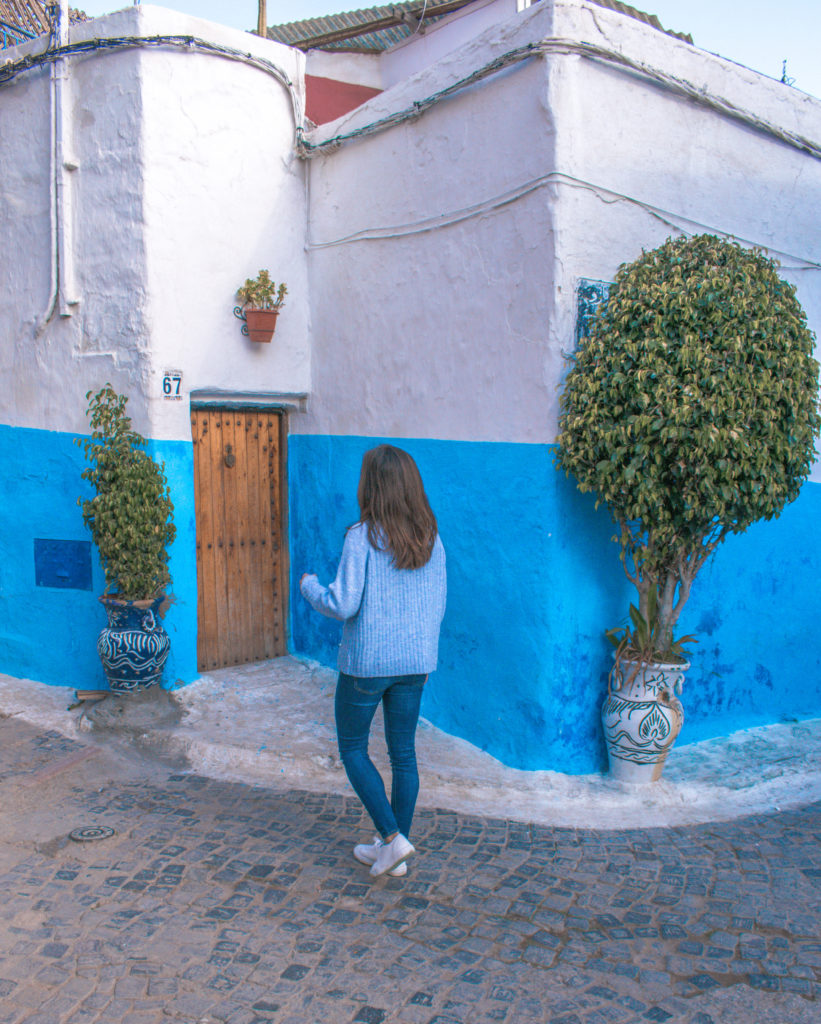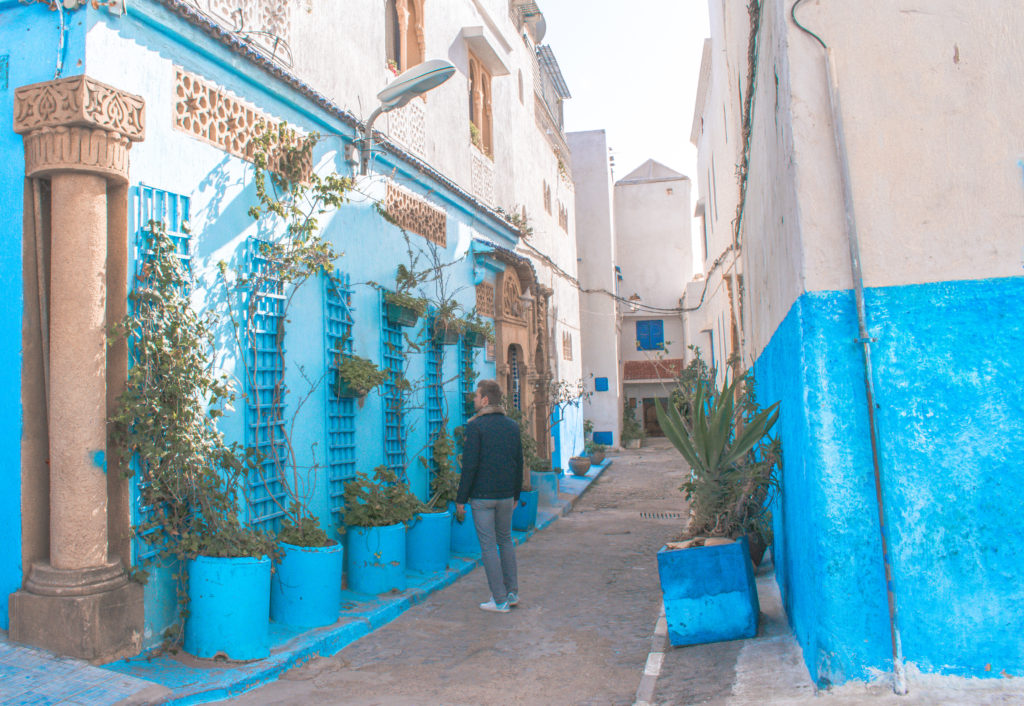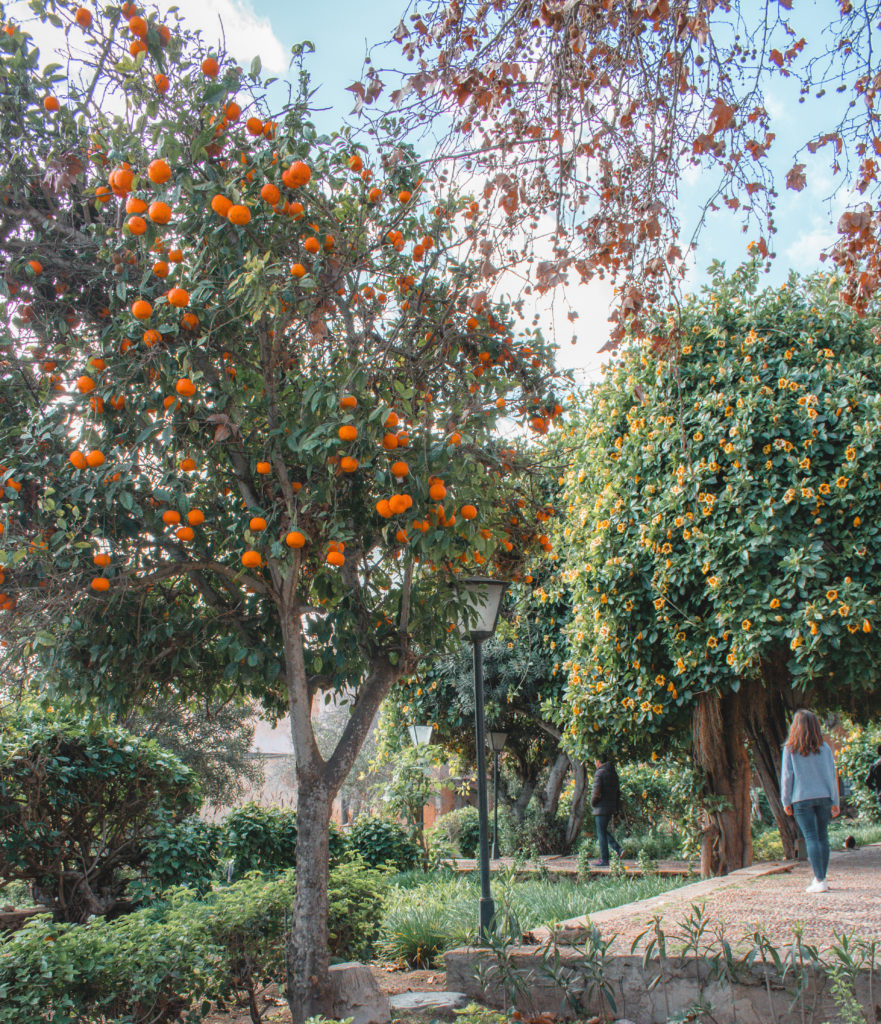 We stayed at Riad El Maati which we recommend, you can go there with your eyes closed. It is Laurence and Fahrid, two people from Toulouse, who are the owners. It is located in the heart of the medina, the decoration is neat and the staff is very welcoming.
Prices from 80€ per night, more information here.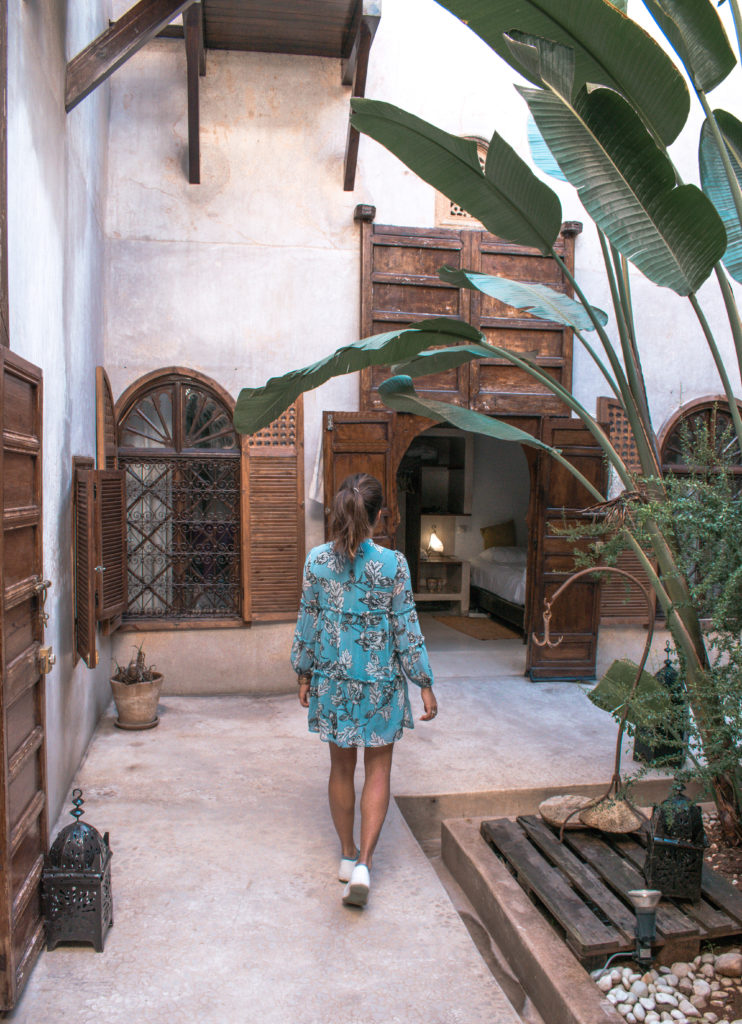 Chefchaouen – 2 days
Rabat to Chefchaouen: 4h, 250 km
We had originally planned to stay in Chefchaouen for 3 nights (which is a lot) but we decided to shorten our stay because of the snow (yes, snow!) and we were not very well equipped for the cold.
Chefchaouen is a city in the north, near the mountains, which is all blue! It is THE destination of our road trip in Morocco that we were looking forward to the most. To keep its beauty, you should know that the city is painted 2 to 3 times a year by the women of Chefchaouen.
Why is Chefchaouen blue?
Several theories explain the color of the streets of Chefchaouen. It is up to you to choose the one you like best because no one really agrees on this.
The one we prefer: blue makes you happy! Yes, some people think that the choice of blue is due to the fact that blue is a color that reminds us of summer and therefore makes us smile.
History: Jewish refugees fleeing Hitler's regime would have decided on the color of the sky because it represents heaven and spirituality.
Practical: blue would scare away mosquitoes
Geography: Chefchaouen is "close" to the Mediterranean Sea (1h30). The Mediterranean Sea is blue. So Chefchaouen is blue too.
The most plausible: To bring tourists to Chefchaouen and boost the region, the women had a brilliant idea: repaint the entire city in blue. We can say that it is a successful bet.
So, which explanation seduces you the most?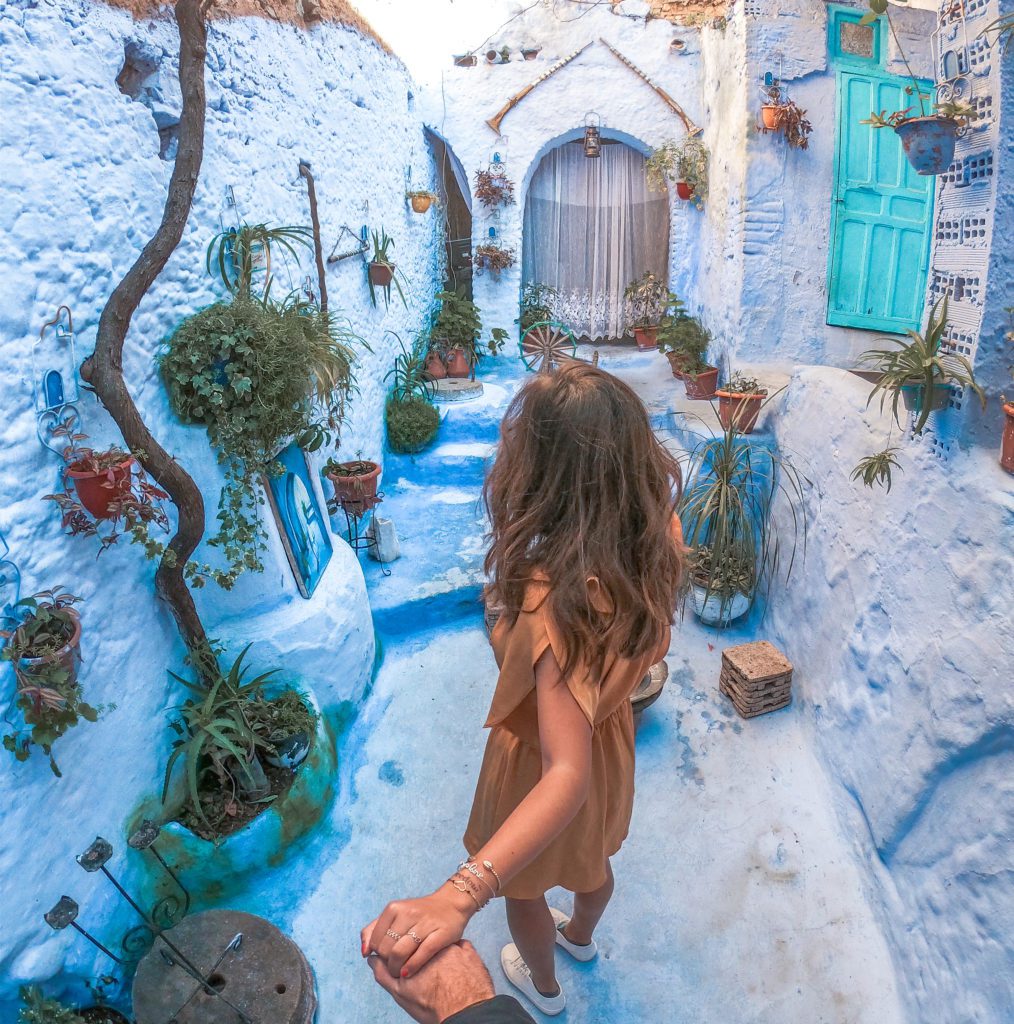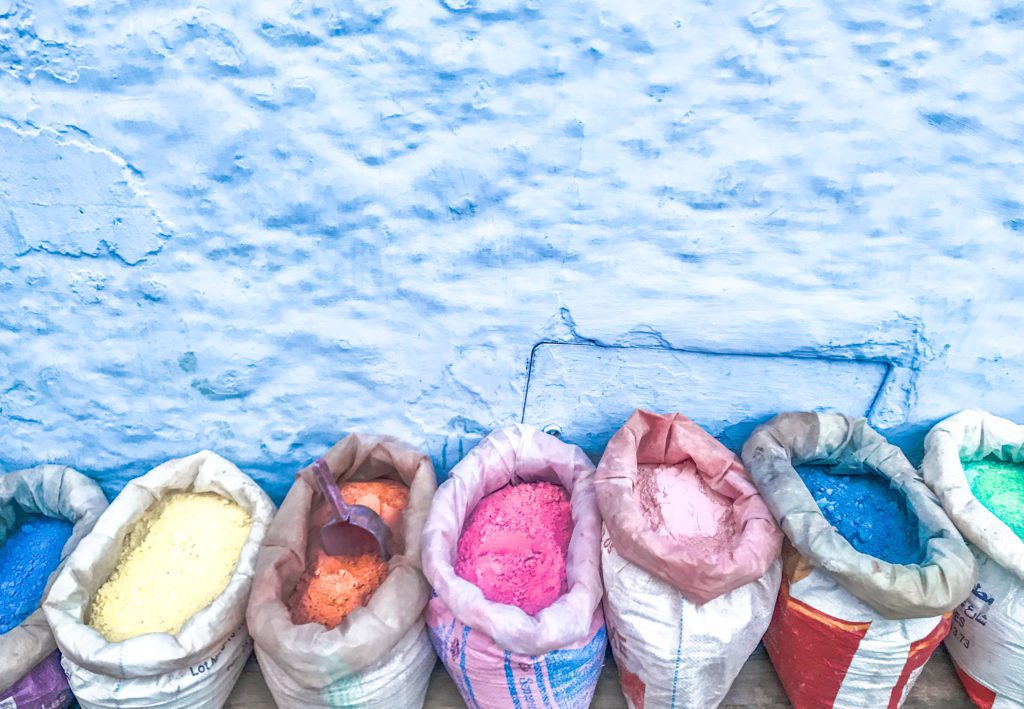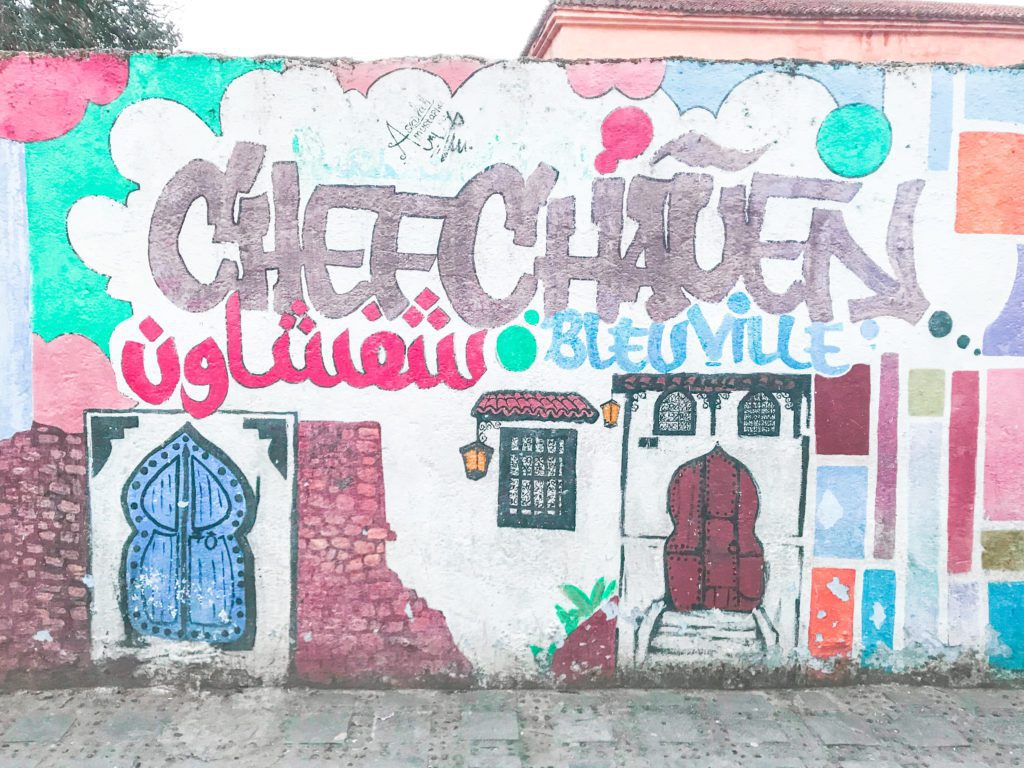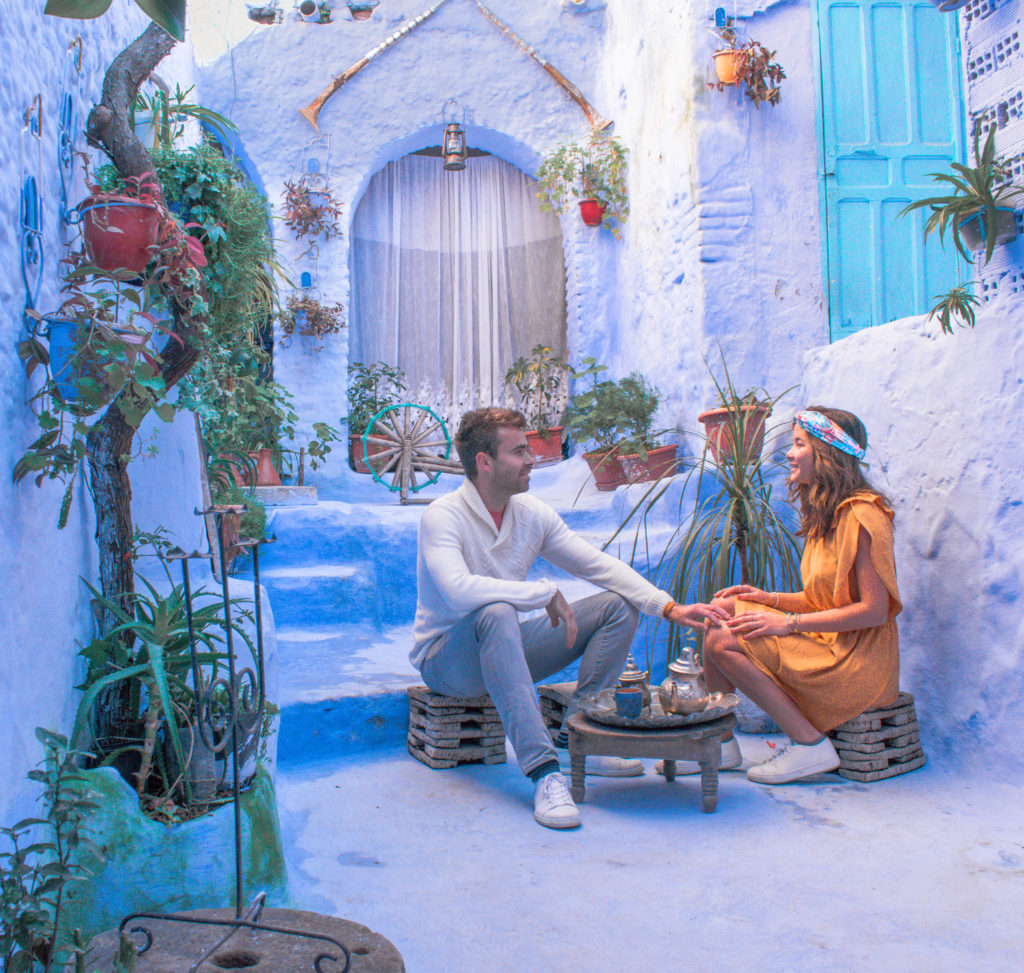 Where to sleep in Chefchaouen ?
If you want to stay in the center without ruining yourself in an authentic place, we recommend the hotel Casa La Palma.
Asilah – 1 day
Chefchaouen to Asilah: 2h30, 150 km
The seaside town of Asilah also has a Mediterranean influence with its predominantly blue and white medina. It is a very pretty destination where it is good to live, to visit absolutely for your trip in Morocco. The medina is clean and quiet. In winter, Asilah is not very popular with       tourists. This city, on the Atlantic Ocean, is a former Portuguese colony that was taken over by the Spaniards to finally become Moroccan again.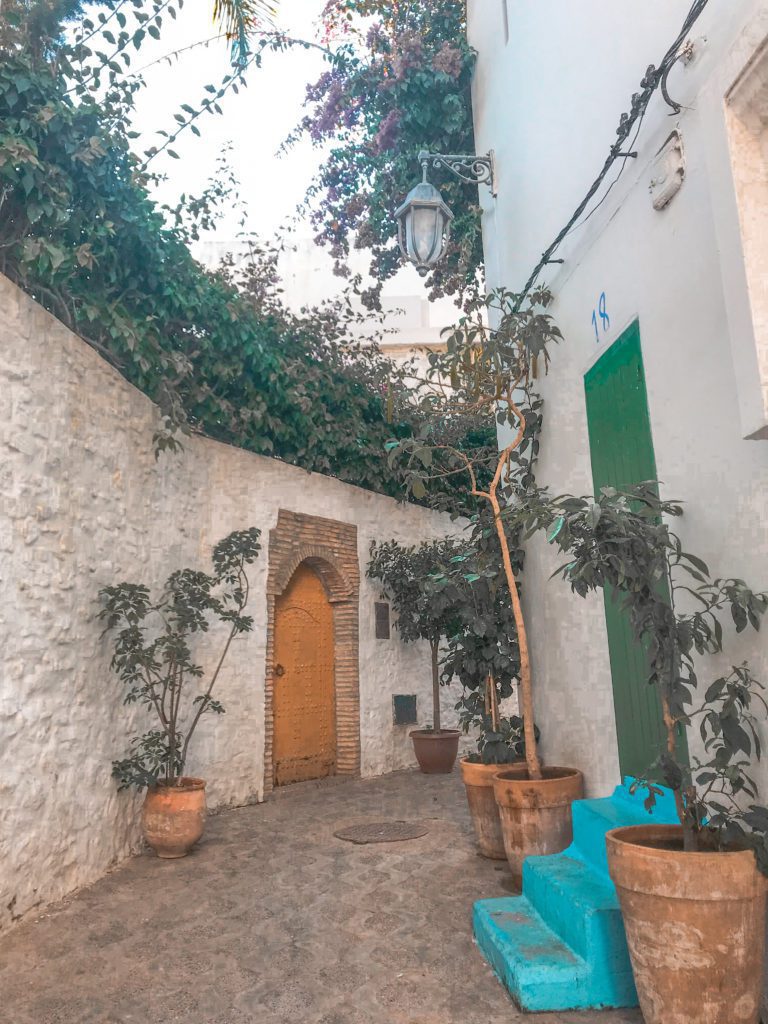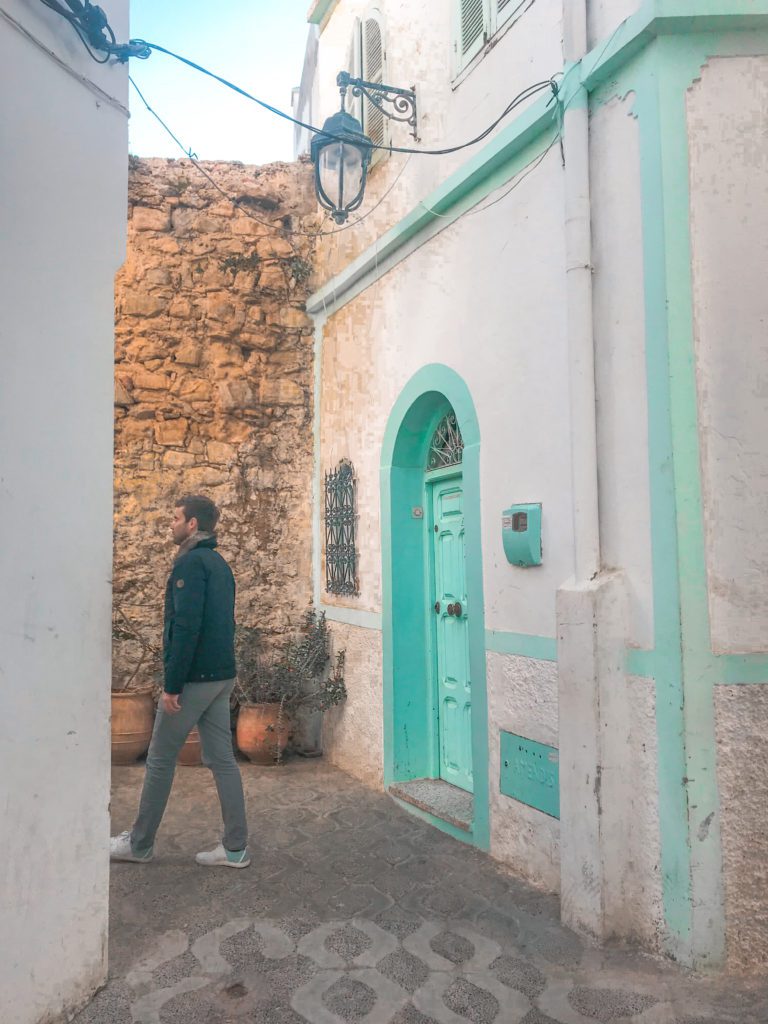 Where to sleep in Asilah ?
We recommend this apartment with terrace located at 600m from the sea and close to the center: El Hambra 2
Asilah to Casablanca: 3h, 300 km
For our two days in Casablanca, the weather was bad so we stayed at the hotel most of the time. We took advantage of a sunny morning to visit the Hassan II mosque, the main attraction of Casablanca. There is also the Mahkama of the Pasha which is beautiful but we did not go there.
To make the most of your visit to Casablanca, we recommend you book a private tour of the most emblematic sites, with a personalised service just for you.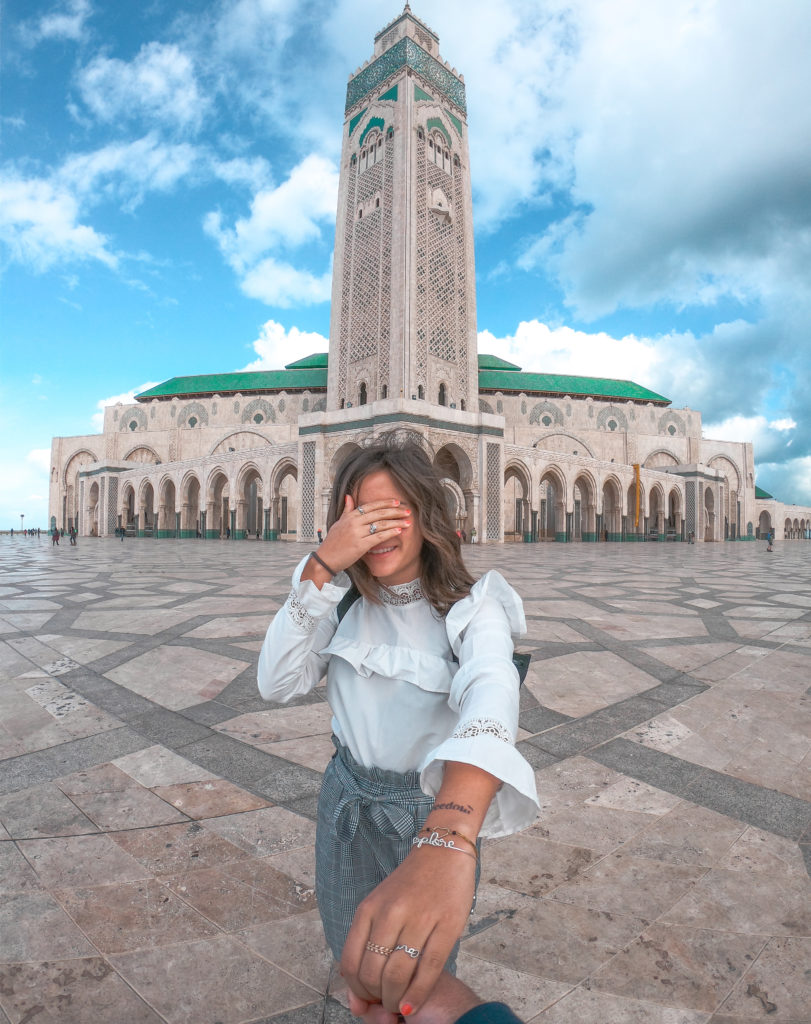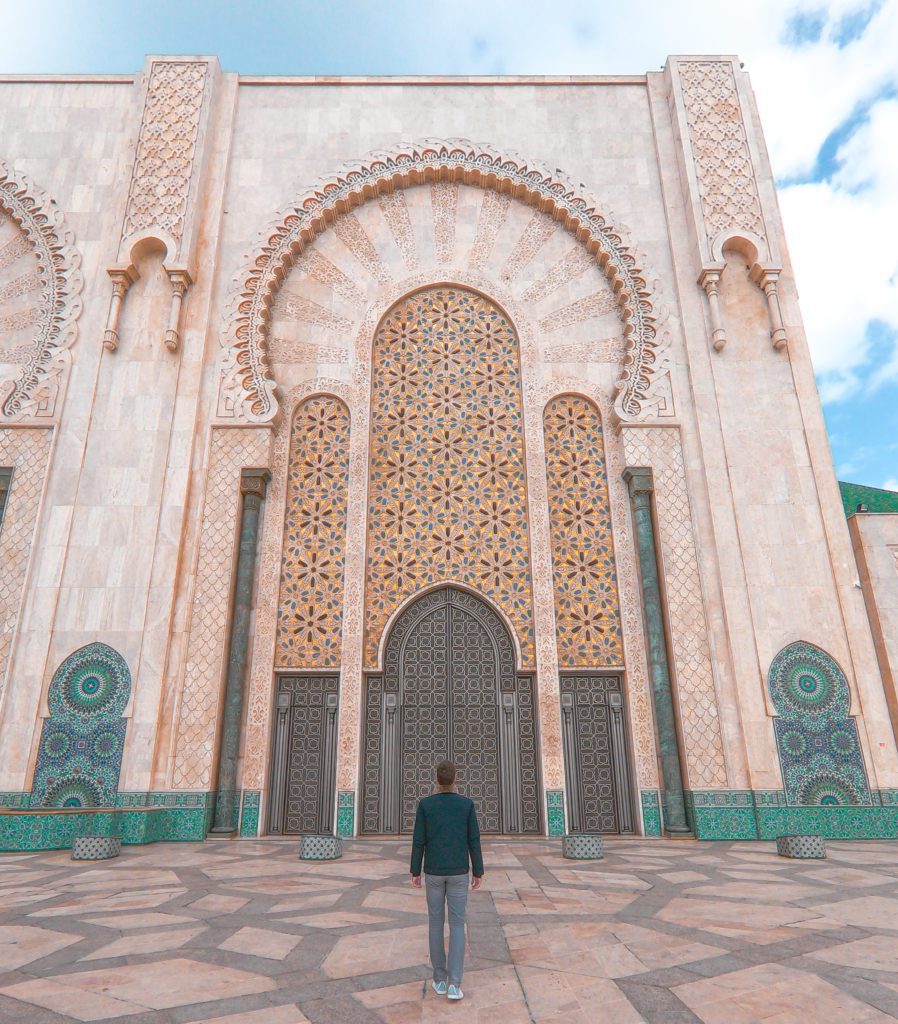 Where to sleep in Casablanca?
Located in the center of the city, this modern apartment will bring you all the necessary comfort: Apartment Lina
Oualidia
– 1 day
Casablanca to Oualidia: 2h20, 200 km
Oualidia is a small and peaceful town by the sea where the main activities are surfing and fishing. We did not do either because unfortunately we had very low temperatures and bad weather. Moreover, it is a very very quiet place in winter. In summer, it must be much more fun to visit!
Where to sleep in Oualidia ?
We stayed at the hotel La Sultana in which we were invited 1 night. This establishment is very luxurious (5*) and beautiful. The staff was undeniably friendly so we thank them again for their welcome. The view from the hotel on the lagoon is beautiful as you can see on these pictures!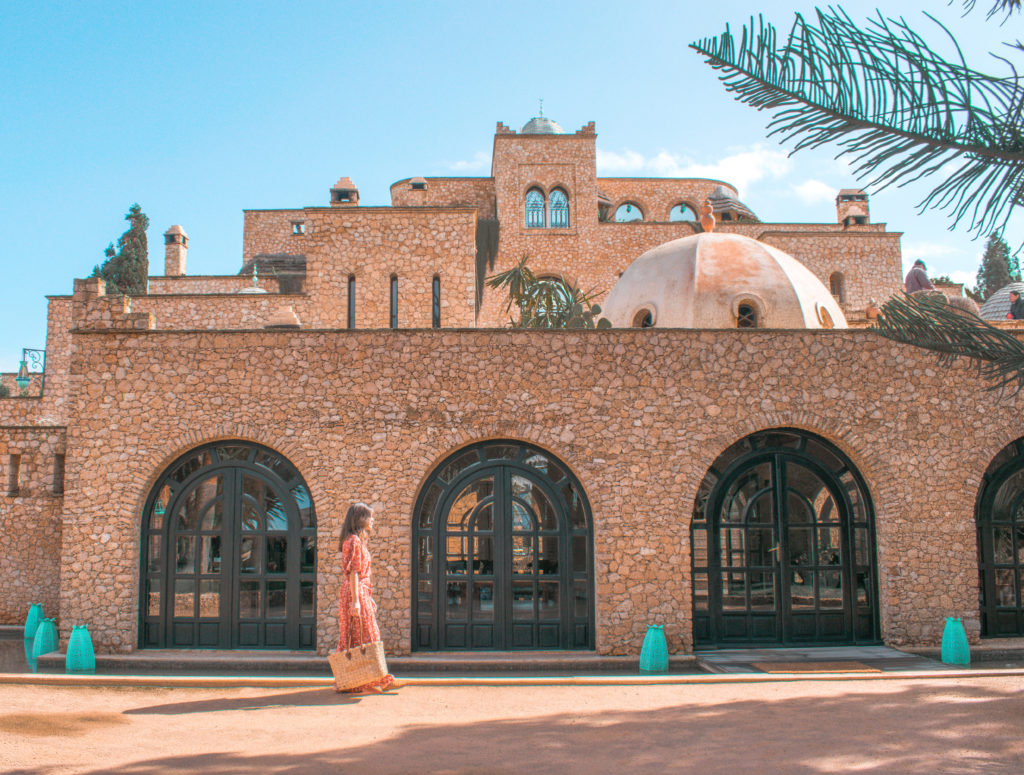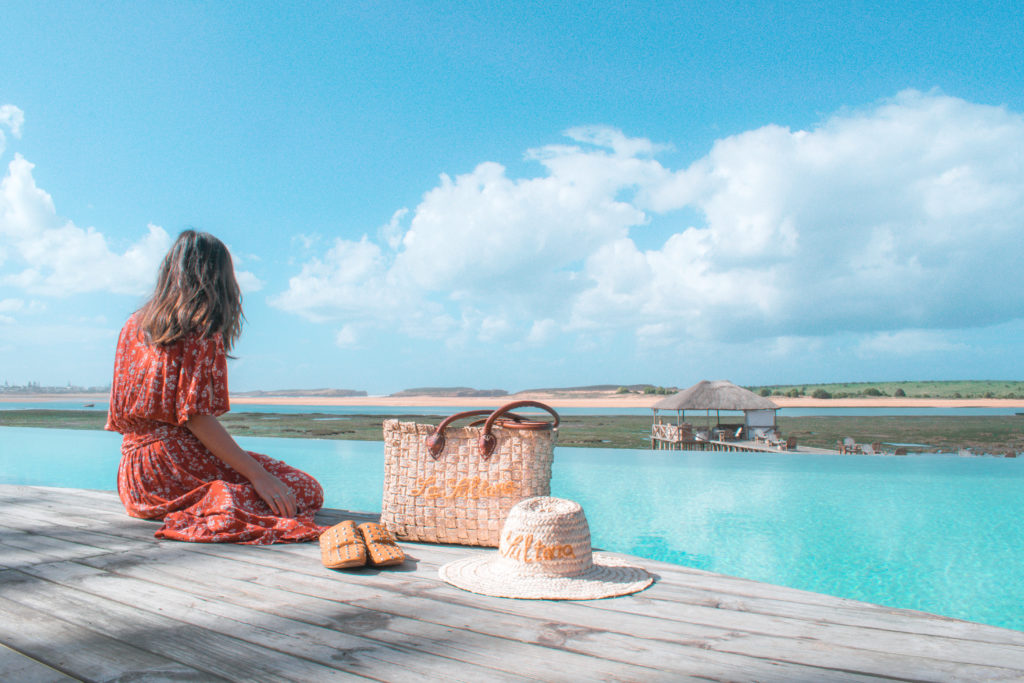 Oualidia to Essaouira: 2h40, 200 km
Essaouira is the city where we met the most western tourists during our trip in Morocco, even more than in Marrakech! It is a very popular destination because of its wild beaches, its fishing port and the charm of the medina. We could not stay as long as we would have liked but we advise you to go to Essaouira if you are doing a road trip in Morocco.
To make the most of the landscapes of the Essaouira region, you can rent a quad bike and ride on the beaches and in the dunes. 
Where to sleep in Essaouira ?
We slept a few kilometers away in a guest house run by Dominique, a French woman who arrived in Morocco 20 years ago. Her house is very warm and tastefully decorated. At Riad Baoussala, we feel good and peaceful.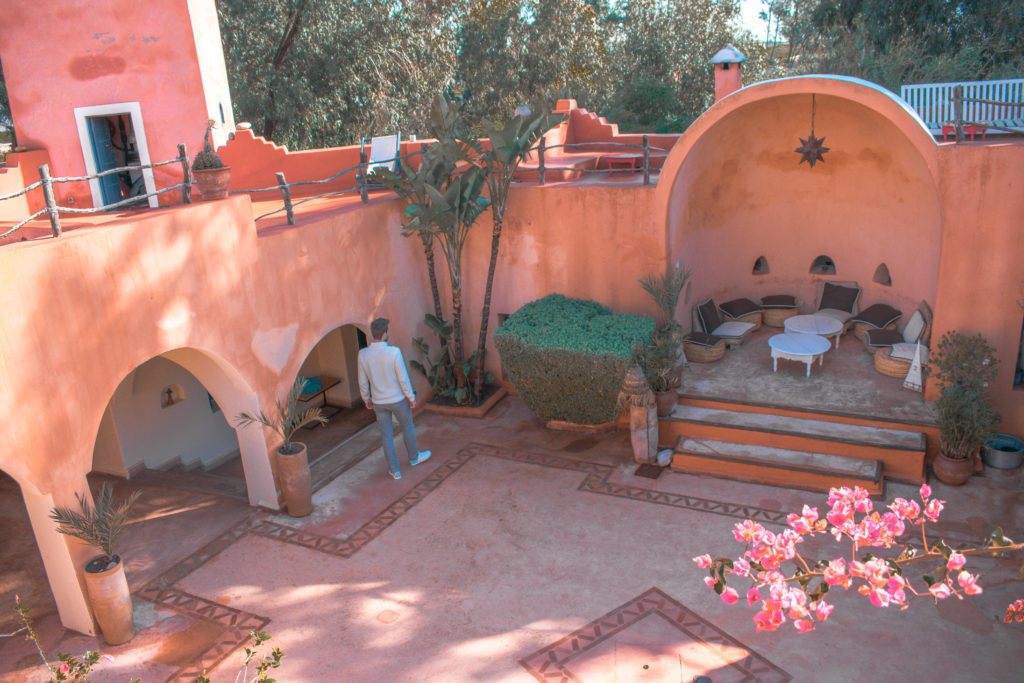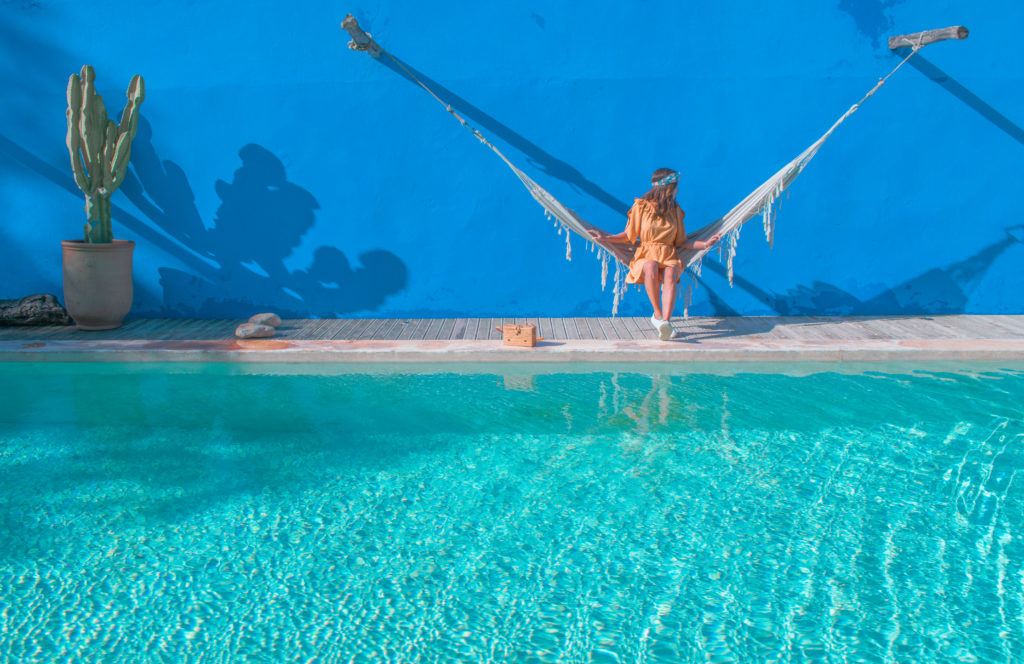 Agafay Desert / South Marrakech – 1 day
Essaouira to Agafay Desert : 2h30, 180 km
This road trip ended in beauty. Indeed, we had the chance to live the experience of Glamping (= contraction of "Glamour" and "Camping") in the desert of Agafay in the South of Marrakech. Terre des Étoiles is a lodge with ethical and ecological values where we advise you to stay if you can. Nevertheless, avoid the months when the nights are at 5°C like us because, frankly, it was cold in the tent. When the temperatures are warmer, it is great to take advantage of the many outdoor spaces for sunbathing or star gazing at night. The view of the snow-covered Atlas is sublime. I really like the bohemian decoration of Terre des Etoiles !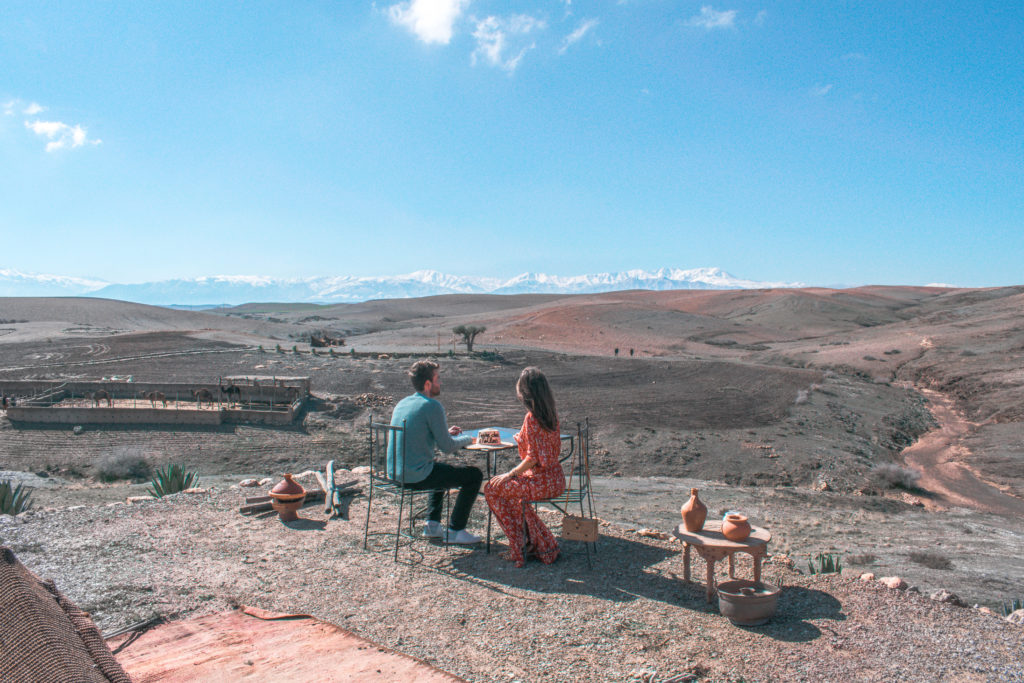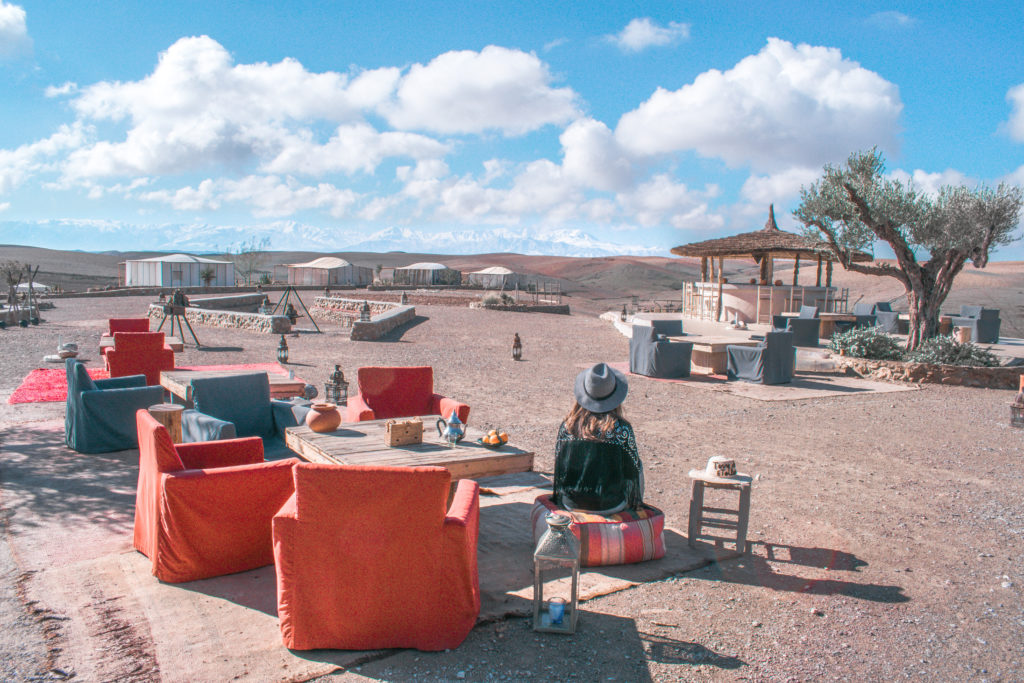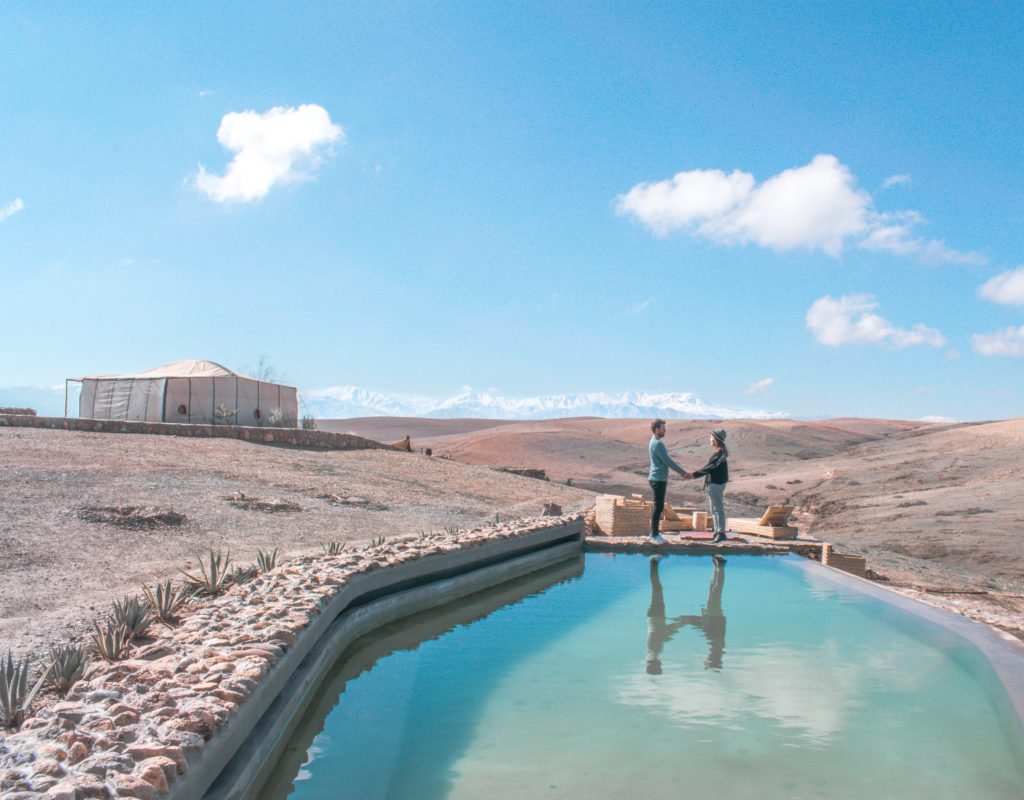 ---
We hope you enjoyed this article about our 10 days road trip in Morocco!
To go further, find here our City Guide on Marrakech
And here all the practical information you need to know before going to Morocco.
This article contains affiliate links. If we've helped you organise your trip or you'd just like to support us, please consider booking your activities and hotels to Morocco by clicking on our links. We'll earn a small commission and the price stays the same for you, of course. 🤍