What to do in and around Palermo
In the north-west of Sicily, Palermo is the capital of Sicily. It fascinates with its vibrant mix of cultures, Baroque and Arabic architecture, bustling markets, delicious Mediterranean cuisine and historic sites such as Palermo Cathedral and the Norman Palace.
I wasn't expecting such a dynamic city with so many good places to visit. So I've decided to dedicate an entire guide to the city.
Practical information for your trip to Palermo in Sicily
Whether you're looking for plane tickets, car hire, budget, activities to book or where to stay, I've put together a complete article for a one or two-week road trip in Sicily .
What to do in Palermo on a weekend or short break?
To get the most out of the city, I recommend spending at least 2 days in Palermo. Palermo is therefore an ideal destination for a weekend or short break. In fact, it's also possible to plan a stay in Palermo lasting several days by adding excursions around the city, such as to waterfalls, beaches or nature reserves.
I was able to discover the beauty of this city, which combines the charm of its rich history with the vibrant energy of modern life. There are lots of pedestrianised streets with lots of little food outlets that are typical of the country – I love it!
⚠️ Please note that in a large part of the city centre, it is forbidden to circulate without a Pass. If you enter a ZTL zone, you have to go to a tobacconist's before midnight to pay a €5 Pass. All you have to do is text your number plate and the code you have scratched off the Pass. It's valid for 24 hours and you don't need to pay for another one to go out.
Must-sees in Palermo
The historic centre of Palermo
Palermo has a history marked by various Arab, Norman and Spanish influences. This cultural mix is reflected in its architecture. I really enjoyed the wide pedestrian streets with their many terraces and souvenir shops. It's the kind of holiday atmosphere and conviviality we love ☀️.
The Teatro Massimo Vittorio
I'd recommend starting at the majestic Teatro Massimo Vittorio, one of the largest (and most beautiful) opera houses in Europe. With its neoclassical architecture, sumptuous interiors and unforgettable opera performances, it embodies the elegance and artistic grandeur of the Sicilian city. A captivating cultural experience not to be missed.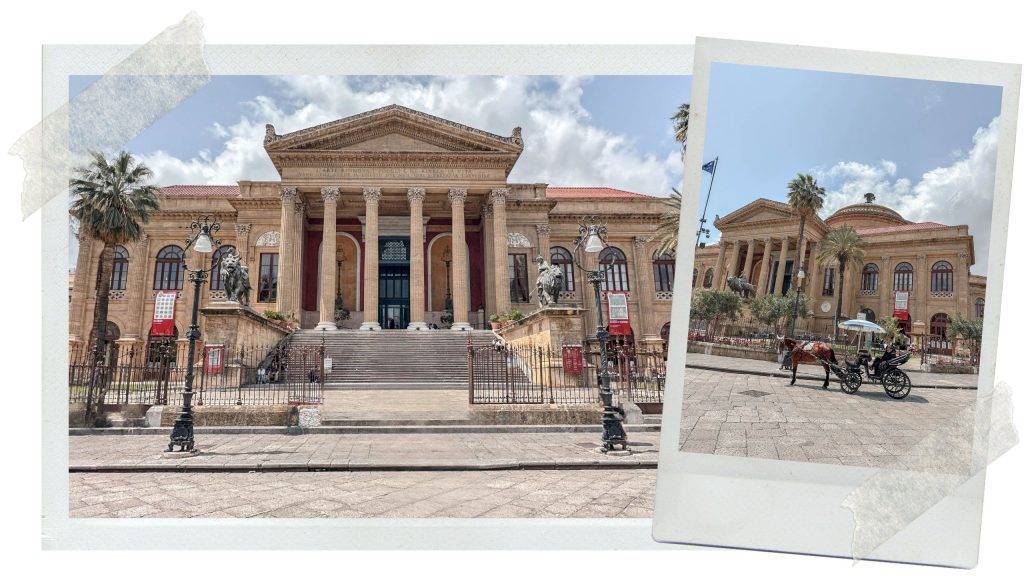 Fontana Pretoria and Piazza Bellini
Next we head for the Fontana Pretoria, a monumental 16th-century fountain. I can't hide the fact that I was disappointed, as it was switched off when I visited. But it's still very beautiful with its many sculptures.
Piazza Bellini. Situated just a stone's throw from the Fontana Pretoria, a UNESCO World Heritage Site, this is one of the most beautiful places in Palermo for me! Surrounded by magnificent churches and ancient buildings, this picturesque square offers an authentic atmosphere and lively cafés, making it an ideal place to relax and immerse yourself in the Palermo atmosphere.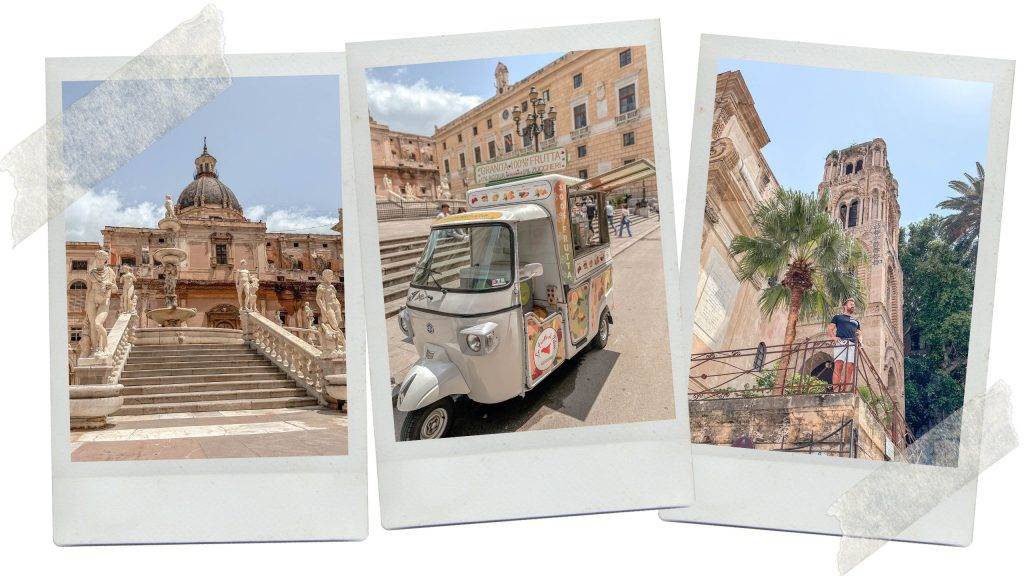 Villa Bonanno
Finally, Villa Bonanno, with its magnificent gardens and palm trees, is an oasis. A haven of peace in the heart of Palermo, where you can escape the hustle and bustle of the city, relax and enjoy nature. Today it houses a museum where you can discover collections of art and historical artefacts, bearing witness to the history and culture of Palermo.
Next door is the Porta Nuevo, an emblematic gateway that used to mark the entrance to the city.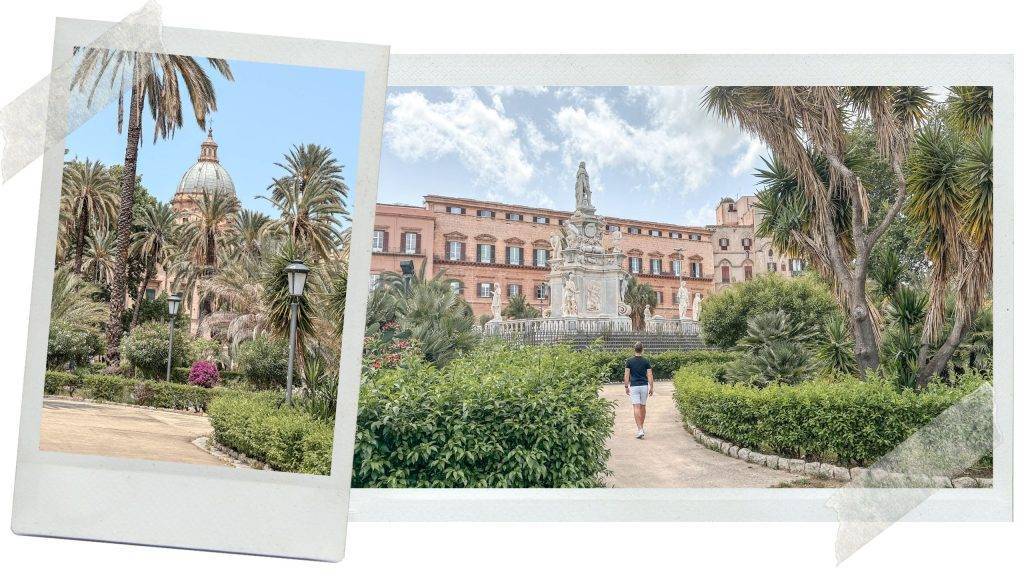 The markets of Palermo
Palermo's markets are a real paradise for food lovers (like me :p). I recommend starting at the Mercato del Capo, with its colourful stalls brimming with fresh local produce. It offers a total immersion in the daily life of Palermo's inhabitants. Here I was able to sample Sicilian specialities such as panelle (chickpea flour fritters) and arancina (stuffed rice balls).
Then head for the Vucciria market, another of Palermo's must-sees, renowned for its lively atmosphere, intoxicating smells and handicrafts.
Finally, I recommend a visit to the Mercato di Ballaro for its street-food atmosphere, where you can enjoy tapas as you stroll along.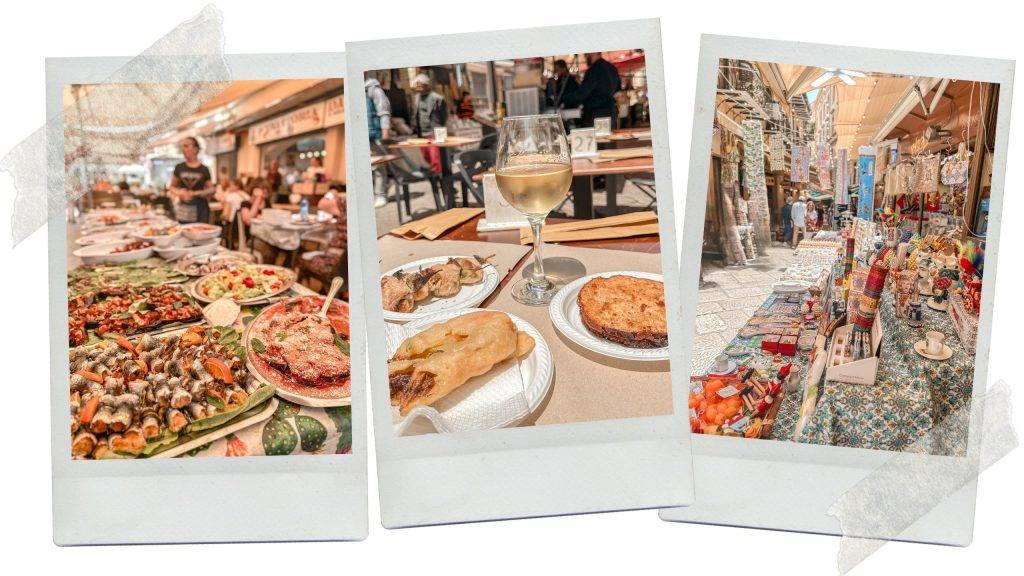 Palermo Cathedral
Palermo Cathedral, known as the Cattedrale Metropolitana della Santa Vergine Maria Assunta, is an architectural gem in the heart of the Sicilian city. Its construction began in the 12th century, blending Norman, Arabic, Gothic and Baroque styles to bear witness to Palermo's complex history. Inside, you'll marvel at the frescoes, mosaics and richly decorated chapels. The cathedral houses the tombs of the Norman kings, a testament to Sicily's past greatness. Its imposing façade and magnificent interior make it a must-see in Palermo.
I recommend climbing to the roof of the Cathedral for €7 per person. Last entrance at 5.30pm!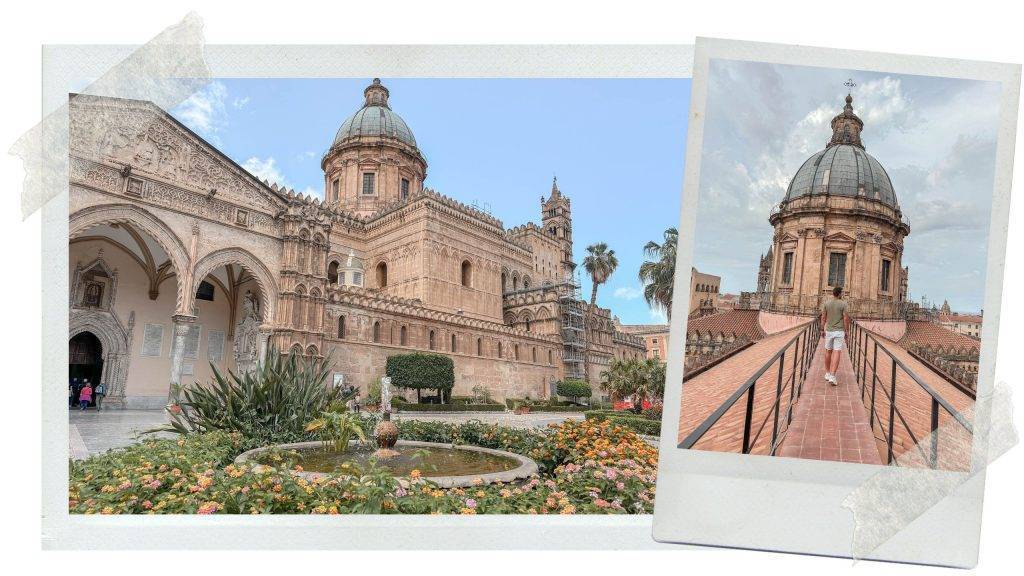 Where to eat in Palermo?
There are plenty of small local restaurants in the centre of Palermo. In particular, I ate at Cacio E Pepe, a small restaurant serving pasta dishes for just €6.5! The Carbonara classics were delicious.
I also had the chance to try the Michelin-starred MEC restaurant, which was a real treat. The setting is magnificent – with a view of the cathedral – the service worthy of a Michelin star and the food very good. What's more, the price of the wines is reasonable for this type of restaurant (from €35 a bottle).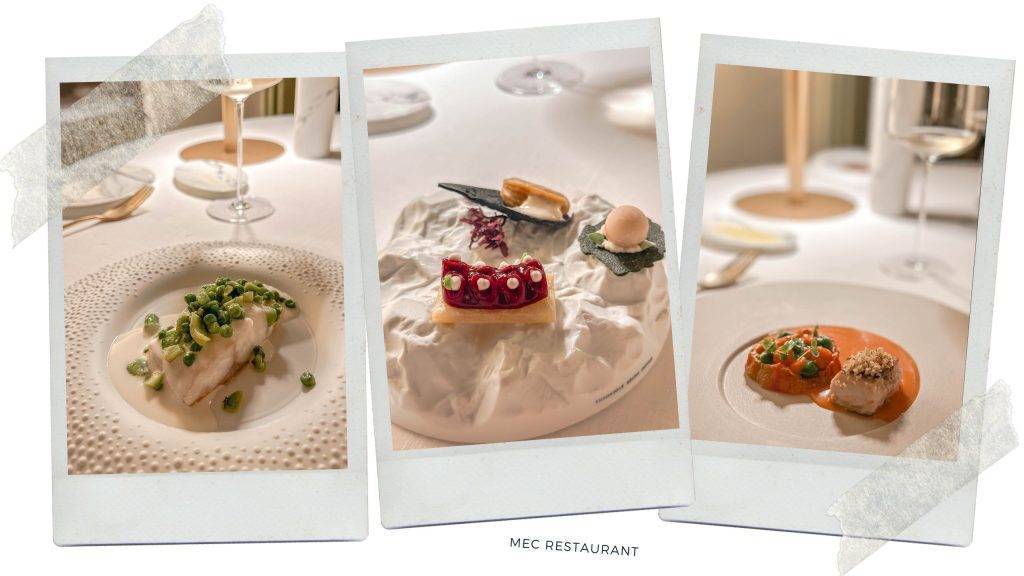 For dessert, head to Cannoli & Co to try the famous Sicilian Cannolo. This is an emblematic Italian pastry that originated in Sicily. It consists of a tube of crispy fried dough, often in the shape of a cone, filled with a sweet ricotta-based cream. It is a symbol of Sicilian tradition and craftsmanship. Don't miss the chance to taste this marvel. I went for the pistachio-hazelnut flavour and it was a real treat… I'm still salivating as I write these lines!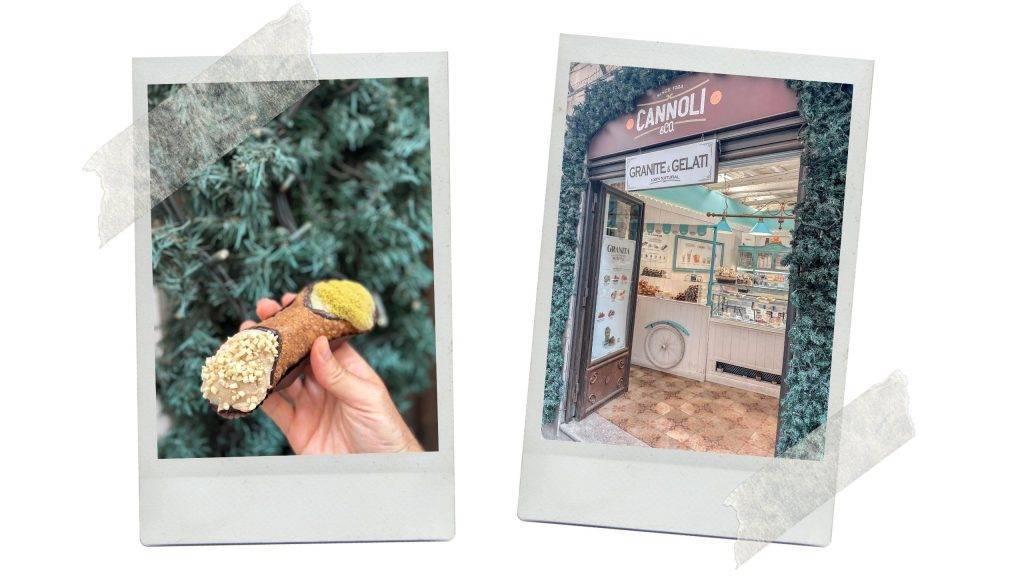 Where to stay in Palermo?
Located right in the city centre, I recommend Rosina's Flat for less than €90 a night. You can do everything on foot and the host, Annika, is lovely.
If there are 4 of you, I'd recommend booking the Casa Vacanze Donna Ina flat, which is also ideally located, very modern, with real shutters and above all a peace and quiet that is very rare in Italy's city centres. You can park easily in front of the building (be sure to pay the €5 pass to enter the area).
---
What to do around Palermo
If you're able to spend more time in Palermo but don't want to go all the way around Sicily, I'd like to recommend two unmissable places.
Nature reserves near Palermo
Just an hour and 15 minutes' drive from Palermo, you'll find the Monte Cofano and Zingaro nature reserves. These are a must for any road trip in Sicily. Here, nature is splendid and the beautiful beaches unspoilt.
For more information, check out my article Itinerary for one or 2 weeks in Sicily.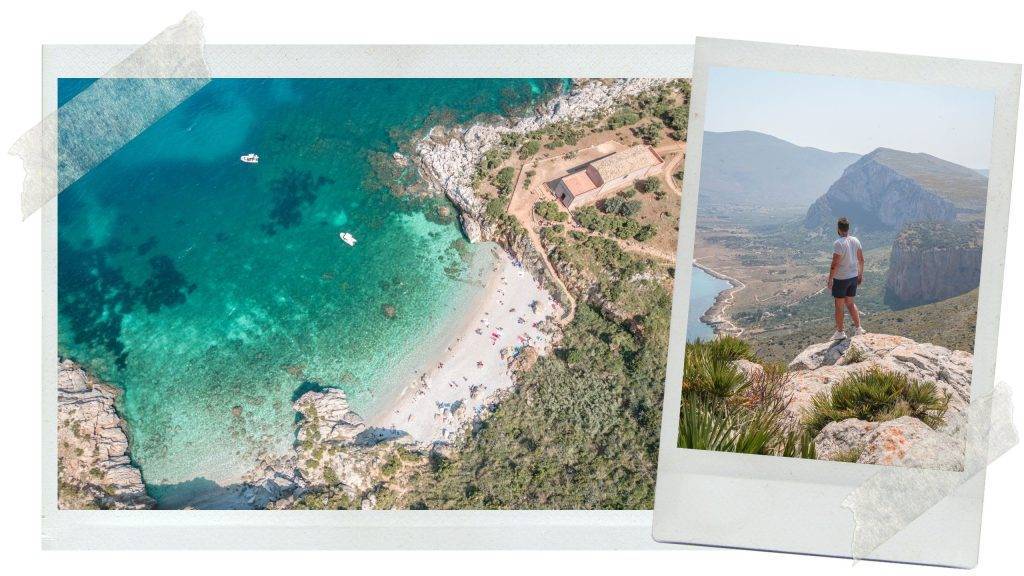 The Gole del Drago gorges
The Gole del Drago, also known as the Alcantara Gorge, is a natural wonder in Sicily. Carved out by the River Alcantara, the basalt cliffs offer a breathtaking landscape. You can swim in the cool waters and admire the unique rock formations. A true paradise, just 1 hour's drive from Palermo! Don't forget to take water and food, as there's nothing on site.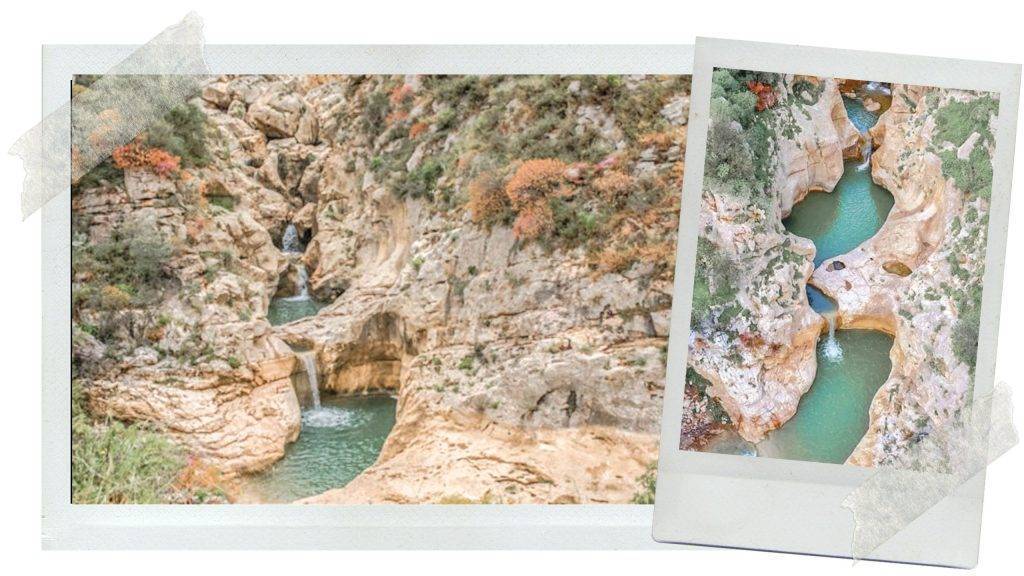 ---
I hope I've helped you find out what to do in Palermo! Other southern European cities I've enjoyed include detailed articles on Lisbon, Porto and Rome.
This article contains affiliate links. If we've helped you organise your trip or you'd just like to support us, please consider booking your activities and hotels in Palermo by clicking on our links. We'll earn a small commission and the price stays the same for you of course. 🤍