What to do in Malta during a week? Road trip itinerary in Malta
Located south of Sicily, Malta has a Mediterranean climate that is ideal for relaxing. Its mix of cultures makes it a popular destination. Malta is actually an archipelago composed of 8 islands (4 of which are inhabited), where you will find beautiful and unspoiled beaches. So what to do in Malta during your week-long trip? That's what we're going to look at in this itinerary ?.
How to visit Malta in 7 days?
We propose you a detailed itinerary to discover what to do in Malta during a road trip!
? Where to sleep in Malta?
During my one week stay in Malta, I was able to test 3 hotels. The first two close to Valletta, to be very central. This allows you to enjoy both the city, but also to radiate easily to the various points of interest of the main island. The third hotel was in the heart of the island of Gozo, for 2 nights.
Aparthotel Adagio Malta Central Hotel : Opened in July 2022, Adagio offers high-end and very modern apartments. Some apartments have very large terraces. On the roof, you will find a beautiful swimming pool. I highly recommend this establishment to avoid going to the restaurant morning / noon and evening thanks to the equipped kitchen ?.
Grands Suites Hotel :4 star hotel with a very good value for money and an infinity pool on the roof, with a breathtaking view of Valletta.
Bliss Boutique Living : Small rooms but very modern, this hotel is ideally located, in the heart of Gozo island. Again (well ok I guess that's one of my criteria ?), the hotel has a rooftop pool. Special mention for the breakfast which is excellent!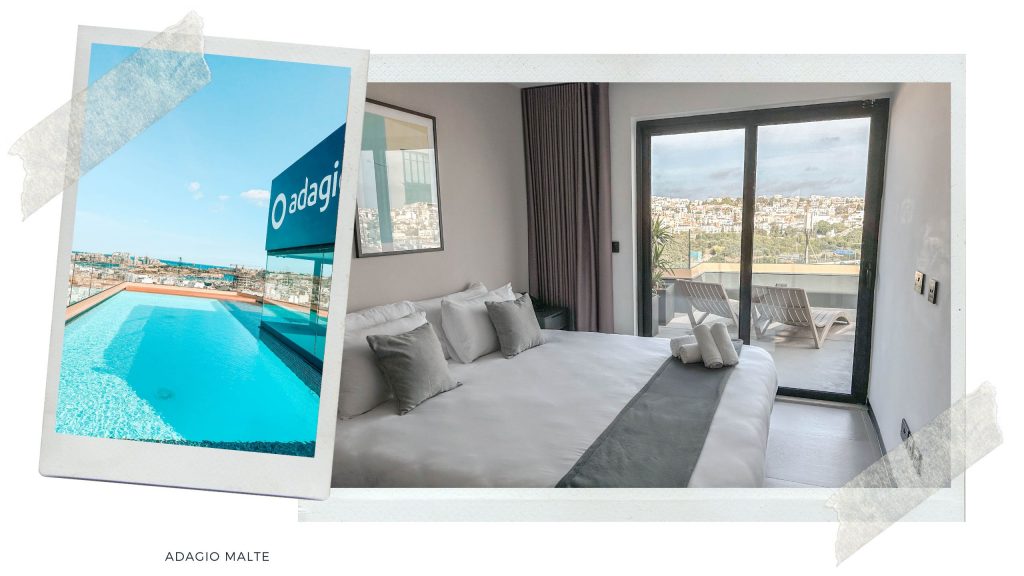 ---
One week trip : what to do in Malta in 7 days ?
How to prepare your trip to Malta?
➡️ When to go to Malta?
The island of Malta enjoys a fairly mild Mediterranean climate all year round. In winter, the temperatures remain mild, and in summer there is not much heat thanks to the sea air. We recommend you to visit Malta from April to November to enjoy the beautiful beaches. But for more tranquility and less heat, April/May and October/November are the best months. Personally, I made this trip in early October, it was still 26 degrees on average and the sea water was 25 ?!
➡️ Where to get your plane ticket?
We recommend comparing the best deals and booking your flights on Ulysse. If you don't know this comparator yet, we wrote a detailed article here. You can benefit from -10€ on your first air ticket booking on Ulysse by registering via our link!
? What is the budget for 7 days in Malta?
Flights France – Malta : 180€ per person on average
Car rental : 200€ per week
Gasoline : 50€ per week
Hotels: 60€-80€ per night for a 3 star or even 4 star hotel depending on the period
Restaurants: 30€ per day per person for 2 meals
Total = 1 500€ for a 7 days trip to Malta or 750€ per person, excluding activities / visits.
To book your parking at the airport: You can save 10% on your reservation through OnePark.
➡️ How to get around Malta?
Malta is the most famous island of the archipelago and is only 27 km long! For more freedom, I advise you to rent a car, but you can also move by bus with the local network which is well developed.
Be careful, in Malta, you drive on the left! Yes, it is a former English colony. Also bring an adapter for the plugs, even if most hotels will help you out.
? Should you buy tickets online to visit the must-see places in Malta?
First of all, we advise you to take the Malte Multi Pass, which gives you access to guided tours at a lower cost, unlimited transportation and free entrance to many museums + other discounts.
Malta is the most famous island of the archipelago and is only 27 km long! For more freedom, I advise you to rent a car, but you can also travel by bus with the local network which is well developed.
Be careful, in Malta, you drive on the left! Yes, it is a former English colony. Also bring an adapter for the plugs, even if most hotels will help you out.
? Do you have to buy tickets online to visit Malta's must-sees?
Indeed, for price, language and ease we advise you to pre-book your activities on one of the following 3 sites:
---
Itinerary: What to do in Malta during a week?
To help you organize your road trip in Malta, we have prepared a list of things to do and see in Malta, but also in Gozo and Comino, 2 smaller islands of the archipelago.
Days 1 & 2 : Discovering Valletta and its surroundings
For your first day in Malta, it is essential to visit the capital of Valletta! This fortified city is easily visited on foot. You will be able to observe many historical monuments and enjoy the sublime panoramas on the sea and the surroundings.
If you want, you can book a guided tour here. This is the best way to discover the city and its history in 3 hours of time with a certified guide.
The co-cathedral of St. John
It is a must-see in Malta and especially in Valletta. Don't be fooled by the sad facade of this cathedral, because the interior is a jewel of baroque architecture. Built in 1565, more than 400 Knights of the Order of Malta are buried here today, including the founder of the city of Valletta.
Composed of 8 side chapels, you can admire the sumptuous decorations and the vault painted with multiple details.
? Access: €10 admission and €7.5 for students.
✅ You can also buy your tickets in advance via this link.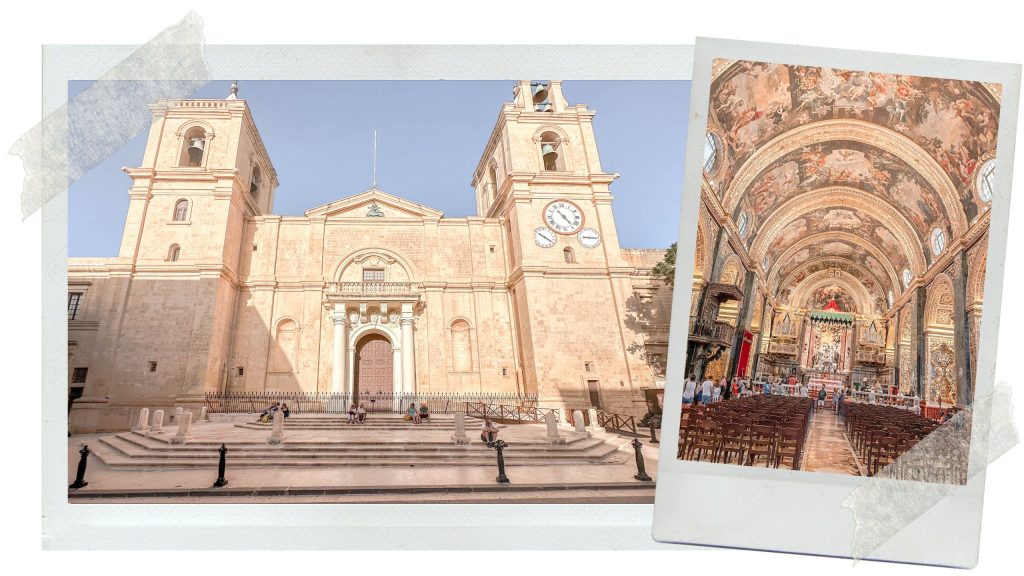 The Palace of the Grand Masters
Located in the historical center of Malta, the Palace of the Grand Masters is in fact the first residence of the founder of Valletta, Jean Parisot de Valette. I highly recommend visiting the throne room and the tapestry room, where many period artworks are displayed.
The armory was for me the most interesting room of the visit, where you can observe a collection of armor, swords and cannons that served the Knights of the Order.
? Access: 10€ the entrance.
Fort Saint Elme
Located at the very north of Valletta, you can admire the imposing Fort Saint Elme, built by Knights as a strategic defense point during Ottoman attacks. Even if it has been partly rebuilt, the fort survived many attacks, some of them during the Second World War and its structure is almost intact! It is only logical to find the War Museum inside, which exhibits a collection of weapons and military costumes of the period.
? The visit is very interesting and costs 10€.
Barrakka Gardens
These gardens are a must-see on a road trip to Malta! They were built in the middle of an old military fort and were used as private gardens by the Knights of Malta. You can enjoy the incredible view of Valletta harbor and the Three Cities.
If you want to experience an authentic moment, members of the Malta Heritage Society sound the cannons every day at noon, dressed in British artillery uniforms. A moment not to be missed!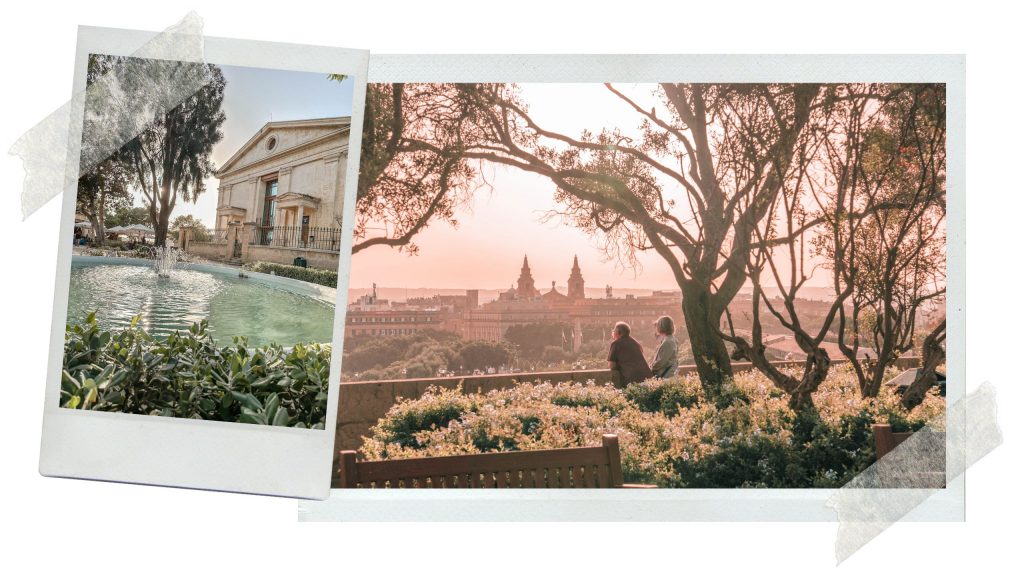 The Three Cities
From the Barrakka gardens, you can easily reach the Three Cities which are located just opposite. You can take the panoramic elevator (free of charge) for the descent and also for the ascent if you come back from the boat to the Three Cities.
Cross the street and continue to the left to get to the boat landing. The ticket can be bought inside the boat and costs 2.80€ per person. After 10 minutes of travel, you will arrive at the docks of Vittoriosa, the largest city of the 3 Cities. The other 2 cities are respectively Senglea and Cospicua. These three cities have their own specificities but have one thing in common: they offer magnificent views of Valletta. You can visit the Three Cities on foot and enjoy the authentic little streets.
You can also opt for a guided tour that includes a Maltese wine tasting!
? Where to dine / have a drink in Valletta?
The advantage of Malta and its many influences is that there is something for everyone! You will find many addresses in the center of Valletta.
The prices of drinks are really not excessive in Malta so you will easily find beers between 3 and 5€! You will be spoilt for choice. But for an address with excellent cocktails, I recommend :
The Fat Gin Club: a great cocktail bar that just opened with a really atypical decoration. The cocktails are a bit more expensive than the usual prices (between 11 and 13€) but they were really good and the waiters were adorable. If you come early, you might be able to enjoy the big velvet armchairs at the entrance of the bar!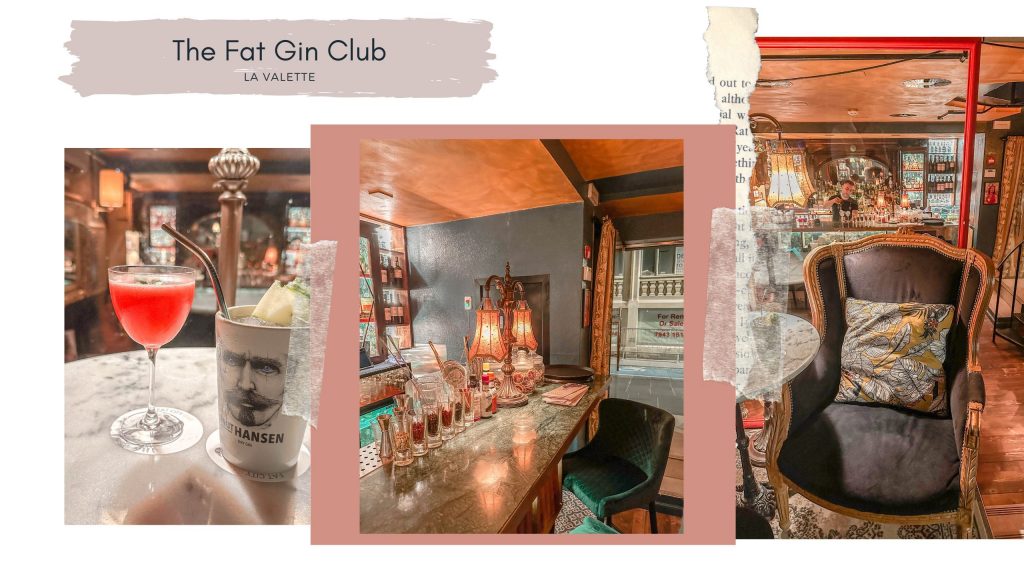 For dinner, I was able to test two addresses that I highly recommend:
The Avenue Restaurant: This restaurant offers European cuisine for all tastes (pasta, pizza, salads, burgers…) at reasonable prices for the beauty of the place. Even if the place is very big, I advise you to make a reservation because the places are full. It is located near the Portomaso Marina and the bars/clubs are within easy walking distance.
MUZA Restaurant: located in the heart of

the Valletta

Art Museum, you can dine in a small courtyard with an arch over it. All dishes are delicious and reasonably priced given the setting and the quality of service. Count 11-14€ for starters, 16€ for pasta and 20-25€ for meat/fish dishes. I had the best fries of my life (yes yes!) and my meat was incredibly tender. I recommend it 100%!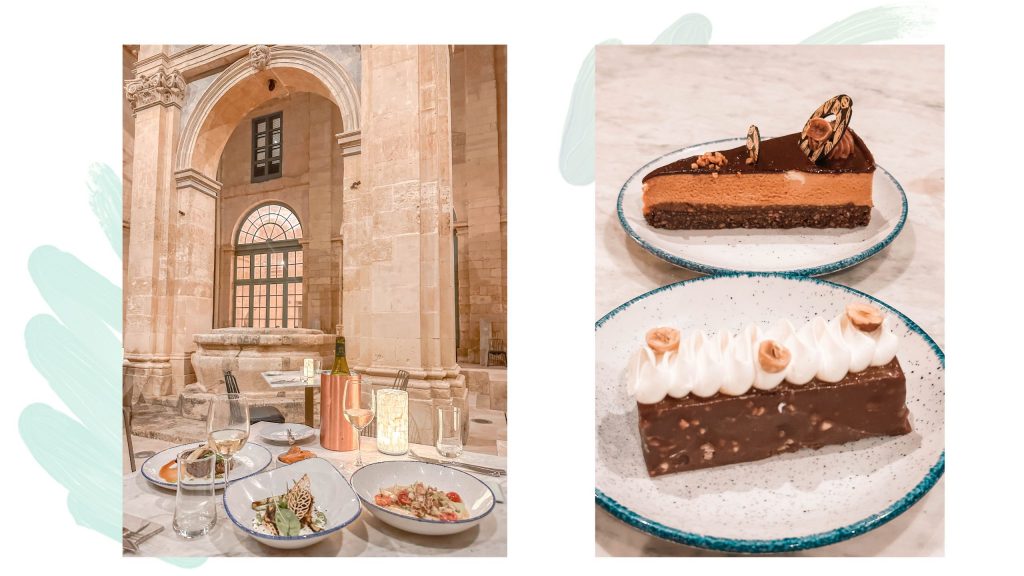 ---
Days 3 & 4: Discovering the island of Malta, what to do?
For these 3rd and 4th days, I recommend you to visit the other parts of the island of Malta.
The Blue Grotto
A must-see on the island of Malta is the Blue Grotto and its caves. You can see it in two ways: either you choose to see the inside and it is only accessible by boat. You can book excursions from the port of Wied iz-Zurrieq for about 10€ per person. Alternatively, you can admire the panorama of the sea from the viewpoint which is accessible by car but also by bus via the line 201, stop Grotto.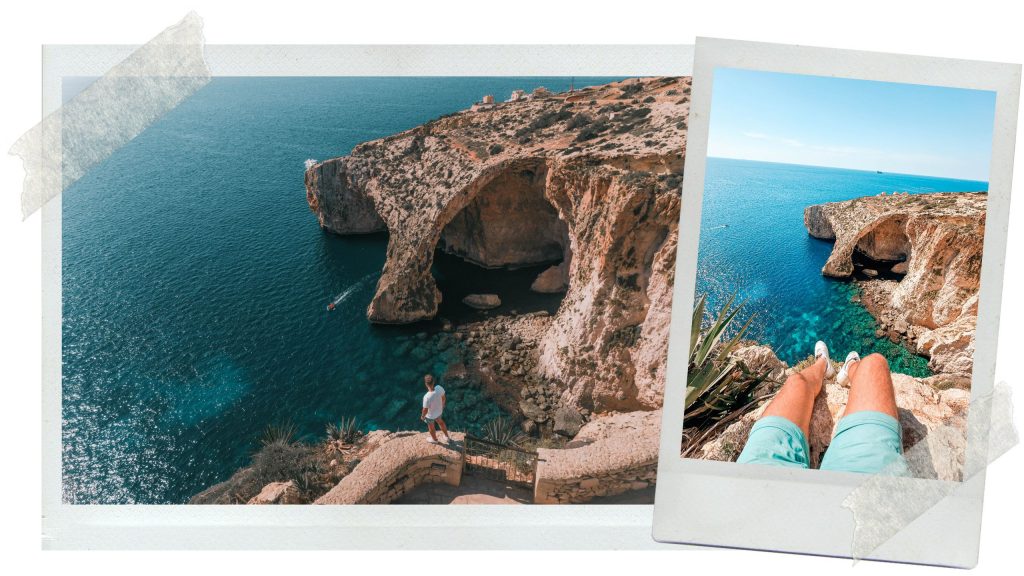 Popeye's village
This small village is really unusual with its colorful and twisted houses. It is actually an amusement park that was once used as a set for some movies. Of course, don't expect Disney: there are no rides, but you will find animations and activities such as a boat ride, trampolines, a beach with terraces to sunbathe and some stores. You can walk around and enjoy the different cartoon mascots, but also discover the backstage of the shootings.
Popeye's village is open all year round and prices start at 10,5€ per adult and 8€ per child (and up to 17€ per adult in July and August). We advise you to go by car or by cab because no bus stops directly in front of the village.
→ You can purchase your tickets directly through this link.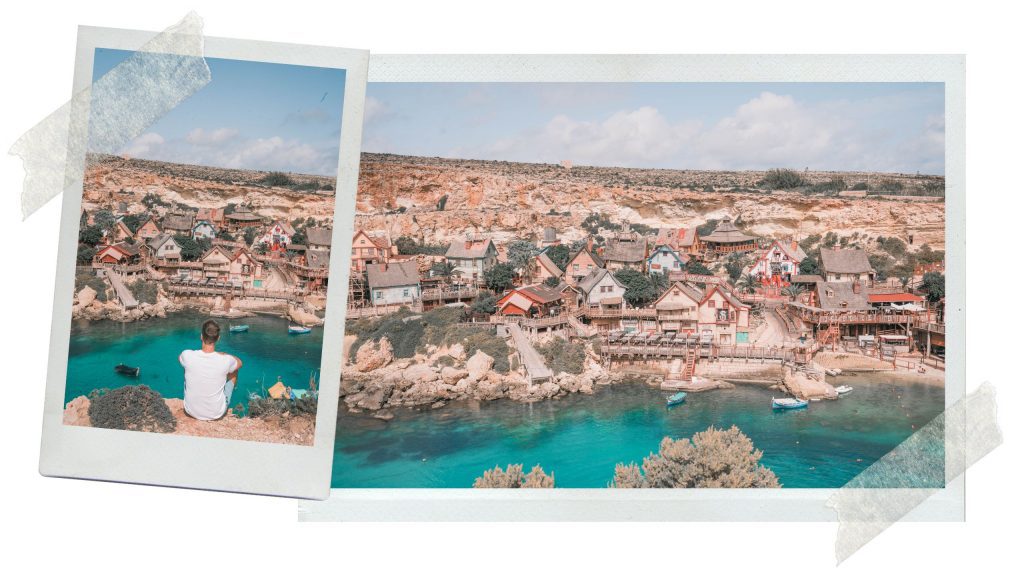 Coral Lagoon
Located at the extreme North East of the island, this hole in the rock is really impressive! There is a free parking nearby and it takes about 5 minutes to walk there. I advise you to go there for 12H so that the sun goes straight down and the water is very clear (without shade what ?). It is not possible to go down unfortunately but you can swim there from the sea.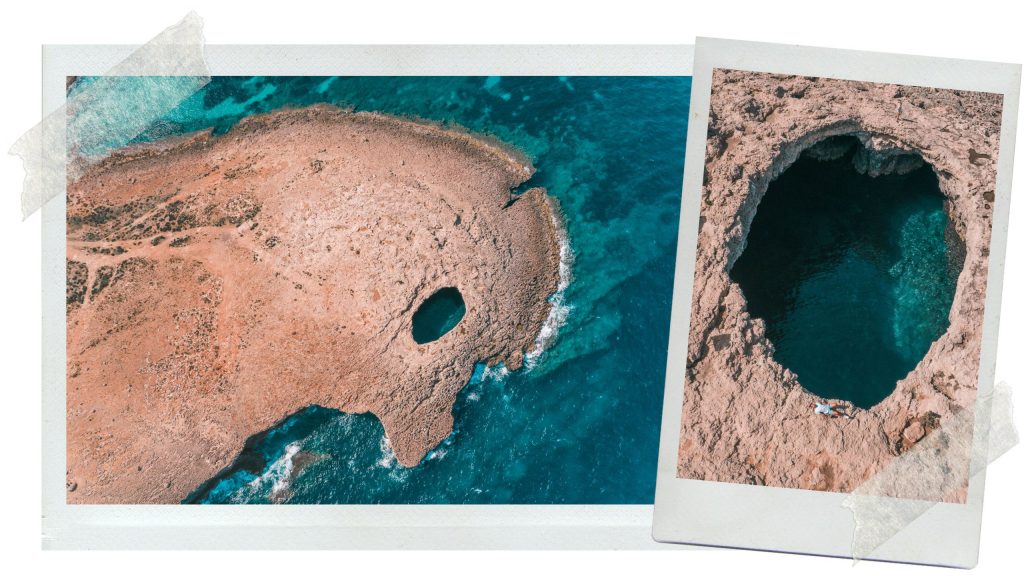 Saint Peter's Pool
This cove is very well known by tourists because of the magnificent view between the white rock and the turquoise water. To get there, you can park in a small parking lot managed by a local, at 3€ the entrance. From there, you will have to walk about 100 meters to get to the sea.
I recommend you to go there around 9am to avoid the crowd and for the sun to be high enough to enjoy the water.
Don't hesitate to go along the coastline to get away from the crowds and discover other more preserved natural pools. ?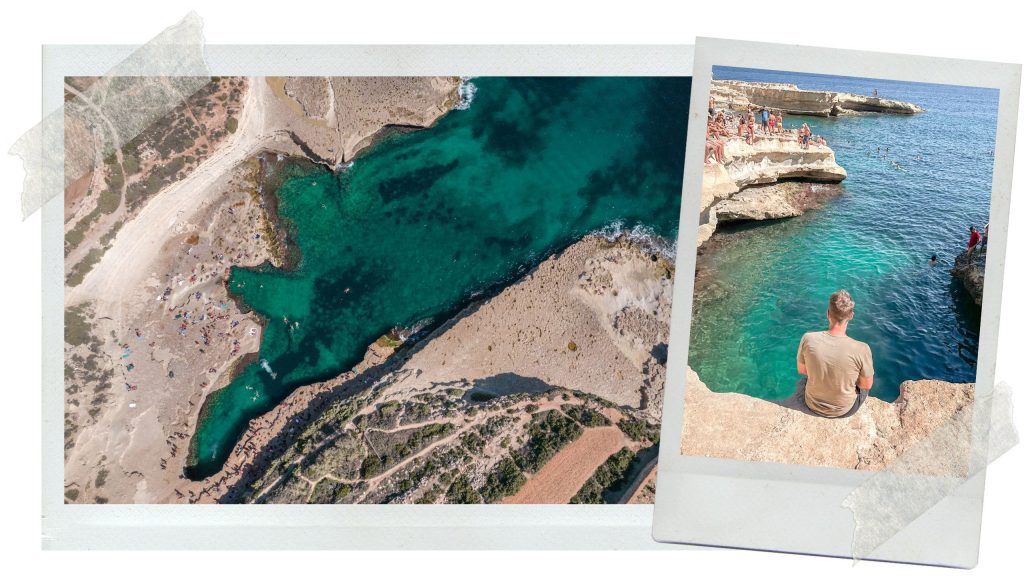 Mdina
Once the capital of Malta, Mdina is a walled city also called the Silent City. I enjoyed its quiet charm by walking through the maze of alleys. Visit also the old moat of the city which is now transformed into a garden.
Beware, if you want to enjoy the calm and authenticity of the city, come early in the morning because many tourists arrive after 10am.
? You can book a city tour with lunch included.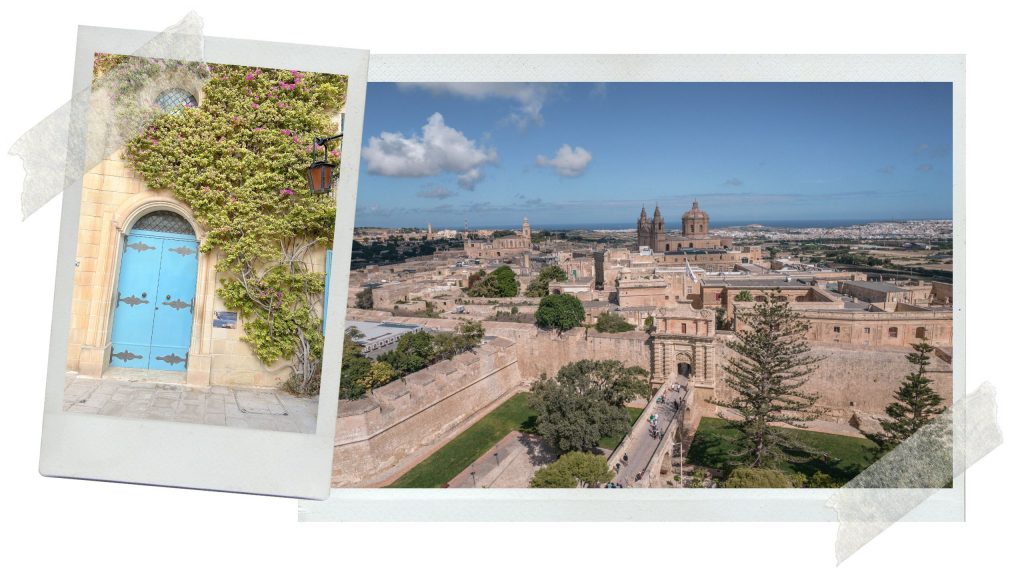 Rabat
During your road trip in Malta, don't miss Rabat, a city close to Mdina. You will be able to visit the church and the cave of St. Paul, the various catacombs, but especially the Domus Romana, a villa of the Roman era converted into a museum.
? Where to dine / have a drink on your trip to Malta
You'll find European restaurants everywhere which usually all serve pizza, burgers etc. If you're looking for a healthy alternative, I ate at Eeetwell which offers bowls and wraps at low prices.
If you are looking for a beach club with music and a nice pool, you can go to Café Del Mare. The prices are above average and you will also have to pay between 15 and 30€ per person if you want a deckchair, but the atmosphere is really nice.
---
Days 5 & 6: What to do in Malta? Visit the island of Gozo
For the 5th and 6th days of this 7-day itinerary in Malta, I recommend you to go to the island of Gozo. This small island in the north of Malta is a jewel preserved from mass tourism.
You can easily get there by ferry from Valletta or from Cirkewwa, with or without a car. The trips are frequent and take between 25 and 45 minutes depending on your departure city.
You can only buy tickets at the ticket office on site and prices also change slightly depending on the departure and the company. Count 3-5€ for a pedestrian round trip, 20€ for a vehicle (only from Cirkewwa) and 2 passengers. You only pay on the way back.
If you want to visit Gozo, understand its history and get to know this island in all its corners. It is also possible to choose a day trip. ? More information here.
What to do in Gozo?
Victoria and the Citadel
Capital of the island of Gozo, this city with its typical houses is easily visited on foot. You can get lost in the narrow streets of the city until you reach the Basilica of St. George. Every morning, you can enjoy the market in the central square of the town (Pjazza Indipendenza).
I also recommend a visit to the Citadel, an ancient medieval fortified city that overlooks the city. The entrance is free and you can enjoy many museums, an old prison and ancient palaces still preserved.
Tal-Mixta Cave
This is probably the most famous viewpoint in Gozo. You can get there easily by parking right in front of it and like every tourist place, come relatively early to avoid groups of tourists.
You will be able to admire the magnificent view of the Ir-Ramla bay.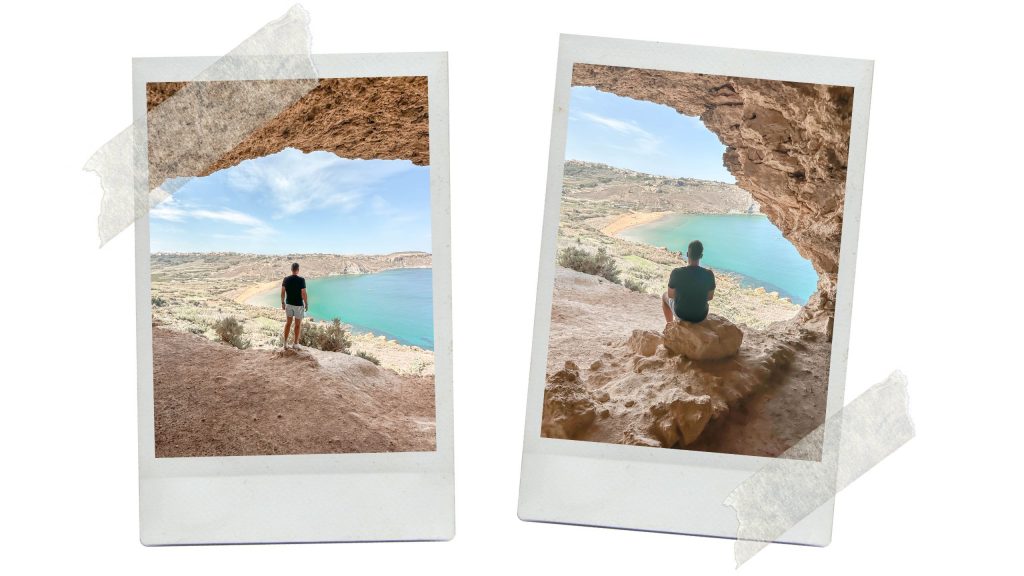 Dwerjra Bay
Dwerjra is a must in Gozo if you want to enjoy a panoramic view of the sea. You can swim in the depths of the Blue Hole located a little further north, the best diving site in Gozo!
You can also admire the Fungus Rock, which takes its name from an Italian general who discovered a mushroom with medicinal properties.
A few steps away from the Blue Hole, don't miss the impressive Inland See, a harbor with a tiny access from the sea.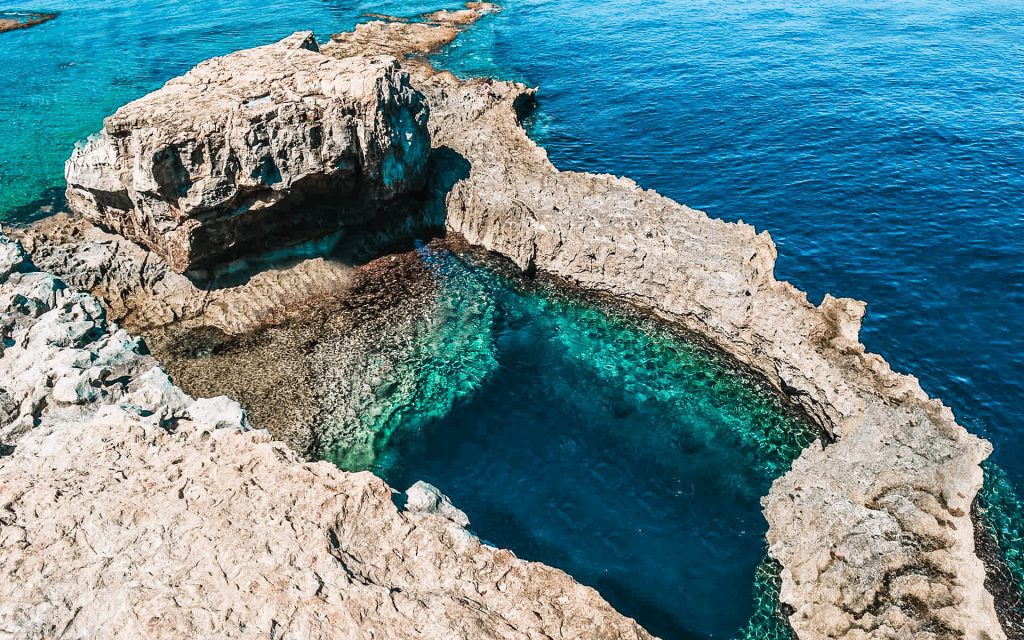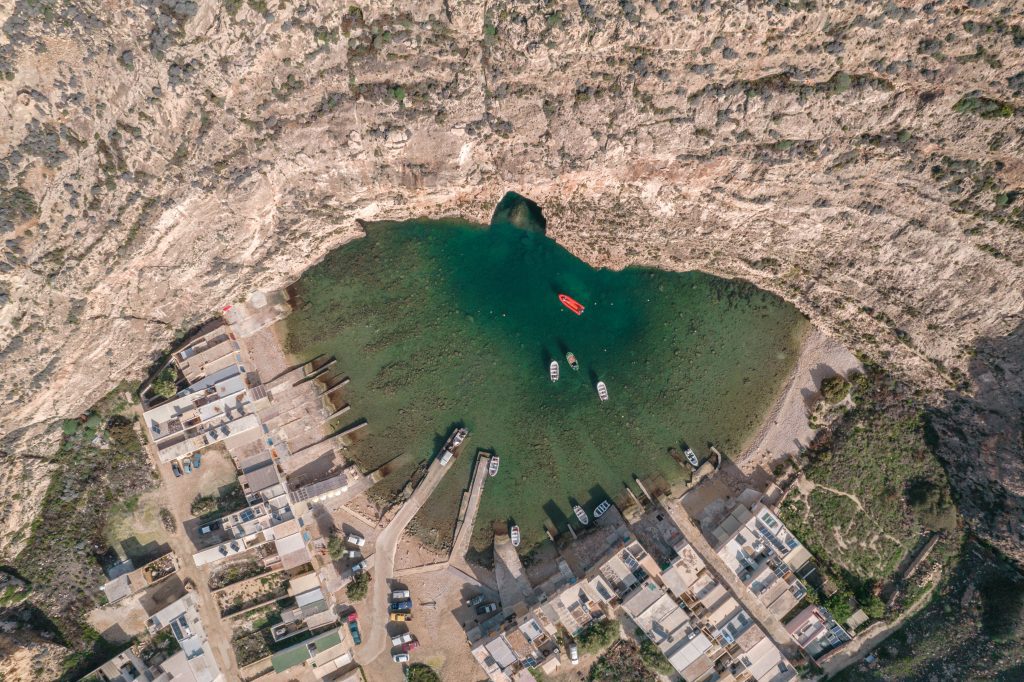 Marsalforn Salt Marshes
Marsalforn is a very popular destination on Gozo, both for locals and tourists. There are many sandy beaches, restaurants and hotels, making it a pleasant place to come and relax in the sun.
The salt flats are located west of the city and extend for 3 km! They are nowadays exploited by some Maltese families. Salt production is a tradition on the island of Gozo which dates back to 1000 BC.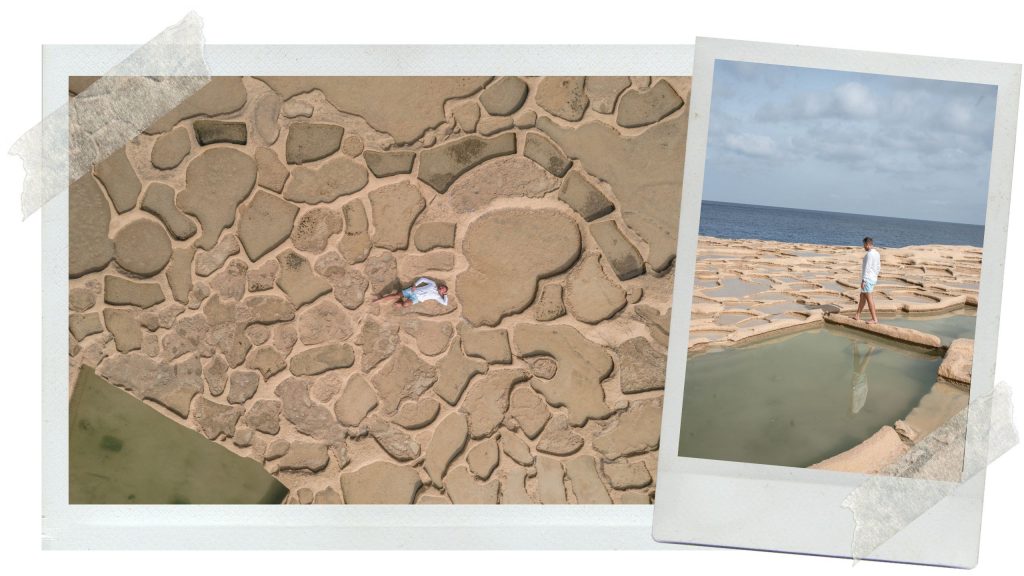 The Wied Il-Mielah Arch
Located in the north of Gozo, follow the narrow path along the edge of the cliff to discover this spectacular rock arch. Unlike Azur Window which collapsed, this one resists to the waves. I advise you to go there early in the morning or just before sunset to avoid the numerous tourists in the middle of the day because the platform is really small.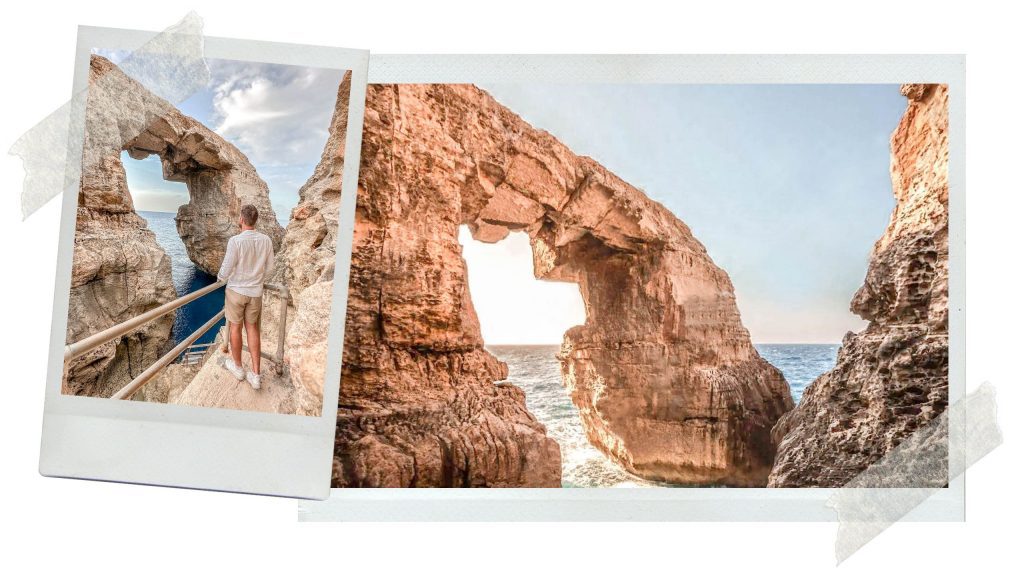 Ta'Pinu Basilica
It is difficult to miss this sublime basilica, located in the center of Gozo! You will surely see it when you go to Wied Il-Mielah and will be able to observe its neo-romantic architecture, quite different from the other Maltese churches.
The cove of Wied Il-Għasri
This cove is easy to access thanks to the stairs cut into the rock and nice for snorkeling because the waters are shallow. The beach is quite small so I advise you to come early enough, even if there are usually not too many people.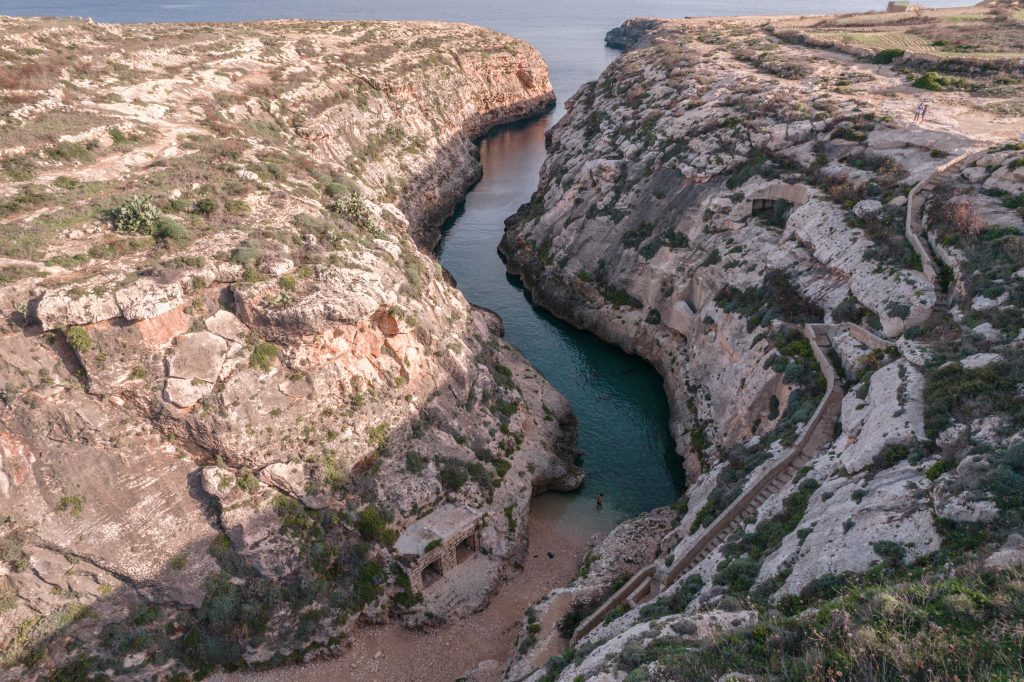 Ta Cenc Cliffs viewpoint
If you are looking for a place to watch the sunset, I really recommend you to admire the panorama of Ta Cenc Cliffs. You will have to walk 10-15 minutes after parking the car, but the way is not complicated. Be careful not to get too close to the edge of the cliff because it can be dangerous in case of wind.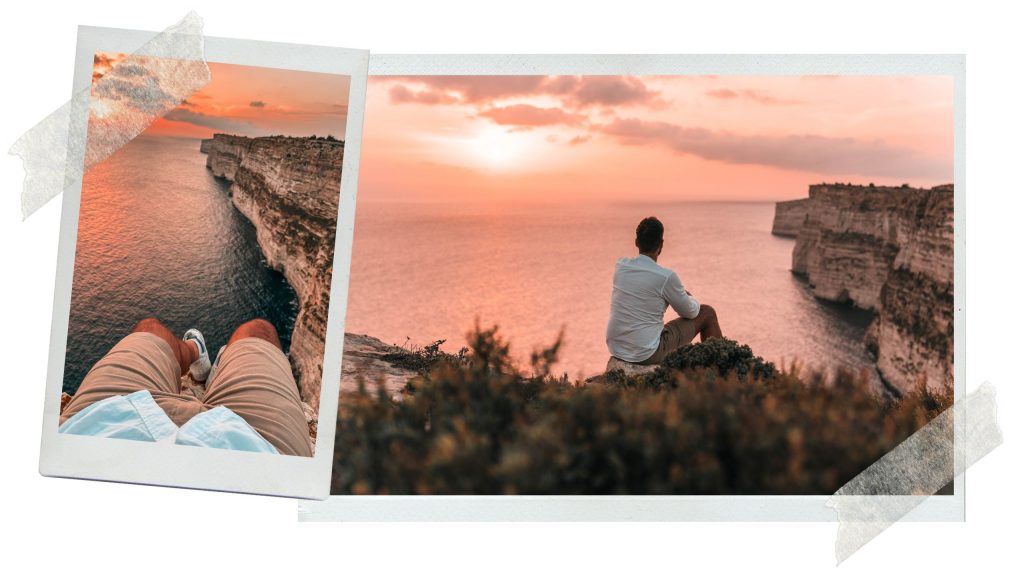 Where to dine / have a drink during your trip to Gozo
You will find many small restaurants everywhere on the island.
I have tested these two addresses :
Alive Bistrot: a vegetarian restaurant that offers salads, burgers and wraps. Everything was very good, but the restaurant normally closes at 8pm and the terrace is small.
Coffee Breaks: a restaurant in the heart of Victoria with a large terrace. I ate the best risotto of my life (at 9€), the staff is adorable and the cocktails are only 6€. I really recommend this place.
---
Day 7: discovery of Comino Island
For this last day of the road trip in Malta, I strongly advise you to go on an excursion to Comino Island! This very small island of 2 km long is very preserved and you will be able to admire sublime beaches with turquoise blue waters.
You can rent a boat on this site.
The Blue Lagoon
This is for me THE most beautiful place on the island of Comino! The contrast between the white rock and the turquoise blue water is sublime, I didn't think I would find this kind of place here.
To get there, I rented a boat for the day, which allowed me to go around the island freely. If you rent a full day or half day tour, be aware that the Blue Lagoon is a stop that is always included.
You can easily snorkel there because the waters are shallow and translucent.
However, if you want to avoid the crowd, you will have to get up early because it is the most beautiful place but also the most touristic! I arrived at 10 am and there were already some boats. But from 11am to 12pm, it's the parade… There are dozens (see hundreds in summer) arriving by ferry from Gozo or Malta.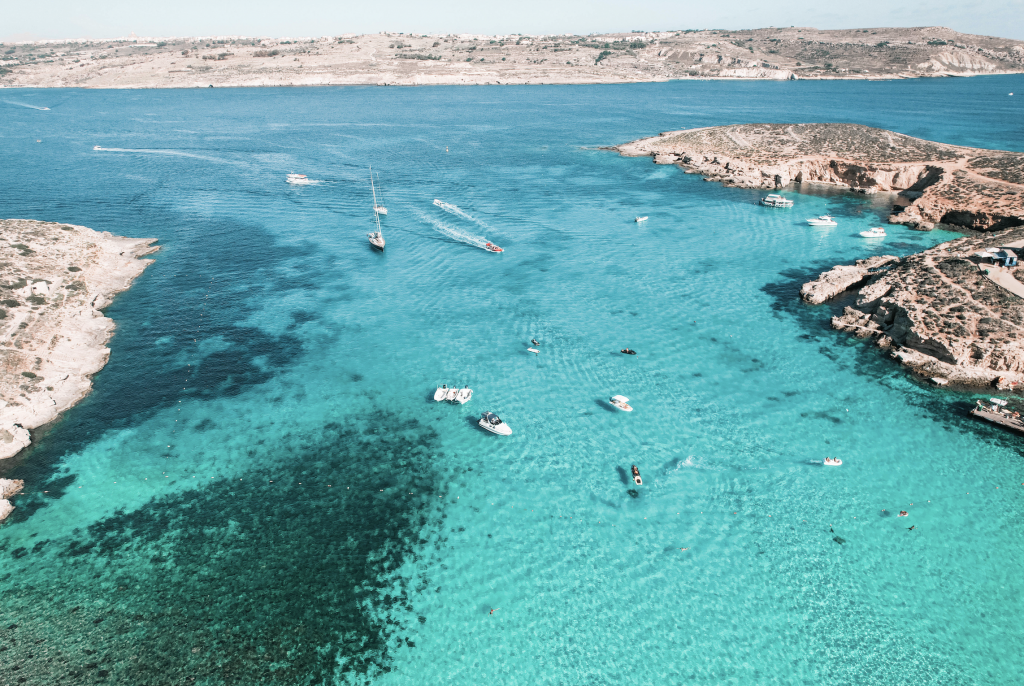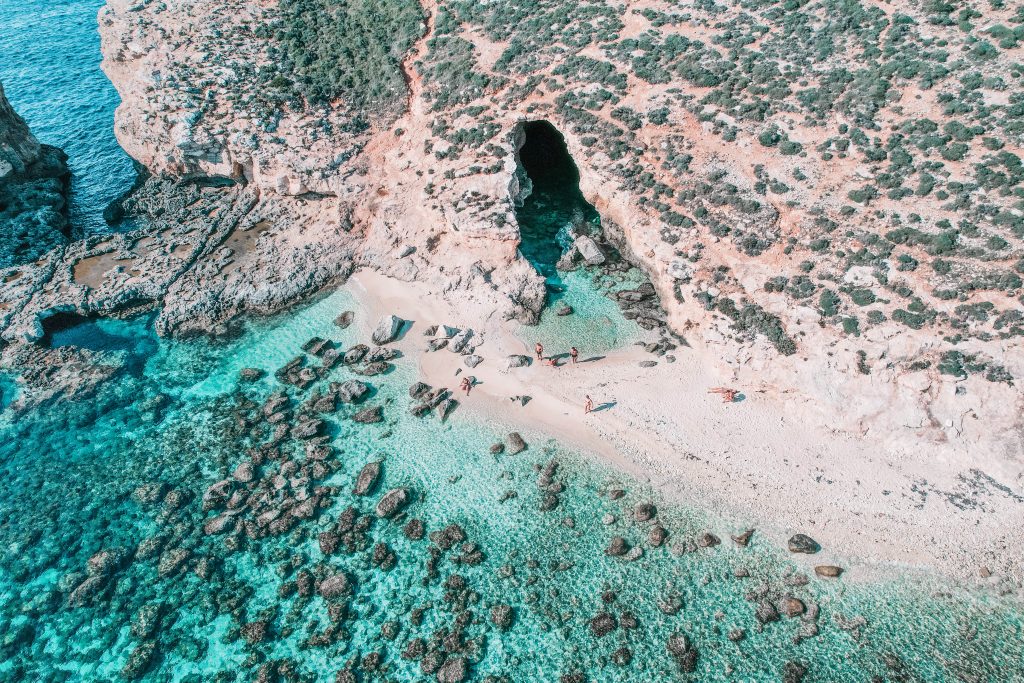 Cristal Lagoon
Located right next to the Blue Lagoon, this place is just as nice but much less touristic than the latter since there is no ferry crossing. If you want to go snorkeling in a quiet place, this is a much quieter place.
I also advise you to stop in a small calm lagoon on the side of Gozo, a little higher. The sea is beautiful and I was the only boat!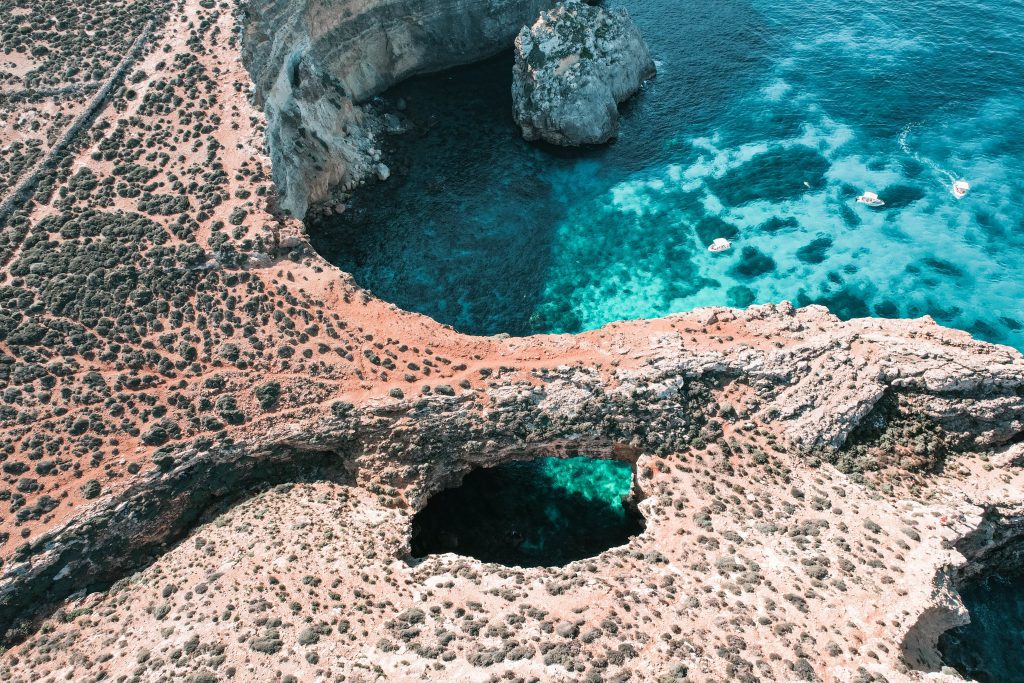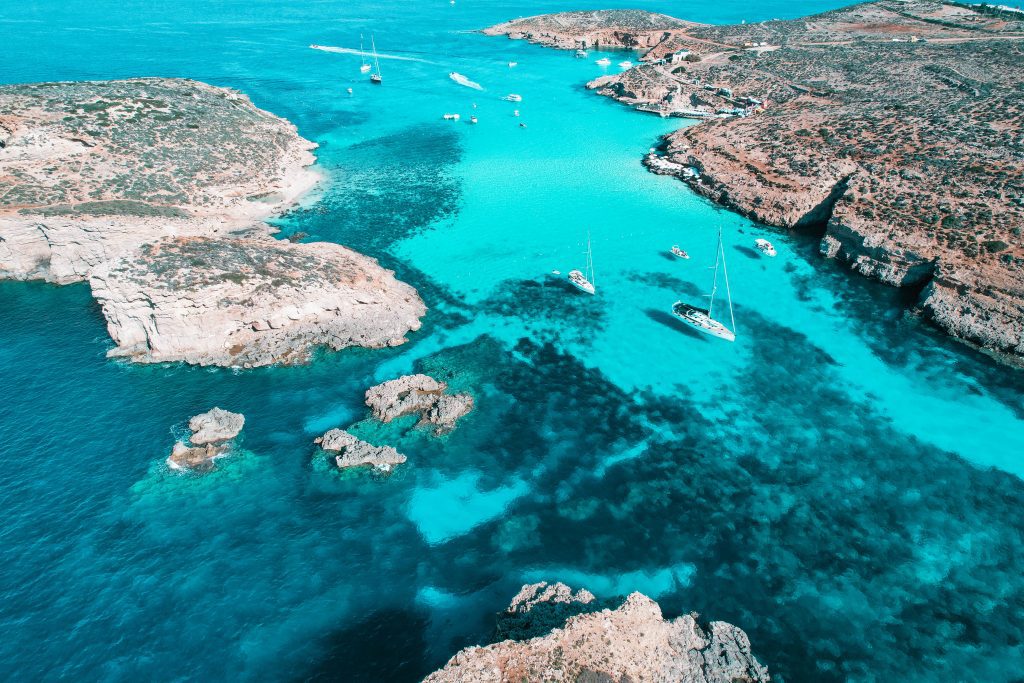 Il-Batterija ta' Santa Marija
Just below this fort is a small lagoon with clear waters, which allows for easy snorkeling. I advise you to go there if you are doing the tour of the island which is quite quick.
---
I hope that with this one week road trip in Malta you now know what to do in Malta. This itinerary will allow you to enjoy and visit the island in the best conditions. Feel free to tag me on your stories / posts @amoureuxdumonde on Instagram or share your photos with me in private message.
Looking for more travel ideas? Check out our travel guide to Corfu or Gran Canaria.