Visit Corfu: One week road trip on the island of Corfu in Greece
Greece is one of my favorite destinations in Europe! There are many islands, 6,000 in total, of which about 300 are inhabited. Until now, I had dedicated my trips to Greece to the Cyclades. You can find our travel guides on Santorini, Milos, Mykonos, Paros and Crete by clicking here. For this solo trip, I decided to change the location and visit Corfu for a week. So what to do on the island of Corfu? Find in this article a complete road trip itinerary.
---
What to do in Corfu during a week?
One week to visit Corfu is the ideal time! This destination is conducive to relaxation and will delight beach lovers. Corfu belongs to the Ionian Islands, of which there are 7.
Practical information for your road trip to Corfu
How to get to Corfu?
Being an island, the most convenient way to get there is by plane:
✈️ To book my plane tickets, I always use the French flight comparator Ulysse. The customer service is very responsive in case of problems. Get a 10€ discount by signing up via this link.
? The ferry: you can reach Corfu from Greece or Albania. Book your tickets online at Ferries In Greece.
How do you rent a car for your week in Corfu?
I didn't rent a car because I booked this trip last minute and rental prices had skyrocketed, so don't make the same mistake I did ?.
I made do by renting a quad bike and a car for 4 days from a small rental place next to my accommodation. I
also took the bus, which is very well connected on the island of Corfu. So you can consider this trip if you don't have a driving license. You can find the info and timetable of the Green Buses Line on the official website.
Anyway, it is more convenient to have your own vehicle to carry out my route. I advise you to compare the offers and book via Skyscanner.
Budget for a one week road trip to Corfu ?
Here are the details of my expenses for my trip to Corfu:
✈️ Flights Lyon – Corfu : 70€ AR + 25€ Volotea luggage per person
? Car rental : 200€ for the week
⛽️ Gasoline expenses: 40€
? Accommodation: 434€ per week in a studio with sea view
? Restaurants: 30€ per day per person for 2 restaurant meals.
Total for a 7 night trip = 1,074€, or 537€ per person, excluding activities.
This budget can vary depending on the price of car/plane rentals and the standard of accommodation you choose. You can also save a lot of money on food by cooking in an apartment-hotel as I did or by eating a snack at lunchtime.
When to go to Corfu?
☀️ The weather is favorable from May until October. I don't recommend the summer months when the island's crowds explode, which inevitably makes the trip less enjoyable. Personally, I left at the beginning of October and it was great! Few tourists, the sea at 23°C, a great weather… the ideal conditions for an Indian summer.
Can you travel as a woman in Corfu?
This was my second solo trip and I felt safe on the island. Of course, basic safety rules apply as they do everywhere (for example: avoid walking alone at night). For those of you who have been following my Instagram stories, I didn't have any bad experiences, except for a heavy flirt at the car rental place.
---
Visit Corfu (one week itinerary): What to do?
Arrival in Corfu (Day 1)
Visit the North Coast (Day 2)
The old town of Corfu (Day 3)
Visit the West Coast (Days 4 and 5)
Excursion to Paxos and Anti-Paxos (Day 6)
Bonus: Other excursions or the South of the island (Day 7)
? Where to stay in Corfu?
The island of Corfu is small enough that you can visit it from one place to stay. I enjoyed the stay even more and was able to relax, without having to unpack and repack every night. ? I would recommend staying in the northwest part of Corfu. I found an accommodation on the beach of Agios Georgios Pagon with a great value for money, very clean, well located literally 30 seconds from the sea. Here is the link to book.
If it is not available, you can find other accommodation nearby on Booking. Otherwise, I recommend Bouganville in Paleokastrítsa, which offers beautiful accommodation close to the most beautiful beaches of Corfu. If I had to do it again, I would stay there!
Day 1: Arrival in Corfu
As I arrived late, I dedicated my first day to transportation and to the entry in my accommodation. So I leave you this day free to take your marks according to your arrival time.
If you did not rent a car, you can take the bus or the cab from the airport to get to your hotel or apartment. The cab cost me 55€ for a one hour trip and I asked the person at my accommodation to organize the transfer for me to make it easier.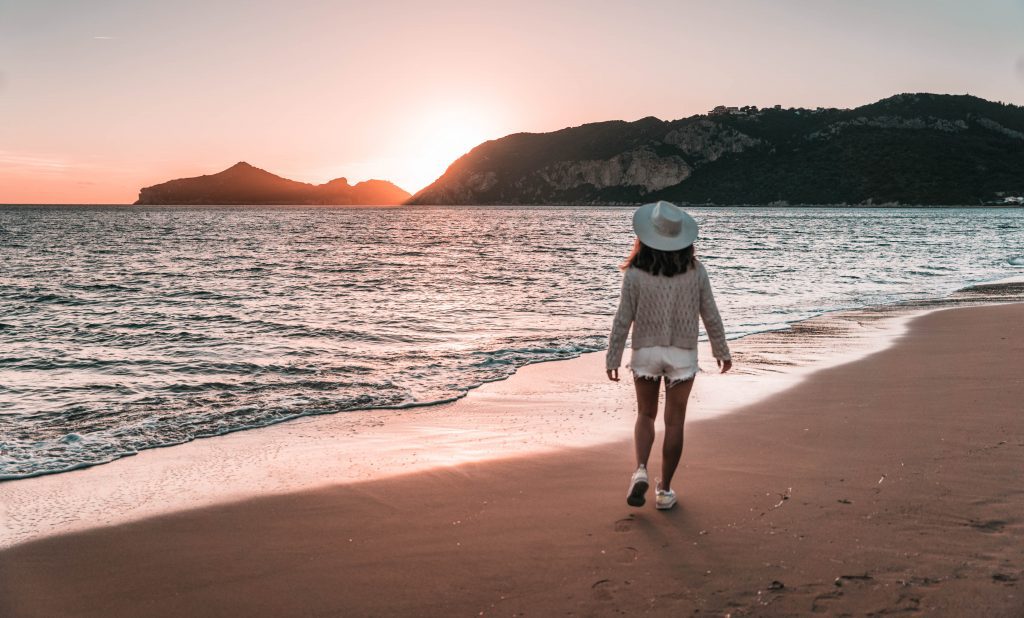 ---
Day 2: Beaches and North Coast of Corfu
Today, put on your best swimsuit and don't forget water and sun cream!
Hike to the beach of Porto Timoni
This is a mini hike that will lead you to the most beautiful landscape of Corfu, according to an international ranking decreed by myself ?. The start of the hike is at this GPS point. I recommend you to go there in the late morning, when the sun starts to rise!
? Access: 15 minutes to get down and 20 minutes to get back up. I highly recommend putting on sneakers as the trail is rocky and sandy. You can park along this street for free or go to the secure pay parking lot if there is no more room.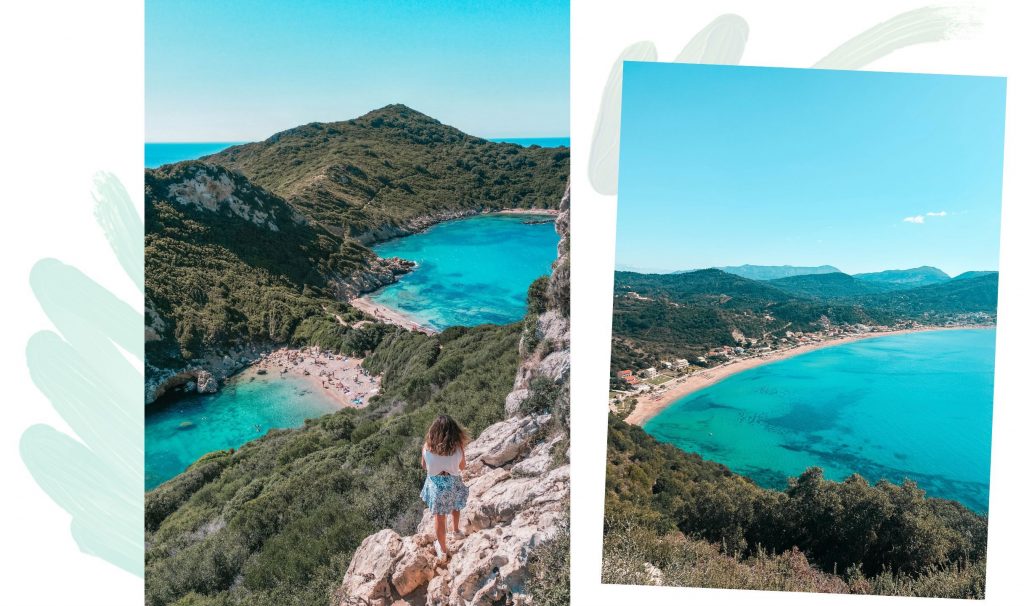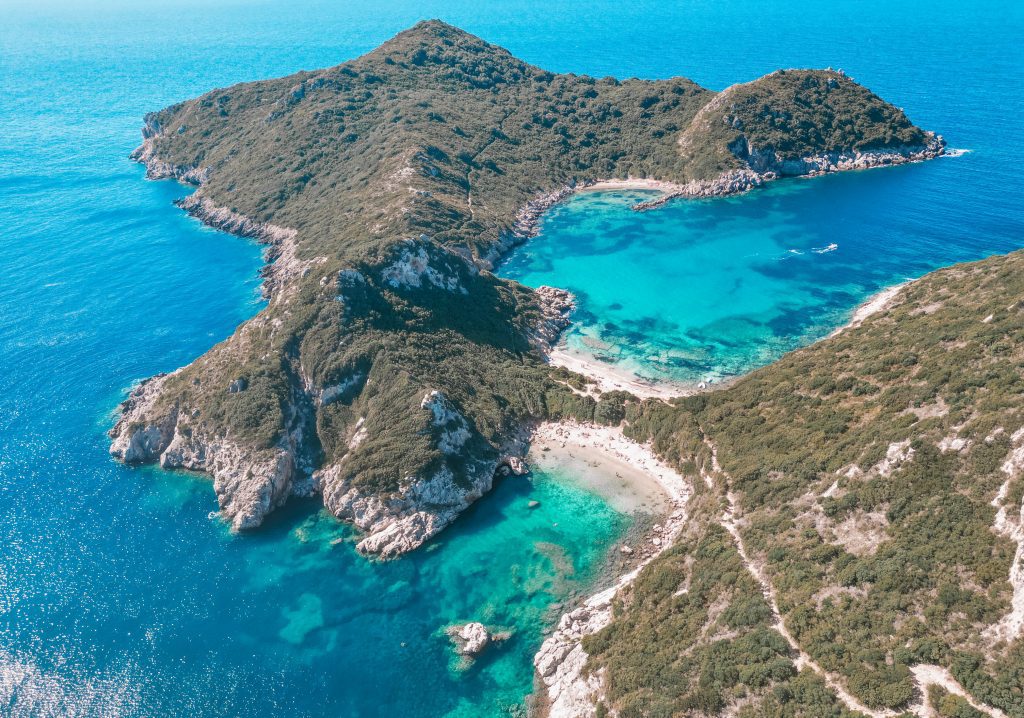 Lunch in the village of Afionas
After enjoying the beach, I invite you to take a walk in the tiny village of Afionas. It won't take long because it is only composed of a few alleys, but it is cute.
For lunch, I recommend the Anafoufou Coffee Bar & Restaurant. Besides the decoration which is hot, the sea view is just as hot! ?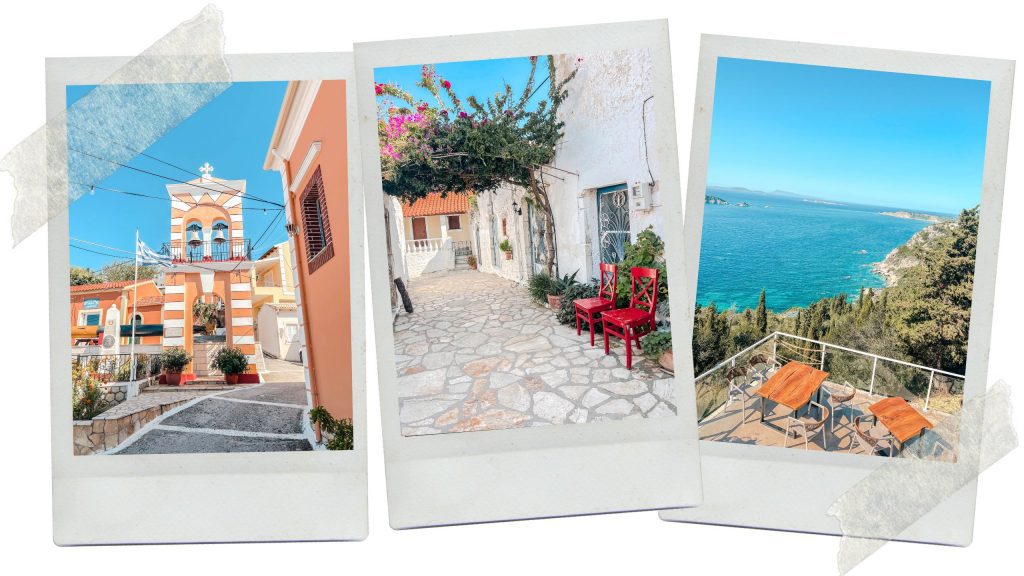 Stroll to Cape Drastis, a must for your road trip to Corfu
The cliffs and sandbanks of Cape Drastis make it exceptional. In front of it, you can admire the mountains of Albania. I loved this place! Small caves have formed over the years, you can visit them by boat or canoe when you arrive at the bottom of the footpath. Allow about 15/20 minutes to get to the bottom.
? Parking is free. GPS point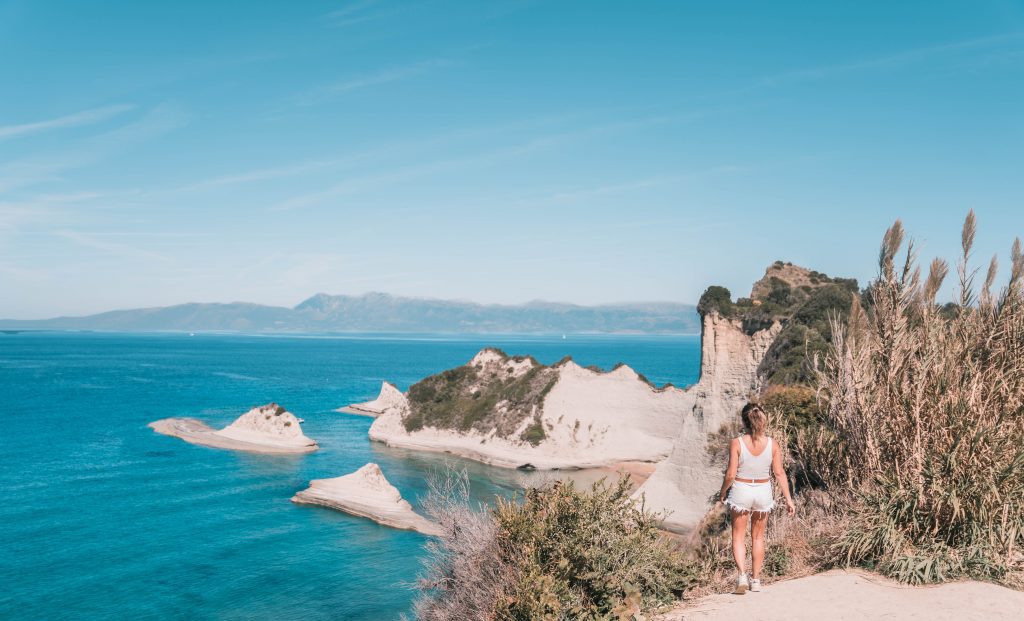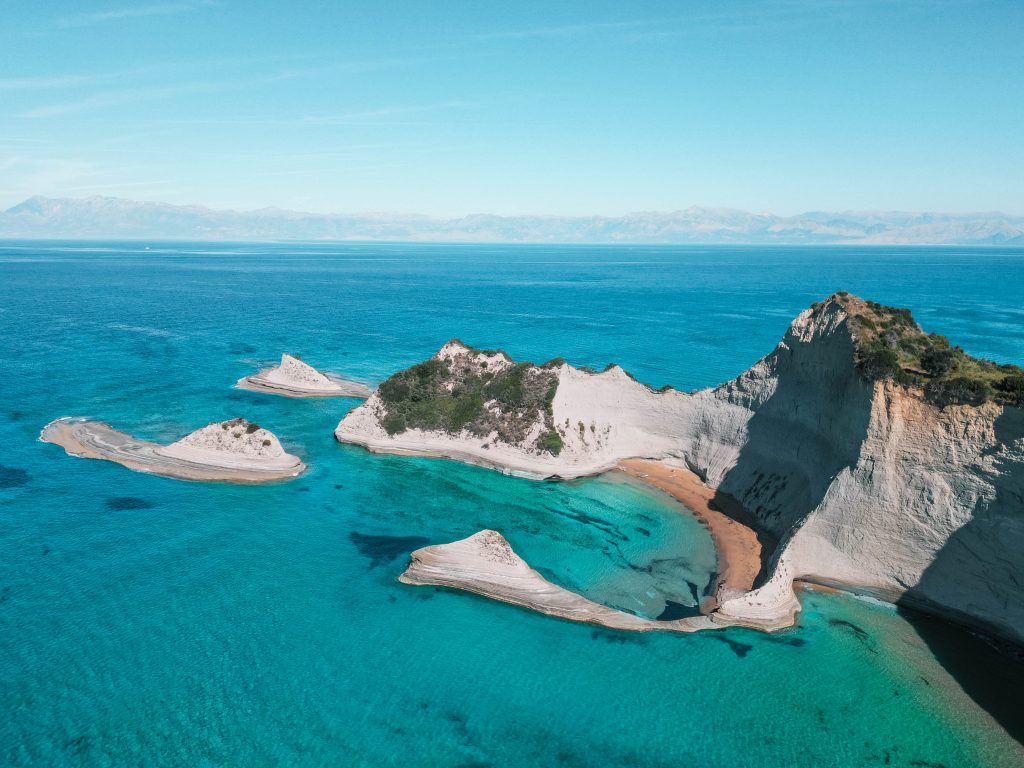 The Canal of Love
Not far from Cape Drastris, you will find the Canal d'Amour, a very touristy place in Corfu. You will understand that there are many people here, with lots of hotels and restaurants. By the way, I find that this very "built" side taints the beauty of the landscape a bit.
According to the legend, those who swim across the Canal d'Amour meet the love of their life or get married with their current love. So it's worth going there just for that ?
? If you want to have lunch or dinner nearby, my favorite address is Katerina's Taverna: nice typical decoration and absolutely delicious dishes.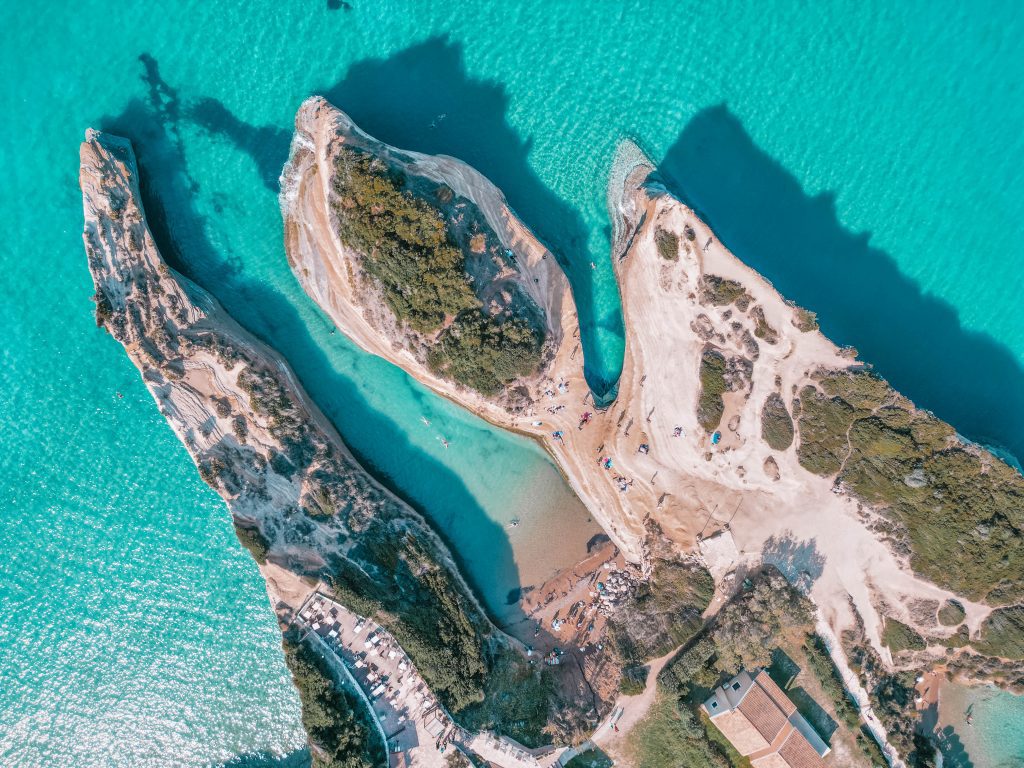 Sunset in Corfu
There are many spots to watch the sunset on the island of Corfu. I certainly saw one of the most beautiful of my life from the beach of Agios Georgios Pagon, right in front of my accommodation. You can also see it from Loggas Beach or any beach on the northwest and west coast.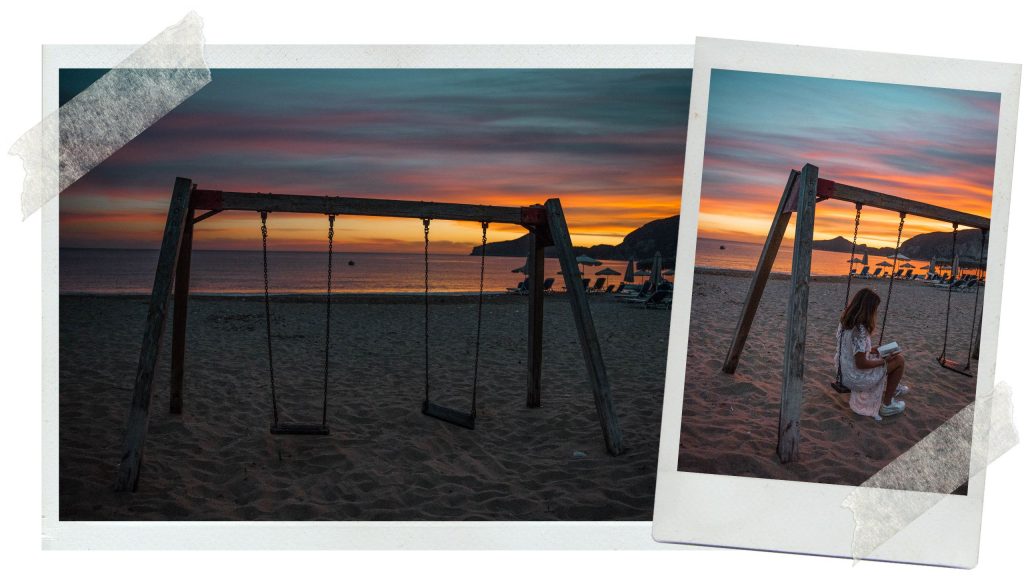 Dine at a Fisherman's Cabin
Another option to admire the sunset and feast on fish fresher than ever, head to the Fisherman's Cabin restaurant. I warn you that the road to get there is a bit chaotic, but it's no problem if you drive carefully. The menu changes regularly according to the catch of the day and the setting is enchanting, with the added bonus of great value for money. Reservations are recommended during the high season.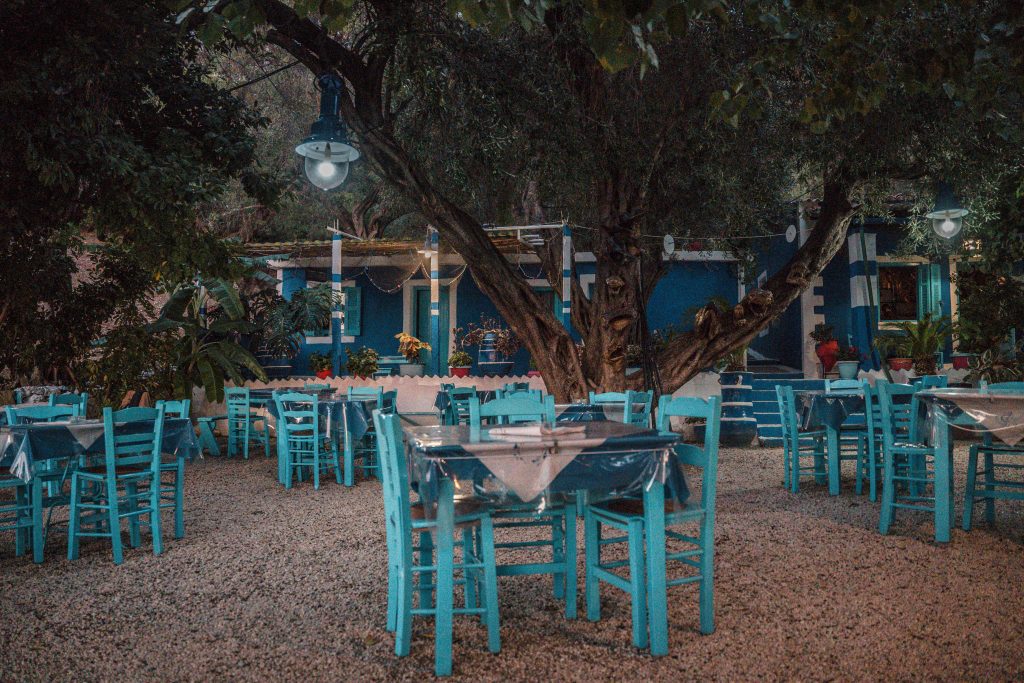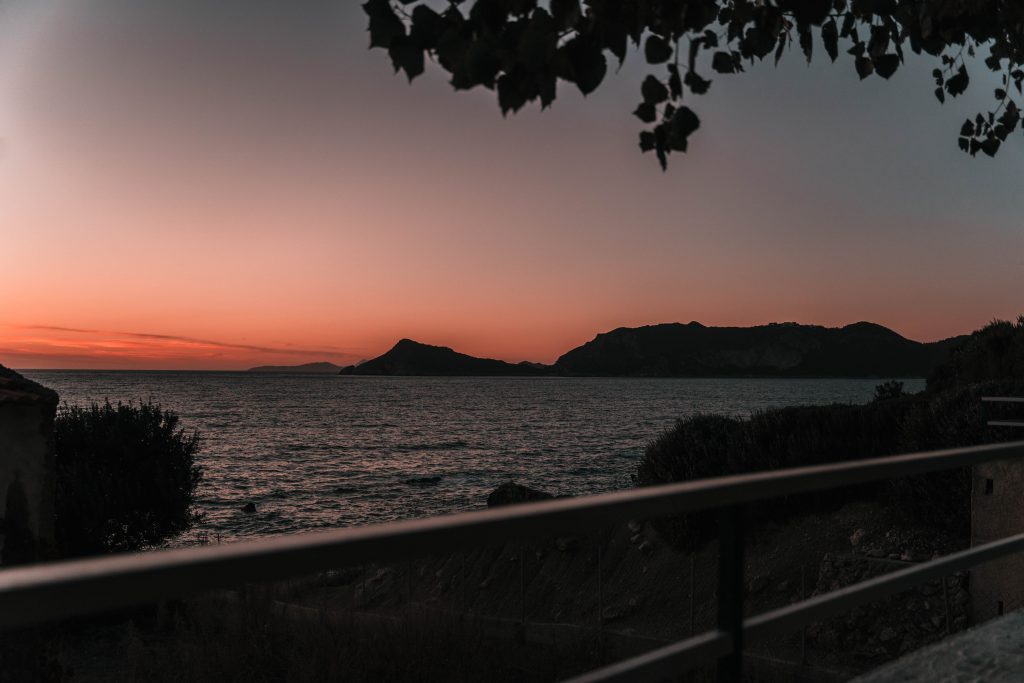 ---