3 weeks in Bali : itinerary
Where to go in Bali ?
You asked us a lot of questions about our road trip to Bali! We just came back from our 2nd trip of 3 weeks. We are still as excited on this destination, which had already been a favorite last year. This time, we explored the island of the Gods from South to North. Of course, we did different things from last year.
For all practical information: money exchange, plane tickets, transportation, go here.
✈️ To find cheap plane tickets, we use Skyscanner.
(Video of our trip at the end of the article!)
---
Let's go for the tour in Bali of our 3-week stay. We could have done more in 21 days, that's for sure! But we made the choice of taking our time, without having to rush. Here is our road trip in Bali: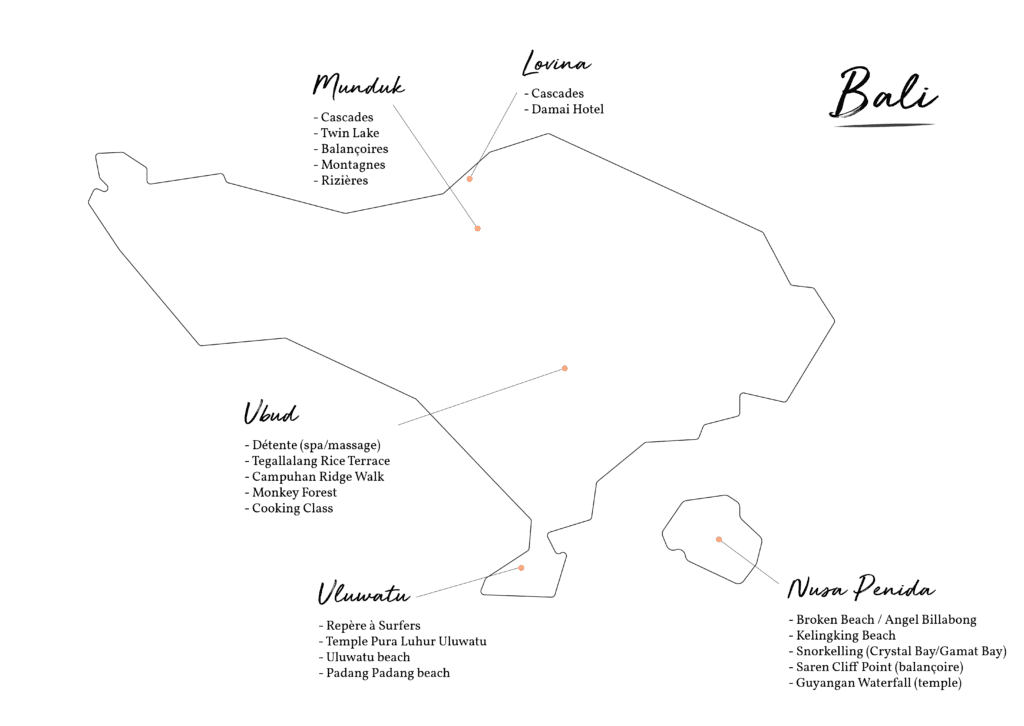 Trip to Bali : 3 weeks
Day 1 and 2 : Uluwatu
Day 21 : Return to home
---
Uluwatu – Day 1 and 2
What to do in Uluwatu?
Uluwatu is located south of Bali. It is the spot not to be missed by surfing enthusiasts. As a result, the atmosphere is rather cool, though still very touristic very touristic.
In Uluwatu, you'll find trendy cafés/restaurants. You can see beautiful beaches with huge cliffs. If you want, this is the perfect place for a surf lesson 🏄‍♀️! Our favorite beaches: Padang Padang Beach, Dreamland Beach and Uluwatu Beach.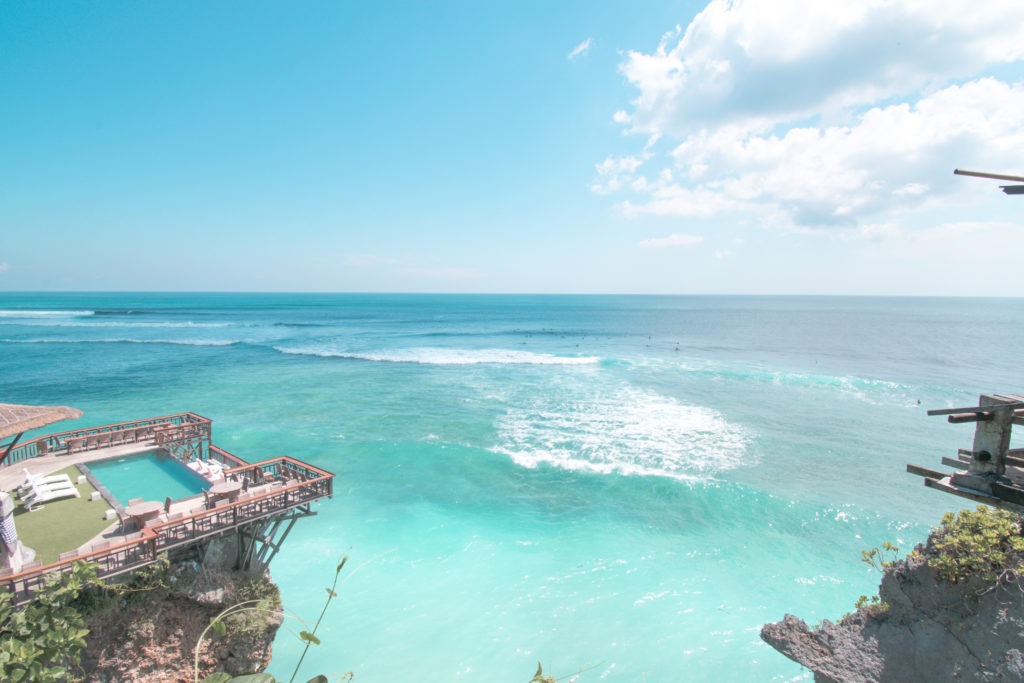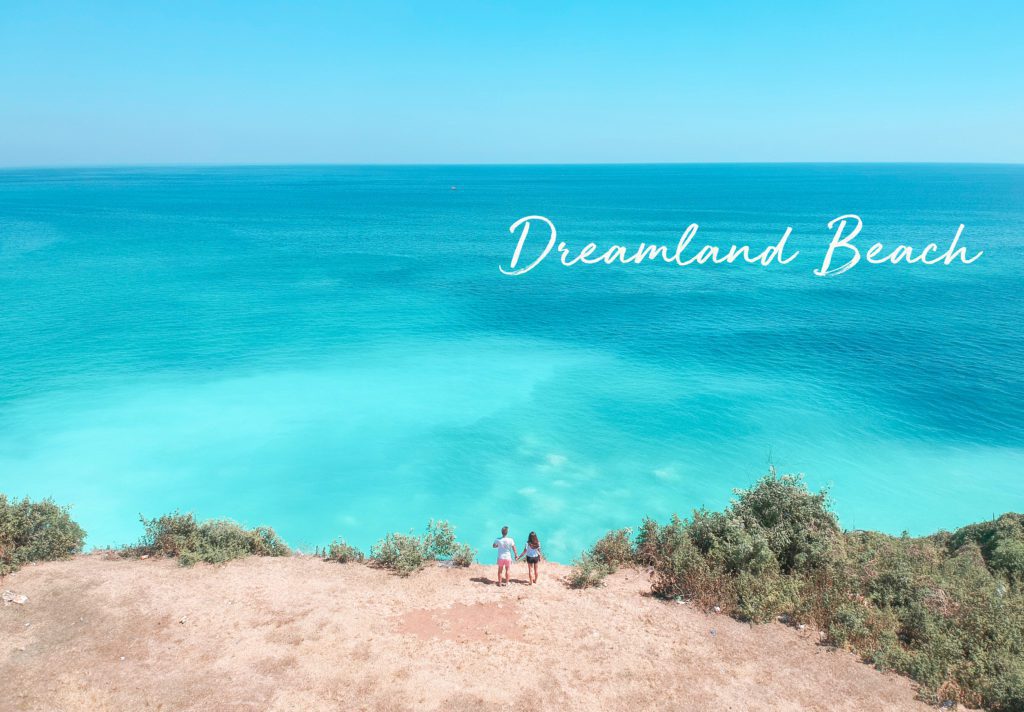 Last, there is a nice temple that borders the sea and that can be visited. Beware: you should have your legs covered in all temples in Bali. Most of the time, they provide "sarongs" at the entrance for those wearing shorts. The entrance costs 30,000 RP per person (1.81€).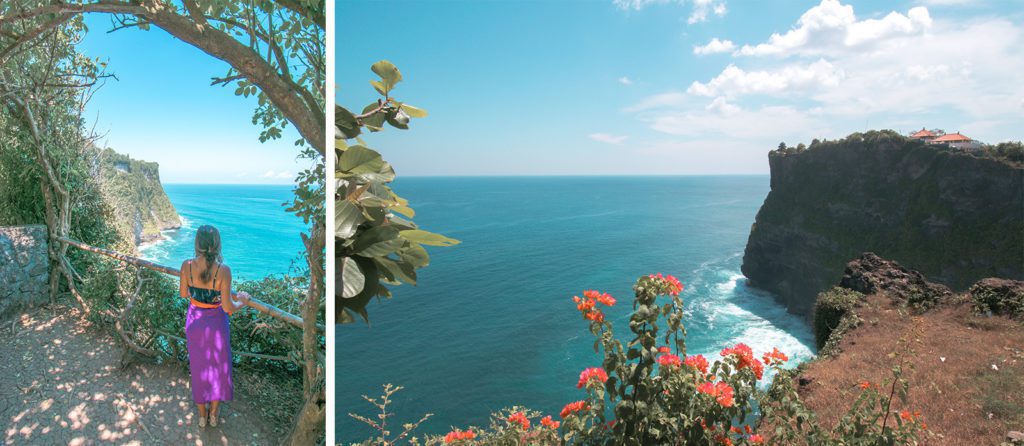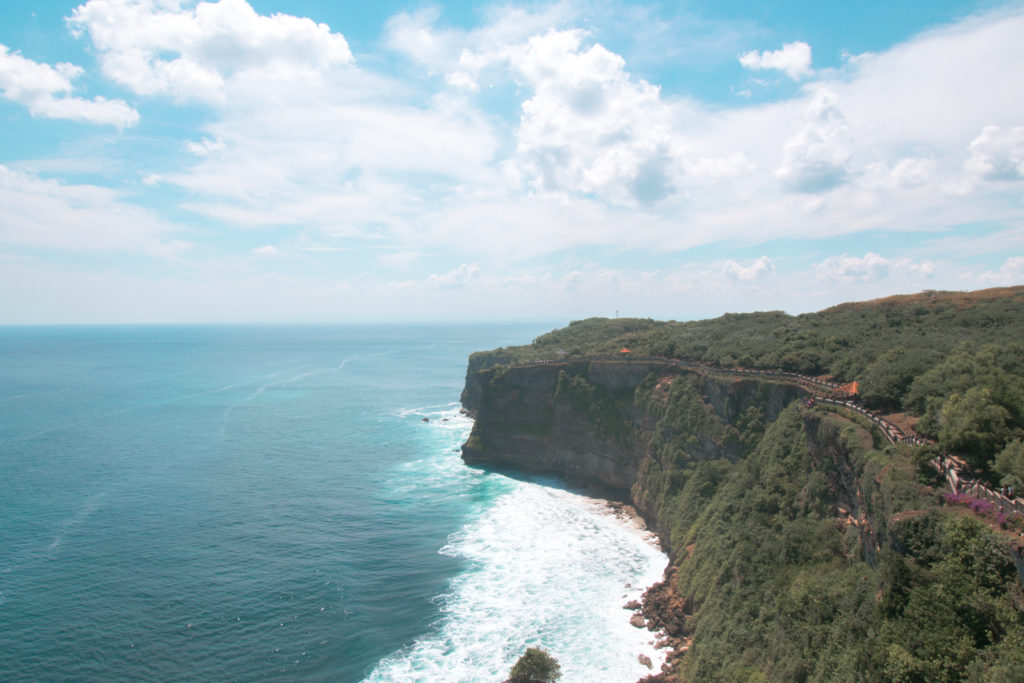 Where to sleep in Uluwatu?
We slept at the Kubu Jimbar Hotel. The price is 15€ per night. There is a swimming pool, which is super nice. It is ideally located for visiting the south of Bali (at a good distance from the different places of interest).
Where to see the sunset in Uluwatu?
We saw a beautiful sunset at Balangan Beach. From the cliff, the view is bewitching! On the other hand, the big negative point of this spot is that you will also find there a dozen of Chinese couples doing their wedding photo shoot. It could be cute, but no. Their crews yell at you like skunks if you have the misfortune to appear in their field. It's like they've privatized the place! With so many of them around, your space of freedom is greatly reduced…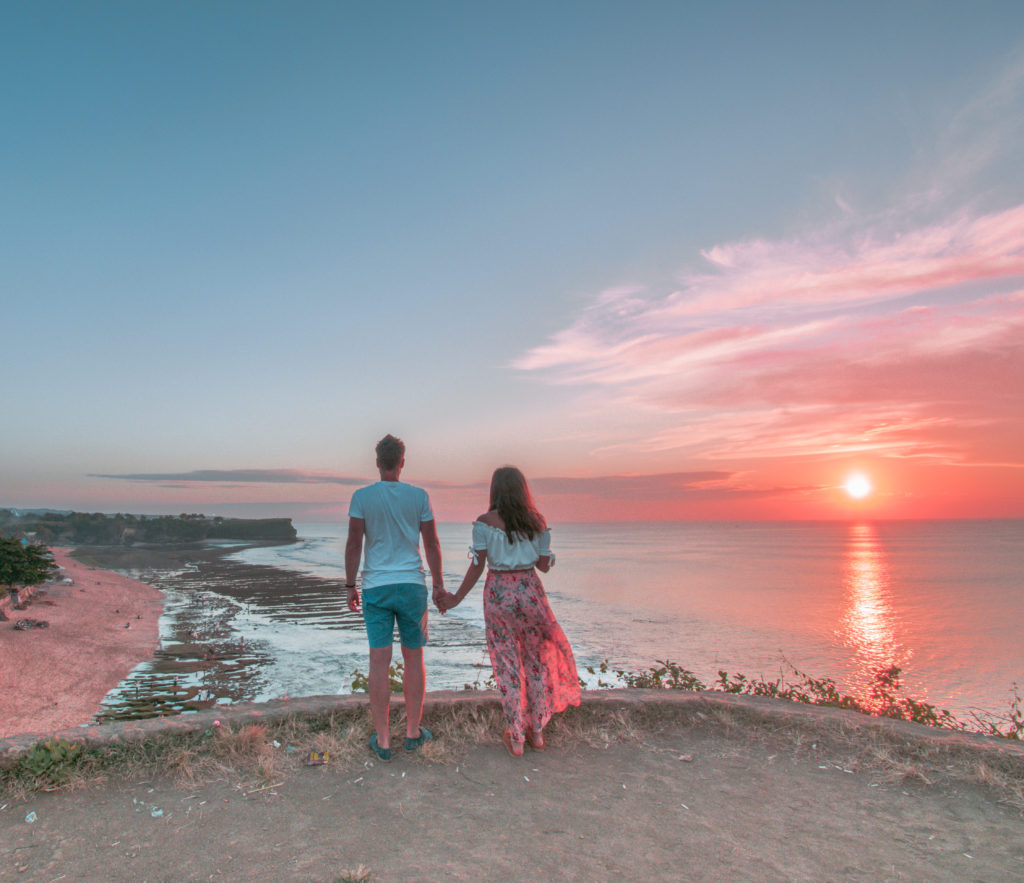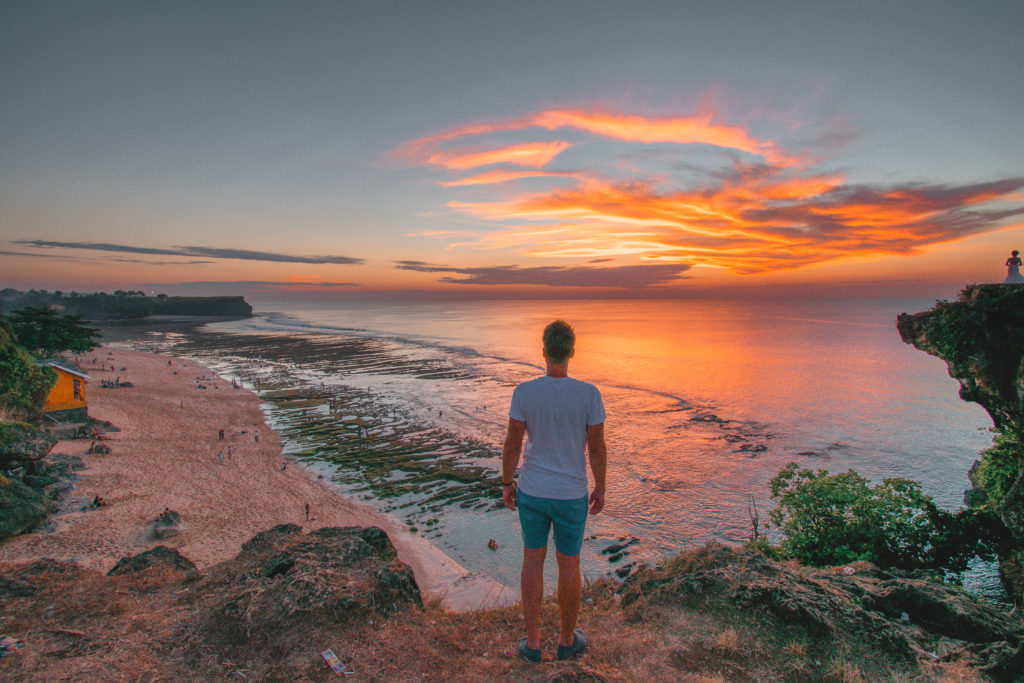 ---
❓Should we go to Kuta and Seminyak during our trip to Bali
If you're looking to go out clubbing, eating in trendy restaurants at Parisian prices and crowded places: yes, go for it! If you want to see the authentic Bali, off the beaten track, avoid this area at all costs!
---
Nusa Penida – Day 3 to 6
Nusa Penida is our favorite trip to Bali! If you are wondering where to go in Bali, visiting Nusa Penida is a must! This island is located 30 minutes by boat from Bali. We talk about it in detail in the article: What to do in Nusa Penida?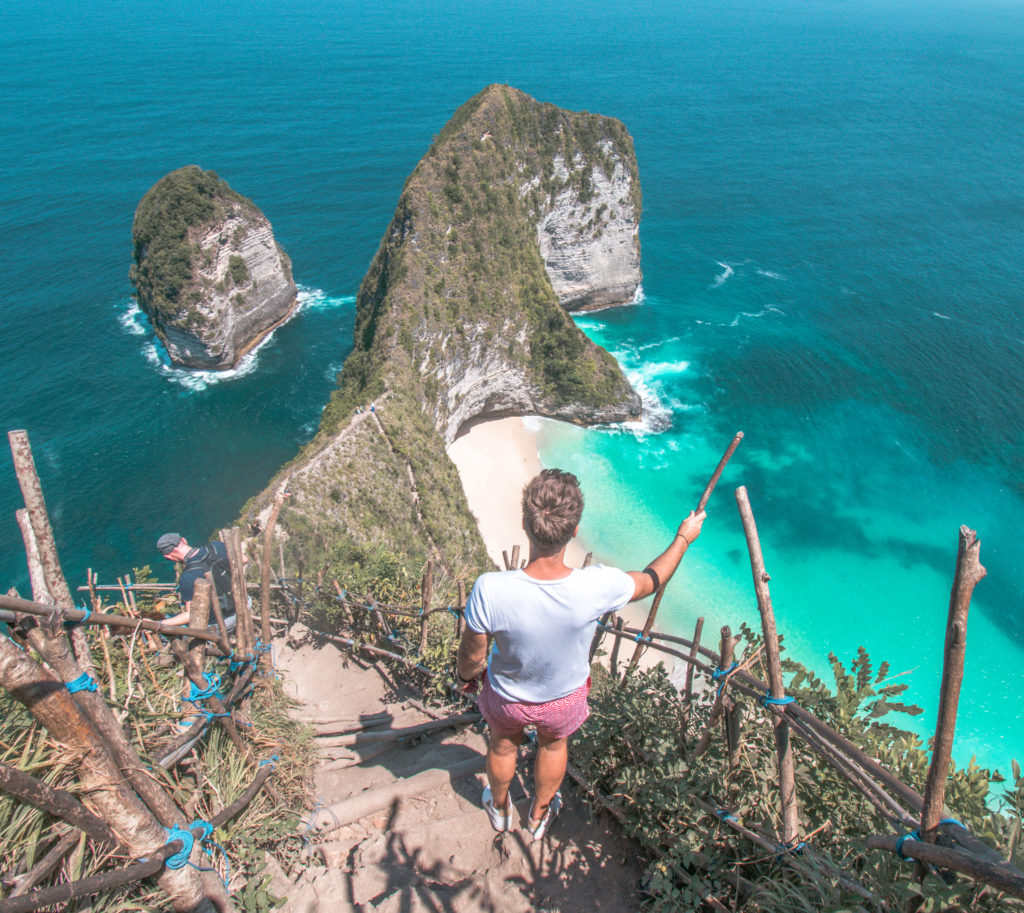 ---
Ubud – Day 7 to13
Even though it's mega touristic, we love Ubud. It's a great place to live and a great base place to visit Bali. Your stay in Ubud will be placed under the sign of relaxation. We advise you to rent a scooter to get around (price between 3 and 6€ per day). For us, it is mandatory to add Ubud to your itinerary in Bali!
What to do in Ubud?
Enjoy a Balinese massage at 5€. Among the countless massage parlours and spas that there are in Ubud, you'll find great prices.
Take a walk on the Campuhan Ridge Walk. Right next to Ubud center, this 2 km walk is gorgeous. The path is lost in the rice fields, a few steps from the hustle and bustle of the city… It's just amazing! Go early in the morning to be quieter.

 

😊
Eat.

Eating is the basics though

, one of the activities that makes us the happiest, yes, oh yes! 😋 There are many restaurants in Ubud. We always went to warung (typical Balinese restaurants) to taste the local dishes and eat at good prices! We particularly recommend the Warung Makan Bu Rus – the setting is too nice (tables on the inner courtyard) and it's delicious.

Dream at the site of rice terrace fields. The Tegalalang Rice Terraces are one of the most beautiful landscapes we have ever seen. To avoid the massive influx of tourists, go there around 8am. On site, you will find swings for 3€ (50 000 RP) per person with an outstanding view over the vegetation and rice fields. Do not be fooled by the Bali Swing which is located near Ubud! First, it will be crowded and on top of that, you will have to pay 35€ per person for a swing.

Go shopping at the Ubud Market. This is where we advise you to buy your souvenirs. Bargain prices. Usually we directly divide the price announced by the seller by 3 or 4 in order to start the "hostilities". 🙂 Of course, haggle with kindness and take it as a game.
The waterfalls near Ubud: Tibumana Bangli Waterfall, Nung Nung Waterfall and Tegenungan Waterfall (mega touristic but there is a swing). If you plan to go to Munduk for the rest of your stay, don't waste time at the waterfalls of Ubud which are less beautiful and more crowded than those in the north.
Campuhan Ridge Walk – Ubud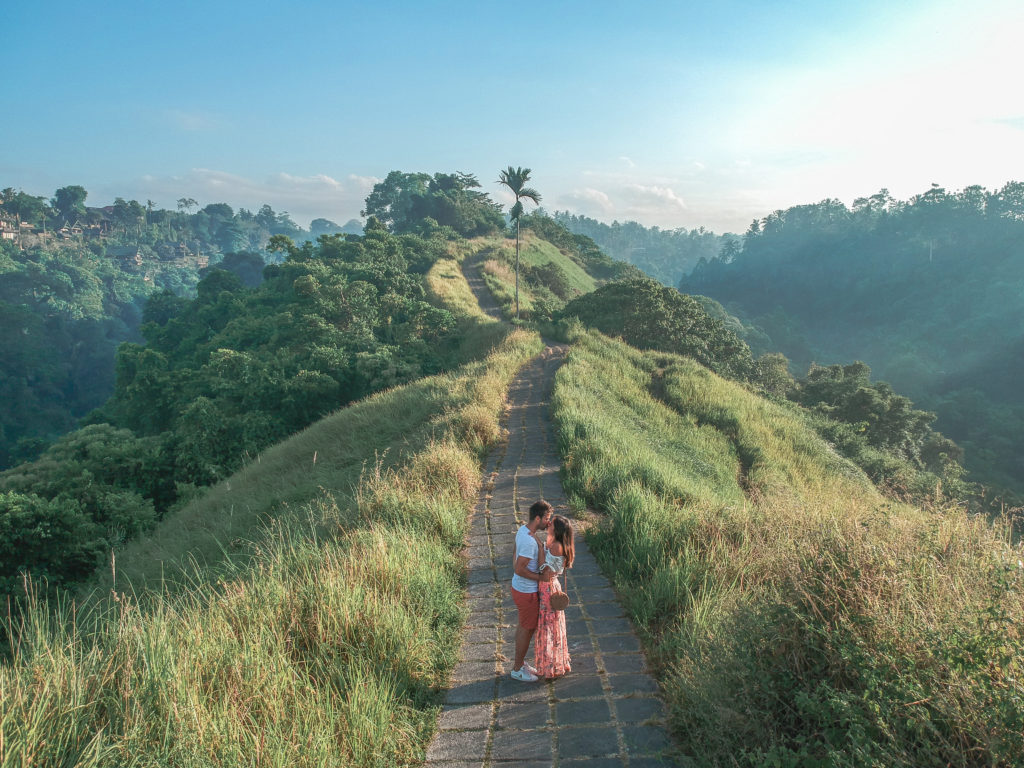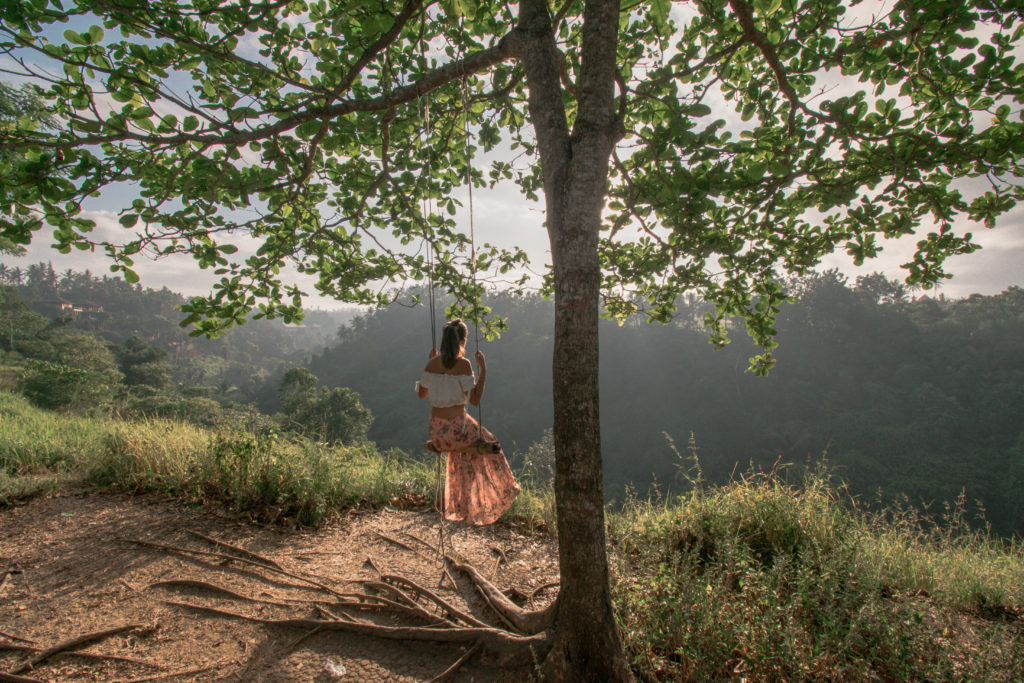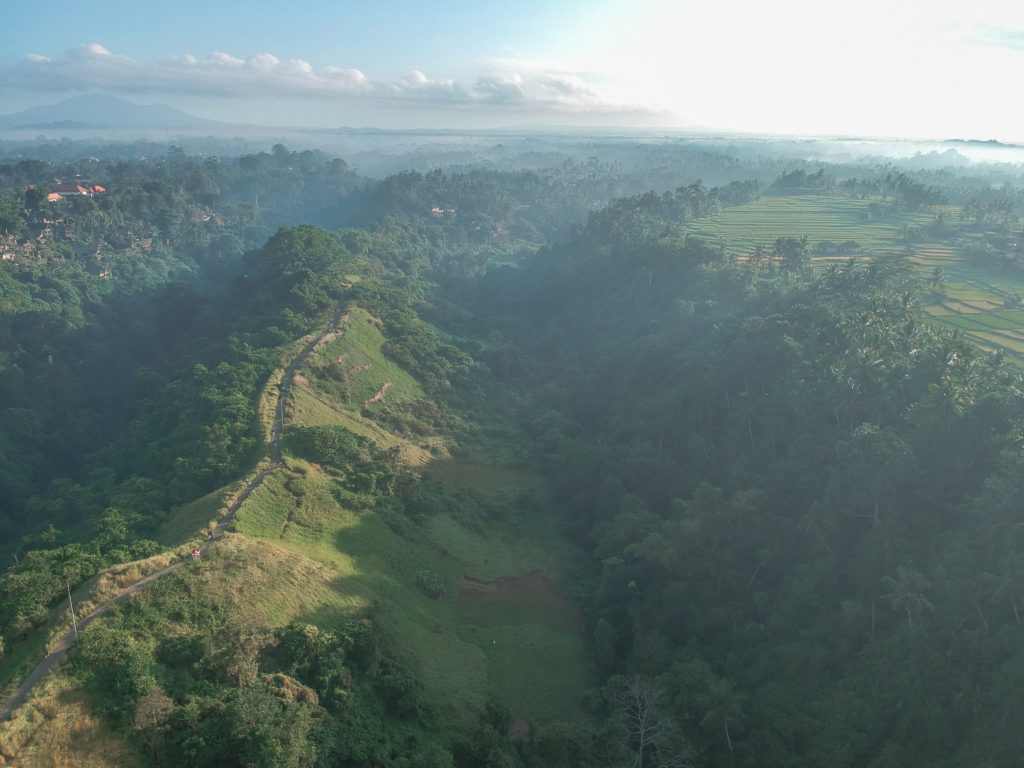 Tegalalang Rice Terrace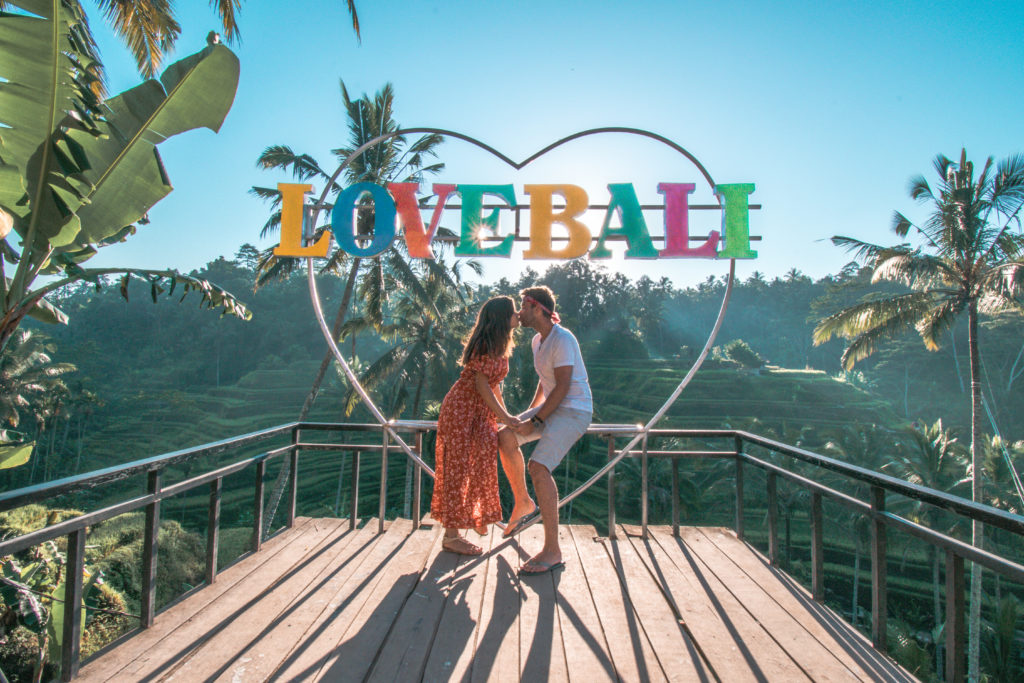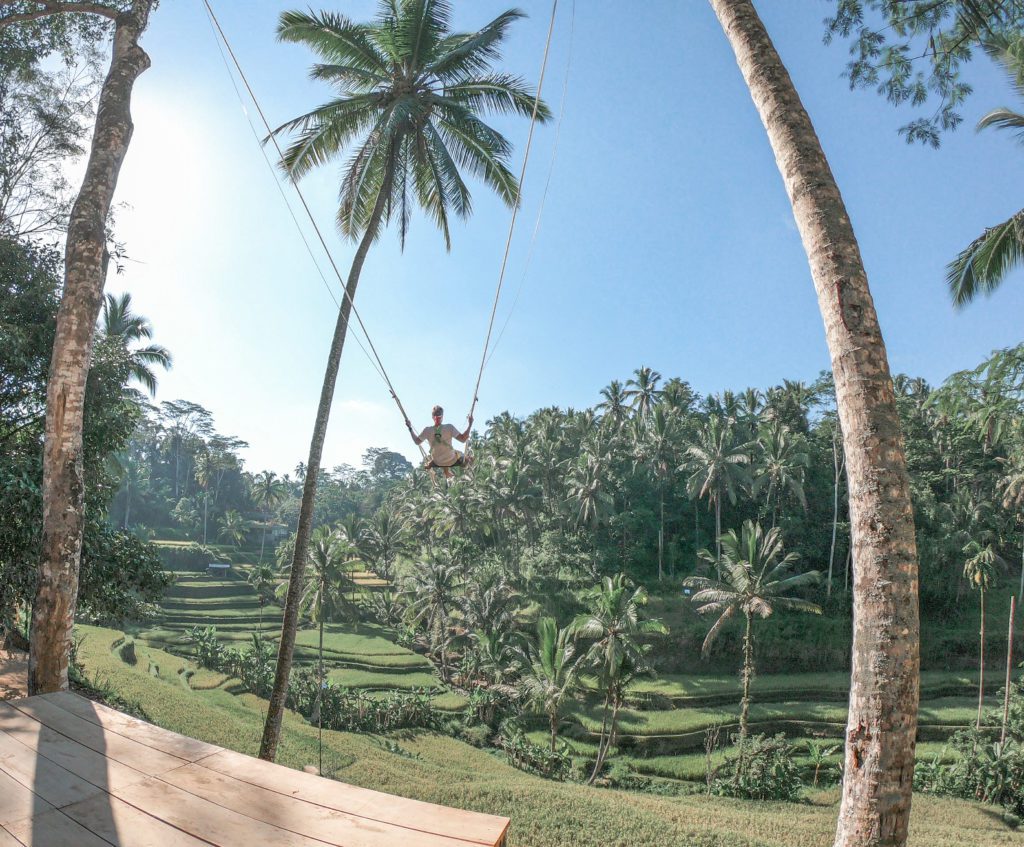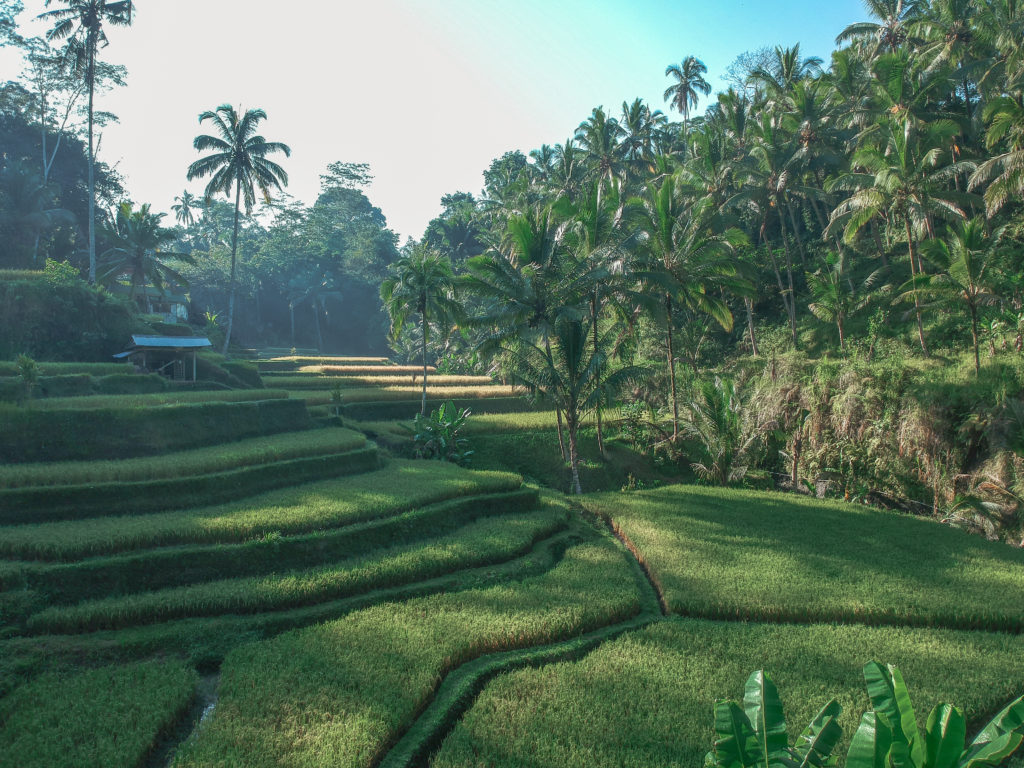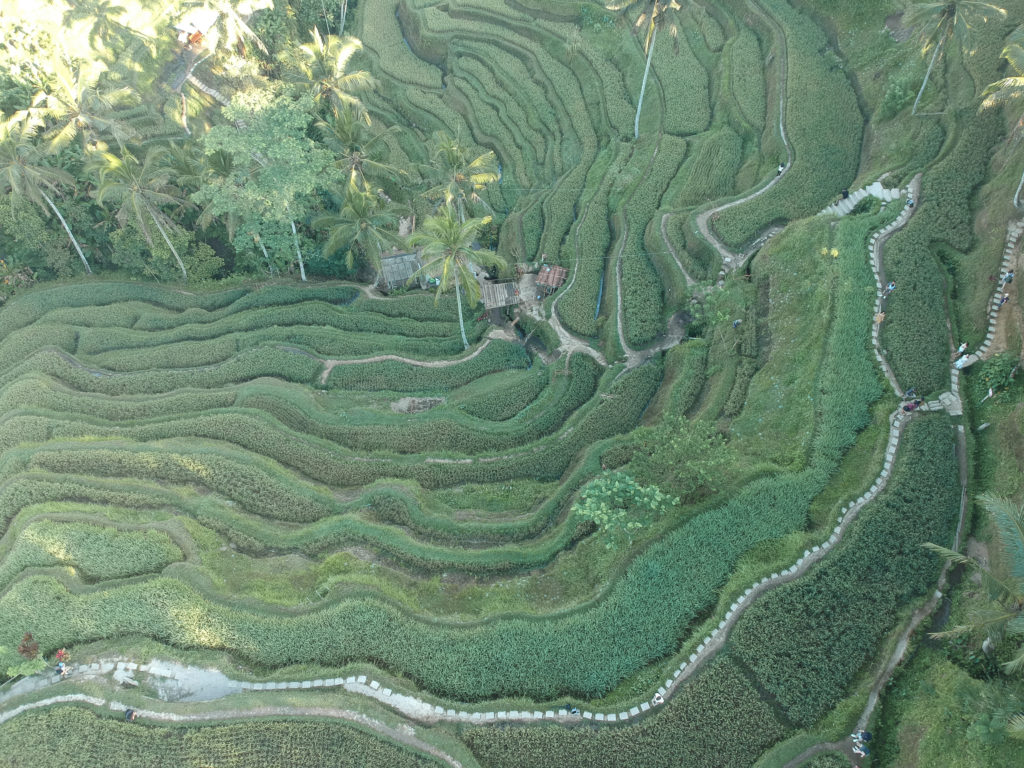 Balinese handicrafts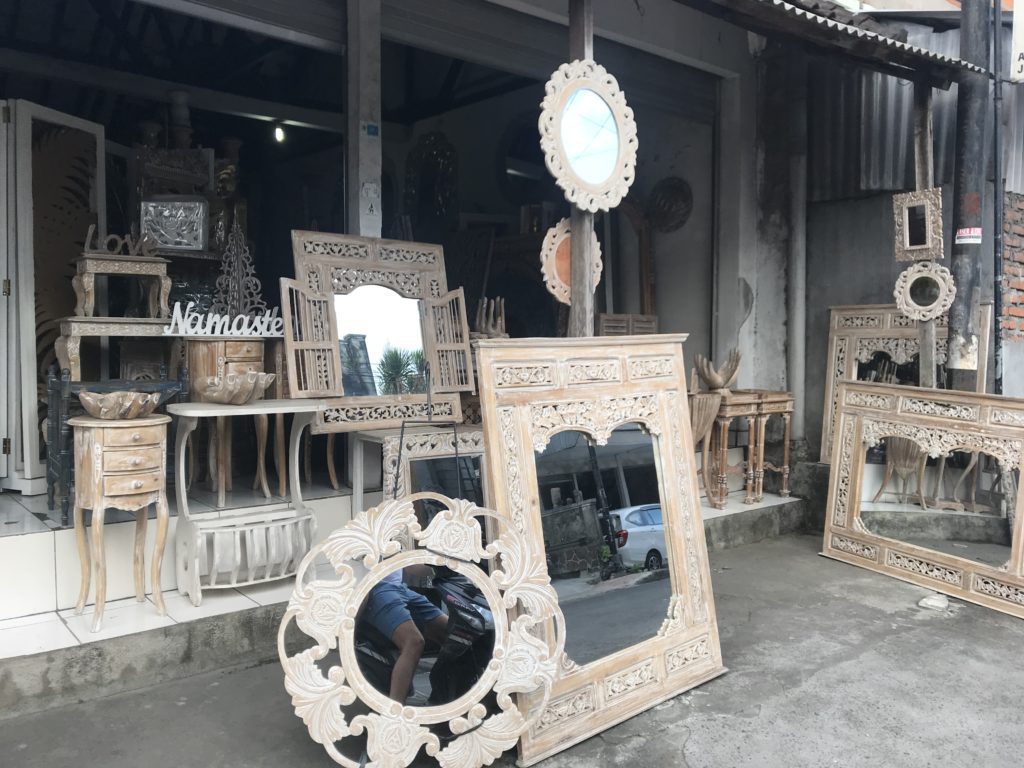 Where to sleep in Ubud?
Two nice hotels with a swimming pool for 20€ per night, breakfast included:
Surawan Bisma and Alam Terrace Cottage.
The hotels are located in our favorite street of Ubud: Bisma Street. Nearby, go and eat at the Alam Pizza (Gorgonzola pizza is too good, and they make 2 cocktails bought 1 offered every night). Also, enjoy the live music concerts at the Why Not bar/restaurant which is in the street.
Sunset in Ubud
For a sunset in Ubud alone in the rice fields, enter Café Pomegranate in your GPS. Get lost in the rice fields that are here for you. We felt like alone in the world.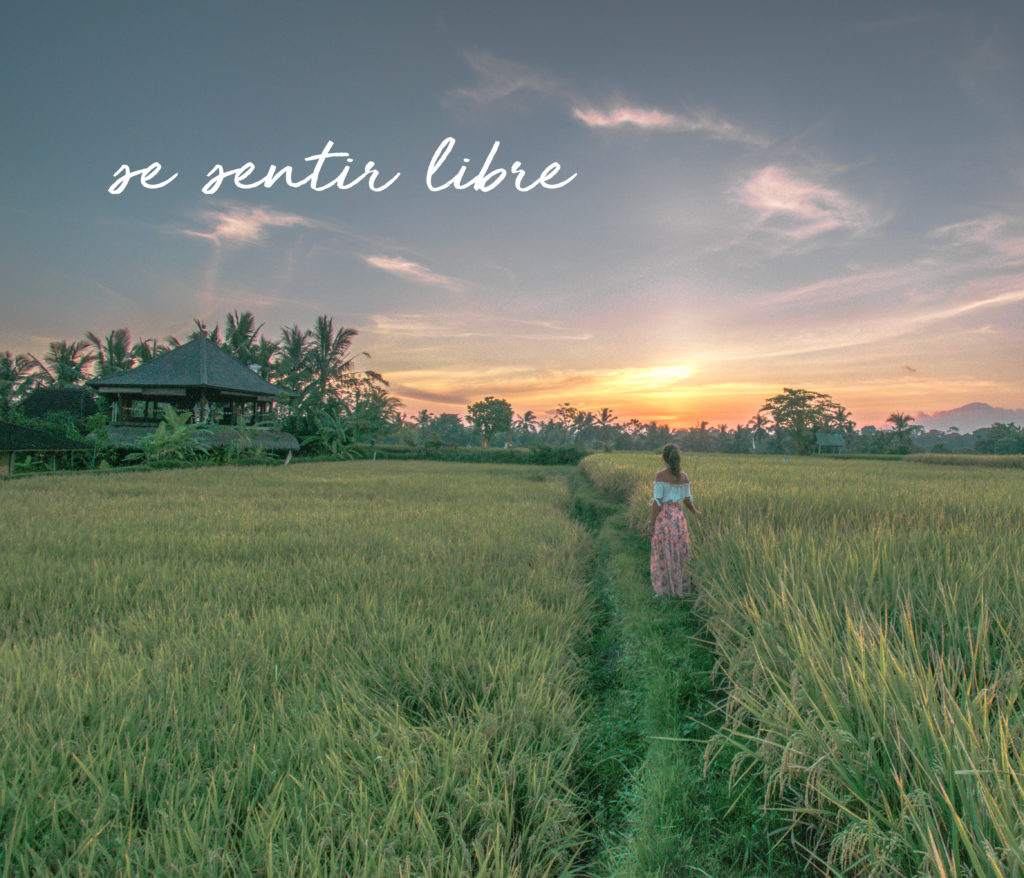 ---
Munduk – Day 14 to 17
🚌 To get to Munduk from Ubud, take a driver in the street or at your hotel: the trip cost us RP 400,000 (24€). You also have the choice of minibuses for 150 000 RP, or to ride a scooter to make the trip, if you are brave (2h30).
Where to go in Bali
Off the beaten paths? Then you should go to Munduk during your trip to Bali. Between nature, culture, and mountains, you will enjoy a cooler climate than in the rest of Bali. Find here our article dedicated to Munduk.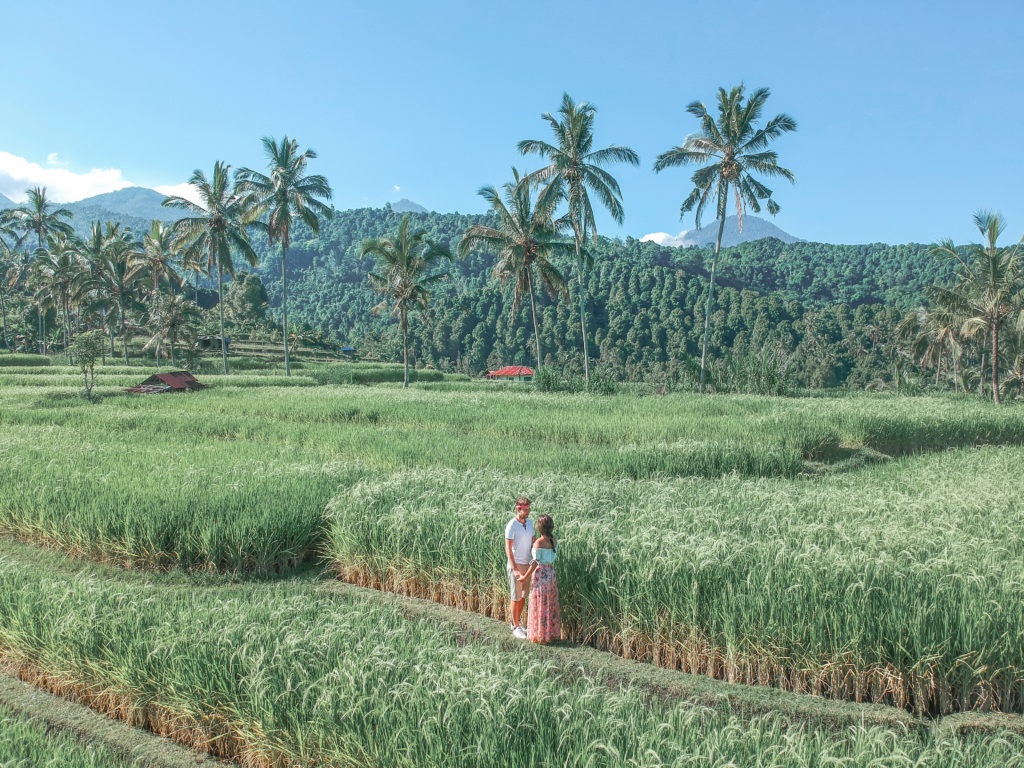 ---
Lovina – Day 18 to 20
What to do in Lovina?
We went to Lovina to see some waterfalls. Also, we had never been all the way north of Bali, so it was a good opportunity to discover it. We saw three waterfalls, located in the same place (about 1h30 of walk): Aling Aling Waterfall, Kroya Waterfall and Kadek Waterfall. The departure is from Sambangan. You have three treks "Secret Garden of Sambangan":
Long trek with 7 waterfalls (350,000 RP per person) – 6h
Medium trek with 5 waterfalls (250,000 RP) – 3h
Short trek with 3 waterfalls (125,000 RP per person) – 1h30
The Lovina waterfalls
The Lovina waterfalls are very charming. We chose not to take a guide and just pay the entrance to the waterfalls: 10 000 RP per person (60 cents of €). On the other hand, if you do like we did, you will not be allowed to swim. Why not? By policy, we hate these almost mafia-like systems of forcing people to take guides. The fact of privatizing nature that way, mindlessly, it's not really fair. To top it all off, the guys at the ticket office are not really friendly.
Animals in Bali
Then, at the beginning, we wanted to see dolphins in Lovina. After asking around, we heard that there are far too many boats that "chase" as soon as a dolphin would show up its fin. It was appealing to us. However, if you want to try it out, the dolphin trip costs 100,000 RP per person (6€). Book here
On the other hand, we can never repeat it enough. DO NOT TAKE elephant rides. It is common to see this activity offered on the street in Bali. Elephants are mistreated and harmed to accept to submit to man.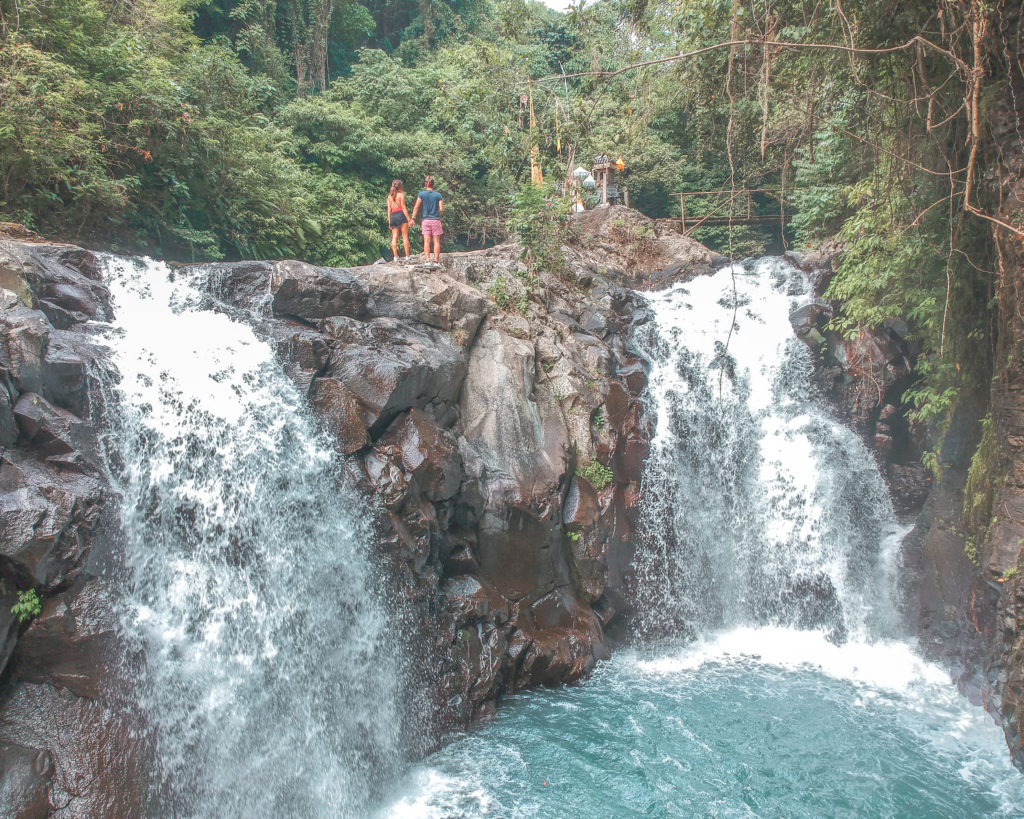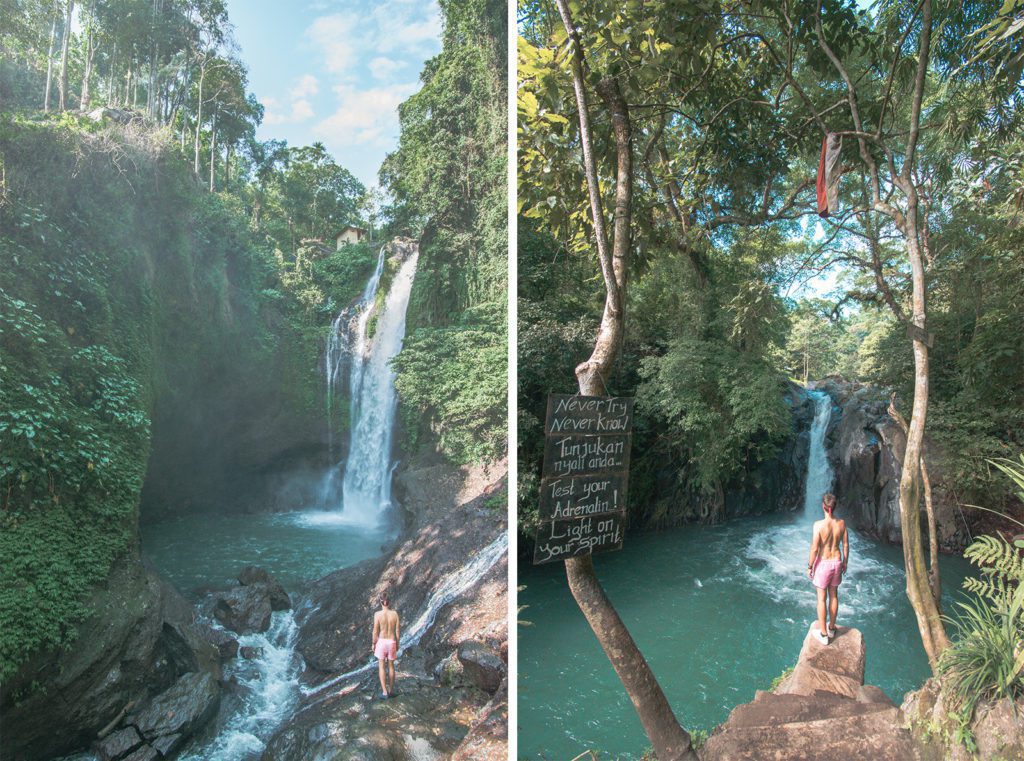 Where to sleep in Lovina?
We had a luxurious interlude in Lovina at the Damai Hotel. We were lucky enough to be invited there for 2 nights. The hotel is beautiful and the staff very welcoming. In the evening, they set up tables by the pool for a gourmet dinner. We were impressed by the quality of the courses and desserts.
If you are planning a honeymoon in Bali or just want to relax, the Damai Hotel is the perfect place. The private villas with their own swimming pool really made us dream.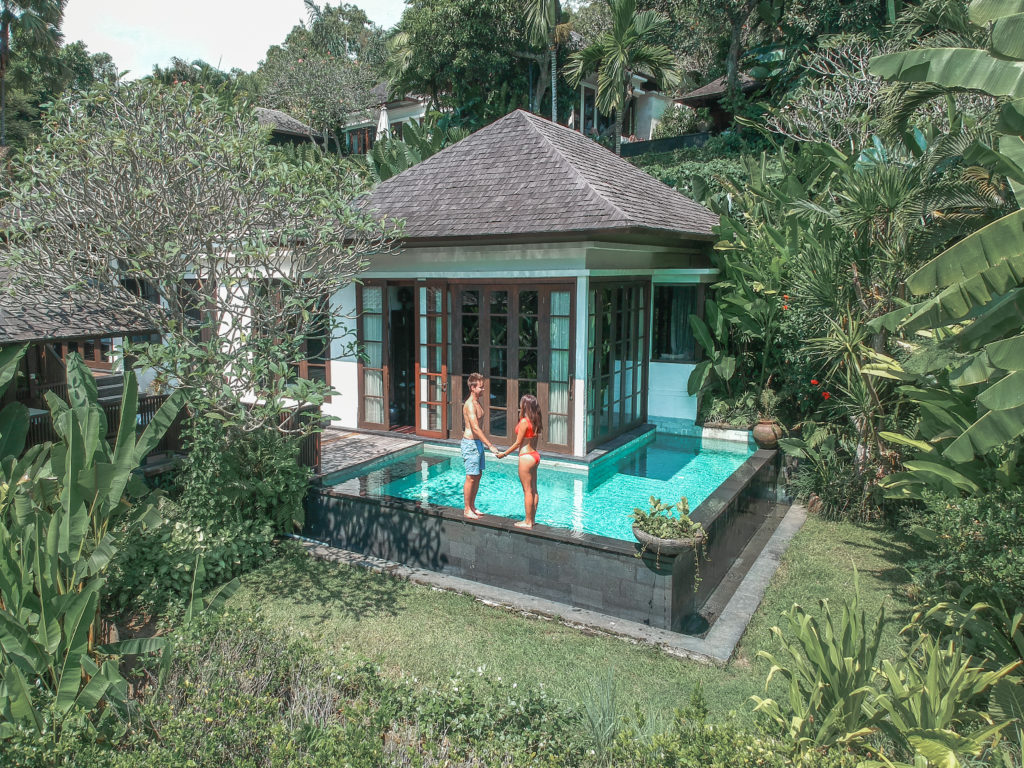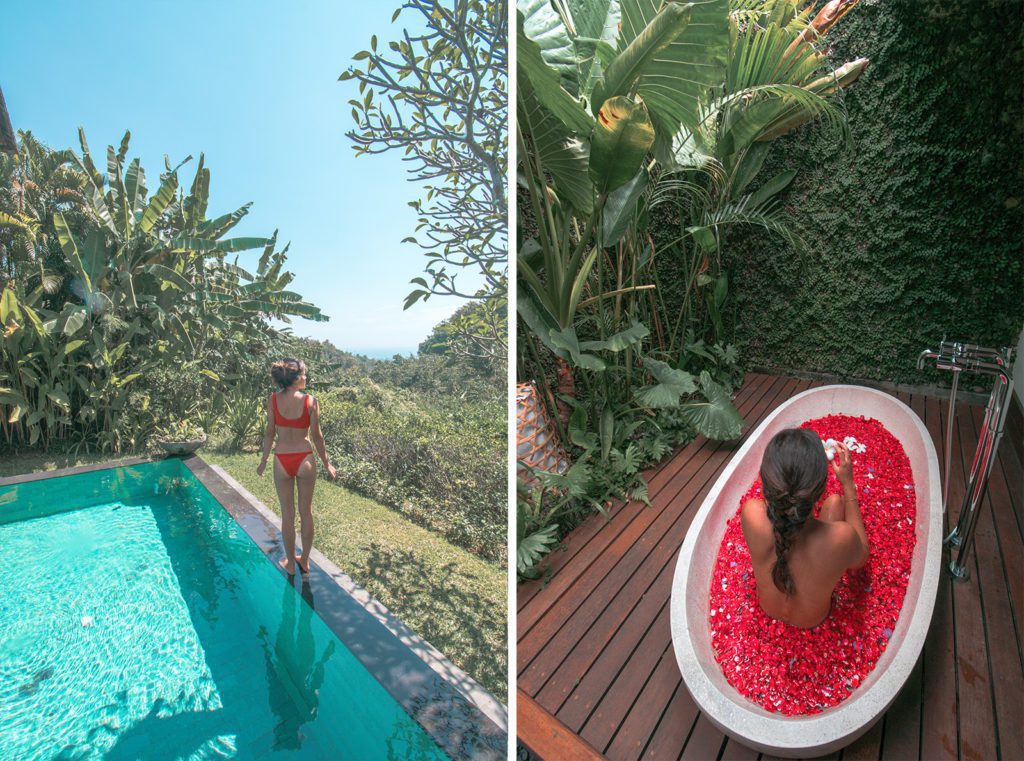 ---
We do hope we have helped you with this tour in Bali! We will be happy to answer all your questions and remarks in the comments. 😘
EnregistrerEnregistrer
EnregistrerEnregistrer
EnregistrerEnregistrer
EnregistrerEnregistrer
EnregistrerEnregistrer
EnregistrerEnregistrer
EnregistrerEnregistrer
EnregistrerEnregistrer
EnregistrerEnregistrer
EnregistrerEnregistrer
EnregistrerEnregistrer
EnregistrerEnregistrer
EnregistrerEnregistrer
EnregistrerEnregistrer