Trip to Bali – How to organize your stay
Bali is an island belonging to Indonesia. It is a very popular and appreciated destination for tourists. The Balinese culture, landscapes, gastronomy… almost everything seduced us during our trip to Bali!
Practical information for your vacation in Bali
Time difference: +7 hours
Plane tickets: from 650€ from Paris
Flight time from France: 17 hours minimum with 1 stopover.
Capital: Denpasar
Visa required: No, not for a stay of less than 30 days with a French passport.
Currency: Indonesian Rupee (IDR) / 1 EUR = 16500 IDR
We use Skyscanner to find the best prices on airline tickets.
When to leave for a trip to Bali?
As Bali is close to the equator, the daylight hours are the same throughout the year. The sun rises early around 6am and sets at 6pm at the latest. As in most Southeast Asian countries, there are two seasons: a rainy one with heavy showers throughout the day and a dry one with hot weather.
☀️ The dry season runs from May to October. The wet season is from November to April.
♥️ July is the driest and "coolest" month of the year but there are many tourists as in August.
The ideal for your trip to Bali is therefore the month of June, where everything is green following the monsoon and prices are more moderate since the high season has not started yet!
➡️ Find our itinerary "What to do in Bali".
What to take in your suitcase?
Here are the essentials to take before your trip:
Swimsuits to be the hottest on the beach!
Sneakers to venture into the rice fields and other hiking areas
Sunscreen so you don't get as red as a tomato
A diving mask + snorkel as there is plenty to snorkel (you can also rent one on the spot)
A mosquito repellent, if you don't want to be eaten, like we were.
Don't come with a suitcase too full because you will regret not being able to buy lots of souvenirs and Balinese decorative items to perpetuate your trip to Bali in your living room!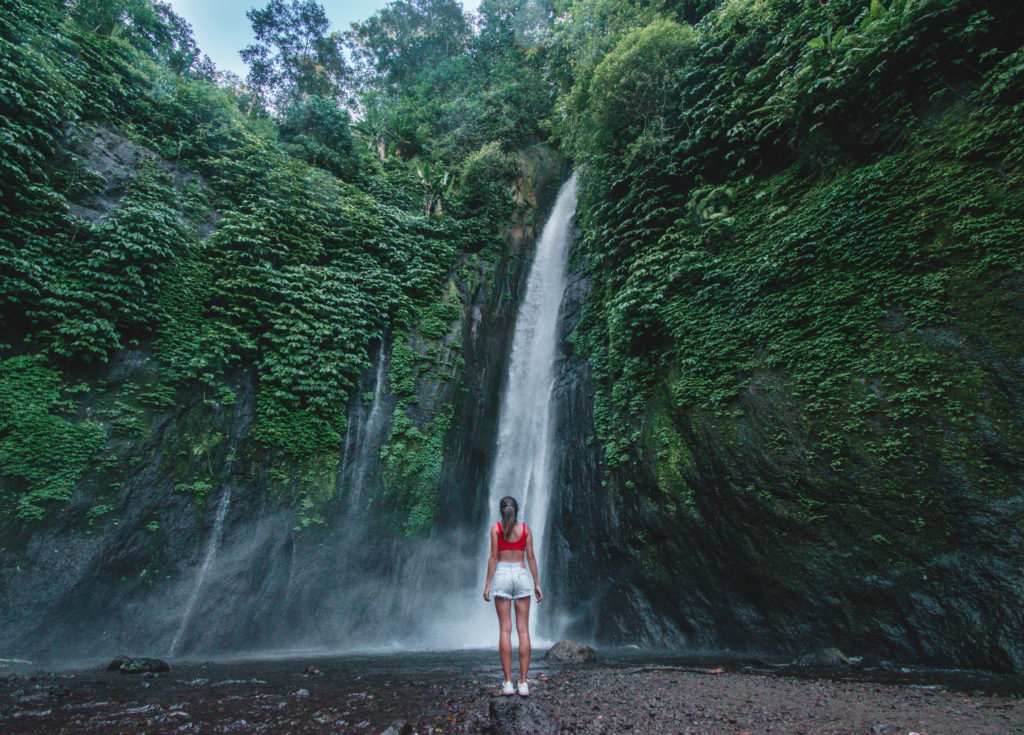 What budget to plan for a 10-day trip to Bali?
In this section, we will talk about fixed costs to give you an average budget, excluding activities and planes. This budget is given as an indication to help you and is built according to our own travel habits. You will undoubtedly be able to spend less and certainly spend more, but we cannot make a case by case.
Scooter rental (ideal for getting around): 3-4€ per day
Fuel costs: 20€ for 10 days (0,80€/L)
Food: between 5 and 20€ for 2 people/day
Accommodation: between 15€ and 30€ per night
For 10 days of travel in Bali, it is necessary to budget approximately 400€ per person.
Changing money in Bali
Should you take euros with you or withdraw on the spot? That depends on your bank commissions! We have a Maestro card with reduced bank commissions, so we always withdraw abroad when travelling.
To find out what is best, call your bank before you leave. Commissions are usually very high, so it's best to travel with euros. Be careful with your bag when you carry large amounts of money, one is never safe from a disaster…
⚠️ Don't go anywhere to change your money! Scams in shady exchange offices are common in Bali. If you find exchange rates too attractive, that means you are in danger of getting scammed. The most reliable exchange offices are called BMC Money Changer.
Getting around during your trip to Bali
If you know how to drive a scooter, this is the most practical way to discover the island. On the busy roads, there is a lot of traffic jams so the scooter will save you long waiting miles. Be careful when driving and always wear a helmet. 
For longer distances, download the Grab application, the local Uber. Prices will be much cheaper than taxis… However, be careful because Grab is "forbidden" in some places and the war between taxis and Grab drivers is very active. Don't worry, at worst you'll just have to get out of the car and order a Grab again. Sometimes the Grab driver will try to re-bargain the fare a bit higher because the fares are ridiculous. Either you think it's still reasonable and you accept it or cancel the race!
In some cities, you will not find Grab drivers because it is not developed enough (this is the case for Nduknduk or Lovina for example). Therefore, book a trusted driver with your hotel or in a restaurant. Negotiate the rates if you find it too much!
How about the taxis in Bali ?
Taxis in Bali area real mafia that sets mind-blowing prices. When you arrive at Denpasar airport, no choice, you will have to bargain because Grab and metered taxis are prohibited in front of the airport. To take a Grab, just walk a few minutes to get out of the arrivals area. However, if you don't want to take the lead, bargain as much as possible with the taxis that will jump on you!
Having the 4G in Bali
To find your way, make calls or simply be able to google anything at any time, we advise you to buy a Balinese SIM card with a 4G plan. Don't buy it at the airport: the prices are super high.
We had taken the operator Telkomsel. The real price is RP80,000 (4.80€) for a SIM card with calls and 5 GB of 4G. Don't get scammed because in some shops they quadruple the prices … 
Hotel and restaurant recommendations for your trip to Bali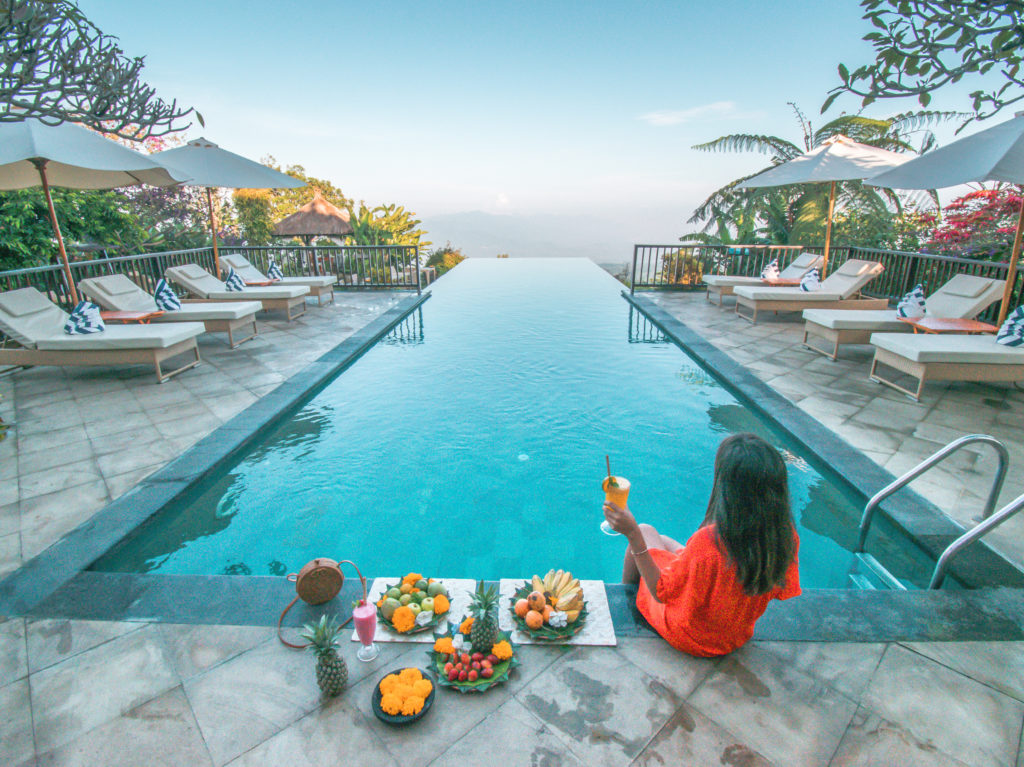 The HOTELS we loved:
UBUD
MUNDUK 
liens
ULUWATU
➳ Kubu Nyangnyang Hotel, price €
SIDEMEN
➳ Sawah Indah Villas, with swimming pool and view over the rice fields, price €€
AMED
➳ Kelapa Cottage with swimming pool, price €€
LOVINA
➳ Santhiku Hotel, Villas, Yoga & SPA, price €€
GILI TRAWANGAN
➳ Paradesa Villa, swimming pool, stunning setting, price €€
---
The RESTAURANTS we liked:
UBUD
Warung Biahbiah, price €
Puspa's Warung, price €
Warung Makan Bu Rus, price €
Alam Pizza, price €
Why Not, bar and restaurant with live music some evenings, price €€
MUNDUK
Adila Warung, price € (special mention for the Satay sauce)
What to do in Munduk?
CANGGU
Roti Canai, excellent Mie Goreng, price € – unbeatable price quality!
---
Feel free to share your questions and tips in commentary about your trip to Bali.