What to do in Bali 2-week and 3-week itineraries to visit Bali
2 weeks or 3 weeks in Bali: what to do?
You've asked me a lot of questions about my itinerary in Bali! I've already been there 3 times, so I decided to advise you on what to do in Bali for a 15-day or 3-week trip. I was a little afraid to see how Bali has changed between 2017 and now. Some parts of the island have changed, but I'm still seduced by this destination.
There's so much to do in Bali. You're bound to fall in love with its landscapes and, above all, its people. Here are some itinerary recommendations, depending on the length of your trip to Bali. Depending on your affinities, you can mix and match the stages I've detailed below.
Itinerary for a 2-week trip to Bali :
Days 1 to 3: Ubud
Days 4 to 5: Munduk
Days 6 to 9: Gili Islands
Days 10 to 13: Nusa Penida
Day 14: Last night in Uluwatu and return to France
Itinerary idea for a 3-week trip to Bali :
Days 1 to 4: Ubud
Days 5 to 8: Munduk
Days 9 to 11: Sidemen or Lovina
Days 12 to 15: Nusa Penida / Nusa Lembongan
Days 16 to 19: Gili Islands
Days 20 to 21: Uluwatu and return to France
> How to organize your trip to Bali
For all practical information: money exchange, plane tickets, transport, visit our guide to organizing your trip to Bali.
June 2023 update: As of June 9, 2023, the Indonesian government has announced that the Covid vaccine is no longer mandatory for travel to Indonesia!
---
What to do in Bali during your 15-day or 3-week trip? The must-sees
Here we go, I'm going to detail what to do in Bali, with the must-see stages for your 15-day or 3-week trip to Bali.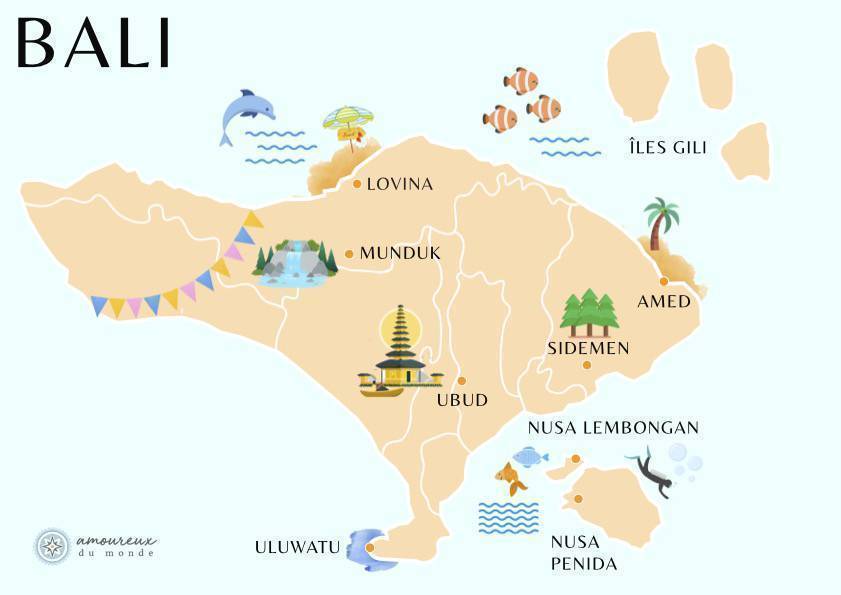 Ubud: a good base for discovering Bali
Although it's mega-touristy, I love Ubud. It's a great place to live and a great base for visiting Bali. Your stay in Ubud will be one of relaxation. We recommend renting a scooter to get around (cost between €3 and €6 per day). We think it's a must to add Ubud to your Bali itinerary!
As for Ubud's evolution between 2017 and 2023, I can tell you that traffic has become much denser. My advice is to stay outside the center. Otherwise, you're clearly going to spend your life in traffic jams (even on a scooter) and it can quickly become unbearable.
What to do in Ubud ?
Enjoy an hour's Balinese massage for under €10. Among the countless massage salons and spas in Ubud, you'll find some great prices. The best massage of my trip to Bali was at the T Glow Spa. It's super clean, air-conditioned and the masseuses are very talented. You can call them to make an appointment.
Campuhan Ridge Walk. Just outside the center of Ubud, this 2 km walk is superb. The path is lost in the rice paddies, just a stone's throw from the hustle and bustle of the town… It's just incredible! Go early in the morning or at sunset for a more tranquil experience.
Go to Ubud's Monkey Forest. To see the monkeys in Ubud, you'll have to pay a €3 entrance fee per person. The forest is very well laid out, and guards are on hand to ensure your safety. As the monkeys are free-ranging, don't take any food in your bag, don't wear a cap or hat, and be careful with your belongings in general ! Also, for children and adults alike, don't shout, panic or run around! If you remain calm and respectful of the animals, all will be well.
Eating.

Eating is the basis of life

, one of the activities that makes us happiest – yes, yes! There are lots of restaurants in Ubud. We always went to warung (typical Balinese restaurants) to taste the local dishes and eat at a good price! We particularly recommend the

Warung Makan Bu Rus

– the setting is so pretty (tables on the inner courtyard) and it's super tasty. I also liked the Ubud Warung for lunch and the Lokal Bar Ubud for an evening drink with live music.
Spend a day in a dream location. In Ubud, you can enjoy many incredible day clubs/restaurants with infinity pools overlooking the jungle, exceptional decor and a festive atmosphere. Average prices are higher in these places, but you're paying for the setting! Here are some ideas: Kabana Club, Omma Bali, Cretya Ubud, Tis Cafe Ubud (next to Tegallalang). They generally impose a minimum spend during the day. You'll find all the info on their Instagram accounts.
Shopping at Ubud Market. This is where we recommend you buy your souvenirs. Negotiate prices. We usually divide the seller's advertised price by 3 or 4 to get the ball rolling. Of course, always haggle in a friendly manner.
Rent a boat to enjoy true freedom on your journey and discover the different corners of Bali. Imagine pulling up anchor and setting off on an adventure, discovering secret beaches where you can swim in crystal-clear waters, dive to explore colorful seabeds, or stop off in authentic coastal villages to sample local cuisine and immerse yourself in Balinese culture. To book, click here.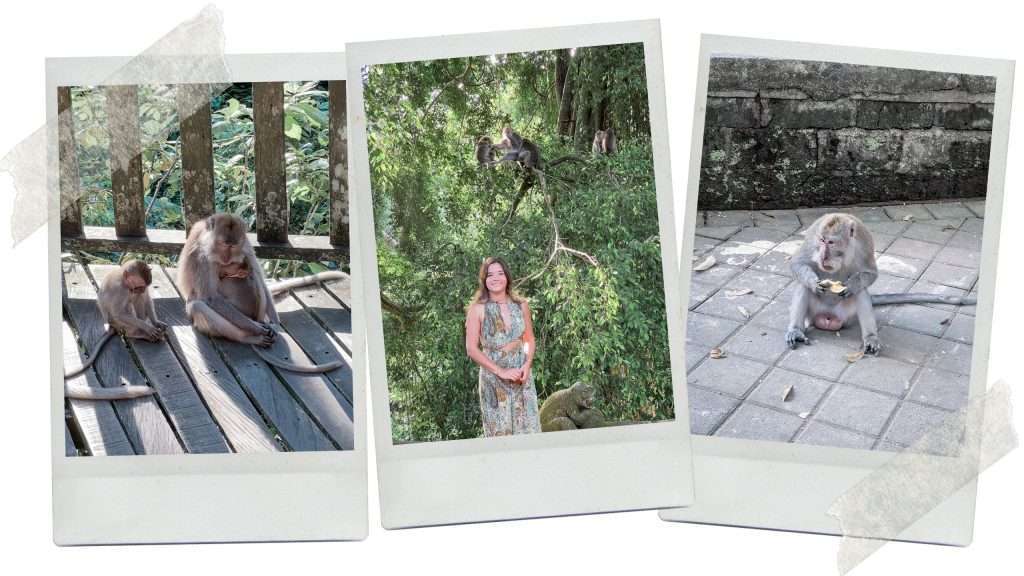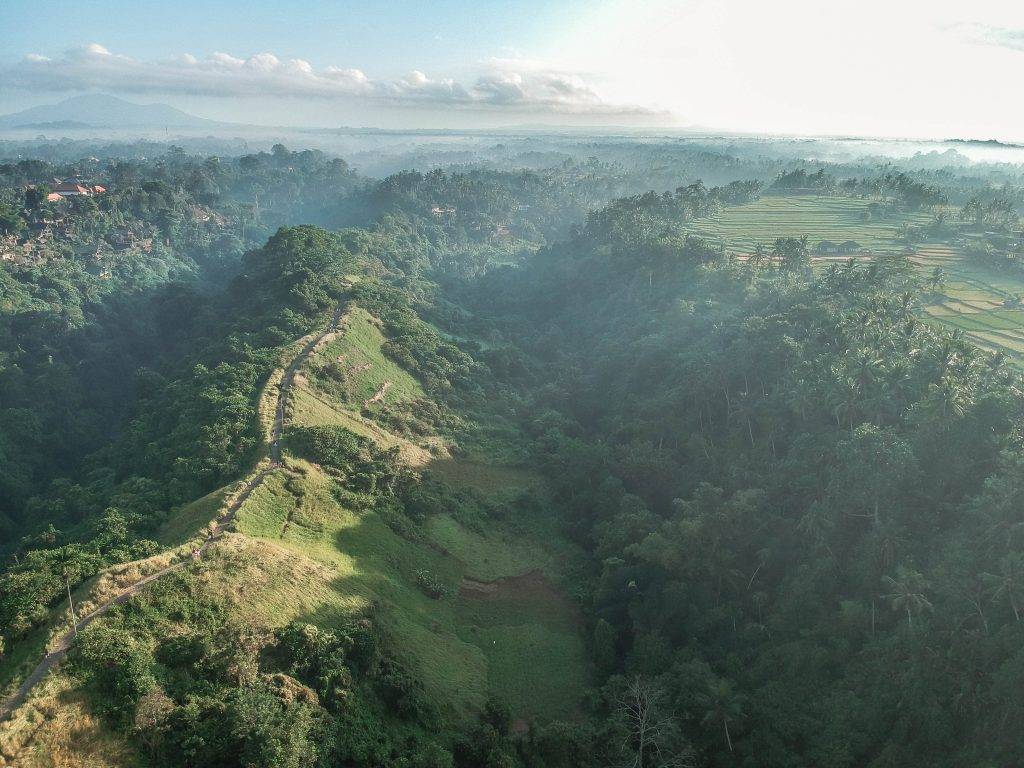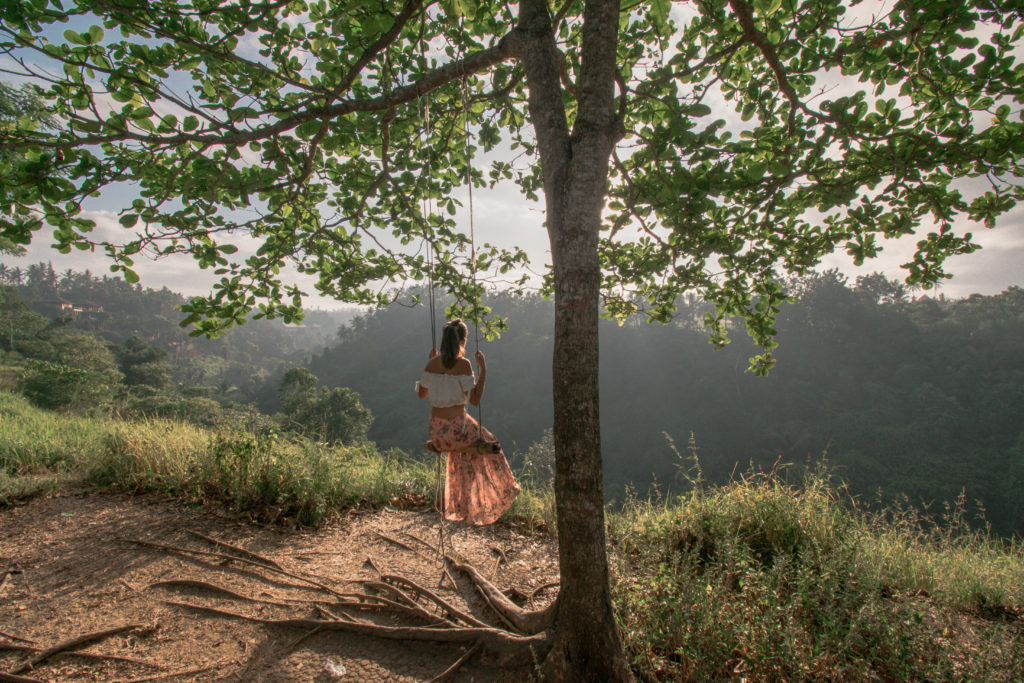 What to do around Ubud?
There are many things to see and do in and around Ubud.
Marvel at the rice terraces.
The Tegallalang Rice Terrace is one of the most beautiful landscapes we've ever seen. To avoid the massive influx of tourists, go around 8am. Admission is now charged at €2 per person. Since my last visit, I've noticed that quite a few tourist attractions have been added towards the entrance, which spoils the scenery a little. If you're interested, you can go swinging, zip-lining and take photos in the facilities, all for an extra charge of course. For those who wish to enjoy the rice fields in peace and quiet, head down the small path to the opposite side of the entrance.
⛔️ Don't be fooled by the Bali Swing towards Ubud! It's the very definition of a tourist trap. Firstly, it'll be packed with people, and secondly, you'll have to pay €35 per person for a swing ride.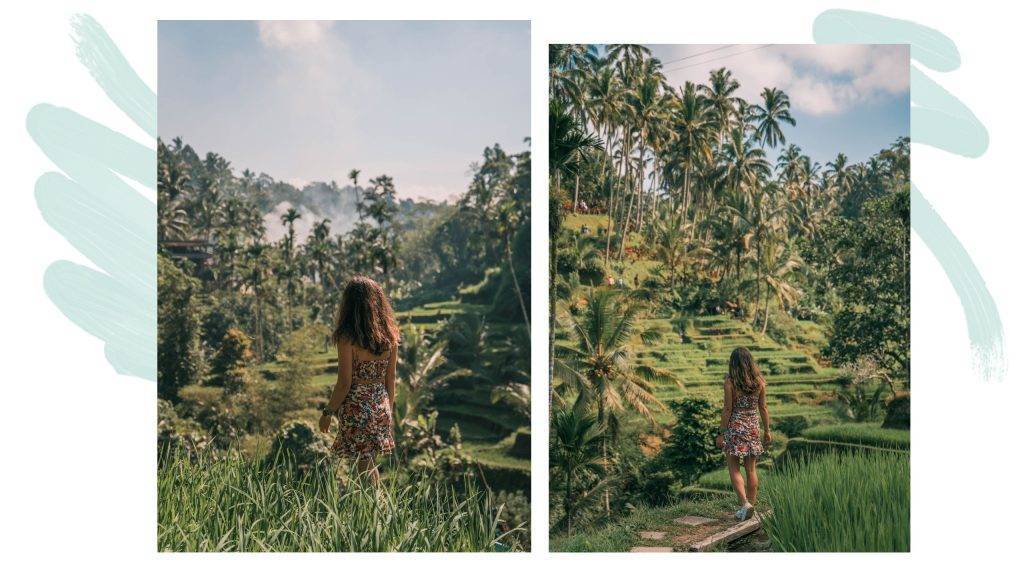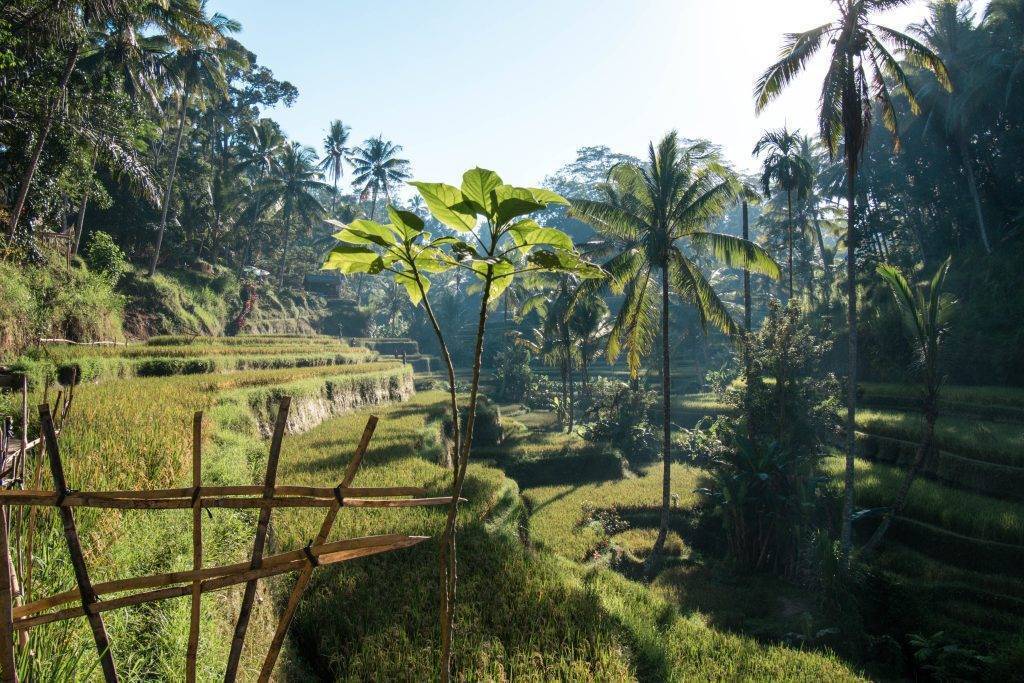 Craft shopping
On the way to Tegallalang from Ubud, you'll come across a host of handicraft and furniture stores. It's a good time to stop and pick up some souvenirs, or simply admire the splendid Balinese craftsmanship. Don't hesitate to negotiate the price with a smile – it's almost like a game with the shopkeepers.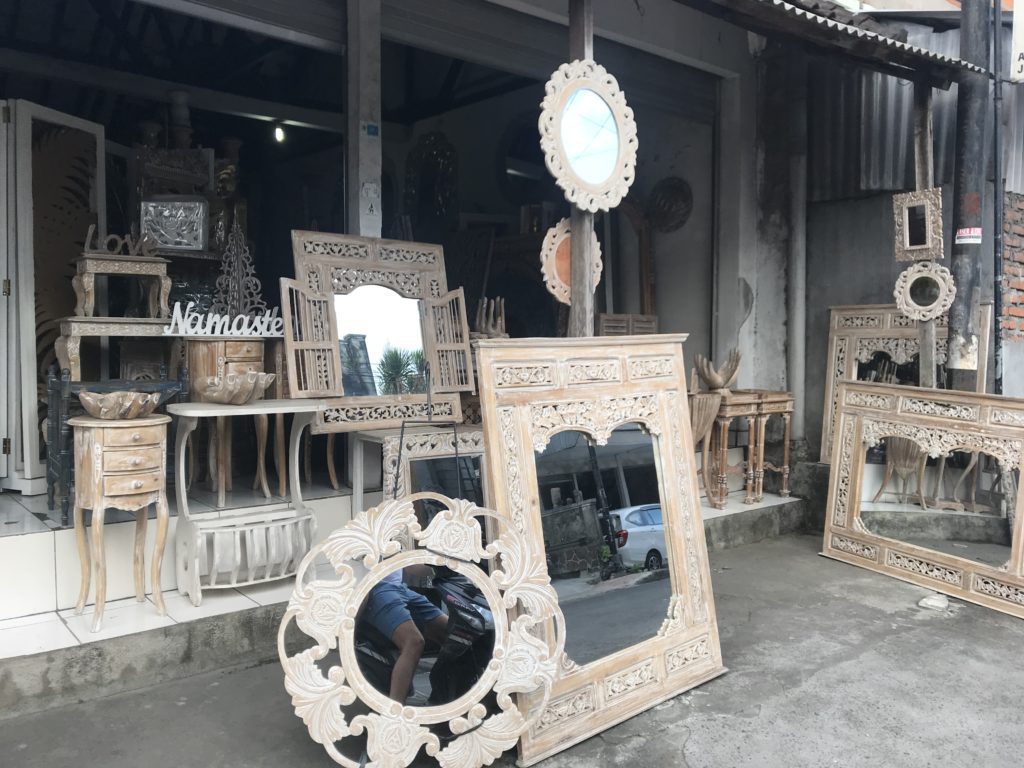 Waterfalls near Ubud
There are many waterfalls in Bali, especially near Ubud. These include Tibumana Bangli Waterfall, Nung Nung Waterfall and Tegenungan Waterfall (mega-touristy, but with a swing). You'll find plenty more if you do a quick search for "Waterfall" on Google Maps. However, if you're planning to go to Munduk for the rest of your stay, don't waste time on Ubud's waterfalls, which are less beautiful and more crowded than those in the north.
Where to sleep in Ubud?
As I said before, with the increased traffic in Ubud, I'd advise you to stay outside the center of town for more peace and quiet. On my recent trip to Bali, I booked a small villa with private pool for a very reasonable price: Ratna Villas. Everything was great and very quiet!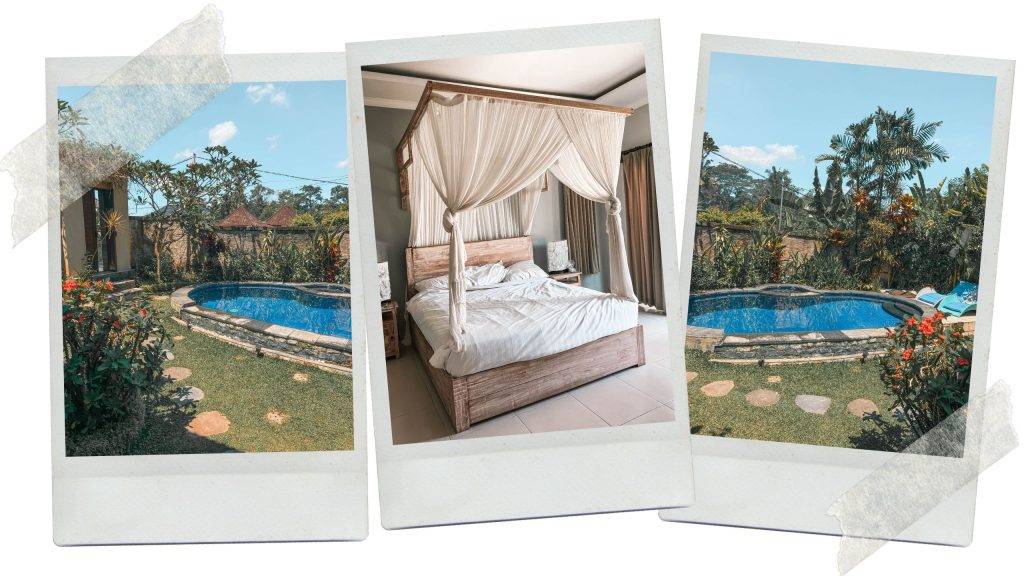 Otherwise, I'd also recommend these two nice hotels in central Ubud with swimming pools, with good value for money, tested in 2018: Surawan Bisma and Alam Terrace Cottage.
These establishments are located on a lively street in Ubud: Rue Bisma. Nearby, go and eat at Alam Pizza (the Gorgonzola pizza is too good and they do 2 cocktails bought 1 offered every night). You can also enjoy live music at the Why Not bar/restaurant on the same street.
Sunset in Ubud
For a sunset in Ubud alone in the rice paddies, enter Café Pomegranate in your GPS. Get lost in the rice paddies.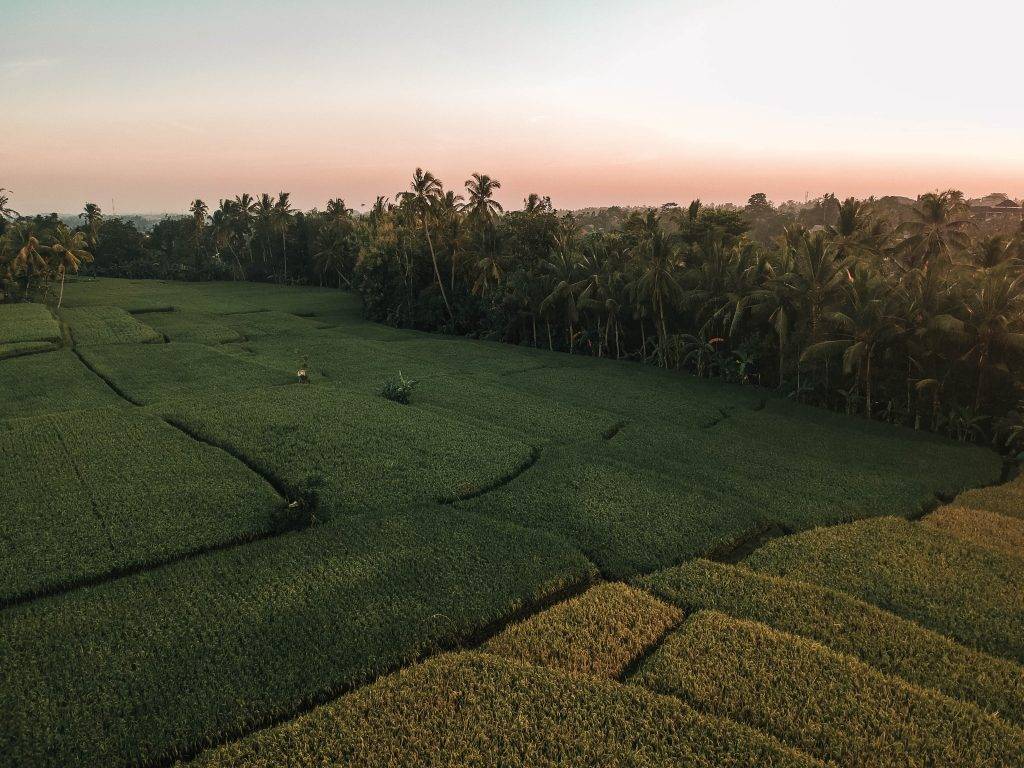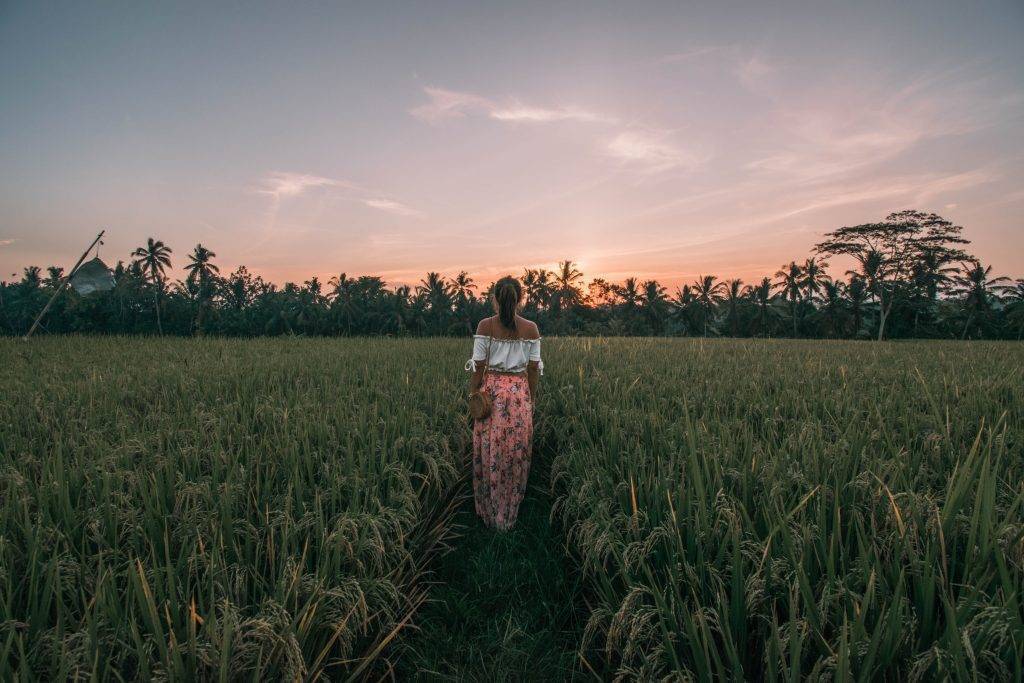 ---
Munduk in the Balinese mountains
To get to Munduk from Ubud, hire a driver on the street or at your hotel: the trip cost us RP 400,000 (€24). You can also take a mini-bus for 150,000 RP, or scoot if you're brave (2h30).
On the way from Ubud to Munduk, you can ask your driver to take you through the Jatiluwih rice terraces. It's an extra 1h drive, but it's splendid and authentic!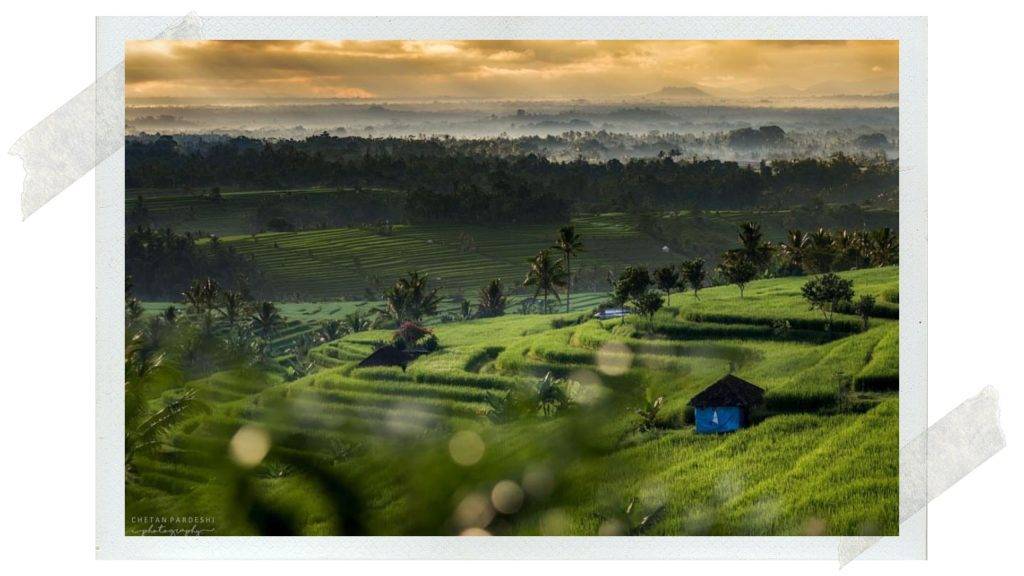 Photo credit Chetan Pardeshi
---
What to do in Bali during your 2 or 3 week trip?
Visit Munduk in Bali
Off the beaten track ⛰ Munduk is the place to be. Between nature, culture and mountains, you'll enjoy a cooler climate than in the rest of Bali. Click here for our travel guide to Munduk.
---
What to do in Lovina, Bali
We went to Lovina to see the waterfalls. Also, we'd never been to the very north of Bali, so this was our chance to discover it. We saw three waterfalls, all in the same place (about 1h30 walk): Aling Aling Waterfall, Kroya Waterfall and Kadek Waterfall. Departure is from Sambangan. There are three "Secret Garden of Sambangan" treks:
Long trek with 7 waterfalls –
Medium trek with 5 waterfalls –
Short trek with 3 waterfalls – 1h30
Lovina waterfalls
The Lovina waterfalls are very pretty. We chose not to hire a guide and just paid RP10,000 per person (€60 cents) to enter the waterfalls. However, if you do as we did, you won't be allowed to swim. Why not? As a matter of principle, we hate these almost mafia-like systems of forcing people to hire guides. Privatizing nature like that is just not right. To top it all off, the guys at the ticket office aren't exactly friendly.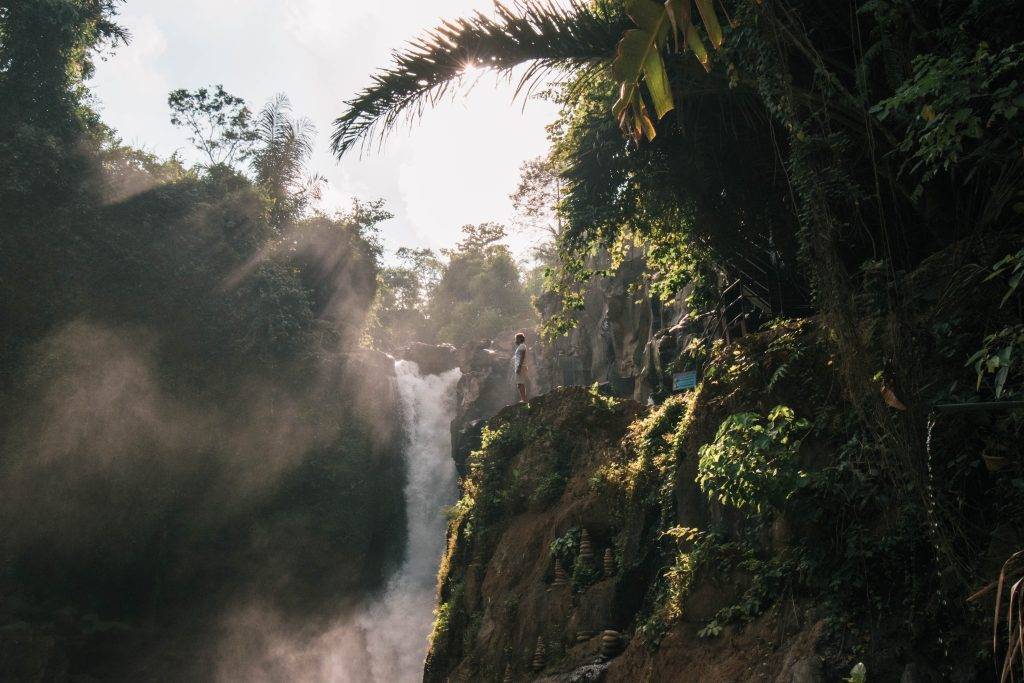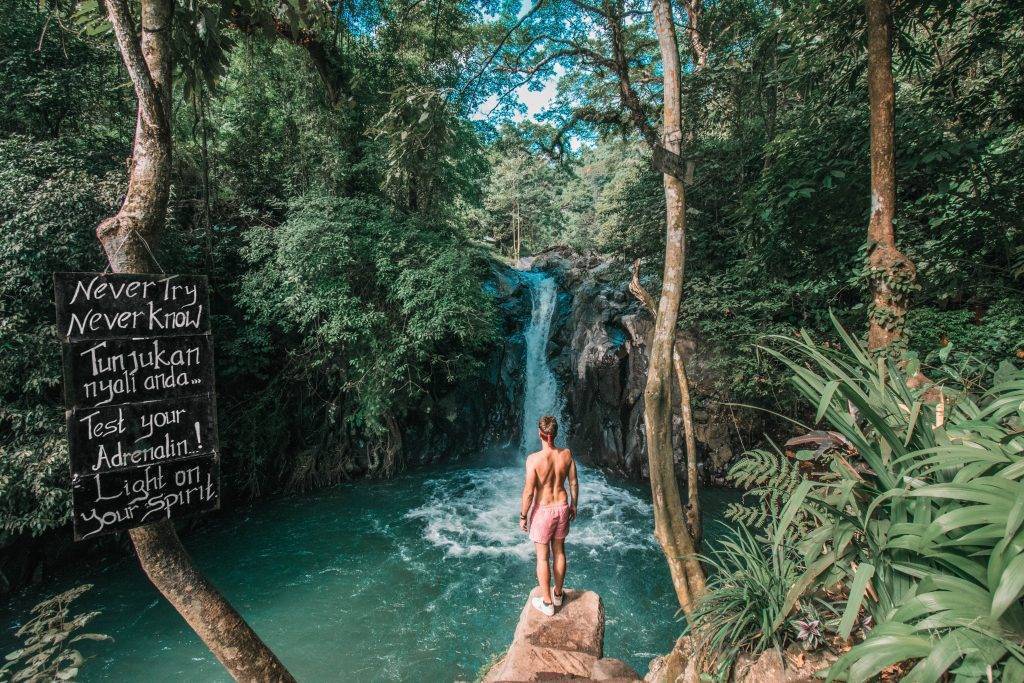 Animals in Bali
We originally wanted to see dolphins in Lovina. After asking around, we were told that there are far too many boats "on the hunt" as soon as a dolphin shows the tip of its fin. We thought it was a bad idea.  So I strongly advise you not to encourage this kind of practice.
On the other hand, we can't stress this enough. DON'T ride an elephant. This is a common street activity in Bali. Elephants are mistreated and broken for agreeing to submit to humans. More generally, Bali is not an island suited to seeing elephants in an ethical manner. So avoid elephant-related activities in Bali at all costs!
Where to stay in Lovina?
We took a luxurious break in Lovina at the Damai Hotel. The value for money is still great! I think it's great to be able to afford luxury hotels in Bali for the price of a 2 or 3 star hotel in France. We were lucky enough to be invited for 2 nights. The hotel is magnificent and the staff very welcoming. In the evening, they set up tables by the pool for a gourmet dinner. We were impressed by the quality of the dishes and desserts.
If you're planning a honeymoon in Bali, or just a relaxing break, the Damai Hotel is the place to be. The private villas with swimming pool really made us dream.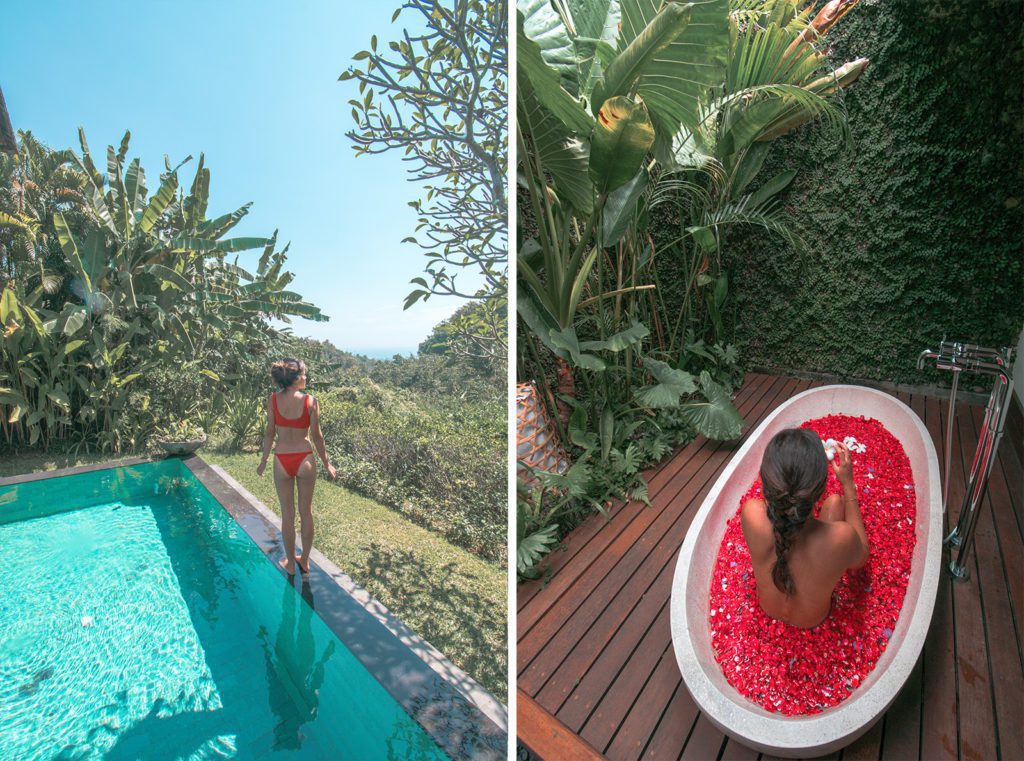 ---
Sidemen: nature and a change of scenery
Sidemen is also one of my favorite places in Bali. It's authentic Bali ! Sidemen is a small mountain village at the foot of Mount Agung, one of the island's volcanoes. It's a great place to live, with less tourism and milder temperatures. Above all, the local people are incredibly kind.
Don't miss the magnificent Gembleng Waterfall in Sidemen 🤩. I went in the afternoon, and there weren't many people there, but if you really want to have it to yourself, go in the morning before 10am. The waterfall itself isn't impressive, but the little natural pools that flow from it make the place beautiful. Access is by steep stairs, and takes just 5 minutes. For the moment, there's no set price – it's a donation system. I personally donated 50K rupiah (€3).
If you're looking for something off the beaten track in Bali, Sidemen is the place to be.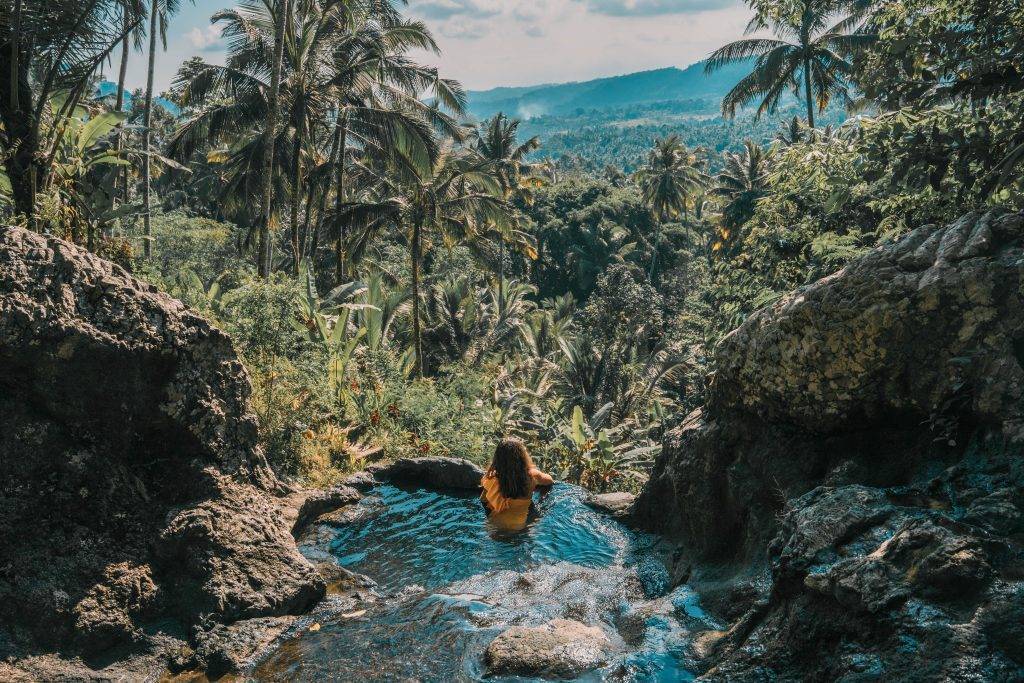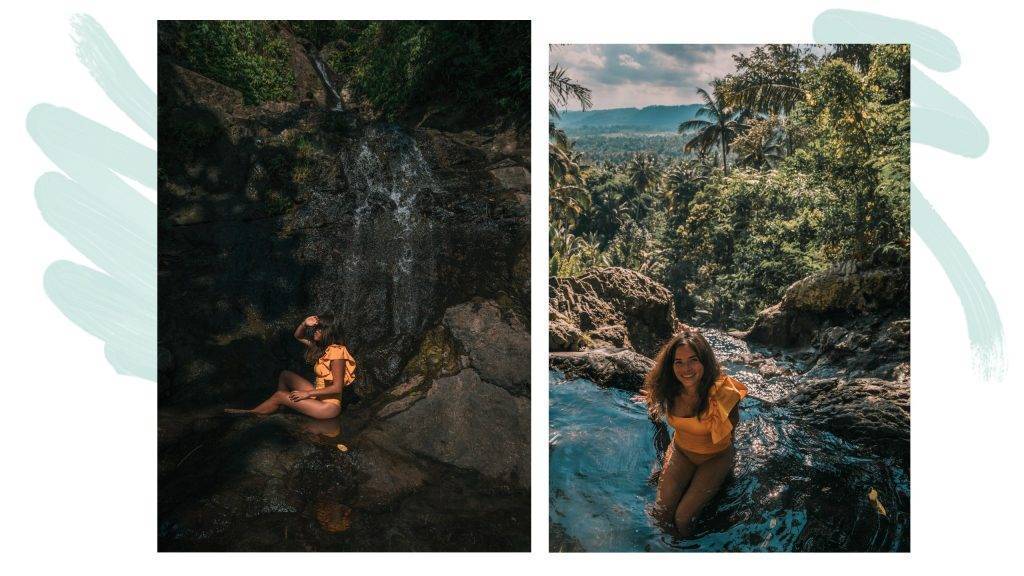 Where to stay in Sidemen?
I stayed at the sumptuous Cepik Villas hotel, with a splendid view over the rice paddies. I really recommend it!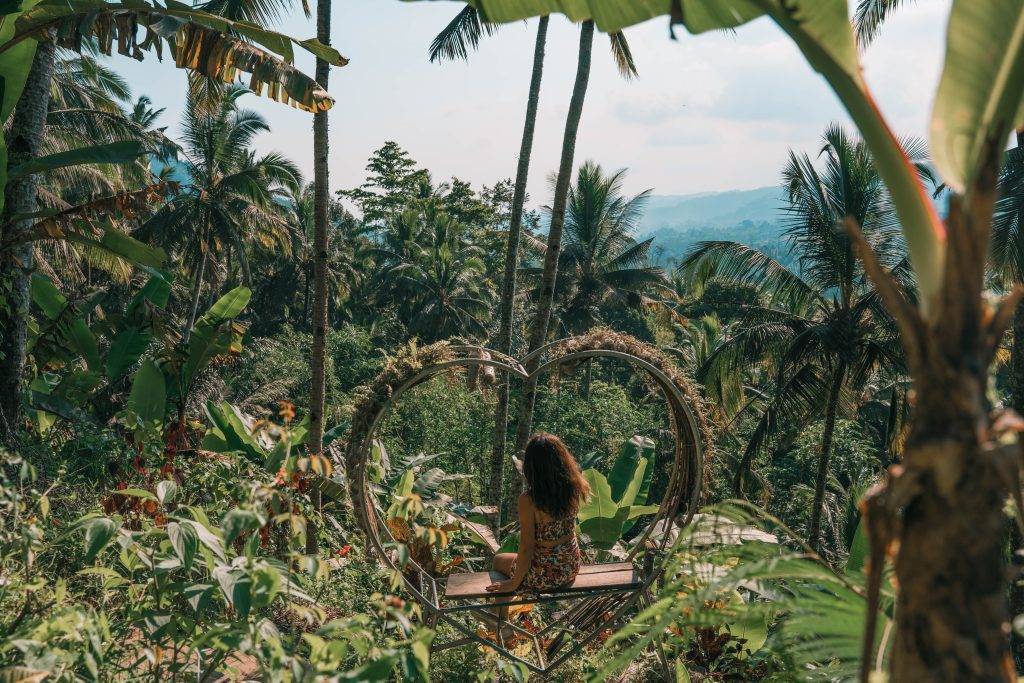 ---
Amed: Bali's diving paradise
Diving and snorkeling enthusiasts love to visit Amed on a trip to Bali! Indeed, the marine life there is rich and there's even a shipwreck to be seen underwater. I haven't been there, so I can't recommend any schools, but there are plenty, including some French ones.
⚠️ ATTENTION: travelers normally also go to Amed to take the boat to the Gili Islands. Please note that the port has been closed since early 2023 due to non-conformity. It is currently under construction and it is not yet known when it will reopen. To get to the Gili / Nusa Penida islands, you can depart from Sanur or Padang Bai.
What to do in Amed ?
As well as diving and swimming, there are also some lovely places to see near Amed.
The Berina Rice Terrace is worth a visit: smaller than Tegallalang, but certainly less crowded and more authentic.
The Lahangan Sweet viewpoint offers a beautiful panorama of Mount Agung, the sea and the jungle. Here, you can take some cool photos with the facilities that the locals have built.
The very touristy Pura Penataran Agung Lempuyang temple. I've never been there, but a lot of people go there to take that famous photo with the reflection that you've inevitably seen on Instagram. You should know that the reflection is fake (it's a mirror) and that there's a monstrous queue to take the very, very retouched photo below. It's clearly the kind of place that's over-exploited for tourism and I think it's a shame, but I'll pass on the info anyway if anyone's interested!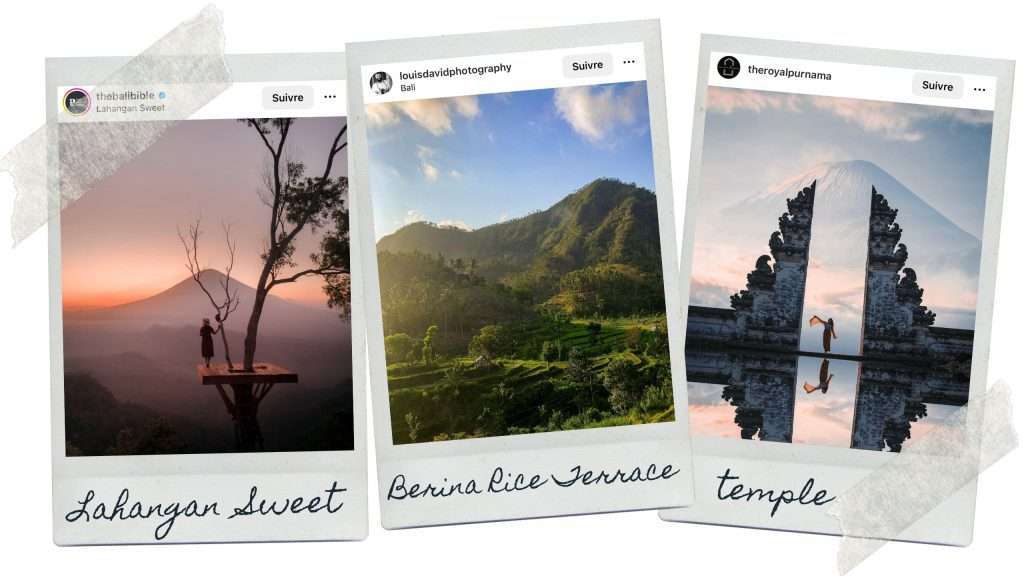 ---
2- or 3-week trip to Bali: visit Lombok's Gili Islands
Although the Gili Islands belong to Lombok, it's very easy to get there from Bali! The port of Amed is closed for the moment, so you'll have to go to Padang Bai or Sanur to take the boat. The crossing takes between 1h30 and 3h, depending on sea conditions, and costs around €20 per person one way.
The best company is Ekajaya, which has slightly higher fares. You can book your boat tickets directly with your hotel and local agencies, or online via the 12go Asia website.
Please note that a tax of €1 and a few cents is now charged to all travelers arriving on the Gili and Nusa Penida islands.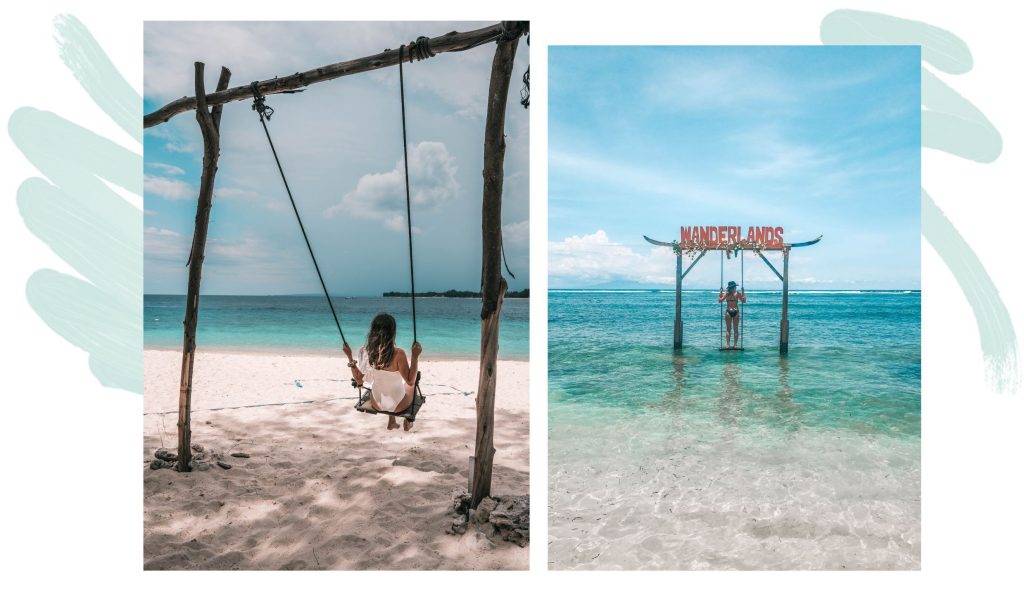 Which Gili island to sleep on?
There are 3 Gili islands:
Gili Trawangan, the island closest to Bali, where tourists come to party. There are two sides: the "Sunset" part to the west (of course), which is less lively. Here you'll find beach restaurants, hotels and the famous toes-in-the-water swings. Then there's the "Sunrise" section, where the boat disembarks and it's spring break the American way! Bars, restaurants and more bars. 
We rode around Gili Trawangan on the hotel bikes, and it was then that we discovered the best of this island, getting off the beaten track and away from the shops.
Gili Meno is the quietest and smallest of the three. It's a little haven of peace where there's no nightlife at all. Here you'll find the underwater statues, which you can swim to from the edge of the beach.
Gili Air is the perfect blend of the two. If you don't particularly want to party, I recommend staying at Gili Air. The scenery is beautiful and the shops a little bohemian, so it's a great place to live. It's a great place to relax.
On my recent trip to Bali, I chose to sleep in Gili Trawangan next to Turtle Point because I wanted to make sure I could swim with the turtles. I stayed in a small villa with a private pool for great value for money: Java Wood.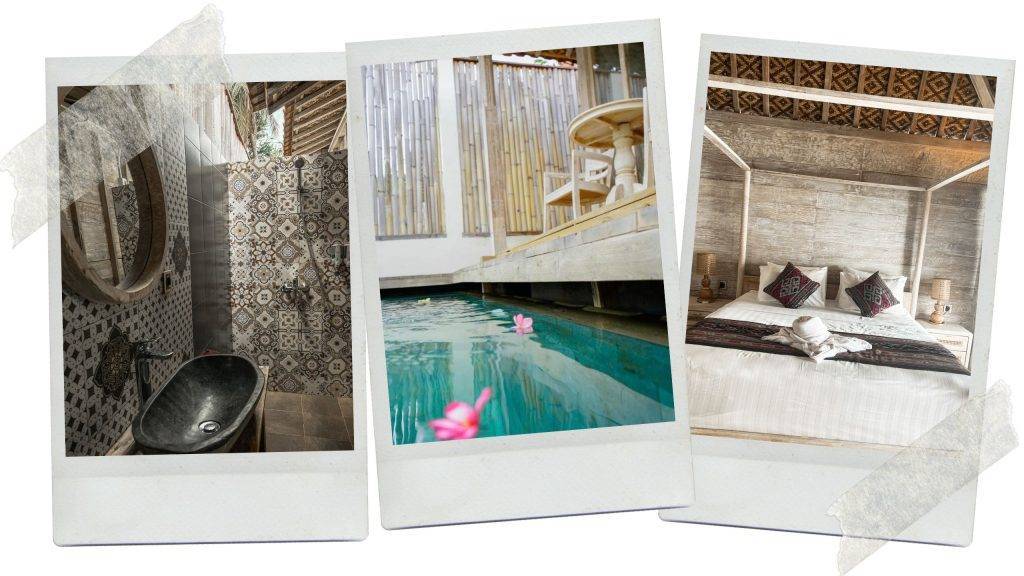 What to do on the Gili Islands ?
Whichever island you choose to stay on, don't worry – you can visit the others by shuttle bus. Also, note that there are no motorized vehicles on the Gili Islands, so you'll need to rent a bike from your hotel or on the street. At night, public lighting is not at its best ⚠️.
On the Gili Islands, it's time to relax! You'll alternate between beaches, snorkeling, restaurants, bars, bike rides… A dream come true. If you like it, you can even book a snorkeling excursion with a boat that will enable you to see turtles and lots of fish around the 3 Gili.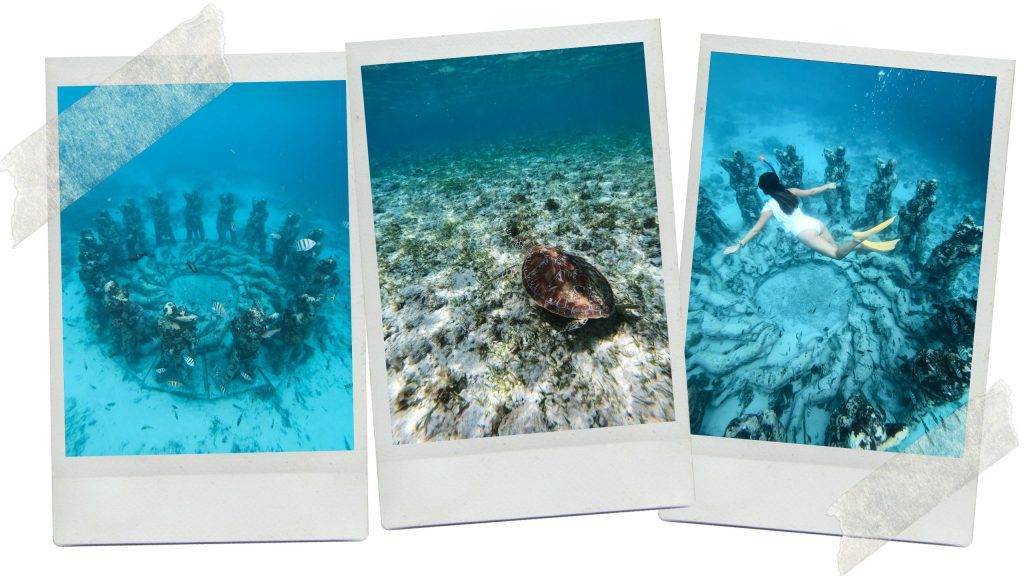 ---
What to do in Bali ? The unmissable Nusa Penida
From the Gili Islands, I went to Nusa Penida. To book the boat, you can go through your hotel or the 12go Asia website. If you want to go to Nusa Penida from Bali, you can leave from Padang Bai or Sanur.
It's one of my favorites of the Bali trip! If you're wondering what to do in Bali, visiting Nusa Penida is a must. This island is located 30 minutes by boat from Bali. We talk about it in detail in the article What to do in Nusa Penida?
Right next door is Nusa Lembongan, a quieter island than Penida. The beaches here are less impressive, but the place is also sublime and gives the impression that time has stood still?
---
Visit southern Bali: Uluwatu
What to do in Uluwatu ?
Uluwatu is located in southern Bali. It's a must for surfers. As a result, the atmosphere is pretty cool, even if it remains as touristy as the rest of the south. If you don't particularly like surfing, you may want to sacrifice this stage if you have to make choices. But in any case, Uluwatu could be a good spot for your last night in Bali, as it's not far from the airport!
In Uluwatu, you'll have plenty of choice of trendy cafés/restaurants. You'll be able to see magnificent beaches with immense cliffs. If you like, it's the perfect place for a surfing lesson🏄🏻! Our favorite beaches: Padang Padang Beach, Dreamland Beach and Uluwatu Beach.
Also, at Pantai Nunggalan, you'll also get superb scenery with a shipwreck on the beach. The latter is less crowded, as access is via numerous staircases. If you go there, be sure to have something to eat and drink, as there are no beach bars, and in the end, it's the wild side that we like!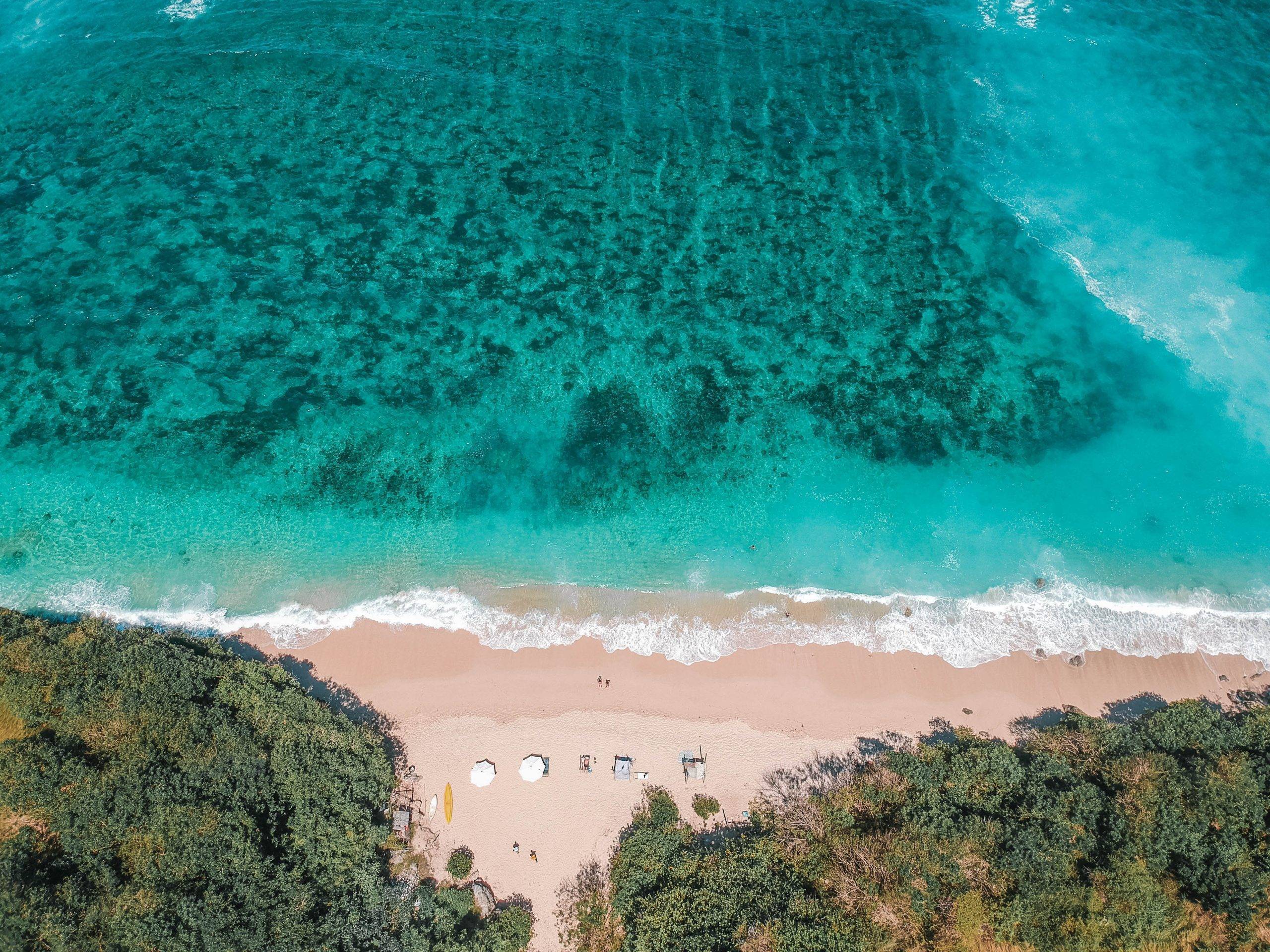 Last but not least, Uluwatu boasts a lovely temple by the sea: Pura Luhur Uluwatu. Please note: all temples in Bali require you to keep your legs covered. Most temples provide "sarongs" at the entrance for those in shorts.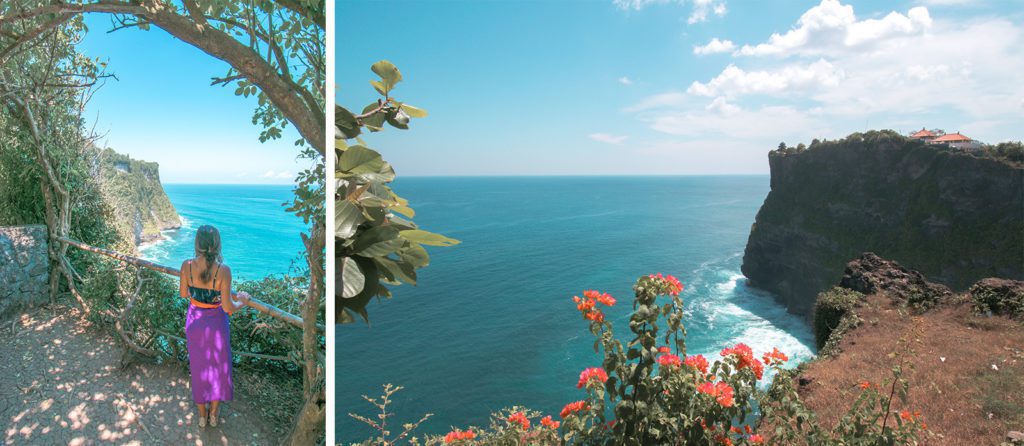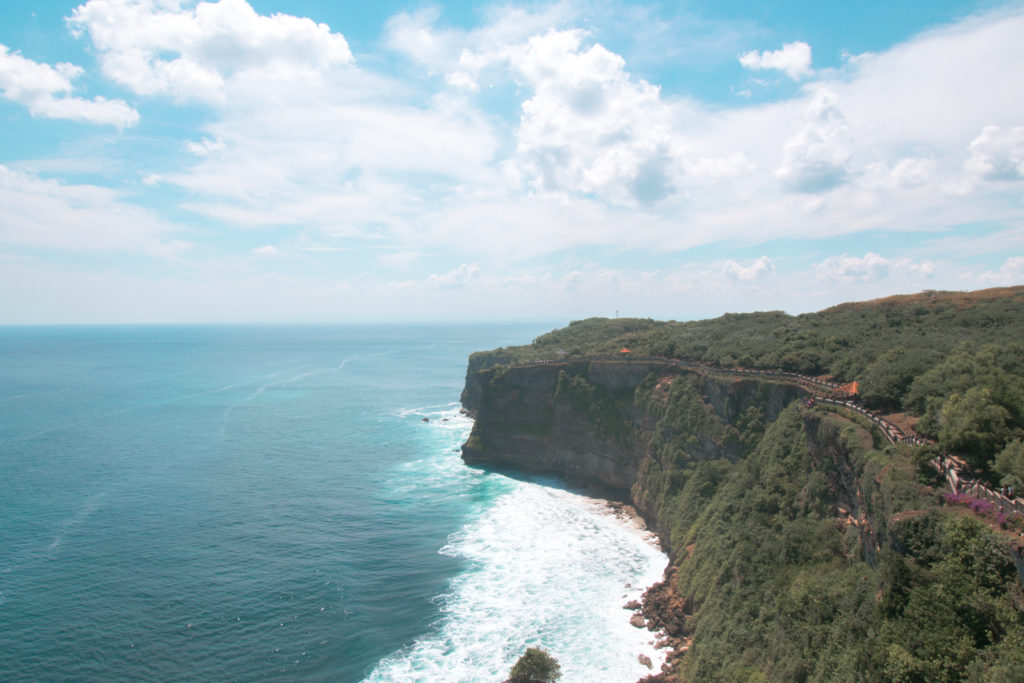 Where to stay in Uluwatu?
I recommend The Ulus Klumpu. The hotel's surroundings and rooms are magnificent, and the location is within easy reach of the various points of interest.
Alternatively, you can stay at the Willy Homestay, which is also good value for money. Rooms are more basic, but there's a small pool for a refreshing dip! Reservation
Where to see the sunset in Uluwatu?
We saw a superb sunset at Balangan Beach. The view from the cliff is breathtaking! However, it was very crowded at the time. Alternatively, you can head for one of Uluwatu's many bars/beach clubs, but beware of prices that are generally well above the average in Bali.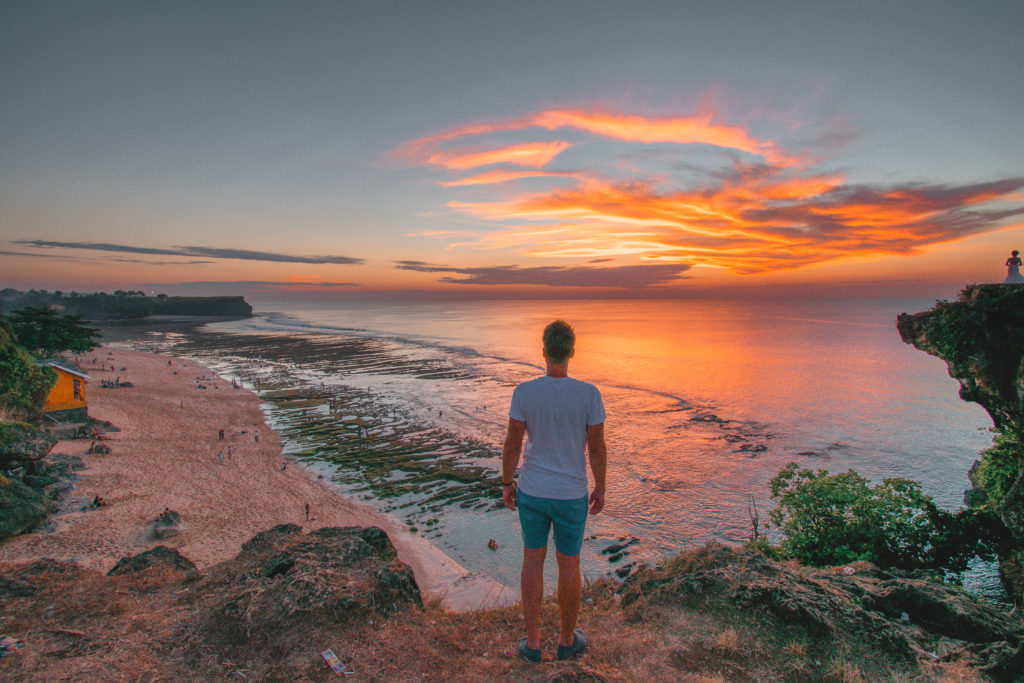 ---
Should I go to Canggu, Kuta and Seminyak?
In my opinion, these three cities in Bali are absolutely to be avoided if you want to escape mass tourism. However, if you're looking for nightclubs, trendy restaurants with Parisian prices and crowded places: yes, go for it. But if you want to see authentic Bali, off the beaten track, steer clear of this area. If you do decide to go, beware of scooter snatchings, which are apparently frequent there. Always put your bag in the scooter's trunk and don't hold your phone in your hand.
That said, outside Bali's ultra-touristy south, you won't have to worry about your safety.
---
I hope I've helped you with these suggested itineraries for 2 weeks and 3 weeks in Bali! I remind you that you can find a whole guide to organizing your trip to Bali on the blog, which deals with practical information. We'll answer all your questions and comments in the comments section.
This article contains affiliate links. If we've helped you organize your trip or you'd just like to support us, please consider booking your activities and hotels in Bali by clicking on our links. We'll earn a small commission and the price stays the same for you of course. 🤍