Guide to discover Munduk in Bali
What to do in Munduk, the north of Bali? Munduk is a village perched in the mountains North of Bali. This destination is not yet very well known by tourists, which makes it a peaceful and unspoiled place. We were surprised to come across most French tourists, meaning probably that we love nature at home as much as when we travel!
What to do in Munduk in Bali?
Munduk benefits from a privileged setting for nature lovers. It is worth to visit Munduk in Bali if you like waterfalls, hiking and lakes. We are in an authentic region that is beginning to develop its tourism, so it is not yet here that you will find places to party and have fun.
You won't come across many tourists in Munduk compared to the rest of the island. The contact with the locals is so easy. In our opinion, people are even more adorable than in the rest of Bali… What also struck us is that this area is kept very clean. When you get used to see plastic waste everywhere, you are positively surprised to be in a healthy environment! In short, if you are looking for a quiet place in Bali to recharge your batteries in nature: go to Munduk.
➡️ Find the complete itinerary of our 3 weeks in Bali.
How is the climate in Munduk?
Munduk is in altitude, the climate is more temperate than in the rest of Bali. The nights are cool (15-20°C): you should bring a small sweater. As often the case in the mountains, the weather is very variable and changes very quickly. The weather was fine in the morning from 6am until early afternoon and then the sky became overcast and it rained. When you go for a walk, often look at the sky to know when to turn back before getting a heavy rain on your head!
How to get to Munduk from Ubud?
Usually, travellers to Munduk come from Ubud, in the Center of Bali. We booked a driver – the manager of our guesthouse – Price: 400 000 RP for two (24€). The drive takes 2 hours. We also saw on the street that shared minibuses were leaving for Munduk at the price of 150,000 RP per person (18€ for two). For an extra 6€, we thought we'd rather be alone in a car and make sure to arrive quickly at the right place. 
If you are not loaded with luggage, you can rent a scooter in Ubud to travel to Munduk. This solution is more economical, but less practical. Plan 2 hours and 30 of road. Be careful, it really climbs: if possible, ask for a 125-cc scooter. 
Where to sleep in Munduk for your trip to Bali?
For an authentic stay, we recommend Adila Homestay for a trip to the heart of a Balinese family. Adila and her husband will welcome you as if you were relatives. The rooms are comfortable, there is hot water and a Wi-Fi that works (which is rare in Munduk). It really felt like home. We ate most of our meal there, and it was delicious. Special mention for the Satay sauce!
Update 2019: There's a swimming pool now!
Accommodation in Munduk : for a luxurious parenthesis
The Munduk Moding Plantation is one of the most beautiful hotels in Bali. Their overflowing swimming pool is often ranked among the best in the world. We are on a completely different type of facility! There are several kinds of rooms including villas with private pools.
We were lucky enough to be invited 1 night on site. The environment is gorgeous and to be honest, we fell madly in love with the pool. The restaurant is delicious (yummy fish & chips!) and serves both European and local dishes. Yes, it's true that the night is expensive for being in Bali. But in the end, the value for money is excellent compared to the price it would cost in France to enjoy such a facility like this one. We'll let you discover all this in pictures!
Price: between 150€ and 500€ per night – book your stay!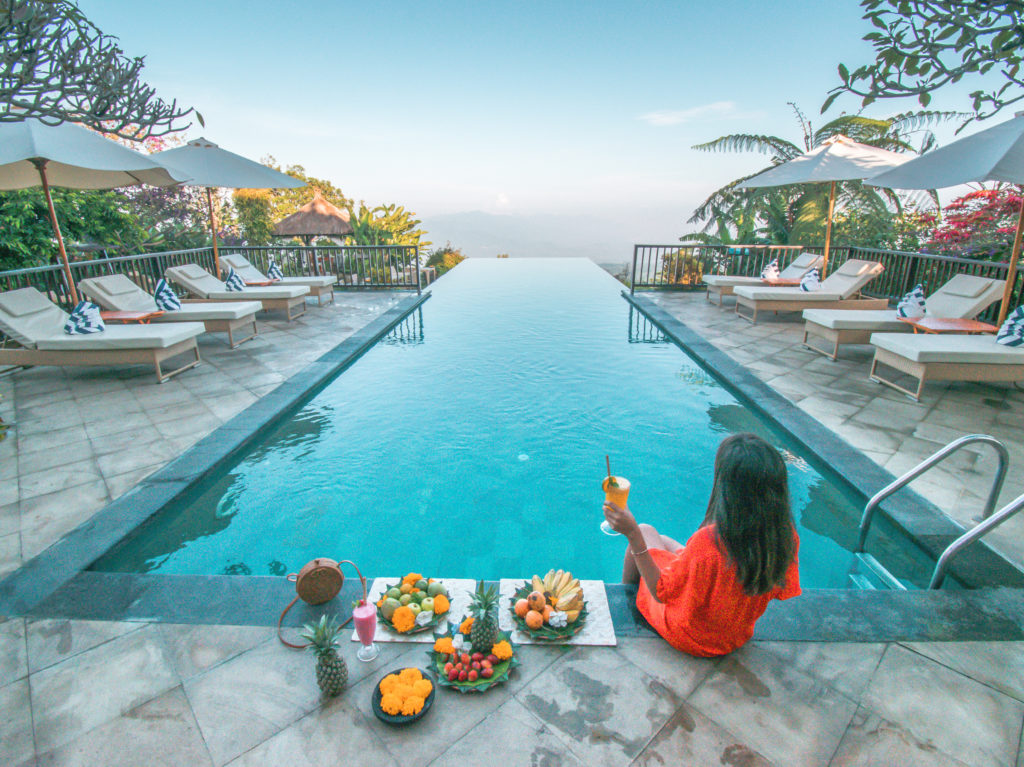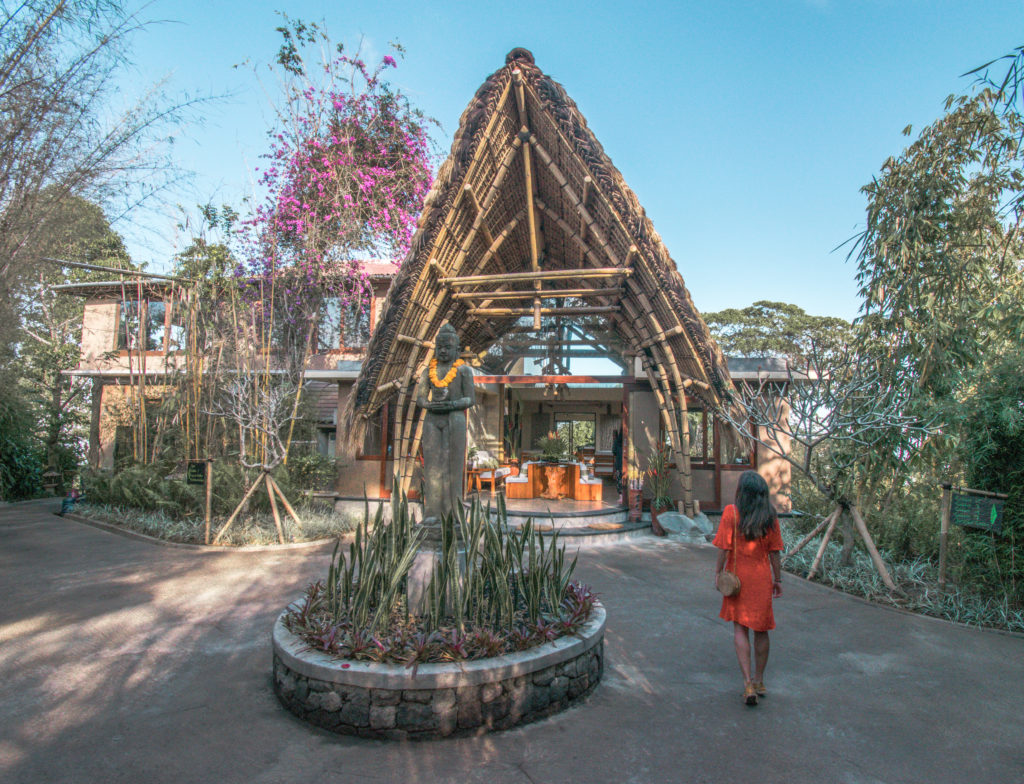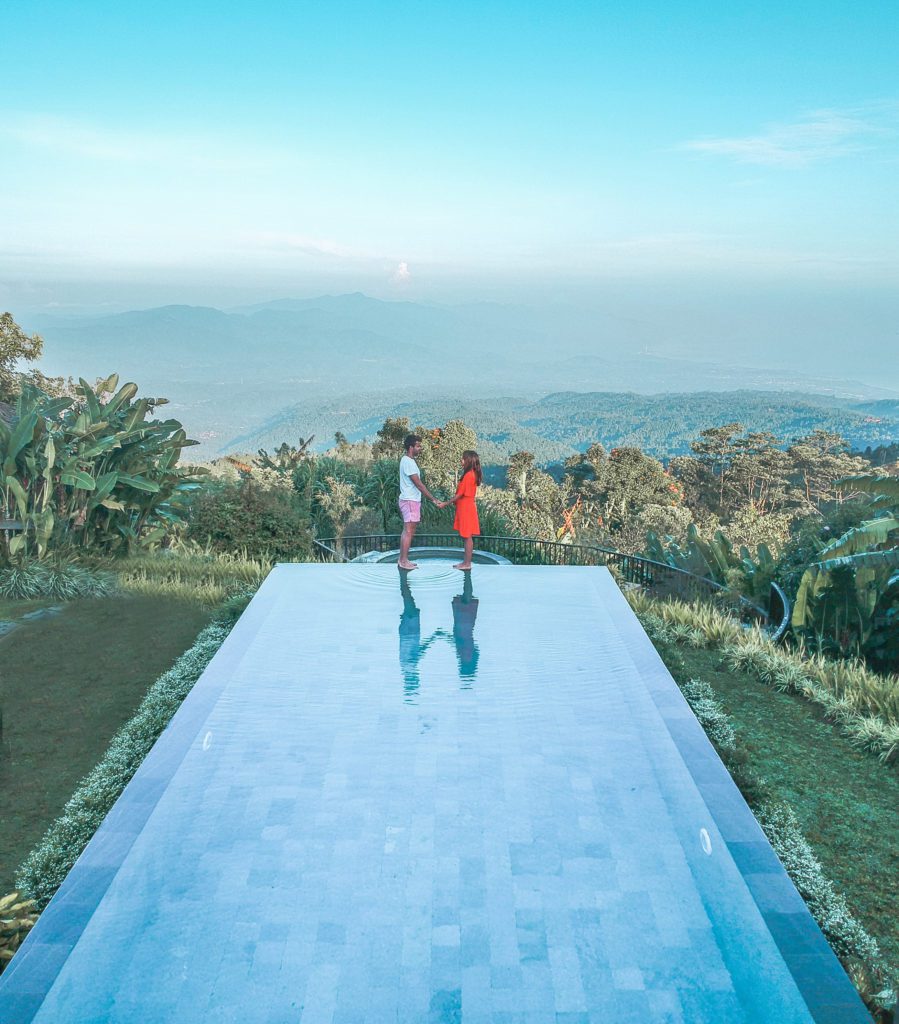 ---
What to do in Munduk ?
See waterfalls in Bali
There are many waterfalls in Bali, especially around Munduk. We have selected 3 of them. To see the same ones as we did, you can walk from Adila Homestay. The hike takes about 2 hours and 30. To guide you, all the Munduk homestays will provide you with this map, a little bit handmade. But that's what we like at Munduk! We really feel out of place: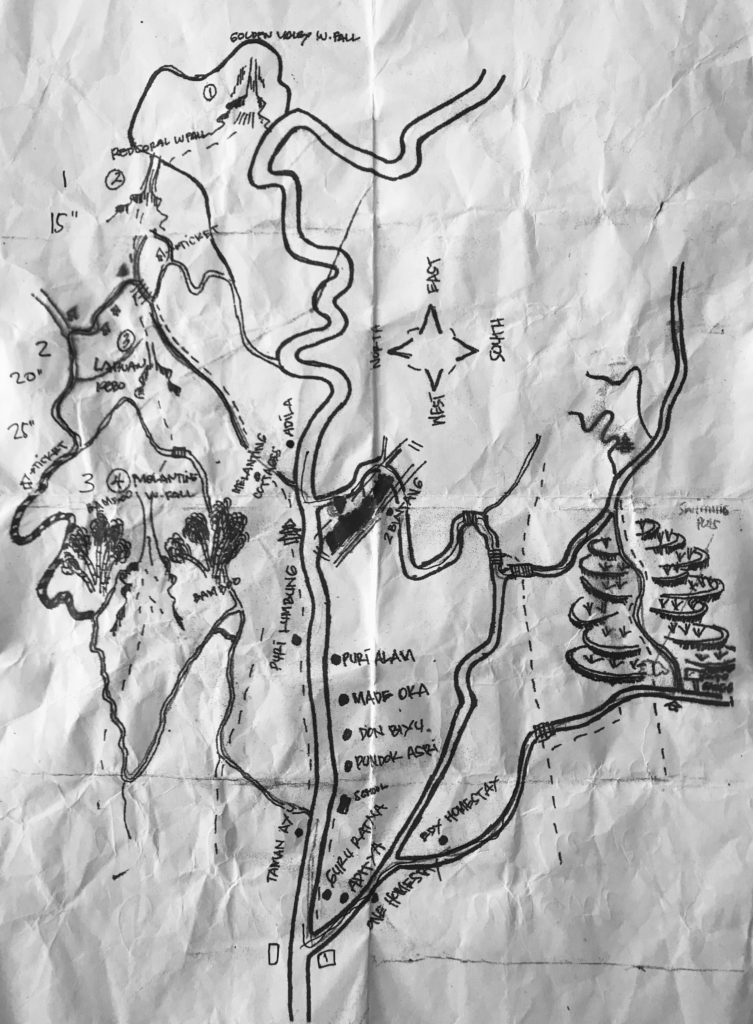 We started with the Melanting Waterfall (access: 10,000 RP per person). It is the highest of the 3, and about 70 meters high. To get there, the stairs are omg…exhausting!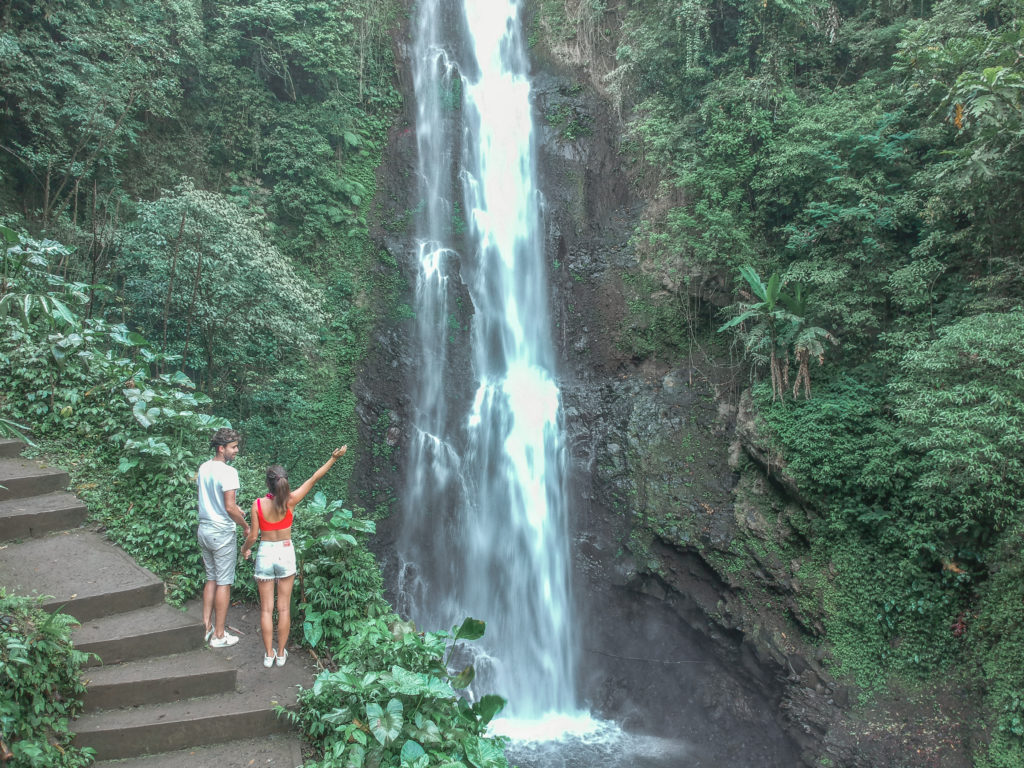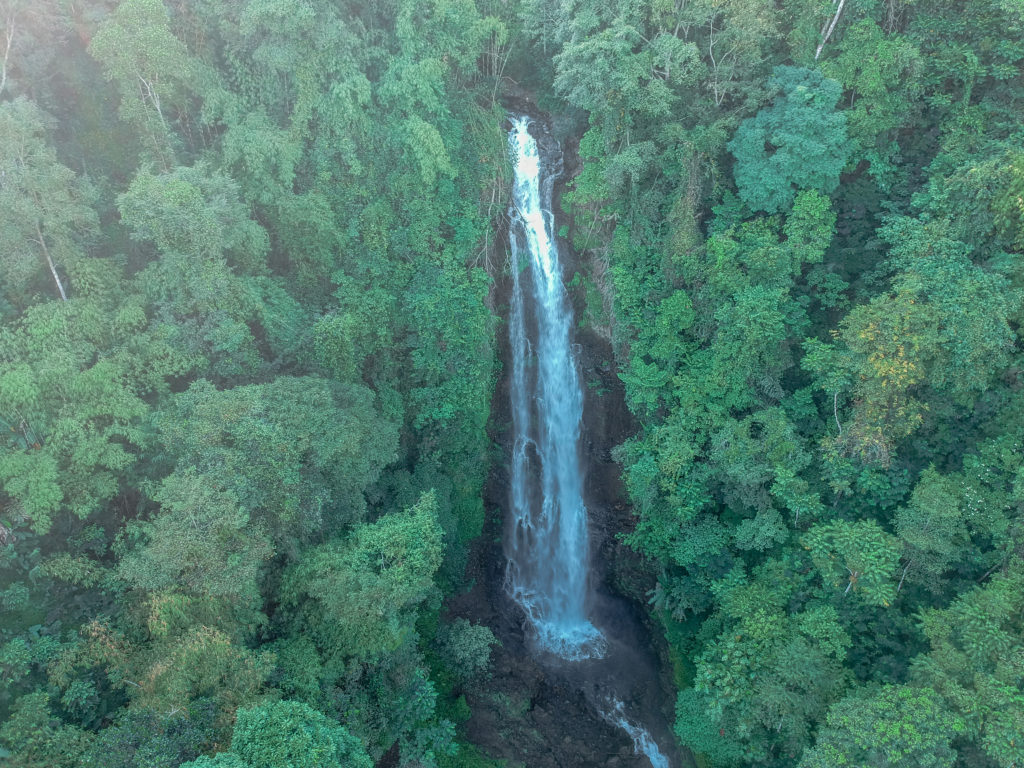 Then we went to the Red Coral Waterfall (access: 20,000 RP per person). According to us, it is the most beautiful one with its small bamboo bridge that sets it apart from an ordinary waterfall.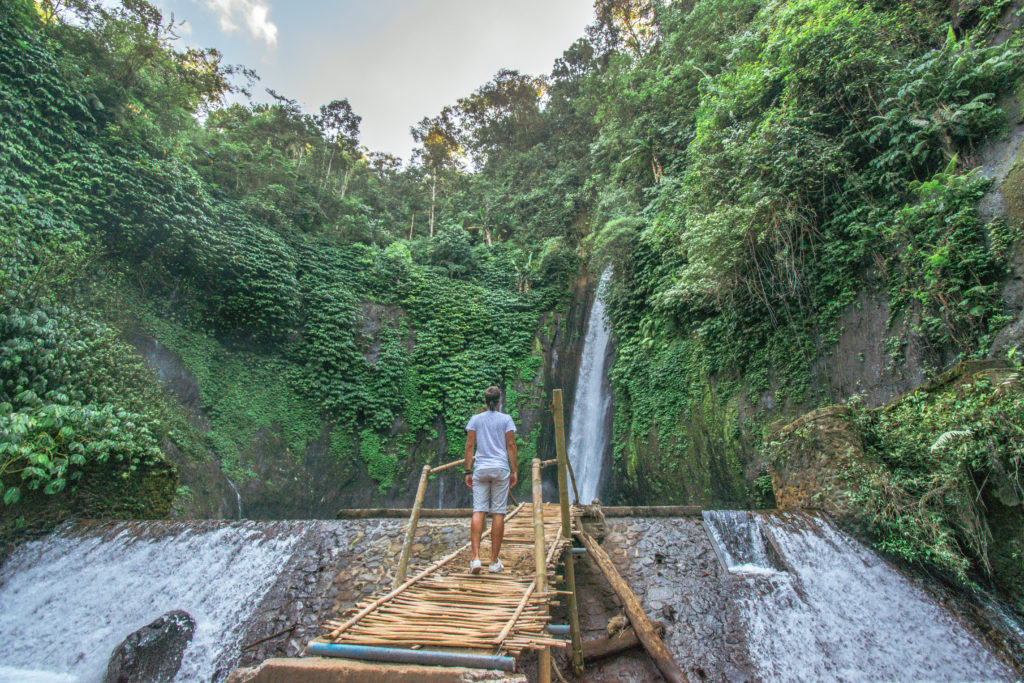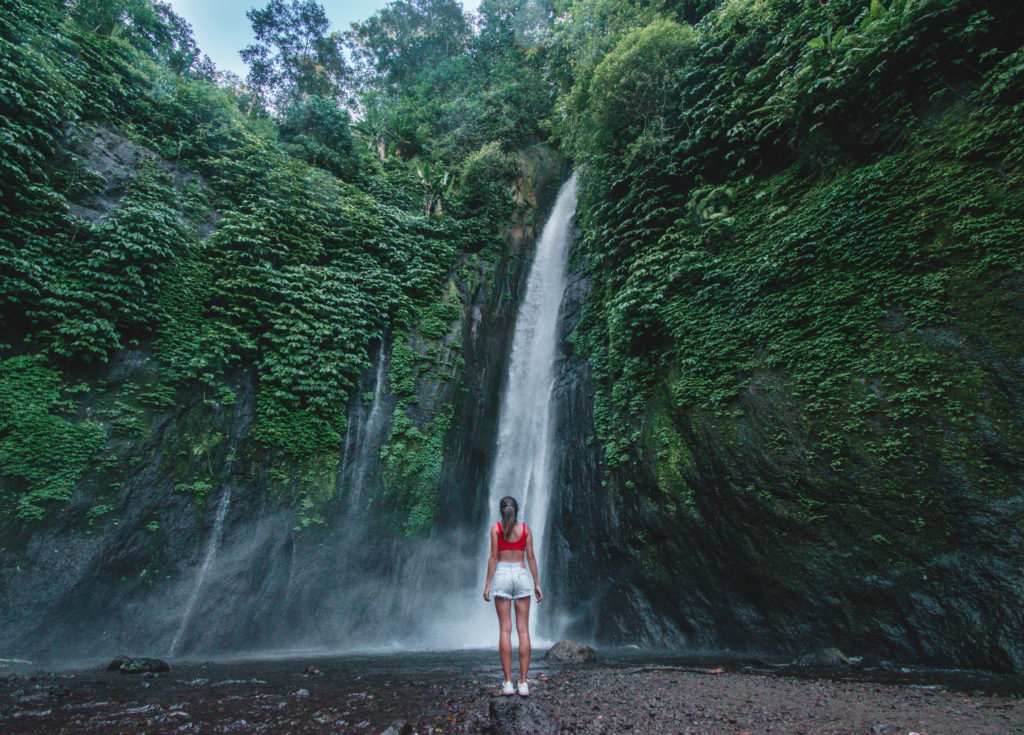 Finally, the last waterfall is called the Golden Valley Waterfall (free access). Just next to it, you will find an eco-café run by an adorable Balinese man. To tell you the truth, he didn't even want to accept our tip. There you can try the Luwak café and learn more about its strange manufacturing secrets.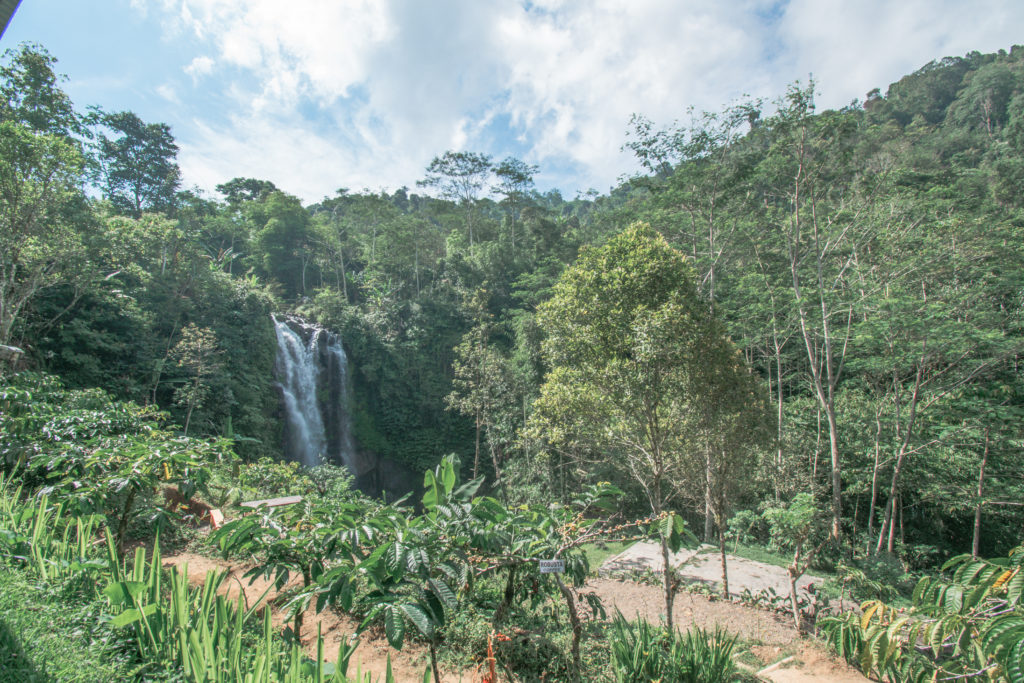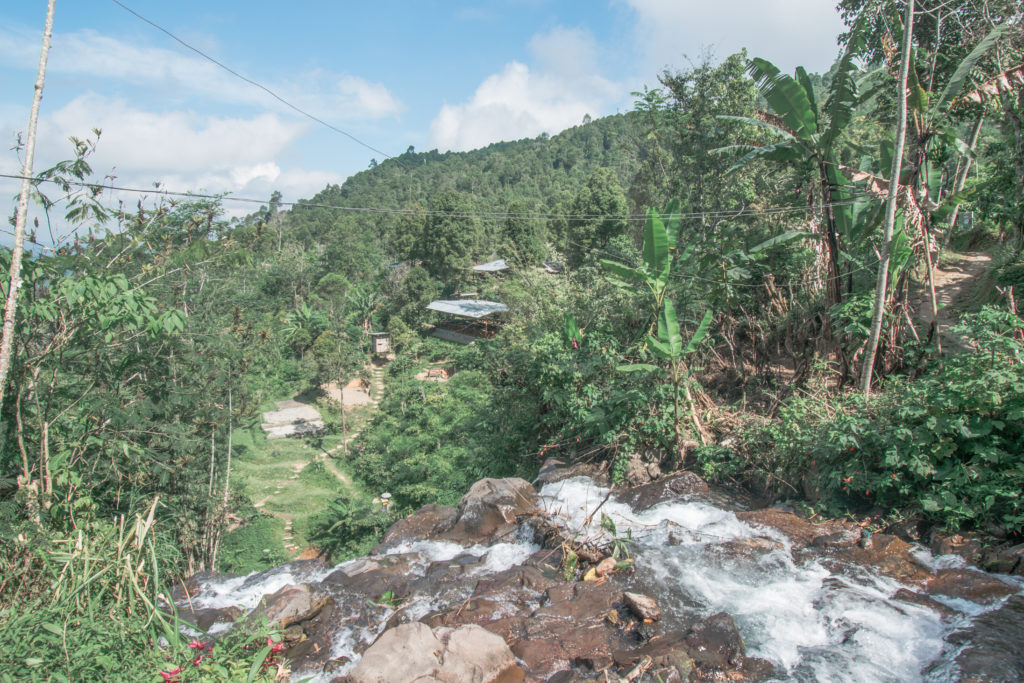 ➔ Other waterfalls to see in Munduk: Twin Gitgit Waterfall, Melanting Waterfall, Laagan Waterfall, Labuan Kebo Waterfall… The best is that you ask directly to the Balinese in your guesthouse. They will tell you the most beautiful hikes to do!
The three lakes of Munduk, a must-see in Bali
Lake Beratan, Munduk
On this one, the main attraction is the Pura Ulun Danu Beratan temple. Lots of people on this lake, so get up early if you don't want to be bothered by tourists.
If you want to discover the Sekumpul waterfalls and its beautiful temples in a guided way you can also opt for this tour.
Lakes Tamblingan and Buyan, Munduk
Take a scooter and ride around these two lakes. The views are incredibly beautiful. You wouldn't necessarily expect this kind of scenery in Bali!
📸For nice pictures, stop in the spots that the locals have set up to entertain the tourists. There are two of them along the Buyan Lake: the Wanagiri Hidden Hills (50,000 RP entrance per person: 3€) and the second Selfie Spot (25,000 RP entrance per person: 1.50€). We have tested both for the purposes of the blog and we advise you to go only to the second Selfie Spot, because of the price.
Access Wanagiri Hidden Hills: type this name on Google Maps to find it.
Selfie Spot access: type Warung Makan Nerike on Google Maps, the selfie spot will be opposite.



What to do in Munduk : visit the rice fields
The most beautiful rice fields we saw in Bali were in Munduk. They far surpassed those of Ubud (Tegalalang Rice Terrace). We were all alone, facing huge rice fields. In front of this landscape we truly felt privileged. Go to the middle of the Dayang Rice Terrace to feel alive.
It is also possible to enjoy these beautiful landscapes in a more playful and fun way: Do you want to go for a ride on an electric bike in the rice fields ? If yes, we put you the link to book this activity right here.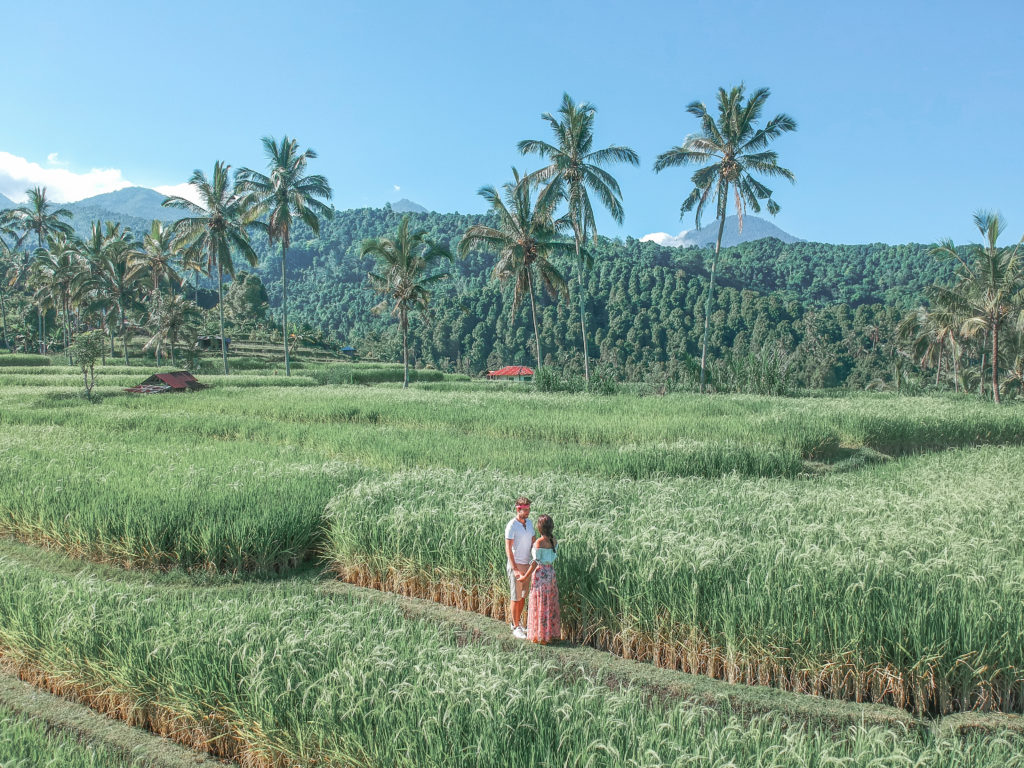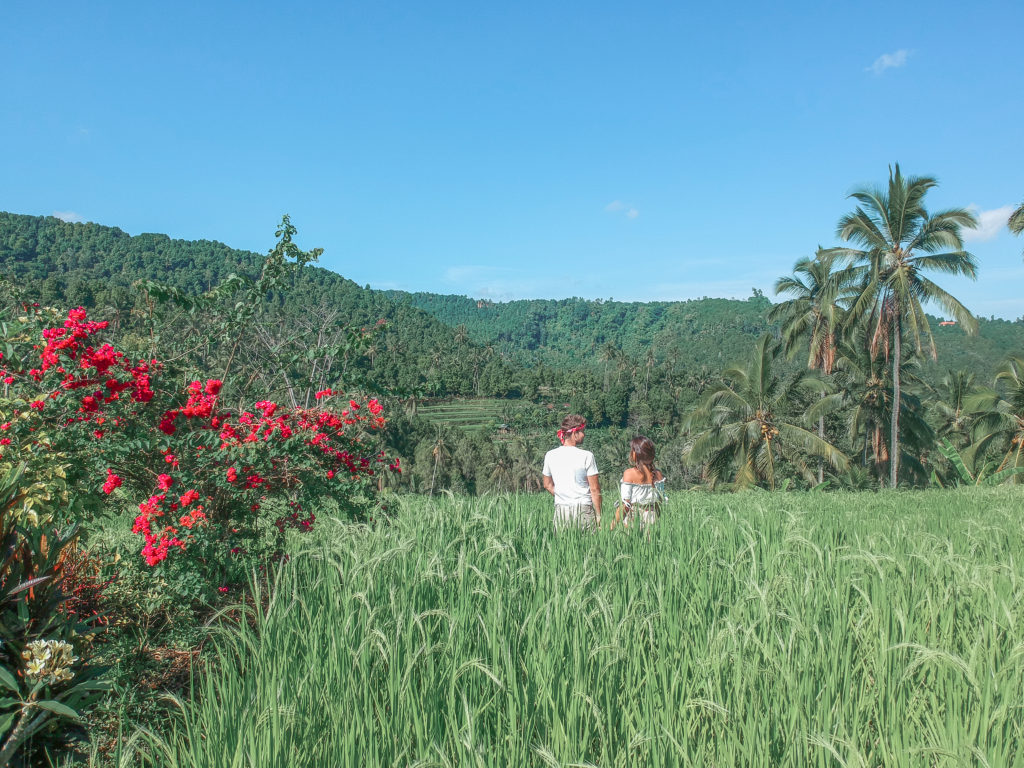 ---
Practical information to go to Bali – What to do in Nusa Penida?