What to do in Annecy for the weekend?
Annecy is the perfect destination to discover! Nicknamed the Venice of the Alps, we love the town of Annecy and its emerald coloured lake ?. So what to do in Annecy and surroundings? You'll see that this destination is also well suited for a trip with friends, family or lovers.
---
What to do in Annecy – Itinerary and tips
How to get to Annecy?
You don't necessarily need a car to get around Annecy. Many things can be done on foot! The edges of the lake are perfectly laid out for walking or doing activities.
By car:

because of our proximity to Lyon, we decided to go by car. However, if you are staying in the city centre, parking can be very expensive. We therefore advise you to park in the free streets to the north of the city. This will save you time looking for a space and money.

By bus / train:

There is no TGV station, but Annecy has a TER station and a bus station. Getting to the city by bus from Lyon or Geneva will only cost you about 10€!

By plane:

 a good alternative if you are far from the Alps. Just take a plane to Lyon or Geneva (find your flights by clicking here), then a bus to take you to your destination.
When to go to Annecy?
Ideally, Annecy is best visited during the warmer months to take advantage of all the activities on offer. However, for ski lovers, it is also a good compromise to stay at the foot of the resorts and ski on several areas.
The best time to visit Annecy ☀️: We recommend May-June and September-October to avoid the summer crowds and find cheaper accommodation.
For our part, we visited Annecy around the 20th of May, the lake was a bit cool (18 degrees) but the outside temperature very pleasant (24-26 degrees). It is important to know that the lake of Annecy is of glacial origin (melting ice from the surrounding mountains), the water is often very cool. In April, the average water temperature is 11 degrees. You can still swim there, but without us! ?
Where to sleep in Annecy?
We chose to take a flat so that we could cook for ourselves if we wanted to. If this is also an option for you, we recommend Les Quais d'Annecy, which is very well located and good value for money (around 80€ per night).
If you want to treat yourself and your budget allows, we have found a suite for two with jacuzzi and sauna ?. Click here for more info!
---
Day 1 – what to do in Annecy?
Visit the old town of Annecy
When you arrive, start by visiting Annecy's old town. The centre has a lot of charm, we love the little streets and streams that run through the town. There are many shops, craftsmen, ice cream parlours, terraces and no cars… everything we like! Stroll along the canal and get lost in the narrow streets.
? We recommend a pizza to go at Sapaudia: quality ingredients and delicious dough. For dessert, head to Glacier des Alpes, which is one of the best ice cream shops in France! Beware, there can be a long queue.
❤️ Don't forget to pass over the famous Pont des Amours.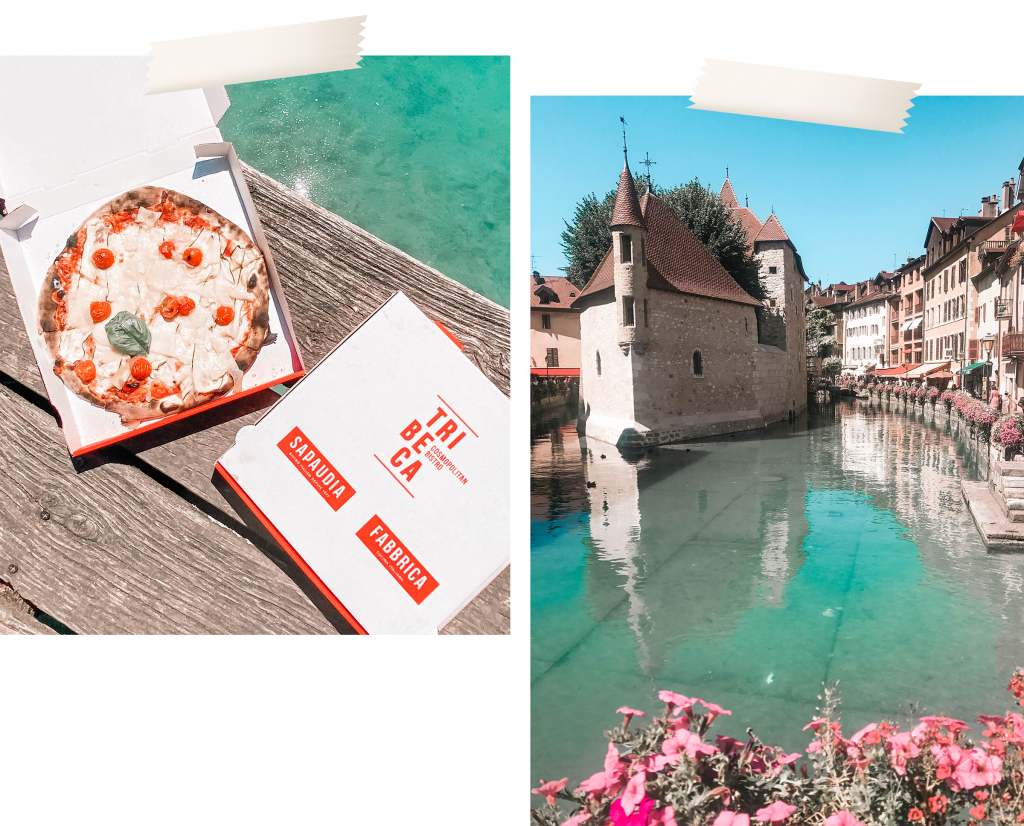 Enjoying Lake Annecy's shoreline
Annecy owes its popularity to its beautiful 30 km2 lake which offers us incredible shades of blue. The water is really pure and clear, the colours change depending on the depth of the water and the time of day. A real spectacle! ? Walk along the footpath and admire the view.
For those who prefer to discover this magical setting on their own, you can also rent a boat for a day. Click here for details.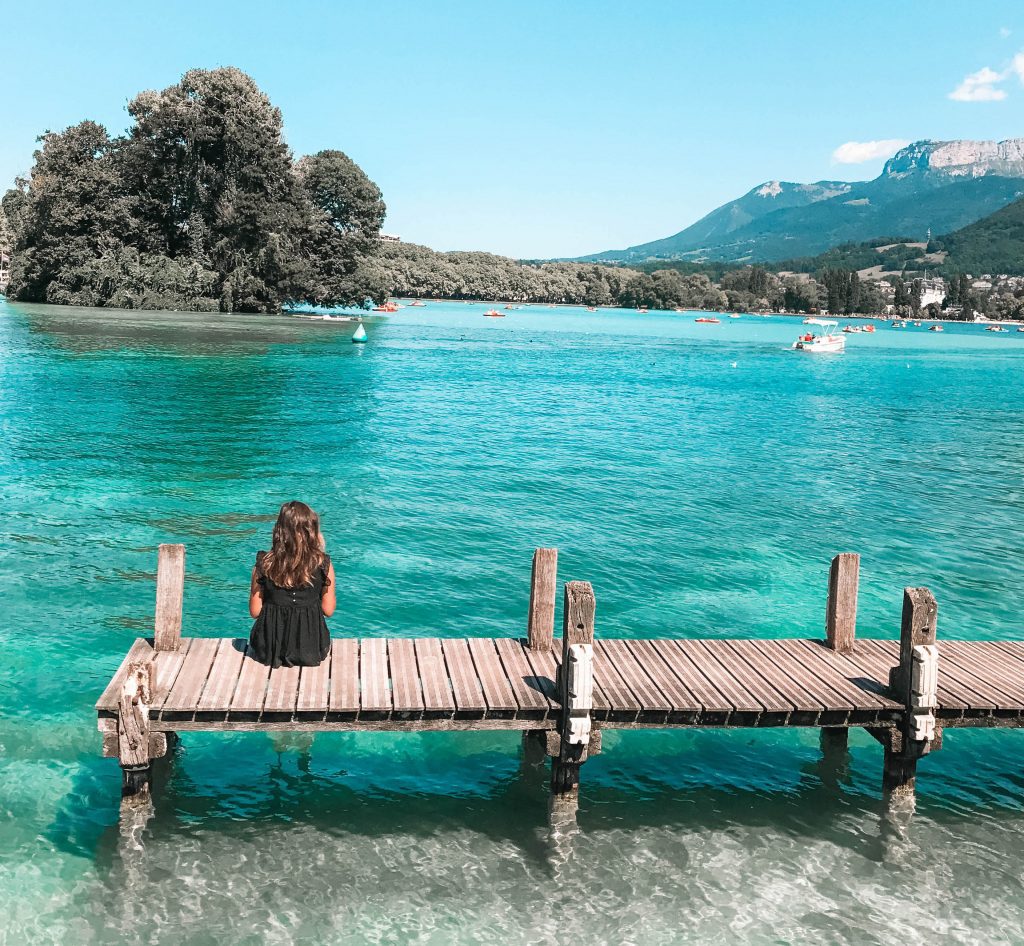 Aperitif at sunset
With that title alone, it sounds tempting doesn't it? ? Buy something to snack on and something to hydrate yourself. If you like it, try the beers from the Mont-Blanc brewery: they're great! You can find them in supermarkets.
Then head to the Col de la Forclaz for a panoramic view of Lake Annecy and to watch the sunset. Be there a good hour before sunset to get the best light. To find the right timing, just check the sunset time on Google or a weather app ?. Last thing: you'll be getting quite a bit of height, so don't forget a jumper or jacket!
? The Col de La Forclaz is a 30 minute drive from the centre of Annecy.
❤️ The Col de la Forclaz is a popular starting point for paragliders. If you want to paraglide over Lake Annecy and have an amazing time : book here.
Note: we took this picture on the paragliding launch pad in front of the Edelweiss Hotel, a 20 second walk from the car park. If you want, you can eat some Savoyard specialties at this restaurant!

Romantic dinner at Le Palace de Menthon
Halfway between Annecy and the Col de la Forclaz you will find an excellent restaurant with a sublime setting Le Palace de Menthon. Indeed, this restaurant offers an incredible view on the lake and the mountains. The service is top notch, the cocktails very successful and the dishes very good from starter to dessert. Don't forget to book to get a nice table in the first row ?.
---
Day 2 – What to do in Annecy and its lake
Let's go for a sporty day! We hope you've had a good rest.
Cycling around Annecy Lake
Meet at 10 am at Roul ma Poule (or another bike hire company) to collect your bikes. If you are not at all sporty, we advise you to opt for an electric bike. During this activity, stop as much as you want to take a break, swim and admire the landscapes.
? The tour of Lake Annecy by bike is about 40 km long. It will take between 2h30 and 5h depending on your level, without breaks. The lake is bordered by a cycle track, so you can ride safely. There are no difficulties along the way except for one ☝️.
⚠️ There is a climb followed by a big descent at the village of Talloires. Go around the lake in a clockwise direction, namely: Annecy – Talloires – Angon – Duingt etc. If you do it the other way round, i.e. by going directly to Sévrier, you will experience a very difficult climb when you arrive in Talloires halfway. In the direction indicated, the climb is a little longer but much less steep.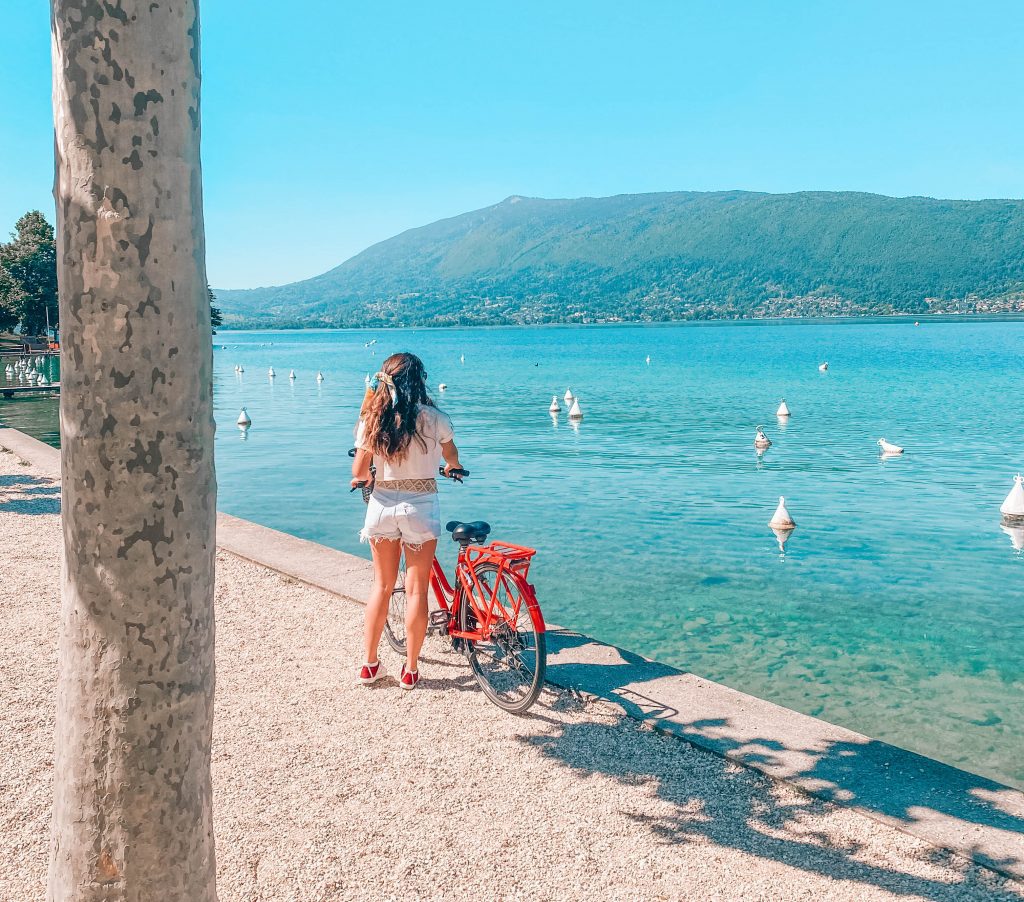 Picnic by the Annecy Lake
While cycling around the lake, stop at Le Fournil de Mon Père, a bakery in Menthon-Saint-Bernard, if you want to buy some food. We had sandwiches there which were delicious. This bakery is about half an hour away from the bike hire company (7 km).
We saw two nice places to picnic:
The bay of Talloires: this is where we stopped, we ate on one of the little pontoons. Quiet place and beautiful panorama. Take the opportunity to visit the village.
The beach of Angon: a little further, is also top and there is a space with grass. Please note that you have to pay a fee to access the beach in summer (2.20€).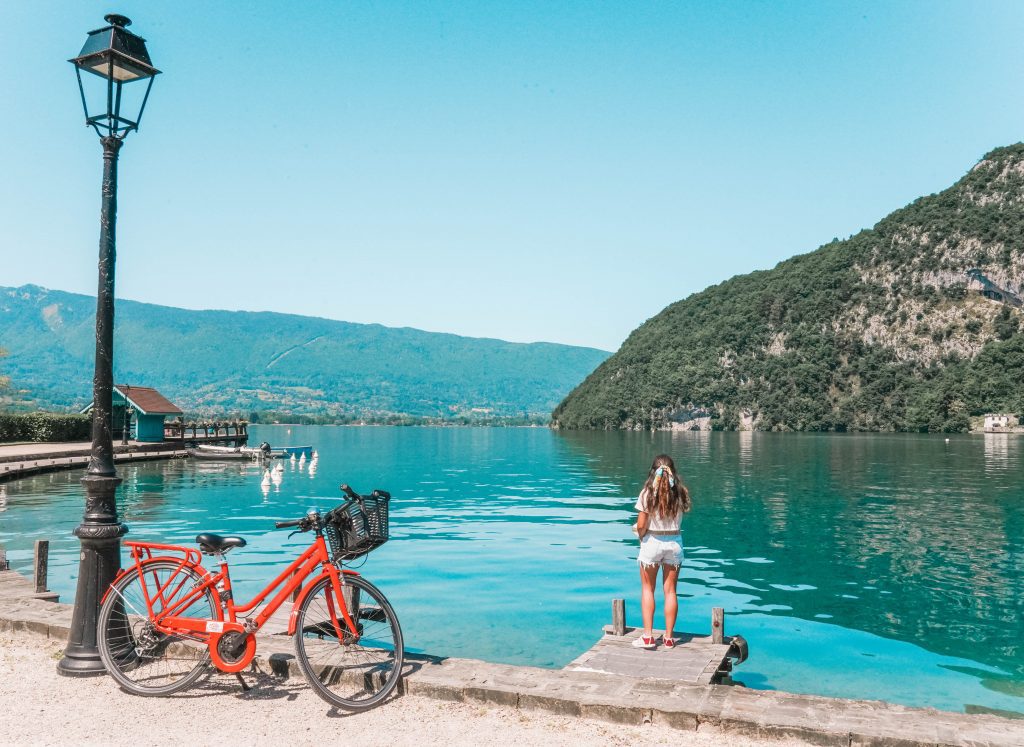 The Bout-du-Lac Nature Reserve
If you cycle around Lake Annecy, you will come across the Doussard nature reserve. To admire the fauna and flora that roam freely, there is a nice little walk through the reserve along a path. Access is free!
⚠️ The Nature Reserve is currently closed due to Covid-19.
After 40 km of cycling in your legs, you deserve some rest! So we'll leave you alone for tonight. If the restaurants are open, go and have a bite to eat outside. If not, just sit by the lake with a towel and a takeaway (the kiff ?).
view from the beach at Angon ?

---
Day 3 – activities to do in Annecy
Hiking around Annecy
What better way to start the day than with a little warm-up with a view? ☀️ We advise you to hike Mont Veyrier and Mont Baron: several routes are possible but we give you the easiest one (click here). Count on 2h30-3h of walking and many viewpoints!
If you prefer a more aquatic outing, we recommend this canyoning at the pretty Angon waterfall. ?
Voir cette publication sur Instagram
Activities on the Lake : what to do in Annecy
You can't visit Annecy without doing an activity on the lake! The options are numerous, there is something for everyone:
Pedal boat hire or small boat without a licence. You will find plenty of service providers on the shores of the lake. Prices are pretty much the same everywhere.
Rent a paddle or a kayak. Click here to book your paddle online and avoid the queue!
Go water skiing or wakeboarding. For beginners, an introduction to wakeboarding is available here.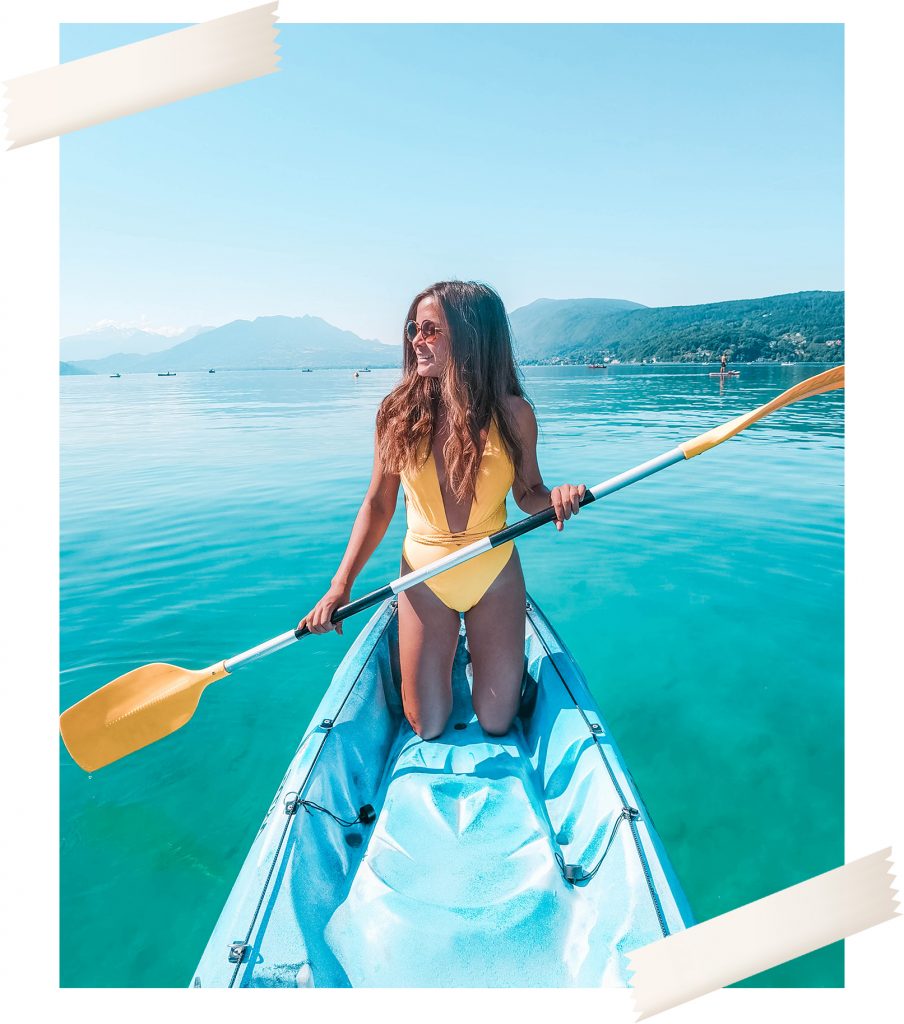 Other activities around Annecy
For thrill-seekers, there's plenty to do! ULM, hang gliding, paragliding, mountain biking… There are countless things to do in and around Annecy. ✨
Book all these activities and many more on our partner MANAWA. Their providers are carefully selected!
---
More ideas of similar getaways in France ?? 
Weekend in Megève in summer LIEN
What to do in Evian between lake and mountains LIEN