What to do in New York in 5 days
New York is one of the most visited cities in the world, and for good reason: the "city that never sleeps" is fascinating. Every time you visit, you'll have the chance to discover new places, as the city is constantly changing. How can I visit New York in 5 days? I'm going to give you a detailed itinerary to find out what to do in New York.
Practical information for your trip to New York
What budget should you allow for a 5-day visit to New York?
Let's start with the most important thing, the famous budget for New York. If you've been following my trip on Instagram, you'll have realised that this city is very expensive. It even became the most expensive city in the world at the beginning of 2023 due to inflation. So I'm going to help you save as much as possible to make the most of this incredible city!
Flights France – New York: €400 per person on average (if you plan well in advance)
 ESTA: €20 per person (required to enter the USA)
Airport – city centre: €10 per person, with the metro taking 1 hour.
Hotels: €100-300 per night for a 3-star or even 4-star hotel, depending on the period and the area.
Restaurants: €70 per day per person for 2 meals
Total = 2380€ for a 5-day stay in New York or 1190€ per person, excluding activities / visits.
When to go to New York ?
Temperatures in New York are fairly similar to those in France, with a few degrees less. Winter is fairly harsh, with frequent snowfalls and sub-zero temperatures, while summer is very hot, with days approaching 35 degrees. To get the most out of New York, I recommend coming between May and June or in September, when the temperatures are not sweltering but there is a good dose of sunshine ☀️.
Where to stay in New York: the best hotels?
As you can imagine, hotels in New York are very expensive! So I'm going to make a recommendation based on your budget:
– If you can afford to treat yourself:
o Arlo Nomad: this hotel, in the heart of Manhattan, offers an incredible view of the buildings. I recommend a City View, or even better, a Sky View, if you want a room at an angle (photo at far right below). The rooms are small, but the finish (new) is top-notch, the bedding is very good and the view… wordless! What's more, the hotel has a rooftop with a view of the Empire State Building right next door. Guests can bring their own food/drink until 3pm, as the rooftop is private for those with a room.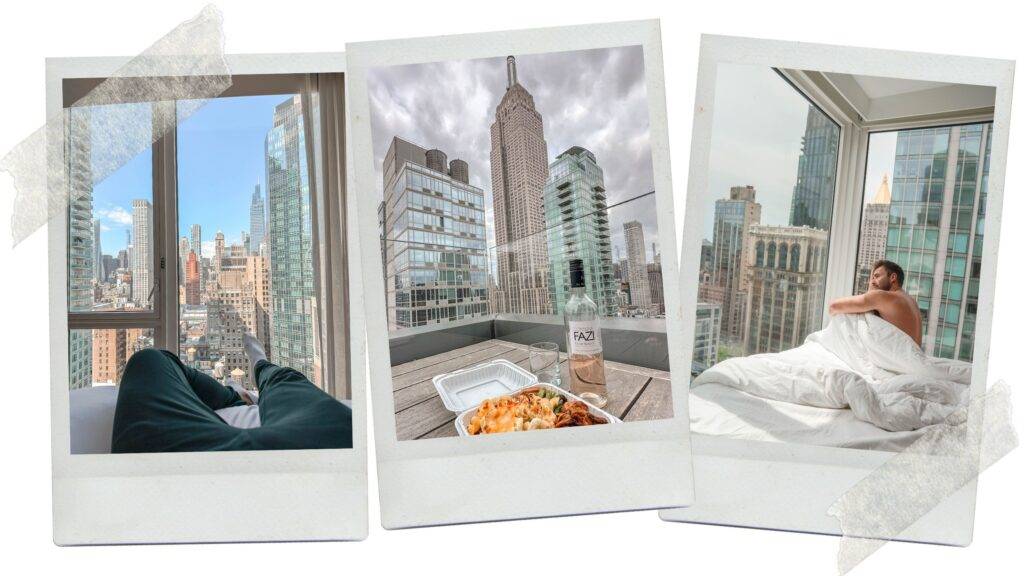 o Margaritaville Resort Times Square: very well located, this establishment has a swimming pool with a view of the buildings! I hesitated for a long time with the Arlo Nomad. Maybe next time.
– For a moderate budget, I recommend staying in Manhattan:
o The Washington by LuxUrban: it's located in lower Manhattan, in the financial district, and is "moderately" priced for New York. There's a lovely rooftop for a drink.
– To spend as little as possible, head for Brooklyn or Queens, two neighborhoods 10 minutes from Manhattan by public transport:
o Wyndham Garden Long Island City: I stayed at this hotel for 2 nights at 145€ a night. Honestly, for the price, it's hard to beat. The hotel isn't the most modern but the bedding is good, it's a 5min walk from the subway to Manhattan (20min in all to get to Times Square) and offers breakfast. It's not incredible, but you'll get unlimited muffins / waffles / yoghurts / bagels, ideal for a snack.
Where to get your plane ticket ?
There are three main airports in New York: JFK, Newark and La Guardia. You will most often arrive at JFK. Find the best airfares with Ulysse. Take advantage of a €10 discount on your first booking by registering via our link.
How do I get around New York ?
The easiest and most economical solution is to take the subway: the city is extremely well served, with subways that also run at night.
A single trip costs $2.75 + $1 for the card. If you're planning to move around a lot, or if you're staying for more than 5 days, I'd recommend the 7-day pass with unlimited travel for just $33.
Do I need to buy tickets online to visit the must-see spots ?
Attractions are often crowded with tourists from all over the world, so it's easier to book your entrance ticket in advance to make the most of your trip.
What's more, on GetYourGuide, you can group activities together to save money! So it's essential to take your Go City Pass. For example, if you want to visit the 4 most famous observatories (Empire State Building, Top of the Rock, The One and The Edge), you'll save €109 instead of €171 (€124 for 2). Don't forget to book in advance!
Take a close look at the different offers, depending on the number of days and/or the number of activities you want to do.
Practical info :
Please note that you will need a plug adapter for the USA. It's best to buy one before you leave, to avoid paying a high price at the airport or in the city center. Some hotels lend adapters free of charge, but others charge for them.
For your local payments, I also advise you to choose bank cards with no foreign payment or withdrawal fees, to avoid unpleasant surprises at the end of your trip.
What to do in New York for 5 days?
I'm going to give you my itinerary for visiting New York in 5 days. The program is condensed (but doable), so I think it's best to have at least 6 days in the city to get the most out of it without it feeling like a rush.
Day 1: Discover downtown Manhattan
The Empire State Building
It's not only New York's most iconic skyscraper, but also one of the tallest (449 m) after One World (541 m) and Central Park Tower (472 m). Located on 5th Avenue, you'll reach the 86th floor for a breathtaking view of Manhattan. You can also go to the 102nd floor, but this is a more expensive ticket. I didn't find it necessary to go to the 102nd floor, as the view is already magnificent from the 86th floor, and I preferred to use my pass rather than buy a separate ticket.
*Included in the Go City Pass for the 86th floor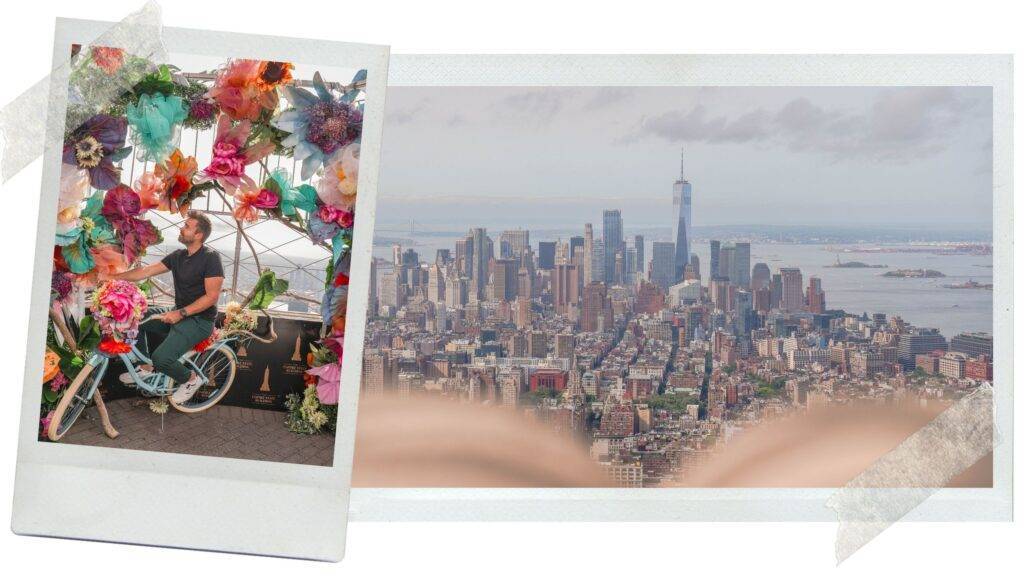 The Summit Vanderbilt
This new building opened its doors in 2020 and offers a breathtaking view of New York City through a variety of ambiences. There's a huge mirrored room that gives you a sense of immensity, a room filled with silver balloons (my favorite) and transparent cubicles that make you feel like you're walking on air.
I loved this visit, but I'd advise you to come either at the opening to be the 1st, or at sunset (although the ticket is more expensive). At the end of your visit, you'll have access to a top floor for a coffee or snack with one of New York's finest views.
Please note that this tour is not included in the Go City Pass, so book SUMMIT in advance to make sure you have room.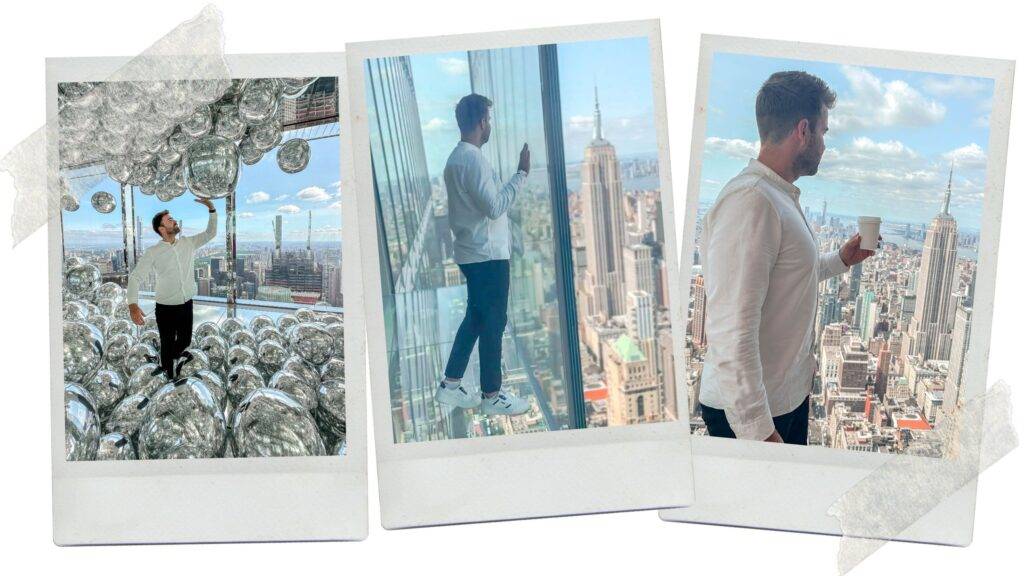 Edge Observation Deck
The Edge Observation Deck is the highest outdoor platform (located on the 100th floor, at a height of 355m) and offers a 360-degree view of New York. It's surrounded by bay windows, giving an unobstructed view of the buildings. However, I'd advise you to go in the morning, as it's very crowded in the evening and the windows are full of handprints…
*Included in the Go City Pass*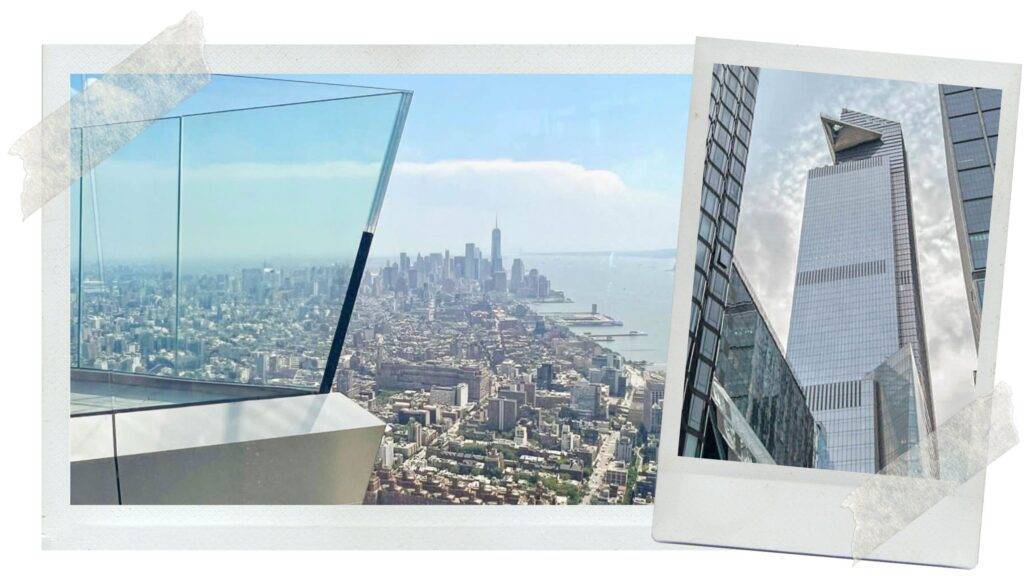 Grand Central Terminal
This station is an iconic New York landmark, also featured in many films and TV series. It is one of the largest rail terminals in the world. Its magnificent Beaux-Arts façade, vast halls and famous clocks make it an iconic landmark. The terminal also houses restaurants, shops and an art gallery. It is famous for its "salle des pas perdus", its astronomical vault and its famous Whispering. Almost a million people pass through this century-old hall every day. I recommend coming around midday to admire the sun through the stained glass windows.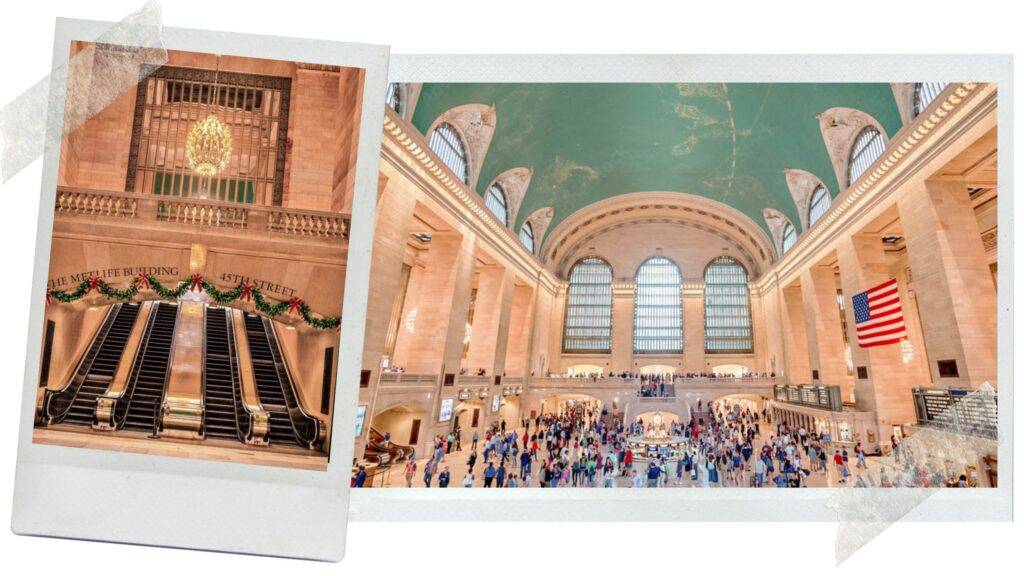 The Chelsea district
Chelsea is one of New York's oldest neighborhoods, known for its many art galleries and LGBTQ+ bars. It's a very lively neighborhood where you'll easily find nice places to have a drink or a snack, like Chelsea Market, a well-known food court with reasonable prices.
I recommend a stroll along High Line Park, a former railroad line transformed into an elevated park.
Greenwich Village
Located just below Chelsea, Greenwich Village is known for its laid-back atmosphere and rich cultural heritage, with many famous artists and musicians. I loved the slightly bohemian atmosphere of the cafés and restaurants, and especially Washington Square Park, where street artists sell their work.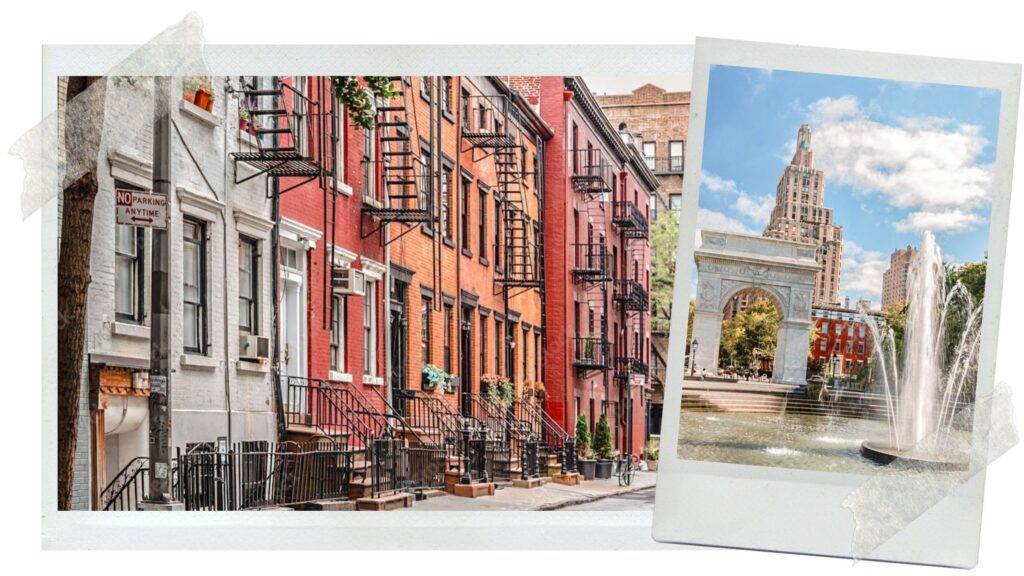 Where to eat:
If you like Asian cuisine, I highly recommend lunch at Kame. Don't be fooled by the restaurant's simple entrance, because the food is colorful and delicious! I had one of the best ramen of my life (coconut shrimp), the caramelized chicken was incredible and I was even seduced by the matcha panacotta, which was perfectly balanced. Count on around $30 per person for starter + main course.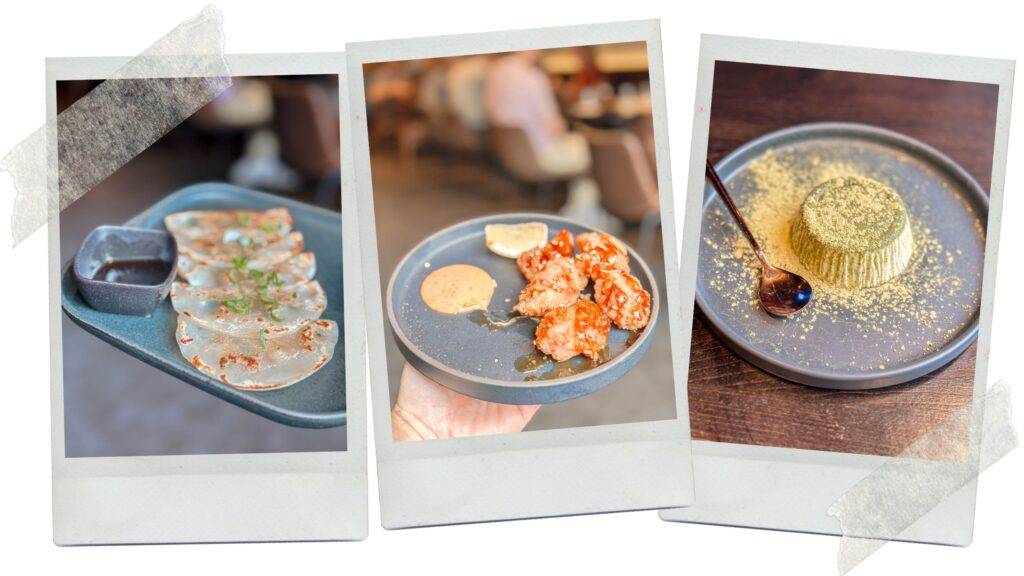 For a quality, trendy brunch, head to Jack's wife Freda, which has opened 4 locations in Manhattan. Inspired by the cosmopolitan lifestyle of its owners, Dean and Maya Jankelowitz, it offers Mediterranean cuisine with a Jewish twist. Signature dishes include Shakshuka, lemon-grilled chicken and falafel. The atmosphere is warm and friendly, with vintage decor and touches of pink. I recommend you try the waffles, which are really delicious and hearty (count $17). The eggs Benedict were good, but very small for the price…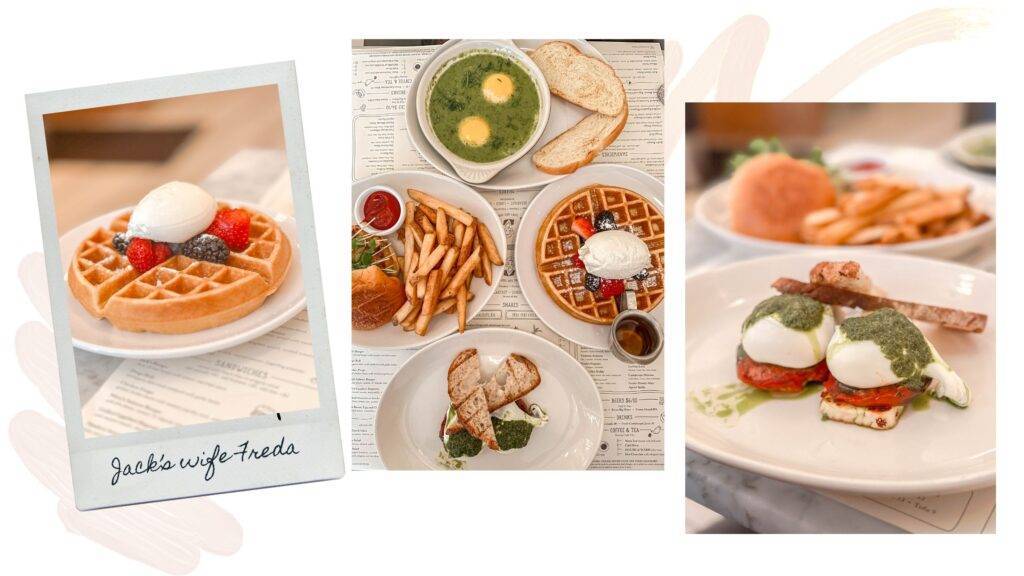 Day 2: Lower Manhatthan
The September 11th Memorial
I think everyone remembers the tragic events of September 11, 2001 and the shock of the collapse of the 110-storey twin towers of the World Trade Center. Since then, the 9/11 Memorial has been built on the site of one of the towers, with an overflow fountain engraved with the names of those lost. You can also visit the museum beneath the 9/11 Memorial.
*Included in Pass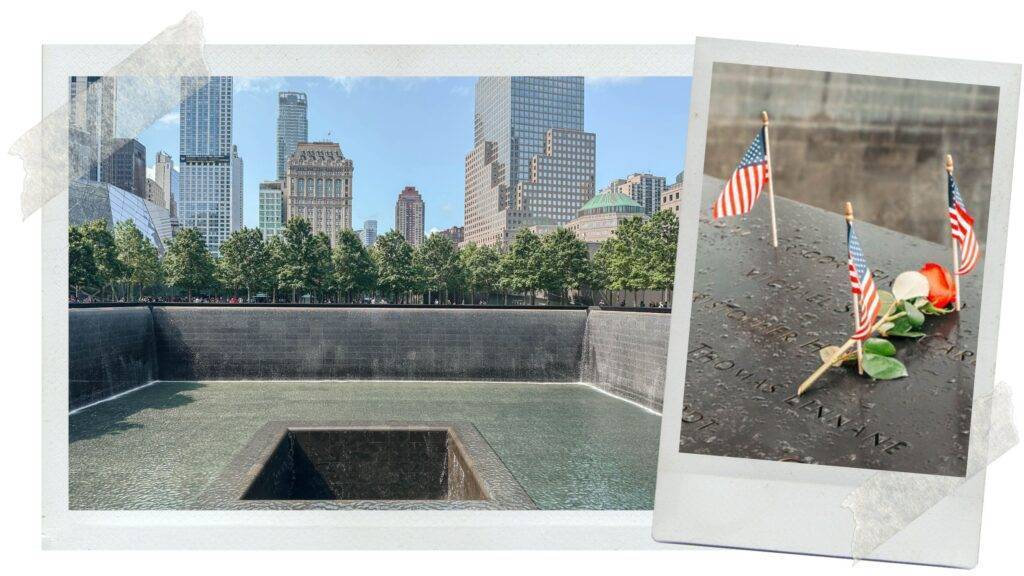 One World Observatory
Right next to the 9/11 Memorial, I recommend you climb up to the One World Observatory. This skyscraper replaced the Twin Towers in the aftermath of the attacks. Its 360-degree observation platform gives you a panoramic view of New York, including lower Manhattan, the Hudson River and Brooklyn.
*Included in Pass
The Soho district
Known as the hipster district par excellence, Soho (meaning "South of Houston Street") is located in the heart of the island, between Greenwich Village and Chinatown. Former factories have been transformed into designer loft apartments, now home to boutiques, restaurants and art galleries.
Chinatown & Little Italy
Just south of Manhattan are two of New York's most emblematic neighborhoods: Chinatown and Little Italy. Located within walking distance of each other, they perfectly reflect the city's history of immigration and cultural mixing. It was great fun to switch from one atmosphere to the other in just a few blocks!
The 230th Fifth rooftop
This is one of my favorite rooftops in New York. Located in the heart of Manhattan, it offers a breathtaking view of the Empire State Building. What's more, on weekdays you can enjoy Happy Hour from 3pm to 5pm at very reasonable prices for New York. I loved their hot chocolate with vodka (yes, I made a weird face when I saw it on the menu!).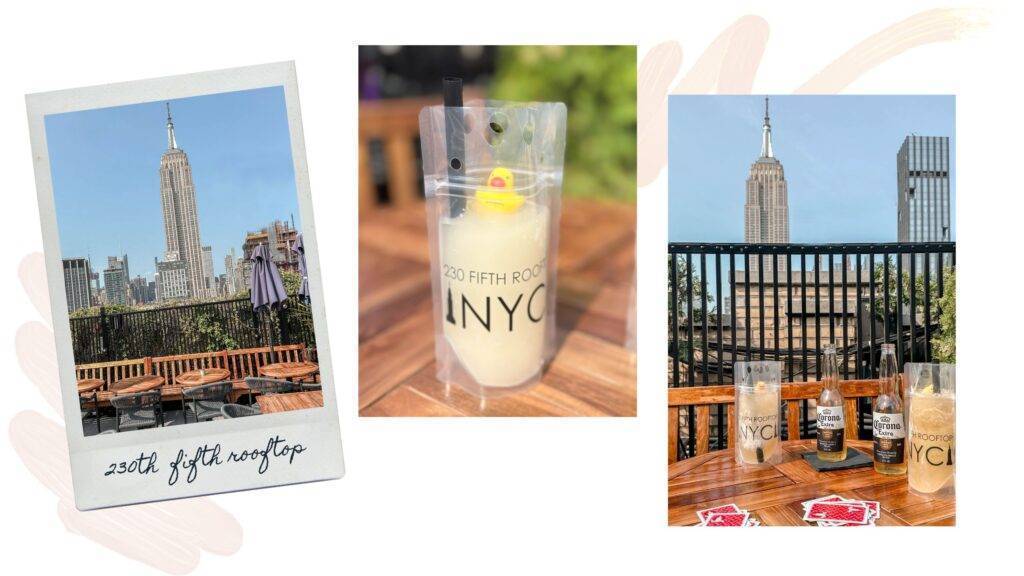 Where to eat:
If you're on a budget, you're bound to find what you're looking for in Chinatown. I was a little less convinced by the restaurants in Little Italy, which were too expensive for my taste for simple pizzas or pastas.
If you want to treat yourself, try the cocktails at Alba Accanto and enjoy some antipasti. I fell in love with the apricot spritz and enjoyed the bruschetta and stuffed zucchini flowers. The prices were high, but the setting, quality of the food and service were top-notch.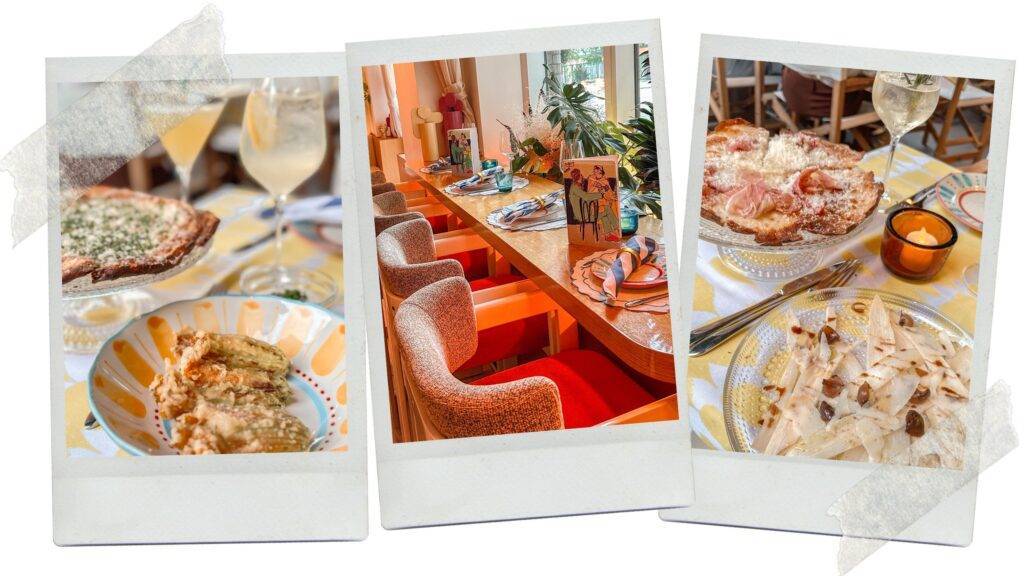 Day 3: Upper Manhattan
Top of the Rock
For another breathtaking view of the city, including the Empire State Building, I recommend climbing to the top of Rockefeller Center. You can also take advantage of the panoramic terrace to admire Central Park.
For an incredible moment, I recommend scheduling your visit 1 hour before sunset to admire the skyline under an orange-red sky.
*Included in Pass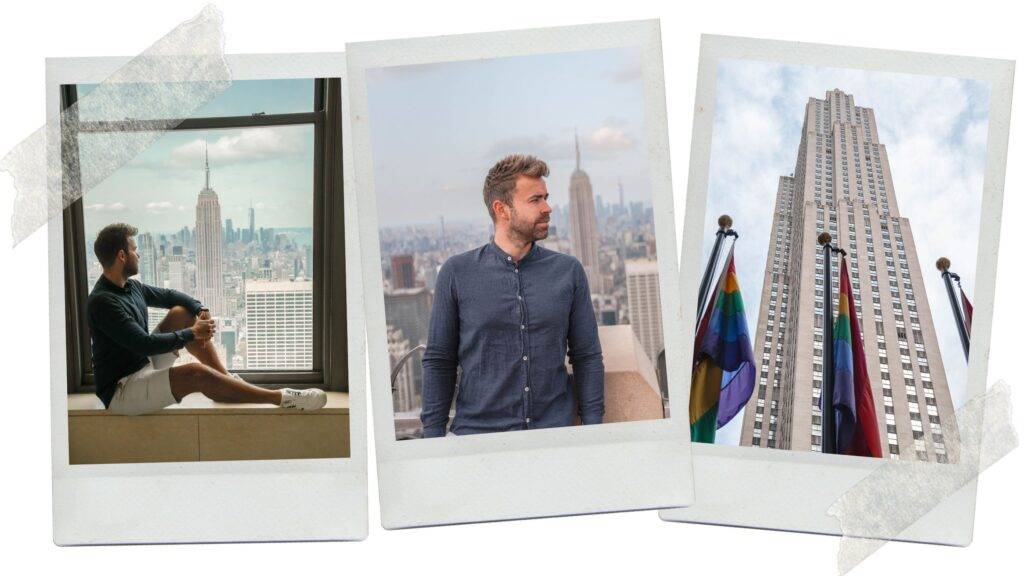 A walk in Central Park
Central Park is one of my favorite places in New York, not only because it's a green lung in the middle of the city, but also because it's the world's largest garden at 341 hectares. It's incredible to find such a peaceful spot in the middle of Manhattan, and I loved walking around and picnicking with a view of the buildings. If you feel like it, you can also rent a bike to explore the entire park.
Visit the MET and MOMA
These are New York's two best-known museums. The MET (Metropolitan Museum of Art) is recognized as one of the best museums in the world, and houses some incredible collections.
The MoMA (Museum of Modern Art) is one of the world's most influential contemporary art museums. If you love art, you won't be disappointed by this immense collection of drawings, paintings, sculptures, photographs and more.
*Included in Pass
Times Square
With its hundreds of giant screens, Times Square is obviously a New York must-see, even if it's only tourists and there's nothing specific to see. And yet, I love the over-the-top, American-style atmosphere, especially in the evening, when the screens really contrast with the night. You'll find many street performers dressed as Superman or Mickey, or amateur photographers offering their services.
Not far from Times Square is the M Social bar. It's the rooftop of a hotel, not very high up but offering a great view of the impressive Times Square screens.
Where to eat:
Maybe I should have included this on Day 1, because I'd advise you not to miss this address: Shake Shack! It's a fast-food restaurant, but believe me, the burgers are incredible… Special mention for the Shack Stack with its famous "Shroom", a vegetarian steak with mushrooms and cheese. I'm still salivating! You'll find them all over Manhattan, but the one in Madison Garden is really nice, with its quiet terrace.
For taco lovers, I recommend Los Tacos N°1. Reasonably priced and fast service.
Day 4: New York must-sees
See the Statue of Liberty and Ellis Island
The Statue of Liberty is one of New York's landmarks. Standing 46m tall, "Lady Liberty" was designed in 1886 by Frenchman Frédéric-Auguste Bartholdi as a gift to the United States on its 100th birthday.
The easiest thing to do is to take the ferry at Battery Park, south of Manhattan, which will take you to Ellis Island. Ellis Island is a historic site of American immigration, which became a museum in 1990 because every immigrant had to pass through this island before being able to reach the mainland. The visit to the museum was very interesting, and you can take it at your own pace.
You'll then have the pleasure of strolling to the foot of the Statue of Liberty, and why not climb to the very top to enjoy the view.
*Included in Pass
Eating at the Time Out Market
For lunch, I went to Time Out Market, a food court located in Brooklyn where you can sample many culinary specialties from all over the world. The place is a little dark (best on rainy days), but the atmosphere is great and the prices fair. There's also a terrace bar upstairs, but space is limited, so I'd advise you to come before 4pm if you don't want to wait for a seat to become available.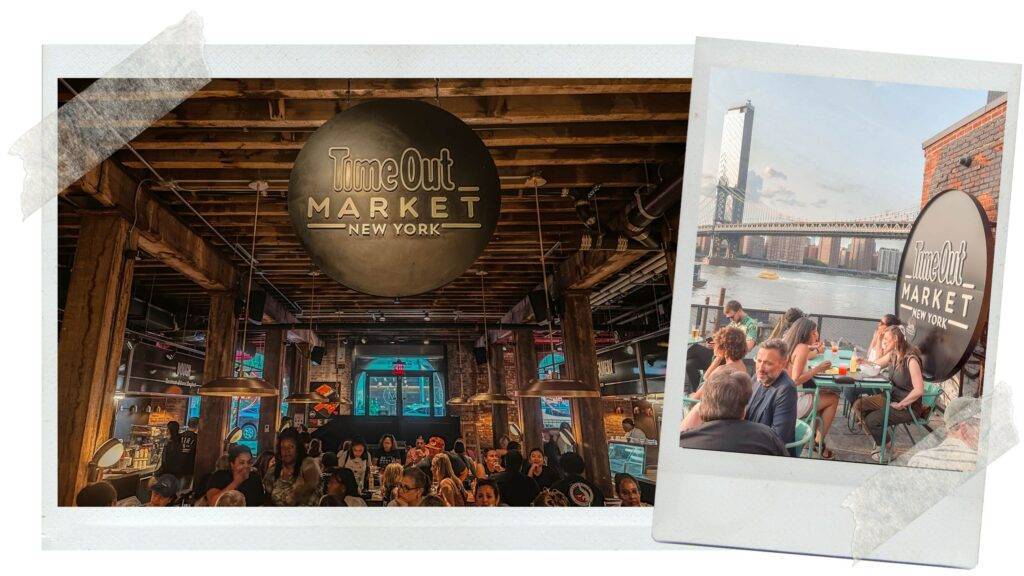 A walk on the Brooklyn Bridge
The Brooklyn Bride and Manhattan Bridge are both located next to the Time Out Market, and you can't come to New York without crossing the Brooklyn Bridge and admiring the Skyline. Allow around 25min to cross from Brooklyn to Manhattan if you want to get there on foot.
Towards the bridge is one of New York's most popular streets, Dumbo. I'll leave you with the GPS coordinates of the street in question, which you've probably already seen on Instagram!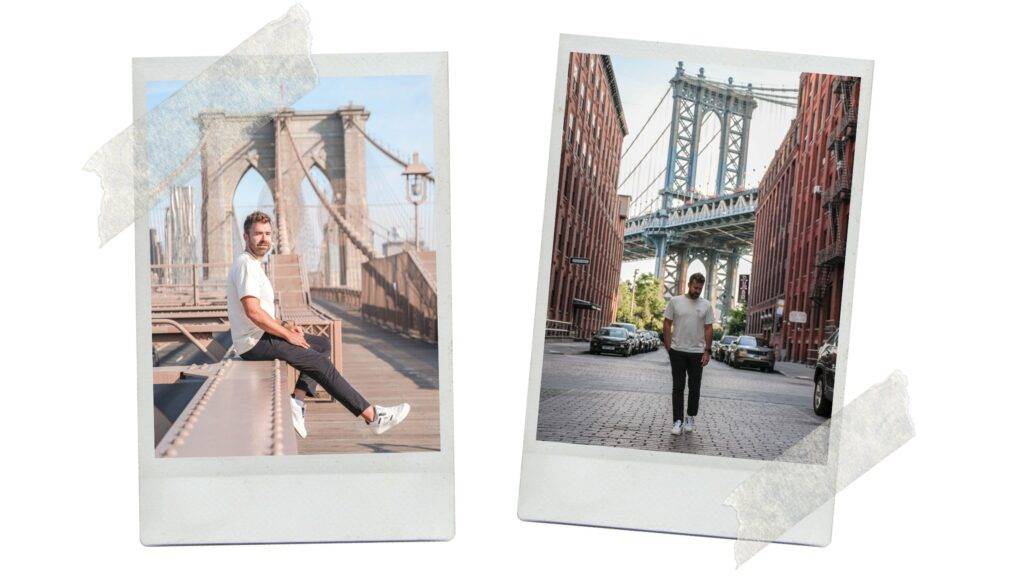 Day 5: Guaranteed thrills
Helicopter flight over New York
One of my most memorable days was undeniably the helicopter ride over New York! Admittedly, this activity comes at a price, but it's a once-in-a-lifetime experience. I booked the helicopter with the guarantee of having my feet in the air (at an additional cost), but I have absolutely no regrets! The company offering this experience is called FLYNYON. I advise you to visit their website before you leave to book when they offer a 70% discount on the flight. In fact, they offer this discount several times a month. With the 70% discount, the flight still cost me $400, as there are booking fees…
There are two circuits (15 or 30 minutes) and I recommend you take the longer one, as 30 minutes already goes by very quickly. If you book 15 minutes, it's possible that you'll be offered the 30-minute tour for less if the other helicopters aren't full. But unfortunately, nothing is guaranteed!
If you don't fancy the idea of having your legs in the air, or if you think it's too expensive, you'll find a much cheaper New York flyover on this link.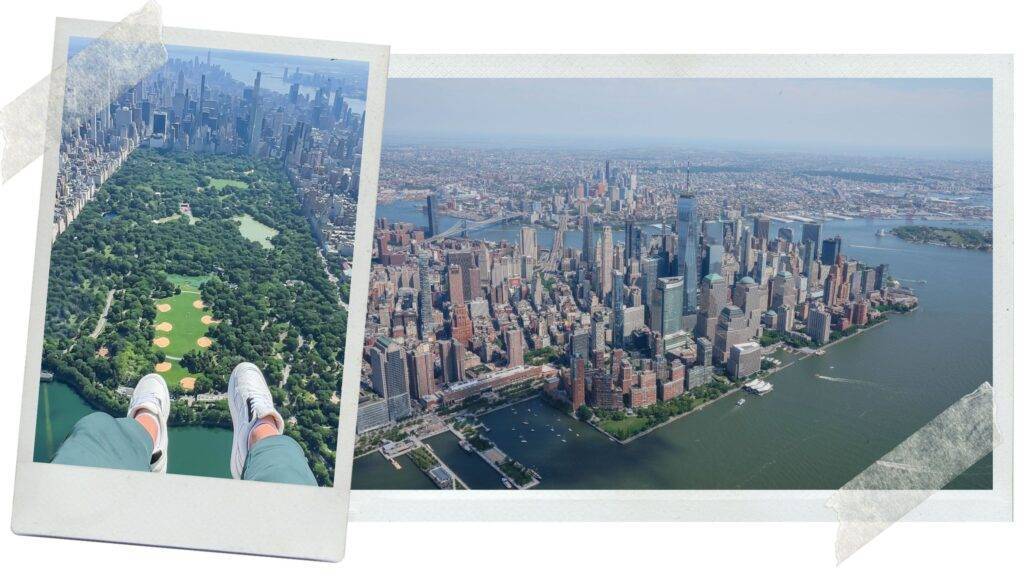 I hope I've helped you with this article on New York! Feel free to ask me any questions in comments and share the article if you enjoyed it. Looking for more travel inspiration? Check out our guides to Costa Rica, Mexico and Canada.
---
This article contains affiliate links. If we've helped you organize your trip or you'd just like to support us, please consider booking your activities and hotels in Sicily by clicking on our links. We'll earn a small commission and the price stays the same for you, of course.