One-week itinerary for your Quebec road trip

Canada, and more specifically Quebec, is a destination that many dream of. The wide open spaces, the tranquillity and the exceptional nature that can be found there, call for a road trip to Quebec. In this article, I share with you a one-week itinerary for a trip to Quebec.
Days 1 and 2: Quebec City
Days 3 and 4: Jacques Cartier National Park
Days 5 to 7: Saguenay Lake Saint-Jean
A week's road trip in Quebec
During this week-long trip to Quebec, I focused on the city of the same name and the Saguenay Lake Saint-Jean region. As distances are long in Canada, I advise you not to spread yourself too thin so as not to spend too much time in the car.
Practical information for your road trip in Quebec
↠ How to get to Quebec?
I was lucky enough to inaugurate the Paris – Quebec route with Air France. You can now find flights 3 times a week.
Find the best airline ticket prices here thanks to Ulysse. Benefit from -10€ on your first booking by registering via our link with our promotional code : PVWYP4ESA.
↠ Rent a car for your road trip in Quebec City
I advise you to use Skyscanner's comparison tool. To find the best prices for your car rental.
↠ What to budget for a week's road trip in Quebec?
Quebec is a fairly expensive destination. Prices are in line with Canadian wages, which are higher than in your country. The local currency is the Canadian dollar, the current exchange rate is 1€ = 1.34$ can. Here are the details of the budget for my trip to Quebec :
Flights Paris – Quebec: 550€ per person.
Car rental: 300€ for the week
Gas expenses: 150€ for the week
Hotels: 120€ per night on average
Restaurants: 50 euros per day per person for 2 meals
Total = 1 850€ for a 7-night stay, i.e. 925€ per person, not including activities.
Note: this budget can obviously vary depending on the price of rental cars and planes, but also on the standard of the hotels/restaurants you choose. I am only speaking from my experience.
↠ Do I have to change/withdraw money on the spot?
You can change your euros directly in Quebec City, avoiding the exchange offices near the airports, which tend to charge more commission.
For my part, I paid for everything with a Boursorama Banque bank card, which means no commissions abroad. I leave it to you to check with your own bank to see what is more advantageous between withdrawal and payment by card.
↠ When to go to Quebec?
In practical terms, it is possible to travel all year round in Canada. It really depends on your expectations. However, in my opinion, you should avoid the months of April and May, which correspond to the end of winter and therefore the thawing period.
To enjoy the pleasures of snow, winter is ideal (November to March). The period from mid-September to mid-October is ideal for admiring the flamboyant autumn colours: this is the so-called Indian summer. Finally, the summer months, between June and August, are very pleasant in Quebec, with high temperatures.
↠ Which typical Quebec dishes are a must-try ?
Update 2023: We absolutely recommend you try poutine, a comforting and tasty🤤 dish. Tourtière is another traditional Quebec dish, particularly popular during the festive season. There's also pea soup or maple taffy, which is a typically Québécois sweet treat. It's a kind of maple candy, made by boiling maple syrup until it thickens, then pouring it hot over clean snow.
Whether you're looking for comfort food, sweets or regional specialities, Quebec cuisine is sure to please.
---
Road Trip to Quebec: a one-week itinerary
Days 1 to 2 : Québec City
To start your road trip to Quebec, we recommend you to book your first two nights in Quebec. In fact, apart from the city centre, there are some great places to visit in the outskirts. ?
Where to sleep in Quebec?
I recommend the Saint-Paul hotel, ideally located in the Old Quebec district. Very good value for money due to the ideal location!
What to do in Quebec and its surroundings ?
I've put together this programme over 2 days so that you can adapt according to the arrival time of your flights.
Visiting Québec City Centre
The city of Quebec has many attractions, especially the old town which is an authentic and unforgettable quarter.
To discover and learn more about the history of the city, you can book a guided tour by clicking here.
If you want to visit it on your own, here are the points of interest to see:
Castle Frontenac
Dufferin Terrace
Park du Bastion de la Reine
Doors Saint-Louis et Saint-Jean
Saint-Louis Street
You can stroll through the streets (the best way to discover a city !)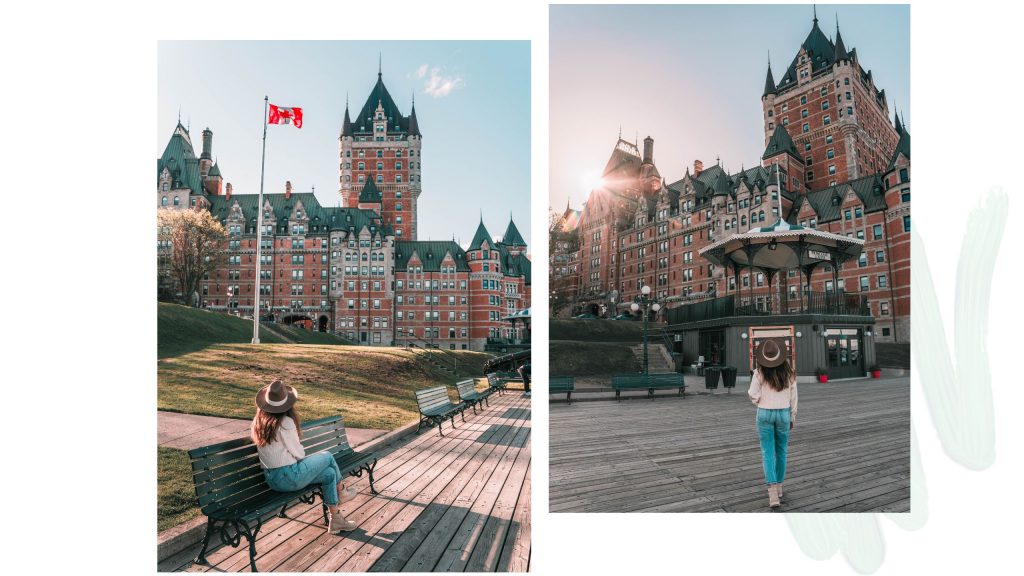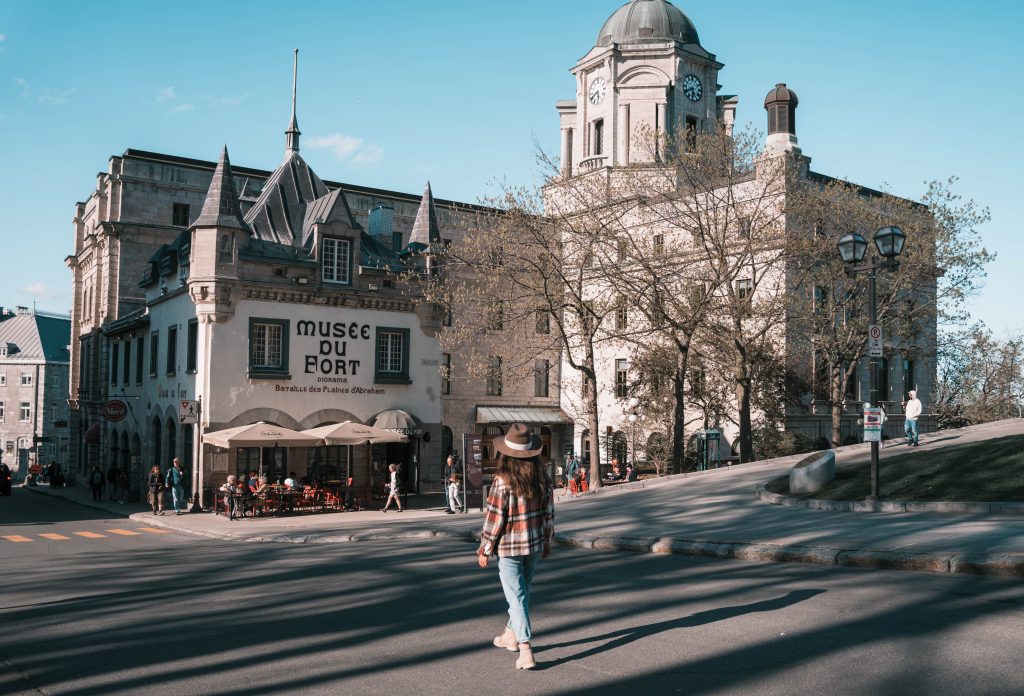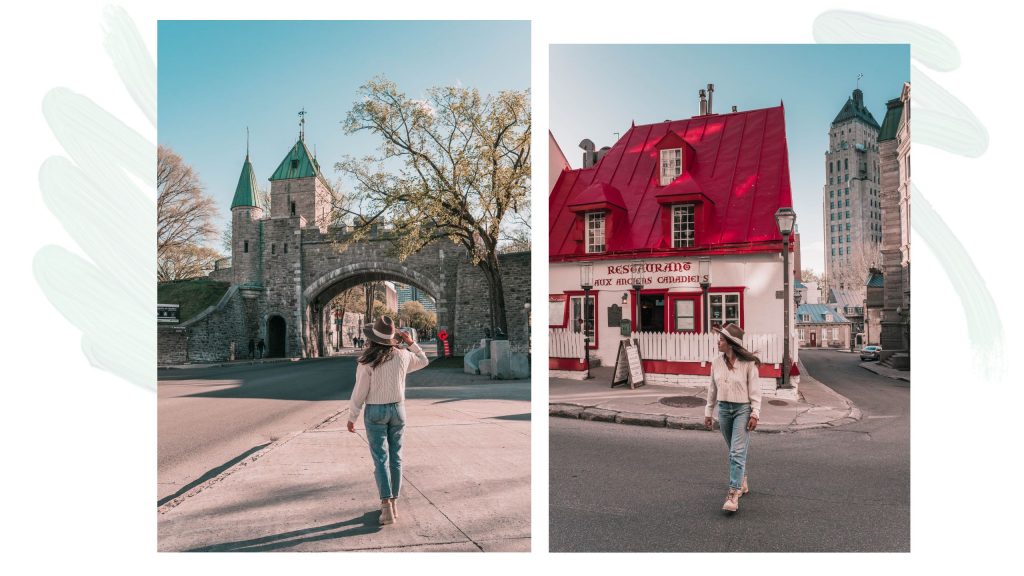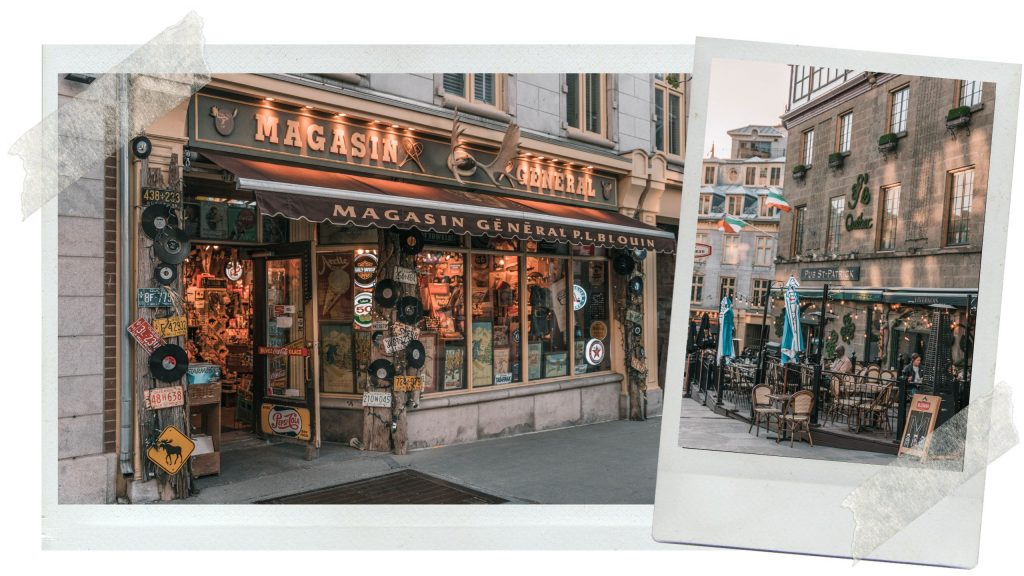 Take the cable car to the Petit Champlain district
Petit Champlain is a cute little neighbourhood, not to be missed either. You will find small artisanal shops. To get there, take the cable car that leaves in front of the Castle Frontenac.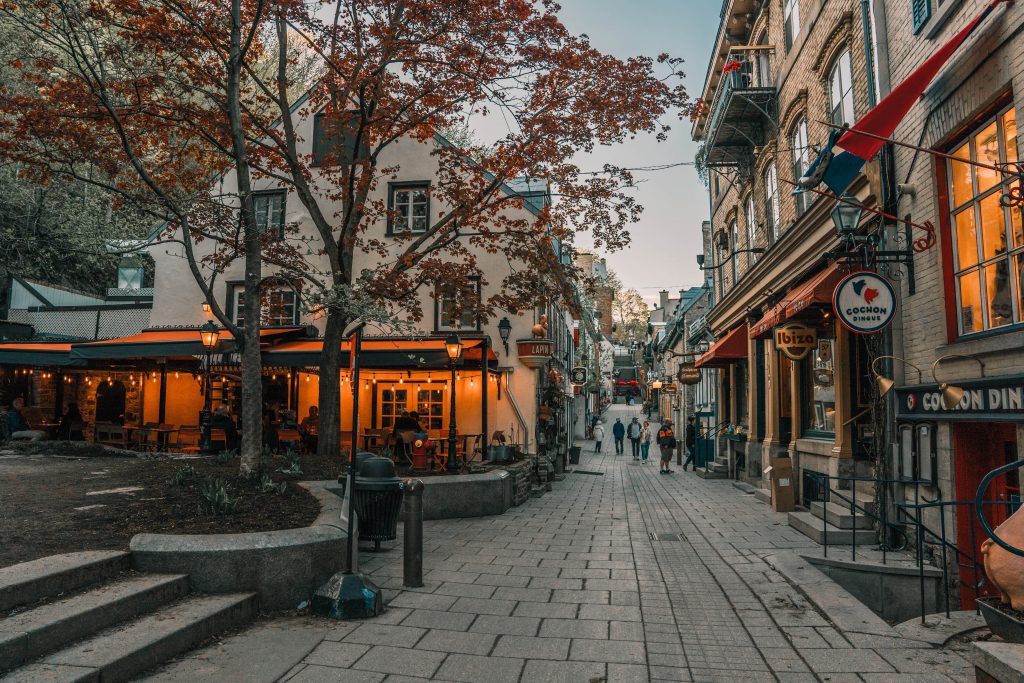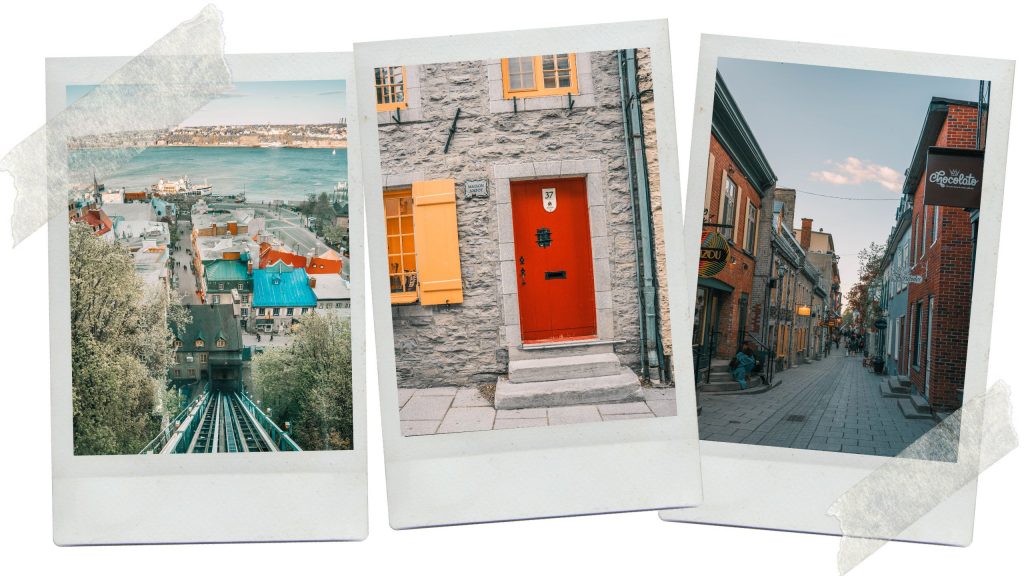 Cruise on the St. Lawrence River
To continue your visit of Quebec City, it is essential to embark on a cruise on the St. Lawrence River. This river is one of the emblems of Quebec as it crosses it, over 1000 km long. In winter, it is completely frozen, it must be impressive!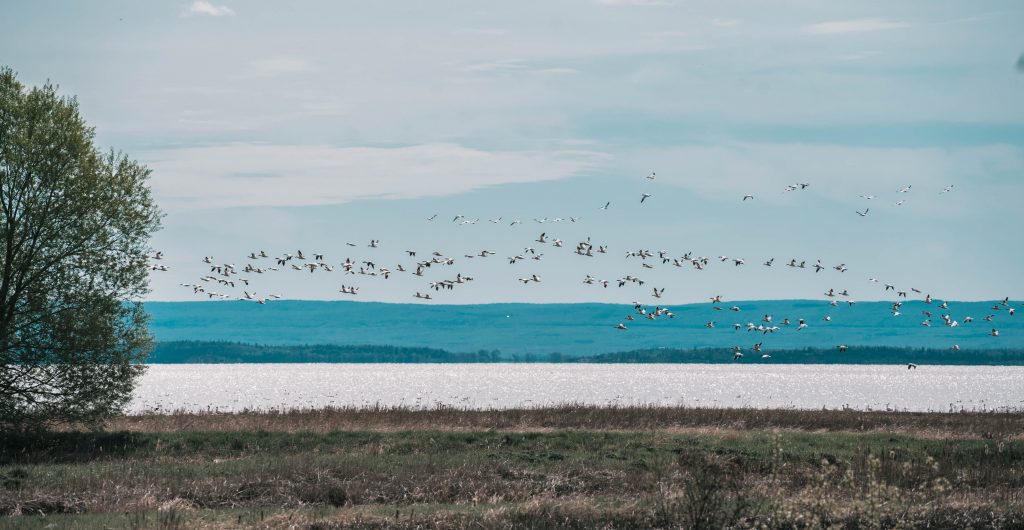 Relaxation at Strøm spa
During your road trip in Quebec, you are bound to go to Strøm spa for a relaxing moment. This Nordic spa is absolutely beautiful. There are many relaxation areas and heated pools. The facilities are super clean. I would 100% recommend.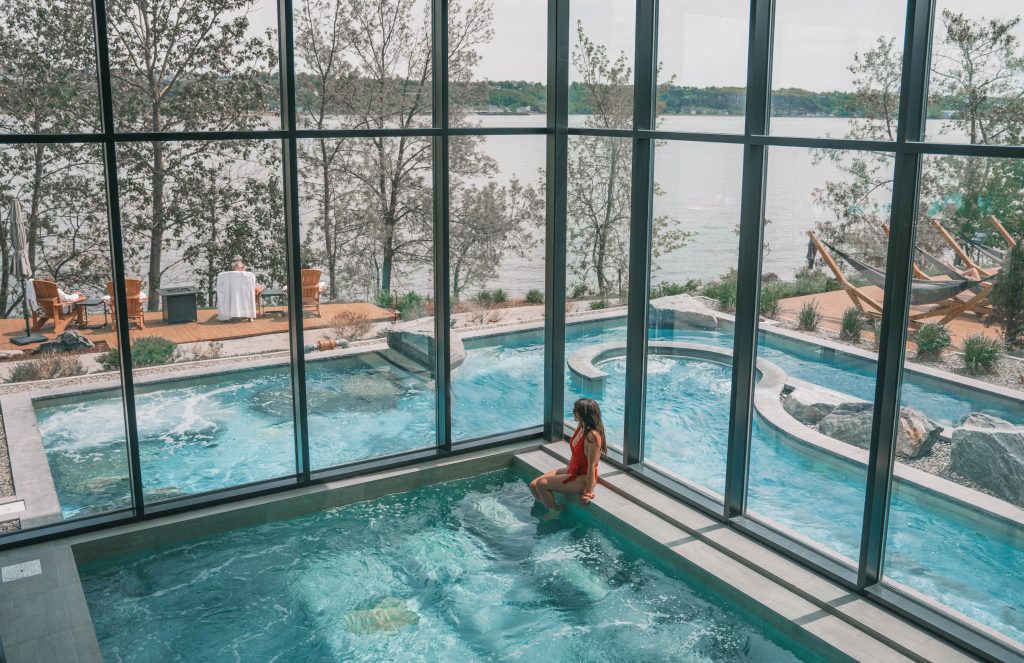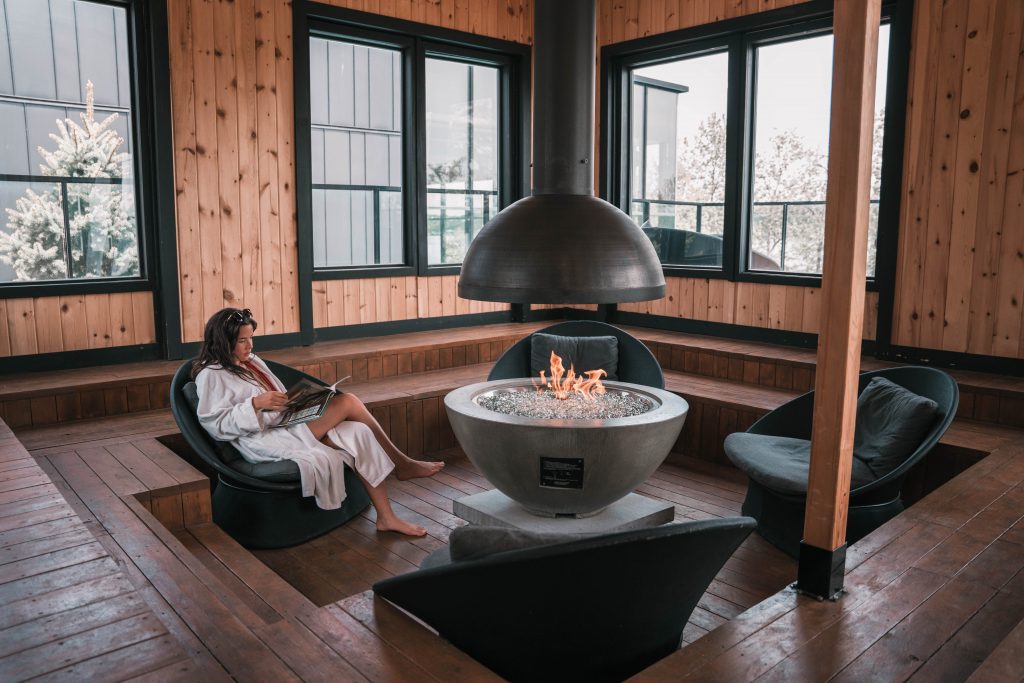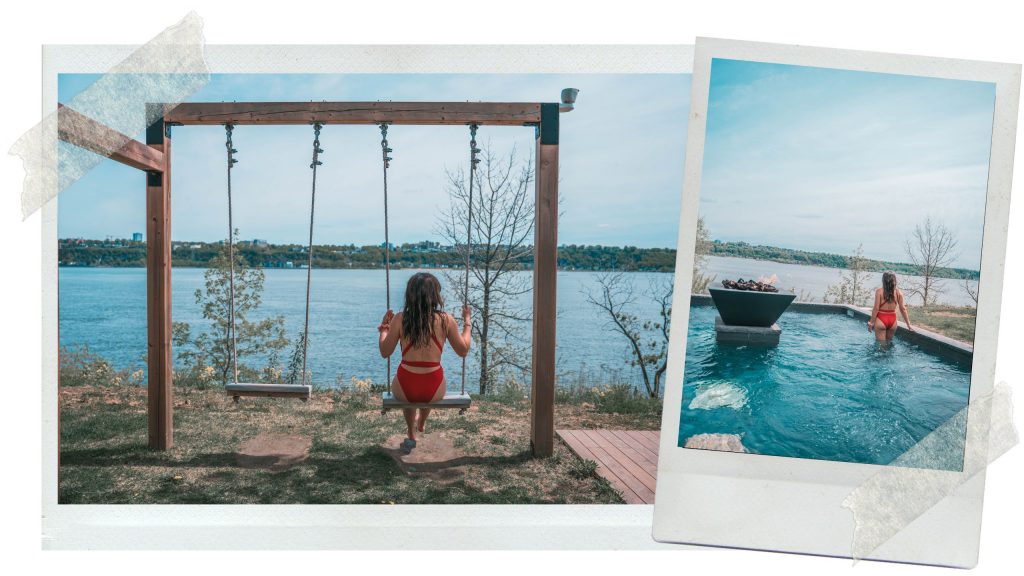 Montmorency Falls
Located 15 minutes by car from Quebec City, the Montmorency Falls is an impressive sight. At 87 metres, it is higher than the famous Niagara Falls.
To observe it, park on this car park.
Also, you can take the cable car that runs alongside it, which is quite unusual. Get your tickets from this site.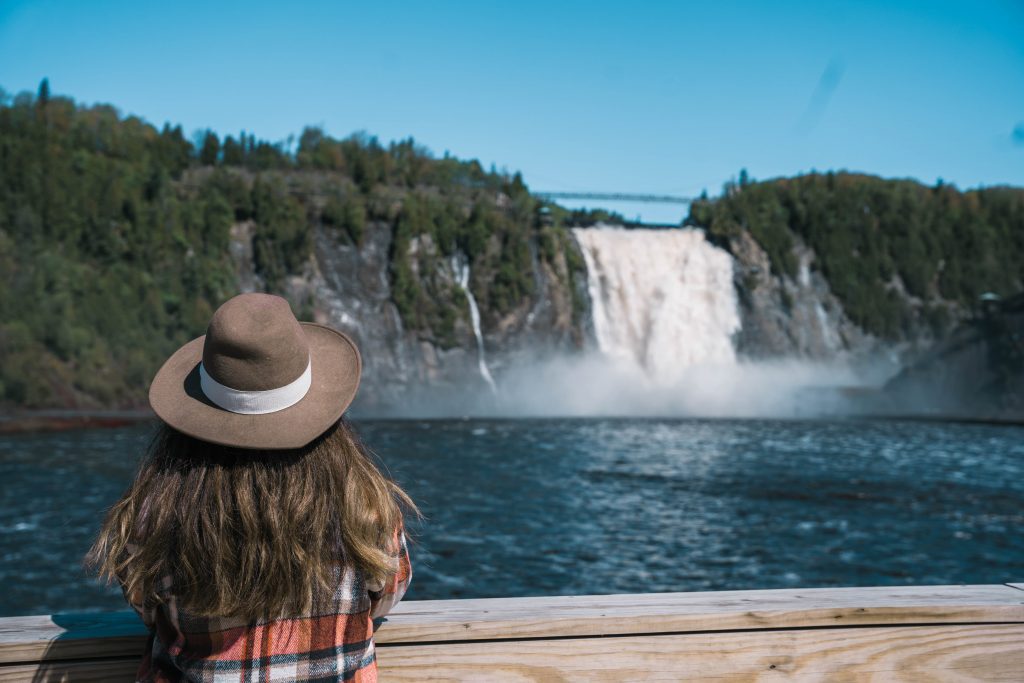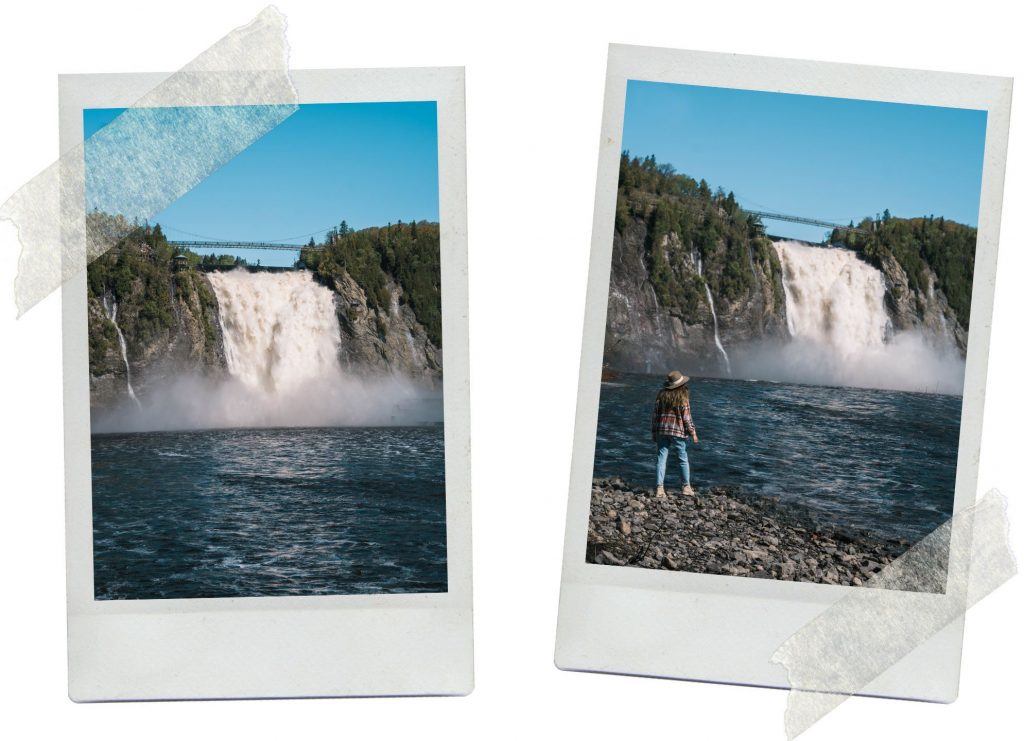 The island of Orleans
The island of Orleans is also close to Quebec City, and is bordered by the St. Lawrence River. Climb aboard a sea kayak to discover the beauty of this river.
This place is home to a preserved nature with a rich agriculture. You can drive around by road to admire the landscapes. Also, find a map of things to see at the tourist office.
☞ Another gourmet alternative: a food tour to taste specialities and discover local producers. Reservation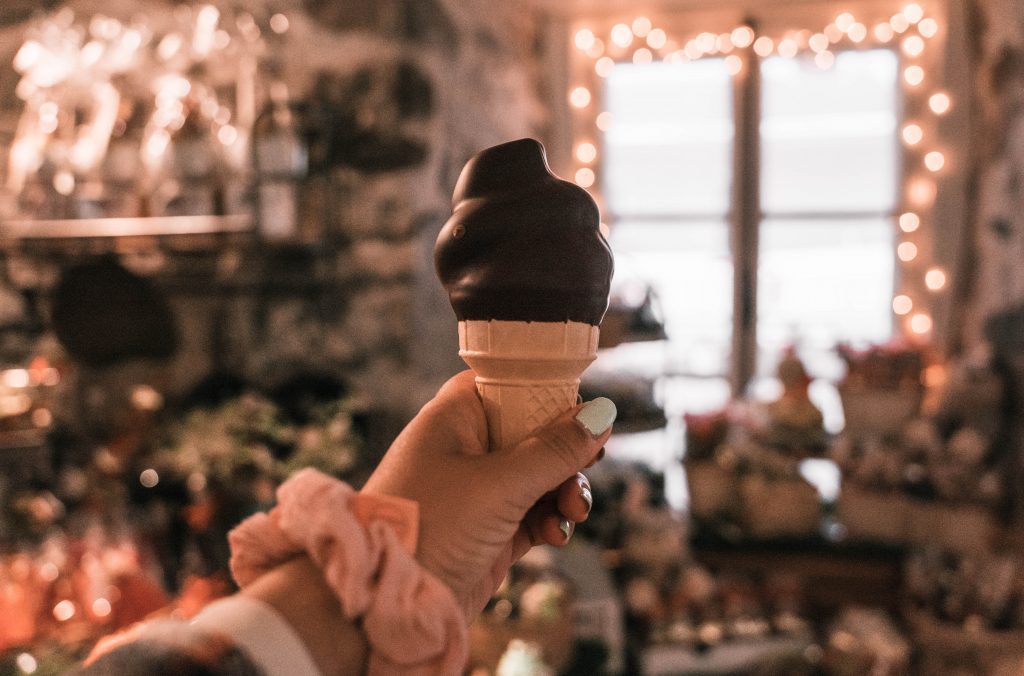 ---
Days 3 and 4: Jacques Cartier National Park and Wendaké
For the second leg of this Quebec road trip, we will head to Jacques Cartier National Park.
With more than 100 km of hiking trails and water activities (in summer), there is a lot to do in the Jacques Cartier river valley. It's possible to visit in winter too, which can be fun with snowshoeing or skating, among other activities.
Between the surrounding massifs and the waterholes, you will be amazed by the immensity of the landscape.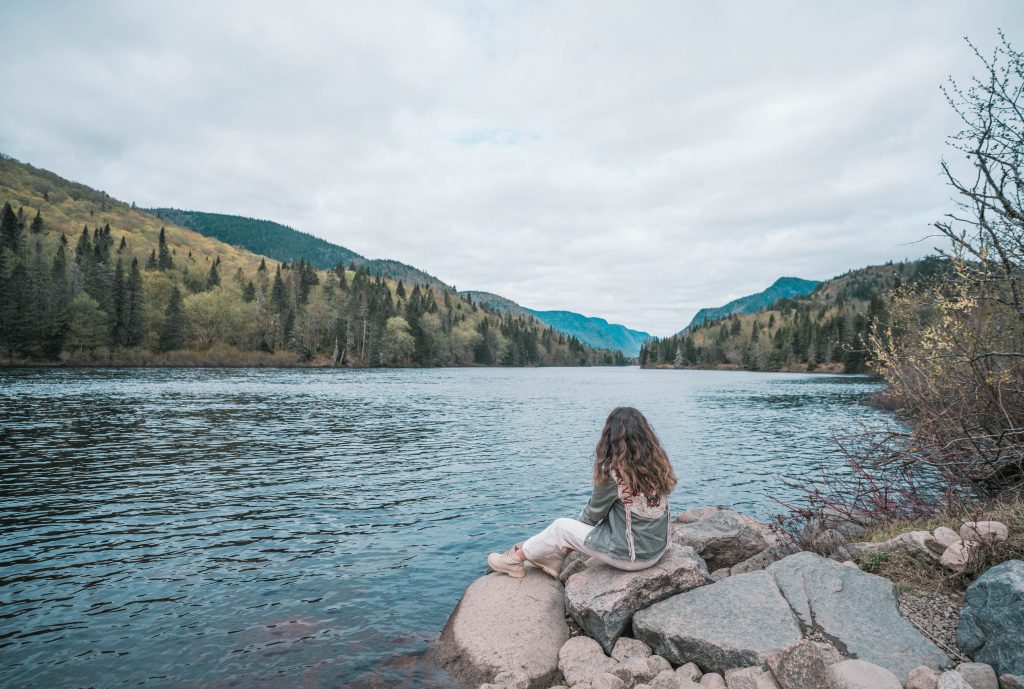 Access to Jacques Cartier National Park
Price: $9 per day per adult, free for children under 17. Go to the discovery centre to pick up a hiking map and organise your activities.
Where to sleep in the heart of the National Park?
Unusual accommodation is available for overnight stays in the Jacques Cartier Park. It is an incredible experience to sleep in the middle of nature!
I chose one of the EXP chalets which are right on the river. The chalets are very well equipped, with a kitchen, a barbecue, the possibility to make a campfire and a private bathroom with hot water. Reservation here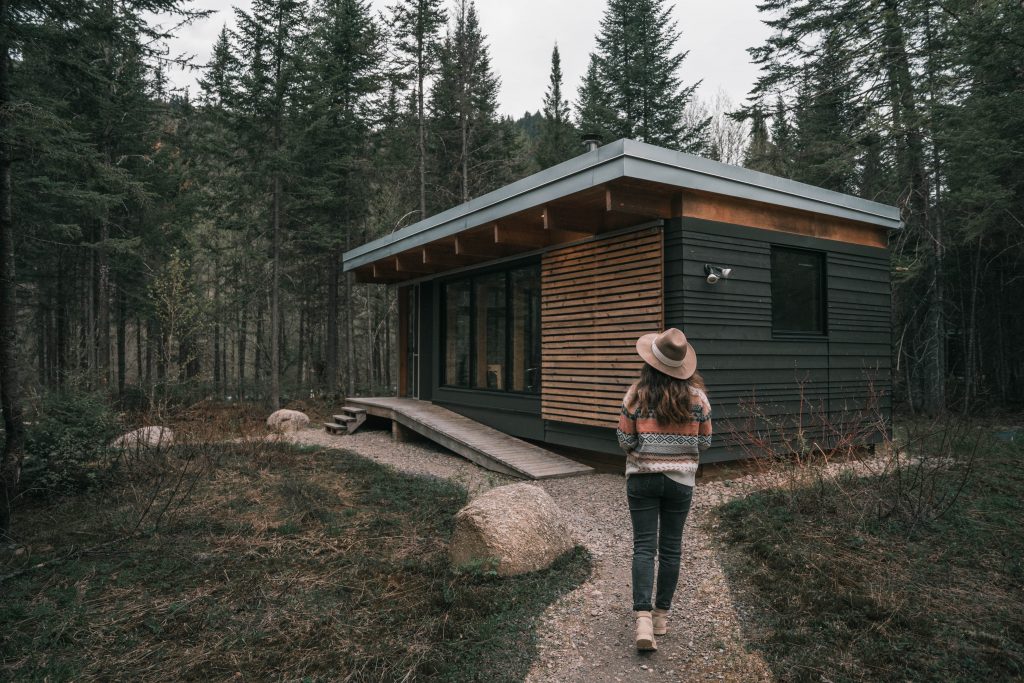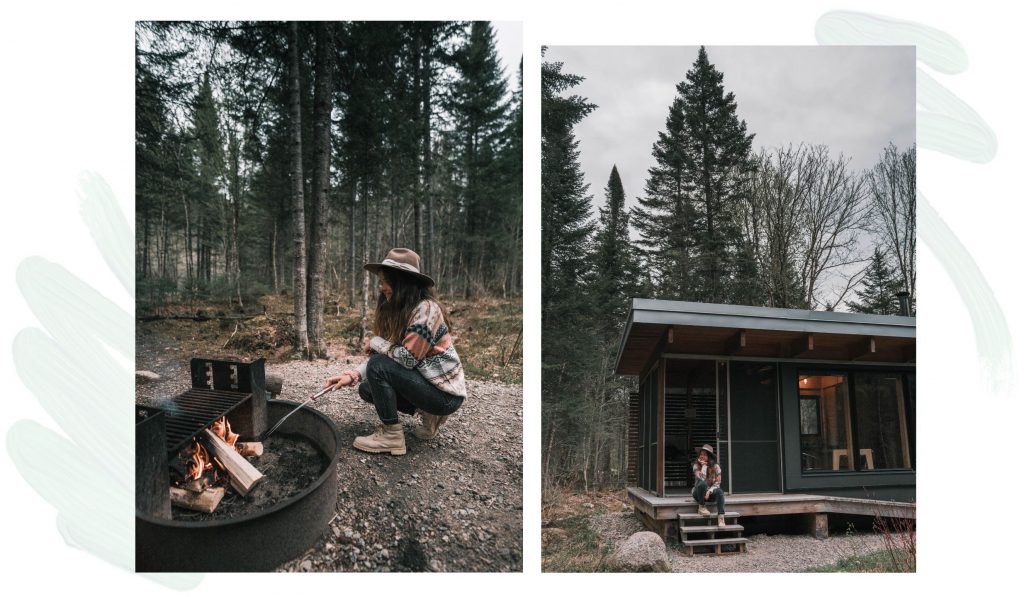 Stoneham Nordic Spa
On your way out of the park, stop for a moment of relaxation at the Spa Nordique Stoneham. It's much smaller than the one in Old Quebec but beautiful for its forest setting. There are hot water pools, saunas, hammam, then access to the river for a refreshing bath after the sauna!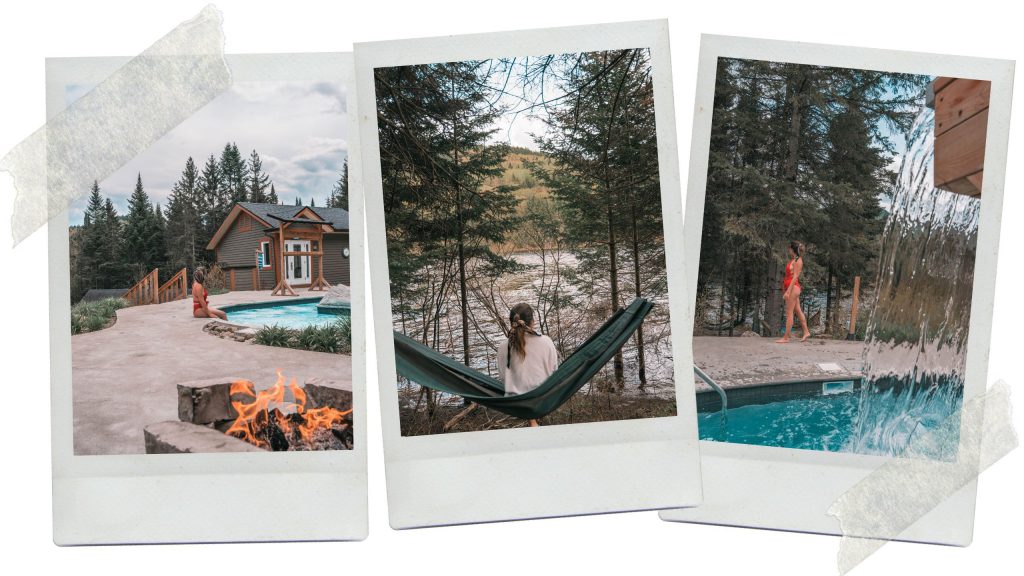 Lunch at La Souche Stoneham
Ready for a good poutine? It's the most famous Canadian specialty, made with fries, melted cheese and other condiments to choose from according to your taste. It's delicious and greasy, just what I like!
Head to La Souche Stoneham Brewery for a reasonably priced lunch with a good local beer.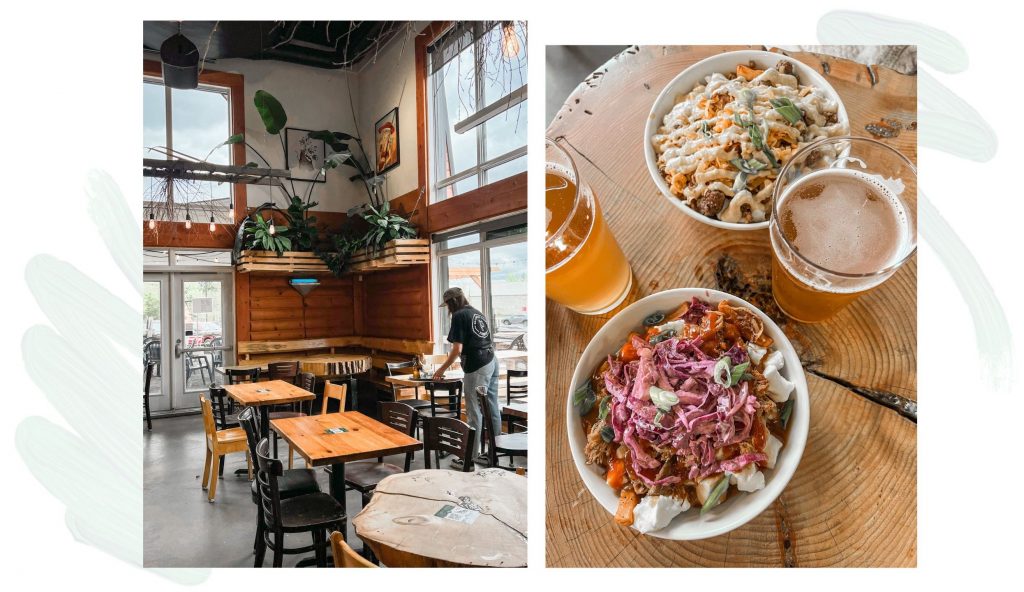 Wendake, discovering an indigenous culture
In Canada, there are 11 Aboriginal nations that cultivate their millennial culture and exceptional know-how. I had the chance to discover one of them in Wendaké, the Huron-Wendat First Nation.
To get the most out of the experience, I recommend staying at the First Nations Hotel-Museum. The decoration is both traditional and modern. Within the hotel, there is a museum to learn all about the Huron-Wendat and their history. Also, don't miss the Myths and Legends evening event held in a traditional longhouse (ask at the hotel reception).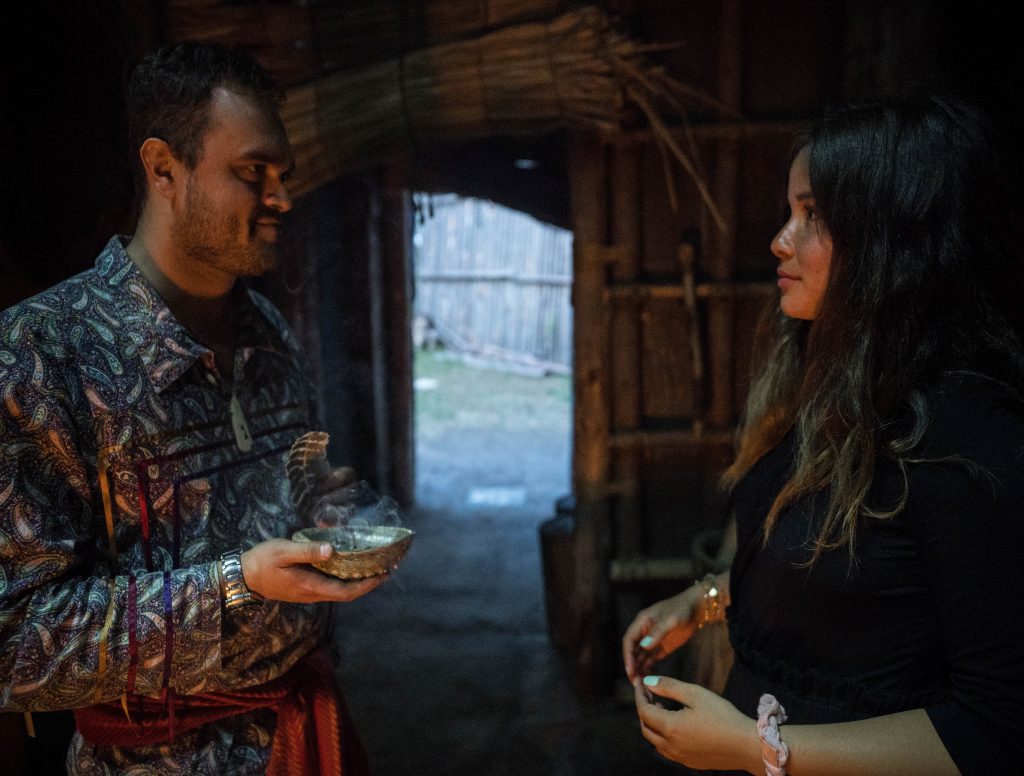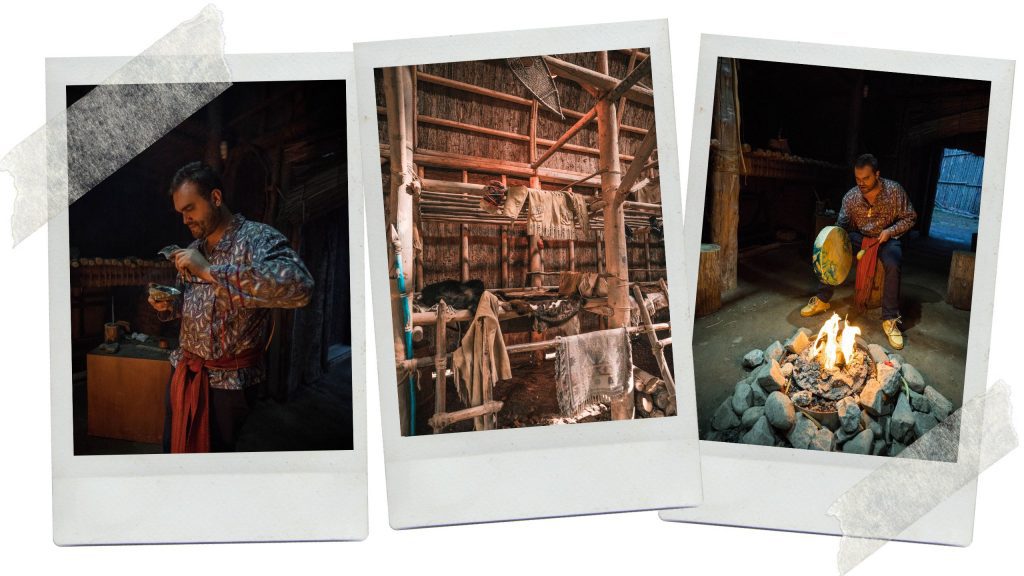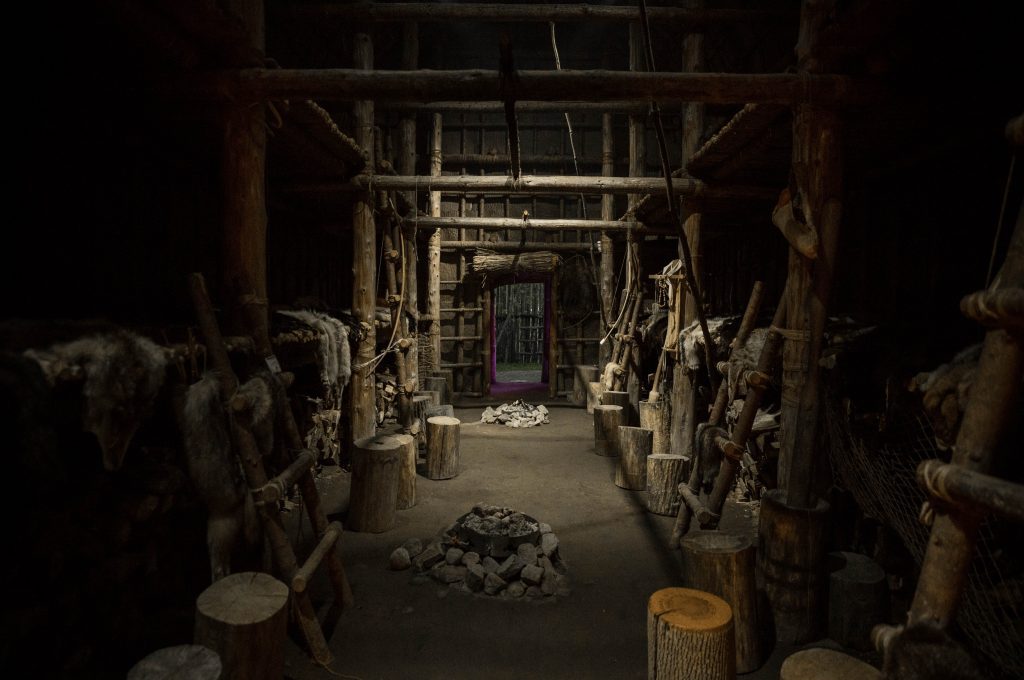 ---
Days 5 to 7: Saguenay Lake-Saint-Jean, continuation and end of the road trip in Quebec
It's time to hit the road to other lands, to Saguenay Lake Saint-Jean. From Wendaké, you will pass through national parks and fabulous landscapes with stretches of trees that seem to go on forever.
Saguenay Lake St. Jean is a large region of Quebec with beautiful natural areas. You will find a lot of water (river, lake, fjord…) and therefore many possible activities, in summer as well as in winter!
What to do in Saguenay Lake Saint-Jean?
Zoo sauvage of Saint-Félicien
I loved the visit of this animal park! The animals are well treated and the zoo is configured in such a way that their original natural environment is respected. The 75 species that have found refuge here are only animals that originally lived in cold regions of the world, so that they remain in conformity.
Allow half a day on site because there are many areas to see between the pedestrian part and the train ride through the park. You will see many animals ?.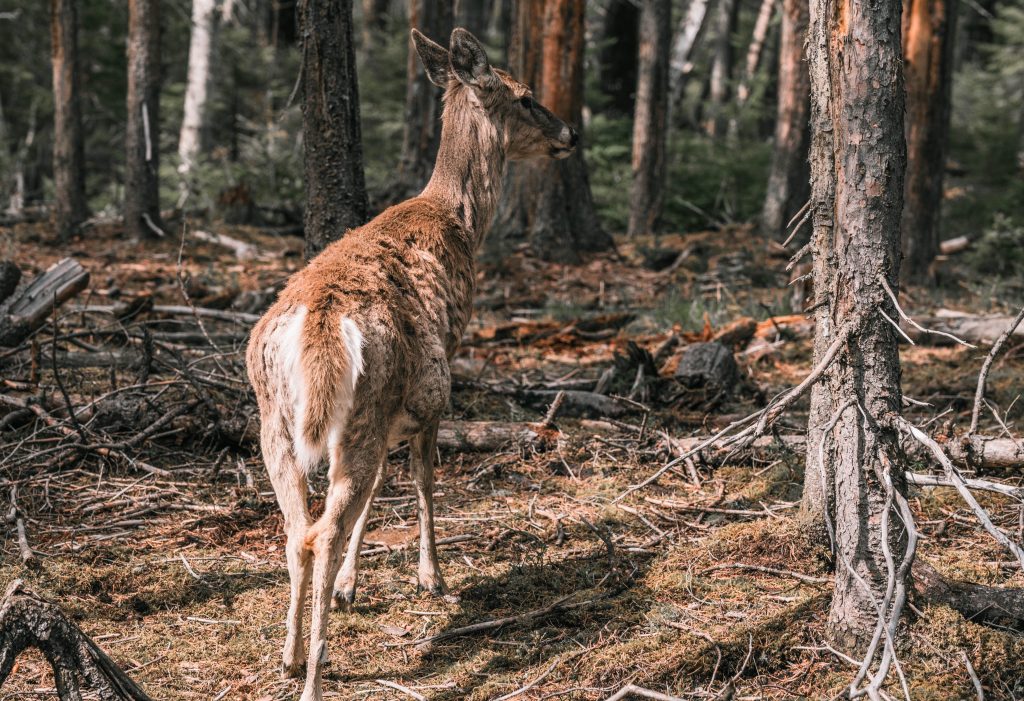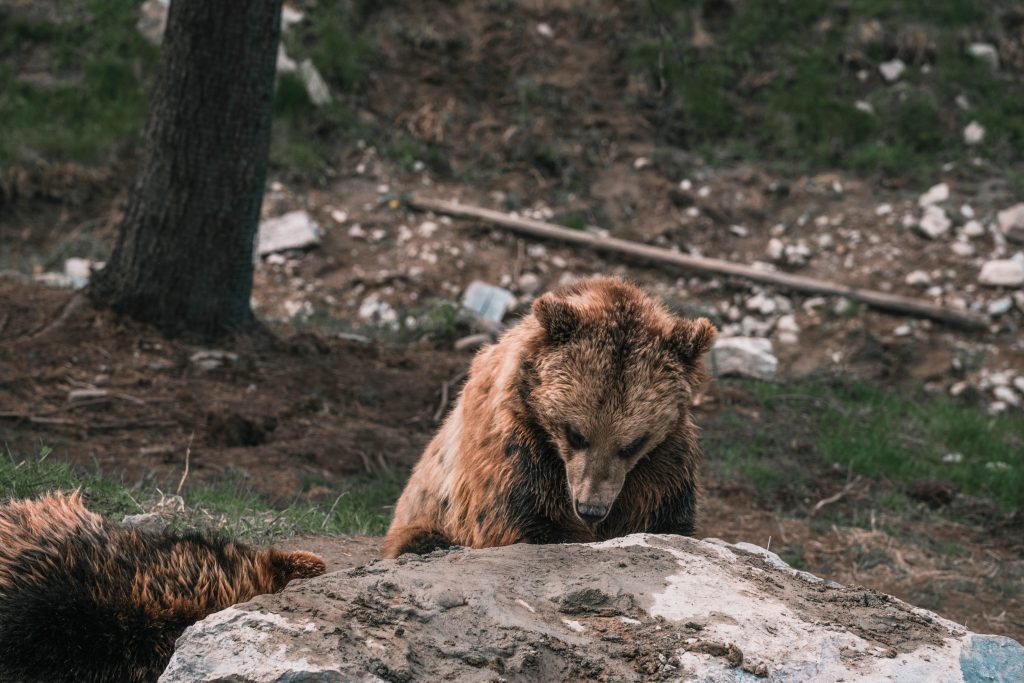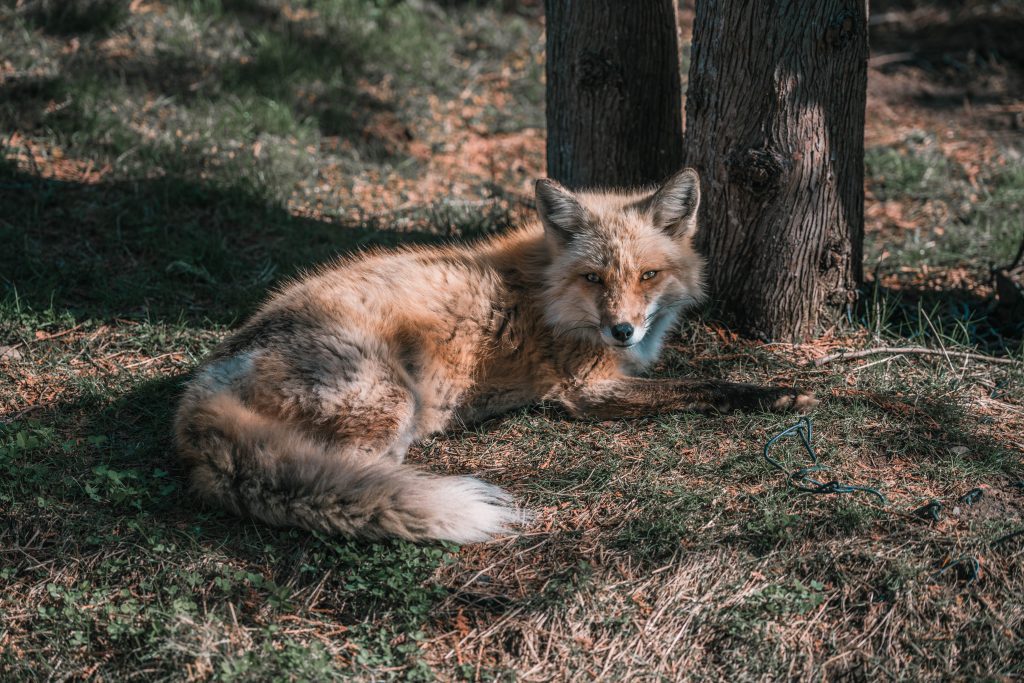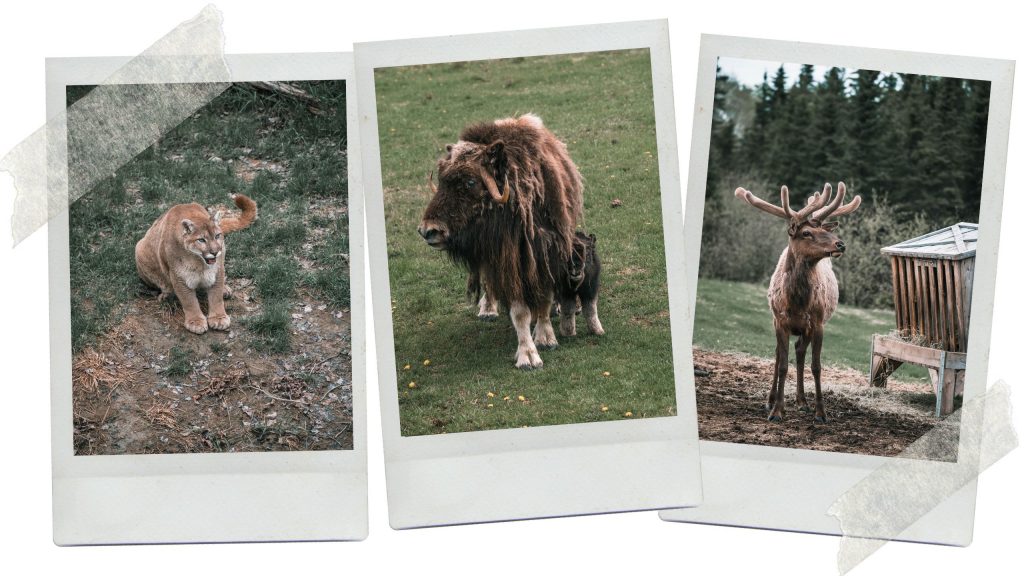 Michel's waterfall
Very nice for the sunset, the fall to Michel is a calm and majestic place, also located in Saint-Félicien! The power of the river is impressive. Picnic tables have been installed if you wish.
🏨 Where to sleep?
On the edge of Lake Saint-Jean, I recommend staying at this establishment (click).
The Spa is splendid and the accommodation warm.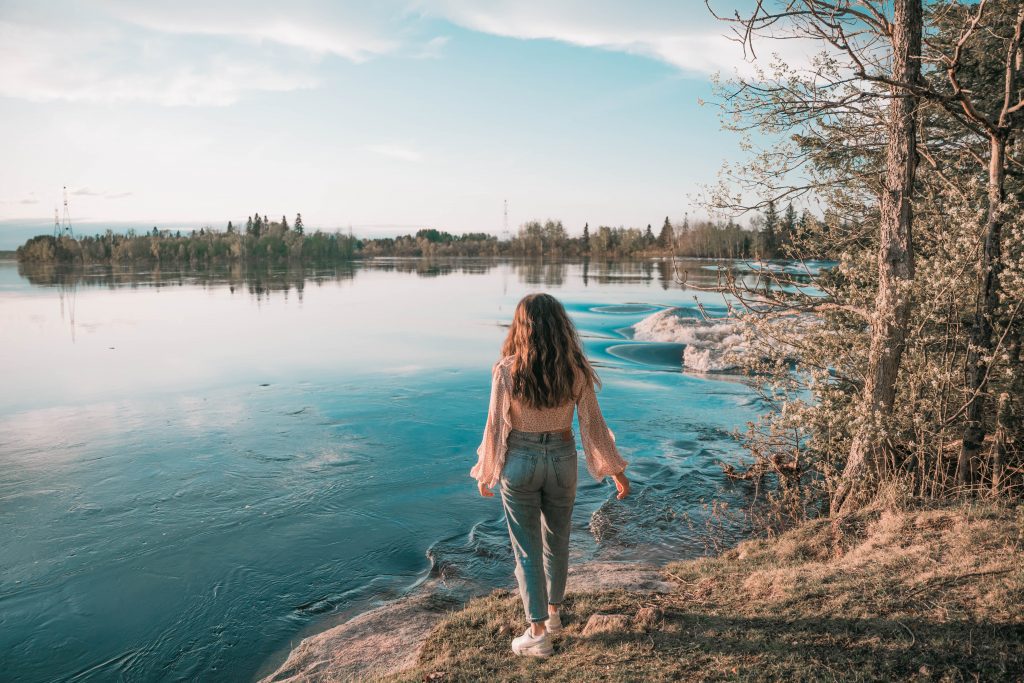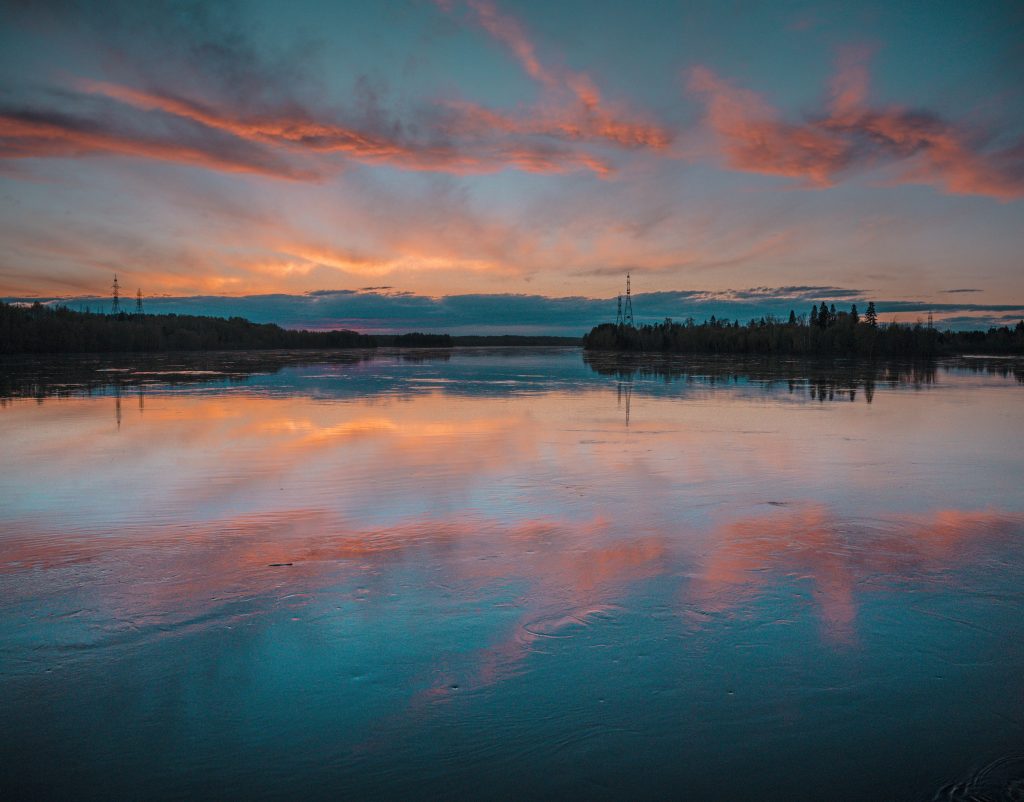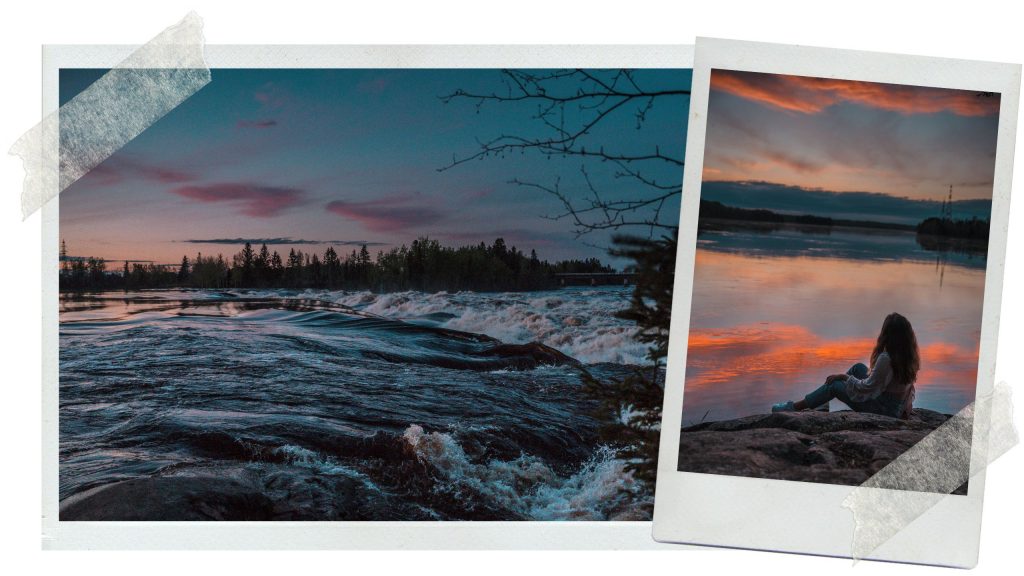 ---
Continuation of the road trip in Quebec, in Saguenay Lake Saint-Jean
After a good night's rest, we'll head for the Saguenay Fjord. So to begin with, what is a fjord? It's not just a yogurt, as many of you have told me on Instagram ?.
A fjord, according to the Larousse, is "a deep indentation in the shoreline, often branched, narrow and bordered by high cliffs, resulting from the recent invasion of a glacial trough and frequent." A definition that promises an incredible landscape!
Stay at Park Aventures Cap Jaseux
For nature lovers, Park Aventures Cap Jaseux is the place to be! Established on the edge of the fjord, many activities are available: via ferrata, kayaking, massage, hiking, fishing…
Also, unusual accommodation options are available. So I chose to spend the night in a dome, a first for me! No regrets, I loved it. A must try to feel alone in the world in the heart of the forest, with a view on the fjord and the stars at night. ?
🍽️ Good address for dinner 20 minutes drive from the park: the Restaurant Le Mukushan at the Cap au Leste outfitter. Good food and nice view!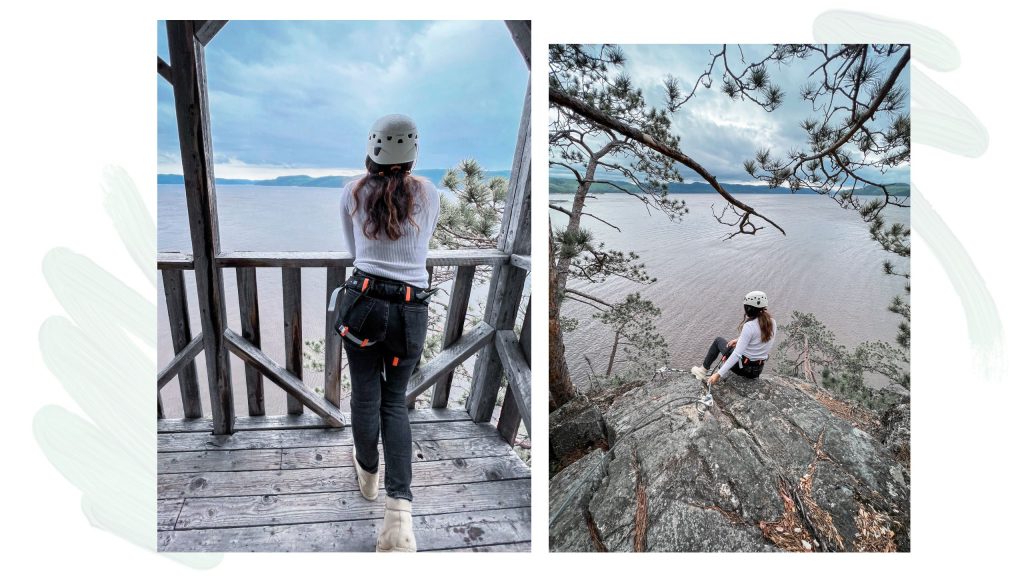 Whale watching in Tadoussac
The Saguenay-St. Lawrence Marine Park is the ideal place for whale watching. Many tourists come from elsewhere just for that !
Kayaking on the Saguenay Fjord
Now that you know the definition of a fjord, it's time to reinforce your knowledge by navigating it in a kayak! During the summer months, you can even swim in the fjord. However, I did this activity at the beginning of May and the water was FREEZING, so be sure to bundle up.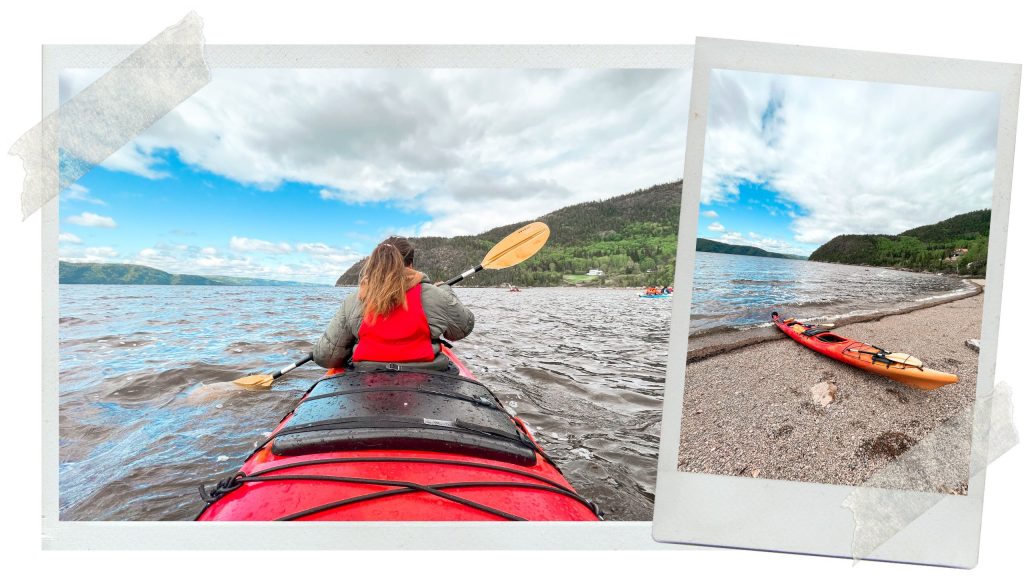 Boat cruise on Lake Saint-Jean
Another water activity to enjoy the sublime Lac Saint-Jean, discover this boat cruise with a nature guide who will explain all about the flora and fauna!
Black bear watching
I haven't had the chance to do this unusual activity, but it's clearly on my list of 100 things to do before I die… I suggest you head into the Canadian forest, accompanied of course by a specialist guide, to observe black bears in their natural habitat. It's a dream!
☞ Book this excursion by clicking here.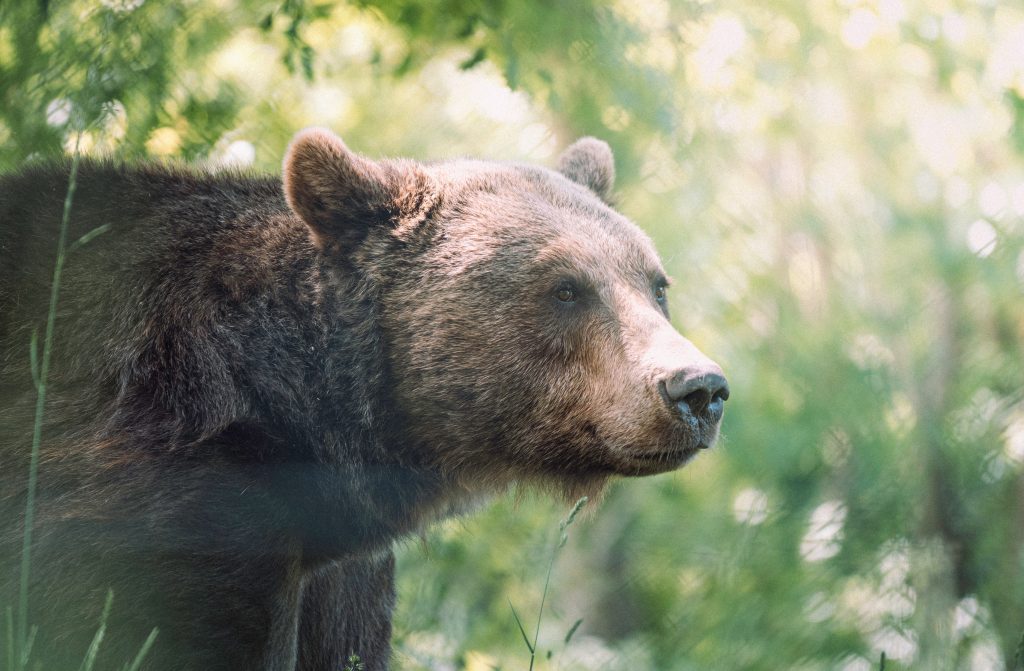 Sunset at The Anse à la Tabatière
For your last evening of this Quebec trip, drive to The Anse à la Tabatière to watch the sun set.
Overnight at Auberge La Fjordelaise
Before heading back to the airport the next day, I had dinner and spent the night at Auberge la Fjordelaise. The couple who run it are lovely, the food is delicious. A great welcome!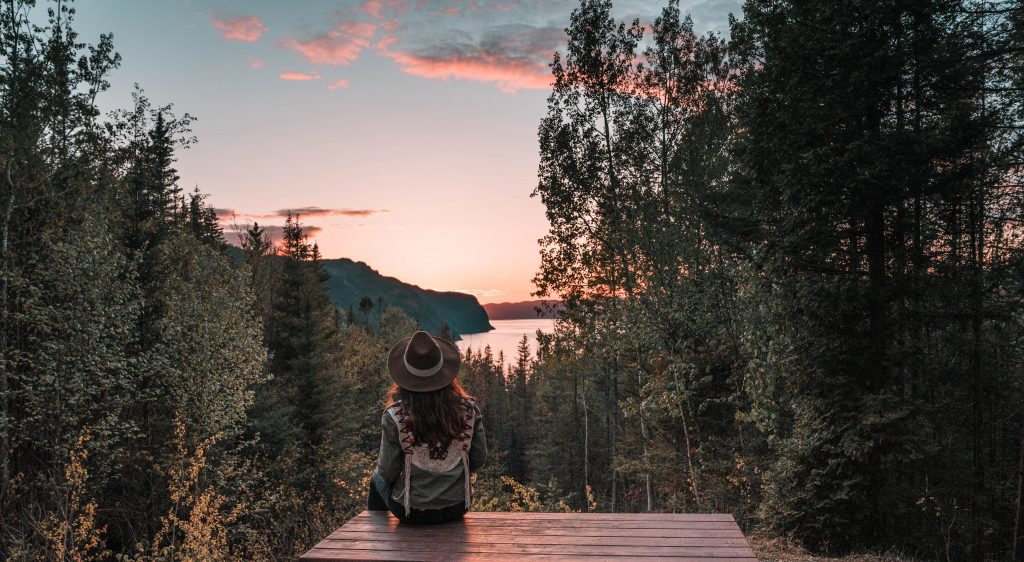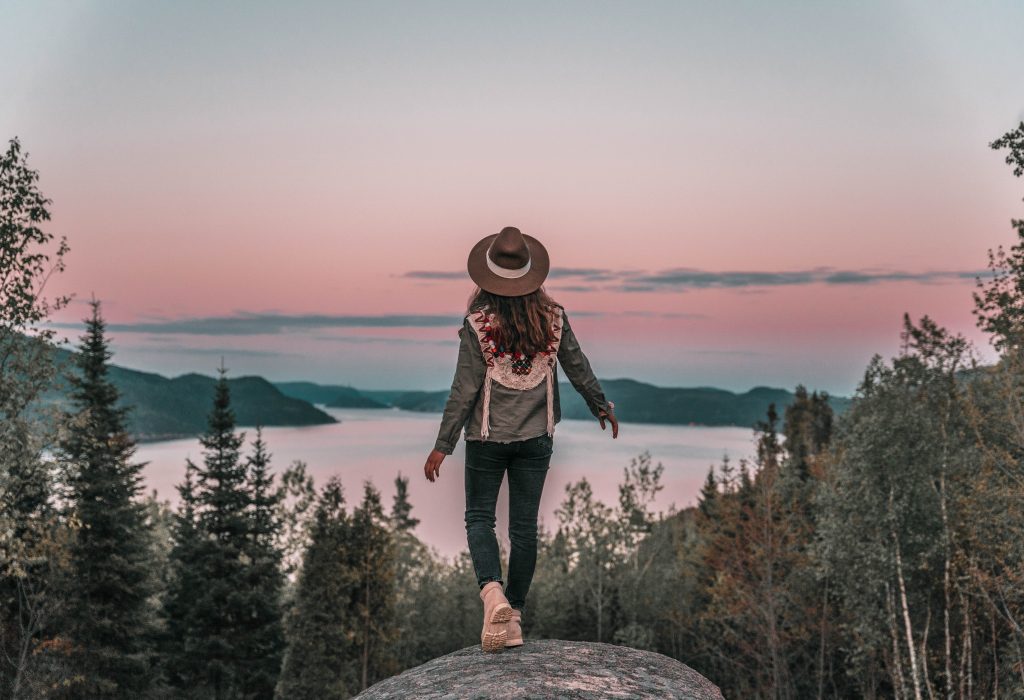 ---
I hope I helped you with this one week road trip itinerary in Quebec! Feel free to ask me any questions in comments and share the article if you enjoyed it.
For more road trip ideas, check out the travel guide to the Azores or even Iceland.
This article contains affiliate links. If we've helped you organise your trip or you'd just like to support us, please consider booking your activities and hotels in Quebec by clicking on our links. We'll earn a small commission and the price stays the same for you, of course. 🤍