One week itinerary for a road trip in Jordan
Jordan is a destination that mixes culture and beautiful landscapes. I found that the nature was great there, with many different aspects. That said, there are some points on which I had mixed feelings in Jordan and I will detail them during the article. Come on, let's go with the itinerary of my week-long road trip in Jordan! ?
Before starting the story of my trip in Jordan, here are some indications to organize yourself well:
For practical information: when to go to Jordan, the budget for a week, the Jordan Pass, what clothes to wear for the road trip etc. I give you an appointment at the end of the article .
For information and reservations of the road trip in Jordan with the Jordan Nomads in 4×4, visit their website.
---
Road Trip itinerary: what to do in Jordan?
I went to Jordan for one week with the agency Les Jordan Nomads, which offers a complete road trip and provides a 4×4. They take care of the accommodation reservations, you don't have to do anything before and during your trip, just enjoy. As usual with TravelBase, I recommend them 100%. ? I've already gone with them to Iceland, Italy for the Vespa Trip, as well as Lapland and each time I had great trips! Small clarification: be aware that the accommodations are likely to change according to the seasons, but they always make sure of the quality of the latter.
The tour proposed by Jordan Nomads is a great value for money! I'll tell you in detail about the budget for a week in Jordan at the end of the article.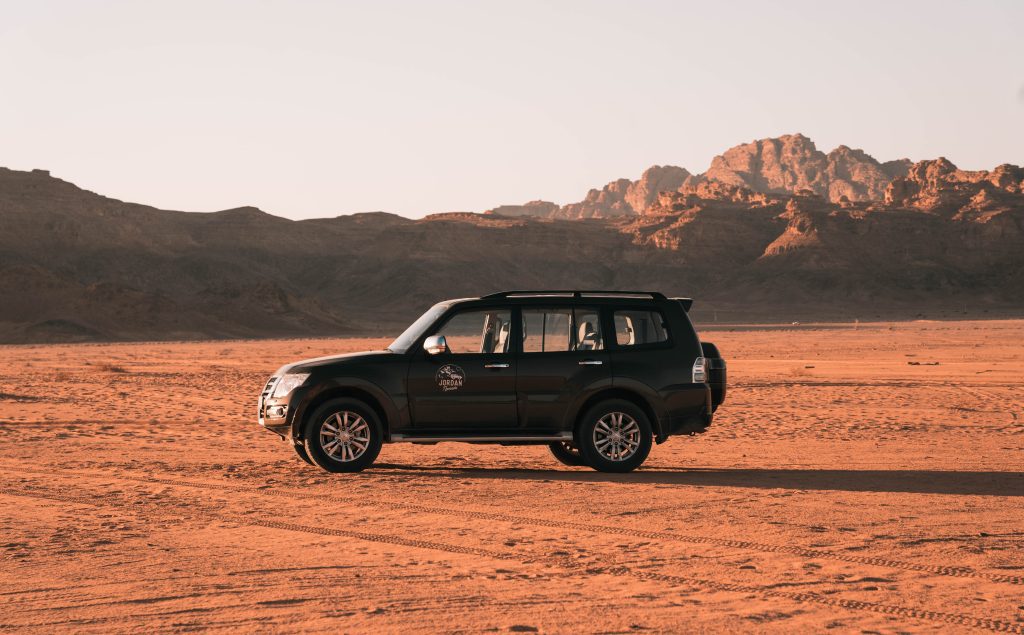 Day 1: Arrival in Jordan 
After getting off the plane, you will take your first steps in Jordan at the Queen Alia International Airport in Amman.
Your first night will be spent in the heart of the capital at the Nomads Hotel Amman. If your flight arrives early, you can take the opportunity to visit Amman and its must-sees:
Rainbow Street – I warn you: it doesn't break a leg, but it's still a nice stretch of street with lots of colors, lanterns, restaurants
The Citadel of Amman
The Mosque of King Abdullah I
The Ancient Theater of Amman.
Where to eat in Amman?
For dinner, I advise you to go to Hashem Restaurant. A 100% local address, without fuss, with an exceptional quality-price ratio! The menu is small but you can taste all the Jordanian specialties. We had some for barely 10€ for 4 by filling our bellies well ?.
That's it for the stage of Amman and its effervescence. Go to bed early, because tomorrow we attack the serious things: the road trip in Jordan!
---
? Jordan road trip itinerary
Each Jordan Nomads traveler receives a complete road book for the week, with practical information and explanations of places to visit. Each day, you will also find recommendations of good places to eat.
Small precision: I didn't follow the road book to the letter, there are places where I didn't go because they didn't interest me. All this to tell you that you should not take the head, even if there is a guide, you can do what you want during your trip in Jordan!
Day 2: Beginning of the road trip in Jordan
In Jordan, you will be surprised by the variety of landscapes. We will start the trip with cultural visits.
➡️ The ruins of Jerash
A must-see in Jordan, especially for history buffs, the ruins of Jerash are located less than an hour from Amman. I won't write down all the historical details of this place since it is full of them, but I can tell you that it is superb. It is possible to take a guide on the spot, but be careful to negotiate the price BEFORE starting the visit in order not to get ripped off. You should always negotiate in Jordan, start by dividing the price by 3 or 4 to start the "hostilities" ?. Otherwise, Google is your friend.
The contrast between the bustle of the city around and the calm of the ruins is funny to see. Count between 1h and 2h on site.
? The entrance ticket is included in the Jordan Pass that I highly recommend you to buy for your road trip in Jordan. I tell you more at the end of the article in the practical info.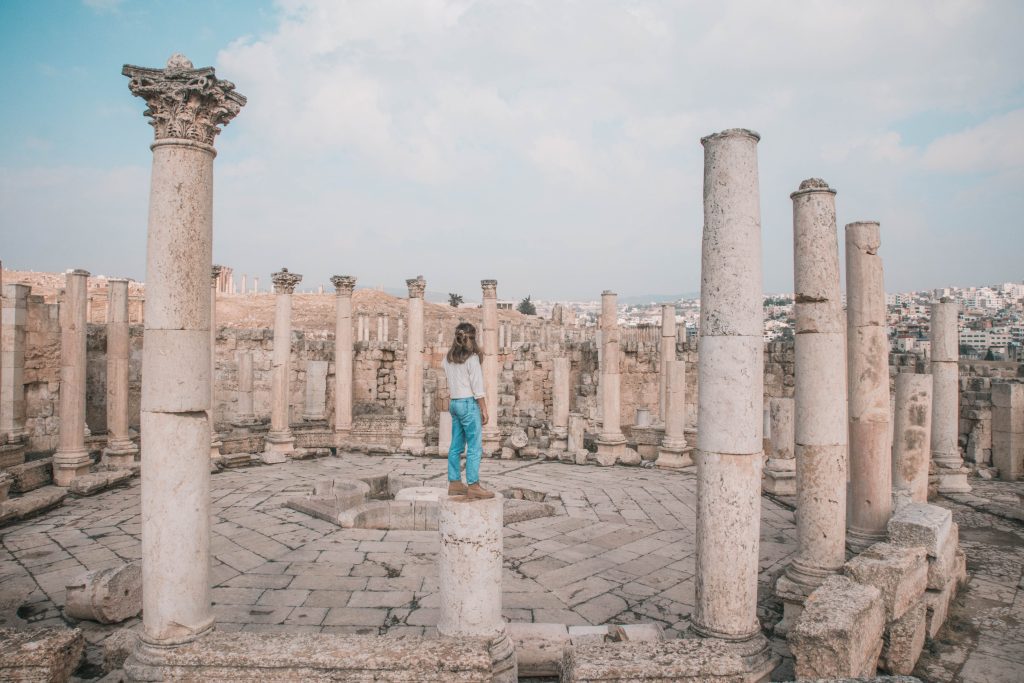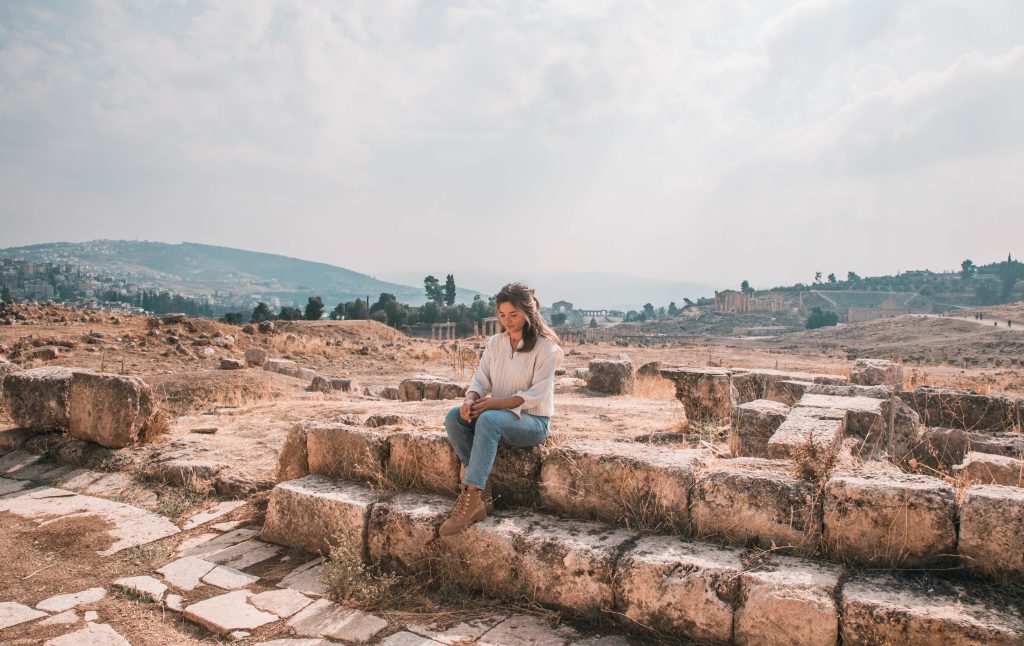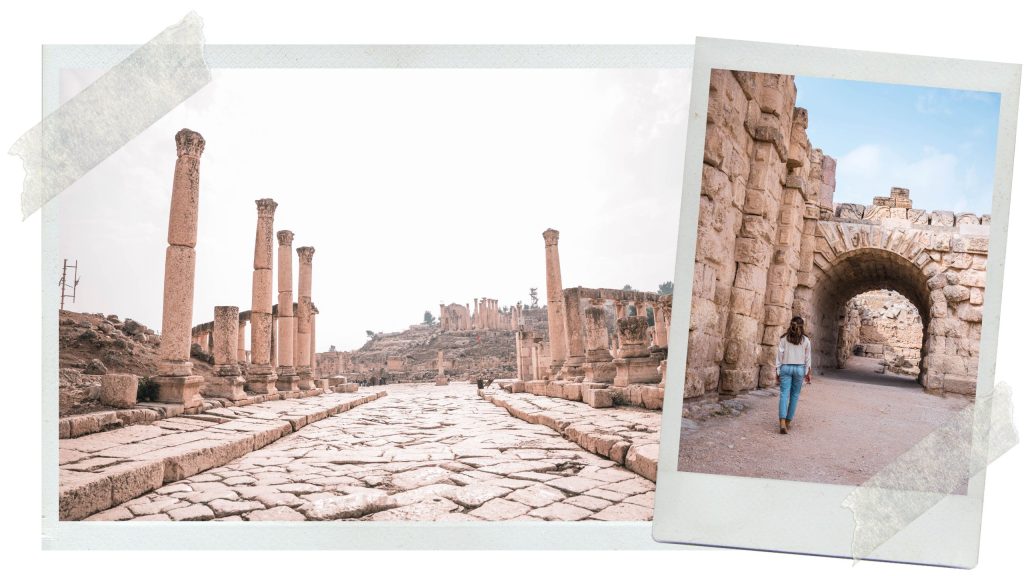 ➡️ Aljoun Fort
I was a little disappointed with the visit to Aljoun Fort. There is not much to see there within the castle, except empty corridors and galleries. It's not worth stopping by in my opinion.
? Included in the Jordan Pass.
➡️ Road to Northern Jordan.
For this night, we will head to the north of the country in a facility in the middle of the forest – Jordan Ecopark.
The cabins are cozy and the buffet proposed for the dinner excellent! We spent a good moment there, on the other hand I find that it makes a lot of road for not much in the end, because there is nothing to see in the surroundings. Moreover, tomorrow the itinerary of the road trip in Jordan continues towards the South, to the Dead Sea, what makes realize a long round trip.
---
Day 3: Wadi Mujib and the Dead Sea
Swimming in the Dead Sea is of course a must during a week-long trip to Jordan. I loved this experience! But before that, I recommend visiting a beautiful place…
✨ Wadi Mujib
I'm bummed I didn't get the chance to go there because it was closed (from the end of October to April, for security reasons). Wadi Mujib is certainly the most beautiful canyon in Jordan and is often compared to the famous Grand Canyon in the USA. You can do canyoning but also hiking, with or without a guide. All information and starting points are at ? Wadi al Mujib Adventure Center.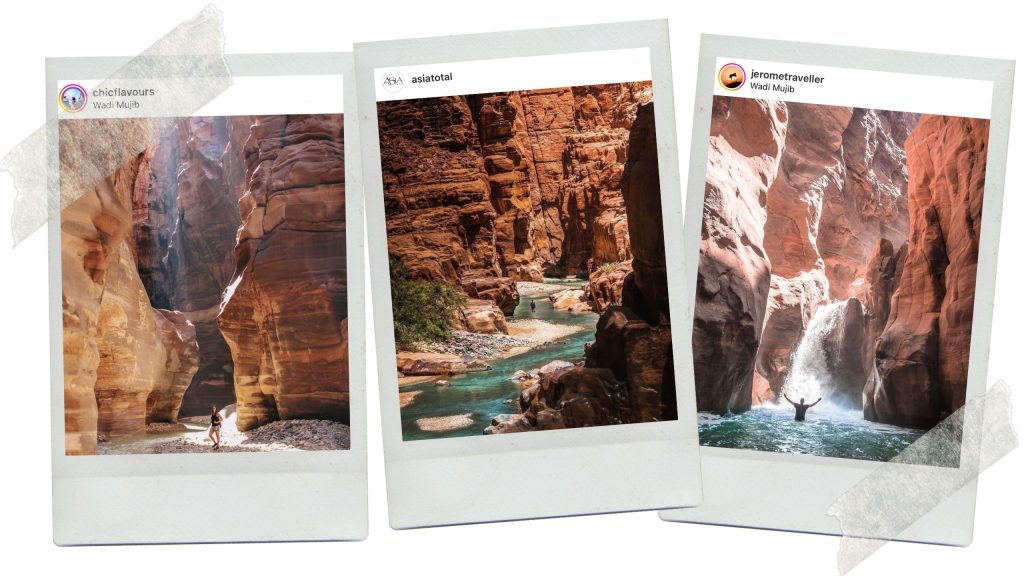 ➡️ Some explanations about the Dead Sea
The Dead Sea is not really a sea anymore since a few years, it is rather a lake. Indeed, due to global warming and human activities (dams, salt production…), it is no longer connected to the Mediterranean Sea as it once was. Since the 70s, it has unfortunately lost a third of its surface. The researchers estimate that it tends to disappear.
Also, it is good to know to shine at family dinners that the Dead Sea is the lowest place on earth. It is 430 meters below sea level. Another interesting fact: 1L of Dead Sea water contains 300 grams of salt… which makes it 10x saltier than other oceans and seas! This explains why we float.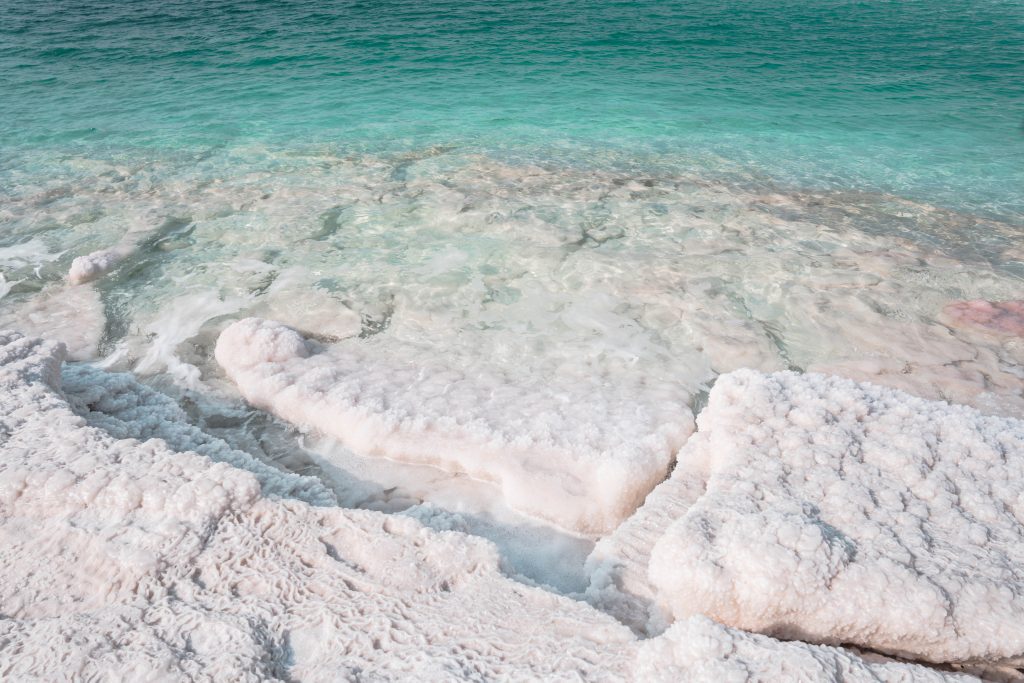 ➡️ Visit the Dead Sea in Jordan
Two countries benefit from the Dead Sea: Jordan and Israel. On the Jordanian side, I find that the potential of this place is under-exploited. Unfortunately, there are two negative points that I remember. First of all, there is a lot of garbage that spoils the landscape, like absolutely EVERYWHERE in the country. I have rarely seen such a heap of garbage during a road trip, with locals throwing anything and everything out of the window of their car… Secondly, the slew of middle and high end hotels that have been built on a part of the Dead Sea shores was a sad observation.
Except for enjoying a spa day, there is in my opinion no point in going to one of these hotels to bathe in the Dead Sea. It is expensive, the salt is removed from the beaches for the comfort of the visitors' feet, which takes away all the charm of this exceptional natural phenomenon!
If someone has already visited the Dead Sea on the Israeli side, I would like your feedback in the comments of the article on the other hand, I'm interested to compare.
? Ma'in Hot Springs
Ma'in hot springs are very well known and featured in several guidebooks, so I decided to test them. Lounging in natural hot water pools, at the foot of waterfalls… it makes you want to do it doesn't it? What was my disappointment when I saw that in fact, it was one or two concrete pools. For an entrance ticket equivalent to 20€, I can tell you that it is absolutely not worth the cost. Many of you on Instagram have shared my feelings.
I usually don't criticize places I don't like, I just avoid talking about them. But in this case, it's pretty well known so I thought it was good to warn you!
♥️ Where to swim at the Dead Sea in Jordan?
After my negatives, let's move on to the positives! Thanks to some research on Google Maps, I found an absolutely awesome spot that met my expectations: a salt beach all to myself (see GPS coordinates) ?. Here, no tricks but crystal clear water and pure salt lining the beach… A real joy to do this floating experience ?.
There are several around the one I did. If you want to try others, just look on the map, usually they are marked with the keywords "salt beach".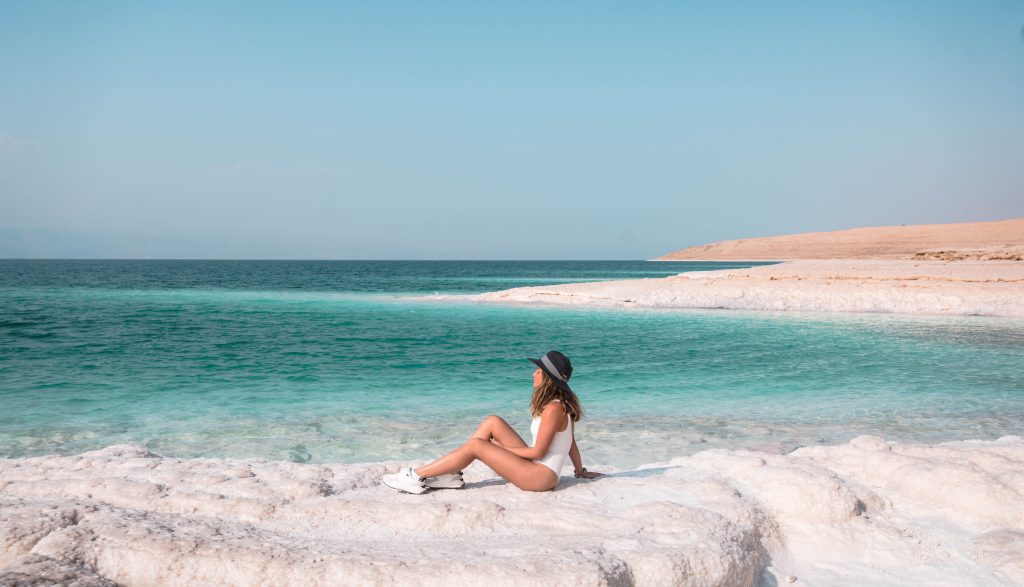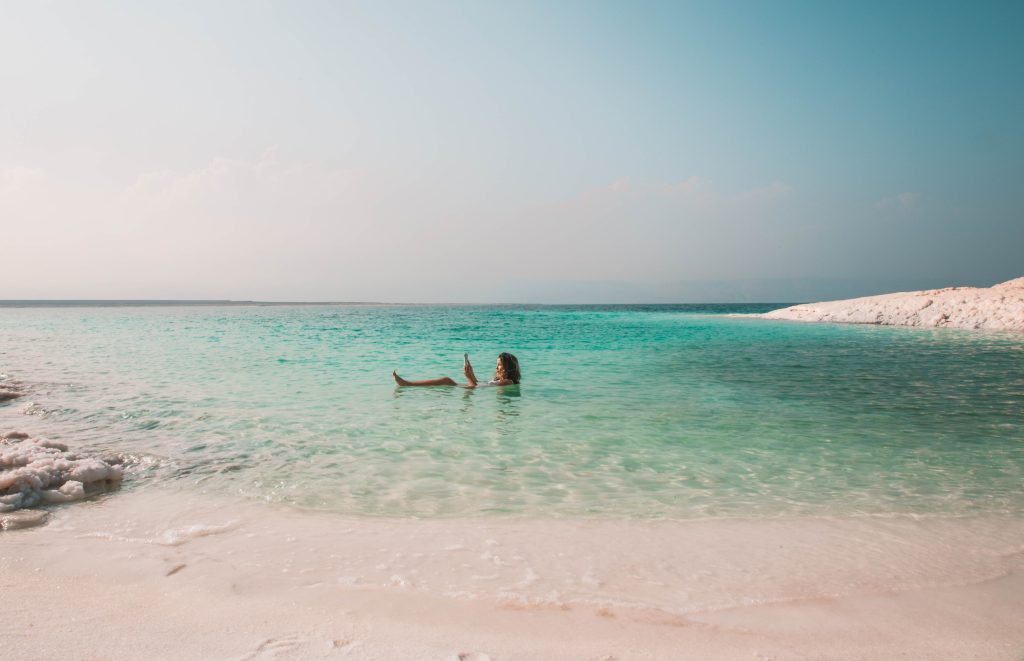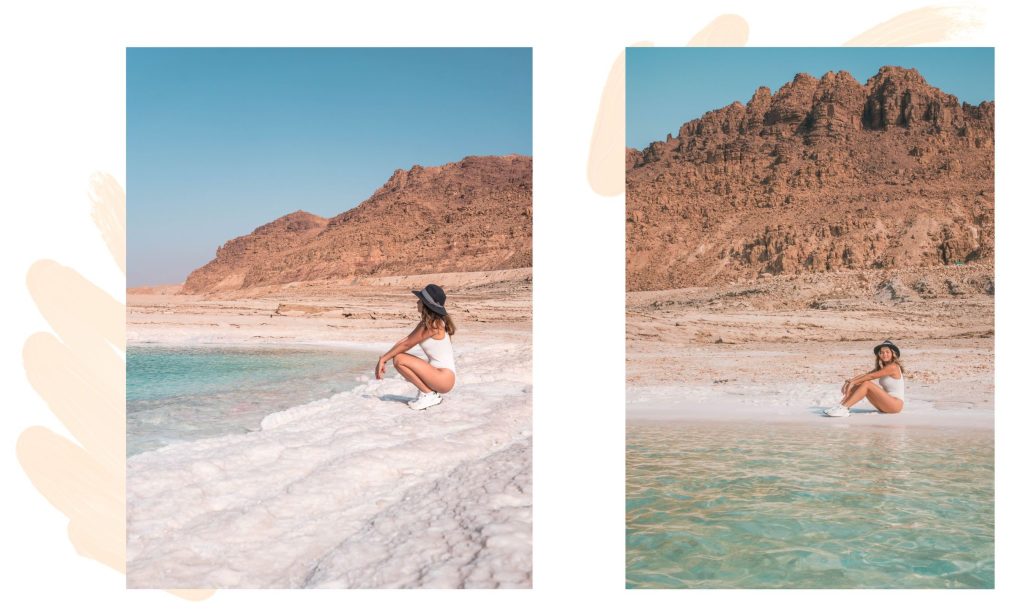 On my way there, I also stopped at this spot ? to enjoy the view. I didn't bathe there because it was crowded. Make sure to close your windows when you drive, it's crawling with flies!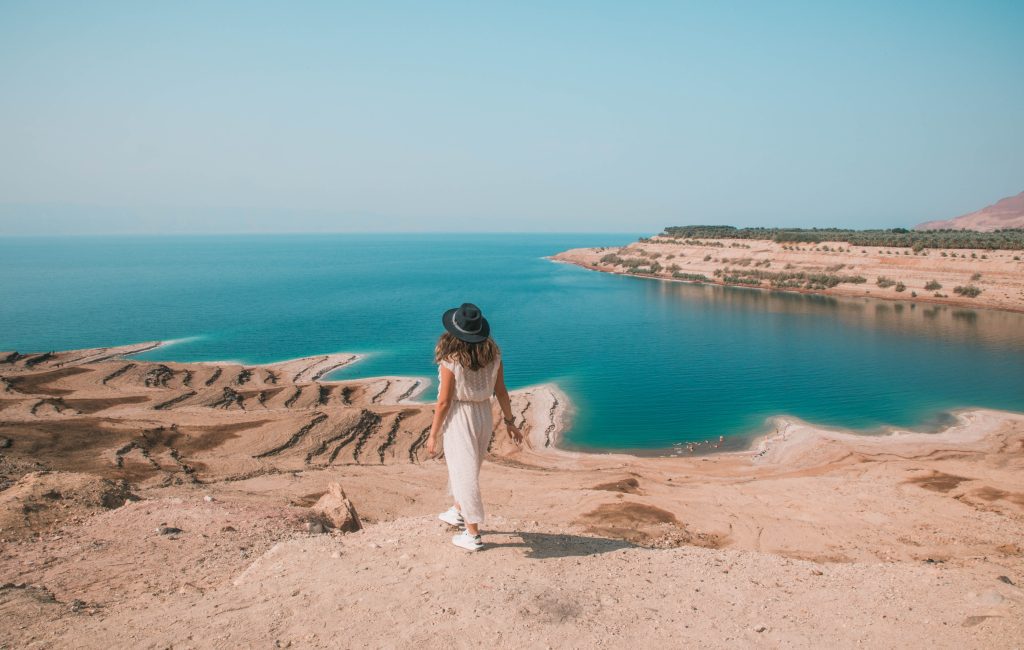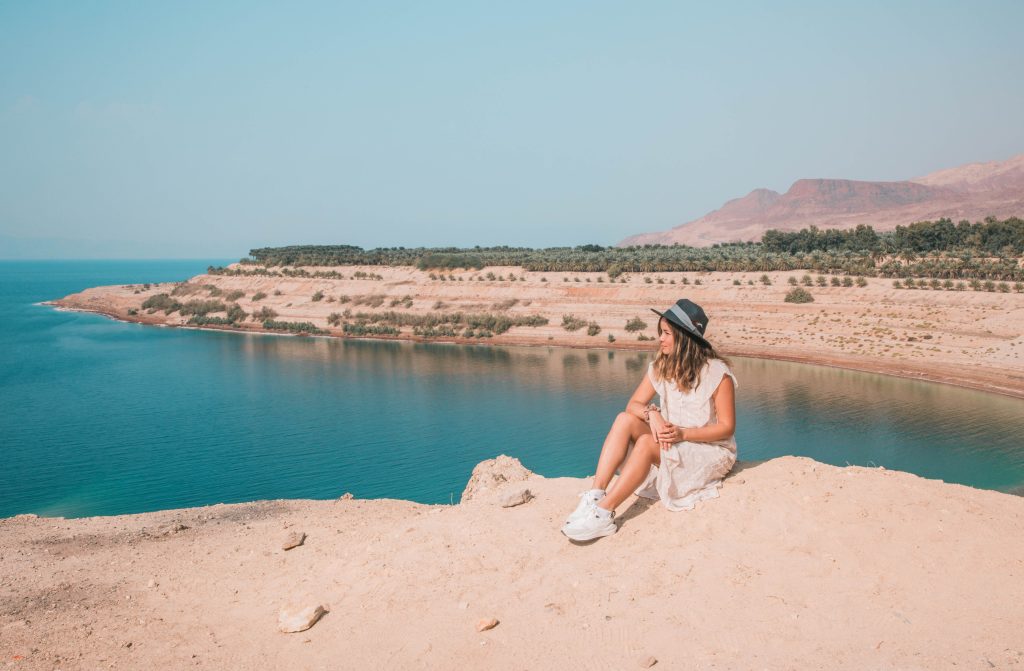 ⚠️ Precautions to take when swimming in the Dead Sea
The high salinity of the Dead Sea water is not to be taken lightly! It can be dangerous for your body. Here is my advice:
Don't bathe for more than 15 minutes to avoid the salt eating away at your skin. Moreover, it is essential to rinse yourself with fresh water afterwards for the same reason! If you go to my spot, a man offers a shower on the parking lot for 2 dinars / person. Otherwise, bring water bottles.
Don't put your head under water: such salty water in your eyes, it can be very dangerous. If this happens, rinse your eyes out immediately with fresh water.
That's pretty logical, but don't drink the cup either. I imagine you don't want to end up dehydrated.
Bring plenty of drinking water and sunscreen.
Wear shoes to walk on the salt beach – if you're sensitive, bring water shoes to take the few steps necessary to swim.
I don't want to scare you, in fact there will be no worries if you respect these basic instructions. As for the water temperature, it was about 27°C in November so very good!
? Where to have lunch at the Dead Sea?
A 15 minute drive from the salt beach, I tested a great little restaurant: the NEA Local Food. The price is 10 JOD per person and the quantities are very generous. An assortment of local specialties will be served, with a very good tea. I recommend ++.
? Sunset on the road to Dana Valley.
As you can see, Dana Valley is the next stop on our road trip in Jordan. The sun was falling when I went there so I stopped by the roadside to watch the sun set… The scenery was fabulous.
?It was about there: gps coordinates.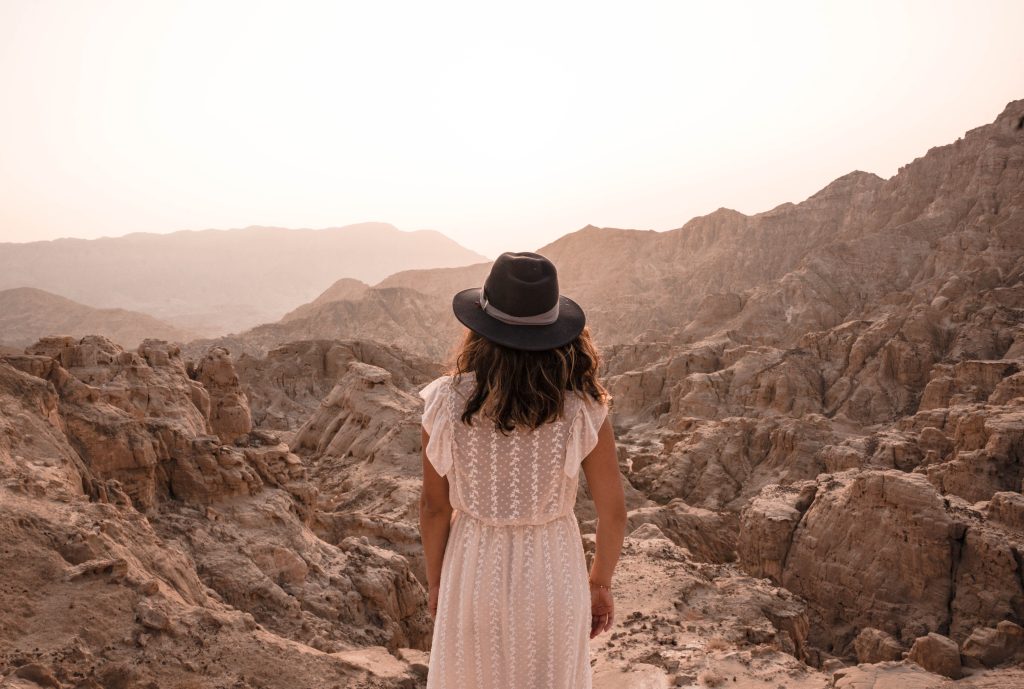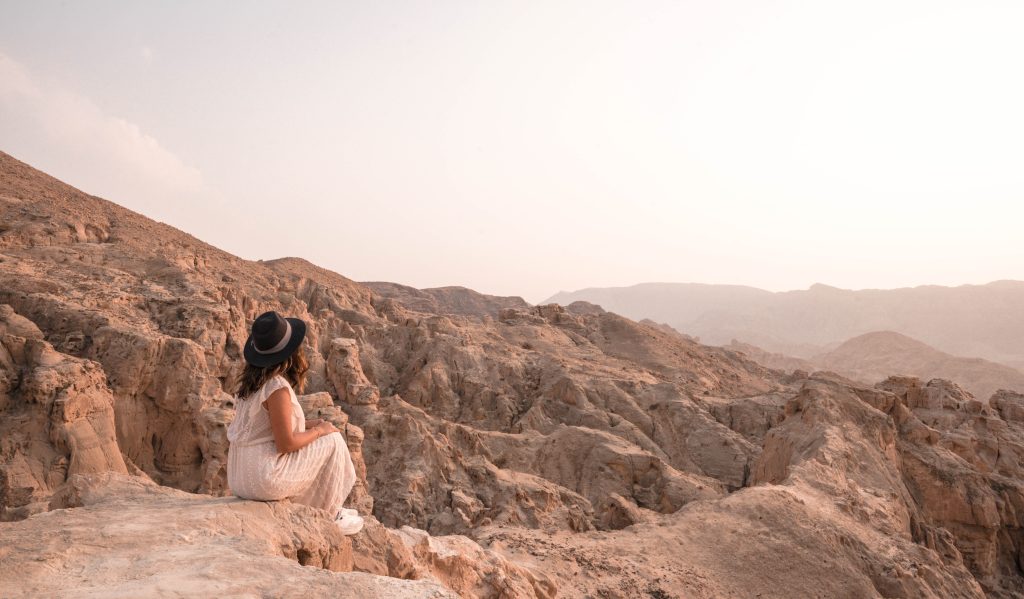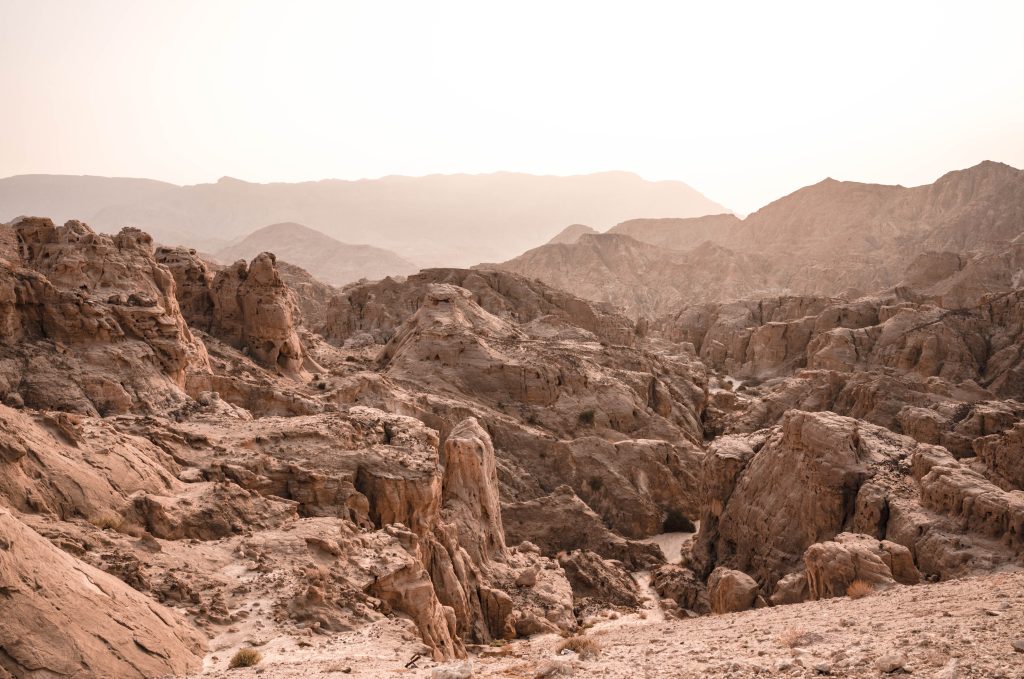 Where to sleep in Dana Valley?
In the valley oh oh, of Dana, la la la la la… ? I had Manau's song all the way through, but it's actually an eponymous place in Brittany he's talking about in the song. ? Anyway, now that the musical interlude is over and you too have the song in your head, let's talk sleep!
For this night, the Jordan Nomads booked an unusual accommodation in the middle of nature: Ein Lahda Camp Site. The camp was very cool and we ate very well at the dinner. The temperatures are cool at this altitude in November, but there are warm blankets in the cabins.
---
Day 4: Dana Reserve, Wadi Ghuweir and drive to Petra
➡️ Hiking in the Dana Reserve
I didn't have the opportunity to hike in the Dana Nature Reserve for two reasons: bad weather and mainly because it closes from November 15 for the winter. It seems to me that it reopens on March 15. You will be able to observe the fauna and flora, in addition to the beautiful landscapes.
To know all the hiking routes, ask the staff of your accommodation. The entrance to the Dana Reserve costs 10 JOD per person.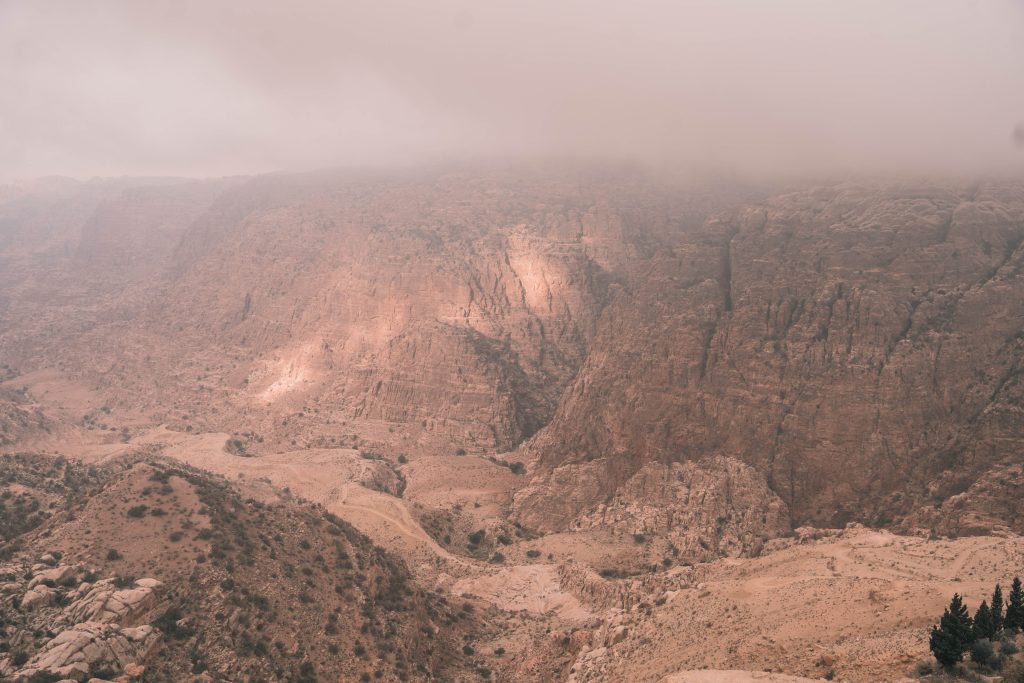 ➡️ Discovering Wadi Ghuweir
Just the road to get there is breathtaking. See for yourself… ?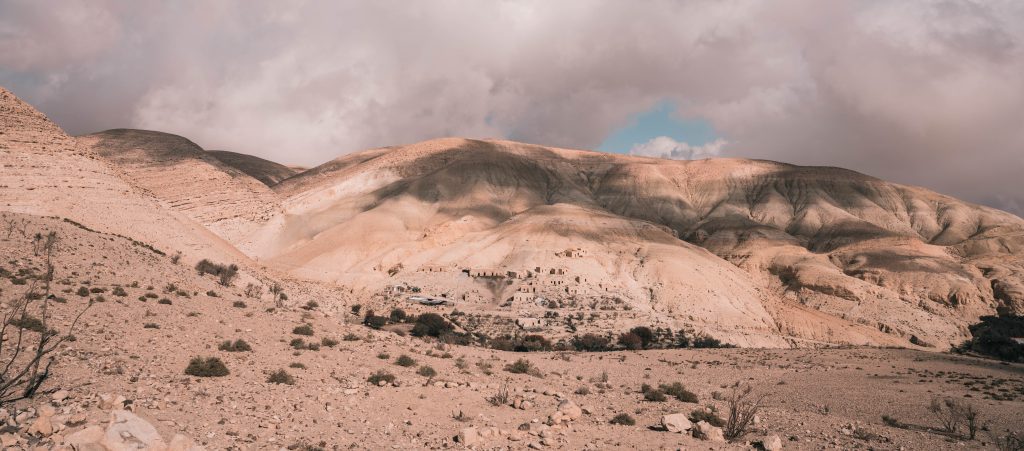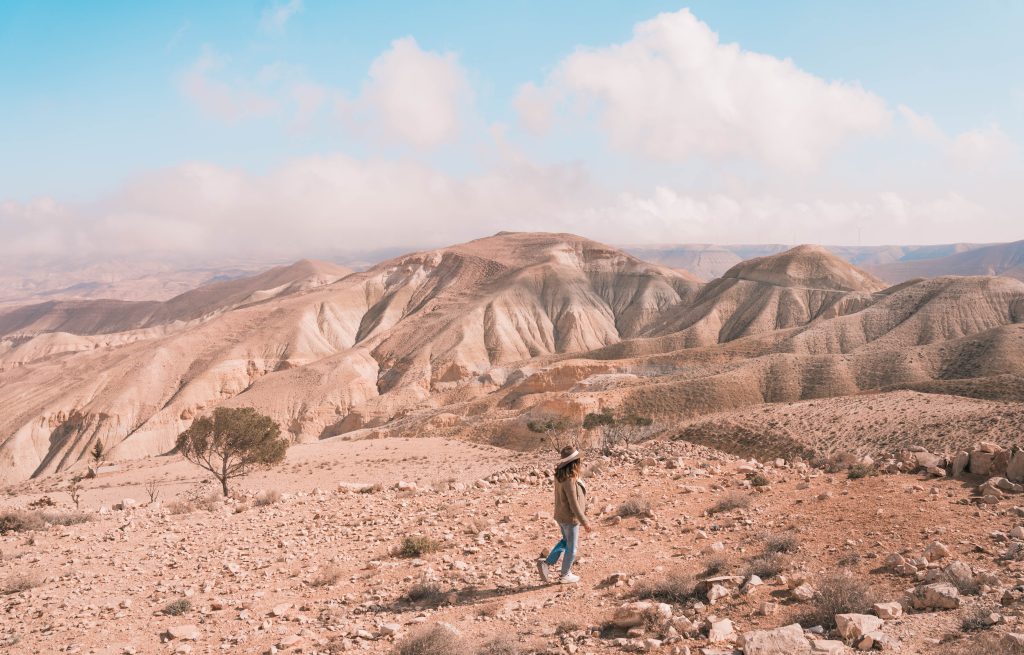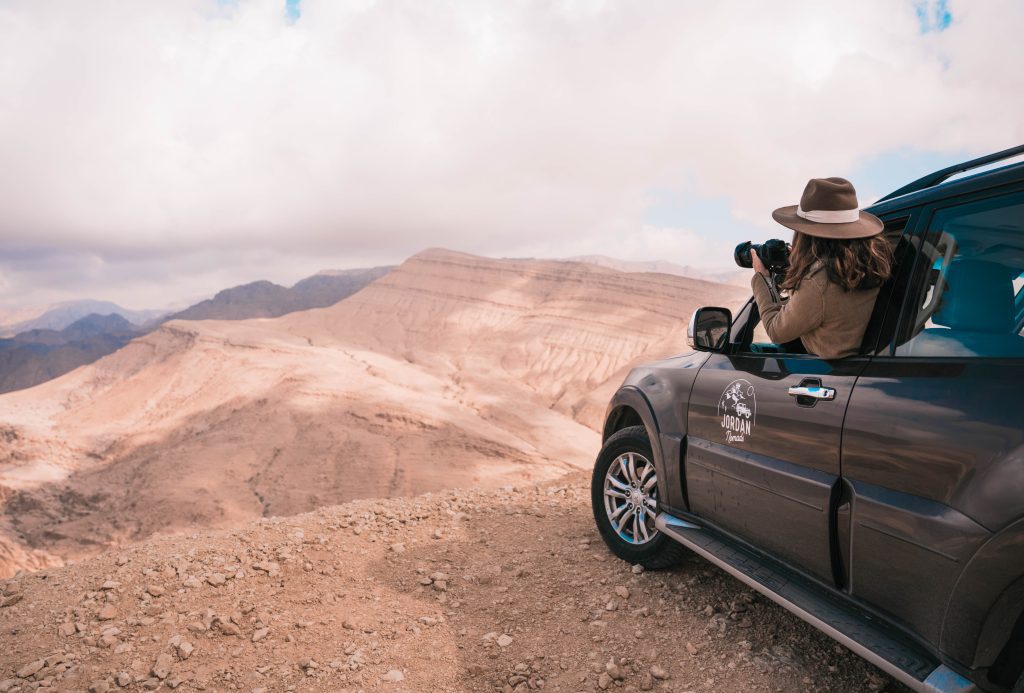 For lovers of beautiful walks, Wadi Ghuweir is really to discover during a trip to Jordan. Count 13 km round trip to discover the entire canyon. There are palm trees and a small waterfall at the end of the trail. I did not go to the end with regret, because I was told afterwards that the last kms were the most beautiful. No need for a guide, you can't get lost.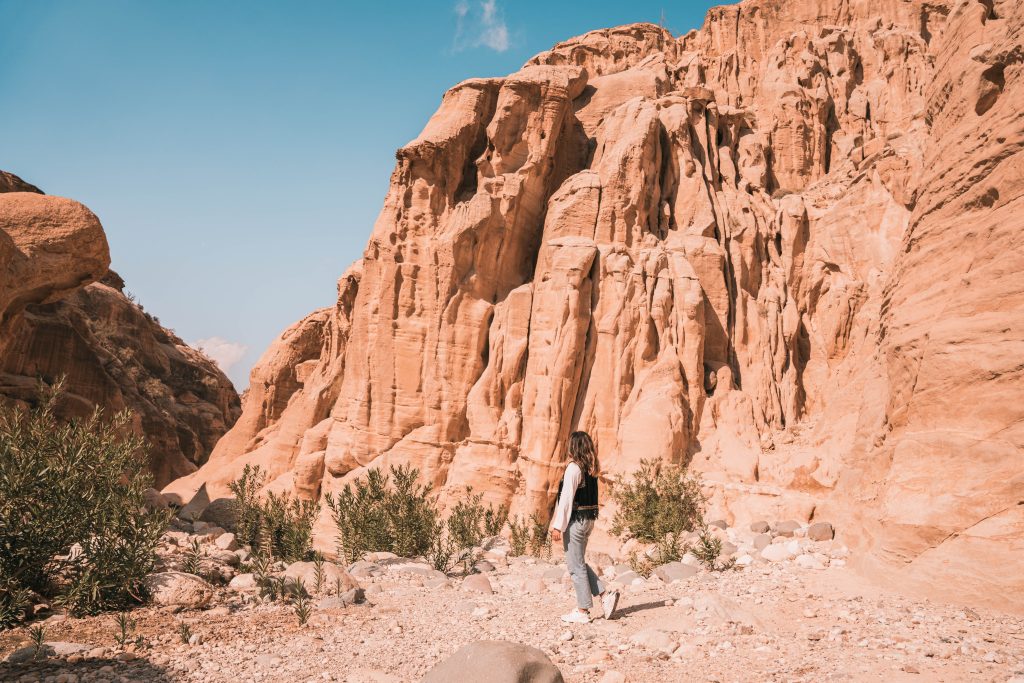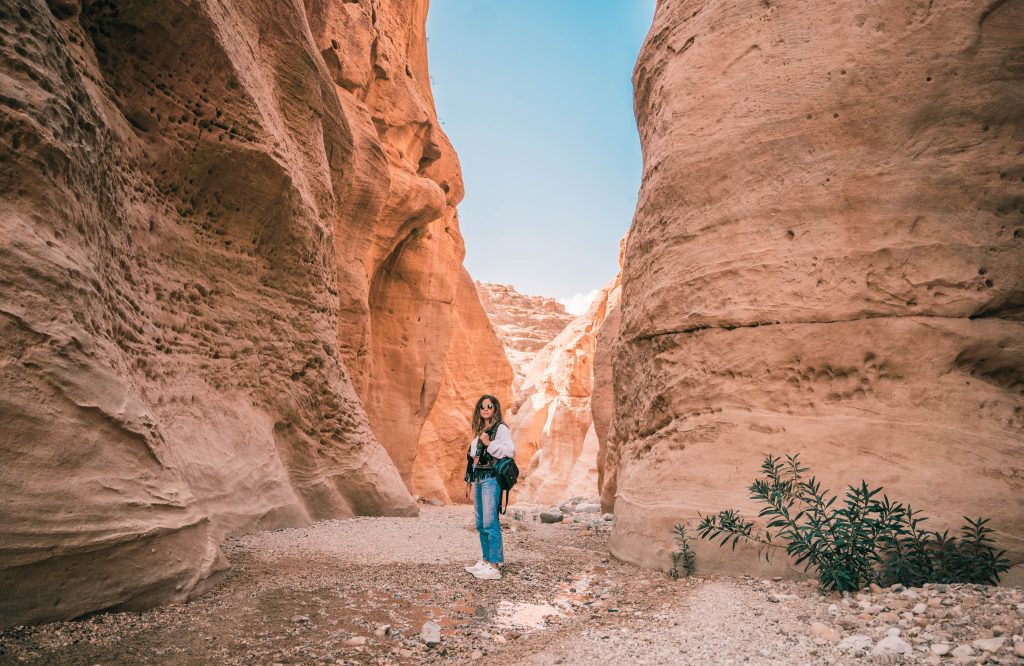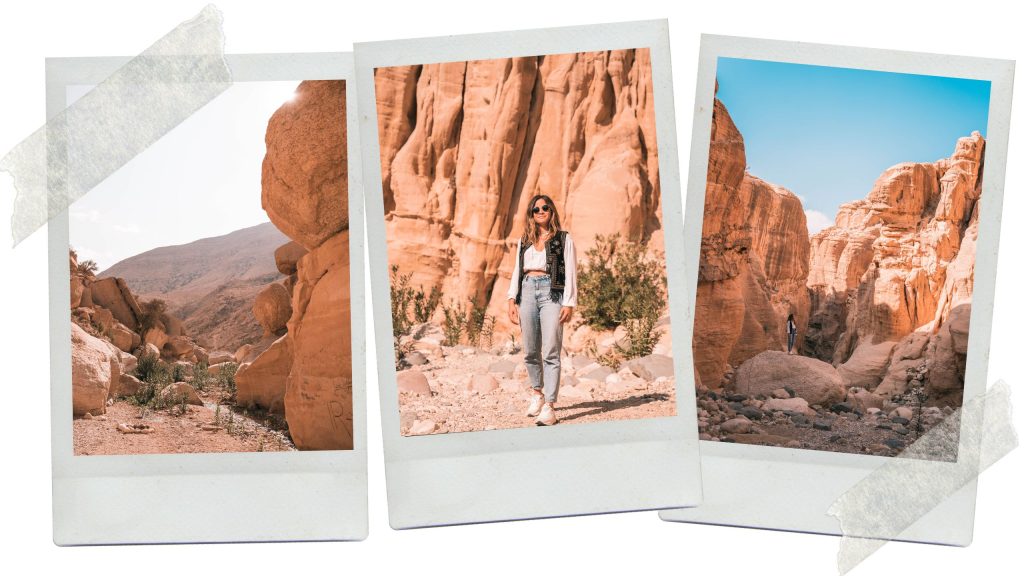 ➡️ Petra, the jewel of Jordan
Now it's time to hit the road to get to Petra, one of the 7 wonders of the world. ? Get a good rest because a long day is waiting for you tomorrow to visit the site!
Where to stay in Petra?
I spent the night at the Nomads Hotel Petra. The view from the hotel's Rooftop bar is cool and the value for money is good. To top it off, the hotel is less than a 5 minute drive from the entrance to Petra.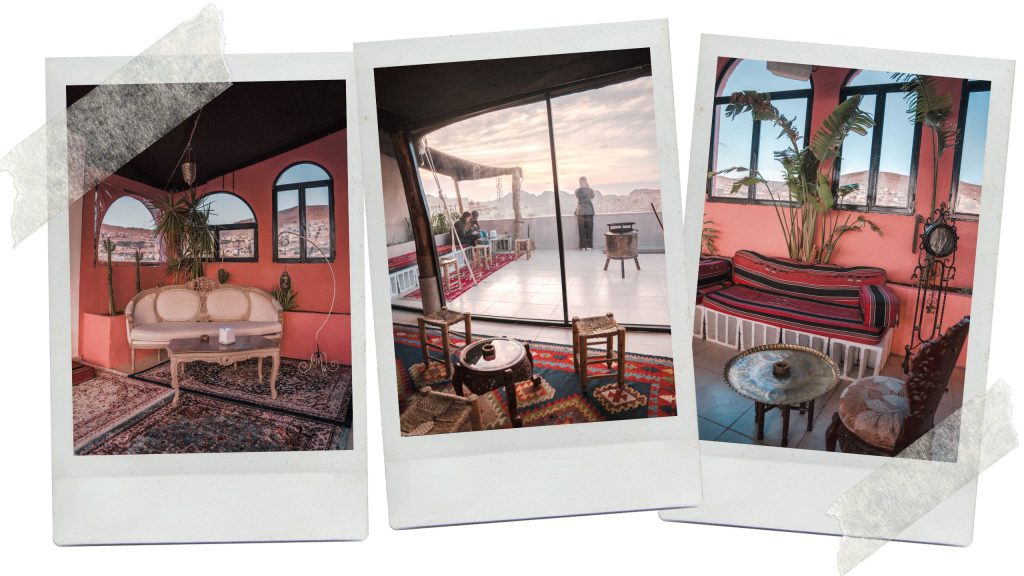 ✨ Petra by Night
As luck would have it, I arrived on an evening when Petra By Night was being held. Every Monday, Wednesday and Thursday night of each week, Petra and its famous Treasury are lit up with thousands of lanterns. It is an absolutely magical setting!
Besides the beauty of the place, the event itself is nothing special: there is a small piece of flute that is played and flashy lights are projected on the Treasury (which I did not find to my taste). Finally, it is very crowded so my advice is to go early, from 7:30 pm. It takes about 20 minutes to walk from the entrance of Petra to the Treasury. Even if the animation is not incredible, I find that Petra By Night is a must. It gives a nice taste. ?
? Tickets can be purchased either as an option with Jordan Nomads or at the Petra Visiter Center box office. Petra By Night is not included in the Jordan Pass. The cost is 17 JOD per person for 10 years old and above. You must present your Jordan Pass at the time of purchase.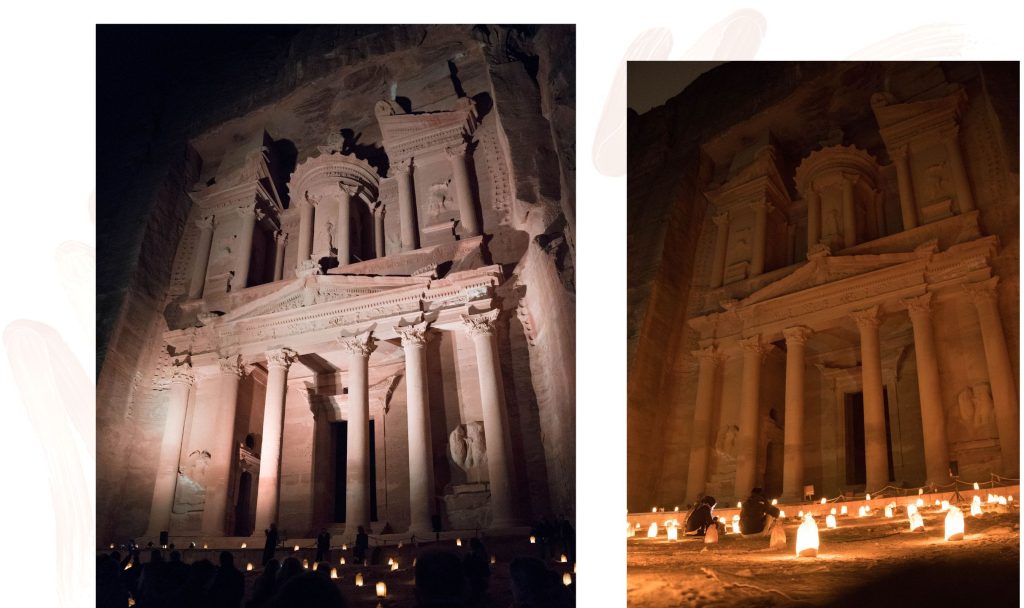 ---
Day 5: Petra, the must-see of a road trip in Jordan
In case you haven't figured it out yet, Petra is a must-see during a week-long trip to Jordan. This world famous ancient city is a UNESCO World Heritage Site. It is a place full of history! I'm not going to detail everything, because you'll find plenty of information on the internet if you need it.
➡️ How to visit Petra in Jordan?
Arm yourself with your best sneakers and comfortable clothes because today you'll be walking a few miles. The Khazneh (Treasure), the most famous monument in Petra, is absolutely everywhere on Instagram. So everywhere that I thought it was just "that" Petra.
Oh no! The ancient city of Petra actually spans 70 square miles, which means there are plenty of hiking trails to explore. If you decide to go to the Monastery, one of the most beautiful monuments, count 20 km round trip. I recommend picking up a paper map of Petra at the Visiter Center that will detail all the paths.
? The entrance to Petra is included in the Jordan Pass. More info at the end of the article.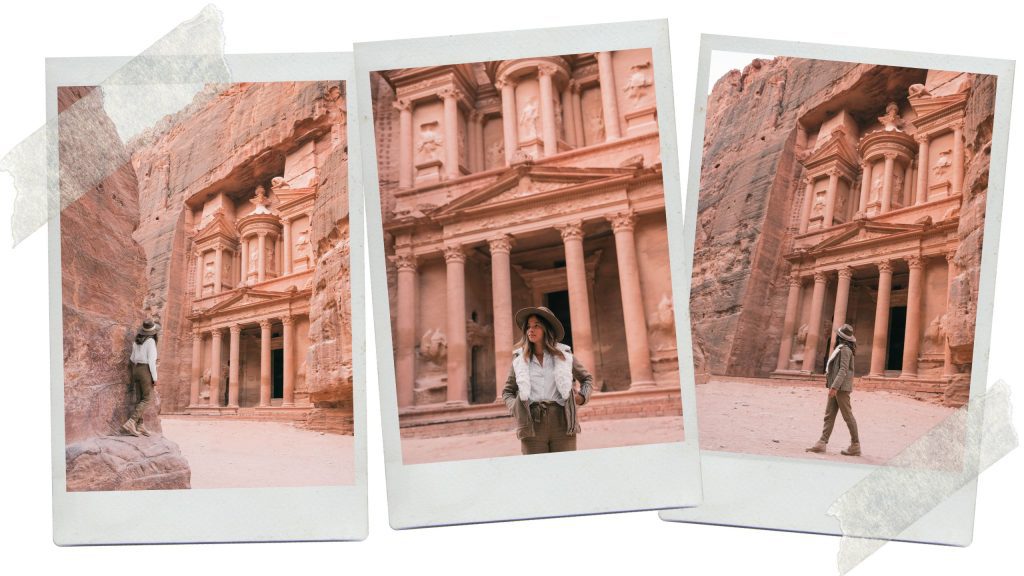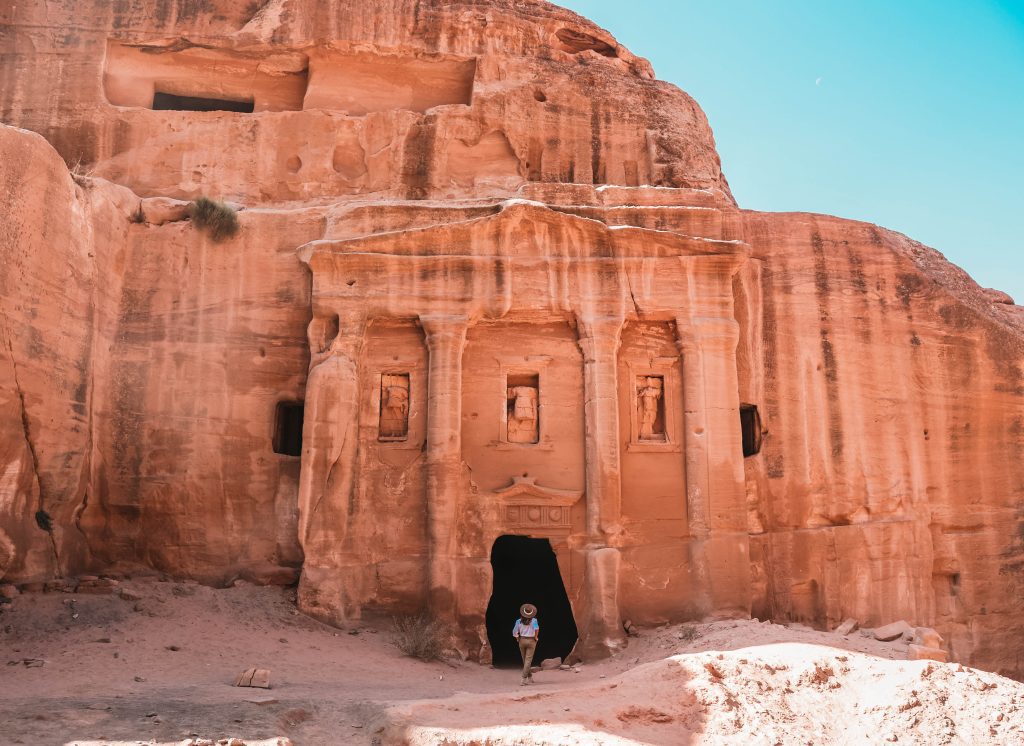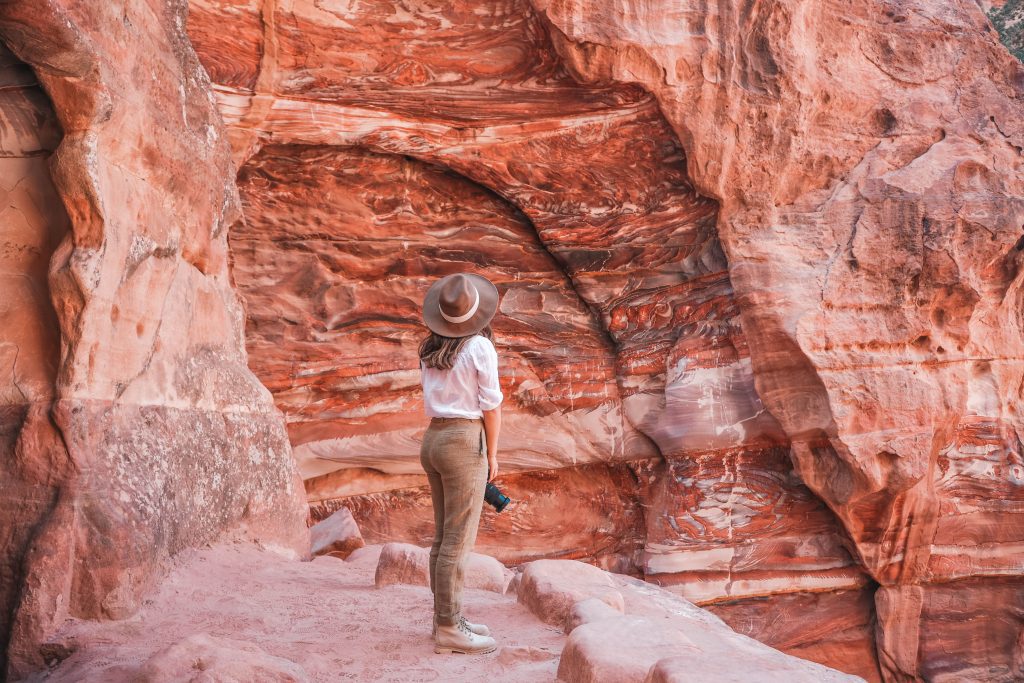 ➡️ Should you plan 1 or 2 days to visit Petra?
If you want to visit Petra in 2 days, it is quite possible and less tiring. There is an option in the Jordan Pass for 1, 2 or 3 days on site. You should know that there is also Little Petra to discover (free access). I didn't do it because of lack of time, and also because I heard it's less impressive. So, if you plan to visit Petra in 2 days, I recommend you to go to Little Petra first in order not to be disappointed and to make your mouth water.
Please note: in the Jordan Nomads itinerary, only one day is planned in Petra. That still gives you time to see a lot ?.
? Click here to book your Jordan road trip with Jordan Nomads (limited availability).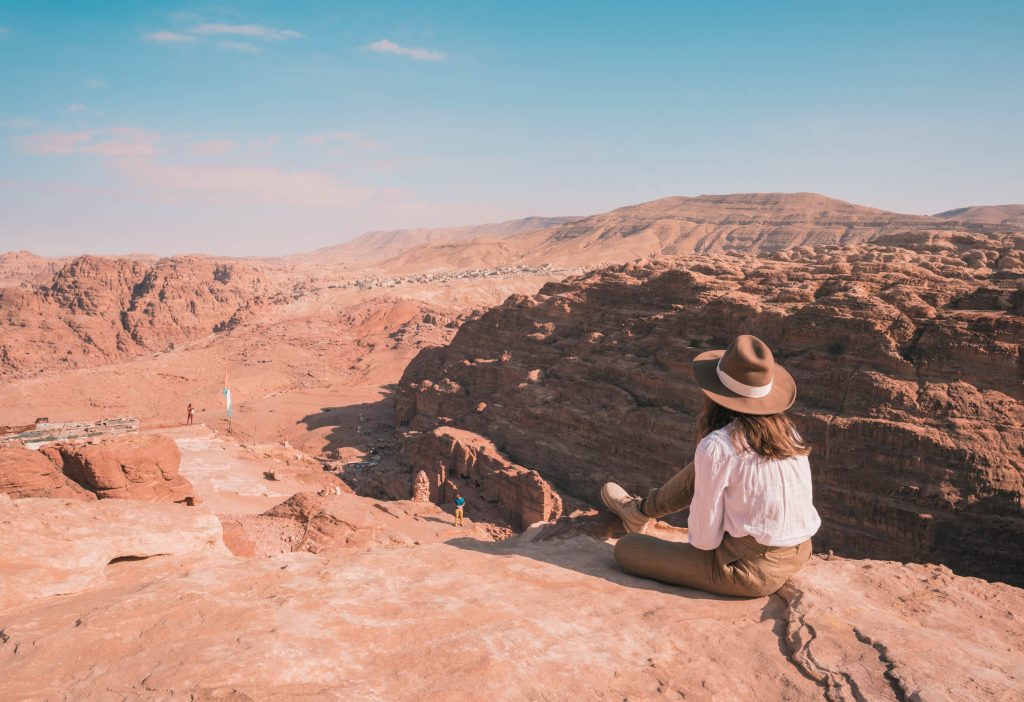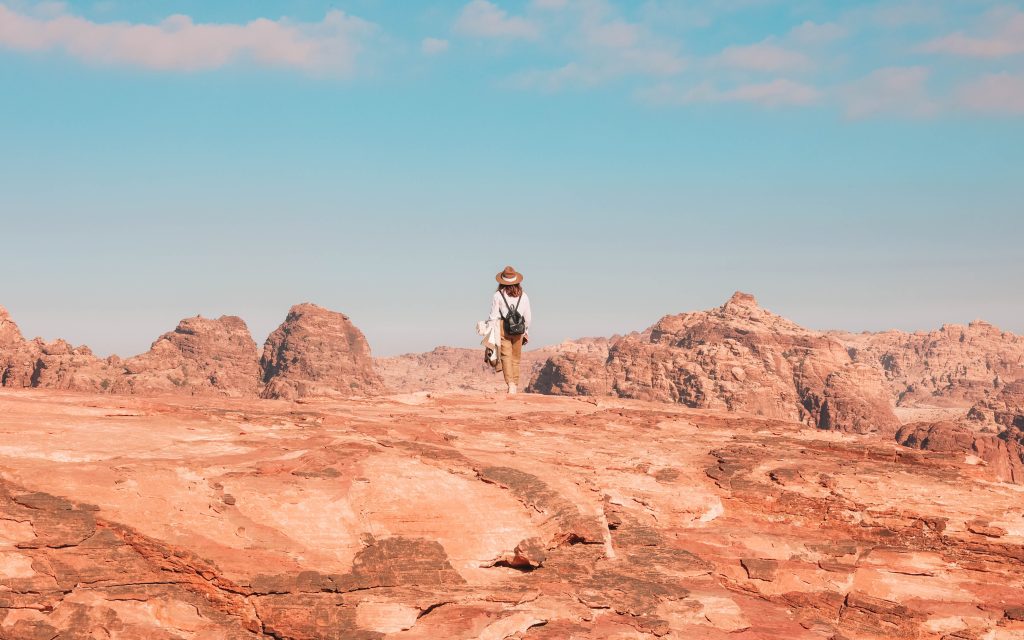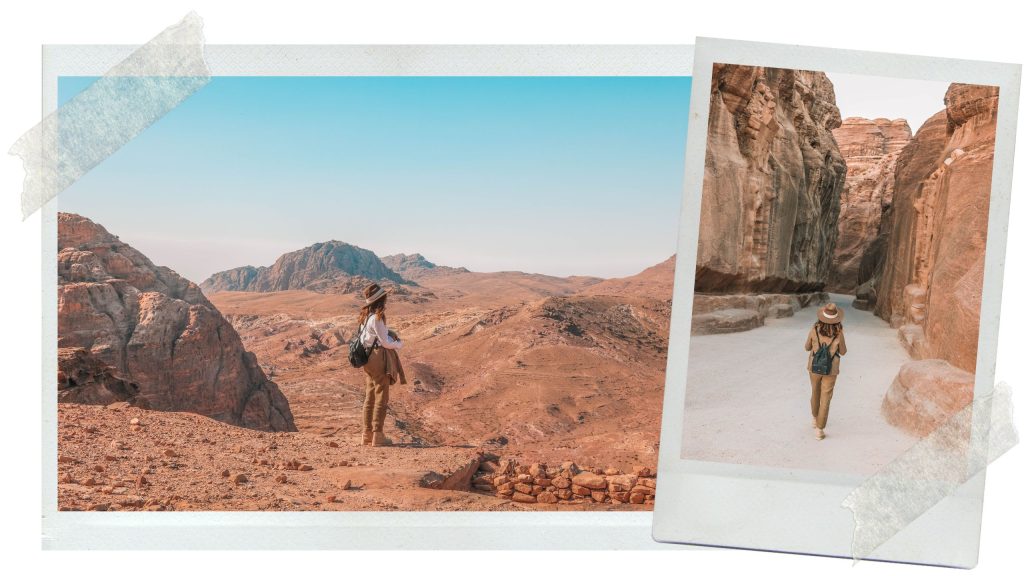 ---
Days 6 and 7: Continuation of the Jordan itinerary in Wadi Rum
➡️ Wadi Rum Desert
To end this week-long trip to Jordan, the itinerary takes us to the beautiful Wadi Rum desert. I was charmed by the atmosphere and the beauty of this place… A real favorite ♥️. Little extra: driving in the sand is super fun with the 4×4 provided by Jordan Nomads!
? Access to the desert of Wadi Rum is included in the Jordan Pass.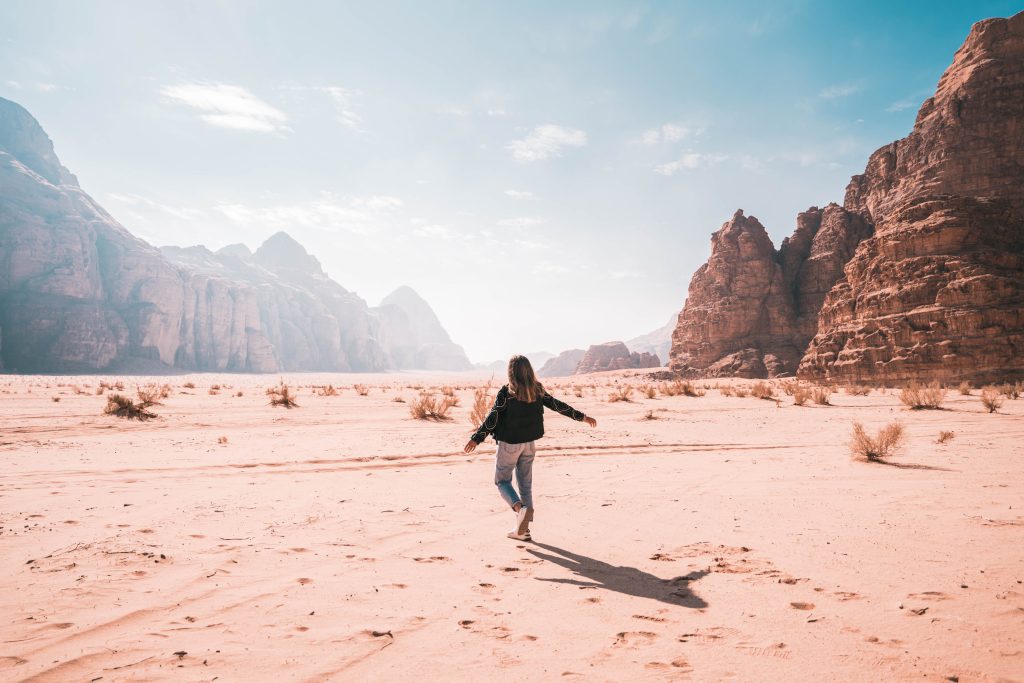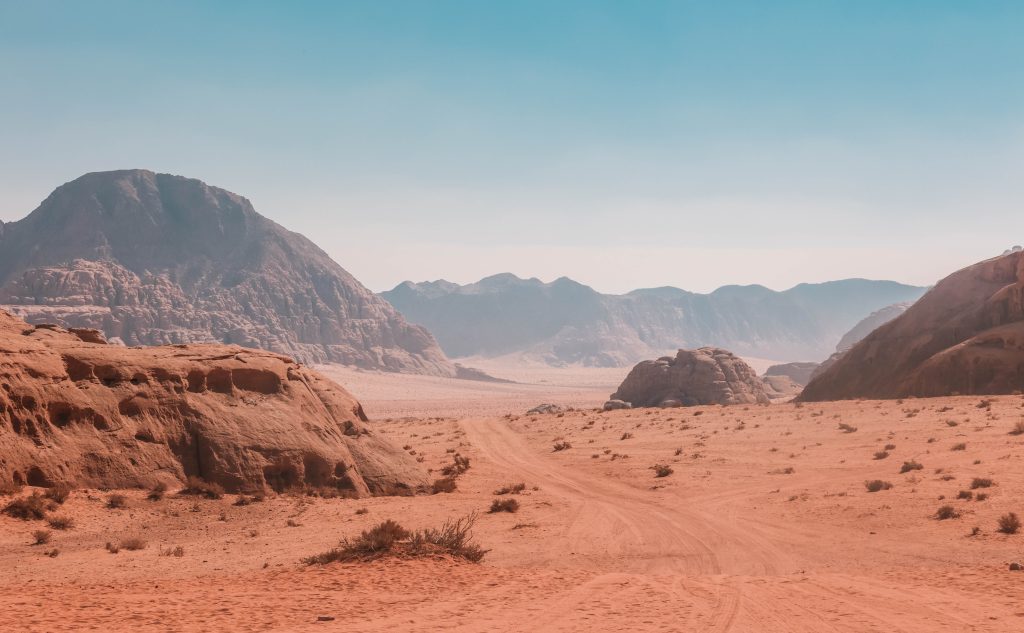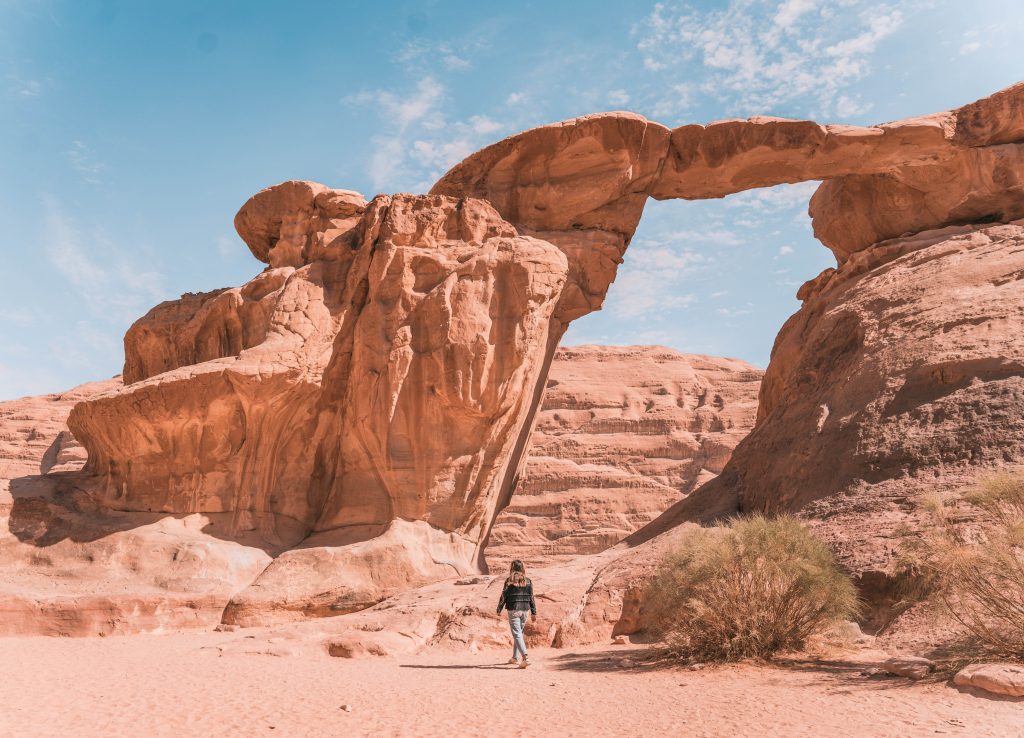 Where to sleep in the Wadi Rum desert?
I spent two nights in Wadi Rum Dream Camp and I loved it! The accommodation, the food, the atmosphere, the decoration, the kindness of the staff… everything was great. I recommend this camp 100%.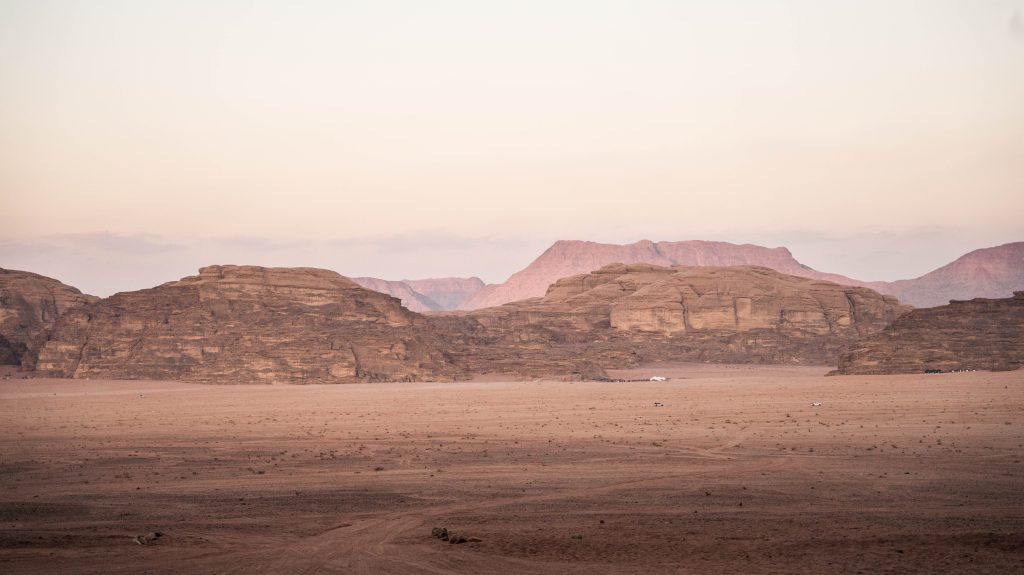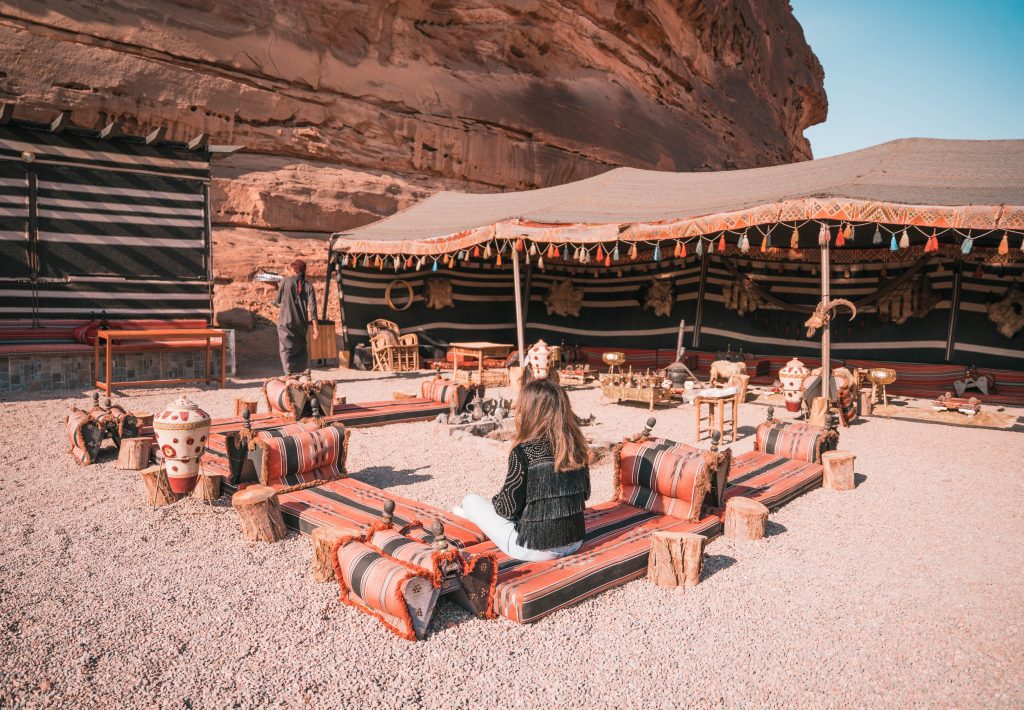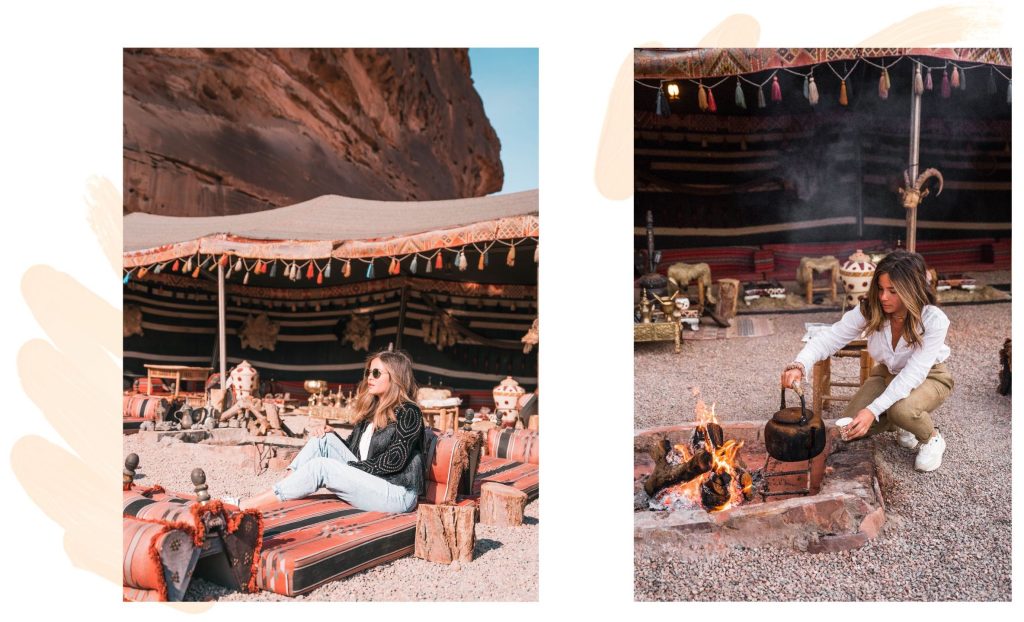 ➡️ What to do in the desert of Wadi Rum?
There are many activities available to you in Wadi Rum:
A Jeep tour to discover the desert (optional in the trip with Jordan Nomads).
Camel rides
Surfing in the dunes
And, of course, marvel at this enchanted setting and realize how lucky you are. ?
Also, don't miss the sunsets, the lights of Wadi Rum are absolutely gorgeous. For the more motivated, there are also sunrises (very few for me) ?.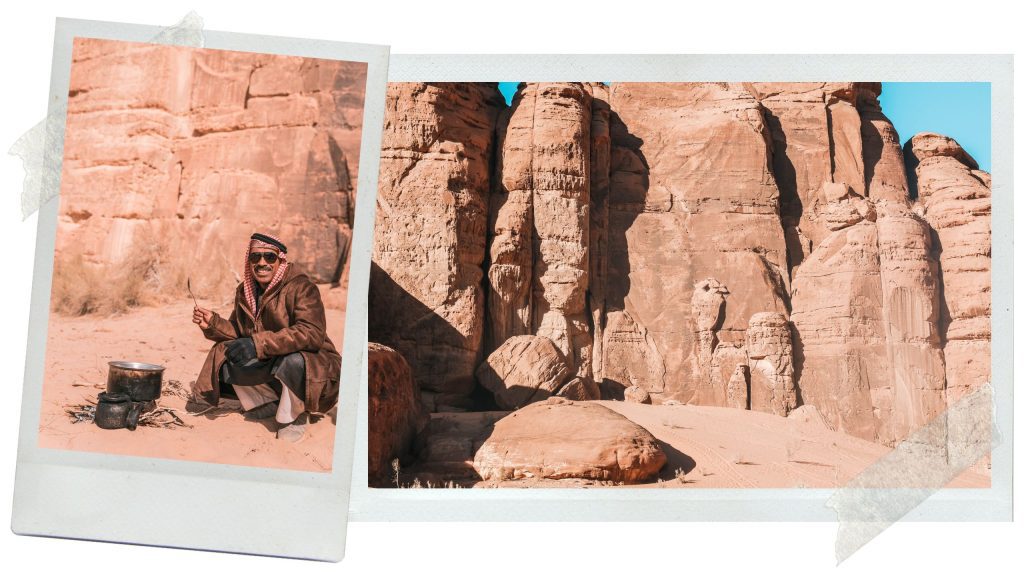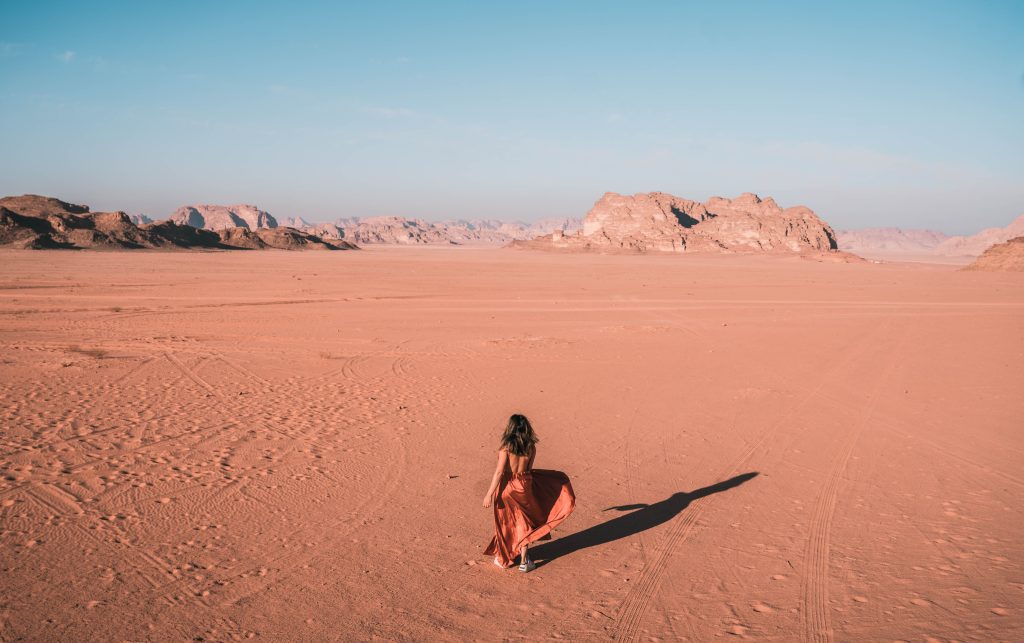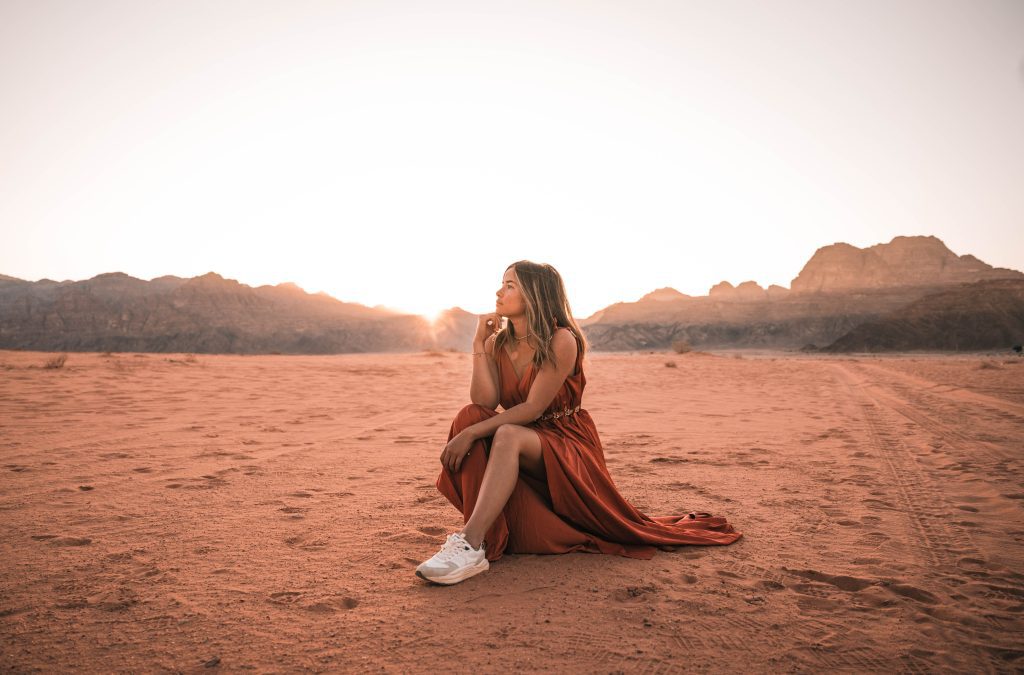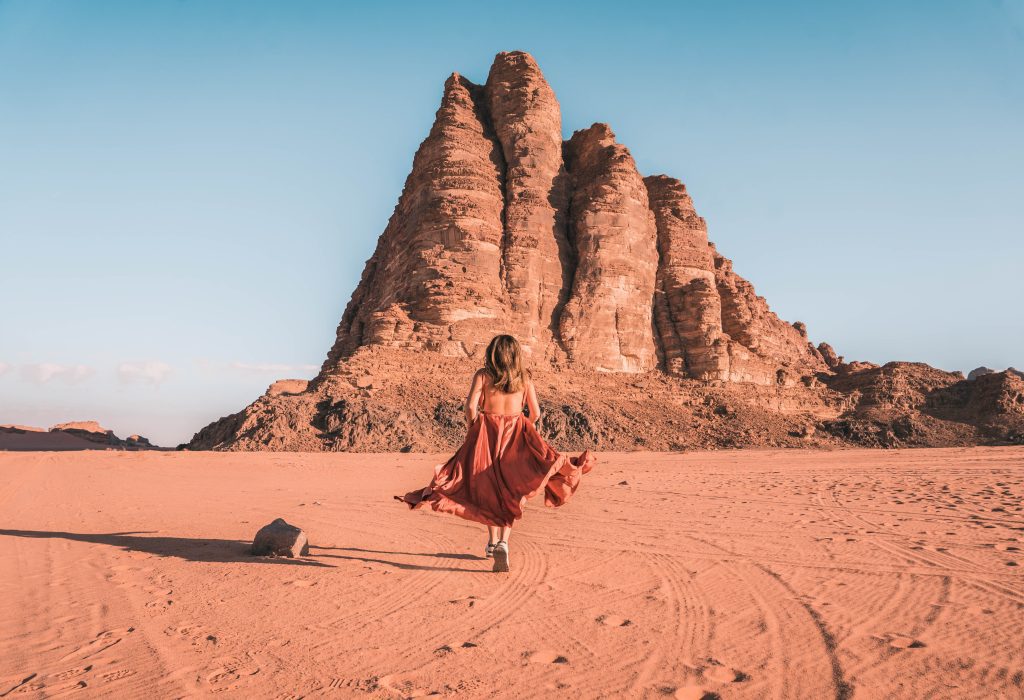 ---
End of the road trip in Jordan: back to Amman
For the last day, it is time to drive back to Amman. On the way, several viewpoints are recommended in the Jordan Nomads road book. I recommend you to stop there to take a break and take in the sights one last time. ?
So that's the end of the road trip itinerary in Jordan. I hope I have helped you to organize your one week trip to Jordan. Don't hesitate if you have any questions: use the comment section on the blog at the bottom of the page.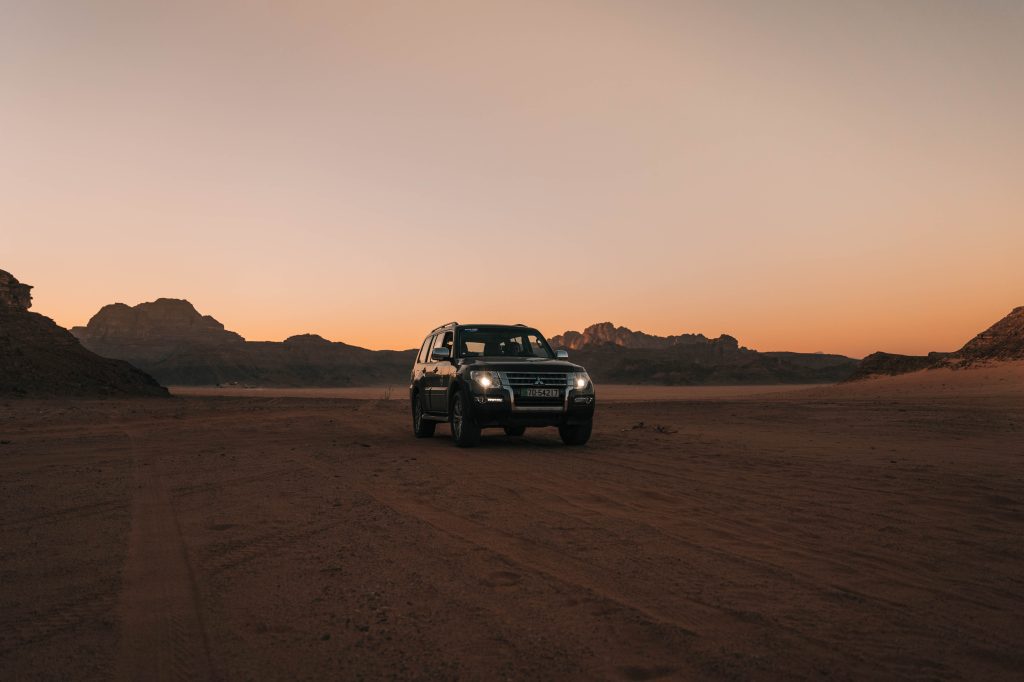 ---
Road Trip in Jordan : Practical Information
☀️ When to go to Jordan?
It is possible to travel to Jordan all year round. Nevertheless, quite a few activities and places are closed between mid-November and mid-March. Therefore, prefer the second half of March until June, and then from September until the first half of November.
As usual, I advise you to avoid the months of July/August because of the crowds and the high temperatures.
Covid conditions to go to Jordan
Measures January 2023: COVID vaccination is as of today no longer controlled to enter Jordan. There is also no need to present a negative test.
You just need to fill in this form 48 hours before your trip which will give you access to a QR code to present upon arrival.
Visa and Jordan Pass
Each traveler must present a visa when entering Jordan. The price of the visa is 40 JOD (53€) per person but be aware that the visa is included in the Jordan Pass, provided that you have purchased the latter before your trip. Therefore, be sure to purchase the Jordan Pass before your departure so that you do not have to pay more money than necessary.
The Jordan Pass Wanderer allows access to
1 day in Petra
Entry to +40 iconic places in Jordan
Visa
If you want to do 2 or 3 days in Petra, choose the appropriate packages.
What is the budget for a one week itinerary in Jordan?
Jordan Nomads agency offers one-week trips with good value for money.
? Travel to Jordan: Budget for a week.
Here are the details of my expenses:
4×4 rental with programmed GPS + accommodation with breakfast: 720€ per person with Jordan Nomads
Gasoline : 150€ per person
Food : 20€ / day / person for 1 snack at noon and 1 meal in the accommodation in the evening
Flight : count between 200 and 300€ per person from Paris. Prices may vary depending on dates and departure cities.
Jordan Pass: 93€ per person
Budget for one week road trip in Jordan: 1,273€ per person, all included.
? Click here to book your trip with Jordan Nomads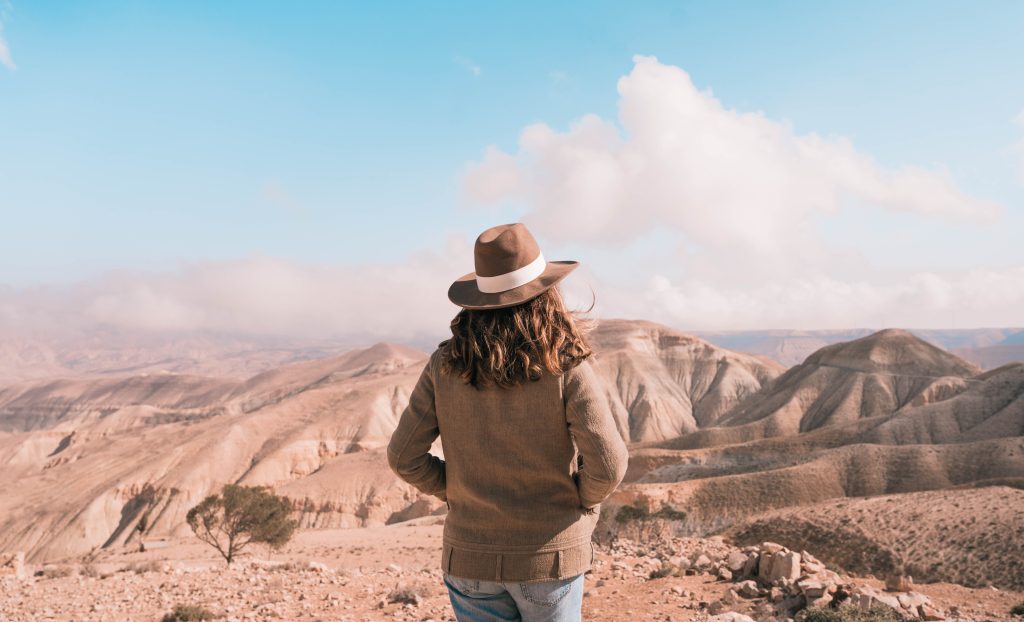 Jordan road trip: other information
? The currency in Jordan
The local currency is the Jordanian dinar (JOD). Use a conversion app or Google for equivalencies. Roughly speaking, 10 JOD = about 13€.
I recommend bringing euros to change on the spot or withdrawing at a Jordanian bank if you have a no-fee CB abroad.
❗️Is Jordan a safe country? Can we travel alone or with women?
I am relatively hesitant about this question, because I would be lying to you if I told you that I always felt safe in Jordan. I made this trip with a friend, so I can give my opinion as a woman.
As much as the majority of the locals were adorable, I experienced 2 / 3 not so pleasant anecdotes. First of all, I want to say that I was always dressed in long jeans, sneakers and long sleeves. This did not prevent embarrassing looks accompanied by words in Arabic and laughter between men. You should know that there are almost only men in the street in Jordan (except in Amman, the capital), which makes women – and even more so tourists – attract attention.
My experience in Jordan
Next, I must warn you about children on the roads. I've already told these stories in my Instagram story, and I've received about 20 similar testimonies as a result. So I'm not an isolated case. On two occasions, groups of children (10-12 years old) tried to block our road. The first time, it was obviously to ask for money and to insult us. One of the children blocked the car at the front to prevent me from moving forward and another opened the doors that I had not locked. Fortunately it was only a child so I succeeded in making him let go but we were still very afraid to be stolen the photographic material or others!
The second time, I spotted the group of children on the side of the road. Wary, I went around them and I accelerated to avoid living the same thing again. This certainly prevented them from blocking us, but one of them stoned us, which caused some damage to the vehicle.
Moral of the story: always lock your doors when you leave. Also, be sure to have car insurance, either through your bank card (Visa Premier insurance for example), or by taking the additional insurance offered by Jordan Nomads.
? How to dress for a trip to Jordan?
On my trip in November, temperatures ranged from 15 to 27 degrees depending on the location. Some of them are at altitude, like the Dana Valley for example. So, bring 1 or 2 sweaters and 1 jacket if you go during spring or autumn in Jordan.
Otherwise, in general, I advise you to avoid short or low-cut clothes out of respect for Muslim traditions.
How to have internet on your phone?
I chose to buy a SIM card at the Orange counter in Amman airport when I arrived. It cost me 20€ for 15 GB of internet.
---
To dream elsewhere…
What to do in Abu Dhabi?
Laos travel guide