What to do in Laos ? 10 days itinerary for your trip to Laos
Laos is a relatively unknown country in Asia, which makes it a perfect destination if you are looking for authenticity. Find in this article a 10 days travel itinerary to Laos. Once called the "country of a million elephants", you will be seduced by its varied landscapes, between its green rice fields and its mountainous landscapes. Without access to the sea, Laos is nevertheless crossed by the Mekong River for almost 1,900 km.
10 days itinerary in Laos: how to prepare your trip to Laos?
What are the Covid requirements (Updated November 2022)
If you are vaccinated, you can travel to Laos without quarantine and without a Covid test. If you are not vaccinated, you are subject to a PCR test before your departure.
You will find all the information updated very regularly on this site.
Which travel insurance to choose ?
It is not compulsory to subscribe to an insurance to go to Laos, but I always advise you to prevent any problem. You can make an online quote on Chapka.
Chapka is a reliable insurance company that we have been using for years (even before we were bloggers). We have been covered twice for hospitalizations abroad (Australia and Cambodia) and everything went very well.
When to go to Laos?
The advantage of this country is that it can be visited all year round! There is a dry season from mid-October to mid-May and a wet season from mid-May to mid-October. For the dry season, temperatures range from 25-32°C during the day and March to May are the hottest months ☀️.
Laos can also be visited during the rainy season as the tropical showers are short-lived and this period offers lush nature. Don't worry about the temperatures, it will still be warm ?.
Do I need a Visa to travel to Laos?
Yes, you need a visa to enter Laos which will cost you 50€ (or 40€ at the embassy). You have 3 possibilities to buy it:
An E-Visa online on the embassy's website.
Go to the embassy in Paris (note that visas are normally issued between 9am-12pm but I was able to get mine at 2pm!)
Directly on arrival at the airports of Vientiane or Luang Prabang.
Please note that your visa does not allow you to enter the country through any border, but only through the airports above or through the Lao Thai Friendship Bridge that connects Nong Khai to Vientiane.
Where to buy a plane ticket?
We recommend you to compare the best offers and book your flights on Ulysses. If you don't know this platform yet, we have written a detailed article here. You can benefit from -10€ on your first flight booking on Ulysse by registering via our link ?.
What budget should you plan for a 10-day trip to Laos?
✈️ Flights France – Laos: about 1,000€ per person on average.
? Hotels: it depends where and the category, but count 40€ on average (prices vary from 10€ for a small price to 80€ a night for a 3 stars or even 4 stars depending on the place).
? Restaurants: as for hotels, the price varies a lot depending on the category. Count 20€ per day per person for 2 meals. But it is clearly possible to spend only 5-10€ per day eating in local addresses. ?
Total = 1 800€ for a 10 days stay in Laos that is 900€ per person, excluding activities / visits / excluding local transportation.
? To book your parking at the airport : You can save 10% on your reservation through OnePark.
How to have internet on your phone in Laos?
Important when you go on a road trip abroad: plan to have internet access from your phone! We recommend you to order your eSIM card on Holafly in advance to be connected everywhere in the world!
You get 5% discount thanks to our promo code : AMOUREUXDUMONDE ?
How to get around in Laos ?
In big cities like

Viantiane

or

Luang Prabang

, I recommend you to go by cab (very cheap). If you don't want to get ripped off, download the Loca app or negotiate a tuk-tuk.
Between cities, it's often best to travel by minivan but it's worth looking into flights, when possible, for a great time saver.
To visit the surrounding areas of the cities, I highly recommend renting a scooter ? (about 5€ per day).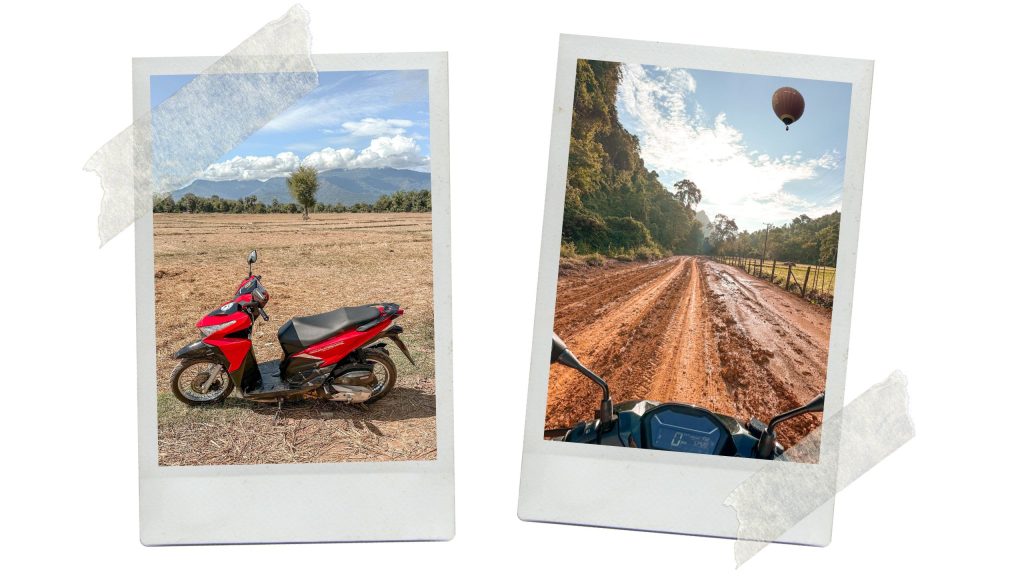 Should I buy tickets online to visit Laos?
Indeed, for the price, the language and the ease we advise you to pre-book your local travels beforehand on this site.
For your activities, go to one of the 2 following sites to discover all the possible options:
---
10 days itinerary : what to do in Laos ?
We offer you a 10-day travel itinerary in Laos. In summary:
Ventiane (Day 1)
Vang Vieng (Days 2 to 4)
Luang Prabang (Days 5 to 8)
Pakse (Days 9 to 10)
Please note that it is sometimes necessary to count half a day of transport, especially when you take the plane.
First stop of the trip to Laos: Vientiane
? What to do in Vientiane during a stopover?
I didn't have time to discover the whole city because I didn't stay long. However, Vientiane can be visited quite quickly. I had had some pretty negative feedback from this city, but in the end I felt really good in the area where I was staying with a lot of things accessible by foot. ?
Pha That Luang Temple
This is the most famous temple in the city as it is the emblem of Laos. It is supposed to contain a hair of Buddha. Entirely covered with gold, its top reaches 45m high. You can visit the interior for less than 1€.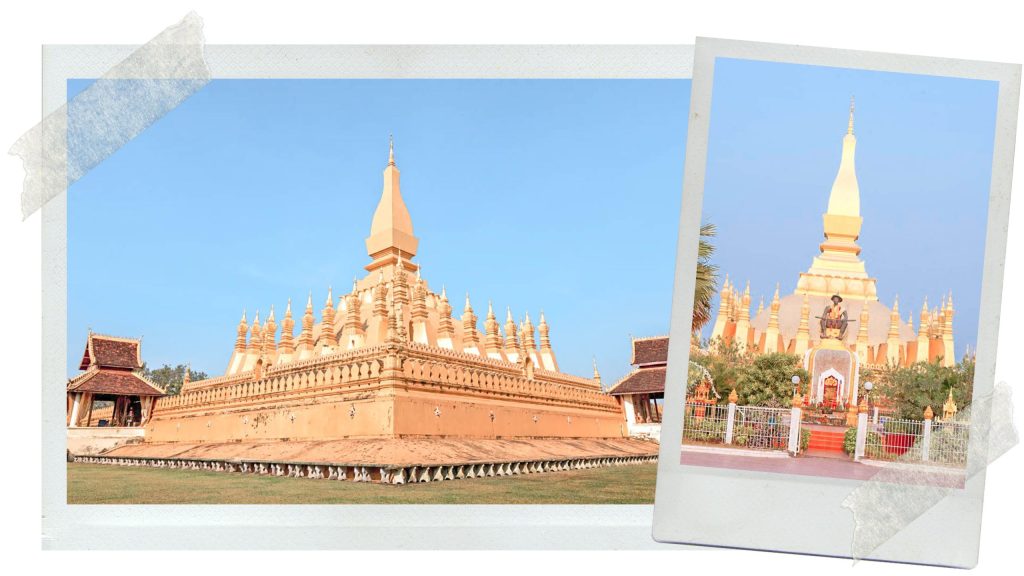 Night Market
This is my favorite thing in Asia! A 5 minute walk from the hotel, I went to the night market along the Mekong River. You will find many stalls selling clothes, accessories and souvenirs, as well as something to eat quickly. Don't forget to negotiate the prices (always within reason), if you want to enjoy good deals.
Talat Sao Mall
Close to the city center, this Mall will allow you to find souvenirs or counterfeits… Don't forget that everything is negotiable here too ?. Head to the basement to find bags or clothes. For jewelry or fabric, you'll have to go up to discover the dedicated floors.
? Where to dine / have a drink in Vientiane
You will find many local addresses near the hotel or towards the night market. To eat local at very low prices, I recommend you to try the street stalls, available everywhere. If you prefer to eat seated, you will find more western restaurants that offer all Lao specialties. I recommend the Fruit Paradise restaurant which makes a very good pad thai and is run by the grandmother, the mother and the daughter!
I discovered a cocktail bar hidden in the center of town: Gallery38! Once there, take the stairs on your left and push the door that is built into the wall right in front of it. The prices are high (8€ a glass) for the country but in France they would be 16-18€ with this quality and this setting.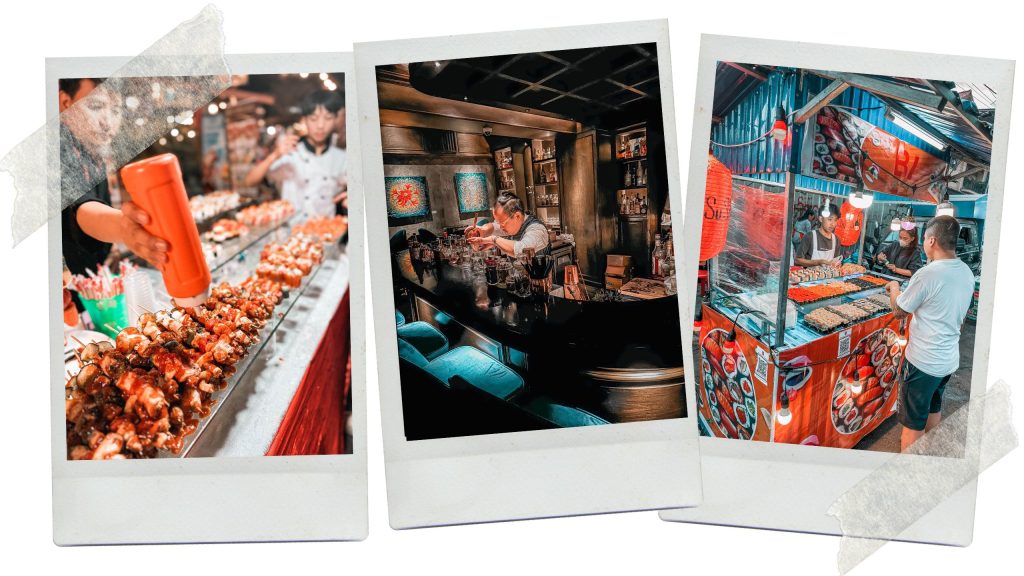 ? Where to stay in Vientiane
This is my biggest favorite in Vientiane: The Lao Poet Hotel!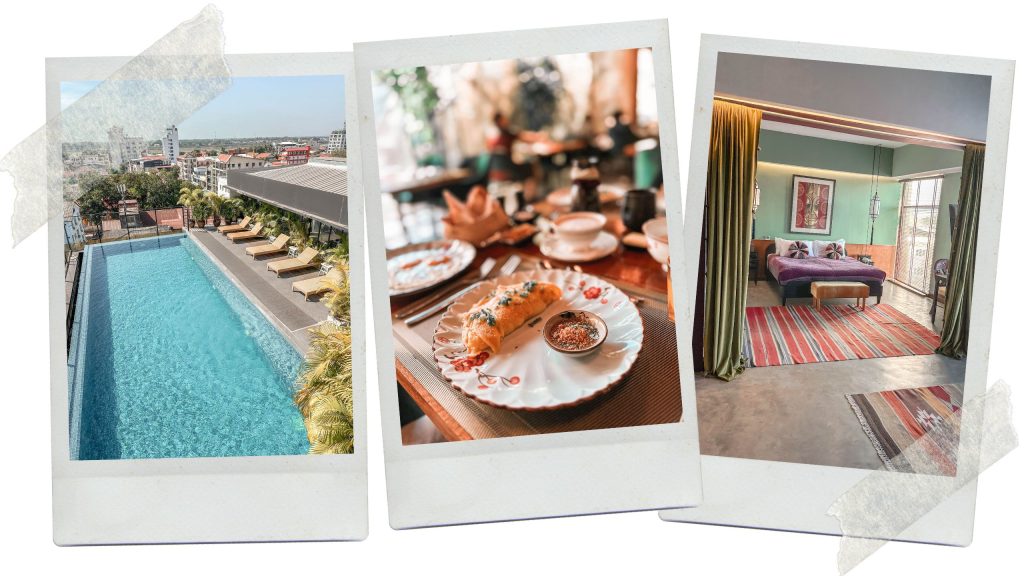 Everything was perfect. This charming hotel combines modernity and traditional decoration, all for a good quality-price ratio. A huge positive point is that you can relax at the rooftop pool of the hotel with a very vegetal decoration and view on the city. It is perfectly located in the center of the city and only 5 km from the airport. I was so charmed that I came back to spend a night at the end of my stay!
The breakfast was a treat with several à la carte options: special mention for the savory pancakes.
---
What to do in Vang Vieng during your 10 days trip in Laos?
Let's go, we will reveal our itinerary to visit Vang Vieng in 3 days. I loved this step during my 10 days trip in Laos.
Vang Vieng is a dynamic city, but still preserved from mass tourism! It's an ideal place to be quiet and close to nature. However, you will find everything you need (pharmacy, hairdresser, massage, tattoo artist…) and some small animated streets with bars to party.
Asian food lovers will be delighted, as there are many restaurants for all tastes and budgets.
How to get to Vang Vieng from Vientiane?
I opted for the easiest and fastest solution: the shared mini-van. I paid 120 000kip (about 7€) with a pick-up at the hotel for 1h30 of travel before being dropped in the center. If you want to be more quiet, you can also book a private driver who will drop you directly at your arrival hotel. You can book your driver by clicking here, the website is very reliable and convenient.
Day 2: Arrival in Vang Vieng
If you have chosen the mini-van or private driver option to get to Vang Vieng, you will arrive in the early afternoon, which gives you plenty of time to enjoy!
? Where to rent a scooter in Vang Vieng
For the more impatient in search of discovery, you can easily find a rental company near your hotel. Count 100,000 kip for 8 hours (6€) or 150,000 kip for 24 hours (9€).
Discovering Vang Vieng
You can easily walk around the city to discover the small shops. In the evening, there is a small night market mainly composed of clothing stalls.
Don't hesitate to get some juice on the roadside for less than 1€, they are delicious and made with fresh products.
---
Day 3: Rice fields, lagoons and viewpoints
For this 2nd day in Vang Vieng, I recommend you to visit some of the must-sees of the city, but above all to put your sneakers on because you will need them! The scooter will be essential for you (or a cab if you book it in advance, but it will be more expensive).
? Blue Lagoons
These lagoons are 6 around Vang Vieng, quite spaced from each other. The 1st one is the biggest and most famous, so also the most frequented by tourists. The 2nd one is cute with a wooden footbridge and a place to have a picnic (see picture on the left below).  I advise you to go there early if you want to avoid the crowd. The 3rd one is the most remote from Vang Vieng (about 40 min) but also the least crowded so I recommend it if you want to be quiet. Go to Google Maps to find the exact locations.
? Entrance fees cost 10,000 kip (€0.6) per person per lagoon.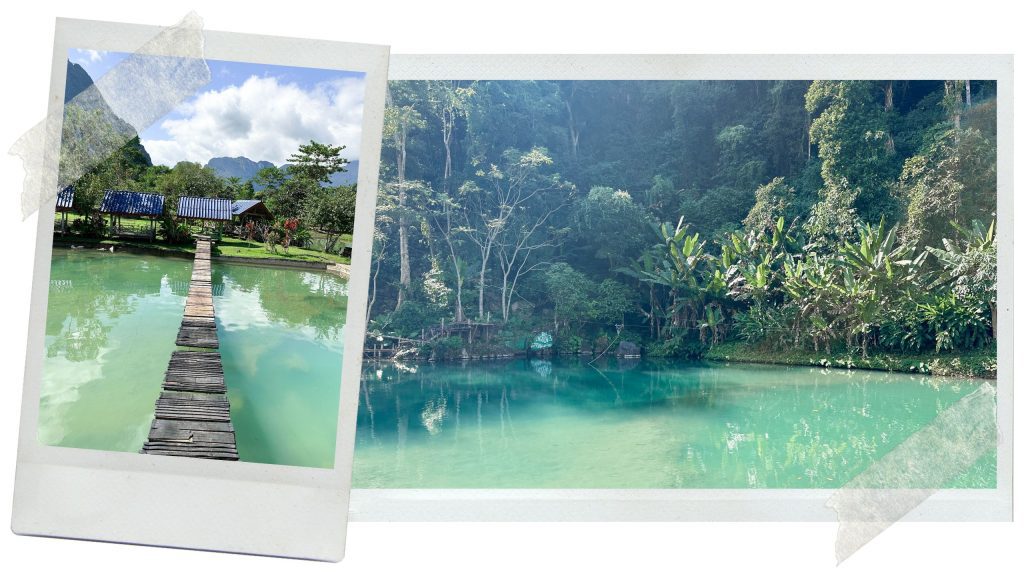 Nam Xay & Phapungkham Viewpoint
On the way back from the 3rd lagoon, about 20 minutes by scooter, you can stop at Nam Xay Viewpoint. If you climb to the top of the mountain, you can discover a motorcycle at the top, as well as a sublime viewpoint. It is the perfect place for your souvenir photo! It's a 20 minutes steep climb, but you won't regret the beauty of the landscape up there!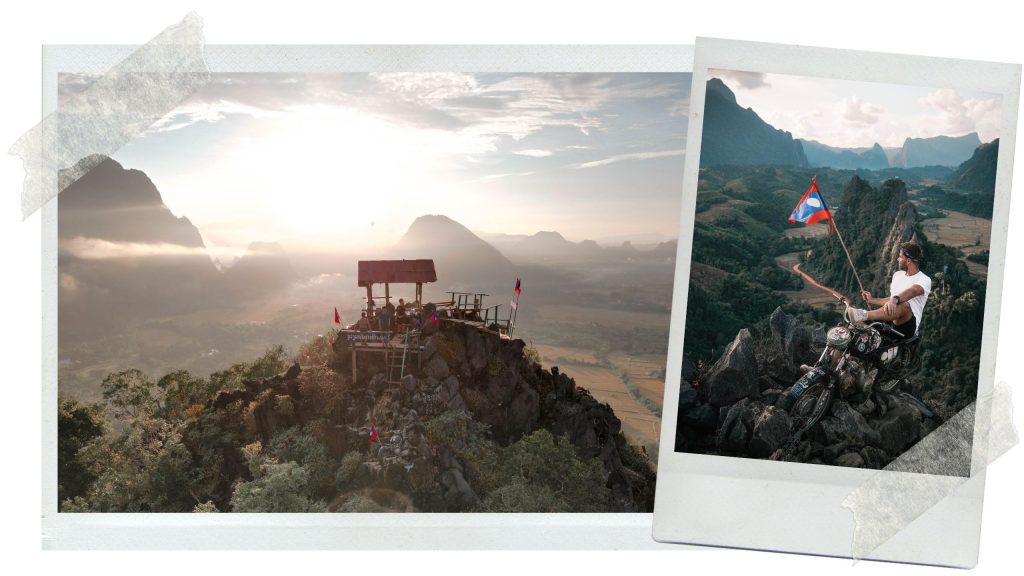 Just before this viewpoint, you can find a similar one with a plane built on top: Phapungkham Viewpoint. It took me about 25 minutes to go up. If you are sporty and the two mountains don't scare you, I really recommend you to go there because the landscape is incredible.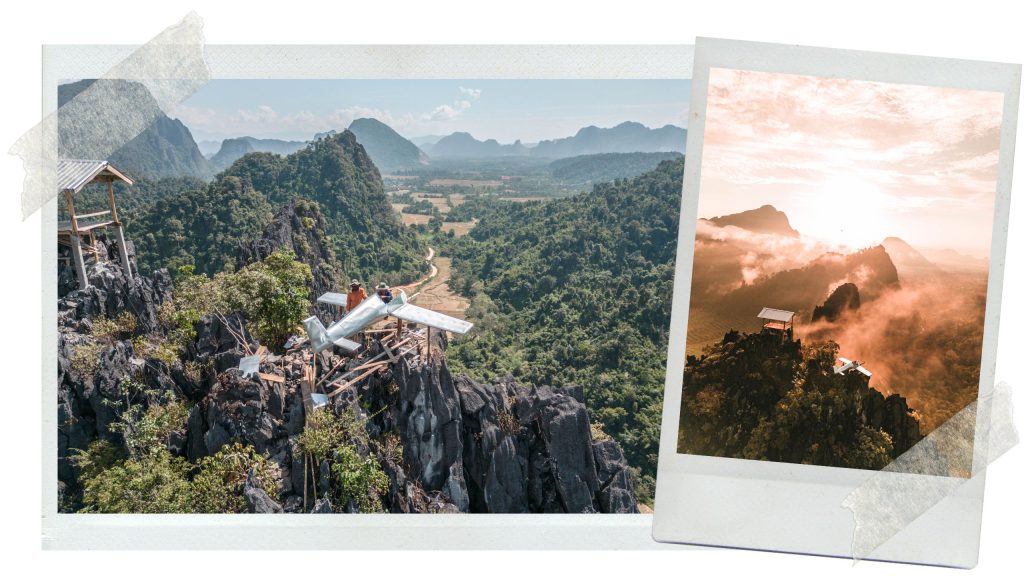 The rice fields of ViengTara
Located near the city center, I recommend you to go to the ViengTara Resort. This hotel has beautiful and quiet rice fields, a real postcard. I didn't stay there because the reviews were not very good due to a bad quality-price ratio. Nevertheless, you can access the rice fields easily. You will only have to make a deposit of 400 000 kips (about 23€), which will force you to spend at least this amount at the hotel restaurant. The dishes are correct but without more. The interest of this restaurant is only the view.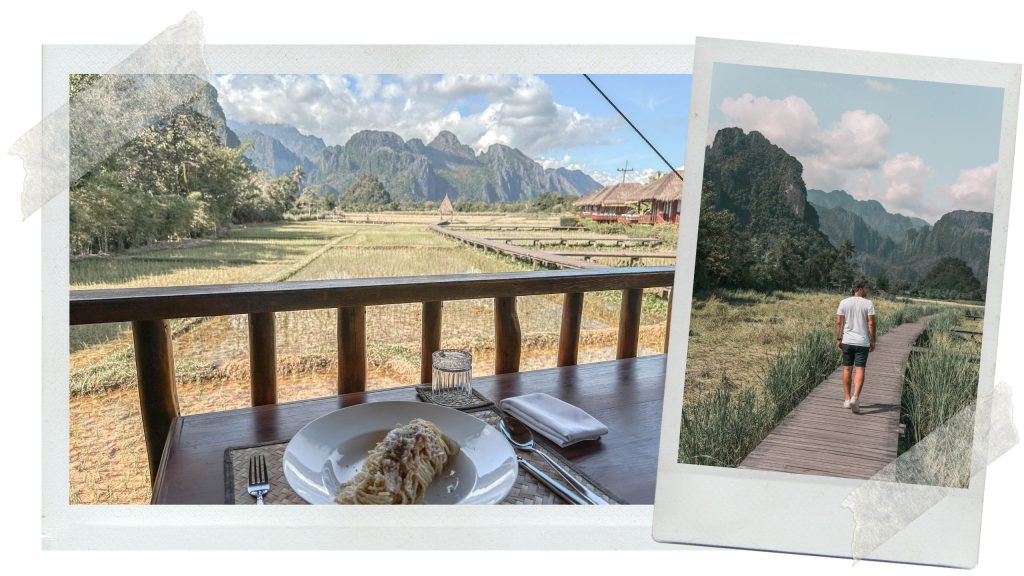 ---
Day 4: Waterfalls and discoveries of the surroundings during your 10 days in Laos
Hot air balloon flight
This is the main attraction of Vang Vieng which takes place every morning and evening for the sunrise/sunset. It's a bit of a budget, as it costs 95€ per person for the flight over the city (30 min) and 119€ for the flight in the middle of the mountains (1h). I did the city tour at sunrise because we fly over the Mekong river, unlike the mountain tour. I was not disappointed by the landscape, even if the flight seemed a bit short.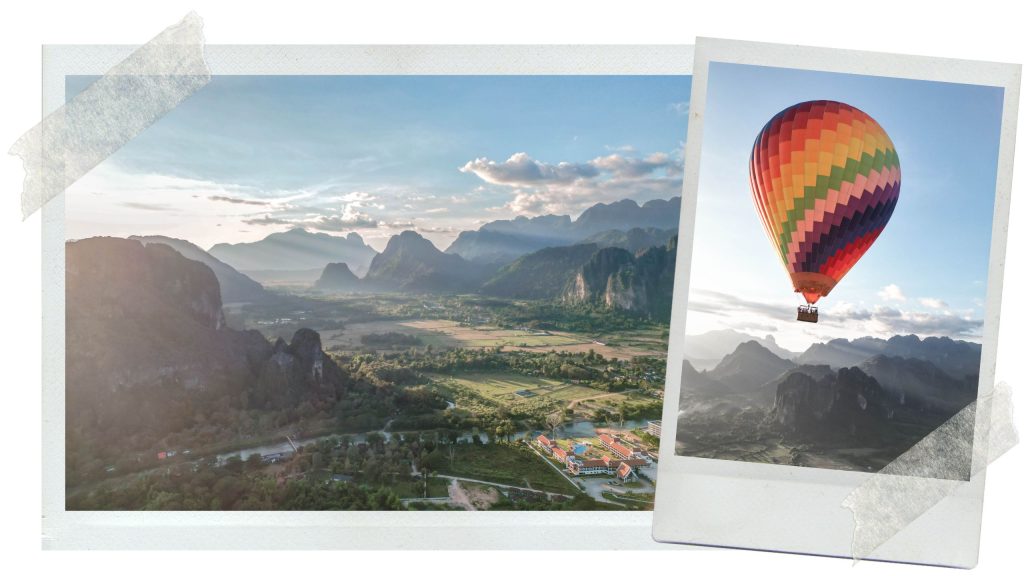 ? Kaeng Nyui Waterfall
Located about 15 minutes from the center of Vang Vieng, you can get to the waterfall easily. The roads were partly under construction when I went there, but will probably be finished for the lucky ones. A path was also under construction from the parking lot to the waterfall, but it was easy to follow the trail.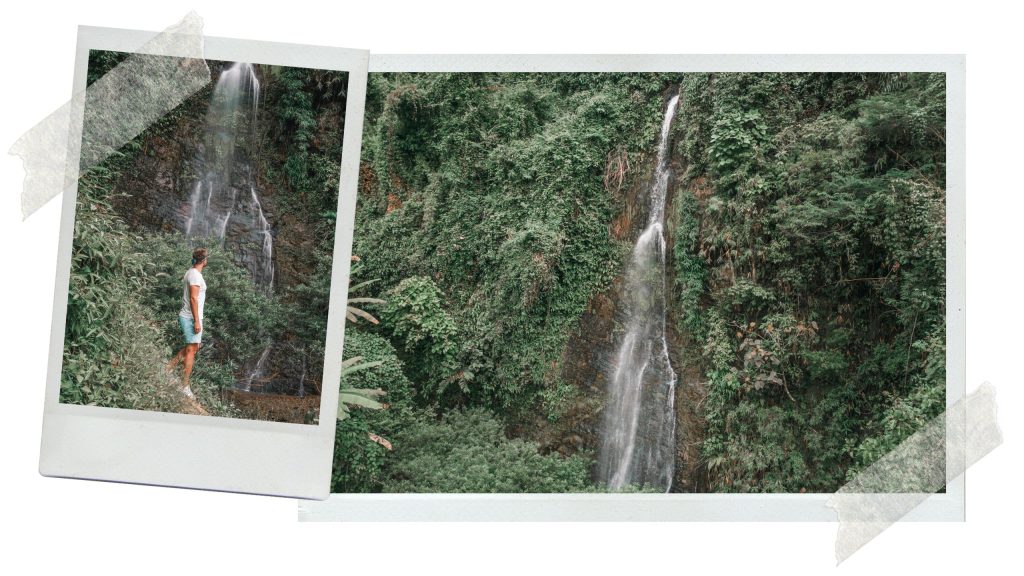 Pha Tang village
If you want to get out of Vang Vieng and discover the country in an authentic way during your 10 days in Laos, I recommend you the small village of Pha Tang which is located about 18 km from the center of the city. There is nothing special to do, except to enjoy the view on the mountains which is magnificent. On the way back, I advise you to have lunch at the Organic Farm, a guesthouse and restaurant with a view on the river. The food is really good and very cheap.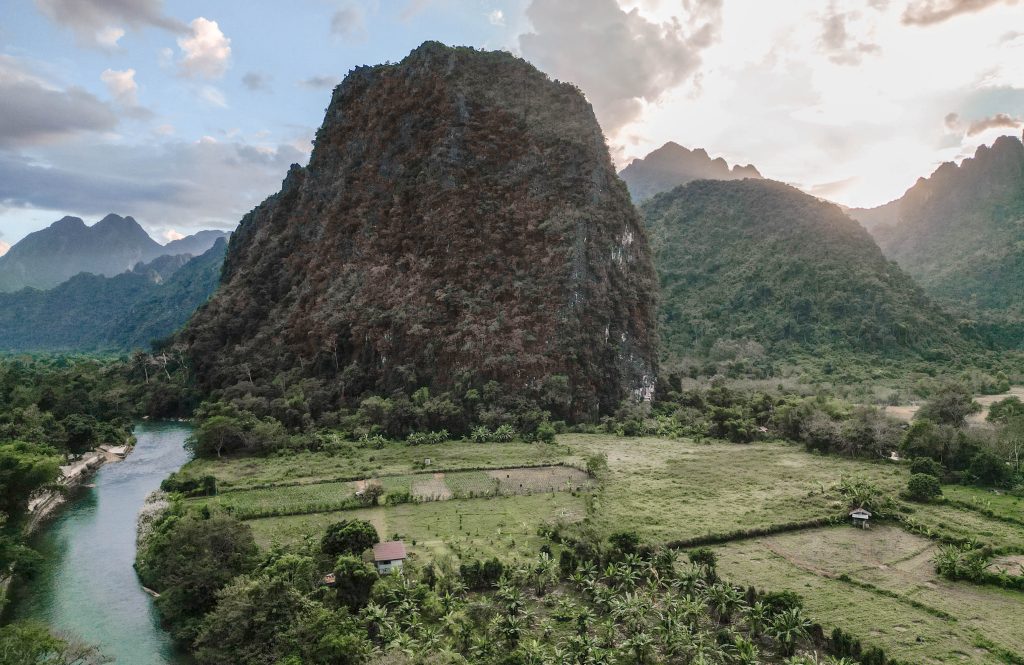 ? Where to eat/drink in Vang Vieng?
I discovered a lot of small addresses while walking around the center. If you like traditional food, you will find your happiness. I particularly liked to have a drink at the Full Moon bar, quite lively to party. For lunch, I advise you to go to the Green Restaurant with a terrace overlooking the river. I also dined at Place Victor, a small local restaurant with an exceptional pad thai and at Amnesty, a hotel school restaurant with a quality service! For fans of the mango sticky rice, the one at Riverside Hotel is excellent ?.
? Where to sleep in Vang Vieng?
Here is a selection of 3 hotels for your stay :
– Riverside Boutique Resort: probably the hotel with the most beautiful view in Vang Vieng (photo below to support). The setting is heavenly, the staff adorable and the food excellent.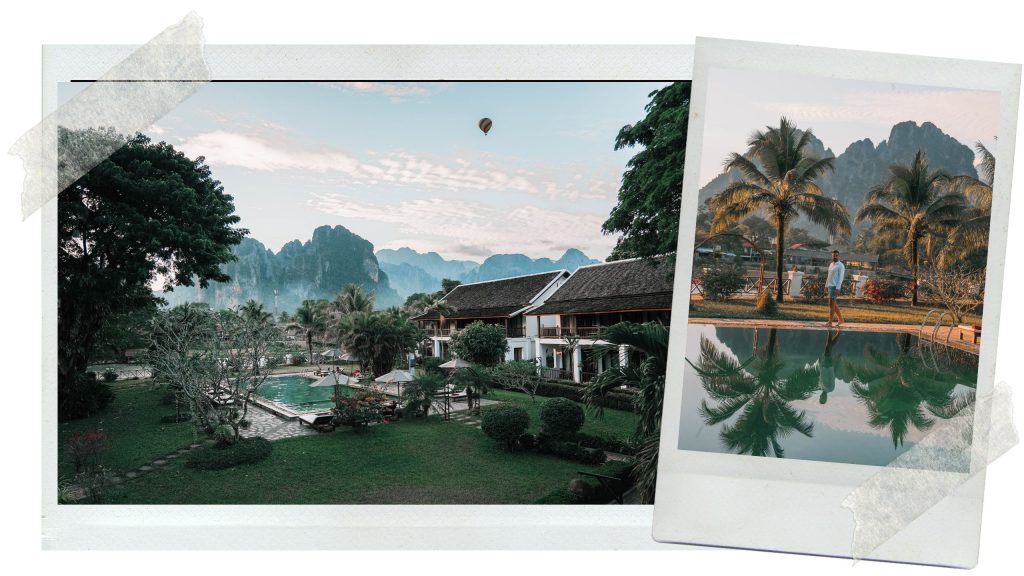 – Sansan Resort: without doubt the best value for money! About 20€ a night with breakfast included and a quiet swimming pool. The rooms are not luxurious but for the price it is very good.
---
Travel to Luang Prabang: what to do in Laos during 10 days?
How to get to Luang Prabang?
For the continuation of my itinerary in Laos, I went to Luang Prabang. There are several options from Vang Vieng:
– By train: the fastest and easiest solution. There is a fast train (50min and 6,5€ per person) or a slow train (1h20 and 4,5€)
– By shared mini-van: the trip takes about 3h30 for the same price as the train so I advise you to choose the first option.
What to do in Luang Prabang during 4 days?
Day 5: Arrival in Luang Prabang
Located on a peninsula between the Mekong and the Nam Khan River, the city of Luang Prabang, formerly the capital of Laos, is classified as a UNESCO World Heritage Site thanks to its colonial houses.
Tasting Lao specialties
I recommend you to try the specialties that you will find everywhere, especially the small barbecues along the road!
Visit the night market
There are 2-3 markets in town but I recommend you to go to the night market of Luang Prabang, the Handicraft Night Market. It is located in the center, in the main street Sisavangvong Road, closed to vehicles for the evening. You will find many stalls selling clothes, souvenirs etc. There is also a large square surrounded by street-food stalls with tables in the middle, where you can pick up local specialties from all over the place before sharing a meal.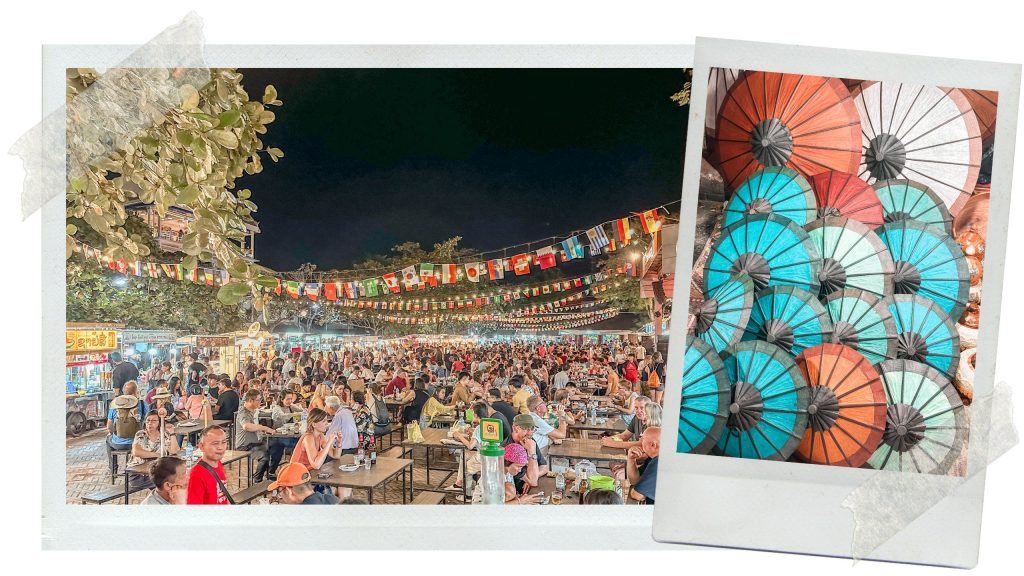 ---
Day 6: Discover Luang Prabang
Pak Ou Caves
Also called "Buddha caves", these caves can be visited by cruise on the Mekong River. Inside the caves, you can see hundreds of Buddha statues.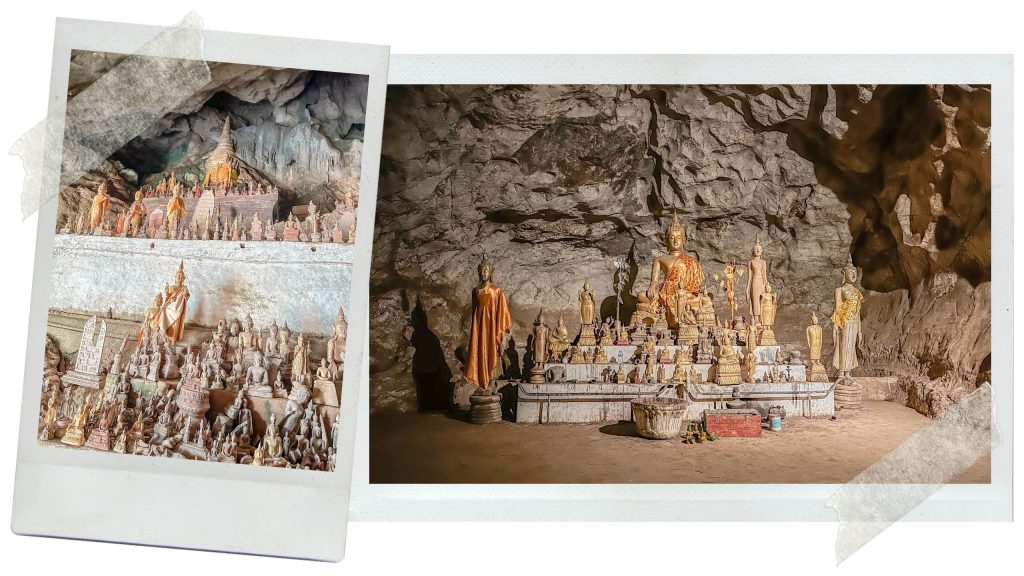 Whisky Village
Halfway between Luang Prabang and Pak Ou, this small village is very famous for its local whisky, the "Lao Lao". You will visit small stores where the whisky bottles contain insects or snakes. It is quite surprising to see but it is authentic. I could also see weaving workshops, entirely handmade. The opportunity to buy souvenirs while helping directly the locals who live here, a little bit out of the main tourist places.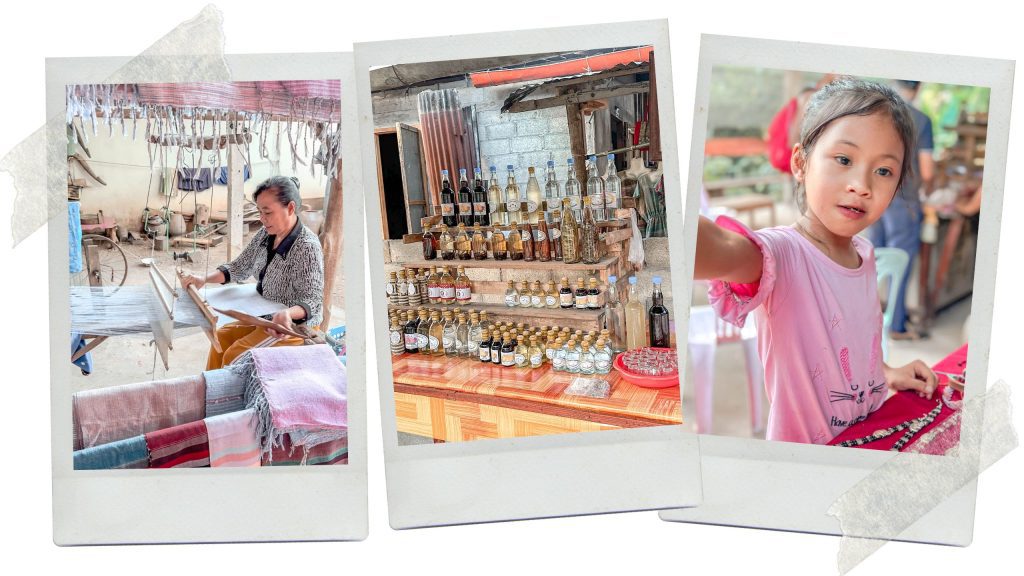 The temples of Luang Prabang
There are many temples in this city, all with a special charm. My favorites were mainly Wat Ho Pha Bang, Wat Xieng Thong and the Royal Palace, a treat for the eyes.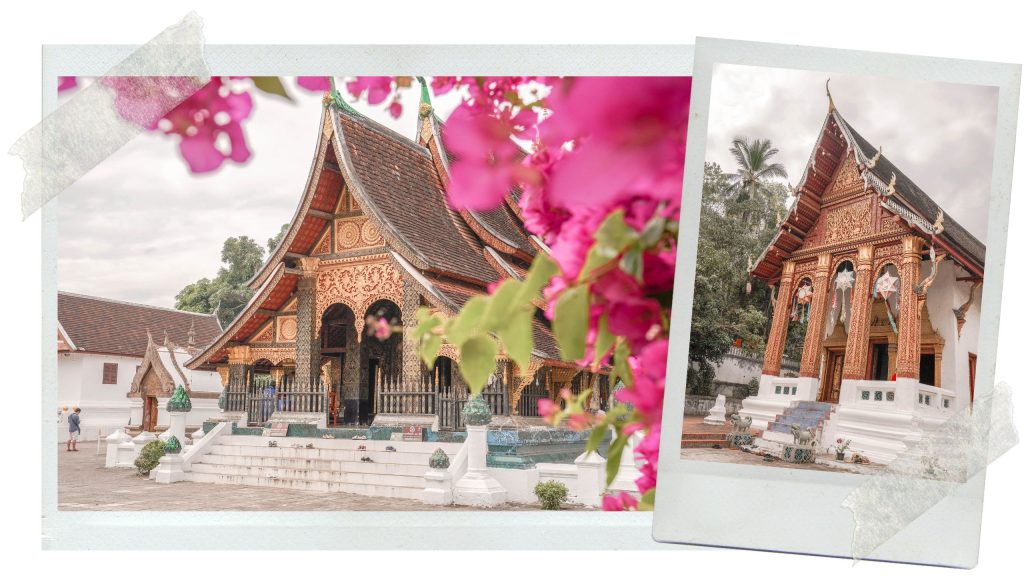 ---
Day 7: Waterfalls and sunset
Kuang Si Waterfalls
I recommend you to go to Kuang Si waterfalls, which are located about 20km from the city. It is a must do during your 10 days trip in Laos. You can enjoy the clear water of the waterfalls that flow on several "layers" of limestone, forming pools where you can swim.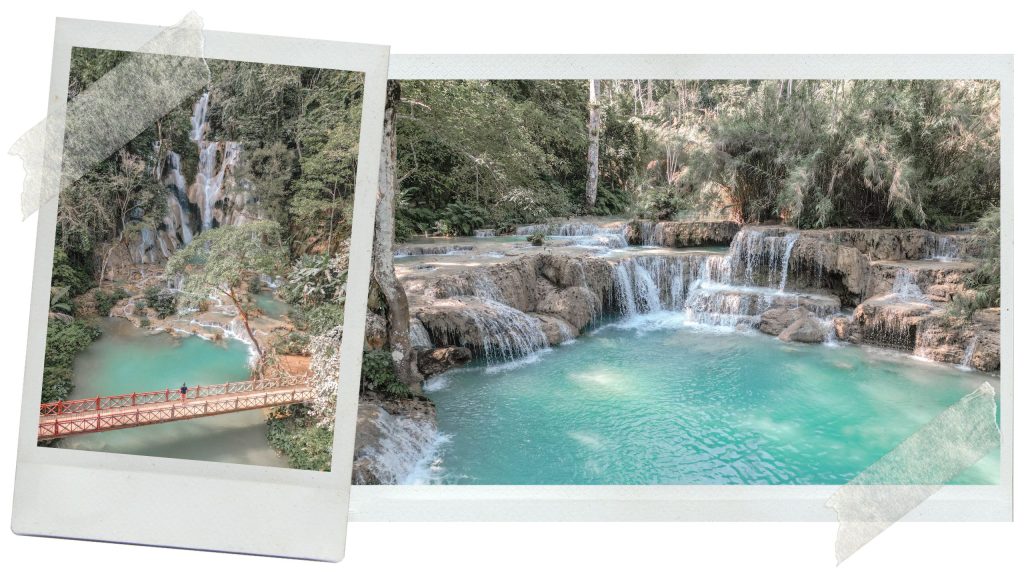 To get there, choose the scooter option which is less expensive than a tuk-tuk. Count 2000 kip for the parking + 15 000 kip per person (0,8€) for the entrance. You will then be taken by an electric cart to the beginning of the waterfall, where you will reach the first pool in just 2 minutes.
For the more athletic, you can follow the path to the top of the waterfall (about a 5 minute climb from the main waterfall).
Be careful, at the entrance of the waterfall there is a "rescue center" for bears. I found that the ethical side and animal welfare put forward on all the signs do not reflect at all in reality… The enclosures are very small and the bears turn in circles all day long. In short, a well done marketing that hides a reality that does not seem to be ethical at all.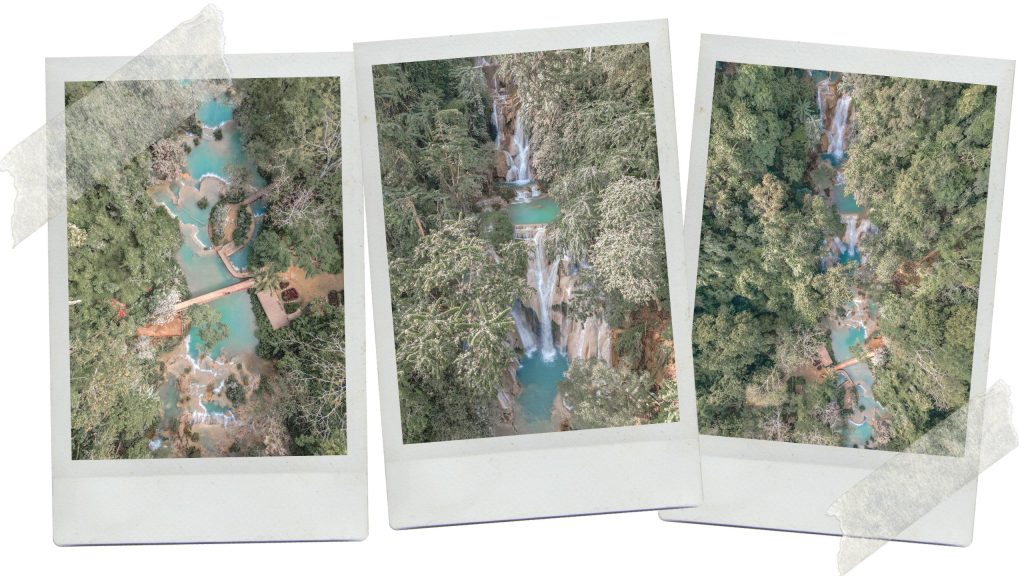 Waterfalls of Tad Sae
They are very similar to those of Kuang Si and are located closer to the city (about 15 km). To get there, you will first have to pay for the parking (0,3€) and then take a pirogue (0,9€ per person) to cross the river. The entrance to the waterfall is also charged (0.9€ per person).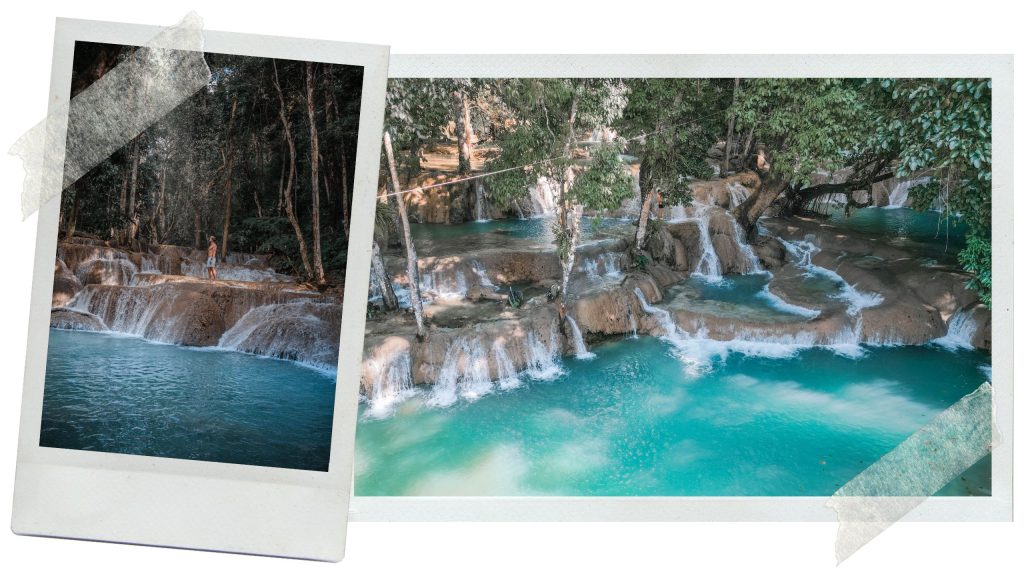 Mount Phousi
This is for me the best place to admire the sunset on Luang Prabang and have a panoramic view on the surroundings. It is located in the center of the city so easily accessible. Beware of the crowd that also comes to enjoy the view.
? Where to sleep in Luang Prabang?
⁃ The Sen Boutique Hotel: very nice establishment with modern rooms, a lovely staff and a beautiful pool in a quiet area. Moreover, the hotel has an excellent catering service with fresh products from their own garden!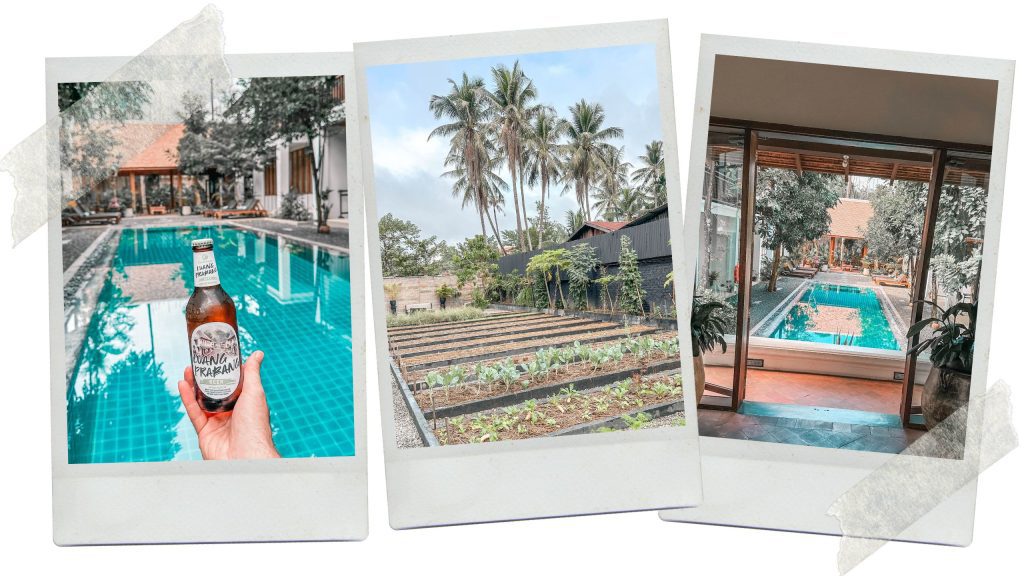 ⁃ Souphattra Hotel: in a beautiful colonial style, the hotel has a large pool and tastefully decorated rooms. There is a free tuktuk service to get you to the center in 5 minutes.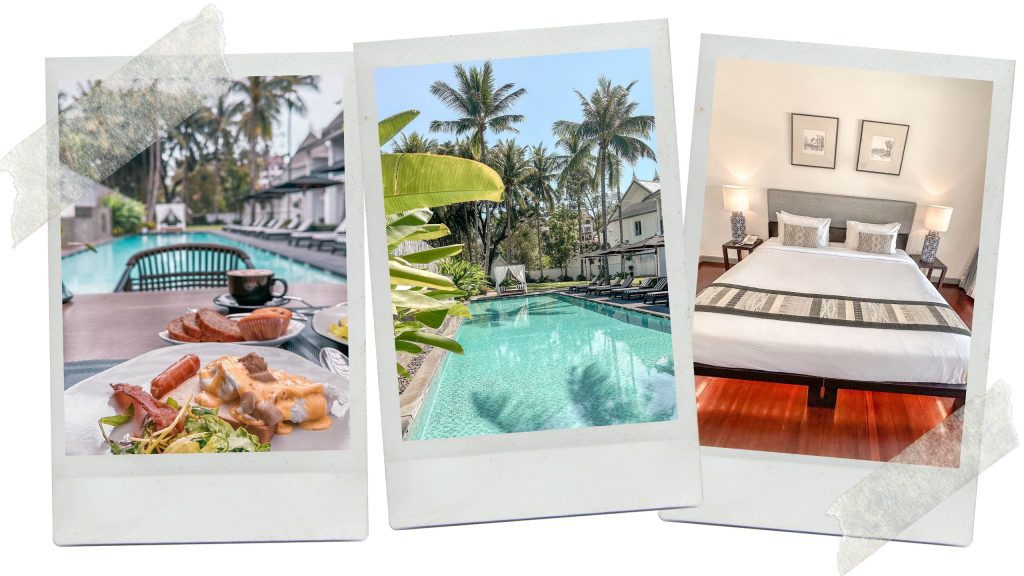 ⁃ Vongprachan House: more central, this hotel has an excellent value for money! The welcome was really top and the Bamboo Garden restaurant just across the street is excellent ?.
Where to eat in Luang Prabang?
I had the chance to test several addresses in the center of the city!
I highly recommend:
⁃ Bouang Asia Eatery, a small restaurant super well located and run by two lovely French women. My meal was really good and I loved the colorful atmosphere of the place.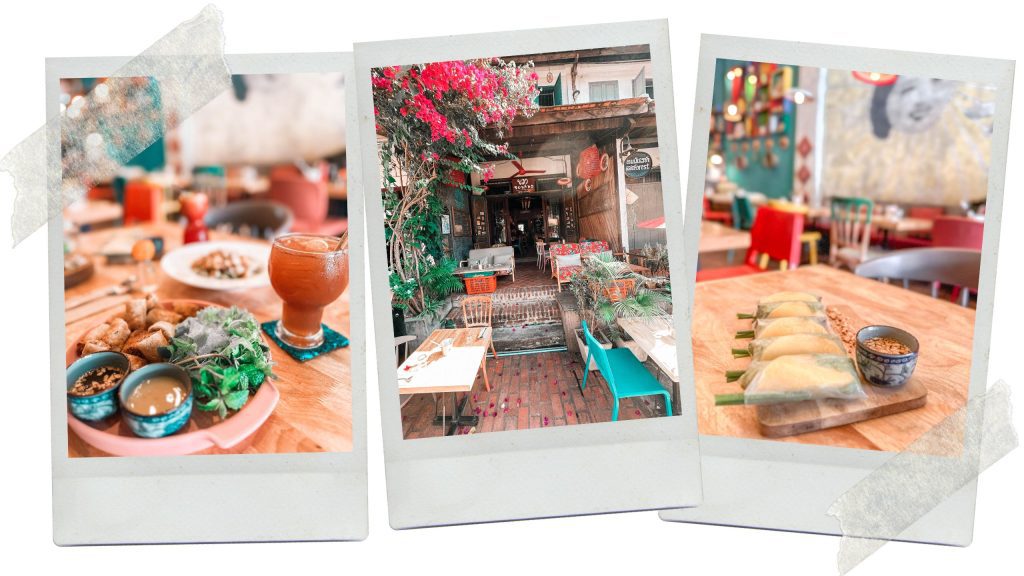 Atsalin

: This restaurant will please the small budgets with dishes at 1,5€ on average. The setting is much more local but it was very good and the service was very fast

Bamboo Garden Restaurant:

The setting is very cute, in a quiet street and with Lao specialties.
---
Day 8 of the trip to Laos: elephant sanctuaries.
? After being in Koh Chang and seeing many parks offering elephant rides, I was very wary about the sanctuaries that were located near Luang Prabang. By asking around, I found ethical sanctuaries where elephants are free in the open spaces. Again, we remind you: never ride an elephant. Although it may seem attractive and fun, be aware that elephants are tortured when they are young until they agree to submit to humans. The animals are then broken… If you love them, don't get on their backs.
I booked at the Manifa Elephant Center which offer half day, full day or even 2 or 3 day tours. For my part, I took the 2 days + one night tour at 120€ per person in high season, with accommodation, hotel/Manifa transfers and all meals included. I first enjoyed a walk on the Mekong River and the Pak Ou caves before going to the sanctuary for lunch. In the afternoon, we fed the elephants and I got to enjoy a solo elephant ride walking alongside them when the other tourists had left (I was the only one booked for the night that day).
The guide Sousak really explained things well, first telling me why the elephants had been decimated in the past, and then explaining how the center works. The elephants are free to move around and can, for example, cross the Mekong River by themselves during the breeding season.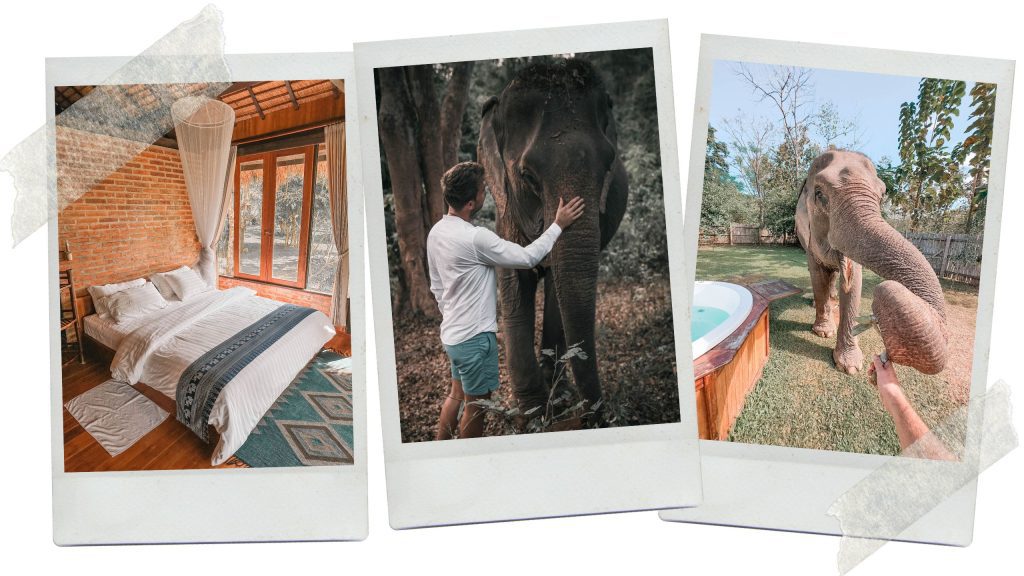 ---
Travel to Pakse: what to do?
How to get to Pakse?
For the end of my 10 days trip in Laos, I went to Paksé. The easiest way from Luang Prabang is to take the plane (about 2 hours) because the journey by bus or train is much too long (almost 24 hours…).
What to do in Pakse during 2 days?
Day 9: Visit Pakse and its waterfalls
? Where to rent a scooter?
I booked my scooter at Miss Noy whose manager is French speaking and very nice. He advised me some little known places to visit and gave me a map of the area. Count 150 000 kip for 24 hours.
The Bolovens plateau
For this day, I advise you to go to the Bolovens plateau, a rather mountainous area which culminates at 1200 m of altitude with many waterfalls. I recommend the waterfalls of Tad Fan and Tad Yuang which are located about 50 minutes from Pakse. The two waterfalls are located 8 minutes away from each other. They are each worth a visit. ?
Tad Fane is the most famous waterfall in the region, with its twin 120 m high waterfalls. The entrance fee is 20 000 kip per person (1,2€) and you have to add 5000 kip for the parking. If you have the time and the budget, I recommend you to do the zip line tour above the waterfall! The tour lasts 30 min and costs 35$ per person. It consists of 4 ziplines, the main one is 430m above the waterfall.
Tad Yuang is less impressive because it is much smaller, but unlike Tad Fane, you can go to the bottom of the waterfall. It is the same price as Tad Fane. It is easily accessible by foot from the parking lot (about 5 min).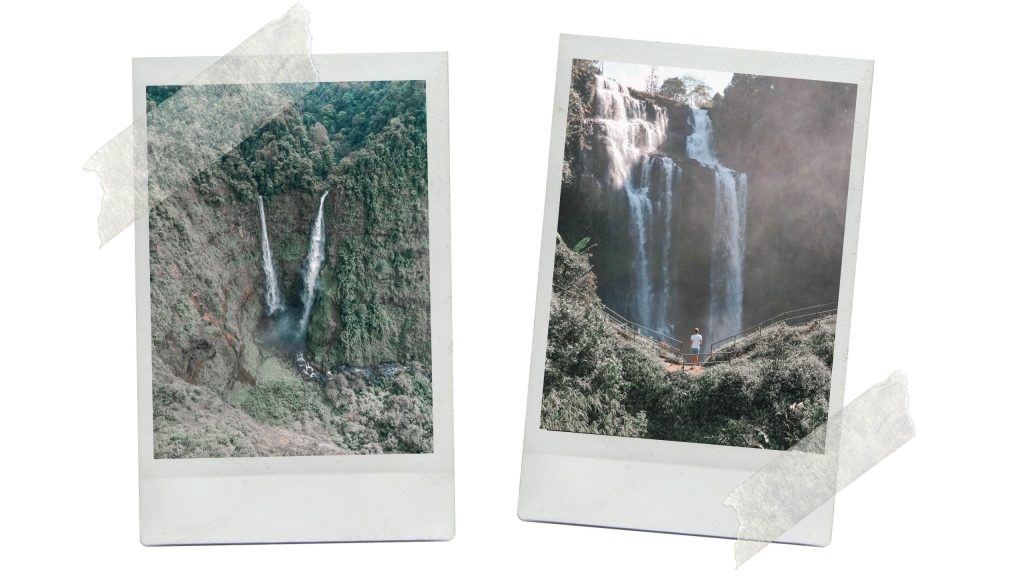 Wat Phousalao
If you want to enjoy the sunset over Pakse, you can go to Phousalao temple with its huge Buddha visible from the city. There are 500 steps to climb before reaching its top, but the temple is perfect to have a panorama over the city.
? Where to stay in Pakse?
I stayed at the Jardin Hotel which I highly recommend. The person who runs the place is lovely and the hotel has a pool, which is nice after a long day. The breakfast is simple but efficient. Excellent value for the money.
? Where to eat in Pakse?
Right next to Miss Noy Motorbike, there is a small restaurant in Meiling's name run by his wife. The yellow noodles were really good and the wait was more than decent.
---
Day 10: Visit of Champasak
To go to Champasak, you can either take a mini-van (count 35 min and about 20€ per person) or go by scooter. I preferred this option for more freedom and I left my luggage at the hotel in Paksé. It is a really authentic village and I recommend you to go to Chez Maman, an ethical store where all the products sold are handmade by Laotians.
Wat Phu
Wat Phu is a must-see in the city! The entrance costs 50 000 kip per person (3€) and is located at 15 min from Champasak. This temple looks a lot like the Angkor temples with dark stones, really different from the ones I saw in Luang Prabang.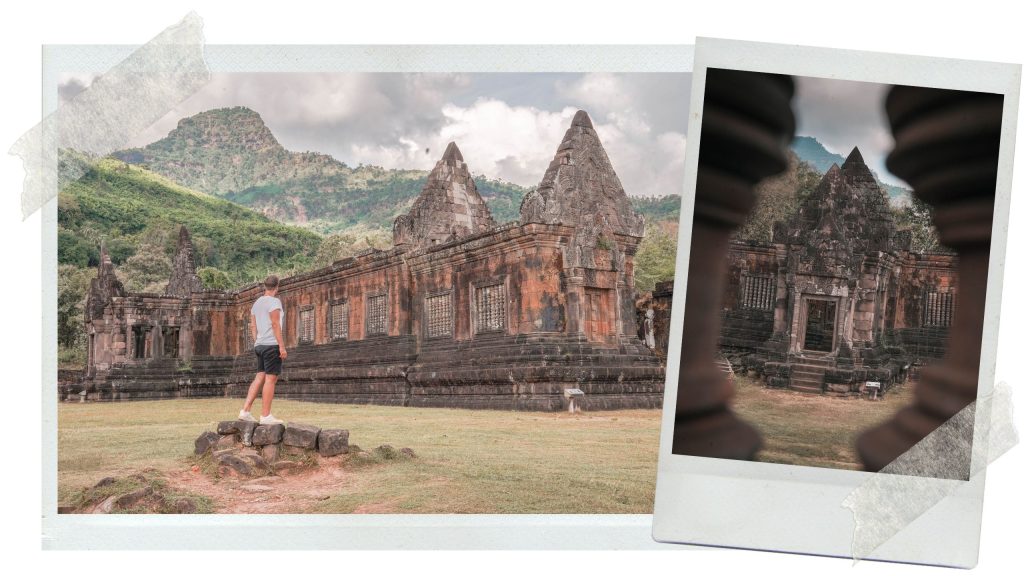 ? Where to sleep for this last night of travel in Laos?
I spent the night at the sublime La Folie Lodge hotel which is located on a small island, facing Champasak. There is a free boat service to get to the hotel and you can put your scooter on the boat. The hotel is really quiet, the bungalows are all made of wood and you can admire the Mekong from your room. The hotel has a swimming pool surrounded by palm trees. ? The restaurant is very good with correct prices. I especially recommend the lemongrass chicken (only at night), it was a delight!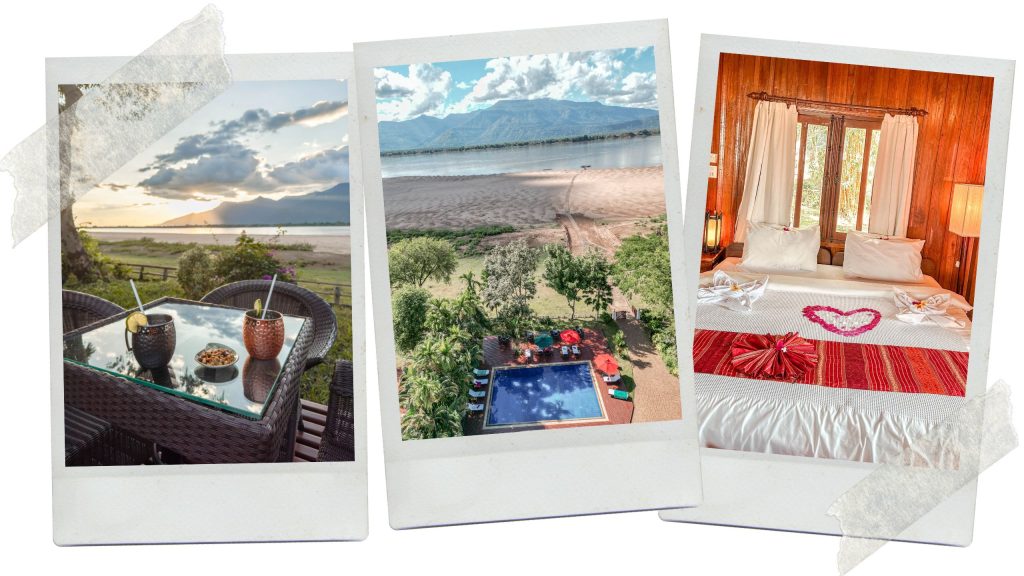 ---
I hope I have helped you in organizing your 10 days itinerary in Laos and answered your questions about what to do in Laos. Have a great trip ❤️. If you like Asia, take the time to look at our articles on Thailand.