What to do in 3 days in Santorini?
Santorini, a world famous island in the heart of the Cyclades, is a very popular destination. We went in October 2020, tourism was weakened by the pandemic so there were very few tourists at that time. We advise you to stay 3 days for your trip to Santorini.
---
Practical information for your 3-day trip to Santorini
How to get around during your stay in Santorini?
The best solution is to rent a quad or a scooter. We opted for a quad in order to be able to carry the luggage on it and not pay a taxi in addition to the rental ! You can contact Fresh Rent Moto ATV & Car Rental for reservation. A driving license is required.
⛴To book your ferry tickets to Santorini from your place of departure, go to Ferriesingreece to find the best deal!
Where to sleep in Santorini?
If you have the possibility, the experience not to be missed in Santorini is to sleep in one of these famous hotels with swimming pool or jacuzzi and view of the Caldera. Yes, just that ! "Seriously, it's really magical to do. We therefore recommend that you book at least one night in an establishment that offers this possibility. This is what we did at Alti Santorini Suites.
This small hotel is located very close to the port. The rooms are amazing and all have private Jacuzzis. Do not wait any longer to please yourself. 💙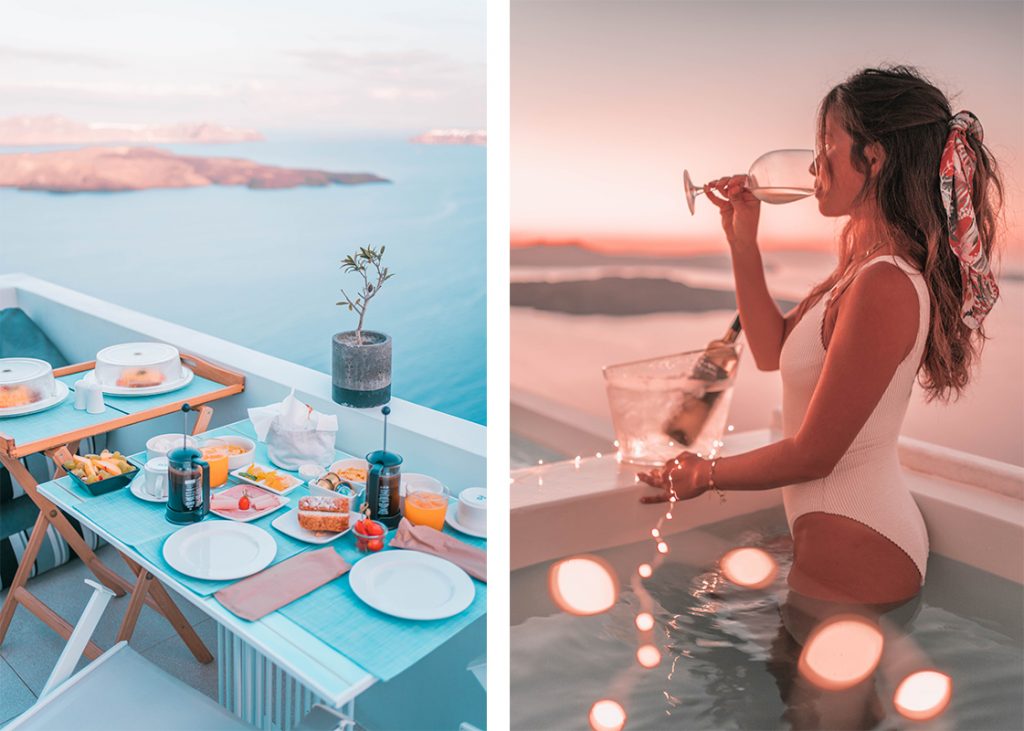 Accommodation in the center of Oia
We also tested the Ifestio Villas, run by a lady from Santorini. In addition to being adorable, she will tell you the story of her island … The villas are traditional and modern at the same time. They all have a private swimming pool with an extraordinary view of the sea. If you are more than one, the villas represent excellent value for money. There are three in all!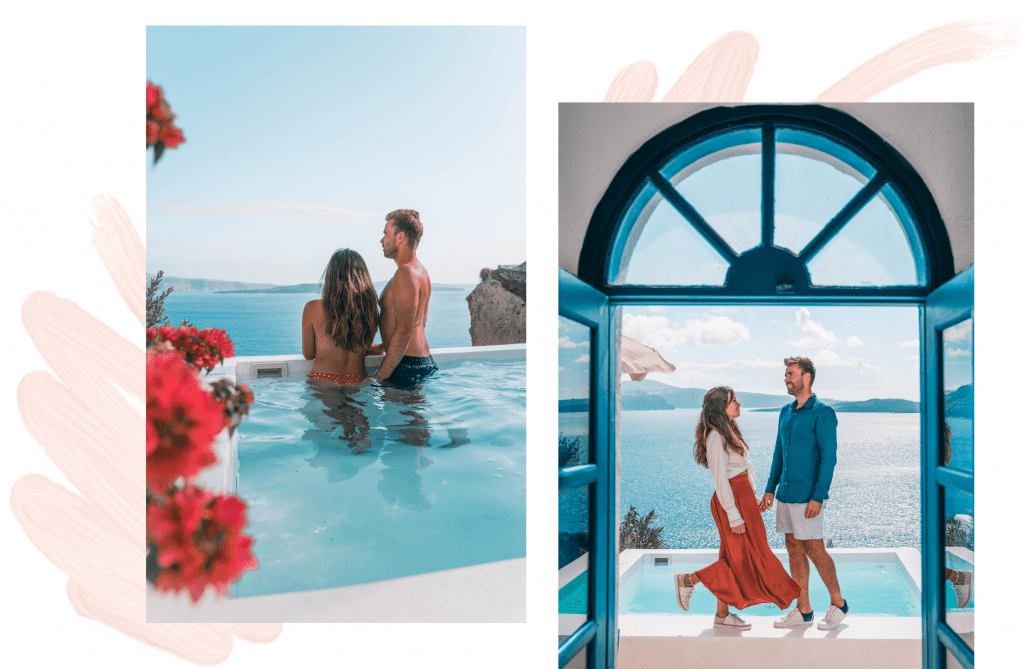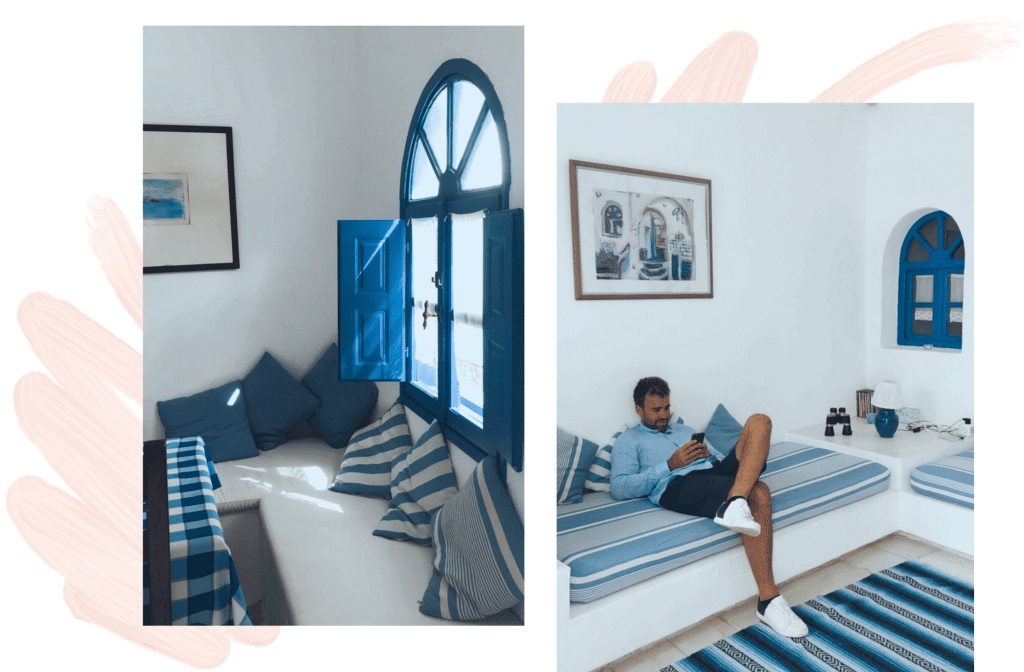 ---
3 days in Santorini: What to do?
💙

Visit Fira, Imerovegli and Oia
Fira is one of the most famous towns in Santorini. Tourists concentrate in 3 must-see places in Santorini: Fira, Imerovegli and Oìa.
Once in Fira, you can descend to visit the old port. There are 2 options for this: either go down on foot for athletes, or with the cable car. The 3rd option (which we strongly advise against !!!) is to ride on the backs of poor donkeys that are exploited and tied up all the time … Associations for animal welfare are trying to ban this practice, because donkeys are dehydrated and exhausted from travel and heat. For our part, we made the descent on foot and the ascent by cable car. Well, frankly, there isn't much to see in the port, it can be done in 5 minutes! We haven't seen much of the value of this place if it isn't a well-oiled tourist machine.
Concretely, there is no particular program to do in Fira, Imerovegli and Oia. Let yourself be guided by your desires and simply stroll through the charming alleys of Santorini.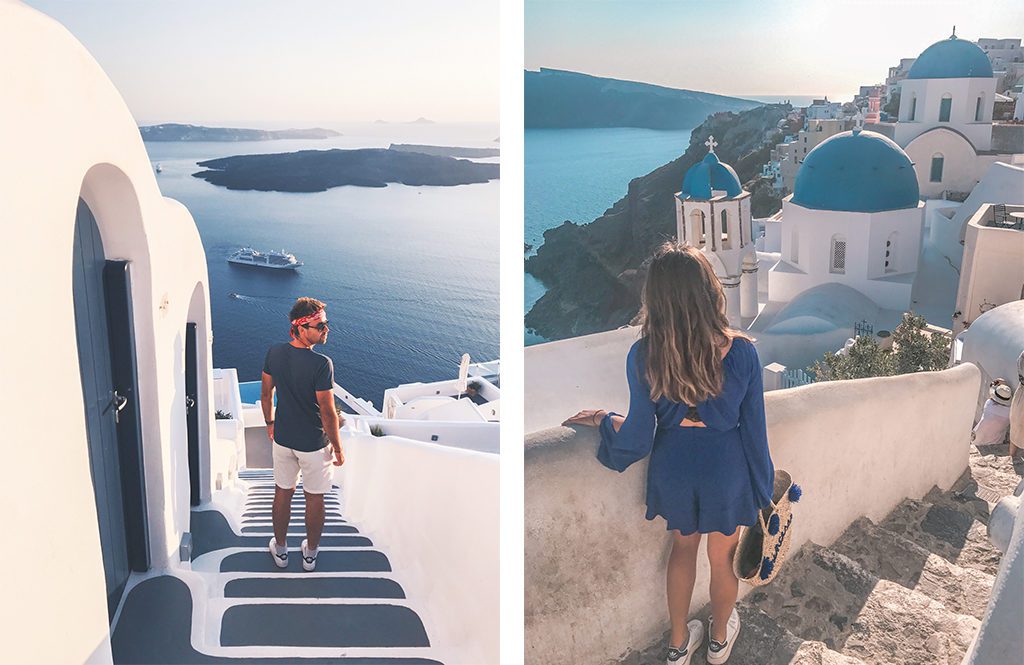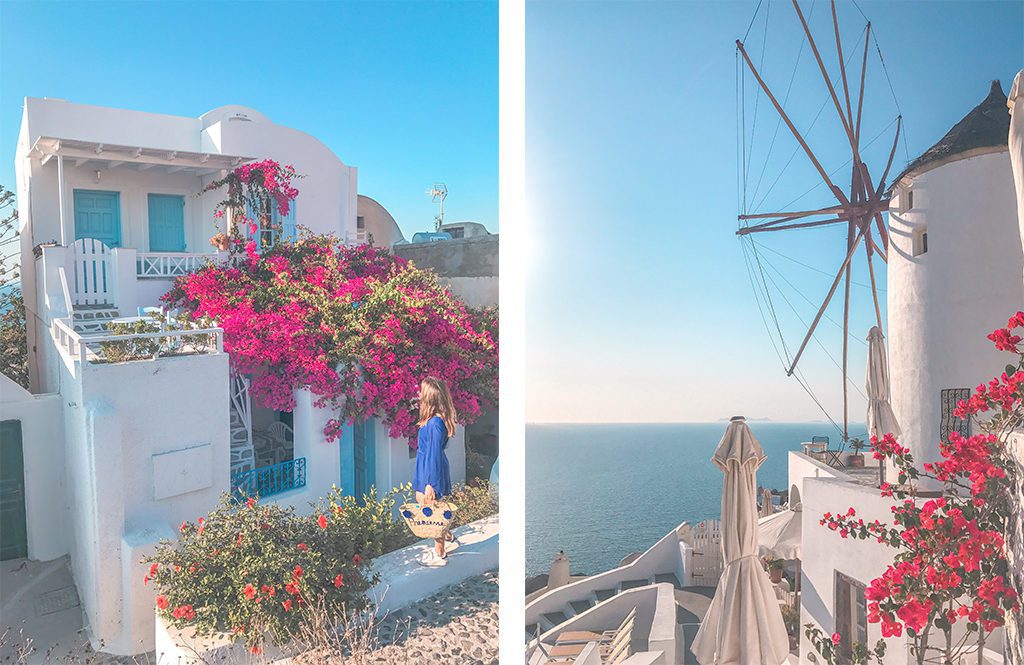 What to do in Santorini? Visit Emporio of course! The village of Emporio is sublime with its bell towers and typical Cycladic streets. In addition to that, it is much less crowded than the cities mentioned above. We fell under his spell. See for yourself in the photos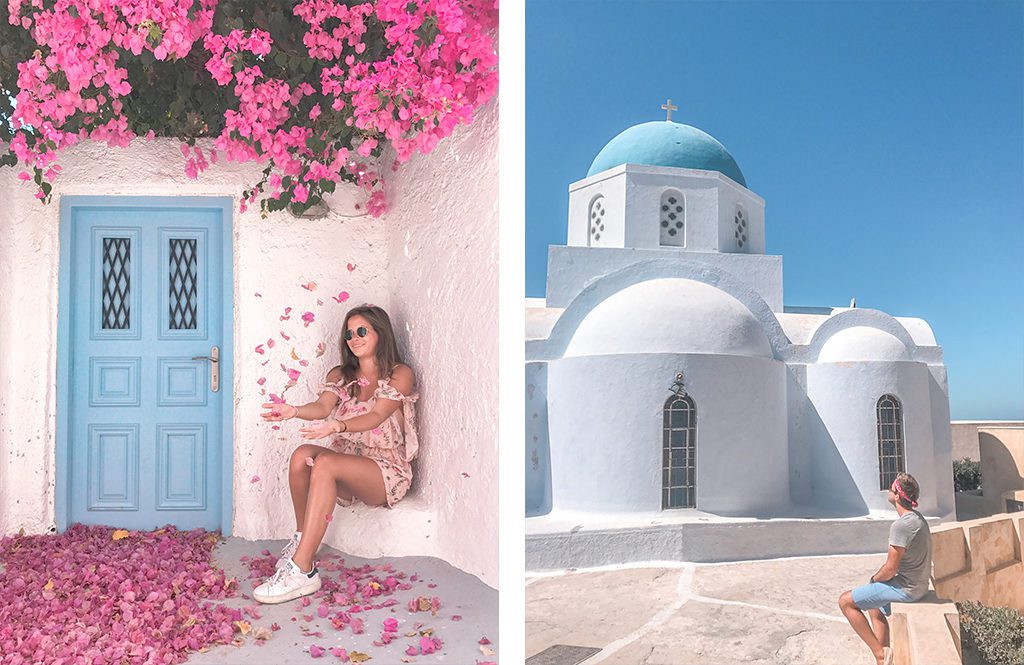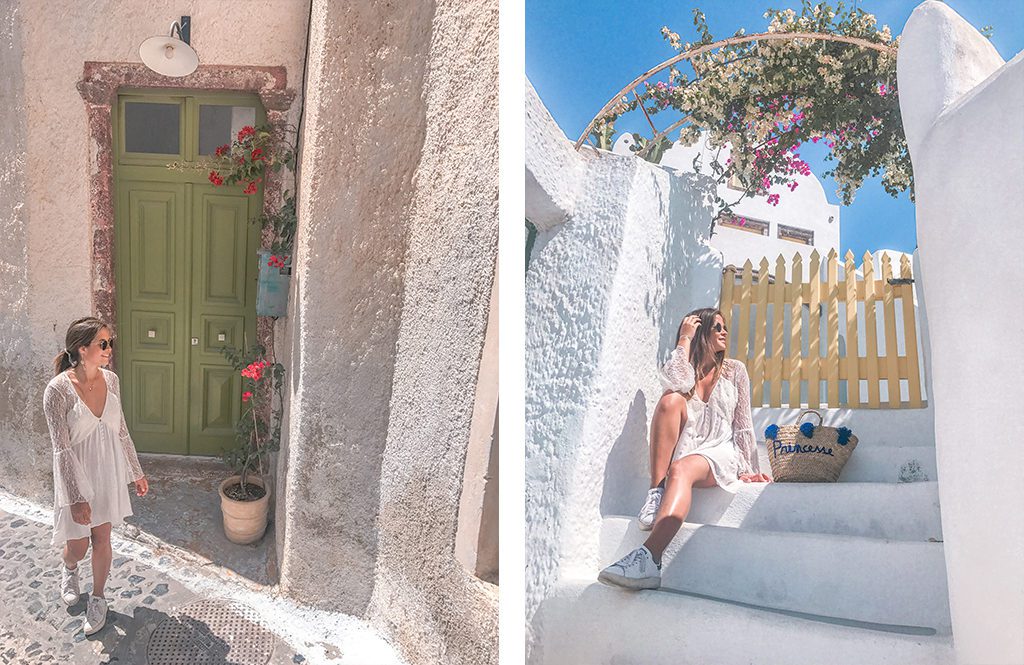 💙

Where to see the sunset in Santorini?
Santorini's sunsets are very famous. At the end of the day, everyone applauds, there is a lot of atmosphere in the streets (outside the Covid period of course …). In short, it's a real spectacle!
To watch the sunset, our favorite spot is the small town Imerovigli which is located north of Fira. There is clearly less hustle and bustle, you can get around easily, the restaurants are a little cheaper, and the views are just as good. If you venture into the alleys, you will have the opportunity to find yourself a quiet corner to watch the sun go down.
In reality, the sunset is beautiful from any point of view whether in Fira, Oia or Imerovigli …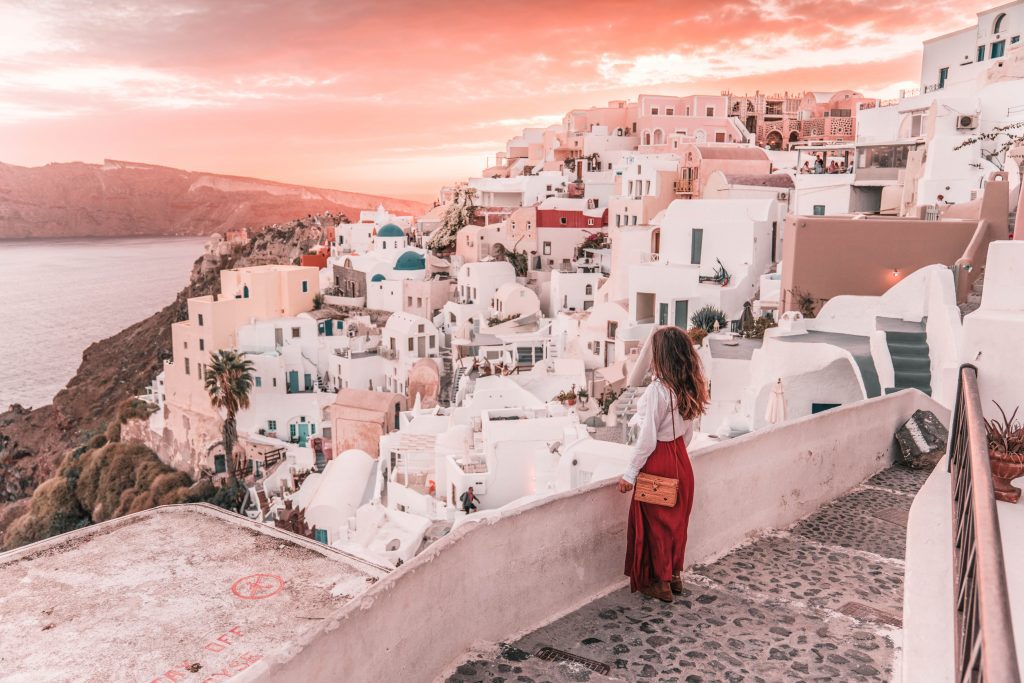 What to do in Santorini? Excursions
You have the possibility to make excursions in Santorini:
Jet Ski Safari around the island of Santorini to discover the Volcano, cliffs and beaches: book here
Do you want to do your first dive? Why not experience it in the waters of Santorini with this activity accessible to beginners!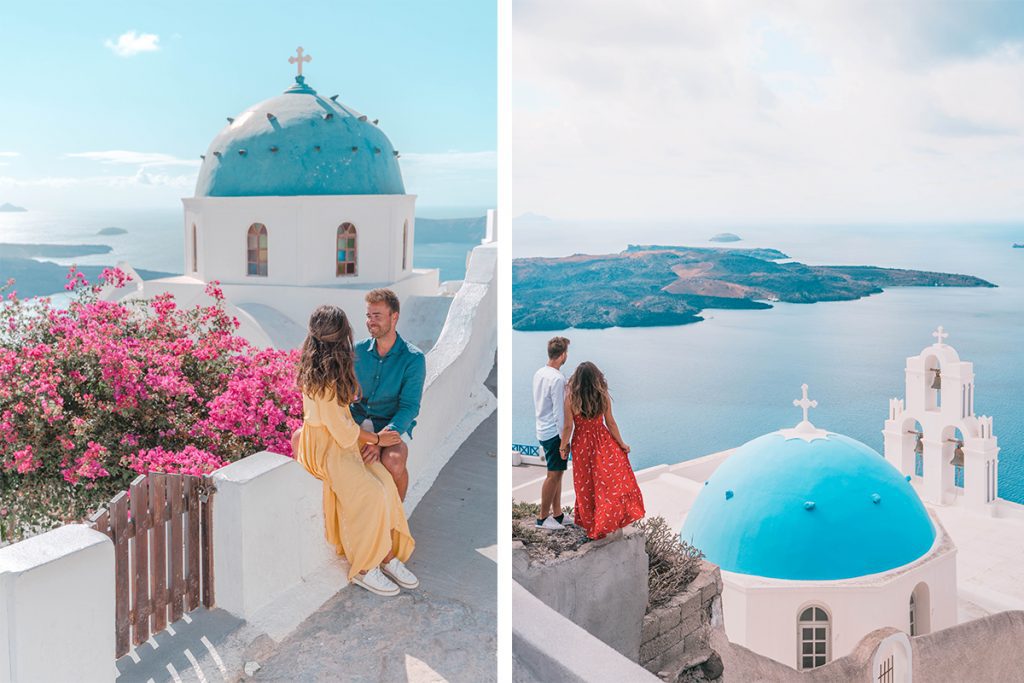 💙

Where to eat in Santorini?
Finally, here is the list of tested and approved restaurants:
Volkan on the Rocks: you can go there for the Open Air Cinema parties they organize in the heart of Fira
Metaxi Mas: excellent restaurant located inland, good atmosphere and warm setting
PitoGyros Traditionnal House: for a quick meal in Oia.
You can also try the restaurants that have crazy views of the Caldera but we warn you: « ca douille » 😆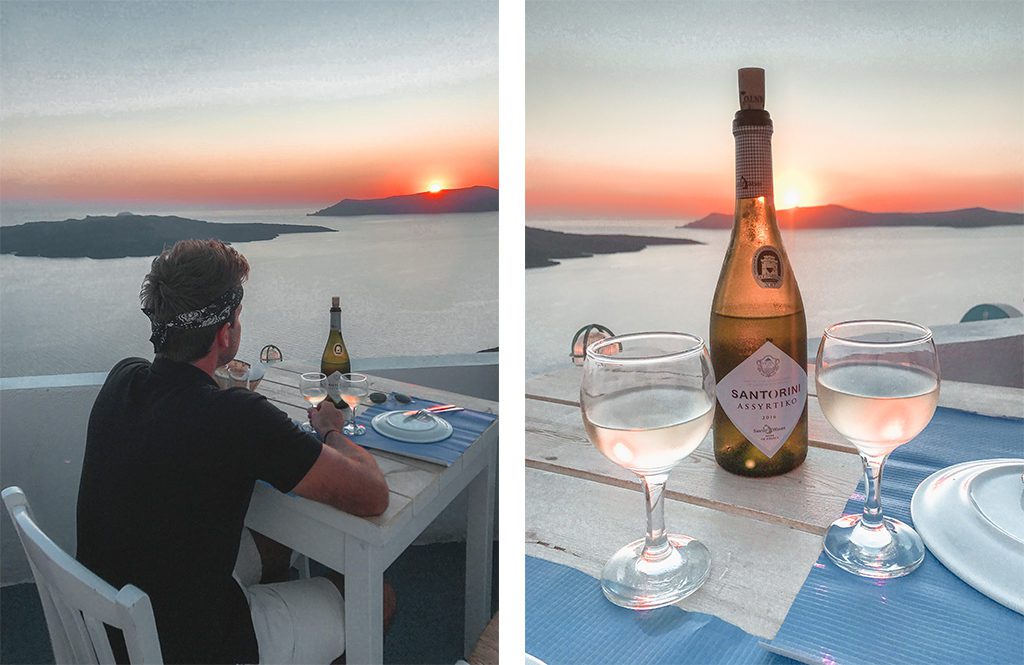 ---
We hope we have helped you in organizing your 3 day trip to Santorini. Discover our other guides on the Cyclades by clicking below!