What to do in Paros, Greece?
We decided to visit Paros for this third stepof our itinerary in the Cyclades. If you also want to discover this island, the ideal length of stay is 3 days / 3 nights to explore Paros, as well as its neighbor Anti-Paros.
---
Visit Paros in 3 days: practical information
⛴

How to get to the island of Paros?
As with the other islands, we advise you to take your ferry tickets on the FerriesinGreece website in order to find the best deal. We recommend the Seajets company which is the fastest with comfortable boats.
To visit Paros in 3 days, you must hire a means of transport to be autonomous. We opted for a quad again and it was very useful for us to reach beaches / coves on Anti-Paros.
?

Where to sleep in Paros?
Naoussa is the liveliest city in Paros. This is where you will find the most options for lodging, with a wide choice of restaurants, bars and shops.
For excellent value for money (from 40

€

per night) with a swimming pool, book your nights at Kelly. 
If you want to treat yourself or have something to celebrate, look to Lilly Residence.
---
What to do in Paros? 3 day itinerary
Visit Naoussa
Located at the far north of the island, 10 km from the arrival port, the city of Naoussa has a lot of charm and great addresses. It is not ideal for touring Paros, but apart from Anti-Paros, the villages to visit are a 15-minute drive away. In Naoussa, you will find everything you love about these Cycladic villages: cobblestone lanes, white facades, colorful shutters and flowers. ?
The fishing port of Naoussa is the prettiest we have seen in Greece. Indeed, the charm operates with the many small boats and the typical restaurants with their colorful wooden chairs. (photo dried octopus + place with chairs).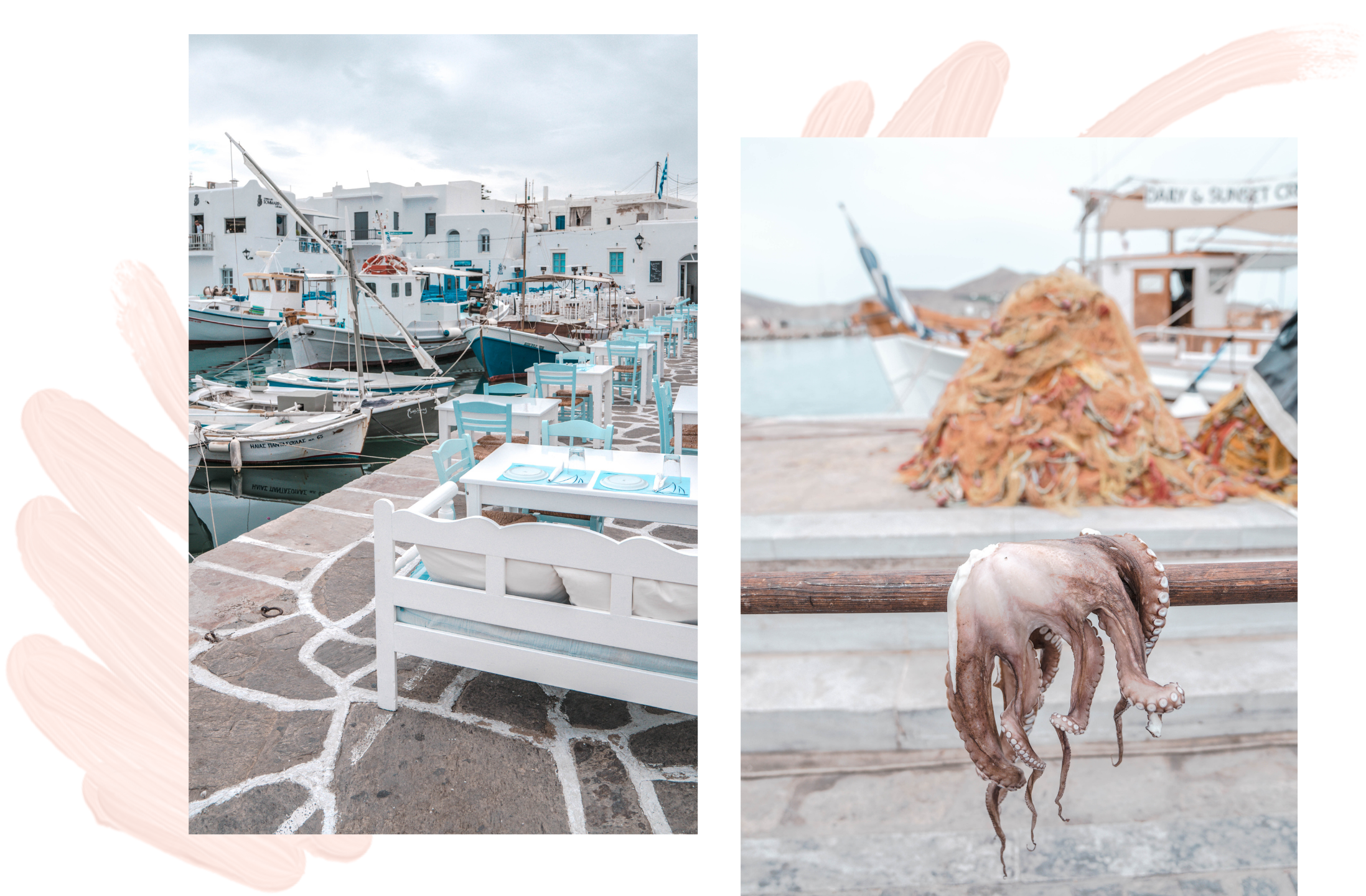 Good addresses in Naoussa
The small town of Naoussa is full of good places to eat or go out for a drink! ??
Here are some good places to eat and more if you like:
Kafenio Palia Agora

is the address not to be missed! We even had to go there twice to try as many dishes as possible

?

. The prices are low compared to other restaurants and the food is excellent!

Ouzeri Ton Naftikon

is not the best value for money in Naoussa but for the experience it is very nice to have lunch or dinner in the famous colorful square of the port.

Sommaripa Consolato

is a good place to dance from 10 p.m., but also to have an aperitif and some tapas with a bird's eye view of the square and the port.
The famous

Linardo

nightclub is a must-see if you want to party

?

. It was unfortunately closed during our trip due to the Covid.

Yo love

is a good remedy in case of strong heat.

?

We created our own frozen and the welcome was nice!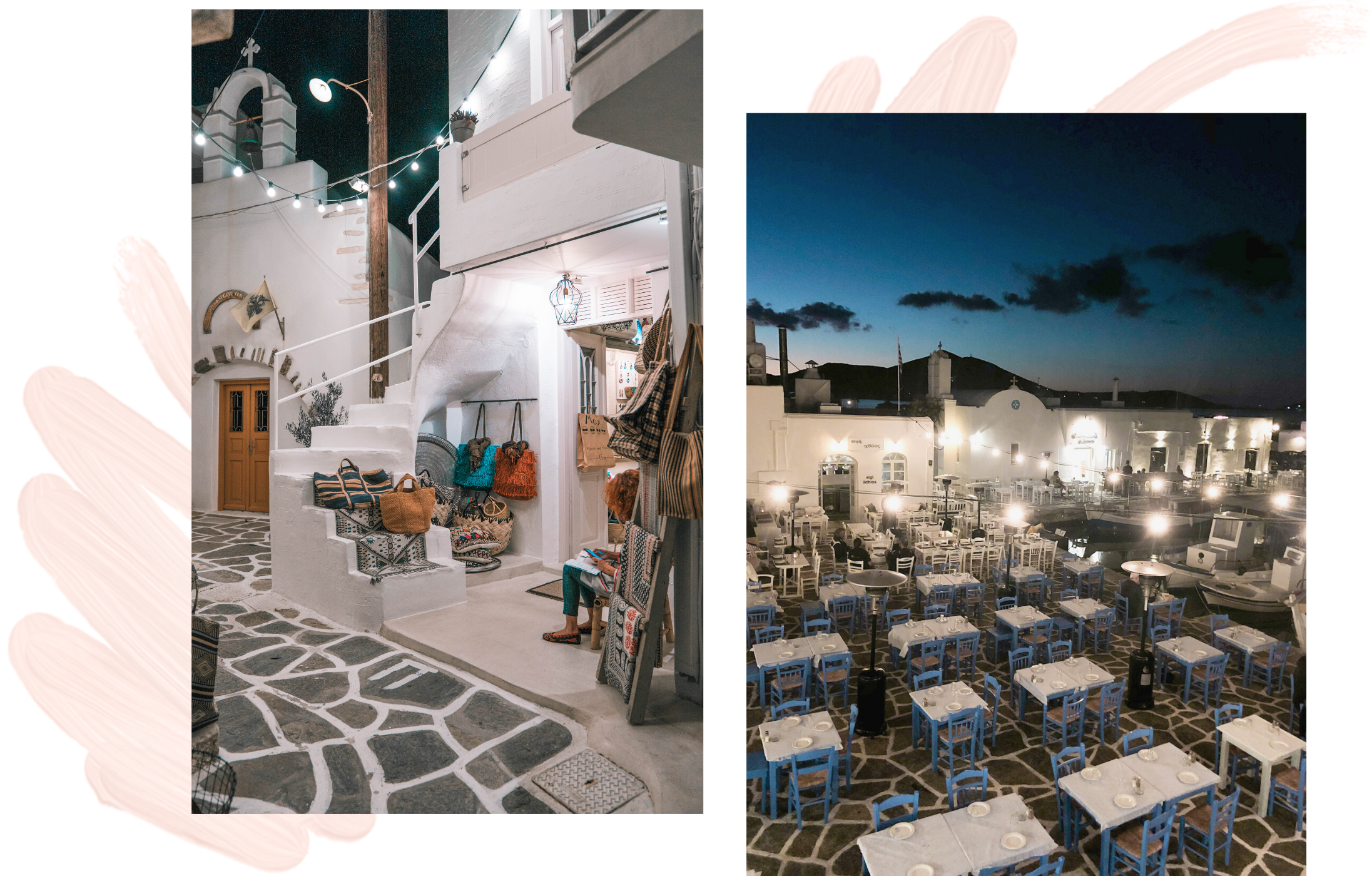 What to do in Paros? Visit the villages
These 2 villages located in the land of the island of Paros are our favorites. They can be reached by car in 15 minutes from Naoussa or slightly more from the capital Parikia (port of arrival).
Prodromos is really small and not very touristy. There are few shops / restaurants but it is a real immersion in a local village. Allow 1 hour for a walk, letting yourself be guided through the alleys.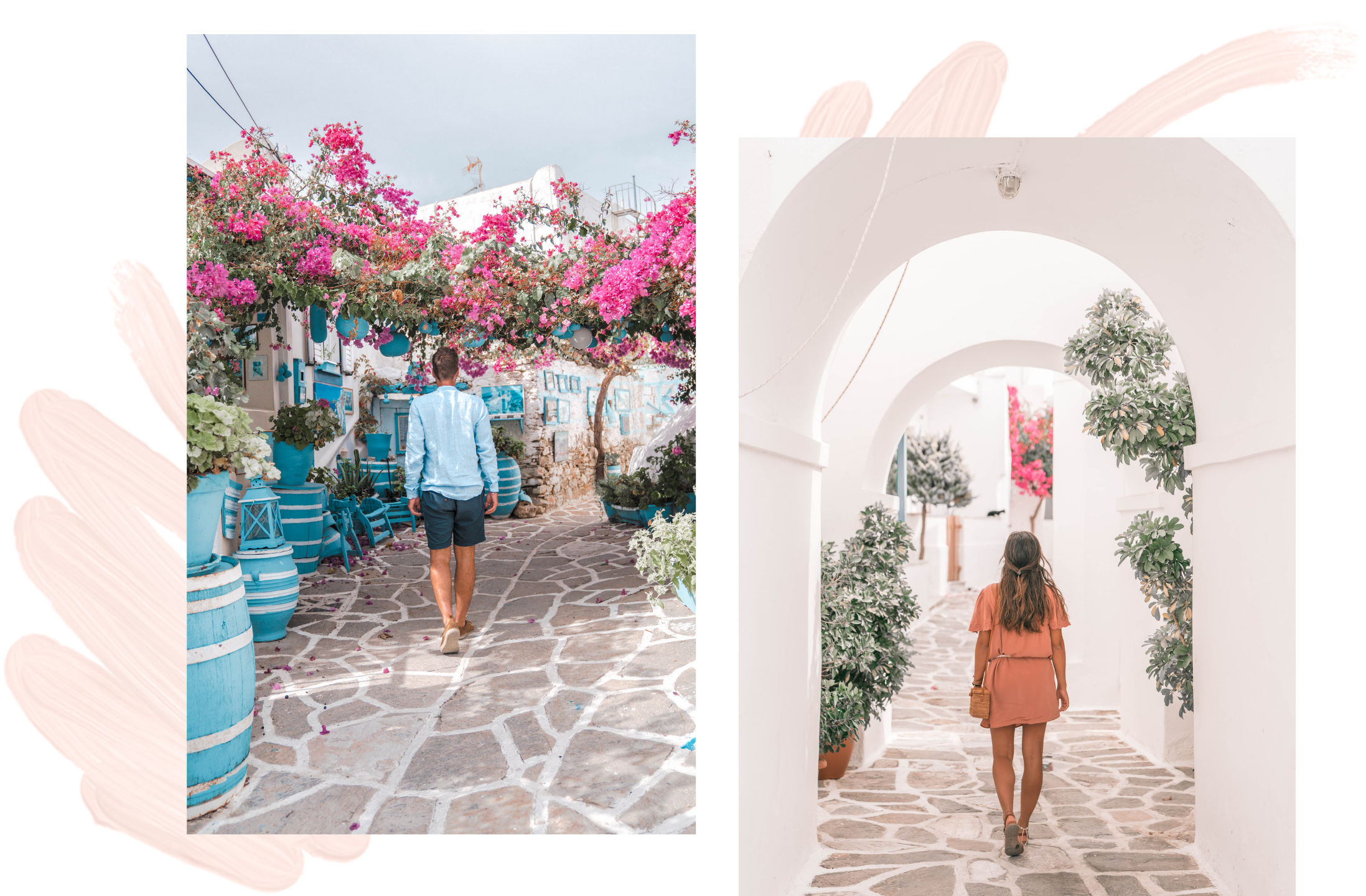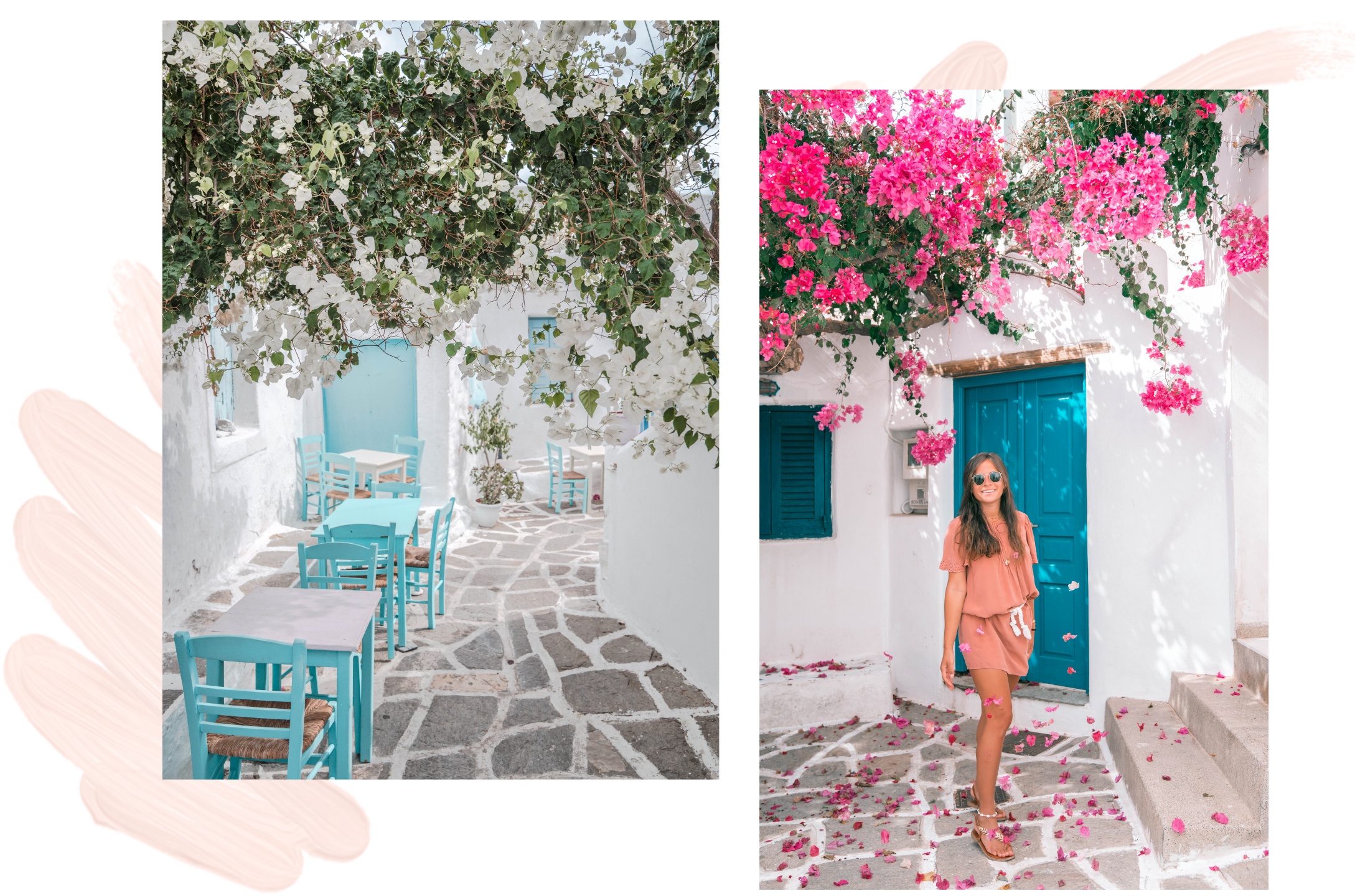 Lefkes, meanwhile, is one of the most visited villages in Paros. You can't miss it. It is in the mountains, in the center of the island. Prepare to work your glutes in the ribs, it is very level. All the streets are pedestrianized and you will need to find a place outside the village (fairly easy by quad but by car you will have to park in the car parks provided for this purpose). If you take a lot of photos, like us, plan to stay for several hours. Go up to the big church and take a cool break on one of the terraces in the square.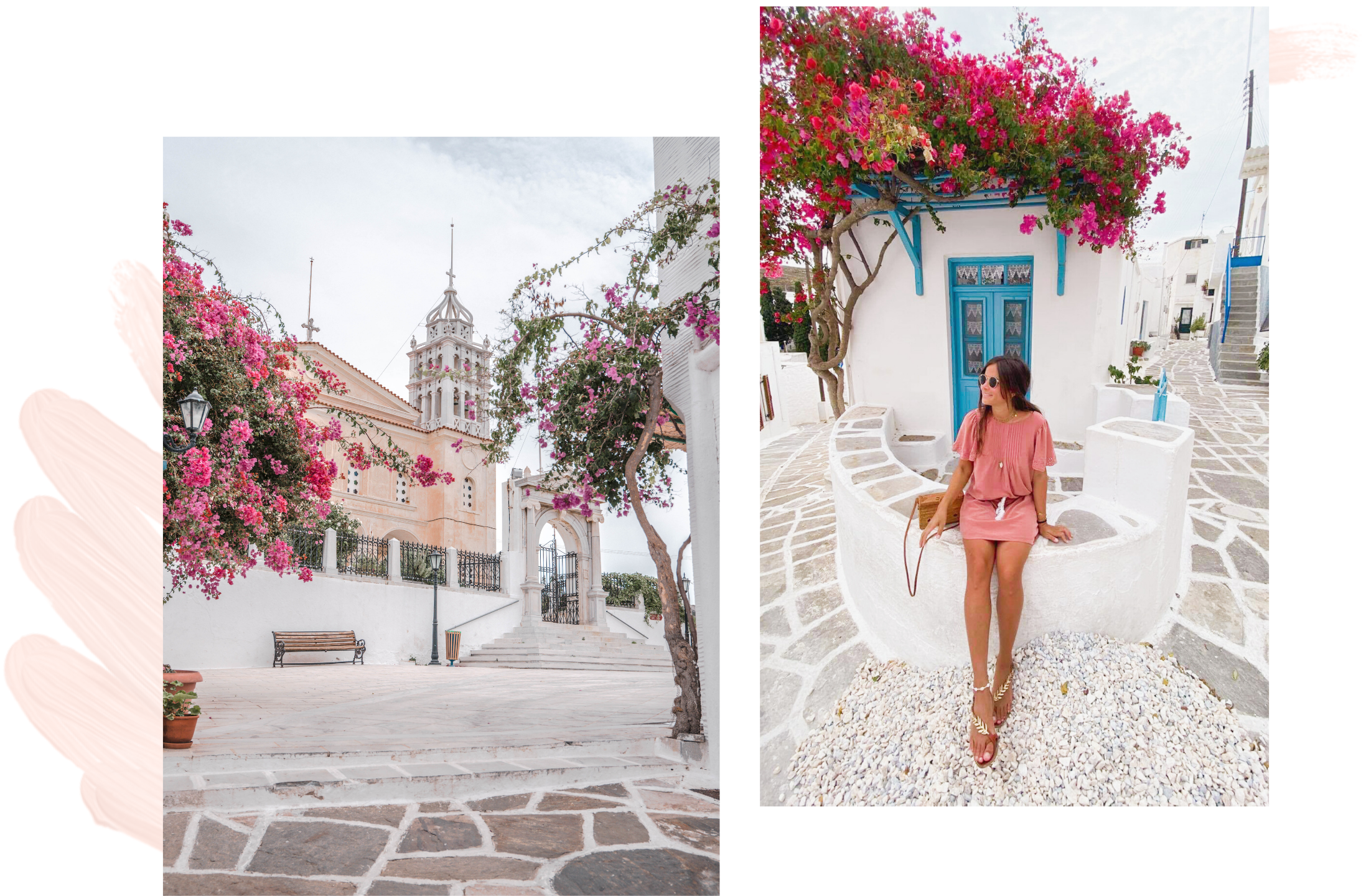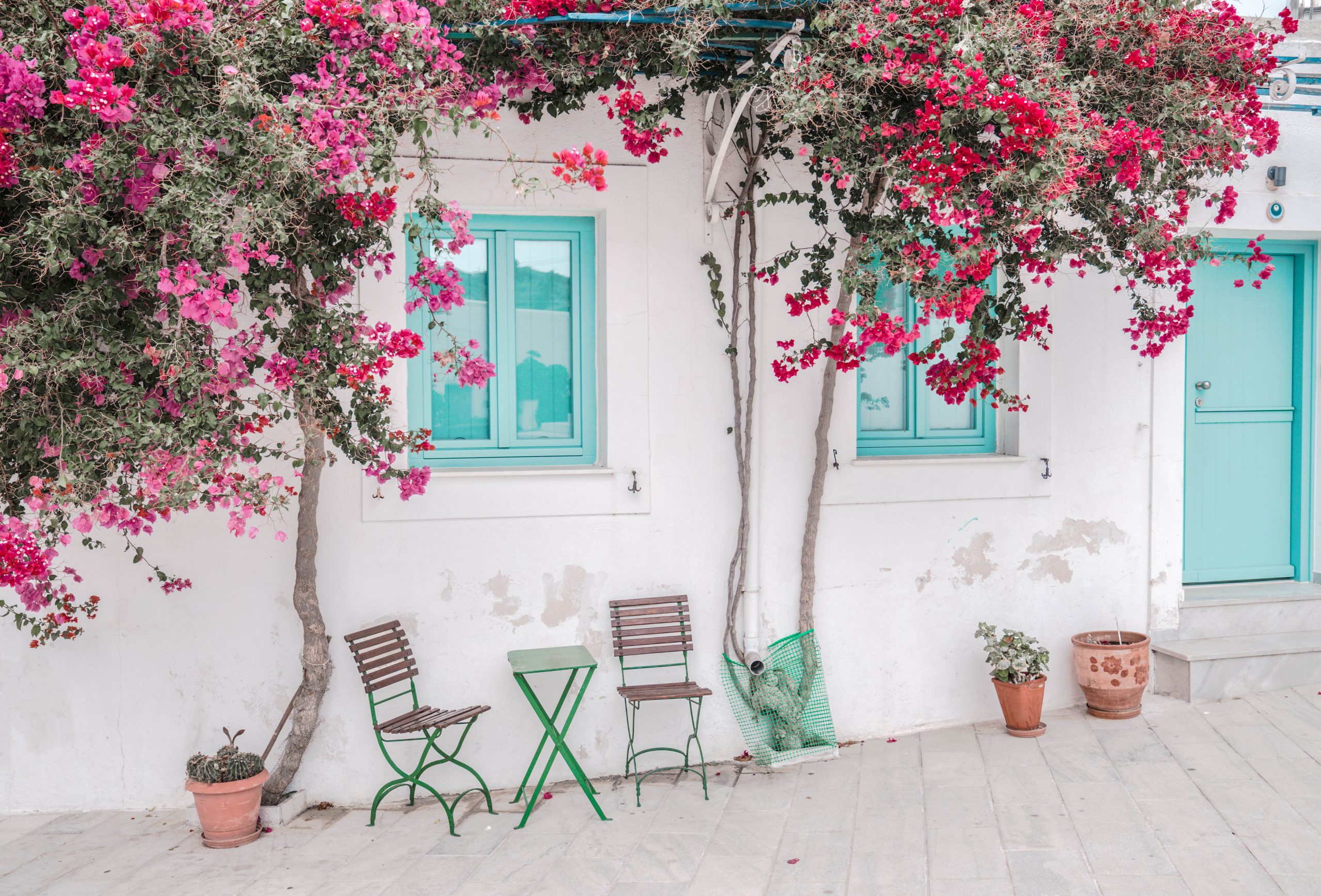 Visit Anti-Paros in a day
Is it essential to visit Anti-Paros? It will all depend on the time you have on the island of Paros. If you only have 2 days there it is not worth it. Indeed, to visit Anti-Paros it takes almost a full day. If you are staying in Naoussa, you will already have a 30-minute drive (1 hour round trip) to get to the port of Pounta.
?The boat costs € 1.20 per person round trip if you are a pedestrian and € 6.30 if you have a small vehicle. Tickets are to be taken on the ferry directly. The crossing only takes 7 minutes and there is one trip every 30 minutes.
We decided to go early to save our time there. Once on the island, you can visit the main village which is right in front of the harbor. It is not very big but has all the charm of a Greek village. We recommend that you have a coffee on the magnificent terrace of the Bougainvilles establishment.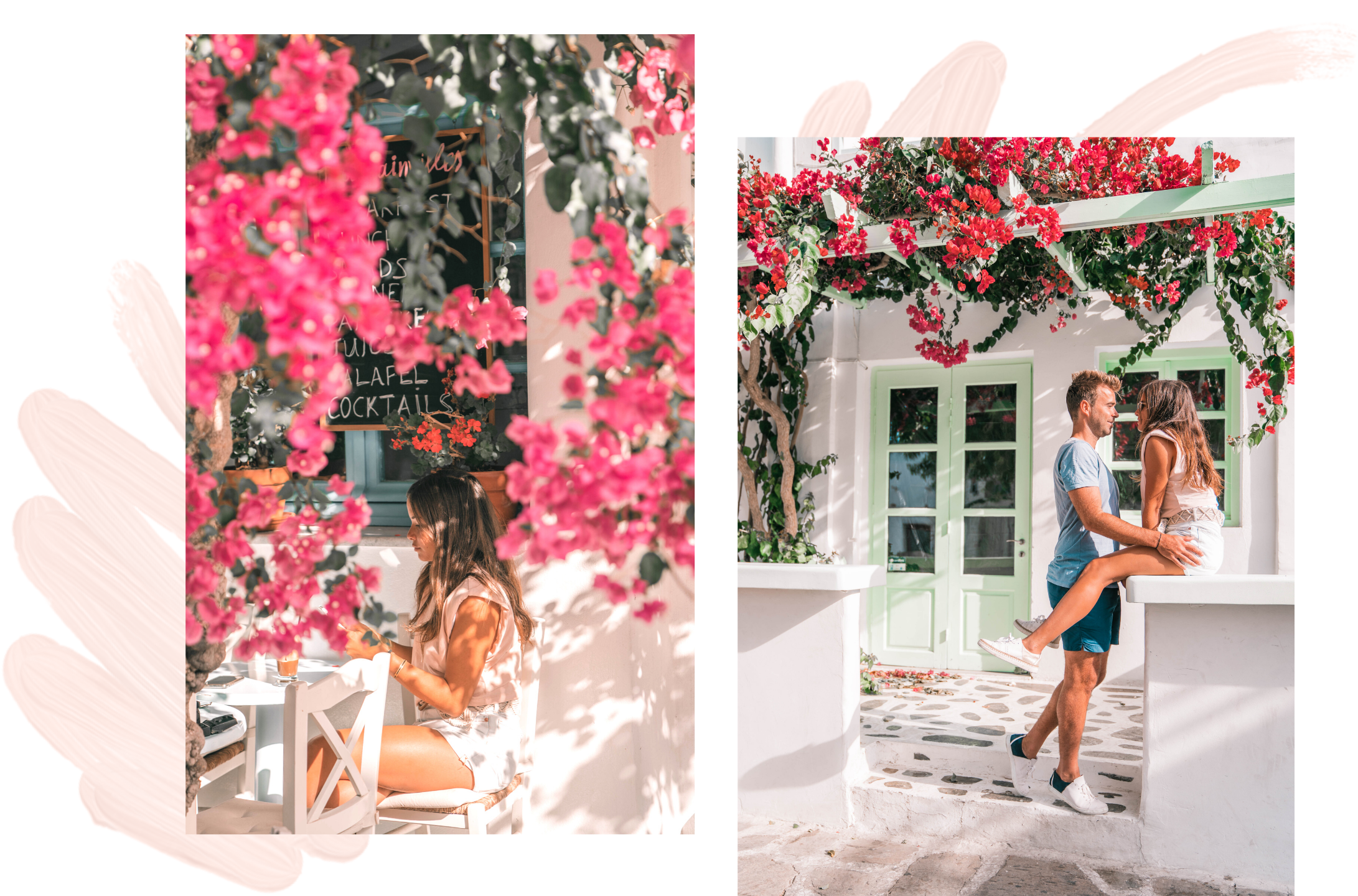 What to do in Anti-Paros?
The main interest of Anti-Paros are its coves and wild beaches.
We got to the far south of the island, a 30-minute drive away. Please note, the first cove (see GPS coordinates) that we reached can only be reached by quad. If you want to go there, check if there are too many waves because the spot will be much less beautiful and dangerous for swimming. Small tips for checking the sea and wind conditions, the Wisuki application.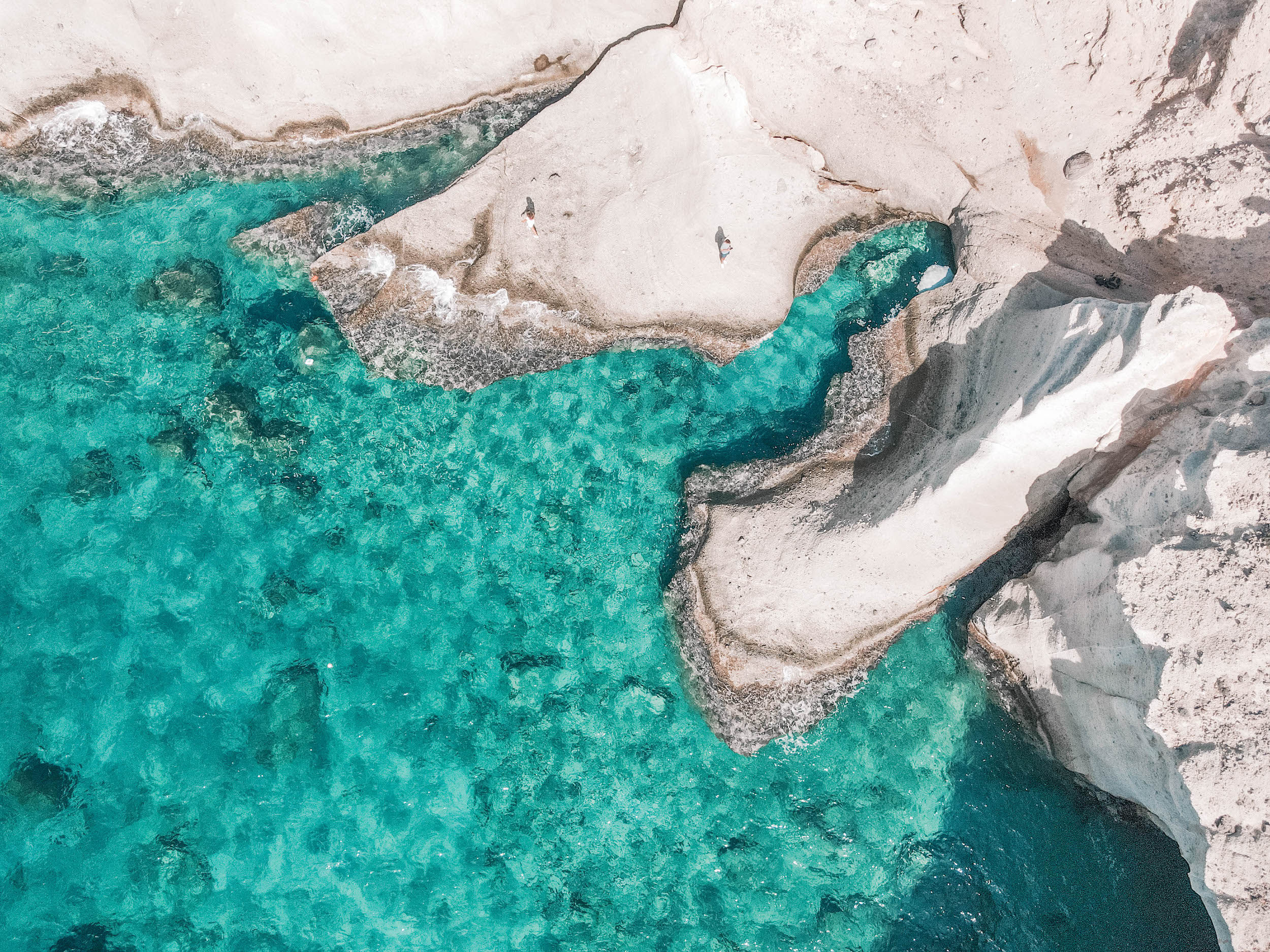 On the east coast you will find many great beaches. That of Paralia Sostis can be reached by car despite the dirt / sand road. The setting is very natural and the water magnificent.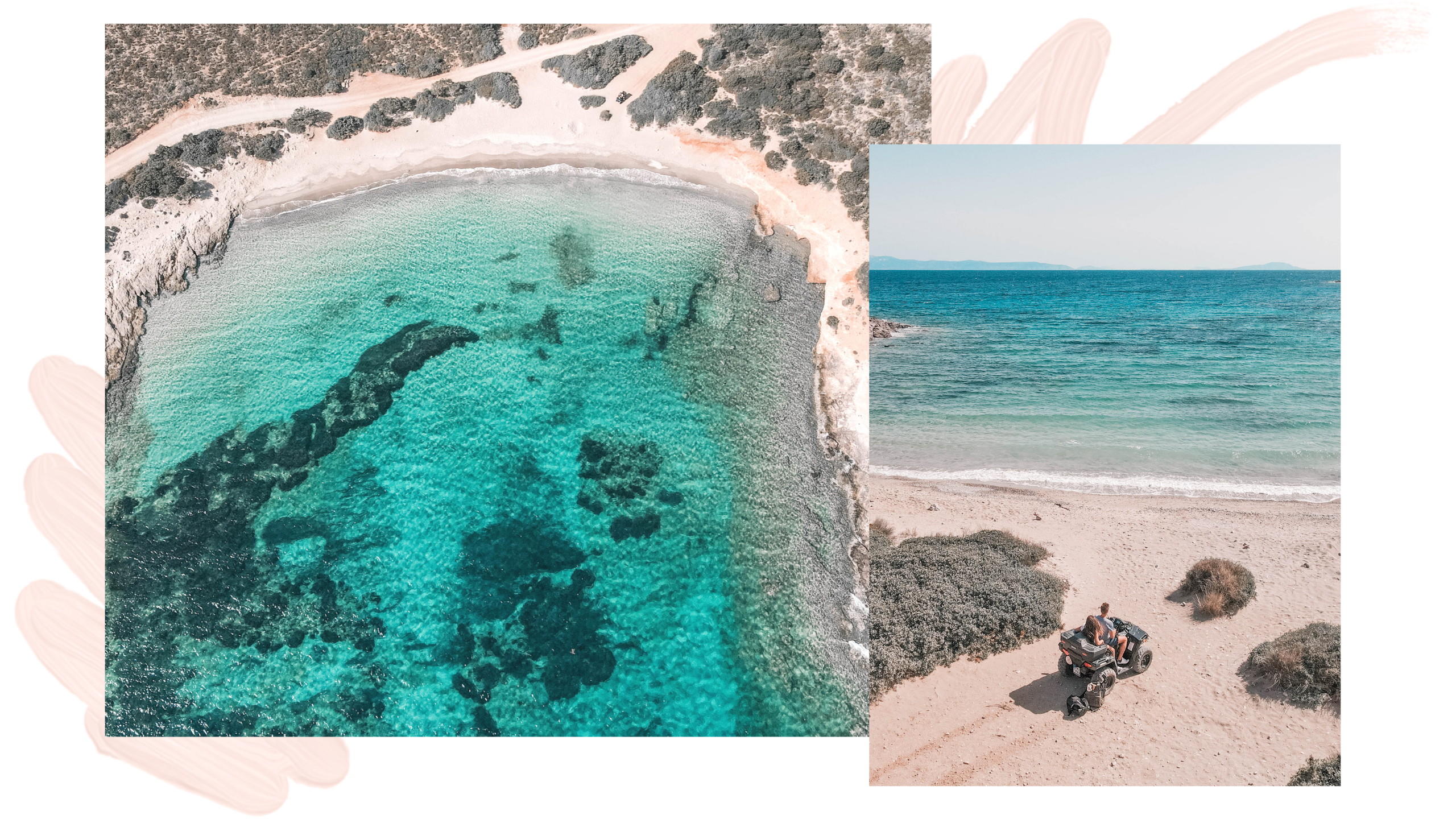 If you just want to spend a day at the beach without necessarily having to drive, you can! "First" or "Second" Psaralyki Beach are an 8 and 15 minute walk from the arrival port respectively. That of Sifneiko is also close and ideal for a sunset if you stay there in the evening.
Excursions
The islands of Paros and Anti-Paros are very famous for snorkeling, kitesurfing or even paddle boarding! If you are a fan of these activities, we recommend that you take advantage of them here. You will find your happiness on our partner site.
?If you want to go on a boat trip with snorkeling and a tasting of local products, it's here.
---
Click below to discover our other travel guides on the Cyclades greek islands :