2 weeks in Costa Rica: travel itinerary
In this article, I propose you to discover my 2 weeks itinerary in Costa Rica, off the beaten track. If you are looking for practical information to organize your trip to Costa Rica (budget, when to go, dangers, Covid conditions etc.), go to this page.
---
2 weeks itinerary in Costa Rica – Road Trip
I was accompanied by the agency El Tucan Viajero, the same providers as for the trip to Sri Lanka. The advantage of going through an agency is that I was able to leave with peace of mind for this first solo trip. They assisted me all along my road trip in Costa Rica. In case of worries or questions, you have a contact on site in French, which is very convenient!
? To contact them for a quote and a custom trip to Costa Rica, write your request to the email [email protected]
Where to take your plane ticket to travel to Costa Rica?
We recommend you to compare the best offers and book your flights on Skyscanner.
Where to rent a car for your road trip in Costa Rica ?
It is essential to have your own car to be able to carry out my itinerary in Costa Rica. To compare prices and find the best offer, I recommend Skyscanner also. On the other hand, if you book through the travel agency that took care of me, it is of course the team that will take care of everything!
⚠️ Some roads leading to points of interest require a 4×4. I strongly advise against renting a city car. Instead, prefer a small SUV at the very least.
---
Road Trip Costa Rica : 2 weeks
Day 1 : Arrival in San José
Day 2 : Irazú volcano and Cartago
Days 3 to 4: San Gerardo de Dota
Days 5 to 6: Santa Juana
Days 7 and 8: Dominical and Uvita
Day 9 : Manuel Antonio
Days 10 to 12: Bahia Drake
Days 13 to 14: Jaco
Let's start the story of my 2 weeks trip in Costa Rica.
Update 2023 : Did you know that Costa Rica is often referred to as the "Land of La Pura Vida", which literally means "pure life". It's also the country's official slogan, used to express the joie de vivre, simplicity and friendliness of its people. So prepare to be imbued with this state of mind from the moment you arrive.
Day 1: San José
Arrived in the evening, I went immediately to my hotel to recover from the flight. I spent the night at the Hilton Garden Inn, located in the business district of the capital. A little night of rest before starting my road trip !
Day 2 : Visit the Irazú Volcano and Cartago
Irazú Volcano is one of the 116 volcanoes found in Costa Rica. It is possible to access the two craters, one of which is still active. Access is from the parking lot in less than a 5-minute walk. The entrance to the Irazú Volcano National Park costs $15 per person.
When I went there, it was raining and very cloudy so I didn't necessarily enjoy this place. So if you are on a tight schedule during your 2 week trip to Costa Rica, I recommend skipping this stop.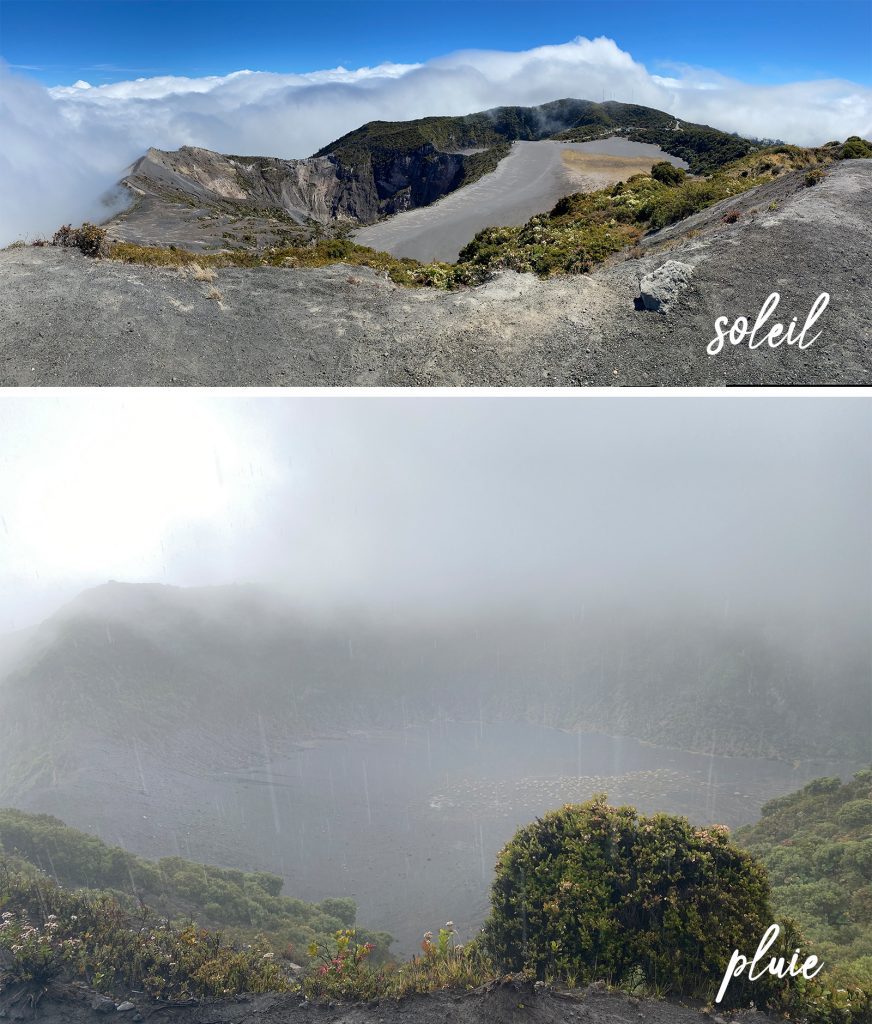 Lunch at a local's house
On the way back down from the crater, I went to have lunch at my guide Marco's mom's house, who lives in the family house in the heart of Cartago (which is one of the big cities in the country). They have been living there for several generations…
I loved this experience ! Not only did I have the best meal of my entire trip to Costa Rica, but I was also welcomed as a friend of the family.
After this beautiful meeting, we headed to the mountains, off the beaten track…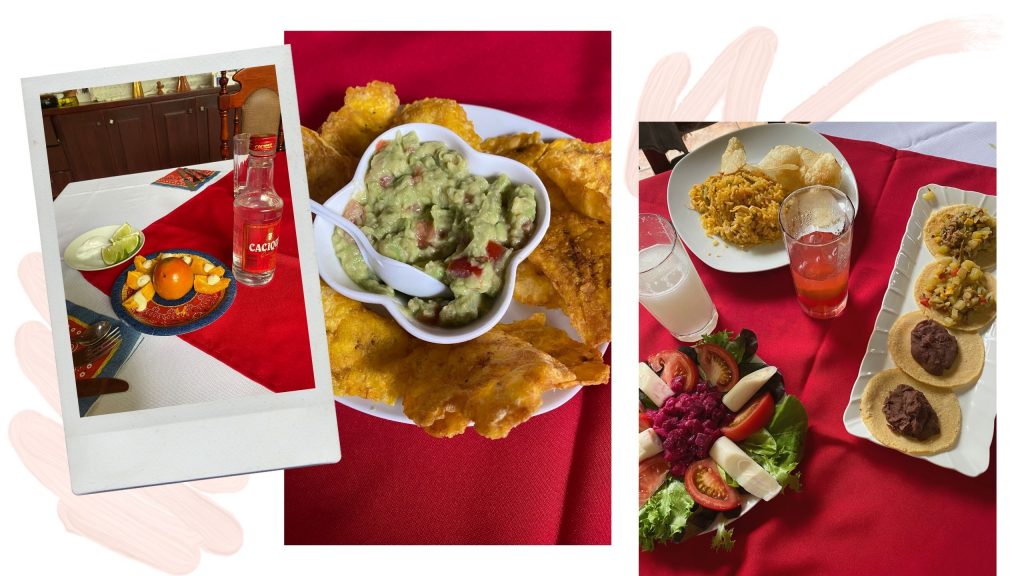 Days 3 and 4 : San Gerardo de Dota
Why come to San Gerardo de Dota?
Located in the heart of the Talamanca Mountains, the San Gerardo de Dota area offers a perfect playground for bird watching and forest walks near the river. If you are looking for peace and quiet, go for it! You will be able to see the famous Quetzal, a species of bird that is emblematic and very rare. The Quetzal is considered a god by the Mayans and Aztecs.
If you decide to go there, remember to take warm clothes because it is cold in altitude (between 10 and 15°C in the evening) and a raincoat because the region is particularly rainy.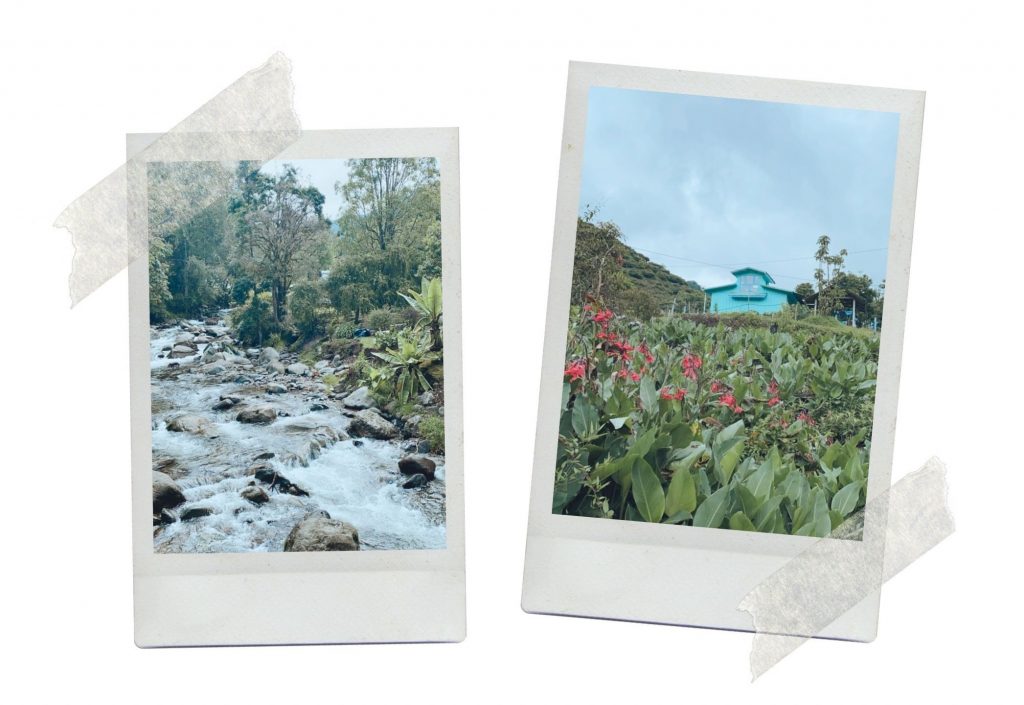 Staying at Savegre Lodge
Savegre Lodge is the perfect place to stay in San Gerardo de Dota. The hotel's gardens are beautifully flowered and home to many birds, including hummingbirds. I was on full board during the stay and the food, made by a Belgian chef, was good.
It is with an experienced guide of the hotel that I could observe the Quetzal, with a female and a male during the period of nidation. Magic moment…
During my stay, I also did some walking along the river, then went to the viewpoint overlooking the Savegre Lodge and the valley.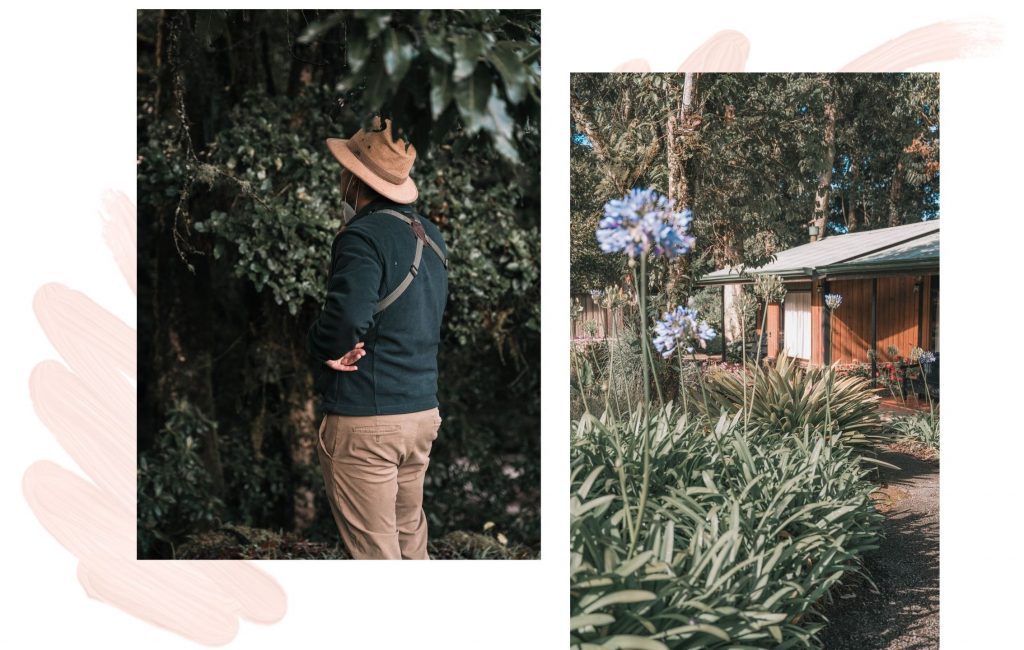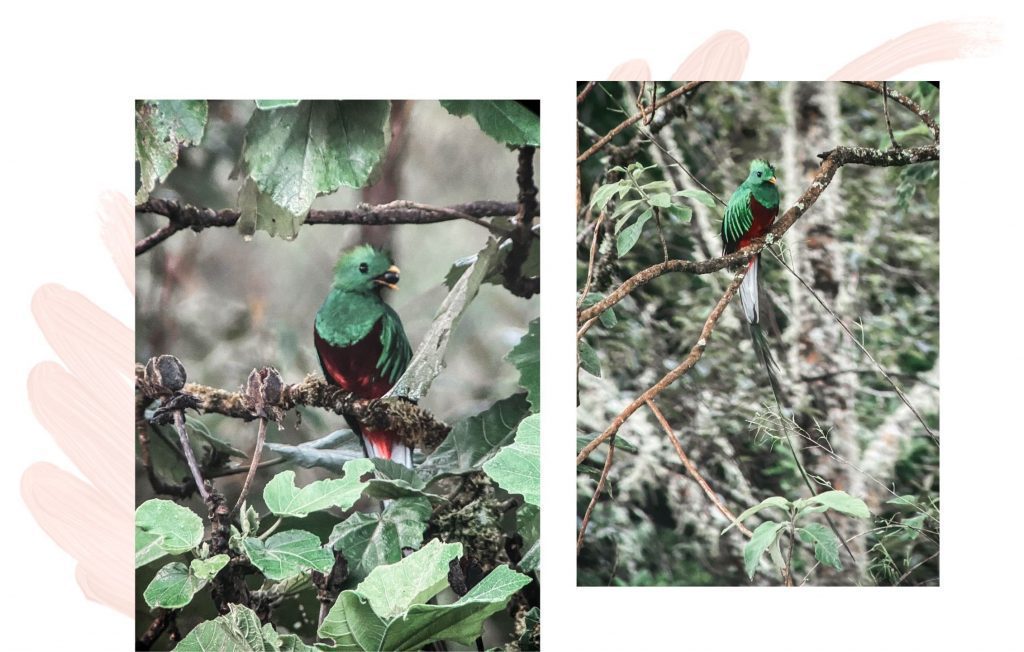 What to do in San Gerardo de Dota?
There are many other must-dos in San Gerardo de Dota:
Discover the area on a horseback ride
Hike to the Savegre waterfall
Visit a coffee plantation
Fish for trout, the local fish
Go zip-lining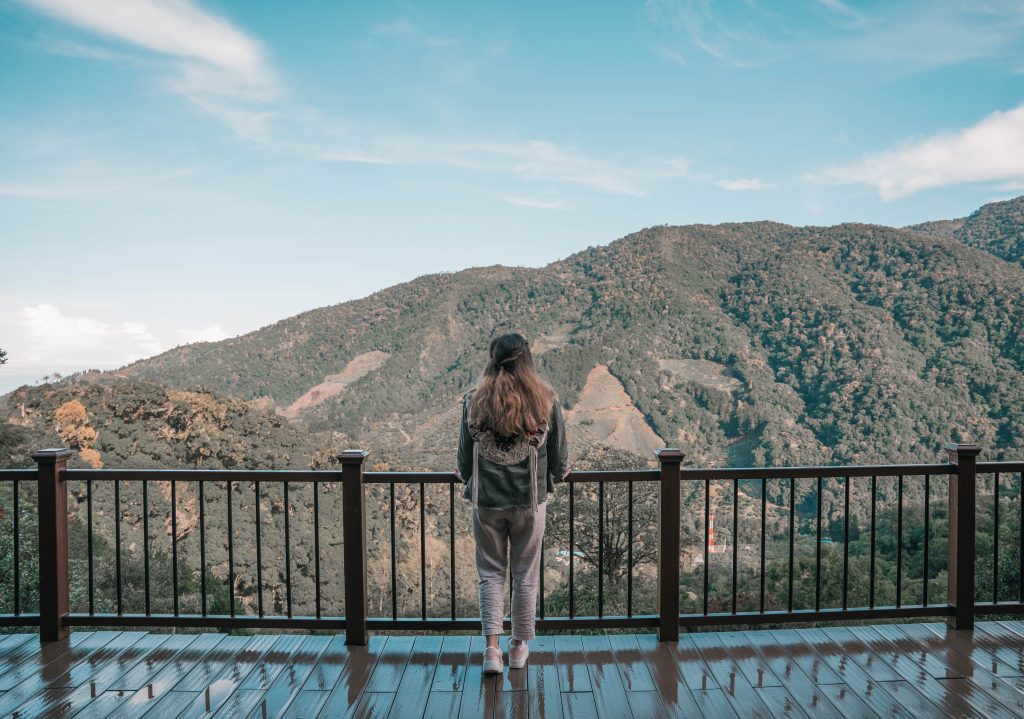 Days 5 to 6 : the authentic village of Santa Juana
Another off the beaten path destination for your trip to Costa Rica, I named Santa Juana. This village of 38 inhabitants where 8 families live is in my opinion not to be missed. It is located only 1 hour from the Pacific coast, but the road to get there is a bit complicated.
If you follow me on Instagram, this is definitely where I punctured a tire in the torrential rain. Despite this little mishap, I loved my time there!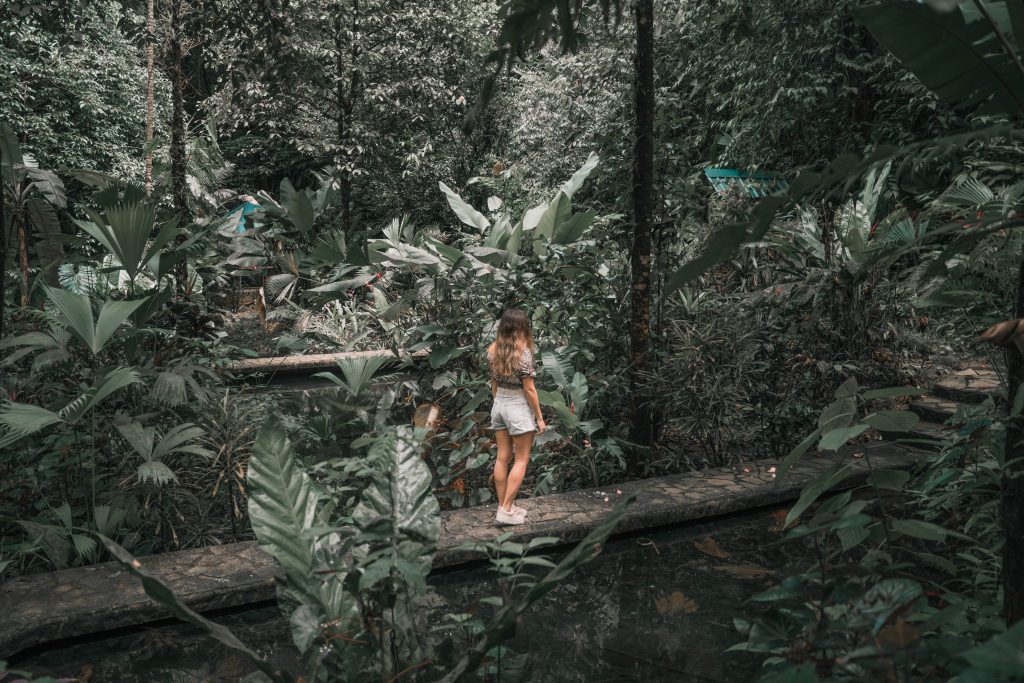 Staying at Santa Juana Lodge
Santa Juana Lodge is the one and only hotel in the village. The views surrounding it are breathtaking! Plus the rooms are beautiful, I think this is my favorite establishment in Costa Rica. I also took the full board. The food is delicious and is prepared by a local.
Such a relaxing view from my balcony…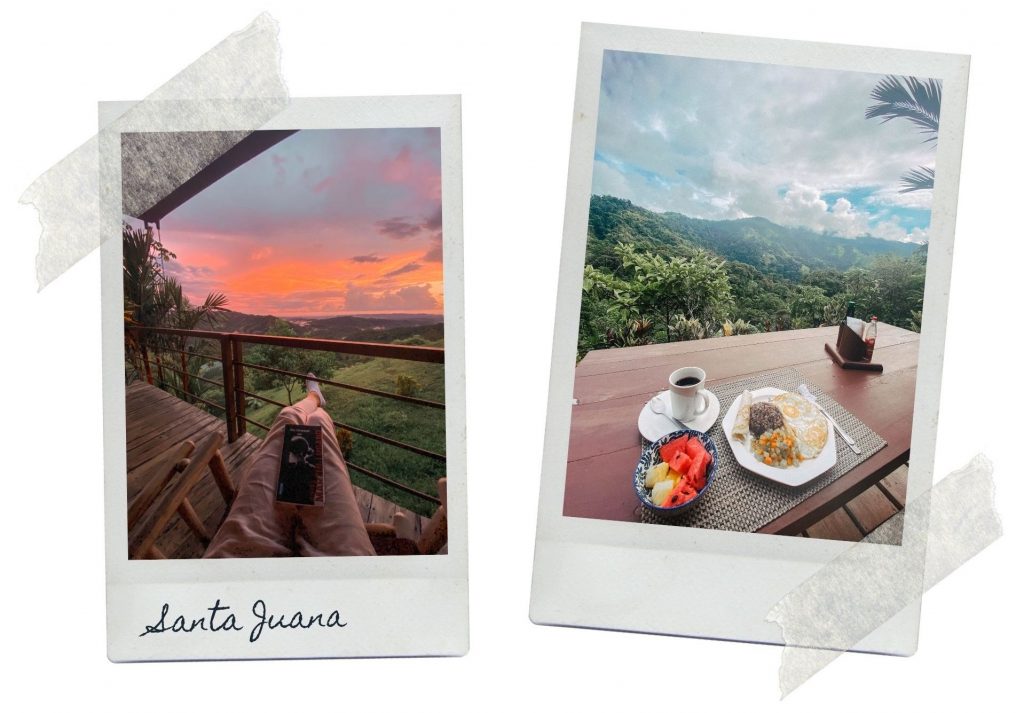 What to do in Santa Juana?
Thanks to Alan, the guide at Santa Juana lodge, I was able to explore the area like a local. Here is our program :
Visiting the small village school
Observation of the fauna and flora
Short walk and swim at the waterfall
Planting a tree
In short, if you love nature and are looking for an authentic contact with the local population, don't miss Santa Juana during your 2 weeks itinerary in Costa Rica.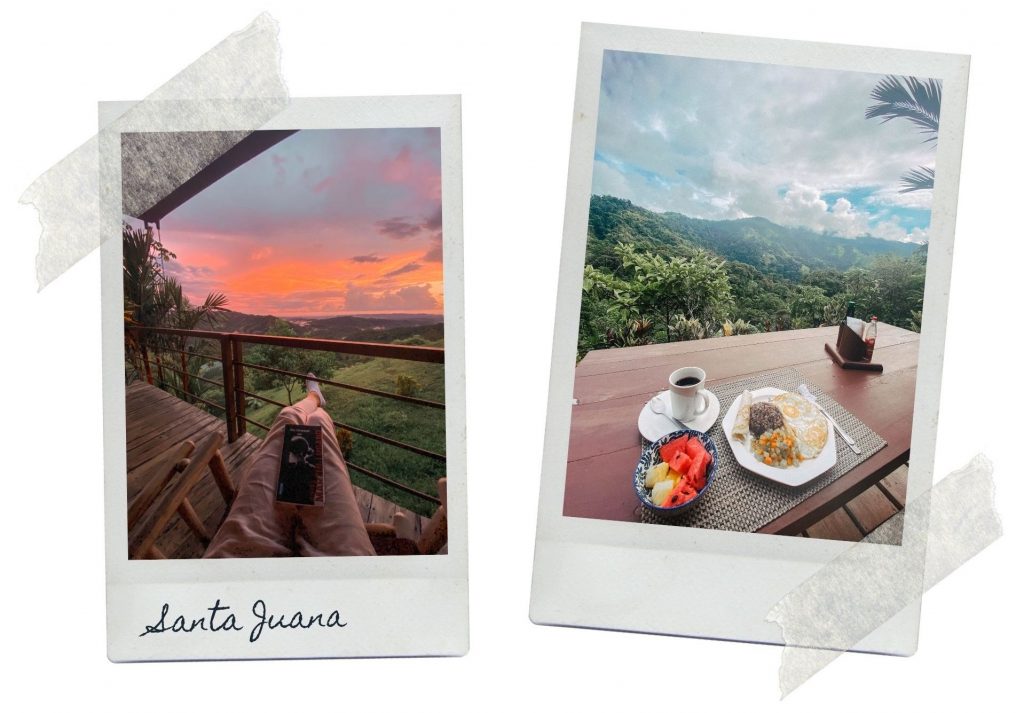 Days 7 and 8 : Dominical & Uvita
Head to the south Pacific coast for the rest of your Costa Rica road trip ! Dominical and Uvita are two seaside resorts prized by surfers. The bohemian spirit reigns there. You'll find little places to eat that reminded me a little of Bali, especially in the small center of Dominical.
What to do in Uvita and Dominical?
Surfing
Lovers of surfing, you have found your paradise. Beware of beginners, I advise you to take a course, the waves can be powerful here.
Enjoy the beaches
Beautiful and large beaches are located towards Uvita and Dominical, in particular at the level of the National Park of Marino Ballena. I warn you, we are not on beaches with crystal clear waters, but they are worth the detour anyway! Here is my list of beaches to go and see:
Playa Uvita and Playa Hermosa: they are both separated by Punta Uvita. Seen from the sky, it forms a whale tail as you can see on this picture. Nature is well done since whales come every year in its waters! At low tide, go to Punta Uvita for a walk.
Playa Arco: I never managed to find this beach because the access is badly indicated on Google Maps. Afterwards, I looked it up on the internet and found that it was not possible to access it by road. This beach is only accessible at low tide by the Ballena beach (which is also worth visiting!). So you have to go to the National Park office located here, park and pay the entrance fee to the park (6$). Then, walk along the Ballena beach towards Playa Arco. You have to pass under the small cave to get to the beach, that's why you have to go there at low tide and leave when you see that the water starts to rise! Tide times can be found on search engines.
Voir cette publication sur Instagram
Whale watching
From the aforementioned Playa Ballena, it is possible to observe whales from afar. Indeed, the waters bordering the Marino Ballena National Park are a privileged spot for whales arriving from both hemispheres. Three species of whales have been spotted in Costa Rica. The period to see them is from August to October for the South Pole whales and from January to March for the North Pole whales.
I advise you to book an excursion if you want to have a chance to see them up close, with respect of course !
Voir cette publication sur Instagram
Enjoying the waterfalls
For a cool swim, there are several waterfalls near Dominical and Uvita, I recommend two in particular: Cataratas Nauyaca (very powerful) and Catarata Eco Chotales. All the accesses are paying (a few $).
I didn't personally go there because during the rainy season, the waters get very churned and turn brown… 😬
Voir cette publication sur Instagram
Sunset on the Pacific Coast
The huge beaches of the Pacific are perfect for watching the sun set. Plus, there must be a special atmosphere in the Costa Rican skies since they are absolutely beautiful! The sky was tinged with amazing colors, I think I saw the most beautiful sunsets of my life there. ?
The photo below was at Playa Dominical but I would recommend going to Playa Uvita / Hermosa or Las Rocas de Amancio instead.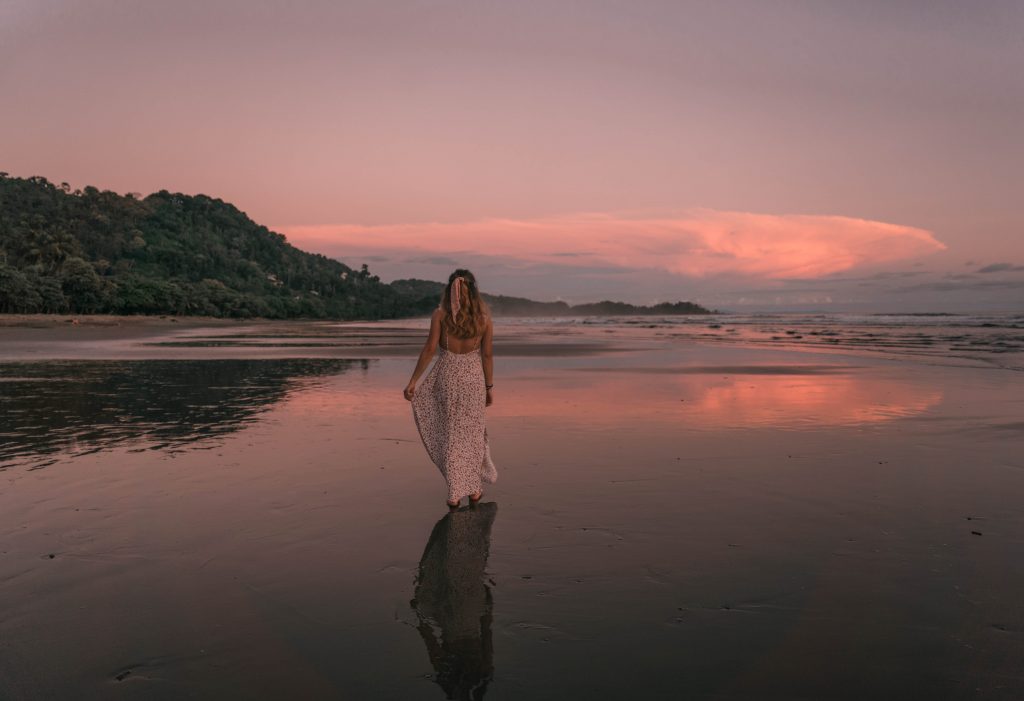 Where to sleep and eat in Dominical ?
I advise you to stay in the heart of the small center of Dominical, where there are very nice places to eat or drink!
The Villas Rio Mar hotel is located very close to the beach, with 2 swimming pools and a good quality-price ratio! The comfort is rather standard but there is everything you need for a good stay.
To eat, go to the very nice restaurant Phat Noodle or to the restaurant El Coco which is in front of the beach.
Day 9 : Manuel Antonio
Visit of the National Park
Manuel Antonio is undoubtedly one of the most famous and visited national parks of Costa Rica and for good reason! There are many species of animals and beautiful beaches. The entrance costs 15$ per person.
I absolutely recommend you to visit it with a guide, who will know how to spot the animals and who will be equipped with a telescope in order to see closely those who are perched in the trees or nestled in the vegetation. I leave you with some pictures of this beautiful day in the Manuel Antonio National Park…
Please note: if you don't go through our travel agency, you can easily book your guided tour by clicking here.
⚡Attention! To park, don't stop at the first parking lots because it will add a lot of unnecessary walking. One parking lot is less than 100 meters from the park entrance, but other people have set up their business in parking lots farther away and put themselves in the middle of the road to try to stop tourists. Make your way (without running them over of course )!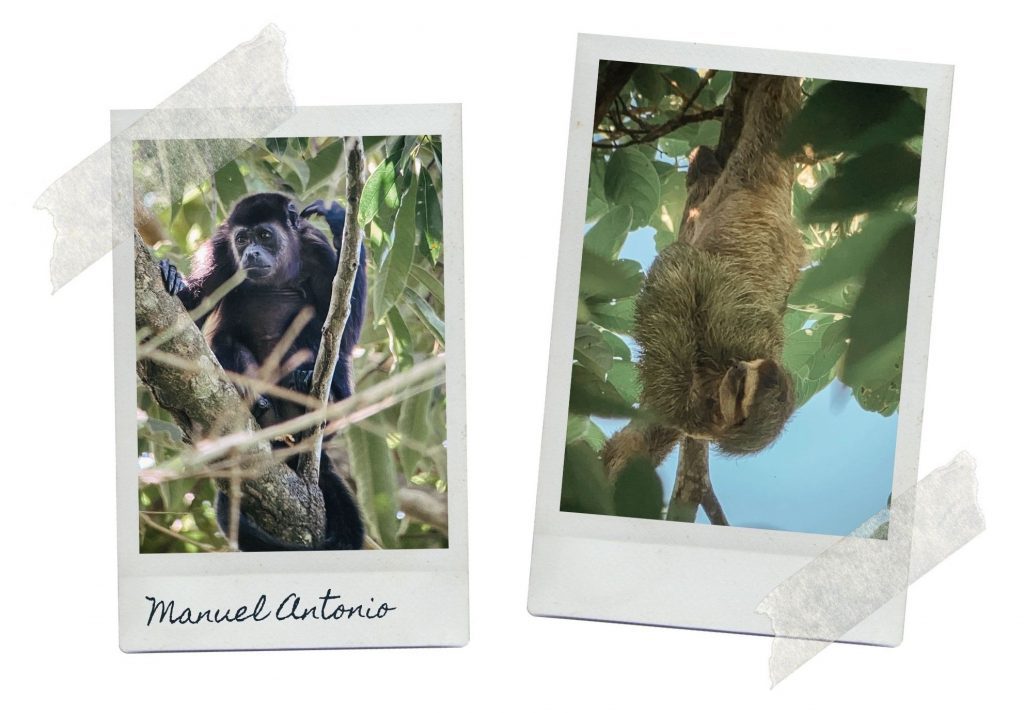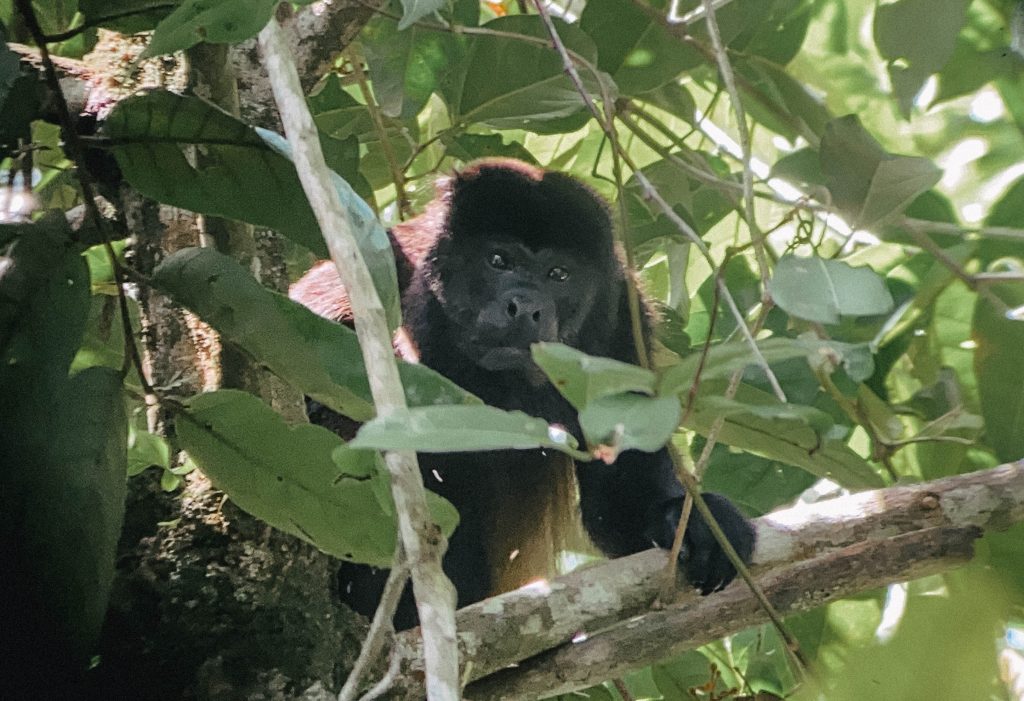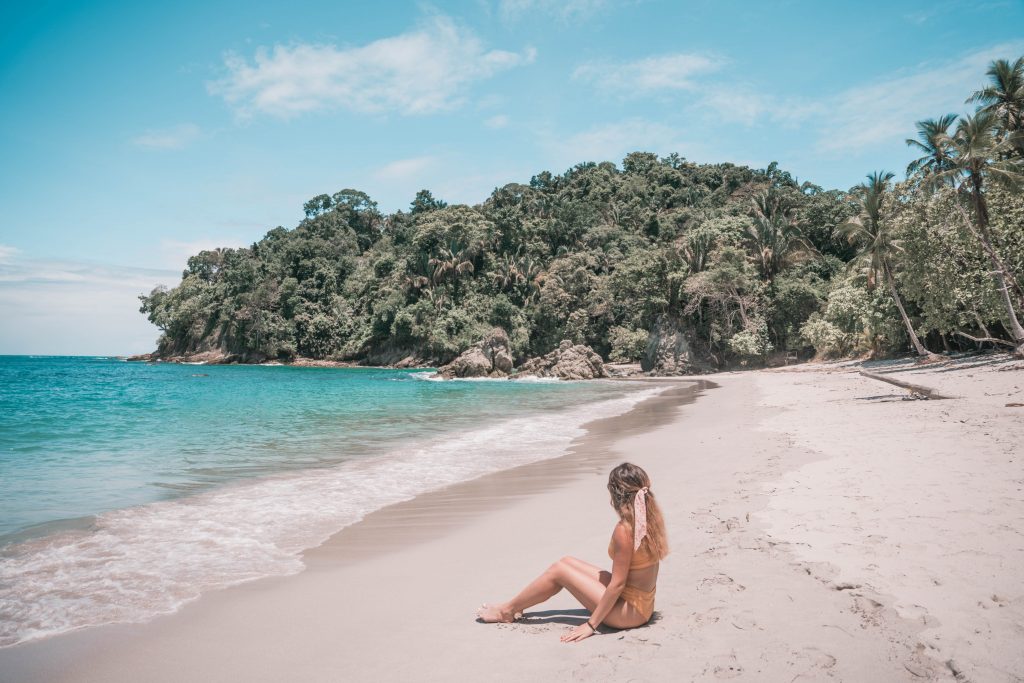 Good address for lunch
I spent a good part of the afternoon at the Buena Vista Beach Villas hotel restaurant eating and sitting on the beach! The food was good, the prices were right with most importantly the service and the setting was top notch. ☀️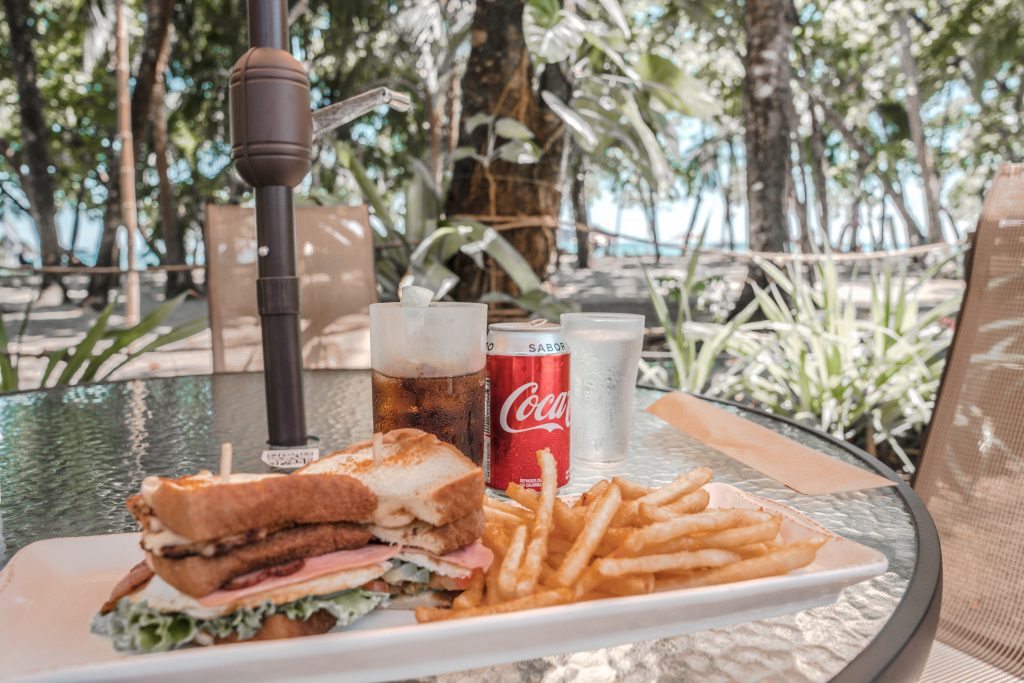 Days 10-12 : Drake Bay (continued from the 2 week Costa Rica itinerary).
Drake Bay (Bahia Drake in Spanish) is also one of those places out of time and away from mass tourism. Between river, jungle and ocean, I really recommend you to visit it during your 2 weeks itinerary in Costa Rica. 
Where to stay for your stay in Bahia Drake?
I was lucky enough to stay at Aguila de Osa, a beautiful and luxurious establishment. Also very important thing (you know me ?): I had a GREAT time. I had all my meals there, with different menus every day, lovingly concocted by the chef.
Click here for information on Aguila de Osa Rainforest Lodge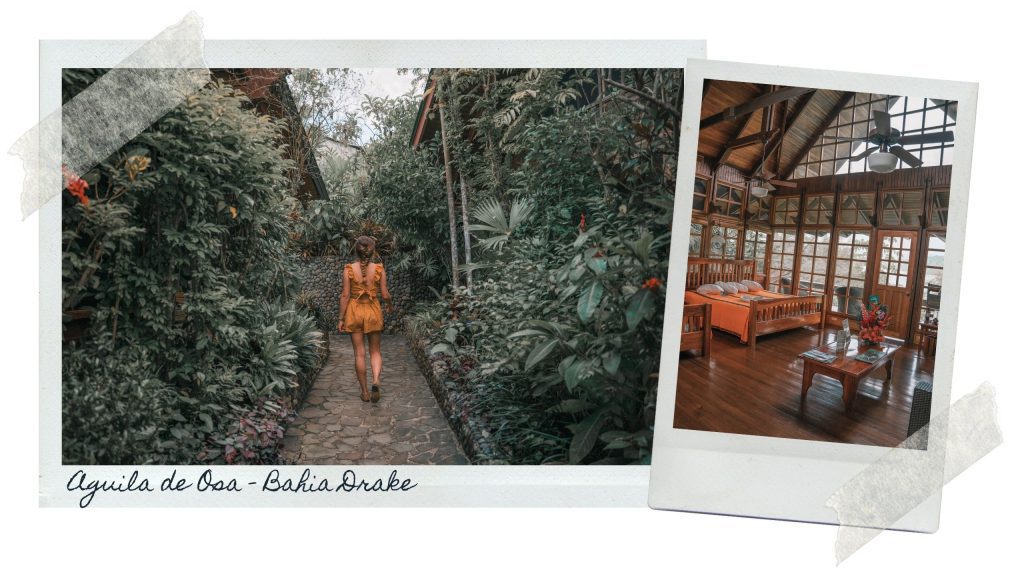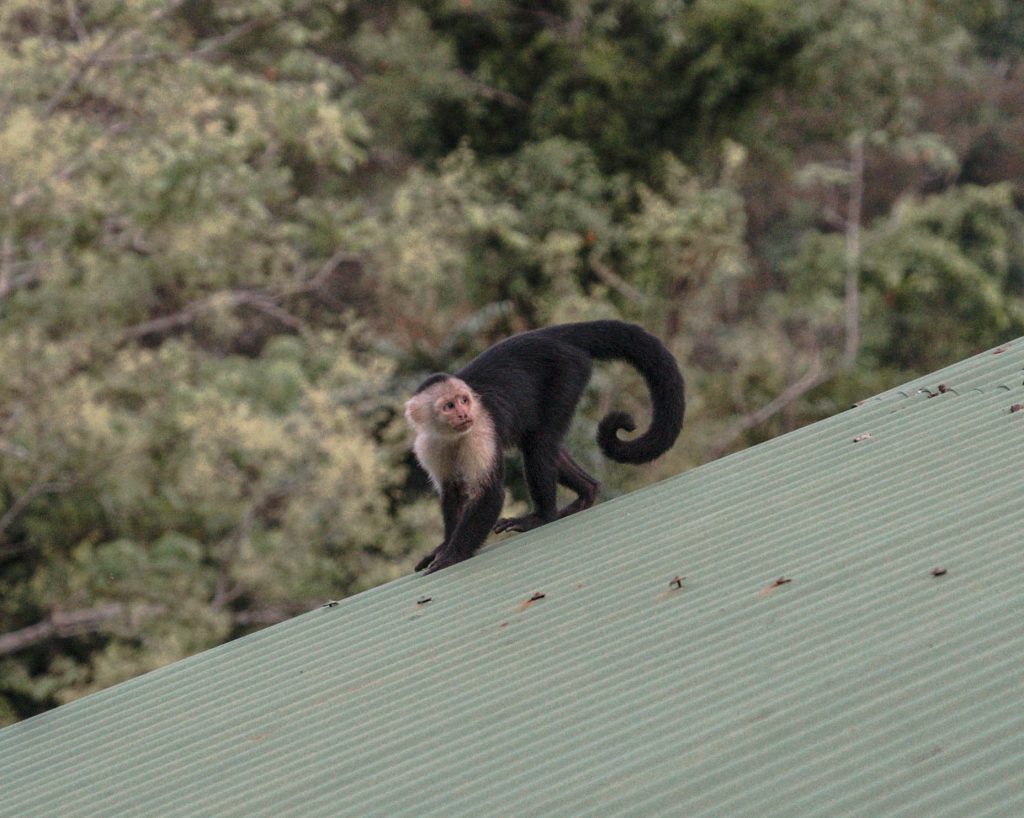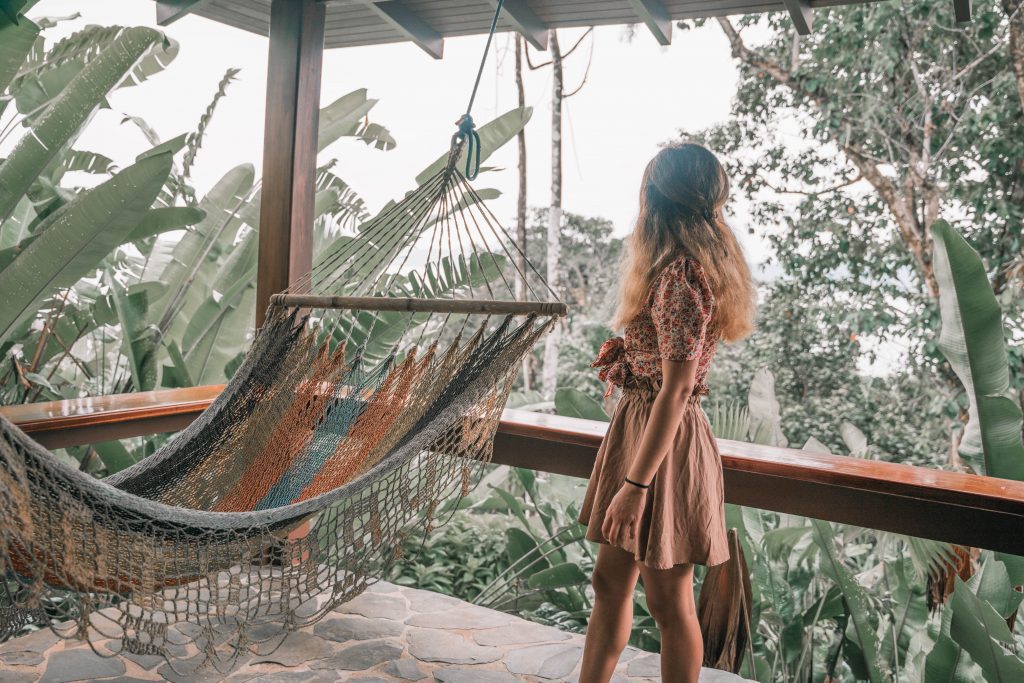 What to do in Bahia Drake?
Must-do activities in Drake Bay.
Your hotel will suggest the following activities, to be chosen according to your budget and your desires:
Snorkeling or diving at Isla Del Caño: very nice spot! In 1 hour of snorkeling, I saw 5 turtles, 2 white tip sharks and of course a lot of fish whose names I forgot 🤭 Only downside : I think it's a shame we didn't visit the small island by land… the beaches looked sublime and very wild.
Visit of the national park of Corcovado : to see a lot of animals, in particular the tapir which seems to come straight out of a movie on the dinosaurs 😂, photo below.
Night trekking in the jungle (with a guide) : guaranteed sensations ! I'm too shy to indulge in this kind of activity but I suggest it anyway if you are more courageous than me!
Kayak on the river: they are available for free in Aguila de Osa for information. I don't advise you to swim in the river though, I saw a crocodile there. Yes yes! The hotel tried to reassure me by telling me that even when you bathe, the crocodiles run away but well… I did not want to check the theory.
Boat trip: Sail along the wild coastline and explore the island in a unique way. To rent a boat for a day, click here.
Finally, Bahia Drake is quite subject to the weather (hey yes, there is a "rainforest"), so I'll say again that I don't recommend the rainy season… which notably turns the river brown (blue/green usually).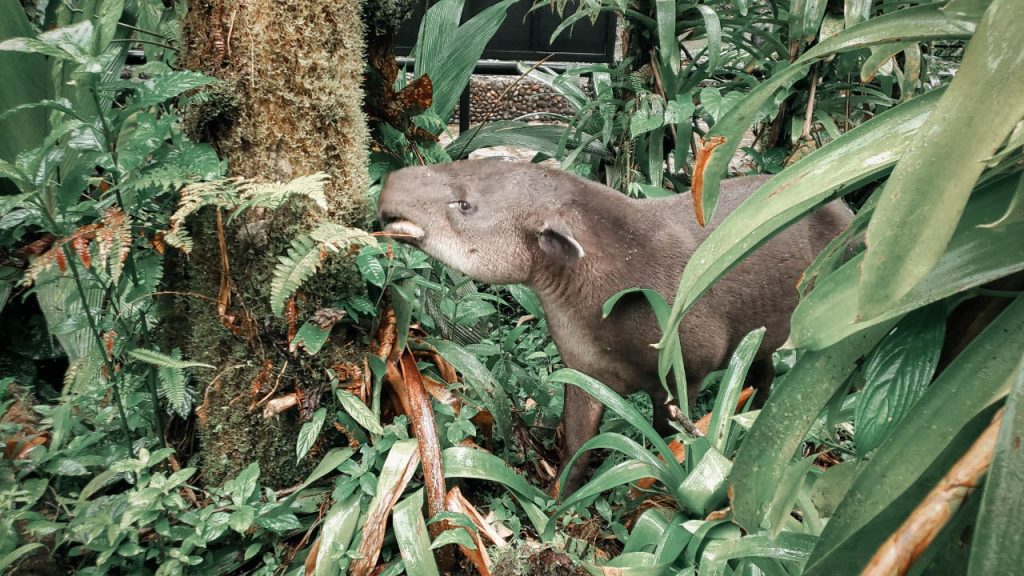 ☀️ The beaches
Beautiful beaches line Drake Bay! Access is usually through the jungle, which is super cool. Don't miss : Playa Cocalito which is hot at all hours! Well, me when I went there the weather was not good and the currents were strong so the conditions were not optimal.
Otherwise, I also visited the small center and the beach which extends over several hundred meters. Stop by the little truck to enjoy a smoothie.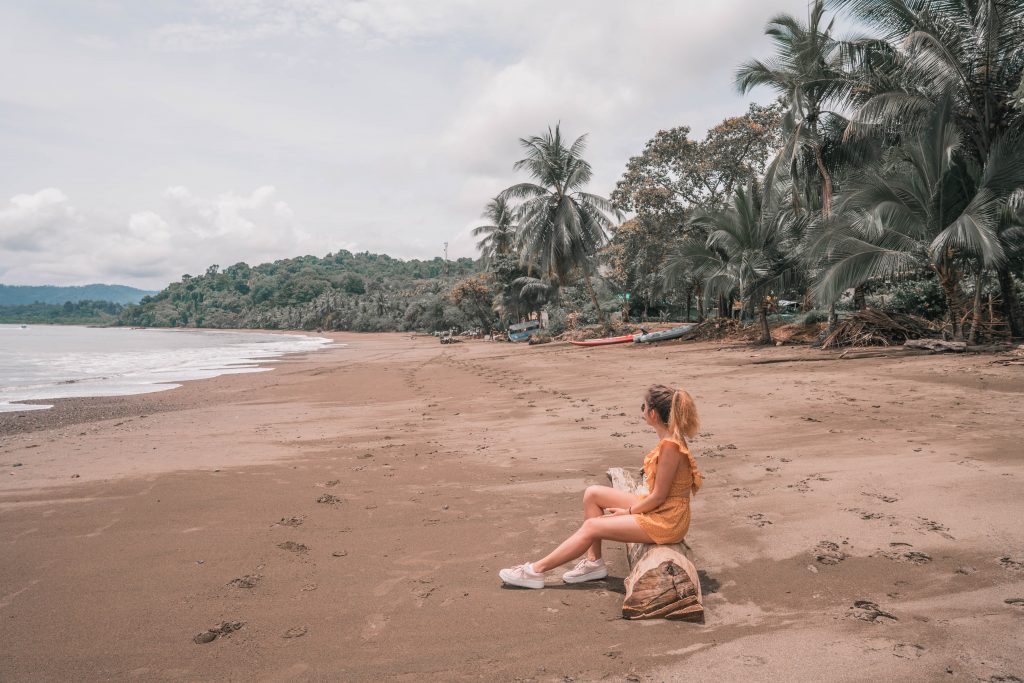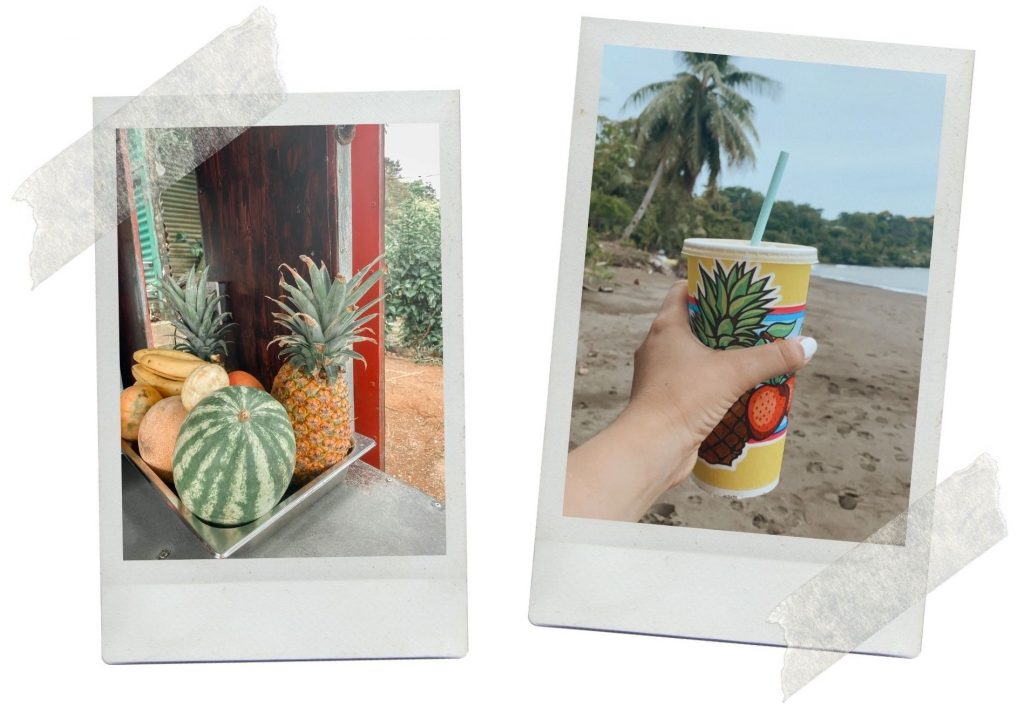 Days 13 to 14 : Jaco
To end this Costa Rica road trip on a high note, I headed to Jaco to enjoy this small town and its surroundings. Jaco is located less than 2 hours from San Jose, so it is very popular on weekends with the capital's inhabitants!
This beach resort is sometimes tarnished by its reputation because of casinos, prostitution and partying. Personally, none of that came to mind. On the contrary, I enjoyed having a bit of atmosphere after this very peaceful stay, and I didn't find the prostitution to be striking (nothing to do with Phuket in Thailand for example, or the Bois de Boulogne for those who don't know Asia!)
Where to stay in Jaco?
I slept 2 nights in the center, at the Ibiza hotel. I loved this small hotel which has super beautiful exteriors with lights, pools, deckchairs… It really feels like a vacation! ☀️
What to do in Jaco?
There are plenty of things to see in the surroundings of Jaco ! You're definitely not going to be bored.
The watchtower tour
A mirador is a more or less developed place that overlooks a great view! There are some all over the country and also in Jaco. I visited two of them, you can find the locations by typing the name on Google Maps :
– El Miro : accessible in about 45 minutes walk there and back. You can also go there by horse.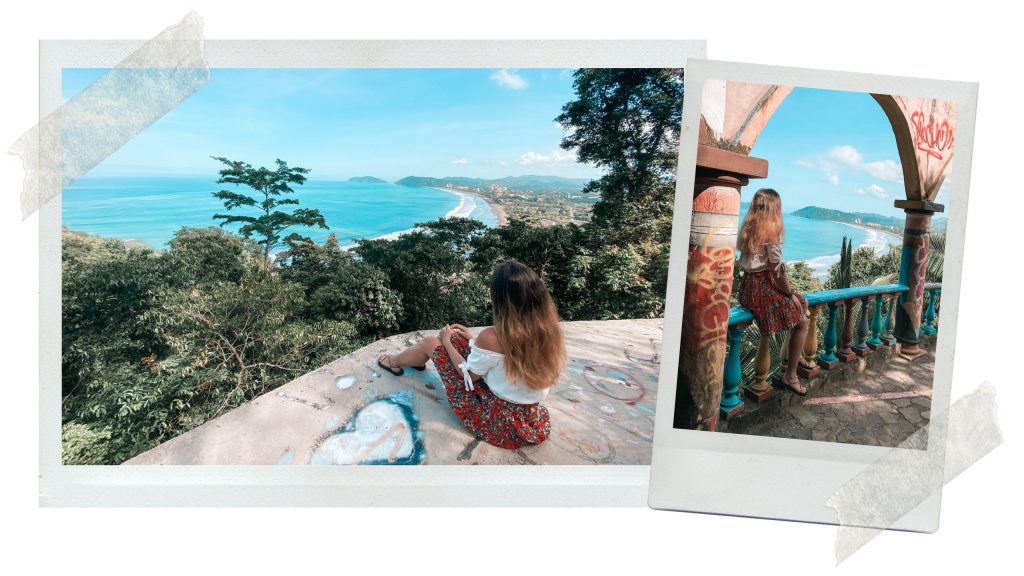 – Rancho Sadday : there is a great view from this restaurant. I ate a delicious local breakfast for a very reasonable price. Right next door, you can do a Tarzan jump for a little adrenaline rush: but it's a little expensive for what it is ($20 per person).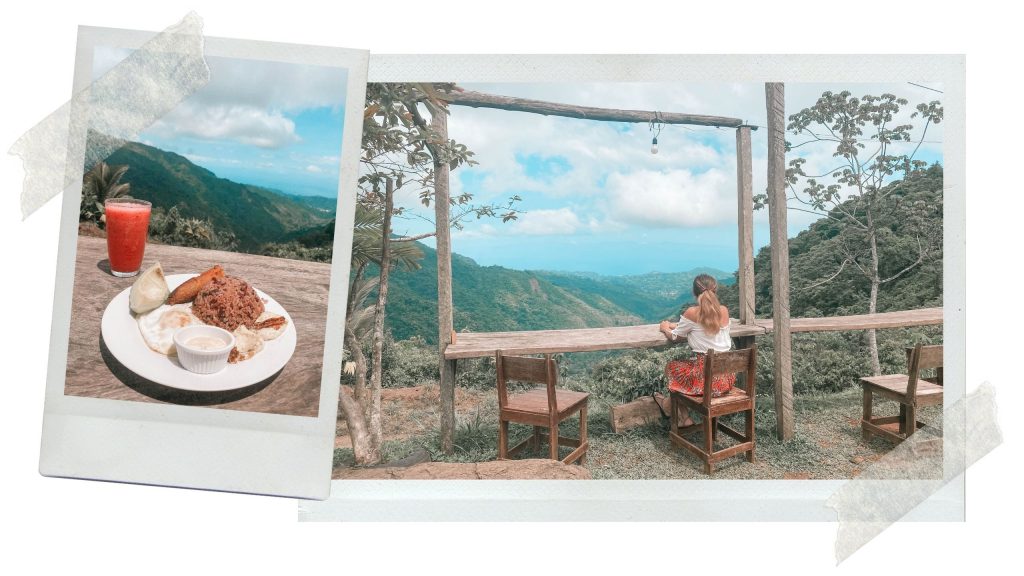 🏄Start surfing
Jaco is the perfect place to start surfing. I really recommend taking a lesson, both for your safety and the safety of other surfers and for the success of that first time. Julian, my instructor at Tortuga Surf Camp was top notch.
If you're already a seasoned surfer, you'll find something for you as there are plenty of surf spots in and around Jaco for all levels !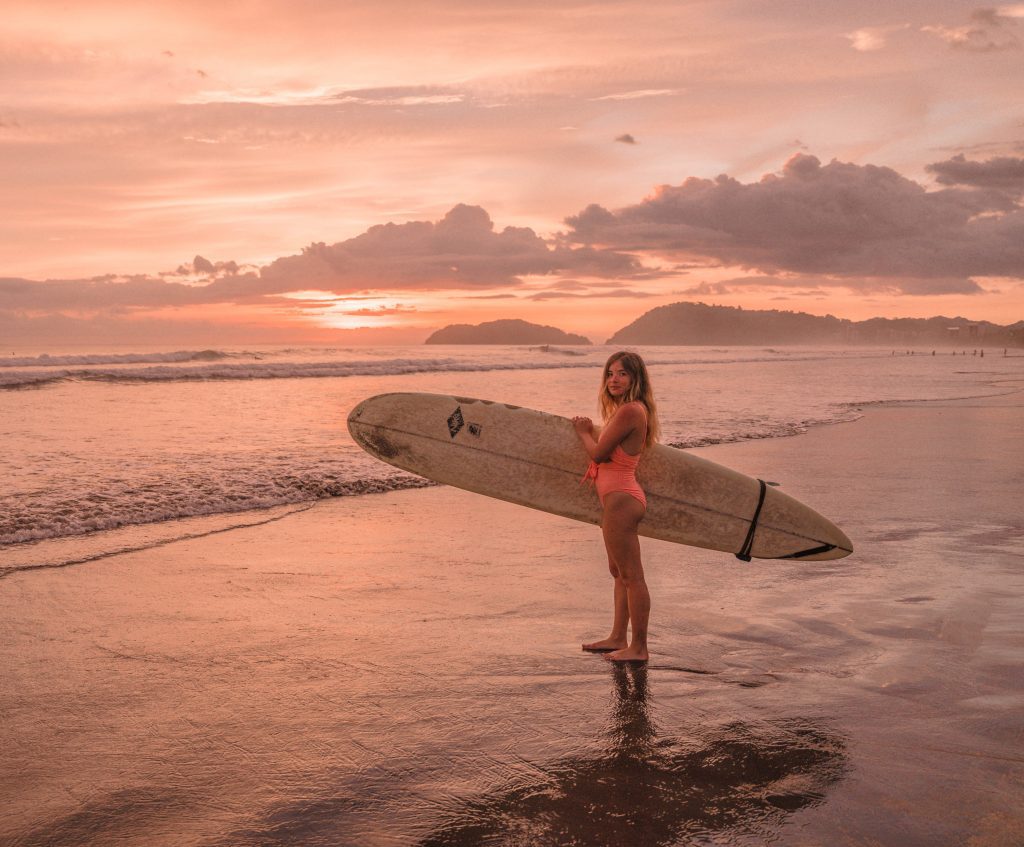 Go see a waterfall
A small unknown waterfall, very easy to access in 5 minutes of walking, allows you to refresh yourself in the river! Beware of mosquitoes, I literally got eaten. To go there, park at the River Cottage. From here, you will pay an entrance fee of 1$ and the people will show you the way to go there.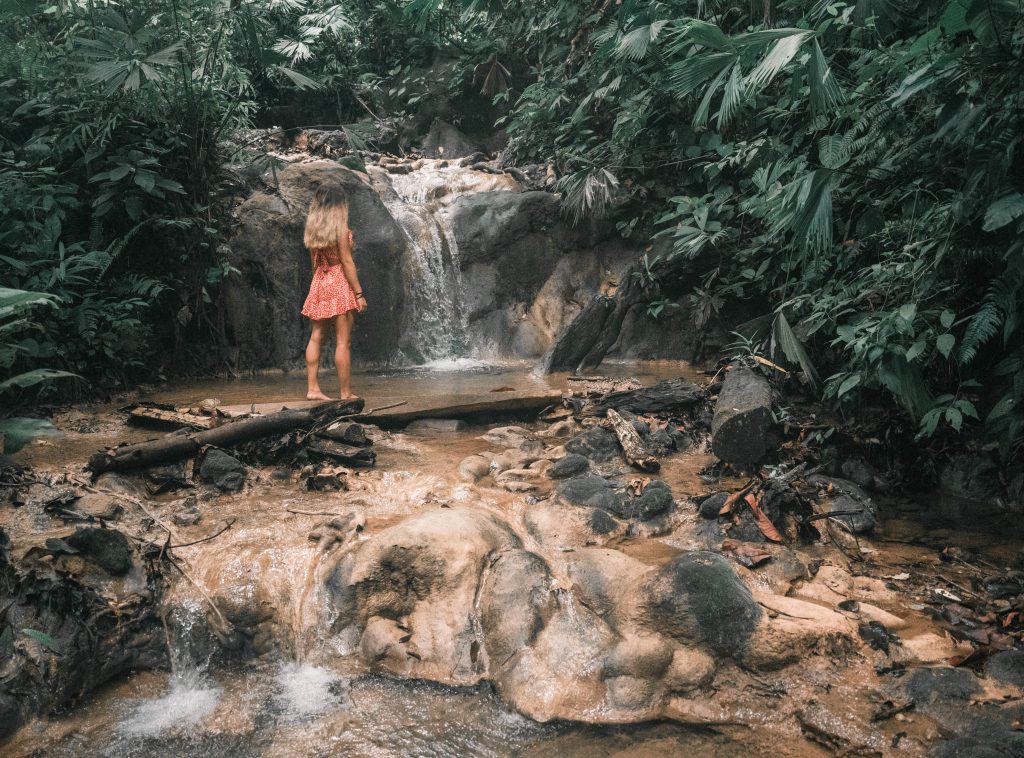 For the more motivated, you can book this excursion that combines river canyoning and a zip line tour. Sensations guaranteed!  Reservation here
Playa Blanca
Playa Blanca is among the most beautiful beaches in Costa Rica! The water is crystal clear (in dry season) and the sand is white. The paradise for sunbathing and swimming…
How to get there ? It is easily accessible at low tide. You have to park here (the parking costs 1000 colones per hour). Then, you have to go along the beach until the end and climb the rocks. Nothing difficult, don't worry! If you leave when the tide has already risen, the water will prevent you from returning the same way, but you can go back through the hotel that is on the playa Blanca if you explain to them.
Voir cette publication sur Instagram
Excursion on the Rio Tarcoles
I didn't want to do this activity because I'm afraid of crocodiles (bad childhood memory) but it's a must do in Costa Rica! The boat ride on the Rio Tarcoles allows you to observe the crocodiles that bask there and many species of birds.
If you go through the agency, they will propose it for sure! By the way, I remind you that you can contact them for a customized trip to Costa Rica at [email protected]
Where to stay near the Rio Tarcoles?
I spent my last night at the B&B Rancho Capulin, an establishment run by a French-speaking couple. The setting is sublime! It was perfect to conclude my stay on a serene note.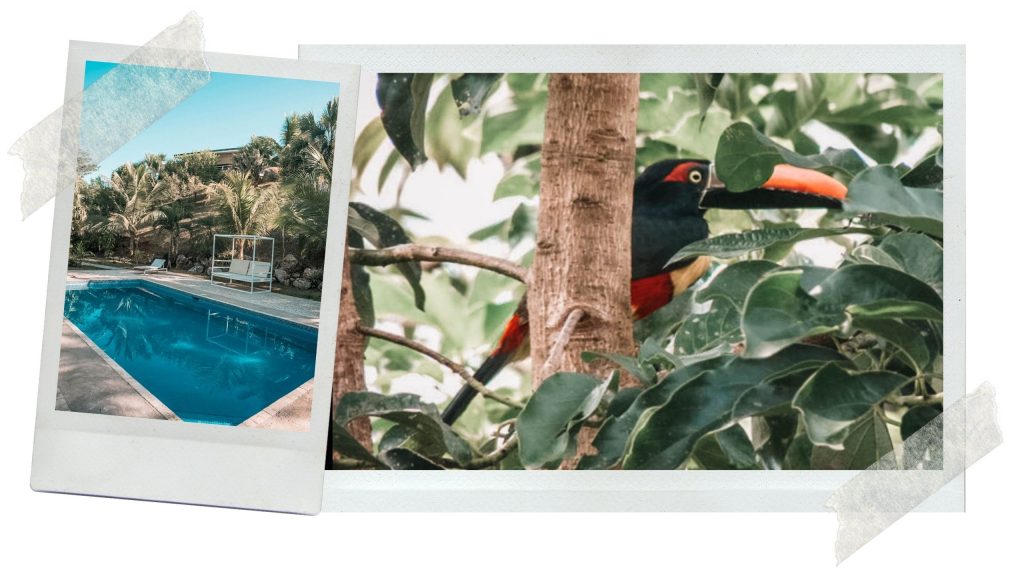 ---
This is the end of my 2 week itinerary in Costa Rica. You can find Yann's itinerary, with a more "classic" tour in his travel guide.
For practical information about Costa Rica, go here.
See you soon, kisses ! Aurélie
This article contains affiliate links. If we've helped you organise your trip or you'd just like to support us, please consider booking your activities and hotels in Costa Rica by clicking on our links. We'll earn a small commission and the price stays the same for you, of course. 🤍