Road Trip in Mexico – 2 weeks itinerary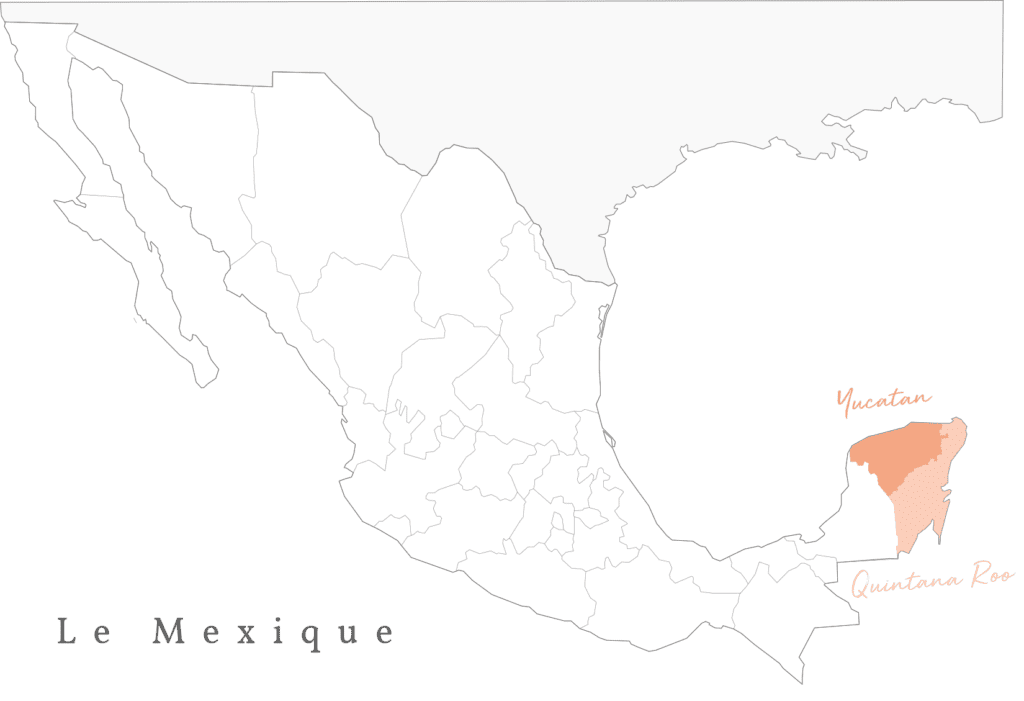 We went on a 2 weeks road trip in Mexico, in Yucatan and Quintana Roo, two regions in the eastern country. Mexico is about 4 times bigger than France! So, you won't be able to visit everywhere in just 15 days, you will have to make difficult choices.
Itinerary : Road Trip in Mexico
Here is the itinerary of our road trip in Mexico, during the first part of our trip. We hope to provide you with some good options about what to do in Yucatan. In 15 days, we made 2,200 km on rather pleasant roads. Please note there are tolls in Mexico!
Day 1 : Cancun
Day 2 : Isla Mujeres
Days 3-4 : Holbox
Day 5 : Rio Lagartos
Day 6 : Izamal
Day 7 : Merida
Days 8-9 : Valladolid
Day 10 : Bacalar
Days 11-14 : Tulum / Playa del Carmen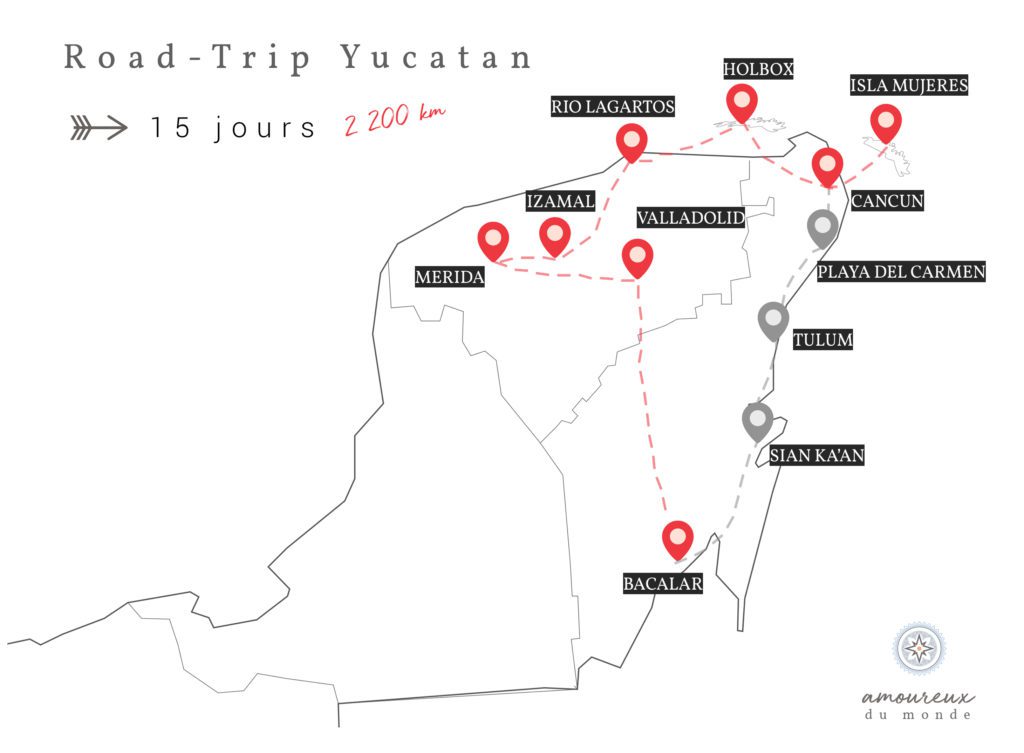 Day 1 : Cancun
After spending a night at the London airport and a 10 hours and half flight, we finally arrived in Mexico! We headed to our first hotel, the Live Aqua Beach Resort for a little rest (yes, already!). We were welcomed like VIPs; it was so cute. You would have liked as much as we did the rice sculpture for the trip lovers they had made on the bed (for those who missed it, here is a picture).
Cancun is a mix of Las Vegas and Miami: tall buildings, hotels, places to party. If you want to relax in a gigantic resort and enjoy an all-inclusive package, Cancun is the place to go. If it's not part of your travel plans, we still think it's good to spend a day or two there just to admire the excessiveness!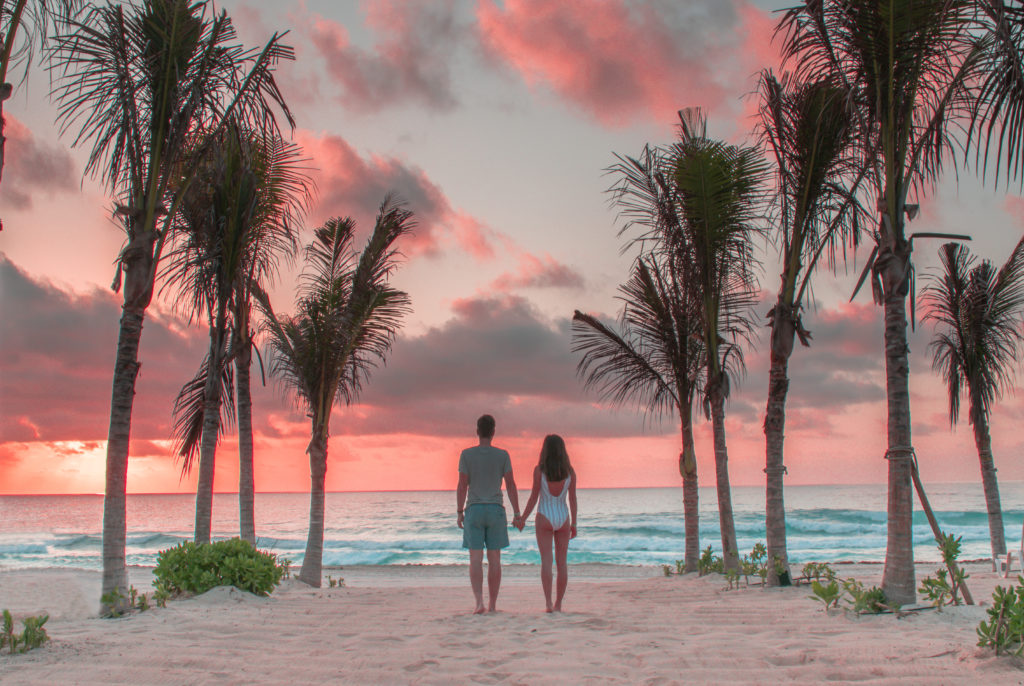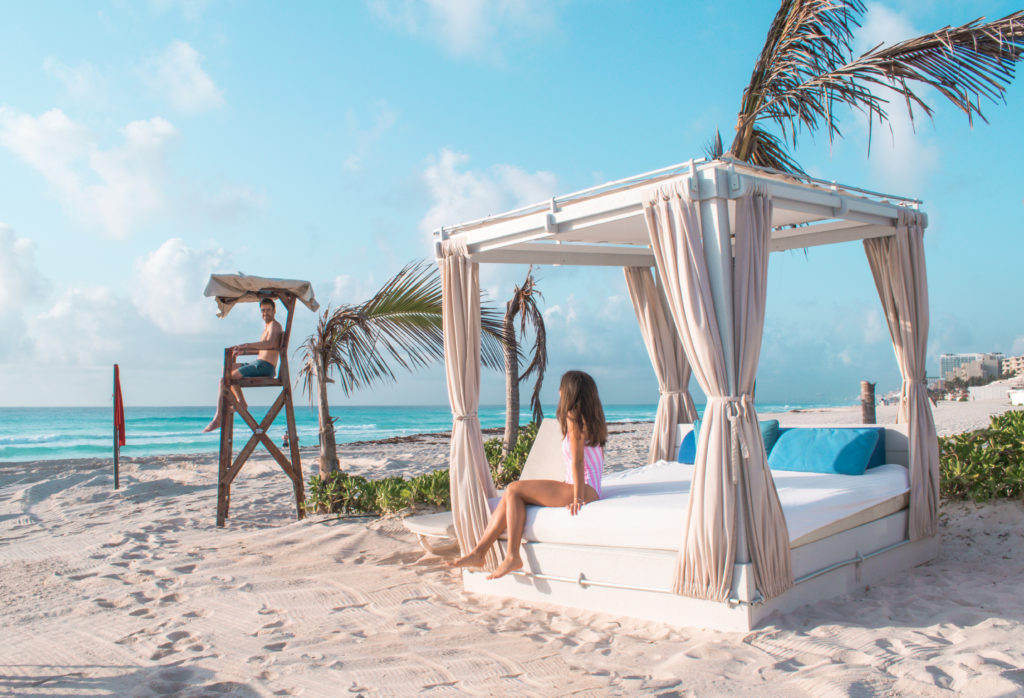 Day 2 : Isla Mujeres
After a stunning sunrise on the Cancun beach, head to Puerto Juarez pier. Isla Mujeres is a small island only 25 minutes by boat from Cancun. We went to a hotel more than stunning : Icaco Island Village, with magnificent decorations. On Isla Mujeres, it is possible to rent golf carts to get around. It's quite new and funny (500 pesos for the 2 hours or 23€).
All in all, we were disappointed with Isla Mujeres. We were expecting a small paradise island, as we had read on some blogs. However, we had been sold the Playa Norte as being one of the top 10 most beautiful beaches in the world. We soon realized that the mass tourism phenomenon had passed by. No virgin beaches (beach chairs and beach clubs everywhere) and very limited access to the sea. It's very frustrating because the shades of blue that border the island are absolutely amazing but yet pathways have been privatized by hotels, restaurants, or secondary villas. If you look for authenticity, don't go to Isla Mujeres. On the other hand, the mood in the evening in this small-town center is very pleasant and warm.
➳ The ferry cost us 300 pesos return (13€) per person. There is one every hour and the journey takes 25 minutes. To park your car, stop at the parking lot just before the pier, price for 24 hours: 135 pesos (6€).
❤️ If you don't want to spend the night on Isla Mujeres, this catamaran day trip from Cancun is perfect to discover the island and its surroundings!
🐳 You can also book this excursion which combines swimming together with whale sharks and visiting Isla Mujeres.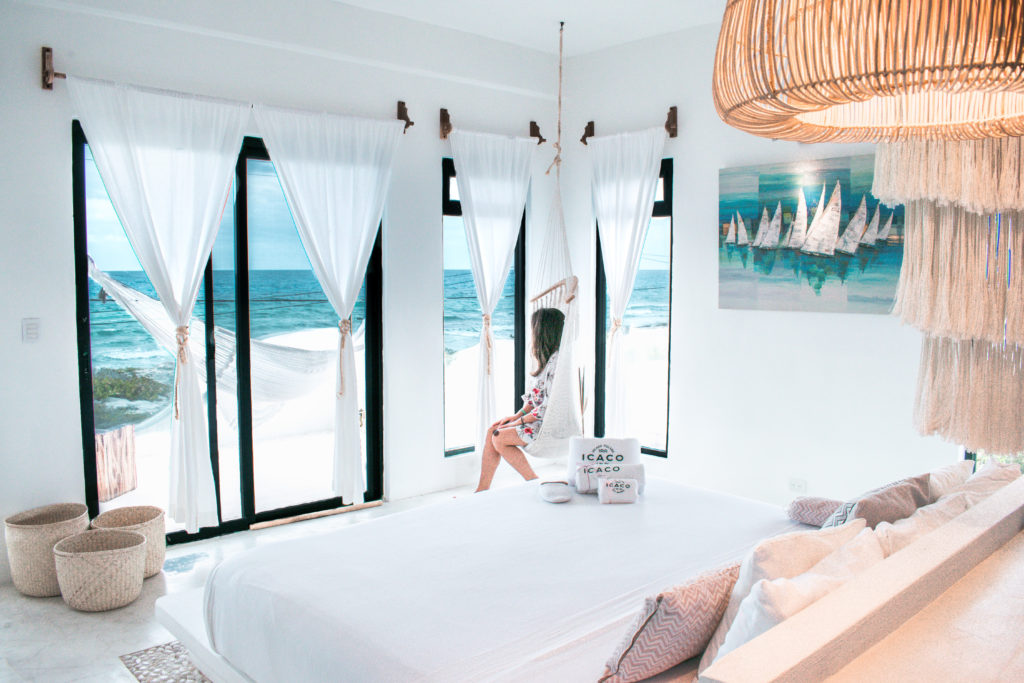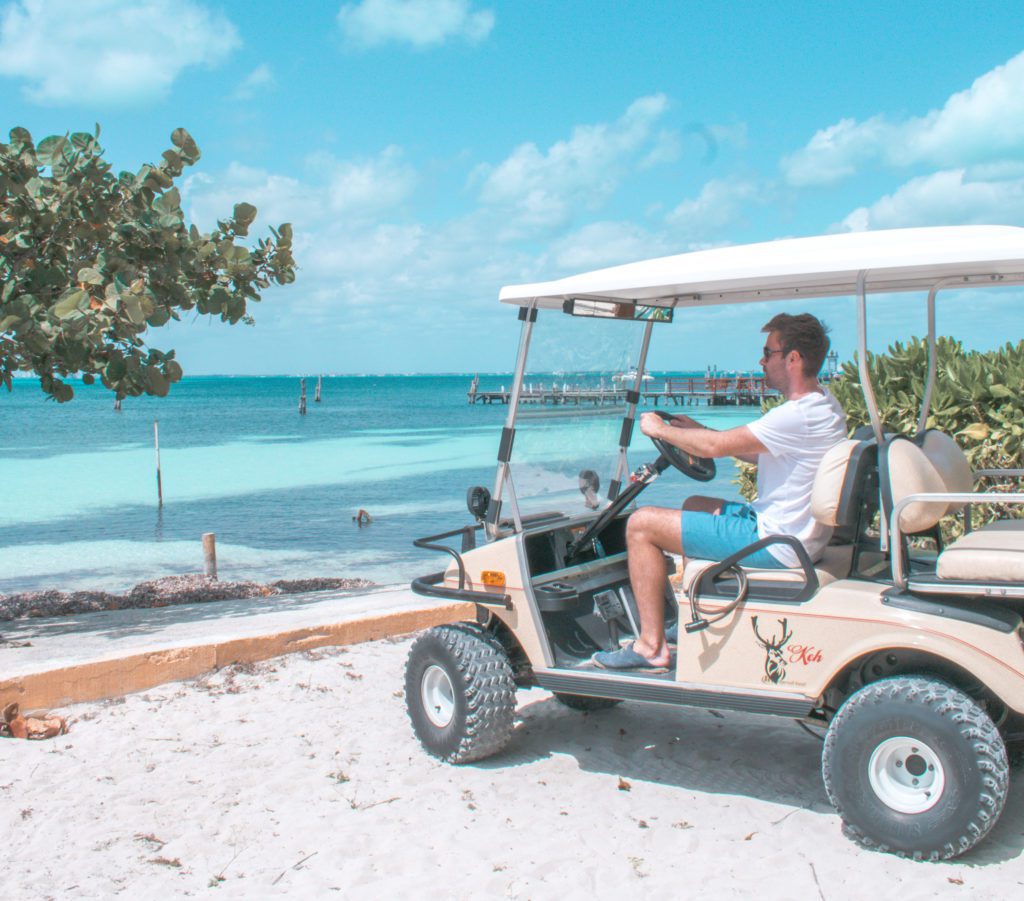 Days 3-4 : Holbox
Back to Cancun. After a 2 hours' drive, we arrive in Chiquila to take the fast boat to Holbox.
Where to buy dream catchers at a good price? Mexican dream catchers are just gorgeous. On your way from Cancun to Chiquila, stop in the small village of Kantunilkin and go directly to the craftsman's workshop. You will find it on the roadside when arriving from Cancun to Chiquila, at the rim of the village on the right (impossible to miss). Prices will be at least half those you would get in the shops! Bargain a bit, but not too much: Mexicans are not as keen on haggling as Asians. It's a family business and their dream catchers are of a remarkably high quality.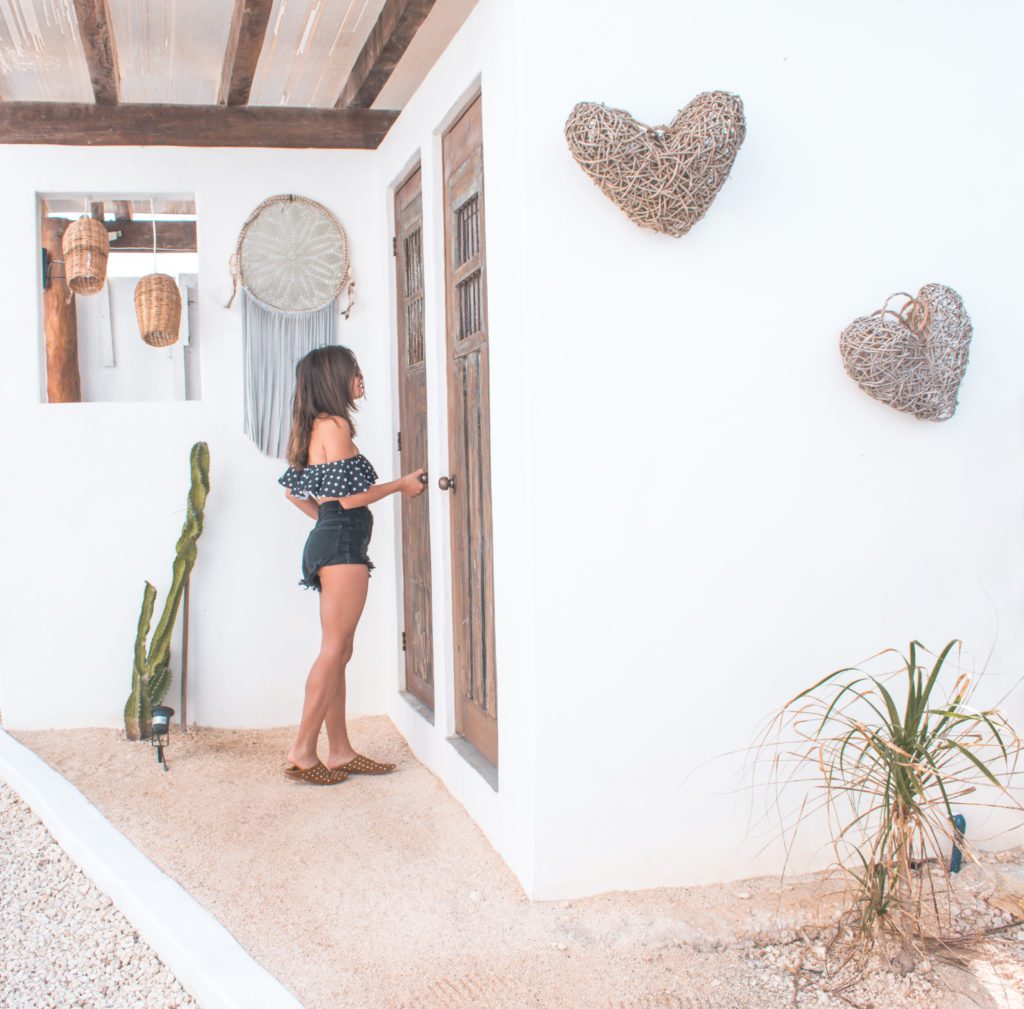 How do I get to Holbox?
Two companies take turns every other half hour: one red and one blue. Take the red one for much more modern and comfortable boats. The journey takes about 25 minutes and costs 180 pesos (8€) one way per person. To park your car, many parking businesses have developed in the village. They will hail at you, hundreds of meters before the port. Don't stop at the first one, keep going all the way! There is one on the right of the main roundabout, two minutes away from the pier. We paid pesos (4.5€) for each 24 hours.
Holbox is our favorite place of this road trip in Mexico. That's where our journey really began. This island, still preserved from mass tourism, gathers everything we want to find on a trip: beautiful beaches, no roads, almost no cars and a special mood. Here too, you can rent golf carts, but we advise you to rent bicycles, much more economical.
🤍 If you want to visit Holbox but you only have one day, we found a one- day trip to discover the island! Reservation & information
➳ What to do in Holbox :
Hearty and delicious breakfast: A Mar Café, price €.
Tapas and cocktails in a trendy restaurant: Luuma, price €€€.
Lunch in a trendy restaurant: Basico, price €€€.
Drinking with music: Hot Corner – a must for parties, it's so crowded that people end up sitting in the street in front of the bar. We were there on a Thursday and the Tequila and Rum cocktails were free for the girls before 11pm.
Discover the natural treasures of the mangroves of Holbox Island with a kayak ride. Book it here!
Sunset in Punta Coco. By bike, it will take you 20 minutes from the center to reach the western tip of the island. Once you reach the end, you'll see how beautiful Holbox is. Have a cold beer at thesmall stand on the beach so you can enjoy the day falling into a hammock.

Don't miss Holbox's sunsets!

Dream beach: Punta Mosquito. A sandbank surrounded by crystalline waters and a virgin beach for more than 30 km, does it ring any bell? This place is absolutely beautiful. Cycle to the eastern tip of the island until you reach the beach. Leave your clothes next to your bike because you will have to cross a hundred meters to reach the sandbank (depending on the tides, the water can reach up to your neck). Go a little before 10am, but not too early either so that the sun is high enough and the water is clear.
Check out the best places to sleep in Holbox.
We leave Holbox with a heavy heart, with the promise to return there one day.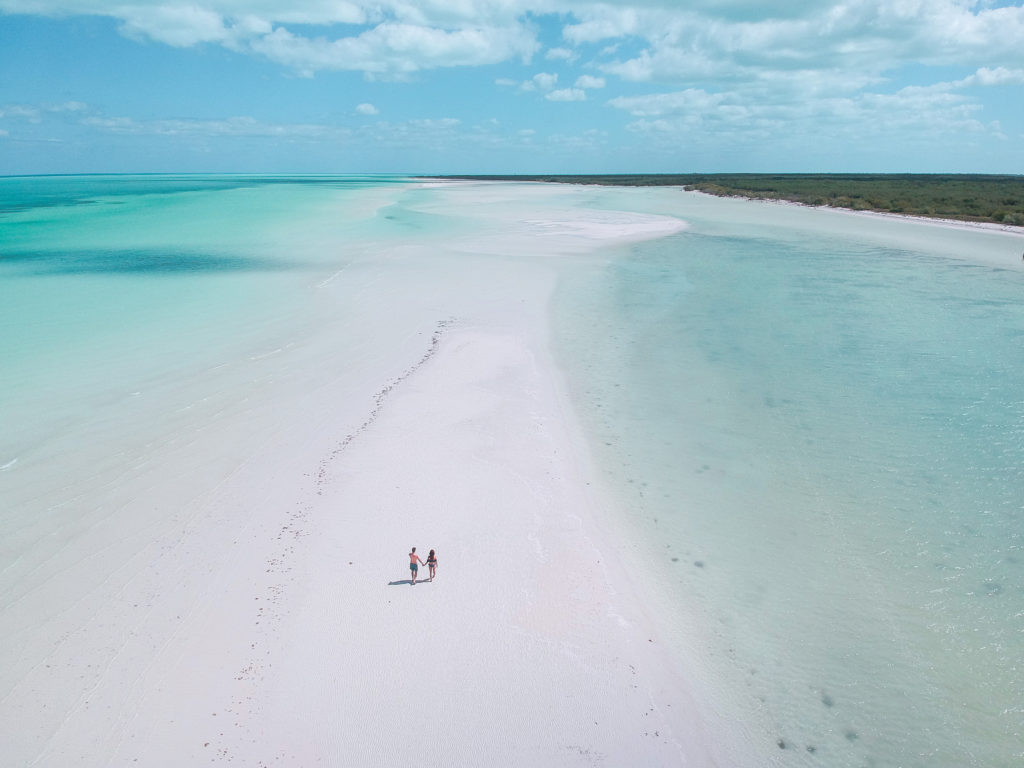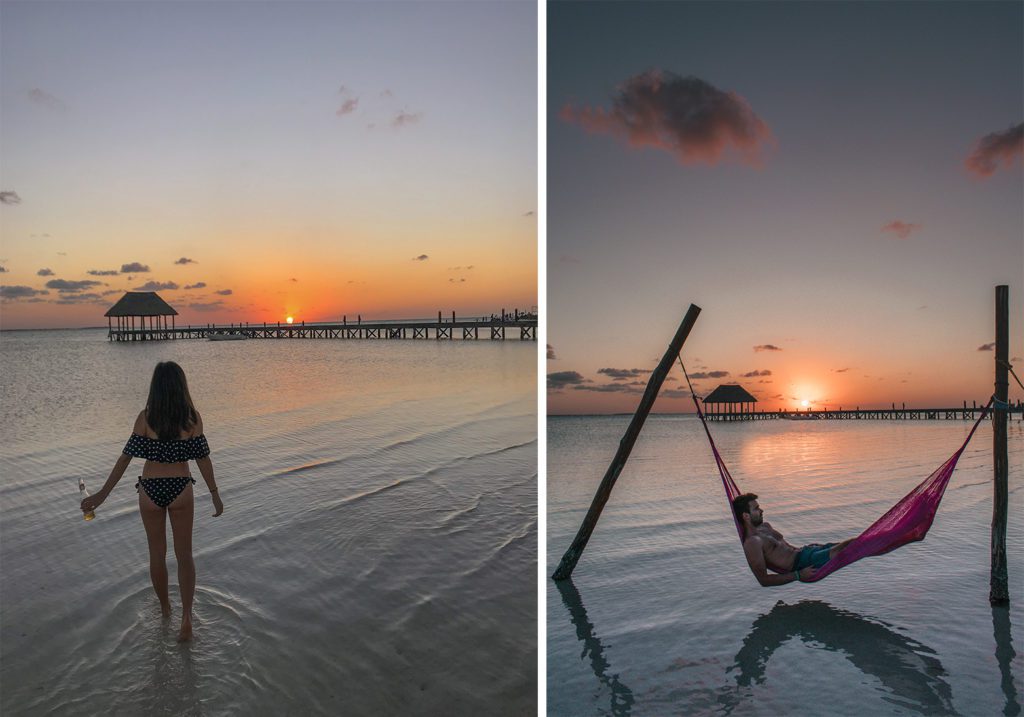 Day 5 : Rio Lagartos – road trip in Mexico
Allow a 2 hours and 45 drive from Chiquila to Rio Lagartos, a small fishing town in northern Yucatan. We slept at the Mercy Inns hotel, well located and not expensive at all (30€ per night) but a bit noisy.  They offer good prices for boat trips. The famous Pink Lake is 25 minutes away by car!
Las Coloradas, big disappointment
It is true that the pink color of this lake is incredible. But to be honest, we didn't find the place so charming. A business has developed around Las Coloradas. People are soliciting you from everywhere to sell you excursions, parking slots… which makes the beginning of the visit a bit unpleasant. You will be told that the lake is "private property" and that to walk along, you will absolutely need a guide. When you get there from the land, there are places not accessible, so the visit is greatly reduced. Negotiated price: 75 pesos p.p. (3€50)
Is it necessary to visit Las Coloradas?
Don't do like we did, don't be naive to expect a place in the middle of nature. In truth, Las Coloradas is an industry: not only a money machine for tourists but also the huge salt factory rather spoils the landscape. We advise you to book the boat trip, which should undoubtedly be more enjoyable. Find people at your hotel to share the boat with you, otherwise it is awfully expensive. During the excursion, you will see bird species and be less disturbed by the industrial side of Las Coloradas. Price: 1,100 pesos (50€) for two, decreasing if there are more of you.
📸 Photo Tip: to get this beautiful pink color, we went there around 11 am so that the sun would be high enough (same as Holbox!)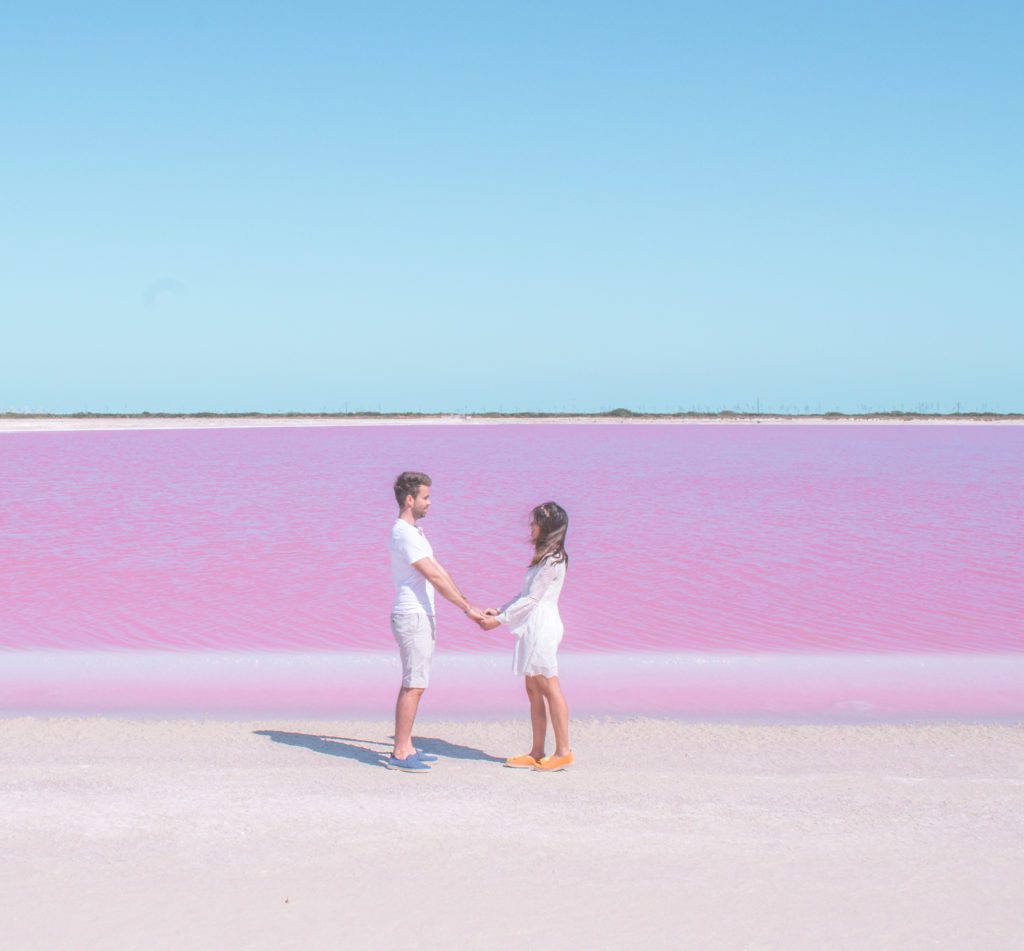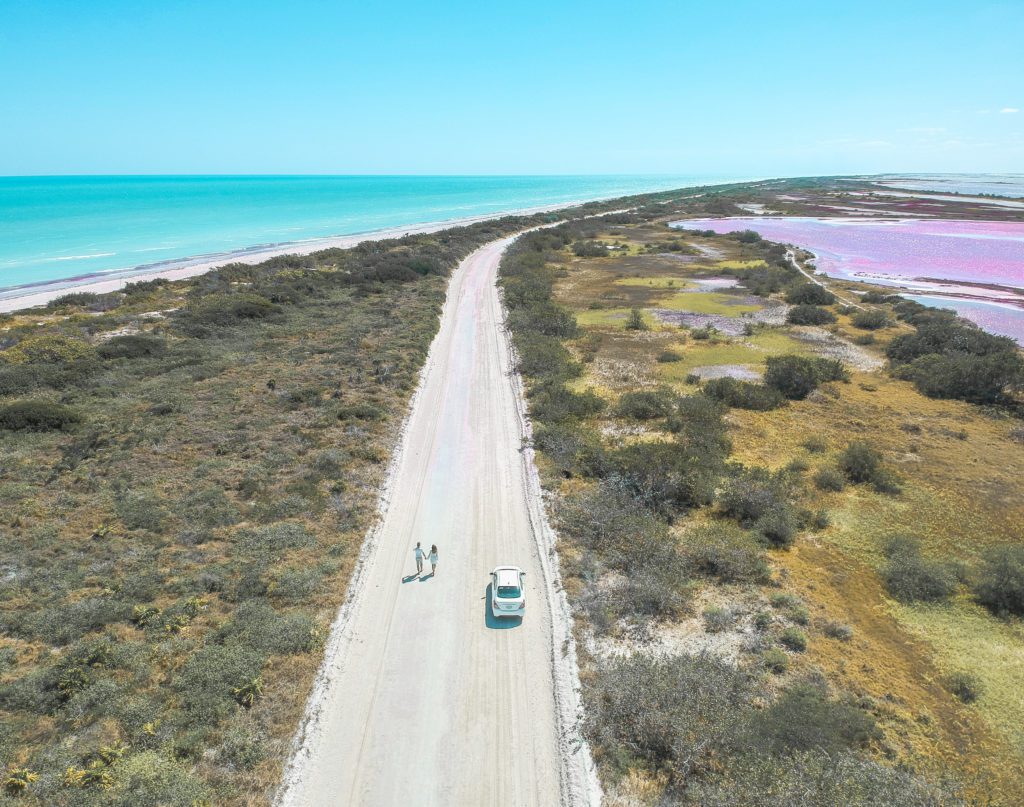 Day 6 : Izamal
Izamal is a tiny Mexican town, all in yellow. It's very pleasant to walk around for an hour or two. Since it is located on the way between Rio Lagartos and Merida, you could stop there to have lunch for example!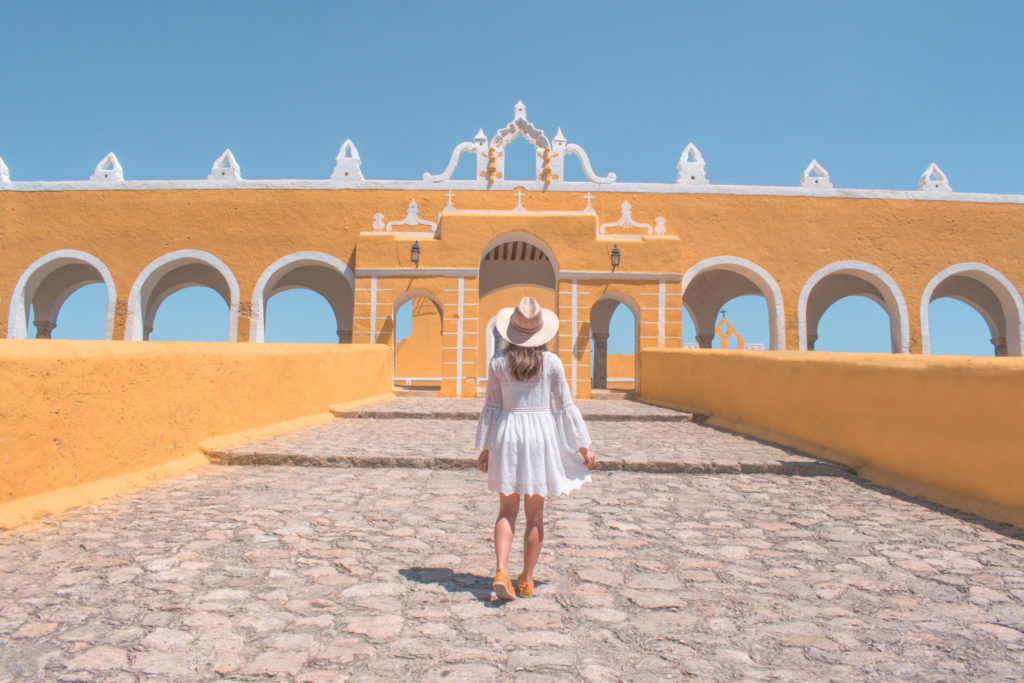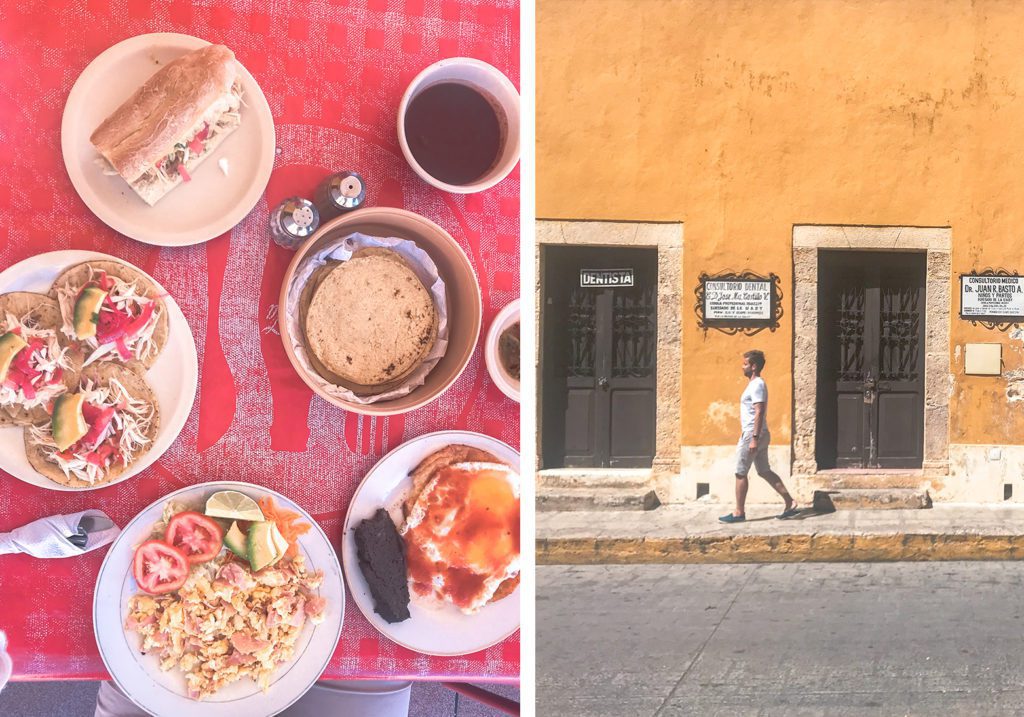 Day 7 : Merida
What to do in Merida?
We liked Merida a lot, indeed it's a very pleasant city. Take advantage of it to do a typical activity, like this Mexican cooking class! You will learn more about the culture of Yucatan, with a visit to a traditional market and through contact with the locals.
In the evening, don't forget to visit the open-air food market: the Mercado 60. The decoration is just beautiful, and you have a great choice of food to satisfy everyone!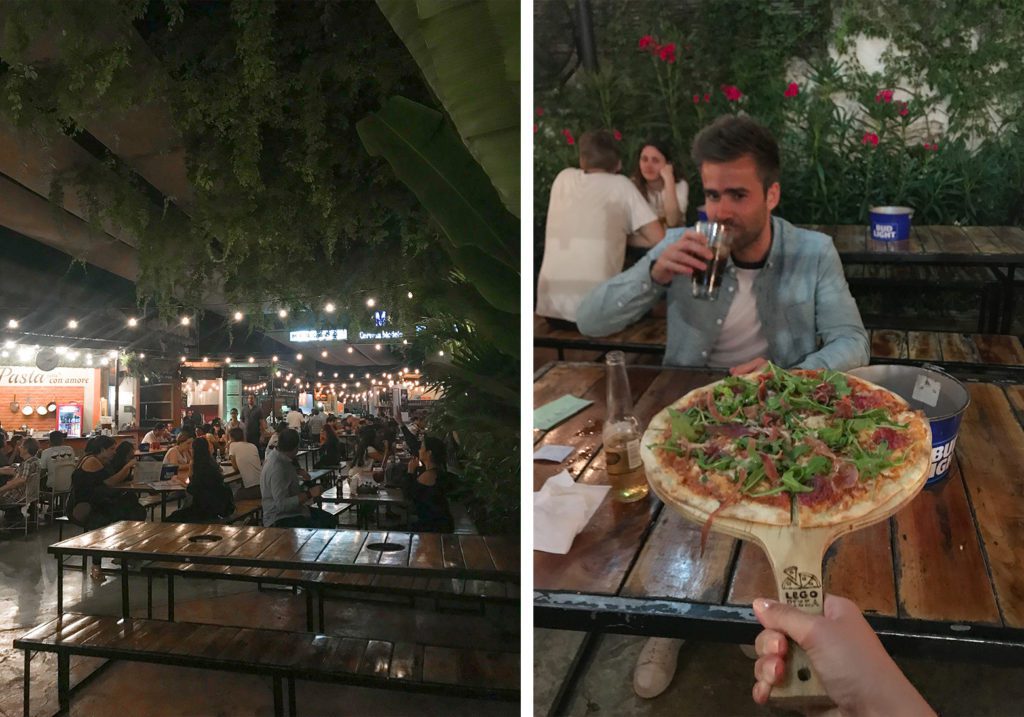 ➳ 
Cenotes to see near Merida
What is a cenote? Cenotes are chasms, water holes forming after a cave collapse. In Mayan times, they were considered sacred and were the only source of water available in the jungle. There are nearly 5,000 of them in the Yucatan peninsula.
At one hour's drive from Merida, you will be able to see :
the cenotes X'Batun and Dzonbacal…

 There are two cenotes at the same place, in the small village of San Antonio Mulix. At the entrance you will pay 50 pesos per person (2€). Don't rent bicycles: you can reach the cenotes by car. Drive directly to X'Batun (take right at the intersection) because it is the most beautiful and it is open air. We stayed barely 2 minutes in Dzonbacal because already at 11am it turned into the public swimming pool: this cenote is partially in a cave, so the swimmers stay at the edge, but still, it's very pleasant.

Cenote Kankirixche

: same style as Dzonbacal, 30 pesos (1.30€).
Other beautiful cenotes, to be discovered on a day trip from Merida, with a guide: booking here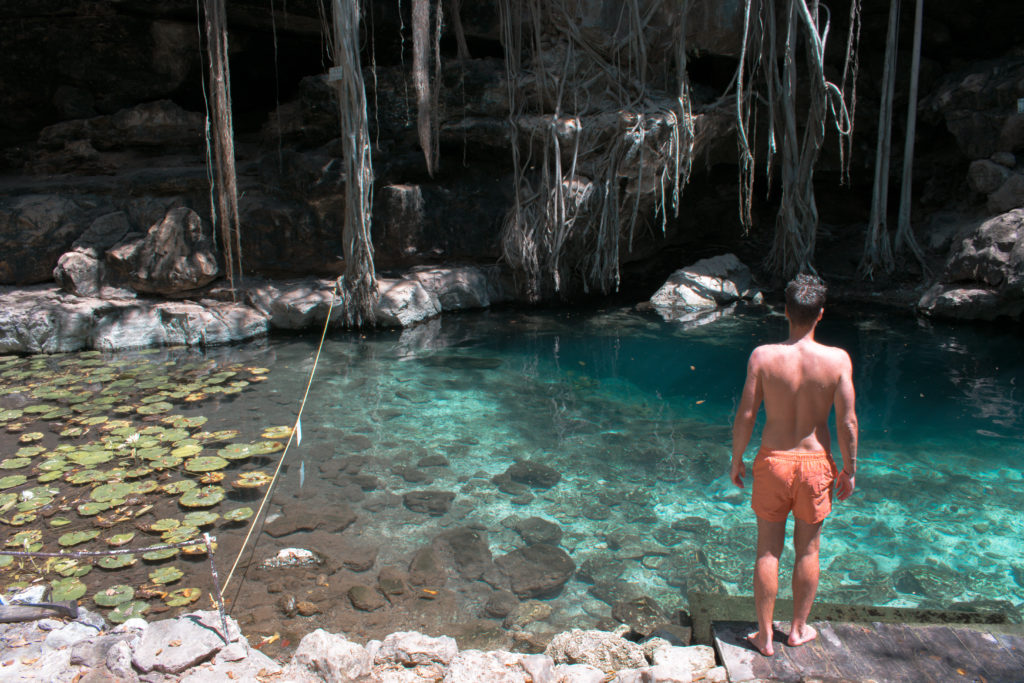 Days 8-9 : Valladolid
We found that Valladolid center was similar to the one in Merida, but smaller. We spent two days in Valladolid to put down our luggage after 7 days without stopping.
➳ The Chichén Itzá temple
This gave us the opportunity to visit Chichén Itzá, the Mayan temple classified as one of the 7 wonders of the modern world (nothing less!). Go there 15 minutes before the opening at 8 am to be the first and be able to run for being able to take photos of the temple without anyone. Admission costs 232 pesos (10.20€) per person.
💌 Buy your skip the line tickets for Chichén Itzá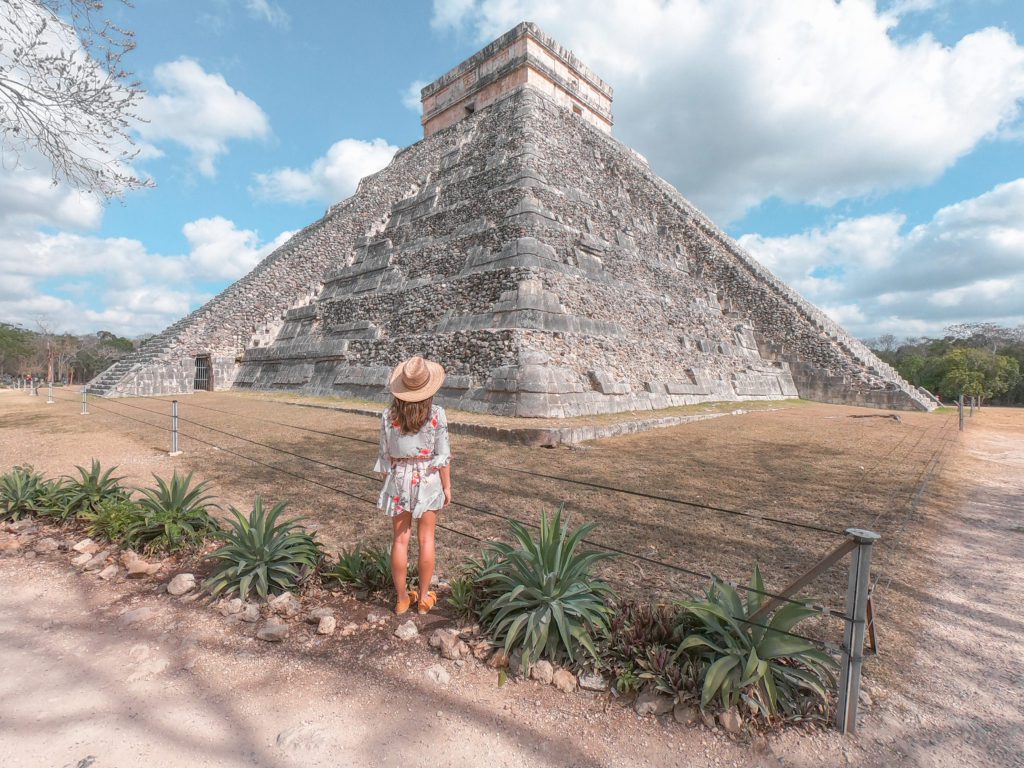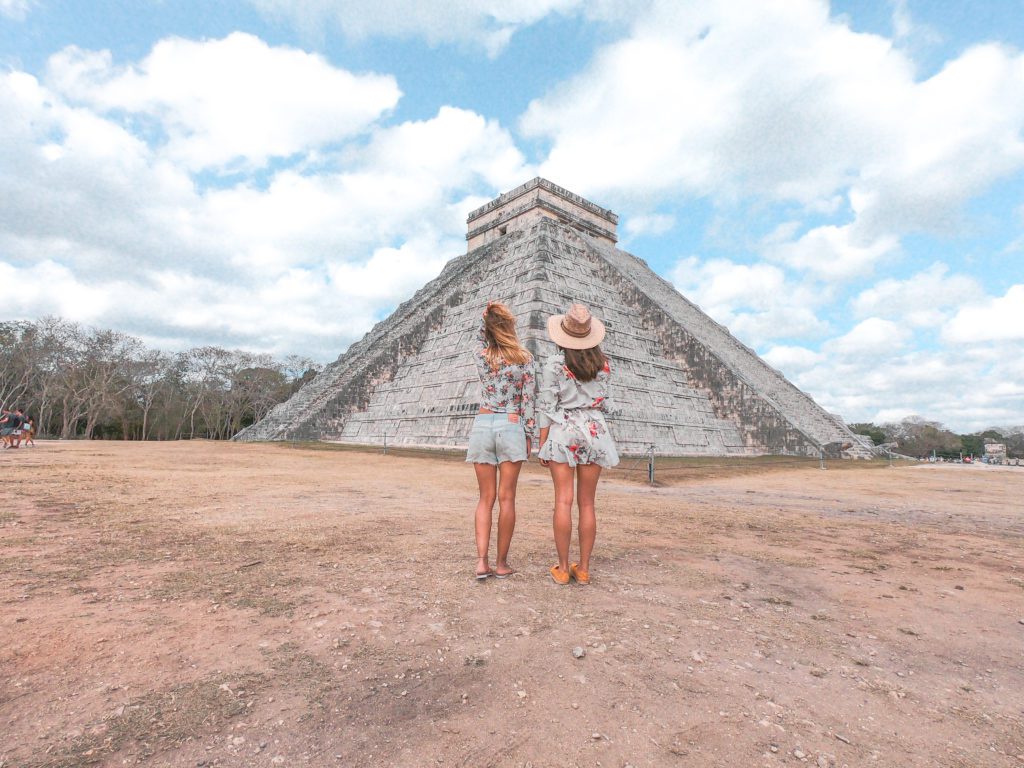 ➳
Discovery of the cenotes near Valladolid
On the second day, we left to visit Ek Balam temple and its X'Canche cenote. The price for the temple visit is 180 pesos (8€) per person – on this one you can climb, so enjoy! As for us, we were too hot, so we preferred instead to enjoy the Cenote. If I remember well, the entrance cost 70 pesos (3€) per person with the bike rental. It is about 2 km far, so avoid doing it on foot: the sun is beating down! X'Canche is super fun and as we are 3 kids with our girlfriend @stefy.heart, we stayed there 1 hour jumping into the water with the rope.
Another cenote not to be missed: Suytun! Located 15 minutes from Valladolid, this cenote is a must 🤩 On the other hand, it is a victim of its own success so it is better to arrive a little before the opening to be the first. At 9:10 am you will already queue to take pictures … Admission is 120 pesos per person and the life jacket (for hire) is compulsory if you want to swim!
💌 Other cenotes to Valladolid: Oxman (abseiling in the cave), Zaci (downtown Valladolid), Samula and XKeken.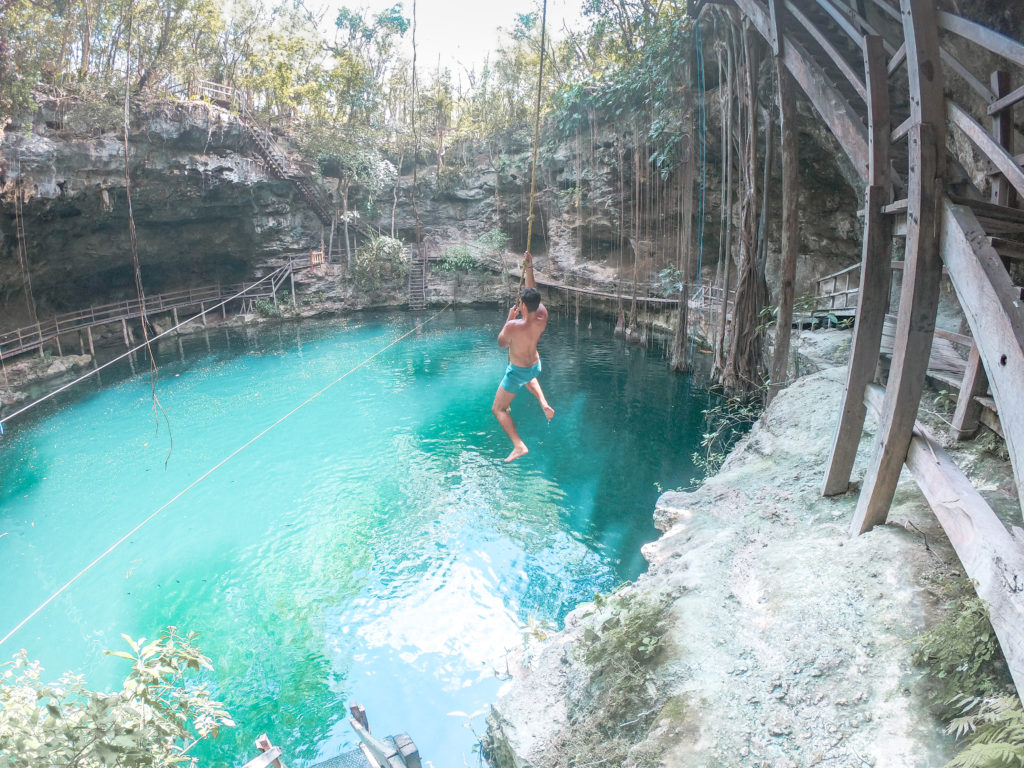 Day 10 : Bacalar
Where to sleep in Bacalar?
You absolutely must not miss Bacalar if you make a road trip in Mexico! The Bacalar lagoon is located 3 hours driving from Valladolid. Yes, indeed, it's far, but really, it's worth the detour. We stayed at the Aires Bacalar Hotel which we recommend you a 100%. It is very well located, and the decoration is crazy! Price: 50€ per night.
If the hotel is full or you don't like it, we have also tried and validated this one. Quiet, nice rooms, parking, good food and drinks.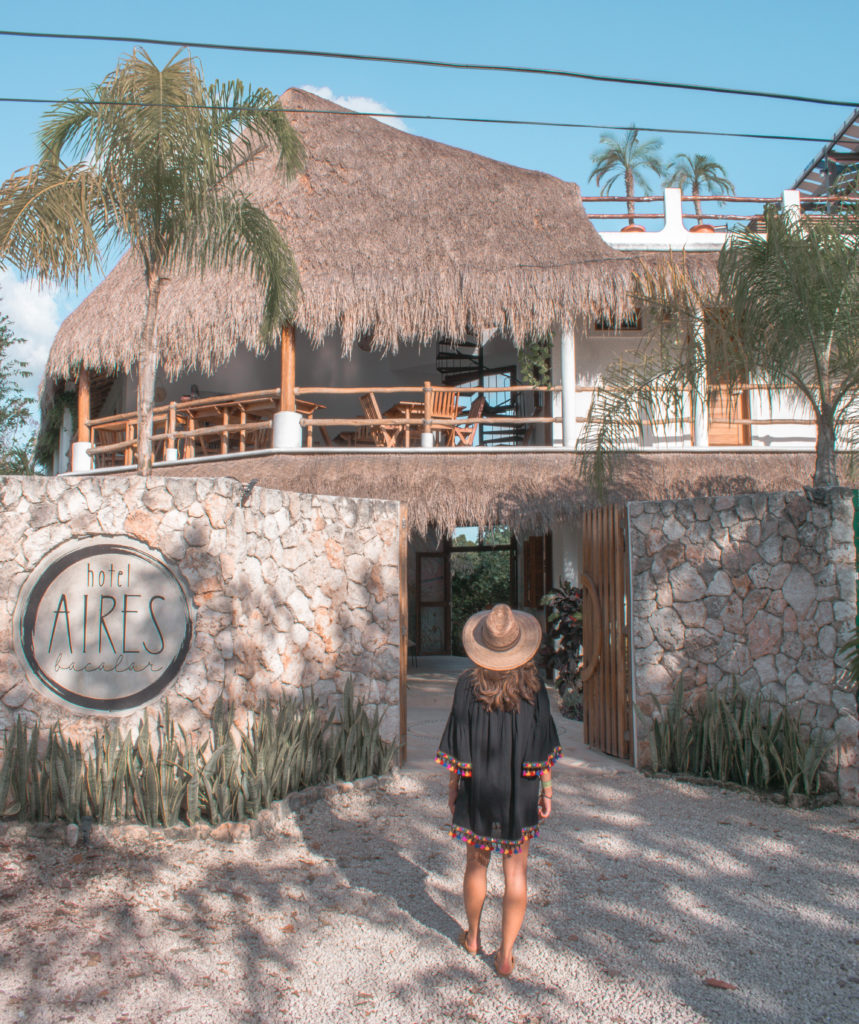 Bacalar is bordered by a 40 km long lagoon with 7 shades of blue. Luckily, the place is not yet a tourist spot, which makes it very peaceful and restful.
To discover Bacalar's wonders, we took a boat trip (reservation here). We understood that the lagoon was fed by huge cenotes and we could swim there. We also tried to find a small Mayan temple in the heart of a deserted islet, but the access was difficult because of the vegetation. This was such a great experience!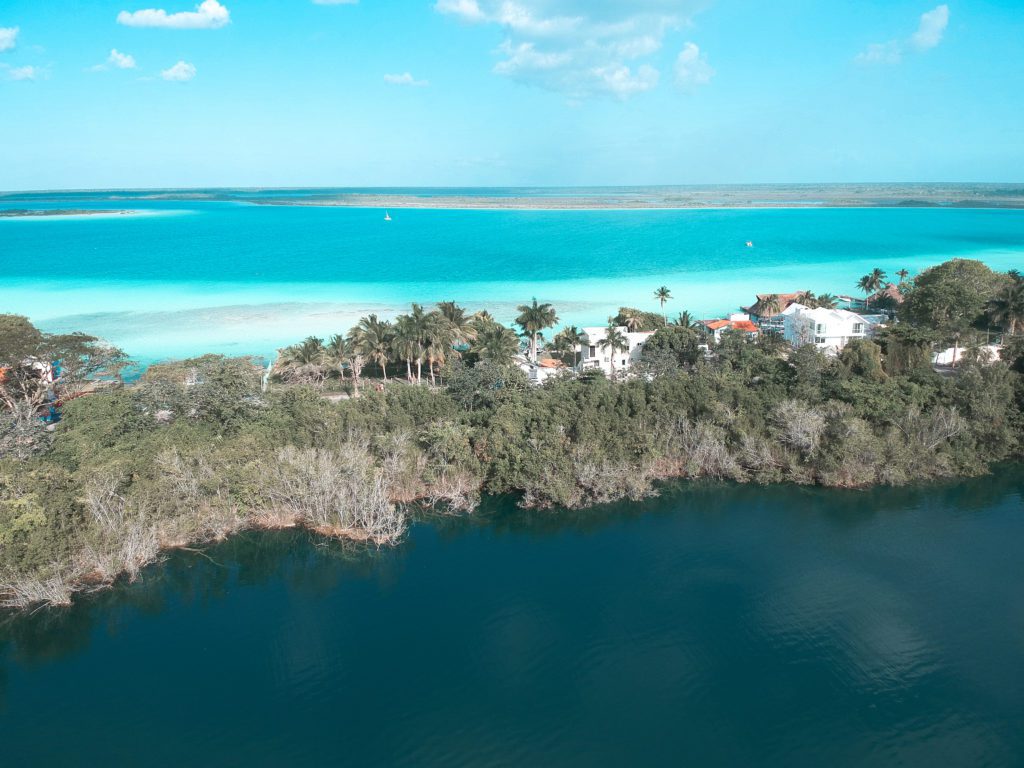 💙 You can also go to the Cenote Cocalitos to swim, have a drink and enjoy the swings! Access price: 35 pesos per adult (1.70€).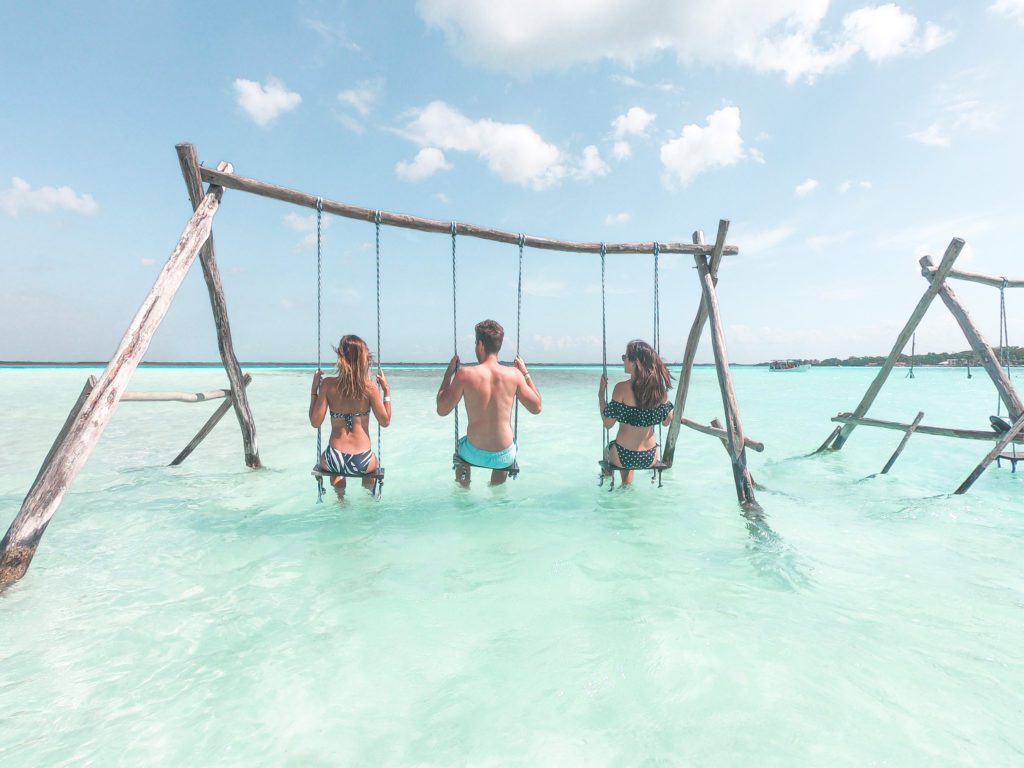 ➳ 
Other activity to do in Bacalar:
There, you can enjoy stand-up paddle, a sunset… these two combined attractions will give you for sure a great time on the Bacalar lagoon. Prices & Reservation
➳ 
Where to eat in Bacalar:
La Piña with its tropical decoration (price: €) – La Playita by the lagoon with a special mention for the burger (price: €€). These two great addresses are just a 5-minute walk from the Hotel Aires.
---
Road Trip in Mexico : 2 weeks itinerary (following)
Discover the second part of our road trip in Mexico, to visit Yucatan and Quintana Roo!

Where to sleep to visit the East Coast during your road trip in Mexico?
We recommend spending several nights in Tulum! It is quite central and there are many things to see around!
Here are several options:
The most economical but slightly off-center: The Chill Kanil.
The most lively and well located in Tulum City: The Mayan Monkey Hotel & Hostel Tulum. This hotel is prohibited for those under 18. Ideal for meeting people, partying, working in the coworking space or simply enjoying the bar in the pool 😀
The most luxurious in Tulum Beach: Zorba Villas. Ideally located by the sea, these villas are truly incredible 🤩 The welcome, the decor, the amenities, the pool, everything is perfect! For a rental with friends or family, this is the best!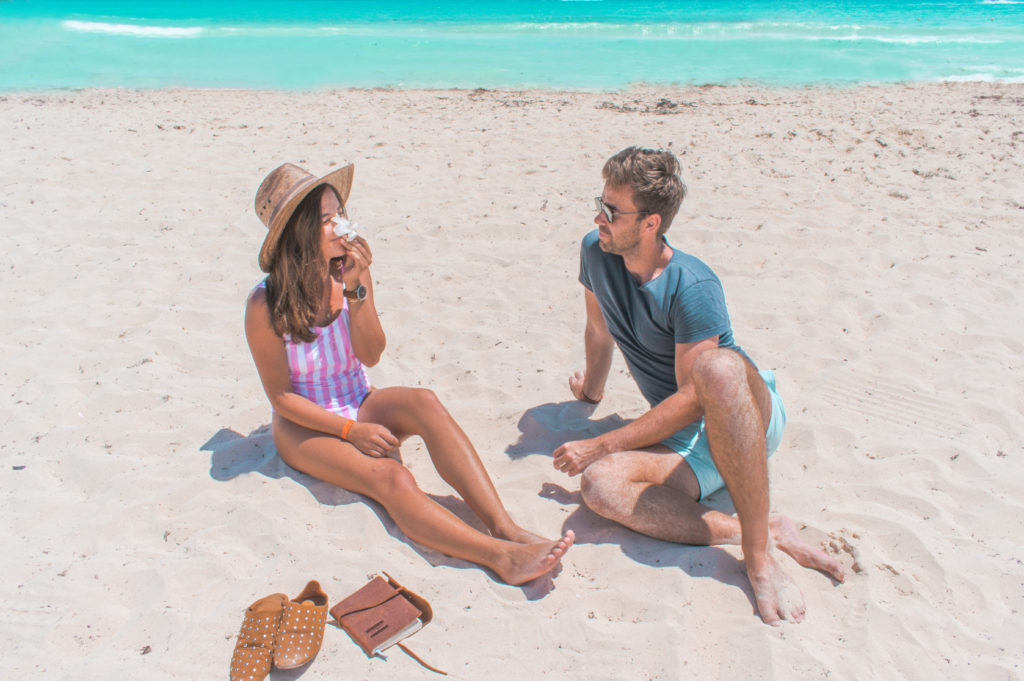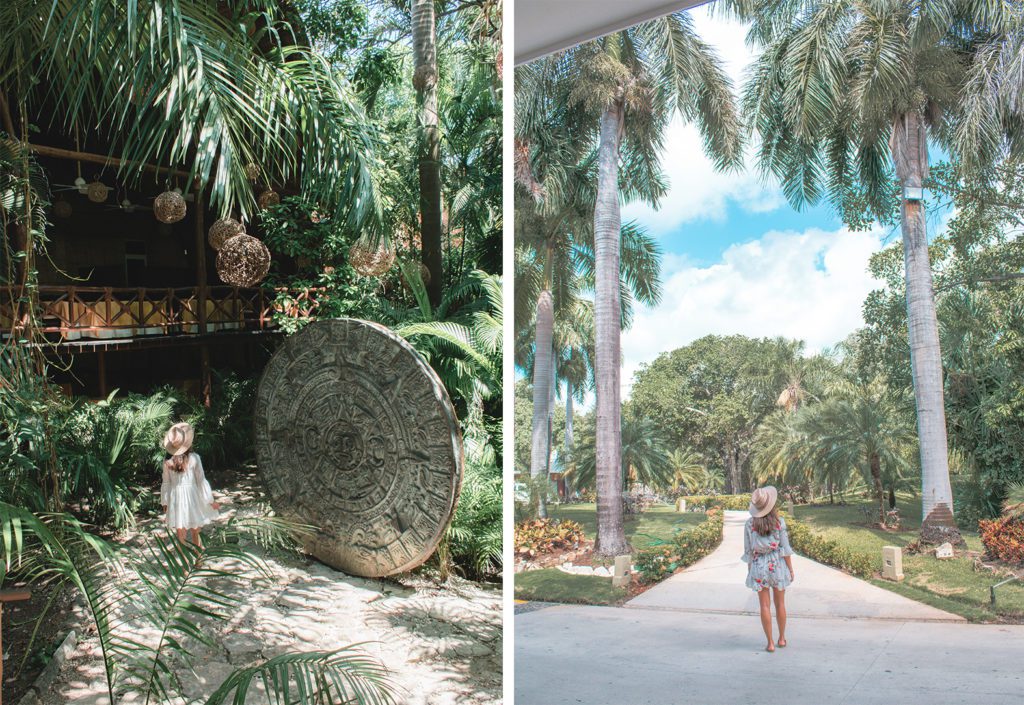 What to do around Playa Del Carmen?
1. The cenotes
Just a 30-minute drive away, you will find many cenotes, including THE most beautiful (in our opinion) in Mexico.
To visit the cenotes, you can rent a buggy: book it here!
✧ Cenote AZUL
The cenote Azul is entirely open-air. It consists of several basins. But above all, the water is just of an incredible color… Officially, this place opens at 9 am. But here's a little trick we've tested twice: go before it opens, access will be open. We went there at 8.30am and we could still enjoy a good half-hour of bliss in this little spot of paradise… You will even find small fish offering you a fish pedicure in the ponds. Price: 100 pesos (4,5€) per person.
Warning! After 10am, the cenote Azul turns into a public swimming pool. As it is for sure the most beautiful in Mexico, it is invaded by tourists. Really, the world belongs to those who get up early.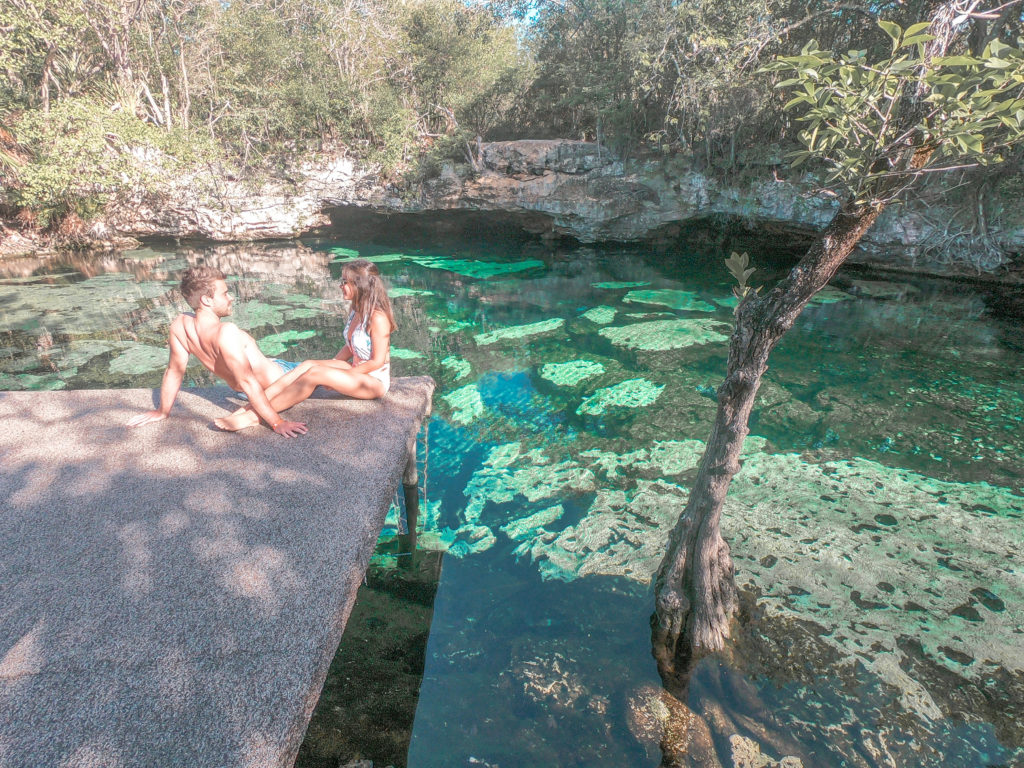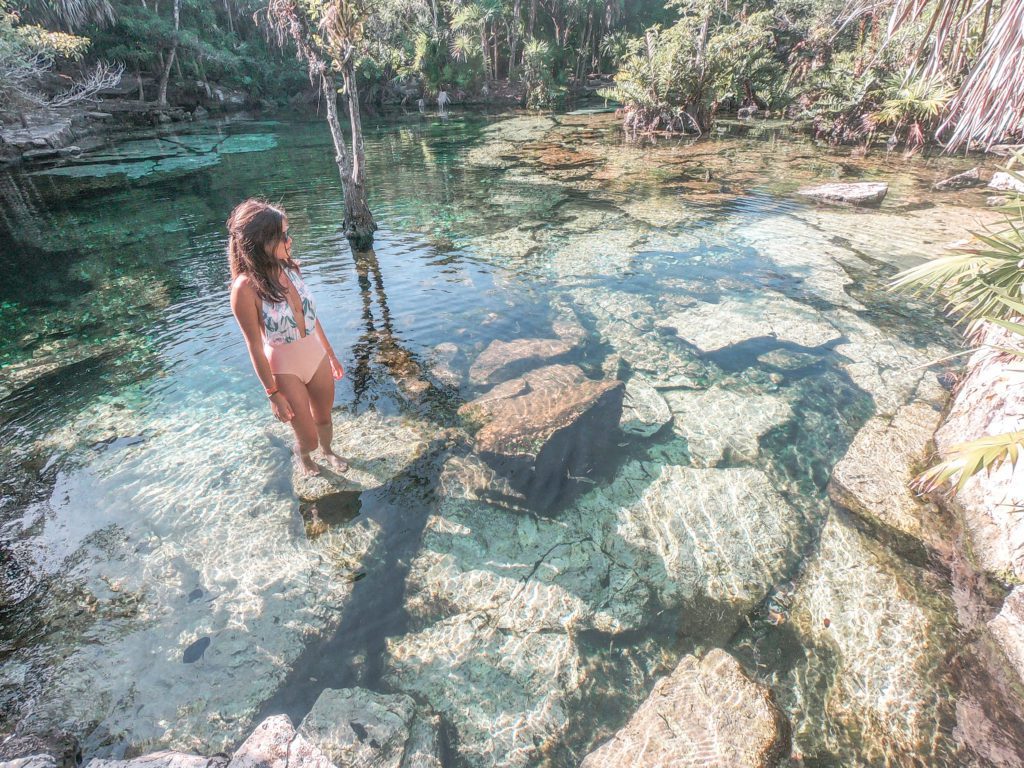 ✧ 
Cenotes Garden of Eden and Cristalino
Just before the cenote Azul, have a look at Jardin Del Eden and Cristalino, both superb too! You can almost visit the three of them on foot as they are so close to each other. Access to the cenote Cristalino costs 150 pesos (7€) per person and Eden 100 pesos. Remember to look at the opening days of the cenotes where you want to go, as some of them are closed on Sundays.
If you have to make a choice, we advise you to go absolutely to the cenote Azul and in priority to the cenote Jardin Del Eden (bigger, lots of fish).
Visiting this cenote was pure anxiety for me (Aurelie). This huge black hole where just one ladder is protruding, is really scary. On top of that, there are lots of bats in the cave that scream and flap their wings… Well, just like a horror movie!
Whether you are brave or a big freak like me, go visit the Calavera cenote for its unusual side. Though it is located near Tulum, it is much less known than the others and so there was nobody there. It is possible to jump from 4 meters high in a small hole and climb up the ladder… sensations guaranteed! Price: 100 pesos (4,5€) per person.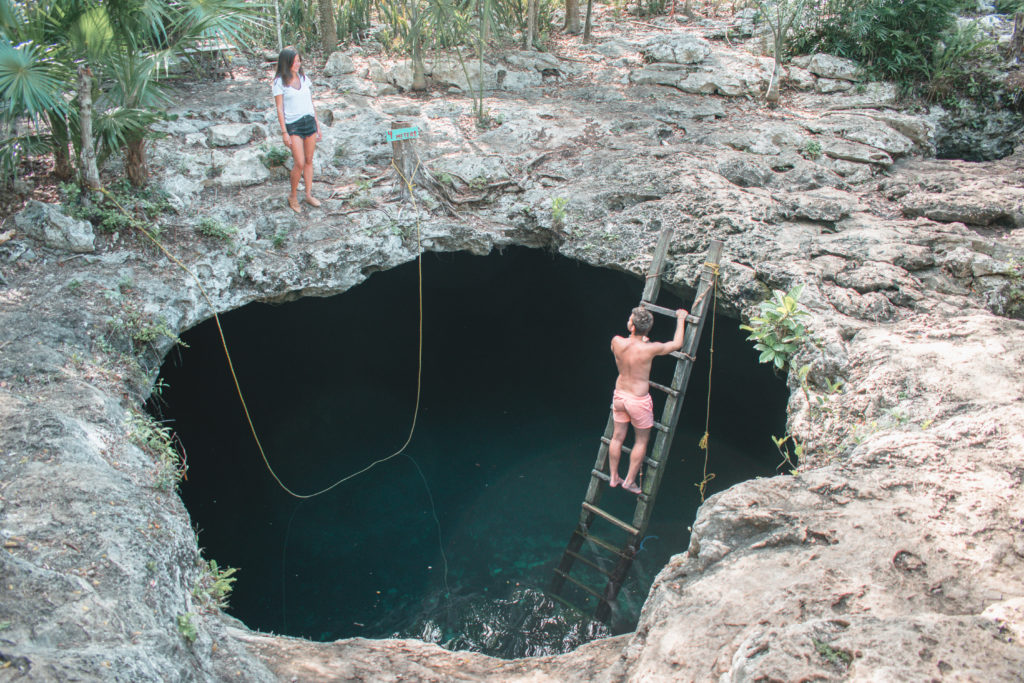 2. Visit Tulum
Well… Tulum is the "boho chic" temple! We did not know what really expect when we discovered Tulum. Though it is very touristy, there are some nice sides about it. For those who like bohemian decoration, there are so many stylish places that you don't know where to start with. Clearly, if you get the opportunity to stay in one of the luxurious hotels in Tulum, you will spend a great vacation.
Algae was a problem during our visit. There were algae everywhere, which was a huge stain on the paradise beaches. However, if you wish to visit Tulum, here is the list of things not to be missed:
What to do in Tulum?
Go to the Playa Paraiso, really beautiful with its lying palm trees. The sand is beautifully white and so fine! Unfortunately, it was full of algae, we'll post some pictures after…
Drive through Road 15 to marvel at the splendid hotels, restaurants, and beach clubs. Seldom have we seen such amazing decorations!
Discover the sublime Caribbean landscapes of Tulum, an ancient fortified Mayan city, as well as the astonishing caves of Río Secreto.
Visit the Mayan ruins of Tulum that border the sea. The entrance ticket costs 70 pesos (3€). We advise you to stop at the ticket office next to the Starbucks at the entrance of the ruins to get your tickets: you will pay 1€ more but you won't have to wait in line. Warning: when we arrived at the parking lot where the guides are, a man tried to make us believe that a guide was mandatory and that the competing parking lots cost 10 US dollars per hour. This is totally untrue. In real, it cost us 30 pesos (1.35€).
Eat the best tacos in Mexico at the Taqueria Honorio. This facility is extremely popular with Mexicans and some tourists. Don't miss an opportunity to enjoy the Taqueria Honorio during your visit to Tulum. The dishes are delicious and so cheap: 1.45€ for a taco, 1.80€ for a torta (sandwich)… In short, paradise! Update August 2019: the Taqueria Honorio has unfortunately closed and has been replaced by a garden with several food trucks (which are delicious according to a reader!).
Have a drink on the Ki'bok Night Terrace rooftop. As lovers of rooftop terraces, we went there when we saw it. You can also eat there: the chef cooks sausages and other food on a barbecue in front of you.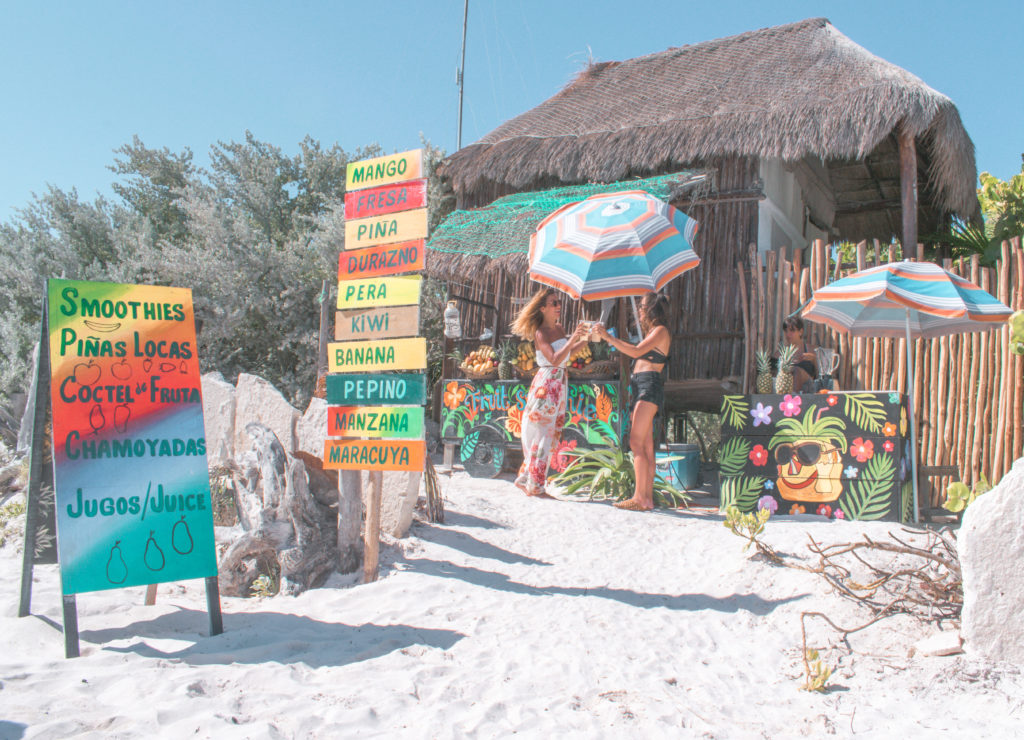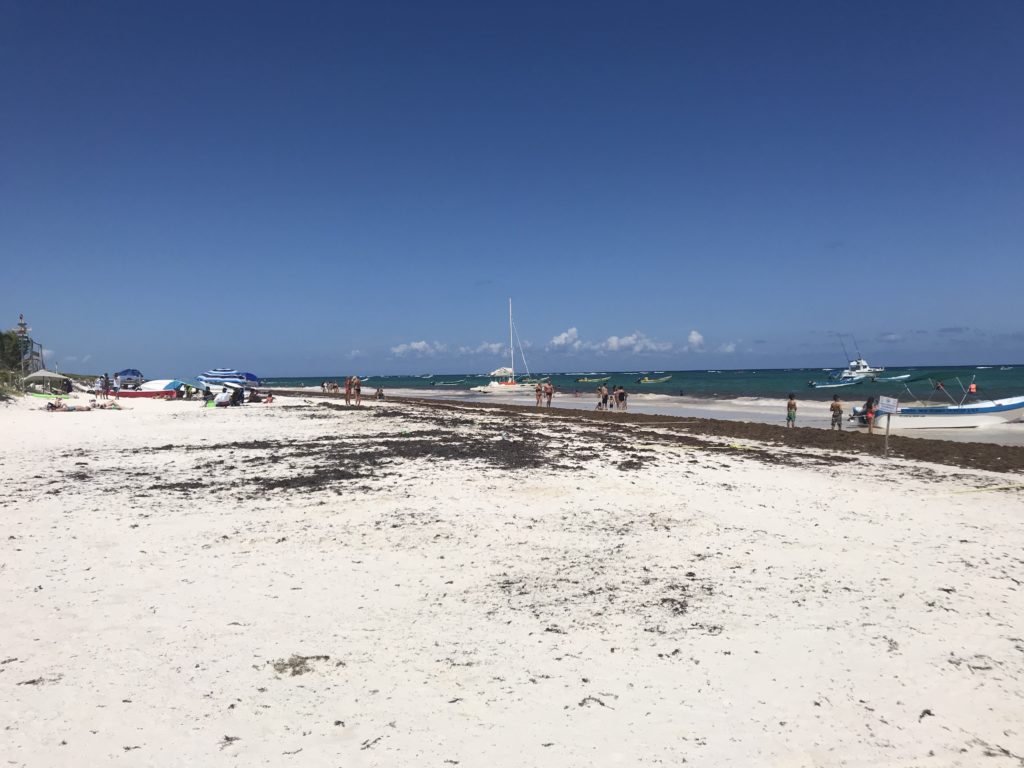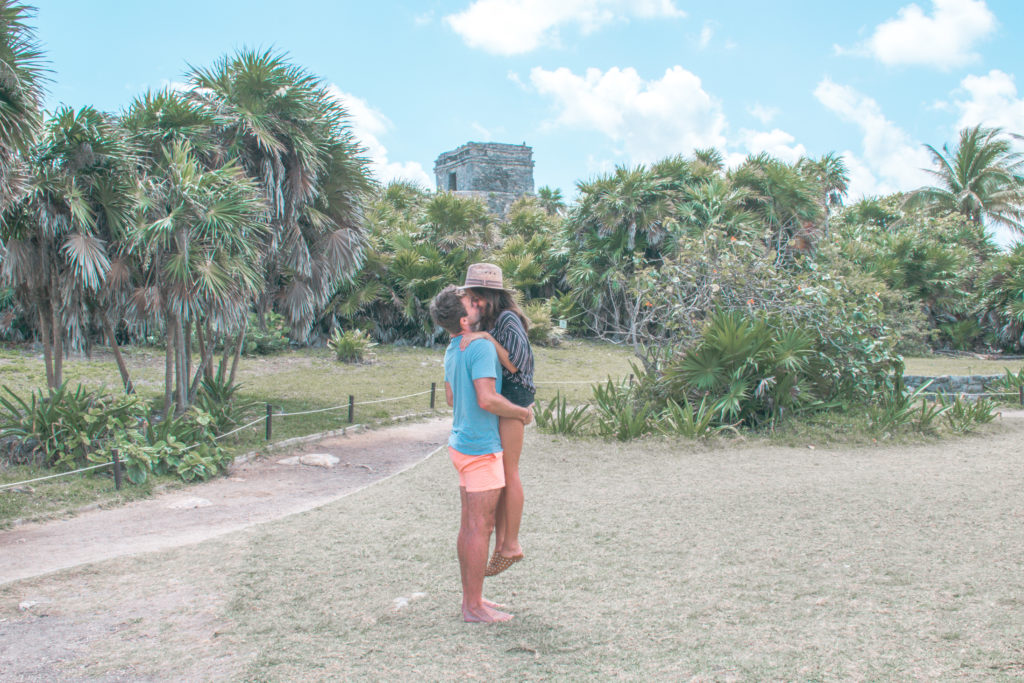 3. Nopalitos Lagoon and Sian Ka'an Reserve
On the road between Bacalar and Tulum, take a swimming break at the Nopalitos lagoon near Muyil which borders the Sian Ka'an nature reserve. First, the shades of blue are gorgeous. Second, it is surrounded by vegetation, which makes it very peaceful. For yoga enthusiasts, classes are given there on paddles. Also, the sand is very muddy, so you get free clay scrubs!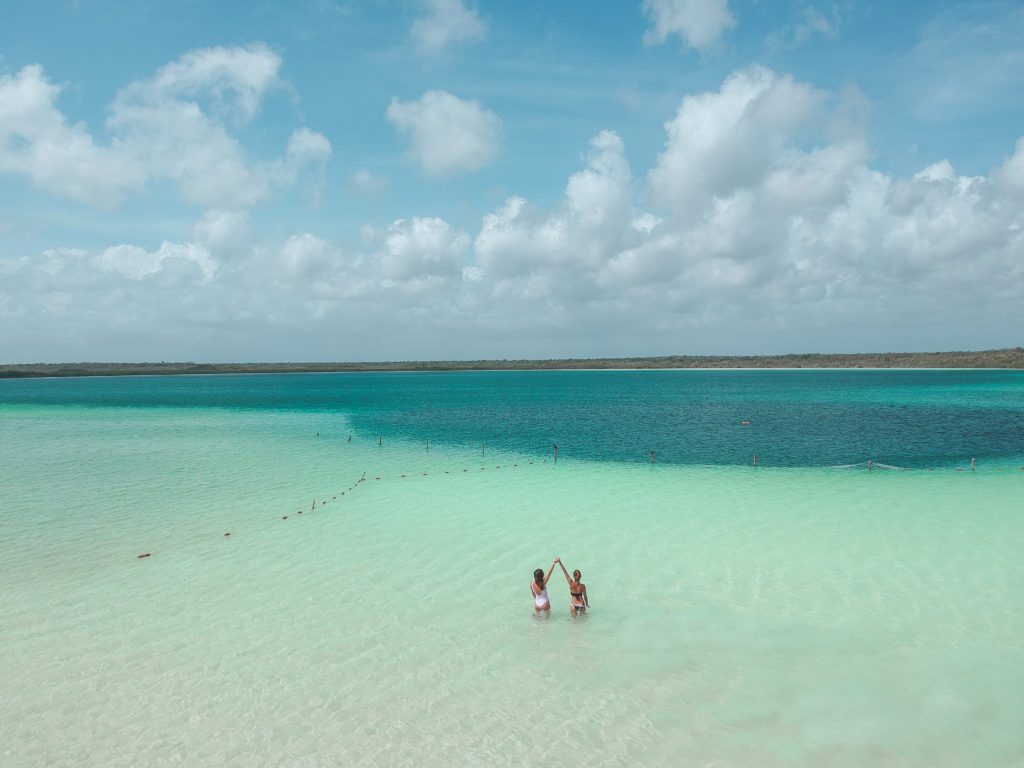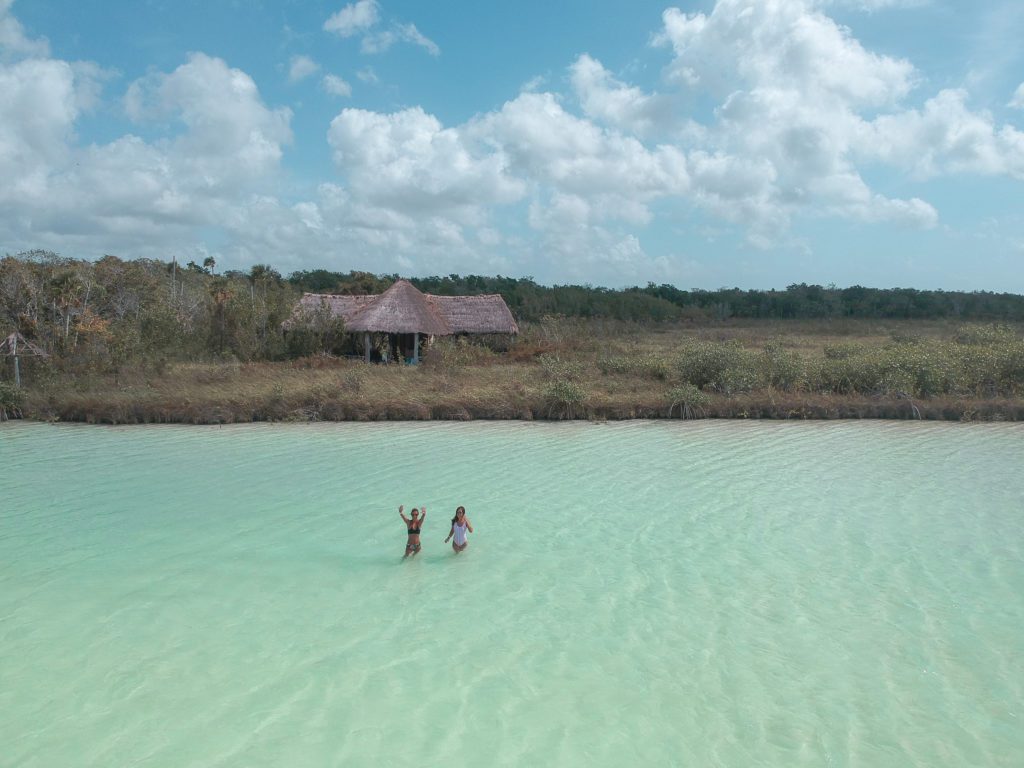 It is also possible to visit the Sian Ka'an reserve by boat during your road trip in Mexico. Once in Muyil, go and park at the entrance of the archaeological zone. The visit is broken down into several parts:
You will see Mayan ruins
You will walk 15 minutes through the jungle…
Climb to the 15-meter observation tower to admire the scenery.

UPDATE August 2019: Access to the watchtower is now subject to a fee (50 pesos). 

You will arrive at the pier.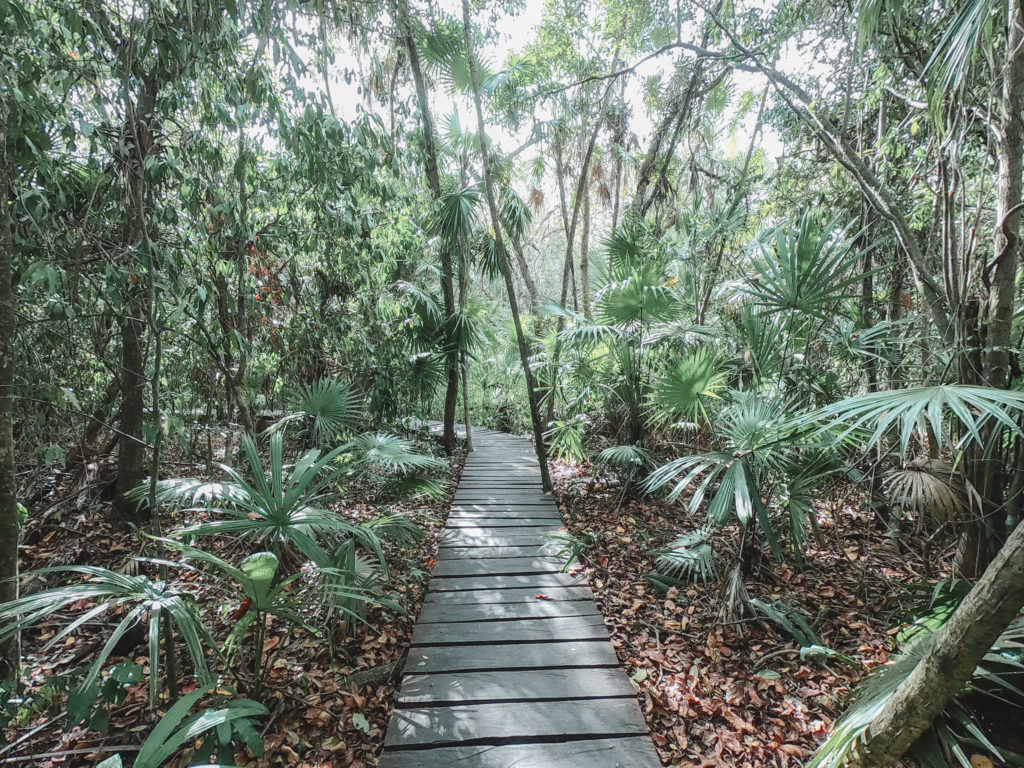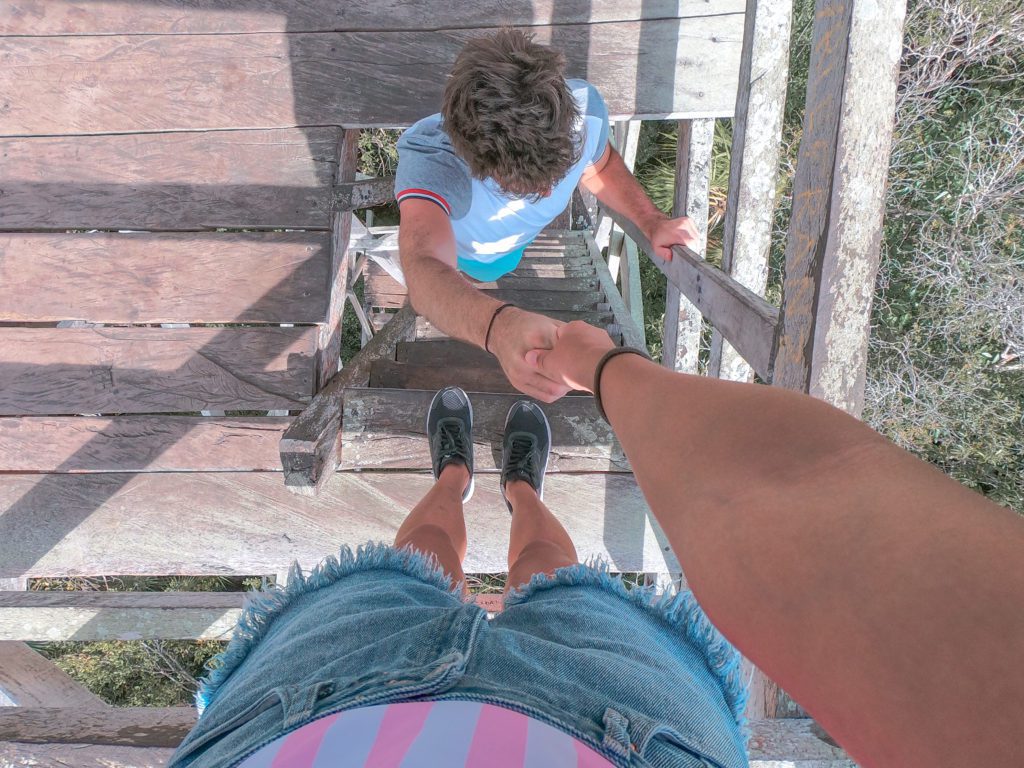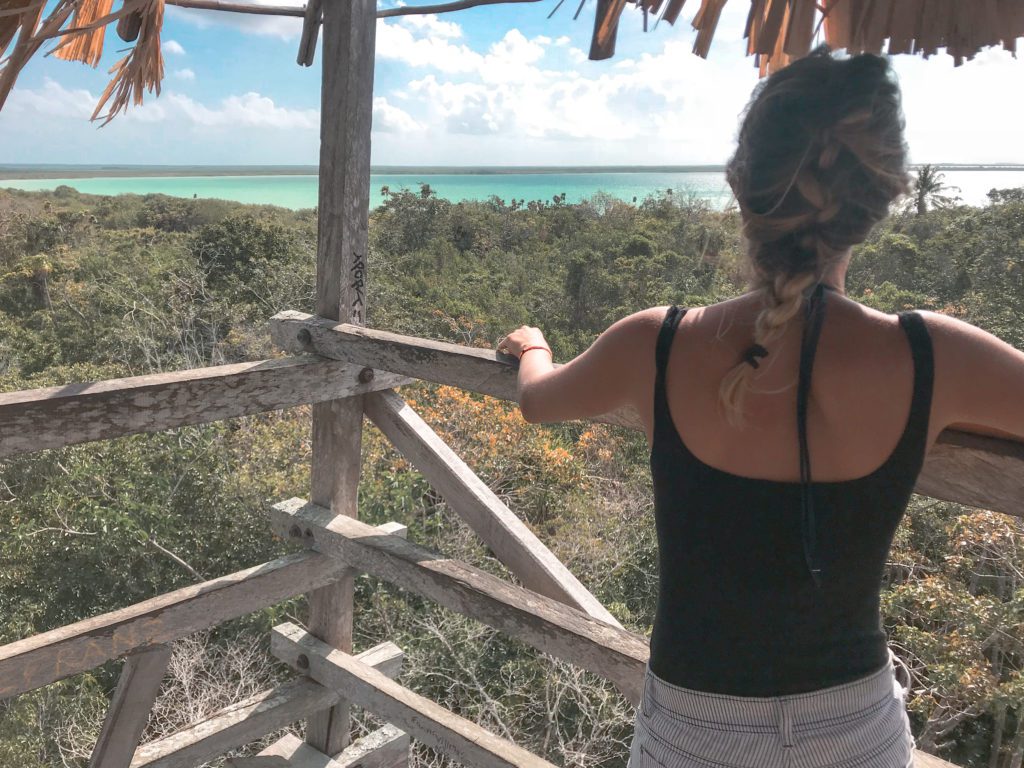 If you don't want to see the ruins, go directly to the lagoon edge by entering Laguna Tours Muyil on your GPS.
To take a boat tour in the Sian Ka'an reserve, you have to pay 600 pesos per person, and this is non-negotiable (takes about 2 hours 30). We decided not to do it, first due to the price (yet 90€ for us 3), but also to the weather and the mosquitoes. But it's a genuinely nice thing to see. Update August 2019: According to a reader, the price is now 1,000 pesos per person for a 1 hour 30 tour! The boat crosses a first lagoon, passes through a small stream to flow into a new much larger lagoon (called Chunyaxché) and then joins a small channel where you can swim in transparent waters surrounded by greenery. After swimming, your guide will ask you to go back overland while he goes up the canal to pick you up in the big lagoon to take you back to the pier.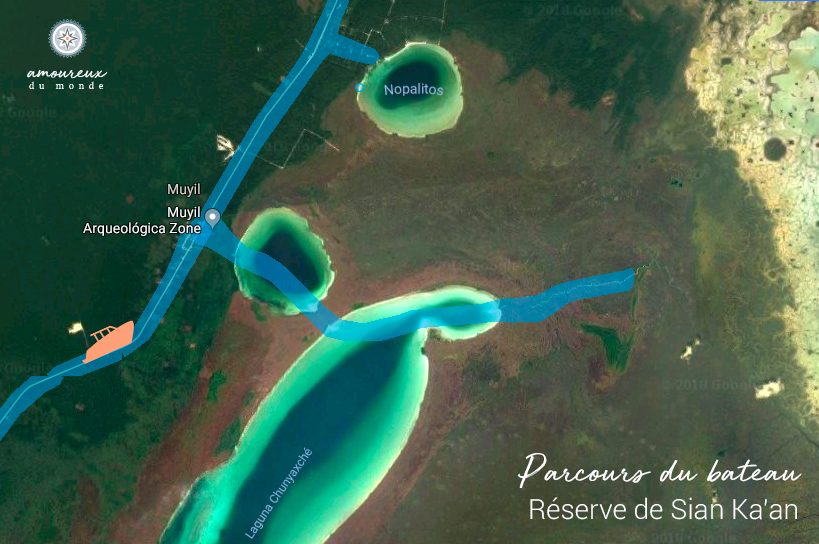 4. Swimming with turtles in Akumal
We were really looking forward to living this experience for the first time. Unfortunately, after asking around, we decided not to do it. We have devoted an entire article to explain the reasons for boycotting Akumal. Indeed, the animal welfare cause is deep to our hearts.
We hope we gave you some good suggestions for your future road trip to Mexico! As usual, we are happy to answer your questions in the comment section. See you soon!