What to do in Bali – The itinerary of our trip to Bali
Our trip to Bali was our first step in Asia, and not the least, after more than 2 months in Australia. To tell you the truth, we were a bit tired of Australia so much we were eager to discover Southeast Asia! We stayed there for 3 weeks from January 27 to February 21, 2017. It took us 6 hours by plane from Melbourne.
Arriving at the end of the day we just had time to realize the incredible density of traffic and the almost total absence of traffic laws! We might as well tell you that the shock when arriving from Australia is quite present. Here is our itinerary during our trip in Bali:
Find a second itinerary of 3 weeks in Bali, from South to North. You can of course make a mix of both itineraries to know what to do in Bali!
Seminyak / Kuta – 5 days
We spent our first 5 days in Seminyak, located west of the capital and only 30 minutes from the international airport. It is the resort of the island for partying and surfing, so it's the landmark of the Australians. There are a lot of trendy restaurants / bars / cafes / nightclubs / stores. You can really find everything, from the small cheap restaurant to the expensive gourmet restaurant.
On the second night we decided to celebrate our 3 years together 🙂 We found an address with live music and affordable cocktails! The 3 singers were so adorable that they let us choose the whole repertoire and Aurélie even got to sing several songs with them. After only 24 hours on the island we are already under the charm of the population! All smiling, all welcoming!
If you want to admire a sunset on Kuta, go to the Potato Head Beach Club. If you don't like to play jet-setter, you can stay on the beach… We didn't have the chance to see a beautiful end of the day since we had the good idea to go to Bali in the middle of the rainy season, see by yourself on this picture.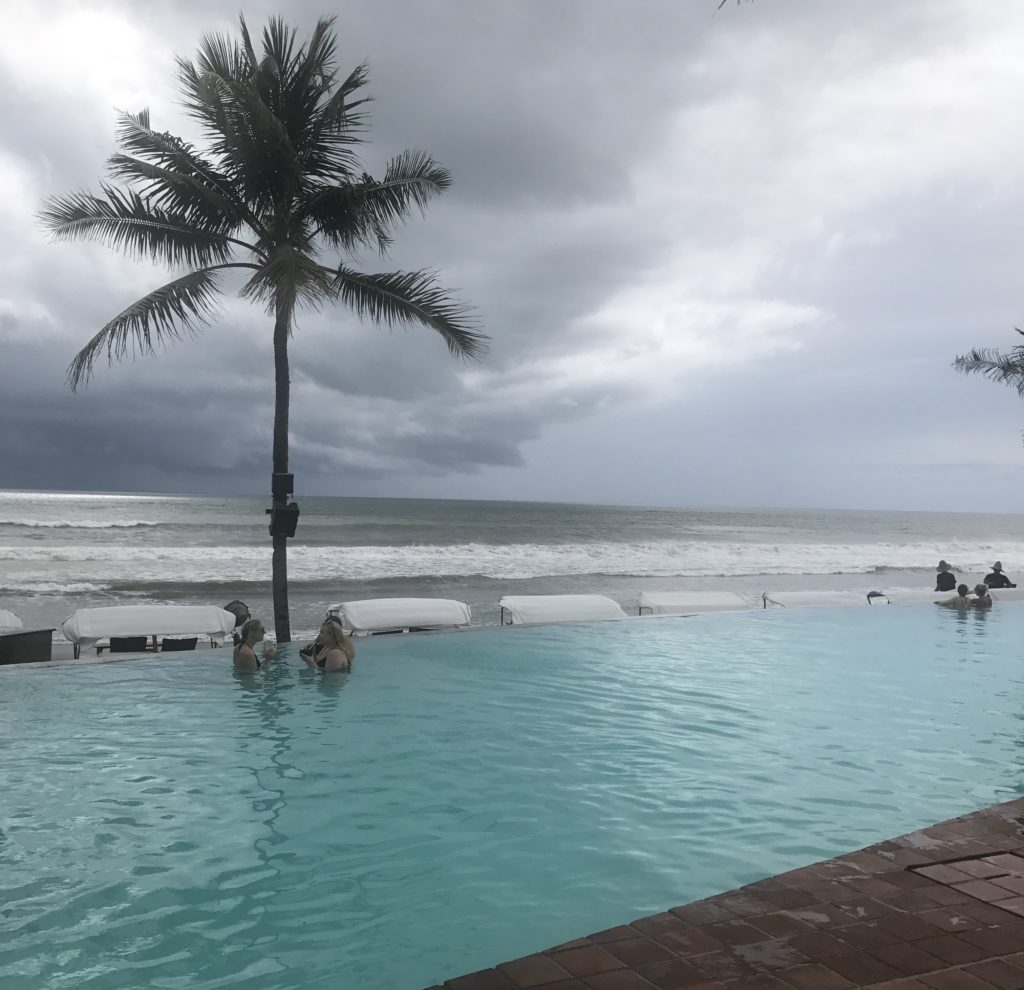 Ubud – 5 days
Located in the center of the island, Ubud is the city where to stay! Less lively but more authentic than Seminyak, it still has many restaurants and cafes for all tastes. There is a huge indoor / outdoor market with many handicrafts. It is in this market that we bought our big dream catchers fixed to the walls at home!
It's a long city with a main avenue that is always jammed and only one way streets. The main attraction of this city is the Monkey Forest! Open from 8:30 am to 6 pm, you will have to pay 3€ to enter. Be careful to close your bags and not to leave your sunglasses or hat on your head, these animals are small thieves and they are very lively! Yann had the misfortune to kick a plastic bottle which was used as a toy to one of them, the monkey came back in fury and started to run after him! Apart from that they are adorable, they rest on your shoulder and you can give them food.
In Ubud it is essential to rent a scooter to explore the surroundings! There is, of course, the beautiful rice terraces of Tegalalang. You have to be lucky because the landscape is magical when the harvest has not yet taken place: all the rice fields are green. For our part, the harvest had taken place a few days before and the soils were muddy, but this does not take anything away from the beauty of the place. There are also waterfalls like the one of Nung Nung and its 1000 steps going and coming back 😉 or the Waterfall Tibumana Bangli which is very pretty.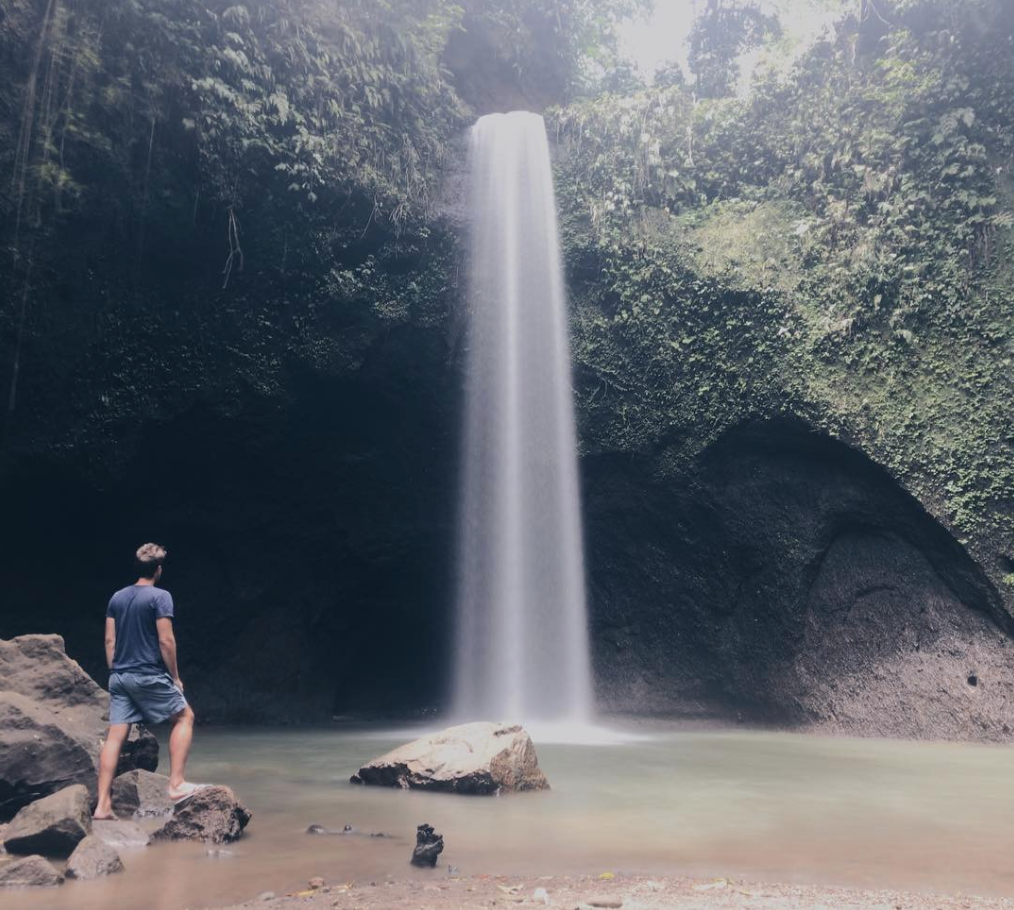 Sidemen – 2 days
Sidemen, it's a bit our favorite of the stay. It is the authentic Bali! Sidemen is a small mountain village at the foot of Mount Agung, which is currently close to eruption. It is a good place to live: tourism is not too present as in some places of Bai, prices are very cheap and temperatures are milder. Also, above all, the inhabitants are incredibly kind. We slept in a sumptuous hotel (Cepik Villas) with a view on the rice fields.
If you are looking for something off the beaten track in Bali, this is the place to be.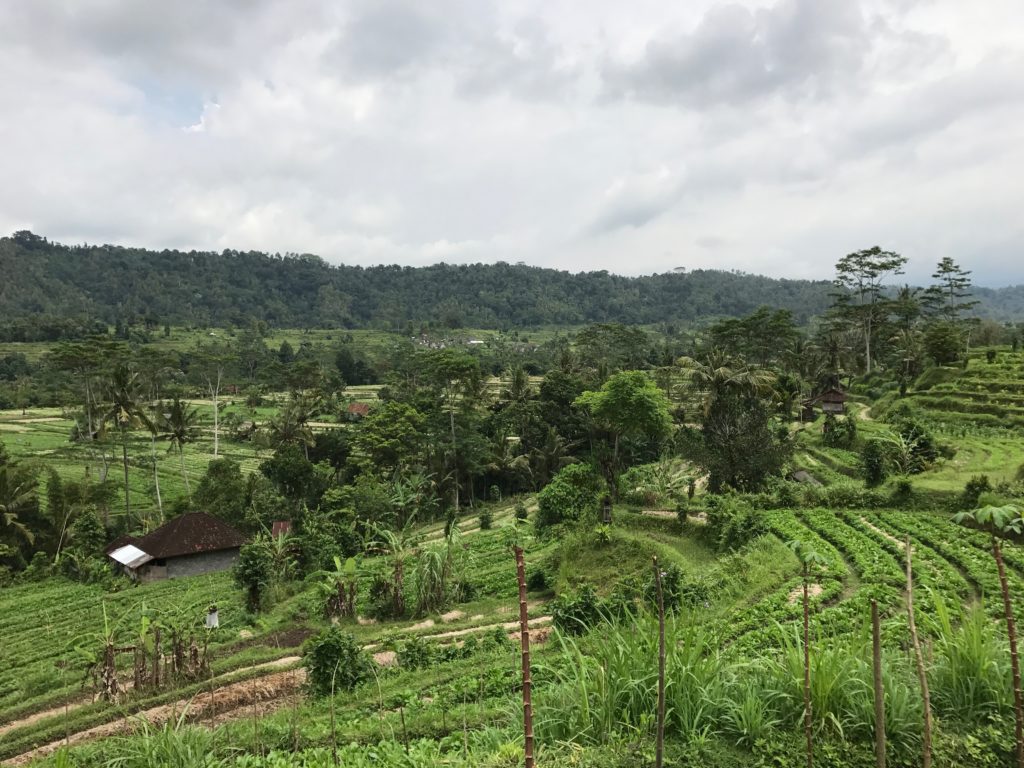 Amed – 3 days
We went to Amed to make the crossing to the Gili Islands. We have read a lot of good things about Amed but we didn't like it too much. There are a lot of diving schools but we couldn't do any because of Aurelie's ear surgery a few months before. We were a bit bored in Amed because we didn't find that there was much to do or see. Maybe you have some tips for us for the next time? Tell us in comments!
Gili – 4 days
The crossing between Amed and Gili Trawangan takes 45 minutes by speed boat. Prices vary quite a bit in Bali but it cost us 50€ round trip. Overall, we found beautiful places in the Gilis but the welcome was less warm than in Bali – at the same time, it is difficult to do better! We spent all our nights on Gili Trawangan and visited the other 2 islands by shuttle and kayak.
To situate you, there are 3 Gili islands:
– Gili Trawangan, the island closest to Bali where tourists come to party. There are two sides: the "Sunset" part in the west (necessarily) which is the least animated. You will find beach restaurants, hotels and the famous swings with feet in the water very Instagrammable. Then, there is the "Sunrise" part, where the boat disembarks and there it is the American Spring break! Bars, restaurants and more bars.
We went around Gili Trawangan with the hotel's bikes – it was very hot but you don't need to be a great sportsman because there is no relief. This is when we discovered the best of this island, getting off the beaten track and away from the touristy shops.
– Gili Meno is the quietest and smallest of the three. We reached this island from Gili T by kayak. With the waves, the trip was hectic. The island is nice but we were disgusted to see how much the beach was dirty (consequence of the rainy season notably). We even found there a drowned dog corpse (nice). We made all the same the tour of the island on foot.
– Gili Air, it is the island of families! It is a mixture between the calm of Meno and the storm of Trawangan. We were there for 1 day, especially to do a shooting with the talented photographer Caroline B. The landscapes are very beautiful and the shops are a bit bohemian so it's good to live there. It is a very nice place to relax while enjoying the modern comfort.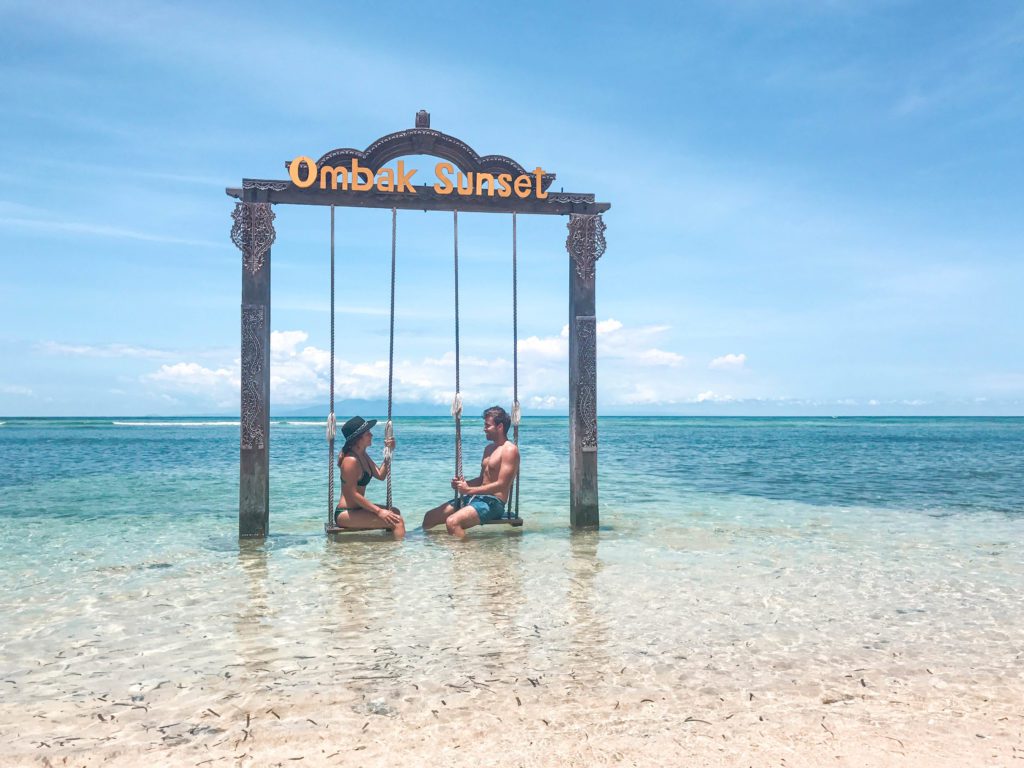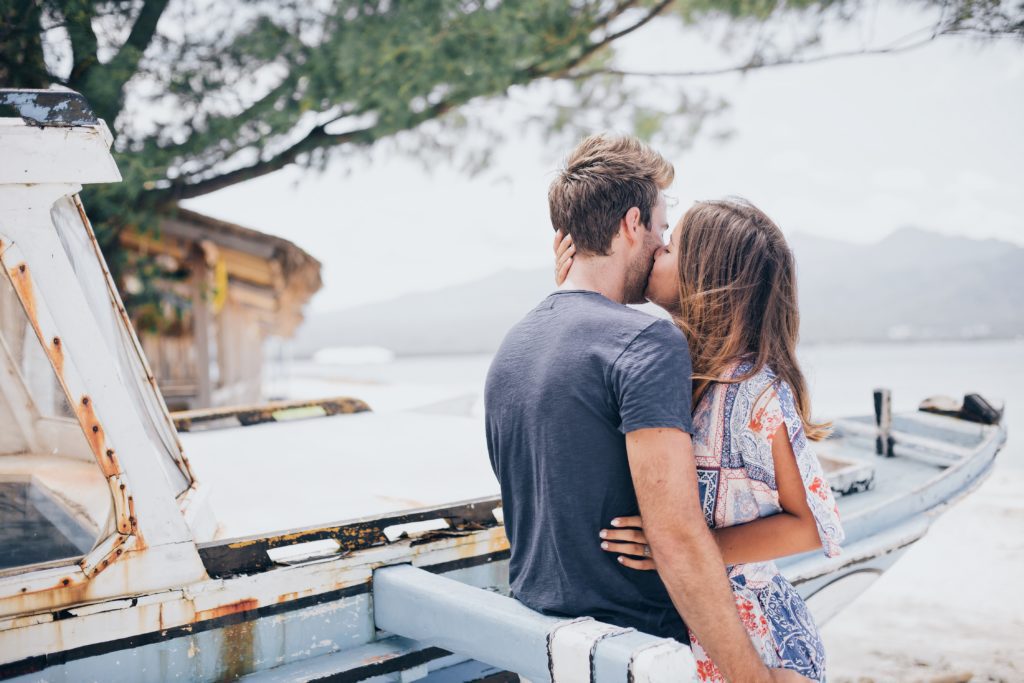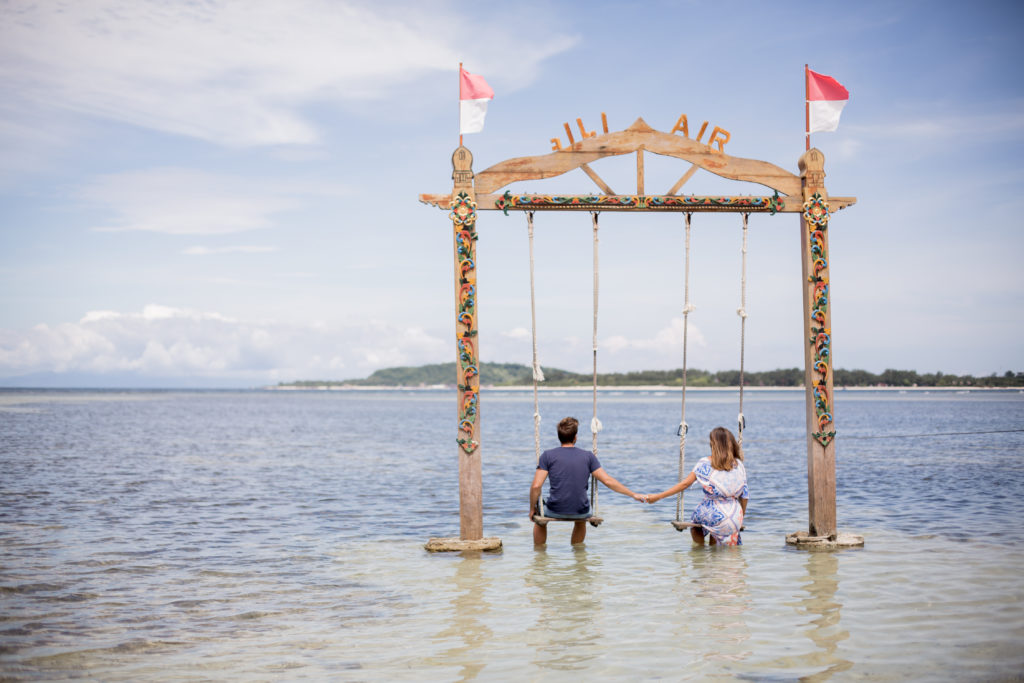 What to do in Bali? Another island to discover at 30 minutes from Bali, Nusa Penida !
Sanur – 4 days
Sanur is a city close to the airport and therefore stuck to the capital Denpasar. This corner of Bali is very developed and westernized. We still enjoyed Sanur much more than Kuta/Seminyak. Yes it is touristy, no it is not very authentic but even so, it is not superficial. There is the beach (not the most beautiful, of course), many nice restaurants and bars and activities.
---
We took 3 weeks and it was not enough to see everything because the list of things to see in Bali is so varied. As you will have understood, we are totally in love with this destination. Not blind though, we prefer to warn you that there are bad sides – like everywhere. One of the points that bothered us the most: the dirt.
Yes, it is very dirty, not only because of the mass tourism on the island, but also because the Balinese are not yet as educated as we are about environmental issues. Therefore, there is garbage almost everywhere – even in beautiful places like waterfalls, forests… Also, like in many poor countries, stray animals and the way they are treated is a real problem. Fortunately, there are associations on Bali that do a great job to try to improve these points.
As for the problem of harassment from street vendors, we did not find it abusive and, unlike in Morocco for example, no one was ever aggressive or grabbed our arm to get us into his store. On the other hand, the incessant horns of the cabs when we walk in the street quietly (notably in Seminyak and Kuta) were rather unbearable.
On Bali, we preferred to see the glass half full than half empty because we consider that the positive points of this destination compensate very largely the negative. We go back there in May and our hearts are already beating fast!
---
Find the list of hotels and restaurants that we recommend in our article Practical Information! We hope to have answered your questions on What to do in Bali!