Itinerary for a road trip in Brittany
During one week of road trip in Brittany, we went to discover Finistère, one of the departments of Brittany which is located at the western point of France. The landscapes are very varied and we were surprised by the beauty of this region. Sensation BretagneLIEN guided us through 4 main destinations, which constituted our itinerary for this road-trip in Brittany. What we liked in Brittany is the nature in all its splendor. The Bretons are respectful of their land and transmit this love to the tourists. The tourists, moreover, are discreet: we are far from the crowded beaches of the French Riviera!
As you may know, we love to put France in the spotlight on the blog. In fact, you can find all our articles to discover our beautiful country right here.
---
Is the weather nice in Brittany?
First of all, let's take a look at the clichés that tarnish the image of Brittany. The image we had of Brittany was this:
Yes, it is true, in Brittany it sometimes rains a little more than elsewhere. But do not imagine that the Bretons never see the sun! It is rather what they make us believe to preserve their beautiful lands. In reality, we had mostly a very beautiful weather during our stay in Finistère. We liked very much the climate because we did not feel suffocated by the heat. After, the weather can be very variable from one year to another.
 Take absolutely some sun cream with you! The temperatures are mild so it seems like the sun does not hit. But if it really does, be sure to protect yourself.
The temperature of the water
No, the water is not at 10°C all year round. For us, the water temperature was around 22/23°C. As the weather was very nice, it was a bit higher than usual. Expect in summer a temperature between 18 and 24°C maximum. Certainly, for those who are cold, it stings a little! Tell yourself that it firms up the skin
La température de l'eau
Non, l'eau n'est pas à 10°C toute l'année. Pour nous, la température de l'eau était autour des 22/23°C. Comme il a fait très beau, c'est un peu plus élevé que d'habitude. Attendez-vous en été à une température oscillant entre 18 à 24°C au maximum. Certes, pour les frileux, ça pique un peu ! Dites-vous que ça raffermit la peau ?
---
Road Trip in Brittany : Itinerary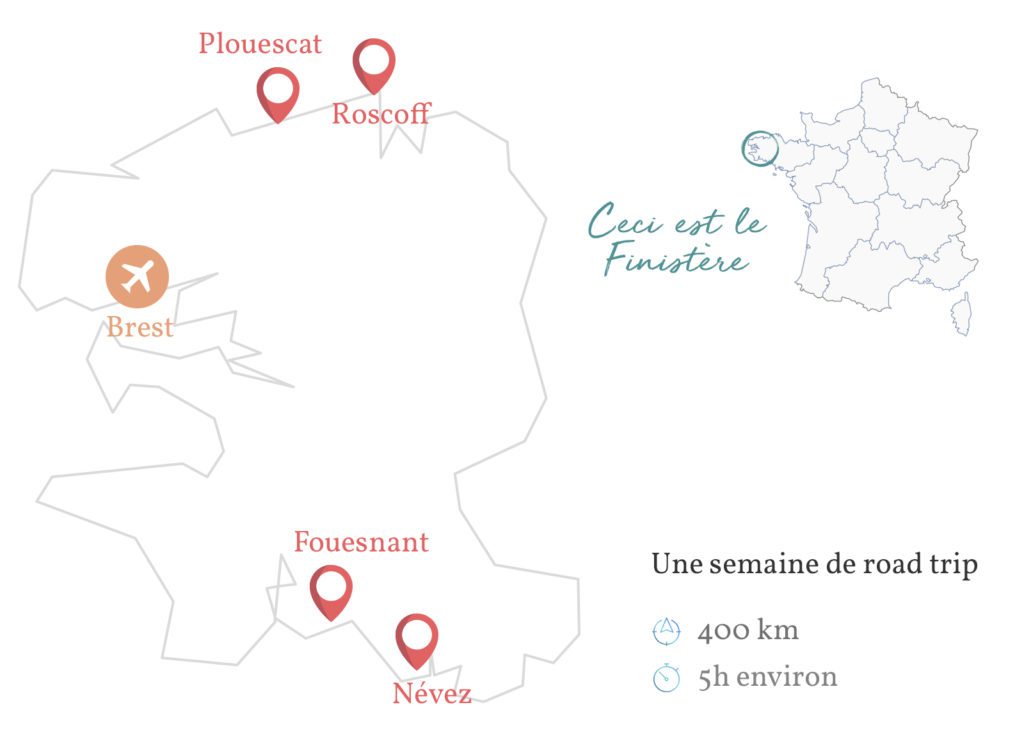 ROSCOFF – Day 1
Landed in Brest, we drove about 50 kilometers to reach our first destination. We start our road trip in Brittany with Roscoff, a nice harbor town where life is good. The city center is old and very cute. It reminded us a bit of the style of the Norman villages.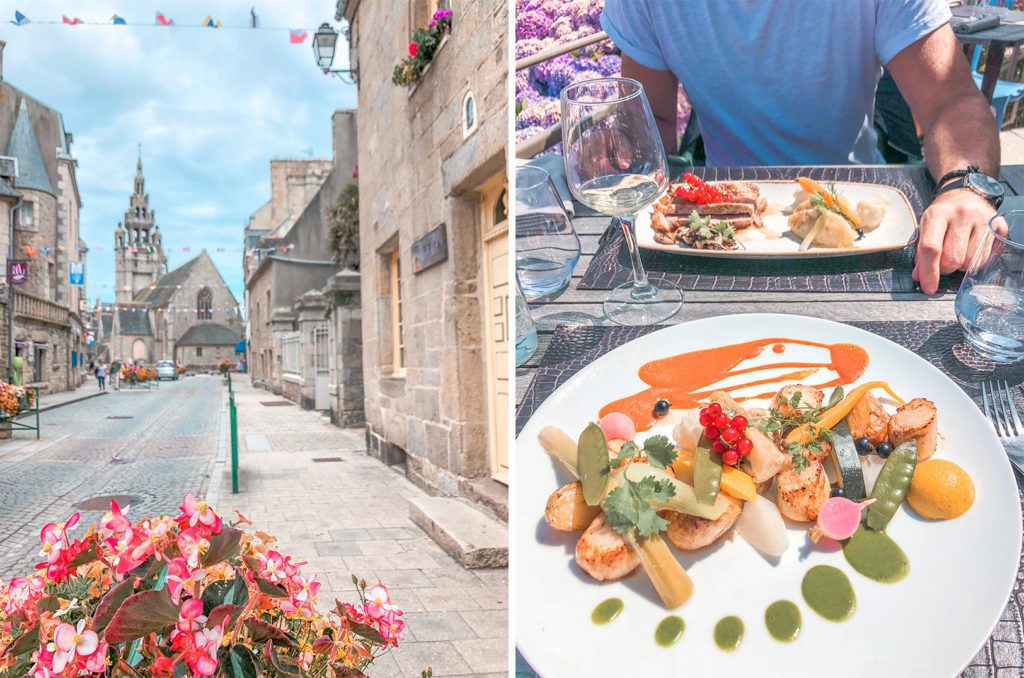 We went to the island of Batz which is located at 15 minutes by boat from Roscoff. We were seduced by this place which is still very preserved. Preferably, go there at high tide to see the turquoise water that borders the island of Batz. We were there at low tide and the landscapes are a little less beautiful. (We tell you more about the phenomenon of the tides a little further down)
Water activities and sports are to be favored on the island of Batz. We tested the sea kayak with Rêves de mer. They offer several water activities and electric bike rides.
For the lizards, go to one of the fine sandy beaches of the island!
Boat schedules: approximately every hour – Fares: 9€ each way. Tip: arrive 15 minutes before the departure of the boat at the pier, because in case of low tide there is a lot of walking to do on the bridge.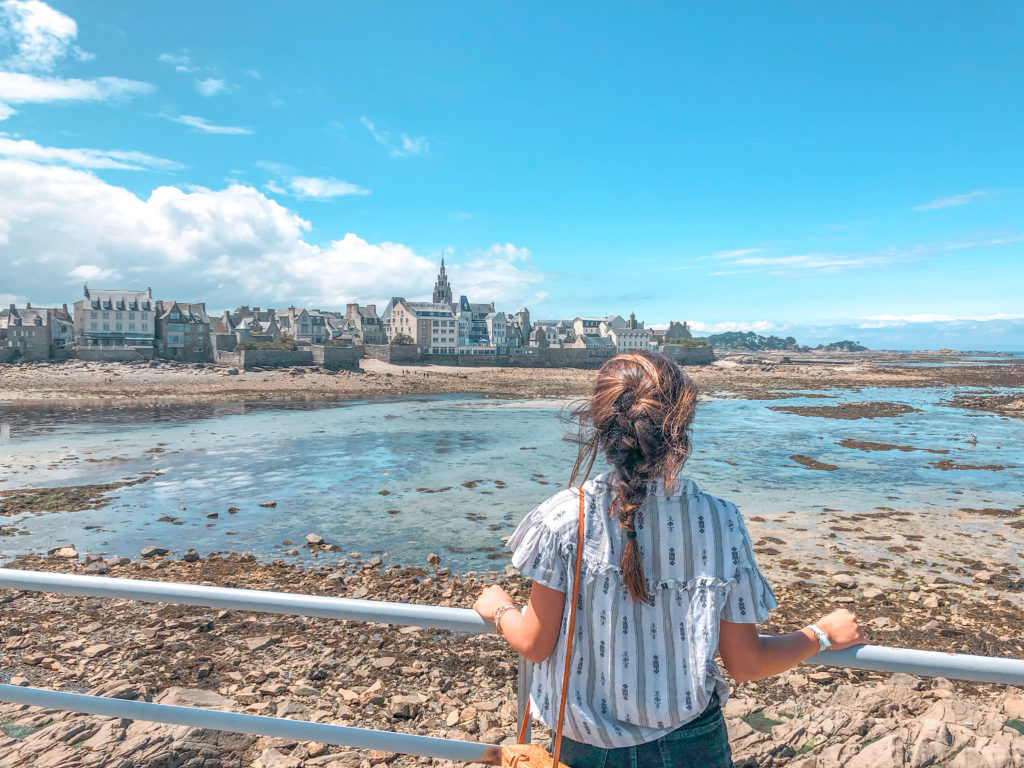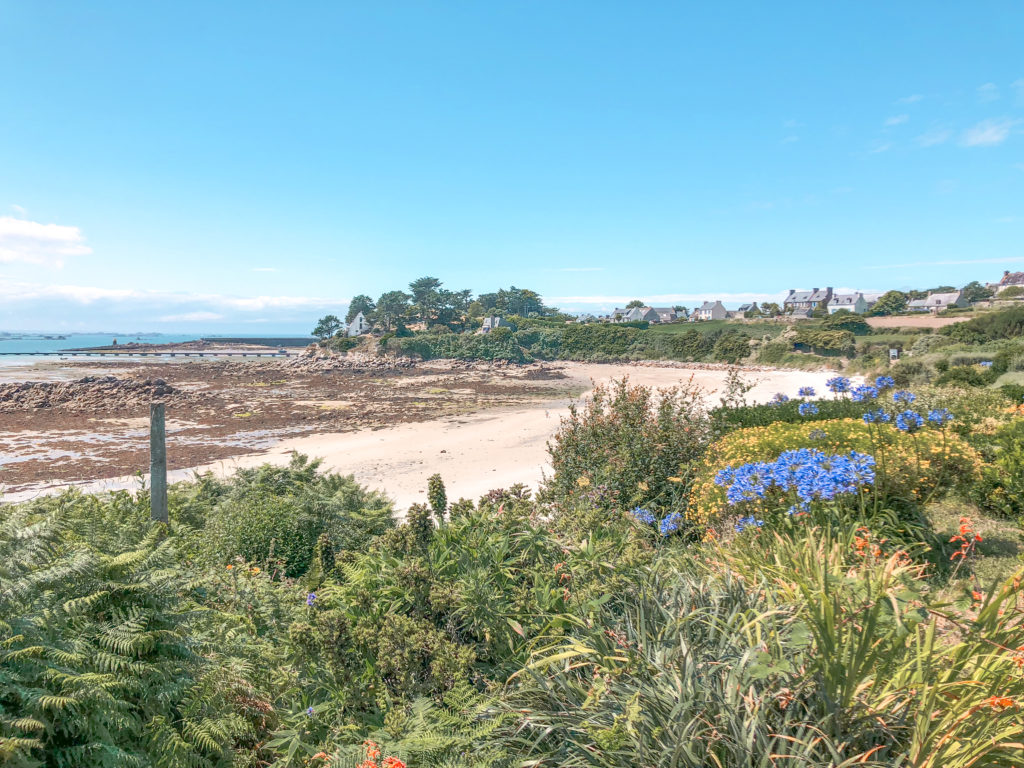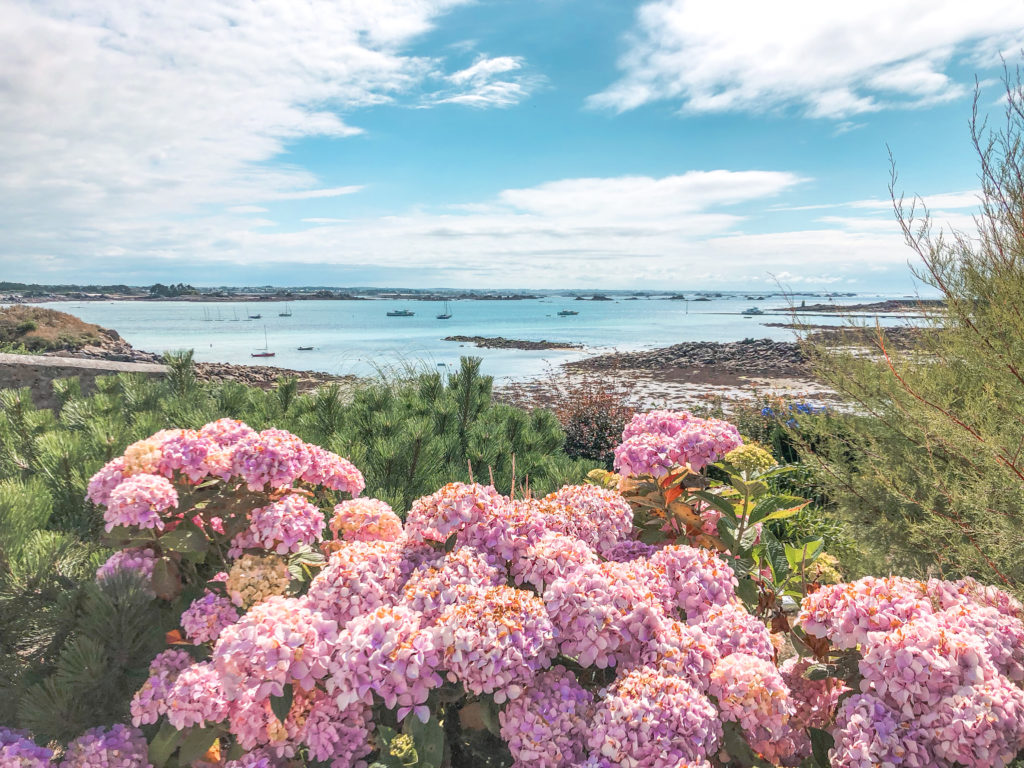 In Roscoff, you can also visit the exotic and botanical garden ( entry fee: 6€). Also, to learn more about edible seaweed, guided tours of a seaweed cannery are organized from Monday to Friday. To discover the behind-the-scenes of fishing and the daily life of those who practice it, the Roscoff fish market offers an exhibition with the comments of a guide.
Eating/Sleeping in Roscoff
2 good addresses tested and validated :
L'écume des jours, for a gastronomic break. Very good and well prepared dishes. Price €€€
Le Brise Larmes, for a convivial moment. This address is more simple than the first one. Fresh products in a more relaxed atmosphere ! Price €€
Hôtel aux Tamaris, a charming establishment facing the English Channel: booking here
---
Understanding the tides in Brittany
The Breton coastal landscape is very changeable due to the phenomenon of the tides.
?A short parenthesis on science and life on earth. To put it simply, the tides are caused by the gravitational forces of the earth, the moon and the sun. Every day, there are two high tides (when the water is high) and two low tides. The tides have a force called coefficient that varies each time. The higher the coefficient, the lower and higher the sea will go. To organize your activities, take the holy grail: the tide schedule booklet (available in all tourist offices).
---
PLOUESCAT – Day 2
After less than half an hour of driving, we arrived at the second stop of our road trip in Brittany. Plouescat (pronounced "Plouescate") is a small town rich in heritage. It is bordered by 13 km of coastline which offers magnificent landscapes! You will find there many rocks with unusual shapes.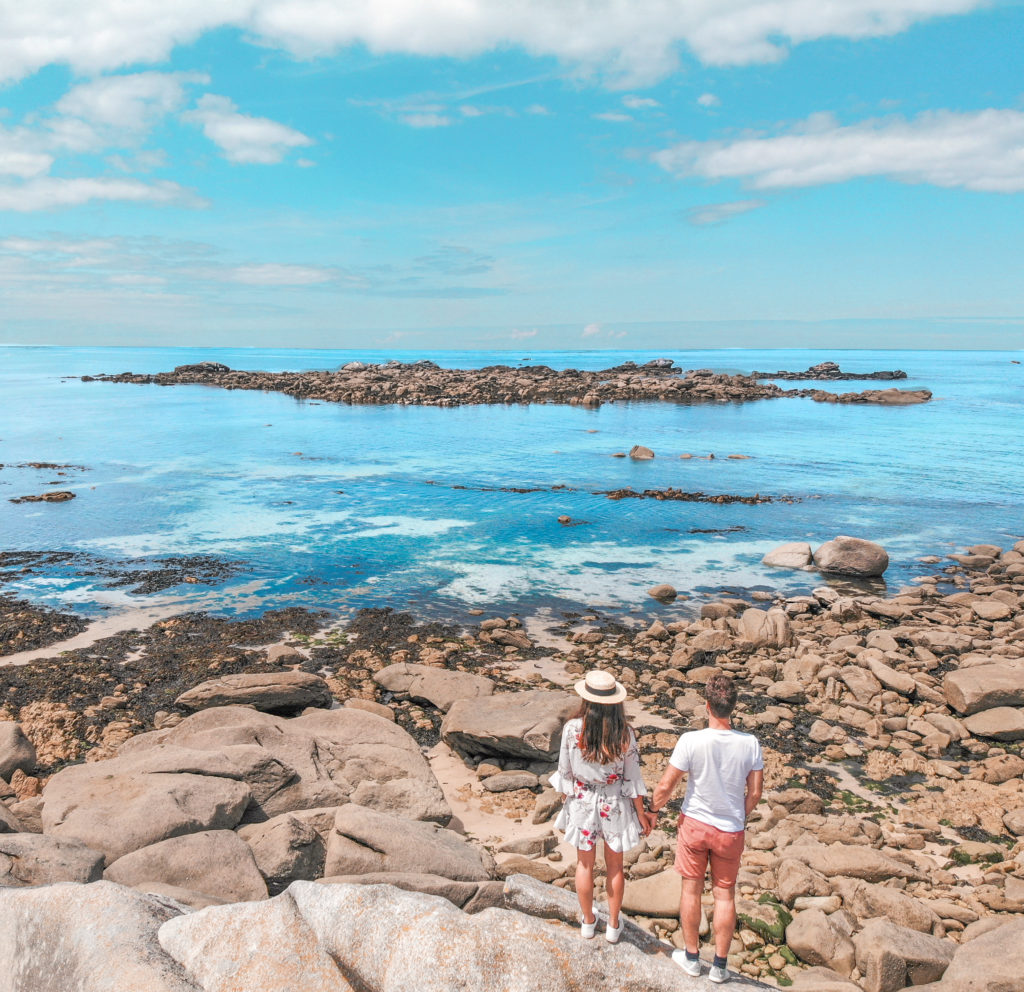 What to do in Plouescat ?
Treasure hunt at the Maison des Dunes de Keremma. This treasure hunt amused us a lot. We were very first degree and we thought we were in a TV game. We had to solve 9 riddles to reach 9 secret chests. The final goal is to learn more about the characteristics and history of the Dunes of Keremma, but in a fun way. The price is 13€ to play, whether you are 2 or 6, it's the same price!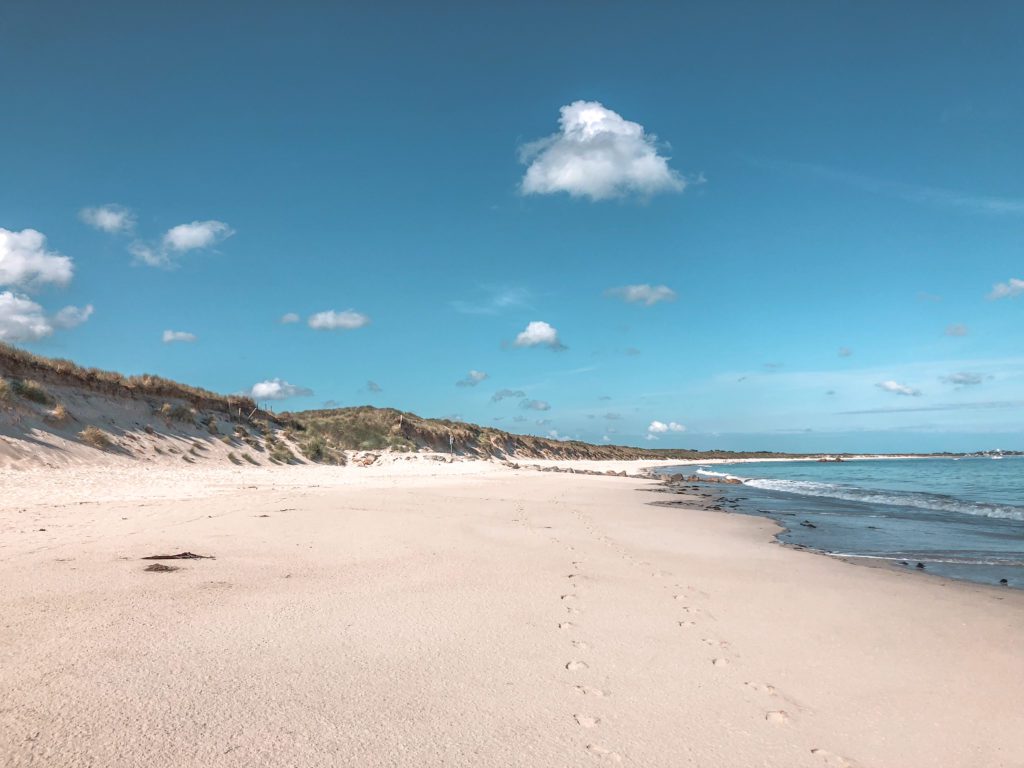 You will notice that the Dunes of Keremma are bordered by beautiful beaches. If you do the track game, count 1 whole day to discover the whole site. The game, alone, lasts about 2h30. We went to the very beginning of the dunes (opposite the dune house) to take the following picture, at the edge of the bay of Kernic :
If you want to have this beautiful blue color, you have to go at high tide. It is even more impressive seen from above.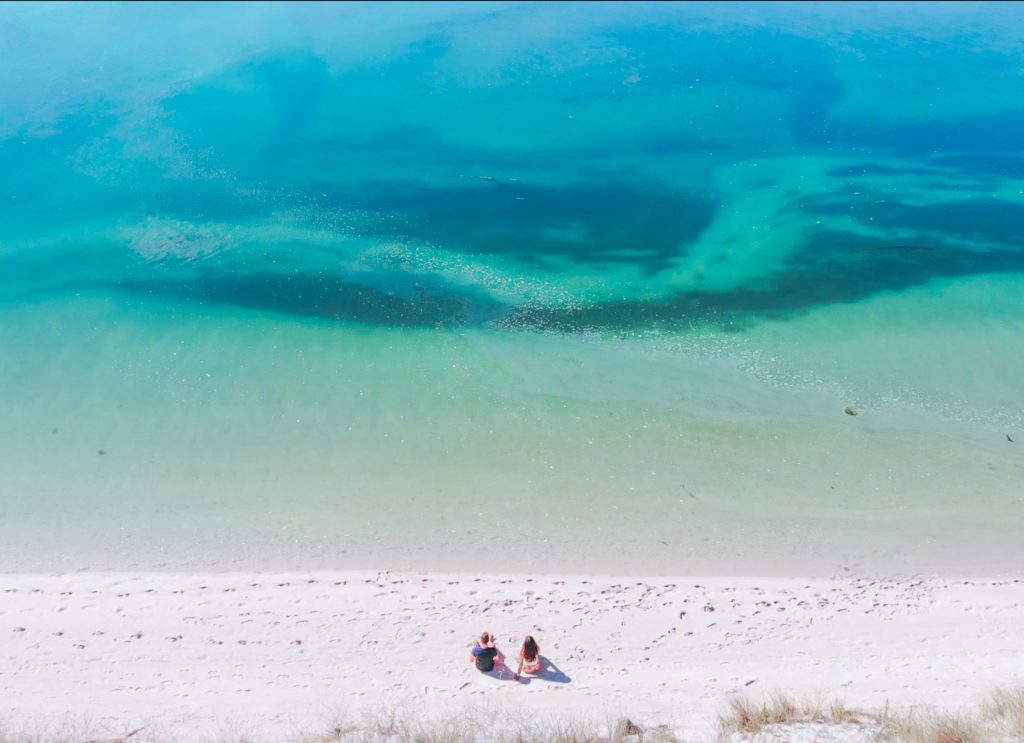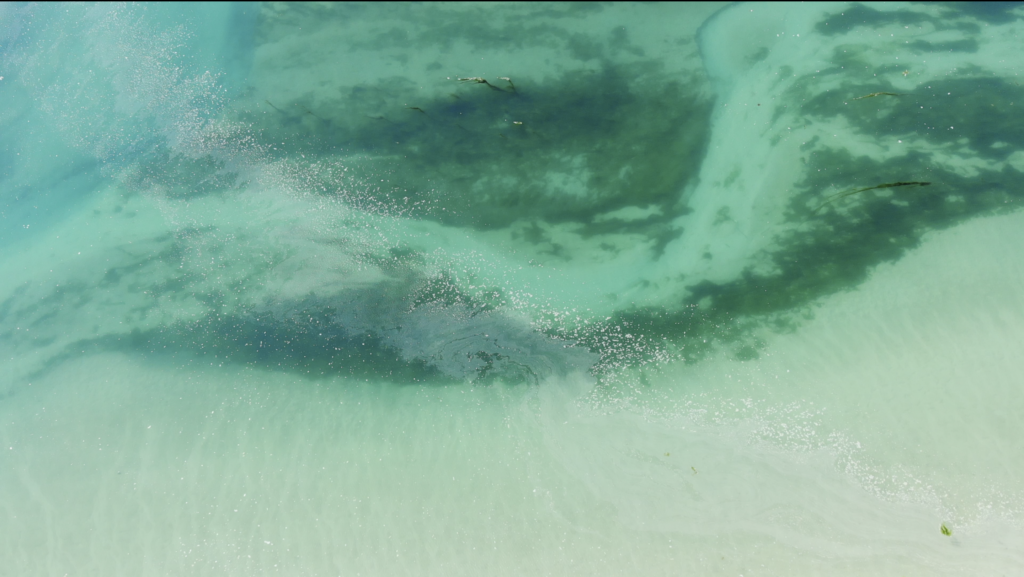 Activity to try : sand yachting
This region being often spoiled by the wind, the sand yacht is the activity to try during your vacations in Brittany! We have been dreaming about it for years and, as if by chance, the wind was not there. The bay of Kernic, in low tide, is a huge playground for this practice. You can go up to 80 km/h if there is a lot of wind! Strong sensations guaranteed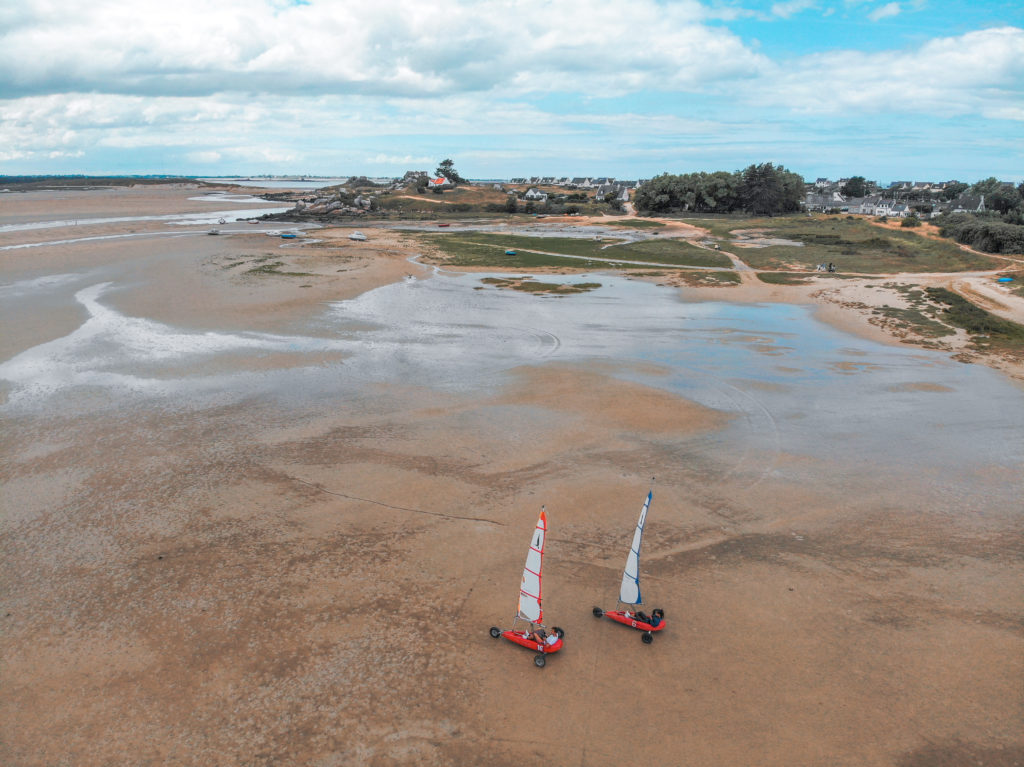 To eat/sleep in Plouescat
Excellent creperie: La Dentelière
---
NÉVEZ – Day 3 and 4
After 1h30 of road, we begin our stay in the South Finistère in Névez (pronounced Névé). Beautiful coastal station, there is a lot of things to see and to make in Névez. What is top, it is that it is not invaded by the tourists. You can easily find quiet places to relax. An obligatory stop during a road trip in Brittany!
What to do in Névez ?
Hiking on the GR34 : a must ! On this itinerary which follows the coast, you will do a small part of the GR34 which runs all over Brittany. Start from the Rospico cove to Port Manec'h. To come back, either you go inland or you turn back. The panoramas are sumptuous: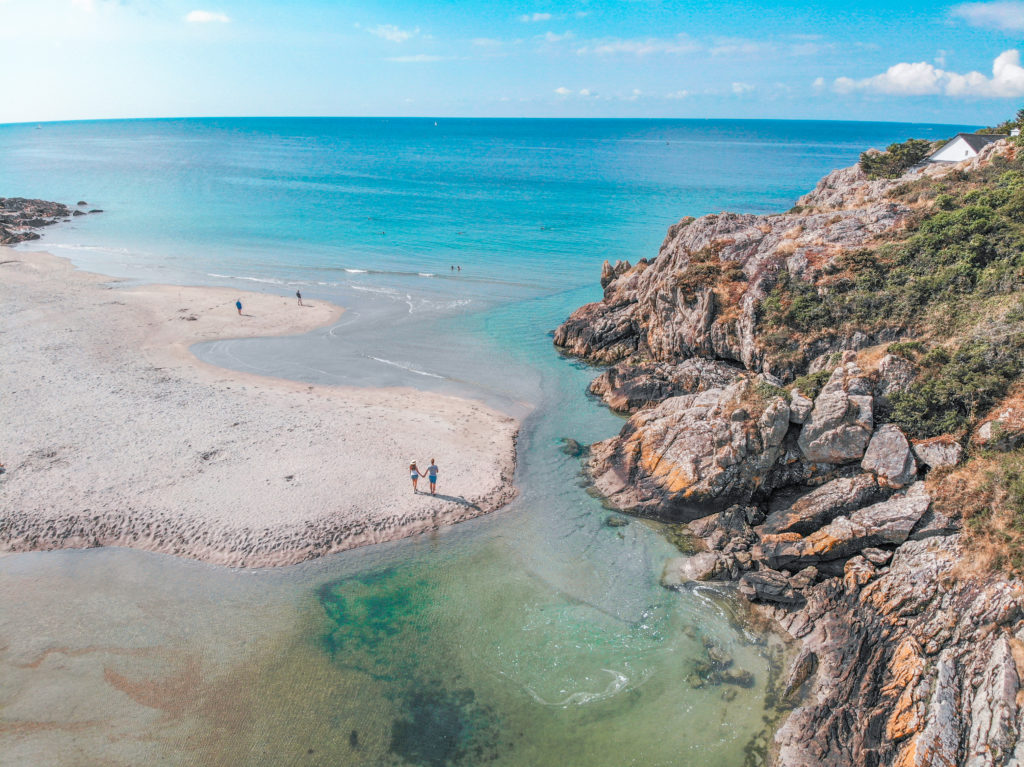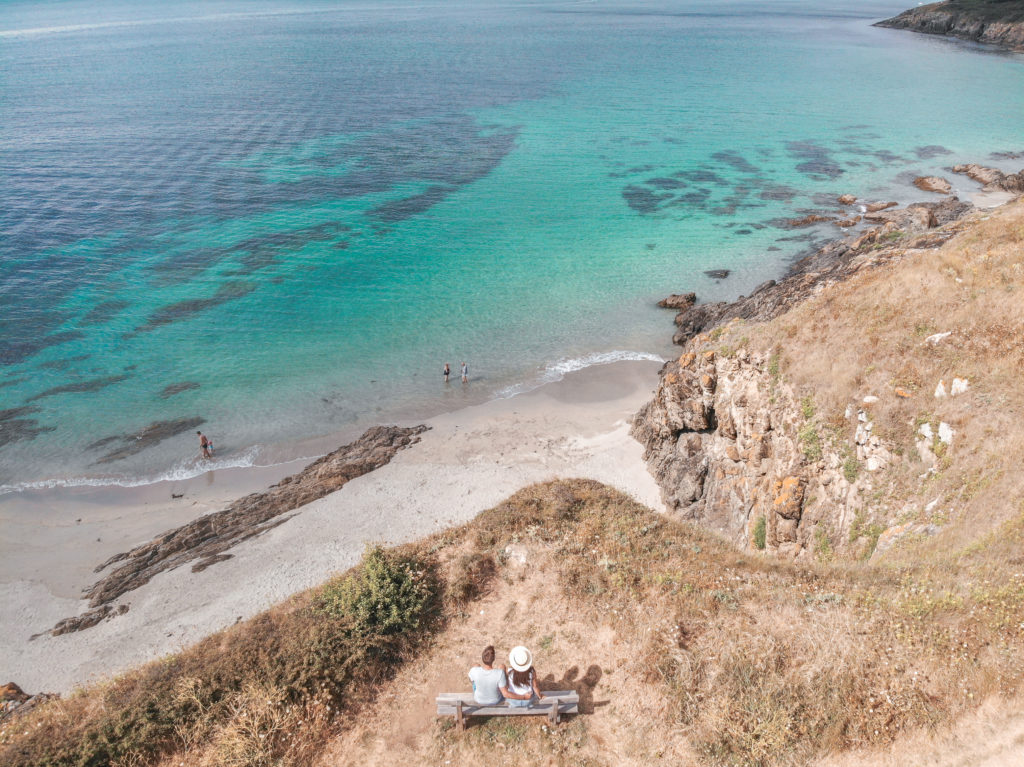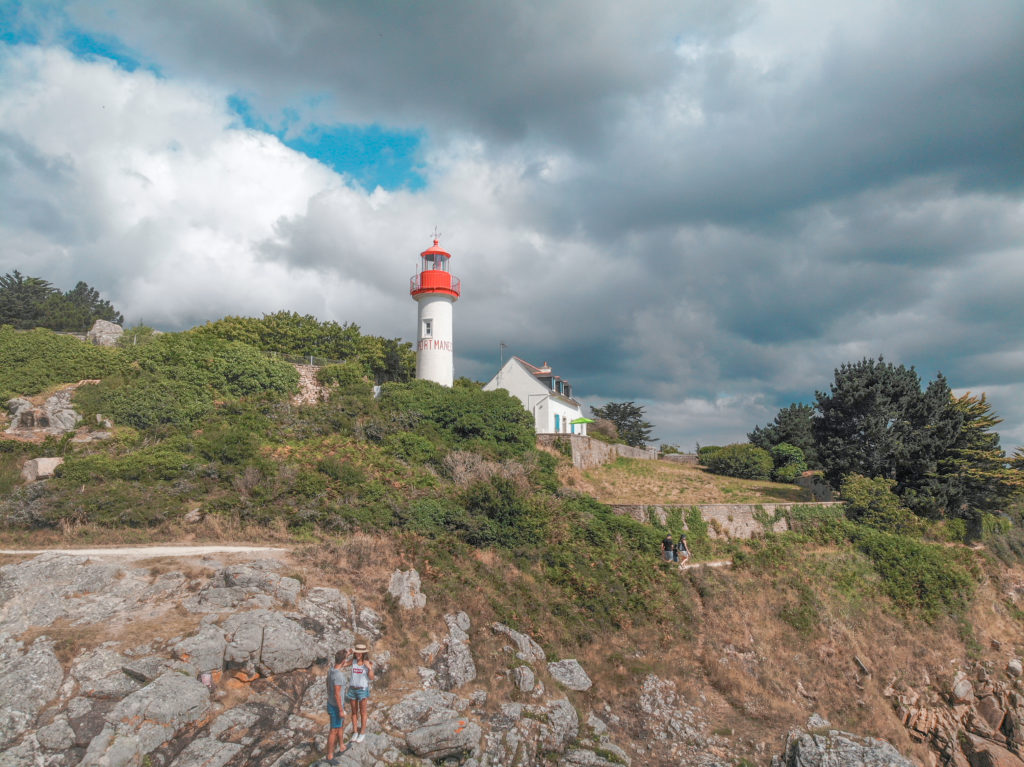 Paddle outing with Mathieu : a Breton who offers paddle outings in the Névez area. Mathieu is a nature lover, with whom you will spend a good time on the water. He chose to use 100% ecological wooden paddles, made in France in Morbihan. They are really beautiful and ethical, what more could you ask for?  To book, contact Mathieu, le Cormoran à Pagaie at 06 48 18 47 58.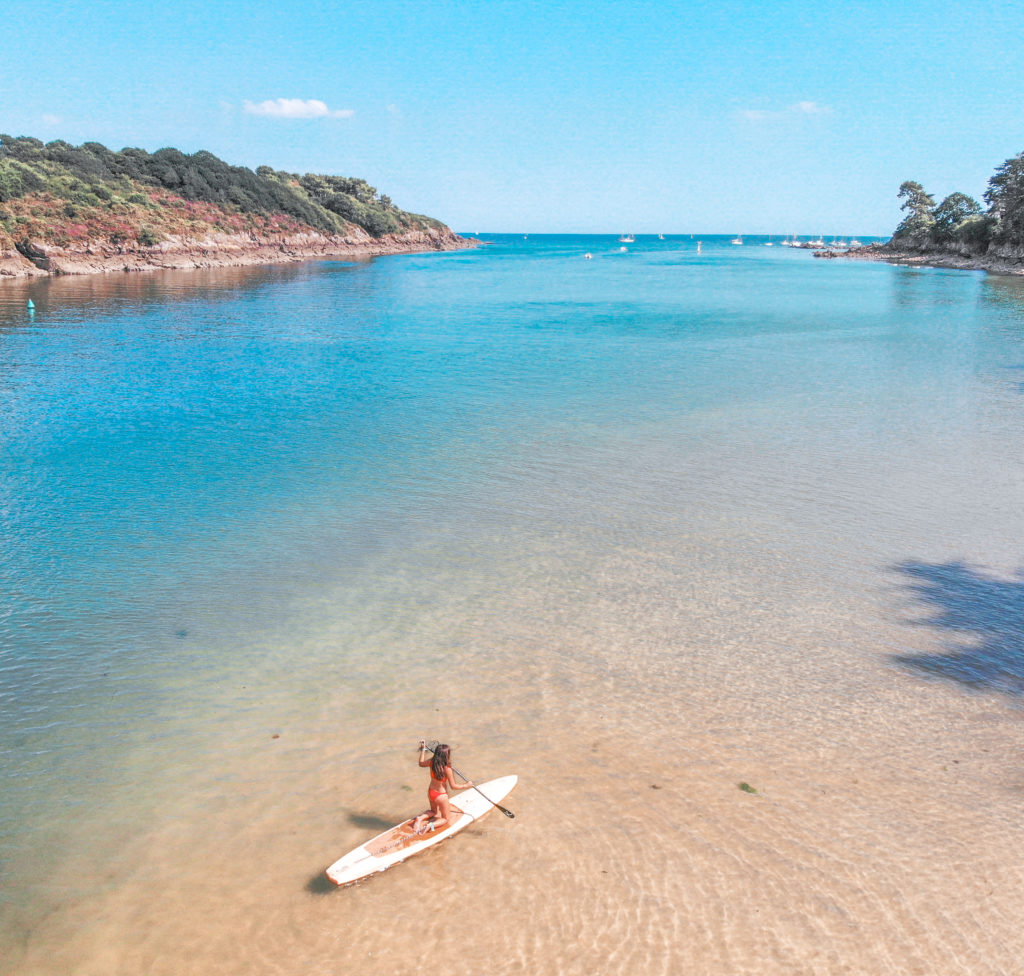 Visit the thatched villages: Kerascoët and Kercanic. Some owners of these villages have chosen to preserve the thatched roofs of their houses. This type of construction dates from the 15th century. For Kercanic, it is best to visit in the morning so that the sun can shine on the facades of the houses! Your photos will have a better rendering. When the hydrangeas are in bloom, it gives a very picturesque atmosphere: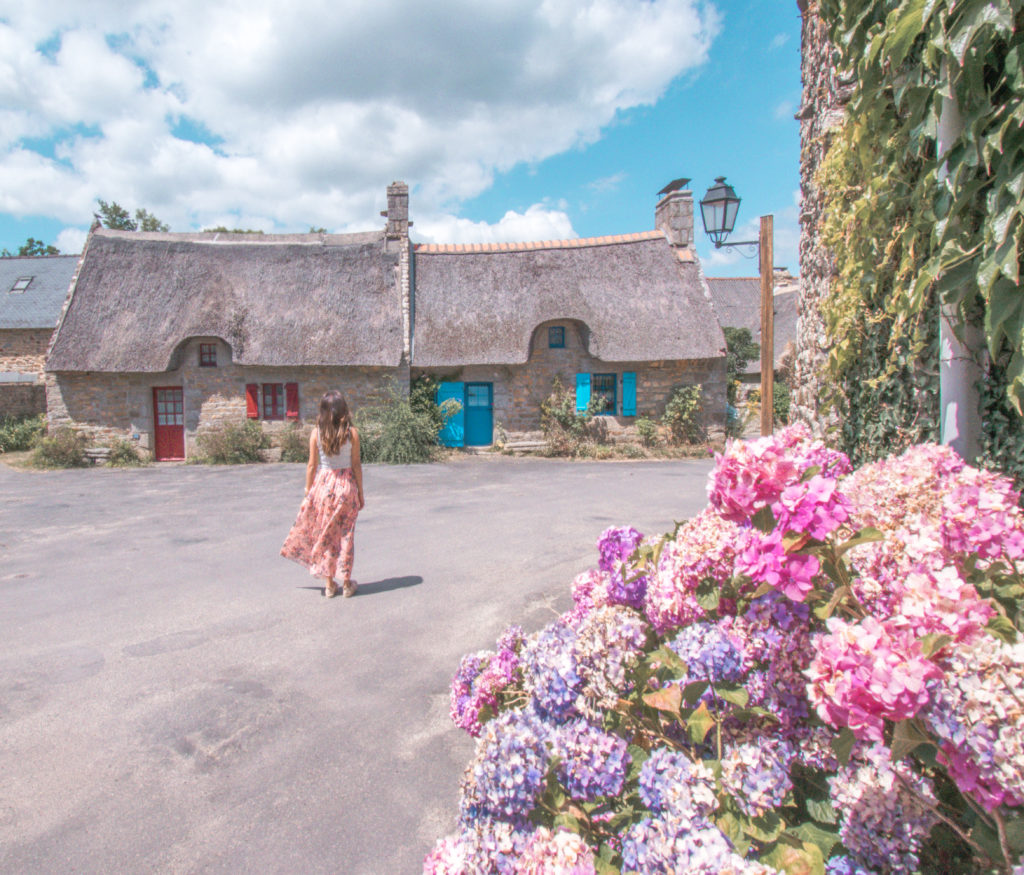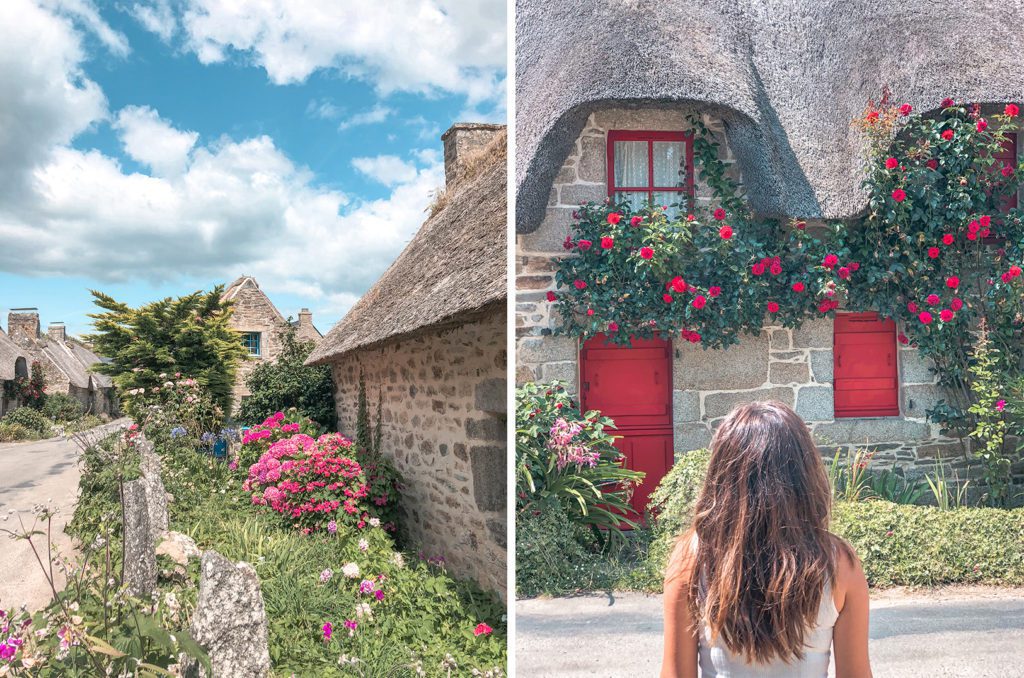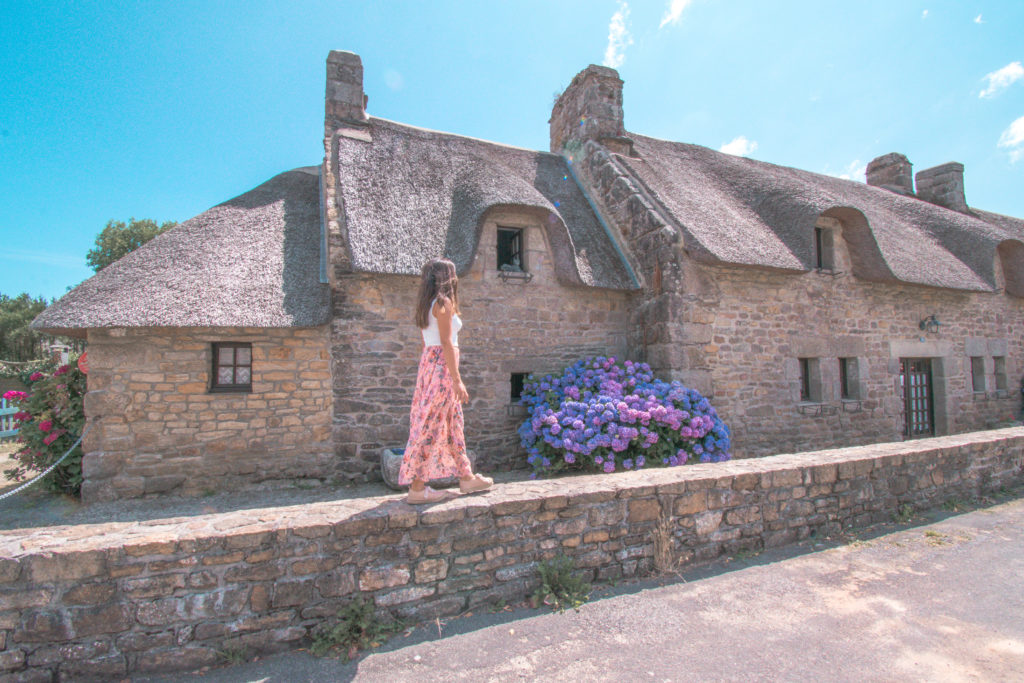 Beaches: if you are looking for beautiful sandy beaches with turquoise waters, you will not be disappointed! The beach of Tahiti is pretty and very famous in Névez, even if it is not the one we preferred: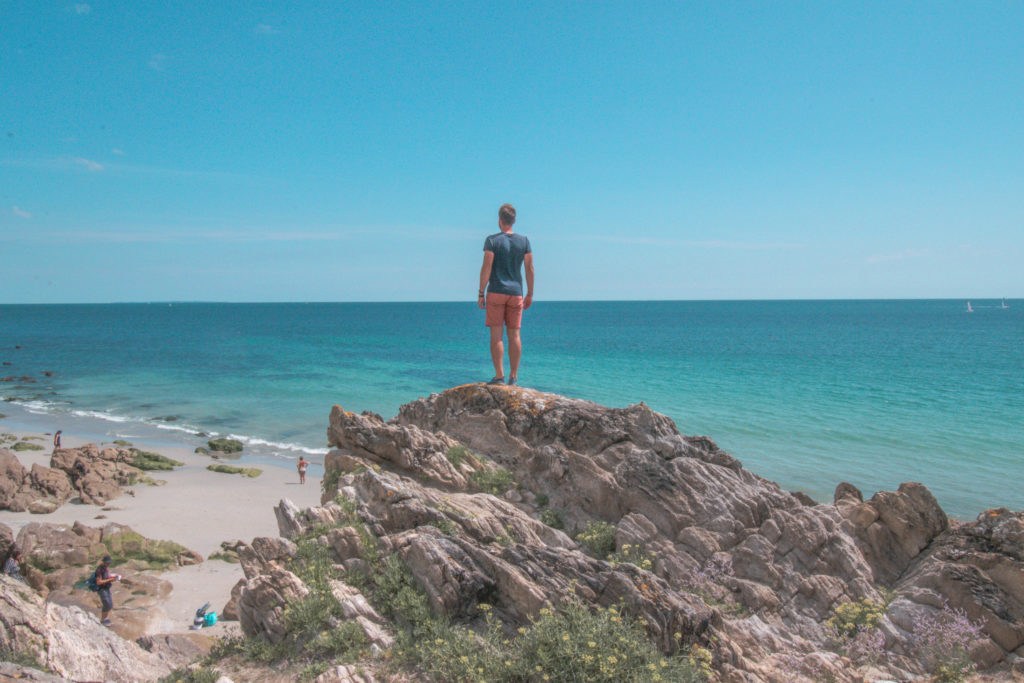 Our favorite beach is a small cove, not far from the Rospico cove. Take the coastal path towards Port Manec'h, walk for 3 minutes and look down. You will find this little corner of paradise: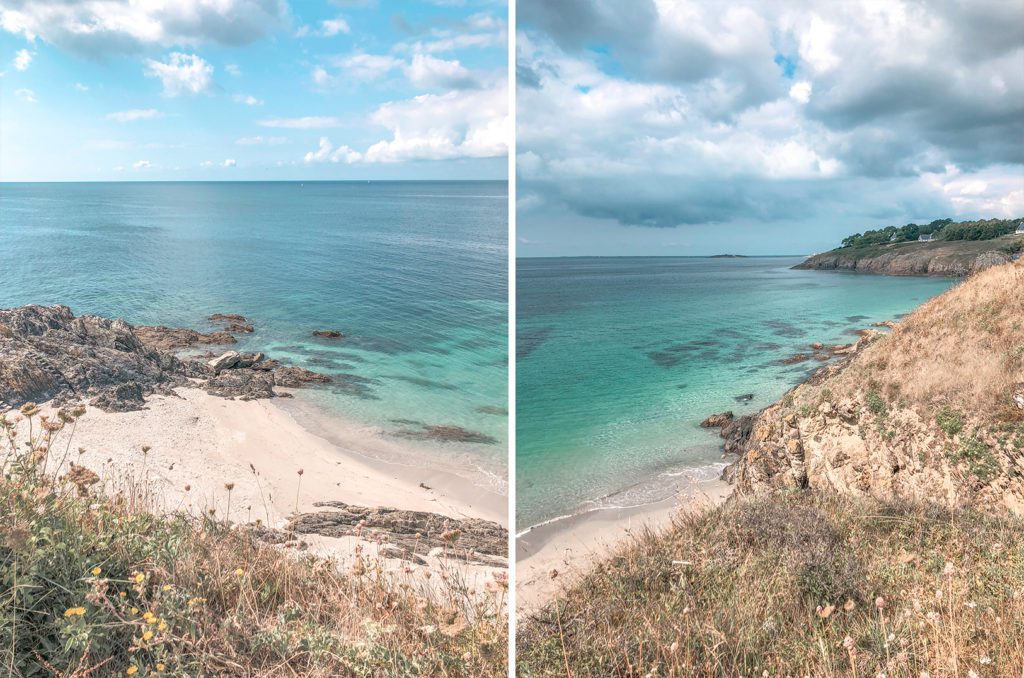 Test the kite boat activity with Armor Kite (accessible to all). Another way to apprehend the ocean and enjoy the wind for some sensations!
It's also possible to rent a boat for a day and sail from island to island. For more information, click here.
?Great address in Anse de Rospico : Les Vagues – Café de la Plage
Great address in Port Manech : La Châtaigneraie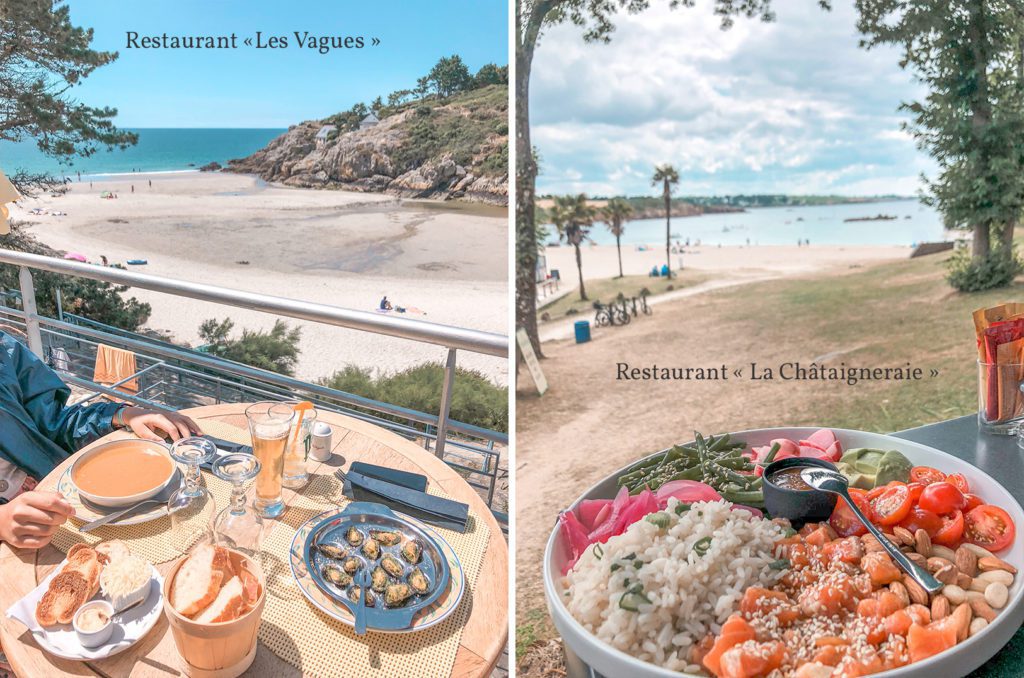 Le Manoir Dalmore LIEN : a luxurious parenthesis on the waterfront, in an old manor house renovated with care. Special note for the breakfast with fresh and local products ! Booking here. LIEN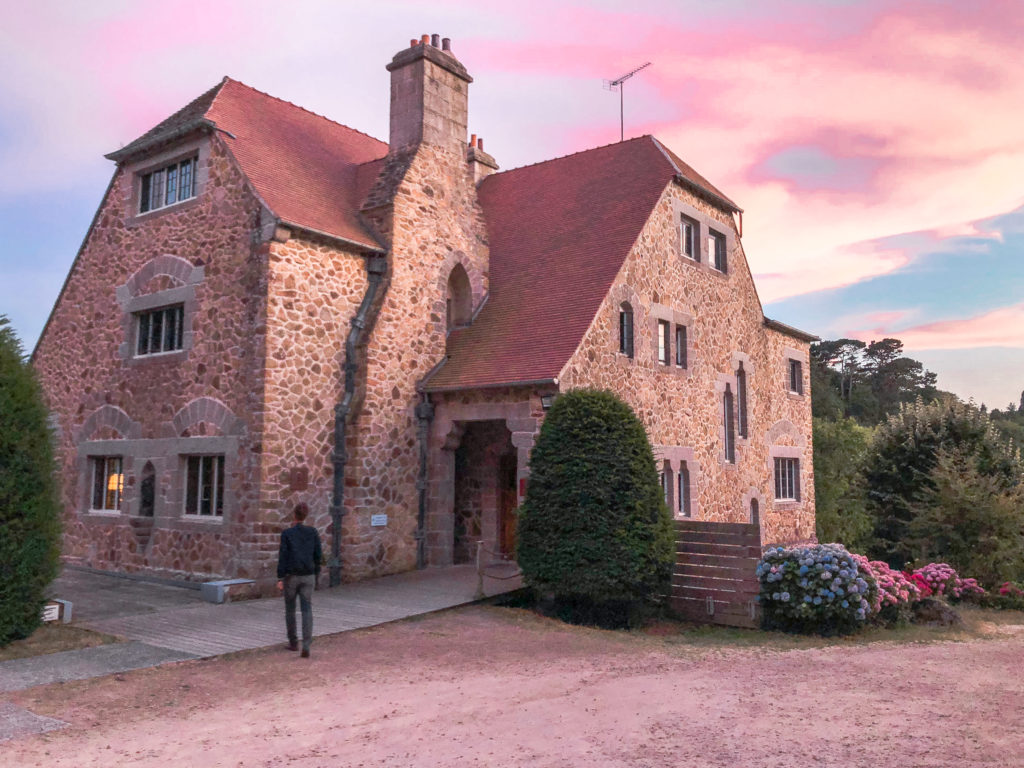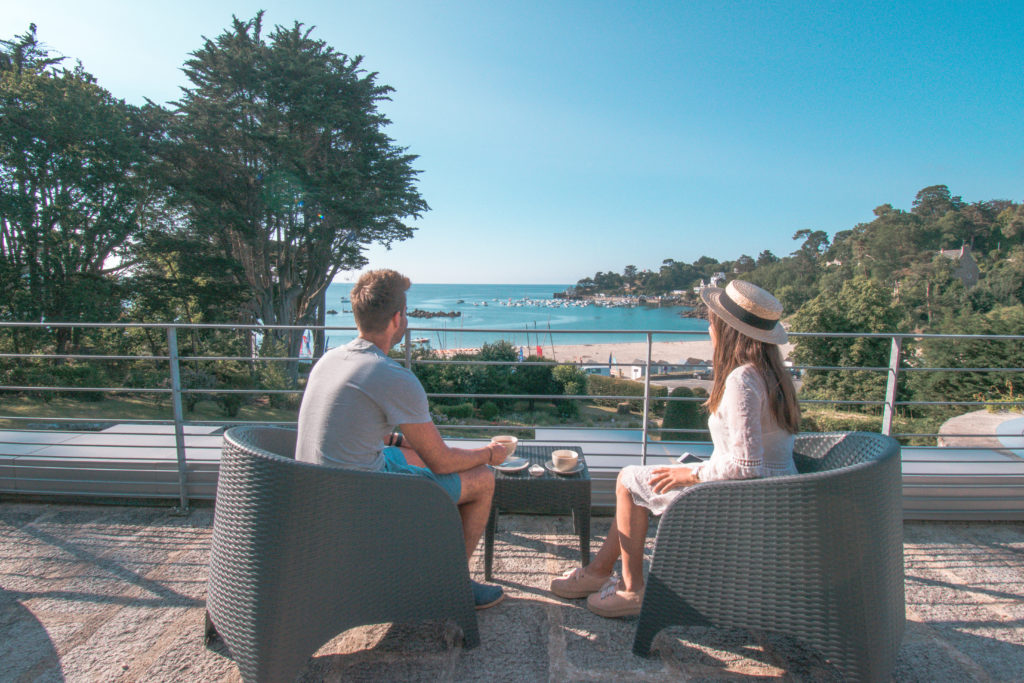 ---
FOUESNANT-LES-GLENAN – Day 6 and 7
Our favorite place in Finistère is Fouesnant-les-Glénan and its surroundings. You will quickly understand why when you see the pictures. It is an essential step for your road trip in Brittany. We stayed there 24 hours, it was short, but wonderful! This part of the South Finistère is more touristic than the others, it is the Breton Riviera! You will cross there more people. In Fouesnant, we go there for its sweetness of life and its paradisiacal beaches.
What to do in Fouesnant-les-Glénan ?
Visit the Glénan archipelago
Are you ready to discover the Breton paradise? If so, go to the Glénan archipelago. It is made up of 9 islands, one of which is private and belongs to Mr. Bolloré. The Glénan are often associated with the Maldives, for their exceptional seabed. The shades of blue are among the most beautiful we have seen. With the drone, it is even more beautiful. Count on at least one day to enjoy these magnificent islands!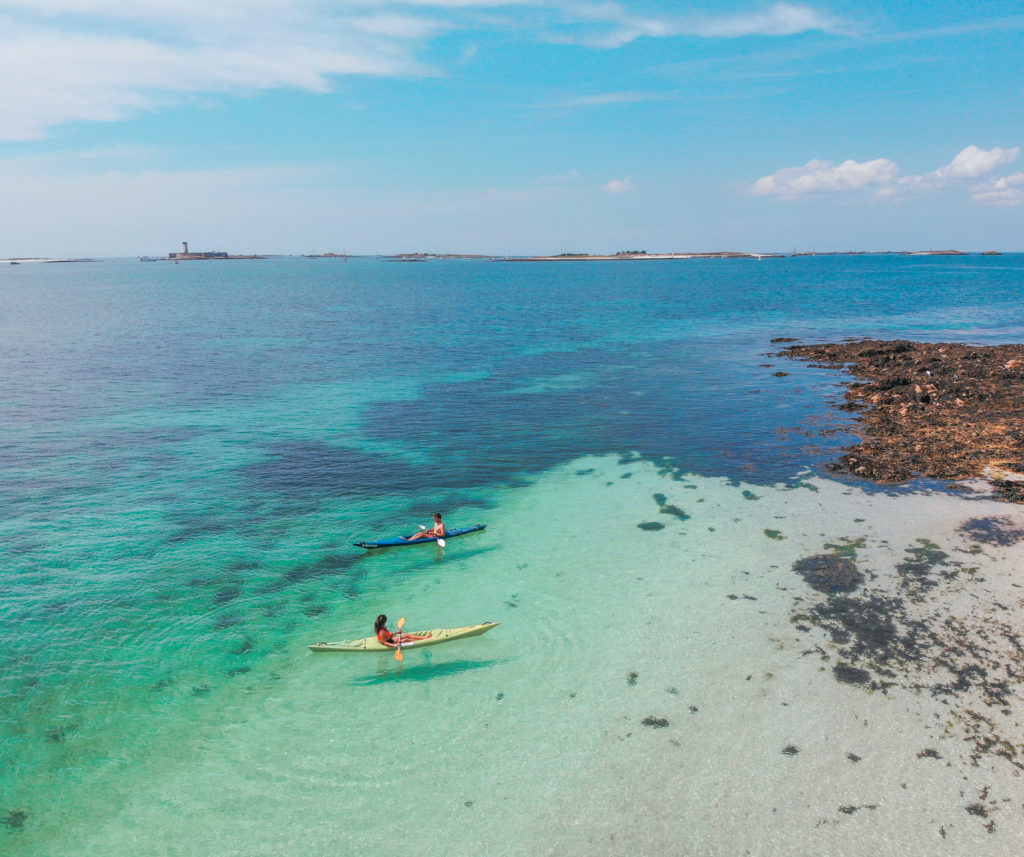 Kayak, the best way to visit the Glénan archipelago
The Glénan archipelago is a very protected area. No waste should be left on the spot, you should bring everything back on land with you. Do not pile up rocks on top of each other to take pictures. This destroys the living space of certain insects and beetles – consequence: it unbalances the ecosystem of the beach. There is no drinking water on Les Glénan, so remember to take bottles of water with you for the day.
If you wish to spend the night, there is only one choice: a gite that can accommodate up to 30 people. We advise you to book well in advance.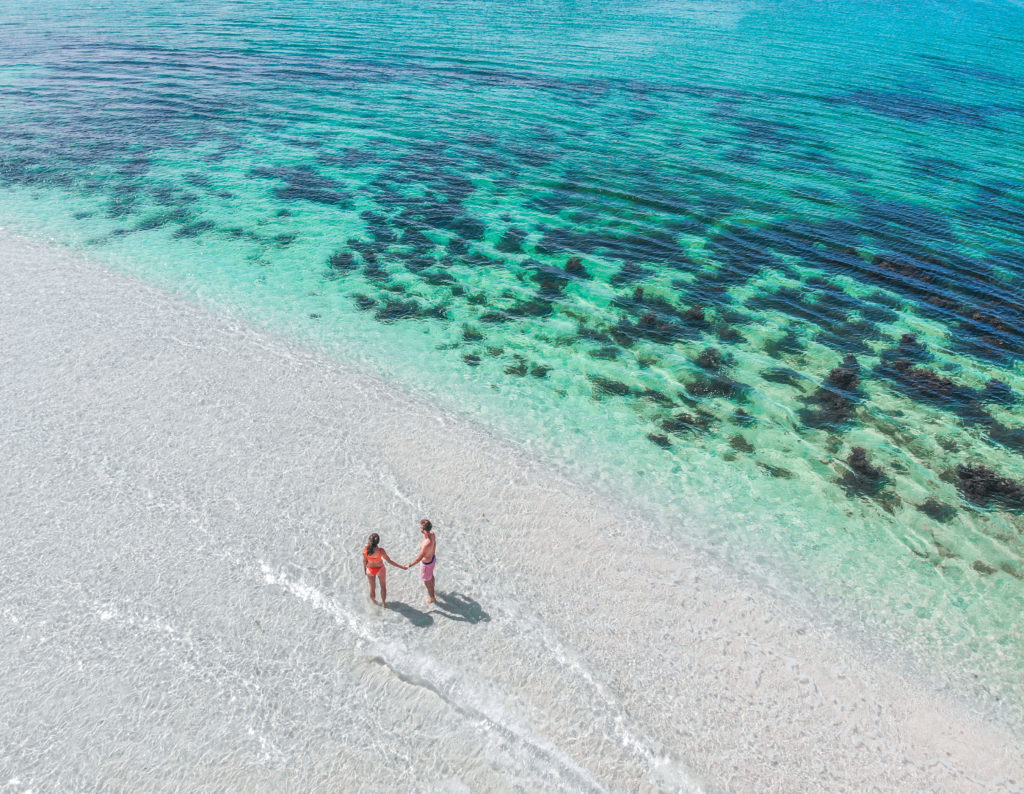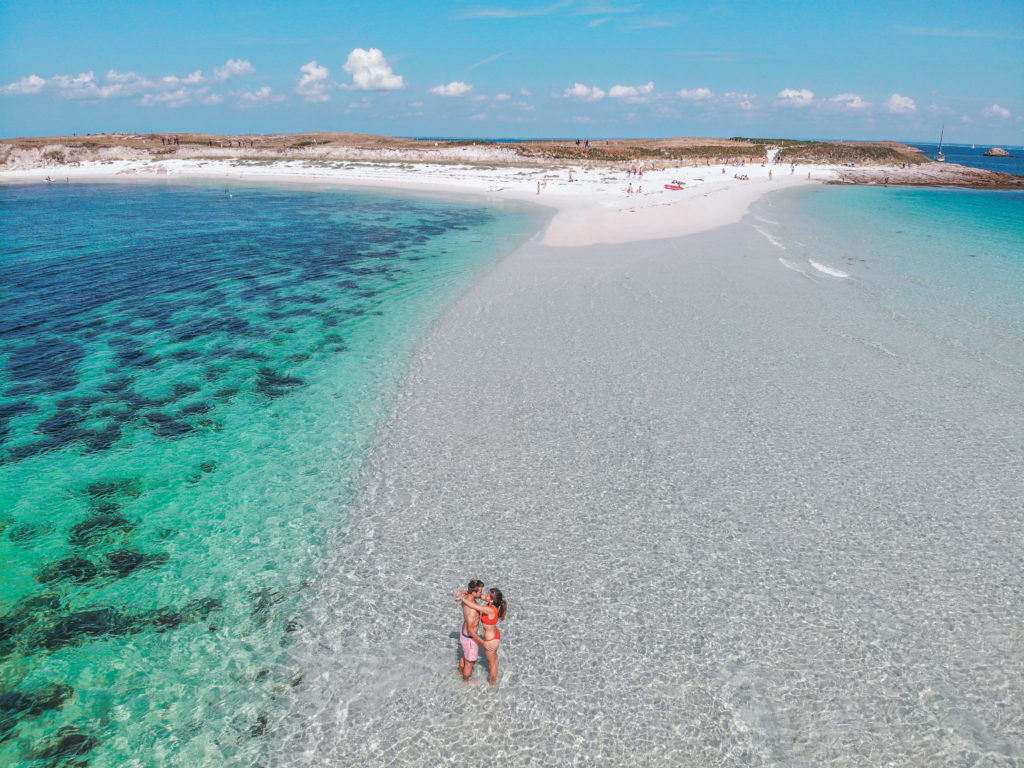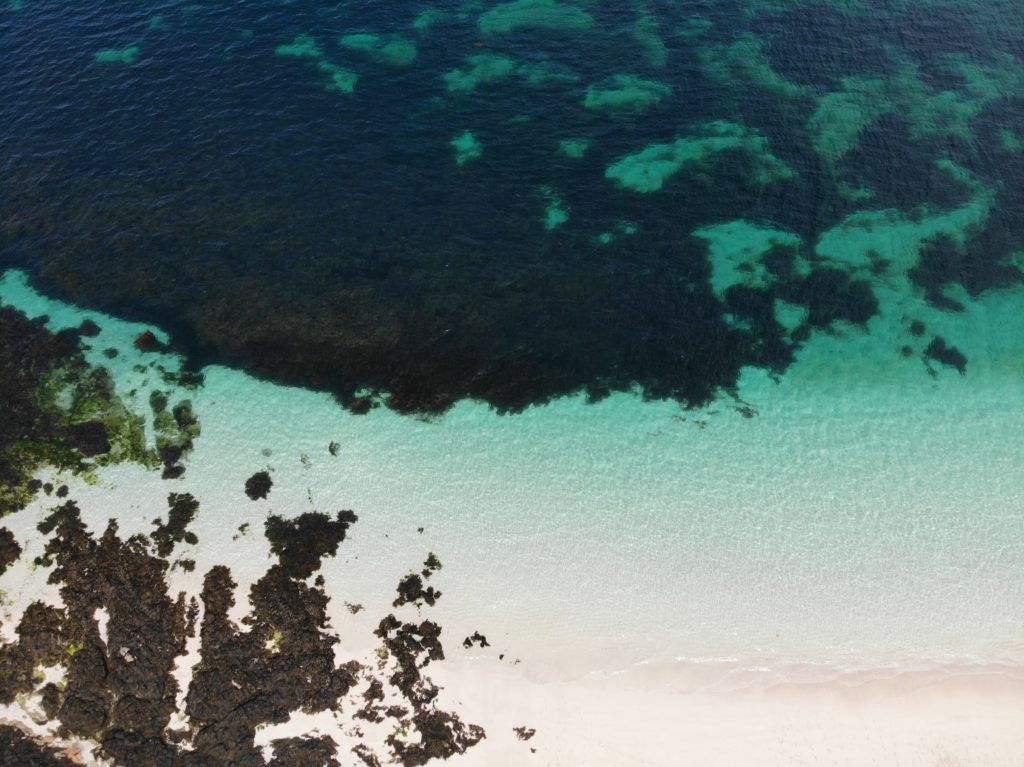 How to go to the Glénan archipelago ?
We took the Odet boats from Beg-Meil. The landing stage is located on chemin de la Cale with a pedestrian access to the ticket office and to the landing stage. There is a free parking on the church square. We made the crossing with a guide called Lulu, who knows all the secrets of the archipelago. It was very rewarding! Rates from 36€ per person.
Departures from Monday to Friday at 10:45 am or 2:00 pm and return at 6:00 pm – 1H15 crossing. Like us, you may have the chance to see dolphins playing around the boat!
(There are also other solutions without a guide and at different piers).
Relax in the Breton creeks: the beaches of Bot Conan, la Roche Percée or Lantecoste are accessible by car and are really worth a visit! To find the best beaches, use the satellite mode of the Google Maps application. Observe the coasts with the satellite view and go to the beaches where the water is the clearest!


Eating/Sleeping in Fouesnant-les-Glénan
? Great address in Beg-Meil, near Fouesnant : La Boîte à Sardines – the concept is great, the service very welcoming and the meals are excellent. ❤️
?L'hôtel de la pointe du Cap-Coz : great hotel with a wonderful view on both sides. Their restaurant looks cool too, especially the terrace which has a nice decoration ! Booking here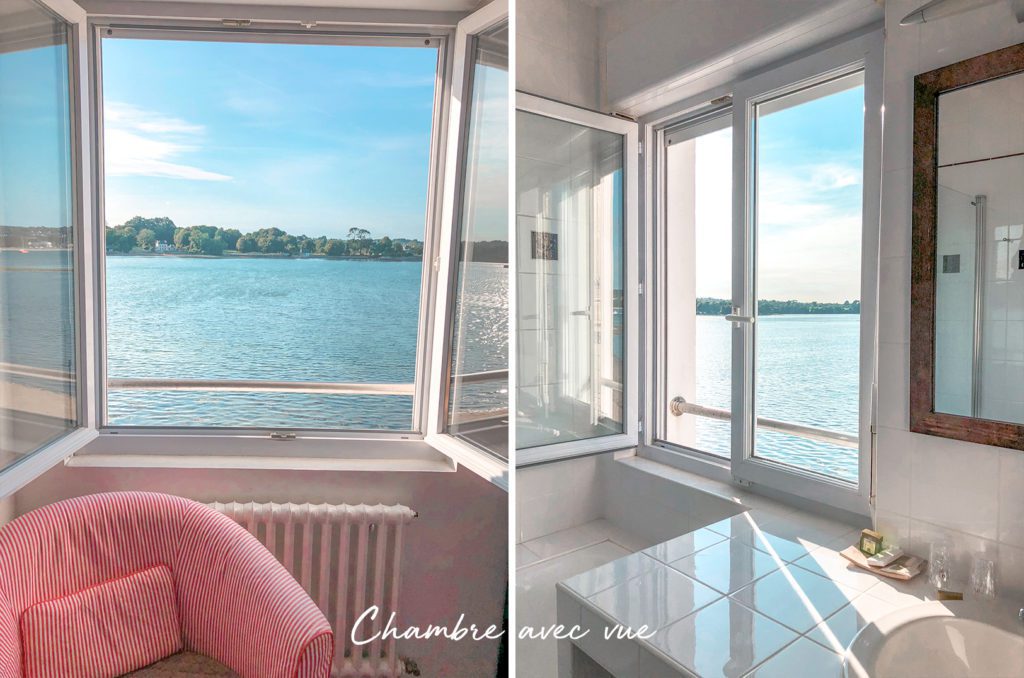 ---
You will have understood it, our road trip in Brittany was a real blow of heart. We absolutely did not expect to discover this kind of landscapes in Brittany. According to your returns under our Insta posts, you either.  Next summer, we hope to come back in Brittany to discover even more this territory. Leave us a little comment under the article if you have questions or remarks!