One week trip to Egypt : What to do in Egypt?
Egypt is a country that is often controversial. Indeed, many of you have told me in stories that you thought the country was a risky destination. In my opinion, I haven't been all over the country, but the part I have been to is very safe.
Whether it's in the hotels with high security or on the road with frequent police checks, you feel really safe. Even in the streets of Hurghada or Luxor I did not feel any fear. Beware, I am only talking about what I know. If you go to the north of Sinai for example, it's probably risky.
By the way, you can find my front page stories on our Instagram account.
How to visit Egypt in 1 week ?
We offer you a detailed itinerary to discover what to do in Egypt ! Note that this trip is done in one week if you don't take a day off. I recommend 10 days in Egypt to fully enjoy the country.
Hurghada / Red Sea (Days 1 to 3)
Luxor / Valley of the Kings (Days 4 and 5)
Cairo and its Pyramids (Days 6 and 7)
---
Travel to Egypt : what to do ?
How to prepare your trip to Egypt ?
➡️ When to go to Egypt?
You should know that it almost never rains in Egypt, except for an average of 15 days per year… The ideal time to visit Egypt is to avoid the high temperatures. Indeed, in summer the thermometer climbs very high (35 degrees on average in July and August, and 40/45 degrees in Luxor). Therefore, it is not pleasant to visit.
Even in winter it can be pleasant as it is rarely below 20 degrees and the Red Sea will be around 22 degrees.
✈️ Where to get a plane ticket?
We recommend that you compare the best offers and book your flights on Ulysse. You can take advantage of a €10 discount on your first flight booking on Ulysse by registering via our link and using this code : PVWYP4ESA !
Rent a car for your road trip in Egypt
I recommend that you use Skyscanner to find the best price for your car hire! You don't need to hire a 4×4 or a special car, as the roads are generally in good condition. You don't need an international driving licence either.
What is the budget for Egypt in 1 week?
The local currency is the Egyptian pound and the exchange rate at the end of 2023 was 33 pounds to 1 euro.
Plane: 400€ per person on average (often cheaper to arrive in Hurghada)
Car rental: 280€ for the week
Petrol costs: 30€ for about 800 km driven (0.40€ per litre of fuel)
Hotels: 60€ per night on average (the price varies a lot if it is a basic hotel or an all inclusive resort)
Restaurants: 20€ per day per person for 2 meals
Total = 1 810€ for a 7 night stay or 905€ per person, excluding activities.
Please note: this budget can obviously vary depending on the price of car rentals and aeroplanes, but also depending on the standard of the hotels/restaurants you choose. We are only speaking from our experience here.
➡️ Are drones allowed in Egypt?
The answer is simple: NO. And I strongly advise against attempting it.
Be aware that ALL luggage is scanned as it leaves the airport. They are used to this and seize several drones a day. So mine was seized for the duration of my trip and I had to pay the custody fee to get it back (€2.5 per day for the first week then €5 per day from day 8 onwards + a small bakshish for the person accompanying you?). I received many messages on Instagram during the stay and a few were not lucky enough to find him….
➡️ Should you buy tickets online to visit the must-see spots?
Indeed, for price, language and ease we advise you to book your activities on GetYourGuide.
---
What to do in Egypt for 1 week?
Let's get to the heart of the matter! We are going to reveal our itinerary to visit Egypt in 1 week. I would like to remind you that I did not take time to settle down and that it is better to visit the country in 8-10 days to get the most out of it.
Visiting Egypt: what to do?
Days 1 and 2 of the Egypt trip: Hurghada / Red Sea
Hurghada
The town of Hurghada is located on the east coast of Egypt, on the Red Sea. It doesn't have anything very interesting to offer, but has some very nice Resorts to enjoy the beautiful beaches and sea trips.
However, if you want to know the history and customs of Hurgada in more depth and discover its most emblematic places, you can also opt for a guided tour. More information right here.
You will also find many diving schools. Indeed, the Red Sea is known and recognized for the beauty of its seabed and its islands.
Also, it is possible to party in the many bars and discos.
The Red Sea
You should definitely plan a boat trip from Hurghada. Whether you like diving or not, the islands and the crystal clear waters are bound to please you.
I recommend this boat trip to discover the Giftun Islands / Orange Bay and enjoy a wonderful snorkeling stop. On my outing we were only 15 on a huge boat and the staff is very nice!
About 30€ per person with lunch, pick up from the hotel and entrance fee to the private island. Book by clicking here
You can also plan three other top Hurghada activities :
Where to sleep in Hurghada ?
I was lucky enough to work with the best hotel in the city and arguably in Egypt. The Rixos Premium Magawish Suites & Villas is just incredible. Everything is done so that you don't have to leave the resort: an incredible setting, many pools, excellent restaurants, a private sandy beach, many activities every day, a gym, a water sports base, a very attentive staff… In short, it is without a doubt one of the best hotels I have ever tried.
I am well aware that not everyone can stay at the Rixos. For excellent value for money, I suggest this hotel at around 30€ per night. Another possibility is this all inclusive resort at about 100€ per night for 2.
---
Day 3 : Luxor and the Valley of the Kings
For this 3rd day, I took the road with my rental car towards Luxor. The road is very well done in 3h30, it is new on a large part and little traffic. Watch out for speed cameras as you are quickly tempted to speed up. If ever, the fine is only 5€.
There are lots of police checks but greet them with a smile, they are cool! Most of the time they just take the plate to track where you are going.
If you don't have a car, you can go to Luxor to do the Valley of the Kings on a day trip by booking via this website.
For a more complete visit over 2 days in a 4 star hotel with a one hour hot air balloon flight, a felucca ride, several temples and the Valley of the Kings you can take this excursion with excellent value for money and no headaches… Everything will be organized!
Valley of the Kings
This is the must-see attraction in Luxor. The Valley of the Kings is just across the Nile 5km as the crow flies, but a 45 min drive as you have to take a bridge south of Luxor to get there.
When you take your entrance ticket you are allowed to visit 3 tombs (13 can be visited out of 63). The place has several tombs but I recommend you to visit Tutankhamun's tomb which is the most legendary. The visit is very quick because the tomb is one of the smallest in the Valley. For the record, he was an Egyptian Pharaoh who reigned for only 9 years from 9 to 18! It remains one of the most famous because of its almost intact tomb which was discovered in 1922 with a huge treasure. For the other 2 tombs to choose from I recommend Ramses III (KV11) and Thutmose III.
Count 240EGP (or 12,50€) for the entrance ticket. But options for some tombs are available for sale: 250EGP for Tutankhamun's and 1000EGP for Sety I which is the most beautiful (but I was not ready to put 50€).
I recommend that you do not miss the funerary temple of Hatshepsut which is located in the Valley of the Queens. She is one of the only women to have ruled the country and for 22 years! There is not much left of her since everything about her was destroyed after her death by her brother Tutmose III, from whom she had taken over the throne 20 years earlier. However, you will find statues of him.
Count 80EGP (that's €4) to access Hatshepsut's temple. It's worth it!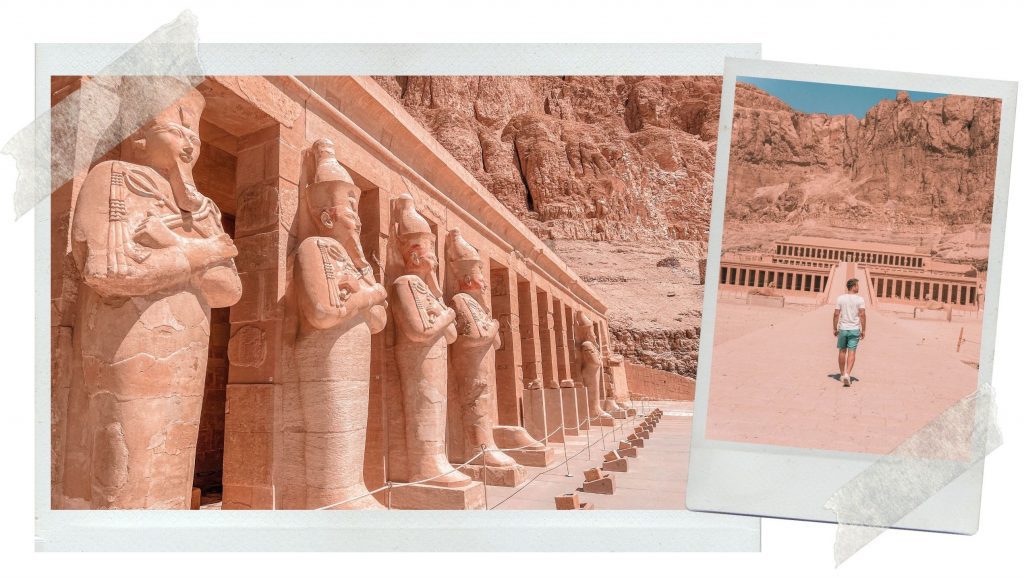 Karnak Temple
The temple of Karnak is truly sublime! It is the largest in Egypt and hosts several temples including the temple of Amun. I recommend you to come very early in the morning for 2 reasons: one you will be alone in an incredible place and two the soft morning light will make the temple even more beautiful.
Count 120EGP (that's 6€) to access this beauty.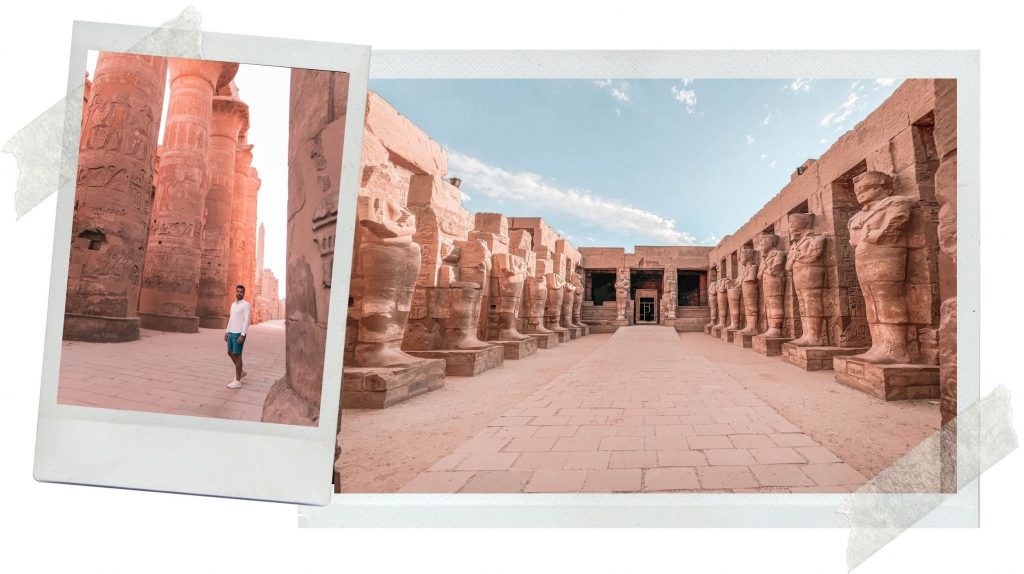 Where to eat in Luxor?
Apart from the Hilton restaurant which is really good, I could test and validate 2 good local addresses. The food is very good, the service top and the prices very light.
The first address is the Al-Sahaby Lane Restaurant. A bit out of the way in the south of the city, this rooftop restaurant with a view on the Nile is an excellent address. Please note that parking is free around the restaurant, so don't be fooled by the youngsters who will ask you for money to watch your car.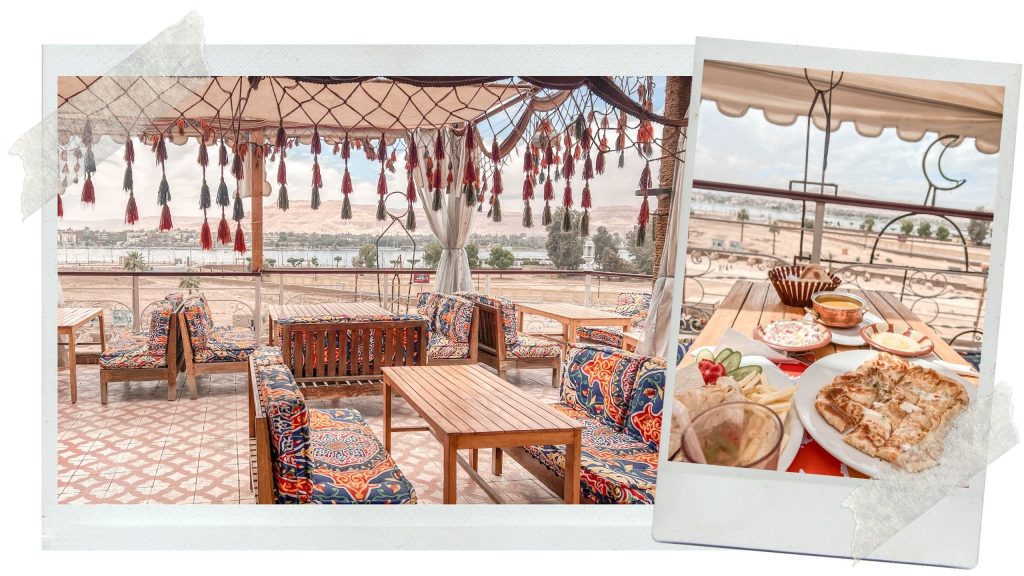 The second restaurant, Bayt Ward, offers very good food in a nice setting and great service.
Where to stay in Luxor?
I stayed 2 nights at the Hilton hotel in Luxor. The value for money is excellent (around 100€ a night with exceptional breakfast) and the setting really incredible. Moreover, the hotel has a part forbidden to children to enjoy an infinity pool with an absolute calm and a breathtaking view on the Nile. The restaurant (more expensive than the restaurants in the city centre) is very good if you don't want to go out in the hustle and bustle of Luxor. You can book your room here.
---
Days 5 and 6: Cairo and the Pyramids of Giza
What to do in Cairo ?
I hesitated for a long time to go to Cairo due to lack of time but I am so happy to have discovered the Pyramids of Giza. On the other hand, I did try to visit the city of Cairo but I strongly advise against it. It's crowded in every direction, it's dirty, it honks continuously and I don't find any charm in this city.
We know that if we choose to come to Cairo it is to visit the pyramids. I recommend you to go there at the opening (9am) to enjoy the place before the tourist groups. It will be less hot and you can enter the pyramids without feeling oppressed.
Count 160EGP to access the pyramids site. If you want to visit the interior, I advise you to choose the one of Khephren which is almost identical to the biggest one (Cheops) but costs 4 times less: 100EGP.
When you're in the Pyramids compound don't hesitate to head to 9 Pyramids Lounge for a drink with a great view! I arrived at 10am and was alone. Also, the juices are no more than 2€.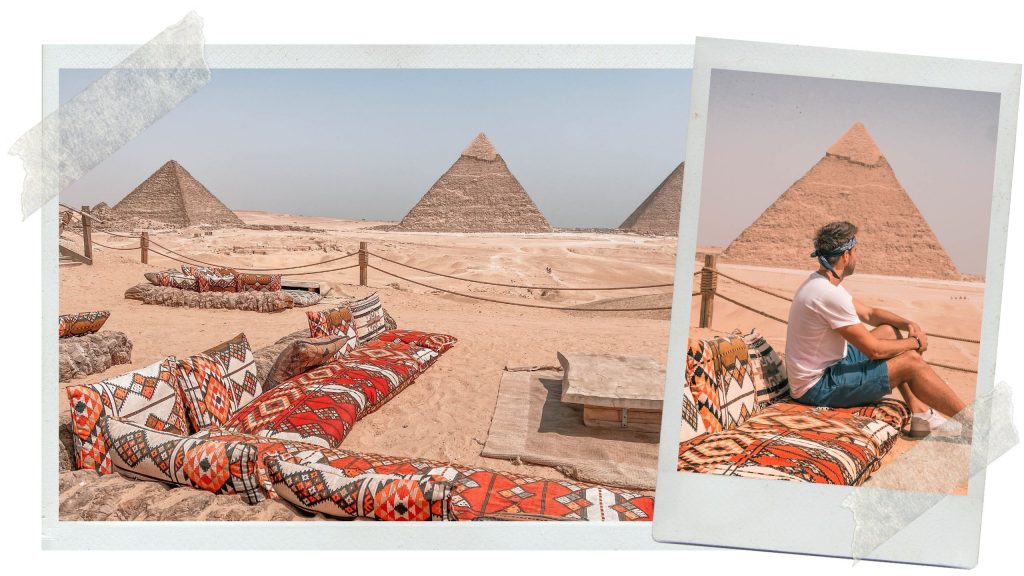 ➡️ You can also enjoy a trip to the pyramids of Giza, the necropolis of Saqqara and Memphis, the ancient capital of the country. Click here to learn more.
Where to sleep in Cairo?
I tested and validated an exceptional address 5 minutes from the Pyramids of Giza (60 cents in Uber) with a direct view on the pyramids, modern rooms and a very affordable price! You can enjoy the rooftop for breakfast or dinner. The staff is really lovely and will do everything to make your stay as good as you expect. Click here to book this great place!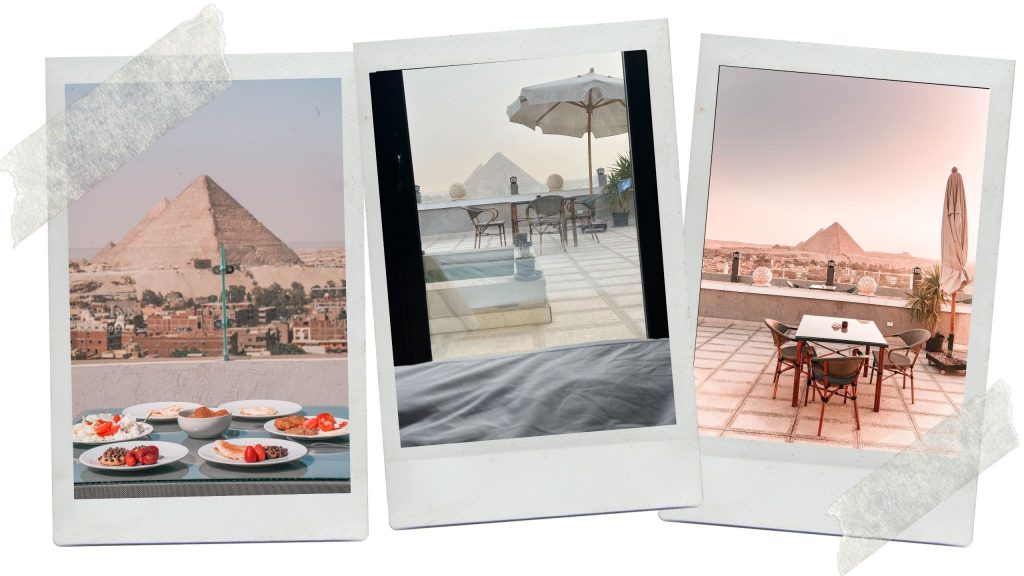 ---
This is the end of this one week itinerary for your trip to Egypt. I hope you now know what to do in Egypt and I wish you a great trip to this amazing country! ?
For more travel inspiration, check out our guide to north Sardinia or a week-long road trip to Iceland!