What to do in Tenerife? Road Trip to Tenerife for one week
The island of Tenerife is part of the Canary Islands, which are part of Spain. Located in the southwest of Morocco, Tenerife enjoys a favorable weather all year long ☀️. In March, I decided to go for a one week road trip to Tenerife. But what to do in Tenerife during your trip? I fell in love with the island and its landscapes, so I'm going to share with you my itinerary to visit Tenerife.
✨ This first solo trip of 2023 was quite special for me and life-saving. I hadn't moved from home for 3 months, which hadn't happened since 2016 – travel blogger job obliges. The beginning of the year was difficult, with the loss of my cat Leo, with whom I spent 10 extraordinary years. Only those who have ever loved an animal can understand the pain that hits you in the heart. The lack is everywhere in your home, everywhere you look and the denial is such that you sometimes forget that it is no longer there, believing that you will find it when you come back from shopping. I didn't want to go away from this lack for a while. So I booked my trip to Tenerife without much expectation. Then, finally, without having given him an appointment, I found happiness and a certain appeasement. I wanted to write these few lines for my Leo, who did not leave my thoughts in front of the beauty of the landscapes that we will discover together in this article. For this beginning of recovery, Tenerife will always remain a special destination in my eyes.
Let's go now to the part that interests you: the itinerary of my one week road trip in Tenerife!
What to do in Tenerife during one week ? Itinerary of my road trip
So I'm going to detail you all the must-see places in Tenerife during your one-week trip. For practical information (budget, when to go, etc.), go to the end of the article.
Click to find all our travel guides on the Canaries with Lanzarote, Fuerteventura and Gran Canaria.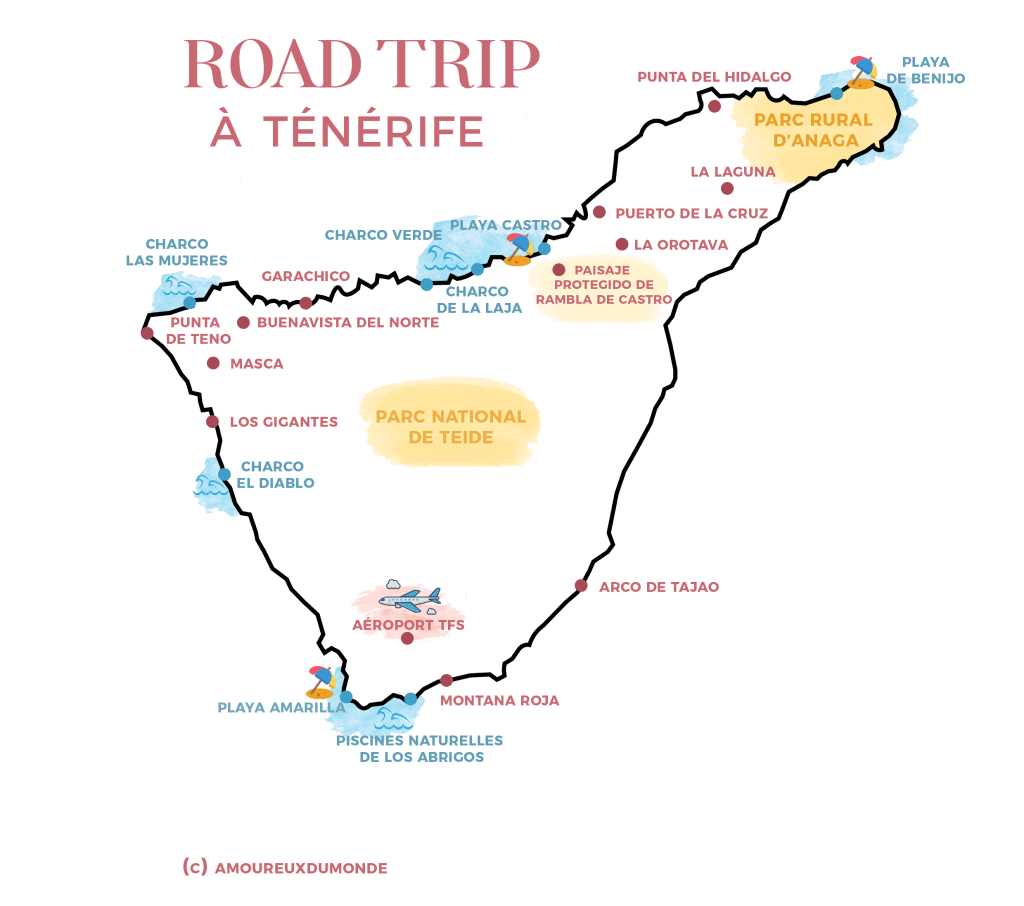 What to do during your road trip in Tenerife?
Day 1: First steps on the island of Tenerife
There are two airports, I arrived in the morning at the one of Tenerife South. The south of the island is very touristic with seaside towns, a concrete coast, without much interest. That's why we won't spend much time there, but there are still some must-sees in the south of Tenerife.
???? Arco de Tajao
The first stop on your road trip to Tenerife will be the Arco de Tajao. Located not far from the airport, count less than 5 minutes walk from the parking lot to discover it. It's a quick stop that allows you to see one of the original rock formations of Tenerife (and a nice photo spot ???? ).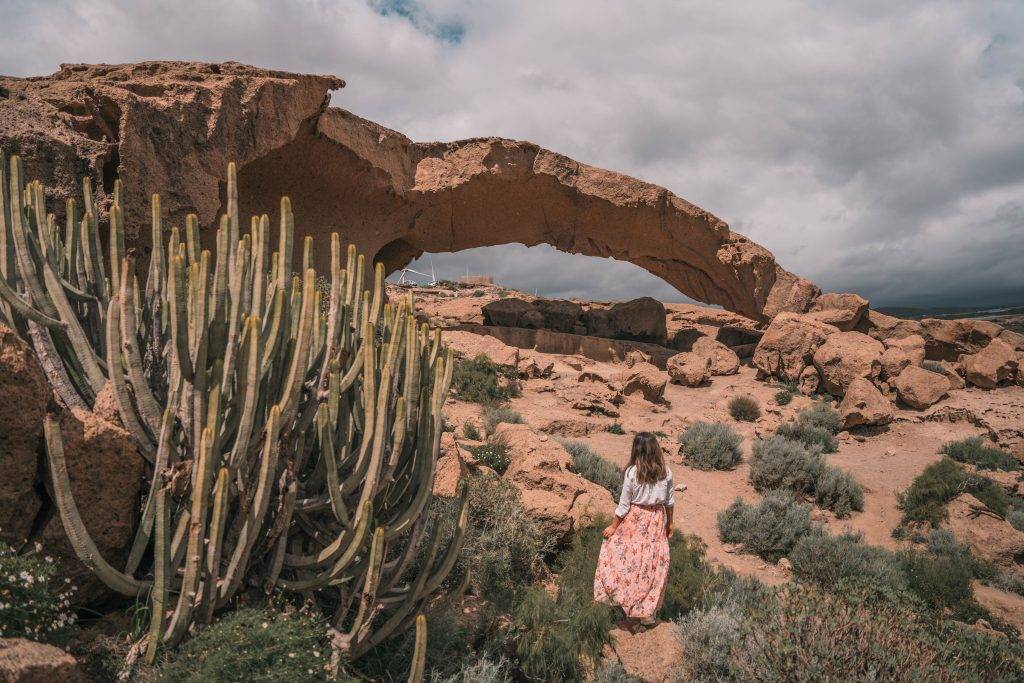 ???? El Médano
El Médano is a small town by the sea where it is pleasant to walk or swim on its wide beach, overlooking the red mountain. For a lunch break, you will find good addresses. The small streets and stores make the charm of the place.
For the amateurs, El Médano is also very famous for kitesurfing because it is the windiest spot in Tenerife. Book your kitesurfing activity on Manawa.
???? Red Mountain (montaña roja)
Montaña Roja is one of the volcanoes of the island, it is a must see in Tenerife. This 170 meter high volcano is quite easy to climb. The view from the top over the beach of Tejita and the town of El Médano is nice. Perfect to take a big breath of oxygen because, as said before, there is a lot of wind.
Access: A parking lot is nearby and the ascent takes 20 to 30 minutes depending on your form!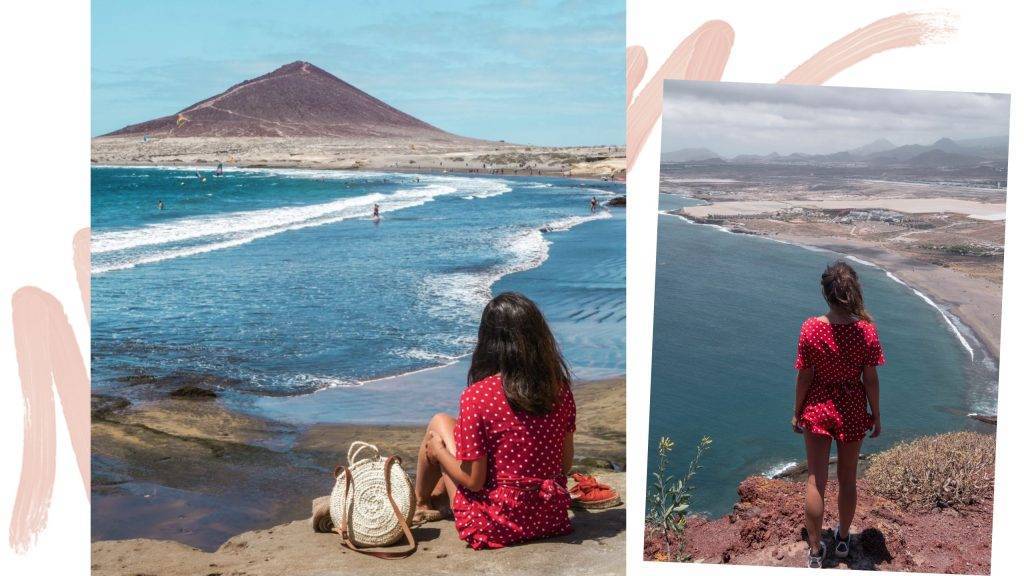 ???? Los Abrigos Natural Pools
If you've climbed to the top of the volcano, you'll probably want to cool off. Located a 5-minute drive from Montaña Roja, the natural pools of Los Abrigos are gorgeous! They have turquoise blue water and are very easy to get to with parking nearby.
⚠️ Natural pool warning: never swim in a natural pool if there is too much swell, whether in Tenerife or elsewhere. Watch the wave levels on Windy or just by watching the sea for a few minutes, if you see that the waves are coming into the pool and swirling around, don't go in the water! There are many accidents every year with people who are not aware of the danger, who are thrown against the rocks because of the force of the swell.
???? Playa Amarilla
Playa Amarilla gets its uniqueness from the orange-yellow cliffs that border it. No sand here, but you can land on the rocks. There are diving boards and it is a nice spot for snorkeling. You will also find a free parking nearby and a small bar on the beach.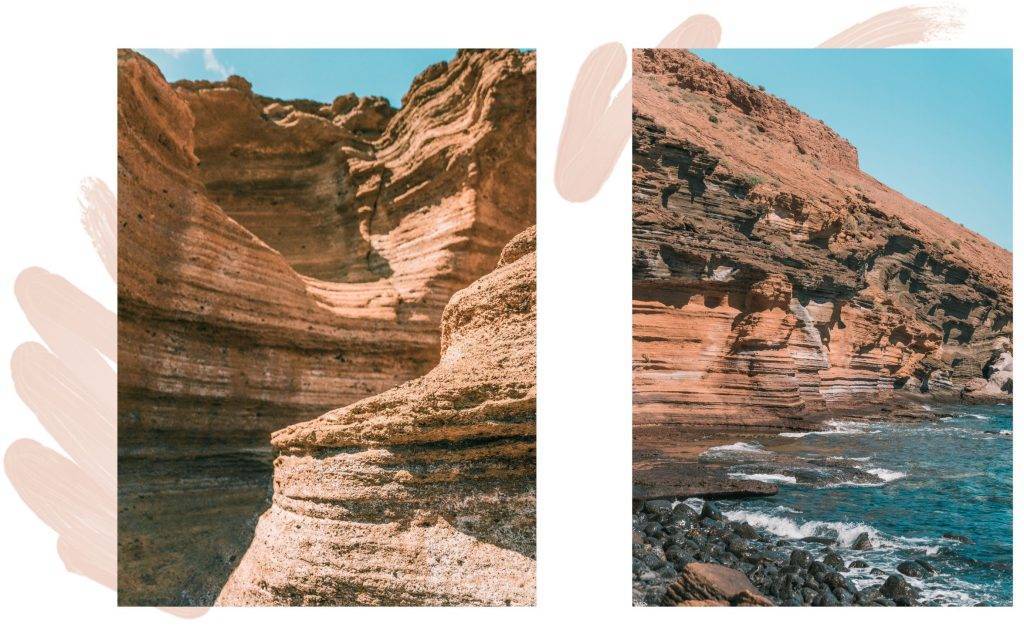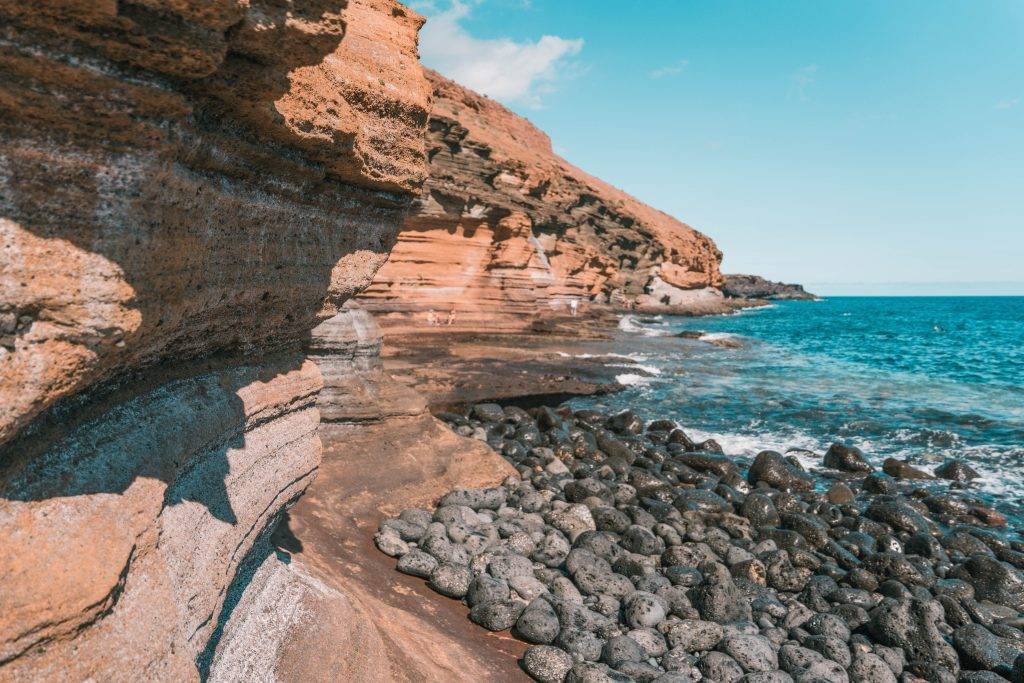 ???? Road to Los Gigantes
For this first night, we will head to Los Gigantes, a seaside resort of Tenerife. This place is very touristic but it is worth the detour to see the cliffs in particular! For dinner, you will have the choice among many restaurants.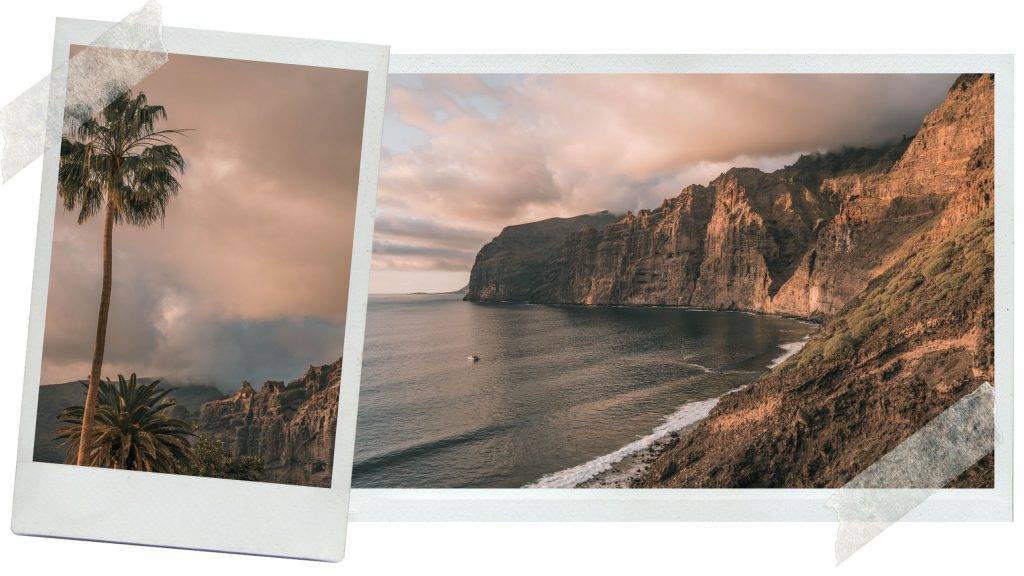 Where to sleep in Los Gigantes?
My accommodation had a beautiful view of the ocean and the cliffs of Los Gigantes. It was very clean, well located and equipped with a kitchen. Rates and booking
The view from my balcony ????: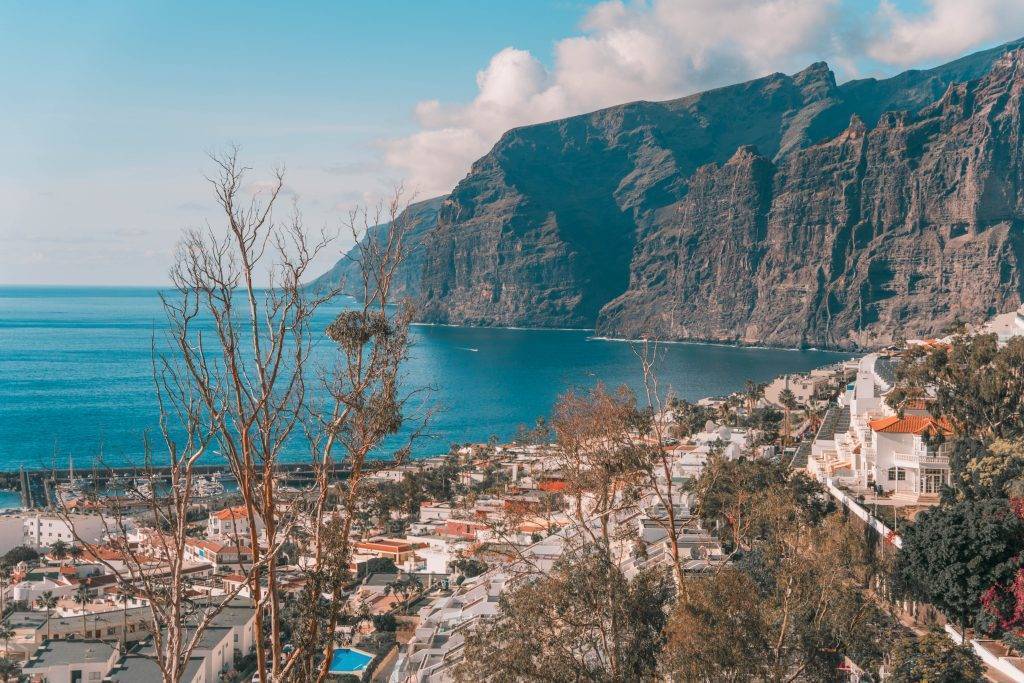 ---
Day 2: Encounter with cetaceans and route to the North of Tenerife.
???? Boat trip to Los Gigantes.
In Tenerife, it is possible to observe whales and dolphins. So I had the chance to see 2 pilot whales and about 50 dolphins playing with the sailboat. Note that this species of whale is present all year round in the waters of Tenerife.
I had a great time during this 4-hour excursion. There is room to settle on the boat and a lunch with tapas will be served at the end. We were able to get close to the cliffs of Los Gigantes to eat and swim. It was awesome!
???? Book your excursion to observe the whales and dolphins of Tenerife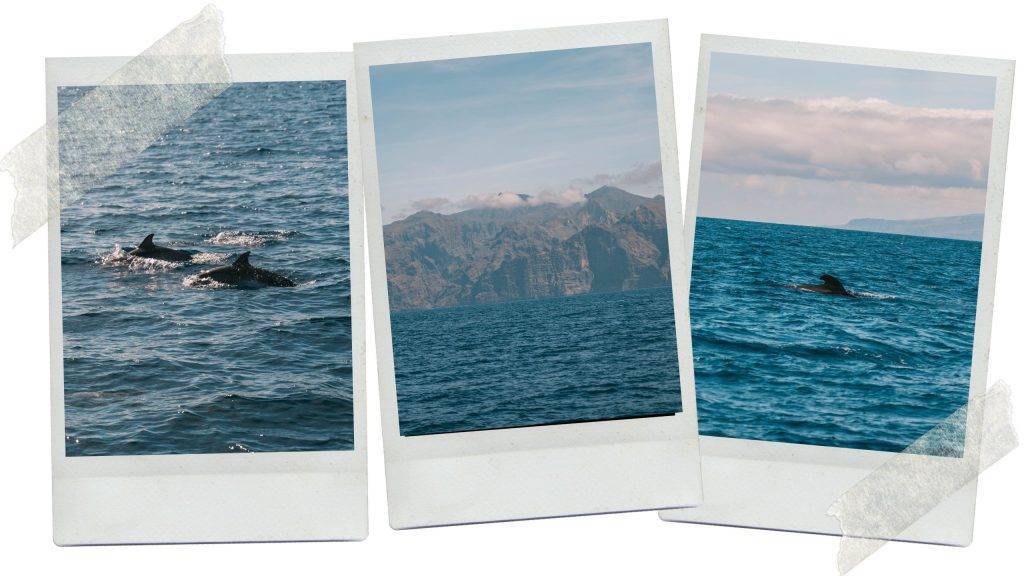 ???? Charco El Diablo
For a little splash or just to admire the scenery, head to Charco El Diablo, another natural pool in Tenerife. I didn't swim there because there were so many waves, but I still loved the beauty and power of nature.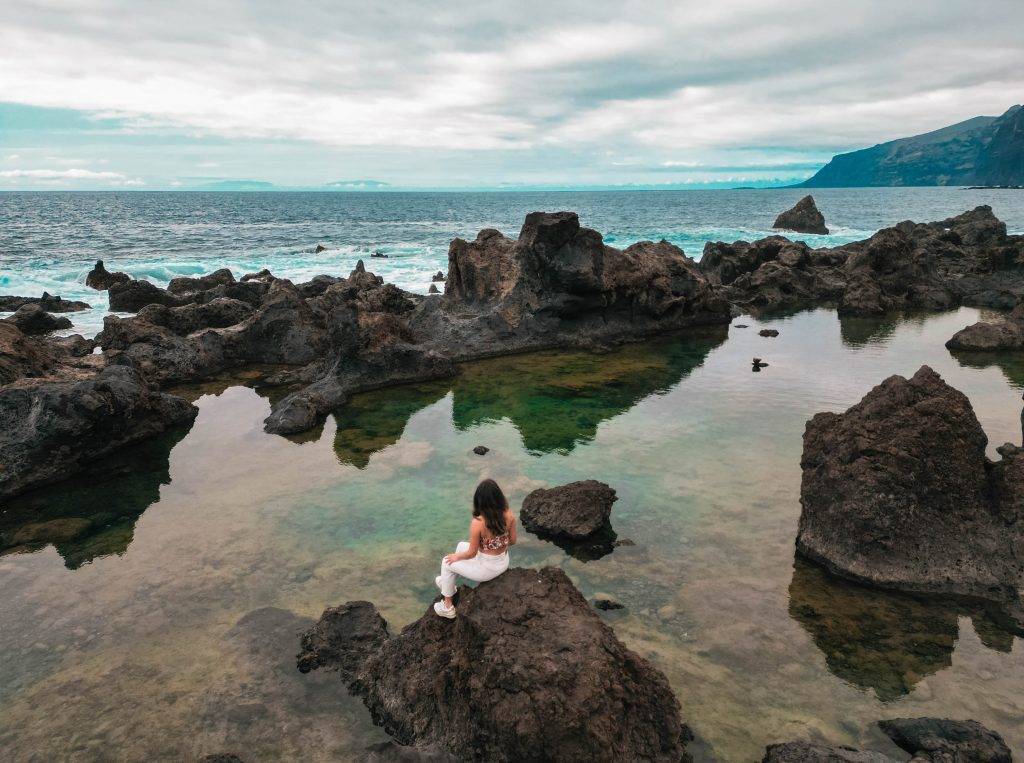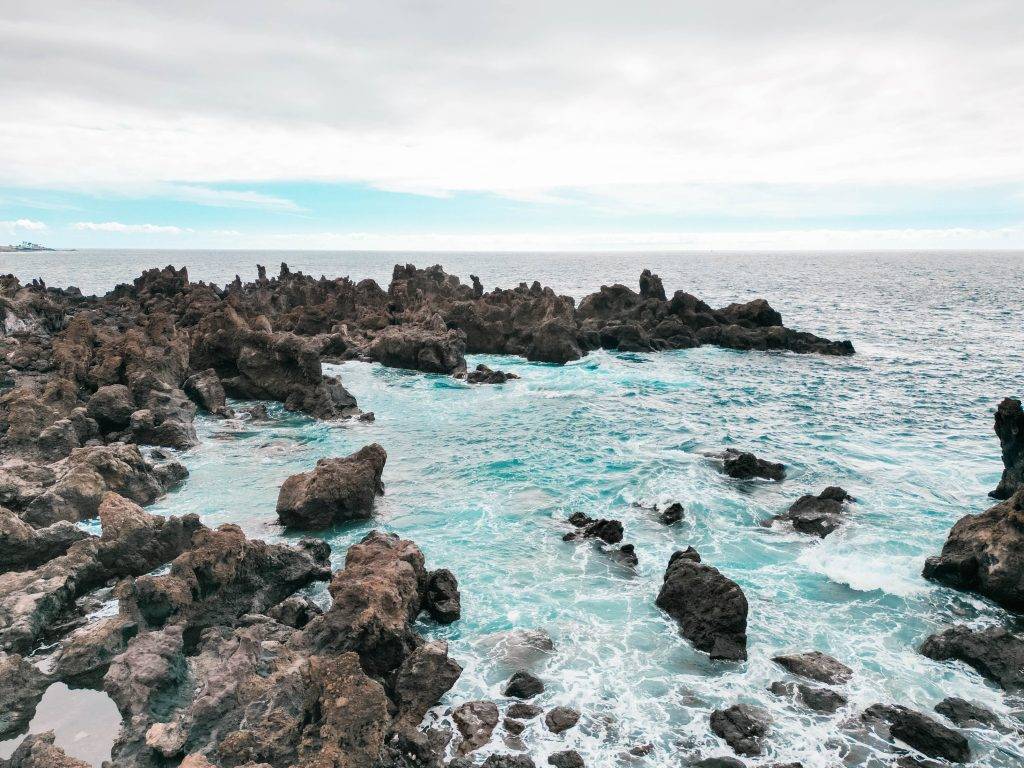 ????The village of Masca
During your week-long road trip to Tenerife, you absolutely must visit Masca and its valley. This small village is splendid, especially at the end of the day with a golden light. You can walk there, even if it is not very big. Don't hesitate to go up to admire the view (GPS coordinates).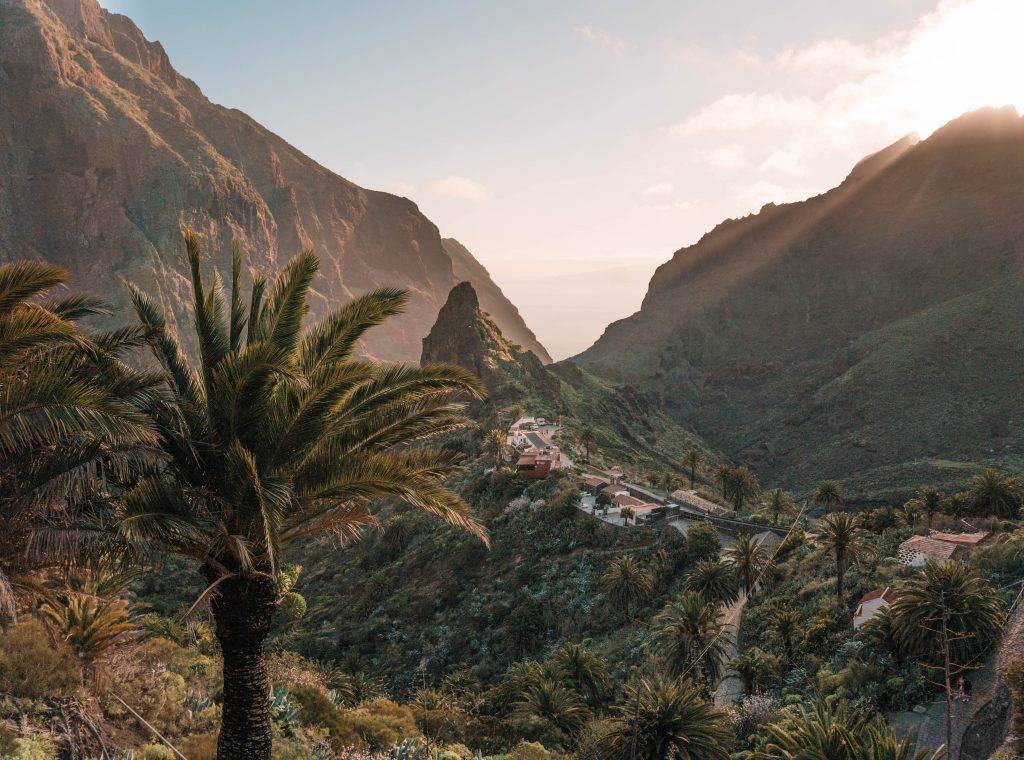 ???? Sunset in Tenerife
On my way back from Masca to my next accommodation, I stopped at a spot that was too beautiful to admire the sunset. I did well because the sky was tinged with magnificent shades that evening…
Access : Mirador de los Warriors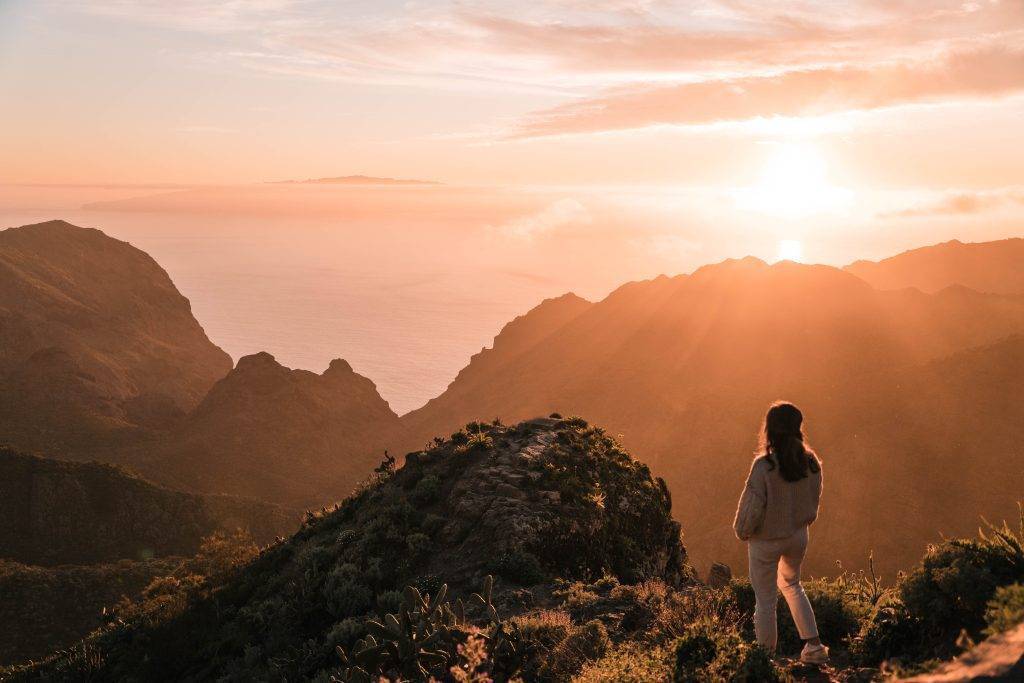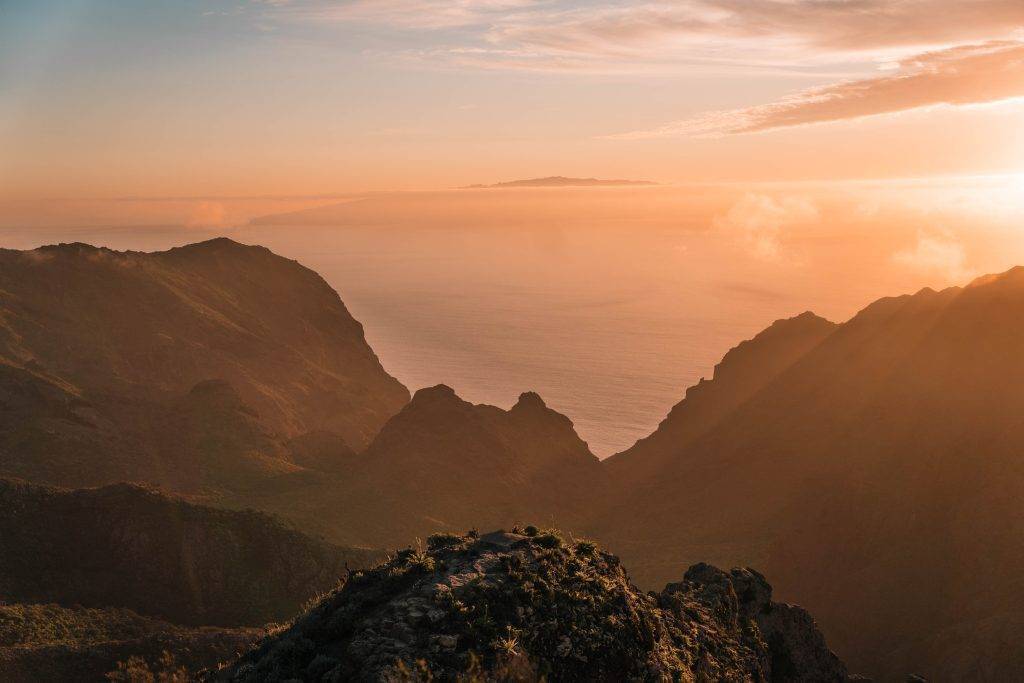 ???? Where to sleep near Buenavista del Norte?
In order to visit the northwest coast of Tenerife, I put my bags down for 2 nights in Los Silos, a small colorful village ideally located. My accommodation, Alexia House, was top notch with an excellent quality-price ratio. I recommend it with my eyes closed!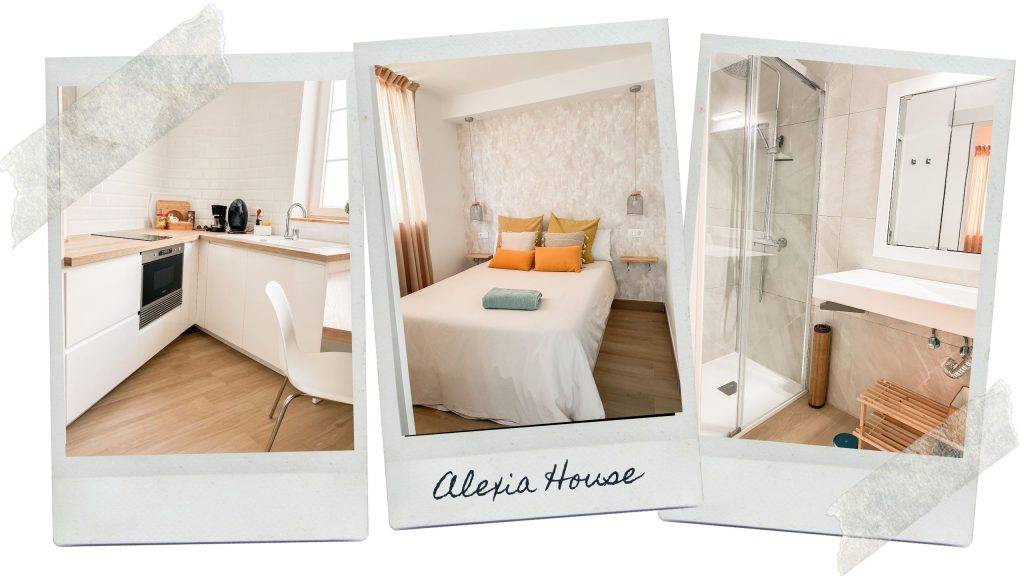 ---
Day 3: What to do in Tenerife? Road trip to visit the northwest of the island
???? Punta de Teno: the most beautiful lighthouse in Tenerife
Punta de Teno has an emblematic lighthouse, it is a must see during your one week trip to Tenerife! Besides the lighthouse, the road to get there is worthy of a movie set as it is so beautiful. I stayed there for a while watching the waves crashing against the rocks… with a feeling of being at the end of the world.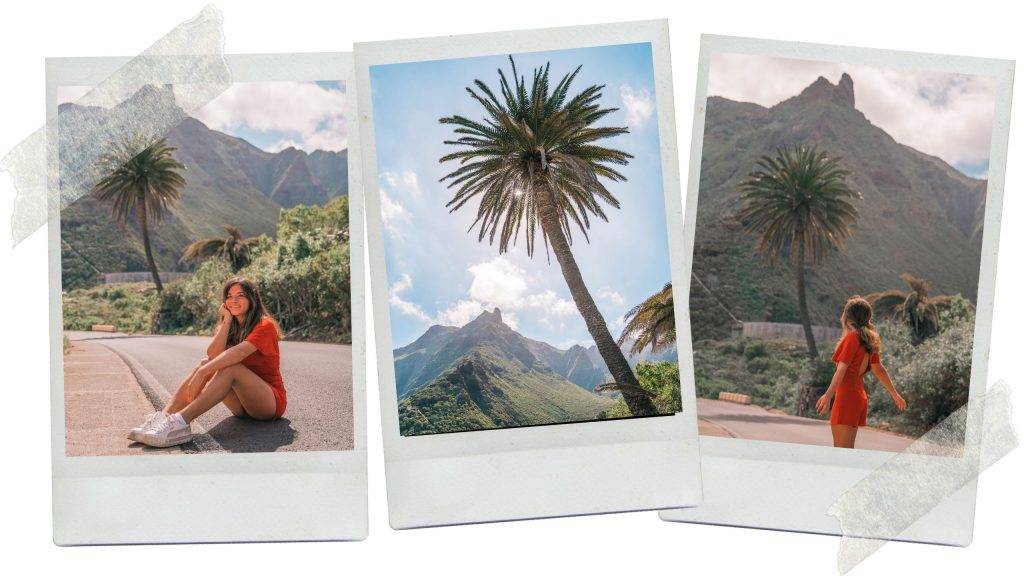 Access Punta de Teno: Be careful, the road is restricted to vehicles at certain times to regulate the influx of people to the site. Here are the hours: closed between 10am and 7pm from October 1 to June 30, closed from 9am to 8pm between July 1 to September 30. If you want to go there by your own means, you must go before 10am (9am in summer) or after 7pm (8pm in summer). Otherwise, you will have to take a bus that leaves from Buenavista del Norte about every hour.
Little tip: the lighthouse of Punta de Teno is in the west, so it's a good sunset spot ????.
Kayaking in Punta de Teno
For water sports enthusiasts, I recommend booking a kayak ride in Punta de Teno to enjoy the scenery from the ocean. ????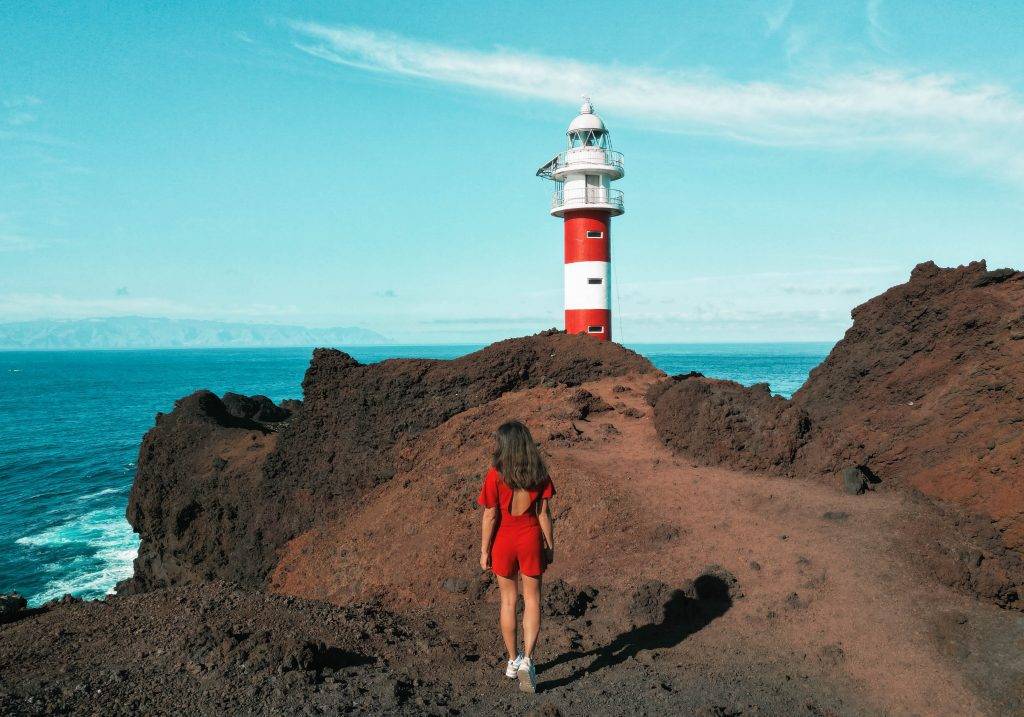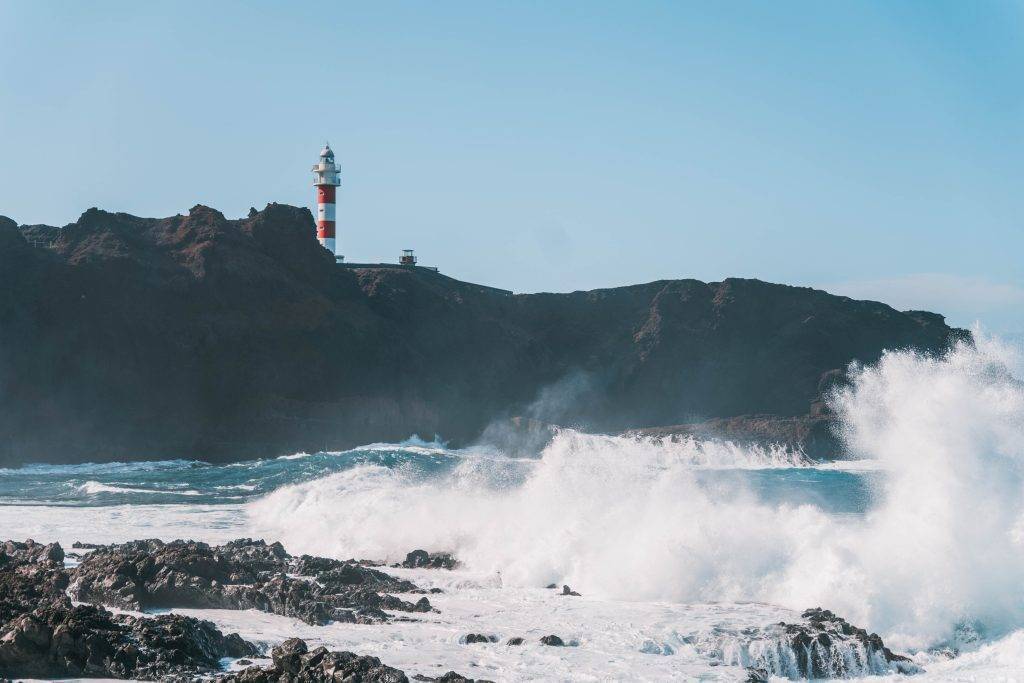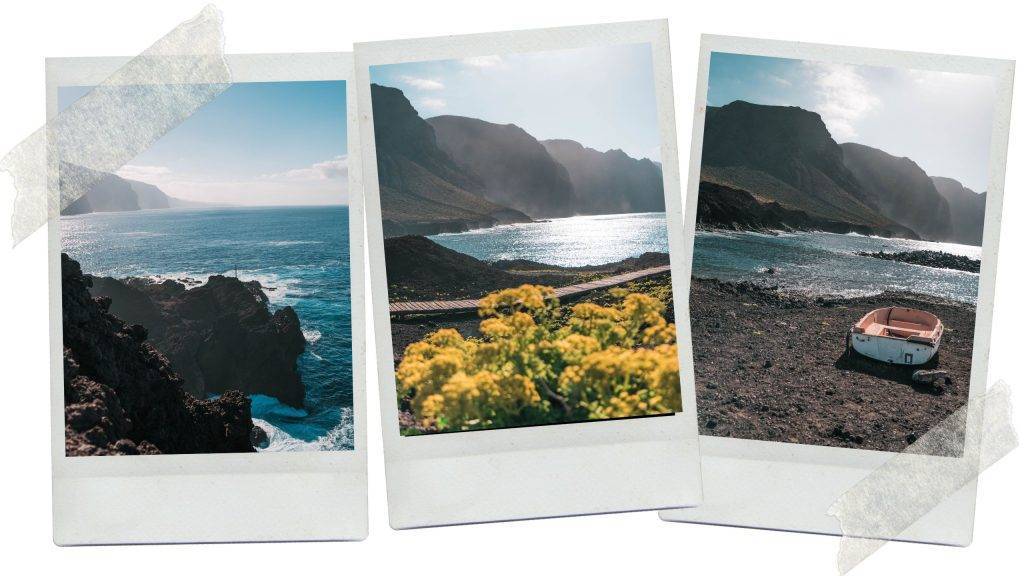 ???? Charco Las Mujeres
A bit hidden from the crowd, Charco Las Mujeres is a beautiful natural pool to swim in on Tenerife (I repeat: when there are no waves!). It is also possible to walk along the coastline.
???? A parking lot is nearby: park here.
Not far from there, you will find other natural pools around Charco Los Chochos.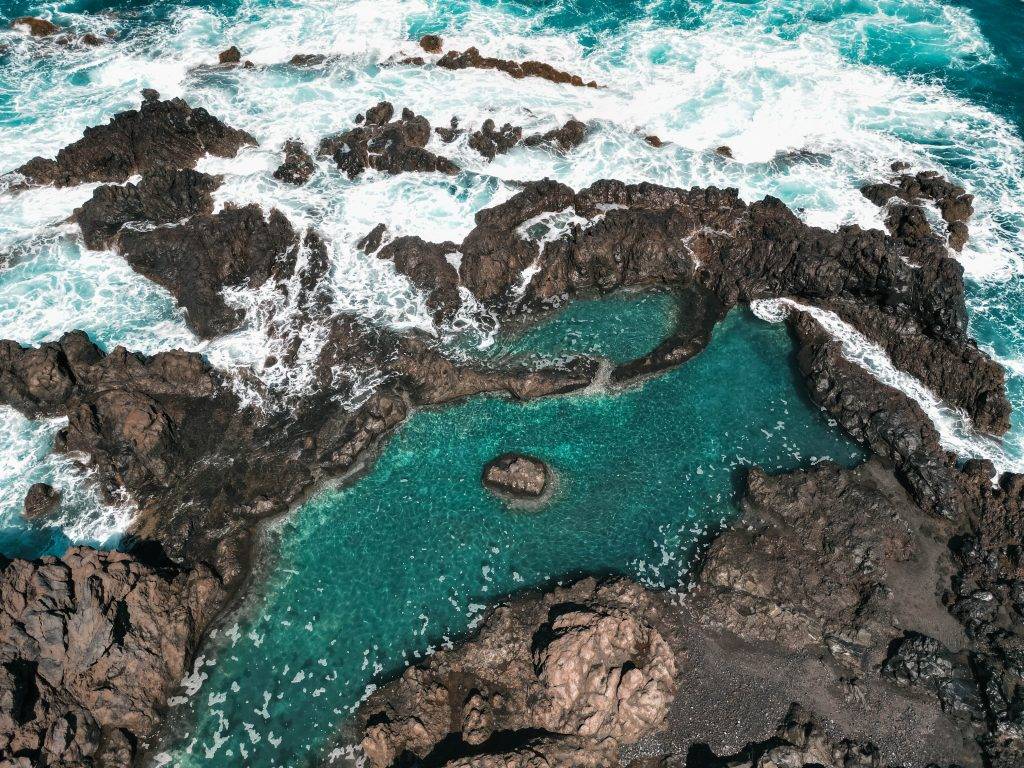 ???? Visit Garachico
For the end of the day, I invite you to visit the pretty town of Garachico. There again, you will find natural pools but also a very charming downtown with small stores and restaurants. For dinner, I recommend the Tasca El Muele to treat yourself with good tapas.
Before arriving, you will have a beautiful view of Garachico at the Mirador del Emigrante.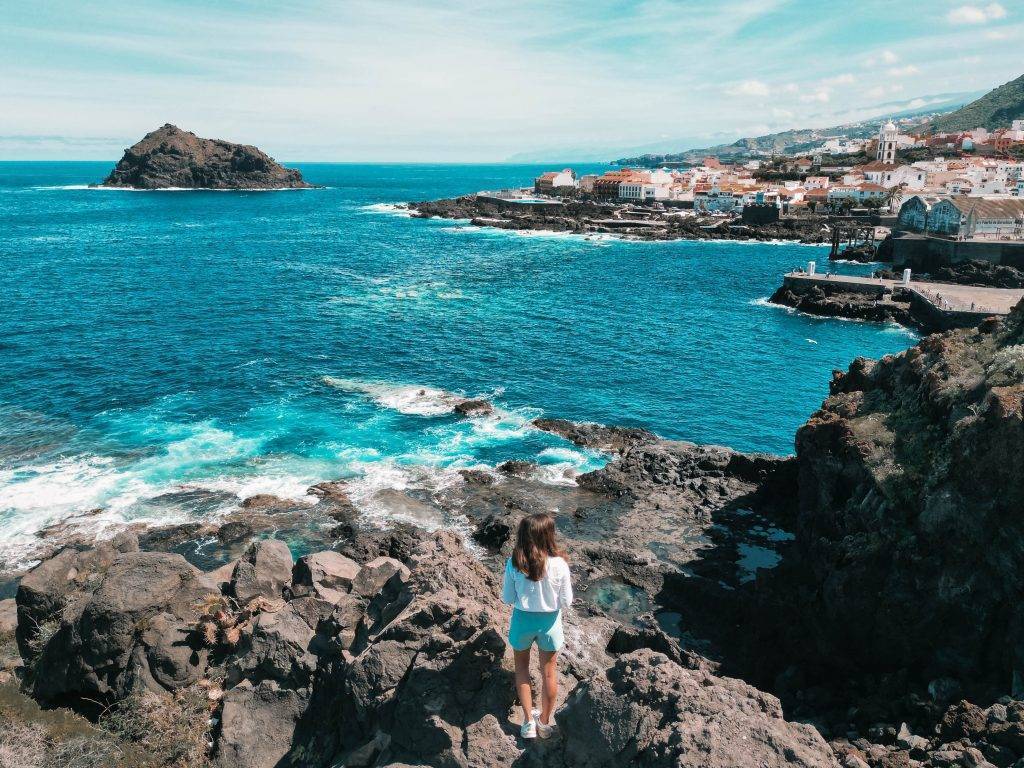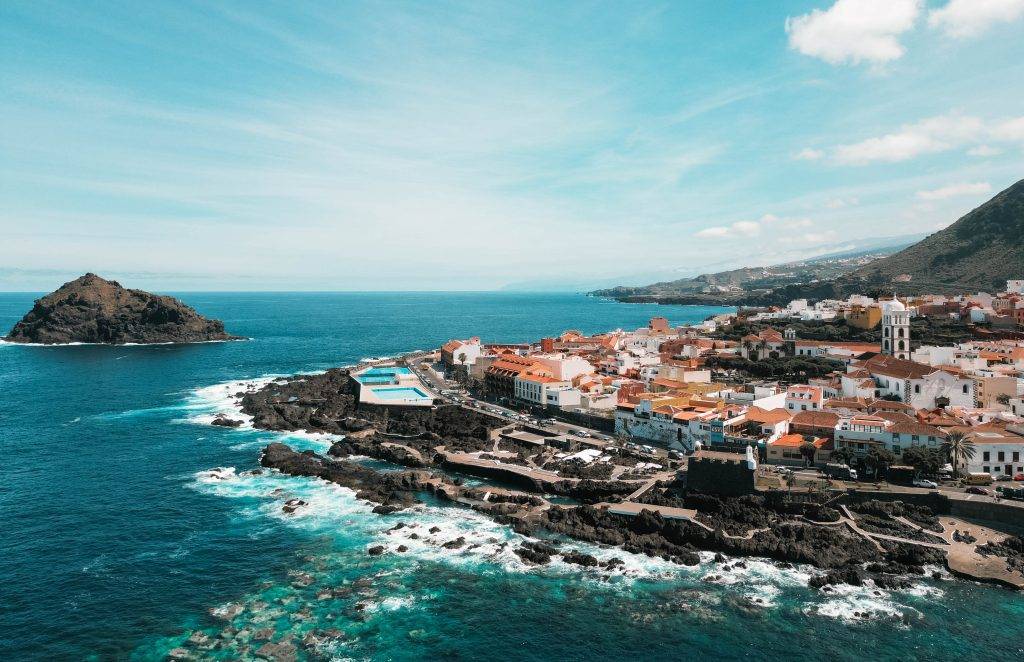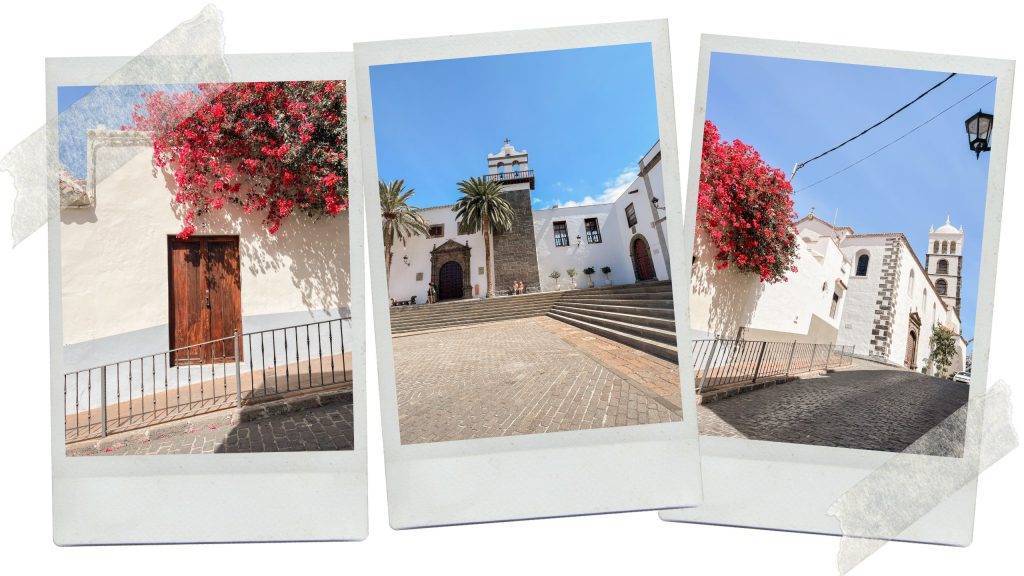 ---
Day 4 of the road trip in Tenerife
???? The most beautiful natural pool of Tenerife: Charco Verde
This natural pool is not referenced on Google Maps and please leave it as such. ???? This place is beautiful, intimate, with crystal clear water. Going there in the morning, I was able to enjoy it all by myself: it was a real treat! I bathed at the beginning of March, the water was a bit cool but it was super nice with the sun ☀️.
Access: park on this small road. Then, pass the barrier at the end of the road and go down for 10/15 minutes until the sea. You will come across the Charco Verde (see GPS coordinates).
It goes without saying that you should not leave any waste in this magical place, or in any other for that matter! I trust you. ????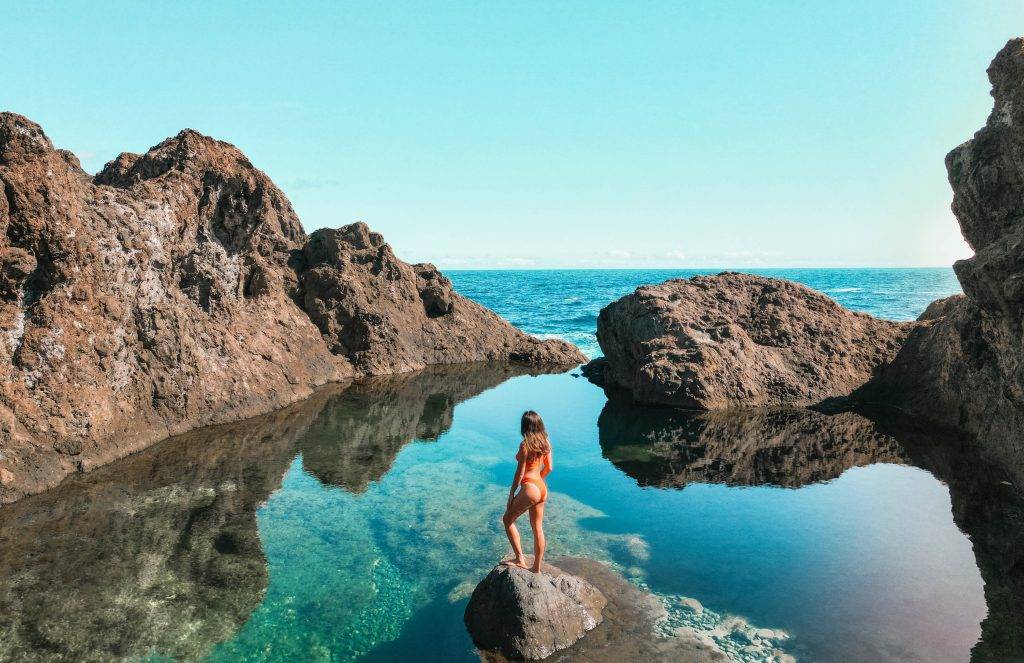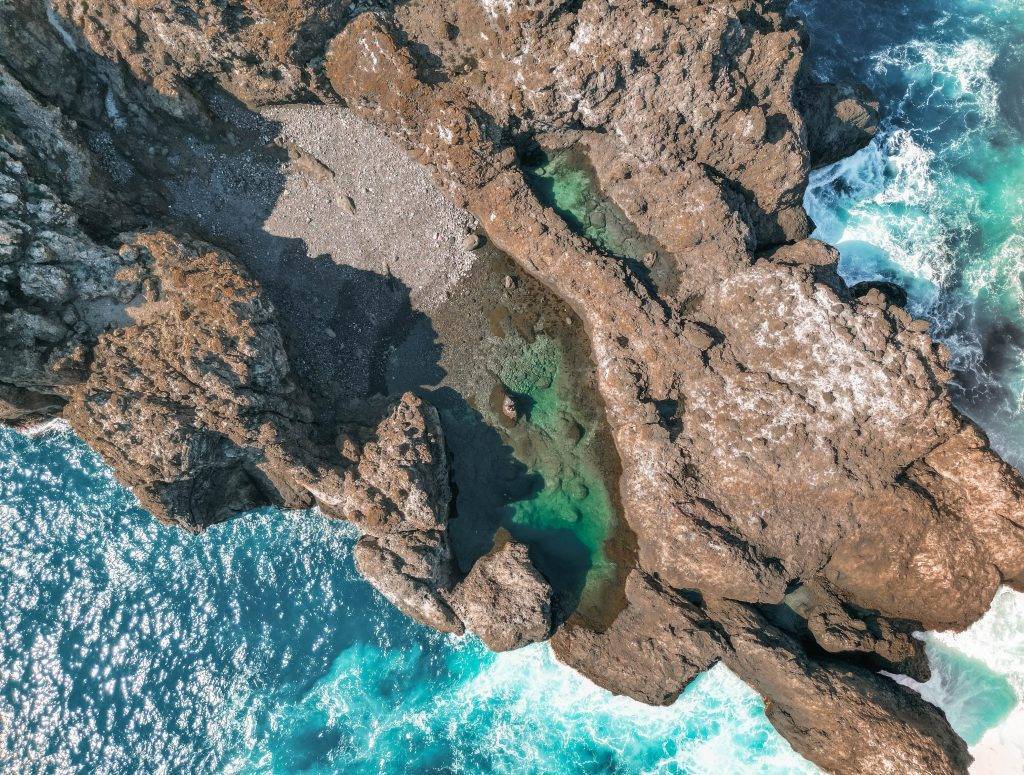 ???? Charco de la Laja
Just a 5 minute drive from there, you'll find another natural pool to swim in – Charco de La Laja. The access was closed when I went there but it looked very nice! However, it will be much more crowded.
???? Hiking in the protected area of Rambla de Castro.
Here again, you'll get an eyeful with beautiful landscapes! I suggest you take a short walk of one to two hours within the Paisaje Protegido de Rambla de Castro. There are several small routes to do on foot, you will find a map at the entrance. At the bottom is Playa Castro which is sublime with its small waterfall flowing into the sea.
For those who followed the trip on Instagram, this is where I almost lost my drone, at the Fortin de San Fernando ????. By the way, I recommend you to go there to admire the view of the beach and the old water elevator. Speaking of the latter, it is possible to get as close as possible to the old water elevator of Gordejuela by the paths after the Fort.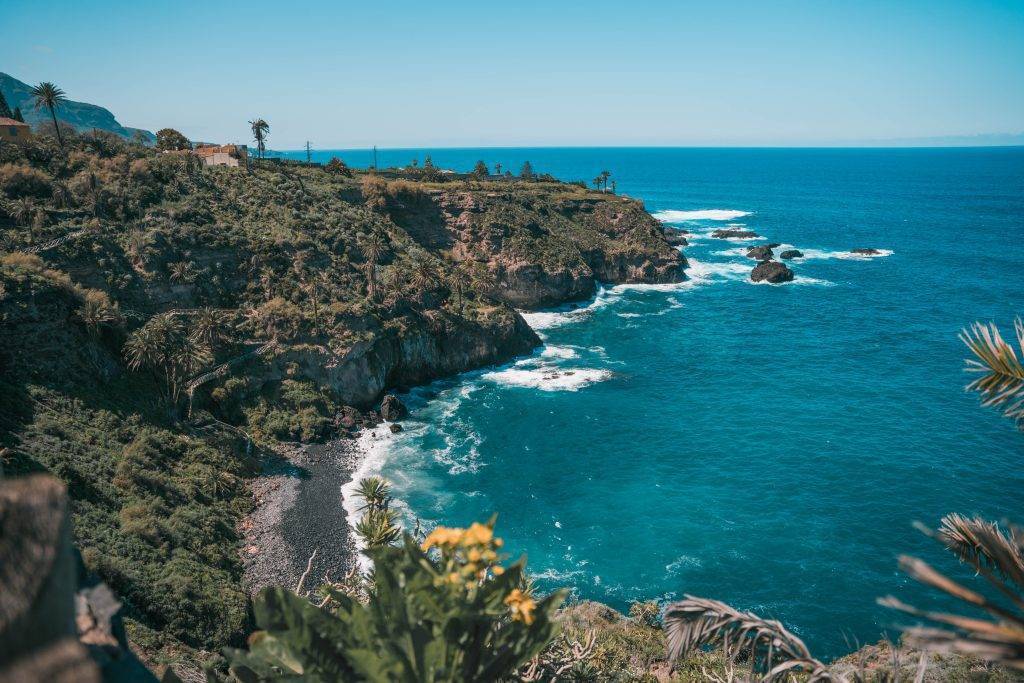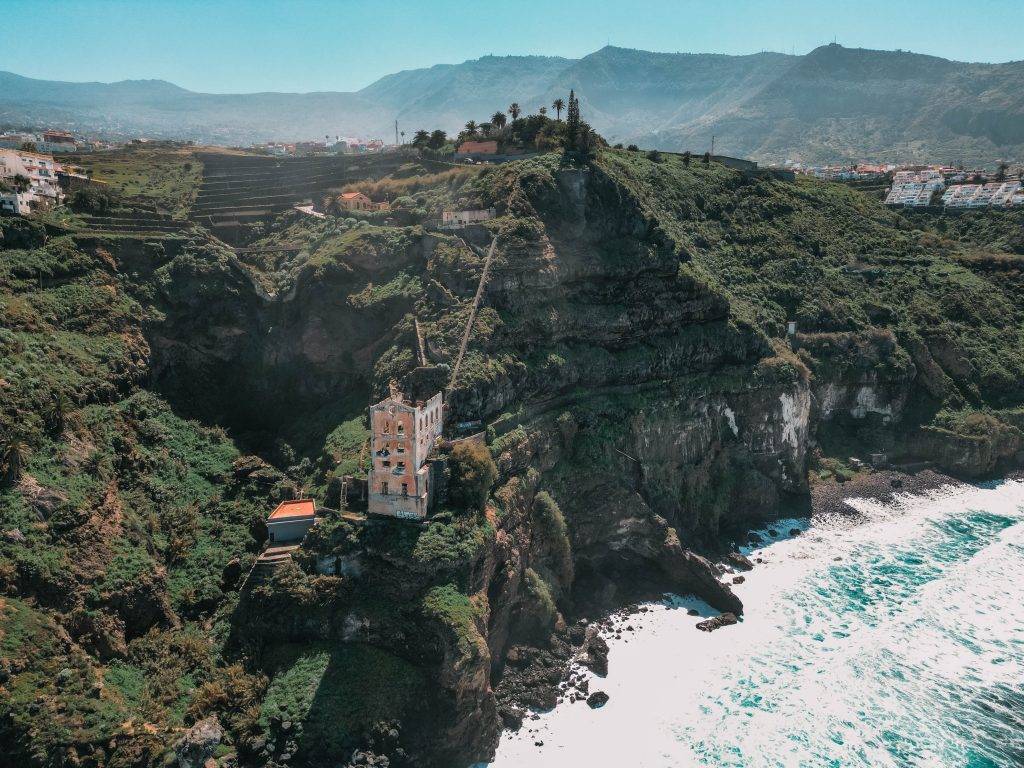 ???? Puerto de la Cruz and La Orotava
For the end of this day of the trip to Tenerife, you will continue the road to Puerto de la Cruz and La Orotava. I recommend that you pass through Puerto de la Cruz first and leave La Orotava for tomorrow morning so as not to overload your schedule.
You can also choose a hotel in this seaside resort where there are quite a few offers on Booking, although I preferred to stay in the heights!
???? Where to sleep in La Orotava?
I stayed one night at the hotel El Refugio de Maria, located on the heights of La Orotava. The view, between sea and mountain, is sublime! I chose this establishment for the price (very reasonable). My room was rather basic and the welcome was not the warmest, but for one night it was enough.
---
Day 5: what to do in Tenerife in the northwest of the island
???? Visit La Orotava
If you didn't do it on day 4, this morning will be dedicated to discover the old town of La Orotava! Located on the northern coast of Tenerife, it has a pleasant climate and has preserved its artistic and historical charm. Surrounded by natural parks, including the Teide Park, it has an abundance of water and beautiful gardens. It is also known for its interior courtyards and atypical balconies.
???? Since this day is not very busy, I suggest you do a Canyoning activity near the Orotava! It takes place in Los Arcos within a beautiful setting.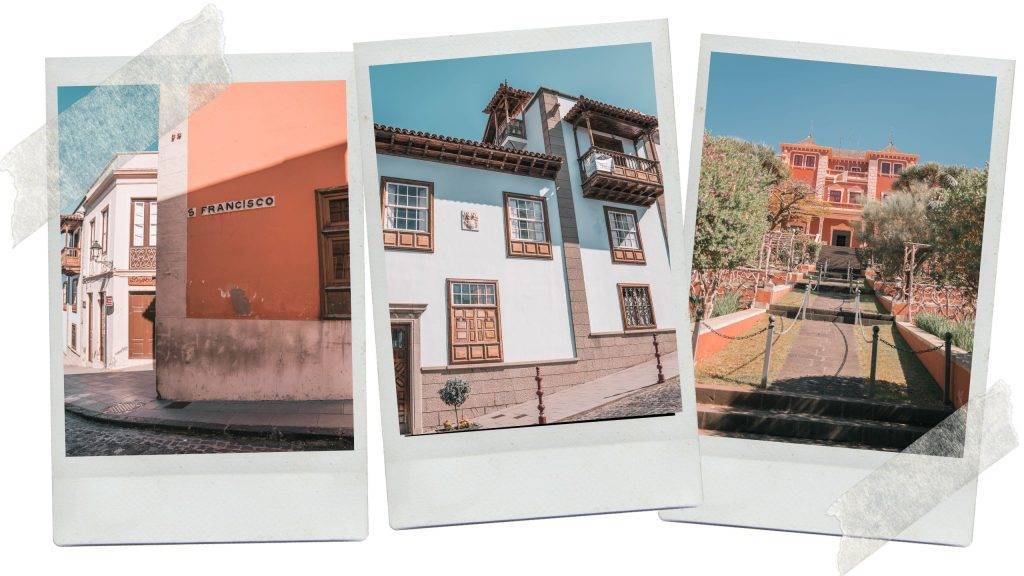 ???? Punta Del Hidalgo
Now, let's hit the road to my favorite place of this week-long trip to Tenerife: Punta del Hidalgo. Besides the breathtaking landscapes, you will find natural pools (again?!), surf spots and hiking trails!
I advise you to download the Alltrails application in order to have all the hiking trails around you. It will also serve you well for tomorrow's day in Anaga.
???? Where to sleep in Punta del Hidalgo?
My favorite part of the road trip in Tenerife is the Punta Paradiso hotel. I stayed there for 2 nights. The decoration, the atmosphere, the swimming pool with a view on the ocean and especially the excellent breakfast make it a very special place! I was amazed by the quality/price ratio. When I come back on a trip to Tenerife, for sure I will spend a few days there. ???? The little extra that changes everything: the sunset right in front of the hotel balcony. Book without delay!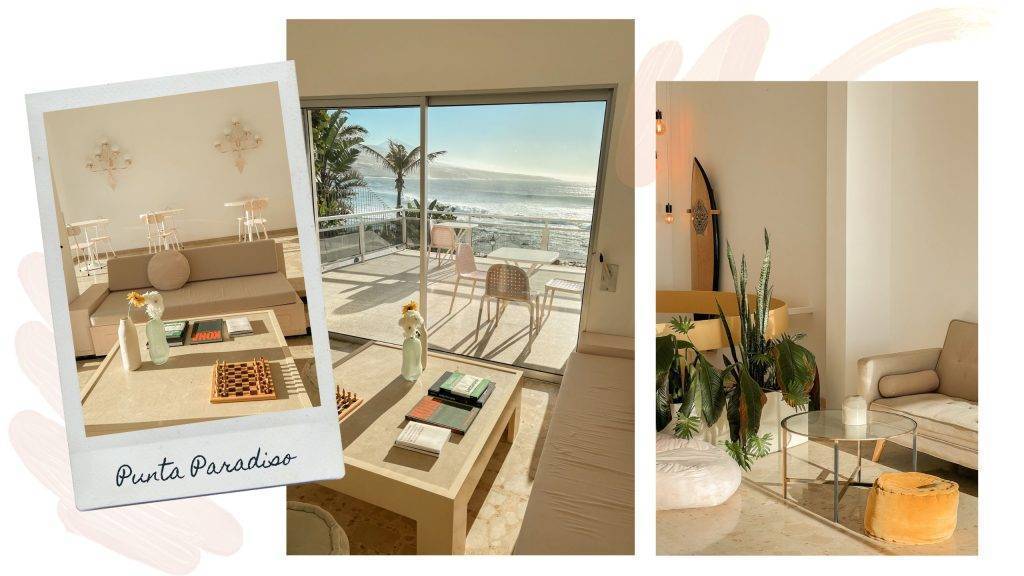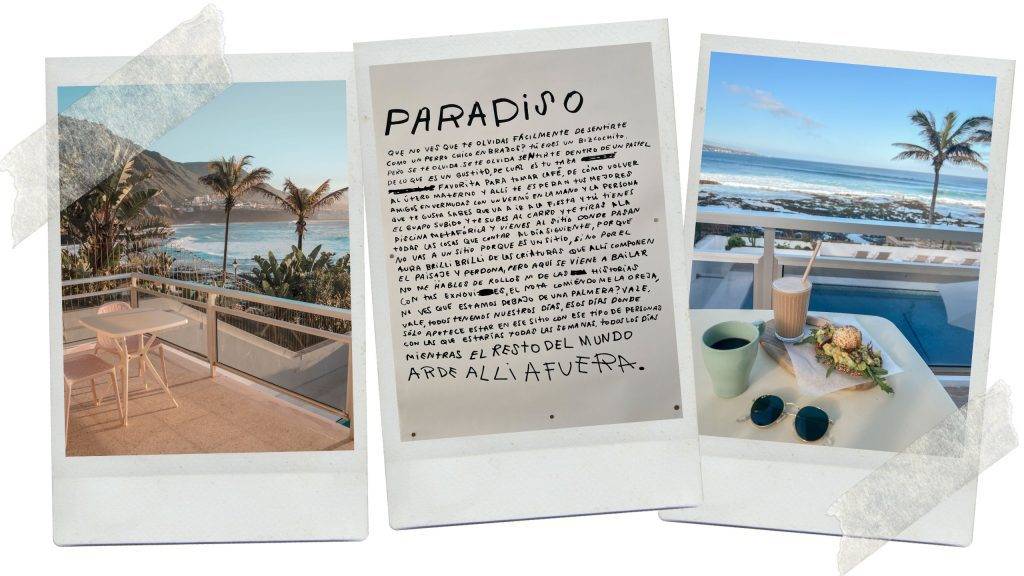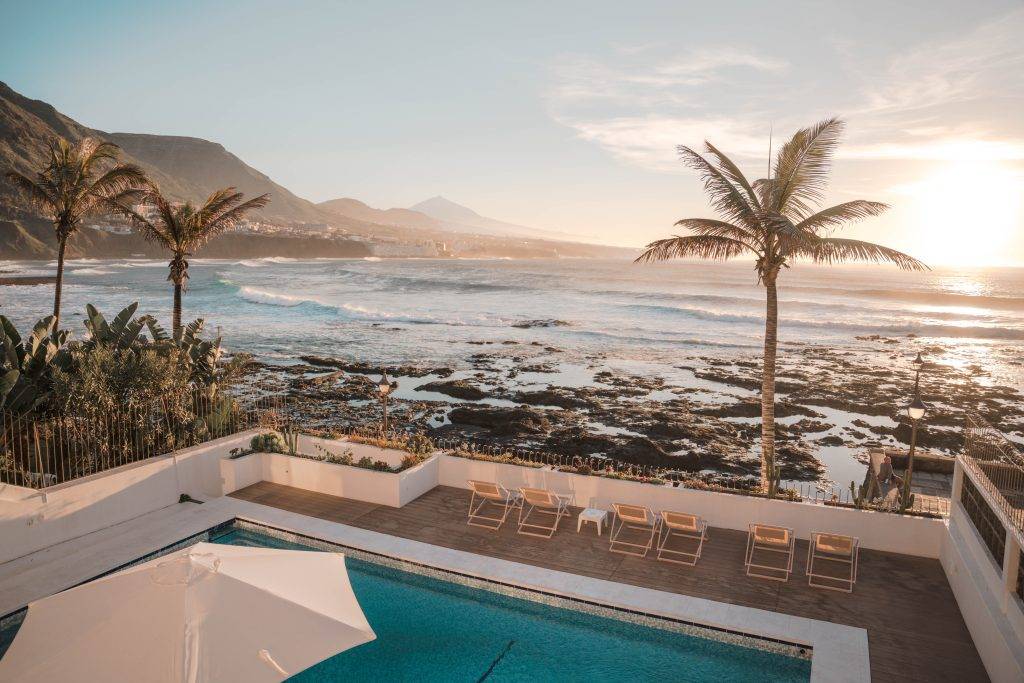 ---
Day 6: Visit of the Anaga Rural Park
The Anaga Rural Park is a must for your road trip in Tenerife. To get there, you will pass through San Cristobal de la Laguna, also known as La Laguna.
???? San Cristobal de La Laguna
I loved this colorful little town located at the foot of the Anaga Rural Park. La Laguna is a UNESCO world heritage site. It is very pleasant to walk in the colonial streets, with its numerous terraces and its historical monuments. You can walk around for an hour and buy a picnic for later!

What to do in Anaga Rural Park?
The viewpoints
The park of Anaga is a biosphere reserve, located in the extreme north of Tenerife. The clouds often hang over the mountain range and the climate is very humid. The diverse flora and fauna are the result of these weather conditions that can change very quickly. That's why I recommend you check the weather forecast on Windy so that you won't be surprised by rain during your hikes in Anaga.
Along the way, you will find many viewpoints that offer a breathtaking view of the area and Mount Teide. My favorite is the Pico del Inglès viewpoint, which offers a 360-degree view of the ocean and the mountains. The view from all sides is breathtaking.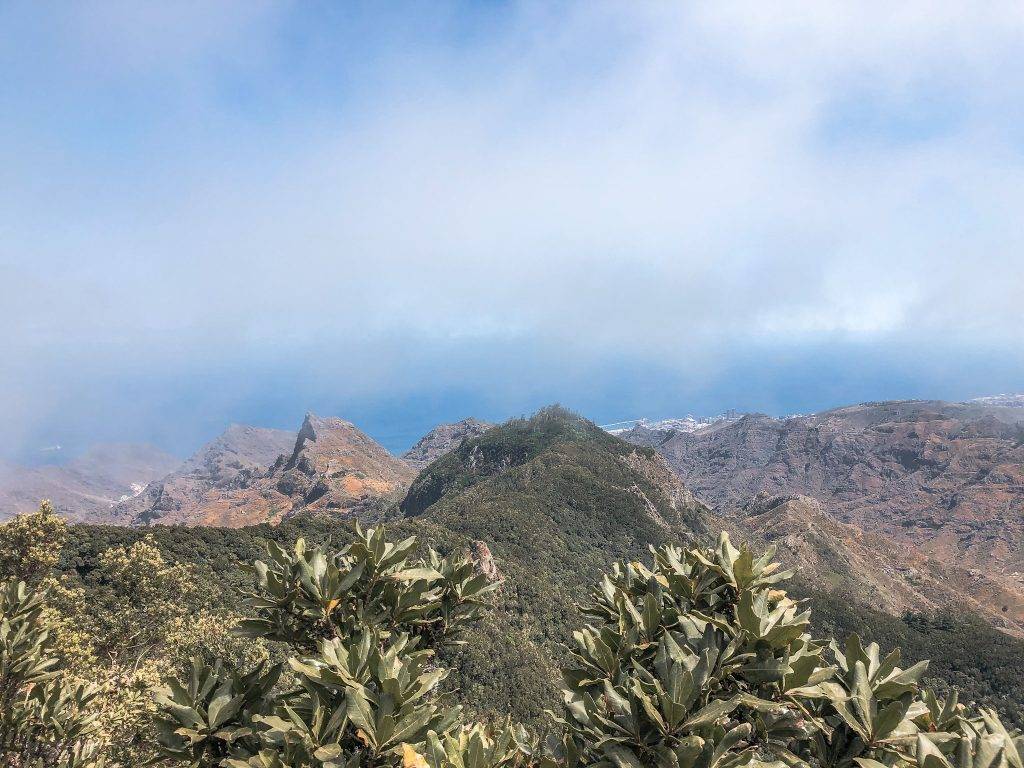 Hiking in Anaga
There are many hiking possibilities in the Anaga Rural Park. There is something for everyone, and each one offers a change of scenery. To see all the trails, check out the Alltrails app which is super convenient!
???? Roque de Taborno Hike
In my opinion, the hike to Roque de Taborno is one of the most beautiful in Anaga Park. I was captured by the beauty of the place and felt special energies there ????. The ocean, the Anaga Mountains, the towering rock, the wind, the vegetation… this place is breathtaking!
This hike is a 4 km loop, 230 m of positive elevation gain, 1h30/2h walk.
???? Access: park near the church in the small village of Taborno. Then the trail starts just to the right of the church. Guide yourself with the map on Alltrails: link to the Roque de Taborno hike.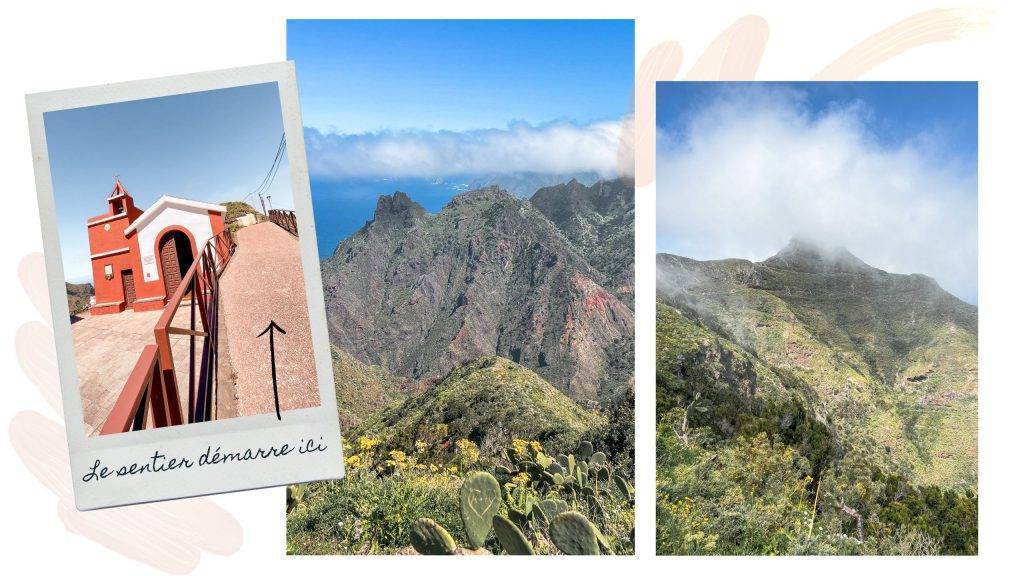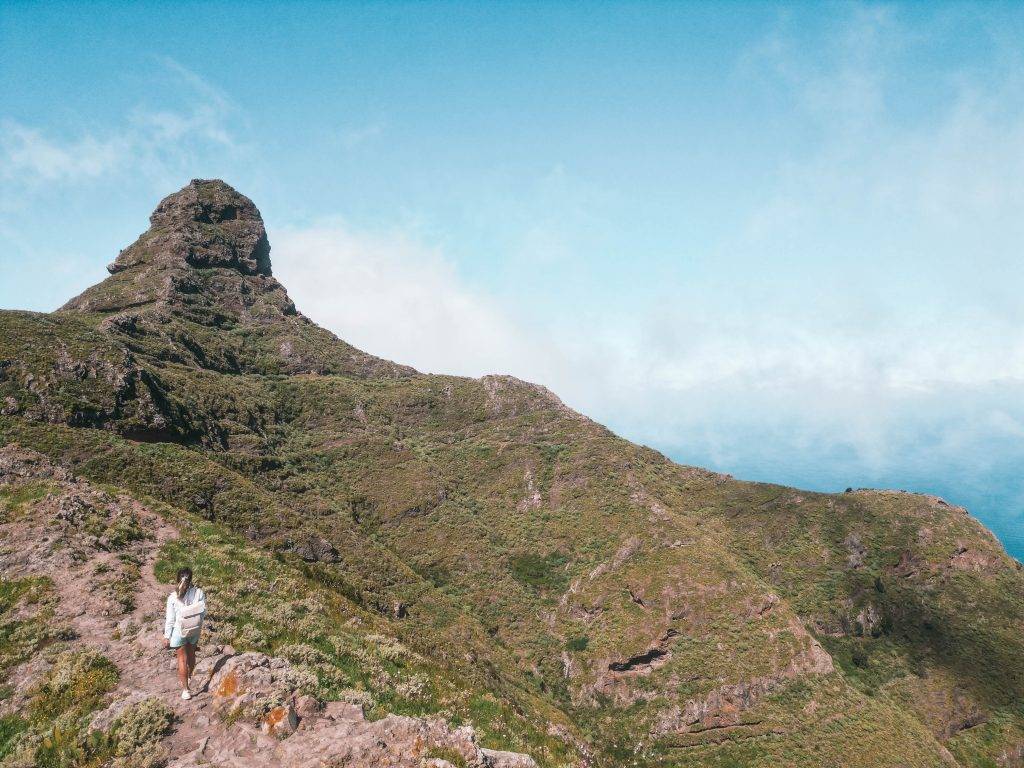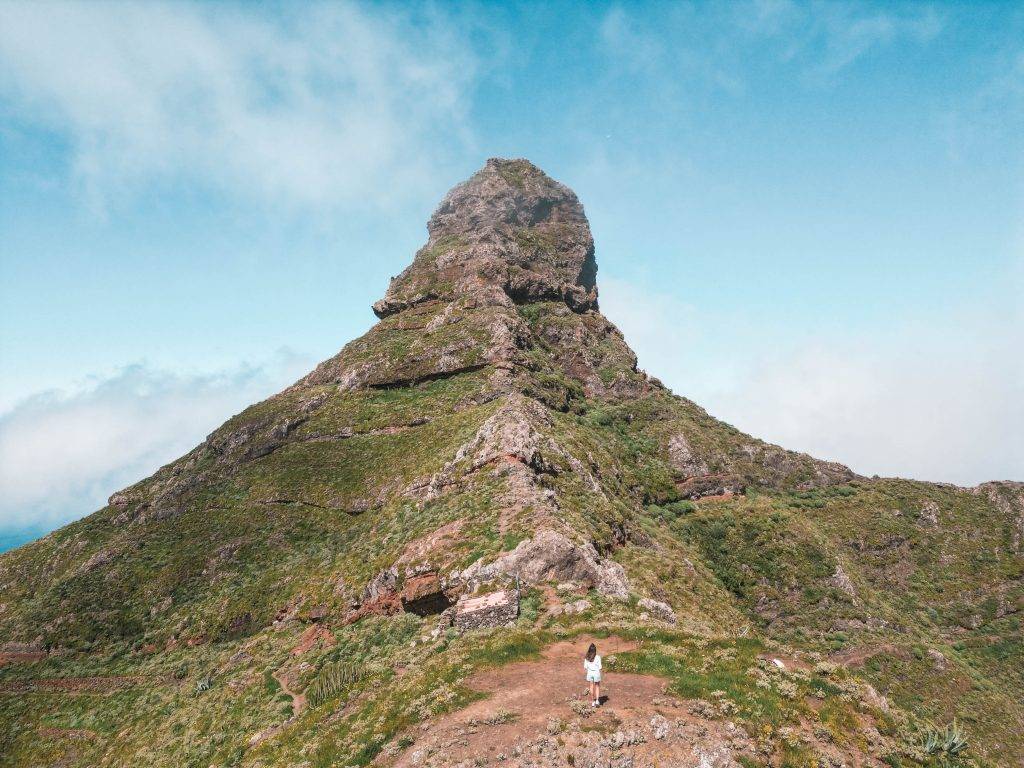 ???? Hiking in El Pijaral
I also wanted to hike the famous El Bosque Encantado (the enchanted forest), which passes through the protected area of El Pijaral. This ecosystem is unique with dense vegetation and a mystical atmosphere.
As I mentioned, this area is protected, so it is limited to 45 people per day. You have to reserve your place (for free) in advance on the official website. Unfortunately, I booked too late and there were no more slots available. If you have the possibility to go there, don't hesitate! However, don't try to go without authorization because the fine is 600€.
This hike is a 6km loop with no difficulty, 2h30/3h walking time.
???? Playa de Benijo
To finish this day of road trip in Anaga in beauty, I invite you to head to the Playa de Benijo, elected by a jury (composed of myself ????) the most beautiful beach of Tenerife! The black sand, the power of the waves and the imposing rocks of Playa de Benijo made me think of Iceland – check out my Iceland travel guide. I stayed there until sunset, when the sky turned orange, pink and then purple. ????
When night falls, it's time to head back to the Punta Paradiso Hotel for a well-deserved night's sleep. Be careful on Anaga's narrow roads when driving at night.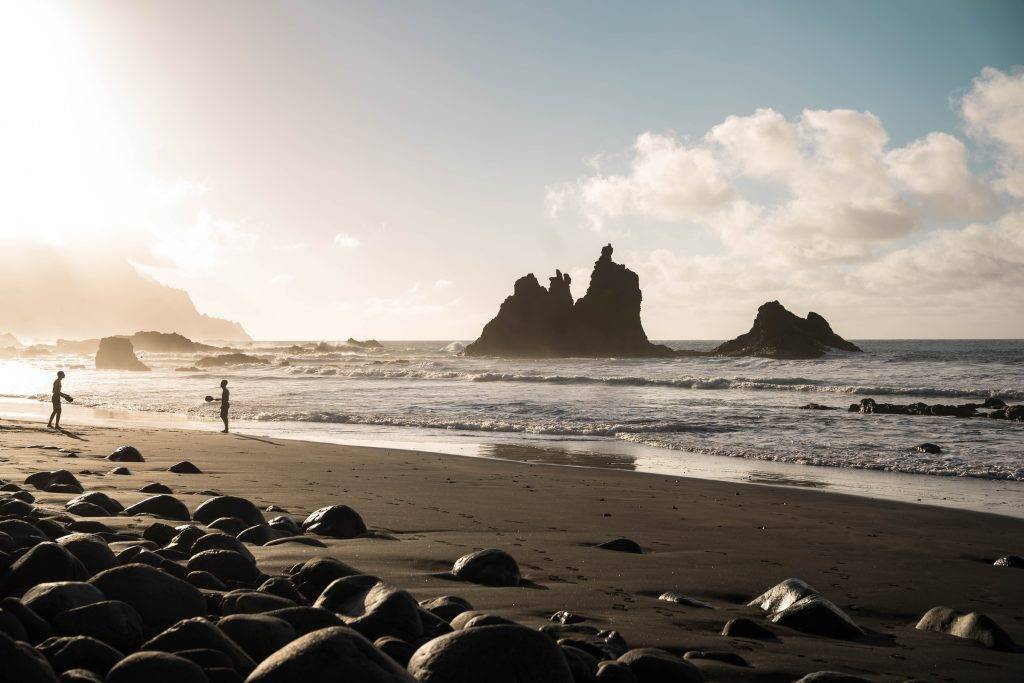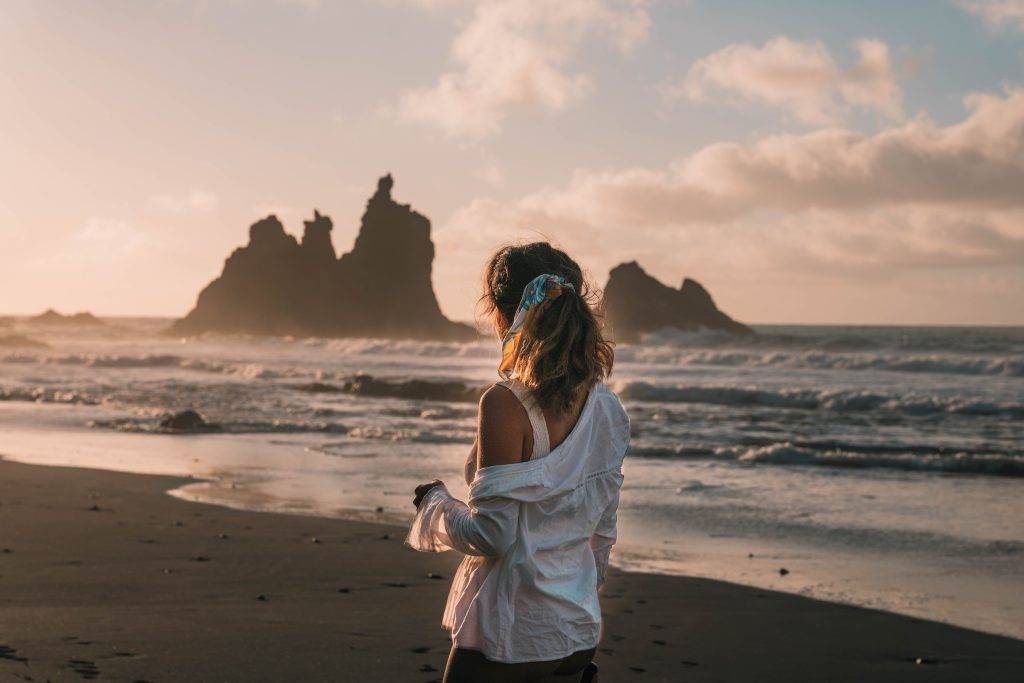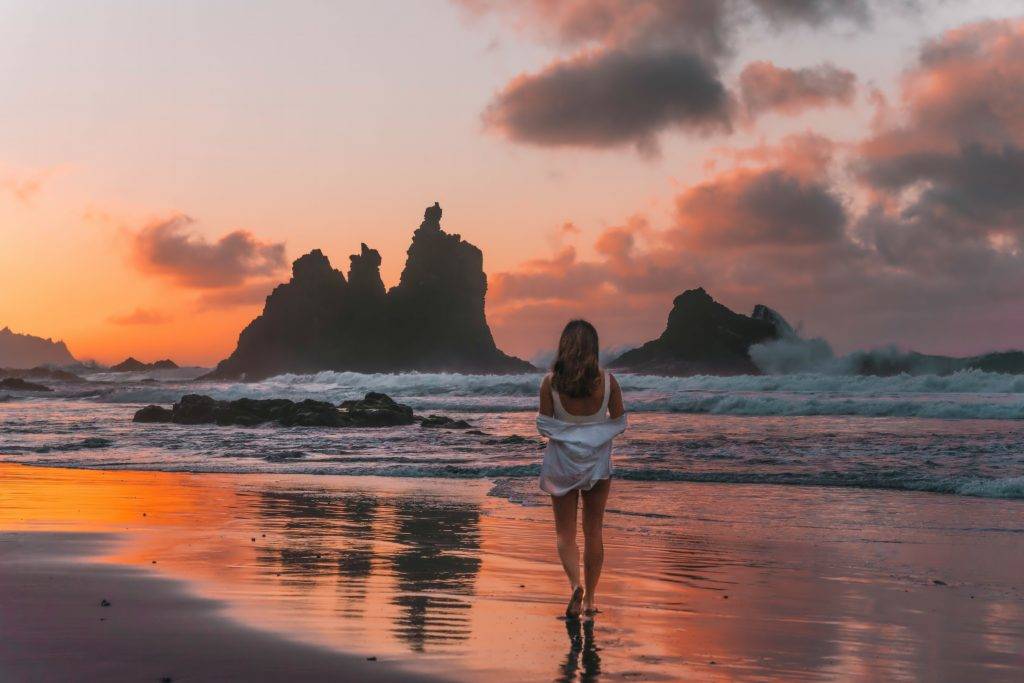 ???? One week trip to Tenerife: my advice
I'll allow myself a little aside before detailing the end of my road trip itinerary in Tenerife. While preparing my trip, I read many times that Playa Las Teresitas was a must do in Tenerife. So I went there during my visit to Anaga by a 1h30 detour. It is the only white sand beach on the island, which is artificial since the sand was imported from the Sahara. So yes, there are palm trees, the water is rather clear but there is also a huge parking lot stuck to the beach, cargo ships off the coast, garbage cans everywhere… Which means that not only the sand is artificial: everything else is too. For me, Las Teresitas beach is not worth the detour and is not very interesting. So I don't recommend you to go there.
Seen from above, it looks beautiful though. A perfect example of Instagram VS…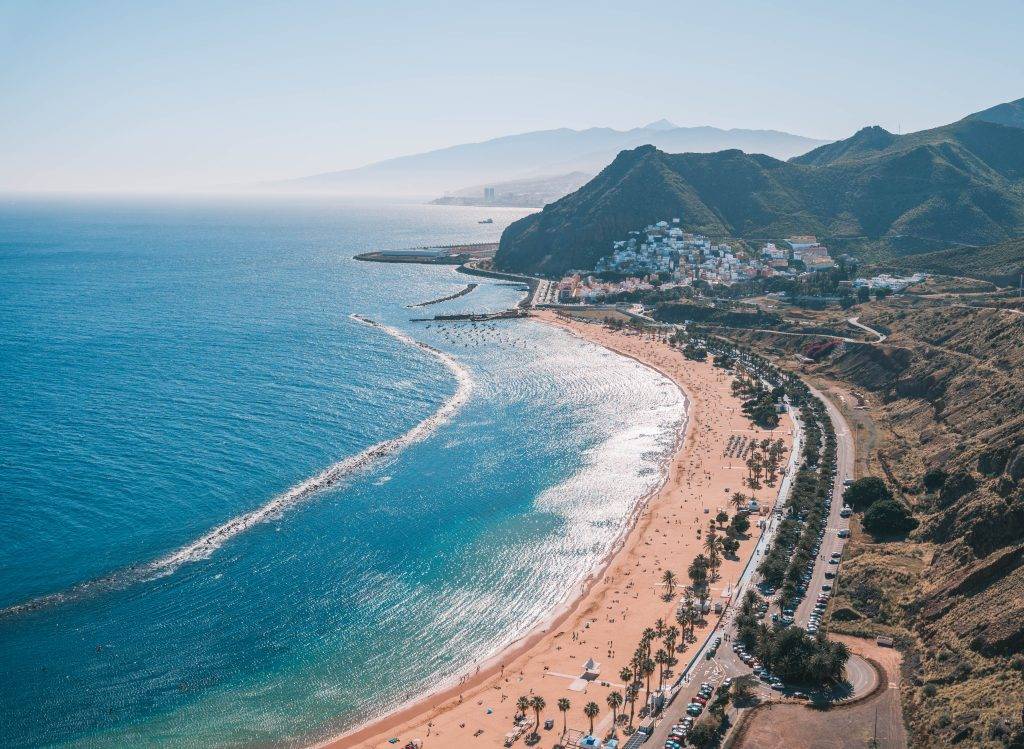 …Reality ????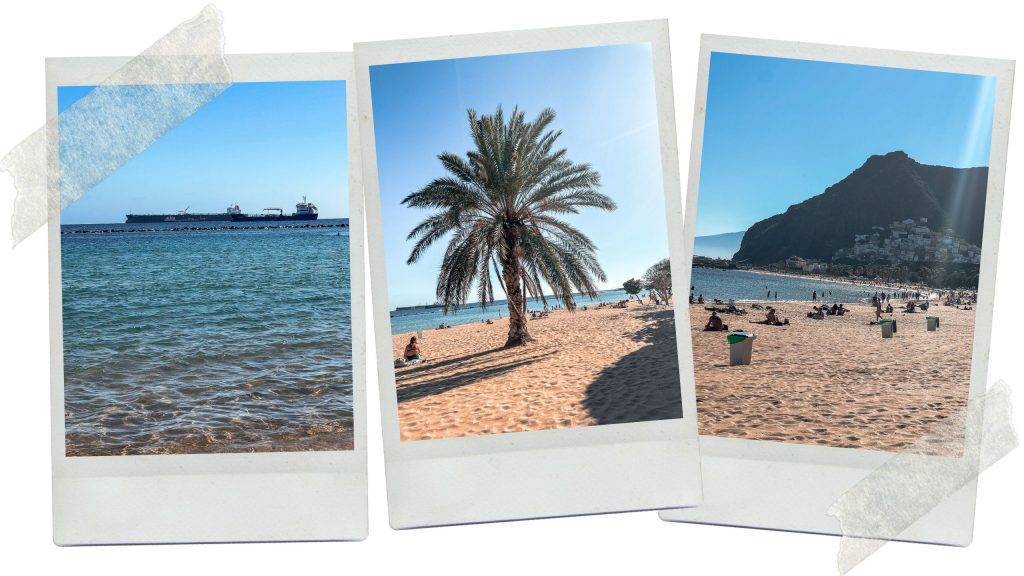 ---
Day 7: End of the road trip in Tenerife, the Teide volcano
The National Park of Teide
If you ask yourself what to do in Tenerife, the answer inevitably includes getting close to Teide! Another favorite of my trip to Tenerife. Located in the center of the island, the lunar landscapes and vegetation are impressive. Since 2007, the park of Teide (19 000 hectares) is classified as world heritage by UNESCO. It attracts nearly 3 million tourists every year. The Teide volcano culminates at 3,718m of altitude, which makes it the highest peak in Spain. It is also the emblem of Tenerife! Please note that the drone is forbidden within the national park and the fine is high.
If you want to take a guide for a day to discover all the hidden faces of the Teide National Park, book here.
What to do in Tenerife: How to visit Teide National Park?
Starting from Punta del Hidalgo, you will reach the national park in less than an hour drive. I have prepared a Google Maps itinerary with all the places to stop by car. You can add more stops as you wish. Here is also a map :
???? The viewpoints with a view of Teide
There are many, many viewpoints within the Teide park, and it's so beautiful that you want to stop everywhere! Do it by feeling of course, but I made you a list of the most beautiful viewpoints I found (to be found on the Google Maps above):
Mirador de Santa Stefania de Glinico Viejo
Mirador La Tarta
Mirador Azulejos II
Mirador de Samara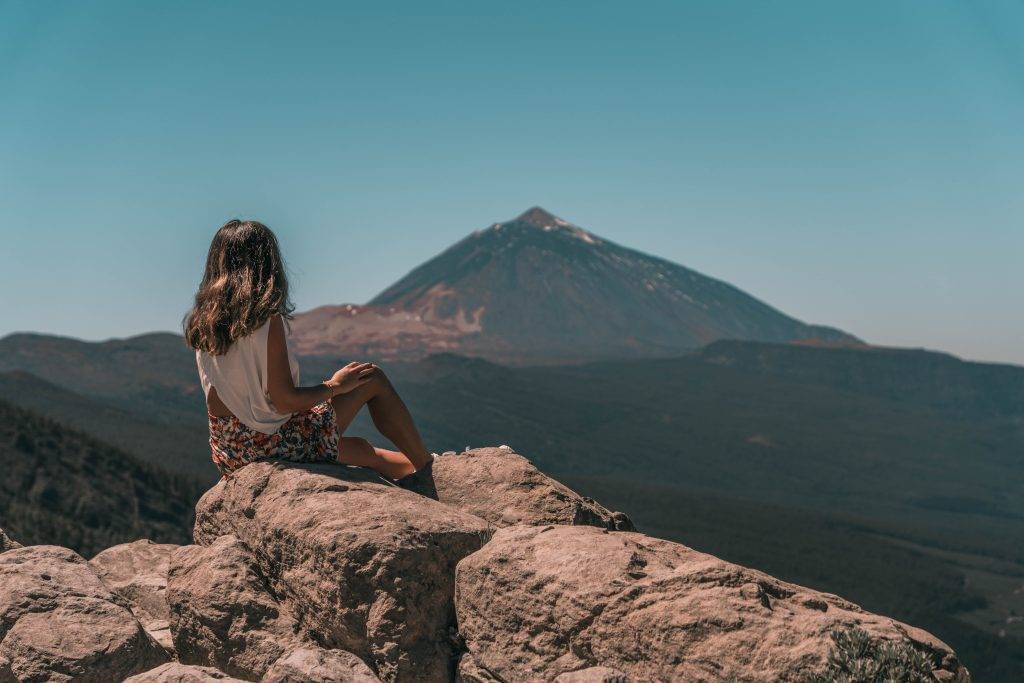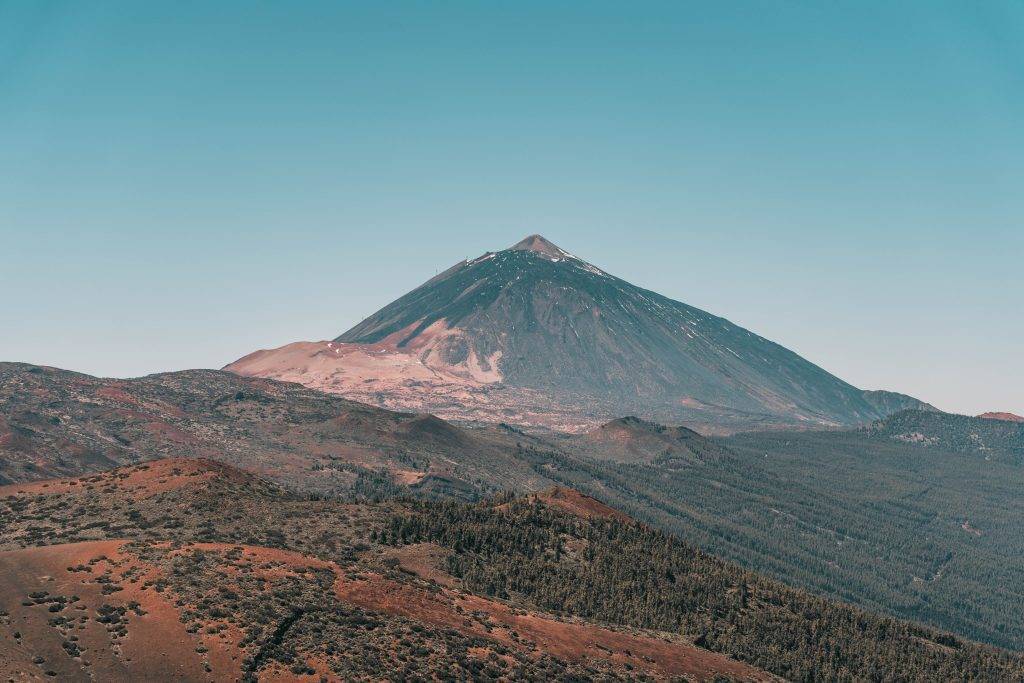 ???? Unusual place: window on Mount Teide
I have unearthed a splendid viewpoint on Mount Teide, not referenced on the maps. An ideal place to enjoy the landscape without anyone and to take pictures. To get there, you will have to park on this small parking lot.
Once parked, cross the road and follow the path number 17 for about 15 minutes until you reach the Window on Teide.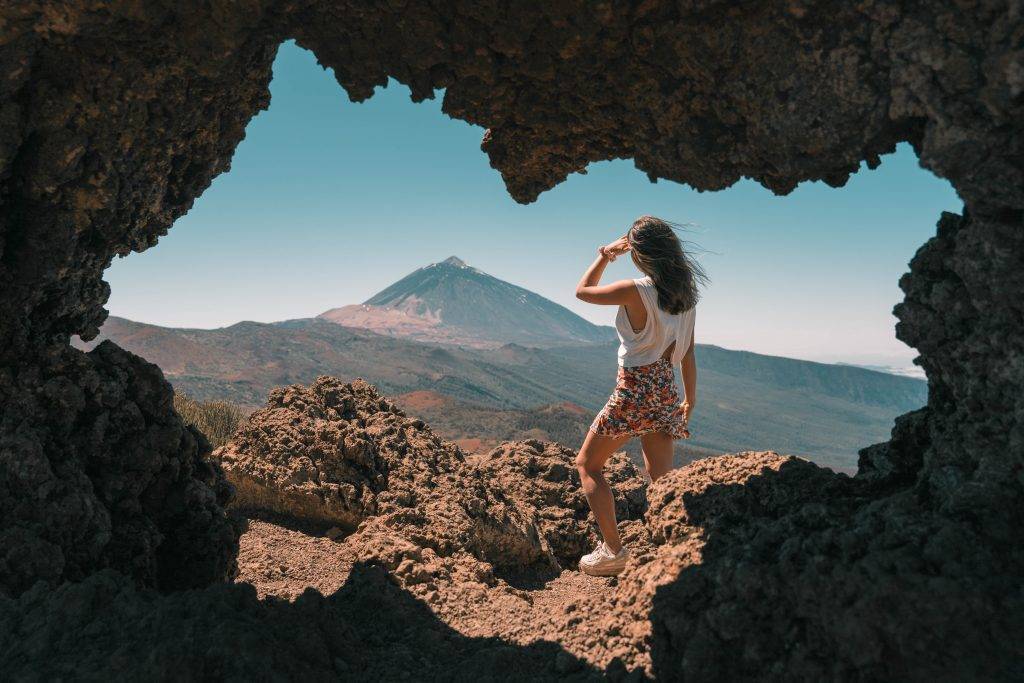 What hikes to do in the heart of the Teide National Park?
Here again, you will have a wide choice of hikes to choose from! I recommend two, but you can find more on Alltrails.
???? Roques de Garcia hike
Ready to see some spectacular scenery? For this hike, you'll be at the base of Mount Teide and surrounded by huge rocks. Except for the end of the trail which is quite steep, the walk is very easy and only takes 1.5 hours for about 5 km.
???? Park at the Roques de Garcia parking lot.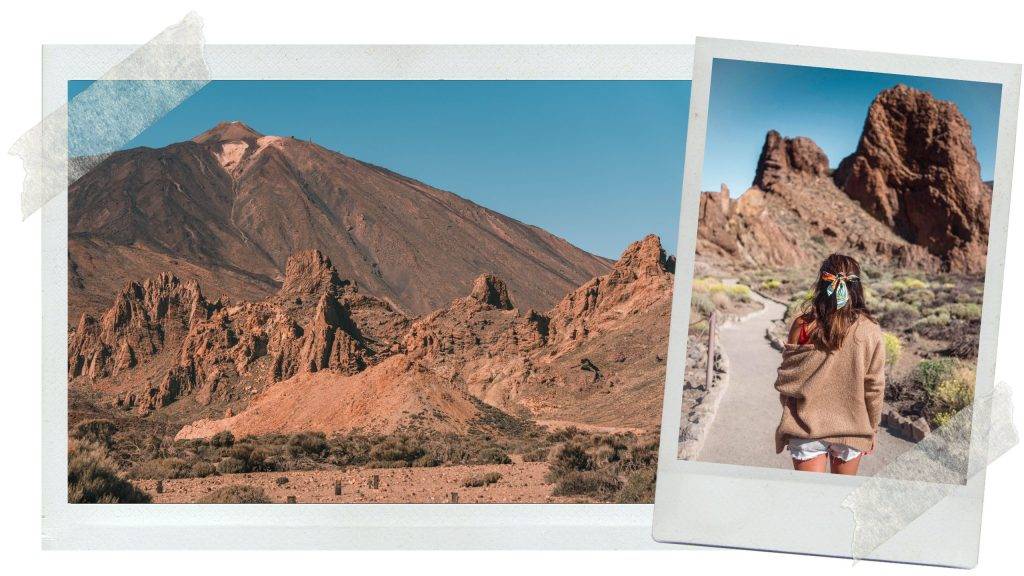 ???? Samara hike
Radical change of scenery during the very beautiful Samara hike. Very easy, count 1h30 for the 5 km walk (little difference in altitude). This part of the park is beautiful, the fluorescent green pines are dotted on the black volcanic soil, with a breathtaking view of Mount Teide.
???? Park at the Mirador de Samara
Can we go to the top of Mount Teide?
The answer is yes! For those who wish to climb Mount Teide on foot, plan to request your authorization on the official website a few weeks (or even months) in advance. The request is free. The problem is that you won't be able to change your date if you realize, once there, that the weather is not good.
Another option, if you want to take the cable car, which stops almost at the top of the volcano, we advise you to go at the opening or in the afternoon once the tourist buses have left. I chose not to take the cable car because, just as I find it pointless to see Paris from the top of the Eiffel Tower without seeing it, I found it better to admire the volcano from below.
⚠️ To book a tour with a guide, transfers and access to the top of Teide, go here: Teide tour on GetYourGuide.
Finally, for the sporty ones, you can climb on foot (with permission) but I wish you good luck for the 9 km climb with 1,500 m of positive elevation gain ????.
???? Paragliding above the Teide volcano
I had booked a paragliding session above the Teide volcano to be able to admire this giant from the air, it promised to be unforgettable… Unfortunately it was cancelled because of the weather conditions (too much wind). If you like the sensations, I leave you the link of reservation to live this incredible experience.
You will tell me about it!
???? Observe the stars in the Teide National Park
Far from any light pollution, Teide National Park is the perfect place to admire the stars and the Milky Way. I would have liked to go there at night but I was caught by the time… It will be for the next time.
If you are interested, book this stargazing tour with a guide who will have all the necessary equipment (dinner option available).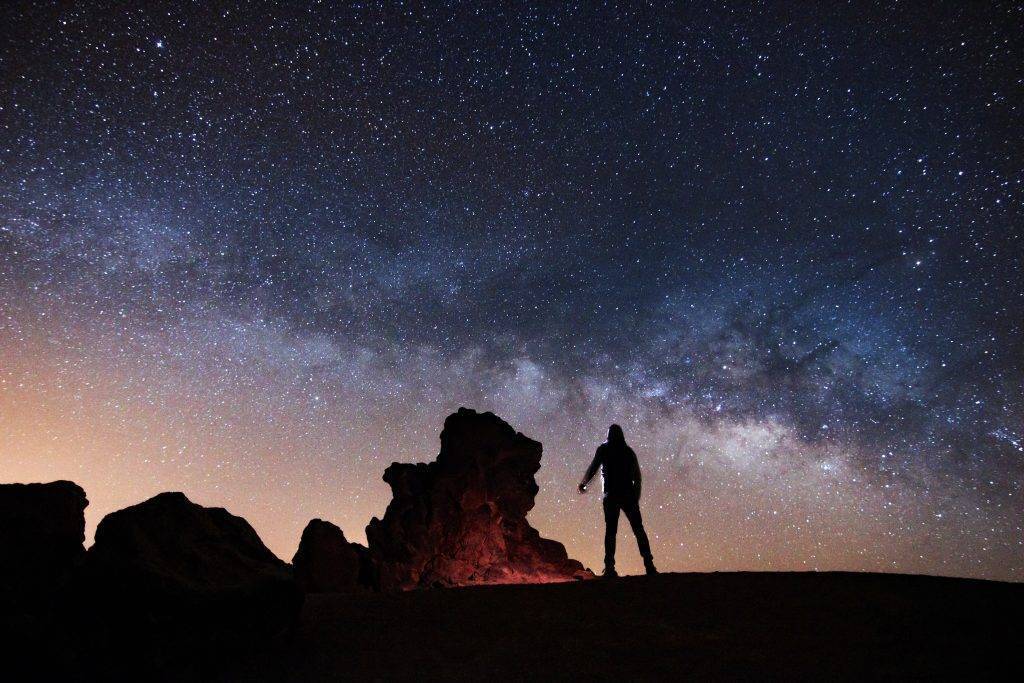 (c) Photo – Antoino Lopez
???? Where to stay near the airport in Tenerife South?
For my last night, I stayed in the highlands of Tenerife's south coast, a 20 minute drive from the airport. The accommodation was pretty cool, but it was the view that gave a nice finishing touch to my trip! Also, the welcome from the owners was very nice ???? Book your stay at Lo Major de la Montaña.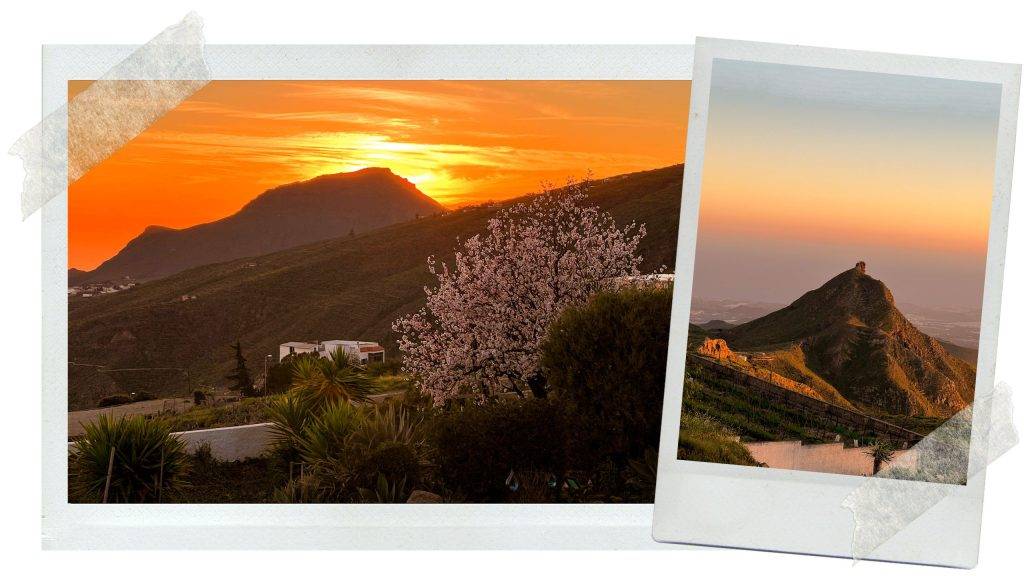 ---
How to organize your one week trip to Tenerife? Practical information
When to go to Tenerife ?
In the Canary Islands, the climate is favorable all year round! You can travel anytime in Tenerife, but I advise you to prefer the months of March to June, and September to November.
Personally, I did my road trip to Tenerife in early March and it was great. The temperatures were between 22 and 28 degrees with a great sunshine all week long ☀️. I was able to swim in the natural pools, the water was a bit cool but it was fine with the heat!
Where to book a plane ticket to Tenerife?
I went to Tenerife with the airline Volotea which has a direct flight from Lyon.
✈️ To book my flight tickets, I always use the French flight comparator Ulysse. The customer service is very reactive in case of problems. Get a 10€ discount by signing up via this link.
???? The ferry: if you want to visit several islands in the Canaries, no need to fly. Ferries make the crossings between each island. Book your tickets online at DirectFerries.
I remind you that we have also written itineraries on Lanzarote, Fuerteventura and Gran Canaria.
How to rent a car for your trip to Tenerife?
Indispensable for a road trip, I went through Skyscanner to book my car to visit Tenerife for a week. It allows you to compare offers and book your rental online! I chose the rental company Autoreisen which accepts debit cards. There is no check of the car, neither at the pick up nor at the return. It is rather surprising but it is a system based on trust. Everything went very well!
⚠️ Make your reservation as soon as you have bought your plane tickets, the prices on car rentals are very high at the last minute.
Budget for a one week road trip in Tenerife ?
Here are the details of my expenses for my trip to Tenerife:
✈️ Flights Lyon – Tenerife: 124€ AR
???? Car rental : 154€ for the week
⛽️ Gasoline expenses: 60€, representing 1 and a half full tank for the whole route covered
???? Hotels: 70€ per night on average for a comfortable hotel or apartment
???? Restaurants: 30€ per day for 2 meals at a restaurant
Total budget for a 7 night trip for 2 people = 1,372€, or 686€ per person, excluding activities.
This budget may vary depending on the price of car/plane rentals and the standard of the accommodations you choose. You can also save a lot of money on food by cooking in an apartment-hotel (many on the island) or by eating a snack at lunch time. This is what I did!
Can you travel alone in Tenerife as a woman?
As you know – or not – I went alone for this one week trip to Tenerife! Here is my feeling about the security. I felt very well on this island, I did not feel in danger once and I was not bothered. Of course, one is never safe from anything, but there are atmospheres more serene than others. I did not feel insecure at any time in Tenerife. I found the men very respectful in the way they talk or look. In short, I would not hesitate one second to go back alone ????
Please note that my feeling does not prevent me from applying the basic safety rules, as everywhere.
Rent a van for your road trip in Tenerife
During my first trip to Tenerife, I rented a van to visit the island. I have to say that Tenerife is an ideal destination for a van road trip with possibilities to sleep in splendid places and mild temperatures. I booked it through the platform Yescapa. It's a website where you can find people to people. You will find thousands of offers to rent motorhomes and vans throughout Europe. The platform is secure on both sides.
➡️ Here is the ad of the VW combi I rented in Tenerife.
Travelling by van in Tenerife
It is very easy to travel by van in Tenerife. Parking is accepted everywhere, so there is no need to worry about finding a place to sleep at night! You can download the Park4Night app to know the best spots.
Regarding the shower, you should know that the van mentioned above had a portable shower that plugged into the vehicle's water tank. So it was possible to shower in the wilderness. The other solutions: find a beach shower (there are some on most of the beaches of Tenerife) or, as a last resort, shower with a water bottle. For toilets, you can go to shops, gas stations or in the nature. However, be careful not to leave any toilet paper behind.
So, I shared with you the whole itinerary of my one week road trip in Tenerife. For more pictures, I'll let you check out my front page story on our Instagram account. I was marked by the originality of the landscapes of Tenerife with its volcanoes and its natural pools.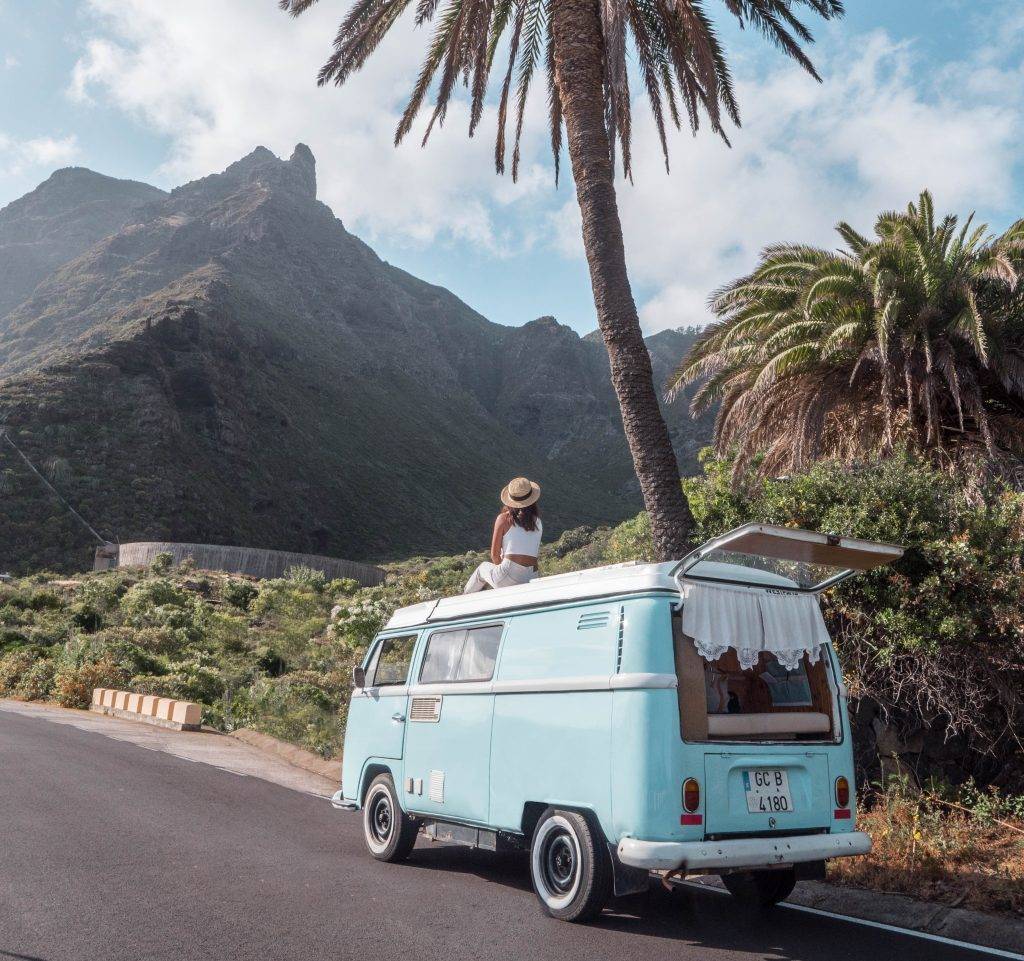 > Discover our other travel guides in Europe, such as the one on the Azores in Portugal, those in Italy or in the Cyclades in Greece.
Have a good trip! ❤️