Road trip in Majorca : What to do? Must-sees and tips
Planning a Road Trip in Majorca? Located in the middle of the Mediterranean Sea, the island of Majorca is quickly reachable from France (1h15 from Lyon for example). Flights are often cheap, perfect for a few days in the sun ☀️. Ideally, we recommend planning an itinerary of one week in Majorca to tour the island. If you only have a weekend, it's still worth discovering the city of Palma de Majorca, which alone will keep you entertained and offer you a beautiful beach. So let's see: what to do in Majorca?
---
When to go to Palma de Majorca?
Even if luck wasn't always with us on this trip, you should know that the island of Majorca enjoys 300 days of sunshine a year! ?
☀️ The best time to visit Palma:
We recommend May-June and September-October to avoid the summer rush a bit and find cheaper accommodation.
We visited Majorca at the end of August/beginning of September, during the Covid period. The destination was on the red list (compulsory quarantine) for many countries such as Germany, Belgium, Switzerland, UK etc. So the island was very quiet. The temperature outside (26-29 degrees) and the sea (23-25 degrees) were very pleasant.
How to get to Palma de Majorca?
✈️ Book a flight to Palma de Majorca
This is clearly the preferred option for getting to the island. Less expensive and faster. For this, we advise you to compare the best offers and book your flight on Skyscanner
⛴ By ferry:
This option can be interesting if you live in the south of France and/or want to stay several weeks/months on the island. It allows you to bring your own vehicle.
What are the Covid measures?
? You will find all the measures taken on this page, which is updated regularly.
How to get around the island of Majorca?
We opted for a car rental ?. Beware there are many low-cost rental companies on the island and some had very bad experiences. Indeed, we had found a rental for 0,70€ a day (yes yes, it's not a typo ?). However, after some research, we saw that insurance could be mandatory if you don't have a "credit" card. Also, these rental companies are not in the terminal and you have to take a bus to pick up your vehicle.
To know if you have a credit card, it is indicated on it by the mention "credit". If it says "debit", you are likely to be hassled abroad by the low cost rental companies who will force you to take out very expensive insurance.
➡️ So we went with Avis Budget and we have nothing to complain about. Quick check-in opposite the terminal, upgrade (new Audi A3 and automatic) for only £5 extra per day. Total price of the rental with upgrade: 110€ for 5 days, that is 22€ / day.
Find the best car rental deals by clicking here.
Where to sleep in Palma de Majorca?
We chose to take several accommodations around the island in order to see as many spots as possible. However, a single accommodation in Palma may be suitable to spread out over the island. If you choose the latter option and want to stay in the centre of Palma, we have 2 hotels to recommend!
Porter Naisa Palma Hotel : Located 5 minutes from the historic centre of Palma, this 4* hotel offers high quality services for a reasonable price: we paid 126€ per night with breakfast. Its rooftop pool is a real plus! The hotel also has an indoor pool, a spa (included in the price) and a gym. The rooms are beautifully designed and the bedding is of a very high standard.
Can Savella : A very spacious duplex flat with a kitchen. This flat is ideal for a longer stay. Located in a quiet street, but only 2 minutes from the busy streets and the Plaza Major, it is the best! Check-in is automatic and the accommodation is tastefully decorated! We paid 100€ per night.
For smaller budgets: If you want to save money on your nights, we advise you to move slightly away from the historic centre. Here you will find excellent value for money.
If you prefer, like us, to travel on Majorca in road trip mode, we indicate you our accommodations as you go along the itinerary below!
Budget for a road trip in Majorca
Plane: 140€ return for 2
Car rental: 100€ (for 2 people)
Petrol: 50€ per day
Accommodation: 90€ per night on average, or 450€ for 5 days
Catering: 50€ per day for 2, or 250€ for the whole stay
Total: 990€ for 2 people for a 5 day trip to Majorca.
This budget is based on our travel habits, it can vary depending on where you stay/where you eat and on the price of your plane ticket!
---
Day 1 – What to do in Palma de Majorca
Visit the old town of Palma
? If you have a rental car, the old town of Palma is off limits to tourists (unless your hotel can make the request). Also, be aware that the police come by very regularly to issue fines. We forgot to pay for 50 minutes and that was enough to take 30€ ? We advise you to download the mobiAPParc app to pay for your parking on mobile.
If you take a fine, it is important to pay it directly in any bank otherwise you will receive it via your rental company and there will be an additional processing fee.
? What to do in Palma?
Palma is the capital of the island of Majorca. It can be the perfect destination for a weekend! In our opinion, it is its historical centre that is interesting. You can visit it on a day trip if you are doing a road trip in Mallorca. Here is what we recommend: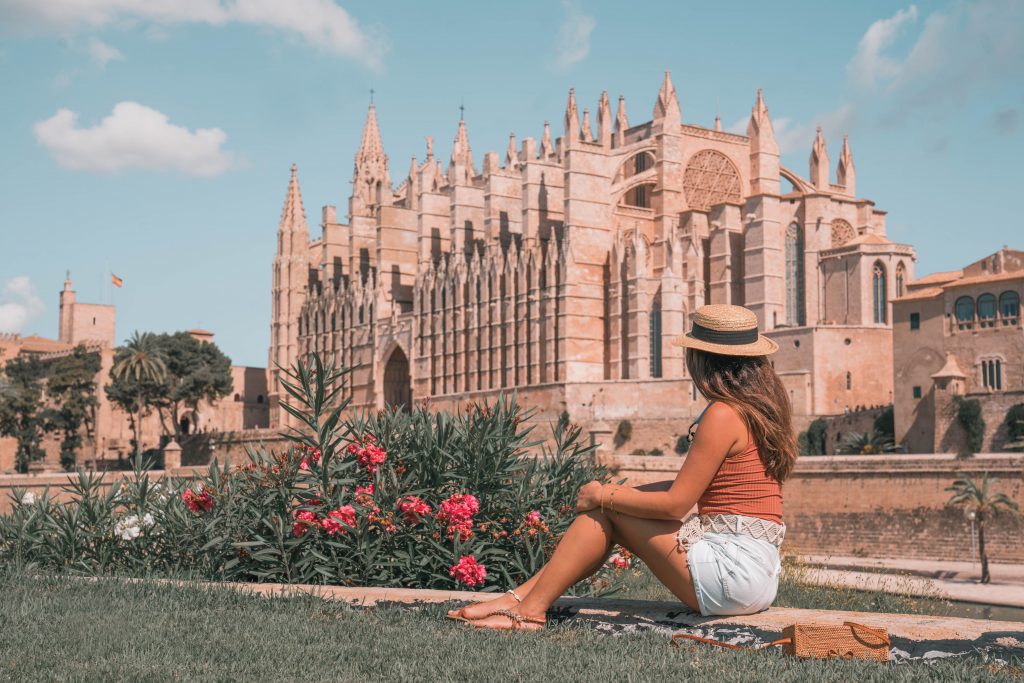 Where to eat in Palma?
As you know, if there's one thing we don't mess around with, it's food! It's also for the latter that we love Spain: the late lunches and dinners, the atmosphere around this moment of conviviality… We didn't have the atmosphere because of the Covid but we still ate well!
⚠️ We give you addresses that were open when we came, but we don't guarantee that they will be open during your stay because of the coronavirus. Call ahead to be sure.
Our addresses for breakfast, brunch or lunch: 
Mise en Place: a café offering toast and bowls with a nice decoration
Avocado Club: a small restaurant that revolves around… avocado!
Bar Bosch: a typical place to eat on the go on the terrace, they make very good sandwiches for reasonable prices.
For dinner, we only ate tapas as we love it! Here are our recommendations of restaurants/tapas bars in Palma:
Bar España: our favourite address. This place is friendly, the tapas are excellent and the prices are very reasonable. Only problem: no terrace.
Ombu: for "improved" tapas. The prices are higher (but still correct) because the tapas are revisited with more noble products. We had a great time!
Bocalto: the tapas were also very good. They were offering 30% off on the Fork at the time we were there.
---
Day 2 – Itinerary to visit the island of Majorca
We start this road trip in Majorca on the east coast. We did this route in 5 days. However, we recommend you to do it in one week, or to skip some places, as it was too fast!
The beaches of the east coast on the island of Majorca
? Cala Pi
The first stop on our Majorca itinerary is only 40 minutes from Palma. We had to get there very early to string together the 3 beaches for the day, but if you have more time than us, we recommend going in the middle of the day. Indeed, this cove is located between two big cliffs and the sun rays take time to arrive. To get to the large beach, you have to go down the steps to the bottom.
If you want to find the spot below for a nice photo, at the beginning of the stairs you have to take a left and go along the cliff for about 30 meters.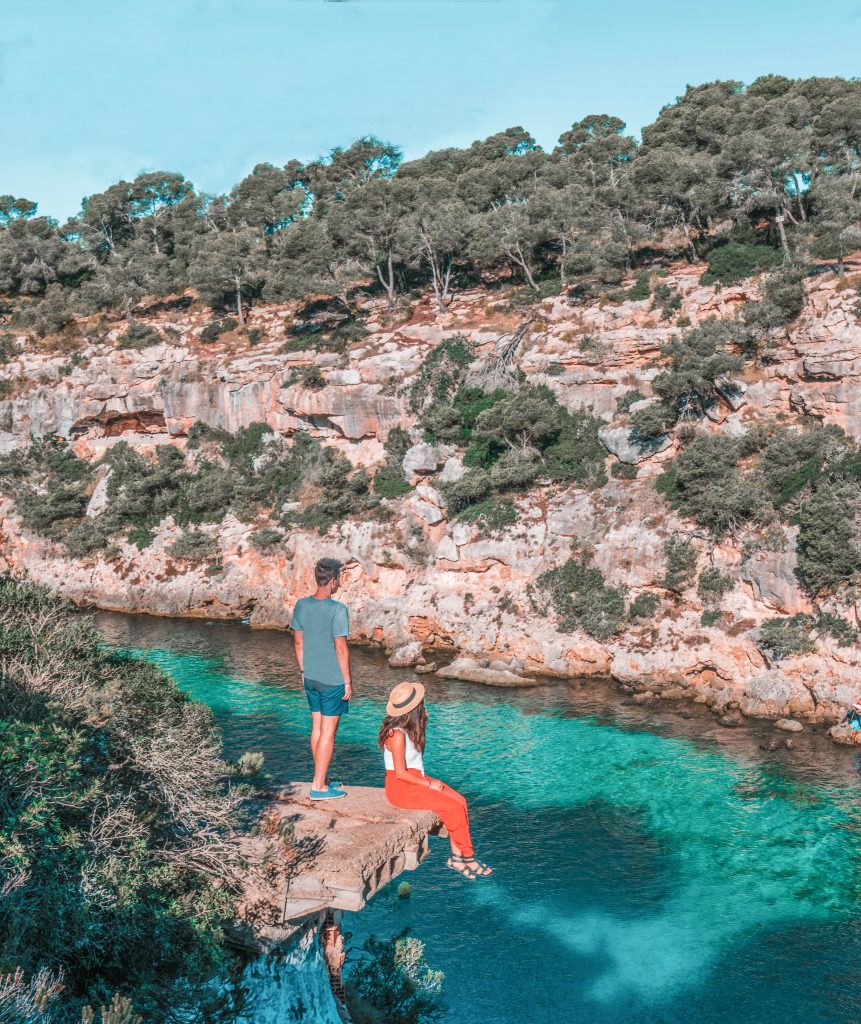 ? Cala Des Moro
Just 45 minutes from Cala Pi, is undoubtedly the most famous and frequented cove on the island. And honestly, we understand why: the water is an incredible colour ? We hadn't seen water like this since our stay in Sardinia a few years ago (click here to discover our guide to North Sardinia).
Unfortunately, due to a landslide, there is hardly any beach left. You can still go down for a swim but you will be sitting on rocks. To find our photo spot, before you get to the beach, take any small path that gets you close to the water.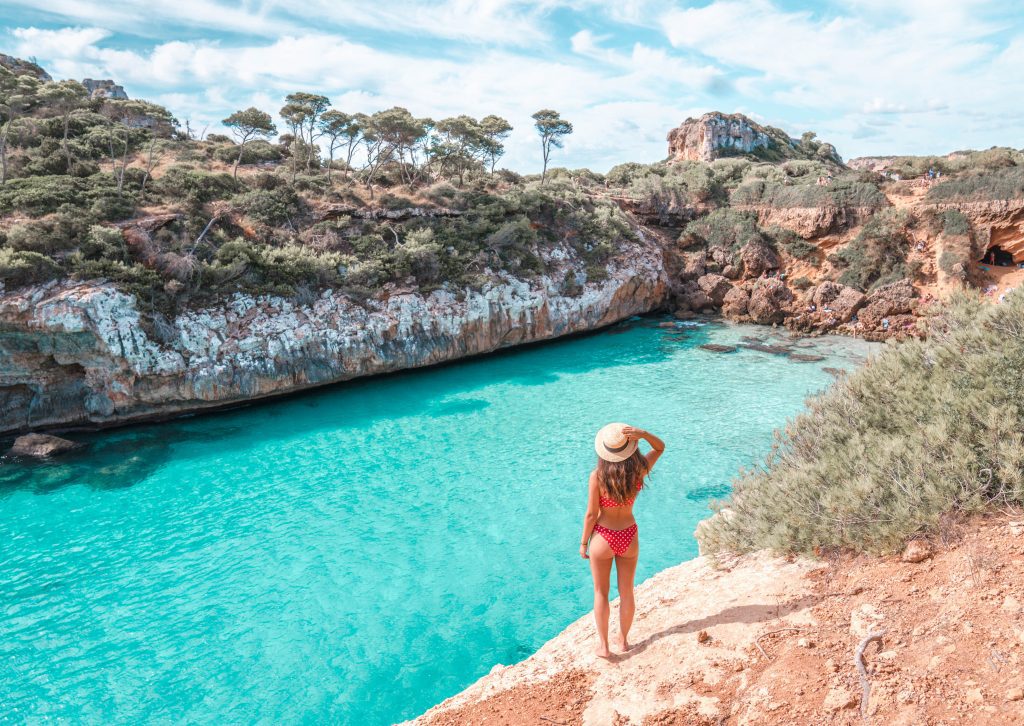 ? Cala Llombards
Close to Cala Des Moro is Cala Llombards, one of our favourites! Indeed, next to the private beach filled with sunbeds, there is a cove overlooking small cute houses. We thought that access was reserved for locals/renters but no, it's open to all. Here too, the water is crystal clear ? Maybe because (thanks?) to the Covid, but we were alone to enjoy this magical place.
A little further north of Cala Llombards are the caves of Cova de Coloms, where you can dive for marine caving, a unique experience. Book the activity here!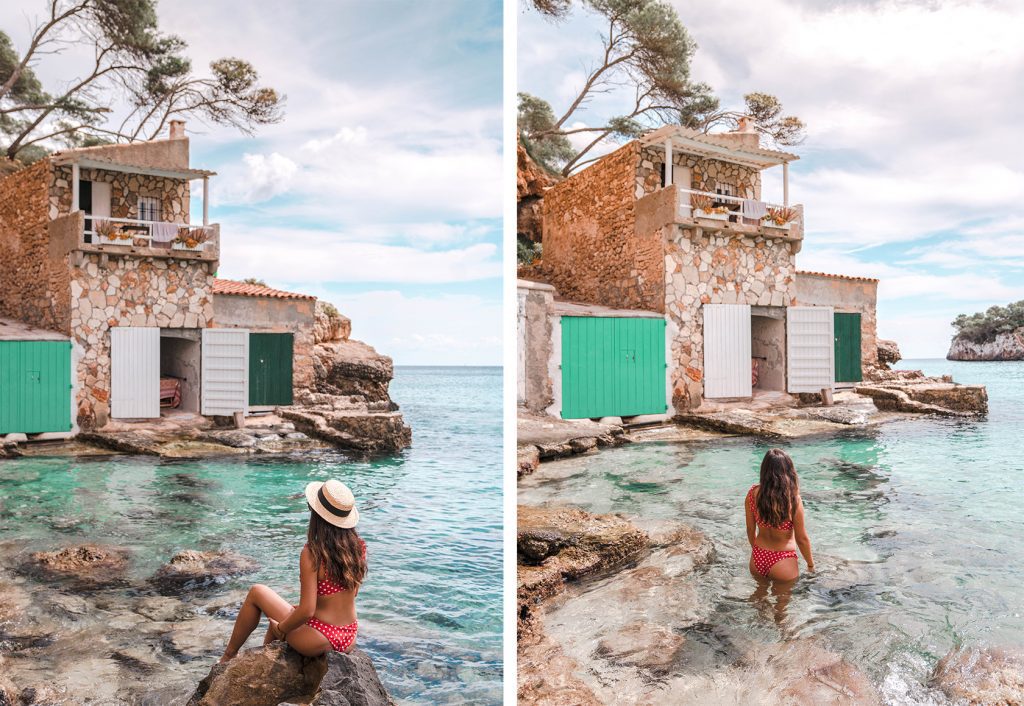 Where to sleep in the east of Majorca?
When you say touristy place, you say high prices. So we chose to stay a little further north of the famous Cala des Moro and Cala Llombards to save money. We paid 55€ for our night at the Pierre & Vacances Residence, (while the average price in this area is around 120€ per night). So it's good value for money.
If you have a higher budget: we recommend the nice Finca Hotel Rural
Also, the Petit Palais is a beautiful establishment with a pool and spa, for those who want to pamper themselves!
---
Day 3 – Majorca road trip: the north of the island
? Cala Mesquida
We had no luck on this day 3. The weather was relatively good but the sea was very rough… It was therefore forbidden to swim although this beach is huge and the water is usually translucent. Ideal place to sunbathe on fine sand ?.
The other attraction of this place: its sand dunes. Indeed, Cala Mesquida has an impressive amount of sand! We highly recommend you to take the walk in the dunes via the pontoon, it's a change of scenery.
? Alcudia
The oldest town on the island, its authentic and medieval style is worth a visit. Let yourself be carried along the small streets full of history and don't hesitate to climb the renovated ramparts ? Many old houses have been transformed into shops, bars, cafes, hotels… If your timing allows it, there is a craft and traditional market every Tuesday and Sunday.
It is in this charming town that we found the most beautiful hotel of our stay (to be found in the "where to sleep" section just below).

The Port of Alcudia
This former fishing port has become a family seaside destination. Indeed, from the port of Alcudia, a 7 km long beach with many hotels and water sports activities starts. It's not our favourite but it can be interesting to do activities!
? We found an unbeatable restaurant price-wise with a direct view of the port. Trattoria Italiana S'Espiga offers ALL its dishes for 6€! We tried the pasta and the pizzas and nothing to complain about ?
? Mirador Es Comeres
Among our road trip in Mallorca, this is THE spot to see a beautiful sunset. Access is really easy by car, only 25 minutes from Alcudia. Once parked, it's just a few steps to the top of the cliffs. We recommend walking along the path, along the cliff, to admire several viewpoints. ?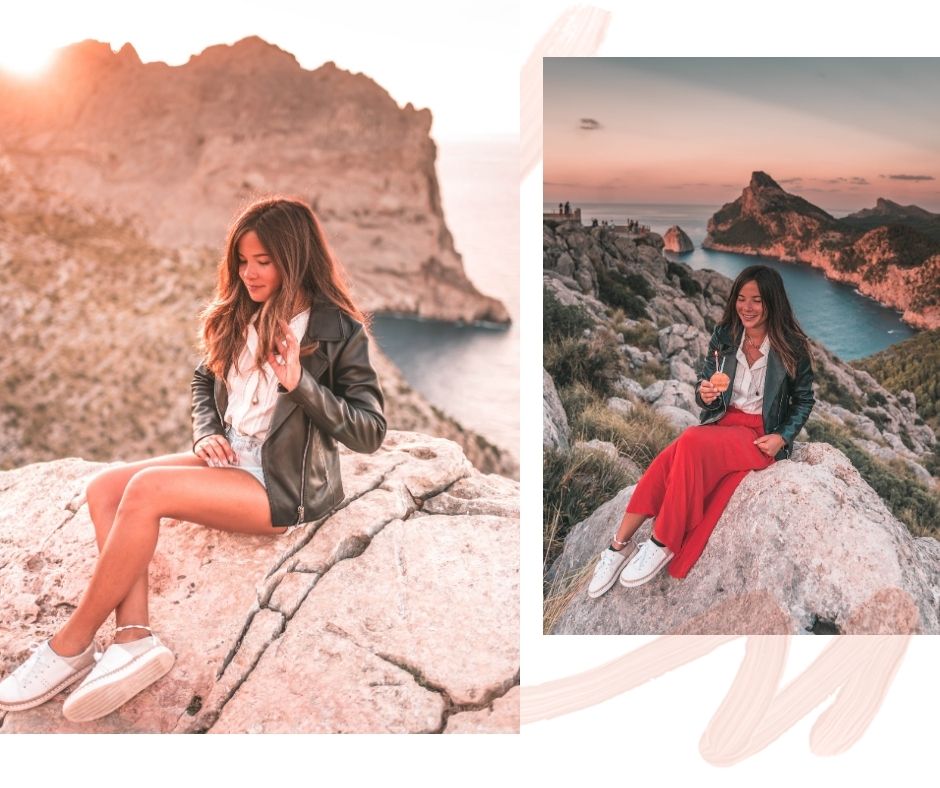 What activities to do in the north of Majorca?
Even though the north of the island is quieter than the south, you will find plenty of activities. We have made a selection of the most interesting offers for you:
Where to sleep in the north of Majorca?
Well, we never give orders, but in this case, you absolutely must sleep here! ?
Already, the hotel is in Alcudia, the oldest town on the island and perhaps the one with the most charm. The price is reasonable for the standing (we paid 120€ with breakfast), the staff is top and the setting incredible. We took a room with a balcony to have the stone decoration and the view on the pool. The pool is located in a beautifully decorated courtyard. However, don't expect to do laps as it is only 2 metres long ?.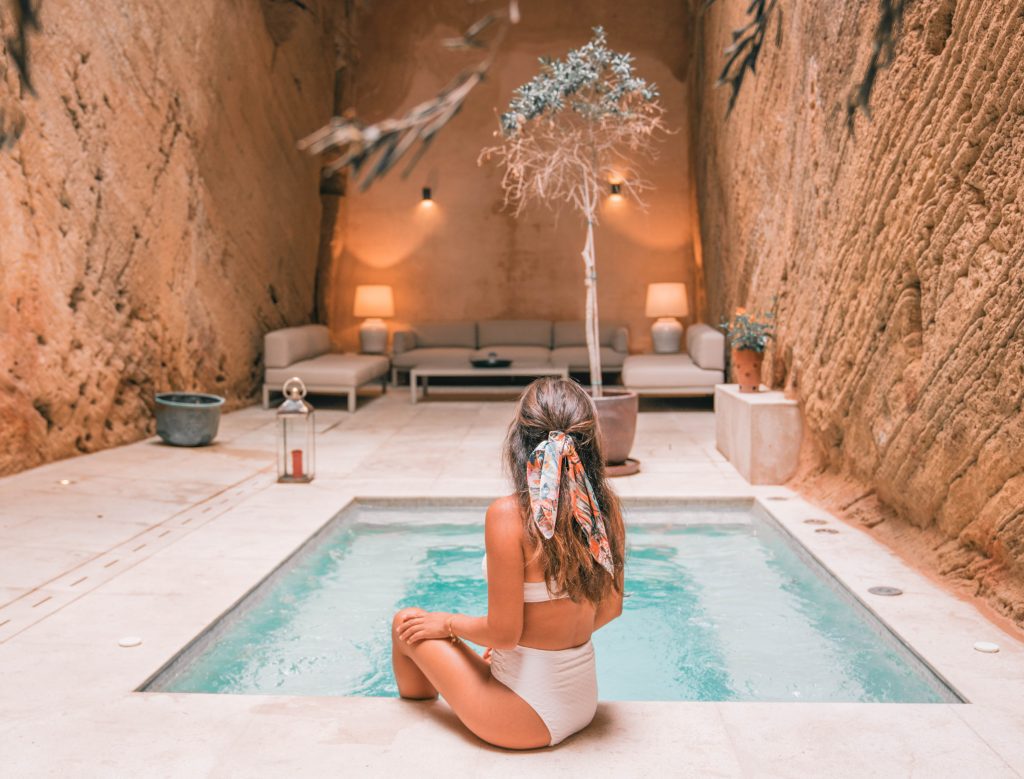 ---
Day 4 – Majorca itinerary: the west of the island
This part of the island is very different from the rest. The mountainous landscapes of the Serra Tramuntana are incredible and the villages are very charming. Many hiking departures are possible for the motivated and for the more adventurous, canyoning!
? Pollença
Just 15 minutes from Alcudia, we made our first stop in Pollença. Honestly, we were a bit disappointed and think it's better to save more time for the other villages.
? Nus de Sa Corbata
This road is absolutely beautiful! Heading towards the famous Torrent des Pareis creek, you'll go through a multitude of bends and pass through the famous 8. Ideal to take a break and admire the view at the bridge.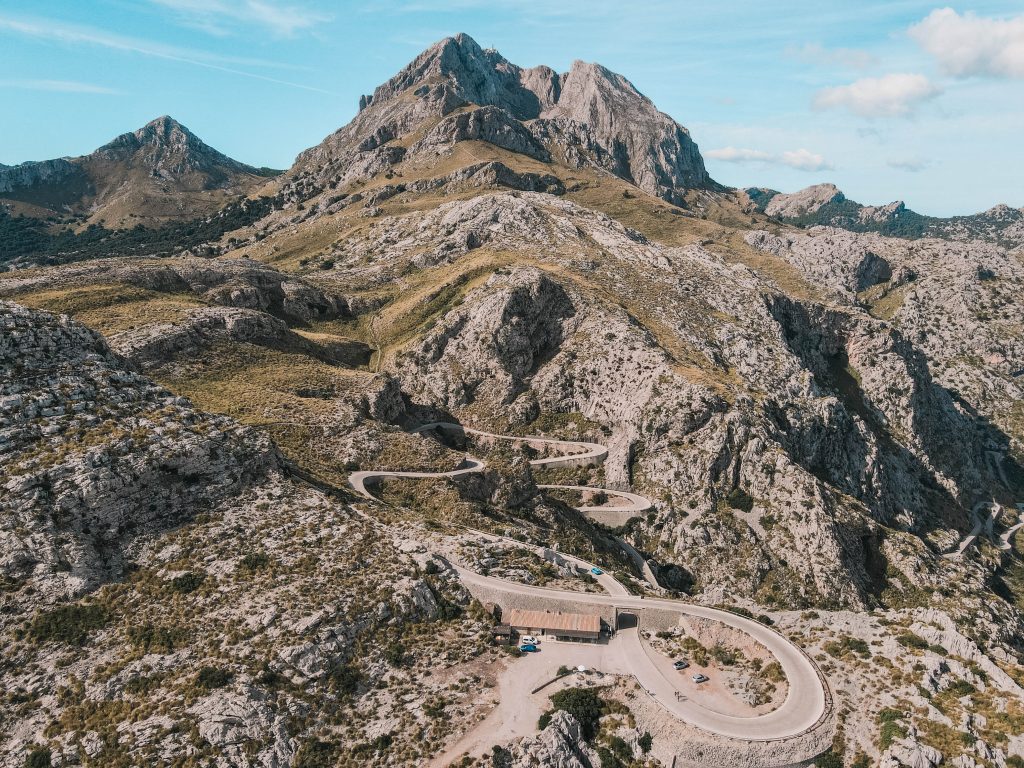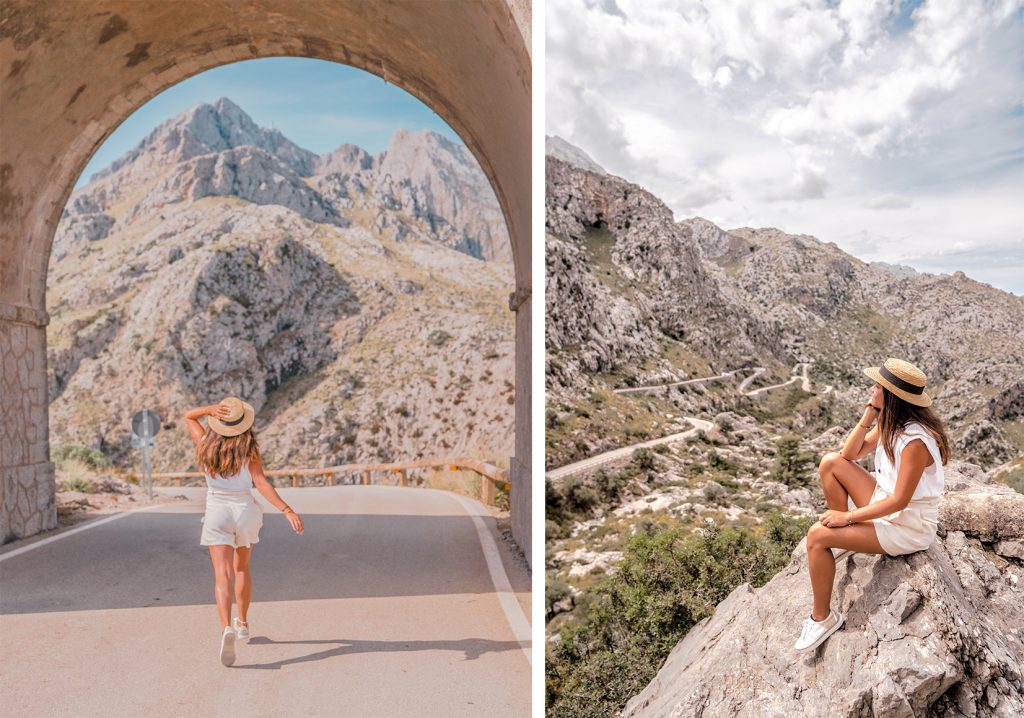 A little further on, you will also pass through two very close rock walls.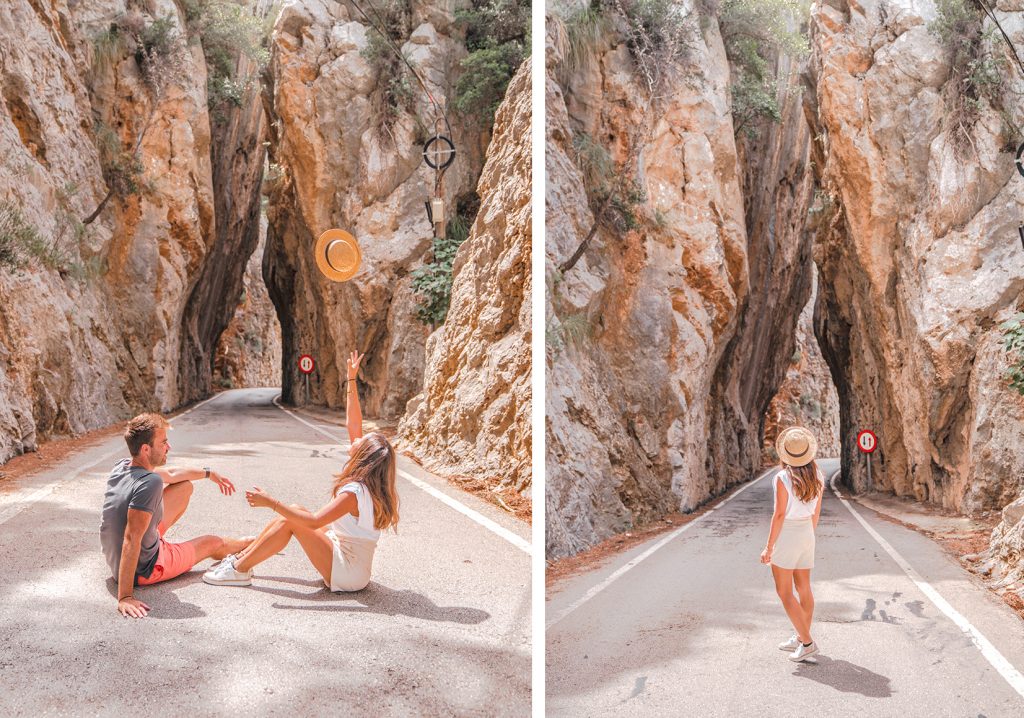 ? Sa Calobra – Torrent des Pareis
After 1 hour of driving, it's time to take a swim at Torrent des Pareis. The parking is paying (we paid 4€ for a little more than an hour) and it's a 15 minutes walk to reach the place. No difficulty, the path is concrete and flat.
The beach is very beautiful and original, but it was too crowded for us. If your schedule allows it, we think it can be nice to go at the end of the day with a sunset in front of the cove.
It is possible to discover Sa Calobra by taking a boat from Soller. See here.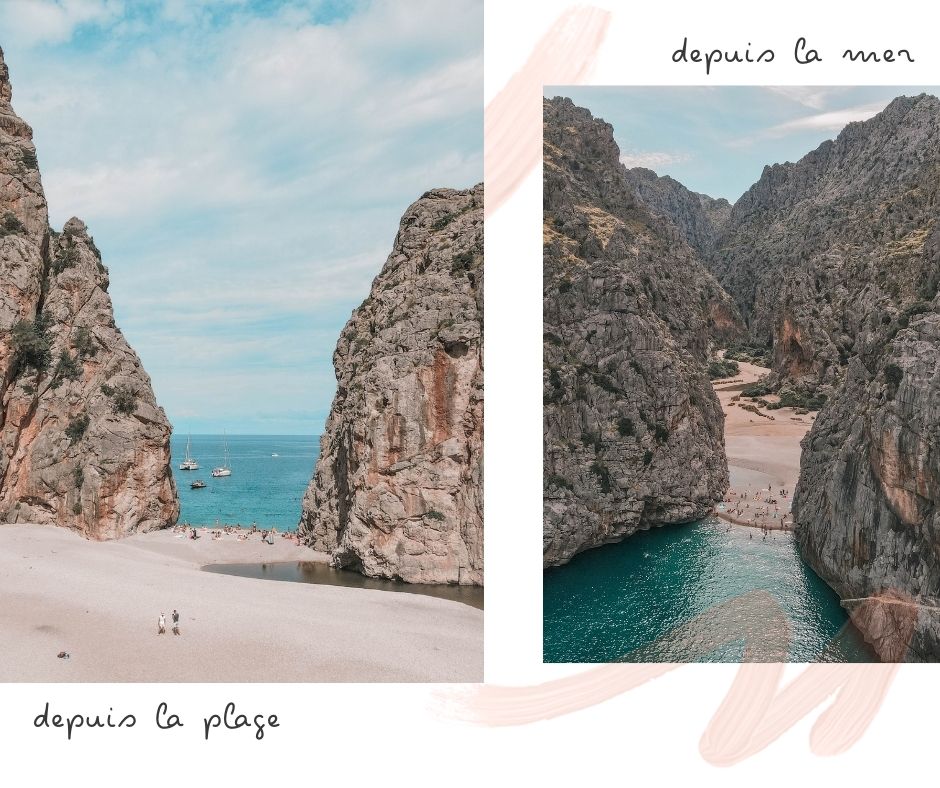 To avoid the crowds, there is a nice cove in the centre of the village, by the harbour. You will pass it on the way to Torrent des Pareis, it is not to be missed!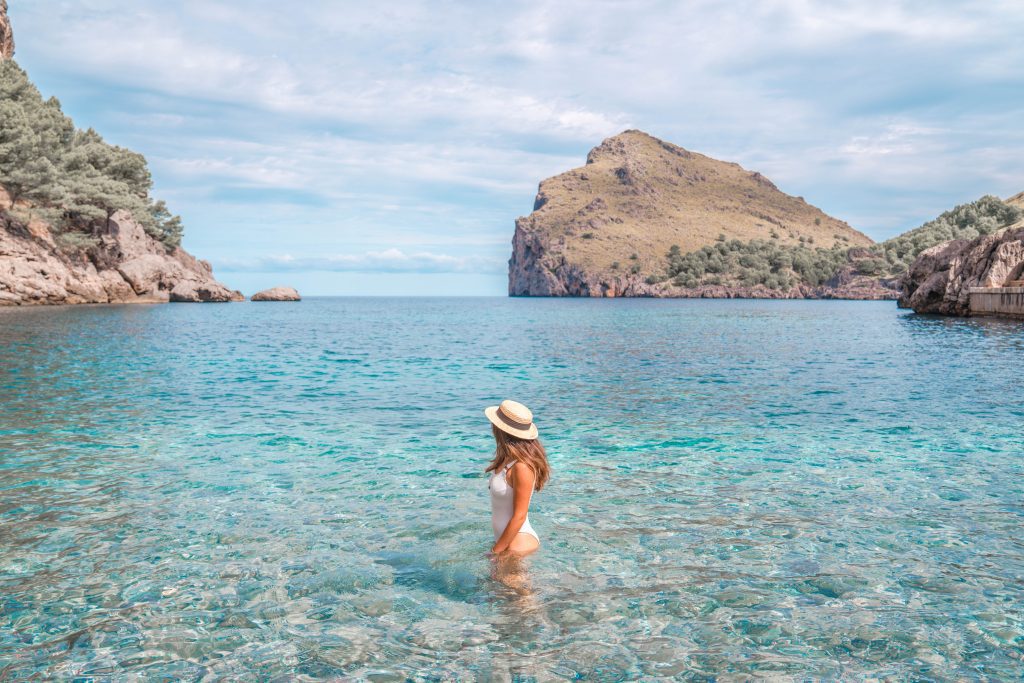 Villages on the west coast of Majorca
? Fornalutx
This village is listed as one of the most beautiful in Spain, it can be visited quite quickly. The narrow streets are too cute ?. If you want to have lunch, we recommend the Ca N'Antuna restaurant which serves traditional cuisine. The view and the terrace are beautiful!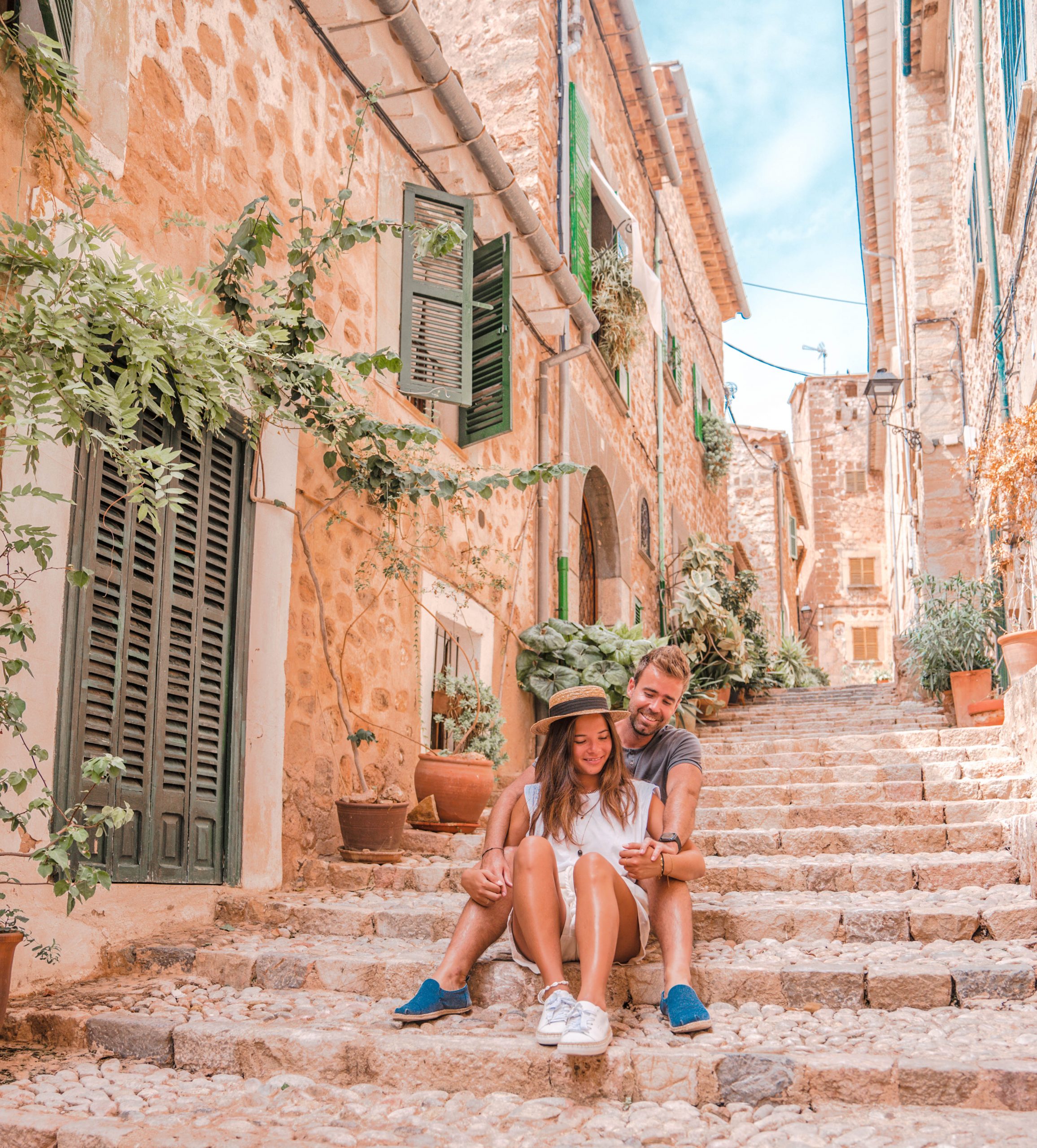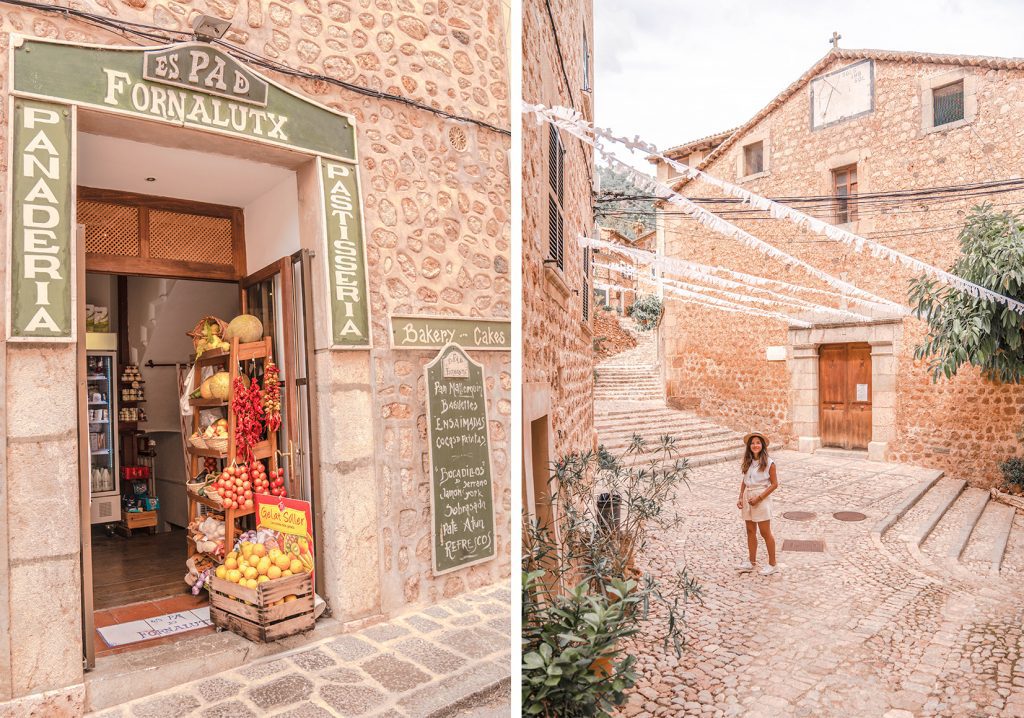 ? Soller
We made a quick stop in the village of Soller. Its centre is very pleasant and the many terraces give a warm atmosphere. An old tram passes through the heart of the village, we just missed it for a photo!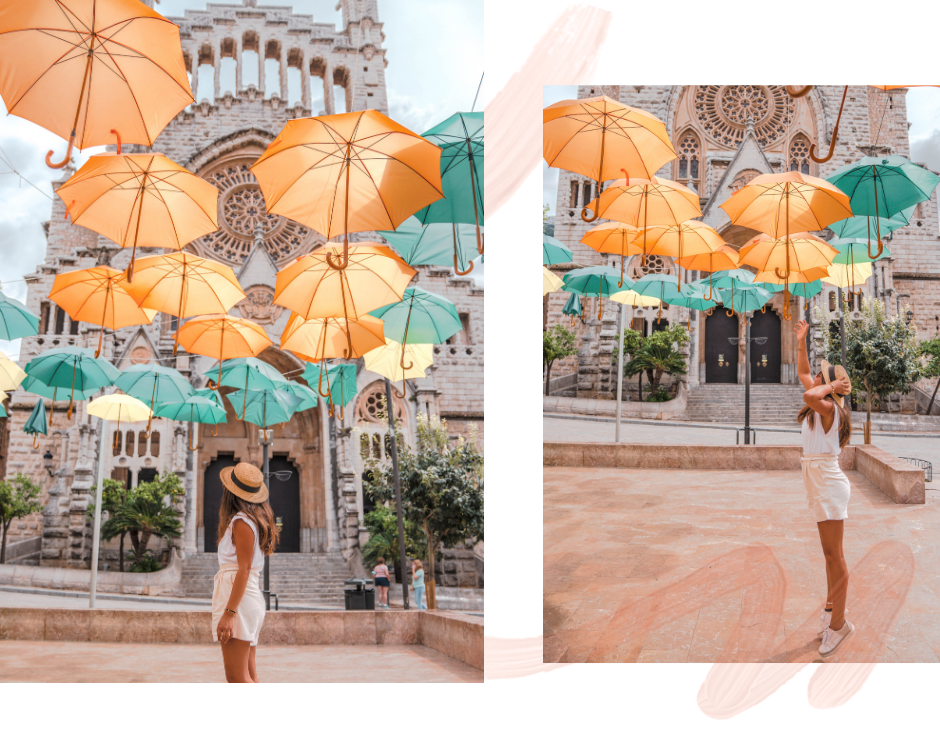 ? Valldemossa
Last charming village in this itinerary to visit Majorca: Valldemossa. It's a pretty quick visit too! It was made famous by Frederic Chopin and George Sand, who stayed there.
If you want to visit Valldemossa and discover all its history. There is a free tour that will tell you more about this small village.
Stop for a drink in the garden of the bakery Panaderia Pasteleria Ca'n Molinas. It's hot!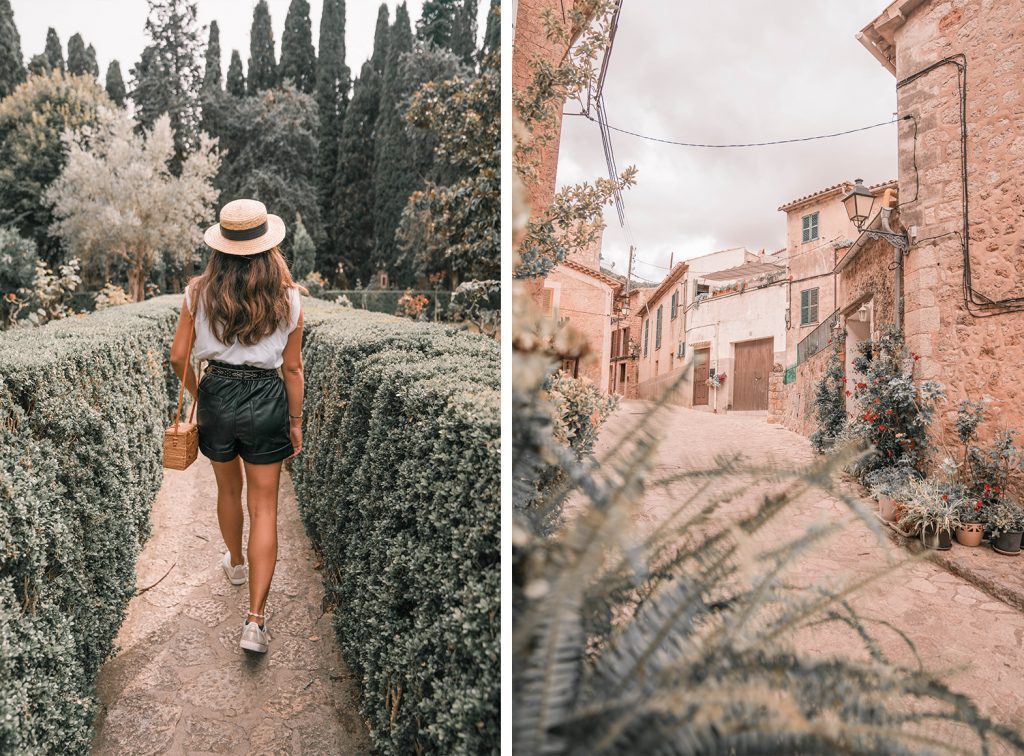 ---
Day 5 – Visit the south of Majorca
Beach and restaurant?
To finish our short stay on the island of Majorca (we really wish we'd had 7 days there to enjoy without it being a rush), we stayed one night in the south of the island. Less than an hour from Palma, many beaches & coves are on this side. It's far too touristy for our taste, with many huge hotels and no charm.
However, if you are staying here or want to discover the beaches, we recommend a stop at Camp de Mar. The beach is beautiful, the water is clear and the Illeta restaurant, located on a small island, is incredible! We tried to book a table but it was full. So remember to call the day before. The setting is really beautiful and the reviews seem pretty good.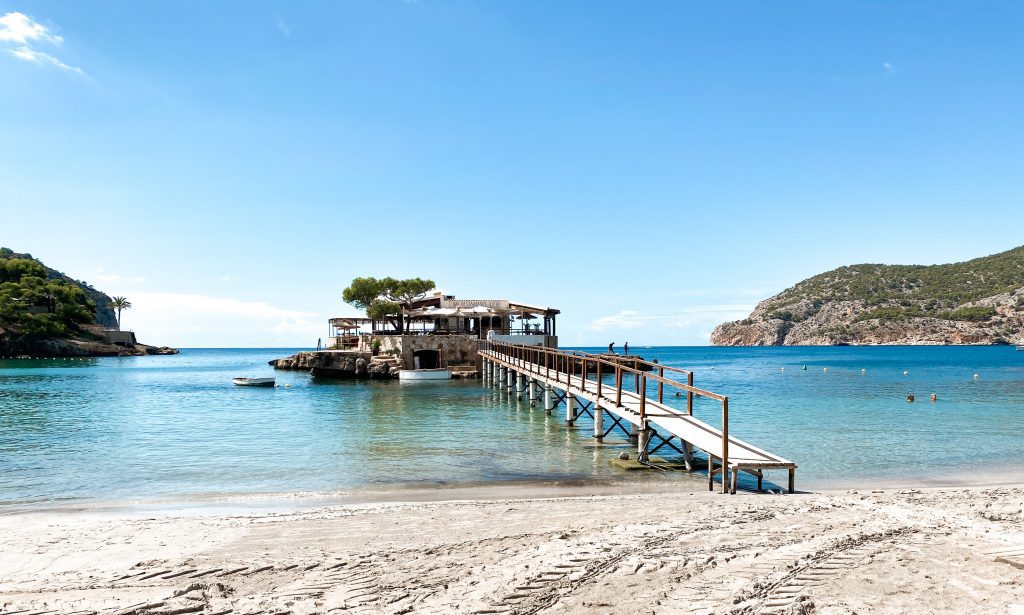 Where to stay in the south of Majorca?
There are plenty of places to stay on this side of the island. It will depend on your tastes, but we recommend this highly rated hotel which offers excellent value for money.
---
What to do in Majorca: our road trip itinerary
Here's a map showing the points on our itinerary for a road trip in Majorca.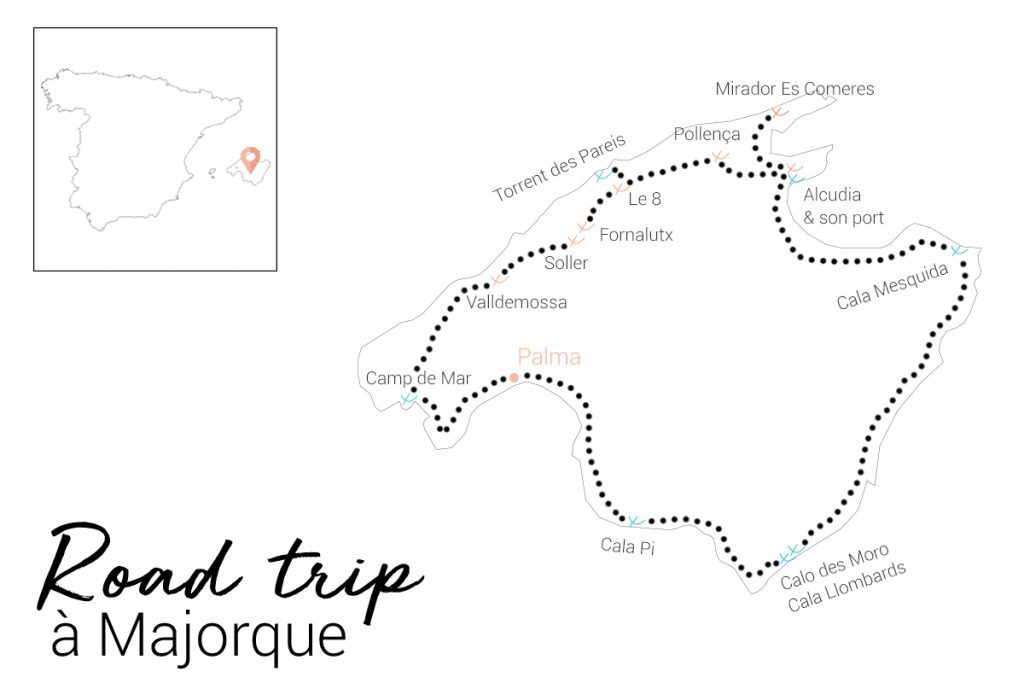 ---
What to choose between Majorca and Ibiza?
The Balearic Islands are made up of three main islands: Majorca, Ibiza and Menorca. After visiting the first two, we can help you choose if you are unsure.
We really preferred Ibiza. Although Mallorca stands up well with its beautiful beaches and charming villages, we found the island too seaside. The whole coastline is dotted with huge hotels that distort the landscape. This is an aspect that put us off a little.
The bohemian atmosphere of Ibiza won our hearts. Even if the south of the island is very developed to welcome the party people, the rest of the island remained more authentic in our opinion. On the other hand, if you want to combine beach and hiking, the hills of Mallorca will suit you better!
➡️ Our guide to Ibiza will be online in a few days!
---
We hope to have helped you in the organisation of your road trip in Majorca. Don't hesitate to ask your questions in comments ❤️. See you soon!