What to do in Ibiza – Itinerary to visit Ibiza
What to do in Ibiza during your stay? In the Balearic archipelago lies Ibiza, an island known worldwide for its parties and debauchery. But there are many other treasures on the island. We will share with you our road trip itinerary to visit Ibiza. You will certainly be seduced by its bohemian atmosphere and its wind of freedom…
---
When to go on a trip to Ibiza?
As for all the destinations in the south of Europe, we advise you to visit Ibiza from April to June and September to November to avoid the summer tourist rush.
In normal times (=outside the Covid-19 period), Ibiza is very busy in July and August.
How to have internet on your phone in Europe ?
Important when you go on a road trip abroad: plan an internet access from your phone!If your package is not compatible with Europe, we recommend you to order your SIM card on Holafly beforehand to be connected everywhere in the world! You get a 5% discount through our link or with the promo code: AMOUREUXDUMONDE?
How to get to Ibiza?
By plane ✈️ :
The fastest and cheapest alternative. We recommend you to compare the best offers and book your flights on Skyscanner.
By ferry ⛴ :
Ferry prices are often very high. This can be interesting if you are spending a long time on the island and/or want to bring your vehicle.
What are the Covid measures for a trip to Ibiza?
All Covid-19 measures are detailed on this page, which is updated regularly.
How to get around on a road trip to Ibiza?
If you want to follow our road trip itinerary in Ibiza, it is mandatory to rent a means of transport. We have opted for a rental car. If you travel light, you can rent a scooter if you like that!
We rented our car from Europcar. They are one of the few rental companies that accept debit cards. Beware of low cost rental companies who may force you to take out very expensive compulsory insurance if you don't have a CREDIT card!
? To find the best car rental deals, compare prices by clicking here
Where to stay when visiting Ibiza?
The island of Ibiza is rather small, it can be covered quickly from end to end in 1 hour's drive. Therefore, we advise you to take one or two accommodations maximum if you are travelling to Ibiza for a week. Here are our recommendations of hotels and flats, depending on the type of stay you are looking for:
Me Ibiza : Absolutely splendid hotel with 2 outdoor pools, one of which is on their rooftop. The setting, facing the sea, is as magnificent as the decoration of the rooms and common areas. The Me Ibiza is located in the south of the island, in a relatively quiet area.
Portinatx : An ideal location, in the north of Ibiza, to enjoy the peace and quiet of the island, far from the party people. Choose a flat if you prefer to have a meal from time to time! Book here
Can Beia Hostal Boutique : A very deco hotel with great value for money where we stayed one night. It is located in the west of Ibiza, perfect for being close to the beaches. Sant Antoni de Portmany is a good compromise between calm and a more urban side.
Budget for a road trip to Ibiza
Plane: 200€ return for 2
Car rental: 120€ for one person
Petrol: 50
Accommodation: 70€ per night on average, that is 420€ for 6 nights
Catering: 50€ per day for 2, or 300€ for the stay
Total: 1 090€ for 2 people for a 7 days trip to Ibiza.
This budget is based on our travel habits, it can vary depending on where you stay/where you eat and on the price of your transport!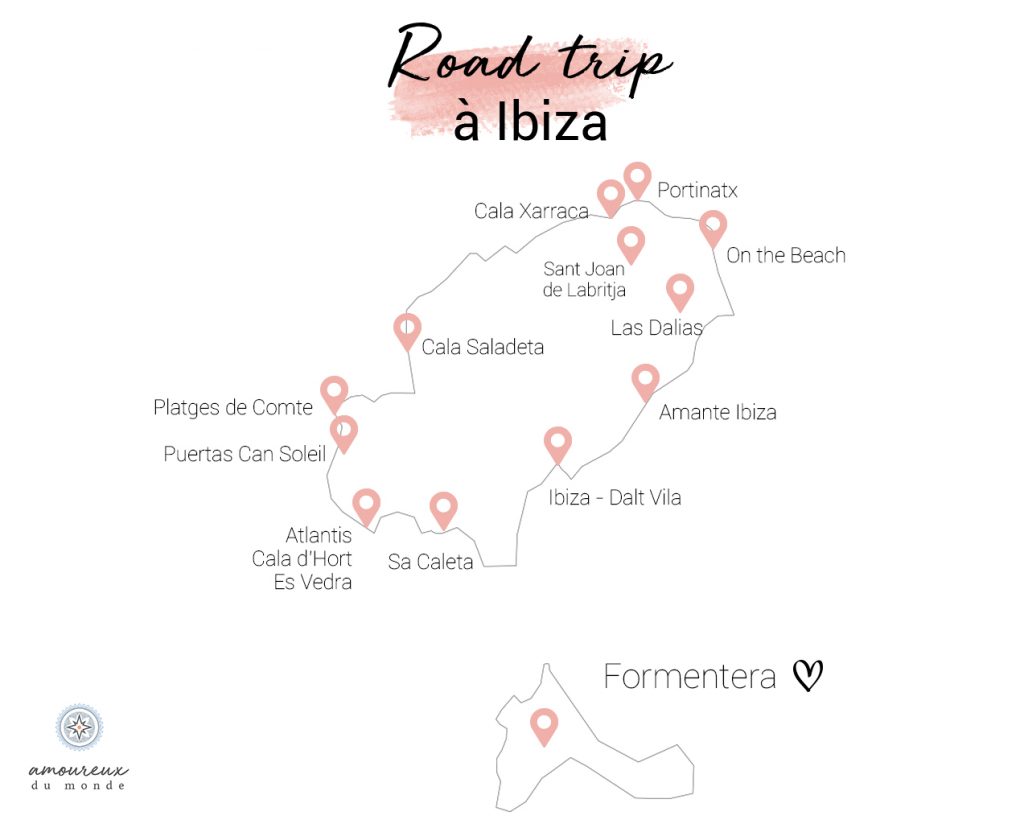 ---
Day 1 – What to do in Ibiza
Itinerary: start of the road trip in Ibiza
In order to do the whole of this itinerary in Ibiza, we recommend that you stay at least 5 days on the island. We will dedicate a minimum of one day to each area of Ibiza in order to keep a logical order and to optimize the driving time. You can of course choose to start with any area, depending on where you have chosen to stay.
? Sa Caleta
The first stop on this road trip to Ibiza is Sa Caleta beach. Beyond its crystal clear water, the small cave overlooking the beach makes the place exceptional. To find it, go here, a 2-minute walk from the car park.
? By the way, it's easy to park, especially coming in the morning. The car park is free.
We suggest you enjoy Sa Caleta until lunchtime. You can either pack a picnic or eat at the restaurant that borders the beach.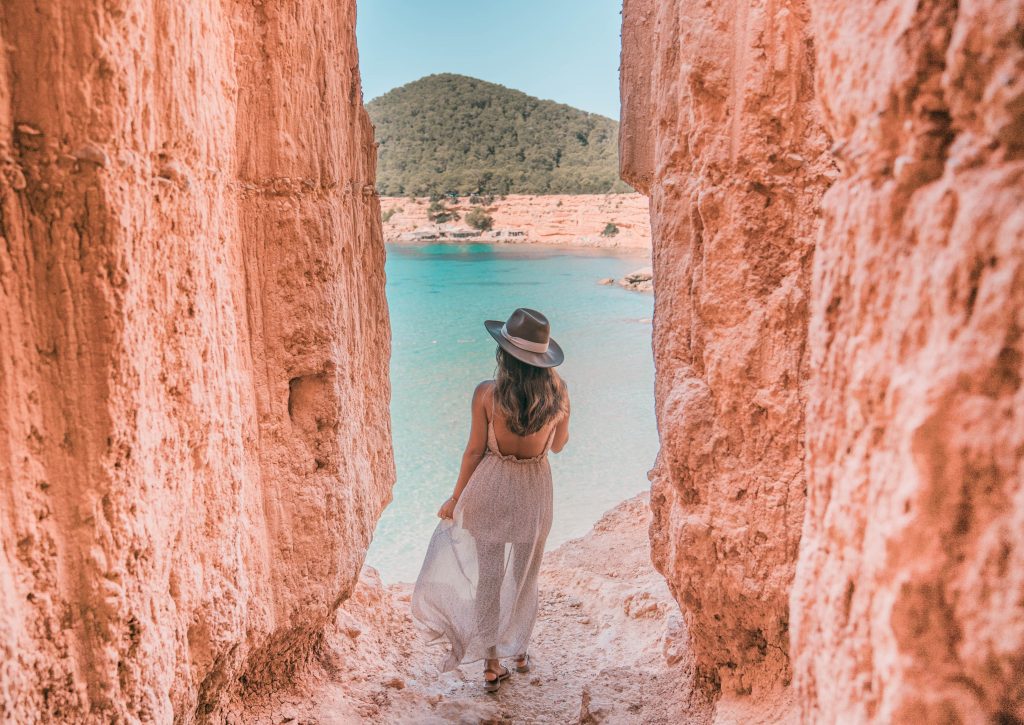 Unusual in Ibiza: Atlantis
? Also known as Sa Pedreda de Cala d'Hort, this cove couldn't be more original. Huge rock formations rest near the sea and form beautiful natural pools. Originally it was a quarry. Now the rocks have been sculpted into unexpected shapes. We warn you, you have to walk to enjoy it. Being located between cliffs, the optimal time to go is early afternoon, otherwise you will have shade.
?How to get to Atlantis, Ibiza?
To get there, you can park in this free parking. Allow about a 45 minute walk. From the car park, follow the flat path and then go up on the left at the first intersection. Then continue to climb until you see the sea. At this point, you will come across a path that goes downhill, take it to Sa Pedreda de Cala d'Hort! Access is not the easiest, so bring good shoes and don't go there with small children.
⚠️ Don't forget to take plenty of water with you and something to snack on just in case. Indeed, we advise you to stay until sunset, in the spot we indicate in the section below. You won't get back in your car until the end of the day.
Voir cette publication sur Instagram
Es Vedra at sunset
If you've been to Atlantis Cove, the place we recommend for sunset viewing is 15 minutes away. If you haven't been there, it's also a 15 minute walk from the car park.
Here are the GPS coordinates of this small cave where you can watch the sunset with a splendid view of the island of Es Vedra. It is located just below the mirador. There are many people in the area at the end of the day, as this is, in our opinion, the best place to watch the sunset.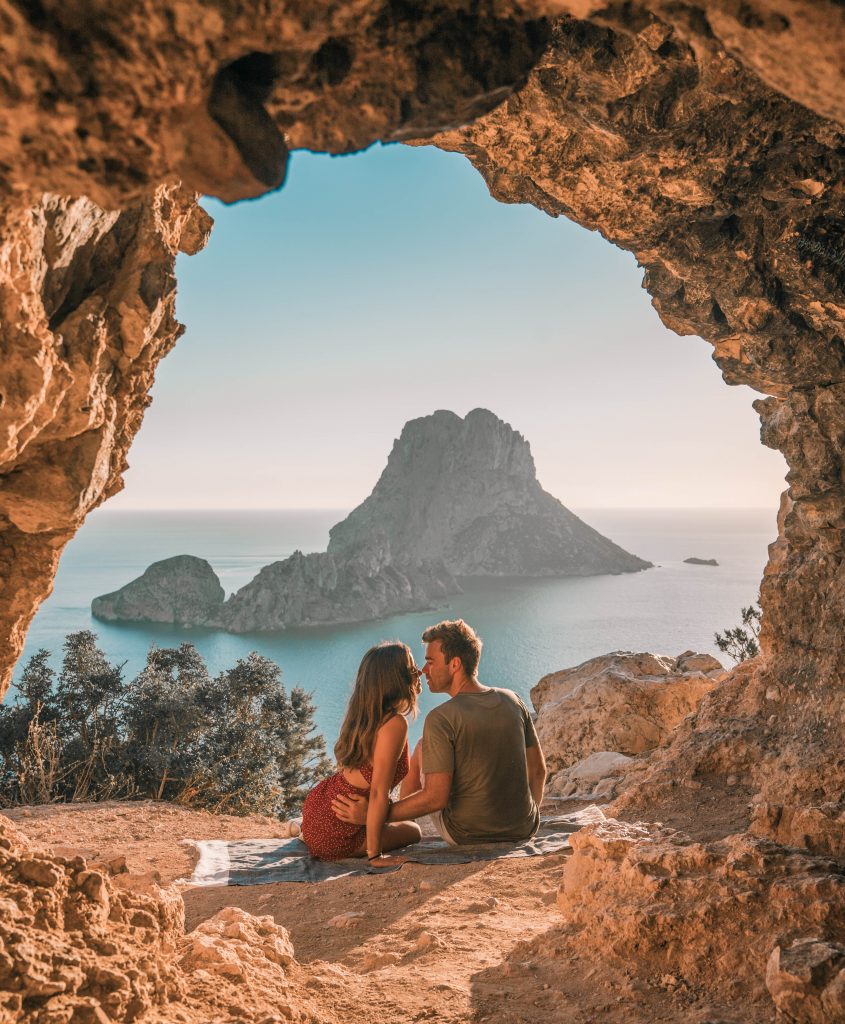 ---
Day 2 – Continuation of the trip to Ibiza
Kayak & snorkel trip
To get the day off to a good start, we have planned a 2-hour kayaking and snorkelling trip. You will reach places that are otherwise inaccessible and will be able to discover the underwater life of Ibiza!
Platges de Comte
Several small beaches follow one another here and offer incredible turquoise blue water. So it's ideal for swimming! The parking is free.
If you have time, the Comte Beaches are popular at sunset too, thanks to the famous Sunset Bar Ashram.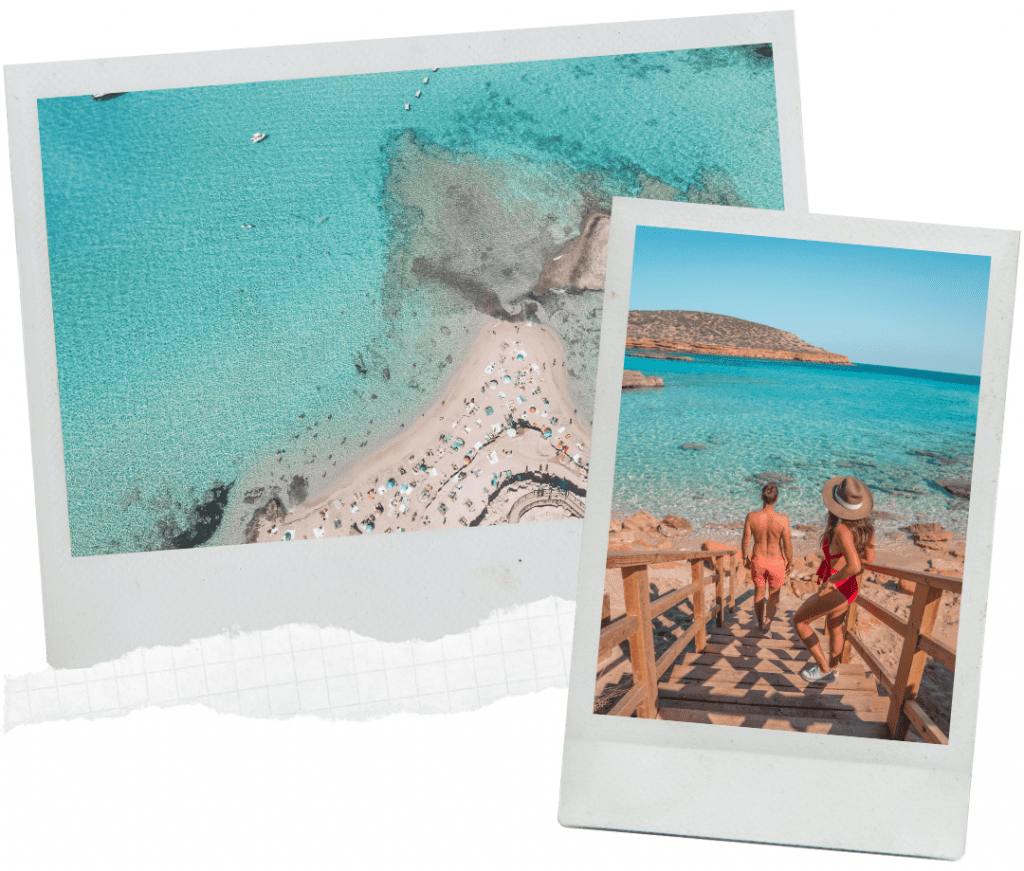 Lunch at Bar Es Clot
Bar Es Clot has a lovely terrace in the courtyard. You can enjoy Spanish/Mexican cuisine in a very nice setting. The restaurant is also nice in the evening! To be arranged according to your schedule.
⚠️ For all the addresses we share with you in this Ibiza itinerary: we do not guarantee that these places are open at the time of your trip, given the current economic situation. Please call to enquire if possible before travelling for nothing.
Cala Saladeta 
Probably our favourite beach in Ibiza, Cala Saladeta is sublime. Its orange rocks contrast beautifully with the crystal blue water.
? Parking is free. Allow a 10-minute walk to the beach.
⛵ A boat ride is also possible. Discover more closely the caves, but also all their marine fauna.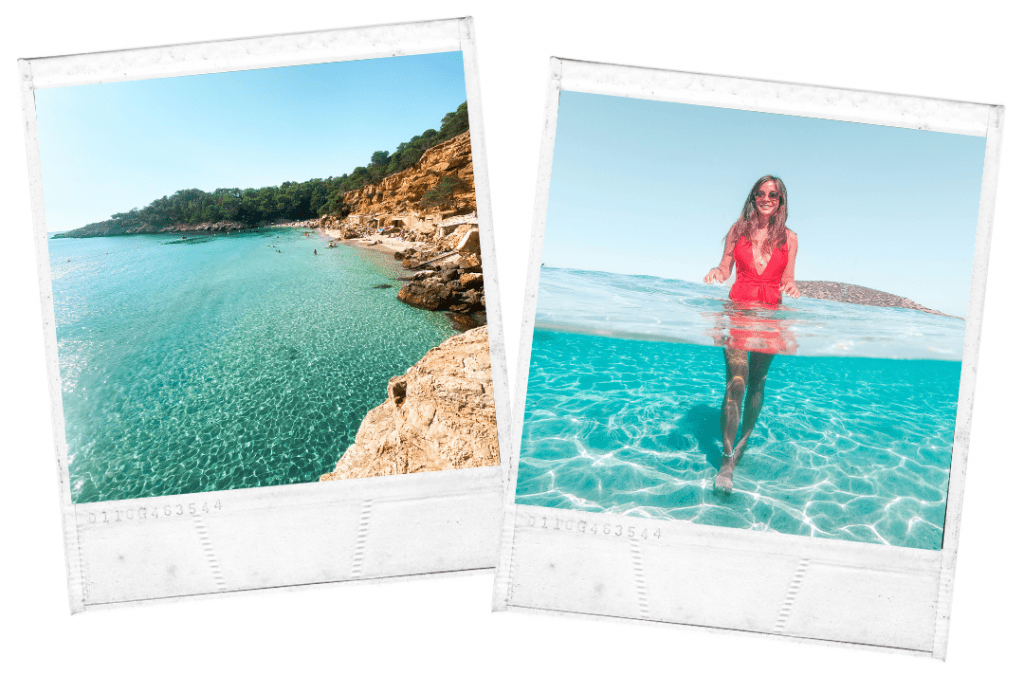 Ibiza Otherwise: the Cala Llentia monument
Looking for an unusual place in Ibiza to watch the sunset? Go to the Puertas de Can Soleil, located to the west in Cala Llentia. You will come across two huge doors and columns in the middle of nowhere. It's a strange idea, thought up by an Australian sculptor. This monument would represent the movement of the planets around the sun.
? A car park is located at 5 minutes walking distance. We are too deg not to have been here. Makes us a good excuse to come back on a trip to Ibiza. ? You can see Es Vedra through the doors, don't forget your camera. The atmosphere looks… mystical!
Voir cette publication sur Instagram
Day 3: A day in Formentera
If you're wondering what to do in Ibiza: Formentera is a must! We have prepared a guide dedicated to the island of Formentera, located 30 minutes by boat from Ibiza.
Click here to read our article and find out all about visiting Formentera!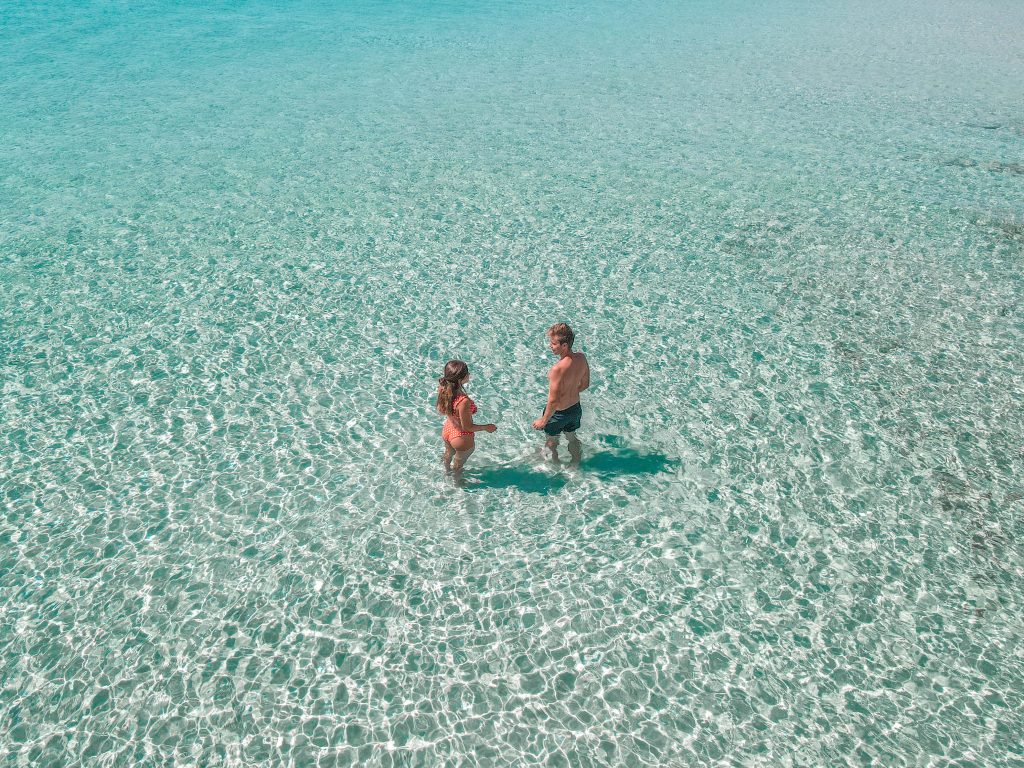 ---
Day 4: Visit the North of Ibiza
We loved the north of Ibiza, with its bohemian and family atmosphere. The beaches and coves of the north coast are all beautiful, so we share our favourites in this Ibiza road trip itinerary.
Cala Xarraca and its swing
A somewhat homemade swing hides just off Cala Xarraca. To get there, we recommend that you park here. If you decide to park at the official beach car park, it will add quite a bit of walking.
? Here is the exact location of the swing. I warn you, the rope hurts your butt and your feet ?. Other than that, this spot is very cool for swimming, jumping and snorkeling a bit offshore! Optimal time to go: not before 11am, because otherwise it's in the shade.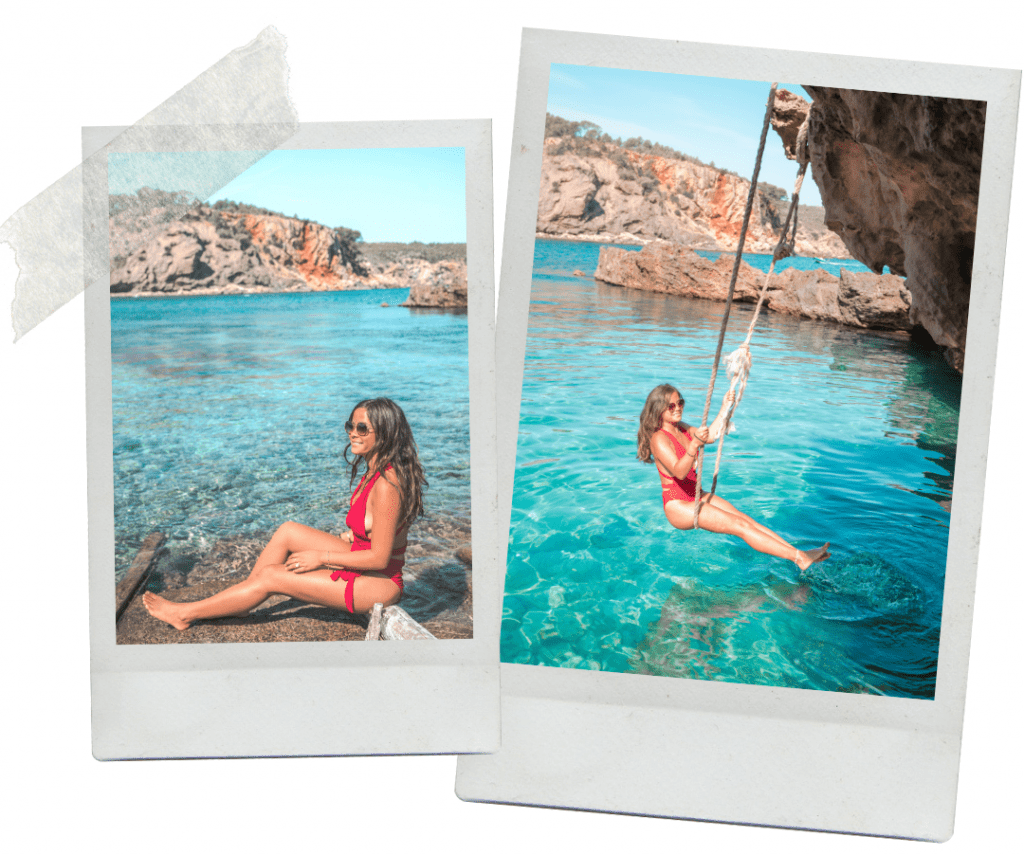 Portinatx beach
The beach at Portinatx is beautiful. Less wild and more family friendly, it's nice for lounging on fine sand. Pronounce "Por-ti-natch" ?.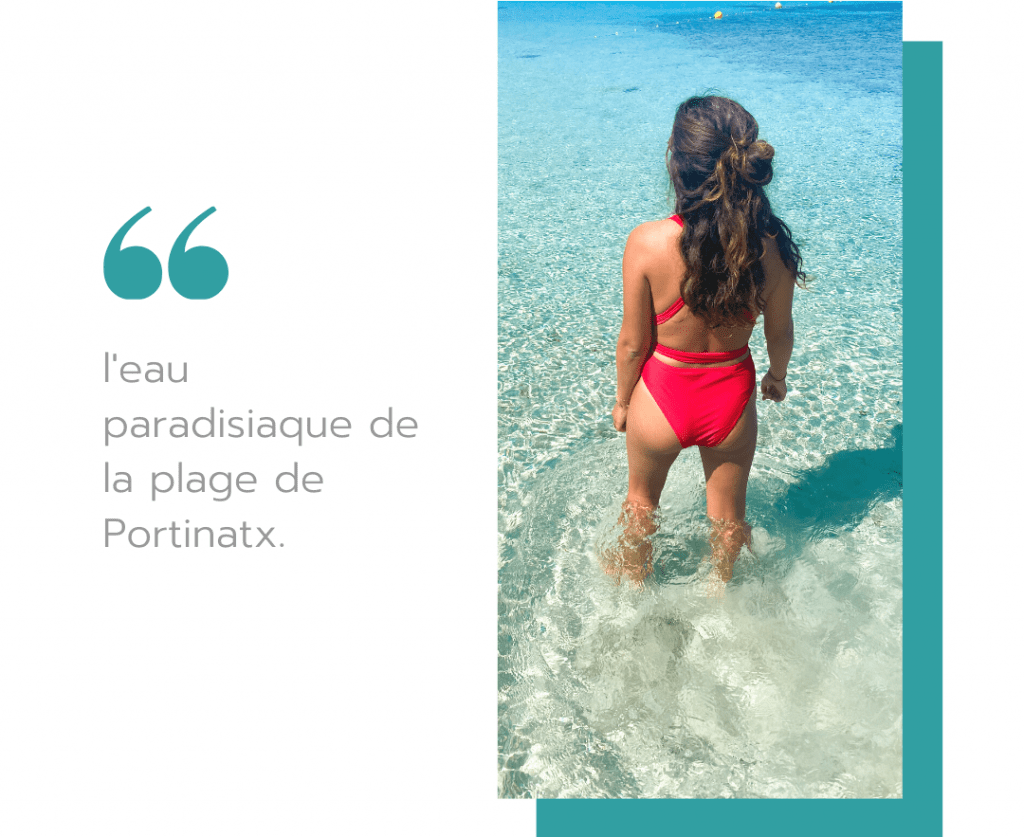 Lunch "On the Beach"
Finding a nice beach restaurant in Ibiza without breaking the bank is no easy task. So we are too happy to have found this address! The decoration and the atmosphere of this restaurant seduced us. We really enjoyed it ? with quality food and good portions. Plus, the prices are reasonable.
? Two other addresses to try in the north of Ibiza: The Giri Café & Gare du Nord Restaurant.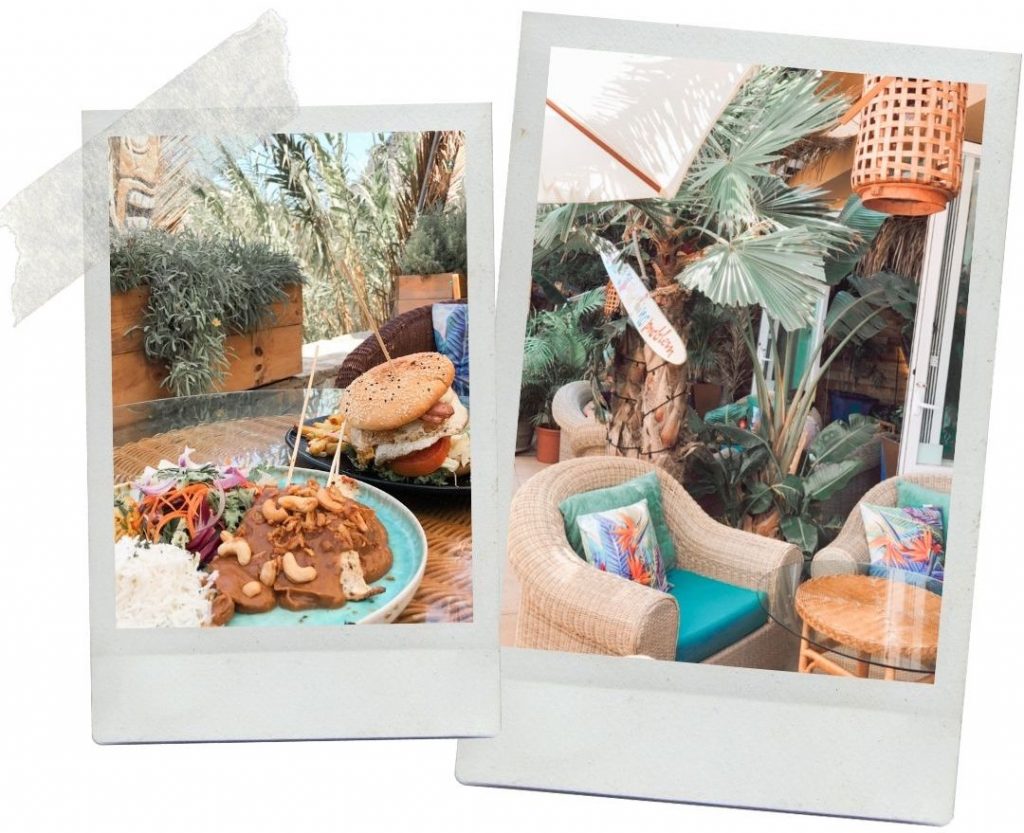 Sant Joan de Labritja
For a little digestive stroll, head to the pretty village of Sant Joan de Labritja. We didn't have time to go there, but its beautiful coloured buildings and small church are worth a visit! It's small but ideal for a quiet walk. Inland, you will discover yet another aspect of Ibiza, more authentic.
Voir cette publication sur Instagram
---
Day 5: What to do in Ibiza? The end
Visit to Dalt Vila
For the start of the day, we recommend heading to the historic center of Ibiza, to the Dalt Vila district. In the middle of the walls, the flowery alleys have a crazy charm. ? Since the old town is built on high ground, we don't recommend going there in the middle of the afternoon, as it will be very hot!
To visit Dalt Vila, there are no specific directions. Just wander around and let your instincts guide you.
There is also a free guided tour to learn about the history of the old town of Ibiza.
? During your trip to Ibiza, we advise you to visit the walls once in the morning and for an evening as well. We'll let you choose which evening you want to go depending on your schedule. An aperitif at S'Escalinata is highly recommended! They serve small snacks, cocktails, wines and other usual drinks at reasonable prices.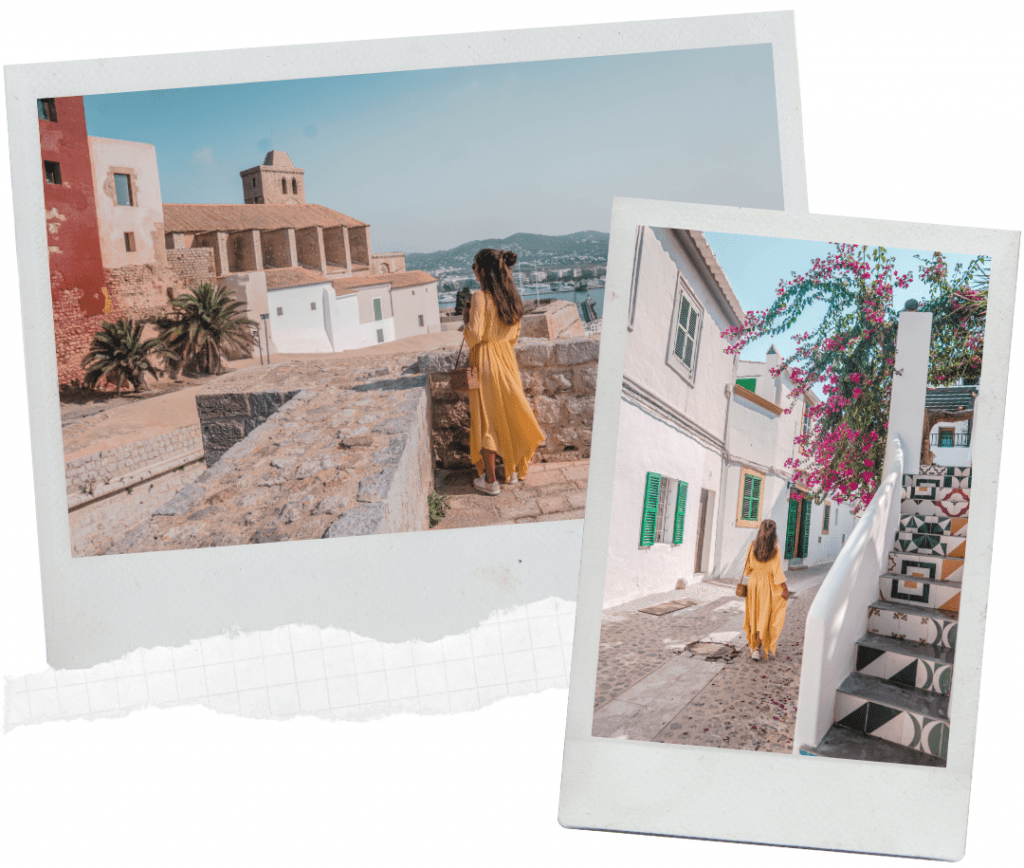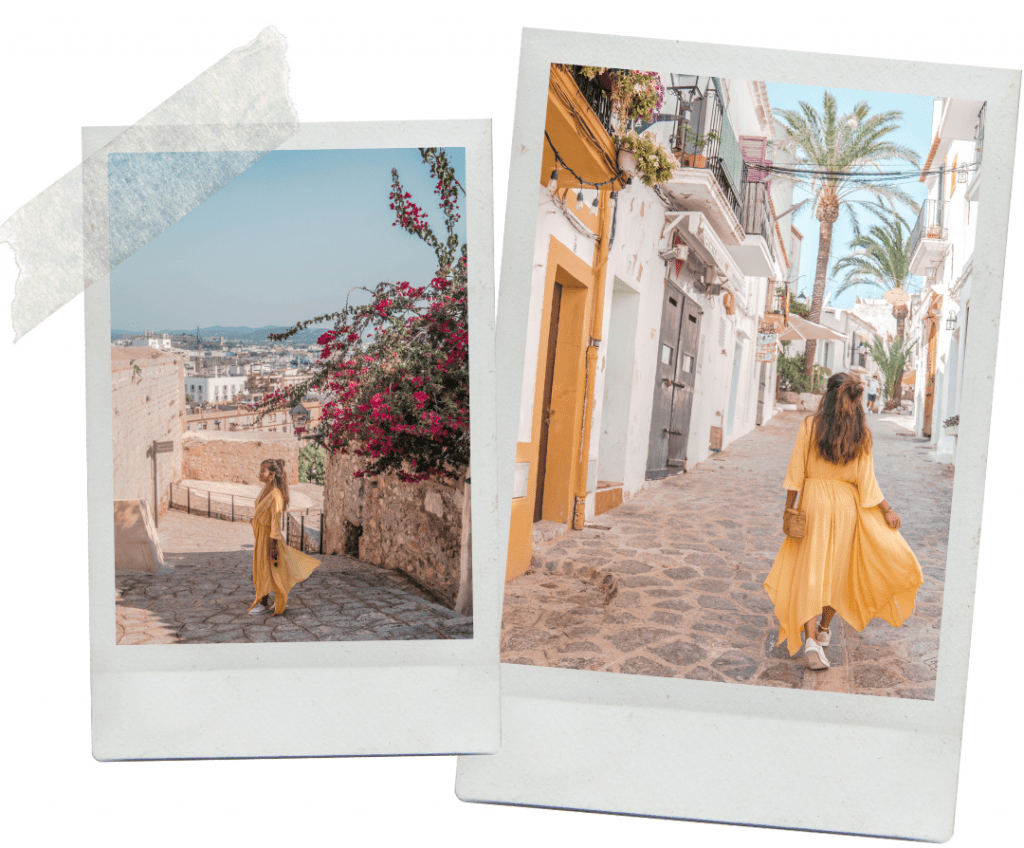 Lunch on the beach
The beach restaurant Amante Ibiza is a must on your Ibiza road trip. We tried to go there twice (without booking) and it was full ?. But we still highly recommend it! The prices are a bit high but they serve quality Mediterranean cuisine in an exceptional setting.
It is also possible to rent deckchairs for the day. In the evening, the restaurant lights up for an even more enchanting setting. ?
Voir cette publication sur Instagram
Hippie Market 
The island of Ibiza is also famous for its bohemian atmosphere and hippie markets. There are several organised on the island, but here are the two main ones:
Las Dalias de Ibiza: A small but famous hippie market in Ibiza. There is also a café/bar for drinks and food. The atmosphere is very nice! Opening days and times vary according to the season. Please check the information on their Instagram account. Parking cost us €3.50.
Punta Arabi: Another hippie market, bigger than the previous one. It closed on September 2 but will most likely be open in 2021. You can check this out on the official Instagram account.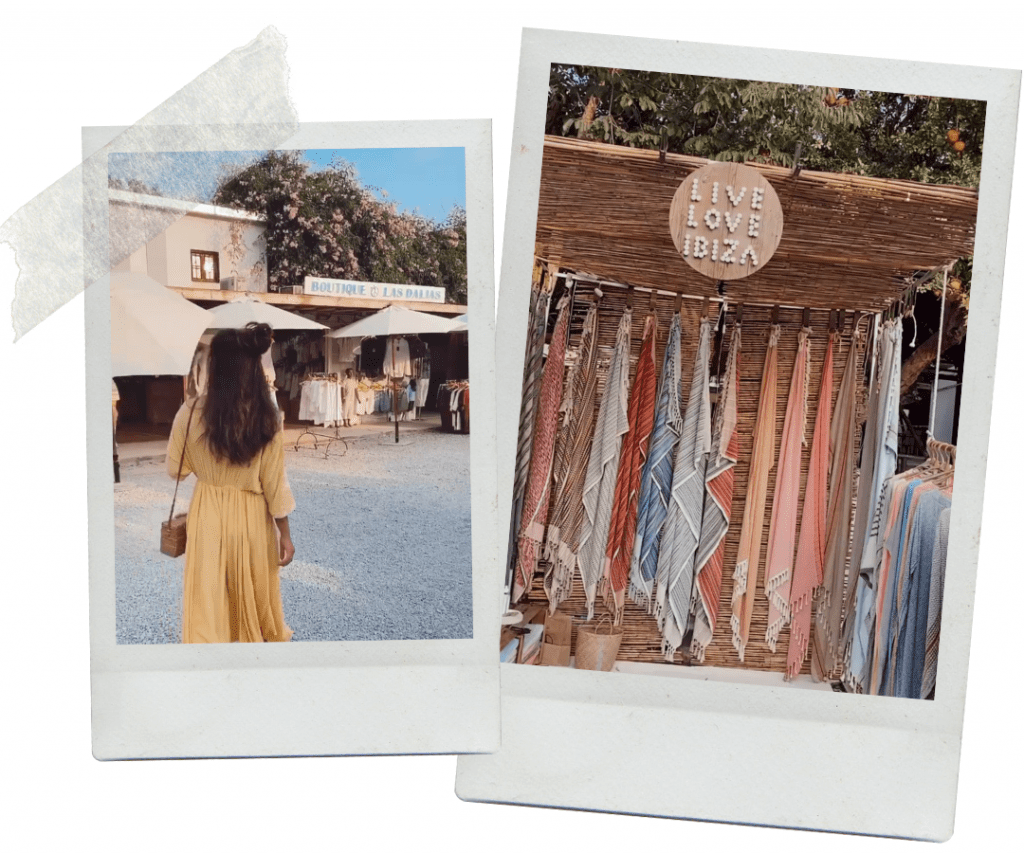 ---
That's the end of this itinerary for a trip to Ibiza. You can find our other guides to Spain by clicking here!