3 days in Budapest : what to do ?
Situated in the heart of Europe, Budapest is a capital well known to tourists, particularly for hen and stag parties. The Hungarian capital is a dynamic city where culture is very much alive. What's more, Budapest is often accessible with low-cost flights from most French cities. How can I visit Budapest in 3 days ? Here's a detailed itinerary to help you discover what to do in Budapest.
How to organize your trip of 3 days in Budapest ?
When to go to in Budapest ?
Temperatures in Budapest are fairly similar to those in France, with a few degrees less. Average temperatures fluctuate between 2°C in winter and 24°C in summer. To make the most of the Czech capital, I advise you to come between May and September, when temperatures are warmest and the sun shines brightest ☀️
Where to stay in Budapest : the best hotels ?
For your stay in Budapest, I strongly recommend that you stay in the centre so that you can get around as much as possible on foot. I've found 2 perfect places for you to stay :
Authentic Akacfa Apartment : this centrally located flat offers excellent value for money. Depending on the season, it costs less than €40 a night. Ok, we've had better decoration, but it's ideal if you want to keep your budget for the rest.
Szuper kis designlakás : a well-decorated duplex this time, and still ideally located. Well-equipped, with air conditioning and very fast Wi-Fi.
For "pleasure" accommodation or a special occasion, I recommend the Párisi Udvar Hotel Budapest, one of the most beautiful hotels I've ever seen! The architecture of the lobby is incredible and the service you would expect from a 5-star hotel ⭐️.
Where can I buy a plane ticket to Budapest ?
We recommend that you compare the best offers and book your flights on Ulysse. You can take advantage of a €10 discount on your first flight booking on Ulysse by registering via our link !
What budget should you allow for 3 days in Budapest ?
Flights France – Budapest: €120 per person on average
Airport – city centre: 25€ with private driver in 20 minutes or 2200 HUF (around 5€) per person with the bus.
Hotels: €60-80 per night for a 3-star or even 4-star hotel, depending on the period.
Restaurants: €30 per day per person for 2 meals
Total = €590 for a 3-day stay in Budapest, i.e. €295 per person, excluding activities and visits.
How do you get around Budapest ?
The great thing about this city is that most of it can be done on foot! You can, however, take the metro if you want to save time or energy, as the network is well developed 😊. VTCs are also an interesting alternative for getting around at any time.
If you want unlimited transport and discounts on a few visits, I recommend that you take out the Budapest Card in advance of your trip.
Do I need to buy tickets online to visit the must-see spots ?
For reasons of price, language and ease of use, we advise you to pre-book your activities on one of the following 3 sites:
If you wish, you can book a free guided tour of Budapest. The tour is led by a local English-speaking guide.
What to do during 3 days in Budapest ?
Here we go, I'm going to tell you my itinerary for visiting Budapest in 3 days.
---
Day 1 : Visit the old town
Visit Fisherman's Bastion
Let's start with the city's must-see site, near Budapest Castle. It's one of the most popular places to visit, because you'll have an unbeatable view! Admission is free and you can get there by cable car for HUF 3,000 (€7.50). I'd advise you to get there early to avoid the crowds. On the other hand, the funicular doesn't open until 8am, so take a VTC or the bus to get there. Personally, I opted for the VTC at €10, it was the best alternative at 6am 😜.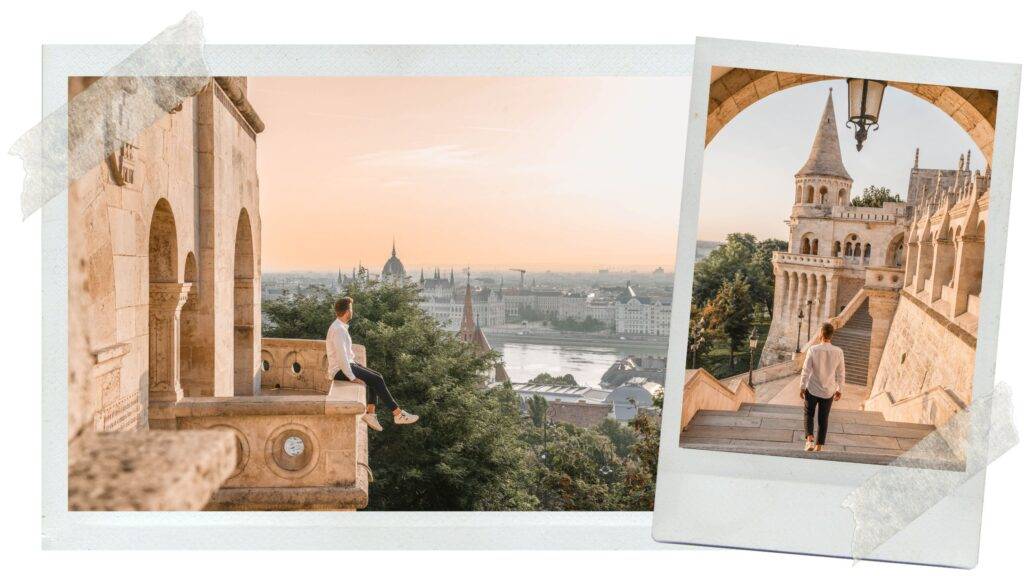 Buda Castle Funicular
As I mentioned above, it only opens at 8am. But I'd still advise you to experience it for yourself if you're coming back to this side for the Matthias Church, for example. A single ticket (cheaper) is sufficient, as the return journey is very easy through the park, which is on the same level as the funicular. I really enjoyed this park, which is well planted with trees and not very busy, and which overlooks the city.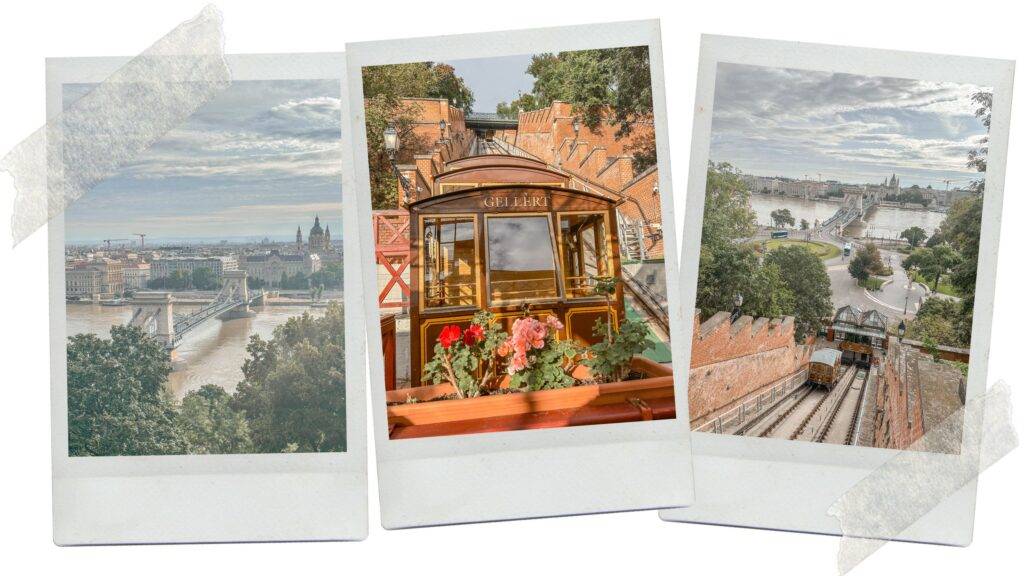 Matthias Church
Situated just behind Fisherman's Bastion, this multicoloured church was created in the 19th century and hosted all the royal weddings and coronations of the two Hapsburg kings. You can see its incredible architecture and its many multicoloured mosaics.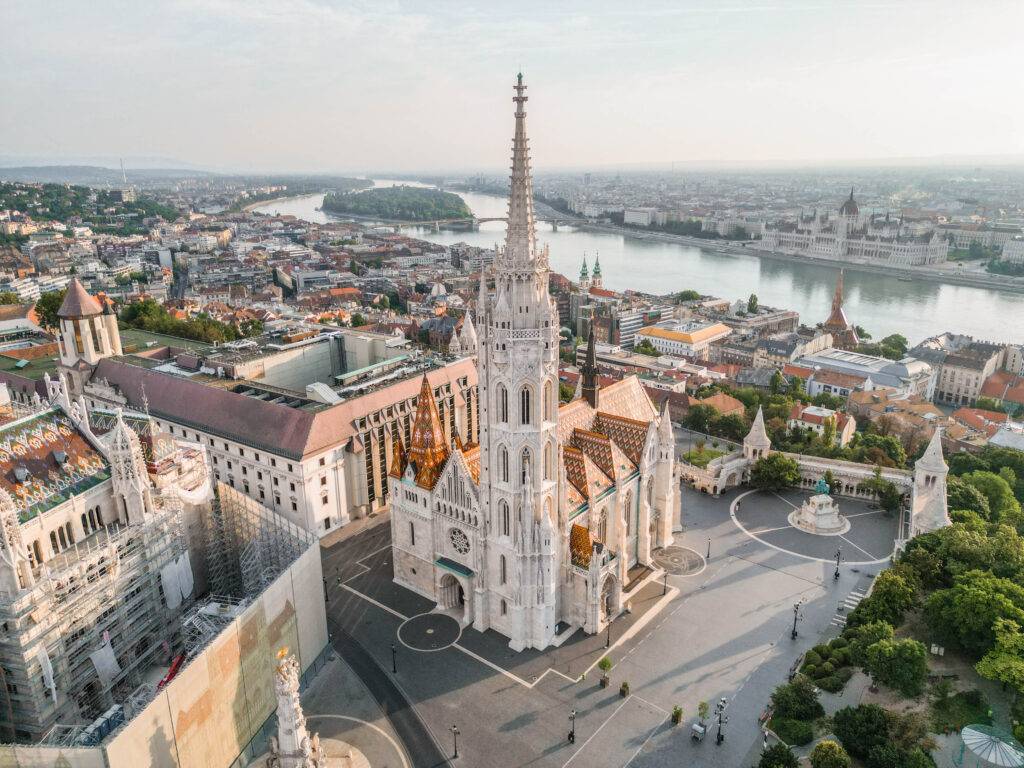 Buda Castle
Buda is actually the name of the district where the Royal Palace (Budavàr) is located, surrounded by other historic monuments including Matthias Church and Fisheman's Bastion. The castle, where many kings have lived, is on UNESCO's World Heritage List. The castle courtyard hosts a number of events and festivals throughout the year.
Chain Bridge
Chain Bridge is an architectural icon. Built in 1849, it links Buda and Pest on the Danube. Yes, the name Budapest comes from the union of these 2 "cities". It measures 375 metres and is adorned with statues of lions. Thanks to its lighting, it's just as beautiful by day as it is by night 🌟. From the Chain Bridge you'll have a great view of Parliament on one side and Buda Castle on the other.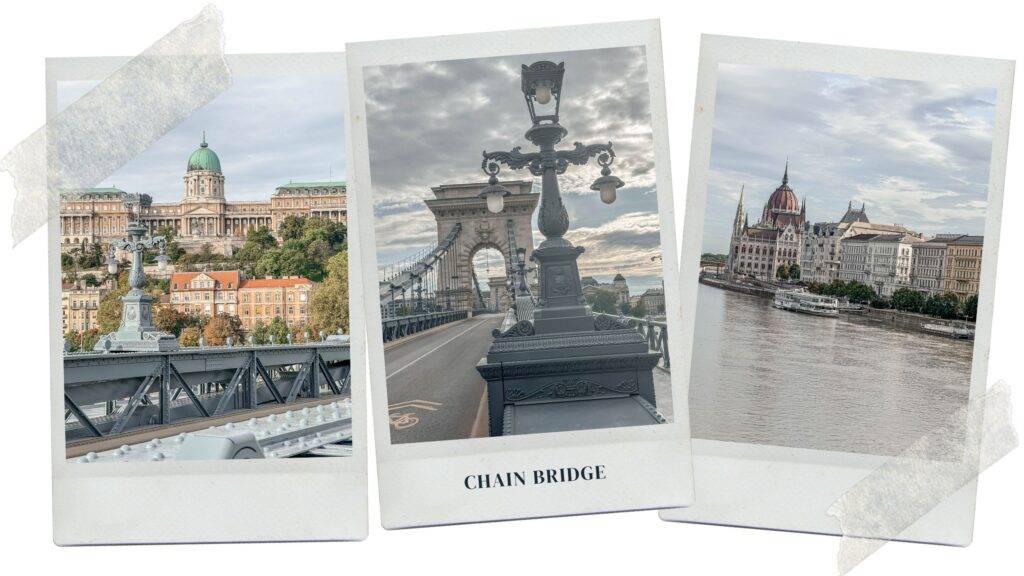 The Hungarian Parliament
The Hungarian Parliament is a symbol of Hungary's democracy and history. It impresses with its majestic architecture, 691 rooms, 20 kilometres of corridors (yes, yes 🤪 ) and a central dome 96 metres high. Parliament is the seat of the Hungarian government and home to the Constitutional Court. It is open to visitors, who can explore its sumptuous rooms for €9. On weekdays, it is generally open from 8am to 4pm (and 6pm at weekends).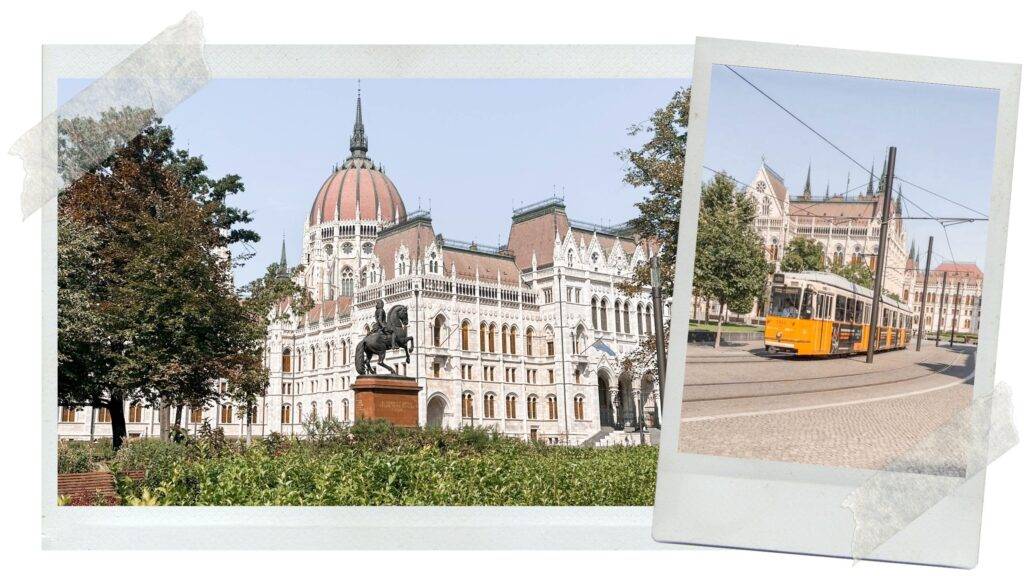 Where to eat and drink in Budapest during your 3 days ?
Budapest's old town is full of typical little restaurants ! Beware, however, of tourist traps offering pizzas and burgers. If you're looking for a taste of Hungarian cuisine, I recommend Getto Gulash, which serves the traditional Hungarian dish: goulash, which is a kind of meat stew. The starter, a kind of cream filled with mushrooms (hungarian pancakes on the menu), was really excellent. I'd advise you to book as it's very busy and seems to be full every night of the week. There are also vegetarian options for those who would like to try the typical meatless dishes. Expect to pay around €12 for a dish.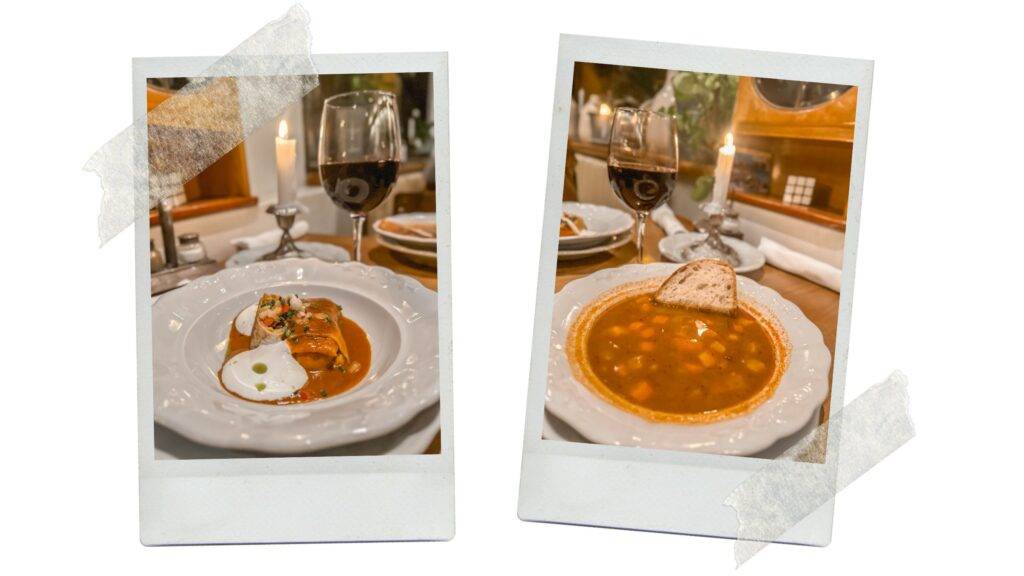 If you're a brunch fan like me, head to the Blueberry for a blueberry brunch. The cheddar eggs Benedict (like 1kg of cheese) are delicious and the blueberry cheesecake is to die for!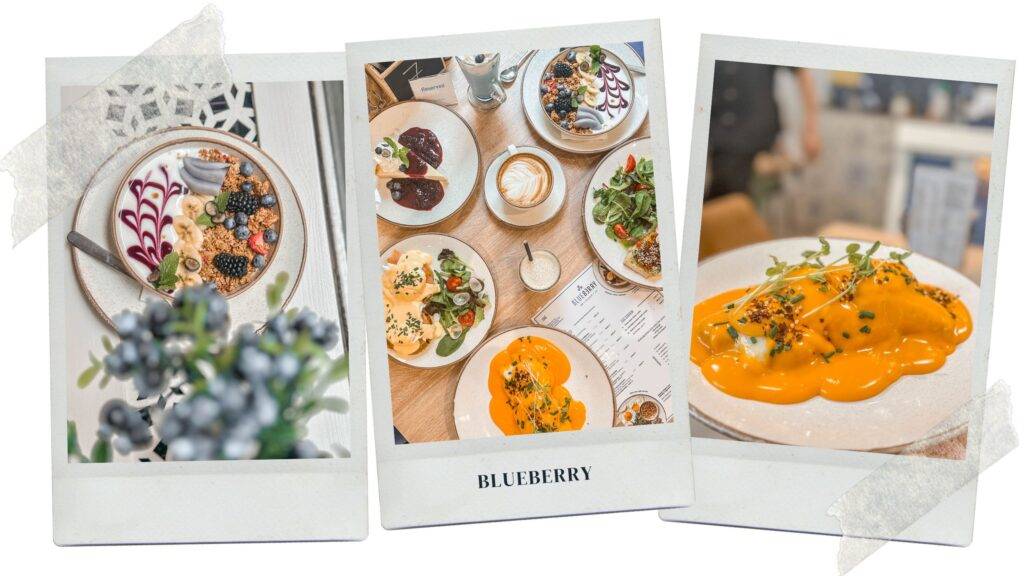 A drink on a rooftop
As most of you know, I'm a big fan of rooftops and I'm always trying to find good places to get some height. There are quite a few rooftops in Budapest city centre and the prices are relatively high. Not far from the centre, I tried out the Memorise Skybar in the Memories Oldtown hotel. The place is really hot, with a great welcome and a nice menu 👌🏼. I'd definitely recommend it !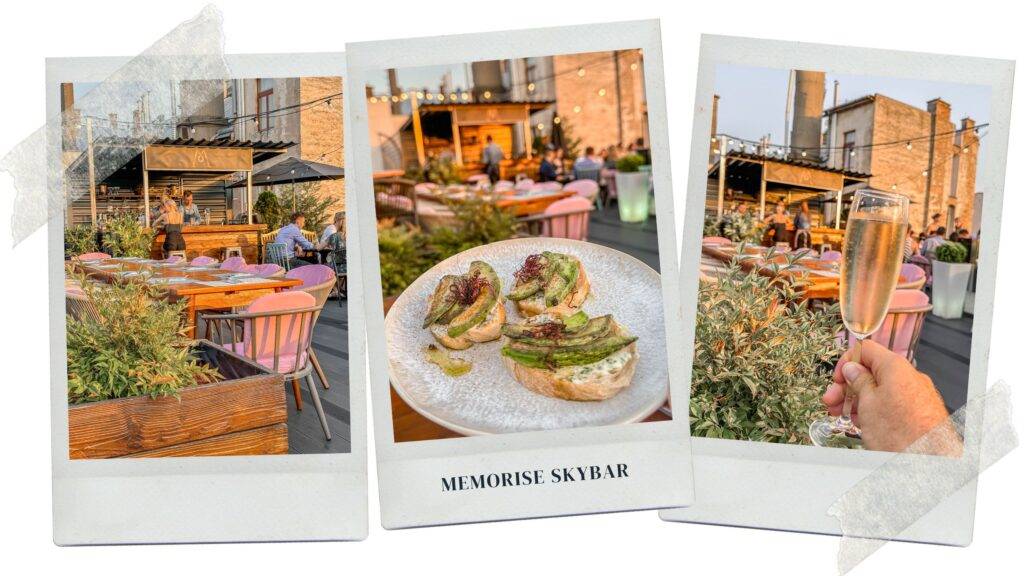 ---
Day 2 : Visit to historic sites of Budapest during your 3 days
The Budapest thermal baths
Budapest is known as a spa town and you'll find numerous baths all over the city. I recommend going to the Szechenyi Therms, which is the best-known bath because of its sublime architecture. You can get there by bus from the centre and admission costs around €25 on weekdays and €30 at weekends. I won't provide you with a booking link, as the price is much lower there (online you can get in for €37).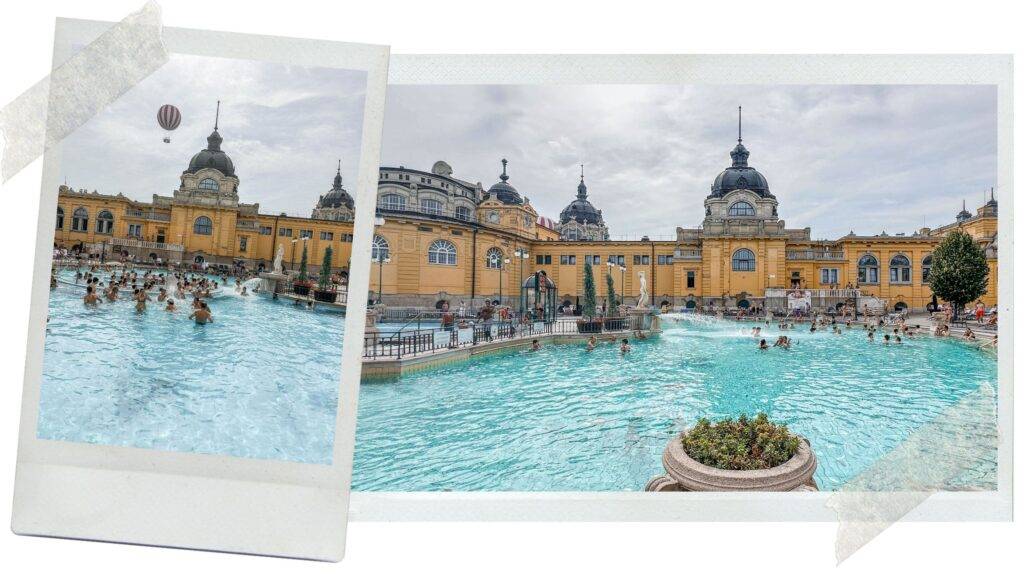 You can also visit the Gellert thermal baths, which are also very pretty and a little cheaper. Expect to pay around €15 per person.
St Etienne's Basilica
At the heart of the city, St Etienne's Basilica is a must-see. I urge you to visit the interior and go up to its roof terrace for a panoramic view of the city. For the brave, you can climb the stairs, but a lift is also available. It costs HUF 3,200 (around €8) to enter and access the roof.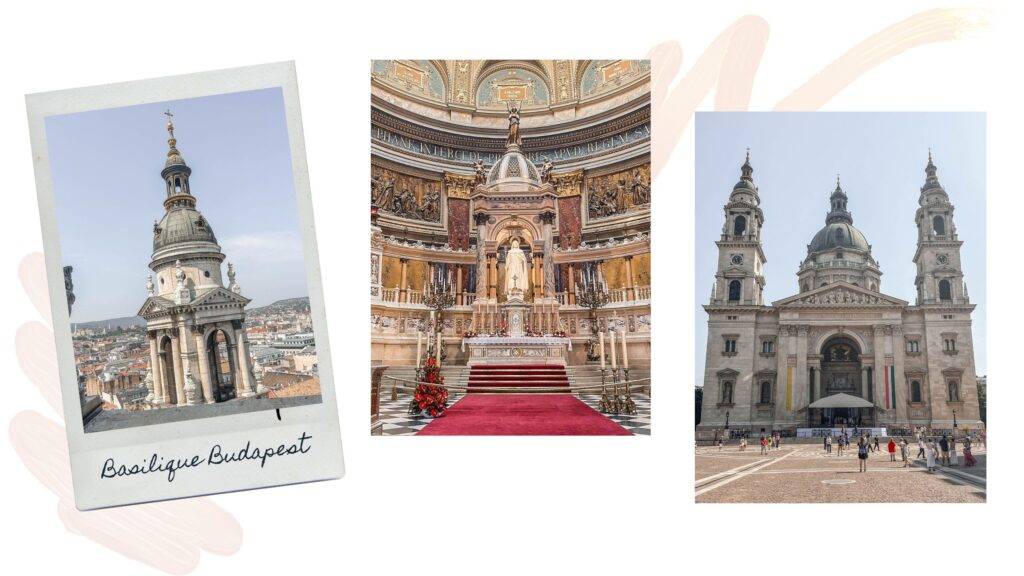 3 days in Budapest : enjoy a Hungarian speciality
Just a stone's throw from the Basilica is Kató Néni Finomságai, where you can try the famous Chimney ! This is a sweet pastry wrapped around a cone and baked on a spit until crisp and golden. You can choose an ice cream flavour to put inside and top with sugar, nuts or cinnamon. For bagel lovers, Best Bagel Basilica's bagels are excellent 👌🏼.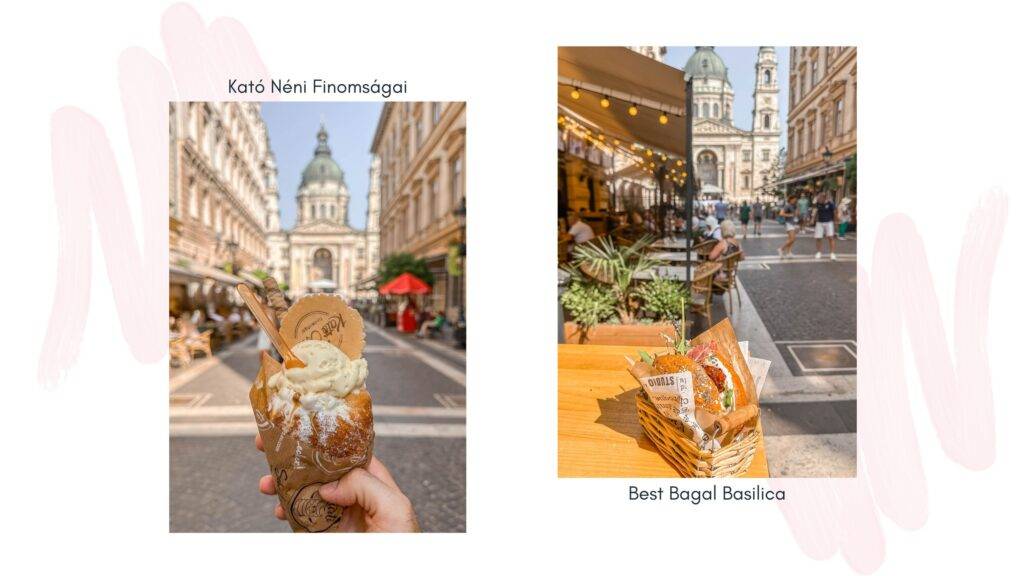 The Central Market
A little further south, you'll find the large market and its many traders. You'll find everything you'd expect from a local market (fruit, vegetables, meat, fish, etc.), as well as stalls where you can pick up a few Hungarian souvenirs. Upstairs, there are also a number of stalls where you can grab a bite to eat.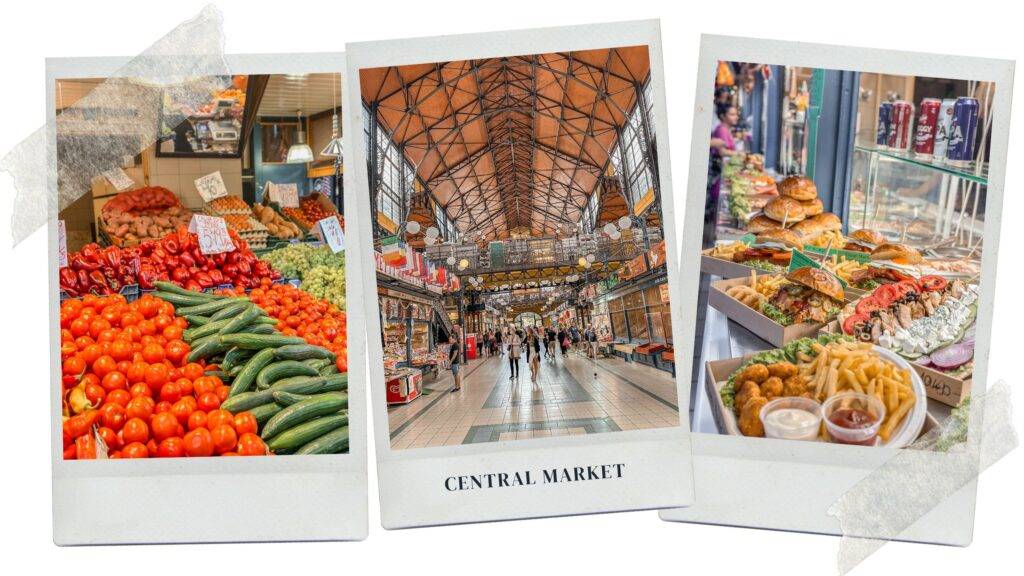 Where to dine / have a drink ?
For a memorable breakfast, head for the New York Café and its grandiose architecture. Obviously, the prices are very (too) high, but the decoration and atmosphere are well worth the diversions. And yes, I was a sucker for a hot chocolate (very good but a little too sweet for my taste) with gold leaf option 🐦.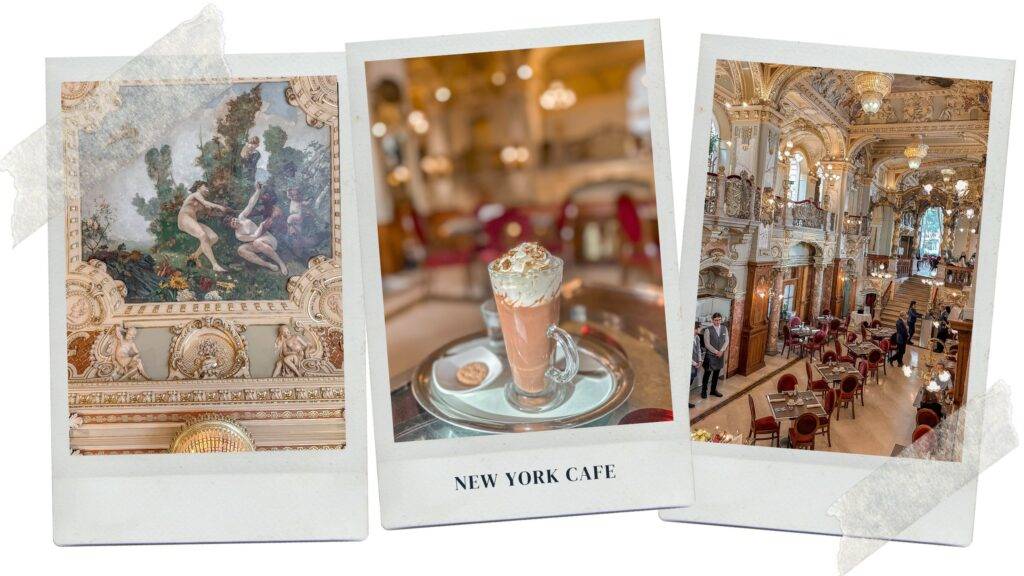 For a greener atmosphere, head to the TwentySix restaurant for a meal or just a drink. This restaurant is filled with plants, under a glass roof, for an out-of-town atmosphere. Expect to pay around €15 for a dish. A bit pricey for the city but I think the setting is really nice 🍃.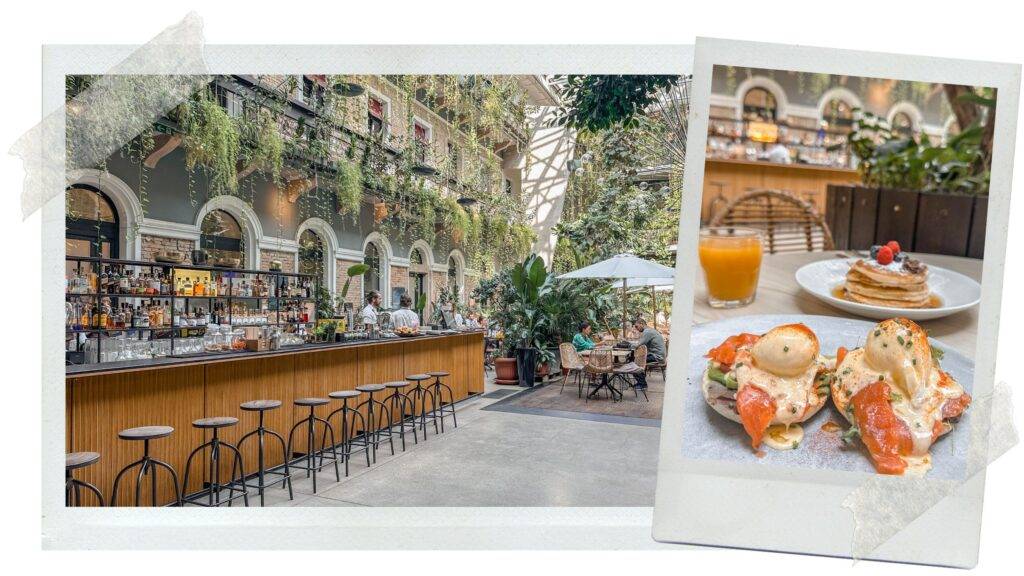 Where to go out in Budapest ?
I recommend going to the Ruins Bars, which are bars located in disused buildings that have been redecorated to create an unusual atmosphere. It's a really original place, as you can get lost in the different buildings while drinking local beers. It's a must in Budapest.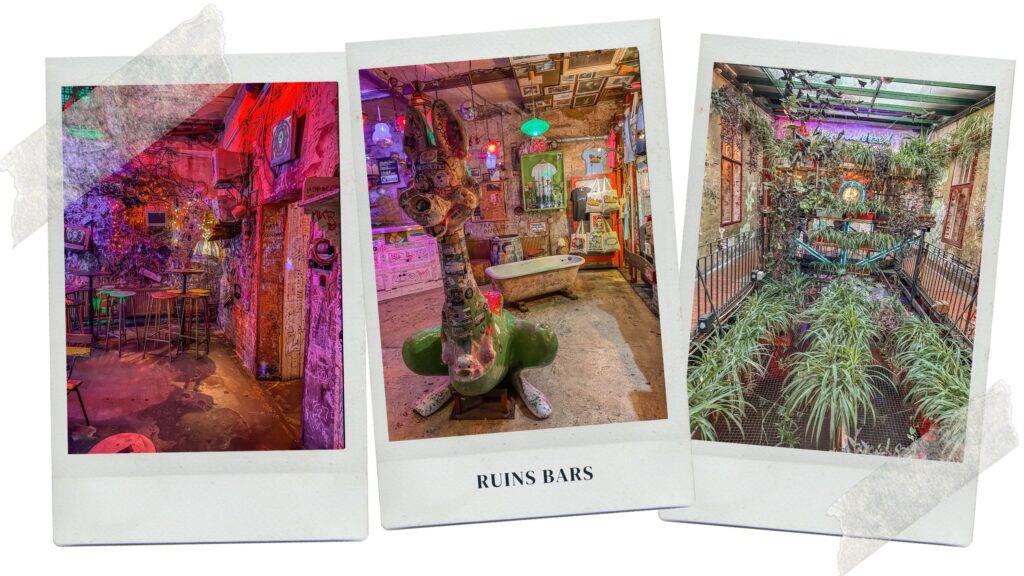 ---
Day 3 : Unusual places to do during 3 days in Budapest
Budapest Eye
The Budapest Eye is an iconic attraction in Budapest, offering panoramic views of the city and the Danube. Tickets vary in price depending on age and time of day, but in general the cost of entry is around €10-15 per person. Exact prices may vary, so it is advisable to check current prices before visiting 💰.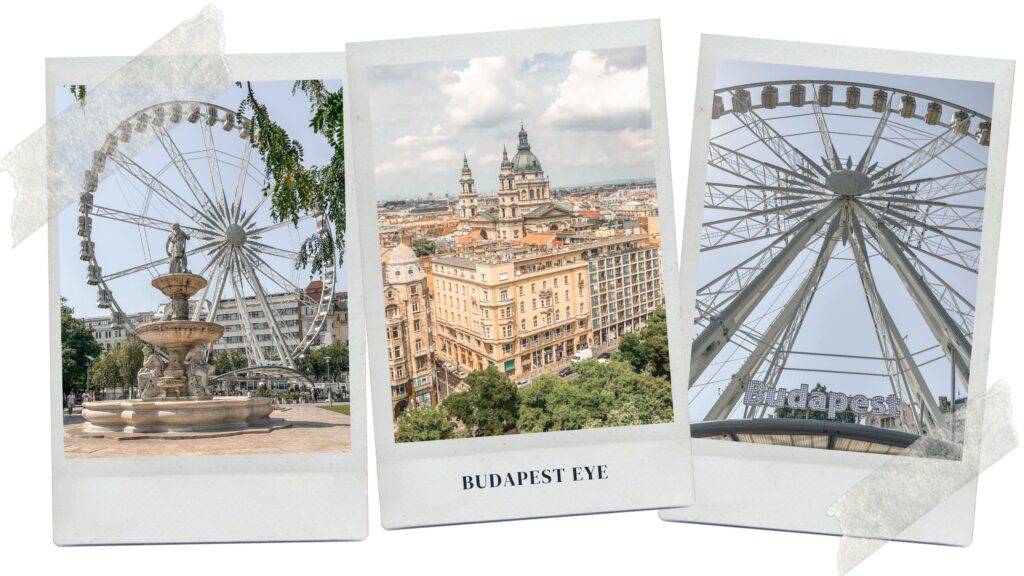 Heroes' Square
Located in the Városliget district, the statutes of Heroes' Square represent the seven chiefs of Hungary's founding tribes, as well as the country's main sovereigns. In the middle of the square is the tomb of the Unknown Soldier and you will also find the large Bois-de-Ville park.
Take a cruise on the Danube
Another must-do in Budapest : a cruise on the Danube to discover the city in a different way and admire its historic sites. You can take options with or without a meal, but I advise you to book at sunset to take advantage of the beautiful light. There are also packages with drinks included ! On this cruise for less than €25, for example, you get unlimited Prosecco for the duration of the cruise ! Ideal for an aperitif 🍺.
Where to dine / have a drink in Budapest ?
I fell in love with this place and I'll be happy to come back. The Caviar&Bull restaurant offers gourmet menus for just under €80 per person and it was really delicious !
I hope this itinerary of 3 days in Budapest has helped you organise your weekend ! Here are some other travel guides for a city trip in Europe : to visit Rome in 3 days or Porto for a weekend.
If you have any questions or recommendations, we'll see you in the comments 😊. See you soon !
---
This article contains affiliate links. If we've helped you organise your trip, or if you'd just like to support us, remember to book your activities and hotels for Budapest by clicking on our links. We'll earn a small commission and the price stays the same for you, of course. 🤍