What to do in South West of France ?
Let's set off on a road trip to the South West of France and Spain ! I'm proposing several itineraries of one week, 10 days or 2 weeks to visit the Basque Coast and the Pyrenees. Between Basque culture, gastronomy and incredible landscapes, these corners of France and Spain really seduced me. 🤩
Like me, you can hire a van for this road trip in the South West. There are a number of advantages to this, not least the fact that you can change your destination from day to day, on a whim, a chance meeting or purely on meteorological considerations! I recommend a reliable rental company below. In this article, you'll find some must-visit places, suggested itineraries and practical advice for organising your stay in the South West.
Organise your road trip in the South West of France
Where to hire a van?
For lovers of freedom and nature, a van is the ideal way to visit this region. I hired my van from Van-It in Tarbes. Depending on where you start your road trip, Van-It has branches all over France. They are also present in Spain, Italy and Portugal!
To visit the South West of France and the Basque country, I recommend you hire your van from the Van-it agency in Biarritz. On the website, you'll see that there are several van models. Personally, I chose the VW California Beach, which was practical and easy to manoeuvre thanks to its compact size. If you're going to be away for more than a week, I'd still recommend a larger model for greater comfort.
For those who don't want to travel by van, it is of course possible to do this road trip by car. I recommend some accommodation as you go along in this article.
Where to sleep in a van in the South West of France ?
To find places to sleep, I always use the Park4night app. Most of the features are free. You'll find lots of information there, such as day & night car parks, motorhome parks and even places in the countryside. Take a good look at the reviews for each location to get a better idea.
In the Pyrenees or in the mountains in general, it's very easy to find magnificent places to sleep in a van. On the French Basque coast, however, things get more complicated! Many places are off-limits at night, although there is some tolerance in the off-season. During the summer, however, don't even try to break the ban, as there are plenty of checks. On the coast, therefore, choose campsites or official motorhome parks.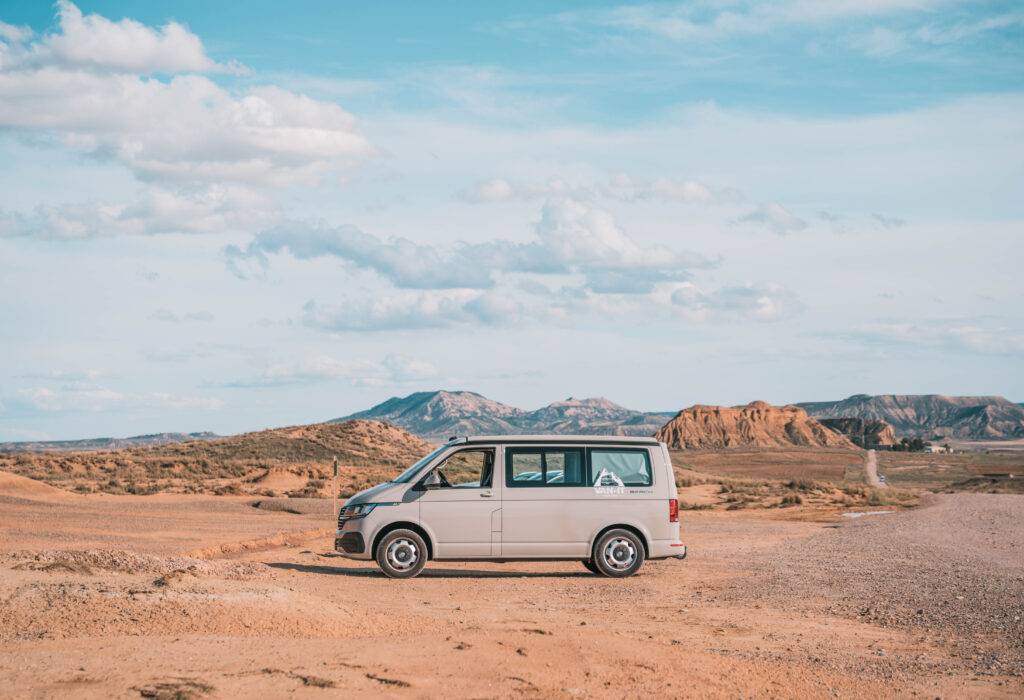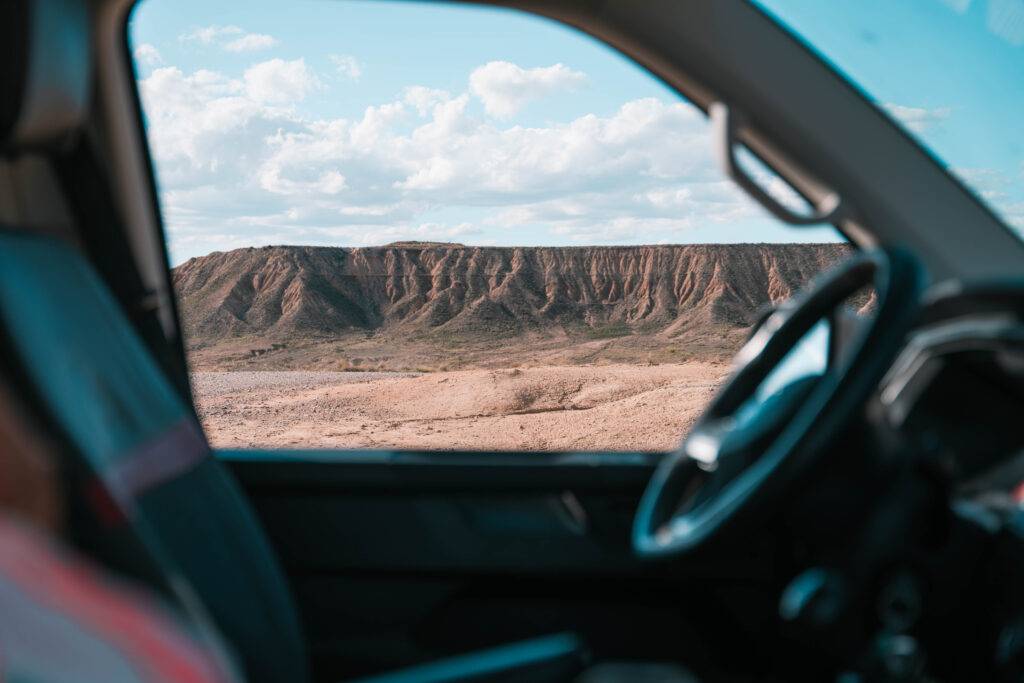 Where can you take a shower and go to the toilet ?
If your van doesn't have these facilities, you can hire a solar shower from Van-It. Obviously, it had better not be too cold outside, otherwise it will sting. 😂 Alternatively, you can sleep in a campsite. As for toilets, there are often public ones near beaches or in service stations. Finally, if you find yourself in the mountains or in a remote area, all nature is open to you, BUT make sure you don't leave any handkerchiefs behind! This is a very important point, not only for the environment but also for visual pollution. It's never pleasant to arrive at a place and find toilet paper everywhere. It doesn't cost anything to have a little bin bag in the car and throw your little things in it.
When to visit the South West of France ?
Because of the high tourist season, I would advise against visiting the South West in summer. Prices will be much higher and the tourist spots are bound to be busier.
In my opinion, the best period is September and October. June may also be a good alternative, but the weather is likely to be wetter.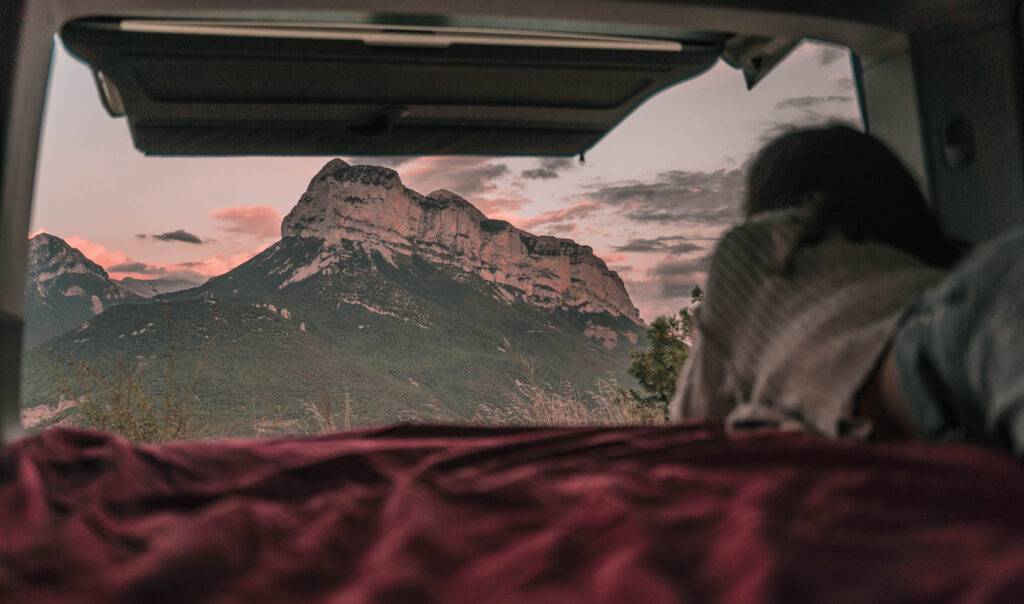 ---
What to do in the South West of France ? Road trip itinerary tips
I'm giving you a few tips here to give you a little guidance on the essential things to do in the South West of France. However, you can of course mix and match the places I recommend throughout this guide to suit your tastes.
A week's itinerary in the South West of France
Days 1 to 3: The Basque Coast
Day 4: Nacedero Urederra Baquedano and the Bardenas Desert
Day 5: Río Vero Canyon
Day 6: Natural pools and the Spanish Pyrenees
Day 7: French Pyrenees
10 days itinerary
Days 1 to 3: The Basque Coast
Day 4: The land side of the Basque Country
Day 5: Kakuetta Gorge and Holzarté Footbridge
Day 6: Nacedero Urederra Baquedano and the Bardenas Desert
Day 7: Río Vero Canyon
Days 8 to 10: Pyrenees
2 weeks itinerary in the South West of France
Same programme as the 10 days itinerary, with more time in the Pyrenees for the must-do hikes.
---
What to do in the South West of France ?
Here we go! I'm going to list the places to see on the coast and in the mountains. I'll leave you to sort them out according to your wildest desires and your travel desires. ♥️
The French Basque Coast
Visit Bayonne
Bayonne is a charming little town steeped in history, and a great place to wander around. Stop off to taste the famous Bayonne ham, which is excellent. The town centre is colourful, with many pedestrianised streets. Bayonne is a great place to live. We enjoyed talking to the shopkeepers. In our opinion, half a day is enough to do the whole tour. If you wish, I recommend this guided tour of Bayonne with food and drink.
In July, Bayonne comes alive during the famous week-long Bayonne Festival. If you're passing through, make sure you don't miss them: a crazy atmosphere guaranteed!
🏨 Where to sleep in Bayonne ?
For an overnight stay, I recommend the Villa KOEGUI hotel, right in the centre of town.
🍴 Where to eat in Bayonne ? 
Chez Piccole Cose, for fresh produce and homemade dishes.
At Bistro Toqué, for generous cooking.
---
Biarritz
Biarritz is the essential spot on the Basque coast for surfers. As well as vast beaches, you'll find trendy restaurants and boutiques. The town centre is also very attractive, although the architecture is less colourful than elsewhere.
For an exceptional experience, admire Biarritz from the sky with this helicopter ride over the town and its surroundings.
🏨
Where to sleep in Biarritz ?
There is accommodation to suit all budgets in Biarritz. Book yours at the best price from the wide selection on Booking.com !
What to do in Biarritz
Go and admire the Rock of the Virgin. The footbridge leading to it was built by a certain Gustave Eiffel! And don't miss the Biarritz Lighthouse. For €5, you can climb to the top and admire a magnificent view of the ocean and the town.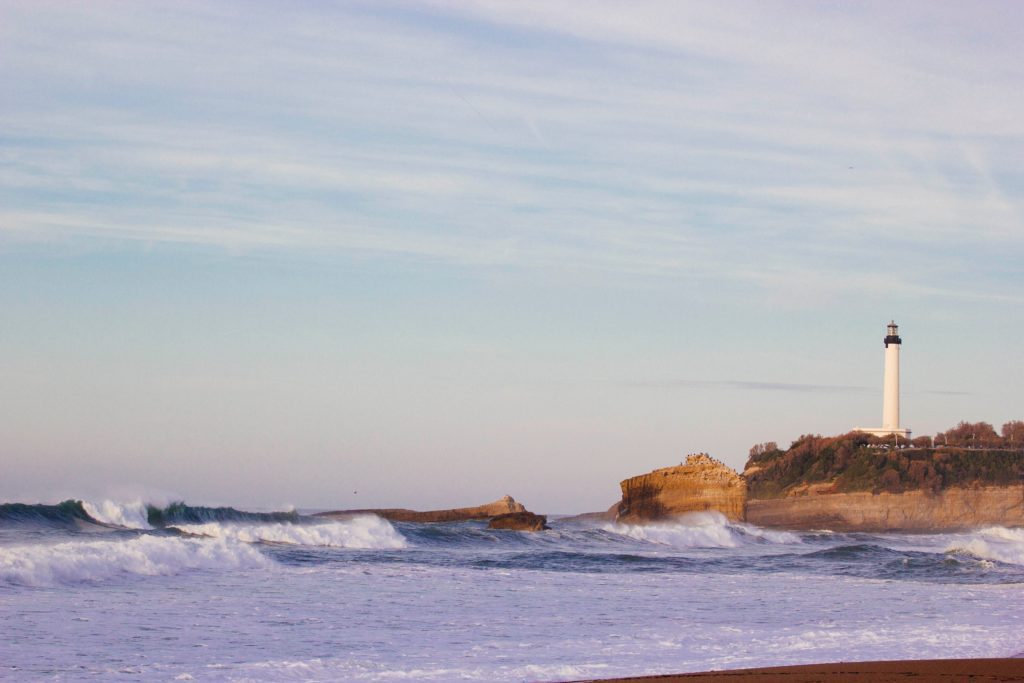 For sunset, head to the Côte of Basques or the Eden Rock. I love this place because you can sit on the rocks and watch the sun go down, with a view of the Rock of the Virgin. Then, if you're in the mood for a party, head to the Halles district for a snack, a drink and some dancing. I personally tried out Le Rendez-Vous of the Halles and Bar Jean.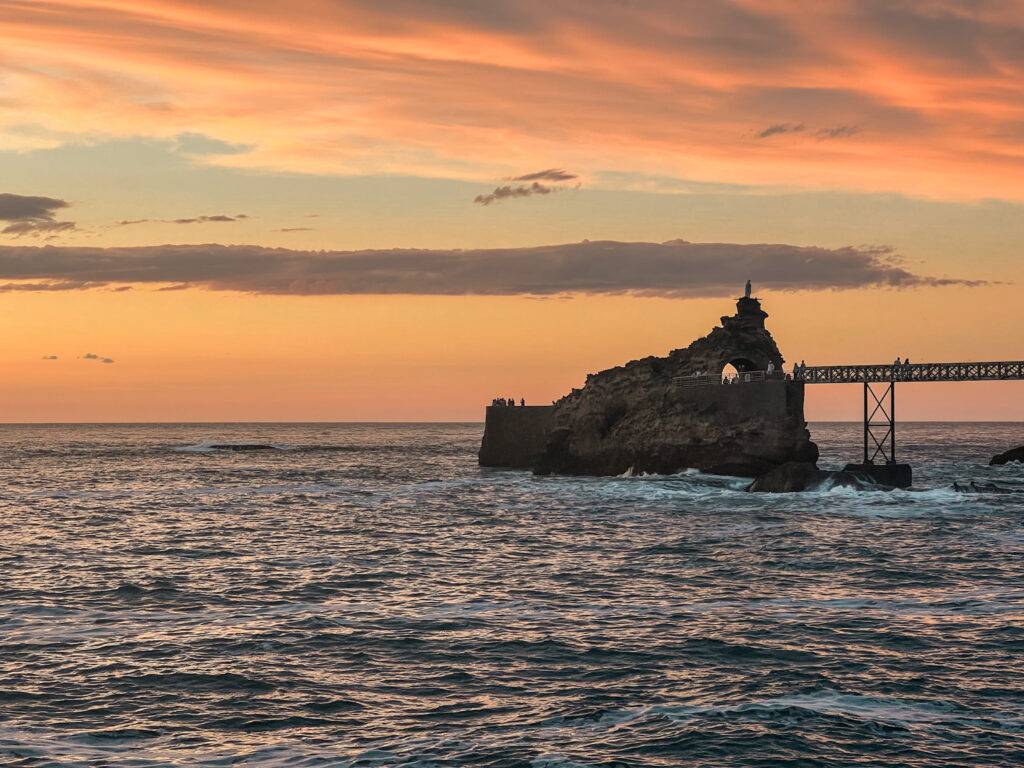 Take a surf lesson in Biarritz
The west coast is the perfect place to try out or perfect your surfing skills! Book your surf lesson in Biarritz 🏄‍♂️.
Other things to do in and around Biarritz :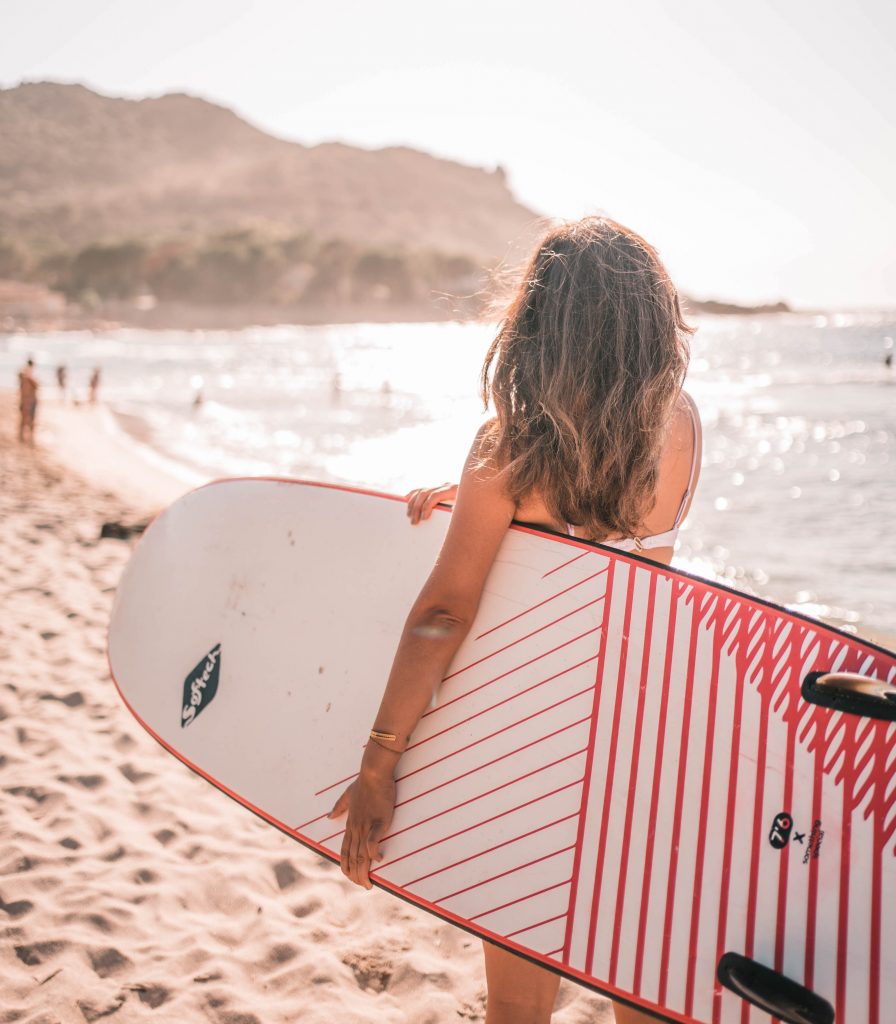 ---
Saint-Jean-de-Luz
I love Saint-Jean-de-Luz, with its typically Basque narrow streets and peaceful atmosphere.
The first thing to do is wander through the pretty little streets in the centre. Take the opportunity to treat yourself to a pair of espadrilles, as this type of shoe is native to the region! And don't forget to sample the many local specialities: macaroons from the Maison Adam, local produce, Basque cake, etc.
Next, head for the Digue of Sainte-Barbe. Take a stroll along the seafront. You'll see this beautiful panorama of the beach and mountains 😝 If you'd like to take a surfing lesson, you can also do so in Saint-Jean-de-Luz. Book here !
Head to Ciboure, on the opposite shore to Saint-Jean-de-Luz. It's a great place for a stroll. Here you can admire the typical Basque architecture, followed by the Socoa fort.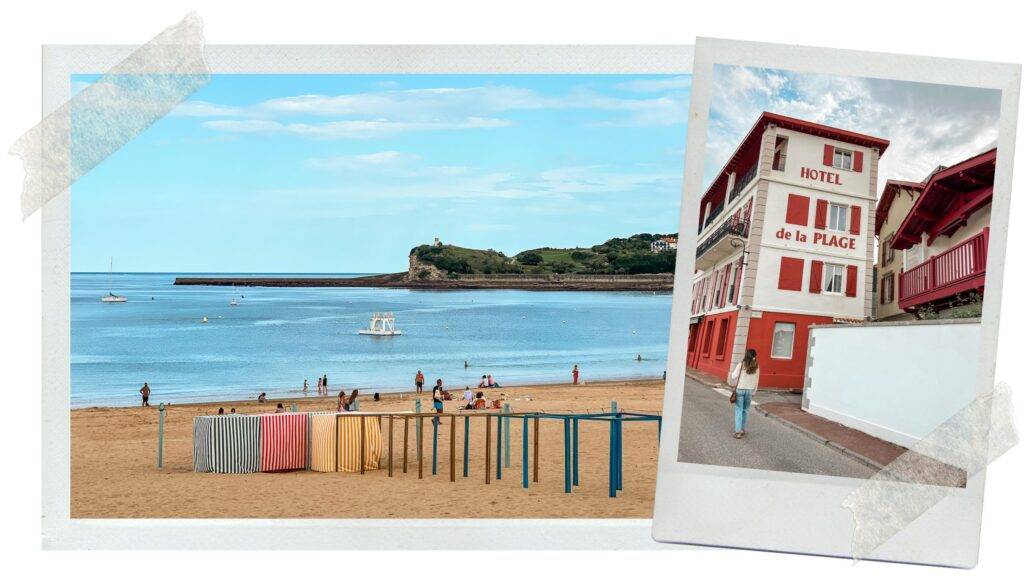 Where to eat in Socoa ?
You're bound to be hungry when you arrive in Socoa. Whether for lunch or dinner, I highly recommend Restaurant Ispeguy. The food is excellent and good value for money. Call to book in high season!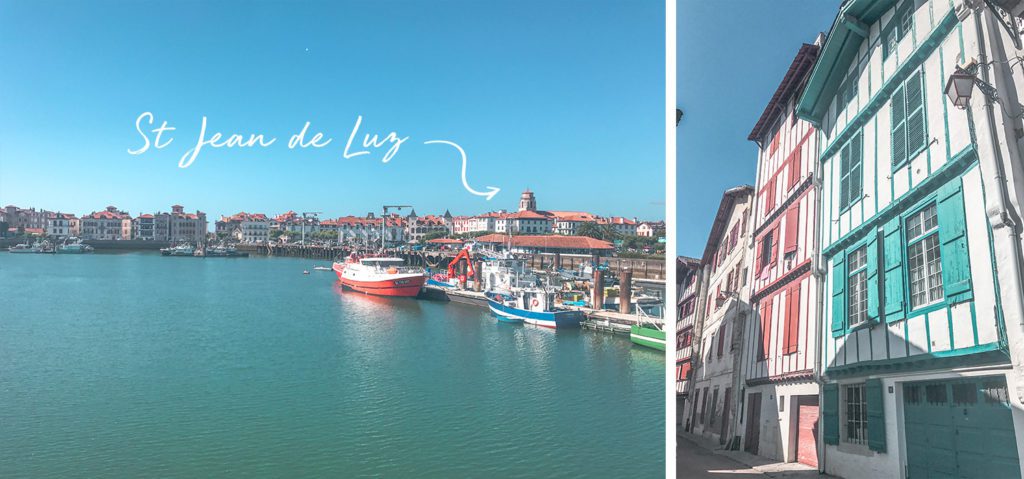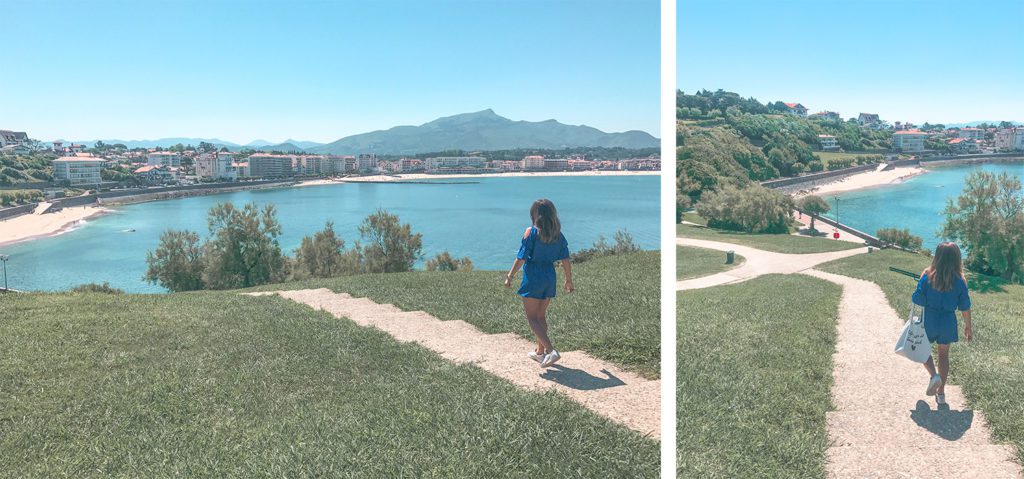 Where to sleep in Saint-Jean-de-Luz?
The Eskualduna I flat is located in Ciboure and is ideal for visiting the surrounding area. It is well equipped and has a pretty terrace. If you prefer to sleep in the centre of Saint-Jean-de-Luz, this accommodation is also perfect.
Where to watch the sunset in Saint-Jean-de-Luz?
☀️ The sunset is a special moment in the day. Are you looking for a nice spot near Saint-Jean-de-Luz to admire it and enjoy an aperitif in a good atmosphere? I've found the perfect place: Le Bistrot du Mata. Not far away, you'll also find Bibam.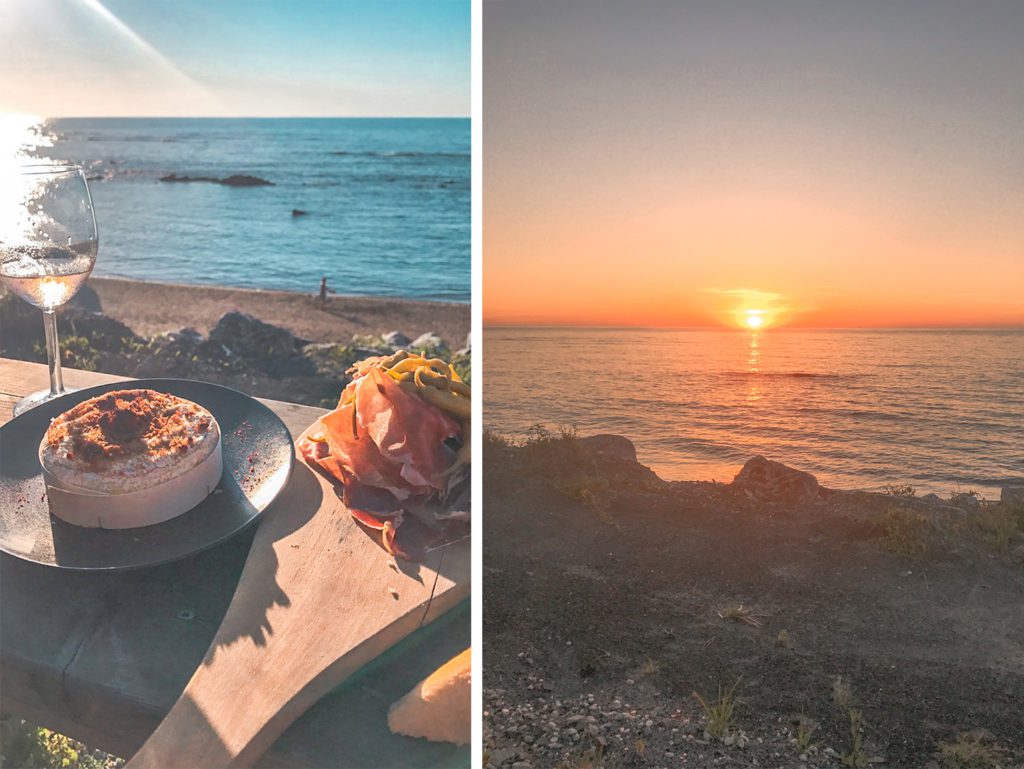 To finish on the subject of what to do in Saint-Jean-de-Luz, it's essential to go and eat and party at Chez Renauld ! Located right in the centre of town in a former garage, this brilliant place is the place to go for food trucks. Not only is the concept super stylish, but the food on offer is varied and excellent!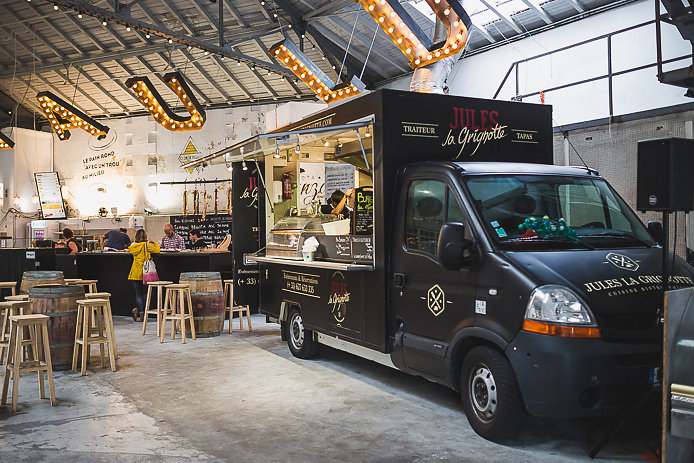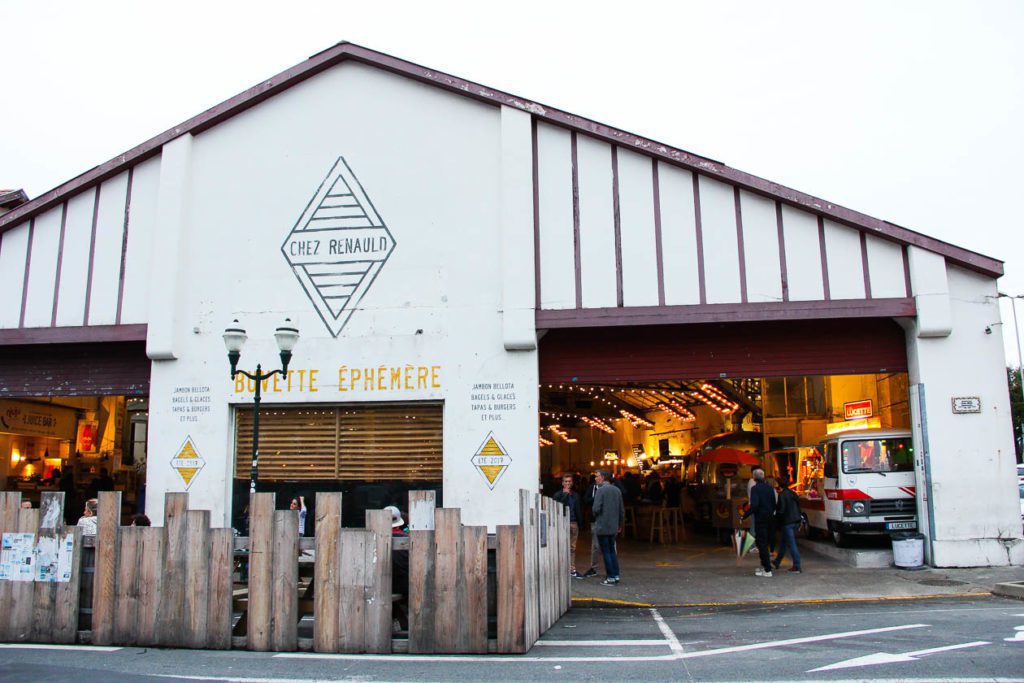 Photo credit : Kindabreak et Pinchables
---
🚐 Where to sleep in a van on the Basque Coast ?
As I explained, vans aren't too tolerated on the French Basque coast, especially in summer. If you're hoping to find nice spots to sleep on cliffs bordering the ocean, you can forget it 😂. The only overnight parking I've found is on Socoa beach (find it on Park4night). However, it has very few spaces, so don't wait too long to get in. It's still a concrete car park, so it's not very glamorous, but it has the advantage of being right opposite the beach and having public toilets. Otherwise, in terms of camping, I'd spotted Camping Le Bord de Mer, not far from Saint-Jean-de-Luz, which looks great!
A little further inland at Urrugne, I also had a siesta on this spot with an ocean view where you can park overnight.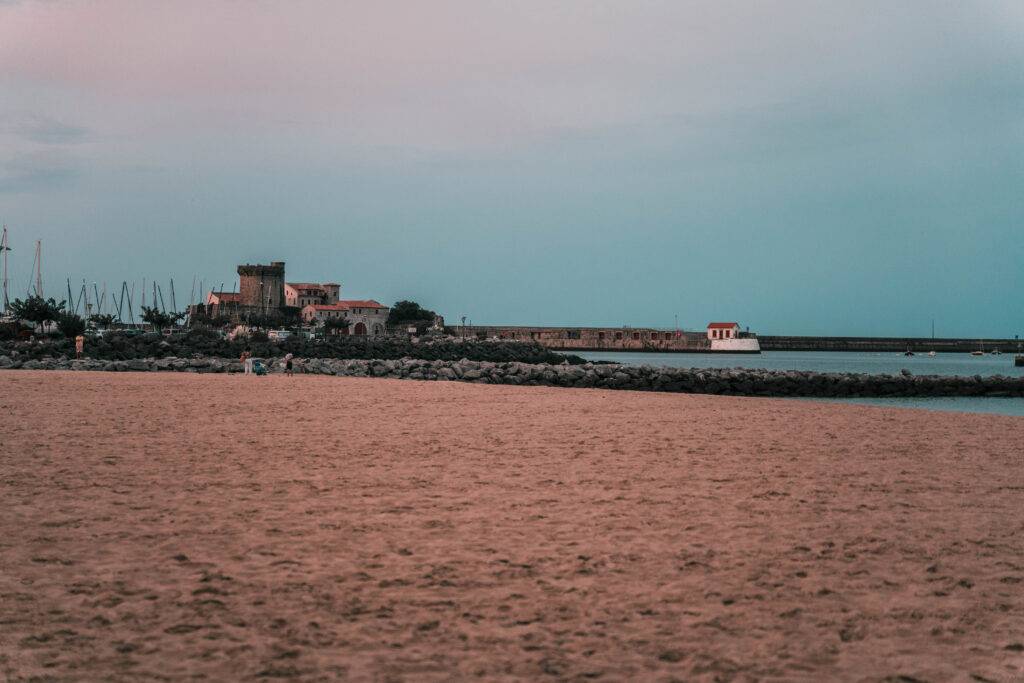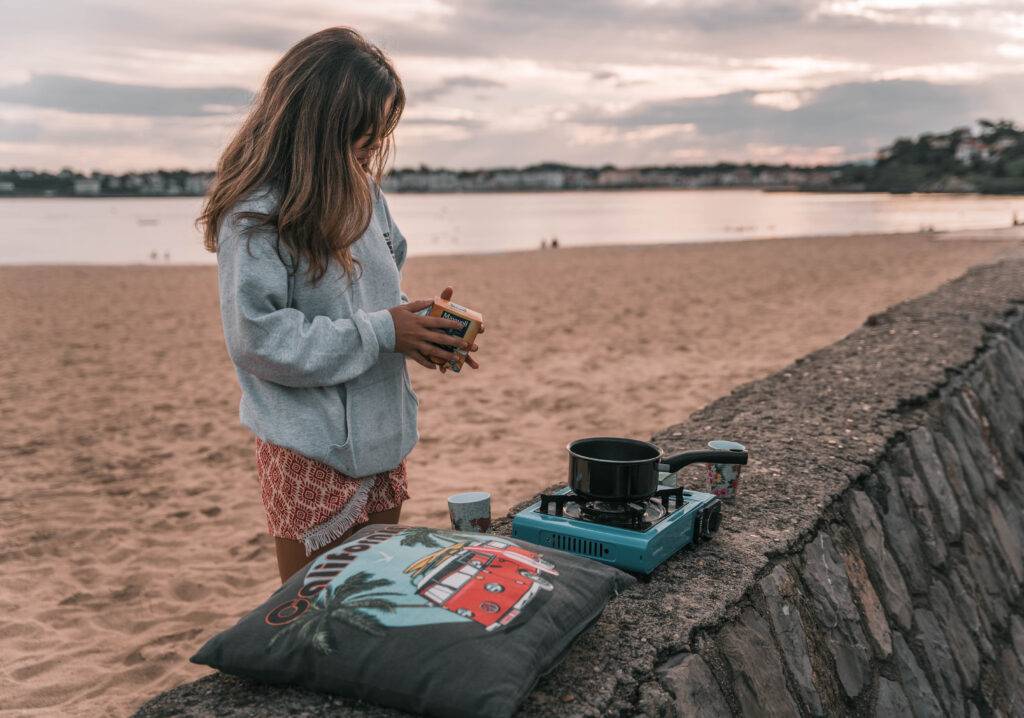 ---
What to do in the South West on the land ?
After enjoying the beautiful surfers and the pleasures of the ocean, we're off to the Basque countryside !
The Rhune train
10 km from Saint-Jean-de-Luz, head for the commune of Sare to take the famous Rhune train. On board, you can enjoy magnificent panoramic views of the Basque country. This legendary cogwheel train takes you to the summit of La Rhune, part of the Pyrenees mountain range. You can check opening times and book your tickets online for the Train de la Rhune.
If you're feeling more adventurous, you can of course walk to the top. There are several possible departures: from Sare, allow 10 km for the return journey, with a climb of around 800 metres. I'll leave you to find the information on the internet !
Typical Basque villages
Head for the cute village of Espelette. As you may have guessed, this is where the famous Espelette chilli pepper comes from. In fact, it's impossible to miss it when you visit the village! Here again, stroll through the narrow streets, meet the shopkeepers and sample the local specialities. We left with Espelette chilli pepper salt and a delicious blackberry liqueur.
We found a perfume shop not to be missed: Parfums et Senteurs du Pays Basque. The master perfumer is Basque and the scents are incredible! For a new perfume that stands out from those on the market, it's top notch.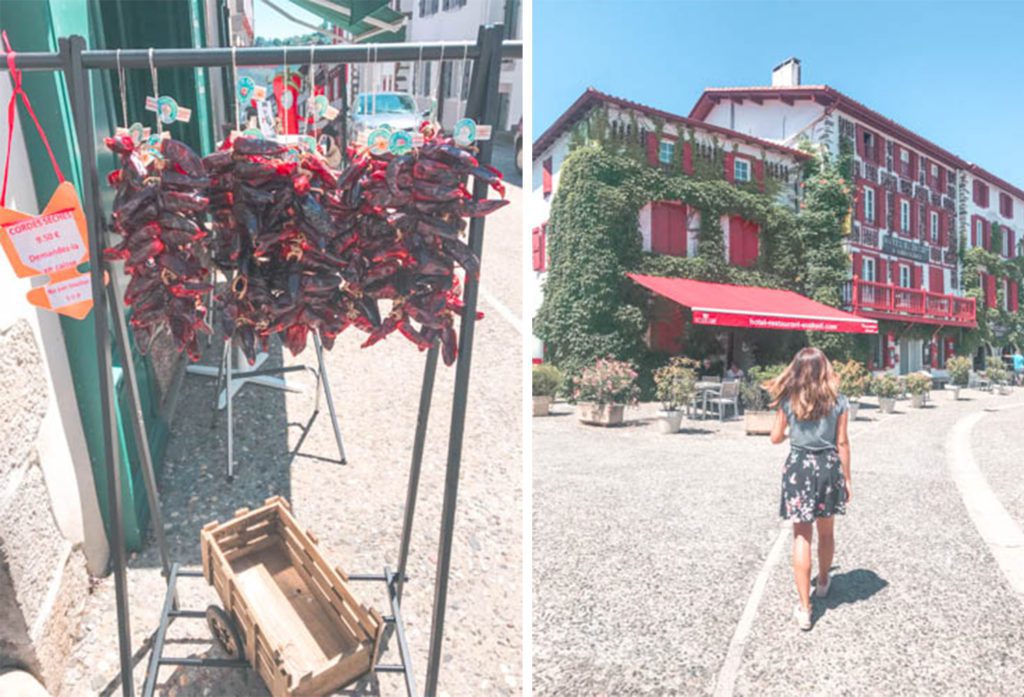 A short stopover in the village of Cambo-les-Bains to discover a typically Basque environment. No particular programme, just enjoy the view.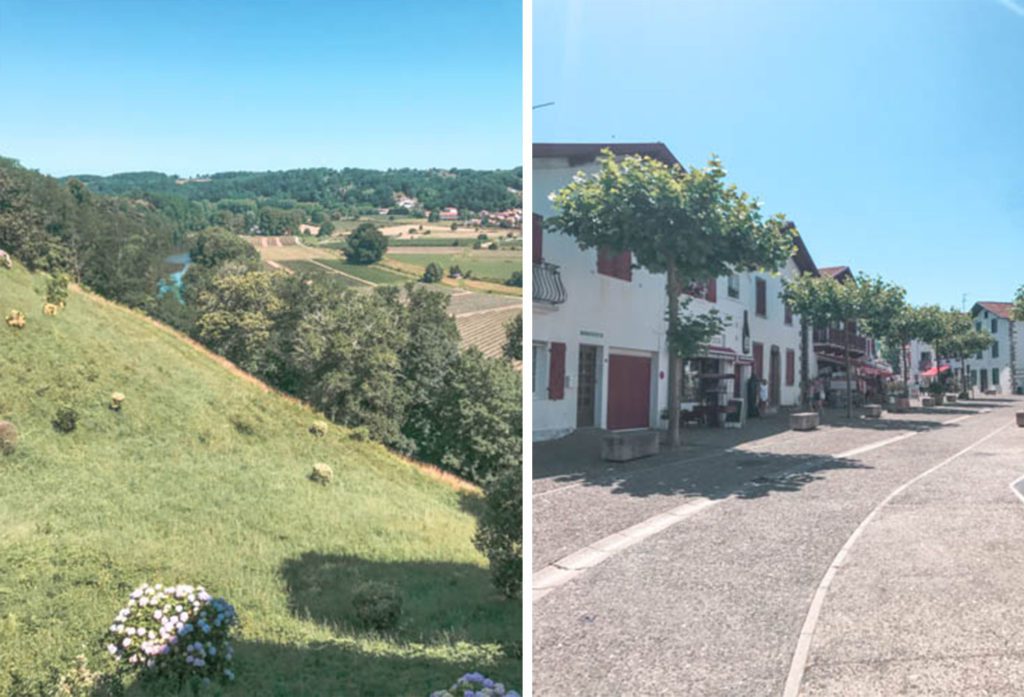 For a sporting stop-off during your road trip in the South West of France, head for the village of Itxassou. Many hiking trails start from this village. If you're feeling up to it, go for it (and burn off all those calories from Basque cuisine)! We walked along the river Nive to Pas de Roland. There aren't many tourists, so it's a wonderful place to find peace and quiet in the Basque countryside.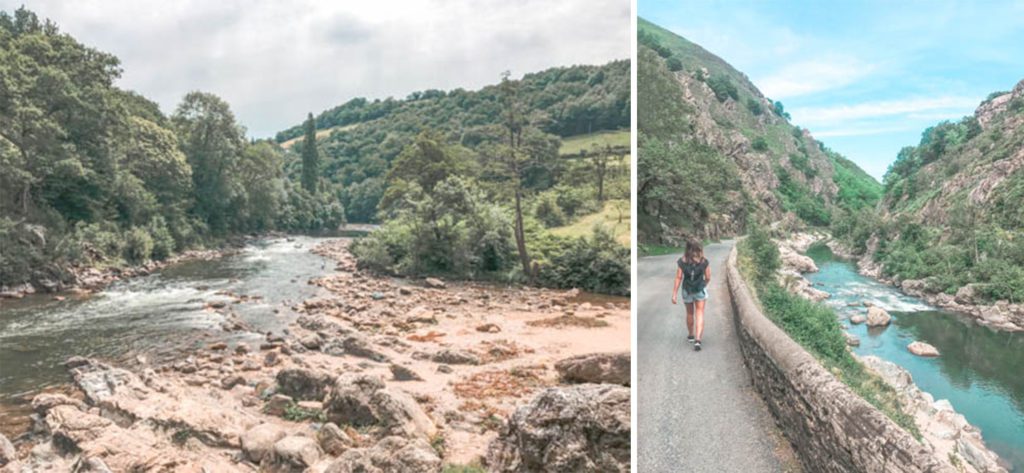 Saint-Jean-Pied-de-Port
For the record, I thought the village literally ended in Pied de Porc rather than Port. So don't get confused!
We continue our discovery of the hinterland with Saint-Jean-Pied-de-Port, listed as one of the most beautiful villages in France. Once again, the architecture is typically Basque, so it's full of charm. There are two sides to the village: the old town with its ramparts and the built-up area. This village is well worth a visit, and the surrounding roads are superb too.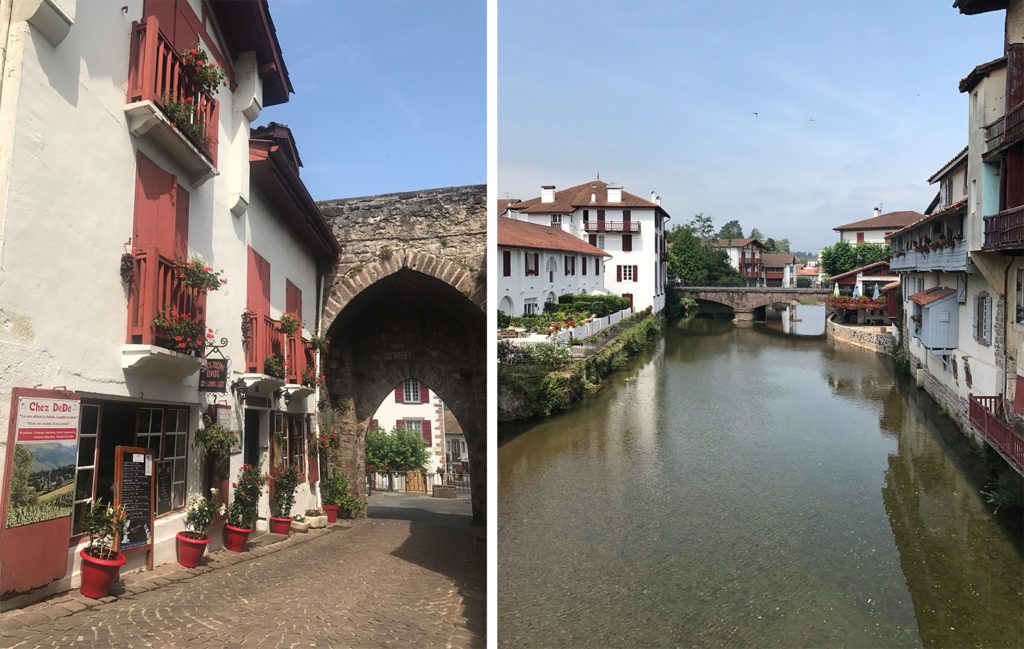 ---
Continuation of the road trip: what to do in South West of France ?
If you're following us, it's because you too love nature and the great outdoors. We're going to help you discover some magical places on the Spanish border and in the Pyrenees.
Are you ready ?
The Kakuetta Gorges, in Sainte-Engrâce
It's with places like this that I can say that, in my opinion, France is the most beautiful country in the world! You've already seen in our article on What to do in Chamonix that you don't have to go far to be amazed.
The Gorges of Kakuetta (or Kakouetta) are one of the treasures to be found in the Pyrenees. To visit them, it will take you a maximum of two hours round trip. In some places, the canyon is over 200 m high. Not only is it impressive, but the colour of the water is magnificent. Enchanting scenery, just the way we like it.
We took a dip to cool off. We were the only ones dipping in and out of the water. It was cold but so pure we couldn't resist! See for yourself in the photos… So, are you in the mood ?
🏨 Where to sleep to visit the Kakuetta gorges?
For accommodation not far from here, this bed and breakfast is ideal with its leafy setting, right in the heart of nature! The accommodation is less than 3 km from the gorges. If you're travelling by van, you'll find plenty of places in the heart of nature on Park4night.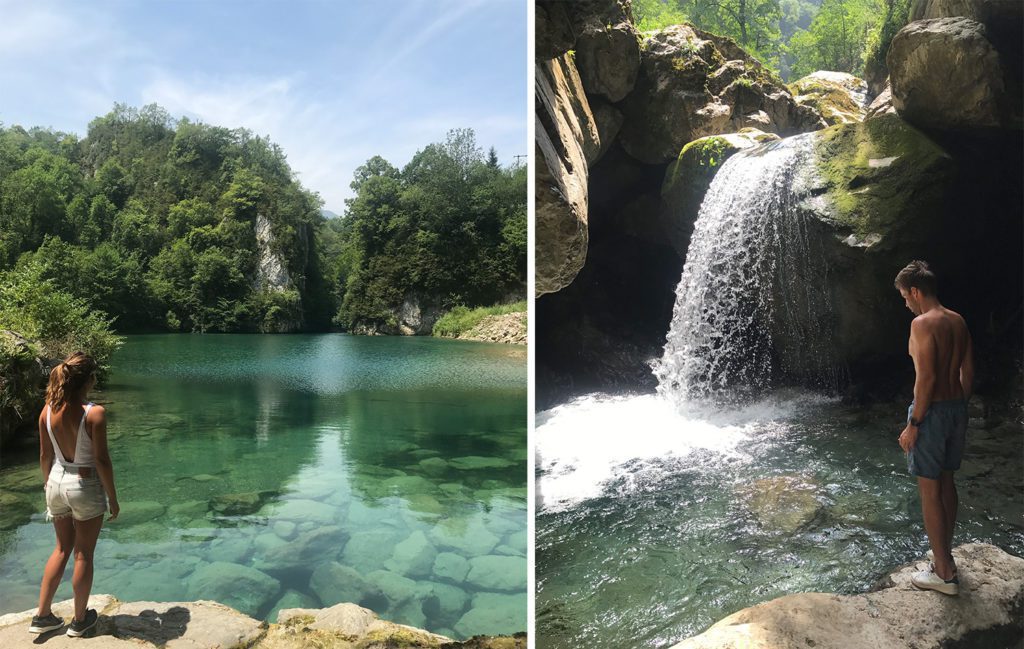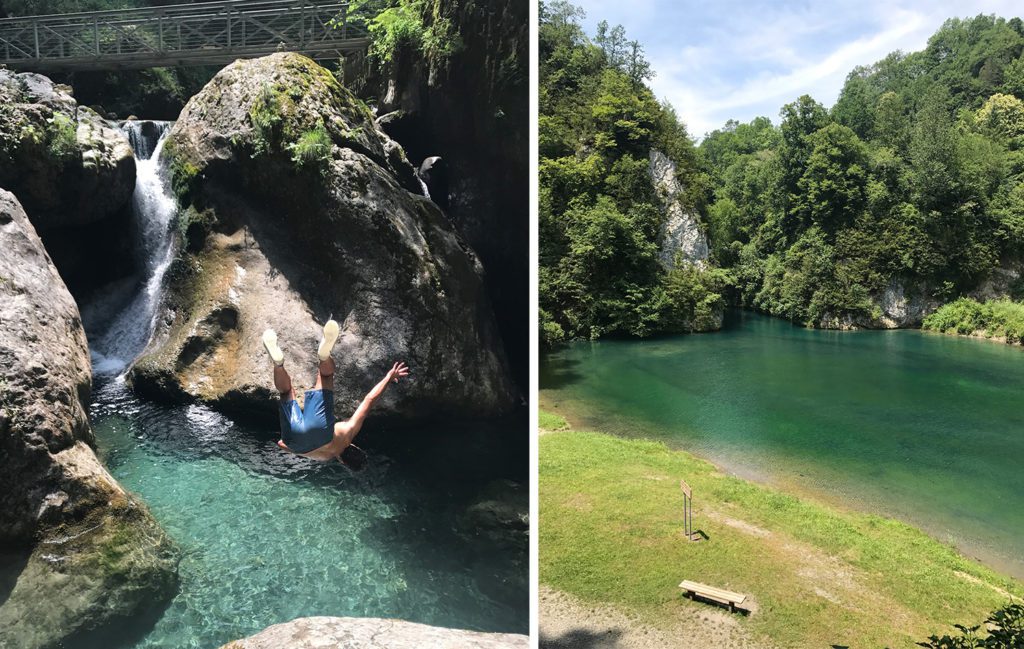 The Holzarté footbridge, in Larrau
If you are afraid of heights, we advise you not to venture onto the Holzarté footbridge. The walk starts in Larrau and takes around an hour, with no particular difficulty. Once you're on it, you'll be suspended at a height of 150 metres. The view of the Olhadubi Gorges is impressive!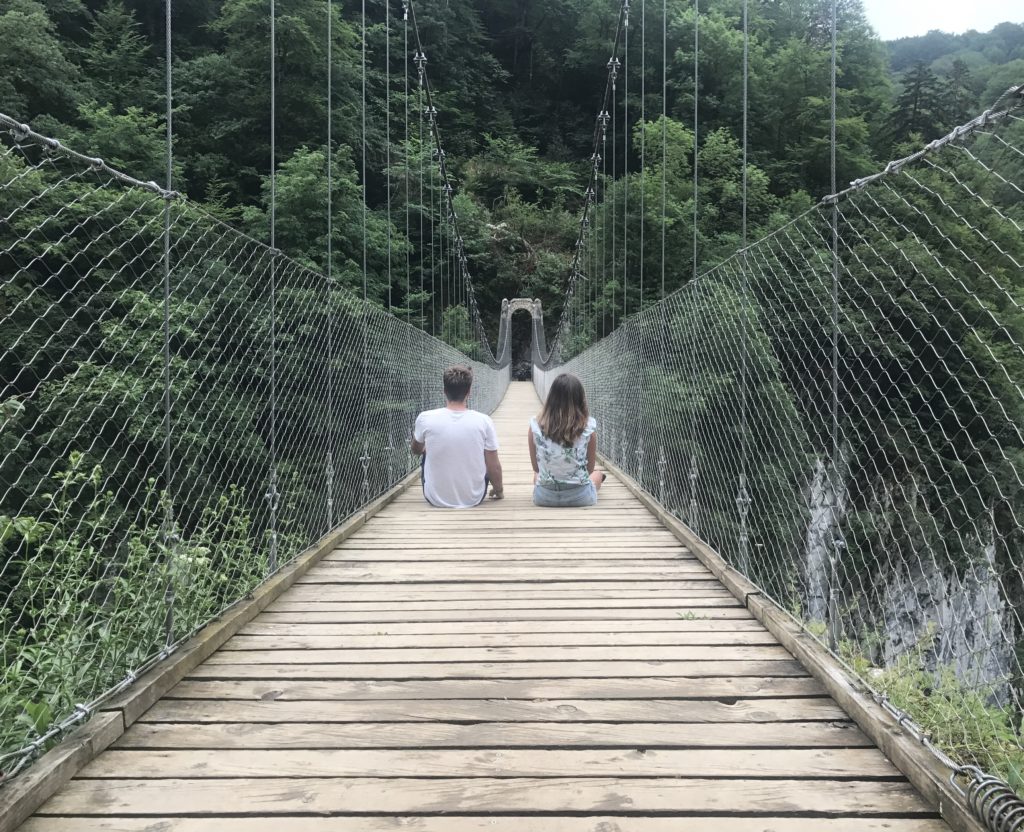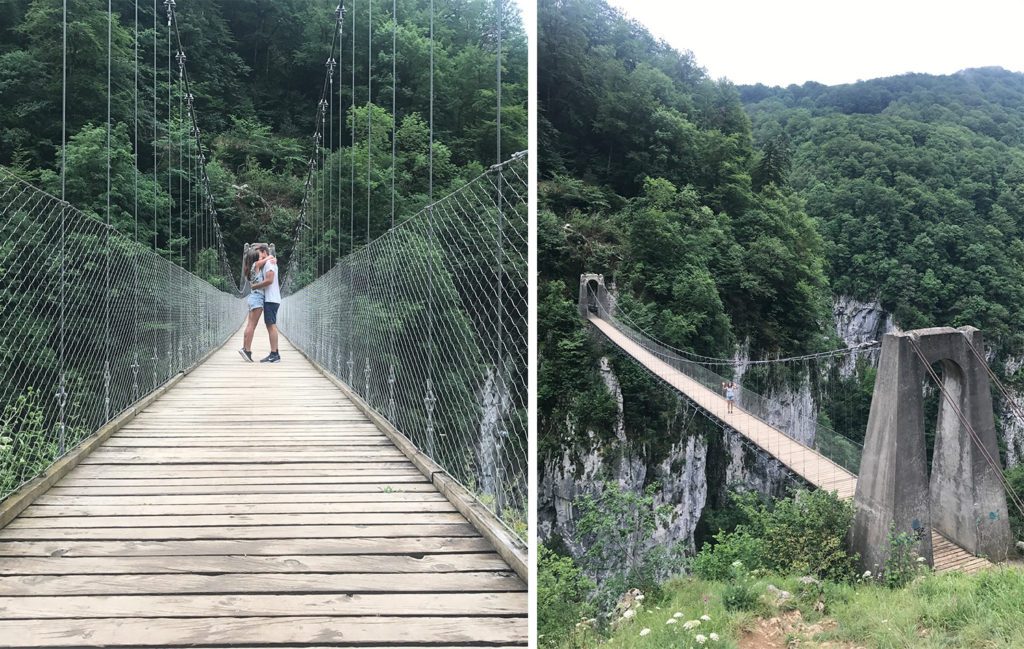 The Holzarte footbridge for a thrilling ride
What to do in the French Pyrenees ?
Here's a non-exhaustive list of the places I'd spotted in the Pyrenees. Unfortunately, I didn't have time to do everything in 1 week… When I'm in a van, I really adopt the slow life method, enjoying each place as much as I want. I've taken a huge step back from that in recent months. When I'm travelling, I prefer to discover a place that I love, rather than running around trying to see absolutely everything.
Anyway, I'll stop telling you about my life 😂. I recommend these must-see places in the French Pyrenees :
The bridge if Spain
Lake of Estom hike: about 4h AR with quite a bit of ascent
Circus of Gavarnie: I'm gutted I missed out on this wonderful-looking circus, but I'll definitely be coming back to visit it!
Lake of Orédon: accessible by car, I made a very pleasant stop here. The lake is magnificent, as you can see from the photos below. There are also the Cap de Long and Aubert lakes nearby, also accessible by road.
Wellness time at Balnéa (Loudenvielle): access at €20 per person for 2 hours. You can relax in the many indoor and outdoor pools and/or book a treatment at an additional cost. I loved it!
Lake of Ôo: famous glacial lake in the Pyrenees, a must-see. I can't wait to come back and visit. It takes around 2 hours round trip, with a bit of a climb as it's in the mountains. The main feature of this lake is the waterfall that flows into it.
So of course there are plenty of other things to do and see in the Pyrenees. Feel free to share your top tips with me as a comment on this article so I can add them to the list. 🤩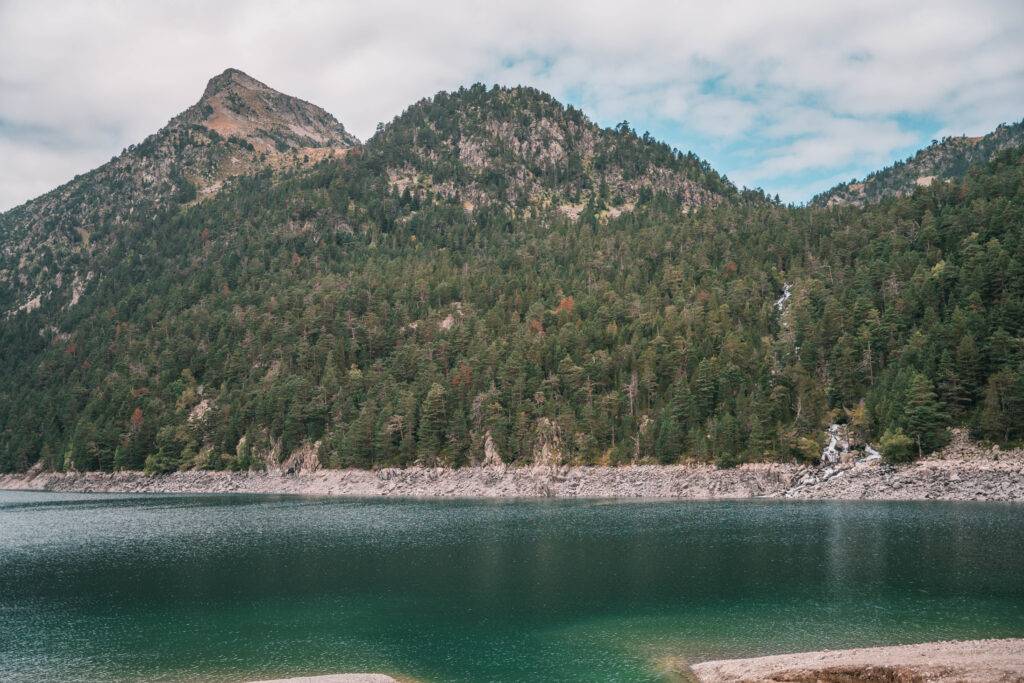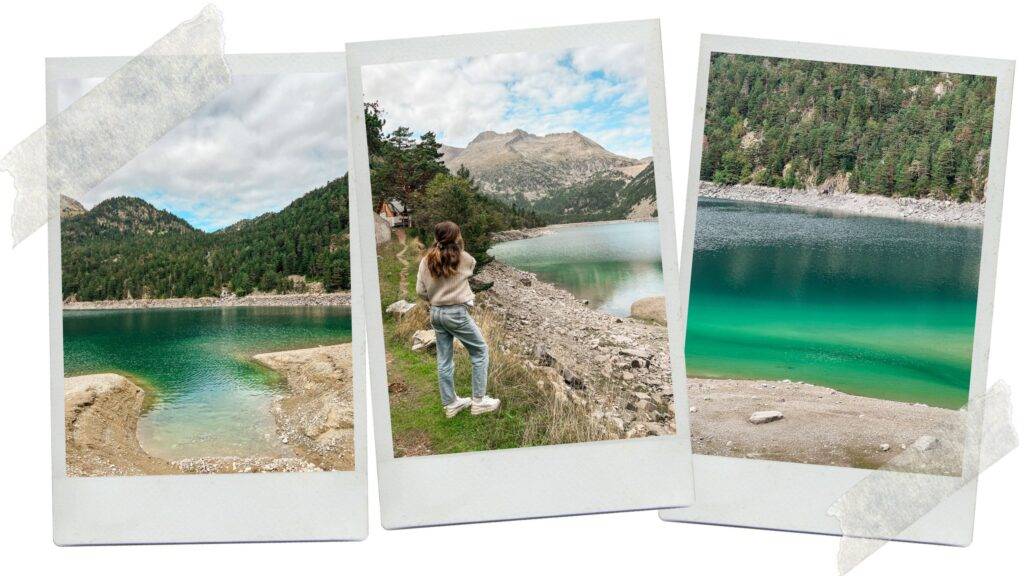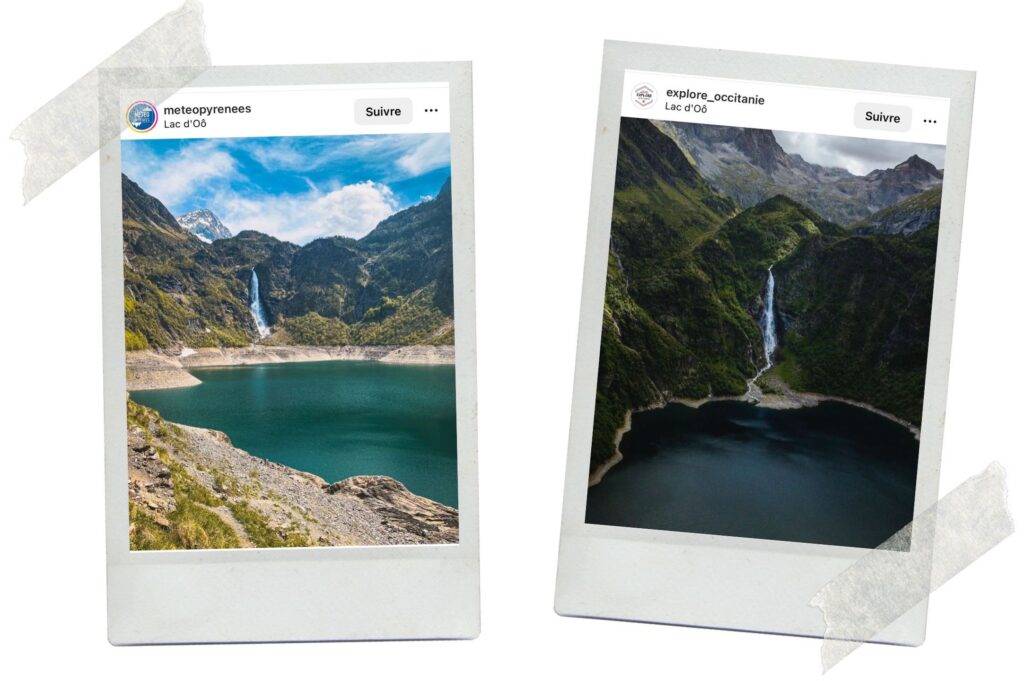 ---
What to do in Spain's South West?
Let's move on to the Spanish part of this road trip itinerary! I discovered some nuggets and got a real eyeful 🥰.
Nacedero Urederra Baquedano
Just two hours from Biarritz lies the superb nature reserve of the Source de l'Urederra, in the Navarre region. The walk, which lasts around 1? hours, is magnificent and accessible to all. To get there, you'll need to book online, as to preserve the ecosystem, the number of visitors is limited to 500 per day. A word of warning: swimming is prohibited, so you can only enjoy it with your eyes!
➜ Book on the official website. Tickets cost €5 per car or €10 for a van.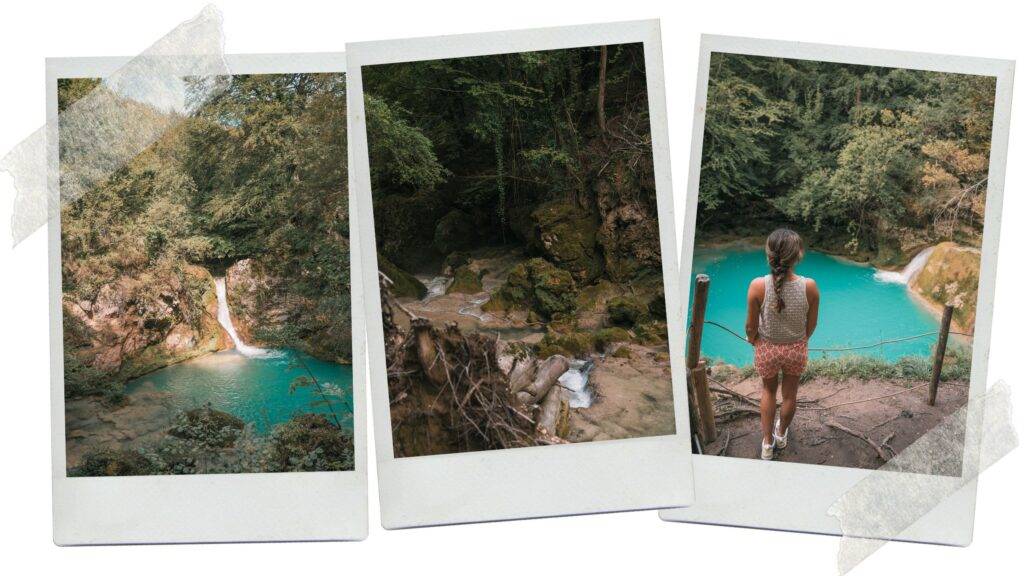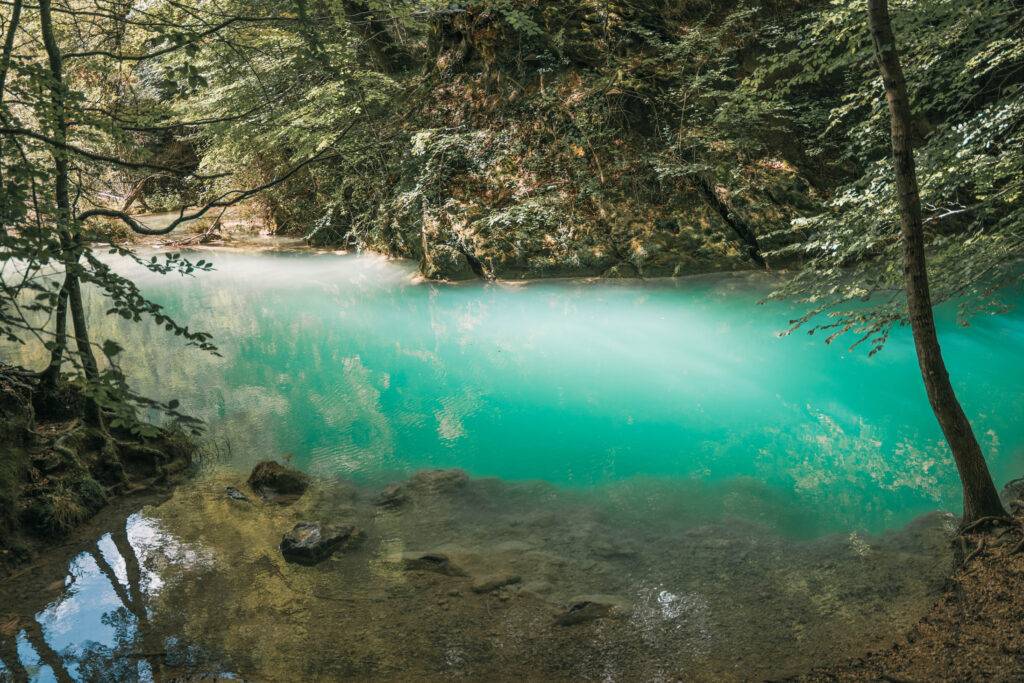 The Bardenas Reales Desert
Welcome to the largest desert in Europe. The Bardenas Reales have a breathtaking setting that makes you feel like you're in a film! In fact, several blockbusters have been filmed here, including James Bond and Game of Thrones. You can visit the desert on foot, by bike or by car. Access is free, and I recommend that you stop off at the Tourist Information Center to pick up the maps of the hikes and authorised routes.
Make sure you respect these zones, as they are designed to protect the fragile ecosystem! It is forbidden to sleep in a van at night in the nature park. That's why I'm going to recommend another place.
If you have the opportunity, I'd advise you to book a night at the Hotel Aire of Bardenas. I think it's one of the most beautiful hotels in Europe. It must be magical to sleep and wake up in the heart of the Bardenas desert. ♥️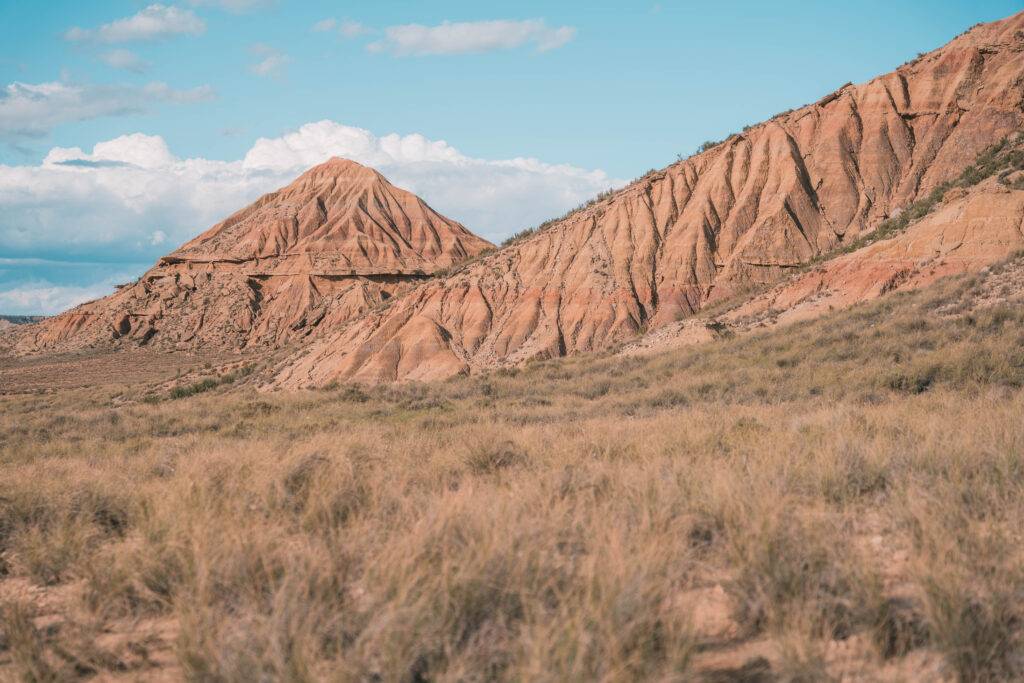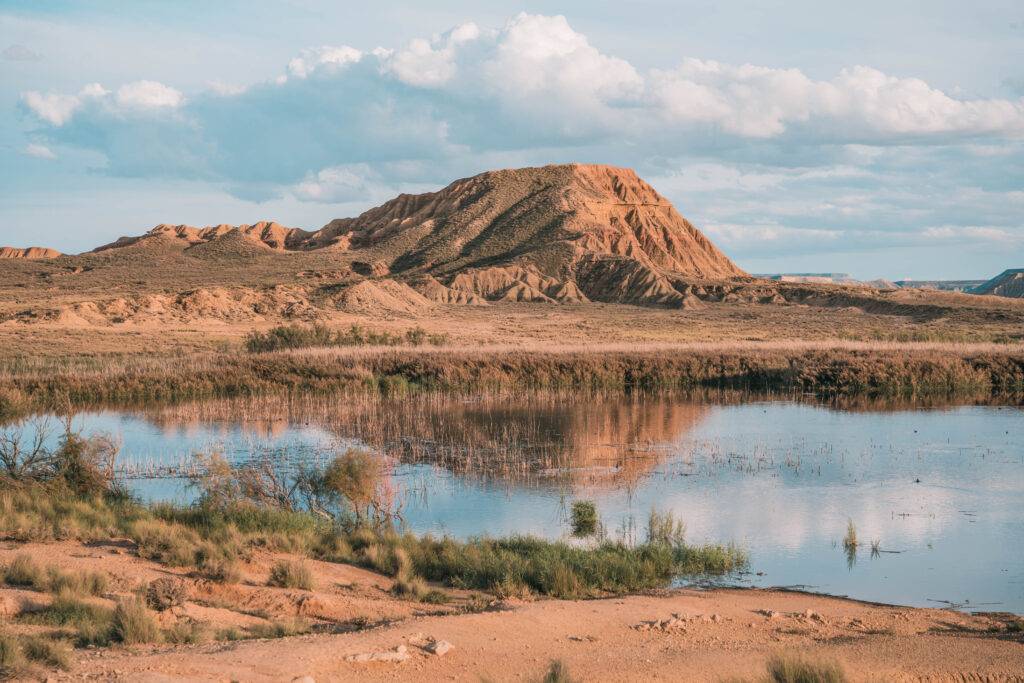 Where to sleep in a van near the Bardenas desert ?
Well, I admit it's not very close either because it's another 1 hour and a half drive. But I swear it's worth it!
I found a magical little spot to sleep in a van at Lake Yesa. It's very quiet, clean and above all very beautiful. It's exactly for this kind of experience that I love van life… If it's not too cold, you can swim in the lake. The sunsets and sunrises there are also superb.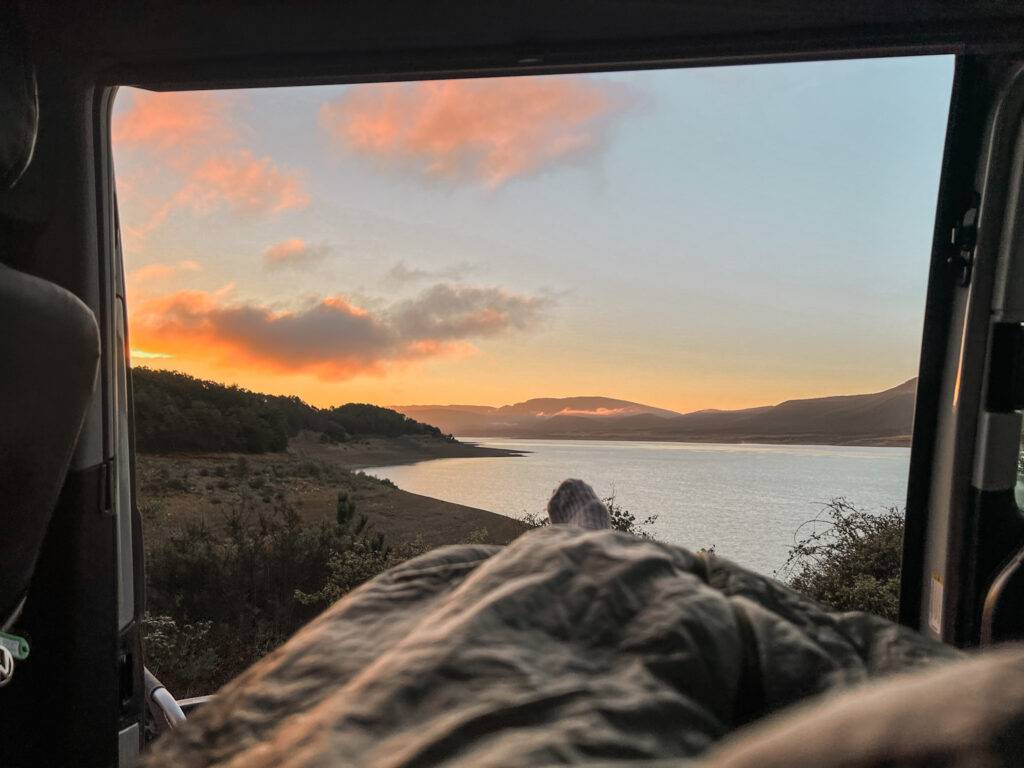 Río Vero Canyon
If you've followed my Spanish recommendations so far, you'll already have been seduced by these corners of paradise. Well, there's more to come! I've discovered other natural wonders in Spain, including the Canyon of Río Vero.
To get there on foot, park at the beginning of the village of Alquézar, which is well worth a visit in itself. Then go to the Pasarelas del Vero office to buy your tickets. Tickets cost €5 per person, and I'd advise you to bring trainers. In my opinion, it's well worth the cost, as the trail is superbly laid out. The footbridges will take you through the canyon so you can admire the scenery at its best. Don't forget your swimming costume to cool off in the crystal-clear pools!
Allow around 2 hours with breaks for this short hike.
Canyoning in the Sierra of Guara
The next time I'm here, I'm definitely going to try canyoning. Not far from Alquézar, I recommend discovering one of the most beautiful spots in the Spanish Pyrenees with this half-day outing in the Sierra of Guara.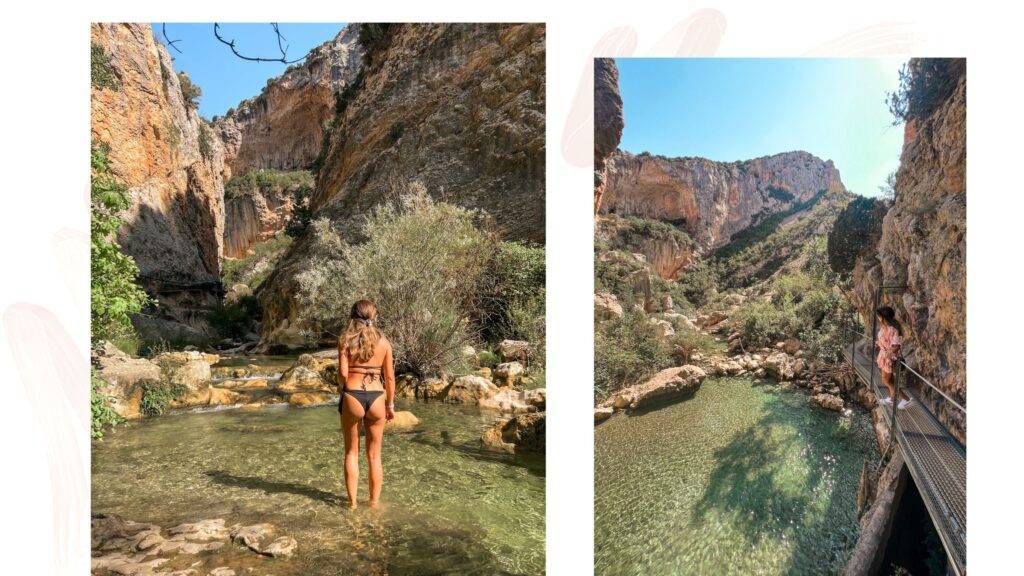 ---
Other places to see in the Spanish Pyrenees
Between swimming in natural pools and hiking, you won't get bored in the Pyrenees. This region is particularly good for travelling in a van, as it's easy to find places to sleep. If you're looking to cool off, you can go to the Pozas of Puyarruego and all the way to the Gorges of Puértolas, which are nearby and accessible by car. You'll be amazed by the natural pools formed by Mother Nature. I had also noticed the Gradas of Soaso in the Ordesa National Park, waterfalls on several levels, but you have to hike to get there.
For hiking enthusiasts, you'll find plenty of information on Alltrails, Visorando and Randopyrenees.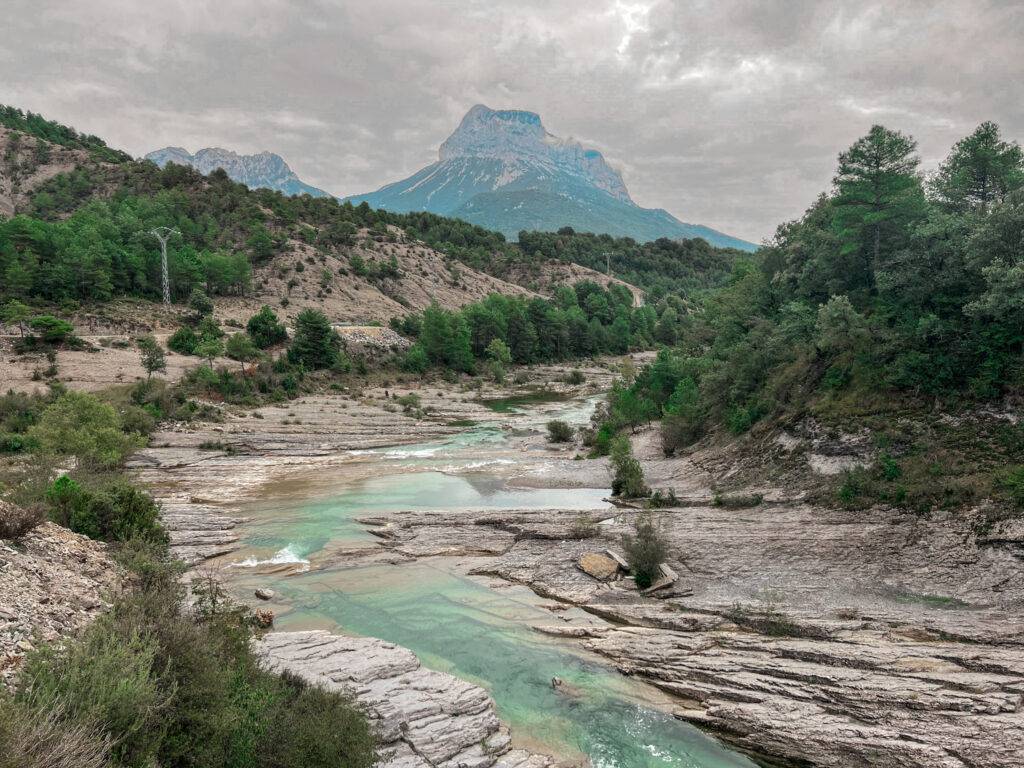 I hope I've helped you with these recommendations for road trip itineraries in the South West of France ! You can discover our many travel guides for France on this page.
If you have any questions or recommendations, we'll see you in the comments 🙂 See you soon !
---
This article contains affiliate links. If we've helped you organise your trip or you'd just like to support us, please consider booking your activities and hotels for the South West of France by clicking on our links. We'll earn a small commission and the price stays the same for you, of course. 🤍