Prepare your trip to Seville: getting organized – Practical information
We have chosen to write an article to help you prepare your trip to Seville. Here you will find practical information to visit Seville as well as our best advice!
How to get to Seville from the airport?
First question to ask: how to get to Seville from the San Pablo airport, which is less than 10 kilometers from the city center? Unlike many cities in Europe, it is quite simple to make your choice because there are only 2 options.
By taxi / private driver :
The most expensive solution, but the fastest and simplest! The price of taxis is set at €25, while the price of VTC varies between €11 and €17 depending on the traffic. If you do not have an Uber account, get a 5€ discount on your first ride with our code: 0crxd. The Uber app will guide you to the meeting point with your VTC, which is located near the car rental parking lot. Count between 15 and 20 minutes of travel
By bus :
The EA bus connects the city from the airport but does not go all the way to the historic center. With our hotel in the center, we had to take 2 different buses for a one hour trip. Even if the price of 4€ per person is very reasonable, the private driver option remains the best option according to us. Especially if you are 2 people or more (to share the price) and you have bulky luggage.
If you are looking for a parking space at the airport of departure, we invite you to book it on OnePark. This way you can drive to the airport with a clear mind without worrying about finding a parking space! This link gives you access to a 10% discount on your first booking.
---
How to get around during your trip to Seville?
By walking :
It is simple, it was our only way to get around during these 3 days. If you are not afraid to take 15,000-20,000 steps a day, we recommend you to move around Seville on foot.The tourist places are quite close to each other and you can better soak up the atmosphere of the city.The traffic in the city center is regulated. It is therefore pleasant to walk in the alleys with very few cars.
By public transport :
The city has a large network of buses, streetcars and a subway line open from 6am to 11pm. If you have a long distance to travel this can be convenient.
Here is some useful information about the price of transport in Seville:
Single ticket : 1.40€
Book of 10 tickets : 6€
Unlimited 1 day : 5€
Unlimited 3 days : 10€
---
---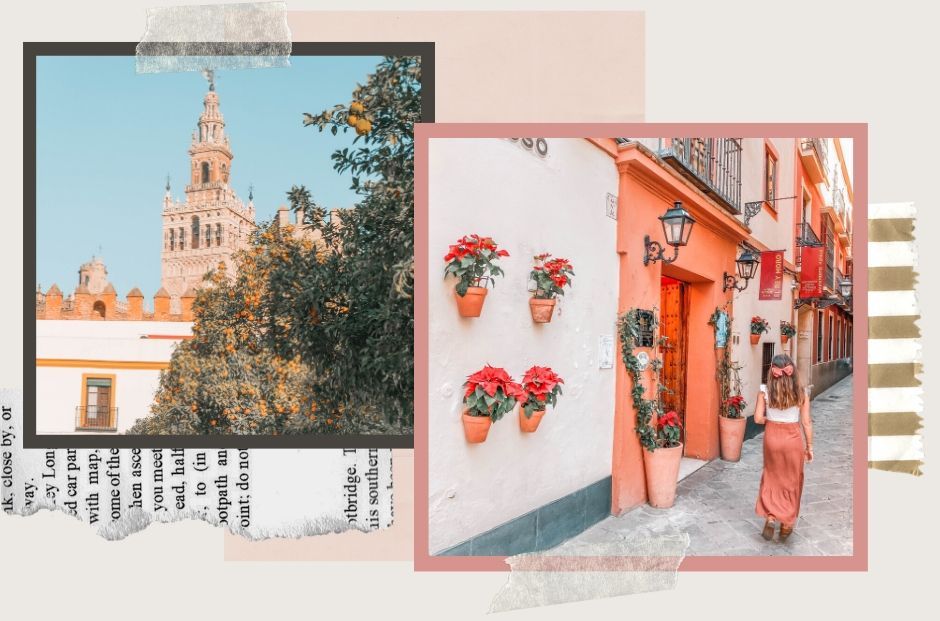 When to go on a trip to Seville?
To organize your trip to Seville at best, the question of seasonality is important!
We visited Seville at the beginning of February, under a great sun with 20 to 24 degrees every day. Well, it is not every year like this,but know that Seville is located only 150 km north of Morocco.In general, we think it is best to avoid the months of December and January (about 10/12 degrees average).
The best time to visit Seville
☀️ We advise you to go between March and May or between September and November.We strongly advise against the summer months. Indeed, we have received many testimonies with temperatures around 40 degrees. We might as well tell you that it is not pleasant to visit a city on foot.
 Are there many tourists in Seville?
For our part, there were not many tourists. Except in the most important places of Seville, where the queues could reach hundreds of meters and more than one hour of waiting.So, I let you imagine the crowd during the nice days!
---
Good tips to prepare your trip to Seville
How to visit Seville ?
Seville is a city that is becoming more and more touristic. Therefore, you should expect to wait in line for the most popular places. For example, we tried to visit Real de Alcázar without taking a ticket online. Even if we showed up before the opening and were the first ones in line, we had to wait for all the people with online tickets to go before us. In fact, the lines are split in two: on one side the people who reserve go in priority.
Therefore, we highly recommend you to take your tickets online for all the tourist attractions in Seville. Moreover, do not hesitate to take tours with guide to visit the monuments of Seville.
For our part, we regret not having them in places like Real de Alcázar, where the story seems interesting.
Free tour of Seville with a guide
If you are interested in the history of the city, we found you a free tour of Seville. During 2h30, a local guide will amaze you! Click here to book. 
As I said, this is a free tour. If you liked it, you can tip your guide at the end.
---
? Wanna know what to do in Seville? Read our guide!
Where to sleep in Seville for the weekend?
For these 3 days in Seville, we chose this duplex apartment on Booking (click here to book) to cook ourselves some breakfasts and dinners with typical Spanish products . You guys loved it on our Instagram stories by the way!
Located in the heart of downtown, we highly recommend this address. We were able to do everything on foot and the building is located in a quiet area. The apartments are equipped with air conditioning and everything needed to have a good stay.
The best part : You can enjoy a rooftop with a pool! We did not enjoy swimming in February, but it must be nice when the weather is warmer. The terrace is beautiful and offers a nice view on the city and on a bell tower.
❤️ The welcome is great, we had good advice in French to visit Seville!
? Price: between 50 and 100€ per night depending on the period.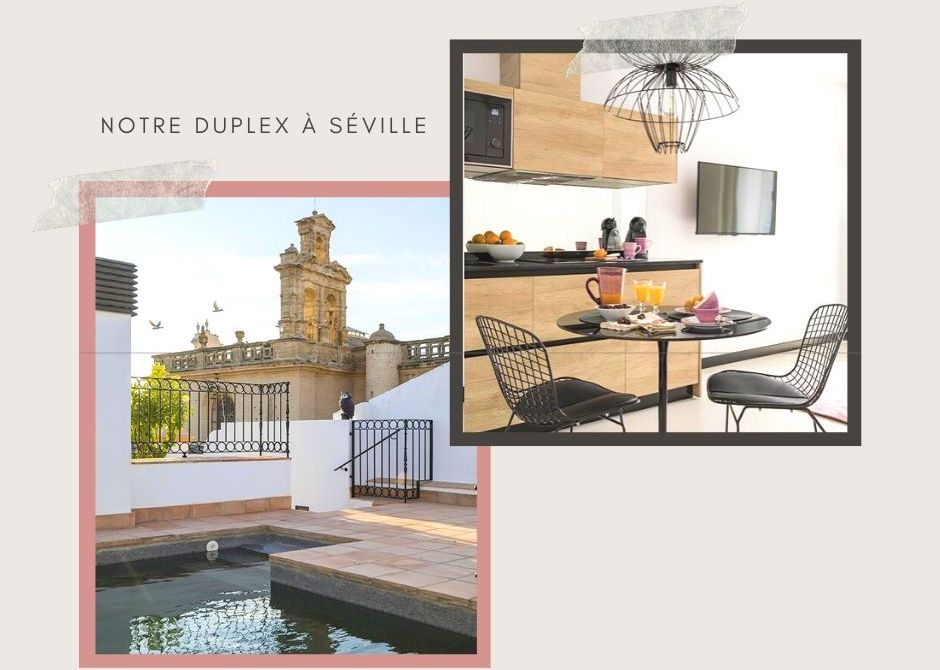 Accommodation under 50€ per night
Hostal Museo : One of the cheapest in the city centre with excellent reviews and a rooftop terrace!
High-end accommodation Cathedrale Apartment
Cathedrale Apartment : For a pleasure or for a special occasion, treat yourself to a magnificent rooftop pool overlooking the cathedral's bell tower !?
---
Our favorite neighborhoods in Seville
The center of Seville is divided into 12 neighborhoods. For us, the best are Alfalfa and Santa Cruz.
Alfalfa is the most lively neighborhood in Seville. It is made of a lot of small pedestrian streets, with many places to eat, drink or go out. Even in February the terraces were packed !
Santa Cruz is the neighborhood of the Cathedral and the magnificent Plaza de España. This is the area where most of the important monuments of Seville are located. You will also find many places to enjoy tapas on the terrace.
Last clarification: Seville is probably the city in Europe where we felt the safest. We had confirmation from expatriates that this city is well frequented, even for single women! However, basic rules of caution still apply, as they do everywhere.
You can find all our recommendations for restaurants in Seville in this article.
---
Budget for 3 days – Prepare your trip to Seville
✈️ Plane : average 160€, depending on the season
? Airport Transfers : 30€
? Accommodation : 55€ per night for a mid-range apartment
? Activities in our itinerary : 120€
? Food : 60€ per day for 2 ppl
This budget does not include all activities, as it depends on what you want to see. By finding cheap airline tickets and being careful with expenses, it is possible to visit Seville in 3 days with a budget of 300€ per person. If you add more visits, this budget will be higher. We gave you prices according to our way of travelling, you can undoubtedly make less and also much more!
---
We hope we have helped you prepare your trip to Seville! If you have any questions, don't hesitate to ask us in the comments of the article. We will answer them with pleasure as always.