What to do in Formentera, in Ibiza?
During our stay in Ibiza, we hesitated for a long time before dedicating a day to visit Formentera. In the end, we were right to go there as it is one of our fondest memories in the Balearics! So we'll see what to do in Formentera during your journey. 🤩
💌 Find our Ibiza travel guide by clicking here.
Visit Formentera: tips
⚓️ How do you get to Formentera from Ibiza?
All you have to do is go to one of the Ibiza landing stages. Either in the town centre, or a little further south in Playa d'en Bossa (like us with free parking just a few metres away).
🎫 To book your ferry tickets, we recommend you go through here.
You won't find cheaper, then they were very punctual and friendly. You will also be able to choose your departure and return time (excluding Covid, otherwise it will be 9.45am for the outward journey and 6pm for the return). Count 45 minutes of ferry for the crossing Ibiza – Formentera.
🛵 How to get around the island of Formentera?
We highly recommend renting a scooter (or a car if you are afraid of 2 wheels) to visit the island of Formentera. Indeed, there are several places not to be missed that are scattered around. Formentera itself is small: it takes about 30 minutes to drive from one end to the other. However, the distances between the points of interest are too long to walk.
If you take the same ferry as us, you can rent a scooter for 20€ a day (a slow and slightly worn 50cc). If not, we recommend you book the model you prefer in advance with this very serious provider (125cc at 25€). For an extra 5€, it's worth it to have a scooter that holds the road better!
Where to sleep in Formentera?
Although we only spent one day in Formentera, we recommend that you spend a night there if you have the time. The atmosphere on this island is inexplicable. We found it very soothing, there is an air of freedom on Formentera.
We liked it so much that we regretted not booking a hotel to enjoy it more.
Here are two recommendations for good value accommodation:
---
What to do in Formentera? Must-Sees
Cape Barbaria lighthouse
As soon as we arrived at the port of La Savina, we took our scooter and headed for the lighthouse of Cap de Barbaria at the southernmost point of the island. It's convenient to start there, but it's also important to be there before everyone else. The reason? There is an access to a viewpoint where you have to use a ladder and there can be traffic jams 😆.
To find this famous access, you have to go slightly to the right of the lighthouse when you arrive facing it. Then you have to spot the ropes around it.
💌 Count 45 minutes walk there and back to get to the lighthouse from the car park.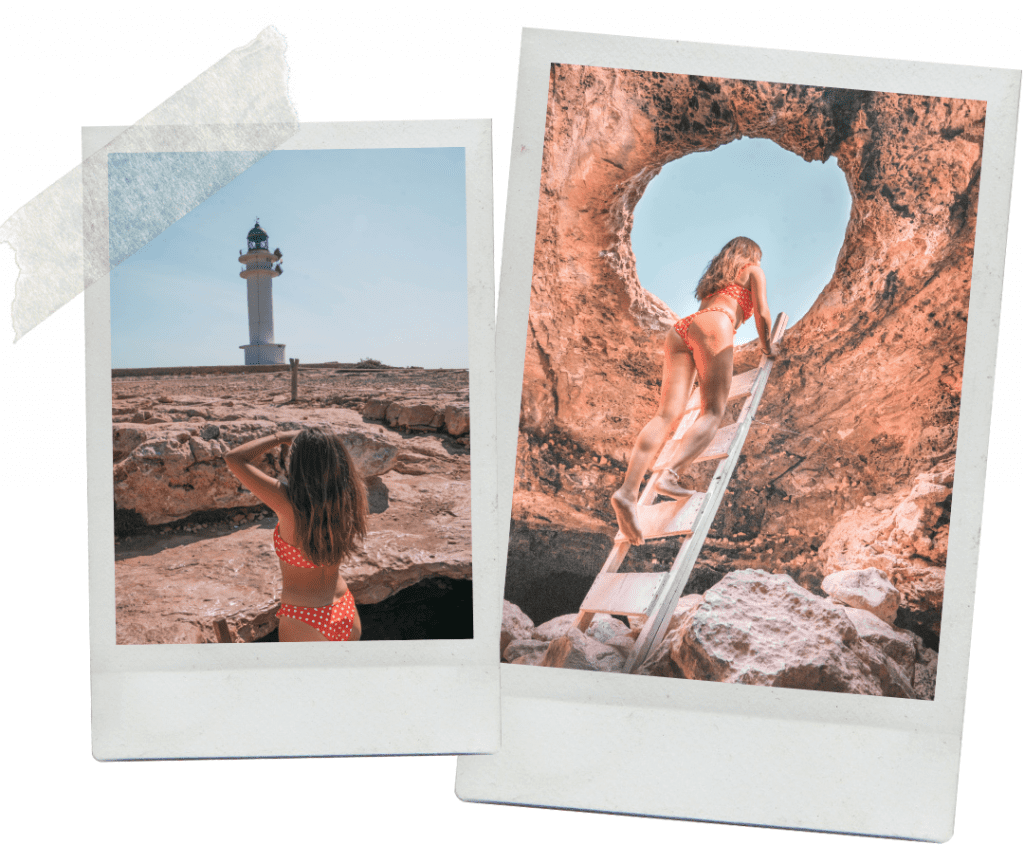 Visit Sant Francesc Xavier
Big favorite for this small village. 💌 We loved its atmosphere and small shops. Stop by the Full Moon shop for its beautiful outdoor decor and Caramazana Bocanegra to find beautiful bohemian Ibiza dresses. This is actually where my yellow embroidered dress came from, which is a hit every time I show it in my Instagram story. 🤫
Take the opportunity to wander around the small streets and hydrate yourself in the terrace before heading back on the road.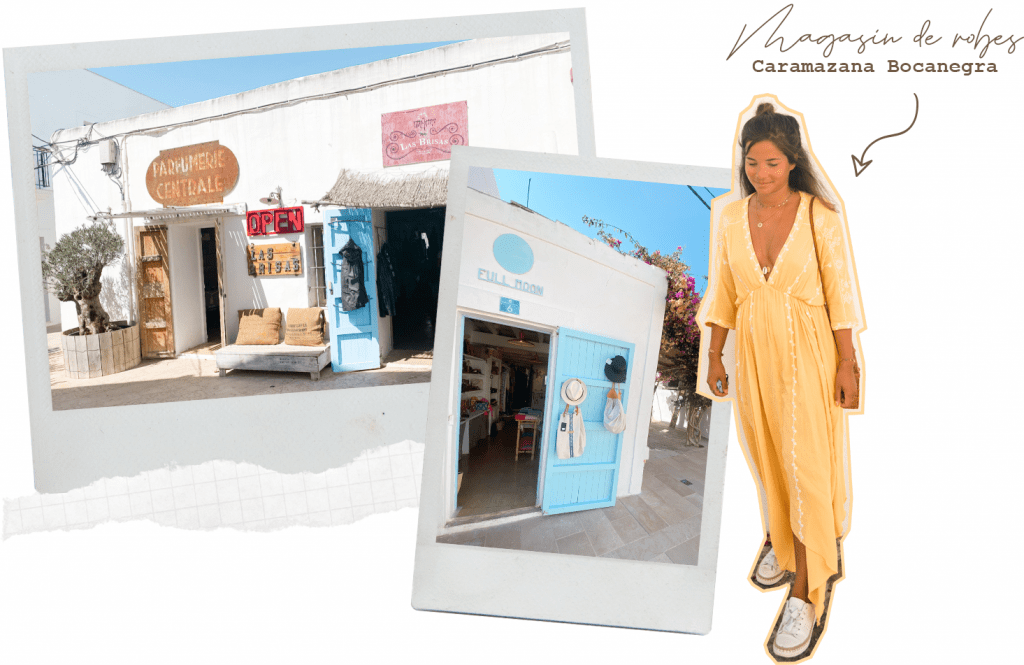 Calo des Mort
To the east of Formentera, you will find a long beach with crystal clear water. We have very rarely seen such calm and clear water, it really feels like a swimming pool (only prettier 🥰 ). You will have foot on tens of meters. For us, this is the most beautiful beach to do in Formentera!
To get there, enter in your GPS: Hotel Riu La Mola. There is a car park for scooters near the beach. If you want to get to Calo des Mort (a small, quieter cove), walk along the beach on your left as you face the sea for 8/10 minutes.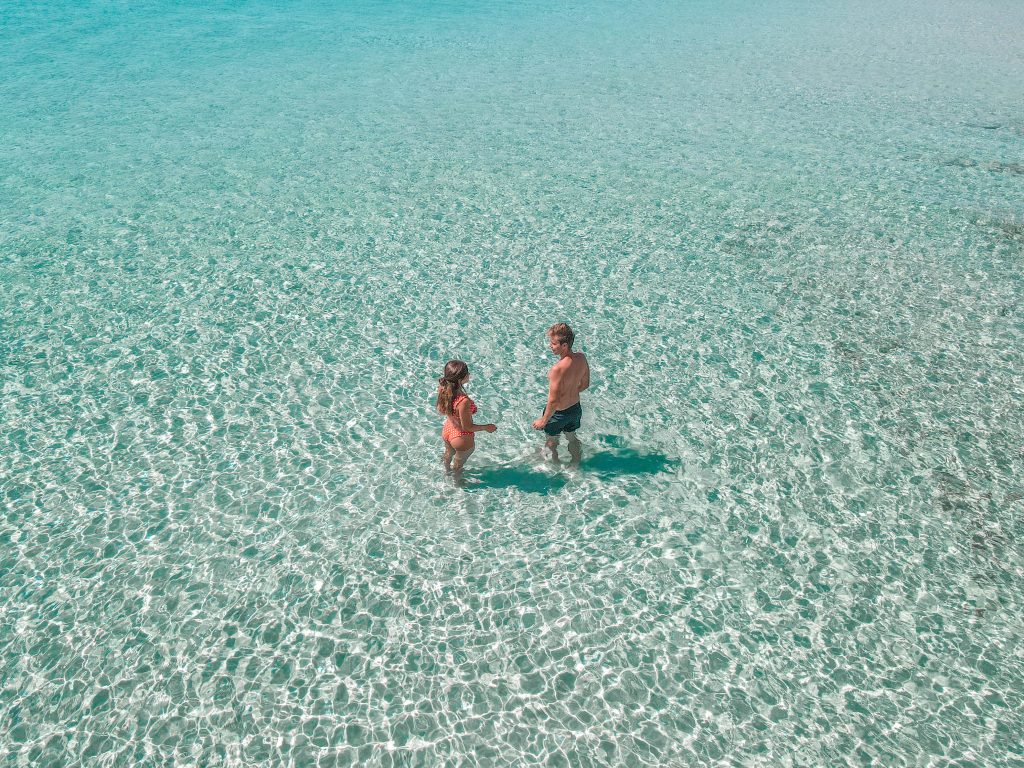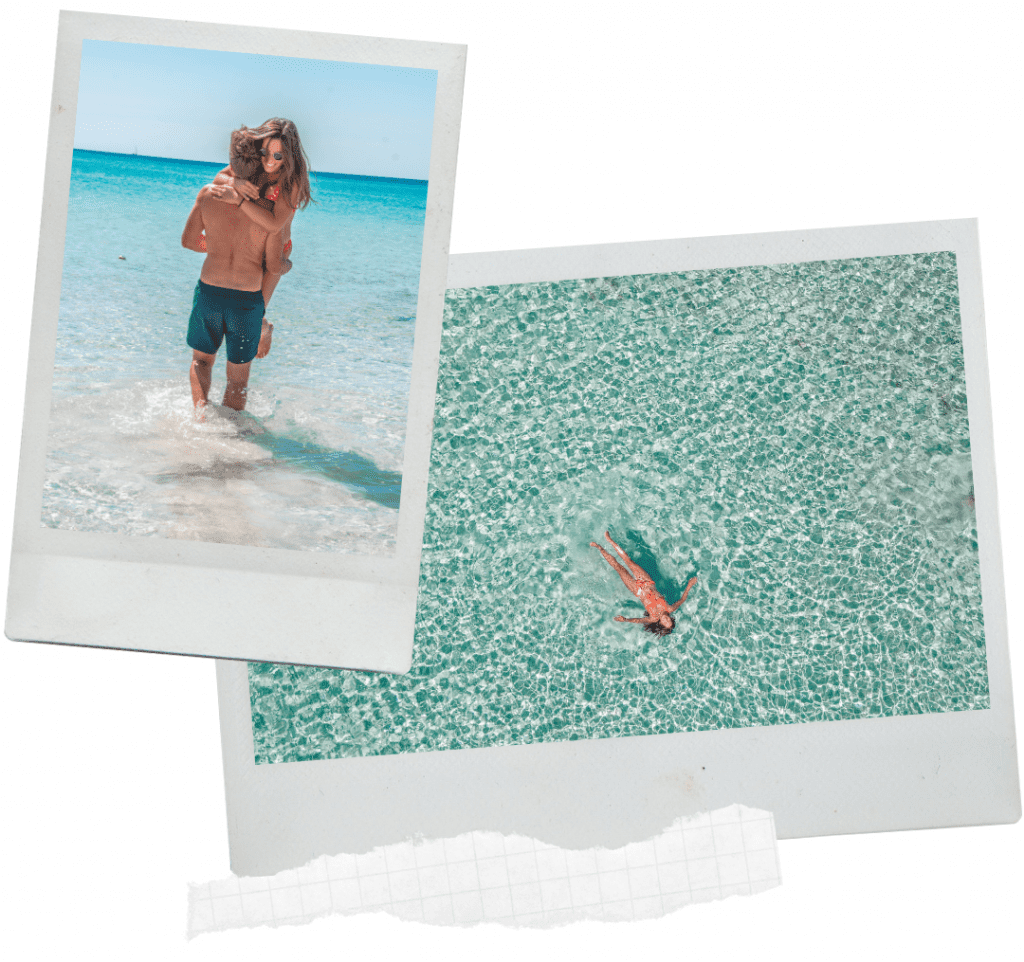 Es Calo Beach
Located just above Calo des Mort, Es Calo Beach borders a small fishing village. The beach is beautiful and its wooden pontoons to access it give it a very wild feel.
Other beautiful beaches in Formentera: Cala en Baster, Cala Es Raco De Sa Pujada, Cala Saona.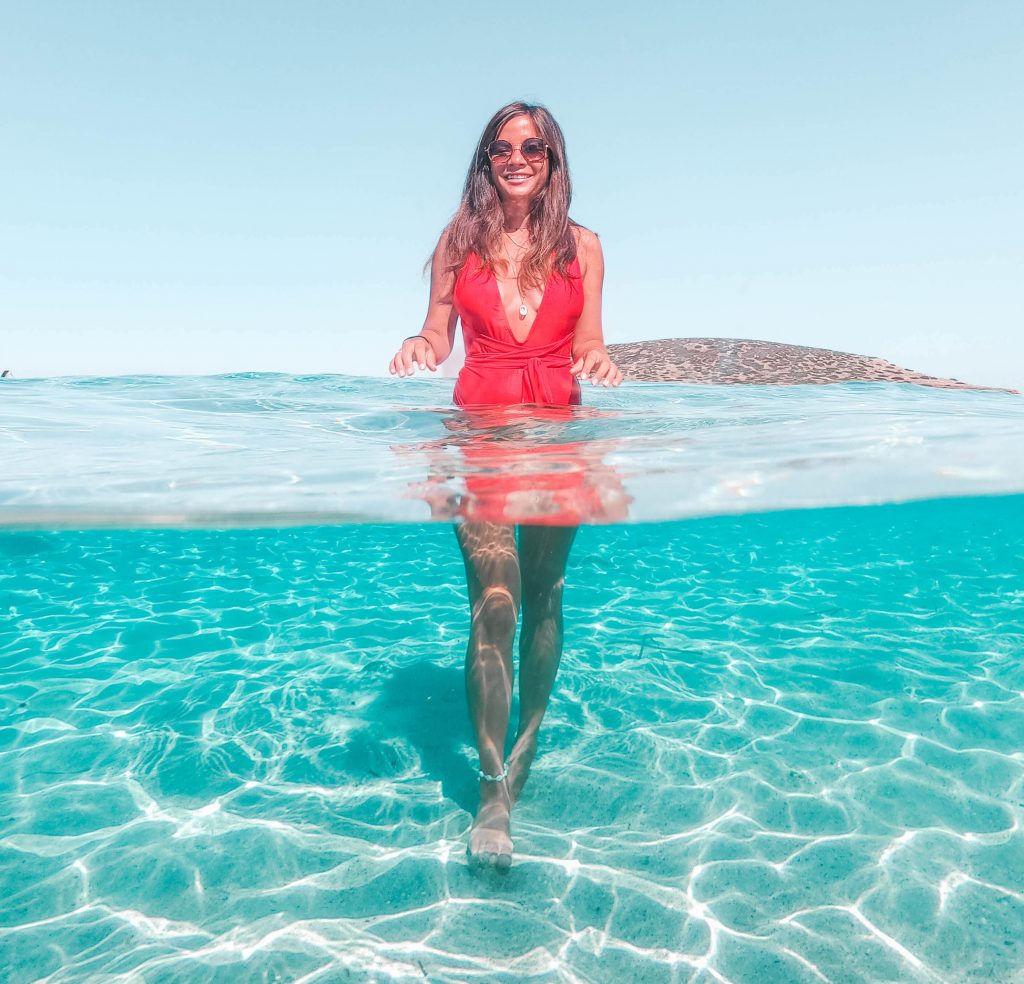 Es Pujol for lunch
For your lunch in Formentera, we recommend a ham sandwich at Gran Iberico in Es Pujol. We decided to take it to go to save time, but their terrace overlooking the inner courtyard looks very nice.
We enjoyed these delicious sandwiches by the sea. 😍
Ses Illetes
The beaches of Ses Illetes are beautiful, it's a must do in Formentera. Be aware that there is an entrance fee: €3 per scooter and €5 per car. After 1.7km and about 7 minutes of driving on land, you will arrive at a large car park.
You are free to choose the place you prefer to rest, you are spoilt for choice! The northern coastline is rougher and the southern one is very calm. Personally we prefer the calm and translucent waters. 💙
Voir cette publication sur Instagram
Stop at Sa Siquia
On the way back, if time permits, you can make a quick stop at Sa Siquia. We found the place very cute and quiet. The small bridge and the turquoise sea make it very photogenic. 🥰
Don't forget to refuel your scooter on the road so you don't have to go back to look for a petrol station like us. 😅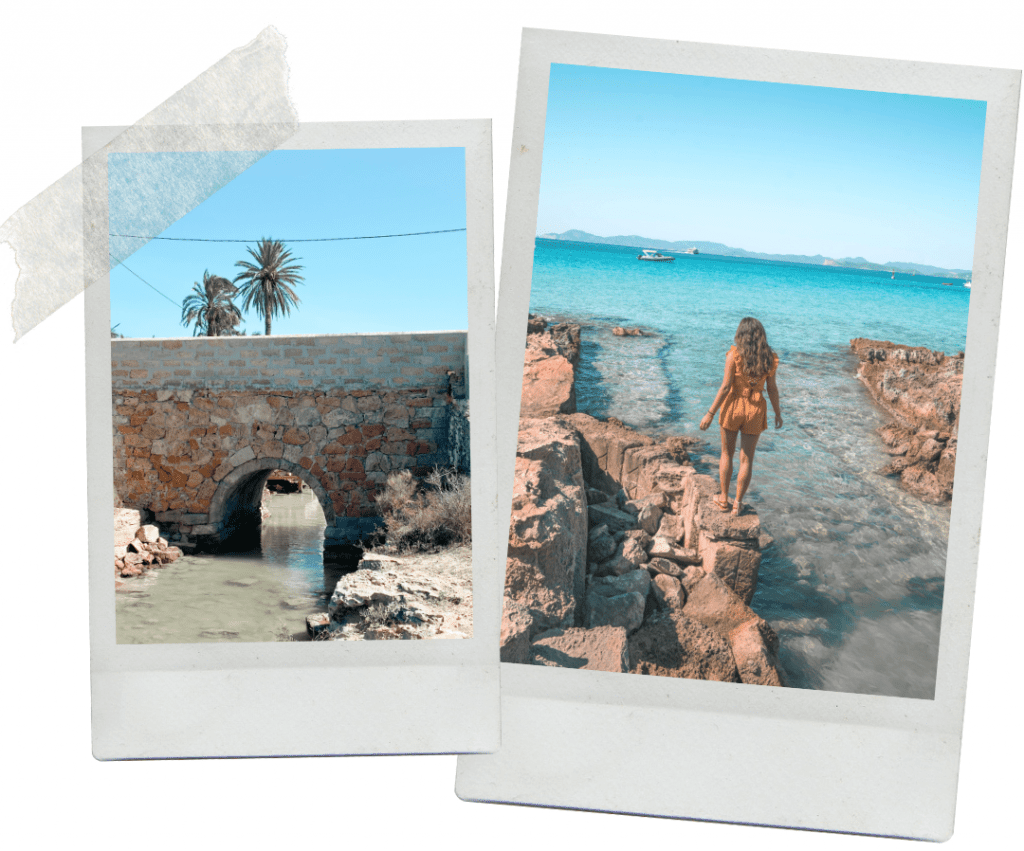 ---
What to do in Formentera: activities
Come to Formentera for a day in a semi-private sailing boat (6 people max): book the excursion
Boat trip in the coves of Formentera with lunch and open bar.