What to do in Menorca? Itinerary 1 week
Menorca is the northernmost island of the Spanish Balearic archipelago, located in the heart of the Mediterranean. It is especially famous for its turquoise coves and its good climate for most of the year. How to visit Menorca in 1 week? We offer you a detailed itinerary to discover what to do in Menorca!
You can of course take more time on site to enjoy the beaches or on the contrary, you can offer yourself a longer weekend by selecting some beaches beforehand.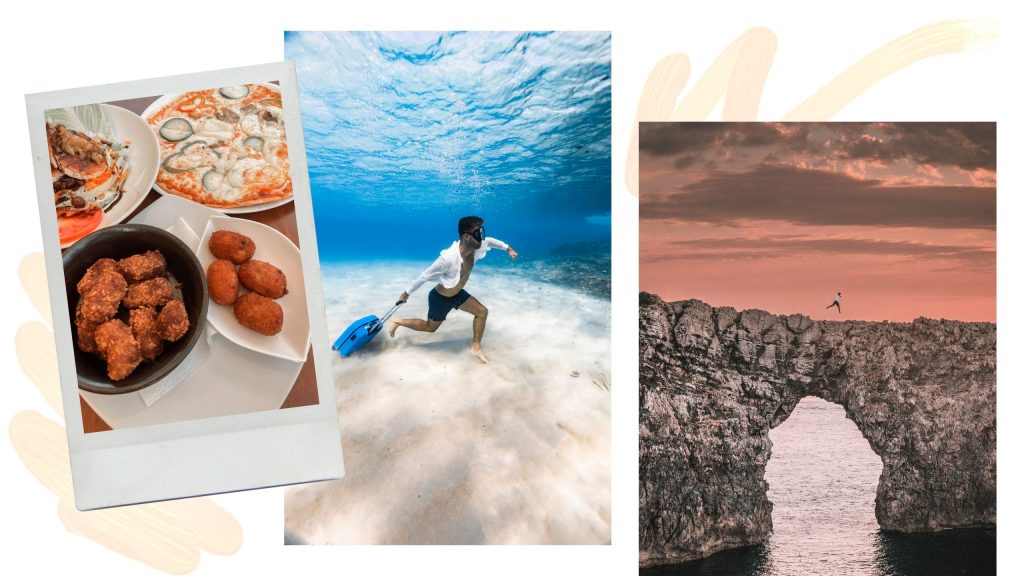 ---
Travel to Menorca: what to do?
💌 How to prepare your trip to Menorca?
What are the obligations with regard to the Covid?
You must have your health pass or PCR test less than 72 hours old. Also, you will need to fill this form and get a QR code on the government website.
When to go to Menorca?
As with all the Balearic Islands, the climate is very favourable between April and October. ☀️ I therefore recommend that you avoid the high season as much as possible and go in April / May / June or September / October. On average, the water temperature in October is 21 degrees. 🐠
Where to take your plane ticket? Where to rent a car?
We recommend you to compare the best offers and book your flights + rental cars on Skyscanner.
What budget should you plan to visit Menorca in 1 week?
✈️ Plane: 80€ per person on average (I found 50€ excluding luggage at the end of August)
🚗 Car rental: 400€ for 1 week
⛽️ Petrol costs: 70€ for about 500 km driven (1.40€ per litre of fuel)
😴 Hotels: 70€ per night on average in mid-season
🌮 Restaurants: 30€ per day per person for 2 meals
Total = 1540€ for a 1 week stay or 770€ per person, excluding activities.
Please note: this budget can obviously vary depending on the price of car rentals and flights, but also on the standard of the hotels/restaurants you choose. We are only speaking from our experience.
Should you buy tickets online to visit the must-see spots?
Indeed, for price, language and ease we advise you to book your activities on one of the following 2 sites:
---
What to do in Menorca during 1 week?
I'm going to tell you my itinerary to visit Menorca in 1 week. If your holidays allow it, I advise you to combine this trip with its neighbouring island: Palma de Majorca.
You can find all our information on Majorca in our dedicated article. There are cheap flights and you can also book your ferry crossing (1h).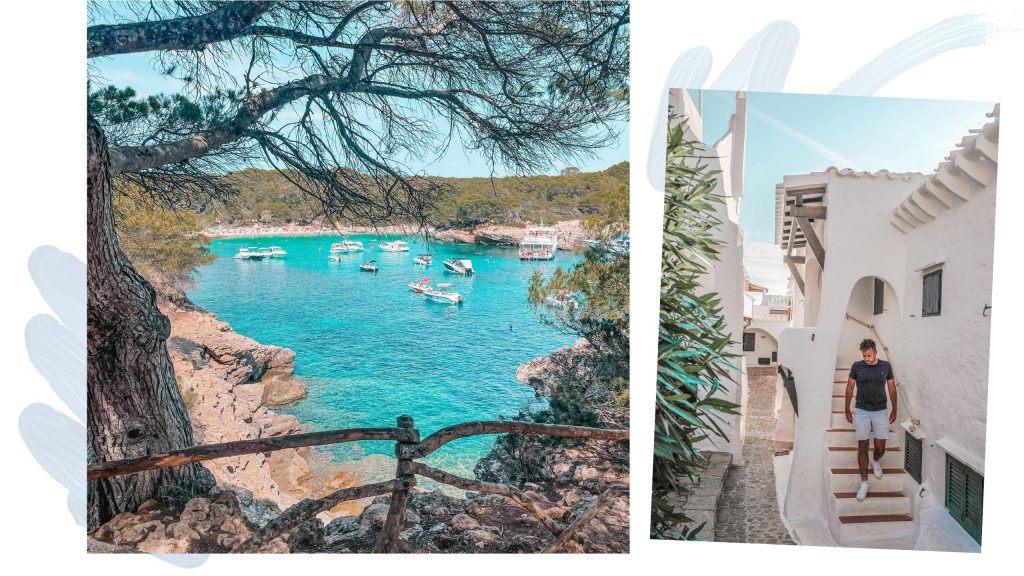 Where to sleep in Menorca?
For your stay in Menorca, I recommend you to book 2 different hotels. Indeed, even if the island can be crossed in 1H15, there are areas of interest on both sides.
In Binibeca, on the east side of the island, I recommend this Pierre & Vacances Adults Only accommodation. It is very beautiful and well located. It also has 3 swimming pools, a very good restaurant and good value for money. Moreover, you will be in the heart of the beautiful Binibeca village, a real luxury! 😊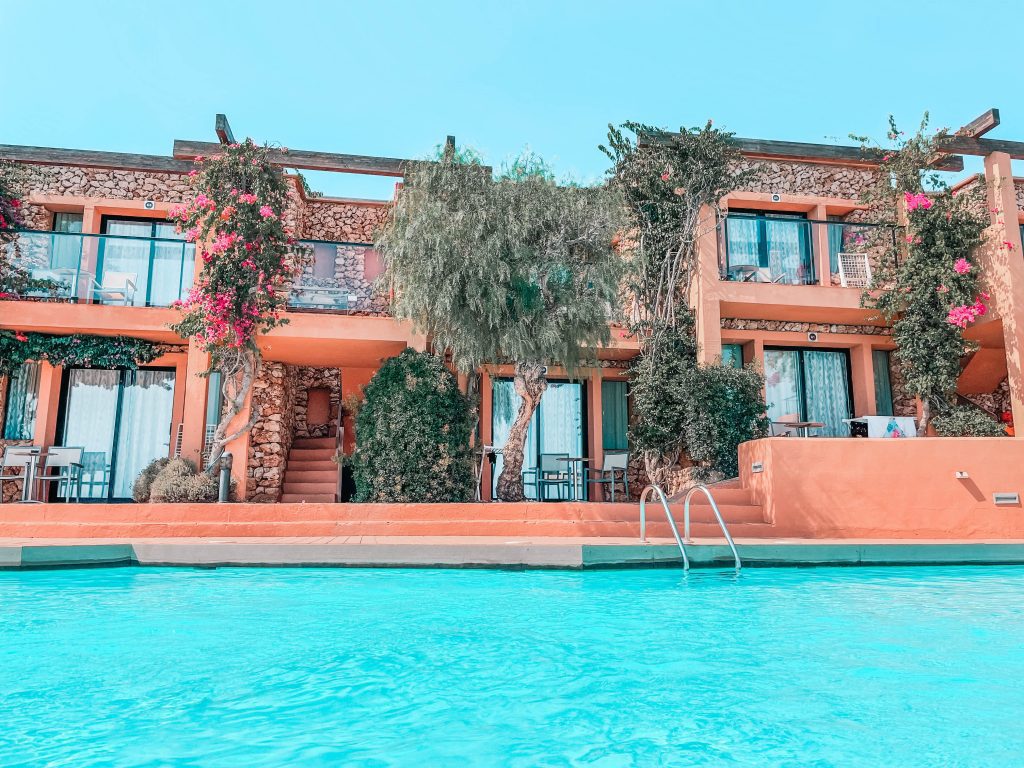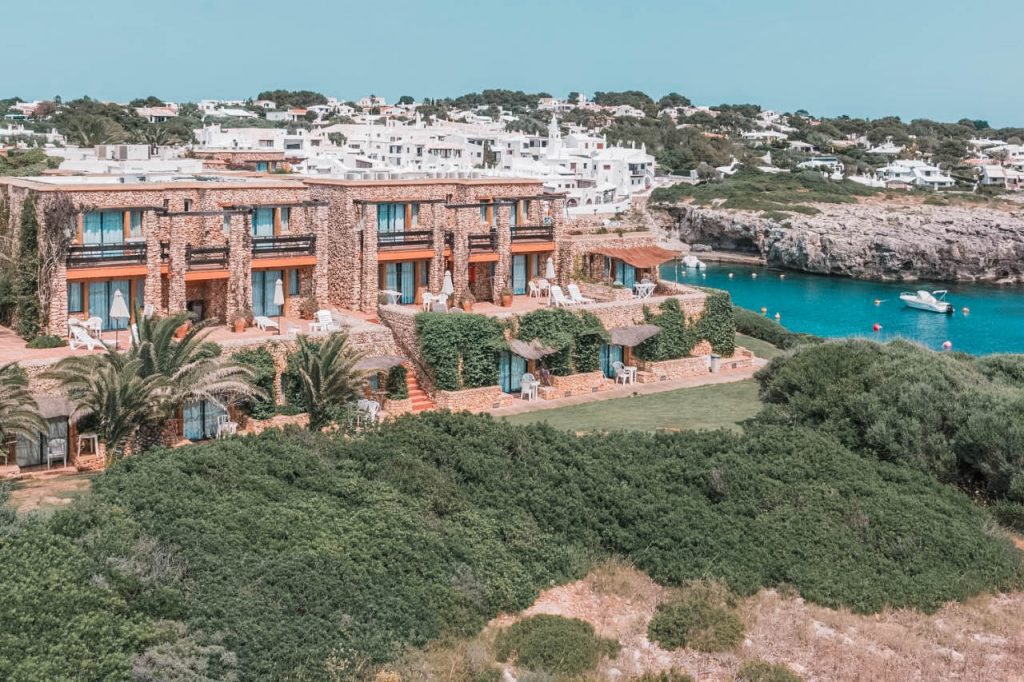 On the west side of the island, I strongly encourage you to book this hotel in Ciutadella 🤩 It is perfectly located in the city centre, everything will be done on foot. The decor is beautiful, it's very quiet and the welcome is exceptional. At the time of my booking, its Booking rating is 9.9/10 and Google 5/5! So you can go there with your eyes closed.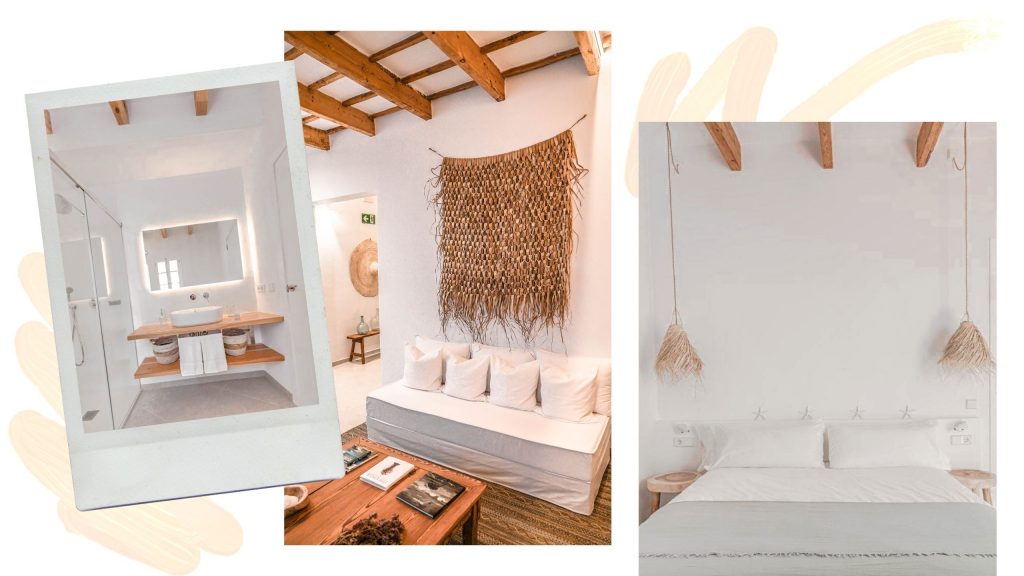 ---
Visiting Menorca: what to do during 1 week?
Days 1, 2 and 3 of the Menorca road trip
I started in the east of the island for 3 nights. Arriving at Mahon airport, I stayed in Binibeca just 15 minutes away.
📍 Visit of Mahon
This is the capital of the island of Menorca. The town is pretty, there are a lot of shops, restaurants, bars… It's interesting to spend a few hours walking around and having lunch in one of the alleys of the town. Please note that the city centre spaces ("R") are reserved for residents. So you have to park slightly outside the city.
📍 Walking around Binibeca
Probably my favourite village on the island. With its Mediterranean style, it reminds me a lot of the villages in the Cyclades. The walls are immaculately white and flowers come to colour the very narrow streets. Let yourself wander around the village aimlessly and enjoy the beauty of the place.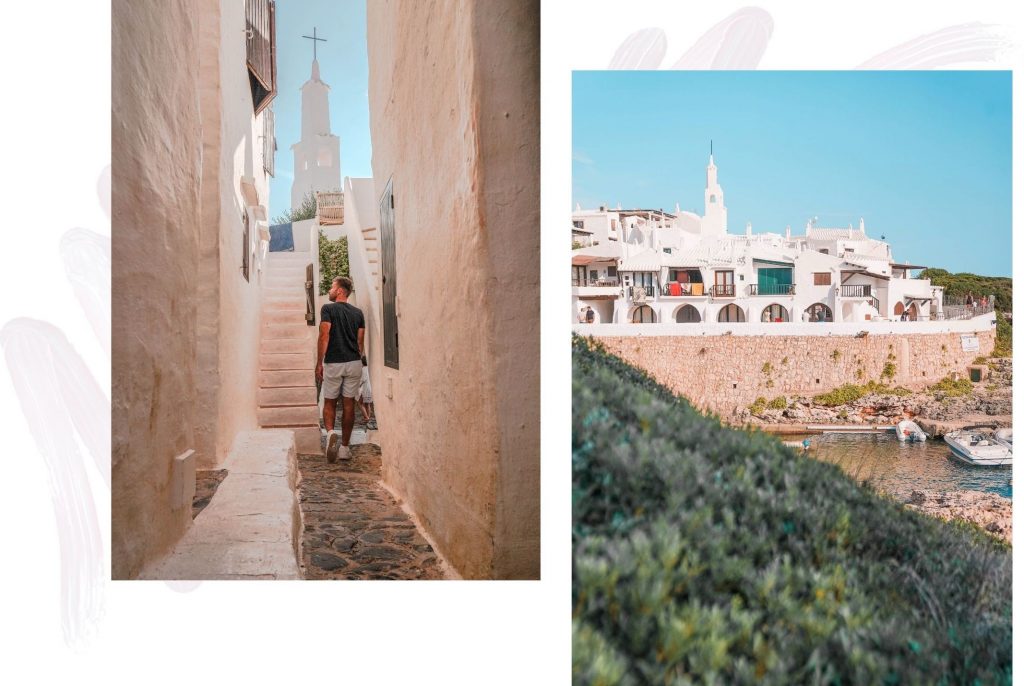 📍 Sunset in Cala'n Porter
I wanted to go to Cova del Xoroi to watch the sunset in this unusual place, but its success got the better of my patience. If you want a table in Cova del Xoroi you have to book in advance on the internet, especially in high season.
So I settled on the Club Minorca, a 5 minute walk away, and it was a good address! The setting is less exceptional but the view is great for the sunset and the bottle of Cava is 15€ 🤫.
In the middle of the day it is also possible to embark on a kayak to discover the caves of Cala à Porter. A guided tour that will teach you more about the geology of these caves. For more information click here.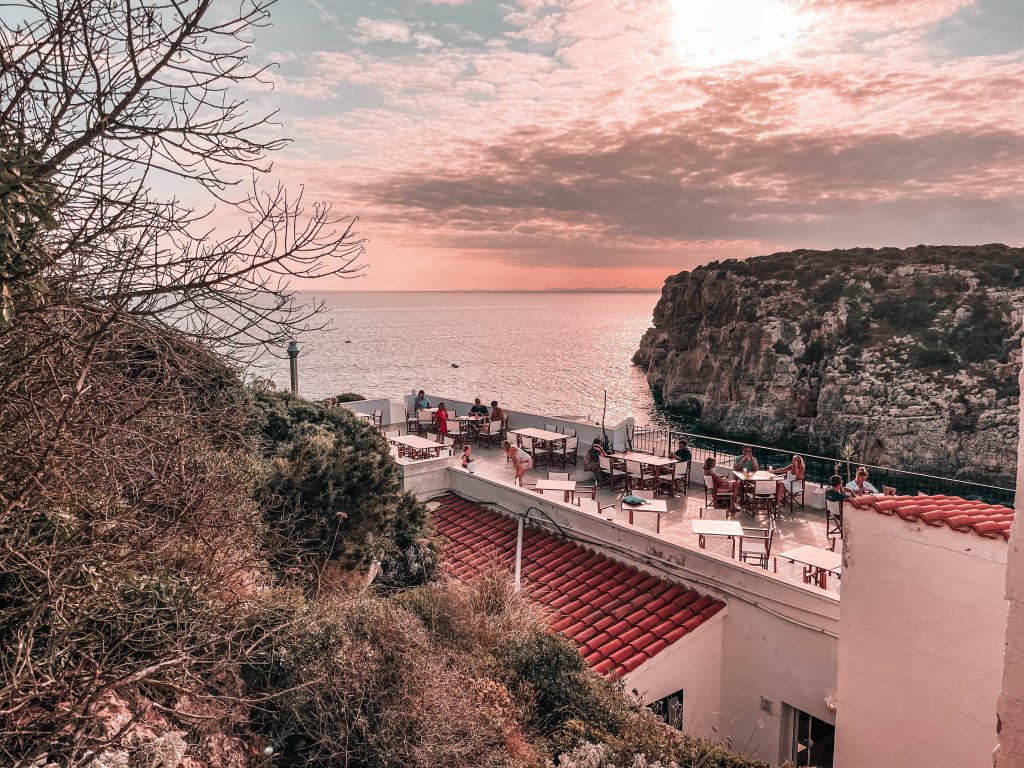 📍 Visit of the village Fornells
In the north of the island of Menorca is the fishing village called Fornells. If you are lobster lovers, this is the place not to be missed. You will find many places offering the local speciality: Caldereta de Langosta. The village and its port are very pretty. A 10-minute walk from the centre, you can reach the tower of Fornells to enjoy a view of the mouth of the bay.
Fornells is also known for its activity departures. It is ideal for excursions to the nearby coves. We recommend you the Catamaran cruise to sail around the North, the Kayak tour with snorkeling, jet ski tour or this boat cruise to discover idyllic enclaves.
If you want to admire the sunset along the coast of Menorca on board a sailboat from the port of Fornells, it is possible, all information is here.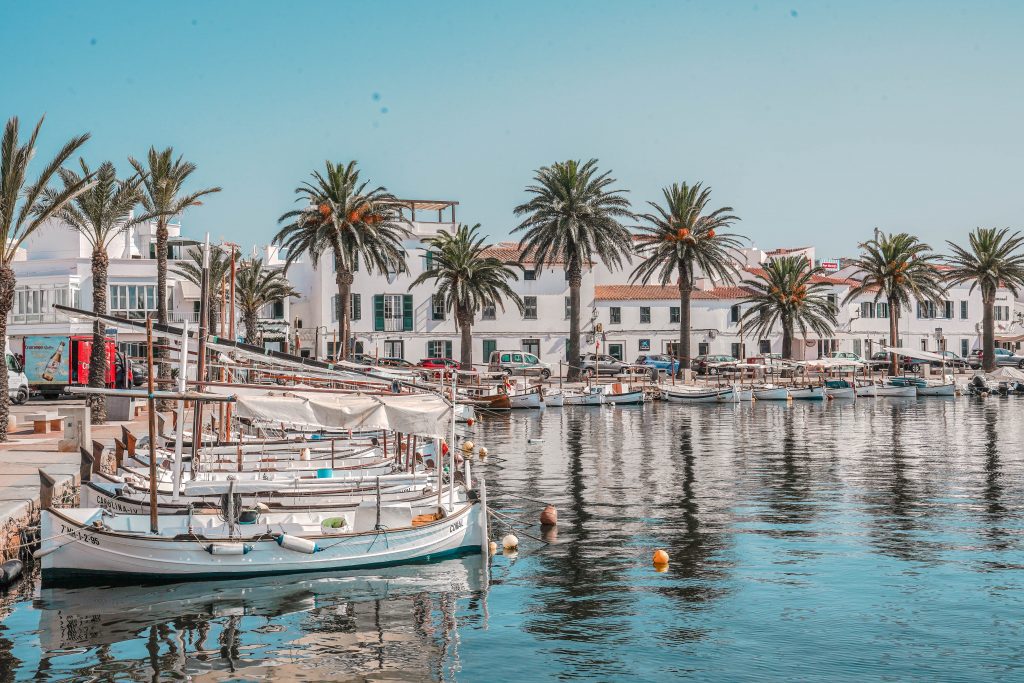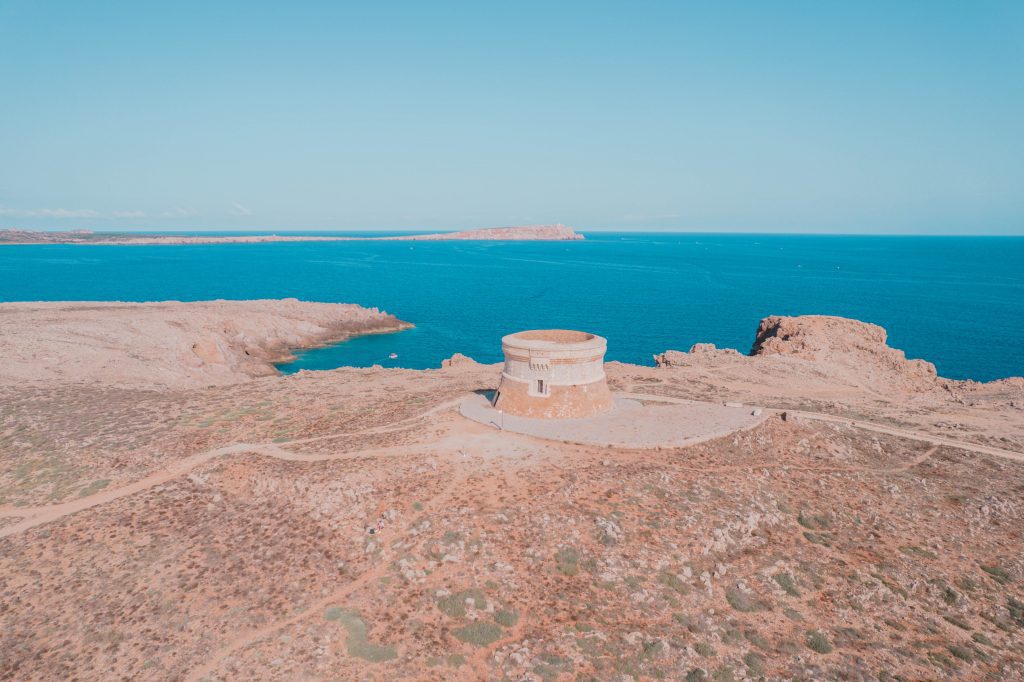 📍 Beaches north of Menorca
On the eastern side of Fornells, 15 minutes by car, you will find the beautiful Arenal de Son Saura beach. Not to be confused with Son Saura in the south of the island. Arenal beach has wild dunes, a large sandy beach and crystal clear water. Moreover, you will find (more or less depending on the day) pink sand along the sea 🤩 The parking is close and you will find something to eat on site.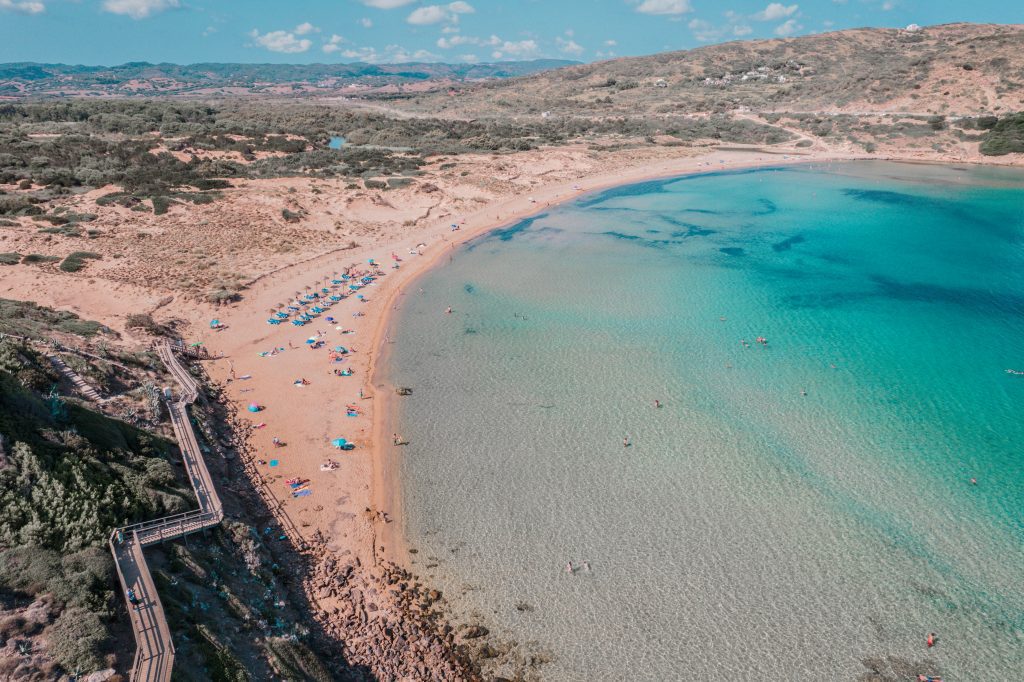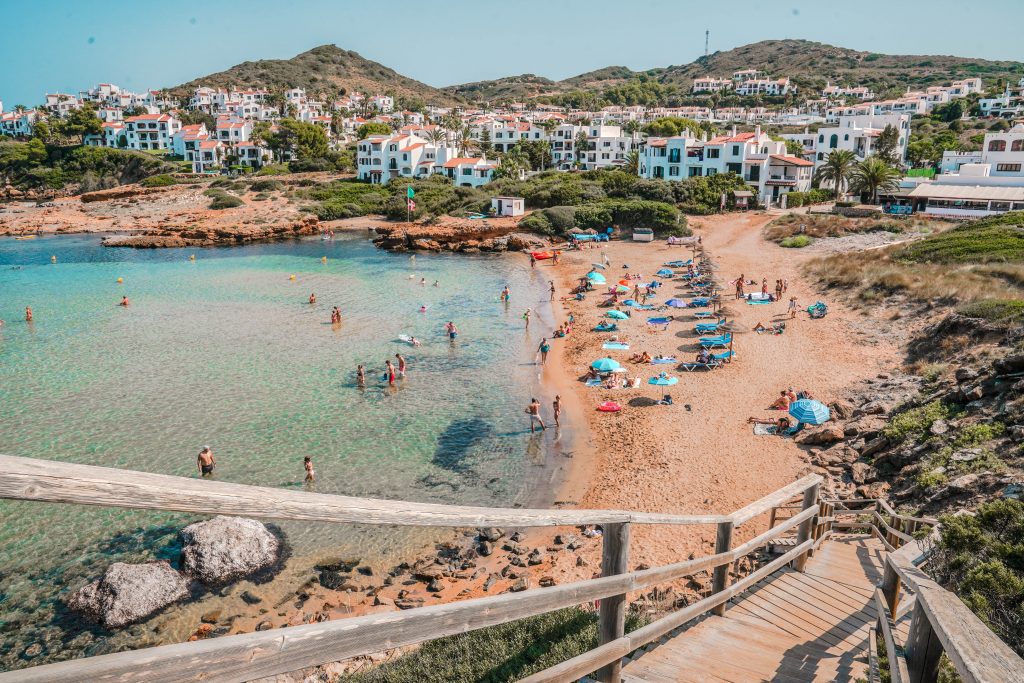 Arenal of Son Saura
On the east side of Fornells, a 15-minute drive away, you will find the beautiful Arenal beach of Son Saura. Not to be confused with Son Saura in the south of the island. That of Arenal offers wild dunes, a large sandy beach and crystal clear water. In addition, you will find (more or less depending on the day) pink sand by the sea 🤩 The parking is close and you will find something to eat on site.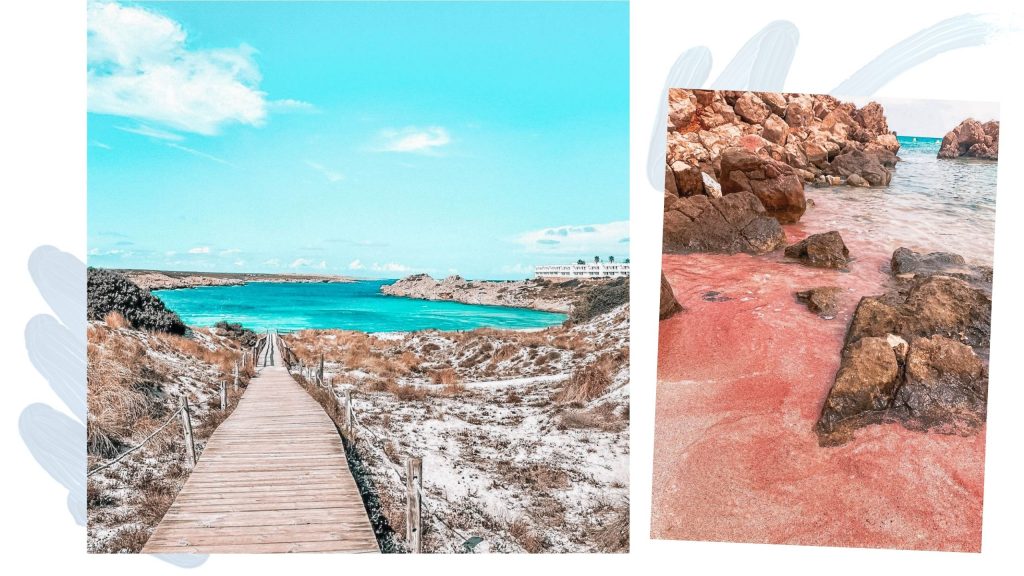 📍 My good addresses in Menorca
I give you here a few favorite addresses to eat / have a drink:
Cova de Xoroi or Club Menorca for a drink at sunset
Pierre et Vacances' restaurant to eat by the pool, just a stone's throw from Binibeca
Quitapenas Menorca for your unusual setting and excellent food!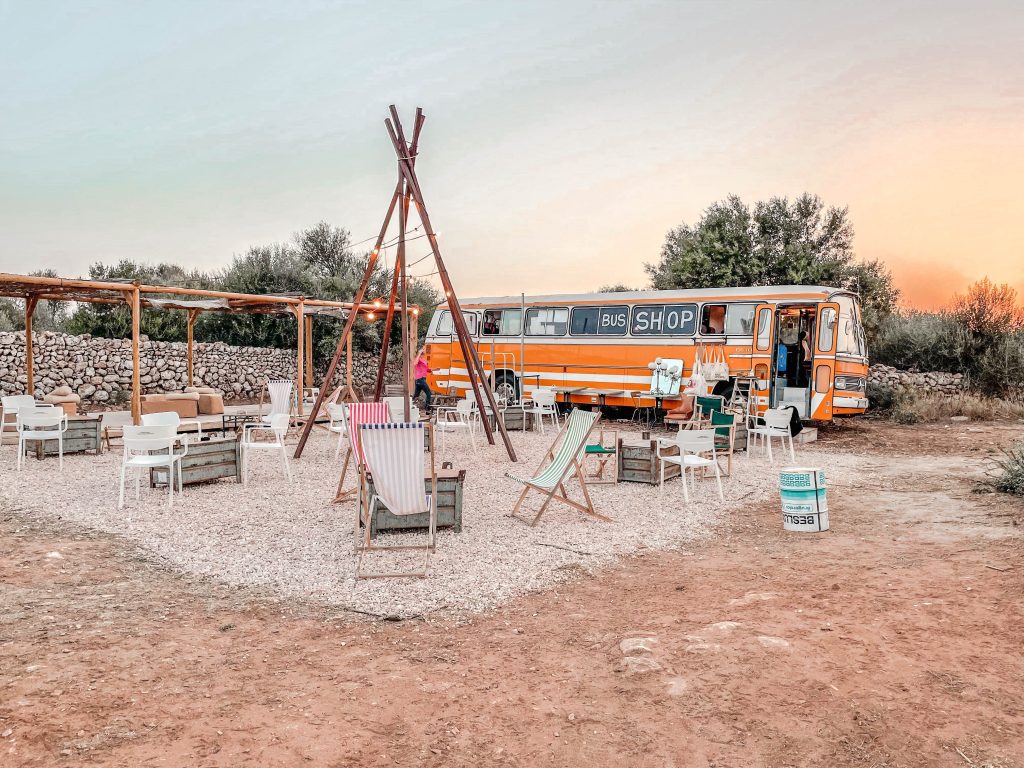 ---
Days 4, 5 and 6 of the Menorca road trip
📍 Visit Ciutadella
The town of Ciutadella is the westernmost town on the island, ideal as a base for visiting this part of the island. As well as being well located, the town is great to visit and you'll find some great places to eat 🤤 With the hotel I recommended, you'll be within walking distance of everything. As in all picturesque towns with small streets, I recommend you to let yourself be guided to enjoy the charm of Ciutadella at its best.
For lunch, I recommend Café Es Pou on the Plaça Nova. The place looks like a "tourist trap" because there is a big terrace on a very visited square, but the prices are really reasonable and the food is very good!
For dinner, go to Ti Amo 🇮🇹 One of the best pizzas of my life (and I can tell you that I have more than a hundred addresses on my list…) and a lovely manager. Negative point: only 3 tables outside and as many inside. So I recommend you to go when it opens, to get on the waiting list early enough or else plan to take away and eat on the steps in front 😊
Si vous cherchez une activité unique qui va vous en mettre plein aux yeux, je vous propose ce baptême de plongée.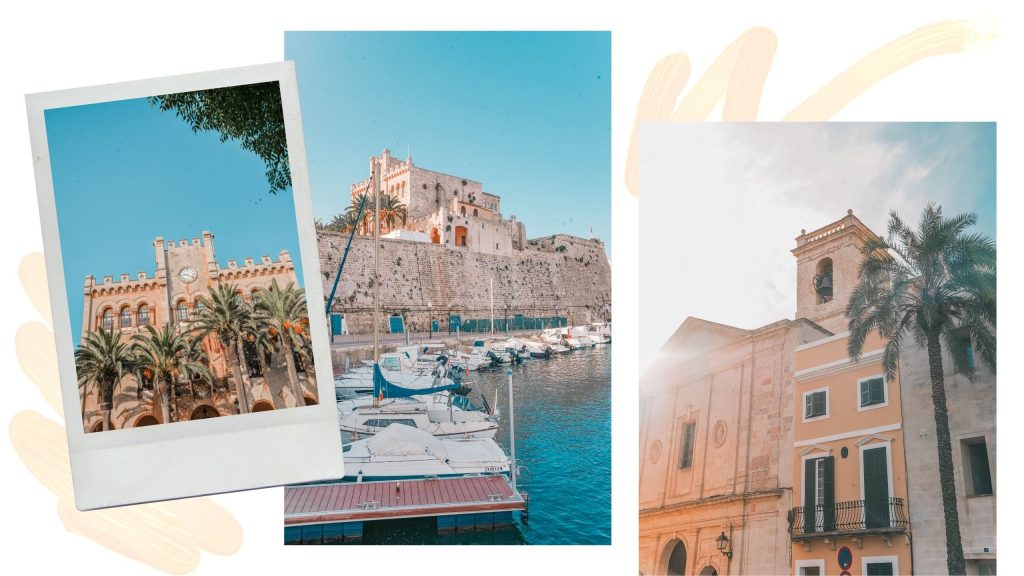 📍 Cala Mitjana / Trebaluger and Fustam
We come to the sporty part of the trip 😜 For the less sporty, Cala Mitjana can be reached in 20 minutes from the car park of the same name (free but quickly full in high season). It is beautiful but attracts a lot of people because of its accessibility.
25 minutes further east you can reach Cala Trebaluger without too much difficulty. The beach is quite large and allows you not to be stuck to the others. The water is translucent, as everywhere in Menorca you will tell me, but the water is so calm and shallow for tens of meters that it is impressive 🤩
Once you've made the effort to get here, I'd encourage you to continue to Cala Fustam 20/25 minutes further on (so 1H05/1H20 in total). I think this is my favourite with its wooden barriers! It's a must-see on what to do in Menorca 🥰. And as the beach is more difficult to access there are less people than on the others. 😊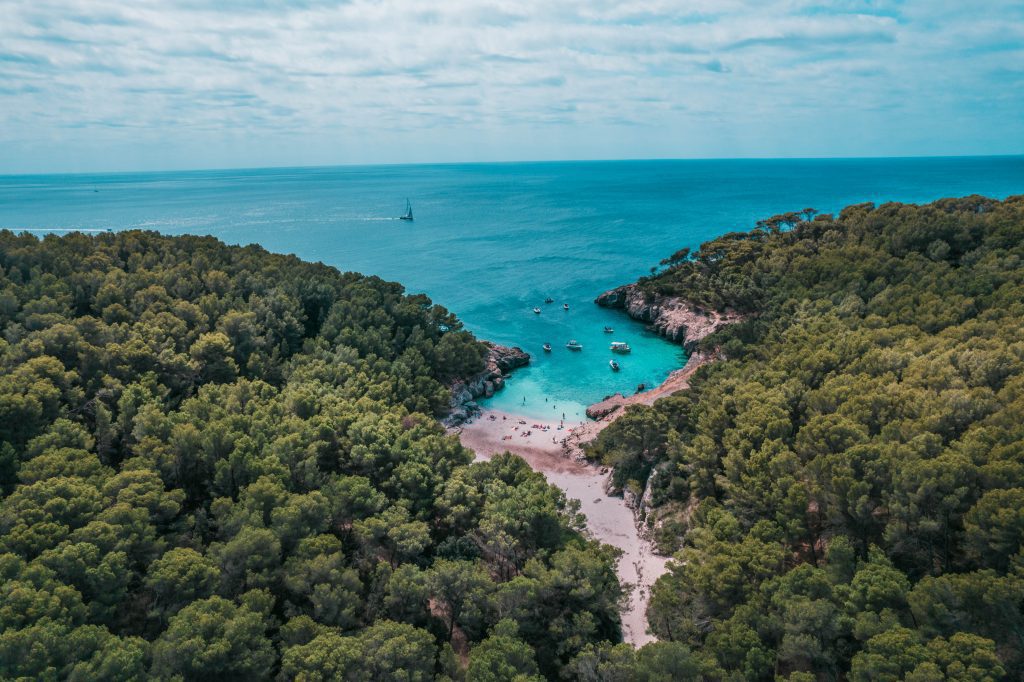 Playa Fustam
📍 Cala Turqueta and Talaier
Cala Turqueta can be reached very easily from the (free) car park "Parking Publico Gratuito Turqueta" in only 13 minutes. Again its accessibility attracts many people. I advise you to take the path to the west for 25 minutes to get to Cala Talaier. The latter is quite small but much more charming for my taste. Unless… Like me, you come across a day where the water is full of algae. 🤷🏼 But I think it's a pretty rare phenomenon as I've never read / seen / heard of it before.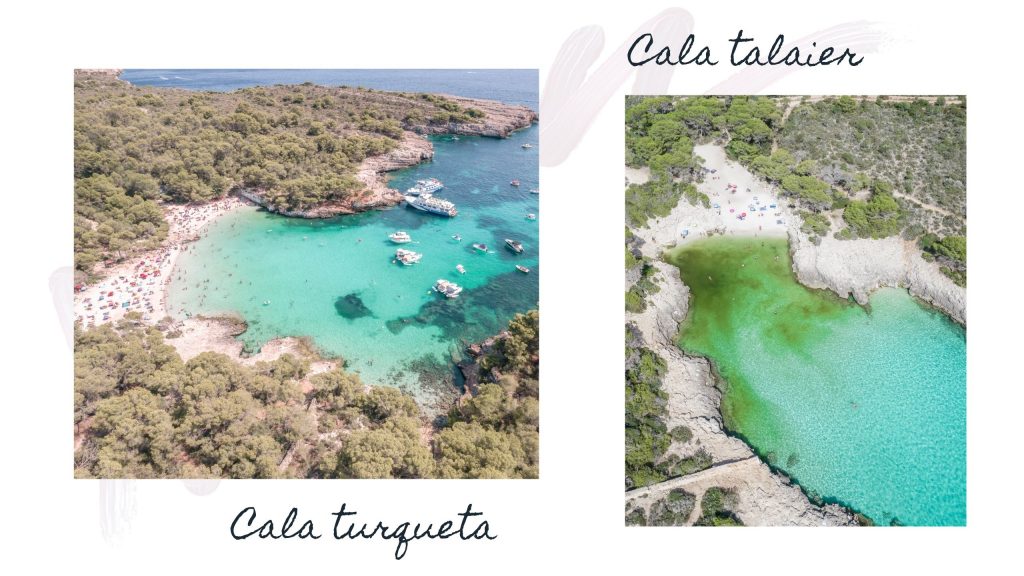 📍 Cala en Brut
Less than 10 minutes drive from Ciutadella. There is no dedicated parking, you have to park on the street and it's very quickly complicated if you arrive too late. The place is really beautiful, with its wooden fences and steps down to the water. The advantage of this place is that there are many platforms to land or jump in the water. 😊Snorkeling lovers will be served, the water is very clear and often calm. 🐠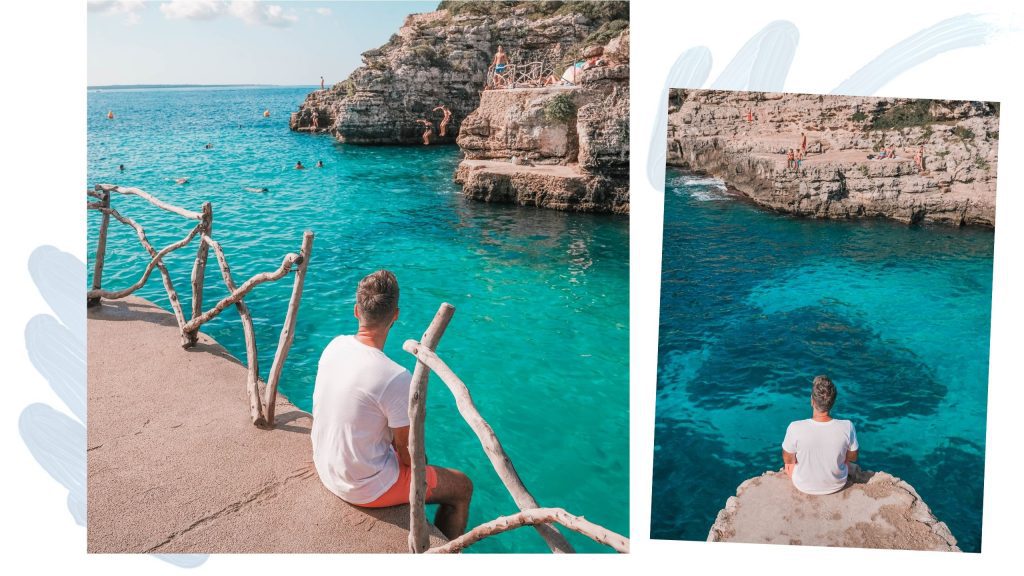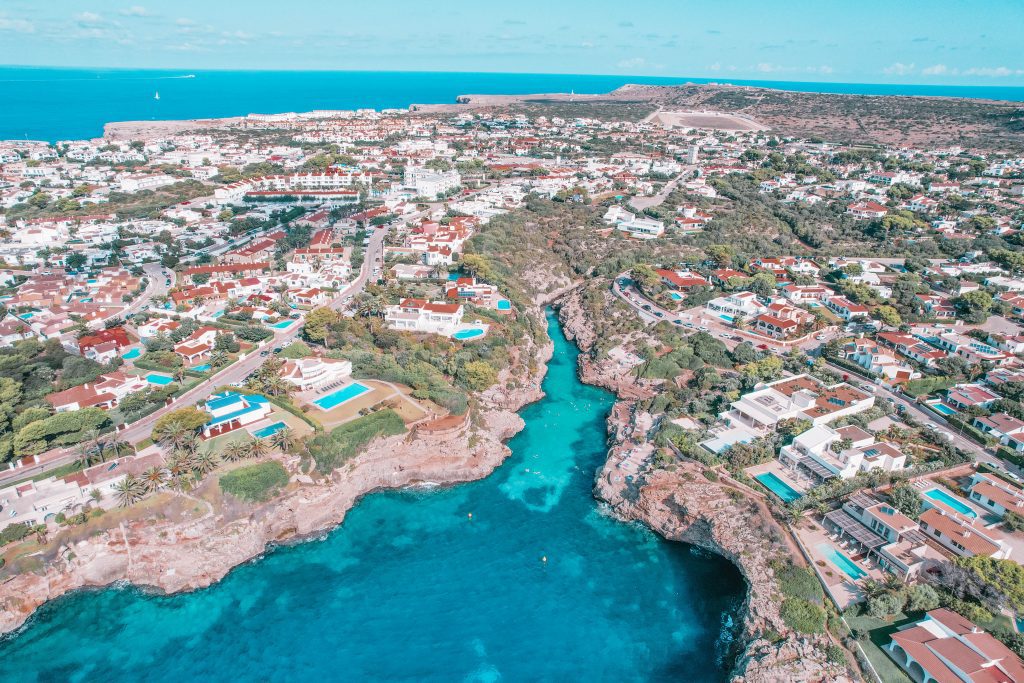 📍 Cala Galdana and Macarelleta
From Cala Galdana (very touristy) it is possible to rent boats or canoes to get to Cala Macarelleta. I found a cheap canoe rental just in front of the hotel "ARTIEM Audax. It takes 30/40 minutes (one way) to get to Cala Macarelleta. You can also walk there for the same travel time🚶♂️The water is really amazing in this cove!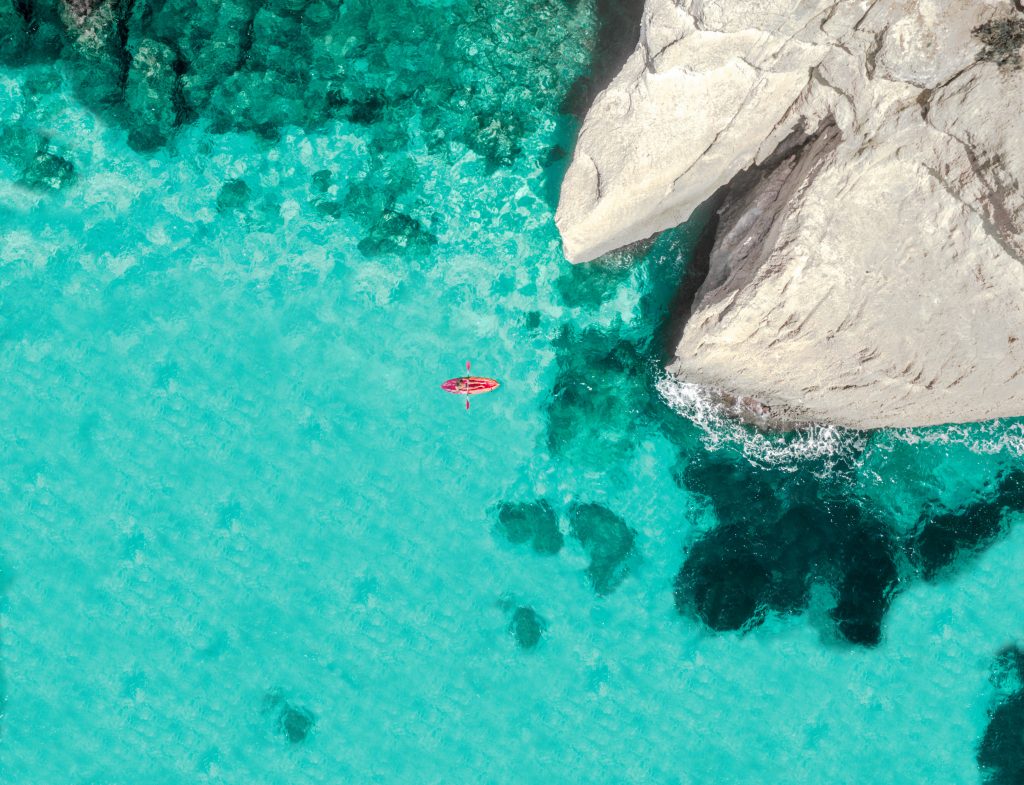 📍 The sunsets
First option, I recommend going to Pont d'En Gil for the sunset. There is no parking so it's best to arrive early enough to have space in the street. You have to walk for 5 minutes to get to the "mirador" and have a nice view on the arch. Important, don't forget your beer for the show 🍺.
Second option, head to Cala Morell for a drink at Ivette's. The place is very pretty with its white walls 🤩 Beware, Ivette opens until 7pm for a drink and from 8pm for dinner.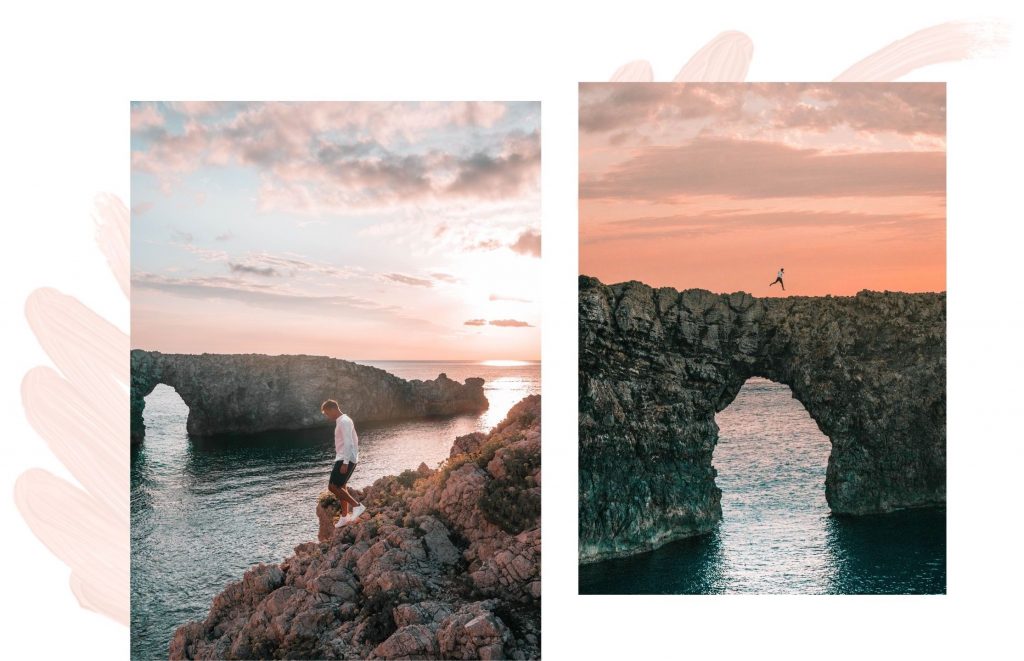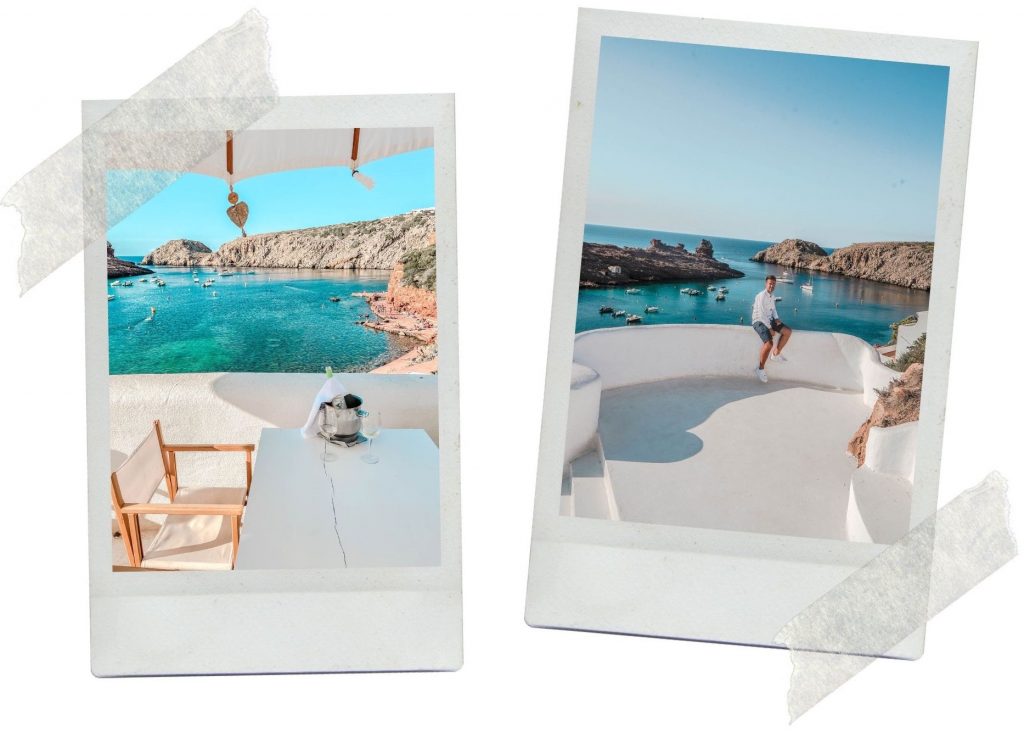 📍 Mercadal
During your stay, you will inevitably pass by the village of Mercadal. Indeed, this authentic village is located on the road that crosses the island from East to West. Ideal for a lunch break and a stroll through the colourful streets. I recommend the Cafeteria Ca'n Bep and its monstrous pear / gorgonzola croquettes 🤤.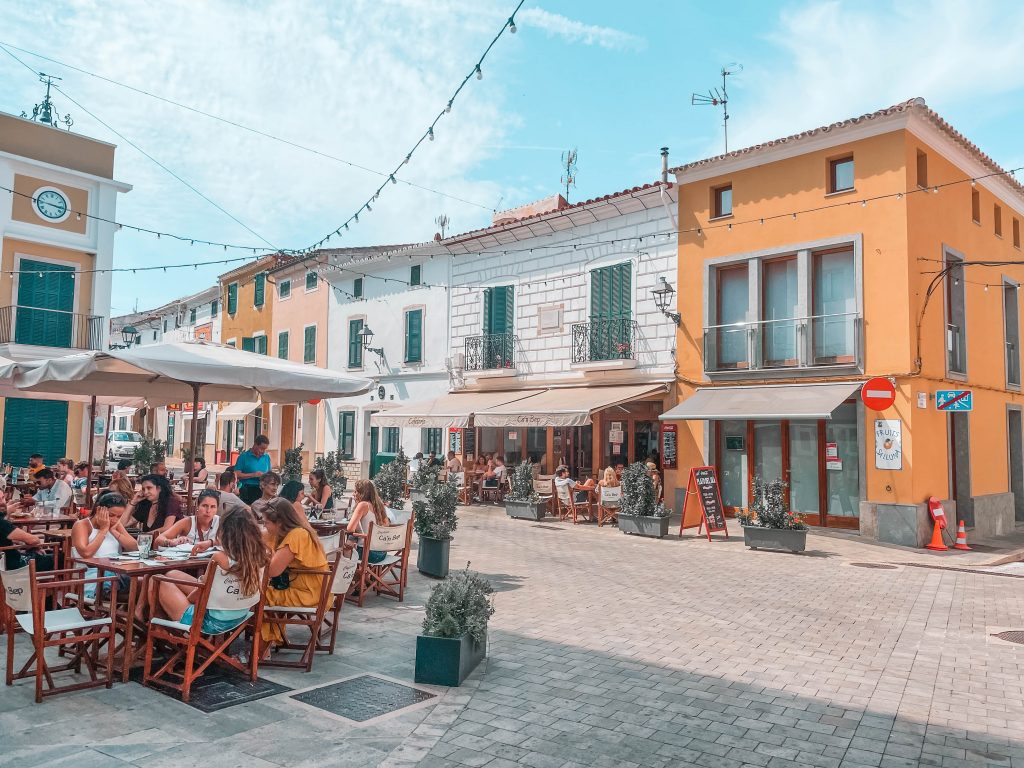 If the article helped you prepare your stay, feel free to leave us 5 stars. ✨ 
If you want to take advantage of your road trip to Menorca to also visit Ibiza, go to our travel guide "What to do in Ibiza"!