Visit Provence in 4 days during Le Vespa Trip: itinerary
Ah, the South of France… I'm not exaggerating when I say it's one of my favorite places on earth. I feel so at home every time I visit! I had the pleasure of visiting Provence in 4 days by Vespa, and it was a memorable stay.
So what can you do in Provence over a long weekend? I'm sharing my Vespa Trip itinerary with you, featuring some of the must-see places in the South of France!
---
Le Vespa Trip : What to see and visit in Provence?
When to visit Provence?
The Vespa Trip Provence is organized from April to June. In my opinion, this is the ideal time to visit Provence! I'd recommend avoiding the summer months, though, as school vacations mean that the number of visitors is much higher. Autumn can also be a good solution. 🤫
How does the Vespa Trip Provence work?
In concrete terms, you'll have a 50 cc Vespa with GPS at your disposal to get around during your trip. All you need to drive it is a driving license! If you've never driven a scooter before, you can take an optional Start To Vespa course with the Vespa Trip guide.
The hotel with swimming pool near Avignon is also included in the price, as is breakfast. This will be your only accommodation on this trip.
Last but not least, you'll have access to a detailed itinerary for each day, with all the places you need to visit in Provence, as well as some useful addresses.

---
Vespa Trip in Provence
I've already done 2 Vespa Trips in Italy and loved them. If you like this style of travel, check out my Tuscany Road Trip. I also invite you to visit the Amalfi Coast by Vespa. The principle is simple: everything is turnkey, and it's so cool not to have to organize anything!
For more information on the Vespa Trip, click here.
Itinerary for a 4-day tour of Provence
Here's a step-by-step description of my Vespa Trip in Provence.
If you're planning a longer stay in Provence, I recommend you read my article Road trip en Provence where I recommend other must-see places to visit. 🤩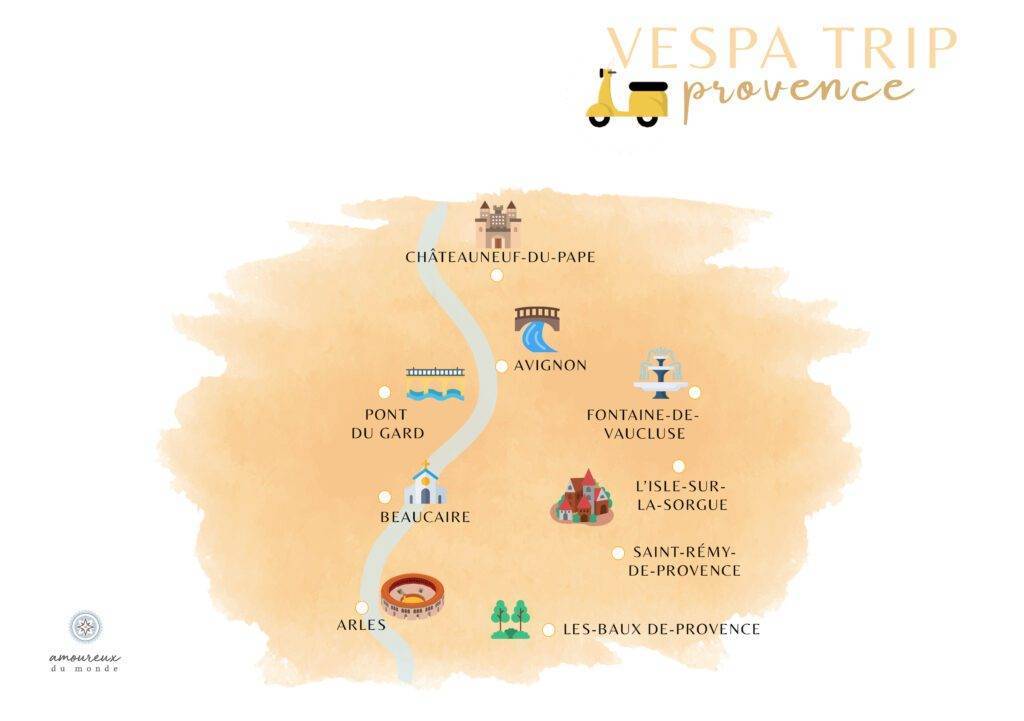 Day 1: Arrival in Avignon
I arrived in Avignon by train in 1 hour from Lyon. You can also come by car.
Your accommodation for this long weekend in Provence will be close to Avignon. You'll stay at the Logis Hôtel Le Petit Manoir for 4 nights. The hotel boasts a Provencal setting with the song of cicadas and a pleasant swimming pool. 🥰
For this first evening, we tried out a great address: Le Bercail. There's a restaurant side and a cocktail bar side with tapas. The establishment faces the city and boasts a magnificent view of the Palais des Papes and the Pont d'Avignon. I highly recommend you go there, the atmosphere is very nice.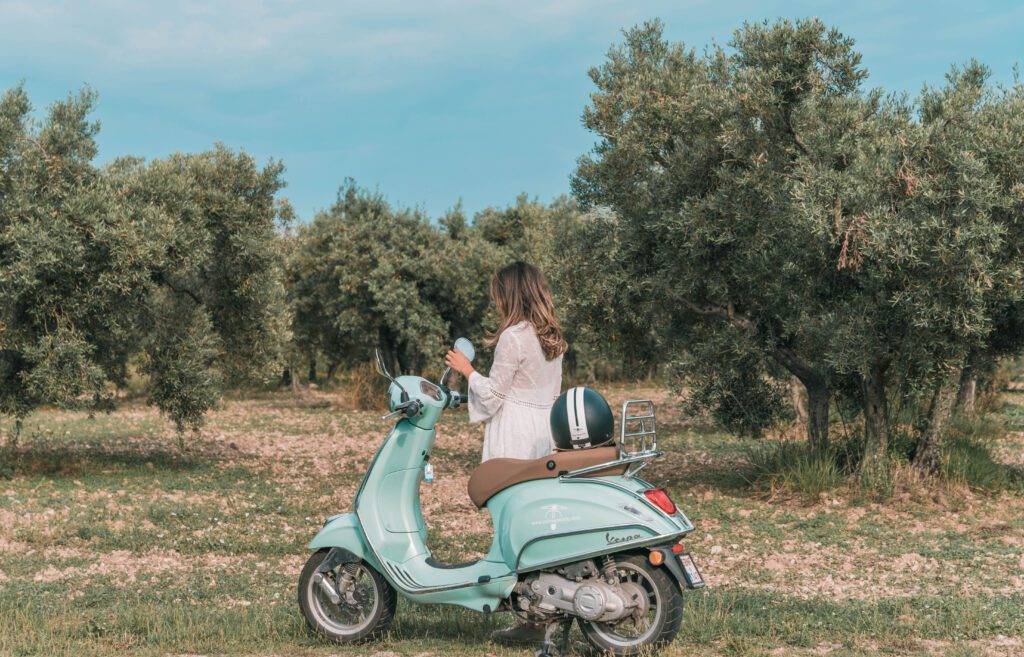 ---
Day 2: Off on the Vespa Trip to the South of France!
As I said, you'll have a detailed itinerary for each day. The great thing about Le Vespa Trip is that you can choose to travel with the group and the guide, or to do it on your own. If you choose autonomy, you can follow the itinerary in any order you like, depending on your mood or the weather.
Discover the famous Pont du Gard
The Pont du Gard is a magnificent Roman vestige located in Occitania, near Nîmes. This impressive bridge-aqueduct, built in the 1st century AD, is a masterpiece. Listed as a UNESCO World Heritage Site, the Pont du Gard is a must-see in France!
To get there by Vespa from Avignon, allow around 40 minutes. On the way, I recommend a stop in the village of Tavel, particularly on the vineyard road. It offers a lovely view of the vineyards. If you like rosé, Tavel is well known for it. I also recommend lunch in the medieval village of Castillon-du-Gard. It's well worth the detour!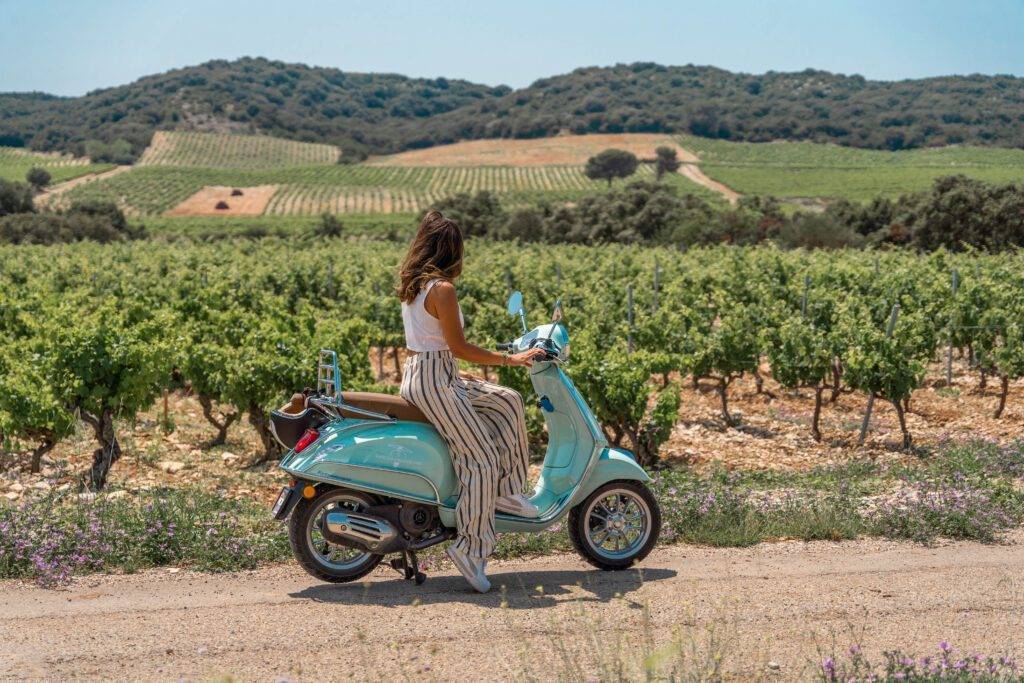 Visit the Pont du Gard site
For this visit, you'll only have to pay €9 per vehicle for parking. Don't forget your swimsuit for a refreshing swim after the walk. The setting is absolutely splendid… It was the first time I'd been to the Pont du Gard, and it was a complete change of scene, not to mention awe-inspiring. We stayed until late afternoon.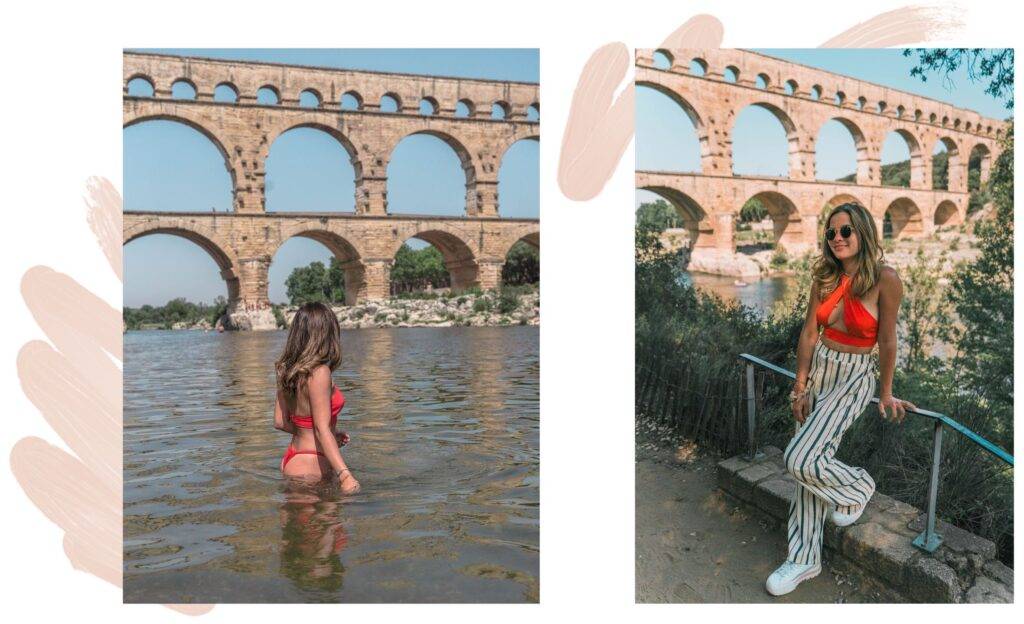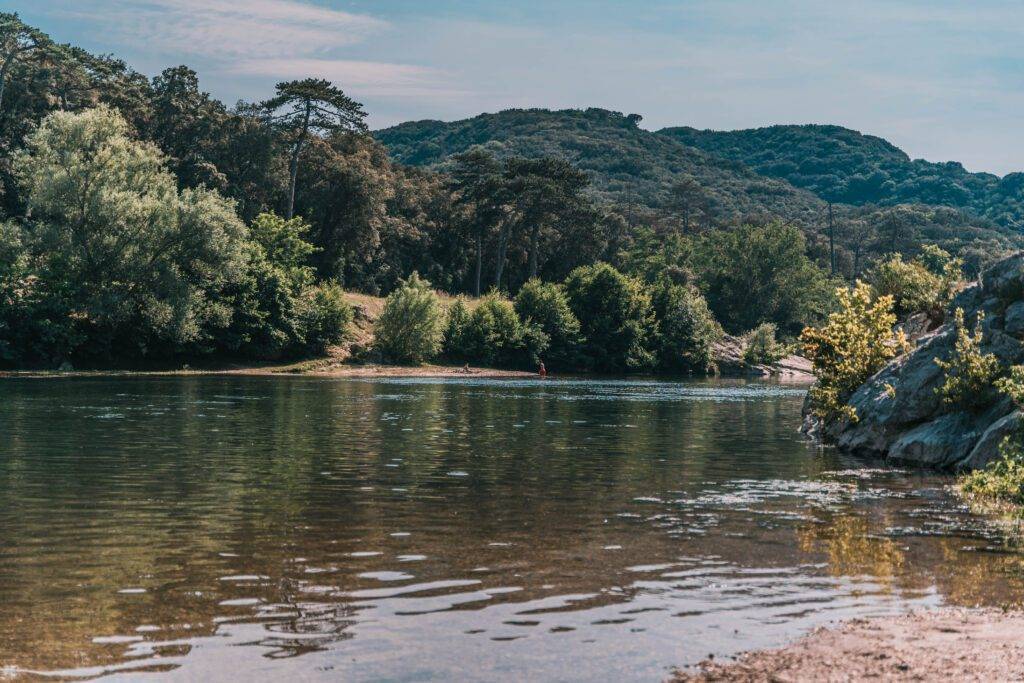 Wine tasting in Domazan
As an option, you can book a wine tasting with Le Vespa Trip. I didn't do it, as I preferred to enjoy a swim. However, if you're a wine lover, there are some great estates in the area!
End of the day in Villeneuve-Lès-Avignon
Located very close to Avignon and your hotel, Villeneuve-Lès-Avignon is a town not to be missed. Nestled at the foot of the Mont Ventoux hill and bordered by the banks of the Rhône, it offers a picturesque, typically Provencal setting.
I recommend a stroll through the narrow streets and, above all, a visit to Fort Saint-André. From the top of this imposing medieval fortress, you'll have a magnificent view of the Rhône Valley and the Palais des Papes. There's also the garden of the Abbaye Saint-André to see. 🤩
For dinner, you'll be spoilt for choice! I particularly recommend Maison Bronzini.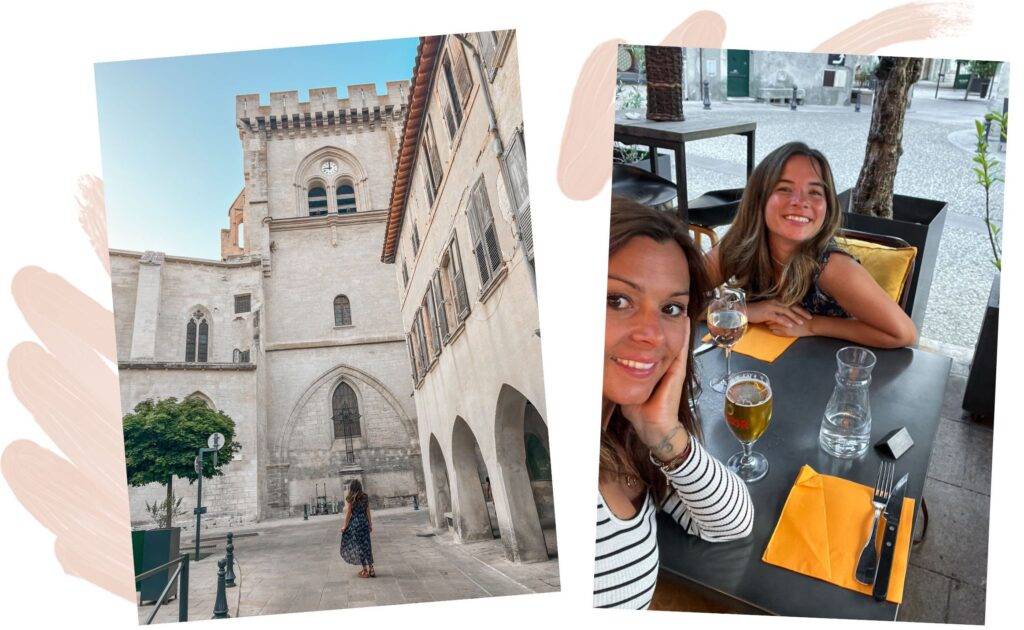 ---
Day 3: Visit the villages of Provence
What to do in Provence?
Today we'll be discovering Arles and two Provencal villages renowned for their charm.
Arles, a city of art and culture
The leg to Arles will be the longest of the Vespa Trip Provence. It takes 1h30 to get there. I confess it felt like a long way, but you can stop for a break along the way.
Arles is a city steeped in history and culture. If you're an art lover, you'll be won over by this place that has inspired many paintings, including Vincent Van Gogh. For Roman history buffs, you'll find plenty of remains from the era.
There's a market in Arles on Saturdays, which can be a nice addition to your visit. I wasn't overwhelmed by the city, though its charm is undeniable.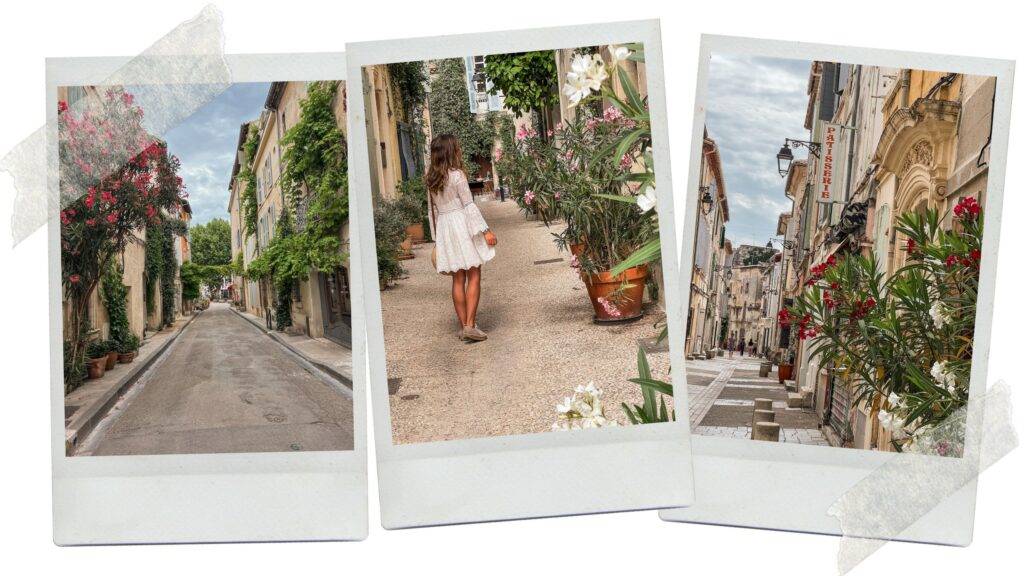 ♥️ Les Baux-de-Provence
Nestled on a hilltop, Les Baux-de-Provence is a magnificent medieval village that transports visitors back in time. The cobbled streets, stone houses and surrounding scenery are postcard-worthy. I loved the atmosphere here.
Beware if you want to eat or have a drink there, prices are high. I paid €12 for 2 grenadines 😂.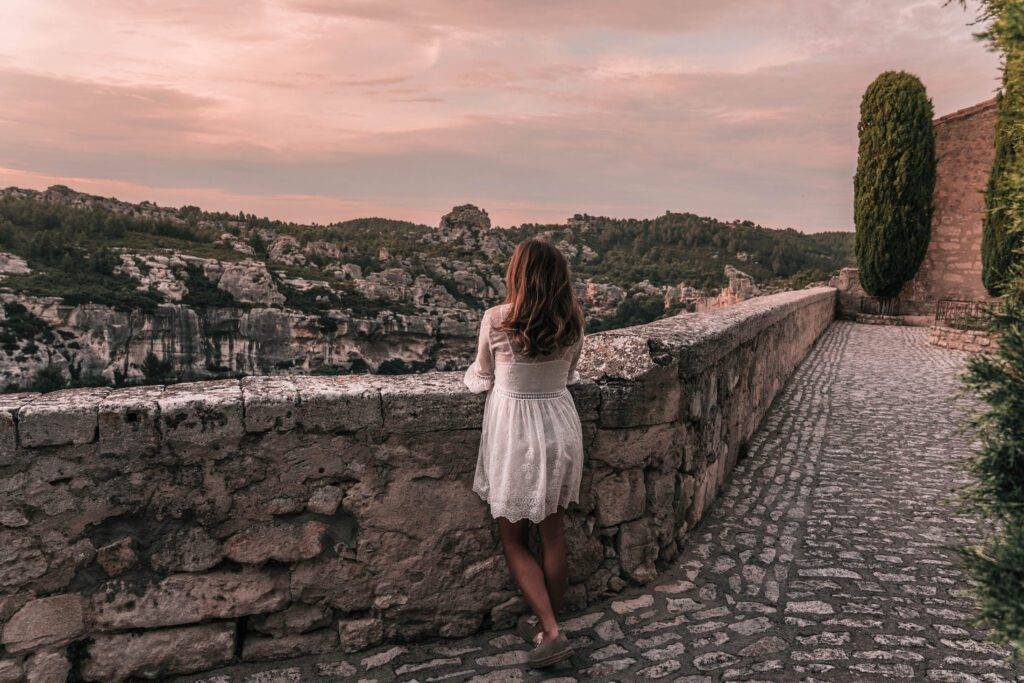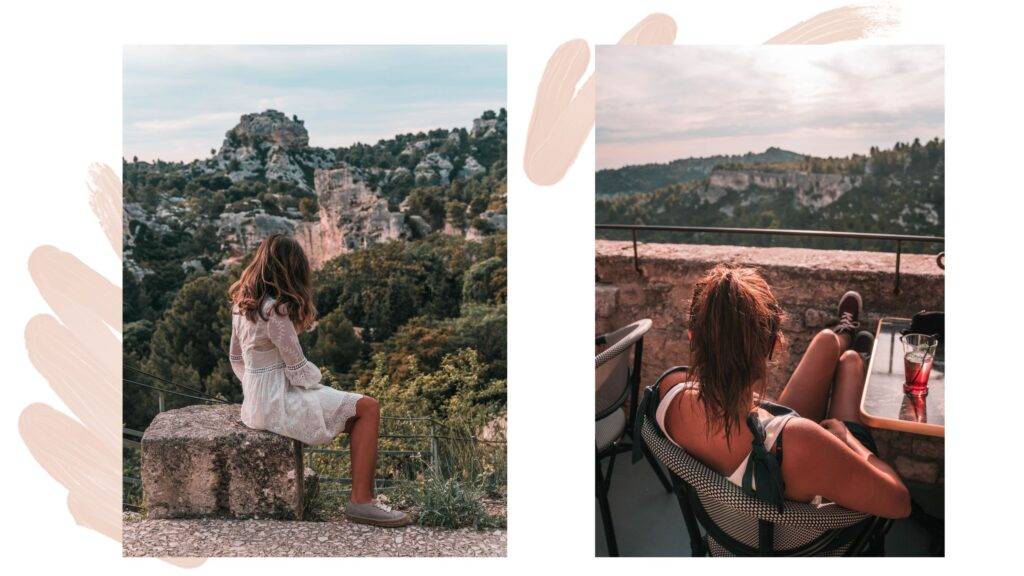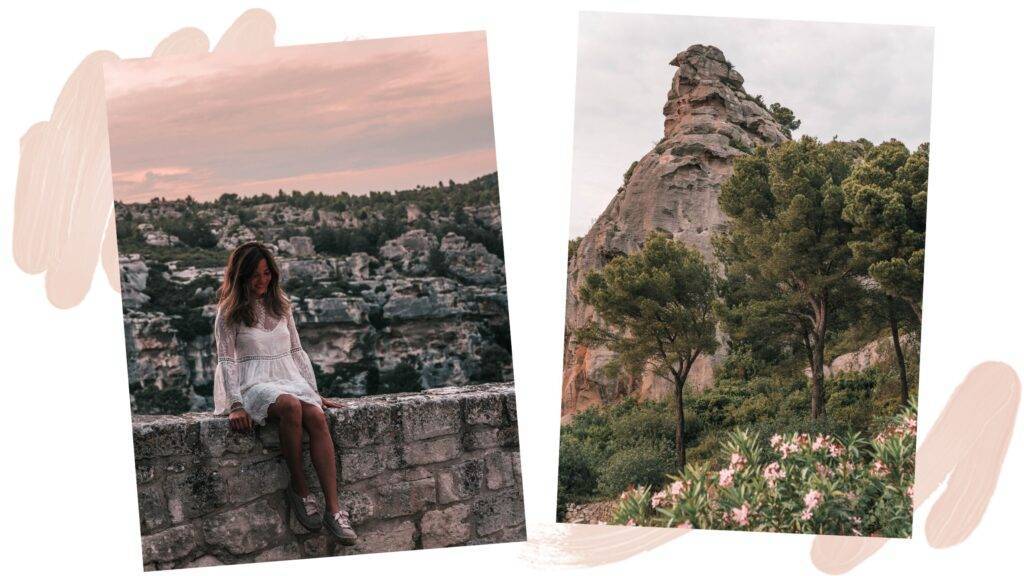 💎 Le Lagon Bleu
Just 10 minutes from the village of Les Baux-de-Provence, I recommend a short stroll to the Lagon Bleu. Allow around 1h round trip to admire the incredible color of this small lagoon located in the former Mas Rouge quarry. Note that the color is what it is when the weather is sunny and if it hasn't rained in the previous days. I prefer to warn you to avoid disappointment! Swimming is prohibited.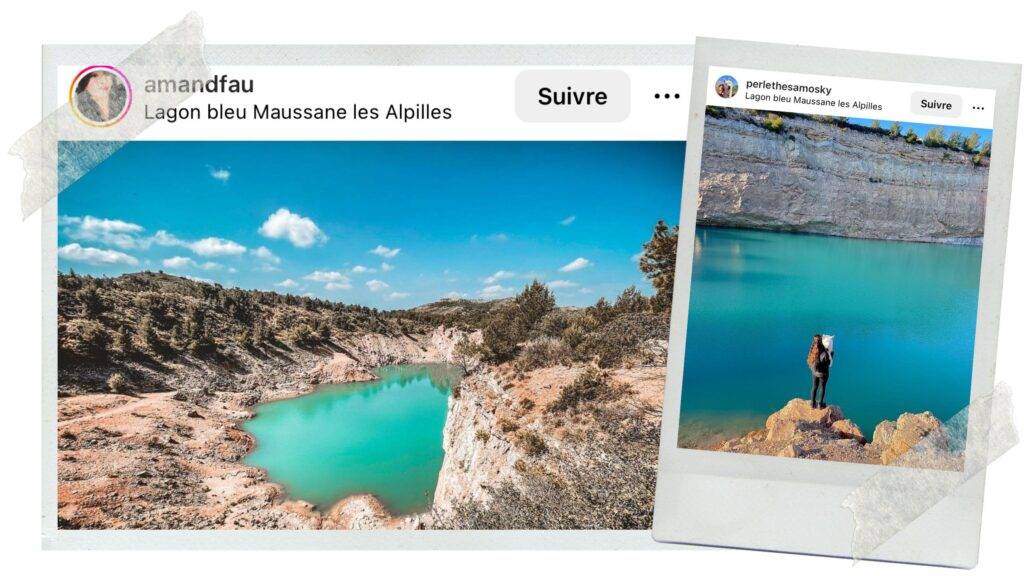 Le rocher des Deux Trous
Another worthwhile hike, this time near Saint-Rémy-de-Provence. The trail is well-marked and the scenery is magnificent. Once at the summit, you'll enjoy a 360° view of the Provencal countryside. You'll also see the Rocher des Deux Trous, a remarkable rock formation that inspired Van Gogh to paint a canvas.
I wanted to do it for sunset, but unfortunately the weather was stormy. 🌩️ I'd recommend going late in the day/evening to keep the heat down, or in the morning.
Itinerary for the Rocher des Deux hike – approx. 7 km round trip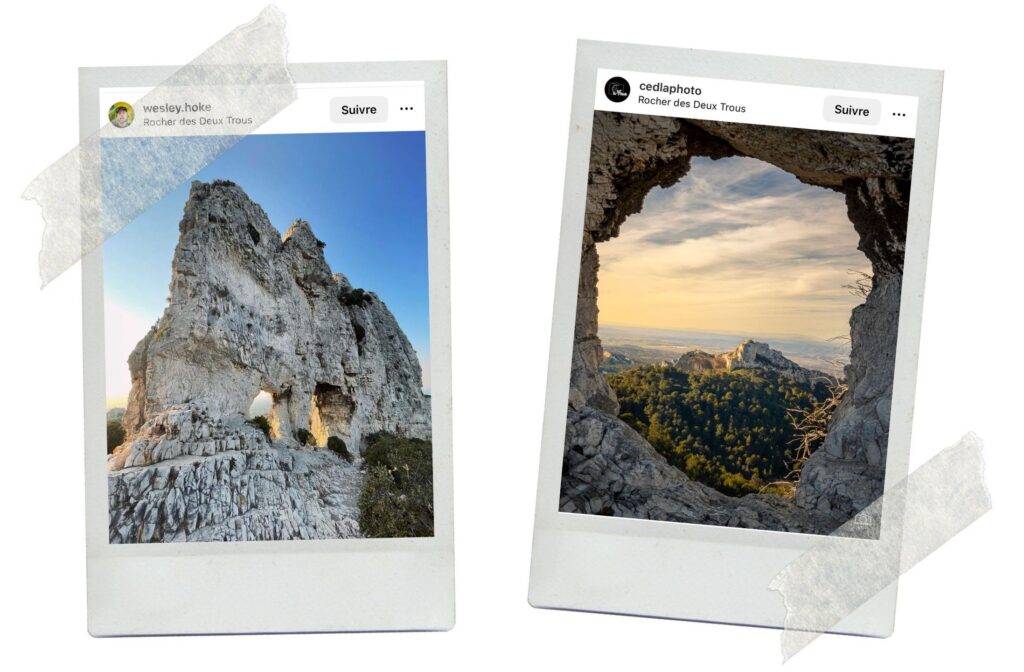 End of the day in Saint-Rémy-de-Provence
Once again, you'll be seduced by the typically Provencal charm of Saint-Rémy-de-Provence. This small town has inspired many artists, including Vincent van Gogh (him again!), who created some of his masterpieces here. Art lovers can even visit the Saint-Paul-de-Mausole monastery, where he stayed and created many of his works. It's a lovely place to visit, even for those with no interest in art.
For an adventurous end to the day, I recommend a stroll through the cobbled streets of Saint-Rémy-de-Provence and a little restaurant for dinner. I was warmly recommended the Bistrot Les Pieds dans l'Eau.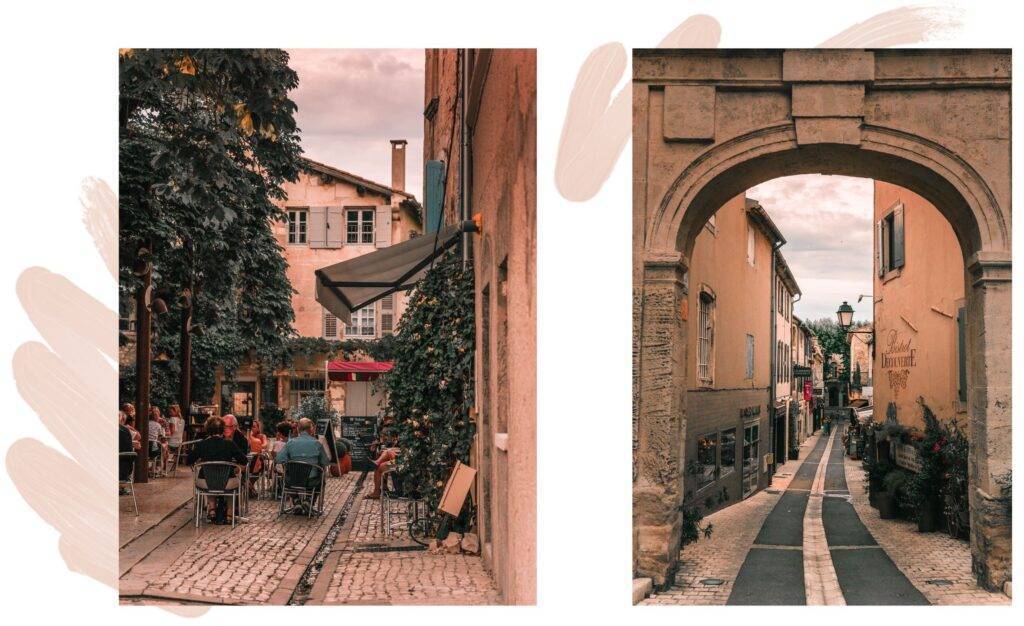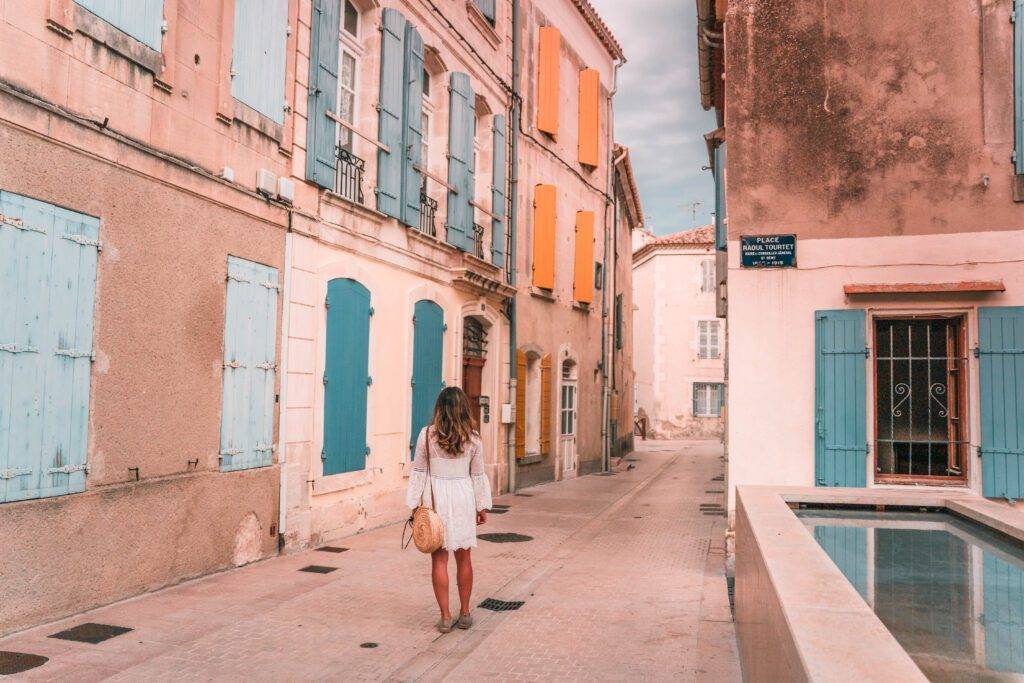 ---
Last day of the Vespa Trip: visiting Provence (continued)
To end this long weekend in Provence on a high note, we're off to one of my favorite places in France.
L'Isle-sur-la-Sorgue
Nicknamed the "Venice of Provence", it is criss-crossed by the canals of the Sorgue, adding a unique atmosphere to its landscape. If you're wondering what to do in Provence, l'Isle-sur-la-Sorgue is a must. Every Sunday, there's a market not to be missed, timing permitting!
Take a stroll through the narrow streets, browsing the craft and clothing stores, then stop off along the quays for a coffee break. With its warm atmosphere and canals, Isle-sur-la-Sorgue is a must-see destination for those seeking to discover the authenticity of Provence.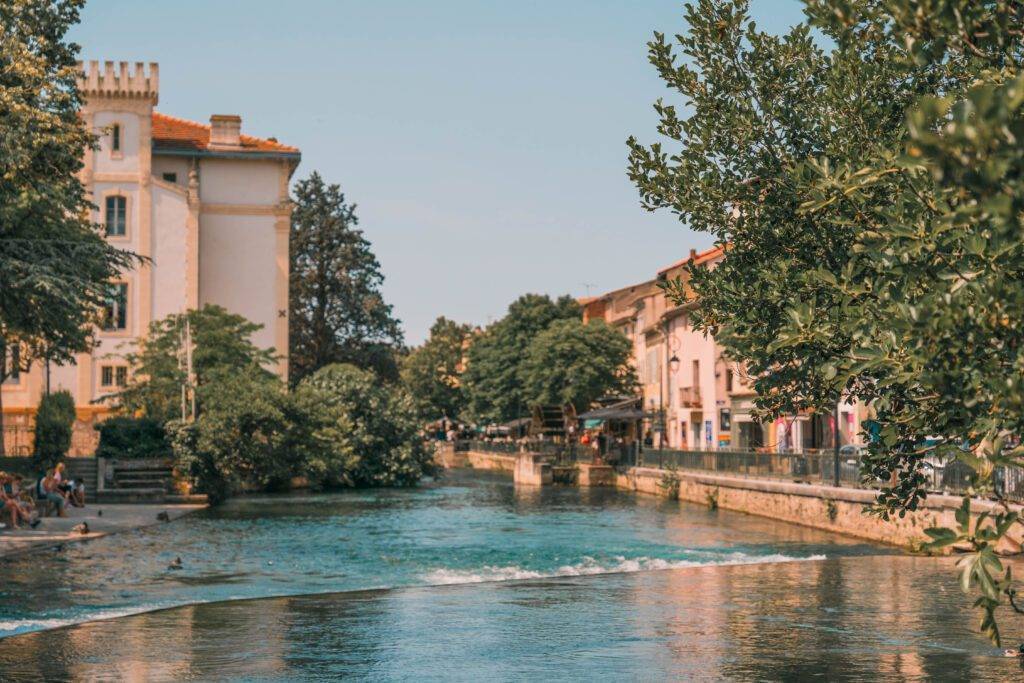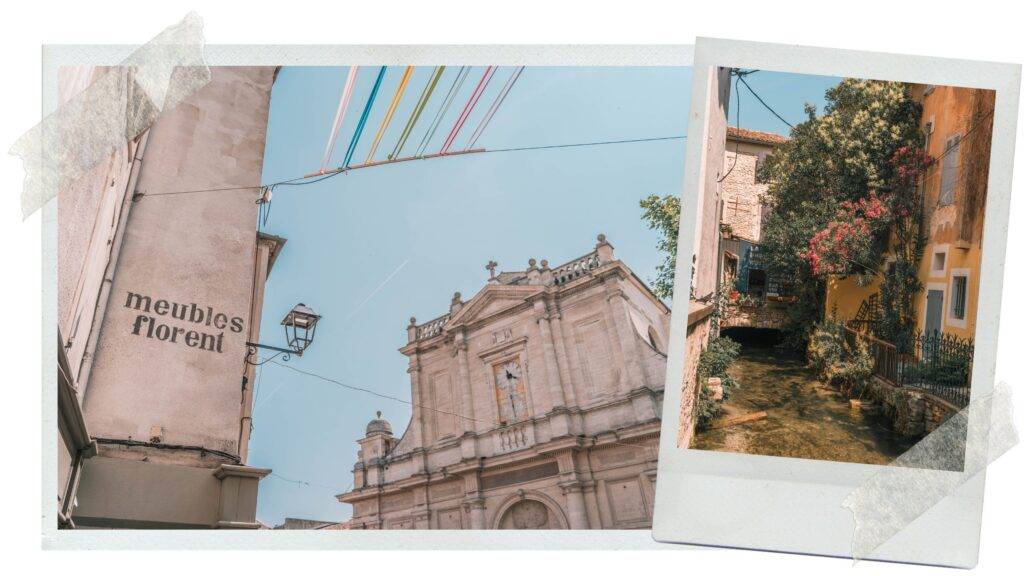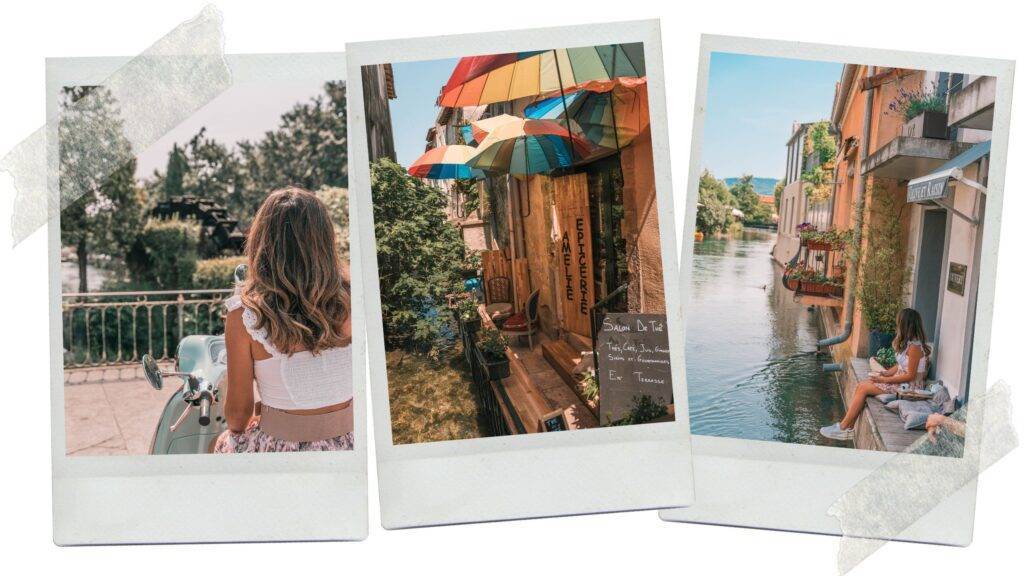 Kayaking on the Sorgue
The area is also very popular with canoeing enthusiasts. You can either go canoeing at Isle-sur-la-Sorgue, or at Fontaine-de-Vaucluse, our next stop.
Lunch by the river
For lunch, I decided to stray a little from the bustling town center and go to La Guinguette. Firstly, the restaurant's limited menu is a testament to the quality and freshness of its produce. But also, the waterside setting is idyllic. Call for reservations just in case!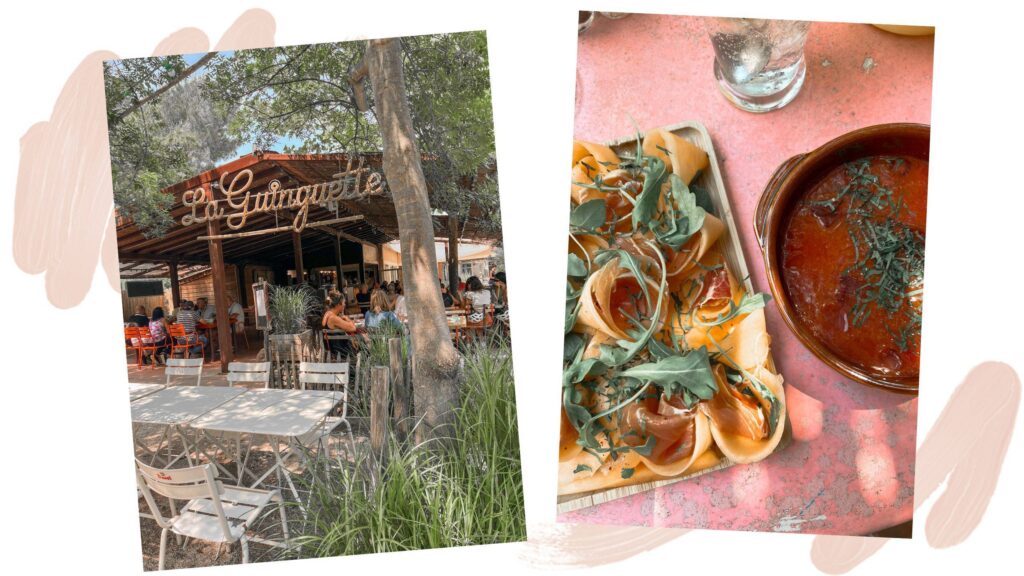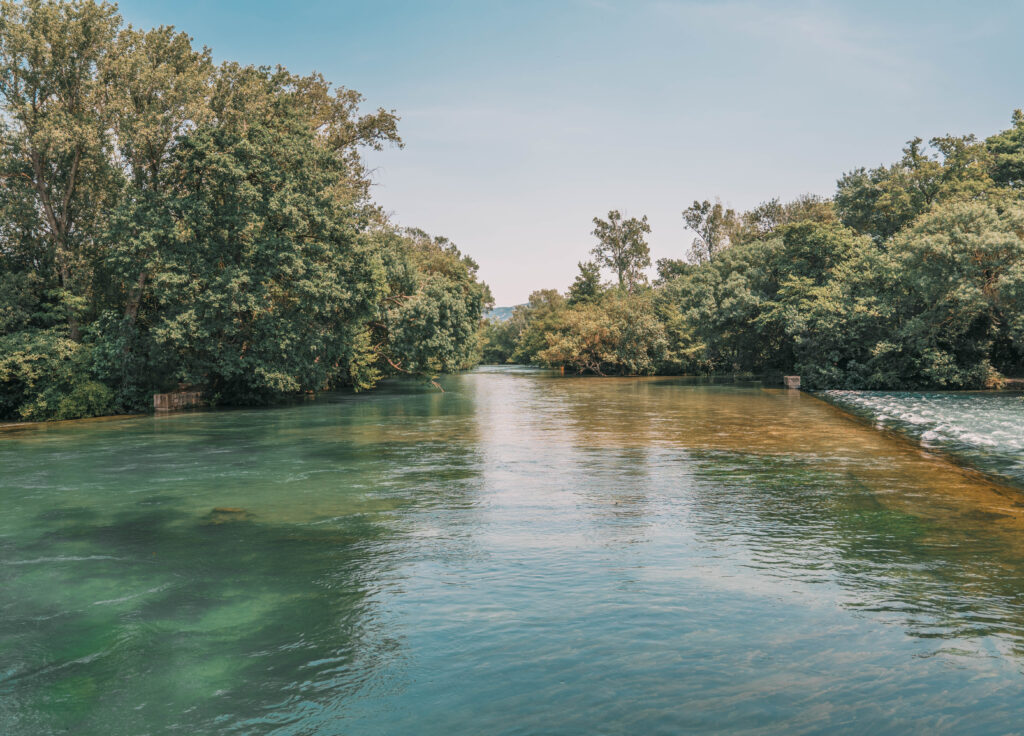 Lavender fields
Driving from Isle-sur-la-Sorgue towards Fontaine-de-Vaucluse, I came across some pretty little lavender fields that were in full bloom (in June). You can stop there to take some pretty pictures if you feel like it!
GPS coordinates of the lavender field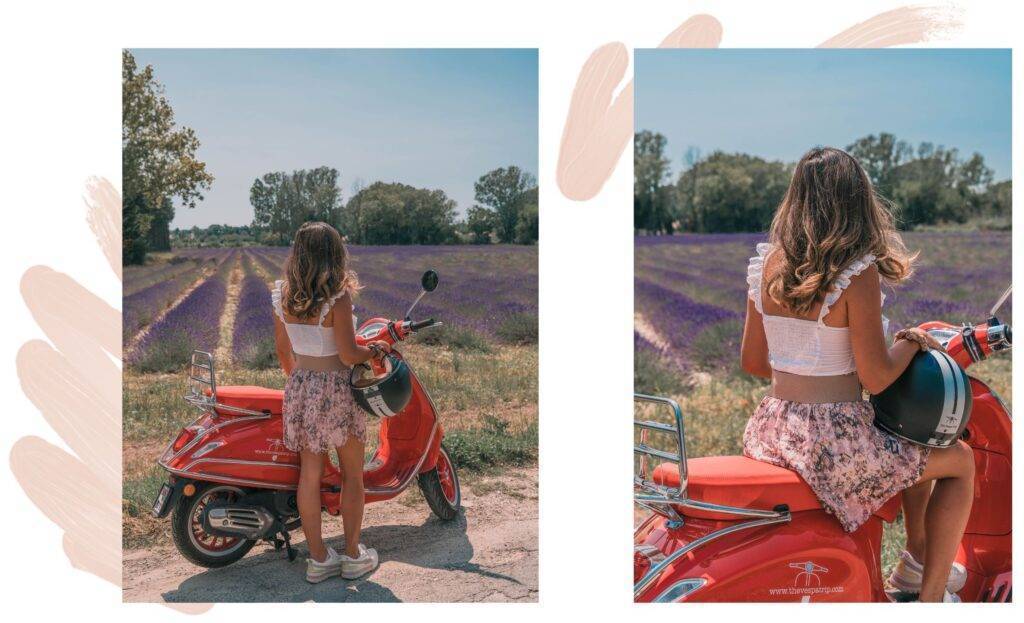 Fontaine-de-Vaucluse
This afternoon, we're off to Fontaine-de-Vaucluse, just 15 minutes away. Famous for its spring, which gushes out of the largest chasm in Europe, this small town is surrounded by breathtaking natural scenery. For the more motivated, you can climb up to the castle ruins. From the summit, the panorama is exceptional.
You can also visit the Fontaine-de-Vaucluse chasm. The walk takes about 10 minutes from the town center and is very refreshing. I dipped my feet in the river and the water was icy cold! This famous chasm is 308 meters deep and is the source of the Sorgue river. The water flow is impressive, especially in spring, as the spring is fed by rainwater and melting snow.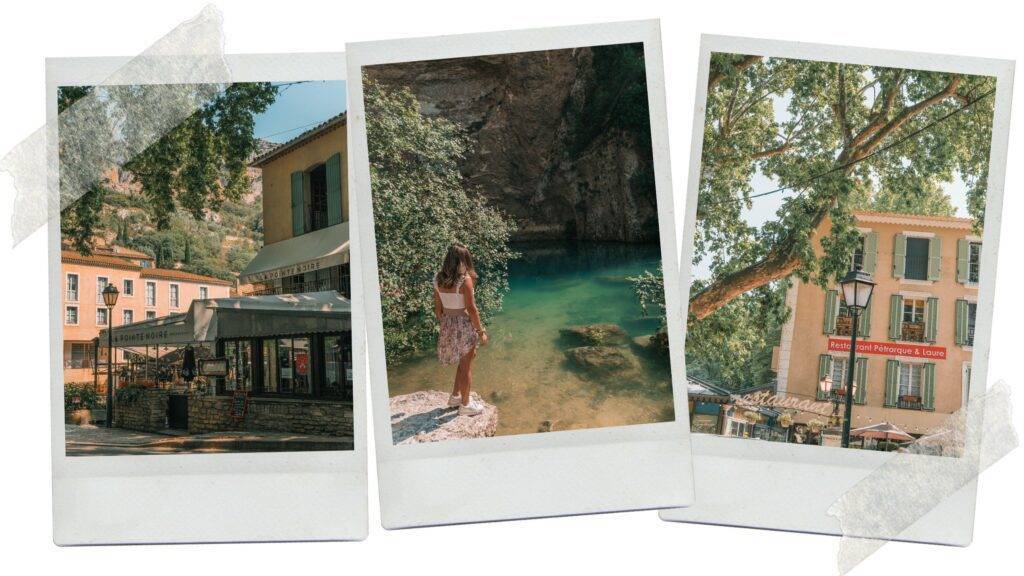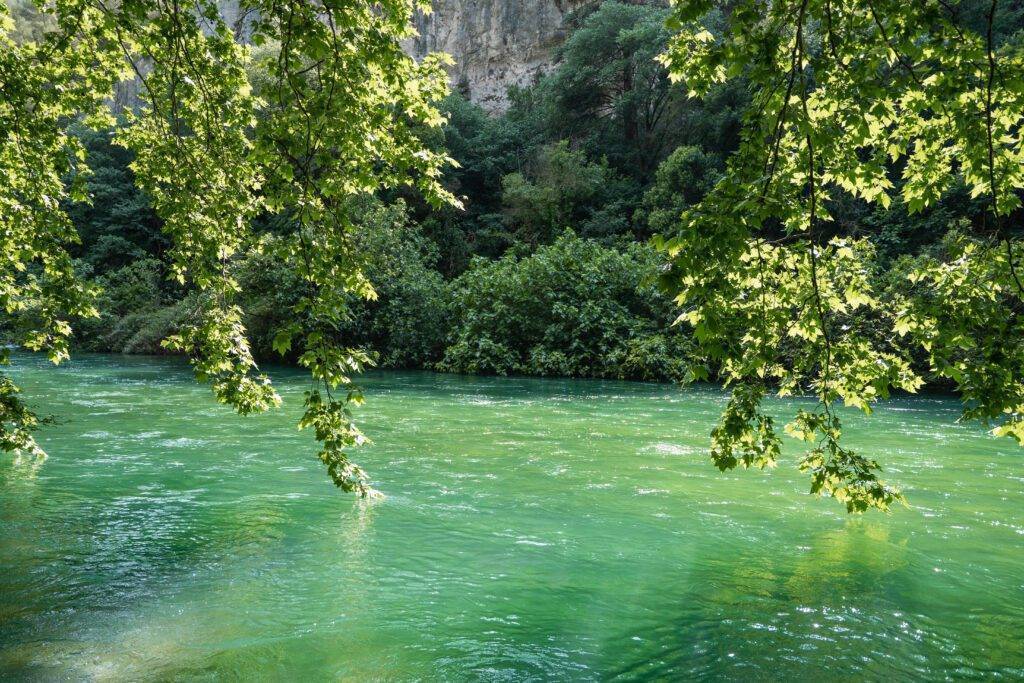 End of the Vespa Trip in Provence at Châteauneuf du Pape
I didn't make this stop on the Vespa Trip itinerary, preferring to enjoy Fontaine-de-Vaucluse and get back early to spend the evening in Avignon.
However, you can go as far as the village of Châteauneuf du Pape to taste its world-renowned wines!
---
What to do in Avignon
During this 4-day trip to Provence, you'll no doubt have time to visit Avignon! See the famous Pont d'Avignon: access costs 5€ per person, with audioguide included.
The Palais des Papes is also a must-see in Avignon. You can also climb the ramparts of Avignon to admire the view over the city and the Rhône.
For lunch, I tried out a great address in the garden of the Petit Palais museum: the restaurant Local(e). The setting is enchanting and the food delicious. I ate the best croque-monsieur of my life there! Don't miss this place if you go to Avignon.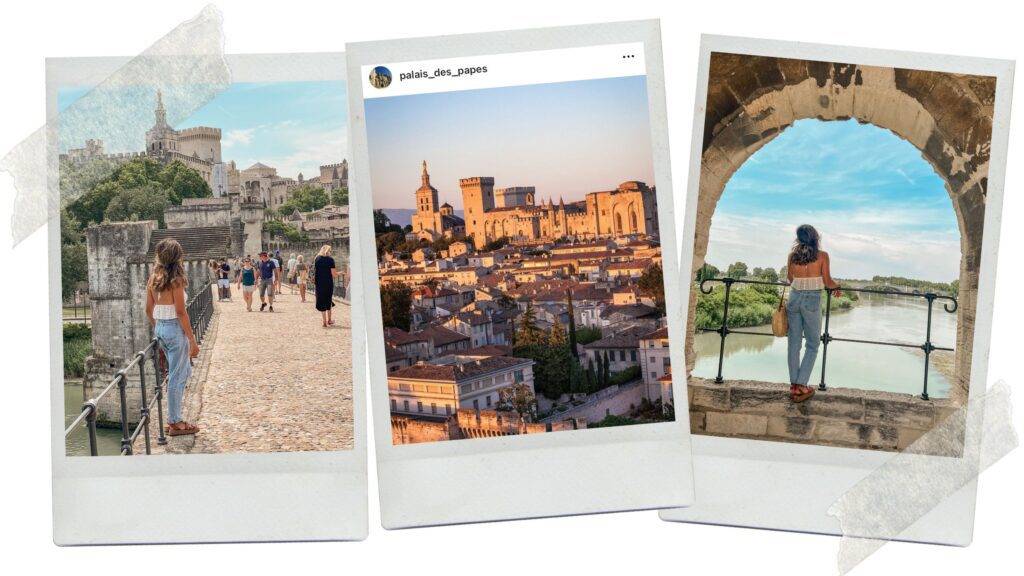 ---
And that's it! You now know everything about my 4-day weekend in Provence with Le Vespa Trip. Don't hesitate to comment if you have any questions, I'll be happy to help.
This article contains affiliate links. If we've helped you organize your trip, or if you'd just like to support us, please consider booking by clicking on our links. We'll earn a small commission and the price stays the same for you of course. 🤍