Stopover in Bangkok: what to do in Bangkok for a short stay?
Where to sleep in Bangkok?
First of all, whether it's for a "Test N Go" night or for a classic stay, I recommend you this hotel classified as SHA+. It is very luxurious with a rooftop pool, gym, good location and very reasonably priced for the services.
You will find many high standard hotels for reasonable prices, as Bangkok is full of 4 and 5 star hotels.
What to do in Bangkok?
Bangkok is a vibrant city with lots to do and a large international community. In short, Bangkok is a city where there is never a dull moment! I will now reveal what to do to visit Bangkok in 3 days.
Day 1: Arrival in Bangkok and discovery of its history
There are many places to visit in Bangkok to discover the city and its history. Indeed, Thailand claims to be the only country in Asia that has never been colonized. Also, the Buddhist culture permeates the country, which makes it a historically and culturally rich destination.
The Grand Palace (or Royal Palace)
This is the most visited tourist spot in the city. Located on the Chao Phraya River, it was built 200 years ago when Bangkok became the new capital of Thailand. In the past, it was the main residence of monarchs. Today, the Grand Palace of Bangkok is no longer home to the current king but is often used for official events.
It covers 29 hectares and is divided into several buildings, gardens and pavilions. It is also home to the Temple of the Emerald Buddha (Wat Phra Kaeo), in which there is a beautiful jade statue of Buddha.
Open daily. Count 500 baths (about €13) to visit the palace, + another 200 baths (€5) for the audio guide. You can book a full day temple tour here. The activity is very popular and you will especially get all the important information of the places.
⚠️ Please note: Like any sacred place, proper attire is required. Legs and shoulders must be covered. If you don't have a sarong or scarf to tie around your legs, you can always buy or rent trousers around the various temples in town.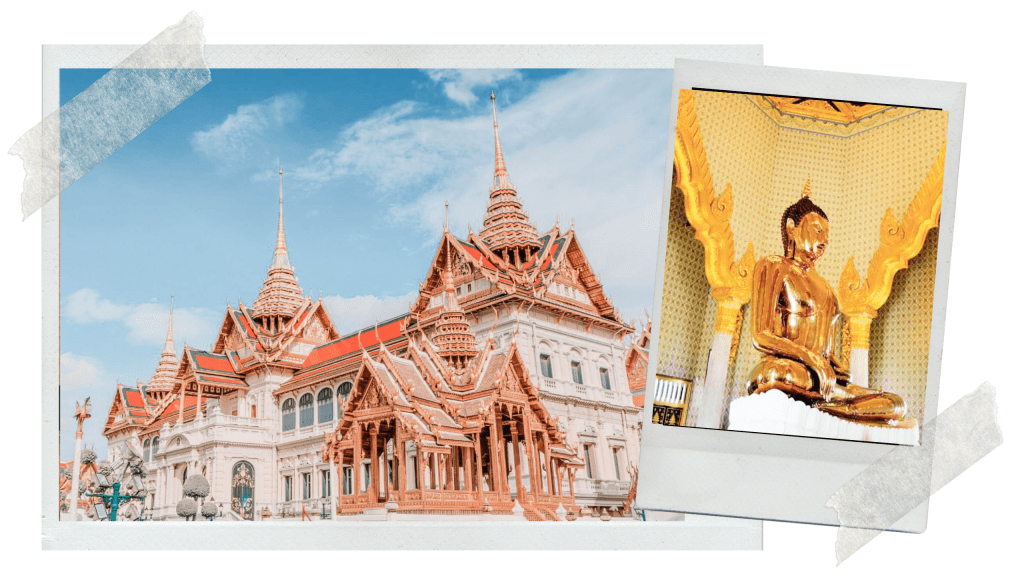 Wat Pho Temple
Located just a few steps away from the Grand Palace, the Wat Pho temple is one of the oldest Buddhist temples in Thailand, a must-see in Bangkok! And for good reason, there is an impressive golden reclining Buddha of 45 m length and 15 m height. Don't miss its mother-of-pearl encrusted feet which represent the 108 states of Buddha.
Count 200 baths the entrance (5€ approximately).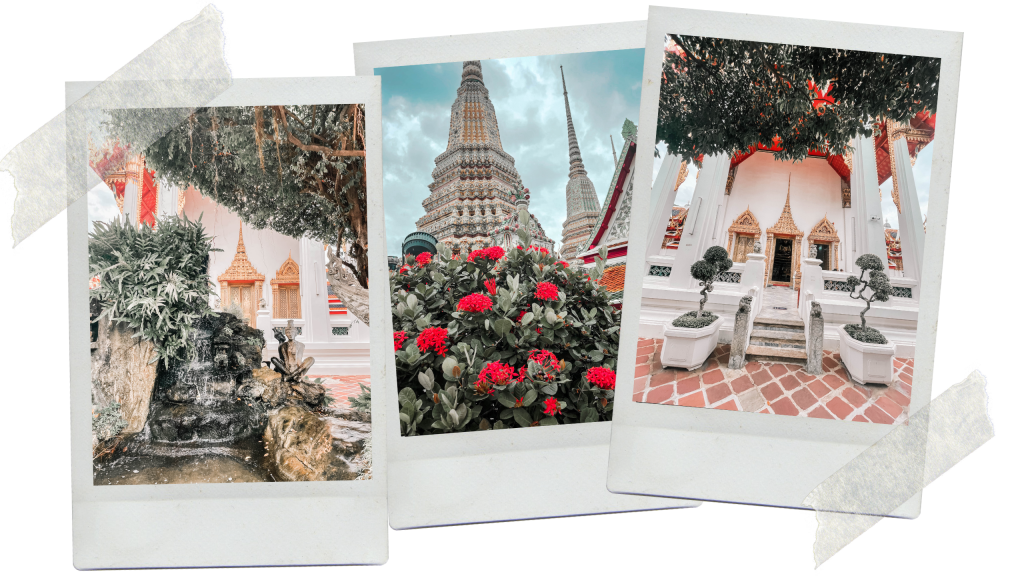 Wat Arun Temple
To get to Wat Arun temple, you will have to cross the river. You can easily find small shuttle buses that will take you to the other side of the river, in front of the temple entrance, for only 4 baths. Once there, don't miss the 80m+ high tower inlaid with colourful porcelain.
Count 50 baths the entrance (about €1.5).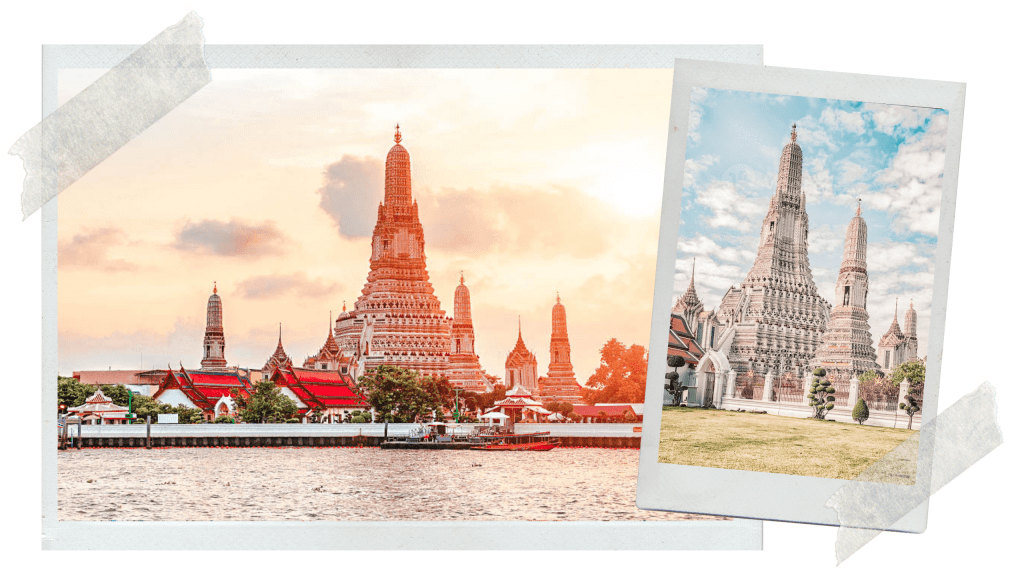 Other activities in Bangkok :
Market on the water 
Dinner cruise 
Where to have a drink / dinner in Bangkok :
Bangkok is a city on the move! There are many rooftops on which to have a drink, while enjoying the view on the buildings. Here are the addresses that I tested and validated for you:
The highest rooftop is located in the Baiyoke tower, with a terrace on the 77th floor.
In a more original atmosphere, I discovered the bar The Tropica by Tichuca, which gives the feeling of being in the world of Avatar. Book a table or come early because the seats are expensive (and the cocktails too!), but the decoration and the view are worth the diversions.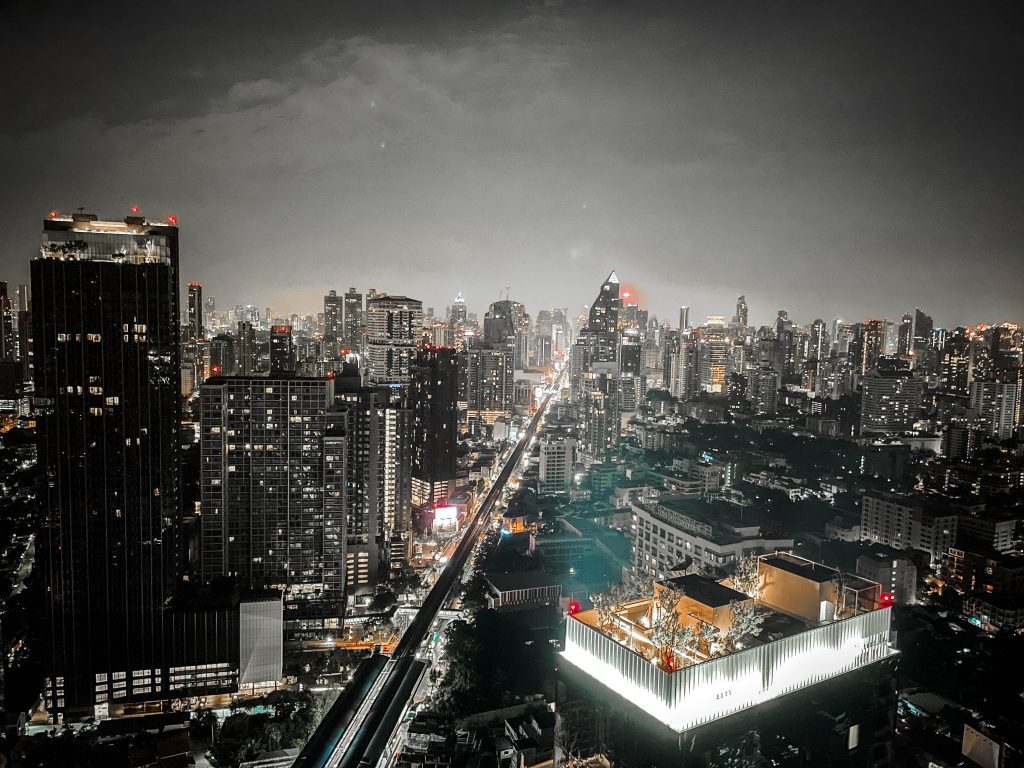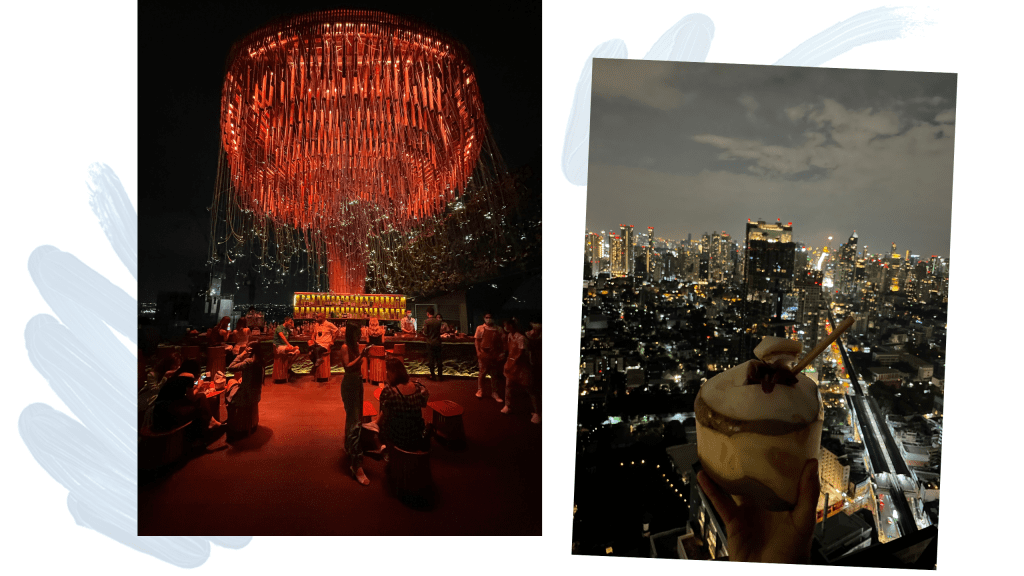 ---
Day 2: Bangkok's markets
Chatuchak Market
Open only at weekends, this is the largest market in Thailand with over 15,000 stalls. At the entrance, you will find a map of the market with the different sections (jewellery, decorations, clothes, beauty etc.), but also many stalls to have lunch between two purchases.
Don't be sceptical about the number of tourists, as Chatuchak is a must-see in Bangkok. The prices are quite interesting as many locals also come to shop there. However, don't hesitate to negotiate the prices as everywhere in Southeast Asia, especially if you buy in quantity. A number of stalls were closed due to Covid, but the place is still very nice.
Chatuchak is a bit out of town. To get there, count 20 min by taxi (8-10€ around), or 45 min by metro to Chatuchak Park station. The market is huge, so allow at least half a day to visit it. For taxis, download the Grab app or take only metered taxis.
Bangkok's floating markets
While some of the markets may seem a little too touristy, the floating markets are a typical and original activity to do in Bangkok. Formerly called "Little Venice", the city of Bangkok counts 3 principal floating markets:
Bang Khu Wiang: the most beautiful, but only open between 4am and 7am
Tallin Chang
Khlong Lat Mayom.
These three markets are a bit out of the centre of Bangkok. If you want, you can book a tour that will allow you to see 2 floating markets in one go here.
To get there, prefer a taxi as the metro ride is a bit long.
Going out and partying in Bangkok
In Bangkok, it is interesting to discover the parties on the rooftops but also the lively districts typical of Thailand. I advise you to go to Khaosan Road. You will find street food stalls, massage parlours, street vendors, bars, nightclubs frequented by tourists but also locals.
An activity not to be missed
If, like me, you are a big fan of Thai food, I recommend you to take a cooking class. You can find a reliable provider here.
---
Day 3: Discovering the centre of Bangkok
Lumpini Park
The Lumpini Park is a huge park located in the heart of Bangkok. You will find there a lake on which you can make a stroll in boat. Surrounded by the buildings of the city, which makes it look like Central Park!
If you come in the morning, you will probably see many senior citizens doing their daily Tai-chi (a slow gymnastic derived from martial arts). Don't hesitate to have a picnic in the park, away from the crowds of Bangkok.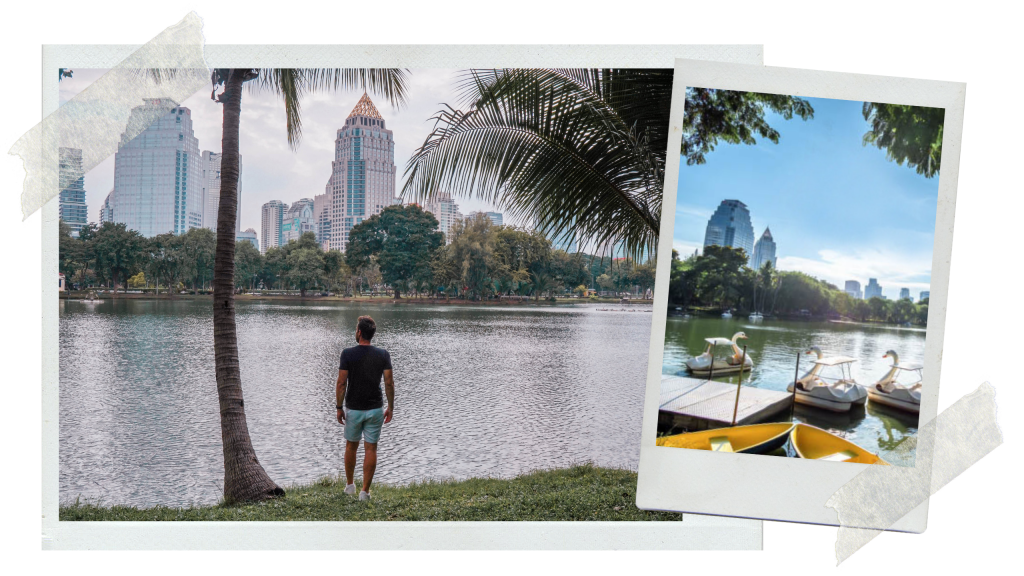 Chinatown
I love visiting Chinatowns in big cities and I must say that I was not disappointed by the one in Bangkok! Chinatown extends over several streets where all your senses will be awakened. Typical Chinese dishes, spices galore and exotic fruits can be tasted in many street-food stalls.
The district is quite authentic, although you will also find large galleries in which sellers of souvenirs, accessories or decorations are crammed.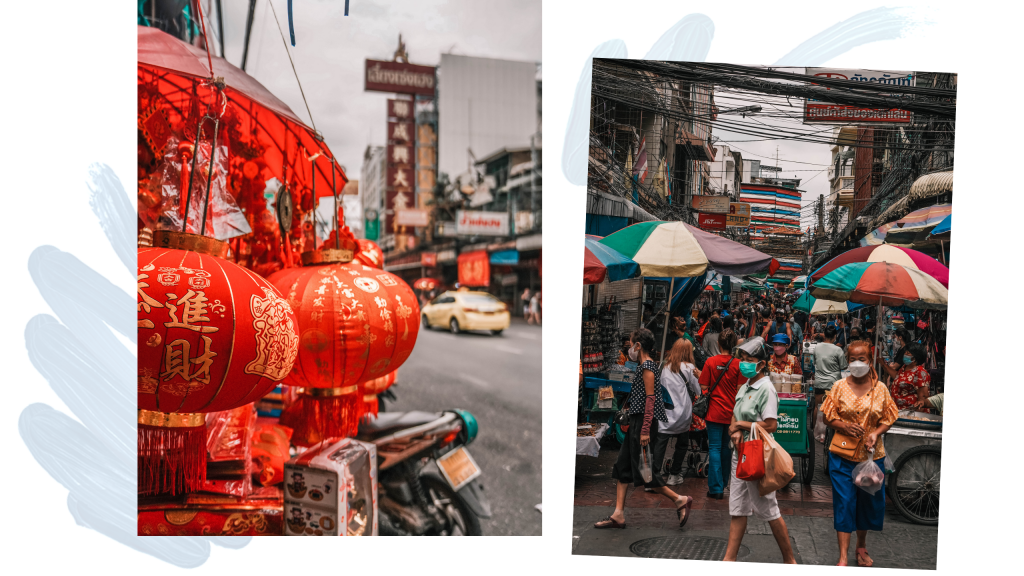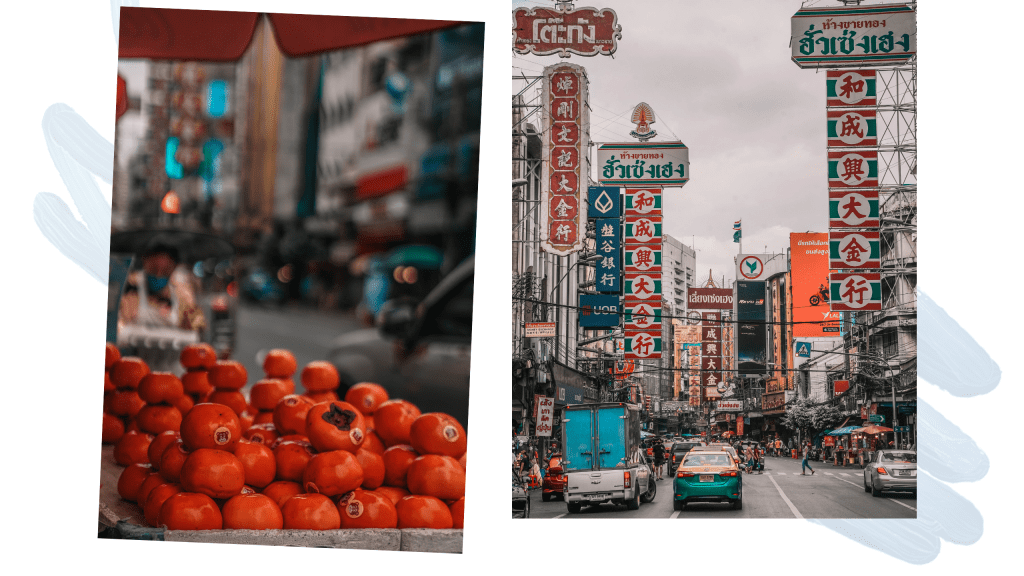 Where to eat in Bangkok?
If you like a change of scenery, I suggest you take a stroll through the streets of Bangkok. There are many food courts where you can eat in an authentic way. Indulge yourself at really affordable prices: kebabs, soups, curries or pad thai, there is something for everyone. One of the biggest and best known in the city is the Food Republic in the Siam Center.
Bangkok is a truly cosmopolitan city so if Thai food is not your cup of tea, you will have no trouble finding an international restaurant.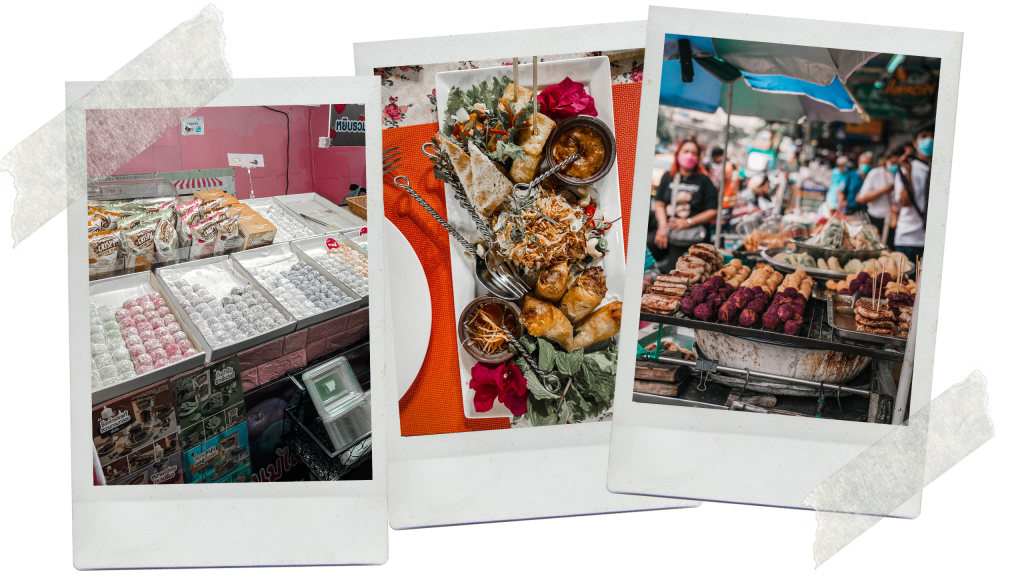 ---
Travel to Thailand: Where to go from Bangkok?
Bangkok being the capital, there are many routes to visit Thailand. Whether by plane, bus or boat, you can easily get to the different provinces of the country.
For my part, I chose the islands of Koh Chang and Koh Kood, in the province of Trat, not far from the Cambodian border. How to visit Koh Chang and Koh Kood from Bangkok? We propose you a detailed itinerary here to discover these 2 islands!
It will still take you a day to get there from Bangkok, for the outward journey and the return journey, whichever way you choose.