What to do in Rovaniemi?
Lapland is snow-covered landscapes as far as the eye can see. This amount of white gives a very magical side to the destination and at the same time offers must do activities to discover. So, what to do in Rovaniemi in Finnish Lapland? We are going to give you our top activities in Rovaniemi, Lapland, for a memorable trip.
We have found for you the 2 best package deals available:
Snowmobile, Christmas village, reindeer, and huskies (small tour) for only 170€ here.
Sledding with Huskies, reindeer, and zoo for 215€ here.
---
If you wish to book your trip to Lapland with the same travel agency as us, we detail our itinerary in this article. You will also find practical information to organize your stay: budget, equipment for the cold, when to leave etc.
---
Must do activities in Finnish Lapland
This article is intended for people who wish to travel to Lapland independently, without a travel agency. We advise you to go to Rovaniemi, for the long list of activities it offers. Here is the list of activities to do in Lapland.
💌 The sled dogs, Rovaniemi
As we told you in our guide, this is our favorite activity of this trip to Lapland! If you try the experience, you can drive the sled (we had 6 dogs just for us). It was the opportunity to slip into the shoes of a musher for a ride…
The dogs are well trained and are thrilled to go for a walk. It's impressive to see how happy they are when it's time to leave. Plan to be well-equipped, because with the speed it gets cold quickly!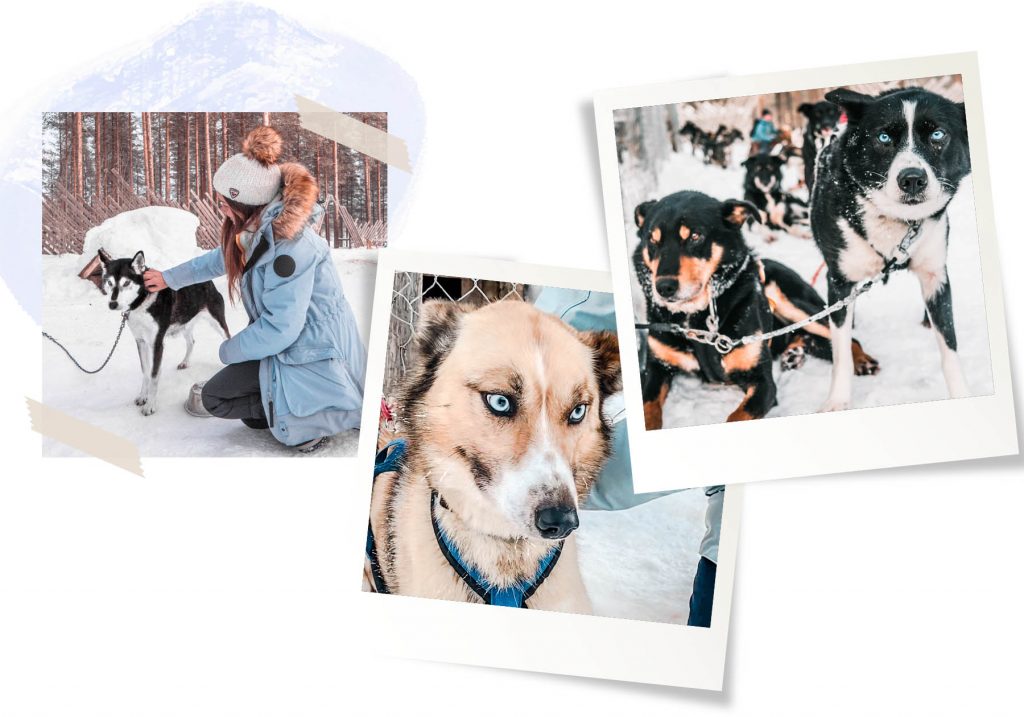 Reindeer sleigh ride in Rovaniemi
Real first and truly atypical, this ride is fairy tale. You should know that there are more reindeer than inhabitants in Lapland! Well ok, reindeer are wilder than dogs and you shouldn't get too close to them. But …
They are nonetheless beautiful. These emblematic animals of the North Pole are very impressive and majestic.
Reindeer sleigh rides are much quieter than with dogs. Indeed, they take the time to walk around and stop whenever they want to drink (snow). It is a traditional transportation system still used today by the Sámi, the region indigenous population.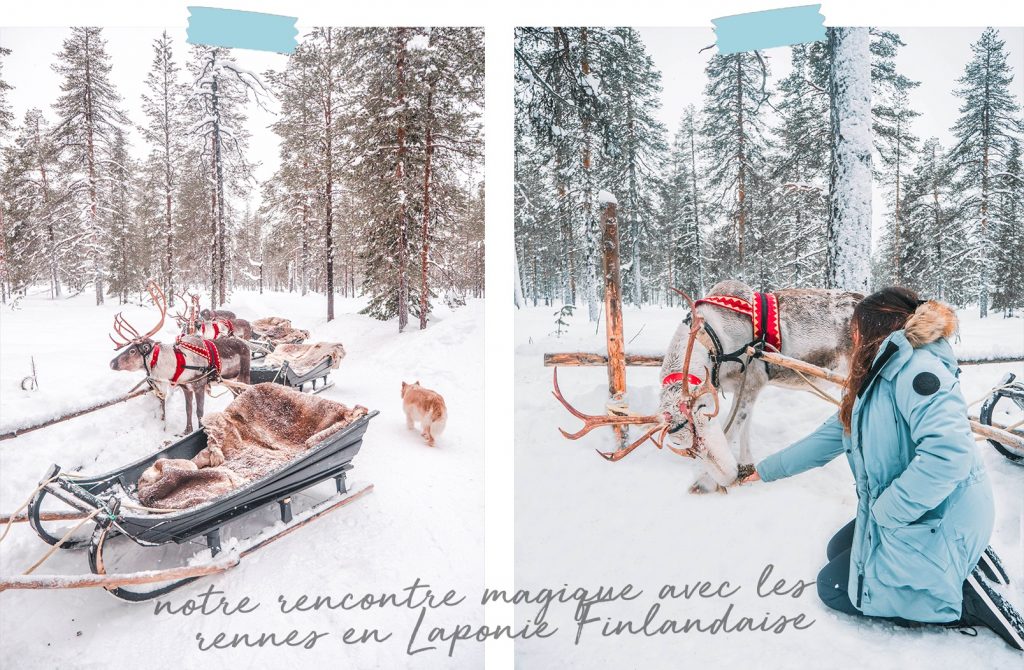 Rovaniemi: snowmobile trip
For thrill lovers, this activity is a must in Lapland. It is also very common to see locals moving around with this machine. We are so happy to have made our baptism in Lapland, in this white paradise.
With different motorizations, this activity is accessible to everyone! Even the children will be able to enjoy this ride thanks to a trailer acting as a sled. Don't forget your driver's license!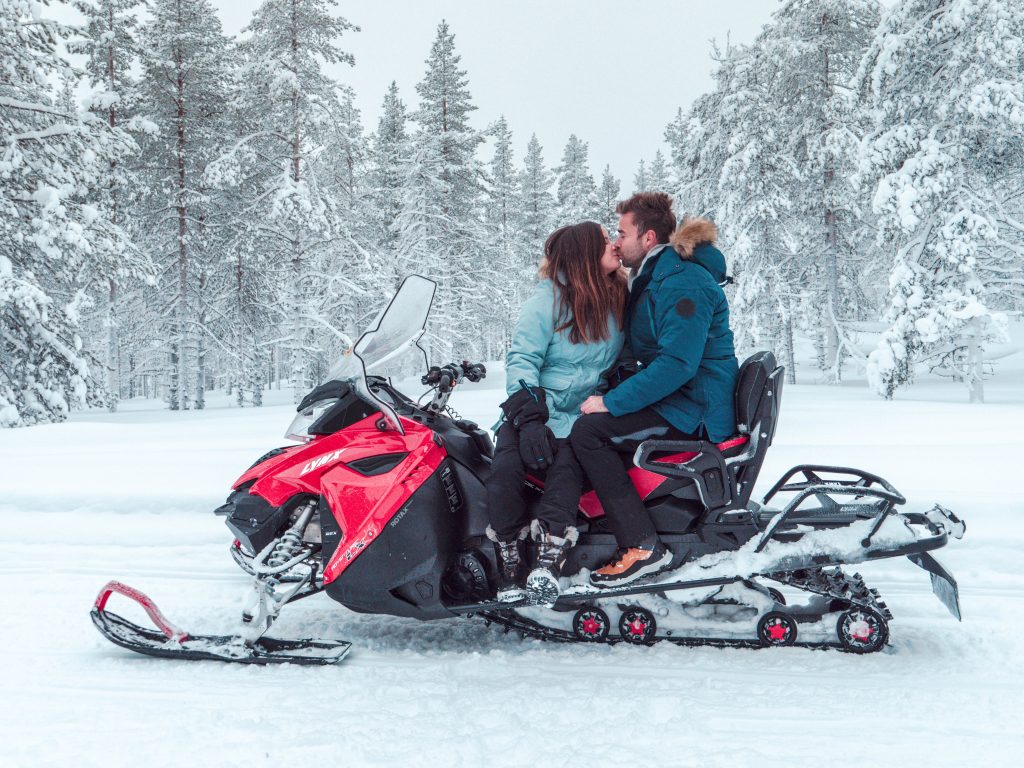 Hiking in Rovaniemi with snowshoes
If you are looking for peace and quiet in the middle of nature, it is essential to be equipped or to rent snowshoes. There are many hiking trails in Rovaniemi.
However, be careful not to get lost, as the landscape tends to look the same with all that snow. We had done a hike with a guide in snowy weather, so we decided to go back there together at the weekend with good weather by taking the same trail.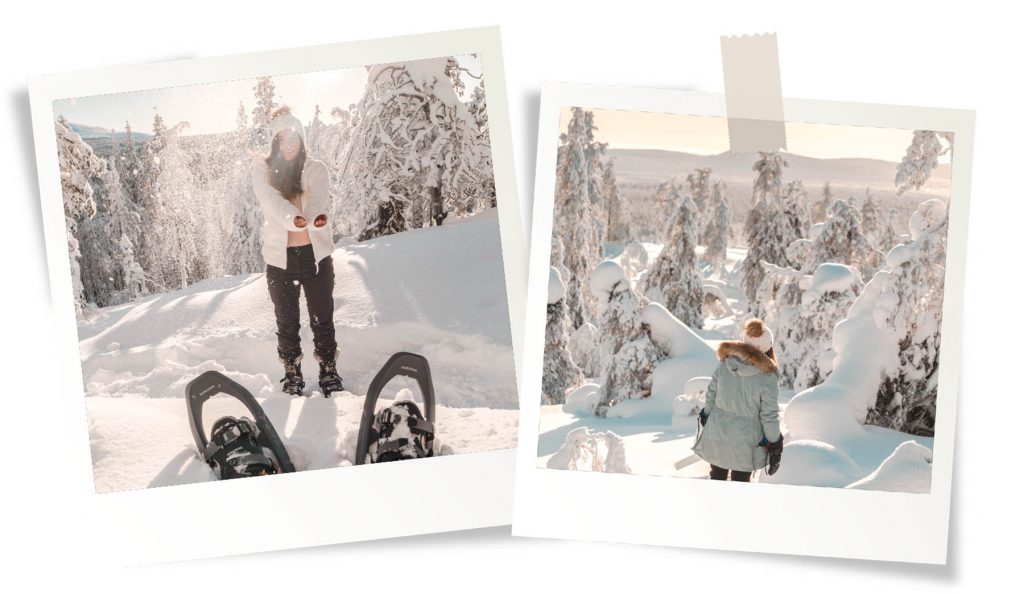 Ice Fishing on Lake Rovaniemi
As a typical activity in Lapland, ice fishing is unique. You will go to the middle of nowhere and have to drill a hole in the ice! Don't expect to catch dozens of fish as catches are quite rare. But this is such a great experience to get in touch with nature.
Avoid ice fishing in December or January because night fishing under -30 degrees should not be the experience of the year. Don't worry, 5 centimeters of ice is enough to bear a person's weight.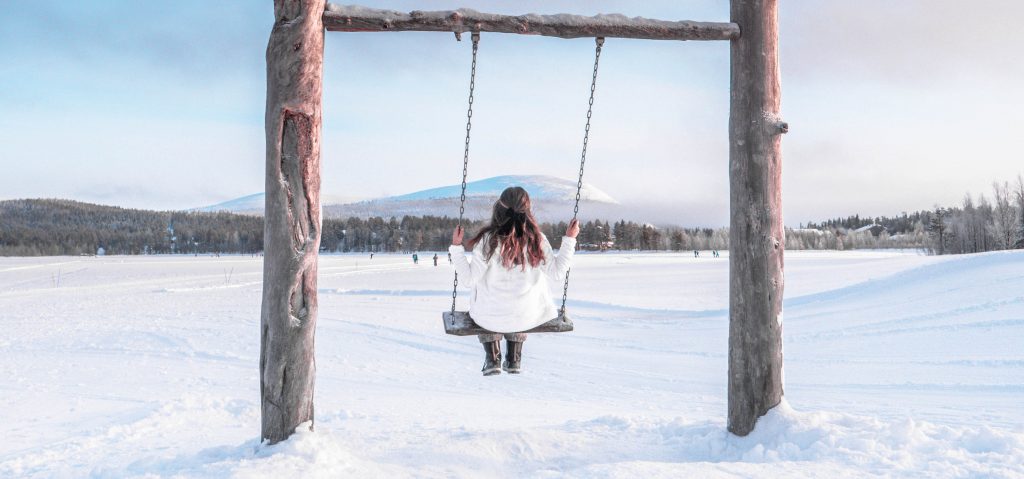 As with snowshoes, Finnish Lapland is very well suited to cycling lovers. To adapt to the terrain, the fat bike is one with oversized tires so as not to get stuck in the snow (or dirt in summer). The grip is simple and fast, it is open to everyone. But be careful on the downhills!
Little tip if you don't want to get too tired: rent an electric fat bike. You will find fat bike rental agencies in Rovaniemi without any problem.
Guided tour of Ranua zoological park
This park is the only park in Finland that hosts polar bears. It is also the most northern zoo in the world. It is located one hour from Rovaniemi.
If you want to experience this park, we advise you to book your visit through GetYourGuide. The activity lasts half a day, transfers from your hotel and lunch are included!
💌 The village of Santa Claus
Magical activity in the country of Santa Claus 🎄 for young and old: the visit of the village of Santa Claus. To book your tickets, click here.
💌 Sauna finlandais et aurores boréales
Relaxing in a Finnish sauna in the heart of the forest while watching the Northern Lights ... it's tempting, isn't it? Book this authentic experience now by clicking here!

To find out when it is most likely to see the Northern Lights, I recommend that you read our dedicated article to this subject.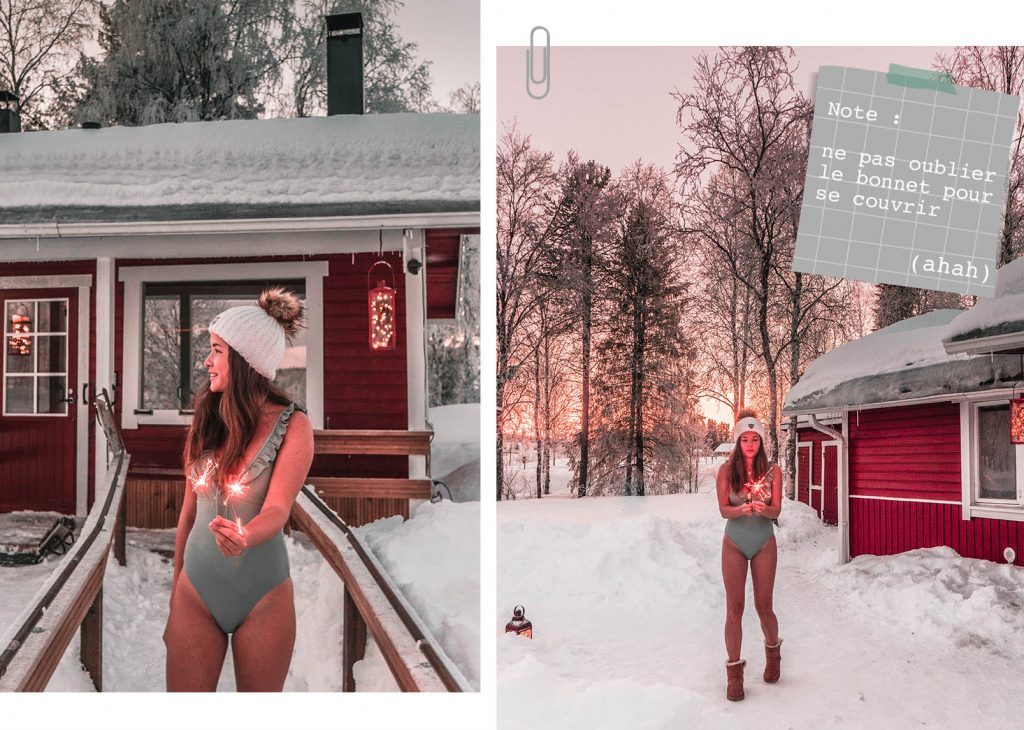 It is not an activity as such, but we strongly recommend that you sleep one night in a glass igloo. We would have loved to spend the night in an igloo, what a dream… So, if you're lucky enough to come across a night with northern lights, it's the holy grail! 
Of course, we haven't listed everything, but you can also go downhill skiing, snowboarding, cross-country skiing, ice skating… In short, it's impossible to get bored because there are so many activities to do in Lapland, and in Rovaniemi in particular!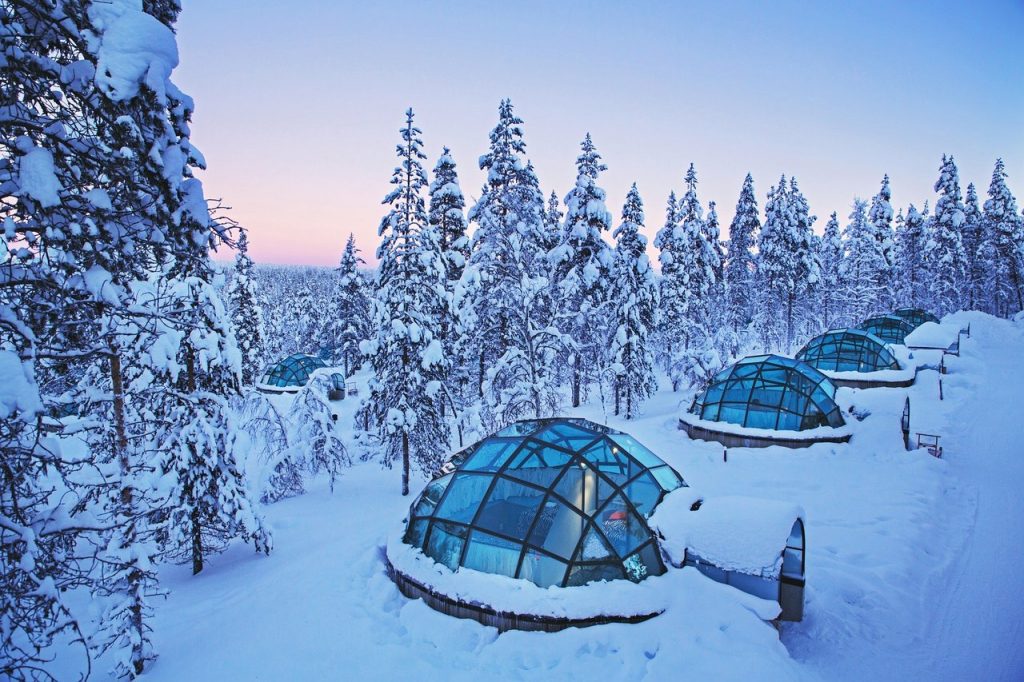 ---
We have of course not listed everything but you can also go downhill skiing, snowboarding, cross country skiing, ice skating… In short, impossible to get bored because there are many activities to do in Lapland and Rovaniemi more particularly!