Organize your stay in Rome – Practical information
We have chosen to write an article to help you prepare for your trip to Rome. Here you will find practical information for visiting Rome as well as our best advice!
---
How to get to Rome from the airport?
✈️First point and not the least: how to get to Rome from Fiumicino airport, which is 30 kilometers from the city center? This is the first point you need to determine in order to properly prepare for your trip to Rome.
By taxi / private driver: the most expensive and not necessarily the fastest with traffic jams. The price of taxis authorized with the "Comune di Roma" label is set at

€

48 for up to 4 people with luggage. You can book a driver in advance who will take you to your hotel with no surprises by clicking here. 
By shuttle: it's quite long, just under an hour, but only

€

4 per person. There are shuttles every 20 to 40 minutes from 5 a.m. to 10 p.m. approximately.
By bus: you can book your tickets in advance for 6

€

with this link. It takes about 45 minutes to the Vatican.
By train: Either with Leonardo Express at 14

€

, or the regional line FL1 at 8

€

. The first takes you to downtown Rome in 30 minutes and the second in 50 minutes.
While in Rome, we took the FL1 regional train. The advantage of this line is that there are stops in Trastevere and Ostiense (but not in Termini). Our hotel was therefore closer to Trastevere station than Termini station. By opting for the FL1 line, we saved 24 € round trip.
🚗If you are looking for a car park to park your car at the departure airport, we invite you to book it on Onepark. This will allow you to get to the airport with a light mind without worrying about finding a parking space! Our link gives you access to a 10% reduction on your first booking.
---
How to get around during your trip to Rome?
😇While walking: Many of you told us that you walked a lot during your weekend in Rome! There are two reasons for this. The first, this city is beautiful, with lots of surprises around every corner and it is very pleasant to walk around it. The second, Rome's inner city is quite concentrated, so it is sometimes easier to make the trip on foot than to wait for a bus and be stuck in traffic.
For our part, we walked most of the time. However, we also tried the bus and metro for long distances and to protect ourselves from the cold in January. The buses are not very punctual and the metro is well loaded as in all capitals.
Here is some useful information on the cost of transport:
Single ticket:

€

1.50

24h ticket: 7

€

48h ticket:

€

12.50

72h ticket:

€

18 *
* Roughly speaking, if you plan to take transport in Rome more than 4 times a day during your 3 days, it's worth taking a 72h ticket. To buy your tickets you have two solutions:
In the metro, at the vending machine

In all the little tobacco bars in town

Have unlimited transport with a Tourist Pass (info below)
All months of the year are favorable for visiting Rome. Okay, we got a little cold in January. But the advantage is that tourism is a little quieter. There were still a lot of people on the essential places of Rome. So I let you imagine the crowd during sunny days!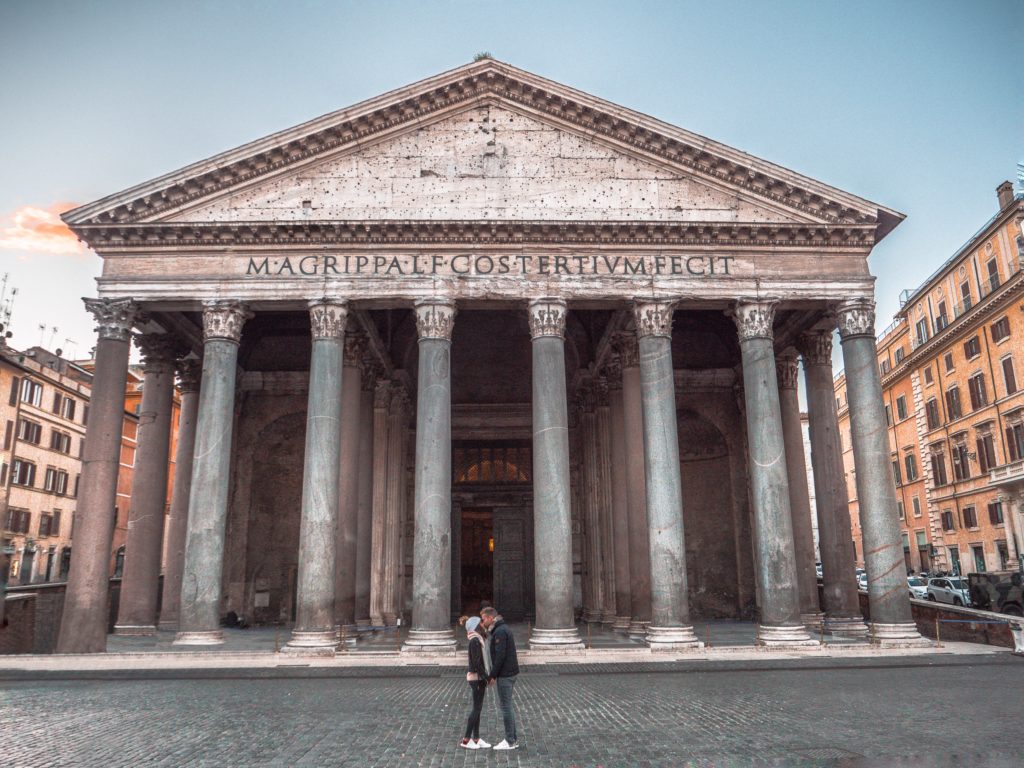 ---
Tips for preparing your trip to Rome
How to visit Rome without breaking the bank?
You can pick up a free and highly rated guide to show you around the city by clicking here. Duration: 2 hours.
We had already visited the city several years ago when we were not yet together. Therefore, we had made the must-see monuments. This time around, we decided to explore Rome, without stopping at the tourist attractions.
However, we have made inquiries and there are Passes with several must-see visits. They might save you money! The systems of the Pass did not seem very clear to us, so we will explain all that to you. Depending on the places you want to visit, they may or may not be profitable.
The Omnia Card
If you want to visit as much as possible, we recommend the Omnia Card at € 113 per person (€ 80 for children aged 6 to 9). On the other hand, if you follow our 3-day itinerary to the letter and only visit certain attractions, it will not be profitable. After that, you have to take into account that the Omnia Card also includes skip-the-line access that will save you wasting hours and hours in the queues. You can also take advantage of the double-decker bus tours during the 3 days. Book your Omnia Card online by clicking here
Another alternative if you are not interested in all the monuments or if you find the Omnia Card too expensive, you can book this pass which will give you access to Saint Peter's Basilica with audio guide as well as wire cut access. for the following 5 attractions:
Vatican Museums

Sixtine Chapel
The Coliseum
The Roman Forum
The Palatine Hill
Otherwise, it is possible to book a guide in French and without waiting for the Colosseum, the Roman Forum and the Palatine Hill for only 54€ here. Duration: 3 hours.
Below are the prices of the attractions included in our 3-day program without the Omnia Card.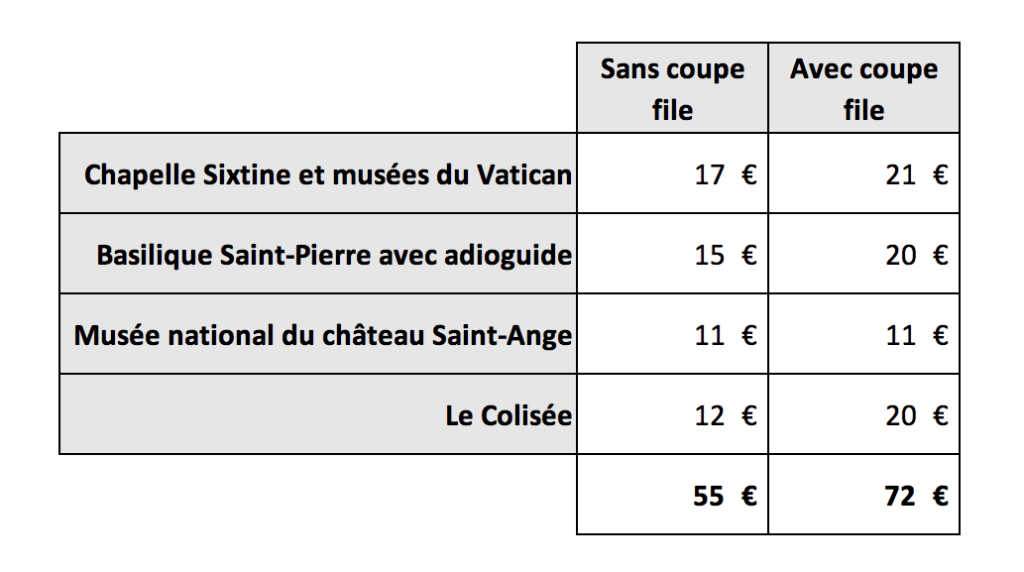 The Roma Pass
You also have the option of taking:
the Roma Pass 48h

at 31

€

with access to 1 museum / tourist site

the Roma Pass 72h

at 41.50

€

with access to 2 museums / tourist sites.
It remains interesting because you will not have to queue thanks to the skip-the-line tickets, you will have access to unlimited transport and you will have discounts in many museums. Please note, the Roma Pass is not valid for the Sistine Chapel, the Vatican Museums and St. Peter's Basilica.
If you don't want to take the Omnia Card or the Roma Pass, plan to visit the sights as soon as they open to save time in the queues.
A little tip for those with good timing like us: visiting the Colosseum and the Roman Forum is free on the first Sunday of each month! This is also the case for many museums and galleries in Rome. Free entry is very crowded, so arrive before the opening to queue.
---
❤️ We had the opportunity to stay at the Capo d'Africa hotel, located 5 minutes walk from the Colosseum. One of the strengths of this hotel is its rooftop with a superb view of the Colosseum.
The Capo d'Africa is a 4 star hotel. Prices between € 147 and € 324 per night depending on the period. We were able to take advantage of the bicycles provided for free to visit Rome. The buffet breakfast, very complete and of quality, is served on the top floor so that guests can enjoy the view!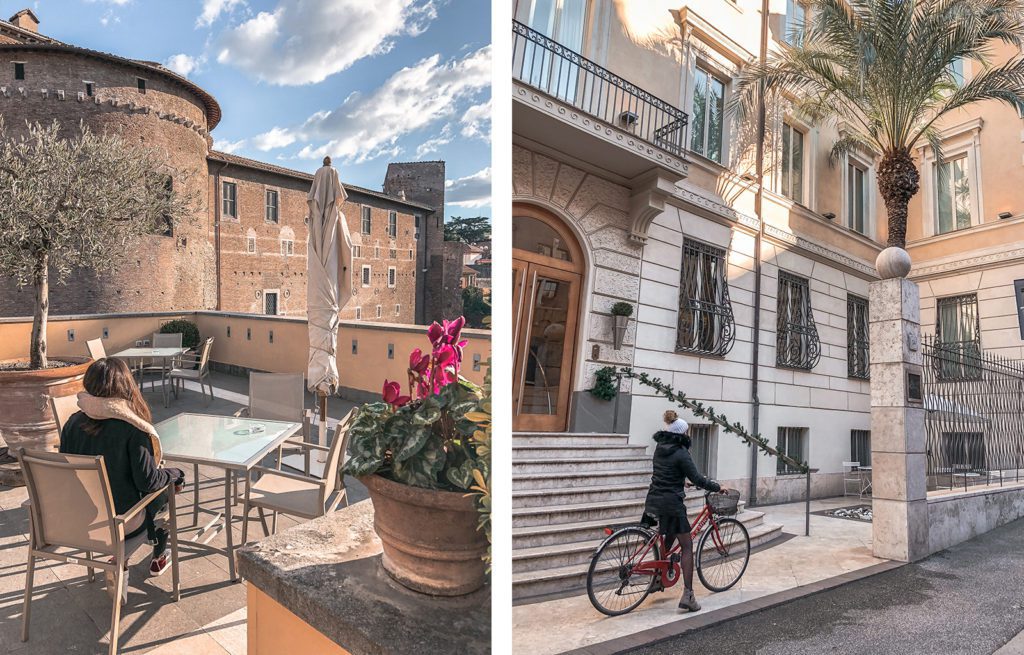 ❤️ For our last 2 nights, we found a very nice address with excellent value for money: Room With a View 105. Our room was facing a super beautiful church 😍 Price: 50 € per night with breakfast. It is located 10 minutes walk from Termini Station and 10 minutes from the Colosseum. The welcome is very warm and you are offered drinks including 1 bottle of Prosecco! Only negative point: the apartment is a bit noisy despite the double glazing.

Our favorite neighborhood in Rome
The center of Rome is divided into 7 districts. For us the best is Trastevere, across the Tiber and under the Vatican. It is the busiest in the city, there are many small pedestrian streets with many places to eat or have a drink. Well, in January there is not a lot of excitement but you can imagine the atmosphere in the small streets during the milder evenings 😍This is where the locals and students mostly meet.
If you are interested, you can explore this area while tasting Italian specialties. 3 hours of visit with tasting of pizzas, cheeses, prosciutto, ice cream and Italian wines for only €28 here.
💰Budget level we find everything in Trastevere, even for hotels there is the choice between luxury and cheap. We recommend restaurant addresses in our 3-day Rome itinerary.
🍻Less frequented by tourists, the district of San Lorenzo (east of Termini station) is also renowned for being festive with plenty of bars and restaurants. One point of clarification, San Lorenzo is a more modest district than Trastevere: you can feel it in the atmosphere and in the prices! We ate at Pizzeria Il Grano. It was delicious, local and the value for money was amazing!
Budget for 3 days in Rome (2 ppl)
Plane : 200€

Airport transfers : 28€

Accommodation : 100€ (50€/night)

Drinks & food : 140€
TOTAL = 234€ per person

This budget does not include activities, as it depends on what you want to see. By finding plane tickets at attractive prices and being mindful of expenses, it is possible to visit Rome for 3 days at € 468, or € 234 per person. If you add the visits, this budget will be higher. We gave you prices according to our mode of travel, you can probably do less and also a lot more!
---
We hope we have helped you prepare for your trip to Rome! If you have any questions, please let us know in the commentary of the article. We will respond with pleasure as always. 😘