What to do in Lapland for 1 week?
We have been dreaming of a trip to Lapland for a long time. Now that it's done, no disappointment: this destination has amazed us. There is no better place to enjoy winter than Lapland. So, we will tell you what to do in Lapland with a day by day itinerary.
---
Before we start telling the story of our trip to Lapland this winter, here are a few tips to help you organize your trip:
---
Itinerary: what to do in Lapland?
We went for a week to Finnish Lapland with the Lapland Travel agency, in charge of organizing everything. For once, we just had to let ourselves be guided and it felt good. We had a very pleasant trip, without running around every day as we usually do. Click here now to book your trip to Lapland!
The tour proposed by Lapland Travel is excellent value for money compared to the rates of other agencies. We give you budget detail for a week in Lapland at the end of the article. All the activities listed in this Lapland itinerary are included in the basic price.
Day 1 in Lapland: arrival in the white paradise
First, you should know that Lapland is a region that stretches over 4 countries: Finland, Norway, Sweden, and a little bit of Russia. It is in Finland that we have chosen to go! After 2 flights, with a transit through Helsinki, we arrive at Kittilä airport. The whole runway is snowed, it's unusual and we feel immediately immersed in the atmosphere. We only have one hour of shuttle left to land our suitcases in our Finnish home.
Here is one of the accommodations offered by the travel agency. We chose the 2-room apartment in the heart of the village of Äkäslompolo to be close to the shops on foot. We even had a private sauna! You can choose between several types of accommodation when booking, from dormitory to chalet.
Update 2021: The accommodations now on offer are in Rovaniemi, near Santa Claus Village. These are pretty chalets ranging from 2 to 6 people with different standards.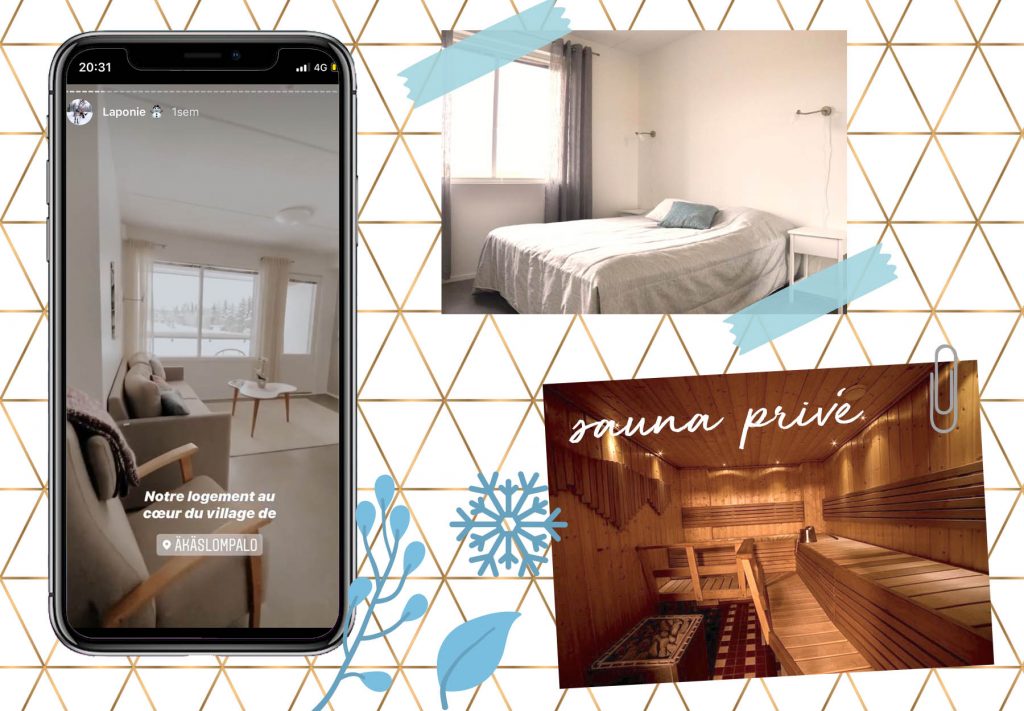 It's time to get a good night's sleep before getting down to business: what to do in Lapland for 1 week?
Day 2: Snowmobile ride
Snowmobiling is a must do in Lapland. For a few hours, we could drive through the snow-covered fir trees!
Halfway, a stop in a Kota (a small shelter in the heart of nature, very popular in Finland) is organized with hot blueberry juice and cookies. The wood fire is also there to warm up of course!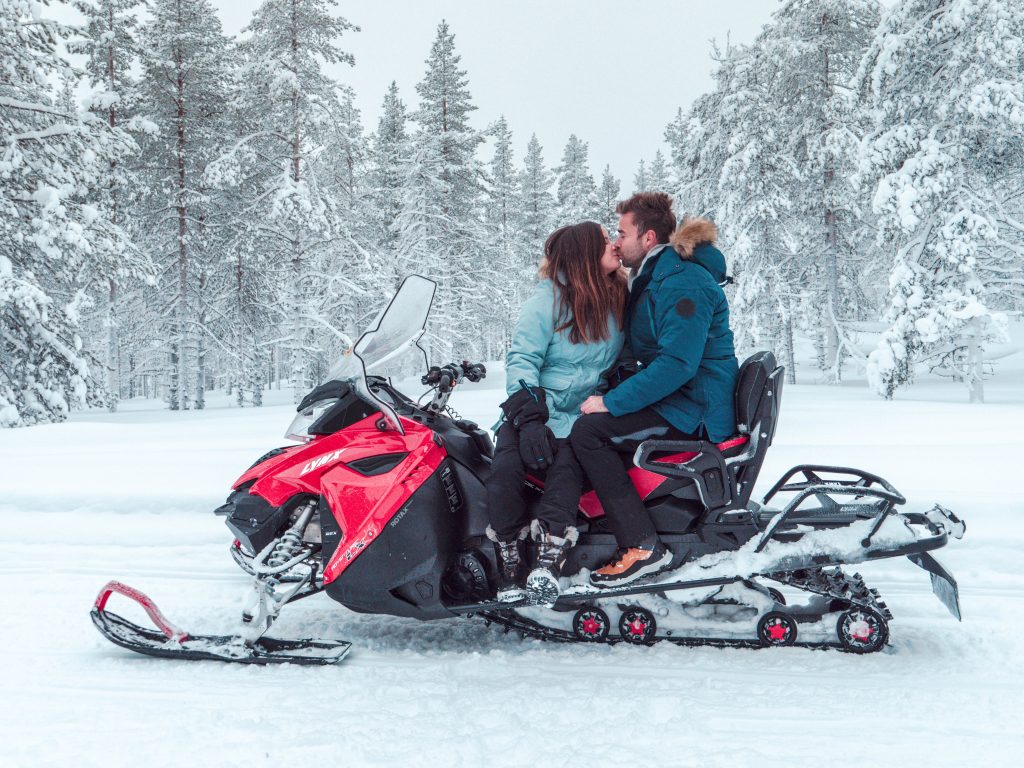 One activity per day is offered by the agency during your week in Lapland. This gives you time to do what you want to do during the rest of the day. We appreciated this freedom, because we didn't feel like we were on an organized trip minute by minute.
Please note: Depending on when you plan to travel to Lapland, it is daylight for a longer or shorter period of time. We tell you more about this in the section "When to go to Lapland" at the end of the article.
Day 3: Snowshoe hike
⚠️ As you guess, you will be based in Äkäslompolo during this trip to Lapland. This village is surrounded by 7 hills. To be able to admire the whole landscape, the best solution is to climb one of the hills.
❄️ So, we put the snowshoes on for a 3-hour hike with our guide. The view at the top is breath-taking…After effort comes comfort. We went in a small hut with a fire to grill sausages (great Finnish tradition, summer, and winter).
🌙 During your evenings, if you wish to go to the restaurant, it is possible. There are a few bars and restaurants, as well as a large supermarket in the heart of the village.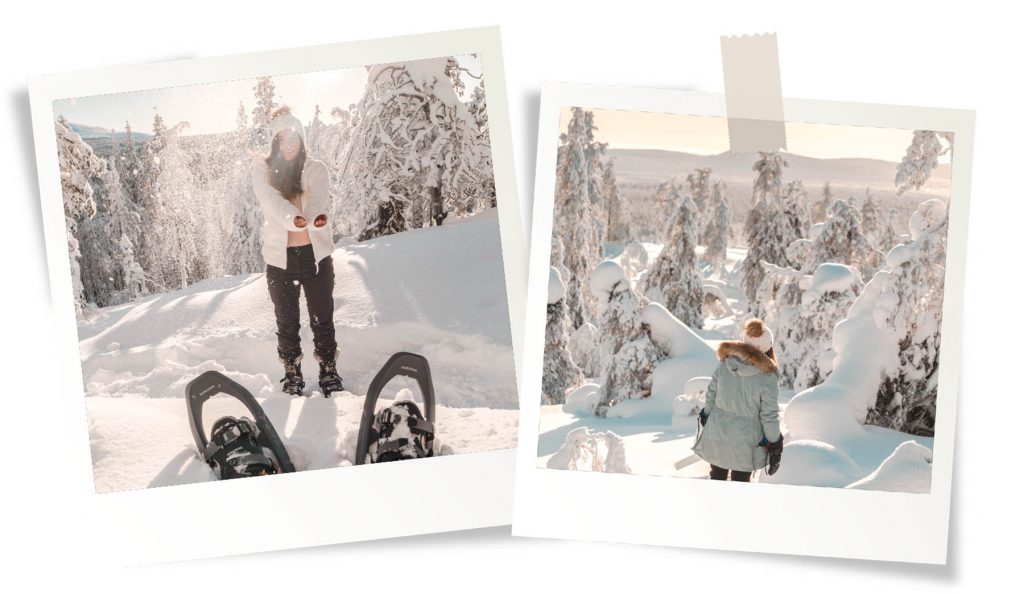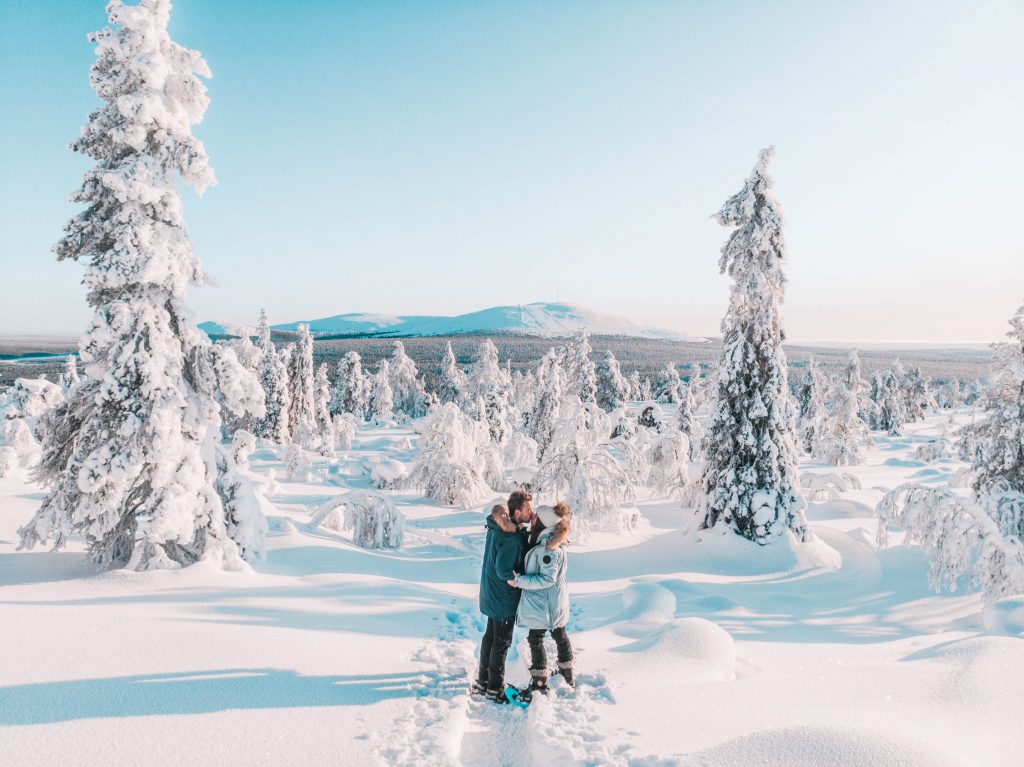 Day 4: Meeting the reindeer
🦌 The reindeer is the Finnish Lapland's iconic animal. Small anecdote: there are more reindeer than inhabitants! To meet them, go to a "reindeer farm".
Once there, the reindeer breeders will tell you the history of reindeer in Lapland and you will learn more about their behavior, their way of life… Then, it's time for the most fun part: a sleigh ride with them.
New in 2021: the activity with the reindeer is no longer included in the package, it has been replaced at the request of customers by a day of skiing (which must be absolutely magical). However, the reindeer sleigh ride is still available as an option.
Be aware that the animals are not mistreated at all – the reindeer is such a stubborn animal that it cannot be forced to do anything. If it doesn't want to go forward, it won't! That's why we found ourselves taking a few breaks along the way! It allows us to admire these magnificent landscapes:

Day 5: What to do in Lapland?
💌 Book now your Lapland Travel tour!
During the week in Lapland, you will have 1 or 2 days free to do the activities you want. Voyages Laponie offers optional activities such as skiing, ice village, ice fishing etc. We have chosen to explore the surroundings of Äkäslompolo on our own with snowshoes.
You have plenty of other activity choices! We have written an article dedicated to the best activities to do in Rovaniemi in Lapland to give you some ideas.
A gentle moment by the frozen Äkäslompolo lake.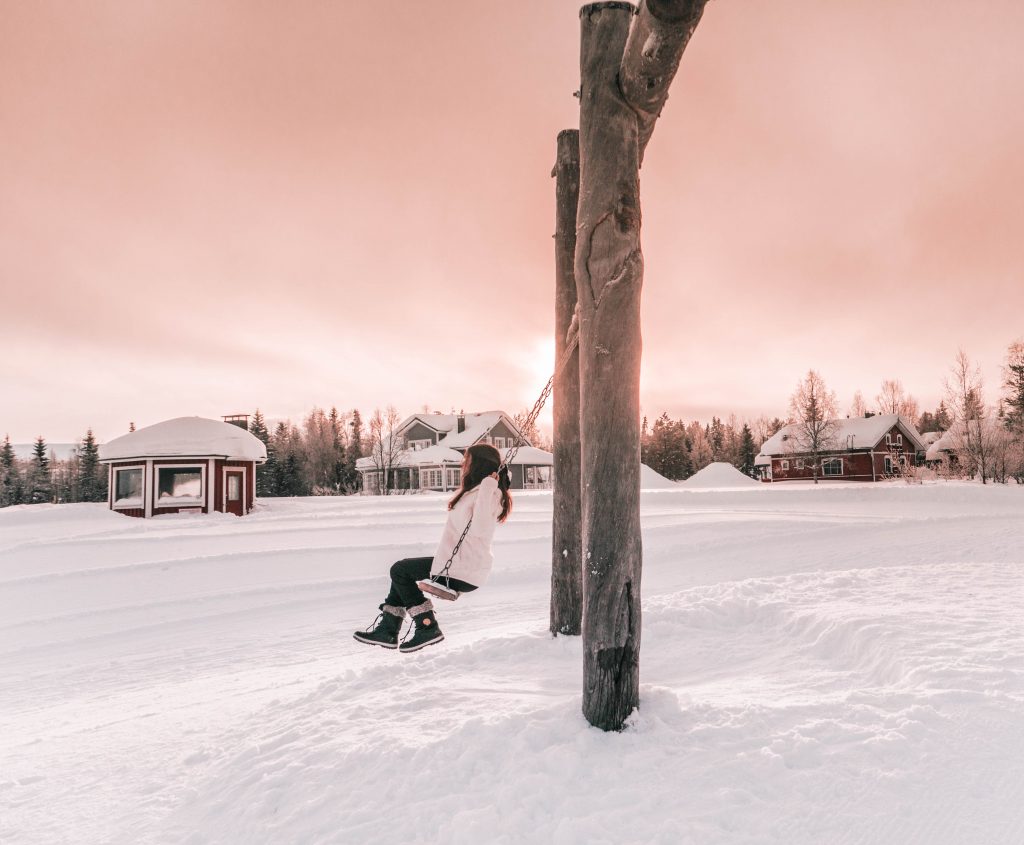 The Finnish sauna
If you have to choose an unusual experience to do in Lapland, it is definitely the sauna. On the shores of Lake Äkäslompolo there is a beautiful cabin with a traditional wood-fired sauna. After sweating well, the aim of the game is to shock your body with a change in temperature.
So… you have the choice between either swimming in the ice-water pool set up by the owners, or – less difficult – throwing yourself into the fresh snow.
The water in the pool is +0°C, a pump keeps the water surface moving so that it doesn't freeze. We warn you: it stings! You can find the moment when Aurélie tests this in our front-page stories on Instagram.
Information and reservation: The sauna combined with an ice bath is a tradition in the Nordic countries. It keeps the blood circulating! To book your ice baptism, go to this website. The place is also very friendly, and we do recommend the experience.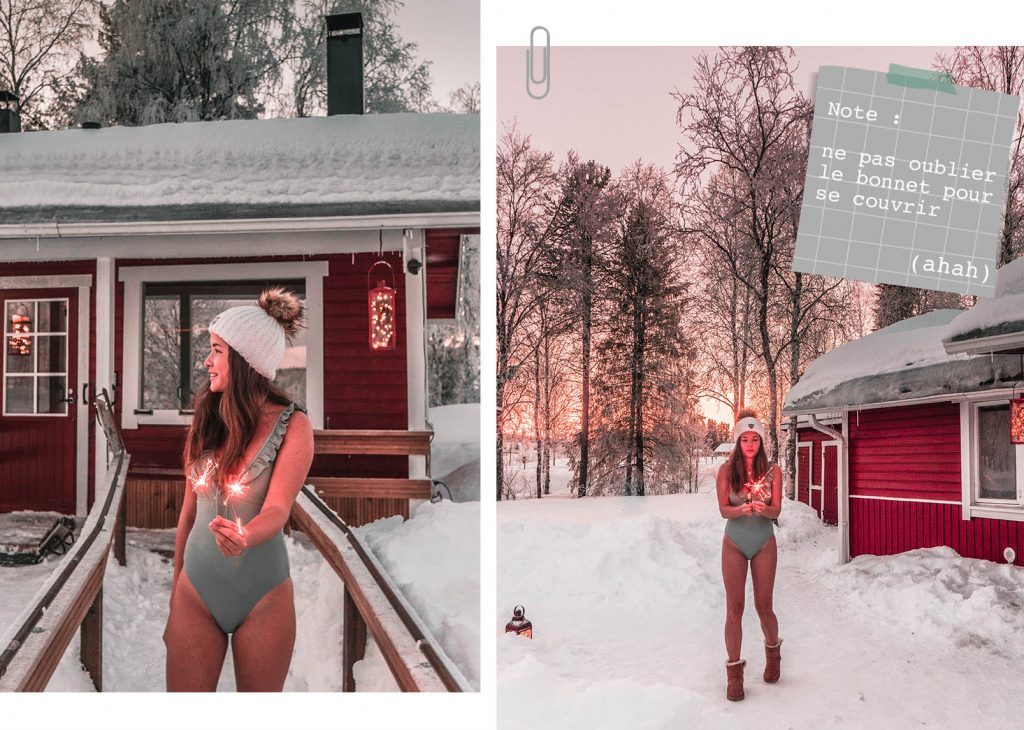 Day 6: Sled dogs
Dog lovers, we were looking forward to this moment with the huskies. Big surprise: we drive the sled ourselves. So, the excitement is at its peak.
The dog sled ride was our most beautiful experience during this trip to Lapland. Not only the scenery is magical, but the dogs are adorable. It's a memory that will remain forever!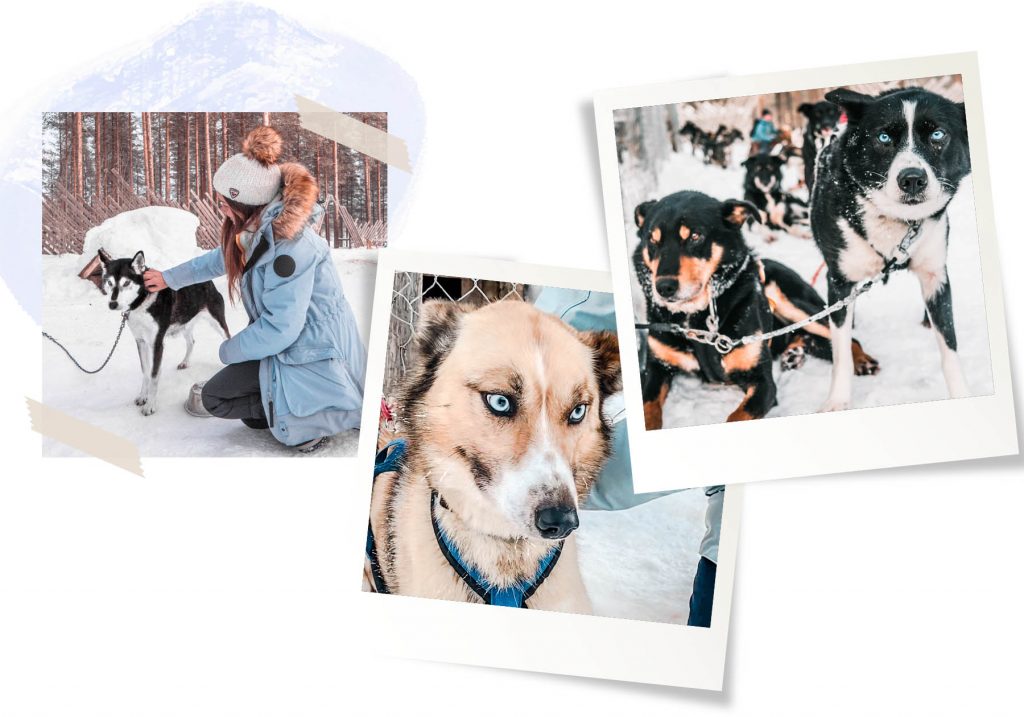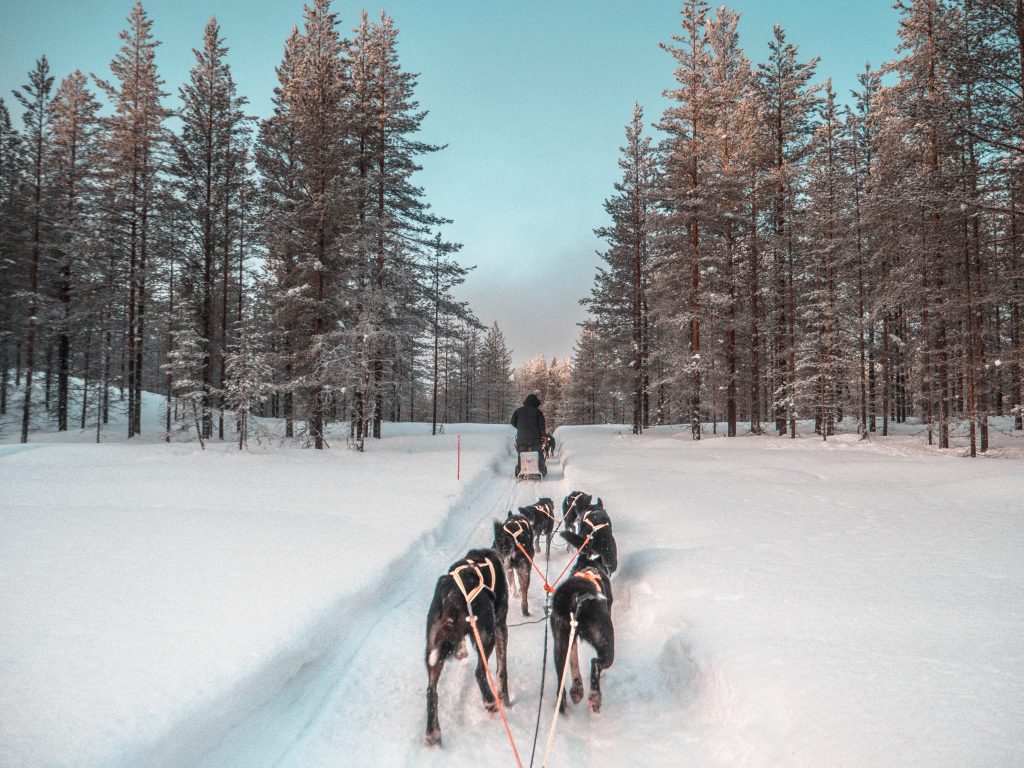 Admire the sunset
If the weather is good, at sunrise and sunset, the sky is colored with incredible shades. Pink, orange, purple… We were lucky enough to see our most beautiful sunrises and sunsets in Lapland. Judge by yourselves: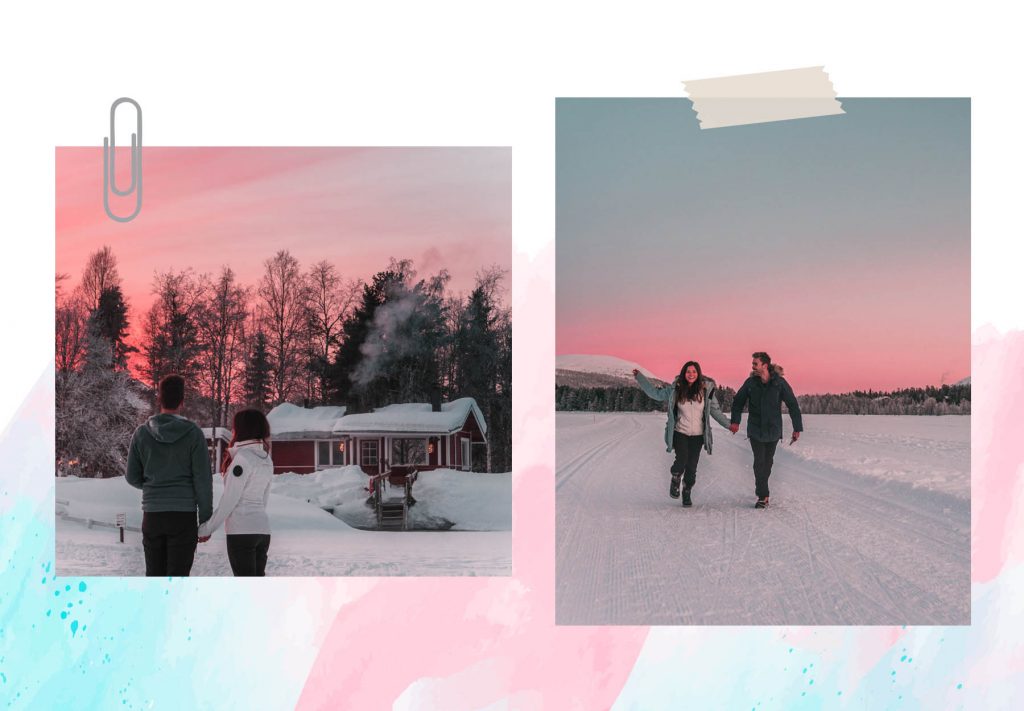 Day 7: Northern Lights Hunt
Omg! The Northern lights… That's all anyone ever talks about! Even if there are many things to do in Lapland, we ALL want to see these beautiful green, purple, pink waves dancing in the sky.
Once a week, the guide from Voyages Laponie takes travelers in small groups to see the northern lights, when the weather is right. A campfire is lit in their secret spot to keep out the cold, and to enjoy marshmallows of course.
How can you see the Northern Lights in Lapland?
There are so many questions about this strange phenomenon that Yann has written a complete article about it. Click here to know everything about the northern lights, how to see them and how to photograph them!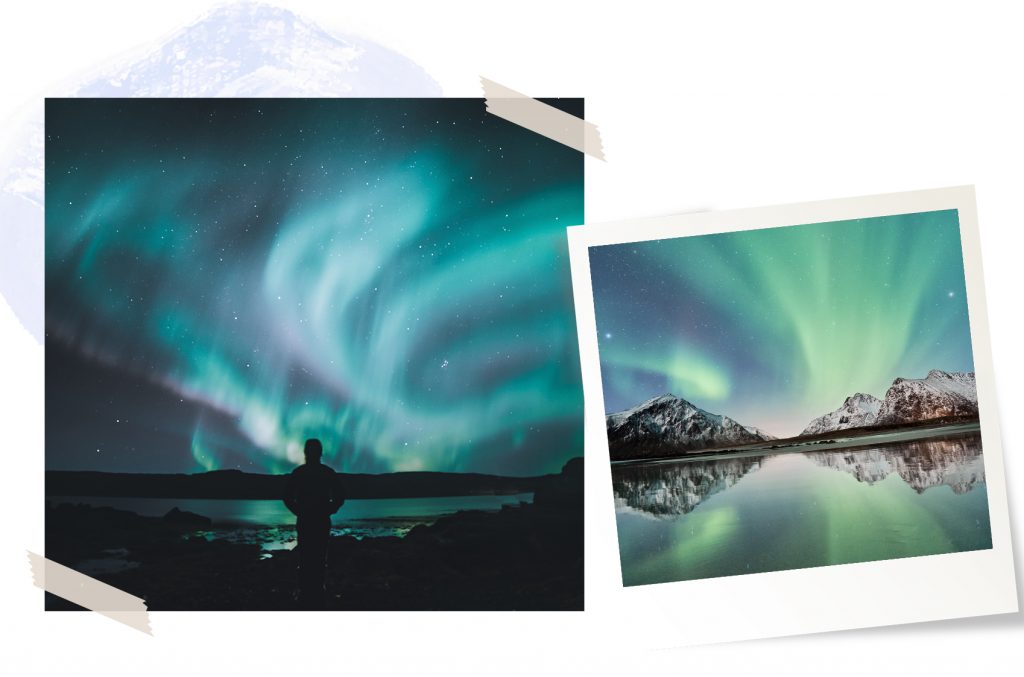 ---
What to do in Lapland? Practical Information
When to go to Lapland?
The first thing you think of when you hear about Lapland is the snow-covered landscapes.
To enjoy Lapland in winter and the joys of snow, the ideal time for a trip to Lapland is between early February and mid-March. Why is this? Simply because before February, the days are truly short.
Polar Nights in Lapland
Towards the winter solstice (21 December) it is night H24. These polar nights can last more than 30 days in a row in the north. At the beginning of the polar circle, towards Rovaniemi, it lasts only one day but the days of December and January remain really short. Also, from mid-March onwards, the chances of seeing the northern lights diminish.
Many people want to visit Lapland in December to see Santa Claus' village but be aware that it is very touristy and a bit overcrowded. If you leave a little later so that it is daylight for at least a few hours, you will have a more pleasant stay.
Summer in Lapland?
Lapland is a region famous for its winter season. However, in summer, the landscapes are beautiful and green! In addition, Finland has an incredible number of lakes: 188,000 in total.
The midnight sun occurs during the Finnish summer. It is the opposite of the polar night: it is daylight 24 hours a day, the sun never sets. An unusual phenomenon for us, which made us want to discover Finland in summer.
What budget should you plan for a week in Lapland?
The Lapland Travel agency offers one-week stays with a particularly good value for money.
Several choices of accommodation are available:
dormitories
hotel rooms
studios/apartments
chalets
We advise you to choose either a chalet or a studio/apartment so that you can have your own kitchen. This will allow you to save on expensive restaurants in Finland!
The activities mentioned in the article are included in the price, as well as airport transfers to and from the apartment.
Trip to Lapland: Budget for one week
Here are the details of our expenses for the whole week:
Apartment for 2: 885€ per person
Food: 75€ per person for the week. We cooked all meals at home, without depriving ourselves of anything! We even bought ourselves beers and a bottle of wine.
Flight: allow about 200-300€ per person. Prices change according to the dates and cities of departure.
Total budget for the week: 1,210€ per person, flight included. Yes indeed! The trip to Lapland isn't that much of an exaggeration for the incredible experience it is. All you have to do is choose the right agency
Tip: you must pre-register on the Lapland Travel website for the 2022 season. Trips are very quickly booked because the agency offers competitive prices. You'll be the first to know when they launch next winter's bookings, as those of those of this winter have been out of stock for a while! Click here
Precision: you can of course decide to go on your own, without a travel agency. On the other hand, your trip will cost you more. We have prepared an article with the top activities to do.
Is it cold in Finnish Lapland?
YES, it is cold (and fortunately), but it is largely bearable if you are well equipped. During our trip to Lapland, we had temperatures between -5°C and -25°C, but it can sometimes get even lower.
The cold is dry, which is less unpleasant than a wet climate.
Is the electronic equipment resistant to cold?
Our camera has never failed. The phones are a different story. My iPhone X turned off after a few minutes outside. On the other hand, Yann's iPhone 11 Pro always stayed on, without losing its battery. So, it really depends on your phone model.
When in doubt, plan for external batteries or try to keep your phone in a warm pocket, as close to your skin as possible.
---
We hope we have helped you with the organization of your trip to Lapland! Do not hesitate to ask us in the comments for information that we have not given.💙