1 week Dolomites Road Trip Itinerary
Tempted by a Dolomites road trip? If you are in love with mountains and nature, you absolutely must discover this region of Italy. Dominated by peaks, you will find many hiking trails and beautiful lakes. On the way for a driving tour in the Dolomites!
---
How to come to the Dolomites mountains?
If you live far, we advise you to take the plane to Venice. Most of the time you will find great deals on ticket prices. From the airport, all you have to do is rent your car and let yourself be guided on pretty adventures! Compare the best offers on your plane tickets.
To rent a car for your Dolomites Road Trip, you should also compare and book the best price with the Skyscanner comparator.
Dolomites Travel Guide
The Dolomites are a mountain range located in the north of Italy. During this 1 week Dolomites road trip, we crossed two Italian regions: South Tyrol and Veneto. The culture is special there since this territory formerly belonged to Austria. So don't be surprised: we speak three languages! The premises are therefore all at least bilingual (Italian and German); the third language is Ladin (Rhaeto-Romanic language), still spoken in some municipalities.
Budget for the Dolomites
The budget of a week for 2 people (indicative according to our mode of travel):
Accommodation

€

600 for an entry-level hotel

Food 420

€

for snack at noon and restaurant in the evening

Transport 370

€

for car rental, toll and gasoline
The budget for a road trip in the Dolomites is relatively high. Count at a minimum of € 70 per night for an entry-level hotel. If you are on a tight budget, prefer camping / bivouac. On the contrary, the restaurants are a little cheaper. There are pizzerias that serve pizzas for € 7.
---
Itinerary for a road trip in the Dolomites
Dolomites Road Trip:

 1 week itinerary

Day 1 : what to do in the Dolomites?
Bolzano 
Arrived in Venice by plane, we traveled 2 hours to reach Bolzano. It is a large industrial and commercial city in South Tyrol with Germanic influences. The main square is very cute, lined with restaurants with terraces with different colored facades. The hyper-center is pedestrianized, pleasant for strolling. For us, nature lovers, the most important thing is what is around 🙂
The town is bordered by slopes covered with orchards and vineyards. In addition, Bolzano is only 30 minutes from Lake Carezza, a small masterpiece of nature (we talk about it below).
🍕 Restaurant in Bolzano: we ate at the Italia e Amore restaurant. The concept is original: there is an Italian grocery store on the ground floor which offers quality products, then a specialty per floor (meat, fish, etc.). The roof terrace is very nice. Price: €€
So we started our Dolomites road trip itinerary  with Lake Carezza, located east of Bolzano. Unfortunately, for this first day, the weather was very bad and the lake was not showing its full potential.
But the impressive color of this water convinced us to come back here at the end of the stay to rediscover it and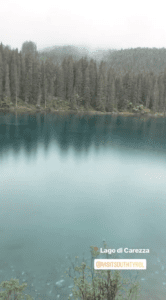 here is the difference in pictures.
A little practical information: Lake Carezza is accessible directly by car. If you are early enough, you will have free parking with 5 or 6 places available at the edge of the path that goes around the lake. Otherwise, you will have to go to a paid parking lot. The tour of Lake Carezza is done quite quickly so, motivate yourself to discover several angles of view! ⚠️UPDATE JUNE 2019: the lake was recently ravaged by a storm… many trees are devastated so don't be too disappointed if you go.
To find out, we slept the day before in Carezza itself, at the Gasthof Meierei, price: 75 € with very complete breakfast.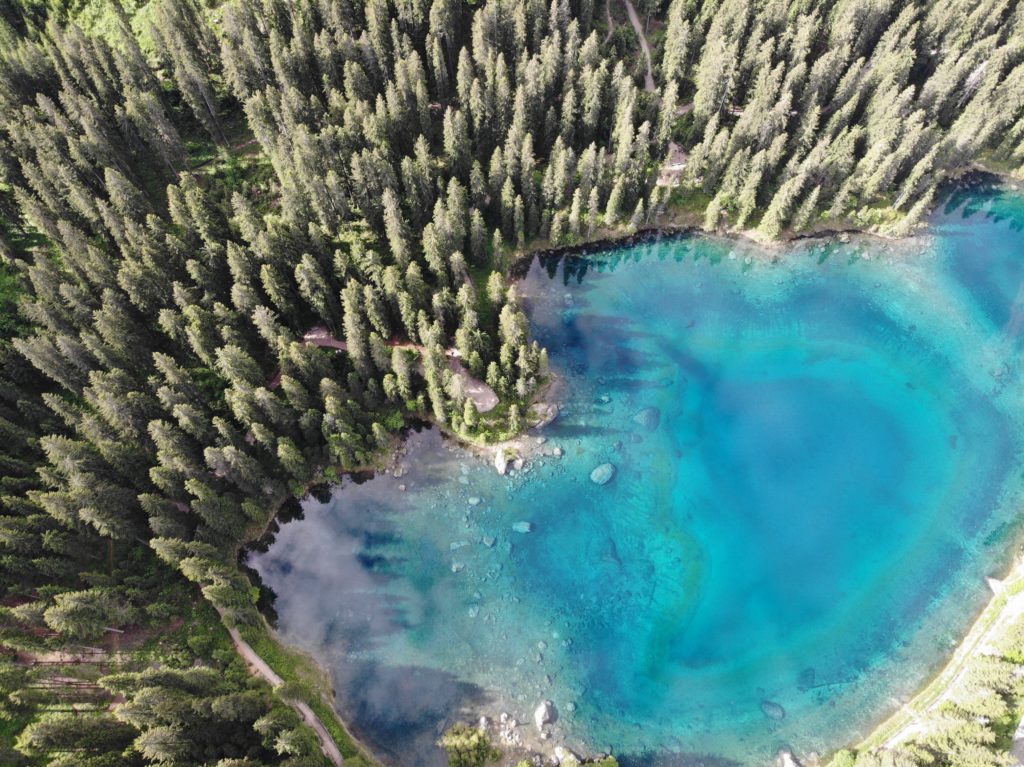 Day 2 : Dolomites Road Trip
The hike around the Sassolungo summit
We had planned to take a walk after seeing the lake, but the weather dissuaded us. We drove straight to Sassolungo to sleep near our hike the next day. Our hotel, the Passo Sella Dolomiti Mountain Resort was superb and comfortable! Its location is ideal if you want to hike in Sassolungo. We recommend that you take the half-board option, so that you can dine at the hotel in the evening. It's quite isolated, so restaurants around can be scarce. We ate very well (too much) and the view from the restaurant is magnificent. To book, it's here!
Sassolungo hike: practical information
📍Total duration: 4 hours – Course: 12 km
You will need to take the cable car to Passo Sella pass, at the foot of the Sassolungo summit. It is one of the oldest cable cars in the valley. The price of the lift is quite high: € 14 per person. You will only take it for 1 way since the hike makes a loop. You can also climb on foot, which adds an hour of walking.
Once at the top you will have to descend a very steep and slippery slope. Bring good shoes, we did it in sneakers and it was complicated. At the bottom of this descent, you will reach the Toni Demetz refuge at an altitude of 2685 m. The path will then pass between the rocks and the forest. Throughout the hike, the scenery is peaceful.
Finally, you will follow path n ° 526 to reach the starting point.
Please note, this hike is not accessible to everyone! We are quite athletic and we found the start complicated. Ask the hotel for a trail map so you don't get lost.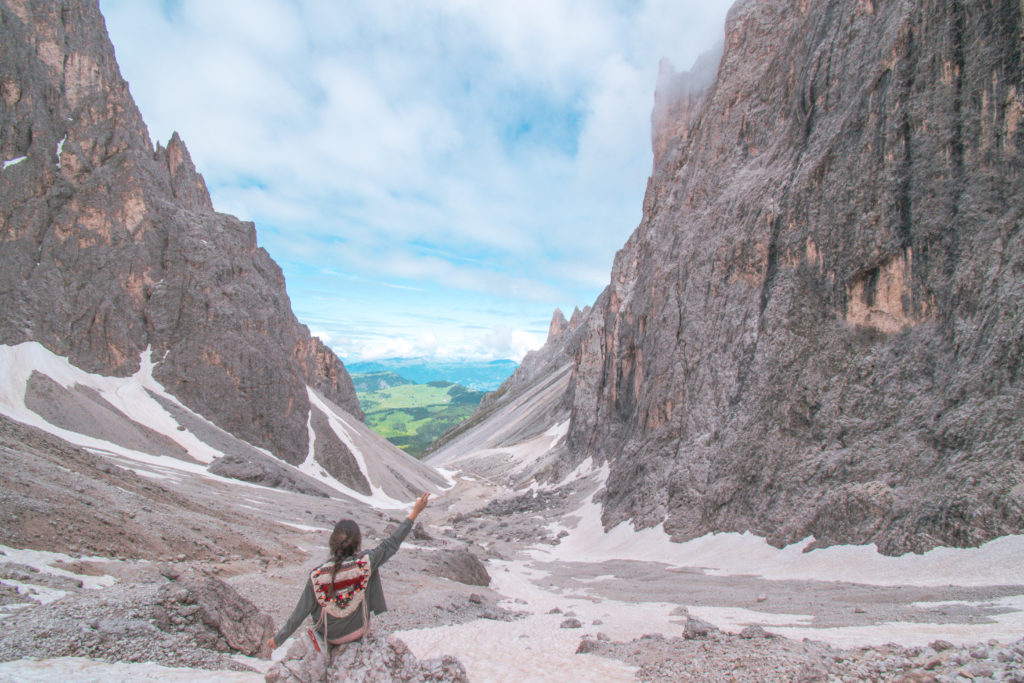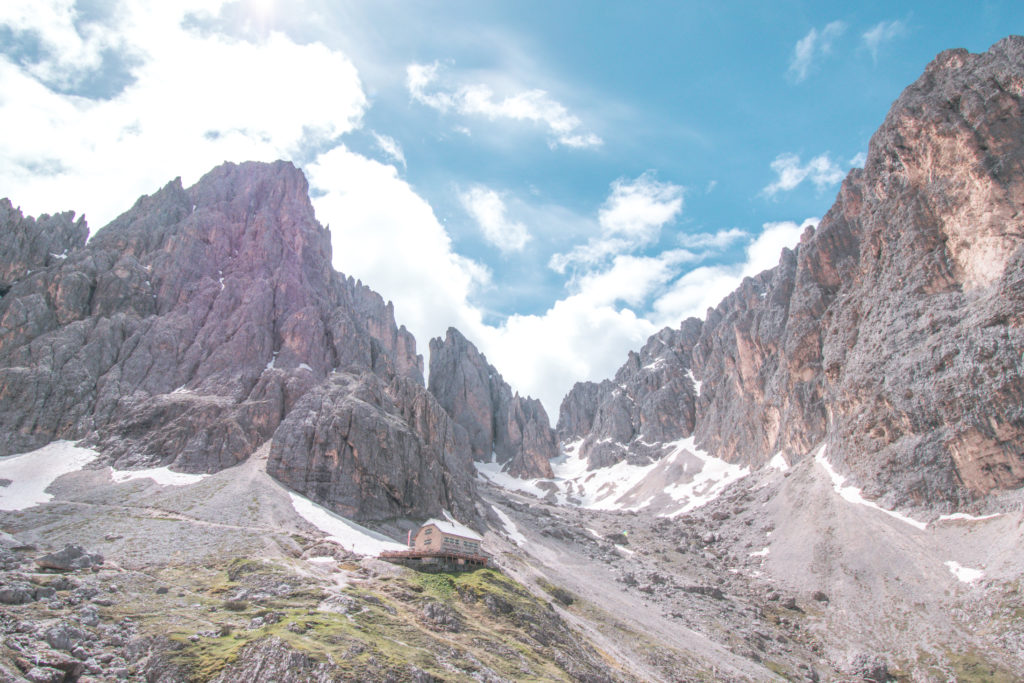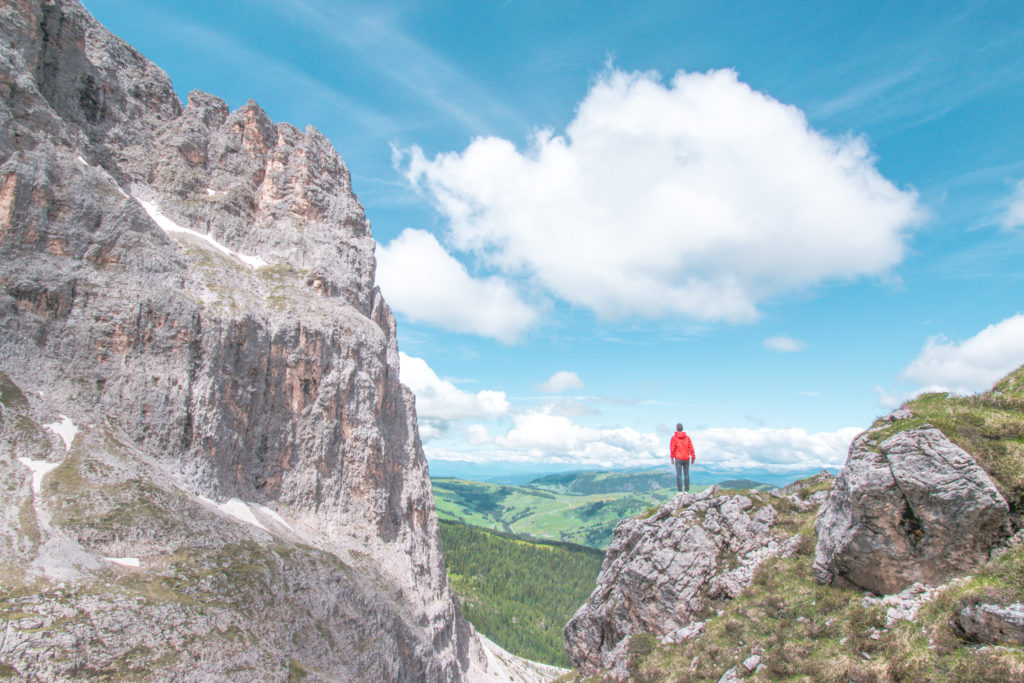 Once the hike was over, we took advantage of the return of the sun to visit the Church of San Giovanni in Santa Maddalena. We had seen this church on Instagram and we absolutely wanted to photograph it too. We love the fact that it is lost in the middle of a field, with a superb view of the snow-capped peaks. Please note, since summer 2019, access to this place is chargeable (€ 4 / person) and drones are strictly prohibited.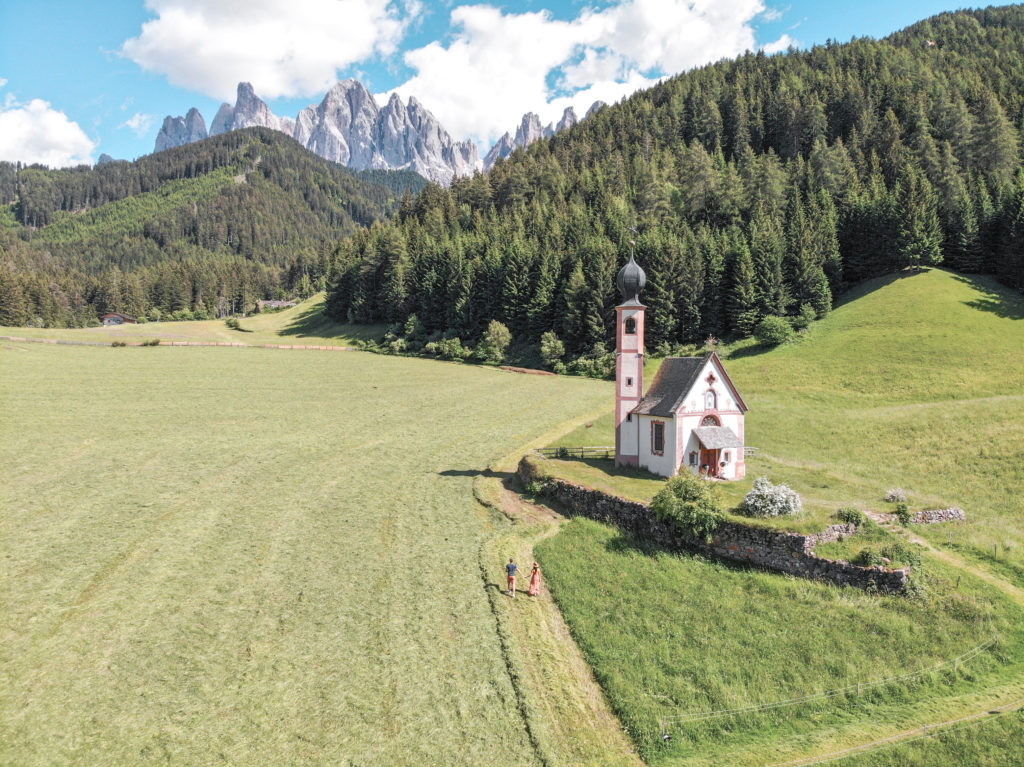 To conclude this day, we spent the night at Seehof Nature Retreat (infos & rates here). The hotel has an exceptional SPA, with its heated outdoor swimming pool and its own lake. The setting is incredible, a true haven of peace. The dinner was good, but the breakfast was the best of our life (many choices with only quality products).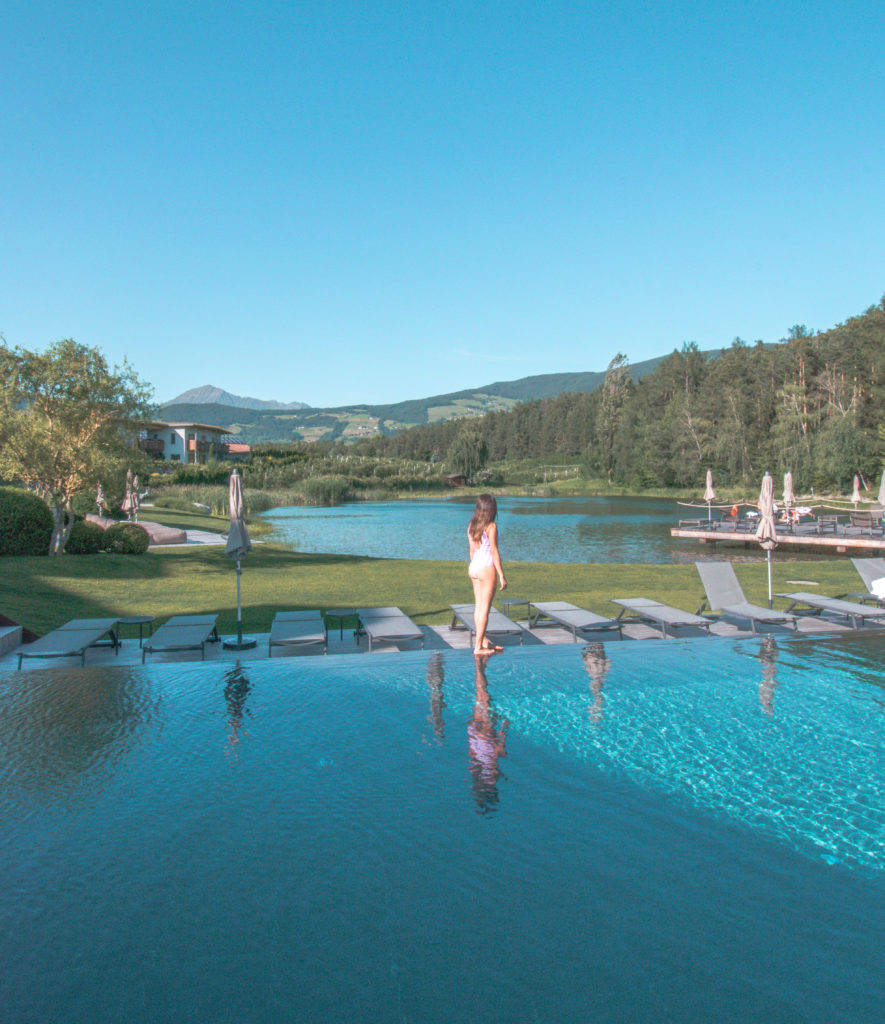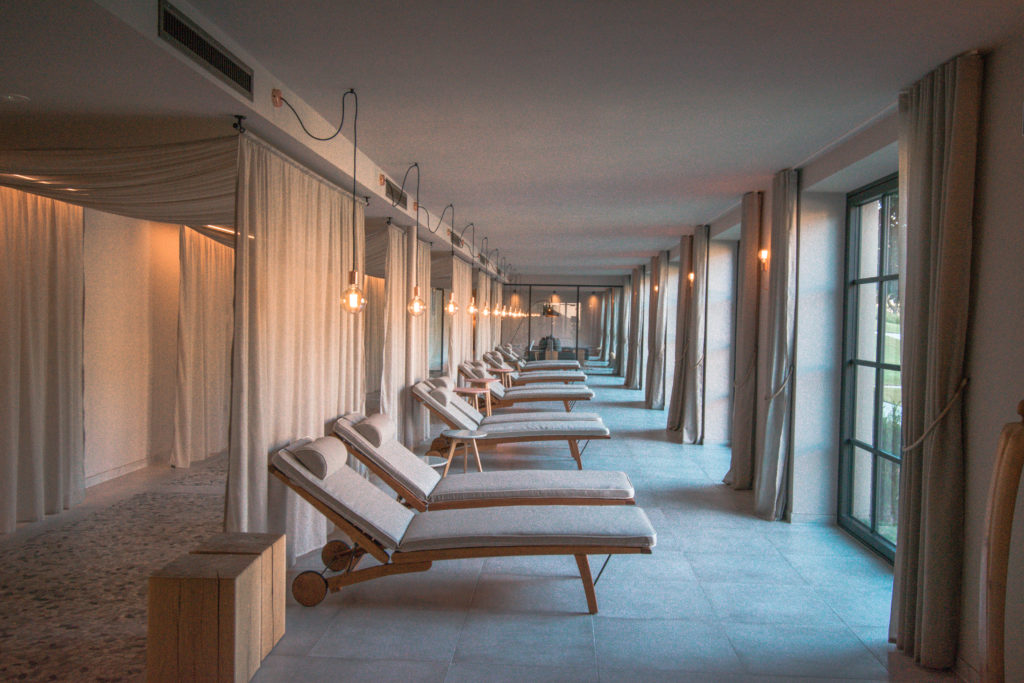 Day 3 : 1 week itinerary in the Dolomites
On leaving the hotel, we visited the Abbey of Novacella. A short walk that allowed us to digest the good breakfast we had just had.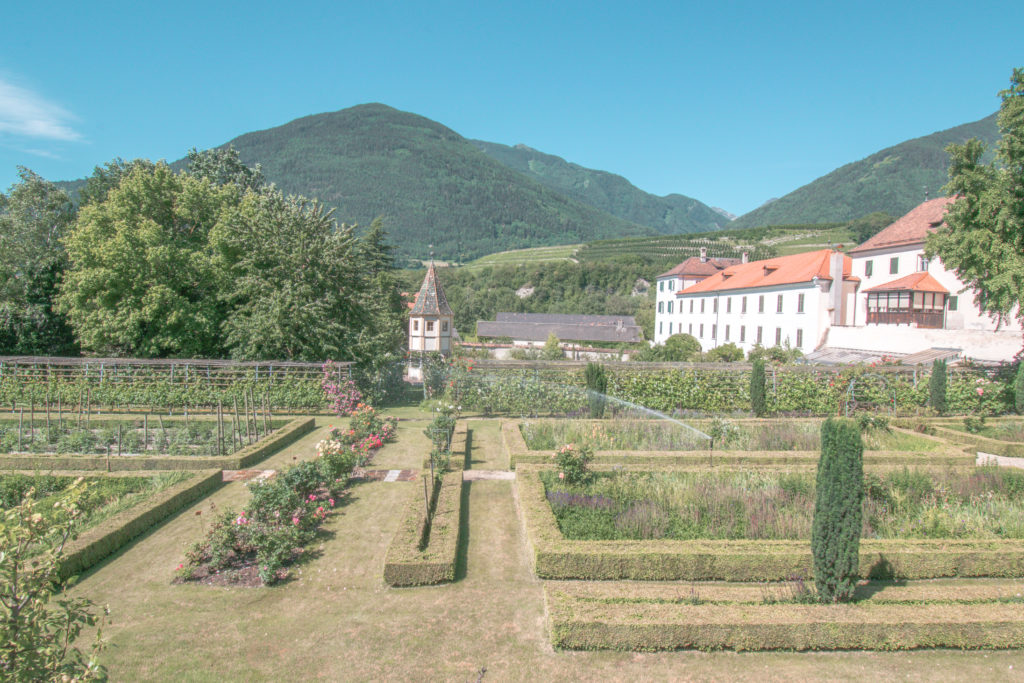 We then headed to the cable car in Riscone for Mount Plan de Corones. At its top is the MMM Corones museum. The architecture is impressive, because the museum has been integrated into the mountain. If you love art, you will enjoy a visit to this Dolomite themed museum.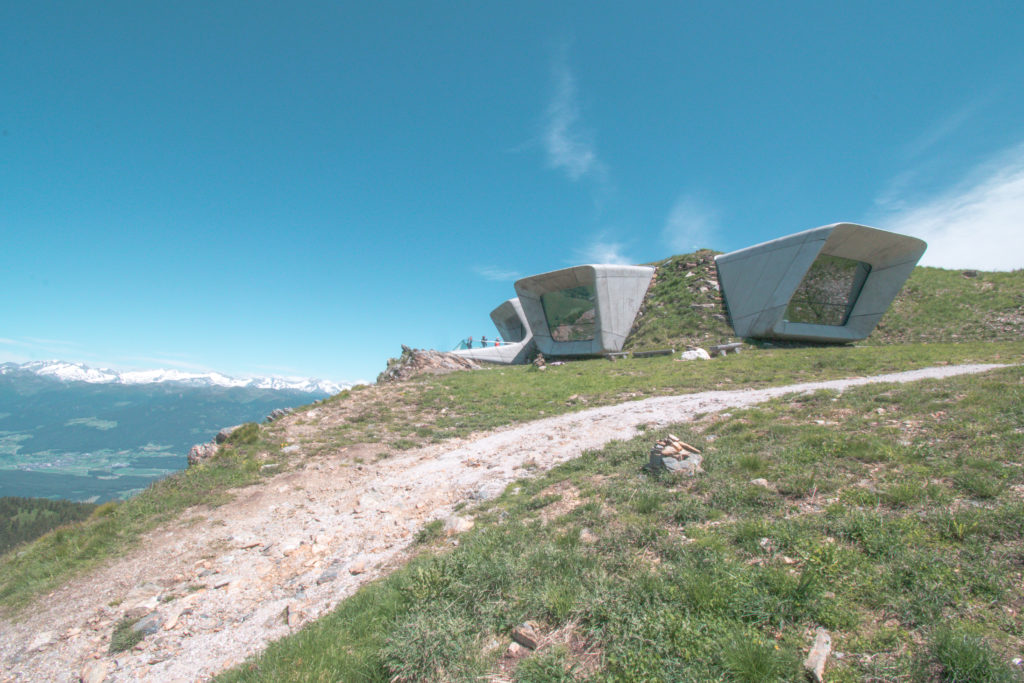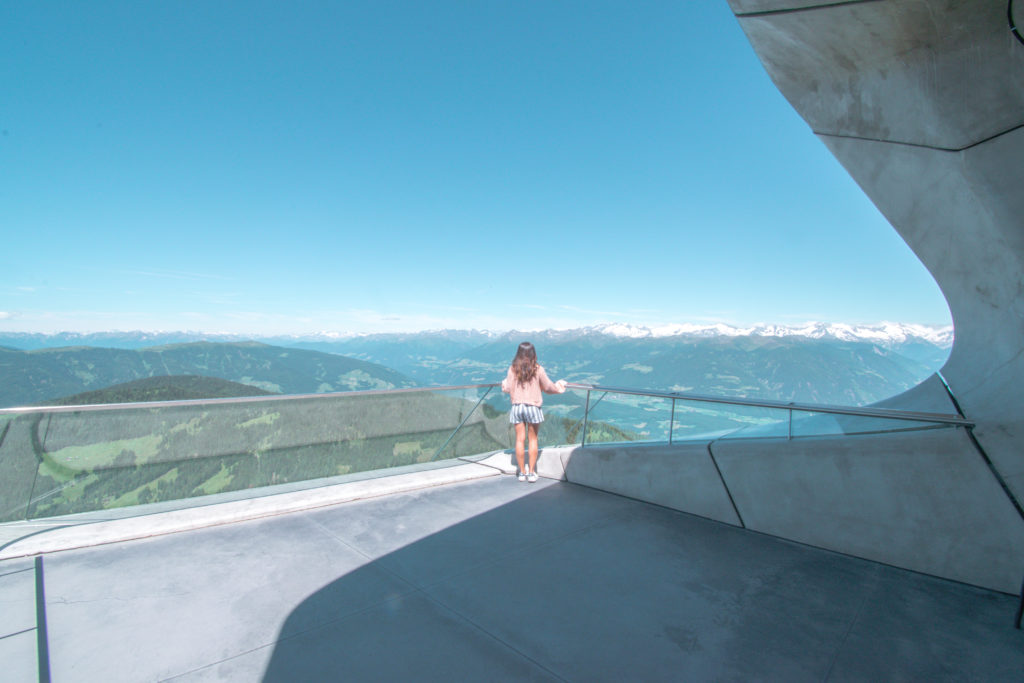 Les cascades de Riva
L'après-midi, nous sommes allés voir les cascades de Riva, situées dans le parc naturel Vedrette di Ries-Aurina. Il y en a trois au total. Le parcours pour les trois cascades dure environ 2h. Nous nous sommes arrêtés à la première cascade car Yann avait mal au genou suite à la randonnée Sassolungo. Le chemin traverse une forêt de pins, c'est magnifique et apaisant. On vous conseille vraiment d'y faire un tour !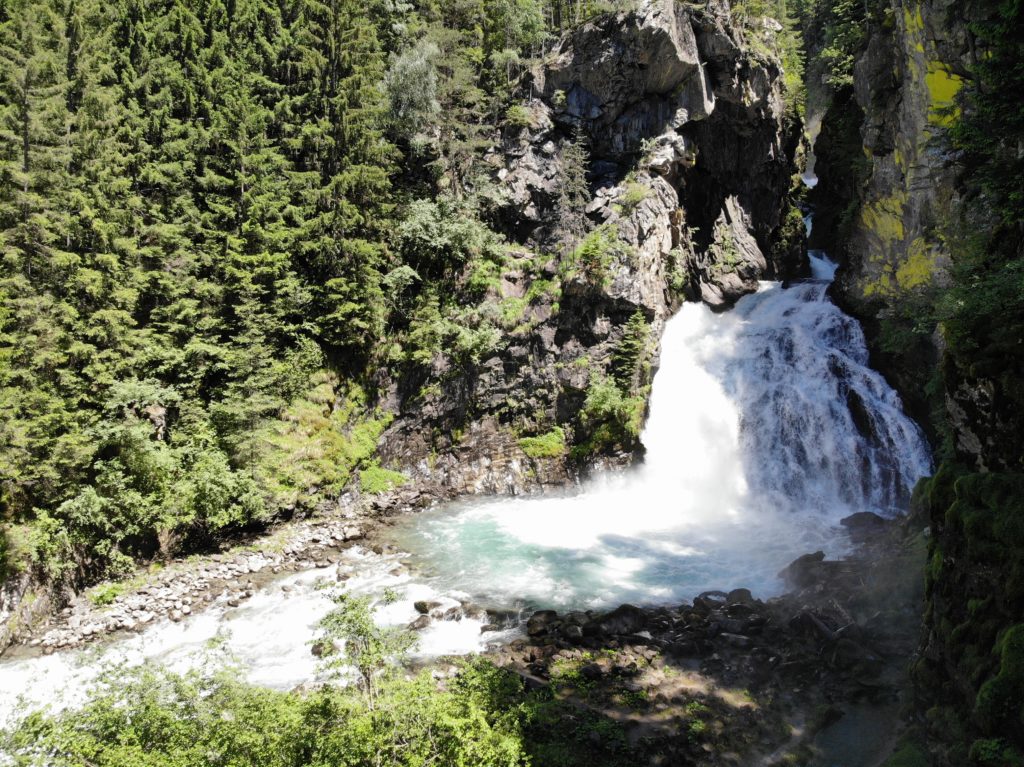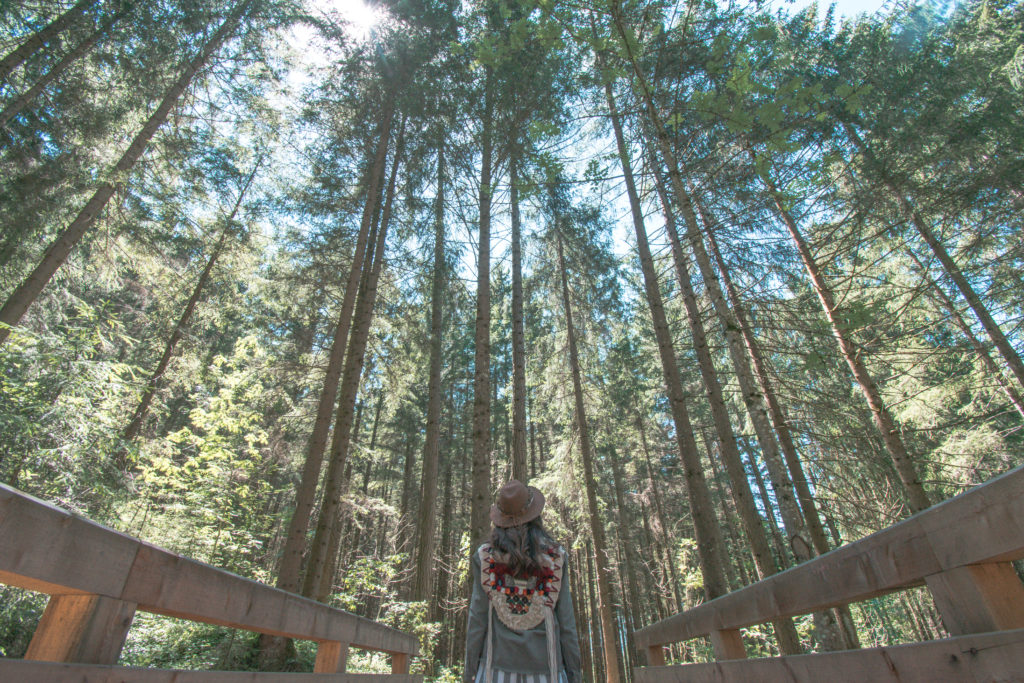 In the afternoon, we went to see the Riva waterfalls, located in the Vedrette di Ries-Aurina natural park. There are three in total. The route for the three waterfalls lasts about 2 hours. We stopped at the first waterfall because Yann had knee pain after the Sassolungo hike. The path crosses a pine forest, it is beautiful and soothing. We really advise you to take a look!
At the end of the day, head to the Hotel Leitlhof to enjoy the swimming pool with a beautiful view of the mountains. The dinner was excellent and very filling. Its location is great for visiting Lago di Braies (15 minutes by car). Click here to book.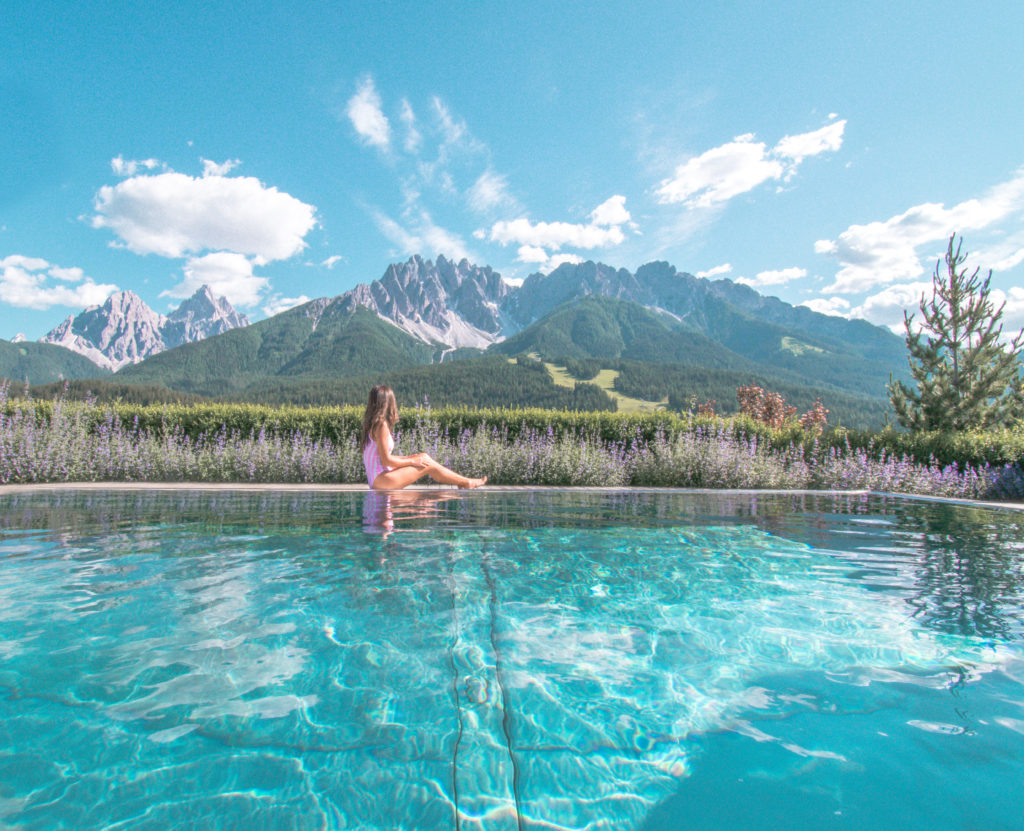 Day 4 : Dolomites travel guide
Lago di Braies, the Dolomites diamond
Wake up at 6 am to go see Lago di Braies, THE place we were waiting for the most. You have inevitably already seen this magnificent lake with its boats and its wooden hut on Instagram.
It is probably the most famous place in the Dolomites. Go there very early, around 7am, so as not to have many people. The only downside to this hour is that the boats are not yet available for hire. As this activity is managed privately, the hours are not fixed: they depend on the goodwill of the owner. You can walk around Lago di Braies in around 1.5 hours (distance: 5 km).
We wanted to go back there in the afternoon to go boating. We quickly turned around when we saw the three parking lots crowded with cars, with hundreds of people flocking to the lake.
How to take pretty pictures at Lago di Braies
The best time is around 7 a.m. (good light and few people) or late afternoon (good light but crowded). Strangely, we find this lake prettier when it is in the shade. From 8:30 am, the sun begins to beat on it and this too much light diminishes the romantic side of the place.
Take an accessory that will dress up your outfit (a hat, a poncho). If you want to push the staging and the Instagrammable potential even more, bring a light garland with you!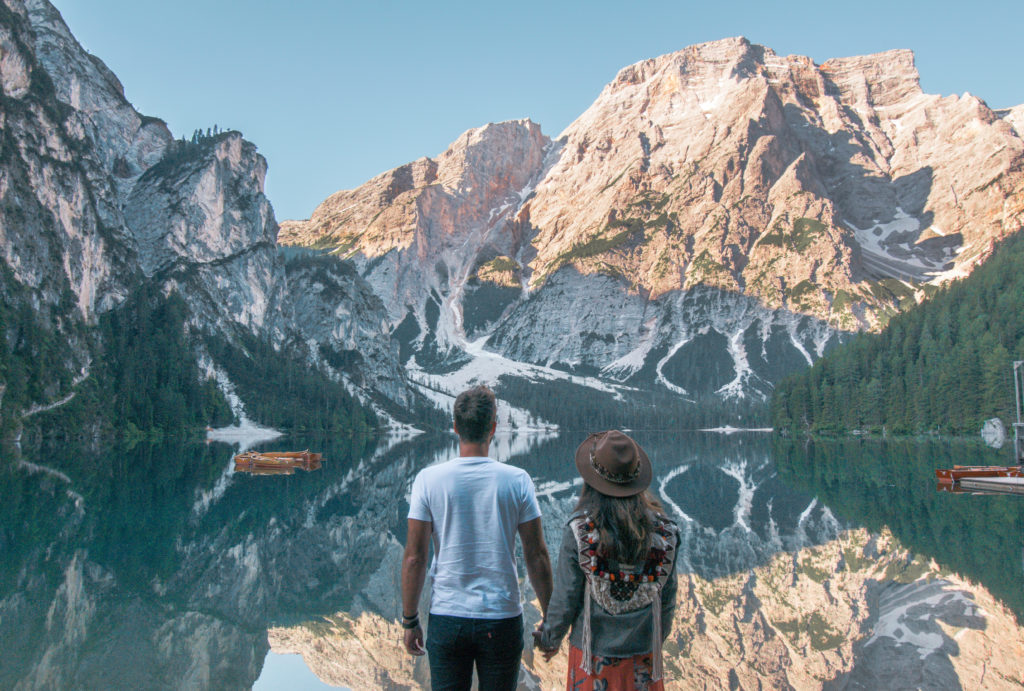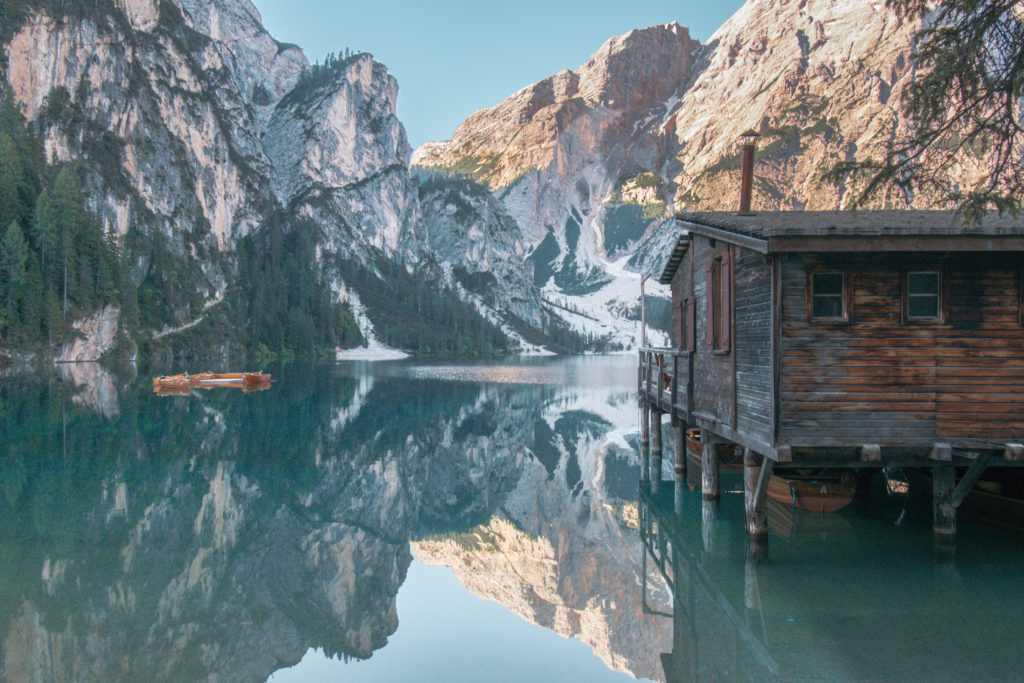 Tre Cime di Lavaredo hike
In the afternoon, we had to hike to see the Tre Cime di Lavaredo, three mountain peaks that are side by side. We abandoned the idea for several reasons: Yann still had pain in his knee and the weather was starting to cloud over. The price of access to the hike really ended up discouraging us: paying 30 € for parking for 4 hours is overkill. In fact, the path to the Auronzo Refuge, where the hike starts, is private.
Some information for those who want to do it:
📍Total duration: 3 hours – Elevation: around 500m – Distance: 10.6km – Difficulty: accessible to all – Parking price:€ 30
Voir cette publication sur Instagram
Instead, we stopped at a lake of an incredible green color: the lago di Landro. Then we went to lago di Misurina (less beautiful) to eat our sandwiches and sunbathe by the water.
Voir cette publication sur Instagram
Where to sleep in Cortina d'Ampezzo?
At Hotel Cristallino d'Ampezzo. Price: 90 € per night – dated establishment so the price is high for what it is. Breakfast not great. See on Booking.com
Where to eat in Cortina d'Ampezzo?
Pizzeria "Al Passetto" – very good pizzas – 25 € for 2 drinks and 2 pizzas.
---
Day 5 : Dolomites road map
Lago di Sorapis Hike
The Lago di Sorapis and its extraordinary color is our second favorite of the Dolomites. It is the most beautiful lake that we have seen in our life. We really insist on its color which seems unreal. Lago di Sorapis is of glacial origin and is located at an altitude of 1936m.
We recommend that you start around 8 a.m. One, you will be less hot. Second, you won't be bothered by the world. We came back down from the lake around 11am and we passed dozens and dozens of people going up. This place is very busy in the afternoons and especially on weekends.
Practical information about the hike:
📍Duration: 4h – Distance: 13 km – Elevation: 600m
🏔Difficulty: no major difficulty, except the last climb which is a bit rough. For those who have vertigo: there is a small passage near the void but there is a rope to hold onto.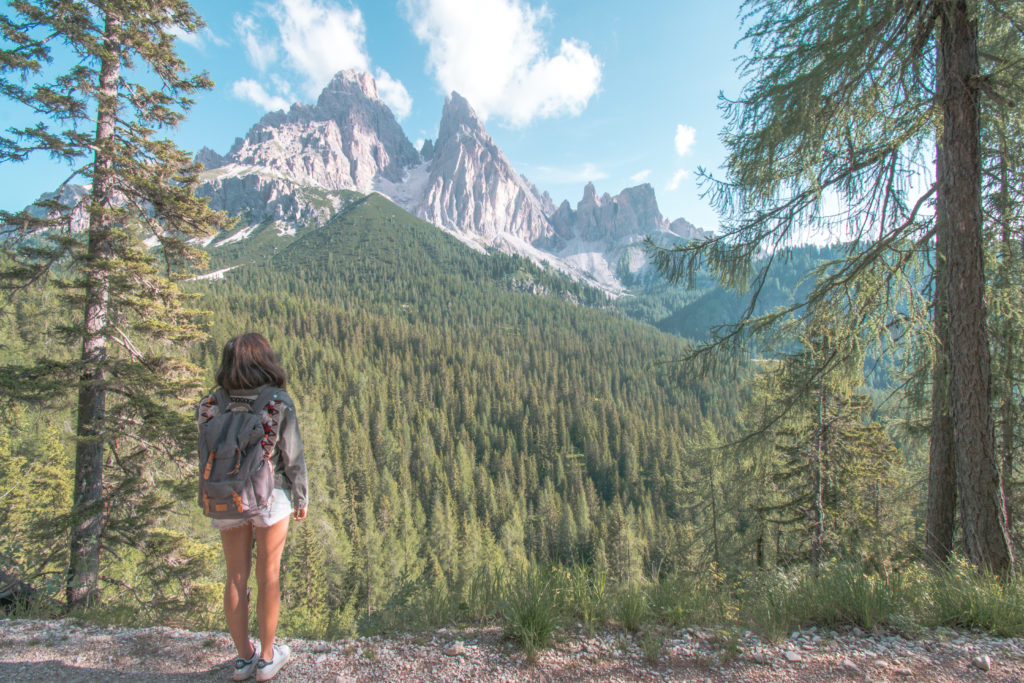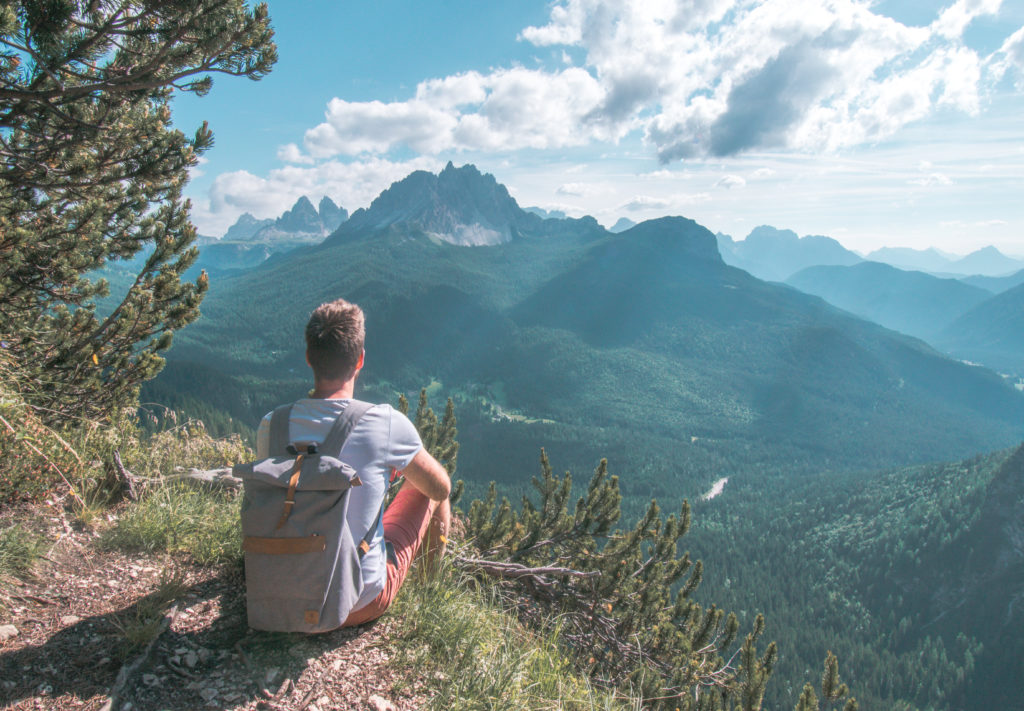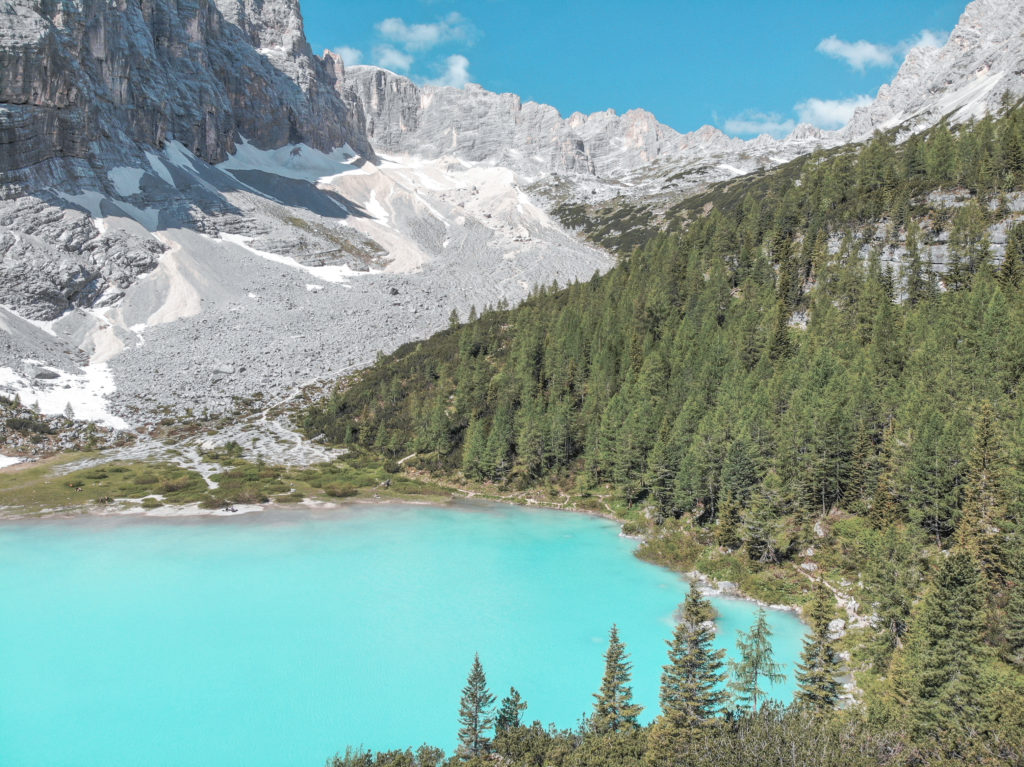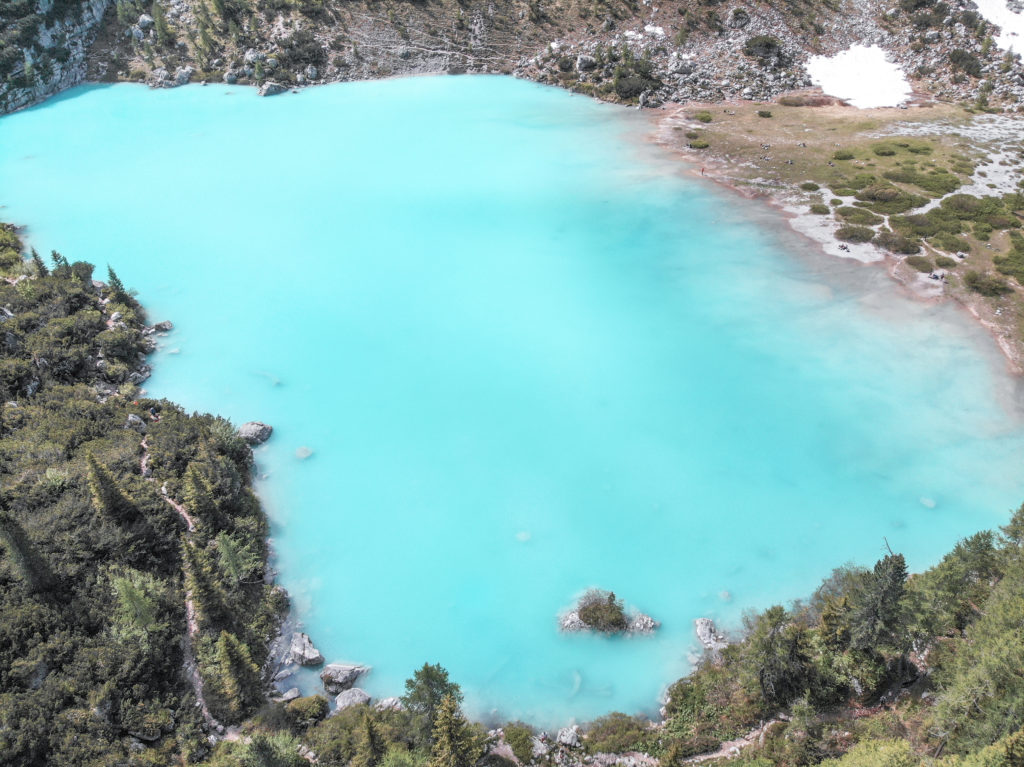 Day 6 : Last day of your Italy vacation
On the way back down to Venice, we took advantage of our last day to make a detour to Verona. We loved walking around this city! The alleys are very pretty, the city has a crazy charm.
After discovering old Verona, we went up (by car) to Castel San Pietro to admire a panoramic view of the city.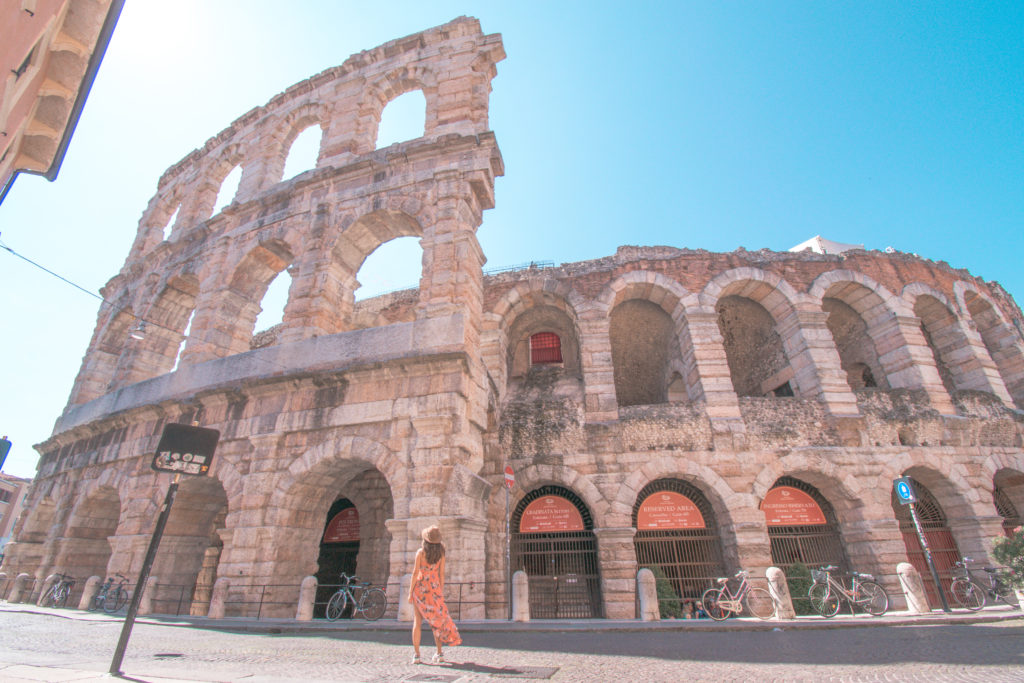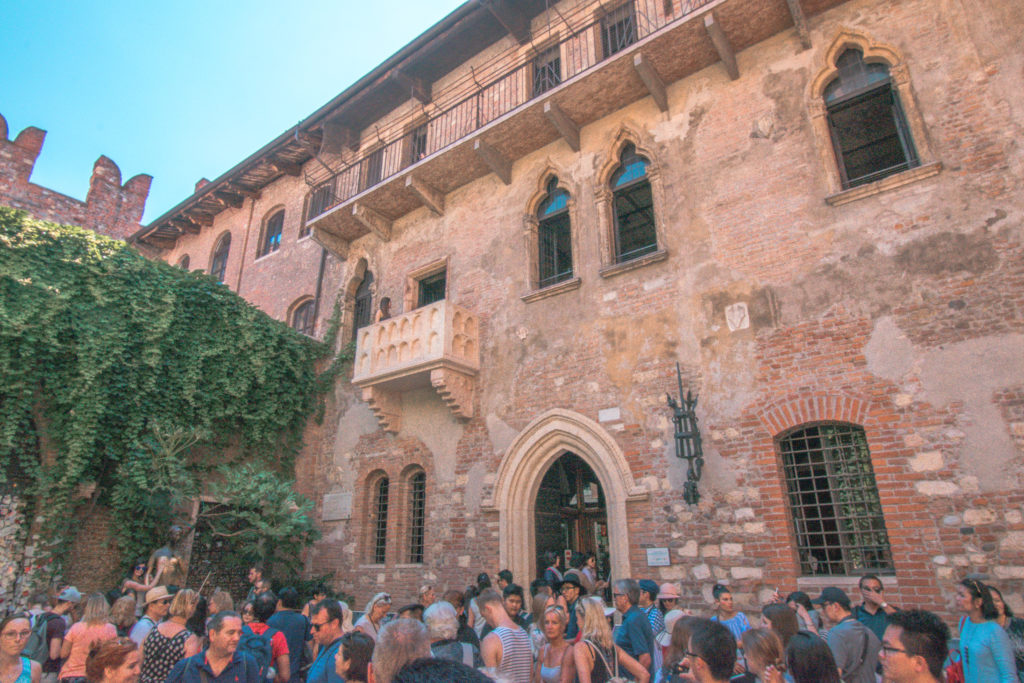 The famous balcony of Juliet Capulet of Romeo & Juliet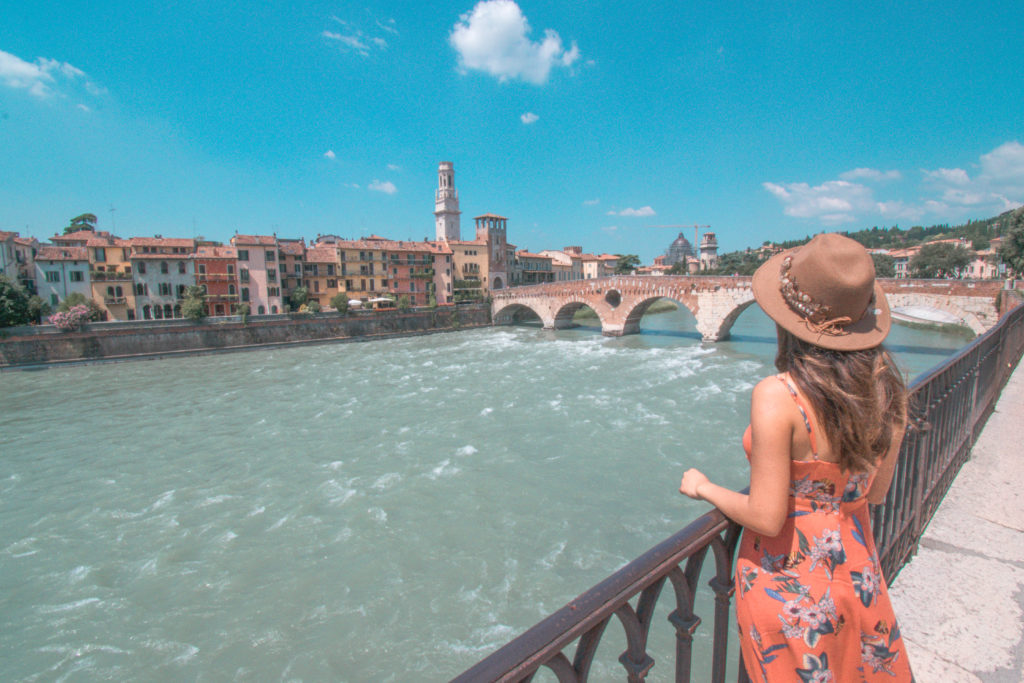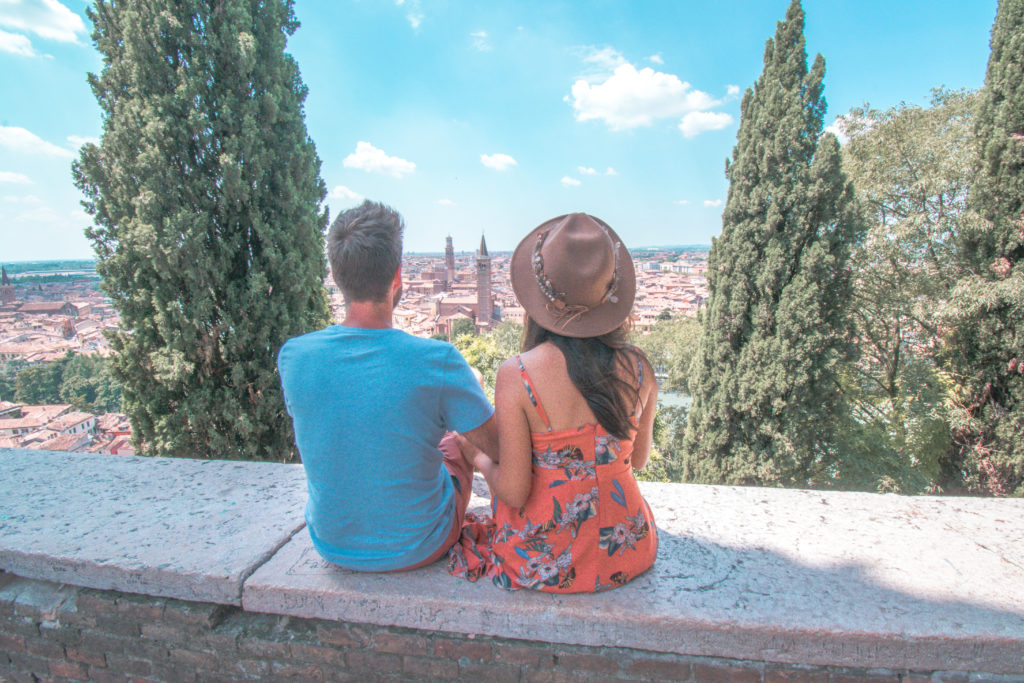 ---
We hope you enjoy your Dolomites road trip as much as we do! If you have any questions, we are happy to answer them in comments!