Road Trip in South Corsica: 1 week itinerary
For our road trip in Corsica, we focused on Southern Corsica for 7 days. If you have the same time, we strongly recommend that you travel to only one part of the island. Indeed, the island of beauty is still quite vast and the winding roads make it sometimes long to arrive from point A to point B. The landscapes of Corsica have reminded us a lot of those of the Reunion Island (with much more beautiful beaches). Moreover, to discover our two-week itinerary in Reunion, click here. 💙
In short: you will not be able to visit everything in a week in Corsica, so take the time to quietly discover the stages that we are going to offer you and to enjoy them.
Practical information for your road trip in Corsica
How to get to Corsica?
Two options are available to you for traveling to Corsica :
✈️ 

Plane :

the fastest way. There are three main airports in Corsica: Bastia, Ajaccio and Figari. To visit Southern Corsica, we advise you to land in Ajaccio or Figari. Find the best airline ticket prices here.
🚢

Ferry :

Corsica Ferries are available from Nice and Toulon. By booking in advance, you may find tickets at a good price. Depending on the fare, the ferry may be more economical than the plane as it does not require renting a car in Corsica if you are crossing with your own vehicle. Reservation here
Rent a car for your road trip in Corsica
We booked our car rental through the Skyscanner comparator. He found us an offer with the car rental company Sixt at Ajaccio airport. Everything went very well.
What budget for a week of road trip in Corsica?
Corsica is quite expensive. Prices are on average 20% higher than on the mainland. Here is the budget detail for our trip to Corsica :
Flights Lyon – Ajaccio : 75€ per person
Car Rental : 200€ for the week
Gasoline fees : 100€ for around 700 km traveled
Hotels : 100€ per night on average in high season
Restaurants : 50€ per day per person for 2 meals
Total = 1 850€ for a 7-night stay = 925€ per person, excluding activities.
Note: this budget can obviously vary according to the price of car rentals and planes, but also according to the standard of the hotels / restaurants you choose. We are only talking about our experience here.
When to go to Corsica?
As with many European destinations, the best time to travel to Corsica is from May to June, then September to October. During these 4 months, the temperatures are mild and you avoid school holidays. This has two advantages: lower prices and fewer tourists.
💌 However, Corsica is beautiful all year round! In winter you can even ski with a sea view.
---
Road Trip in South Corsica: one week itinerary
Days 1 to 2: Propriano
For the start of your road trip in Corsica, we recommend that you book your first two nights in Propriano. This base is ideal for exploring the surroundings.
Where to sleep in Propriano?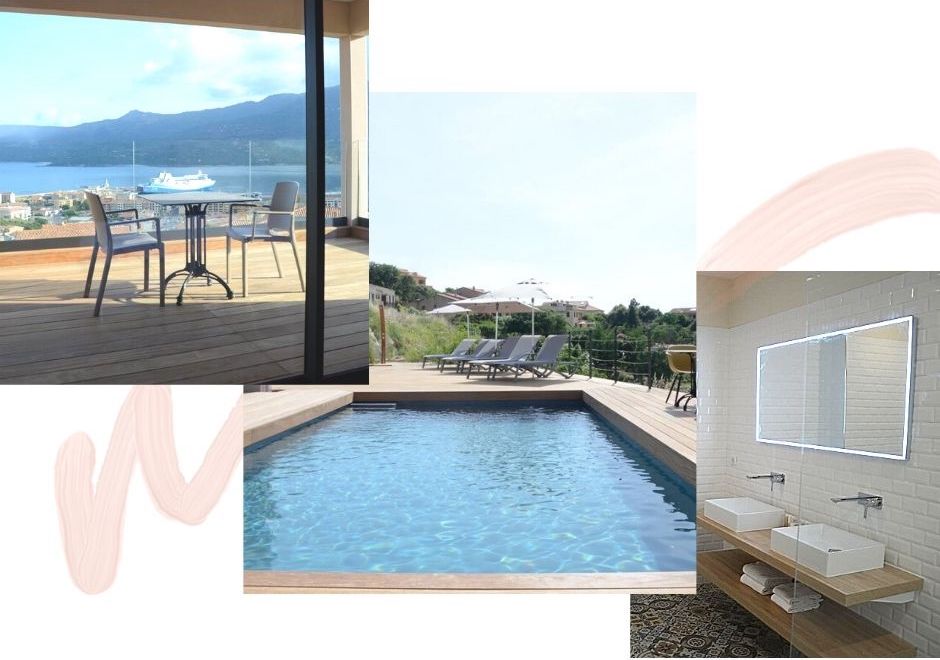 At Casa Mare E Vista, a guest house with elegantly decorated sea view rooms and a beautiful outdoor swimming pool. Very good value for money for Corsica!
What to do in Propriano and its surroundings?
We have spread this program over 2 days so that you can enjoy each place with confidence, without rushing.
Roccapina Beach
Unmissable during your weekly trip in Corsica, Roccapina beach is one of our favorites in southern Corsica. The sand is white and the water is translucent. We recommend that you take the short hike that leads to the Genoese tower of Roccapina. You will see that the landscape is even more beautiful when you gain height. 😍 The more courageous will continue the path to the famous Lion of Roccapina rock, for an even more panoramic view.
⏱ Duration: allow about 40 minutes round trip to the Genoese tower or 2 hours round trip to the lion rock
💌 How to get to Roccapina Beach 
To access it, you don't even have to walk! Lots of people park in the parking lot near the main road and walk 7 km round trip. However, two large car parks are free at Roccapina beach. The path to get there is bumpy but still passable. Don't be afraid and go (slow).
Once you get to the end, you will have an intersection with two possibilities: keep to the right to be as close as possible to the start of the short hike!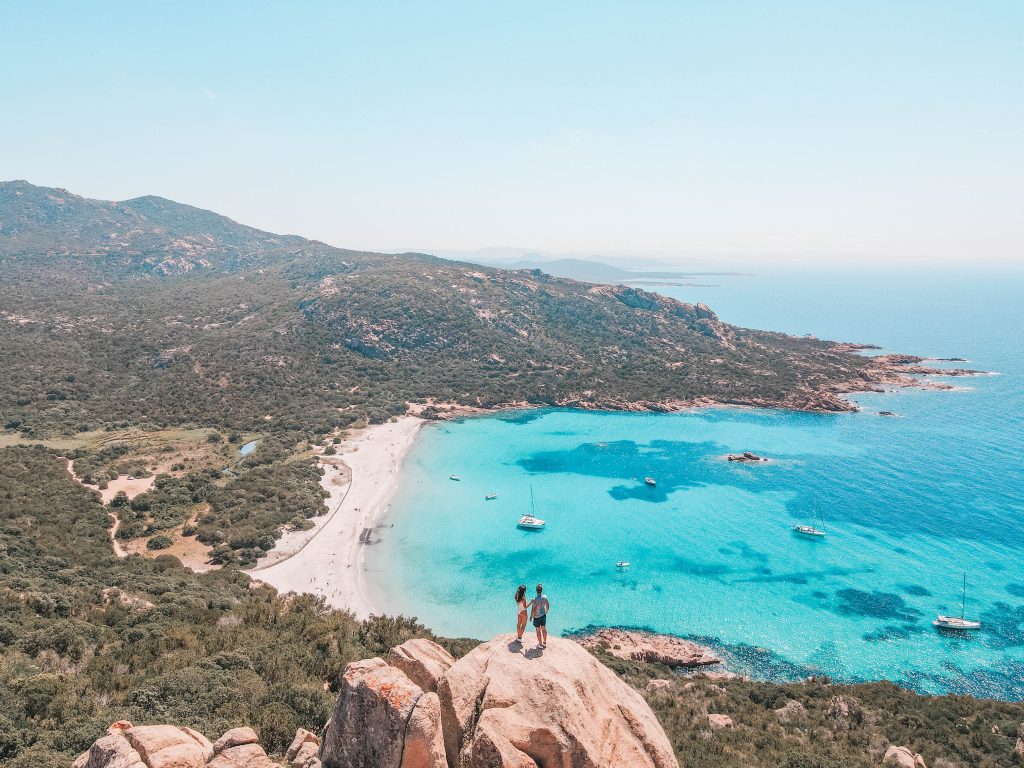 Lunch at the Acciola sheepfold
The hike to Roccapina will probably have made you hungry. That's good, because we've found a great place to eat nearby.
Meet at Acciola's sheepfold to taste Corsican specialties and with a magnificent view, please! We tasted the burger and the aubergines Bonifacienne: to die for 🤤 The products are local, fresh and cooked with passion.
💌 Our advice: call ahead to book a table.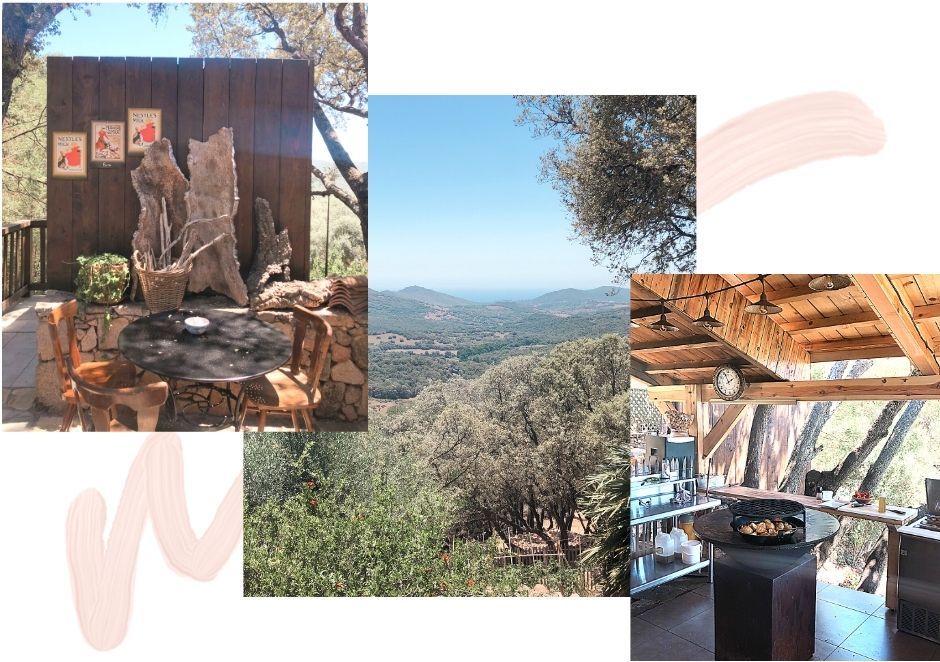 Visit of the Village of Sartène
Sartène is a typical Corsican village, highly recommended by tourist guides. Well, without wanting to offend anyone, we found him a bit on the side. Yes, the few stone streets have their charm, but the tourist shops are not typical.
You can still take a walk for an hour in Sartène to digest, on the way back to Propriano, in order to form your own opinion.
👉 You can also opt for an even more enjoyable ride by renting an electric bike.
Aperitif and dinner at Charlot
A sunset with a view of Propriano bay, accompanied by traditional Corsican cuisine 😍 If that makes you want as much as we do, go to the restaurant Chez Charlot in Viggianello!
💌 Reservation strongly recommended to have the best table on the terrace.
Voir cette publication sur Instagram
---
Swimming in the Baraci river
With these rocks in red / orange tones, it feels like another country! For a quiet swim in (a little) cool water, it's here. The access is quite steep but without great difficulty. See GPS coordinates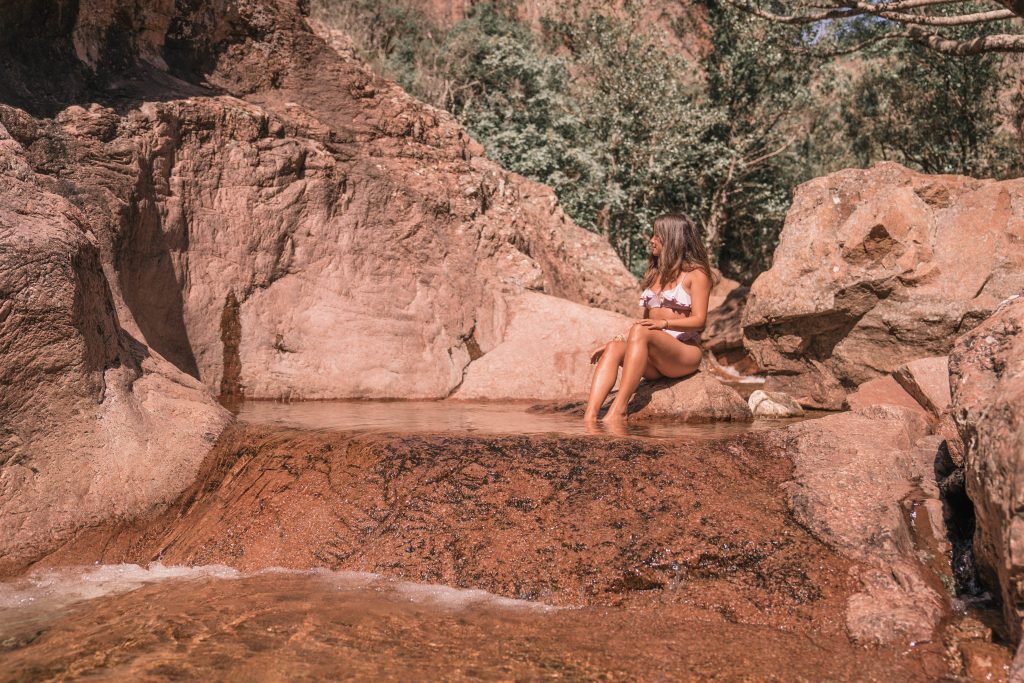 Kayaking excursion in Campomoro Bay
Campomoro Bay is 15 km from Propriano. During this sea kayaking trip, the guide will explain all about the marine fauna! You can also swim in a wild cove on the edge of an island. A little bonus that is pleasant: the effort will be rewarded with a tasting of Corsican sweets 🤫.
💌 This activity is accessible to young and old. For info and to book: click here!
Surf Lesson
Surfing in Corsica? Yes! When we tell you that we can do anything on the Island of Beauty, we are not lying to you!
If you want to take a surf lesson in Corsica for the first time or even for experienced beginners, you can contact the WaterPlay organization. The team is super nice! It also takes place in the bay of Campomoro.
🌊 Small precision: this activity is only possible on days when there are waves of course 😆.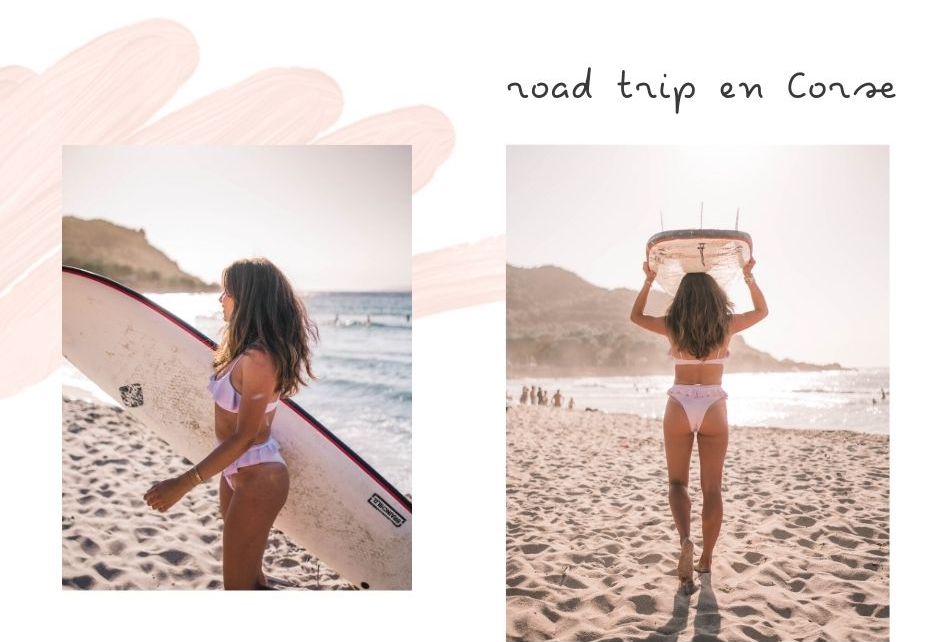 Dinner « Chez Antoine »
To recover from this second sporting day of road trip in Corsica, nothing better than a good dinner! Chez Antoine, you will find a nice decoration, a superb view and very good dishes. The restaurant is best known for its fish and shellfish dishes. Apparently the cocktails at the downstairs bar are delicious! 😋 They also serve tapas, for those who wish.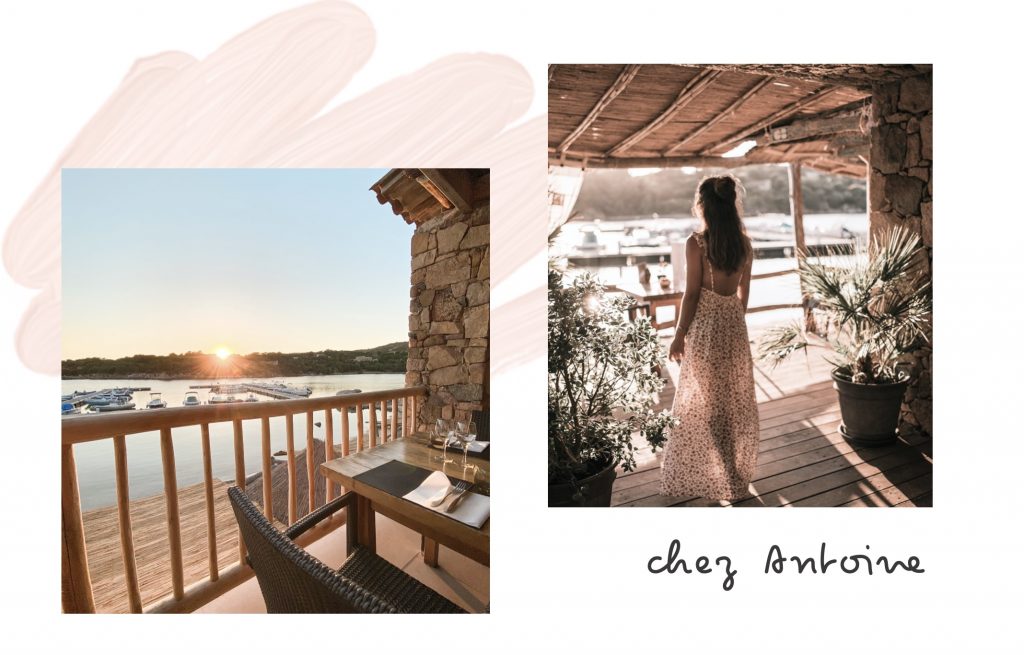 ---
Days 3 to 5 : Bonifacio, let's continue the road trip in Corsica
Bonifacio was our favorite stop on this road trip in Southern Corsica. This little town has a lot of charm, but its surroundings have so much more! The beaches in Bonifacio, wilder than elsewhere, are not to be missed.
Where to sleep in Bonifacio ?
We stayed in a villa at Residence Terra Marina. The accommodations are very well equipped and comfortable, with a real barbecue for the evening meal! The swimming pool at Residence Terra Marina offers an incredible view of the sea, the cliffs and the beautiful town of Bonifacio. Having breakfast with this view is the best way to start a day of road trip in Corsica… 😍
Here are 2 other recommendations if you have a smaller budget :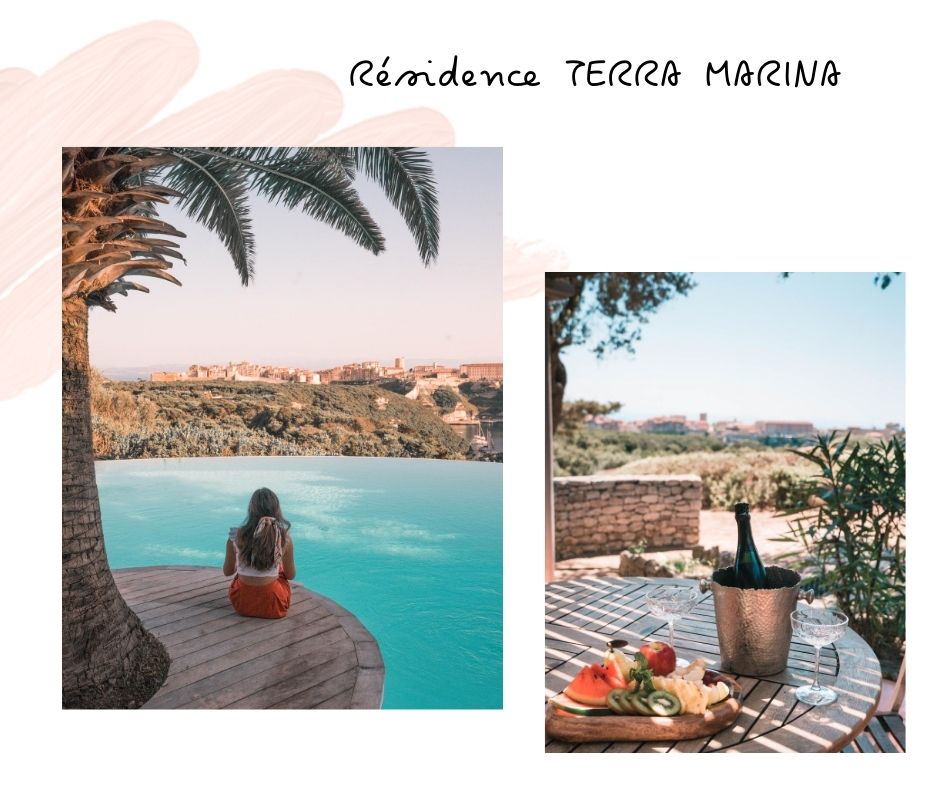 What to do in Bonifacio?
The Beach and the Trou Saint-Antoine
Located in Cap de Pertusatu, Saint-Antoine beach enjoys a privileged location, in the heart of the Bonifacian cliffs. About a hundred meters away is the Trou Saint-Antoine, which houses a small cove accessible by the sea. If you have the motivation, you can swim there from the beach.
💌 Our advice: go in the late morning so that the sun is straight and there is no shade in the hole! Do not forget your bottle of water, there is no trade on site. Access : 15 minutes by foot from the car park (free). Simply put "plage Saint-Antoine" in your GPS app.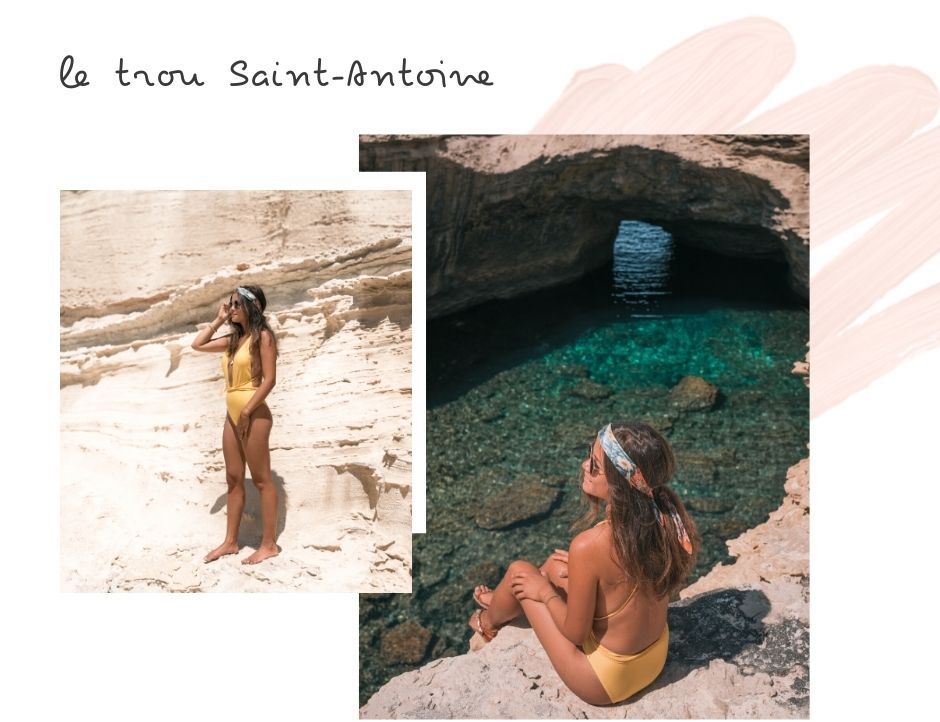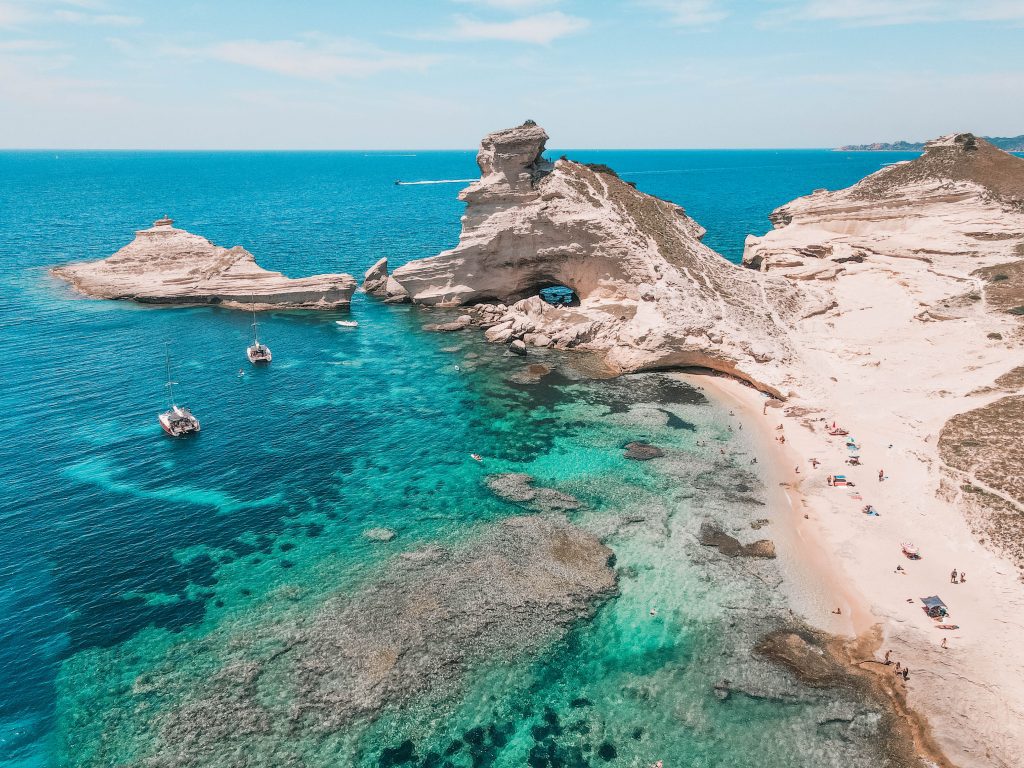 🤫 
Our Secret Spot
We have found a dream location for you, at the foot of the cliffs, not far from Saint-Antoine beach. Here, no sand, but magnificent blue water. You can swim without any problem, the descent into the sea is via the rocks, where it is very easy to climb back up.
💌 Access : allow 10 minutes to descend from this parking spot. The path is on the bend, there is only one path to the sea. Don't forget your masks and snorkels!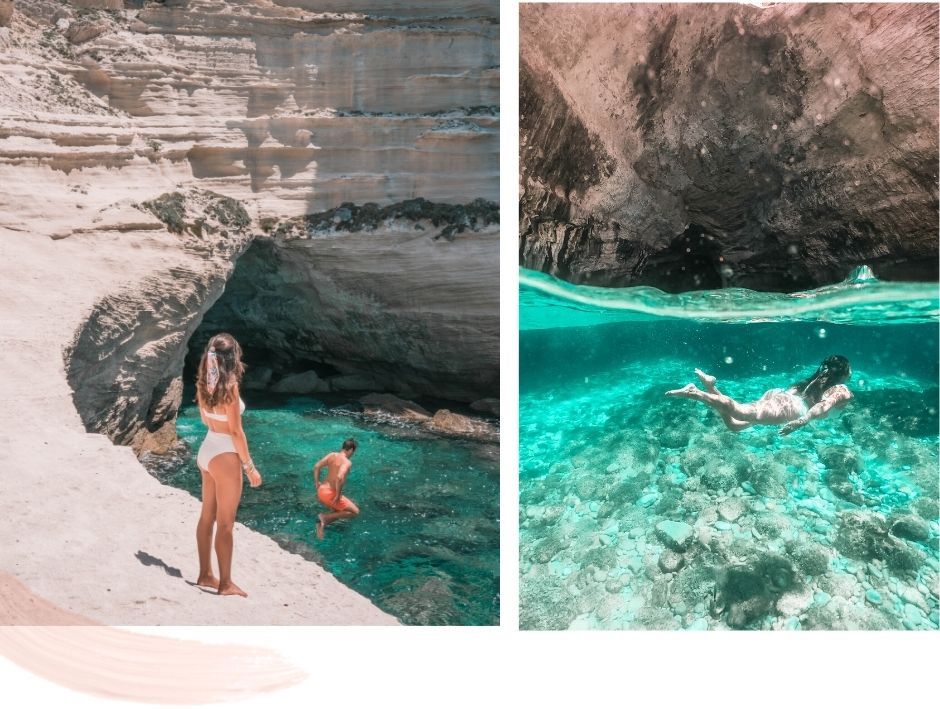 Petit Sperone & Grand Sperone Beaches
Very well known in Bonifacio, the beaches of Petit and Grand Sperone have the allure of the Caribbean. The water is crystal clear for tens of meters. 💎
We went to Petit Sperone Beach, very easily accessible in a 15-hour walk from the parking lot (free). Our feeling: we did not like this beach, which is too crowded with a lot of families with children. Outside of school holidays, we might have liked it more!
💌 We have been told that the Grand Sperone beach is less crowded with people because it is still a little further away.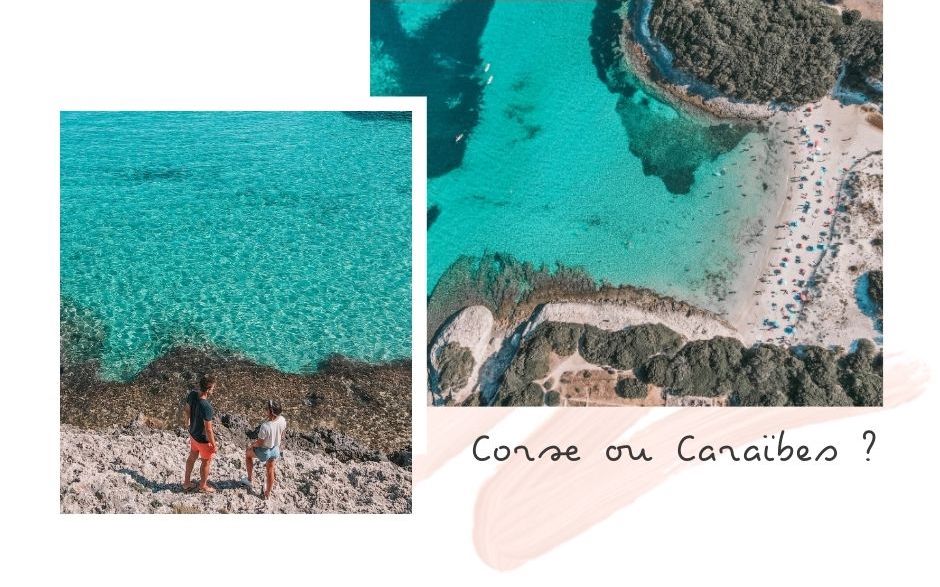 Paddle in Piantarella Beach
Paddle boarding is an activity accessible to the greatest number! It allows you to explore places differently and to discover secret spots. 🤫 Meet in the lagoon of Piantarella for a heavenly paddle session.

The beaches of Paraguan and Fazio
Another small disappointment for us who couldn't wait to discover Paraguan beach. Once there, a large layer of Posidonia (marine plants which attest to the quality of the water) spread over the entire surface of the sand. Note: Please don't misinterpret our words – it's great that these plants are there and the water quality is excellent.
So we decided to walk 20 minutes to Fazio beach, but people on the way told us that it was full of people. U-turn then…
🚗 You can still try to see Paraguan Beach because access is easily done by car. A gust of wind may have driven the plants away! The water is crystal clear, as you can see: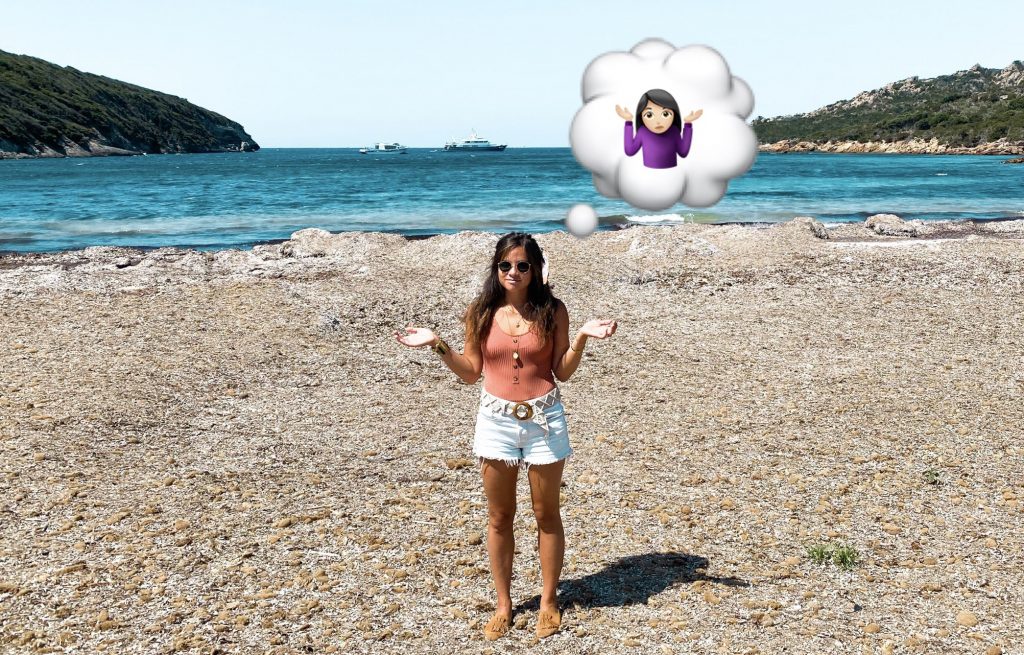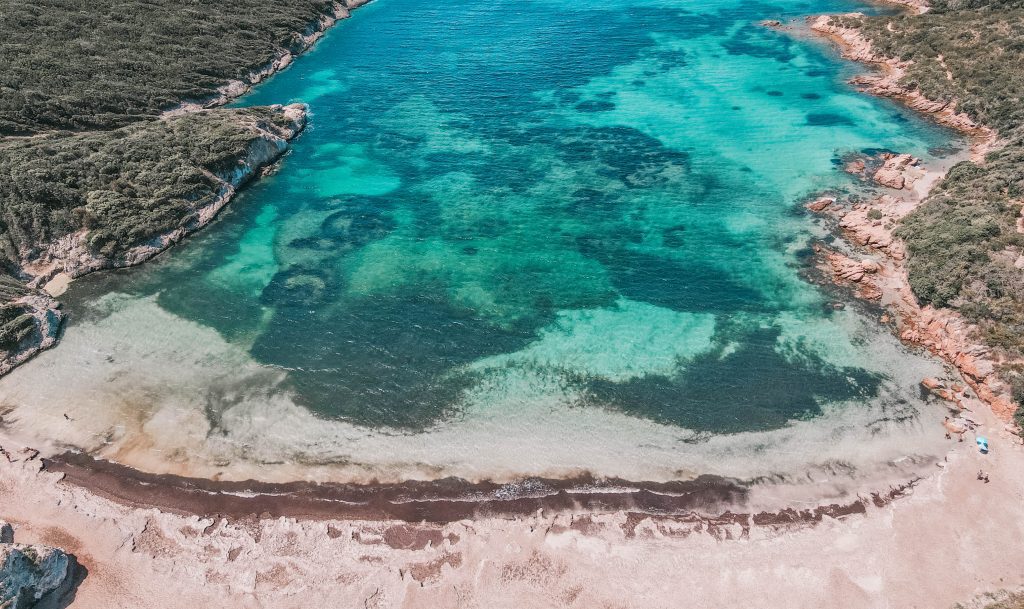 ---
Take an excursion to the Lavezzi islands
The archipel of the Lavezzi Islands, classified as a nature reserve, is unique in the world. Not only will you be able to bathe in crystal clear waters bordered by huge granite rocks, but the return boat trip will also allow you to admire Bonifacio and its cliffs from the sea!
💙 How to visit Lavezzi Islands?
To get to the Lavezzi Islands, you have the choice between two options :
Take a shuttle from the port of Bonifacio. The boat will drop you off in 30 minutes on Lavezzu Island (the main one). The return trip lasts 1 hour to enjoy the landscapes. This solution is more economical but it will only allow you to stop. You can of course stay on site as long as you want. Just don't miss the last boat! Here are the prices: Adult: € 37, Student: € 32.50, 13 to 17 years old: 28.50 €, 4 to 12 years old: 18.50 €.
No reservation necessary: ​​departures and returns every hour. To park, the boat company has 2 free parking spaces for their customers, ask their port office.
Book a day trip. The cruise includes 2 stops: a stop in a cove on Lavezzu Island and a swim in the lagoon of Sperone. This option is more expensive than the previous one, because it includes: a breakfast, a lunch with lobster pasta, and drinks. On the return trip, the captain will also take you to observe the beautiful landscapes of Bonifacio. Price: € 95 per adult with the service provider L'Autre Croisière.
Voir cette publication sur Instagram
Visit Downtown Bonifacio
Bonifacio, nicknamed "the City of the Cliffs", is a place full of charm. The city is in two parts: on the one hand, the marina with its restaurants, shops and bars; on the other hand, the upper town, which is full of local addresses, small alleys and pretty viewpoints.
What to do in the center of Bonifacio?
Take the King of Aragon stairs: for the modest sum of € 3.50, we invite you to discover the famous King of Aragon stairs, carved by man in the cliff. The landscapes are breathtaking (the same goes for the 187 steps 😂).
Getting lost in the alleys: this is the best way to discover the upper town! Take the opportunity to taste delicious ice cream from Rocca Serra.
Go up to the Saint-Roch Chapel: on the way, you can admire beautiful panoramas of the cliffs, the sea and in particular Sardinia. We warn you: it climbs a little! 🥵 You can access it by car if necessary, but it is difficult to park.
Take a hike: for the more motivated, the hiking trails of Campu Rumanilu and Pertusato allow you to reach the center of Bonifacio. Ideal place for a running or a walk on the cliffs (in complete safety)!
💌 One last tip: the difference in height and the heat do not mix well in Bonifacio. Get up early to enjoy the city without dying of heat and especially to be more peaceful.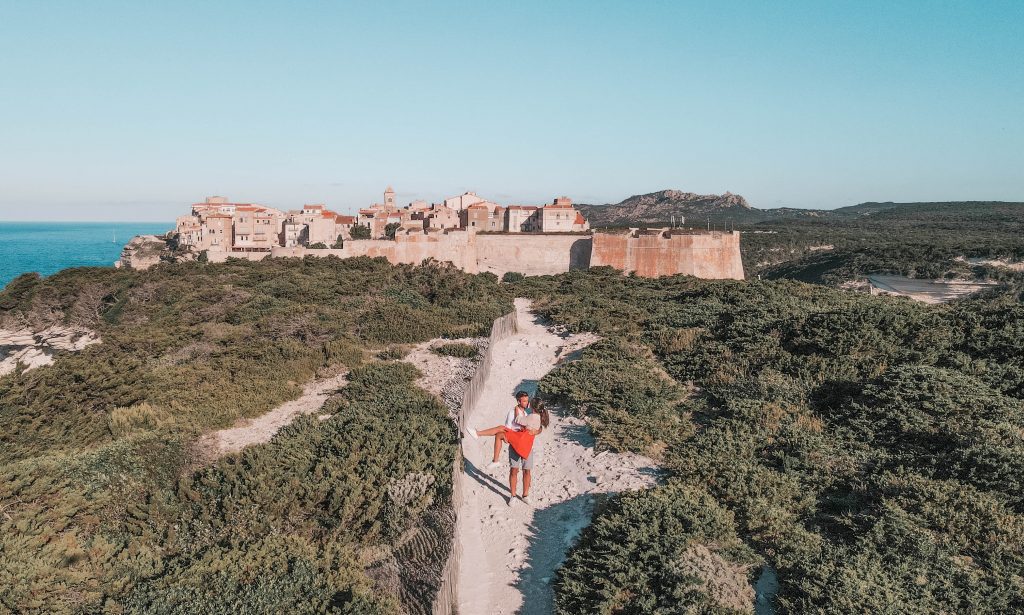 Sunset with a view : Bonifacio and its cliffs
Ahhh that makes you want, eh? Well Named! As you can see in the following photos, we have found the perfect place to watch the sun set behind the cliffs and landforms of Bonifacio. Here are the GPS coordinates.
⚠️ Be careful when you approach the cliffs, we don't want an accident.
Voir cette publication sur Instagram
Dinner on the port of Bonifacio at Del Ferro Restaurant 😋
After admiring the sunset, head to the port of Bonifacio for dinner. There are several reasons to eat at Del Ferro:
The food is absolutely delicious, with local products
Everything is

fresh and homemade

The price / quality ratio is excellent with good quantities
The restaurant is quiet, on the port of Bonifacio
The address is brand new, with a bohemian decoration
And our best argument for the end: Restaurant Del Ferro was created by a lovely couple. You will therefore be very well received. We wish them the success they deserve!
📍Address : 3 quai Banda del Ferro, Bonifacio.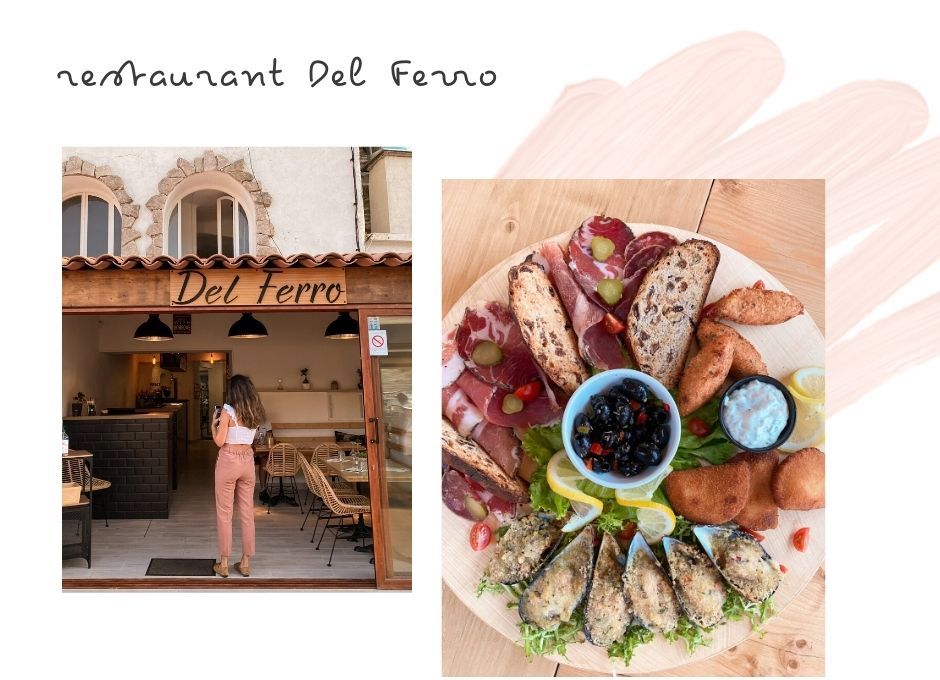 ---
Days 6 à 7 : Porto Vecchio, last stop of the road trip in Corsica
Porto Vecchio was the last stop on our 1 week Corsica road trip. Time has passed at breakneck speed! We leave this island with the promise of coming back soon … In our opinion, you will do the same! 🥰
Where to sleep in Porto Vecchio?
We stayed at the Santa Giulia Palace residence. Apart from the beauty of the place, the geographical location is ideal: 7 minutes on foot from Santa Giulia beach!
If your budget allows it, let yourself be tempted by a premium apartment. You can enjoy your own jacuzzi in a small tree-lined garden and a Balinese-style outdoor shower 🥰 Otherwise, they also offer cheaper accommodation. Within the residence, there are also 3 outdoor swimming pools, including a swimming lane overlooking the bay of Santa Giulia. Rates & reservation
Other recommendations for accommodation in Porto Vecchio :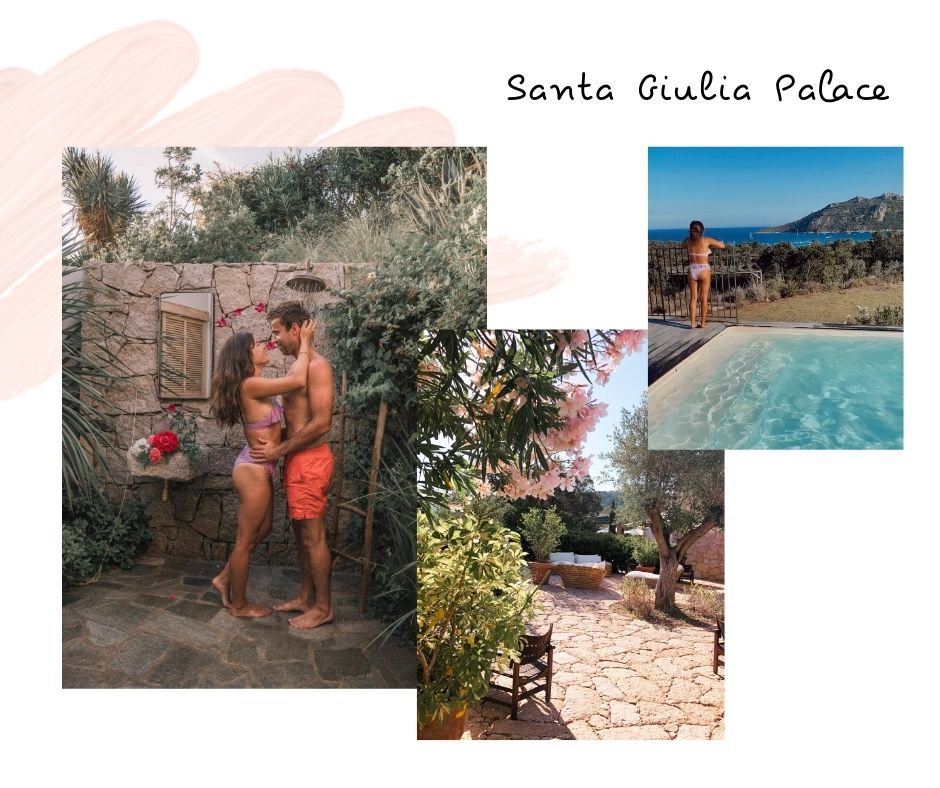 What to do in Porto Vecchio ?
Purcaraccia Waterfalls
The Purcaraccia waterfalls are undoubtedly our favorite spot on this itinerary in southern Corsica. They are located a little over 50 km from Porto Vecchio, or 1h10 by road. This place will amaze you, in addition to refreshing you! If you want to fully enjoy it like we did, it is best to get there for 9am maximum. Around 10 a.m., the spot begins to fill up and loses its charm. Also, don't forget to take water with you to last for several hours. You can go tobogganing and bathe in super clear water 😍 However, it does not exceed 15 ° C.
⏱ Access to Purcaraccia Waterfalls : Paradise has to be earned. Allow around 1 hour of walking to reach the pools (if you are not on the wrong path 😆). Indeed, the trail is not very well marked and contains several intersections. We'll help orient you to try to get to the top in 35 minutes like us 💪.
How to get to Purcaraccia Waterfalls?
🚗 Here is the exact location where you can park easily. To be at the waterfalls at 9 a.m., you must be parked at 8 a.m.
We warn you: if you decide to go there in the late morning or during the day, cars will be parked in single file for hundreds of meters (in high season, of course). So not only will you not be alone up there, but in addition you will add to the walk by trying as best you can to park somewhere.
Hike to the waterfalls of Purcaraccia:
The first part is quite simple: you will walk for ten minutes on a false rising flat, well signposted Take the opportunity to take pictures of the magnificent needles of Bavella, it is at the beginning that they can be admired at best.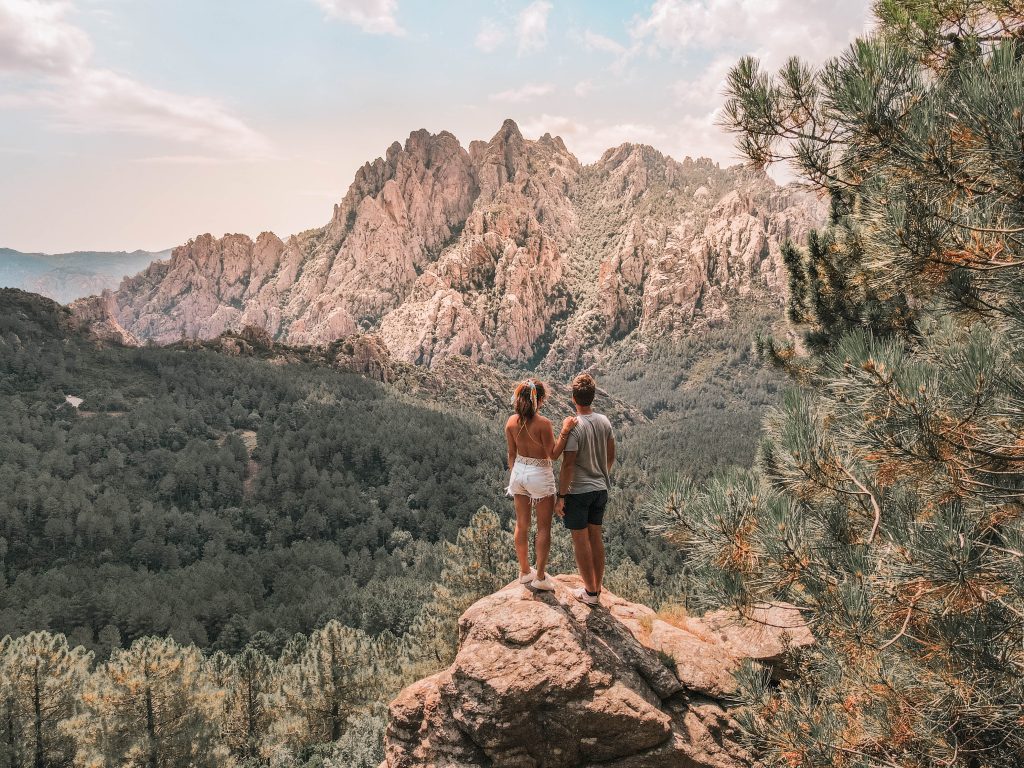 ⚠️ Then, in order not to get lost, you must stay as high as possible and never go down to the bed of the river. After about 30 minutes of walking, you will have no choice but to cross the stream. Don't panic, there are plenty of rocks to cross. But if you can come up with sneakers that can take on water, better. At this point, there is a first small swimming spot to cool off a bit before the final stage: much steeper!
Once you've crossed the river, the golden rule remains the same: climb as high as possible! It's frustrating because it climbs sharply and you move away from the sound of the waterfalls, but that's how you'll get there the fastest.
Is it dangerous?
Although there is a bit of elevation at the end, the hike does not present any major difficulty, but it is not accessible to very fragile or elderly people either. We have seen families with children (5/6 years old) go up without a problem. There is no climbing to do on this hike contrary to what you can read on the internet. What people call "rock climbing" is just that you have to step over a few large rocks or logs at a few moments.
Once you get to the waterfalls, be careful, it's slippery!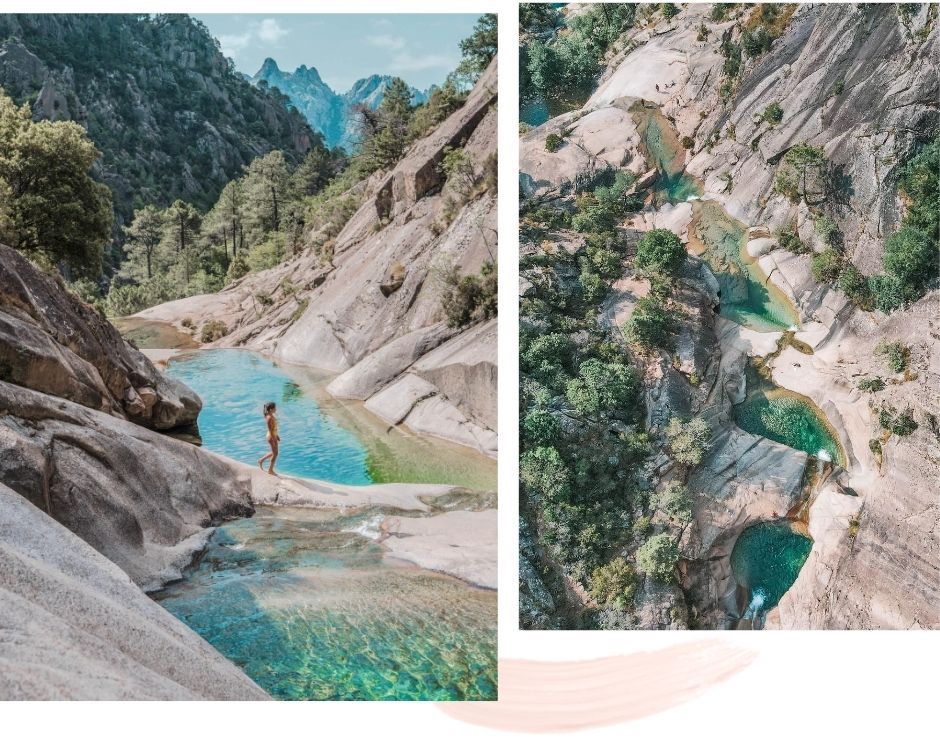 Canyoning in Corsica
If you want to explore the Purcaraccia waterfalls in a different way, a canyoning trip may be a good idea! It's a safe way to toboggan and enjoy the canyons. Personally, we wish we did because it sounded super fun. To book, click here!
There are many canyons in Corsica. For those who just want to learn about canyoning, the Pulischellu Canyon is ideal and more suitable for families. Info & booking
Other swimming spots near Porto Vecchio
Very close to the waterfalls of Purcaraccia, the waterfalls of Pulischellu are sublime but less impressive. They are accessible in 10 minutes on foot, therefore more frequented.
Natural pools of Cavu: just 40 minutes from Porto Vecchio, they are even more crowded than Purcaraccia. As always, we recommend that you get there very early. They are reachable in 10 minutes by foot.
---
Porto Vecchio and its beaches
The major interest of Porto Vecchio is the beauty of the surrounding beaches. Indeed, the city itself did not convince us. It's nice to go for a walk in the harbor, have an ice cream or have a drink with a view of the boats… but it is clearly not worth the surroundings. Porto Vecchio is the stage we least enjoyed during this road trip in Corsica. Why ? Because in high season, the beaches are taken by storm!
Let's start with the most beautiful of all to our liking:
🏖 Santa-Giulia Beach
We couldn't wait to see her and were not disappointed. The water is crystal clear for tens of meters and its rocks reminded us of a famous Seychelles beach. On the other hand, it is very popular! If you don't like being glued to your neighbors – especially during this Covid time – we recommend going early in the morning, or in the evening.
For lovers of sport and sensations, the beach has a nautical center with many activities.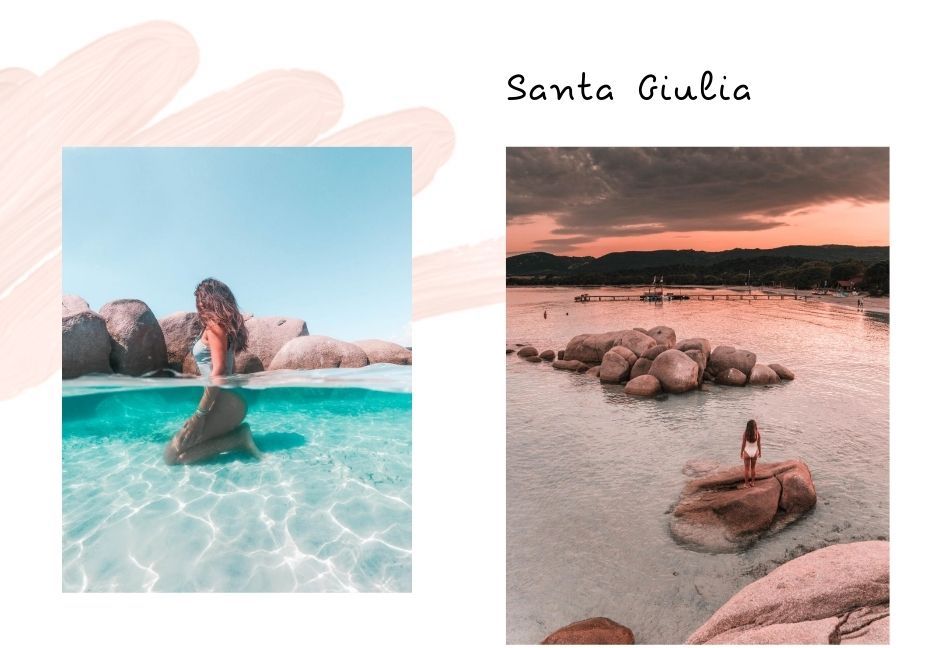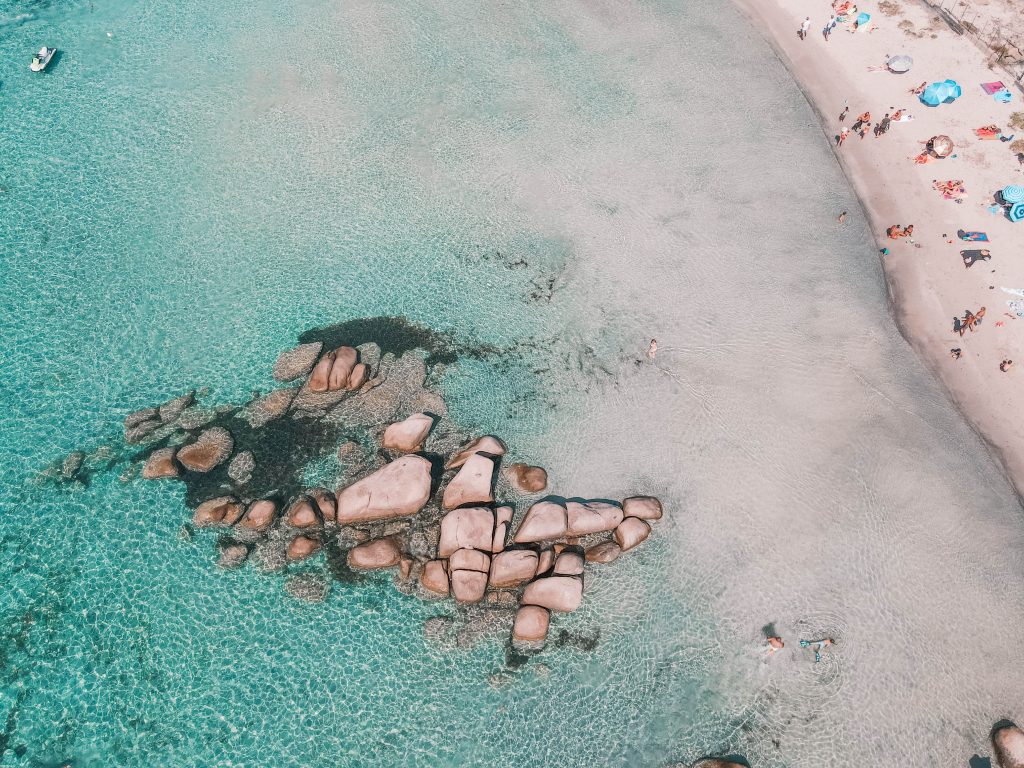 🏖 Palombaggia Beach
Palombaggia beach is also heavenly. Like its neighbor, the water is translucent and you have a foot for several meters. Many umbrella pines line the beach and give it a lot of charm.
🚗 Palombaggia free parking: Be careful, the beach is very popular and the parking complicated (or expensive)! We advise you to park here for free as soon as possible. Around 11 am we found it without problem.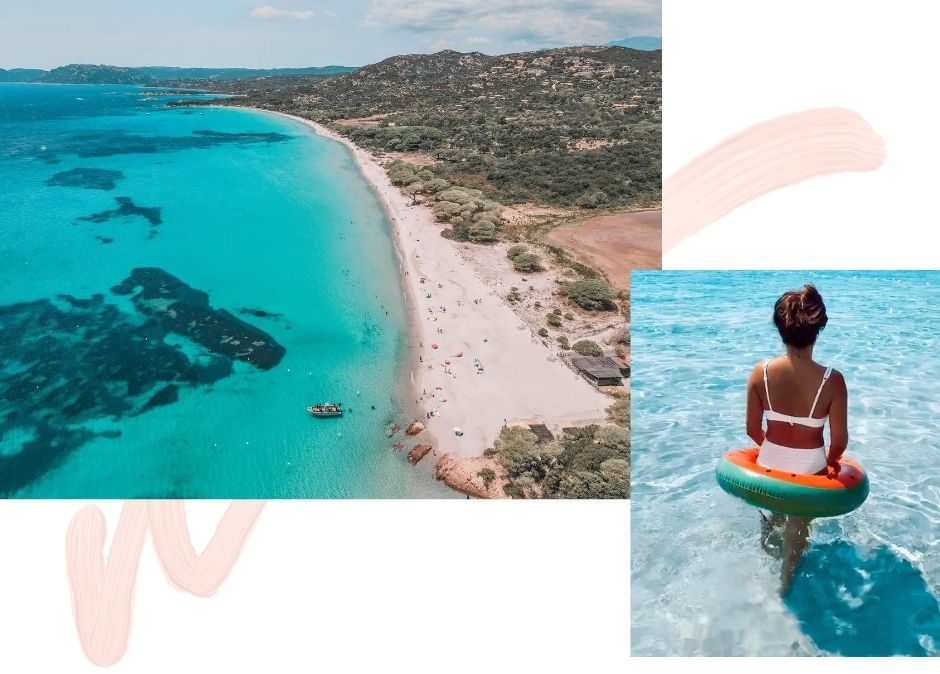 🏖 Tamaricciu Beach
Right next to Palombaggia beach, this a little wilder and equally beautiful cove. We didn't have time to go but it is very photogenic with its beautiful rocks and large pine tree by the sea. Free parking is located on the main road which runs along the beach. Otherwise, there is a paid parking lot with easy access to the west of the beach.
🌊 Sea Kayaking in Pinarello Bay
To discover one of the most beautiful bays of Porto Vecchio in an original way, nothing better than a kayaking trip! This activity is accessible to all and lasts half a day. You will discover landscapes worthy of a postcard and you will be able to swim. At the end, a tasting of Corsican specialties is offered to reward the effort. 😋
🏖 Rondinara Beach
Rondinara beach is located in a bay with calm and beautiful water. Again, this beach is very busy… so much so that we turned around when we saw the people and the crowded parking lot around 4pm. Official beach parking will cost you € 7.
🚗 Free parking Rondinara : go here.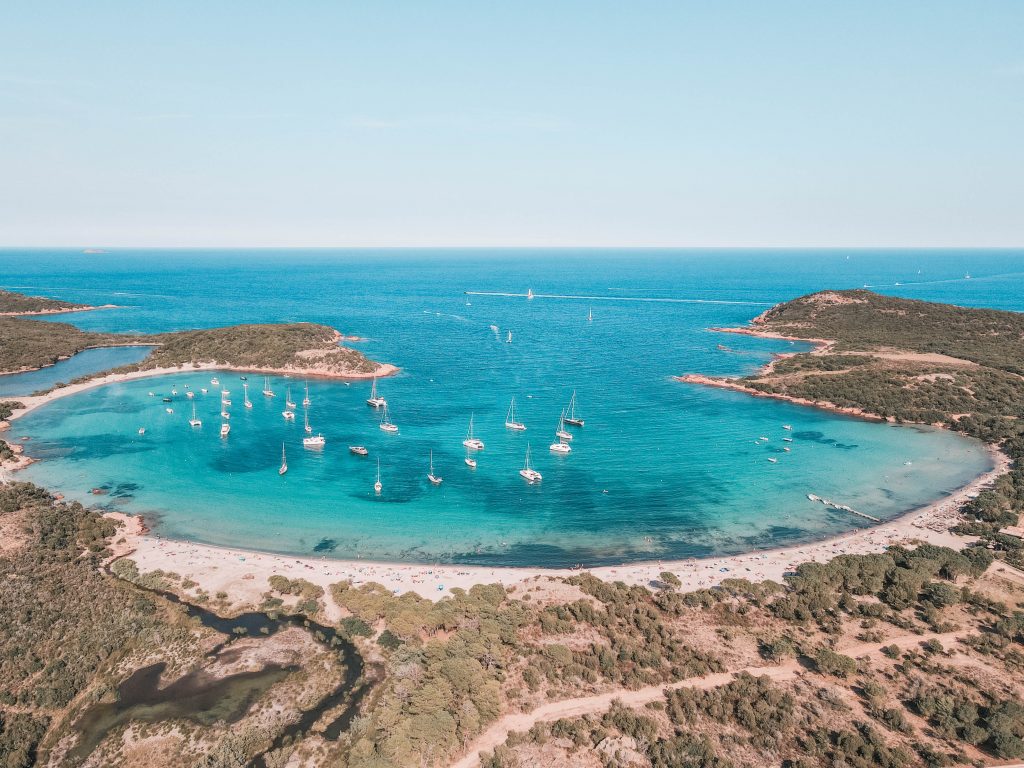 🏖 Pinarello Beach
Even near Porto-Vecchio it is possible to find quiet and unspoiled places. To do this, all you have to do is go to Pinarello and explore its bay, which belongs to the coastal conservatory. It takes about 20 minutes from the center of Porto-Vecchio and the activity can be found here.
😋 Where to eat in Porto Vecchio?
Here are some good restaurant addresses in and around Porto Vecchio:
The U Santa Marina, A Festa and Le Fort restaurants, located near Santa Giulia beach, enjoy a magnificent setting with a sea view. We tested the last two, they are good value for money.
Overlooking Palombaggia beach, the Italian restaurant Costa Marina is an institution. The view is amazing!
On the port of Porto Vecchio, Casa Corsa offers delicious dishes based on Corsican specialties.
If you want to eat on Palombaggia beach, the Da Mare by Sea Lounge hut serves very good food and its decoration is stunning. Be careful, the prices go with the beauty of the setting.
---
BONUS : Visit the Corsican countryside (Zonza)
What we liked the most during our road trip in Corsica was the diversity of the landscapes! A few minutes from the beaches, you can find yourself in the heart of the mountains with freshness.
On the return trip to Ajaccio airport from Porto-Vecchio, we decided to go inland. The roads are winding and the landscapes evolve from turn to turn. We take full eyes! Here are the few stops we made on the way:
Ospedale lake
We accidentally discovered this pretty lake just below Zonza. This place is really peaceful and you can smell the fresh mountain air.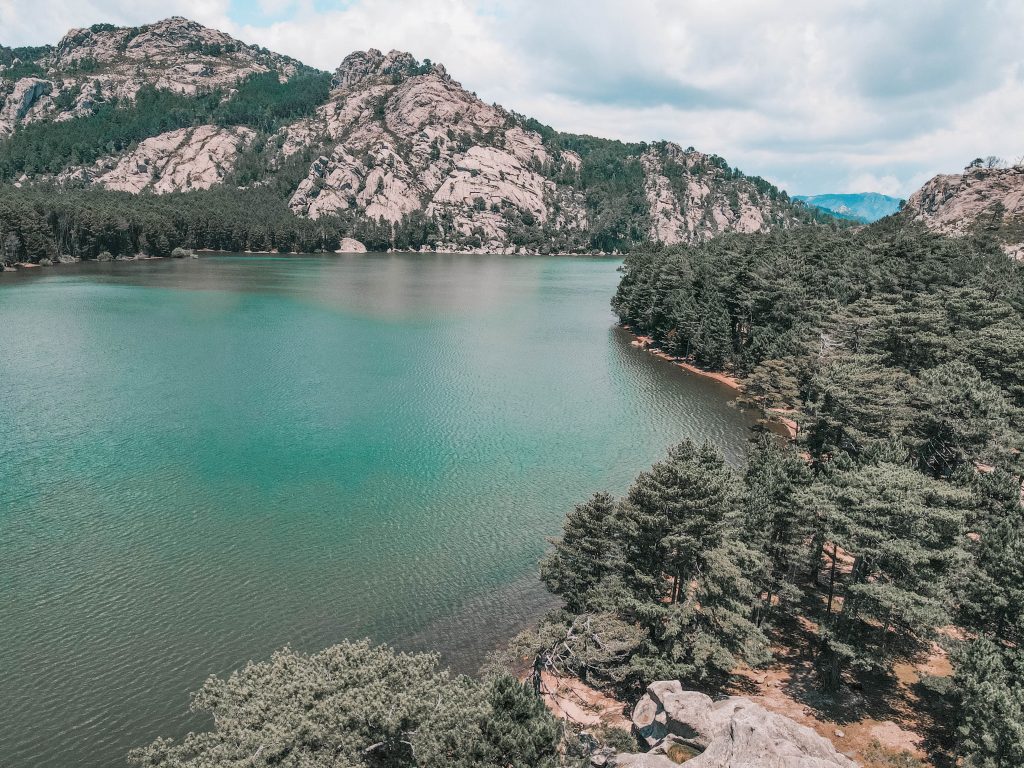 Piscia di Ghjaddu Waterfall
A nice walk to do in 1h30 round trip to see the waterfall of Piscia di Ghjaddu. The end of the route is a bit steep, but the walk is relatively easy. A hot spring with a small waterfall is 10 minutes from the start. See the route on VisoRando
Voir cette publication sur Instagram
Zonza
This pretty village, perched in the middle of the mountains, is located an hour's drive from Porto-Vecchio. We strongly recommend that you stop for lunch at the Eternisula restaurant. This is one of the best restaurants we have tried. The setting is cute, the service at the top, the menu is well prepared with delicious fresh products. Different small dishes are available, take several to share. The value for money is very good, it changes the huts on the beaches of Porto-Vecchio. 😊
To digest, take a stroll in Zonza!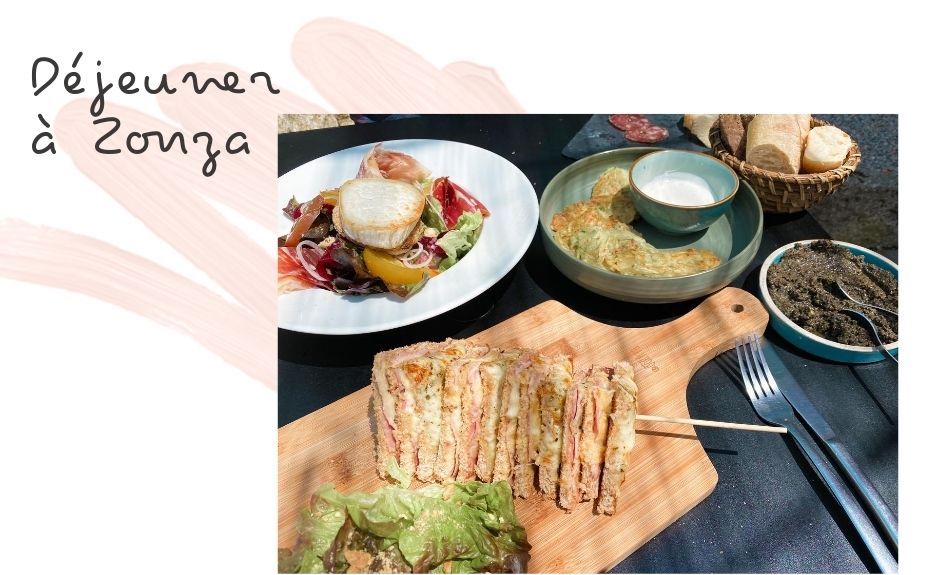 Col de Bavella
10 minutes by car from Zonza is the Col de Bavella (1218m). The spot is ideal for having a beautiful view of the needles of the same name and the neighboring massifs. It is also the starting point for many walks and hikes for young and old.
😴 Where to sleep in Zonza ?
For those who wish to stay a night in Zonza to enjoy the Corsican mountains, you can sleep in this accommodation which has a swimming pool and jacuzzi with views of the mountains. Excellent value!
---
We hope to have helped you with this weeklong itinerary in Corsica! Please feel free to comment on your questions and share the article if you enjoyed it. 😘