What to do in the South West?
Let's go on a road trip in the South West of France! We present you a 10 days itinerary for a road trip in the South-West. Between Basque culture, gastronomy and incredible landscapes, this corner of France really seduced us.

10-day itinerary for a road trip in the South-West
Last summer was the first time we visited this region of France. We started by visiting the Basque Country!
If you're wondering where to go for your holiday in the South-West, the Basque Country is a must. First of all, for the culture that emerges from it. Then, for the charm of its villages and its good food!
We were charmed by the Basques and felt very welcome. It's time to give you our roadmap for a crazy road trip in the South-West!
---
Let's go for a road trip, hair in the wind
Summary of the road trip in the South-West :
Day 1: Bayonne
Day 2: Biarritz
Day 3 to 6: Saint-Jean-de-Luz
Day 7: Espelette, Cambo-les-Bains and Itxassou
Day 8: Saint-Jean-Pied-de-Port
Day 9: Sainte-Engrâce
Day 10: Larrau
---
Step 1: Visit Bayonne
Bayonne is a charming little town steeped in history, and is a pleasant place to wander around. Stop to taste the famous Bayonne ham, which is excellent. The

city centre is colourful

, with many pedestrian streets. Bayonne is a great place to live. We enjoyed talking to the shopkeepers. In our opinion, half a day is enough to do the tour.? Visit Bayonne with a guide with chocolate tastingIf you have the opportunity to go during the Bayonne festivals, do it: crazy atmosphere guaranteed!


? Where to sleep in Bayonne?

If you want to spend a night there, we recommend staying at the Villa KOEGUI hotel, located right in the centre.

? Where to eat in Bayonne?

At Piccole Cose, for fresh produce and home-made dishes.

At Bistro Toqué, for generous cuisine.
Voir cette publication sur Instagram
---
Step 2: Biarritz
Biarritz is the must-see spot on the Basque coast for surfers. In addition to vast beaches, you'll find trendy restaurants and shops. The city centre is also very nice, although we found it less cute than Bayonne.
? To visit Biarritz on foot with a guide, to learn more about the history of the city: click here
? Where to sleep in Biarritz?
There is accommodation for all budgets in Biarritz. Book yours at the best price from the wide selection on Booking.com! 
What to do in Biarritz?
Go and admire the Virgin's Rock. The footbridge leading to it was built by a certain Gustave Eiffel!
Voir cette publication sur Instagram
Then, head to the beach for a sweet break with the very Instagrammable Bali Bowls.
Voir cette publication sur Instagram
Take a surf lesson in Biarritz
The west coast is the place to try or improve your surfing skills! Book your surfing lesson in Biarritz by clicking here. ?♀️ For those who can afford it, it is possible to be coached by Emmanuelle Joly, a professional surfer who offers private surf lessons for all levels. Prices & booking
? Other activities to do in and around Biarritz: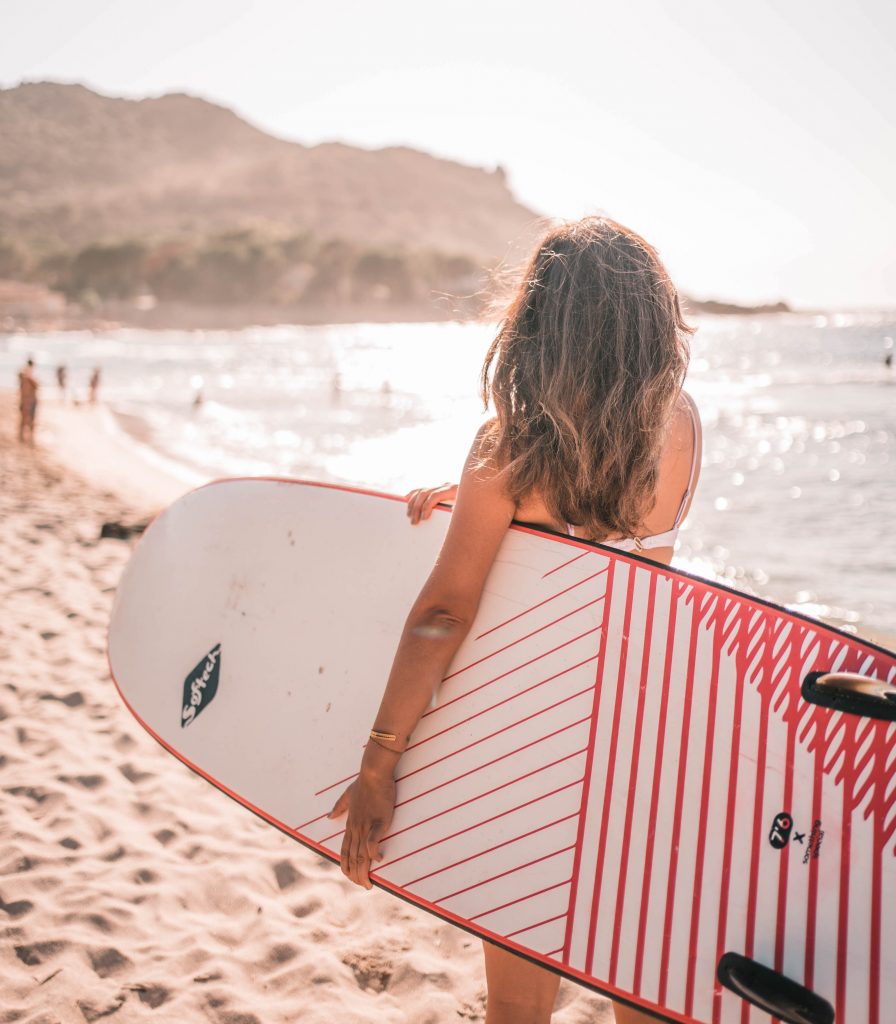 In the late afternoon, get closer to the Biarritz lighthouse. It is 73 metres high. From there, you can enjoy a superb view of the city, the ocean and the Pyrenees. The ticket costs around 2€.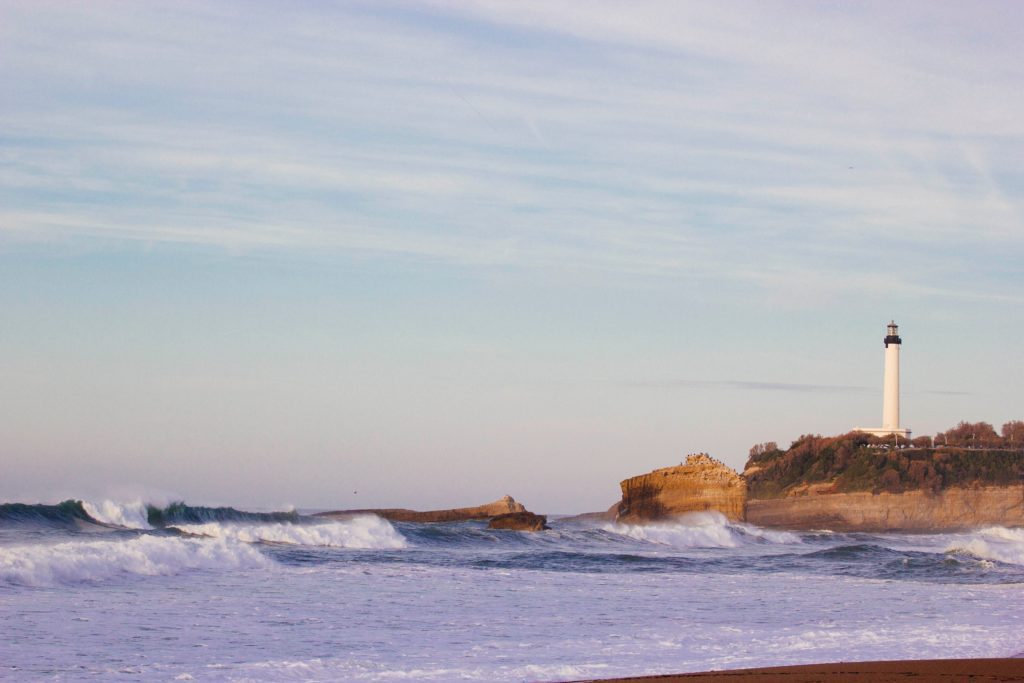 There are of course other activities to do in Biarritz. If you have time, visit and eat at the Halles market or take a surf lesson.

We're sorry we haven't shown you our own photos so far. We'd had some lousy weather for these first two stops. We thought it would be better to show you some nice pictures rather than our own with stormy weather!
---
Step 3: What to do in Saint-Jean-de-Luz?
After putting down our bags in our hotel for 2 nights, we set off to discover Saint-Jean-de-Luz. Result: we loved it! Although it's a tourist town, it's very pretty and very pleasant.
Where to sleep in Saint-Jean-de-Luz?
The Eskualduna I flat is located in Ciboure and is ideal for visiting the area. It is well equipped, with a nice terrace. If you prefer to sleep in the centre of Saint-Jean-de-Luz, this accommodation is also great.
Visiting Saint-Jean-de-Luz
First of all, wander through the pretty streets of the centre. Take the opportunity to treat yourself to a pair of espadrilles, as this type of shoe is native to the region! Don't forget to taste the many local specialities: the macaroons of the Maison Adam, local products, Basque cake…
Next, head for the Digue de Sainte-Barbe. Take a walk along the seafront. See that beautiful panorama of the beach and the mountains? ?♀️ If you want to take a surfing lesson, it is also possible in Saint-Jean-de-Luz. Book here!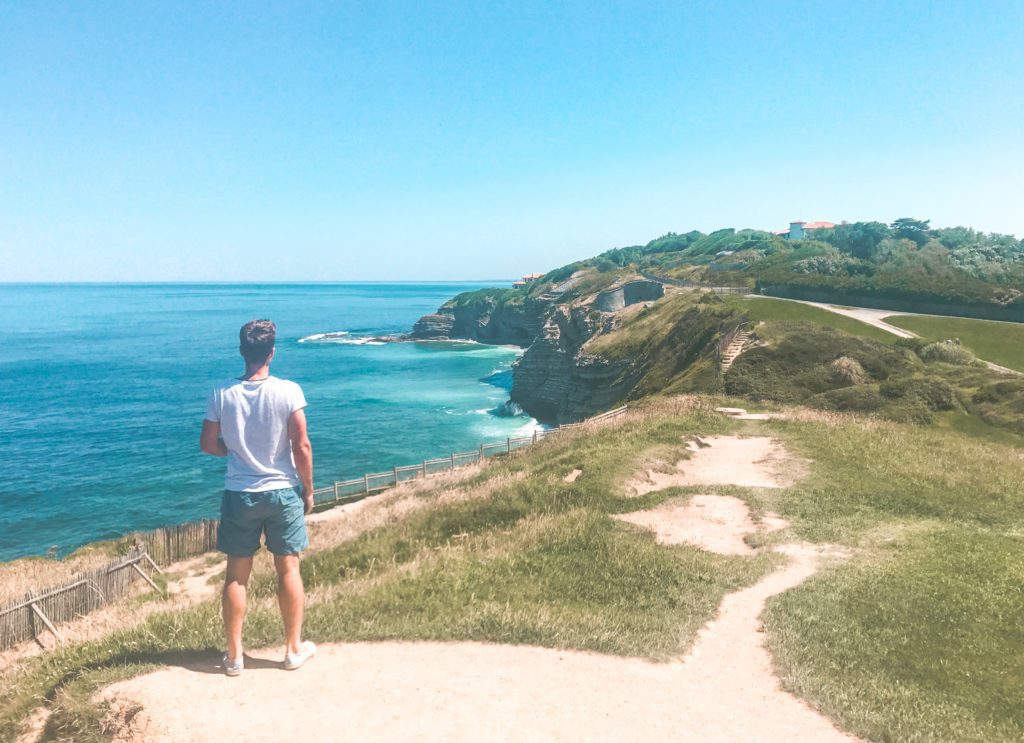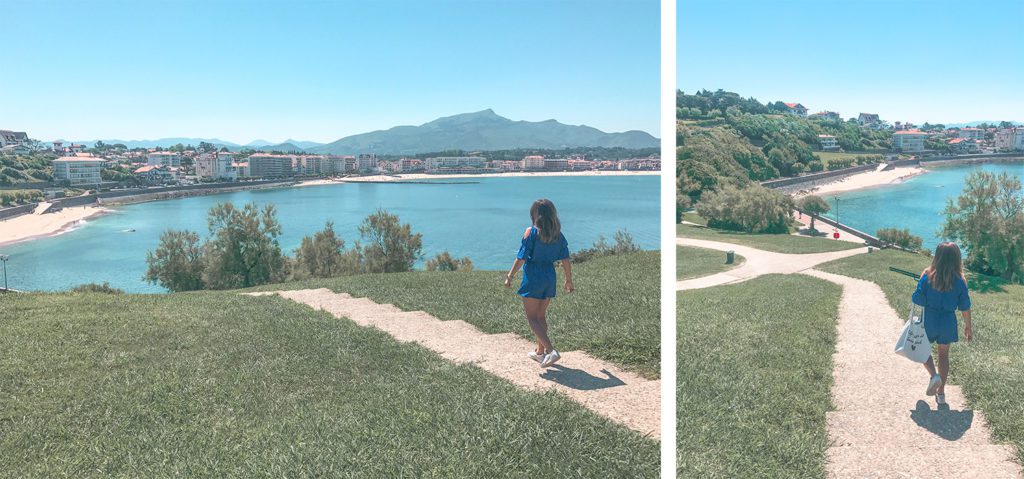 On your way back, take a dip on this pretty beach below!
Head towards Ciboure, on the opposite shore to Saint-Jean-de-Luz. It's a great place to walk around. You can admire the typical Basque architecture and the Socoa fort.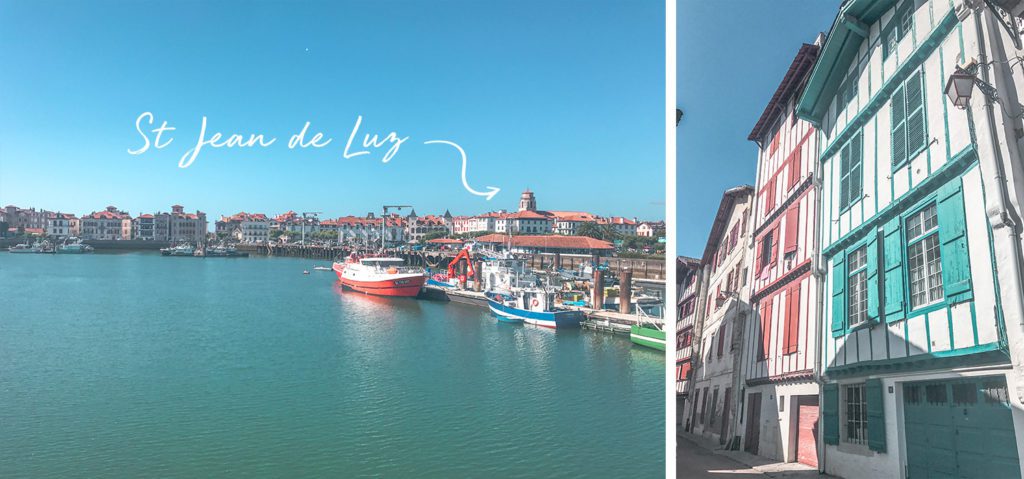 Quad biking inland
The Basque hinterland is absolutely worth discovering. Quad biking is the ideal activity for this. You can book your tour from 1 hour to a whole day, depending on your wishes. Click here for more information
Where to watch the sunset in Saint-Jean-de-Luz?
? The sunset is a special moment in the day. Are you looking for a nice spot near Saint-Jean-de-Luz to admire it and have an aperitif in a good atmosphere? We found the perfect place: Le Bistrot du Mata.
We loved this place so much that we went back. Their roast camembert and ham board are to die for. Add to that some good music with a glass of rosé facing the ocean, that's happiness.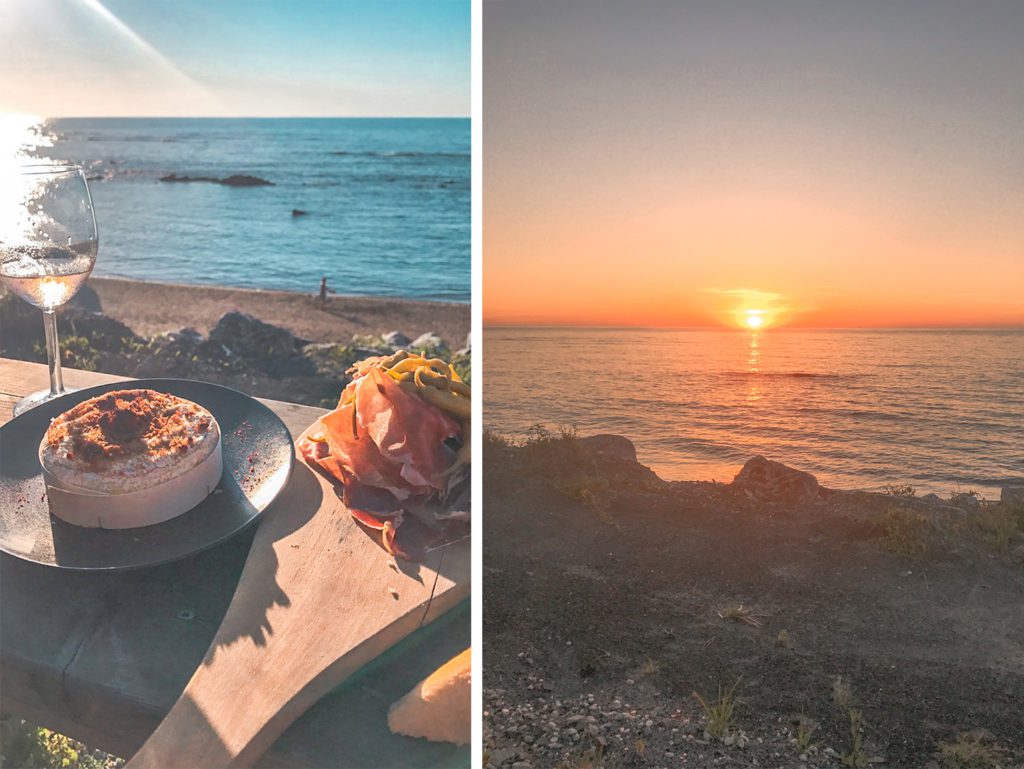 To finish on the subject of what to do in Saint-Jean-de-Luz, it is essential to go and eat and party at Chez Renauld! Located in the town centre in a former garage, this brilliant place is the landmark of food trucks. Apart from the fact that the concept is super stylish, the food on offer is varied and excellent!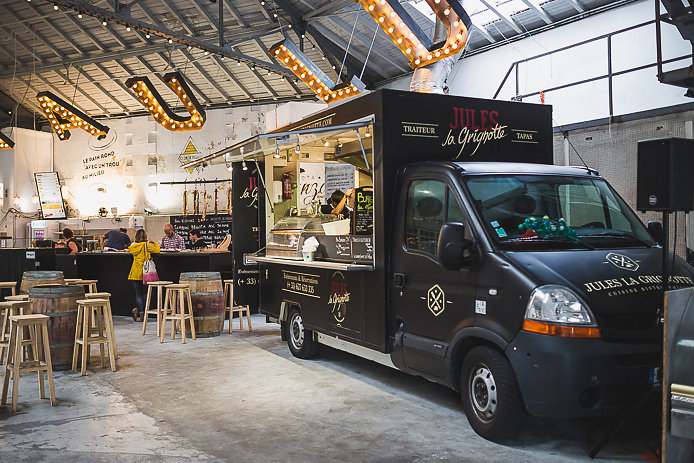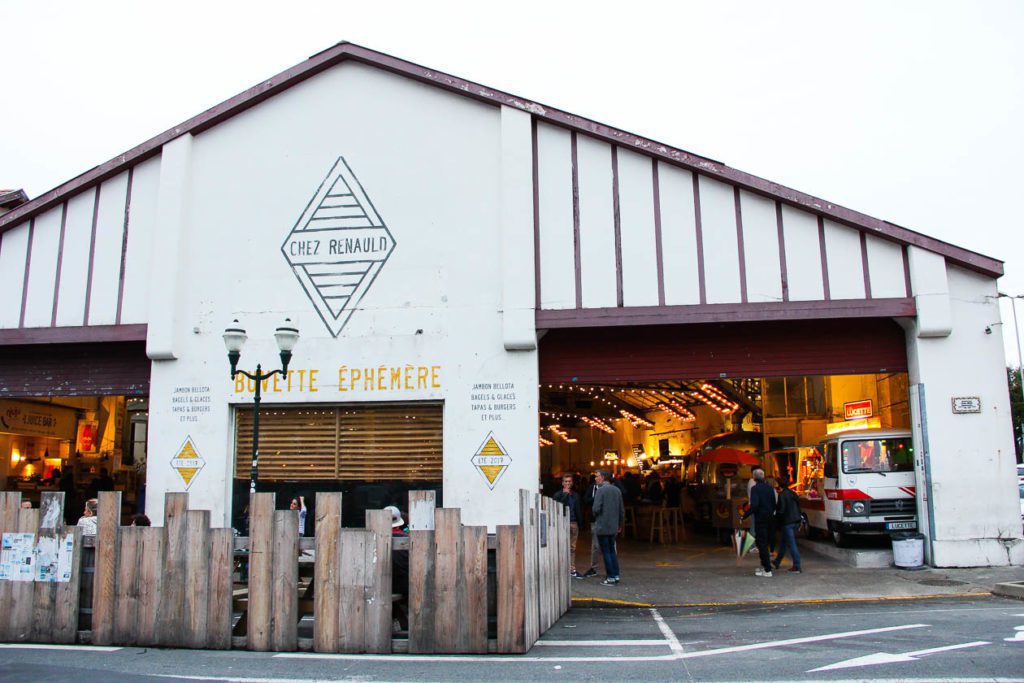 Crédit photo : Kindabreak et Pinchables
---
Step 4: In the heart of the Basque Country
Typical Basque villages
? Head to the too-cute village of Espelette. As you may have guessed, this is where the famous Espelette pepper comes from. In fact, it's impossible to miss it when you visit the village! Here again, stroll through the narrow streets, meet the shopkeepers and taste the local specialities. We left with Espelette chilli salt and a delicious blackberry liqueur.
We found a perfume shop not to be missed: Parfums et Senteurs du Pays Basque. The master perfumer is Basque and the smells are incredible! For a new perfume that stands out from those on the market, it's the best.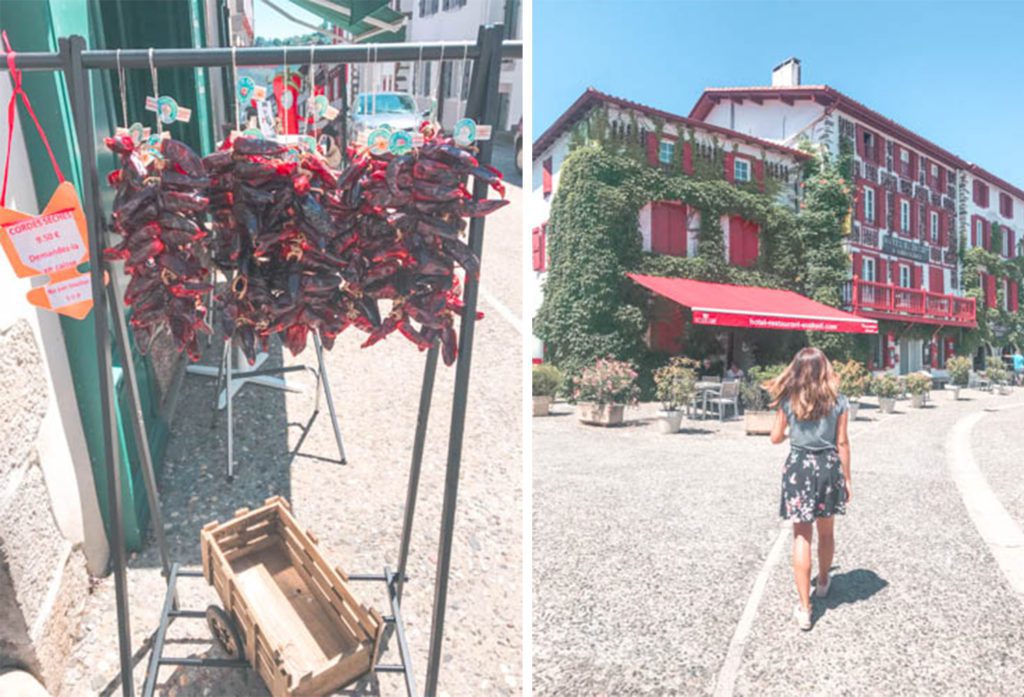 A short stop in the village of Cambo-les-Bains to discover a typically Basque environment. Moreover, the day we were there, there was a fashion show. No particular program, we recommend you to enjoy the view.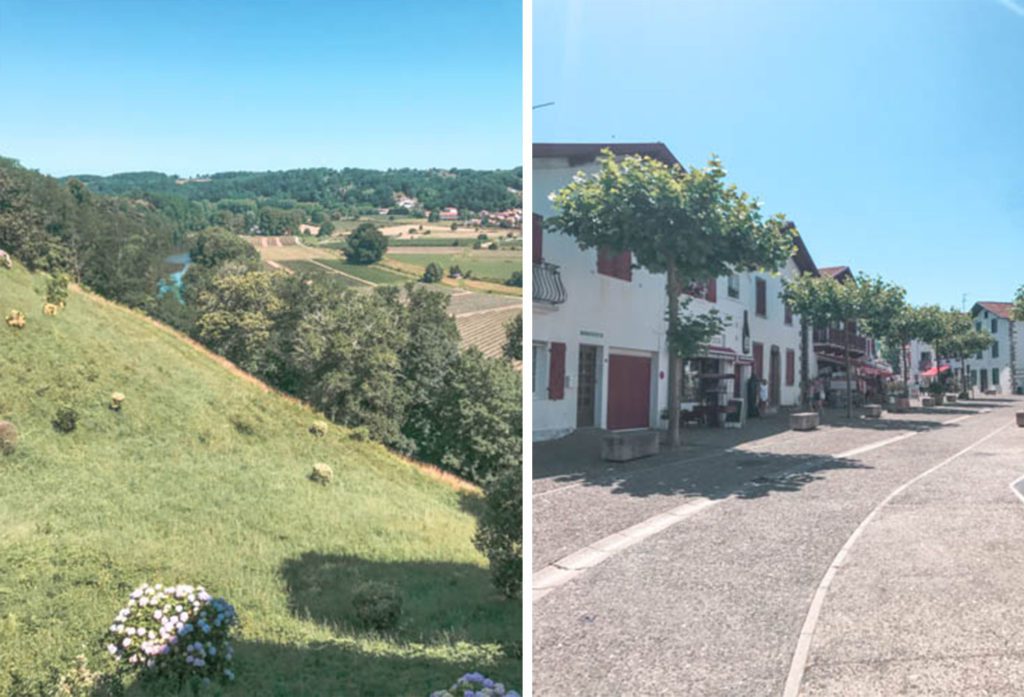 For a sporty stop during your road trip in the South West, go to the village of Itxassou. Many hiking trails start from this village. If you're feeling up to it, go for it (and burn off all the calories from the Basque cuisine)! We walked along the river Nive at Pas de Roland. There are few tourists so it's a wonderful place to be in the Basque Country.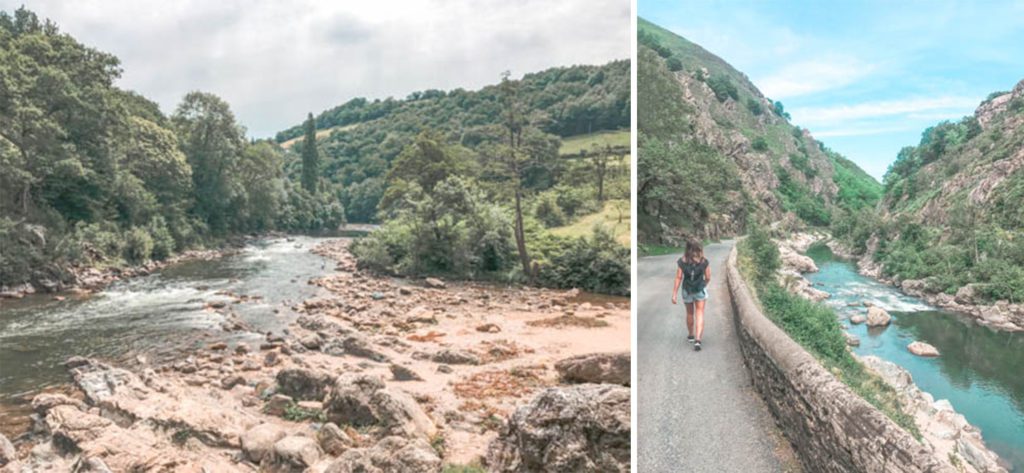 ---
STEP 5: Saint-Jean-Pied-de-Port
For the little anecdote, I thought that the village literally ended with Pied de Porc and not Port. So don't get confused!
Saint-Jean-Pied-de-Port is classified among the most beautiful villages of France. Once again, the architecture is typically Basque and therefore full of charm. There are two banks: on the one hand, an old town with ramparts and on the other hand, the agglomeration. This village is worth a visit and the surrounding roads are also superb.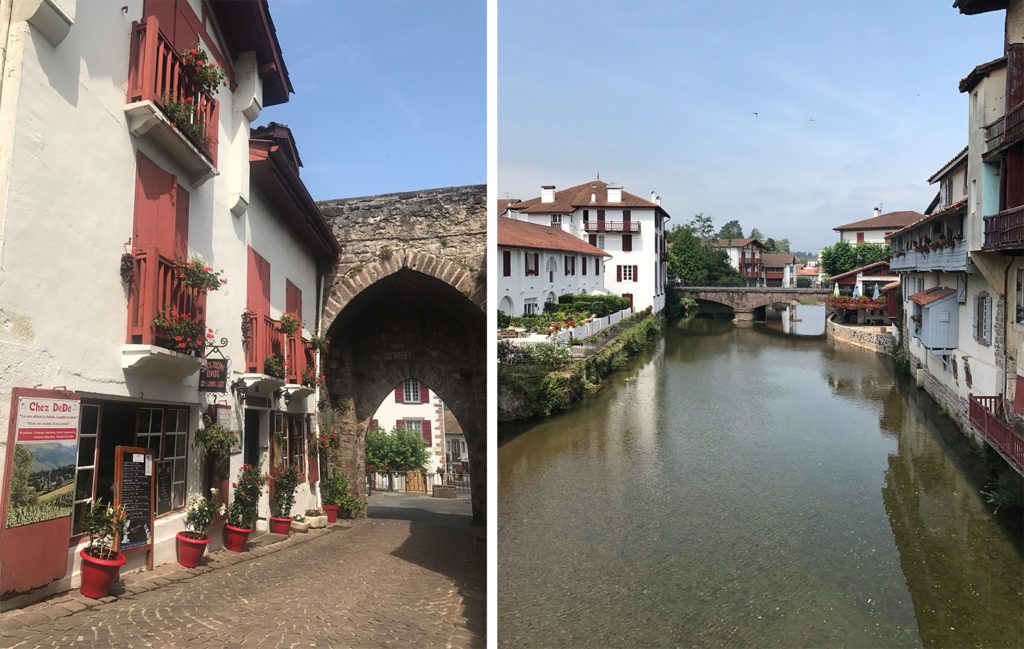 ---
Continuation of the road trip in the South West: the Pyrenees
If you are following us, it is because you too love nature and wide open spaces. We are going to make you happy by making you discover two magical places in the Pyrenees. This is where your road trip in the South West will end.
Are you ready?
The Kakuetta Gorges, in Sainte-Engrâce
It is with places like this that we can say that, in our opinion, France is the most beautiful country in the world! You have already seen in our article on Chamonix lien that you don't have to go far to be amazed.
The Gorges de Kakuetta (or Kakouetta) are one of the treasures to be found in the Pyrenees. To visit them, it will take you a maximum of two hours round trip. In some places the canyon is over 200 m high. Not only is it impressive, but also the colour of the water is magnificent. Enchanting landscapes as we like them.
We took a dip to cool off. We were alone to take a dip and jump in the water. It was cold but so pure that we couldn't resist! Judge for yourself on the pictures… So, does it make you want to?
? Where to sleep to visit the Kakuetta Gorge?
To stay not far from here, this bed and breakfast is ideal with its green setting, in the heart of nature! The accommodation is located less than 3 km from the gorge.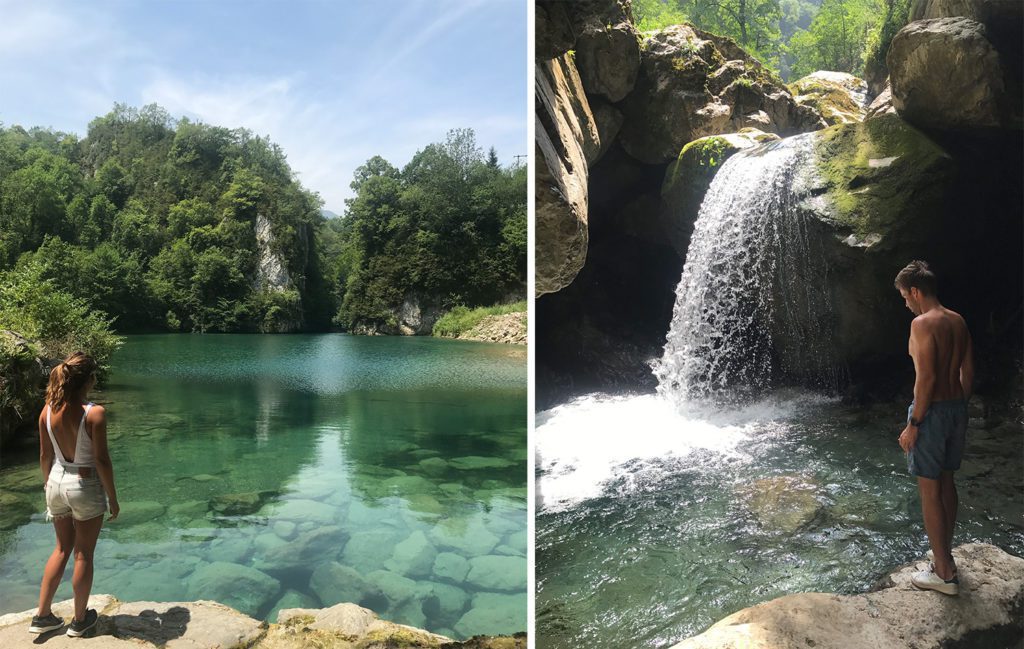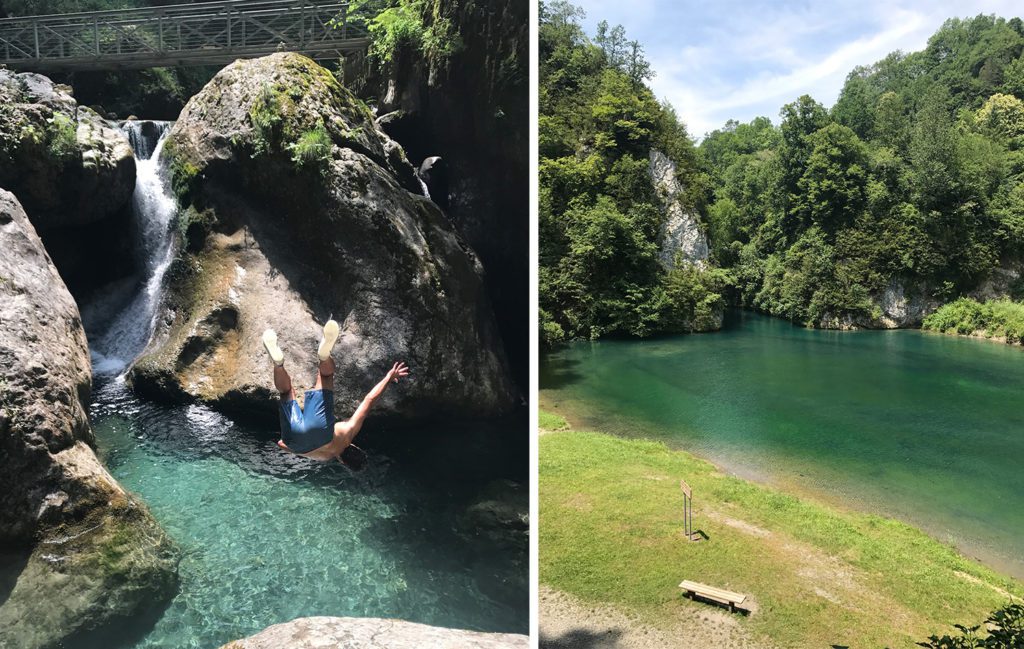 The Holzarté footbridge, in Larrau
If you are afraid of heights, we advise you against venturing onto the Holzarté footbridge. The walk starts in Larrau and lasts about an hour, with no particular difficulty. Once on it, you will be suspended at a height of 150 metres. The view of the Olhadubi Gorge is impressive!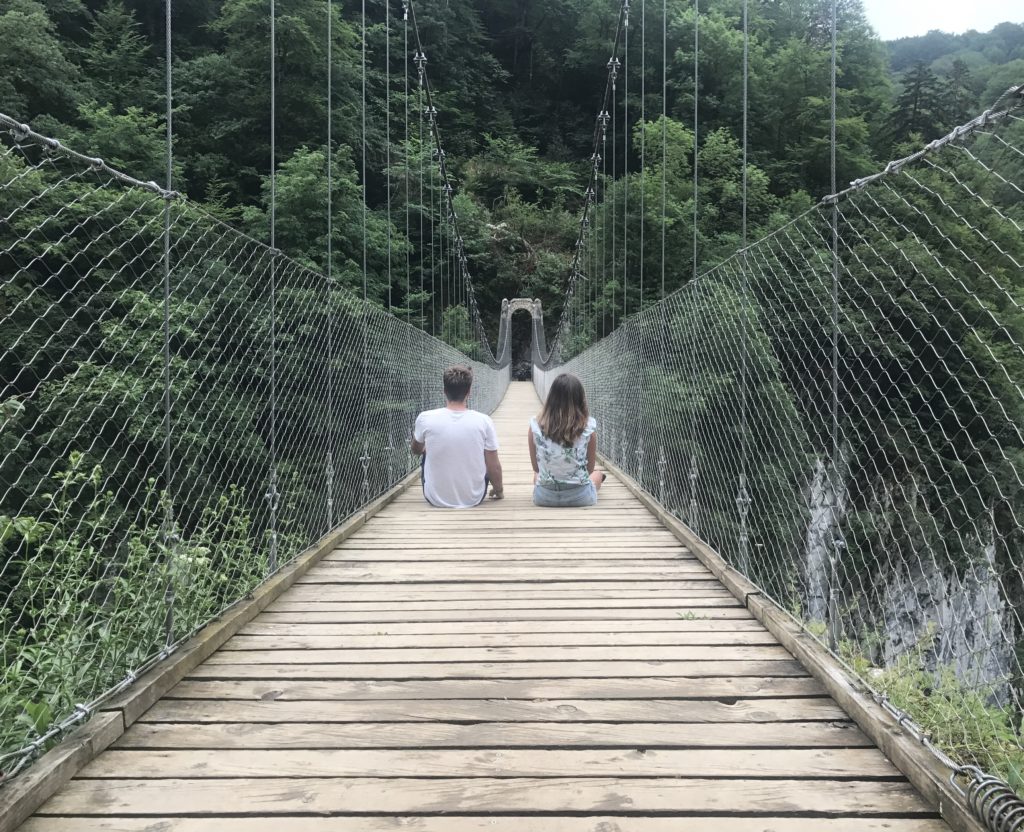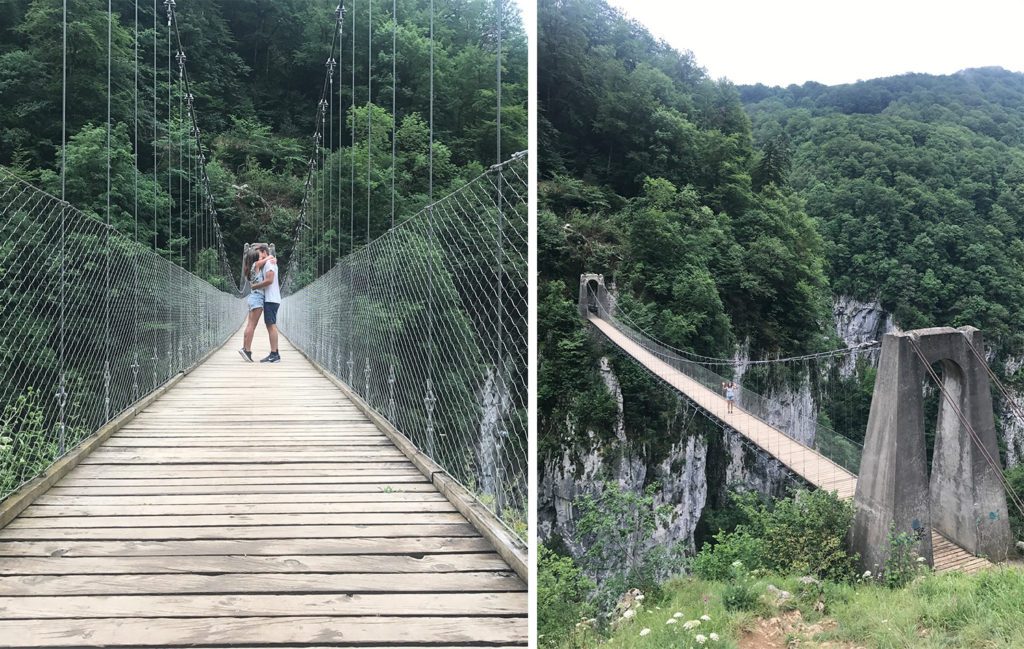 The Holzarte footbridge for a thrill.

---
We hope this road trip itinerary in the South West will inspire you for your trip to France! You can find our many travel guides to France on this page.
Please excuse us if we lack photos to illustrate our words or if they are sometimes of poor quality. It was a year ago and we were not at all equipped the same way. Also, we were not yet travelling with "blogger" reflexes. ?
If you have any questions or recommendations, we'll see you in comments 🙂  See you soon!