Visiting Marie-Galante: what to do?
The territory of Guadeloupe is composed of several islands. I already talked about Grande-Terre, Basse-Terre, Petite Terre and Les Saintes in the article 2 weeks itinerary in Guadeloupe. Today, I'm taking you to Marie-Galante, an island I discovered during my 3rd stay in the archipelago! So let's see together what to do in Marie-Galante… ? 
How to go to Marie-Galante?
To start with, there are several alternatives to get to Marie-Galante. You can choose to take a day trip with a service provider or go by yourself to better enjoy the island.
There are several companies that offer the crossing. I chose Icigo. They offer departures from Pointe-à-Pitre or from Saint-François. The round trip costs just under 40€ per person and the crossing time is less than an hour with the express shuttles. Book here⛴
For an even more magical experience in this paradise-like setting, consider renting a boat. Imagine sailing off Marie-Galante, with the wind caressing your face, exploring the crystal-clear waters and discovering its secret beaches, creating unique memories. If you're tempted, I've put the link right here to book your boat.
---
What to do in Marie-Galante?
If you have the opportunity, I recommend staying one night in Marie-Galante to fully explore the island. You will find accommodation recommendations at the end of the article.
Marie-Galante is a haven of peace. If you are looking for relaxation, idleness, calm… I recommend you to visit it during your trip in Guadeloupe! Some locals even say that Marie-Galante has the most beautiful beaches of the archipelago…
Relax on the beaches of Marie-Galante
Sun, sunbathing, fine sand and heavenly water… If this is a programme that attracts you, you will be served on the island of Marie-Galante. The beaches on the Caribbean side are, in my opinion, the most beautiful. I advise you to start with these. My favourite is Anse de Mays. However, the beaches on the Atlantic side are also worth a visit! We did not go there because we unfortunately had 2 days of wind and swell on the Atlantic side. We therefore preferred the calmer side. I recommend you to take the map of the island, distributed to the tourists when leaving the landing stage, and to go around to see all the beaches of Marie-Galante, deserted, preserved and wild. And by the way, a little aside…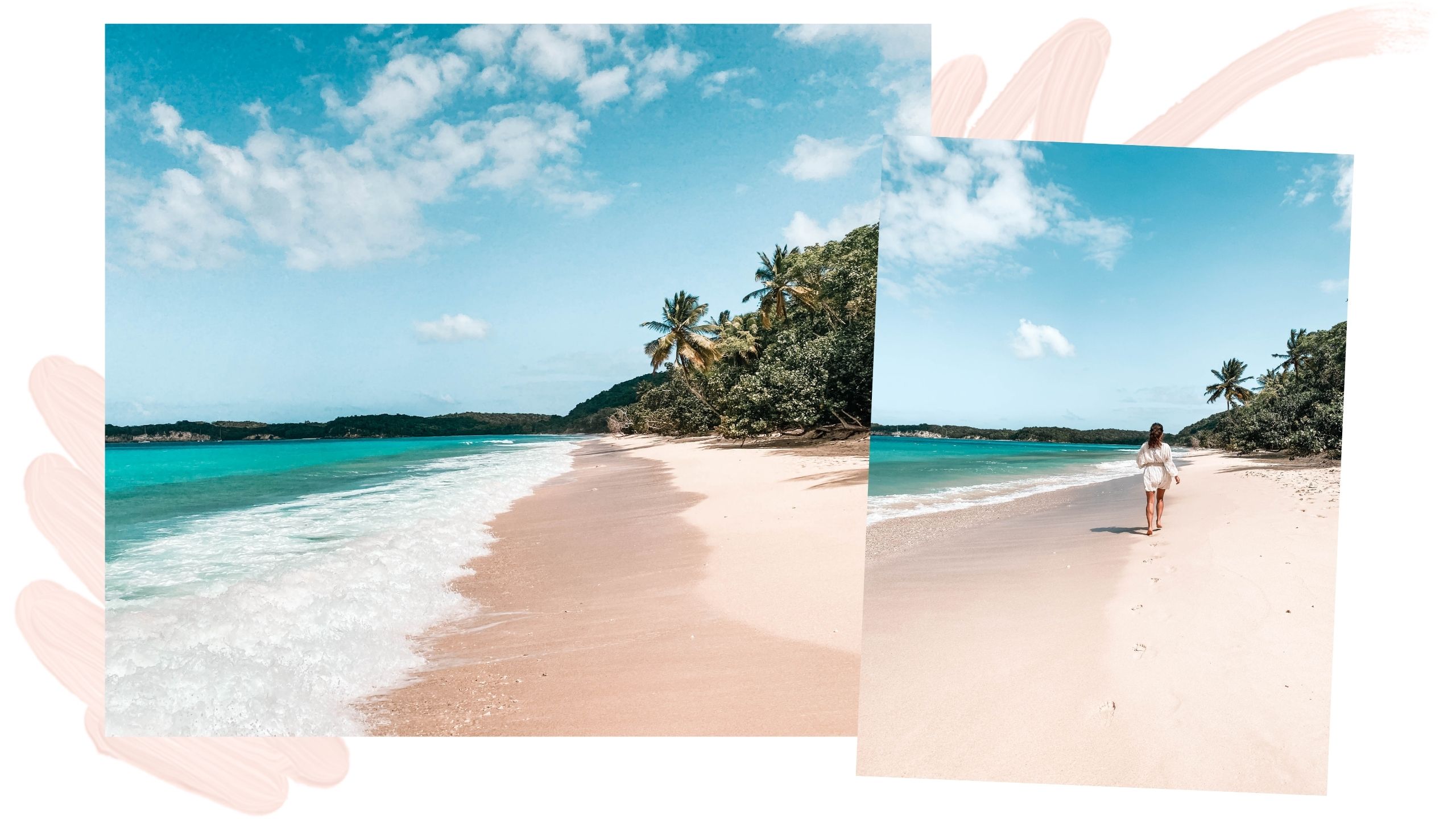 ➡️ How to get around Marie-Galante?
I advise you to rent a scooter or a car to visit Marie-Galante at Bleu Location, a rental company located right next to the port. Book in advance if possible so you don't end up without a means of transport (you can do it online here). For the unorganized people – like me ??♀️ – who didn't think of booking before arriving on the island, go directly to the rental office to avoid being stuck!
Watching sea turtles
Marie-Galante is a great island for observing sea turtles and more generally for snorkelling. So don't forget your mask and snorkel! At Anse Canot, a sign even indicates the presence of turtles. It seems that they like to lay their eggs in the area. The nesting period is from June to October, which should be favoured if you want to have a chance of seeing baby turtles reach the sea.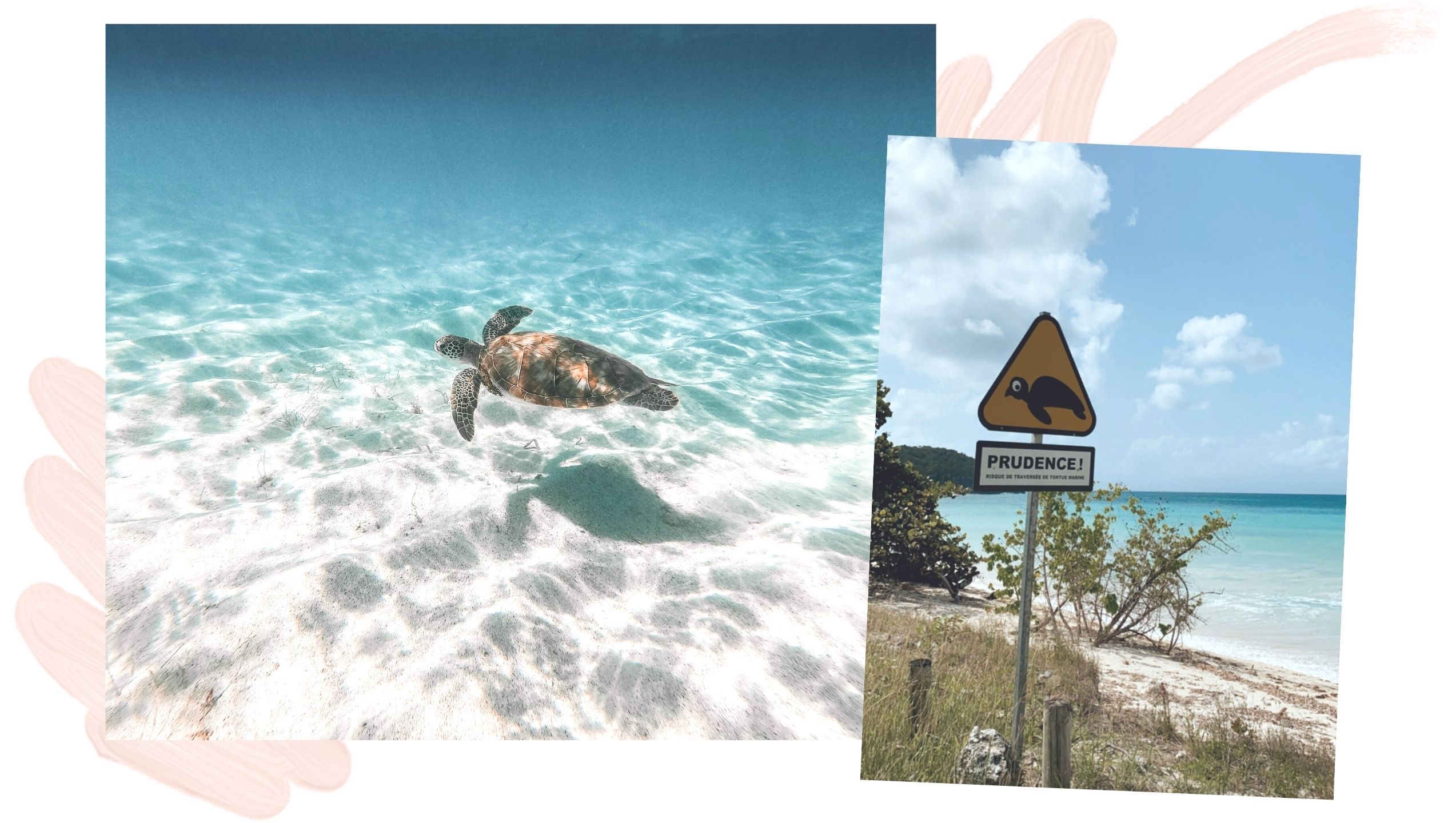 Go and see Gueule Grand Gouffre
A strange name for a beautiful landscape! This natural cavity dug by the sea is one of the things to see in Marie-Galante. No need to walk to reach the viewpoint, a car park is nearby. Two downsides to note: the road to get there is dented and the platform to see the chasm is small, so you get squeezed in quickly.
Voir cette publication sur Instagram
Exploring the Mangrove
Behind the beach of Anse Canot is a pedal boat activity. If you want to discover the mangrove of the Vieux-Fort river in Marie-Galante, I invite you to go here ! There are sometimes turtles ?.
.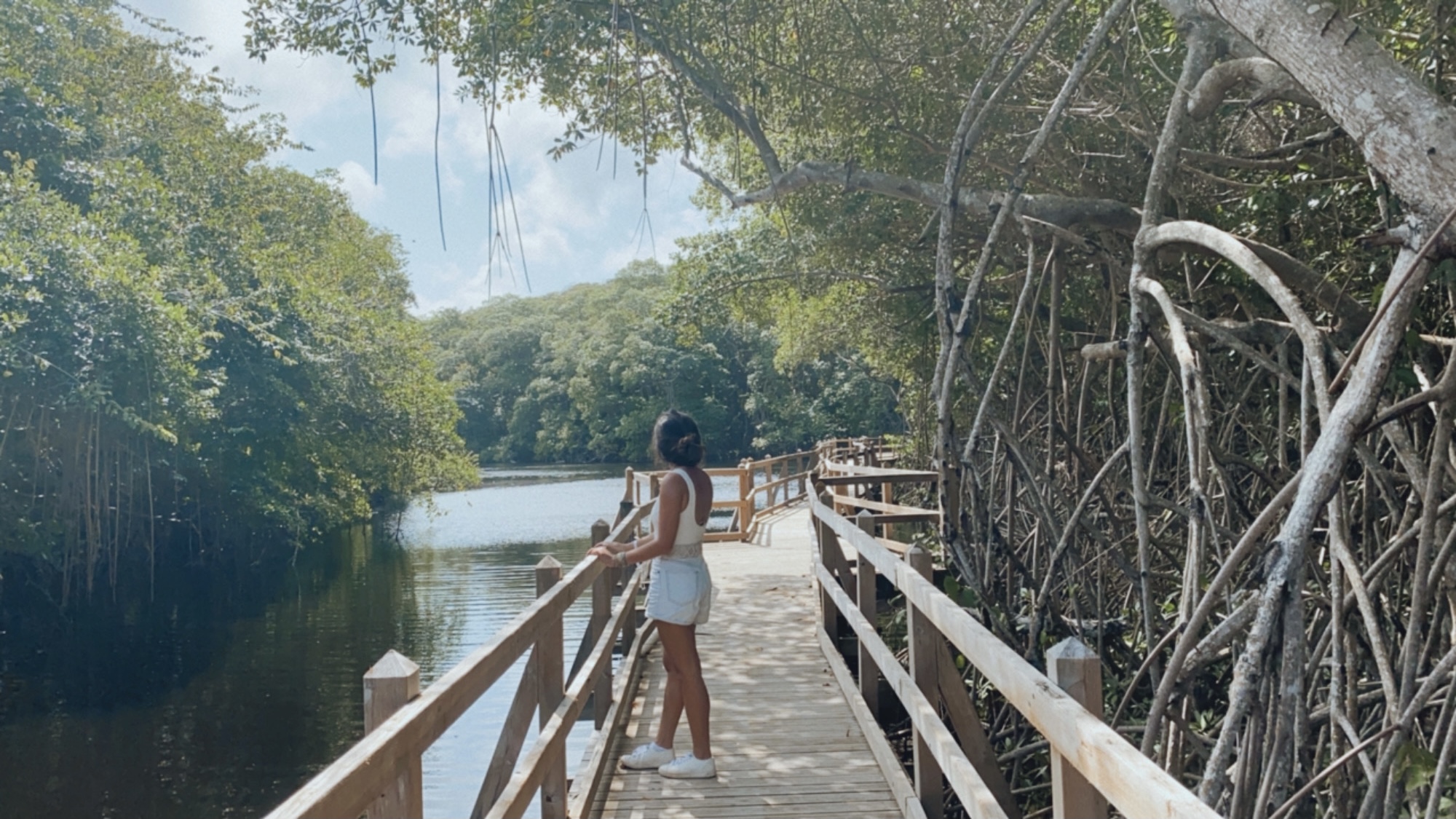 Must-do's in Marie-Galante
Visit a rum distillery
Rum is sacred in Guadeloupe! There are three rum distilleries on the island of Marie-Galante. You can visit them and learn all about the manufacturing process. Then it's time for a tasting, in moderation for the drivers. I chose to go to the Bielle distillery under the advice of a local, but you can do them all if you are passionate about rum.
⚠️ Beware of the opening times for the tours. They are only possible in the morning. You can check this on the websites of the three distilleries of Marie-Galante: Bielle, Bellevue and Poisson. Schedule this activity at the end of the morning, not too early because the tasting will sting otherwise ?.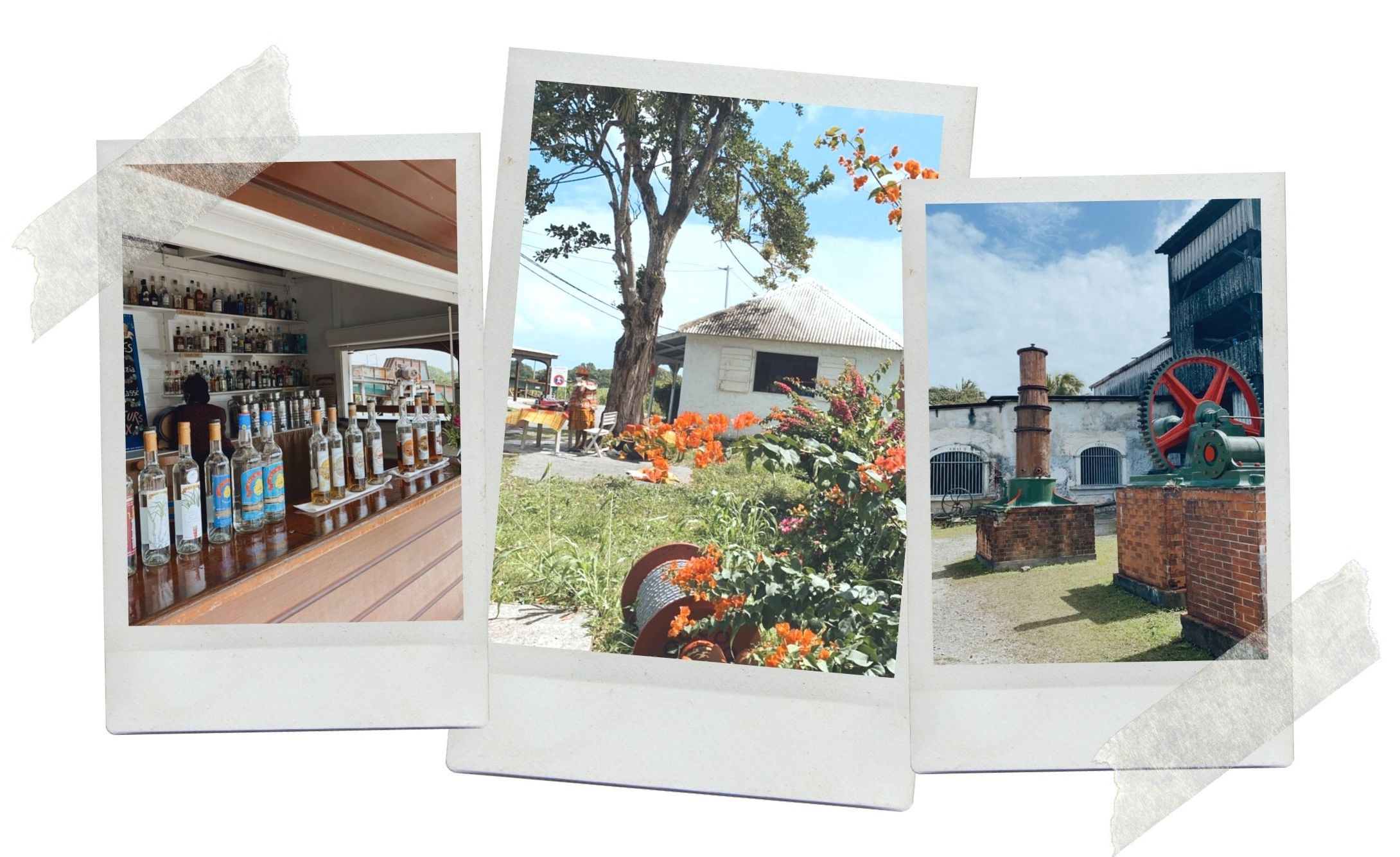 Sunset at Sun7Beach
What to do in Marie-Galante if not relax and enjoy life… This is the program I propose to you at Sun7Beach: tapas, aperitif, sunset.
Voir cette publication sur Instagram
---
Where to stay in Marie-Galante?
With Steph, we spent the night in the Kahute of Marie-Galante. This original and unusual accommodation immersed us in tropical life (see photos below). Everything is made of wood, the decoration is typical and the view on the ocean is so relaxing… Everything is open, so there is no air-conditioning but we didn't feel hot thanks to the sea air. This place calls for total relaxation!
Other accommodations of this type are proposed on La Kaza de Marie-Galante, which includes bungalows, cabins, creole houses…
➡️ In case of unavailability and for those who are looking for a more "conventional" accommodation, I recommend the Sunset Paradise, a privately run bed & breakfast with a pool. The view is great and the rooms are nice and good value for money.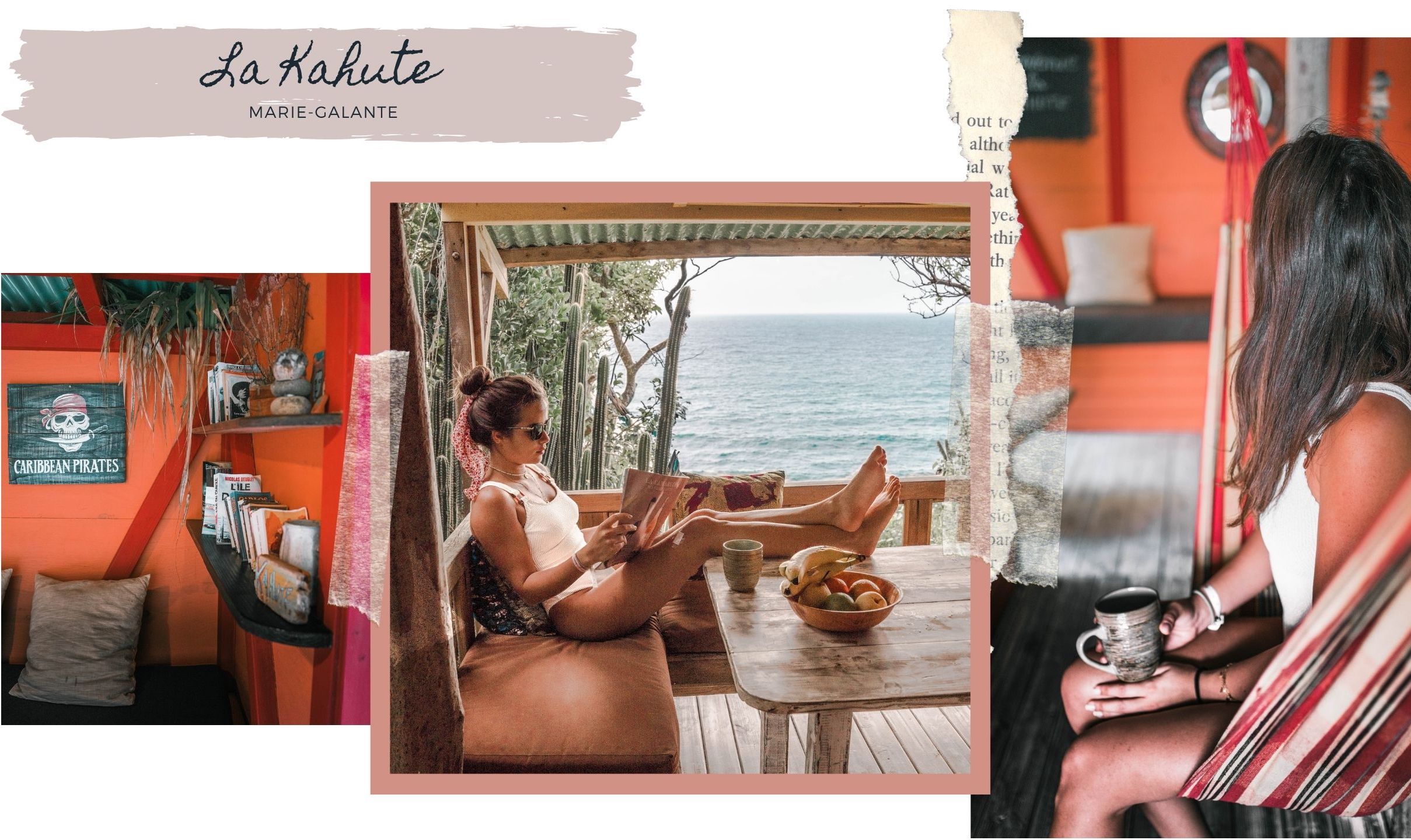 Where to eat in Marie-Galante?
In Saint-Louis, we had lunch at the Eden Voile. The food was good and copious but the service was very long (2h30 waiting time for a dish…). That said, the view on the Caribbean Sea is magnificent to wait for!
La Baleine Rouge in Saint-Louis is also a very popular restaurant in Marie-Galante.
For good pizzas, head to Gino Pizza near the port in Grand-Bourg.
The restaurant O'Vivier offers fresh fish of the day, the menu changes according to the fishing season. There is also a swimming pool to enjoy the sun ☀️ !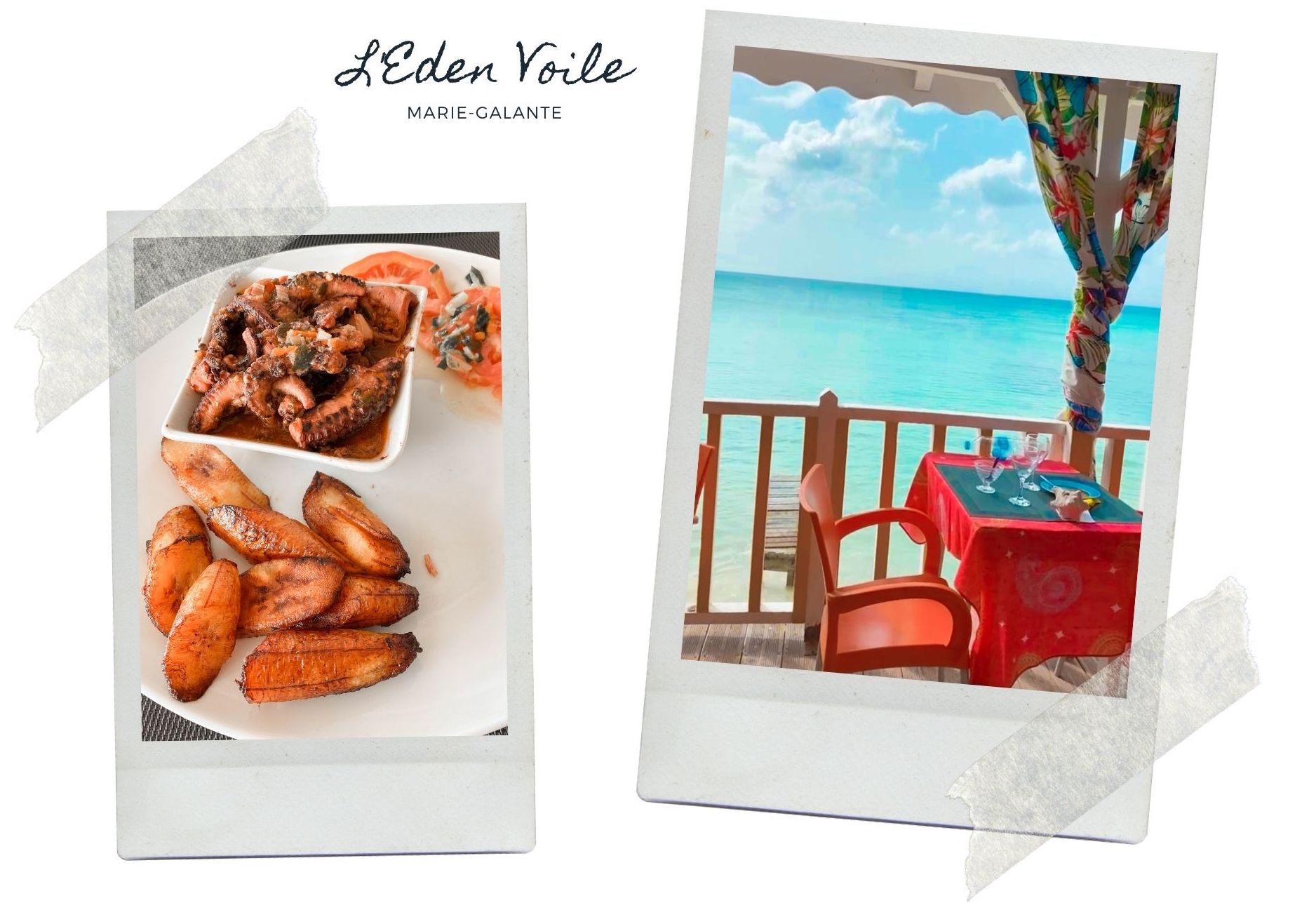 ---
What to choose between Marie-Galante and Les Saintes? 
Les Saintes are 2 islands (Terre-de-Haut and Terre-de-Bas) which are also part of the Guadeloupe archipelago. If you don't have time to visit Marie-Galante and Les Saintes during your Guadeloupe itinerary, I imagine you are wondering what to choose between the two! The following paragraph is my opinion, totally subjective, based on my tastes.
I preferred Les Saintes to Marie-Galante by far. I find the landscapes more beautiful and varied. I enjoyed the atmosphere of Les Saintes more in general. That doesn't stop there being great things to do in Marie-Galante and you shouldn't skip this island if you have the opportunity to go!
? Find our guide to Les Saintes in this article.