What to do in Crete during your trip?
Greece is an ideal destination for those who dream of sunshine and heavenly beaches! Have you ever considered a trip to Crete? Here is our itinerary for a week in Crete to discover this beautiful island.
Practical information for your trip to Crete
Time difference: +1H
Flight tickets: from 120€ from several cities in France, best offers here
Flight time from France: 3h30 direct
Capital of Crete: Heraklion
Visa required: No
Currency: Euros
When to go to Crete?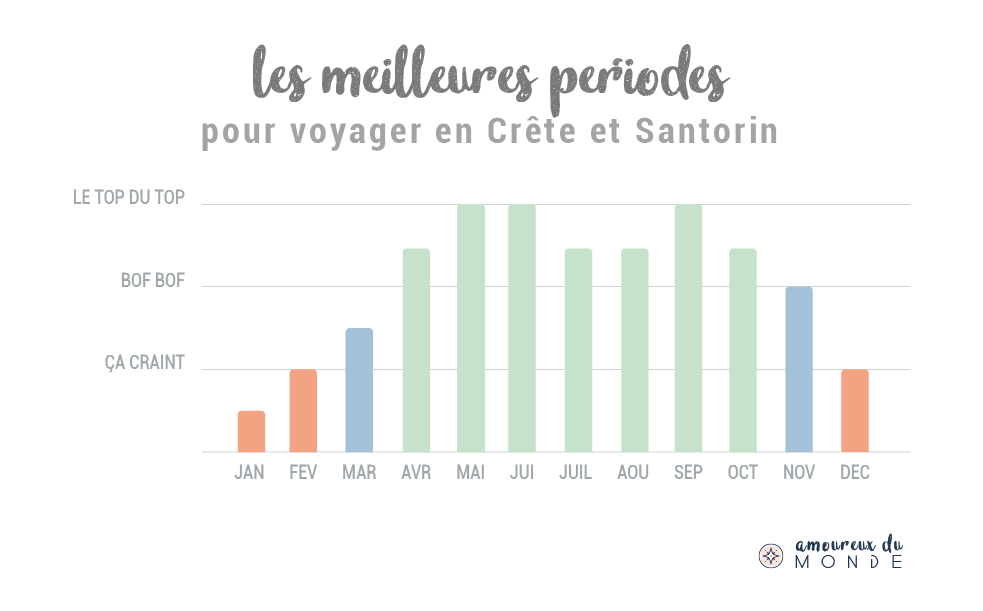 The geographical location of Crete (and Greece in general) is ideal. It allows you to go at any time of the year except between December and March. The best time for a trip to Crete is April to June and September/October.
🔥 Indeed, July and August are really hot! These are to be avoided absolutely if you are stopping over like us Santorini. Why? Because it is really too crowded and the prices for accommodation are extreme. The island being very small, the supply and demand ratio is very high!
---
One week itinerary: what to do in Crete?
Day 1: Arrival in Heraklion
After collecting your hire car from Heraklion airport, you are ready to hit the road! Make sure you watch your mirrors while driving. In Crete, it can sometimes happen out of nowhere…
⭐️ Rethymnon: lunch break or walk
The first stop on our trip to Crete was in Rethymnon. This seaside town is very pleasant, full of small pedestrian streets, shops, restaurants. Take the opportunity to soak up the Cretan atmosphere and walk around!
😋 If you're hungry, the restaurant Nyn & Aei is super good for local food. The prices are quite sweet.
⭐️ 
La Canée
La Canée is one of the largest cities in Crete. It is also called Chania or La Canea in Italian. It will be your base camp for 3 nights to visit the northwest coast of Crete!
The town is very pretty and there are many restaurants.
Where to stay in Chania?
At Elia Potie : studio, in the heart of the old town. Price: €.
Sette Venti Boutique Hotel : modern and very well located in the old town. Price: €€.
At the Porto Antico Hotel : a charming establishment with a magnificent view of the port. Price: €€€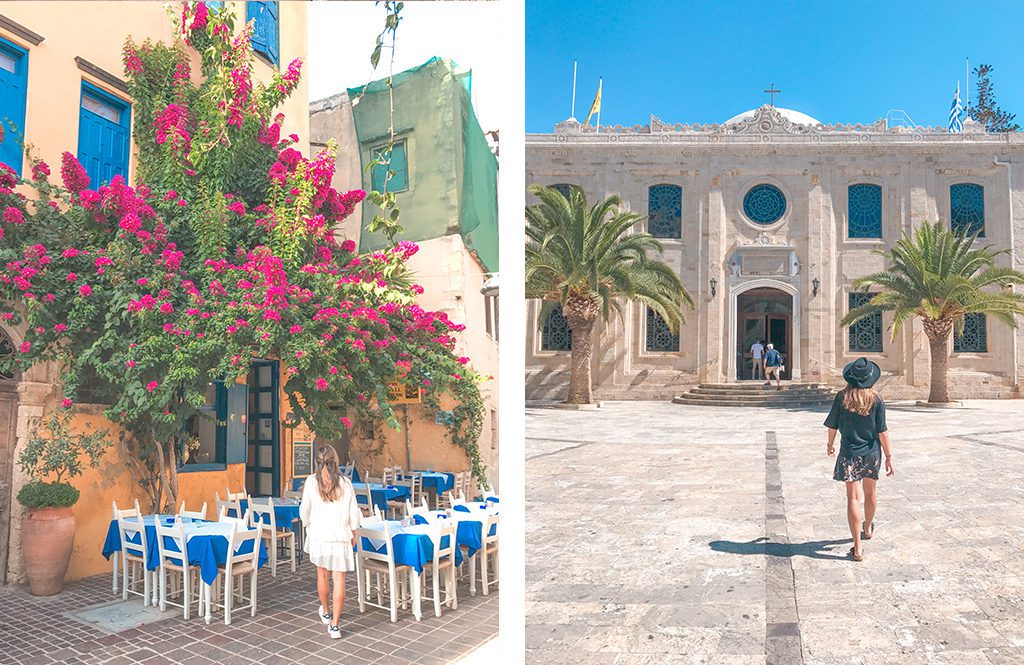 Day 2: Seitan Limania Beach 
This beach in Crete is very famous and for good reason! It is a beautiful beach. Seitan Limania Beach is also called Stefanou Beach. Question to a million: why do the Cretans give several names to the same place?  😆
This white sandy cove with its impressive turquoise water is only 20km from Chania. Go there for 10am maximum because from 11am onwards, it's packed with people! To tell you the truth, at 1pm, there's hardly any free space on the sand.
💌 Tip: Don't go too early either, because otherwise it's in the shade! Bring water bottles and snacks, there are no shops nearby.
📍Access: 15 minutes walk from the car park. Slightly steep descent.
⭐️
Beaches in Crete
Feel free to buy little plastic shoes (you know the super sexy sandals) to climb on the rocks around and why not have fun jumping! The beach of Seitan Limania is a very suitable spot because the water is translucent so you can see the bottom very well.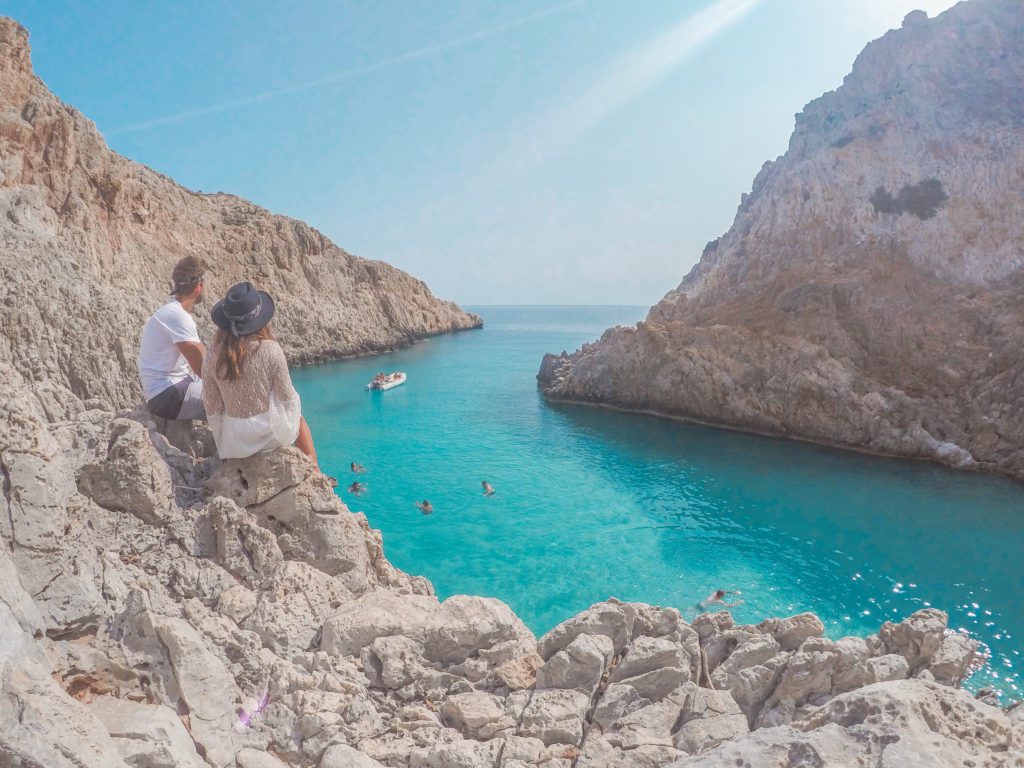 Souvenirs: the crowd on the beach around 12pm when we left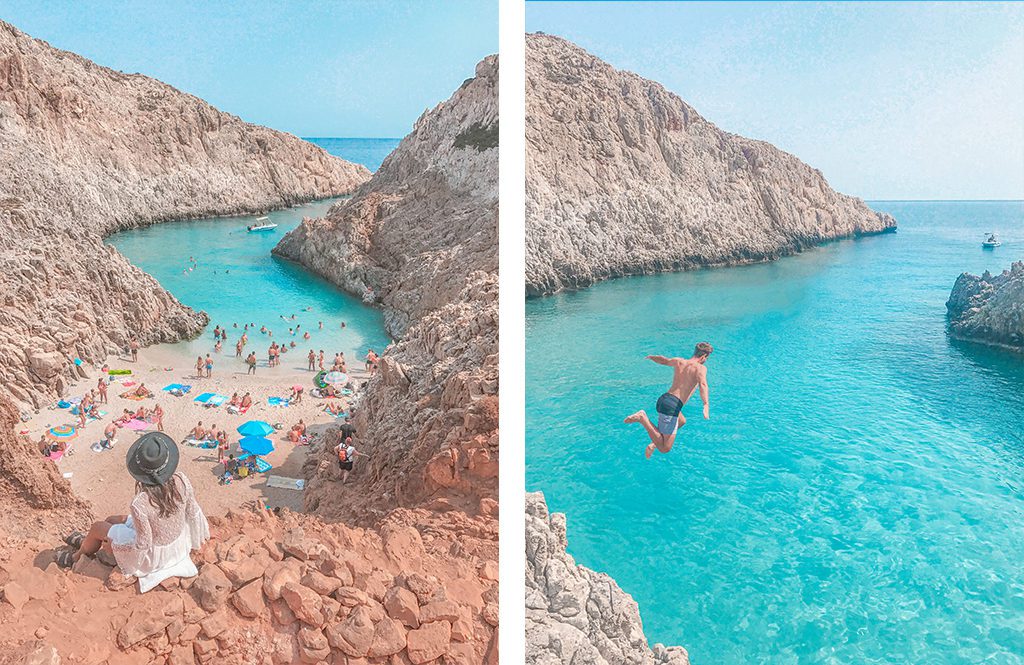 Day 3: Balos Beach 
The lagoon of Balos, a pure wonder! It is a must during a trip in Crete. To get there by car, you'll drive along a dirt road at 20 km/h for 8 km – about 25 minutes of bumpy road. We recommend you get there early for several reasons:
Walking in the sun from 10am onwards doesn't have the same flavour as at 9am
The crowd on the beach from 12am, it's still more beautiful and natural without dozens of tourists around us
The car park is quickly saturated! By arriving early we were able to park on the car park but this is not the case for all those who arrived after 10am, and even less after 12pm. The cars park in single file for several hundred meters, even kilometres (yes yes)! The 30 minute walk can therefore turn into 1h30, I'll spare you the round trip calculation it hurts, especially under 30 degrees.
💌 Tips for visiting Balos Beach
We advise you to arrive at the car park at 9am. Also plan to have some cash as access is paid, 1€ per person. This lagoon is really nice, the water is good, we walk on tens of meters, there is pink sand… in short we quickly forget the efforts to get there!
📍Access: 30 minutes walk from the car park, a bit more at the top. It's very hot, bring water!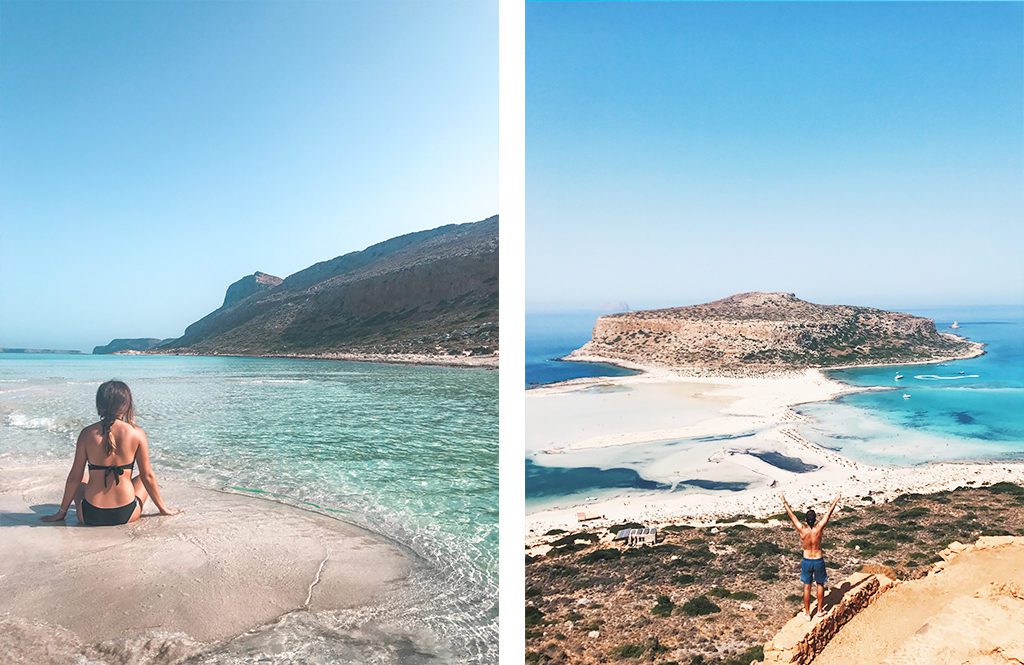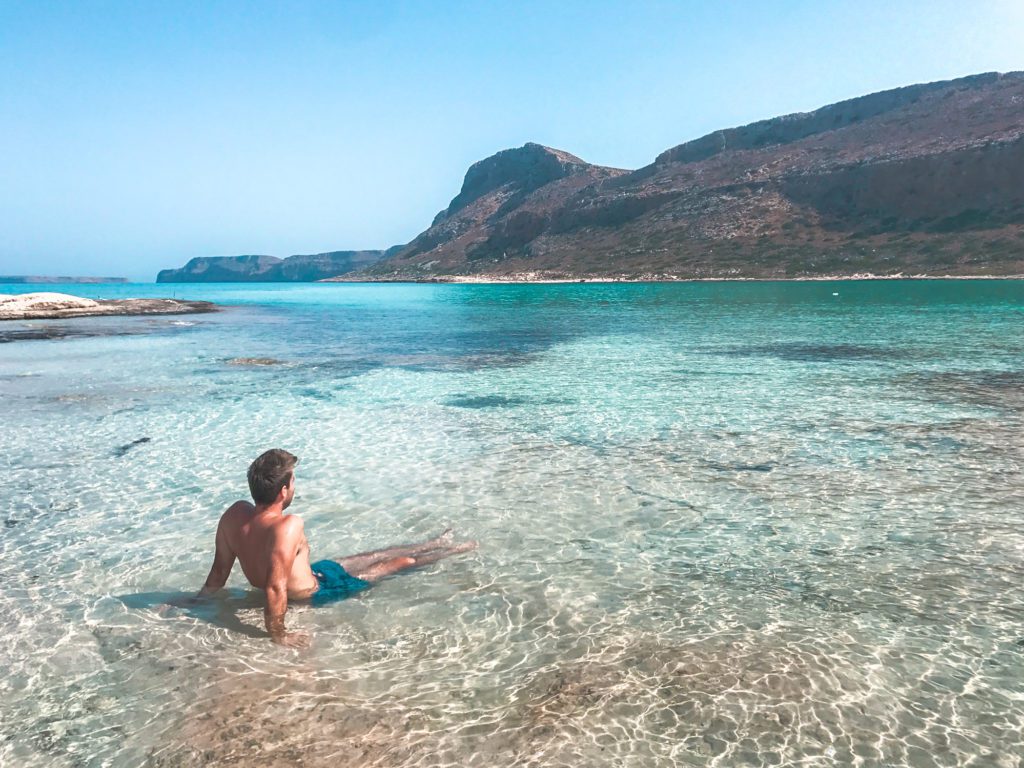 Memories: Balos Beach and its pink sand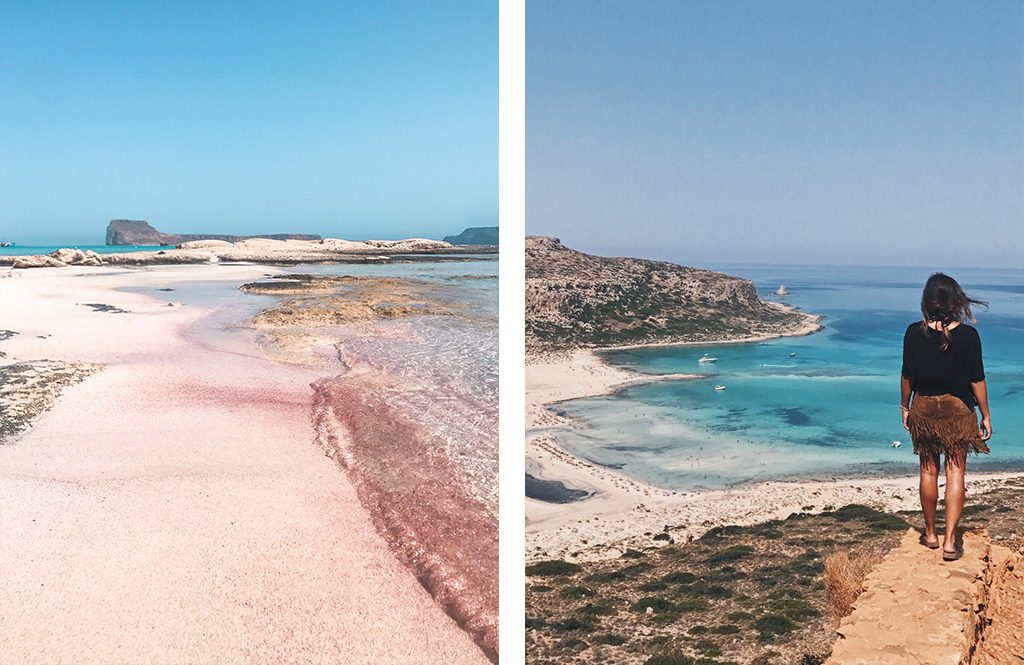 Day 4: Excursion to the island of Elafonisi
It is very tedious to get to Elafonisi by road. That is why we recommend you to visit the island by booking a day trip. You can enjoy the nature and its beautiful pink sandy beach…
Voir cette publication sur Instagram
Day 5: Crete road trip
It's time to leave Chania and head for the rest of our week-long itinerary in Crete.
🌲 Lake Kourmas
On the way, we recommend you to enjoy the beautiful lake of Kourmas. The landscape is a huge change from the coast, so much so that you would think you had changed country! The colour of Kourmas lake is splendid. It is possible to swim and ride a pedal boat.
Voir cette publication sur Instagram
💌 Plakias
The beaches in Plakias are beautiful. Here's a list of the ones you can go and see:
Souda Beach
Mikro Ammoudi
Preveli Beach
Kalypso Beach
😴 Where to stay in Plakias?
At the Belvedere Apartments and Spa : beautiful, well-equipped and modern accommodation, some of which have a terrace with sea view! Very good value for money.
Voir cette publication sur Instagram
💦 Excursion to the Kourtaliotiko Gorge
For thrill seekers, we recommend booking a canyoning excursion in the heart of the Kourtaliotiko Gorge. The scenery is incredible! Information and booking
If you're short on time, it's possible to walk to the river for a little swim break.
Voir cette publication sur Instagram
Day 6: Continuation and end of the trip to Crete
Popular with hippies in the 70s, Matala has retained its cool atmosphere.
😴 Where to stay in Matala?
This hotel, located in the centre, offers rooms with a nice and modern decoration! Very good value for money.
💌 What to do in Matala?
Visit the city centre and immerse yourself in the bohemian atmosphere.
Enjoy the beaches: the Red Beach, Kommos, Kalamaki Beach, Agiofarango
Discover the caves of Matala
Eat and watch the sunset at the Sunset Matala Taverna
Voir cette publication sur Instagram
---
Getting to Santorini from Crete

Crossing – Ferry Heraklion Santorini

Click here to see our "Visit Santorini in 3 days" guide

It is very easy to get to Santorini from Crete. Go to the port of Heraklion to take the ferry. If you wish to leave your rental car there, there is a secure car park at the port. There are several departures per day and the journey takes only 1.5 hours!

🚢 Book your ferry tickets online