What to do on Coron Island in the Philippines?
Coron Island was the first stop of our trip to the Philippines. Located in the province of Palawan, it is full of azure lagoons and heavenly beaches. In order not to be confused, you should know that there is a city called Coron on Busuanga Island, and Coron Island which is located in front of it.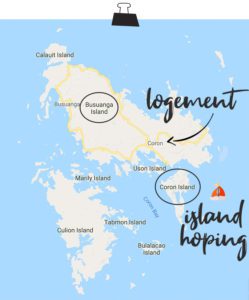 To visit Coron Island, you will stay in the town of Coron, on Busuanga Island. It is also here that you will arrive, by boat or by plane. For our part, we took a plane from Manila to get to Coron (Busuanga). We recommend you to use Skyscanner to find your flights.
✈️ Where can I get my plane ticket? For our part, we took a plane from Manila to get to Coron (Busuanga). We recommend that you go through the Ulysse comparator to find your flights. If you are new to this platform, we have written a detailed article here. You can benefit from -10 € on your first plane ticket reservation on Ulysse by registering via our link !
Click here to book your transfer from Busuanga airport to the center.
The complete itinerary of our 3 weeks trip to the Philippines can be found on this page.
---
What to do in Coron ?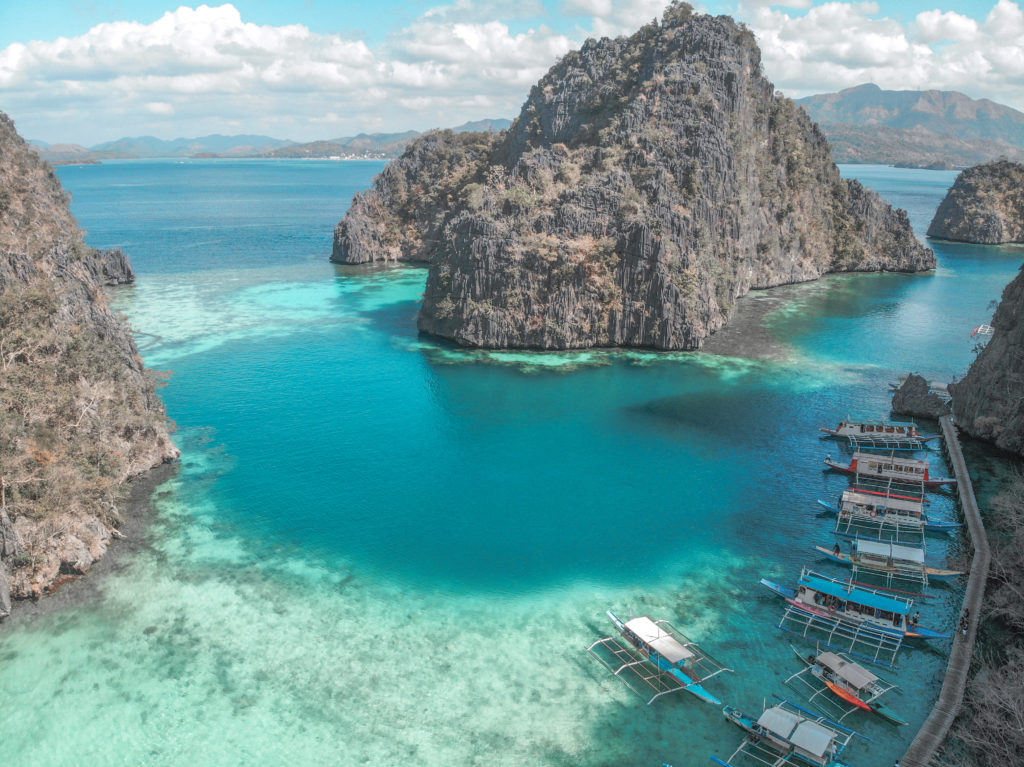 Visit Coron Island by boat
Let's be direct, the main interest (if not the only one) is the Coron Island tour with its incredible turquoise water spots. More commonly known as Island Hopping, these tours are known all over the world. And for good reason, they go through beautiful places! For the little story, Coron is a private island that was given for free to a kind of tribe. That is why you have to pay to access the tourist places (like at the toll booth haha ).
To make the most of the visit of Coron Island, we strongly recommend you to take a private boat tour. It costs a bit more, but it is really worth it!
After a lot of research, we found a serious agency (well rated on TripAdvisor) with private boats at 2,700 pesos (49€), excluding entrance fees. Adding the different entrance fees, we got 4,100 pesos (75€) for two people. That is 12€ more each than the collective tour. The price of the private tour varies depending on the places you want to visit in Coron, as the entrance fees may vary.
If you cannot afford it, you will find many agencies in Coron offering island hopping with 15 to 25 people for about 1,500 pesos (27€) per person, depending on the itinerary chosen.
You can study and book different tours in advance.
Advantages of private tour – island hopping in Coron:
Be able to leave earlier to be first on the popular spots
Have a guide and a captain for yourself
Decide which spots you want to see, or not
Choose the time you spend in each spot
To have space on the boat
The disadvantages of the private tour :
The price. Although we find that 9€ more per person to afford this luxury is minimal.
Food is not always provided, but you can use the boat's barbecue. Ask the agency for more information.
Here is the name of the agency we used for the island hopping in Coron: MBCA -JESSABEL Travel and Tour. Our guide Arjay Fajura was absolutely great. EDIT February 2020 : we were informed that this agency is now closed. We recommend that you go and check out a couple of agencies for private tours to compare prices! Do not hesitate to negotiate.
An easier alternative is this great tour around Coron (in group), bookable online
What to visit during the Island Hopping in Coron?
Here is what we chose to do in Coron Island during our private tour:
Kayangan Lake
Kayangan Lake is one of the most popular places of Coron Island. Under the advice of our guide, we decided to begin by this one very early to avoid tens of boats.
The place is really magnificent! What a happiness to discover such a splendid lake, with an absolute silence and only few people. We stayed 30 minutes in all on the spot. At the time of our departure around 9 am, all the boats of the collective tours were starting to arrive.  The lake is 70% fresh water and 30% salt water. Orange safety vest is mandatory to swim.
Entrance fee: 300 pesos (5,40€) per person
Private tour tip: arrive around 7:30/8:00 am to enjoy the lake without tourists
Access: a few hundred steps down to the lake, about 10 minutes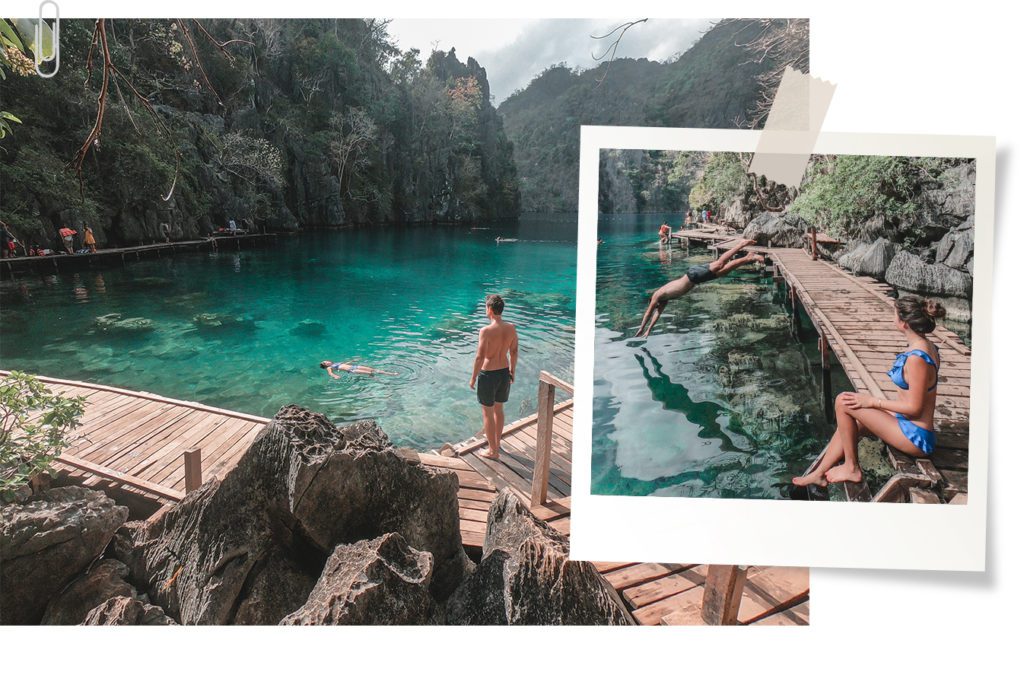 Twin Lagoon

 Twin Lagoon is a pure wonder. The two lagoons are connected by small stairs, the water is clear and the shades of blue are striking. For the drone lovers, it is a pleasure to take height to admire all its potential. The second lagoon is accessible only by swimming. Do not hesitate to go to the footbridge at the entrance of the first lagoon, you will probably be alone and it is beautiful.

Entrance fee: 200 pesos (3,60€) per person
Private tour tip: go around 1 pm, because the group tours all go to the beaches for lunch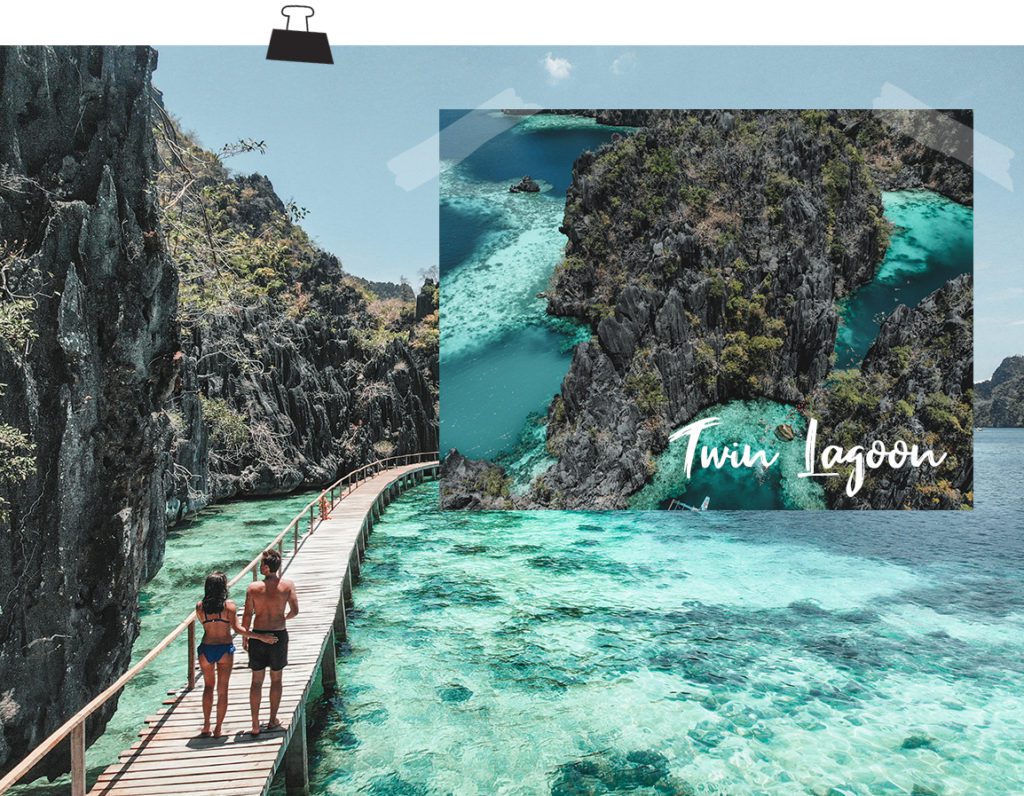 CYC Beach

 CYC Beach is a small island, near Coron, open to everyone. It attracts a lot of locals because it is free. Families love it because the water is not deep, perfect for kids. You can go out for a while to snorkel or just sit on the white sandy beach.

Price : Free
Disadvantage: the world, since it is free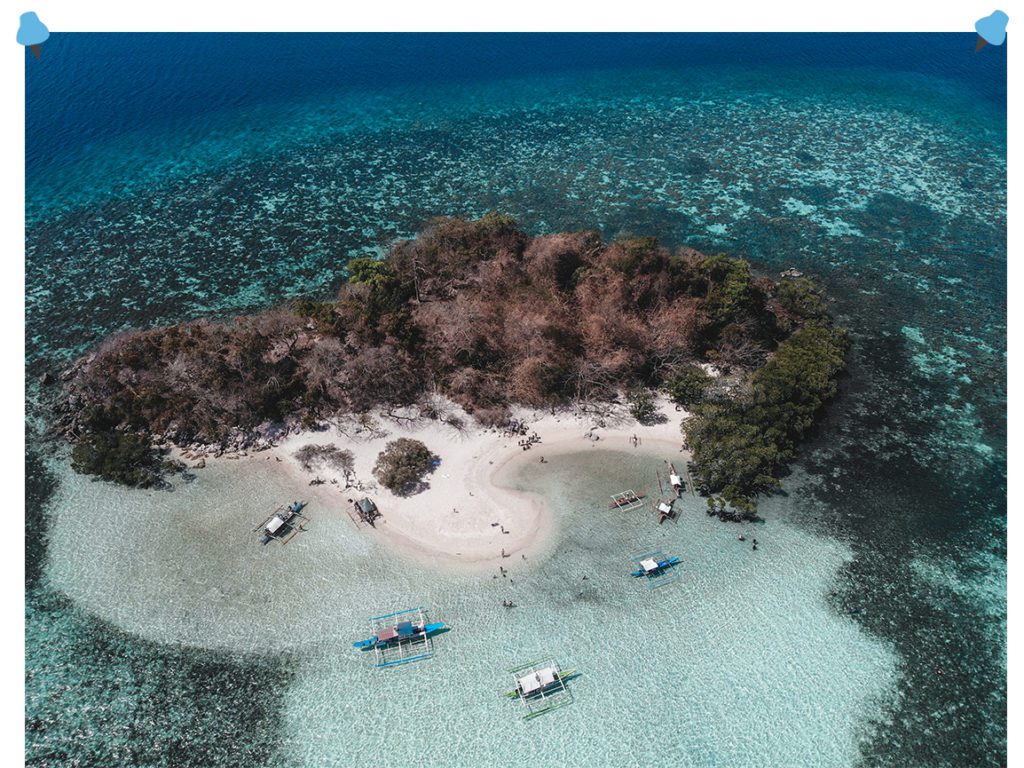 Smith Coral Garden

This snorkeling in Coron is beautiful and we were literally alone. The corals are well preserved and there are many species of fish. Your guide will accompany you in the water but beware of the current. If you find the same one as us and you have a GoPro, he will be happy to take your picture!

Access fee : 100 pesos (1,80€) per person

Banul Beach

Banul Beach is certainly one of the most beautiful beaches on Coron Island. The water is clear and the black rock gives a magical touch to the landscape. Do not go there between 11:30 am and 13:30 pm, it is the landmark of many tours for lunch because there are many bamboo huts with tables.

Entrance fee: 100 pesos (€1.80) per person
Private tour tip: avoid lunch time because it is very crowded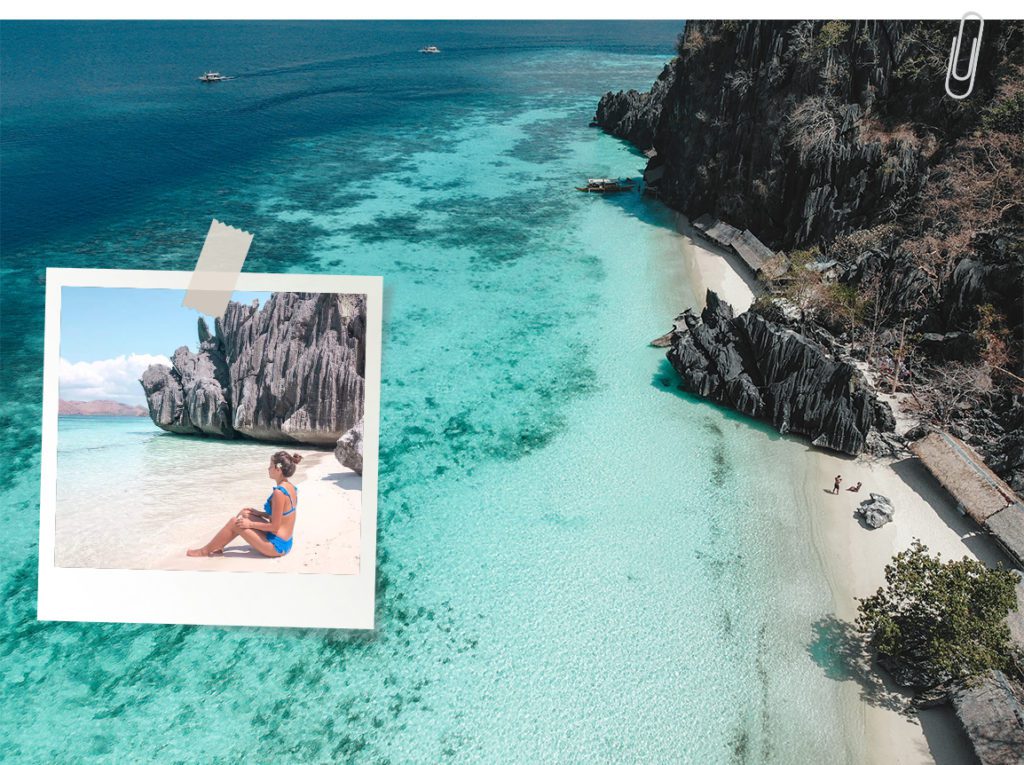 Barracuda Lake 

We could not include it in our already busy tour, but if you like diving, do not hesitate. Barracuda Lake is quite similar to Kayangan Lake in terms of landscape. It seems that the       difference in temperature depending on the depth is impressive, going from 28 to 38 degrees in a few meters. It takes 15 to 20 minutes to walk to reach this high lake.

Entrance fee: 200 pesos (3,60€) per person
Access : 15-20 minutes walk
---
Explore Busuanga Island, Coron
Marcilla Beach – Paradise
We recommend renting a scooter for 400 pesos (7,20€) per day and going to Marcilla Beach. This place is just magical! A deserted beach, only a few locals and a huge sand bank. Be careful, this happiness has to be earned: expect a 1h30 round trip from the city of Coron, with a very bumpy road.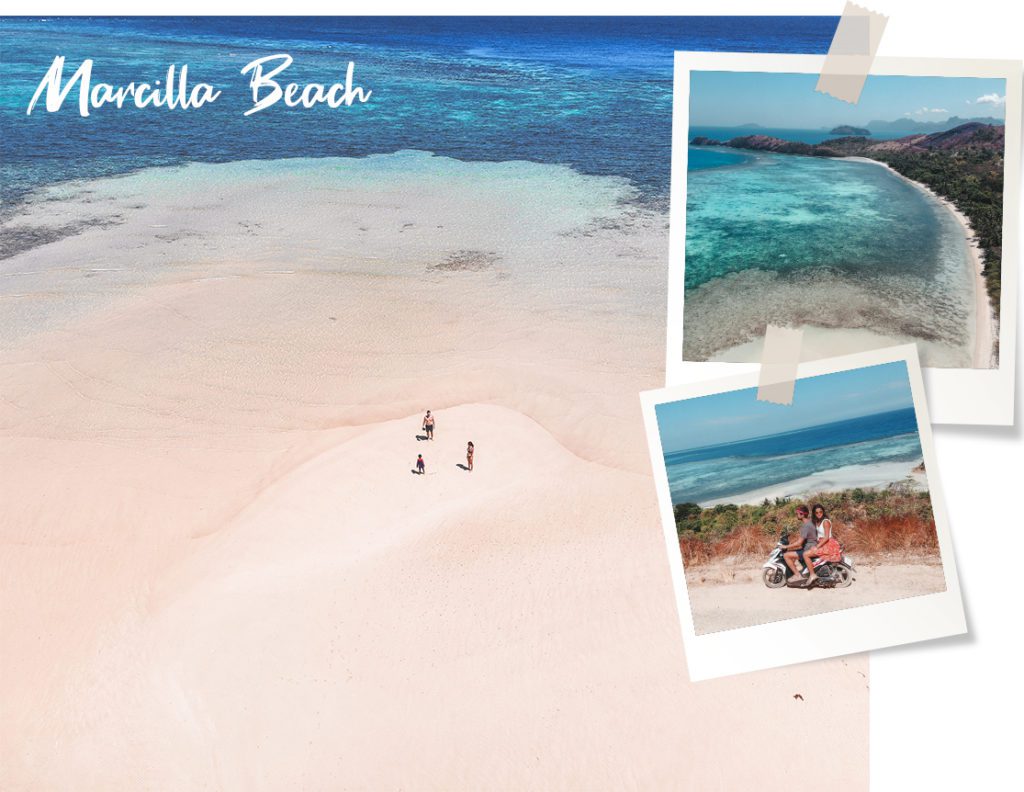 If you wish, you can stop on the way to visit the Hot Springs for 100 pesos (1.80€) per person.
Snorkeling in Siete Pecados
We also recommend you to enjoy Siete Pecados in Coron on Busuan-ga island with a small boat. To do this, you have to go to the east of Coron city by scooter and get as close as possible to the Siete Pecados islands. Use the GPS!
The trip takes less than 10 minutes and you will have up to 2 hours on the spot for 700 pesos (6,30€ each). The corals are magnificent and the place is incredibly beautiful. It is about 7 small islands, surrounded by still intact sea bottoms. The advantage of doing this by scooter is that you will not have to include it in your boat tour which is limited to 5 stops.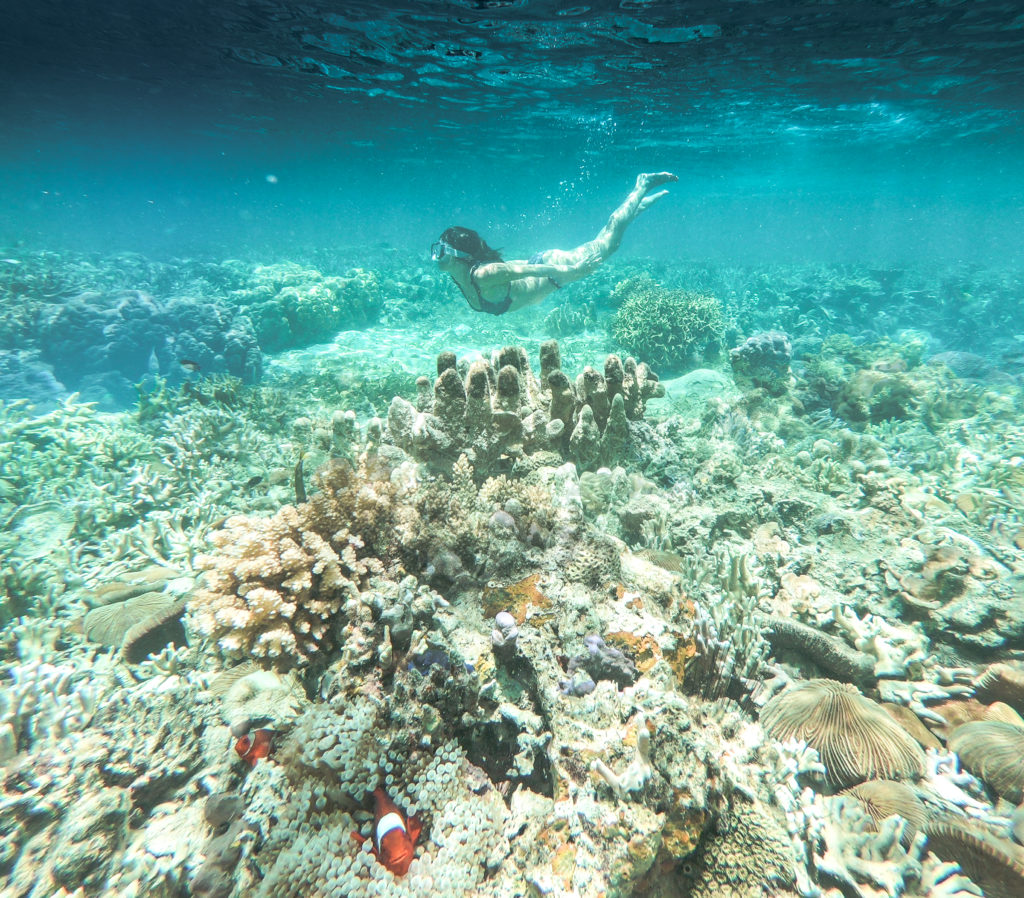 To cool off at the foot of a waterfall in Coron, head to Concepcion Falls. We did not go there because the water level was very low at the time. So much so that the waterfall was actually a very small pool. Nothing worth the detour in any case! If you go there, the access is free : you can tip the local who takes you there though.
---
Where to eat in Coron?
Levine's: We loved this place for several reasons. First, the chicken Sisig – Filipino specialty – is exceptional. Second, the rooftop offers an unbeatable view for the sunset and the prices are reasonable. Remember to go early because there is not much room and it is crowded for all the sunsets
Lolo Nonoy's : If you want a local address, this is the one ! Many specialties at a more than correct price. The service is sometimes a bit slow and disorganized, so be patient.
Poco Deli Coron: The pizzas are good, the setting is nice and there is a large choice of wine. Perfect to have a little pleasure in love! Be careful, the prices are quite high for the island. We had 40€ for two with two pizzas and a bottle of red wine.
Where to have a drink in Coron?
SunBurn : This is THE place to go for a drink at the end of the day and enjoy the sunset. You can sit on huge poufs and sip a cocktail with a panoramic view of the whole city. Special mention to the SunBurn's playlist : great !
Levine's : Again, you can go there before dinner to watch the sunset. The price of the drinks is reasonable for the view.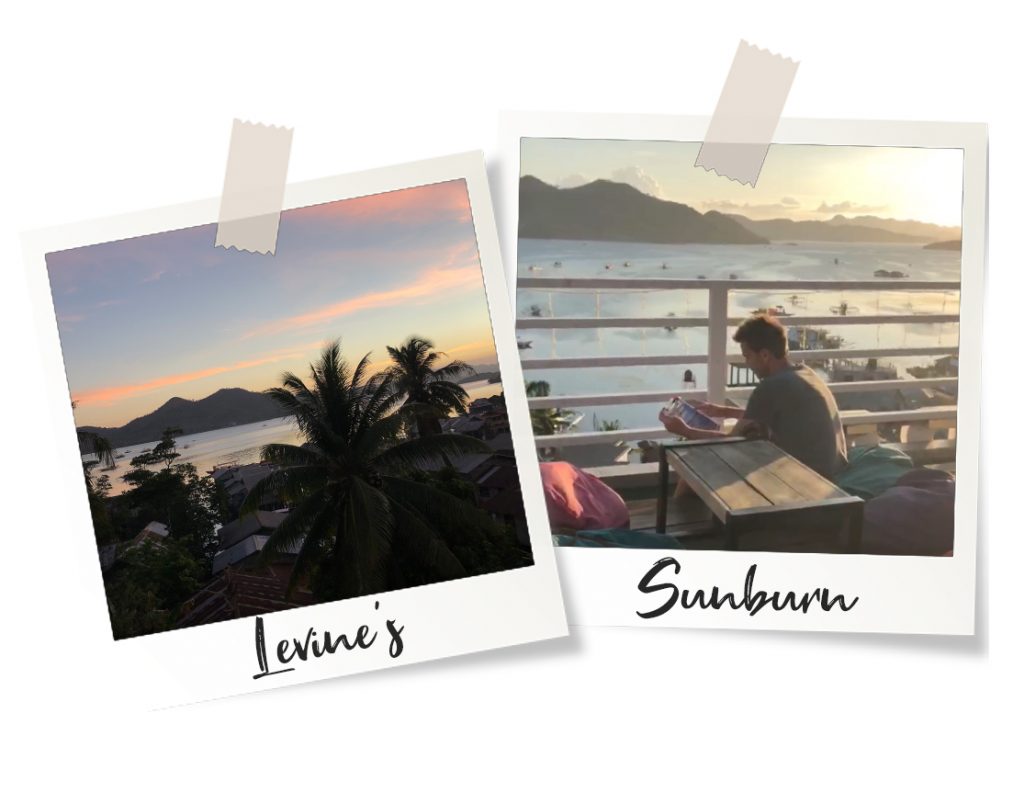 Where to sleep in Coron ?
Unfortunately, we do not have an address to recommend because we spent 4 nights in a rather noisy Airbnb, out of the way and without any network. It is still a good idea to find an accommodation near the city of Coron to take advantage of the good addresses and to be close to the departures for the Island Hopping. There are many offers on Booking.
We hope to have given you some tips on what to do in Coron. Other articles about our trip to the Philippines are coming soon!  The second step of our trip was the island of Siargao.