What to do in the Dominican Republic? One week itinerary
The Dominican Republic is a Caribbean country, known for its beaches, big hotels and golf courses. Despite its image as a seaside resort, the island has many assets and a Latino atmosphere that I particularly love. Many of you have told me in story that you were pleasantly surprised by this destination which is full of surprises ?. You can actually find my front page stories on our Instagram account.
How to visit the Dominican Republic in 1 week?
We propose you a detailed itinerary to discover what to do in Dominican Republic!
Note that this trip is done in one week if you don't take a day off. I recommend a 10-day trip to take full advantage of the island's magnificent beaches and to spread out the driving hours.
One week in the Dominican Republic: road trip itinerary
Punta Cana / Bavaro / Hojos Azul (Day 1)
La Romana, Altos de Chavón, Saona Island, Catalina Island (Day 2)
Santo Domingo, Los Tres Ojos (Day 3)
Punta Rucia (Day 4)
Puerto Plata (Day 5)
Las Terrenas, Playa Fronton, Playa Madame, Playa Rincon, Salto de Limon (Days 6 and 7)
Travel to the Dominican Republic: what to do?
How to prepare your trip to the Dominican Republic?
➡️ What are the health constraints and restrictions Covid?
Good news! Travellers to the Dominican Republic from France do not need to provide a negative PCR test on arrival. You will only need to register on the immigration website, which will immediately generate a QR Code. Click here to obtain it.
For return to France however, you will need a full vaccination pass, a certificate of recovery or a PCR test less than 72 hours old or an antigen test less than 48 hours old before return.
➡️ When to go to the Dominican Republic?
☀️ As the Dominican Republic is in the Caribbean, December to April is the right time as it is relatively warm (at least 26°C during the day) with mild winds cooling the air. Nevertheless, if you come between January and the end of March, you may have the opportunity to see some whales that come to breed off the island.
? However, beware of the wet season in the Dominican Republic: between May and October, tropical rains are quite frequent.
➡️ Where to buy a plane ticket?
We recommend that you compare the best offers and book your flights on Ulysse.
? You can benefit from -10€ on your first flight booking on Ulysse by signing up via our link!
➡️ What budget should you plan to visit the Dominican Republic in 1 week?
Plane: 700€ per person on average
Car rental: 280€ for the week
Petrol costs: 120€ for about 1,200 km driven (1€ per litre of fuel)
Hotels: 80€ per night on average (the price varies a lot if it is a simple hotel or an all inclusive resort)
Restaurants: 30€ per day per person for 2 meals
Total = €2,780 for a 7-night stay or €1,390 per person, excluding activities.
Please note: this budget can obviously vary depending on the price of car rentals and aeroplanes, but also depending on the standard of the hotels/restaurants you choose. We are only speaking from our experience here.
➡️ Should you buy tickets online to visit the must-see spots?
Indeed, for price, language and ease we recommend booking your activities on GetYourGuide.
What to do in the Dominican Republic for 1 week?
Let's get to the heart of the matter! We will reveal our itinerary to visit the Dominican Republic in 1 week.
Where to sleep in the Dominican Republic?
During your stay, whether you want to relax by the pool for a week or go on a road trip, I recommend you stay at the Viva Whyndam V Samana. The hotel is located in Las Terrenas, which for me is one of the most beautiful places in the Dominican Republic.
It is an Adult Only with an all inclusive package, so you can enjoy your cocktails in the quietest of surroundings by the pool.
If you want a more family hotel or if you want to stay in Punta Cana, I also recommend this all inclusive hotel for a lazy week. I tested it a few years ago with Aurélie and everything was perfect ? !
If like me you prefer to do a road-trip in the Dominican Republic, you will find my recommendations according to the different cities in this one-week itinerary.
---
---
Visiting the Dominican Republic: what to do?
Punta Cana / Bavaro
For my part, I did not stop in Punta Cana because my time was limited and I privileged the cities which allowed me to discover new things.
Punta Cana is a rather dynamic city known for its spring break atmosphere and its all inclusive resorts. If you want to relax by the pool while participating in activities, you will find what you are looking for among the many hotels in the area.
Days 1 and 2 of the Dominican Republic trip: south of the island
? Scape Park and Hojos Azul
For this first place to visit I put a reservation at the outset: the place is beautiful but the price is clearly exaggerated. ?
Indeed, Scape Park is a modern park with a beautiful cenote (Hojos Azul), a waterfall, a cave, a zip line and many animals. The visit is pleasant and takes half a day but it costs 110€ per person…
If your budget allows it, it's still a great attraction. I recommend you come at the opening and go straight in. I was alone for at least 30 minutes.
? La Romana / Altos de Chavón
Located 1 hour south of Punta Cana, I recommend you to visit La Romana.
On the way, you can stop at the prestigious Marina de Casa de Campo at the mouth of the Chavón River before heading 4km north to the unmissable town of Altos de Chavón. This town is a reconstruction of a 16th century Mediterranean village, with an amphitheatre and numerous artists' studios. It is known as the "Ciudad de los Artistas" (City of Artists) and has become one of the cultural references of the region.
In the city of La Romana, you can visit the Duarte Central Park, located in front of the Santa Rosa de Lima church, among other places.
? Where to eat?
I advise you to walk the streets to discover small typical restaurants. For example, I tasted the Monfongo, a typical Dominican dish, which consists of mashed plantain with onions, accompanied by a tomato sauce and meat or fish.
? Where to sleep in La Romana?
For excellent value for money I recommend the El Dorado hotel at less than 100€ a night with an excellent breakfast included.
?Île Saona and Catalina Island
For this 2nd day of travel in Dominican Republic, I recommend you to visit Saona Island and Catalina Island. These are the most beautiful islands in the south of the Dominican Republic that will delight snorkeling enthusiasts and heavenly beaches.
I booked a day trip to Saona with food and drinks included here. You'll pay less than from a hotel and you'll be sure to get a seat.
? For scuba diving enthusiasts, you will also find something to enjoy. I had the chance to dive near a wreck, accessible even for beginners. You can trust Ital Cruise, the manager speaks French and the team is top!
---
Day 3: heading to Santo Domingo
For this 3rd day, I continued my road-trip in Dominican Republic towards Santo Domingo, the capital.
? Los Tres Ojos
At the entrance of the city is the national park of Los Tres Ojos. Little known to tourists, it is nevertheless a must-see in the Dominican Republic, especially if you are in the Santo Domingo area.
For 200 pesos per person (about 3€), you will discover this 50 meters deep open-air limestone cave which houses three small underground lakes. I advise you to take the small boat (50 pesos, or 0.80€ per person) located at the bottom of the cave to discover the last lake. The crossing lasts only 1 minute and you will discover on the other side a breathtaking view of the lake (also called El Cuarto Lago, the 4th lake), surrounded by vegetation.
? Columbus Lighthouse (El Faro Colon)
This building, built as a tribute to Christopher Columbus for the 500th anniversary of the discovery of America, is located right at the entrance of the city of Santo Domingo. From the outside it looks like a large prison, but inside you will find an unusual architecture that contains a museum, but also (according to the Dominicans) the remains of Christopher Columbus. When the lighthouse lights up, its light is so powerful that it can be seen as far as Puerto Rico, 200 km away!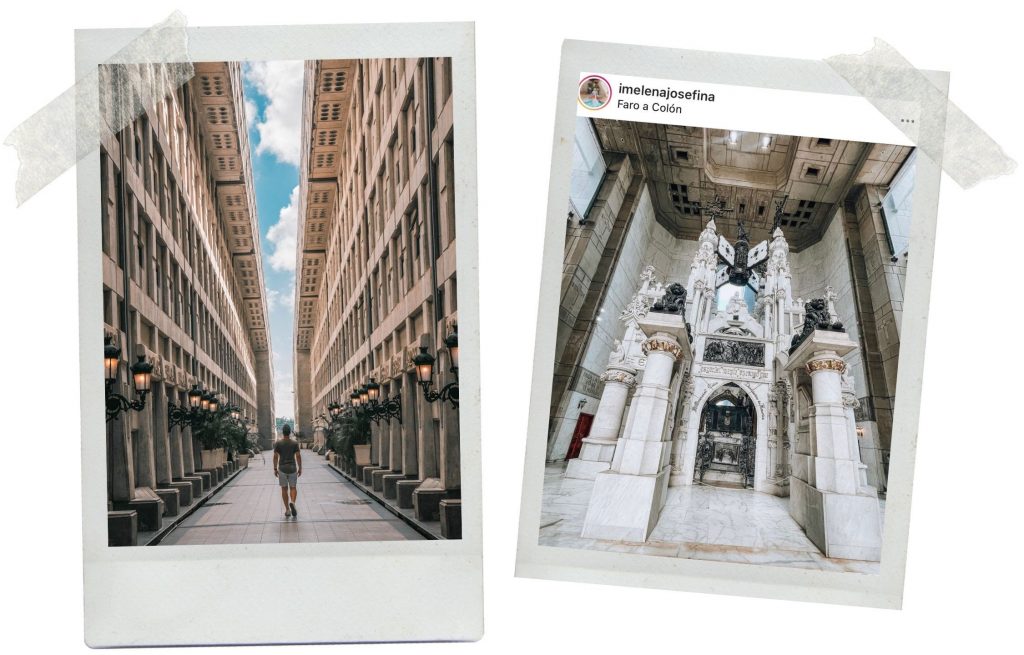 ? The colonial quarter
With an air of Cuba, the colonial quarter is the historical centre of Santo Domingo. In fact, it has been classified as a UNESCO World Heritage site. Take advantage of the colourful alleys and its sun-laden atmosphere to enjoy a little coffee. Day or night, the atmosphere is warm and the brightly coloured houses bring a real natural cheerfulness.
You can stop at the Mercado Modelo, a small covered market where you can find what you need.
? Where to eat?
The district is full of good addresses and it is difficult to make a choice! You will find restaurants with atypical decoration, vegetal or even a roof-top.
I recommend in particular the magnificent restaurant Buche Perico for a subdued atmosphere and a delicious cuisine.
Please note that most of the prices in the colonial zone are displayed without taxes (VAT + service). Remember to add about 30% on the bill to avoid nasty surprises.
? Where to sleep in Santo Domingo?
To visit Santo Domingo it is best to stay close to the colonial district. Here are two good options:
– for a typical colonial accommodation: El Beaterio Casa Museo.
– for a flat with swimming pool: Estancia Riviera Colonial I.
---
Day 4: What to do in the Dominican Republic, visit Punta Rucia
It's time to go to the north of the island to discover one of the most beautiful places I've seen. And it's a place that has to be deserved, as it takes about 4h30 by car to get to the village of Punta Rucia, the last 45 minutes of which are on a dirt and stony path. A road is nevertheless being created and for the lucky ones among you, it may be finished!
Small tip, but nevertheless important: on the last hour of the road coming from Santo Domingo, there is nothing but small houses… Think of filling up your tank beforehand to avoid any problems.
I only spent one night in Punta Rucia because the village is really tiny… Here, you pay mainly in cash and there is no ATM, so bring enough money. There are only a few restaurants open in the evening, but I went for authenticity and ate empanadas in a straw hut on the beach. The food is good, the prices very low and the manager who works with her daughter is lovely.
? Excursion to Cayo Arena
I booked for the next day an excursion to Cayo Arena. It is a tiny island surrounded by corals in the middle of the ocean, but also one of the most incredible places I have seen.
As always, I advise you to arrive early if you want to be the first to see it as it is THE thing to see in Punta Rucia.
On the way back, you can also visit the mangroves.
? You can book your excursion directly with your hotel.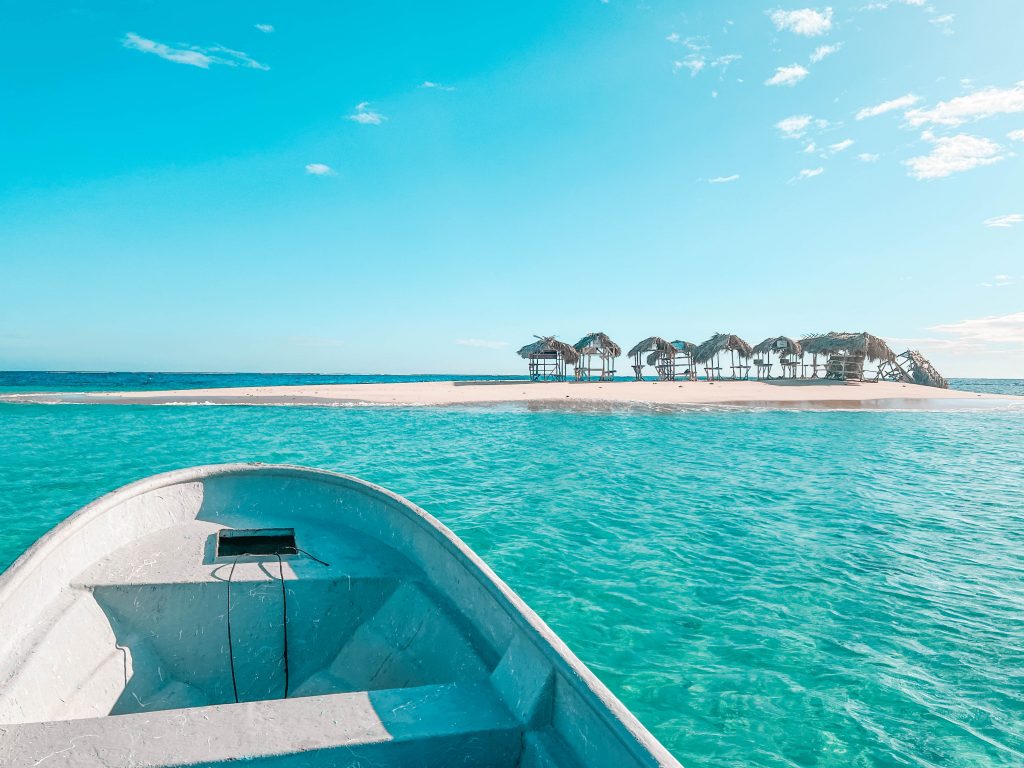 ? Where to sleep in Punta Rucia?
This village is so small that there are not 50 options. I stayed at the Paradise Island Beach Resort and it was very good even if the price is a bit high (around 100€ a night). Otherwise, Villa Rosa is excellent value for money.
---
Day 5 : Puerto Plata
Let's continue our road-trip in the Dominican Republic… Once in the north of the island, I had to visit Puerto Plata, located about 2 hours from Punta Rucia. This city is very lively and has a historical centre with beautiful colonial houses of all colours, with a touch of Cuba for the connoisseurs!
I advise you to visit Umbrella Street, a small street decorated with multicoloured umbrellas! You'll find small shops where you can enjoy an ice cream, a coffee or buy souvenirs. A few hundred metres away, you can also stop at the Passage de Dona Blanca, a street that makes you see life in pink! In particular, you can book a city tour and cable car ride here.
? Damajagua Waterfalls
Just 30 minutes from the city, I also recommend heading to the 27 waterfalls of Damajagua, a half-day tour where you can go canyoning. This tour is supervised by a guide and you also have the possibility to eat there. You can book your tour here.
⚠️ I wouldn't recommend taking the horse riding option. All the hair I've come across is in poor condition, under-nourished and you definitely don't need to ride the trail. It is very walkable if you have a pair of trainers.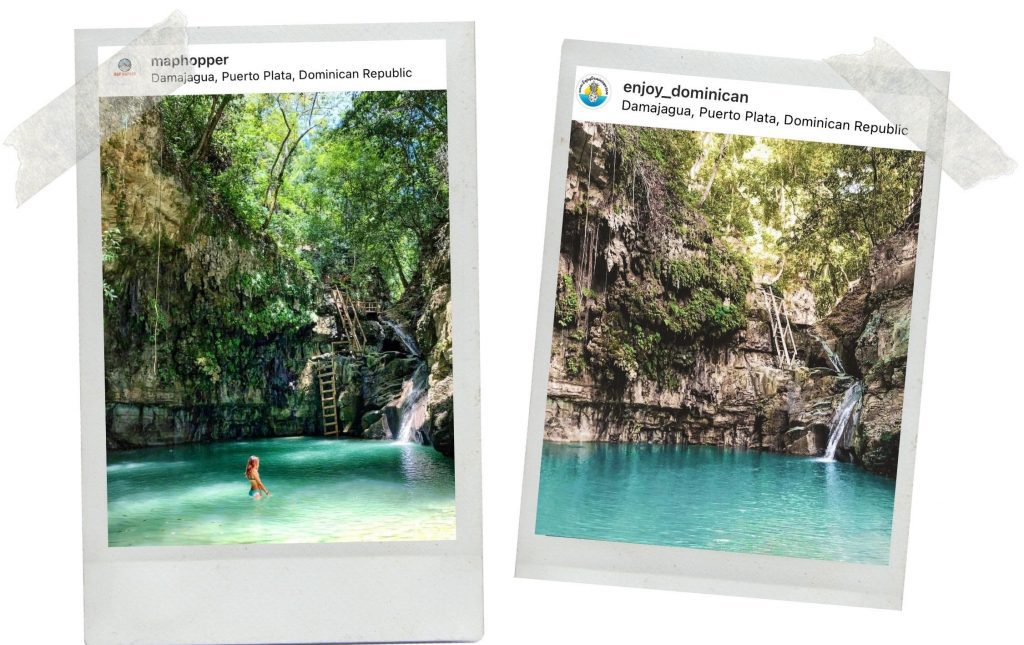 ? Where to eat?
I advise you to stroll through the streets of the historic centre, which is full of good typical addresses!
? Where to sleep in Puerto Plata?
As time was limited, I only spent one day in Puerto Plata and slept on the road towards Las Terrenas. If you are looking for a hotel on the road you can trust El Castillo Tropical. Very good reception, splendid sight on the sea and a swimming pool with overflowing sight sea was in construction at the time of my passage!
---
Days 6 and 7: Las Terrenas
To finish my itinerary in beauty, I went to Las Terrenas for the last days of my trip in Dominican Republic.
It's a bit of a long drive to get there, especially if you're coming from Puerto Plata (allow 3.5 hours), but this part of the island is definitely worth a visit.
? What to do in the Dominican Republic? Playa Fronton, playa Madame and playa Ricon
Few sites offer this wonderful excursion (one of the most beautiful on the island for my taste) but you can book it here with a pick up at your hotel.
For my first day in Las Terrenas, I booked a boat trip to three different beaches including THE most beautiful beach on the island: Playa Fronton.
But it's also possible to hire a boat for a day to take you to the various islands.
This small beach is only accessible by boat because it is overhung by a huge cliff which gives it a very particular charm. As always, I advise you to leave no later than 9am in order to be the first to arrive. You can enjoy the calm turquoise waters for snorkeling.
For our second stop, I stopped at Playa Madame, only 5-10 min by boat from Playa Fronton. I highly recommend putting on your masks and admiring the sea floor. The water is so clear that you can see the fish even at a depth of 20 meters. The fauna and flora are magnificent and if you are lucky, you may come across some turtles.
To finish my excursion, I went to Playa Ricon. This beach is huge because it is actually a group of ten beaches. The biggest one (about 1.5km long) is accessible by car and therefore much more crowded than Fronton and Madame, but just as beautiful.
? Seeing whales in the Dominican Republic
If you visit the Dominican Republic between January and March, you might be lucky enough to see the whales that come to breed! In particular, you can book a tour here.
I didn't get the chance to do it as it was the end of the season and my schedule didn't allow for it, but from talking to several people, it's an amazing experience!
? Salto de Limon
Located about 35 minutes from Las Terrenas, I was also able to discover the Salto el Limon waterfall. When you go there, beware of the many guidebooks that tell you that you can't do the walk alone. I was tricked when I parked in a car park (for a fee of course, I gave about 2.5€ to a lady who lived next door). You can find places to park for free but be prepared to take out the wallet if you park in a more or less developed car park.
? Access to the Salto el Limon waterfall
From this point on, you can be sure that someone will offer to guide you to the waterfall, without giving you any price. You don't need a guide at all to get there: the path is well marked out and quite easy to get to. It takes about 30 minutes to get there and 50 pesos per person for the entrance to the waterfall.
I advise you to come early to avoid the crowd, even if there won't be many people in the water as it is quite cold. With the mist of the waterfall, the ground is quite muddy and slippery so bring decent shoes.
You will also discover a second waterfall just below, much less frequented by tourists (I was alone while there were quite a few people at the first one). I advise you to go there because even if it is less impressive, it is very beautiful for only 2min of extra walking.
⚠️ Warning: Many guides offer horseback rides to take you to the waterfall. I strongly advise against this option as the path is quite simple and absolutely not suitable for horses which are in very poor condition.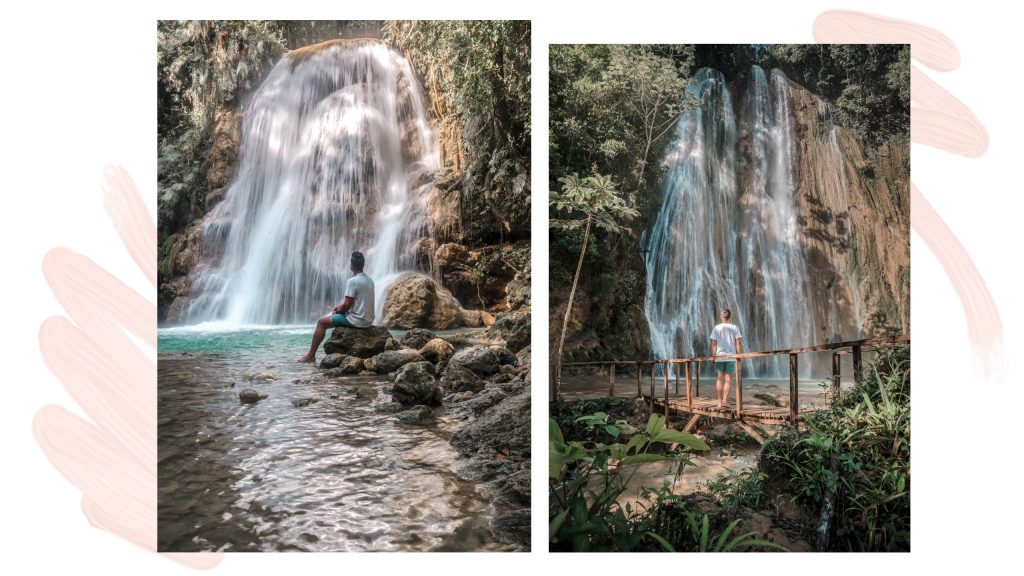 ? Where to stay in Las Terrenas?
To enjoy my last days in the Dominican Republic, I stayed at the Viva Whyndam, a sublime all inclusive and Adults only hotel. With direct access to the beach, activities and 4 restaurants, this hotel is perfect to relax after your day trips.
I really have nothing to say about this place as everything was perfect ?.
---
This is the end of this itinerary for your one week road trip! I hope you now know what to do in the Dominican Republic and that it has inspired you to visit this beautiful island. ?
To go further in the Caribbean, check out our travel guides on Guadeloupe or even Martinique!